Ryo Yakiniku is Singapore's first Muslim-owned yakiniku in a coffeeshop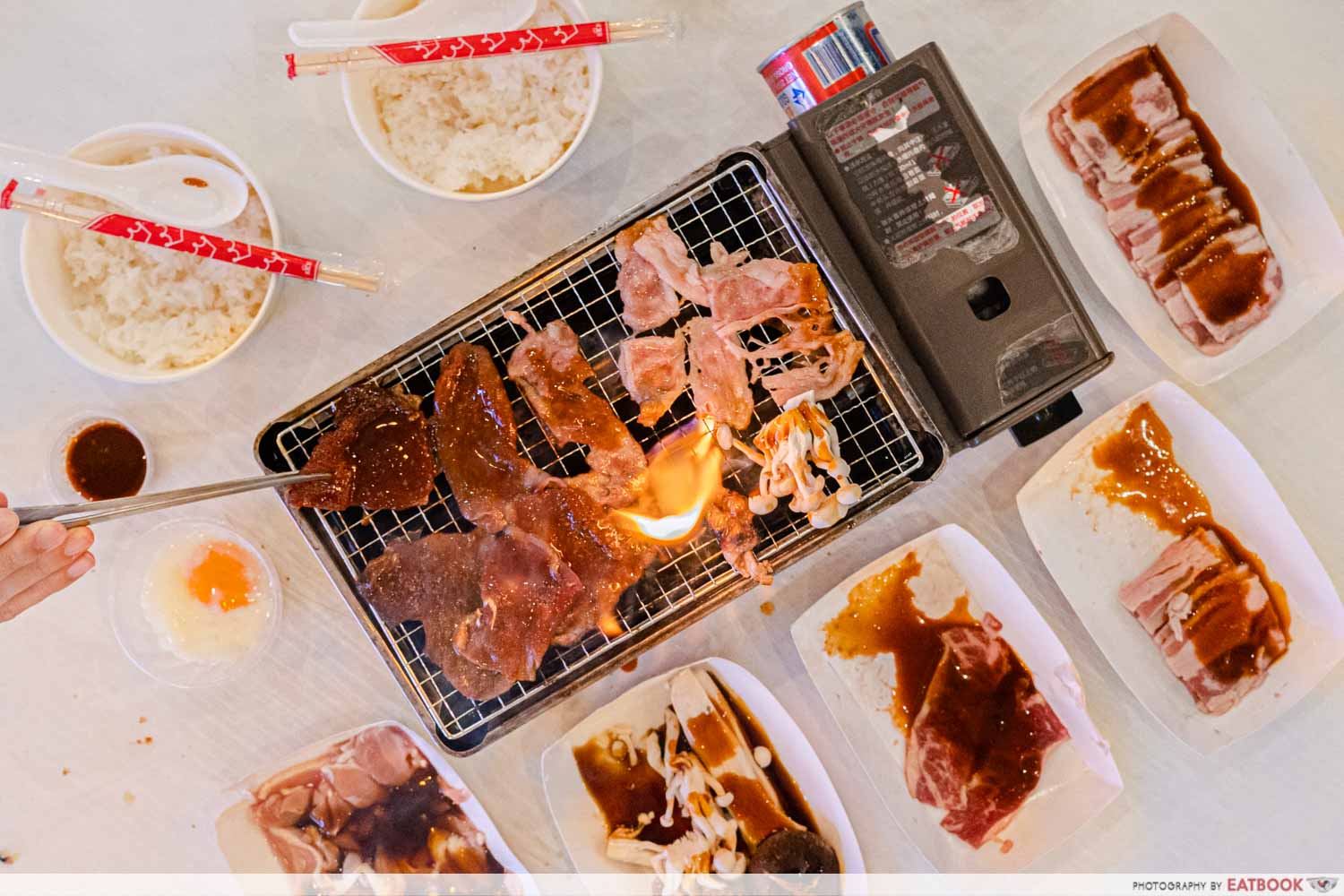 After an agonising month of only being able to watch me feast on prata and crepe cakes during the fasting month, my colleague rejoiced when we were assigned our first night shoot together—that meant that we could finally eat together once he broke fast. Well, we thought the best way for us to celebrate this happy occasion was to visit Ryo Yakiniku, Singapore's first Muslim-owned yakiniku joint in Tai Seng.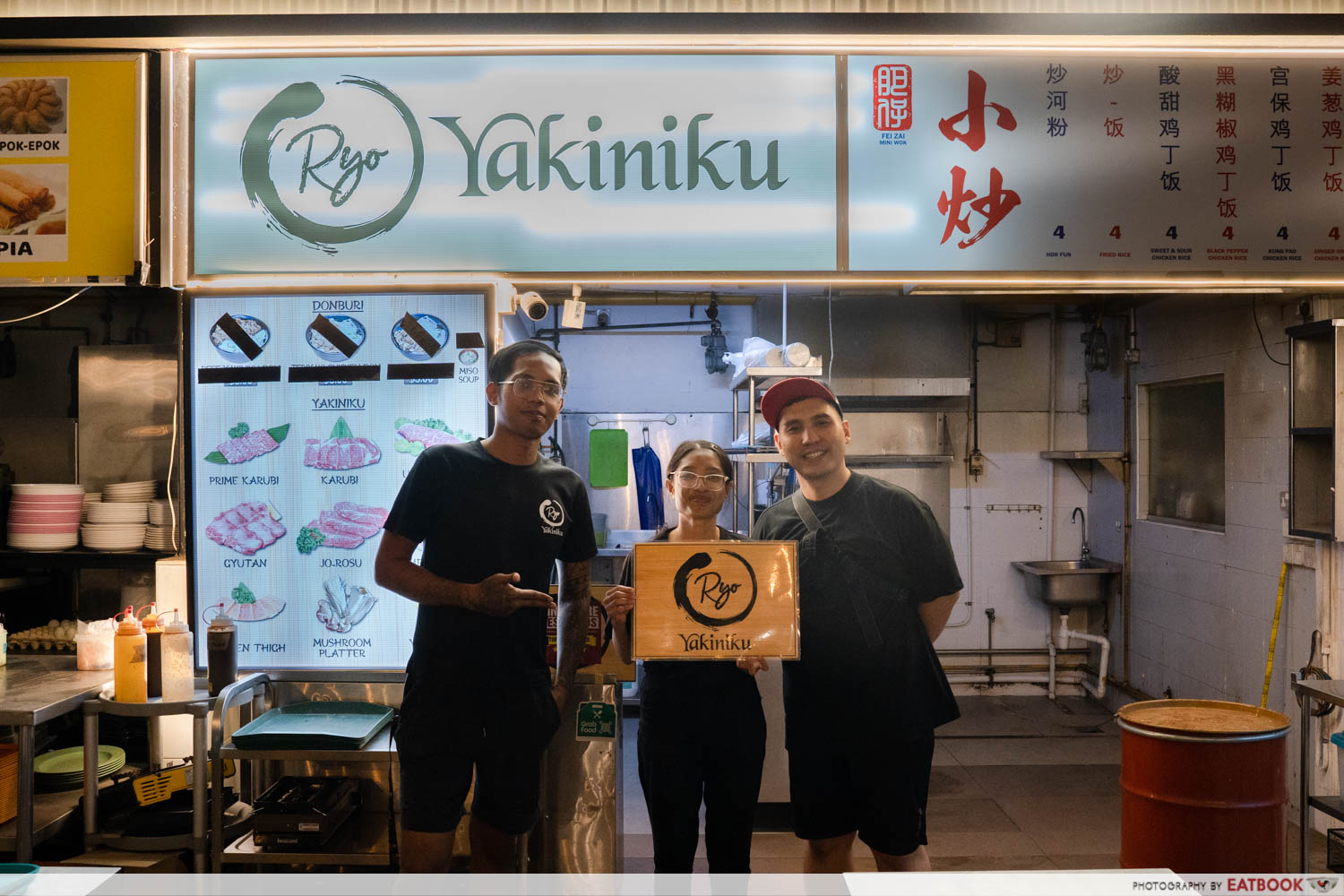 During our visit, we had the opportunity to speak with Didih, one of the founders of Ryo Yakiniku. Didih shared that the inspiration behind his store was actually the portable gas stove—the literal lifeline of their business. He received the portable gas stove as a gift during a birthday party, and it sparked his entrepreneurial spirit to start a Muslim-friendly yakiniku business. Together with the very person who gifted him the stove, they founded Ryo Yakiniku in 2021, and the business has been well-received for their affordable meat items. 
Mohamed Javed Indian Muslim Food Review: Award-Winning Crispy Prata, Nasi Briyani And More In Sengkang
Food at Ryo Yakiniku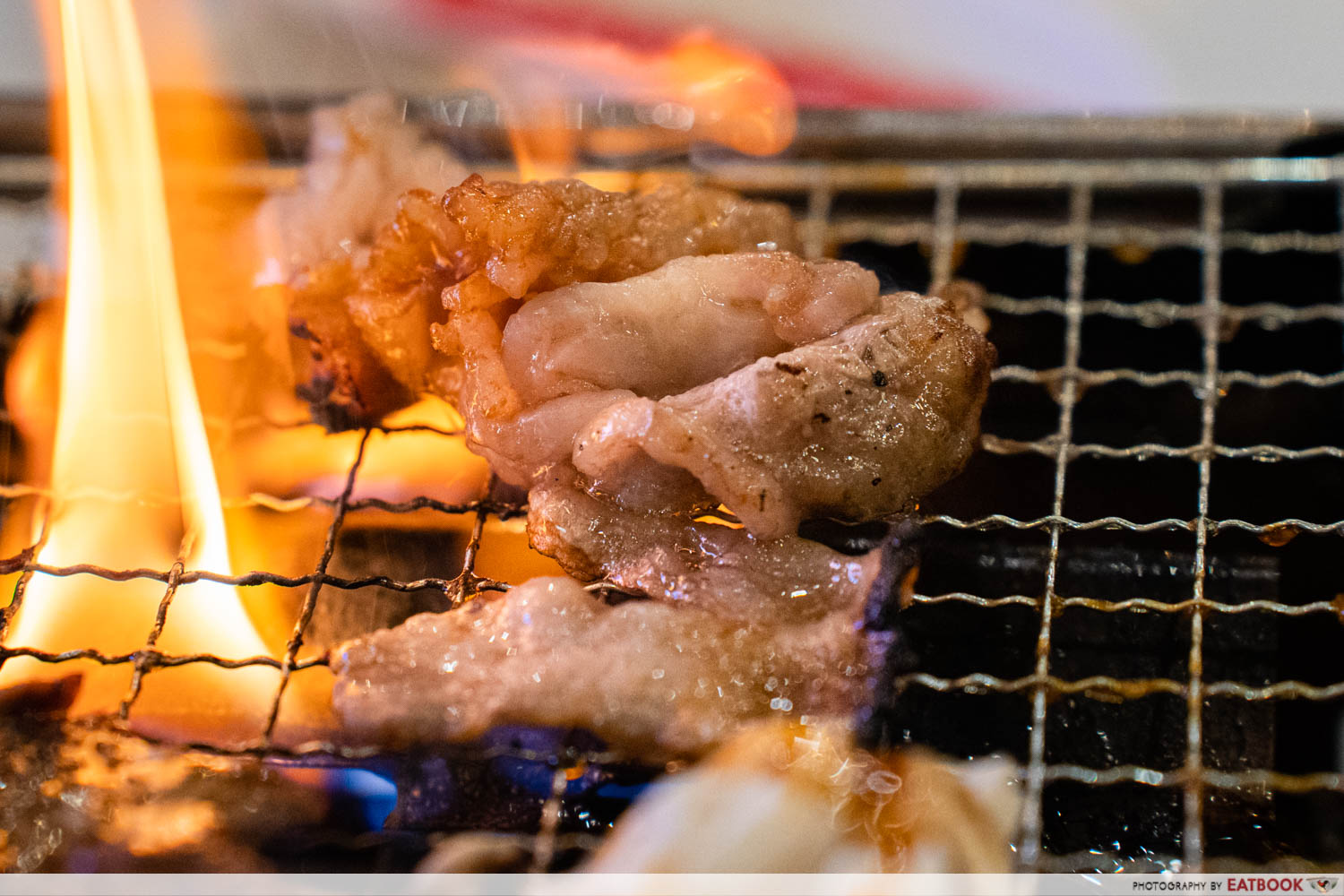 Ryo Yakiniku offers a wide selection of meat, including up to six different beef cuts, chicken, lamb, salmon belly, and more. Diners can choose to order items a la carte, or opt for the value-for-money set meals. We settled on their Deluxe Set ($40), which comprises a variety of meat items, a mushroom platter, two onsen eggs, and two bowls of rice.
Here, their grill is powered by disposable gas canisters, and it flames up with the fats dripping onto the heating elements. Be careful when you are cooking your meat, particularly with the strong winds that might blow through the open-air hawker centre. Oh, it's also important to monitor the cooking time and temperature too, lest the meat gets overcooked.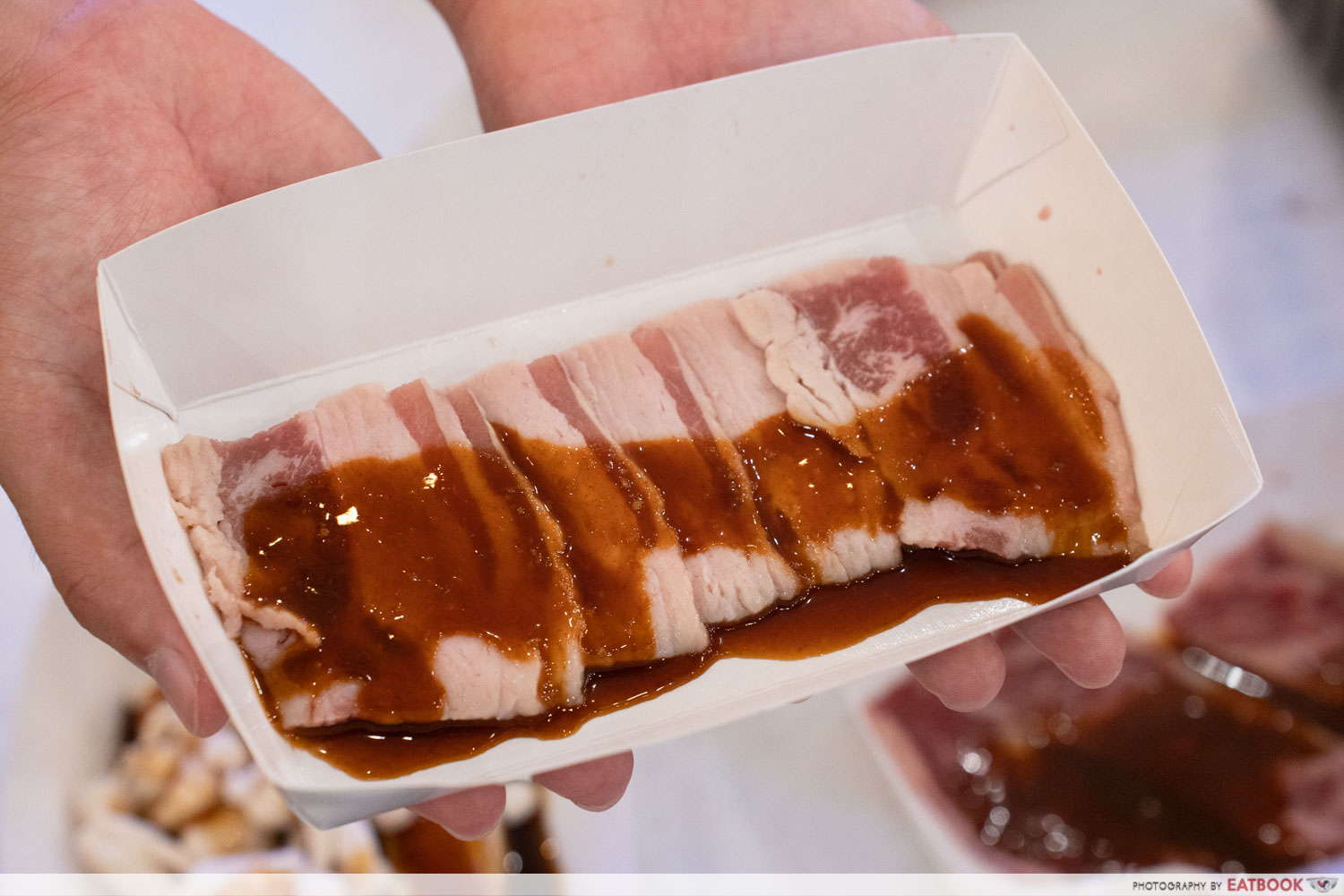 One of the most popular items at Ryo Yakiniku is the Karubi ($6 for 100g). It's tender, juicy, and has a melt-in-the-mouth texture that many customers rave about.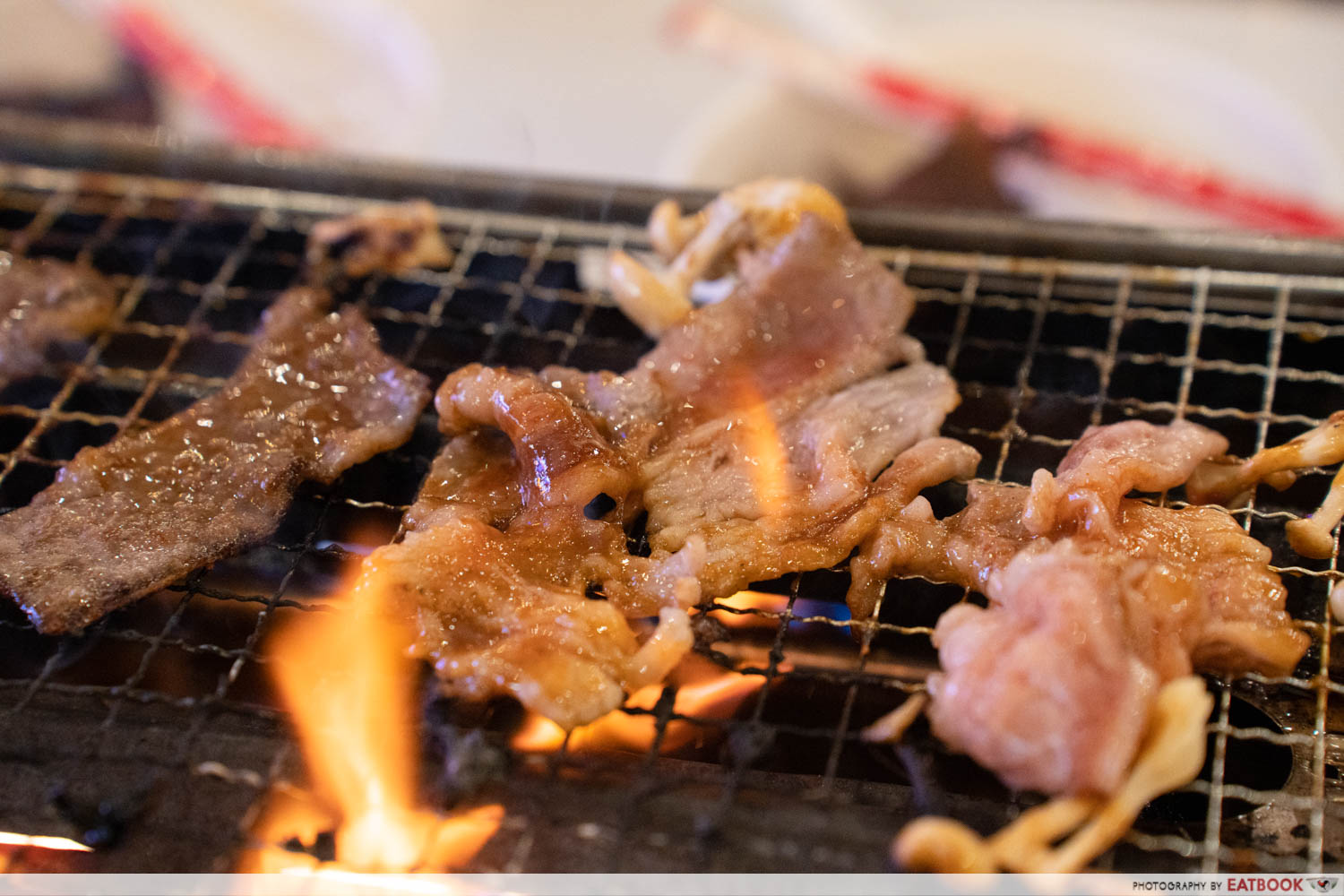 I found the meat to have a rich umami taste, and their house-made yakiniku marinade enhanced it with a touch of sweet and savoury. I only wished the meat could have been thicker for a fuller bite, but otherwise, this is a must-have if you're looking for a value-for-money option.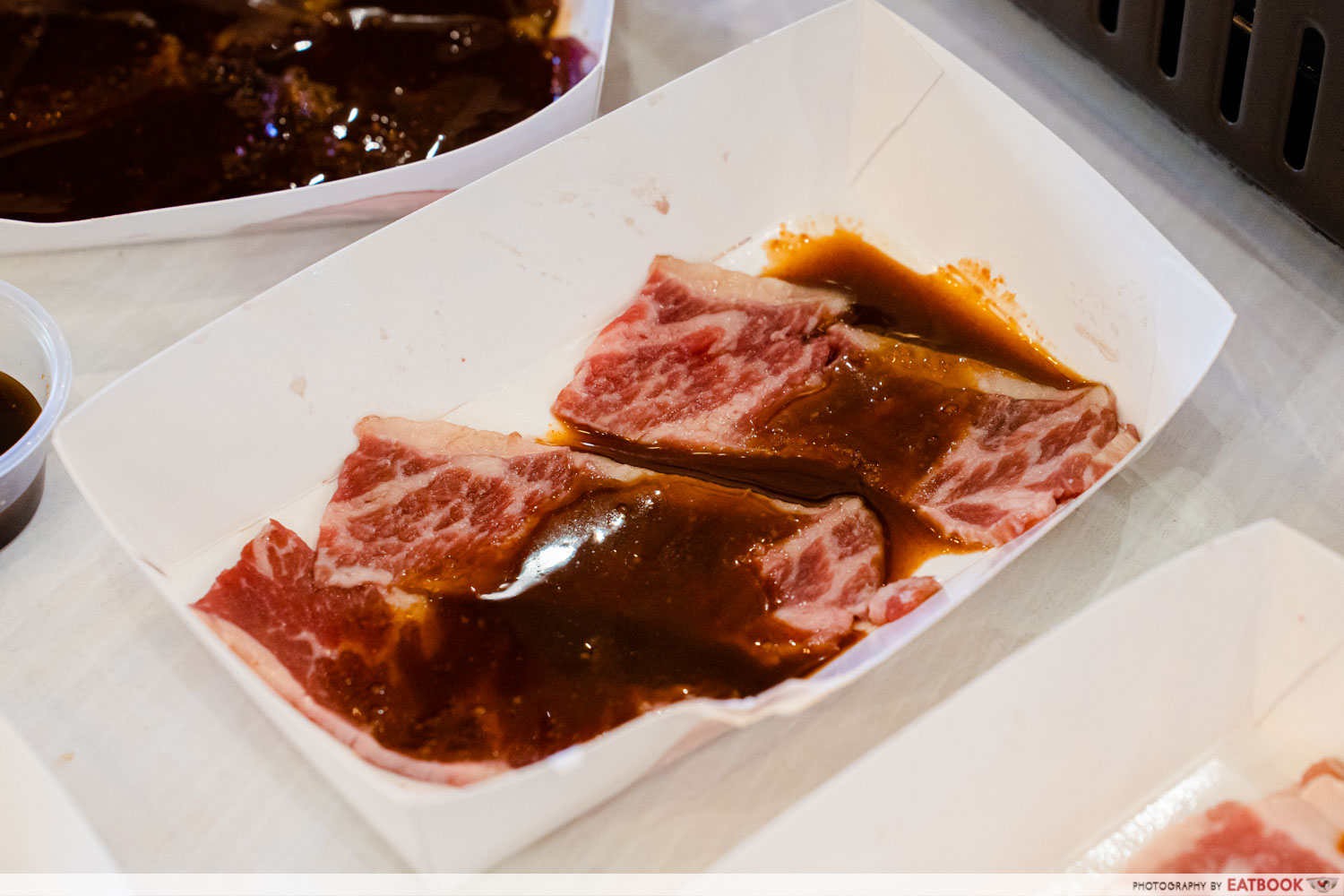 For a more premium cut of meat, there's the Prime Karubi ($6 for 50g).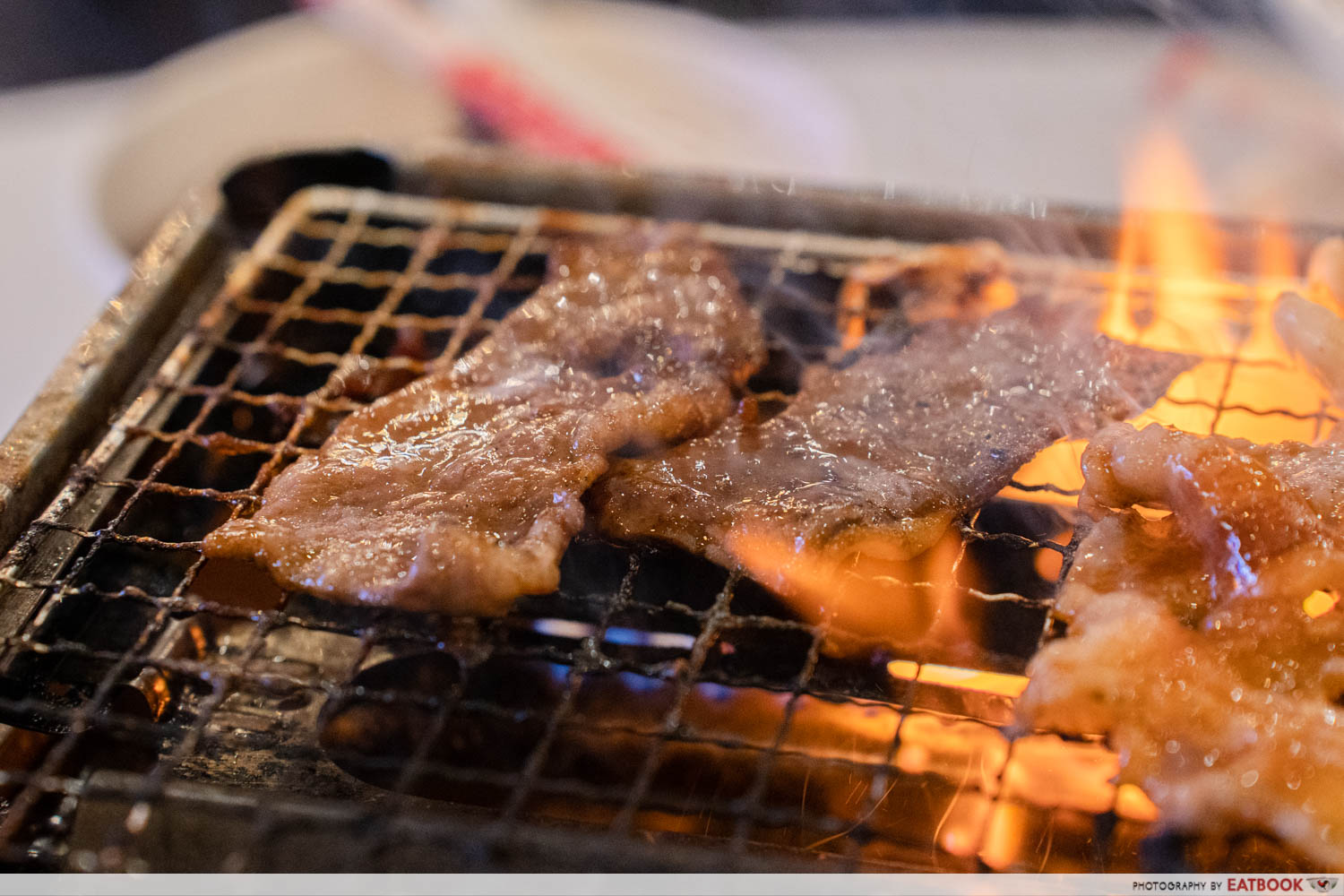 The prime karubi boasts a high level of marbling as compared to the regular karubi, resulting in a beefier flavour that's slightly juicier and more tender. Personally, I like to leave it on the grill for a little longer, which adds a crispy finish to the succulent meat.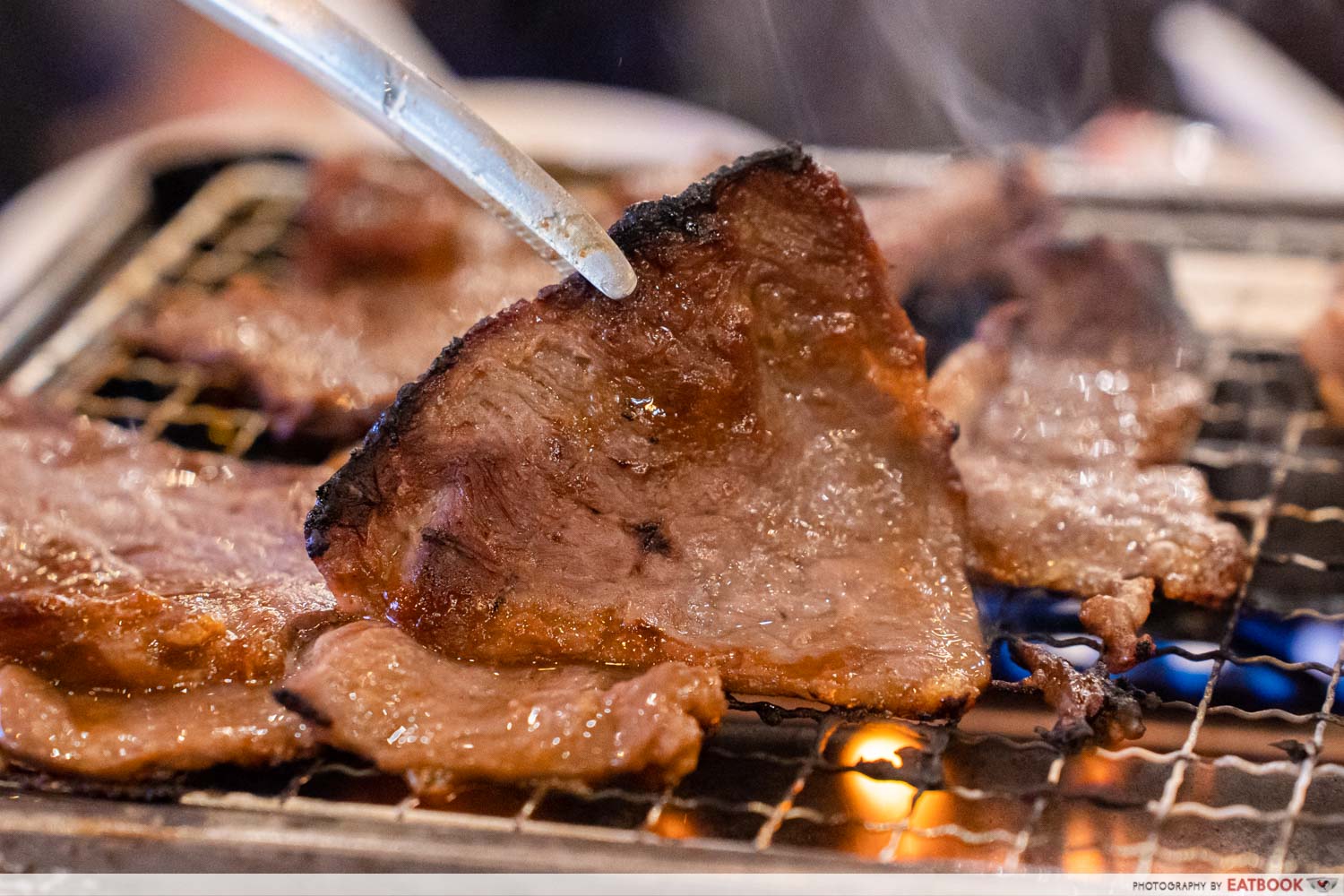 Our beef galore wasn't over just yet, as we still had the Kata Rosu ($6 for 100g) AKA beef chuck. While it's not as well-marbled as the karubi, it had a richer umami flavour that was prominent in each bite. However, as the meat is so thinly sliced, be careful not to overcook it—this could make it overly chewy.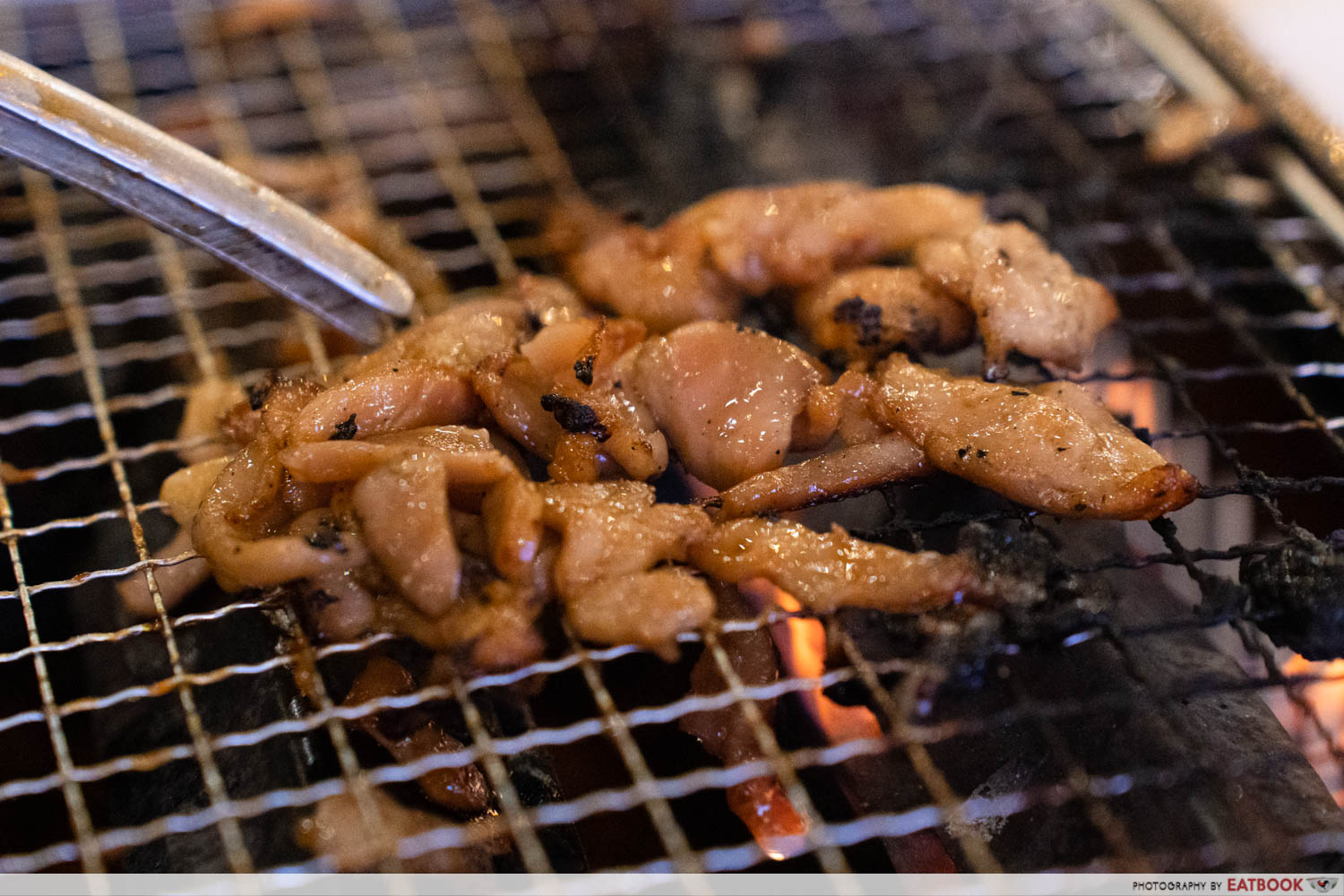 Our last meat item in this set was the Chicken Thigh ($10 for 200g). Marinated with their house-made teriyaki sauce, the chicken slices were sweet and savoury, with a kiss of smoke to complement it all.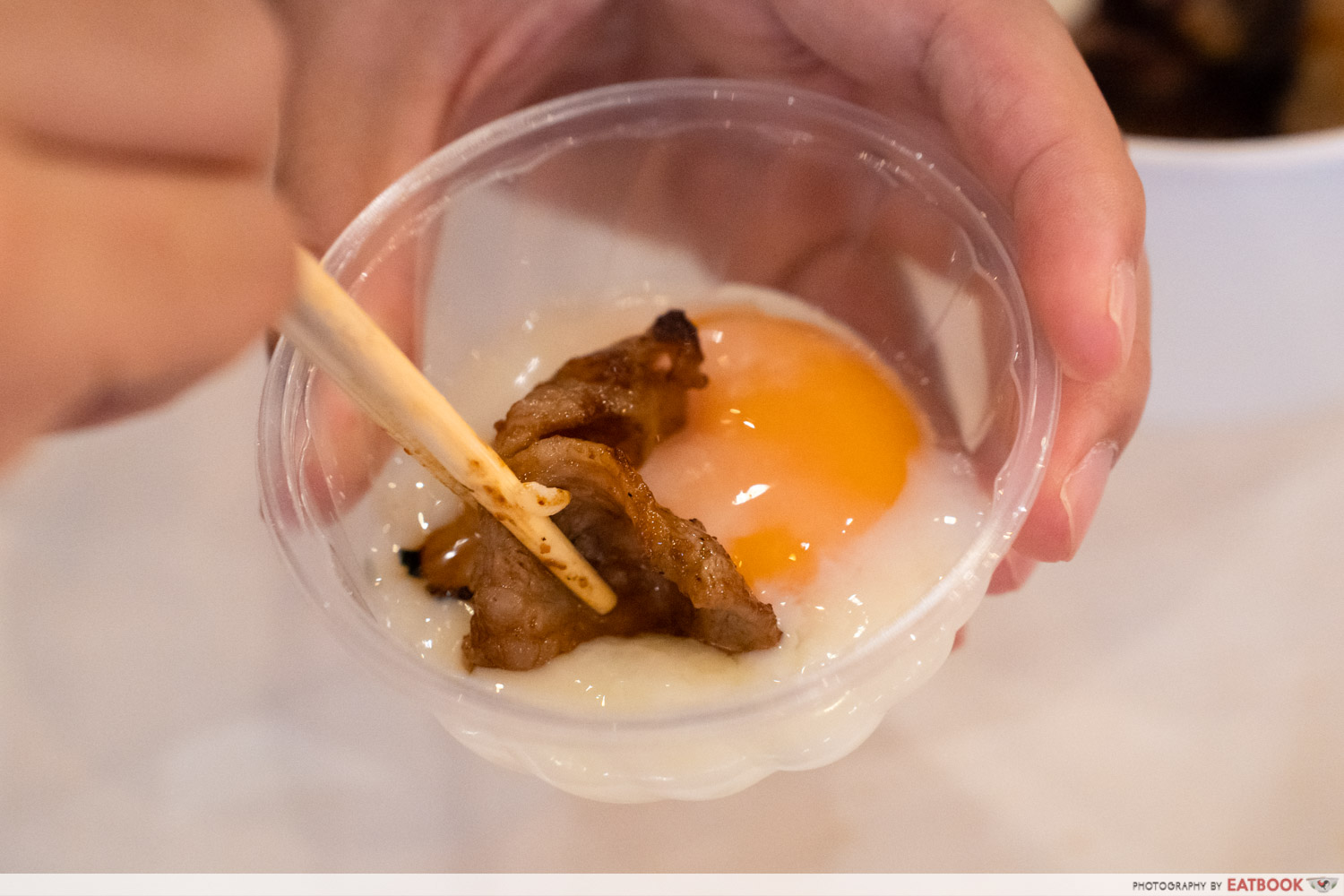 If you'd like to add more protein to your meal, the stall also has other types of meat to choose from, including Wagyu ($18 for 100g), Gyutan ($6 for 50g), and Lamb Shoulder ($6 for 100g). I highly recommend you get an Onsen Egg ($1), which serves as an excellent dipping sauce to elevate the flavour of the meat items. Alternatively, the onsen egg can be used as a dressing for the plain rice too.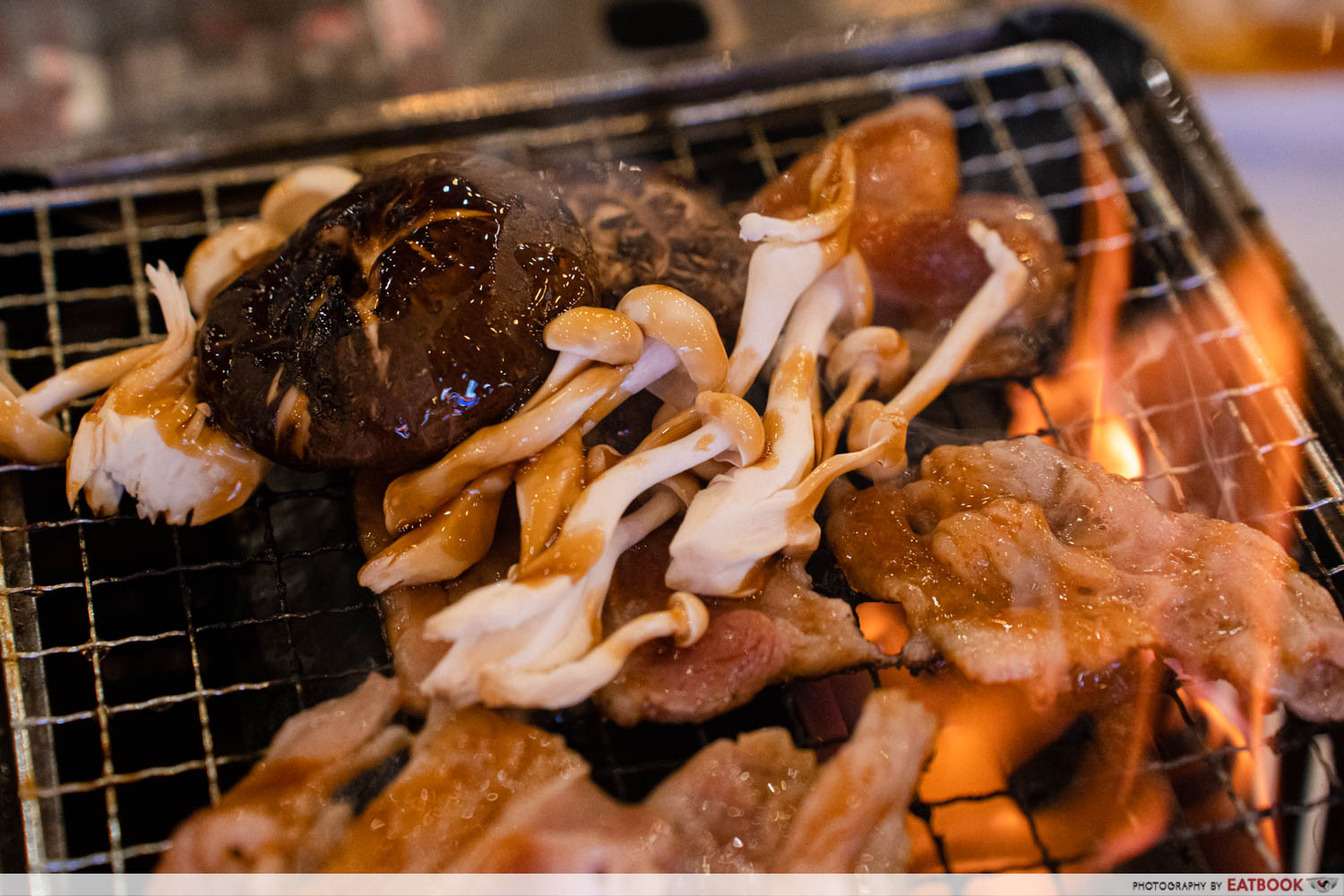 Lastly, we had the Mushroom Platter ($6), which came with three types of mushrooms: King Oyster, Shitake, and Enoki. I particularly enjoyed the king oyster mushroom, which boasted a rich umami flavour, with a nice char after being grilled on the hotplate.
Ambience at Ryo Yakiniku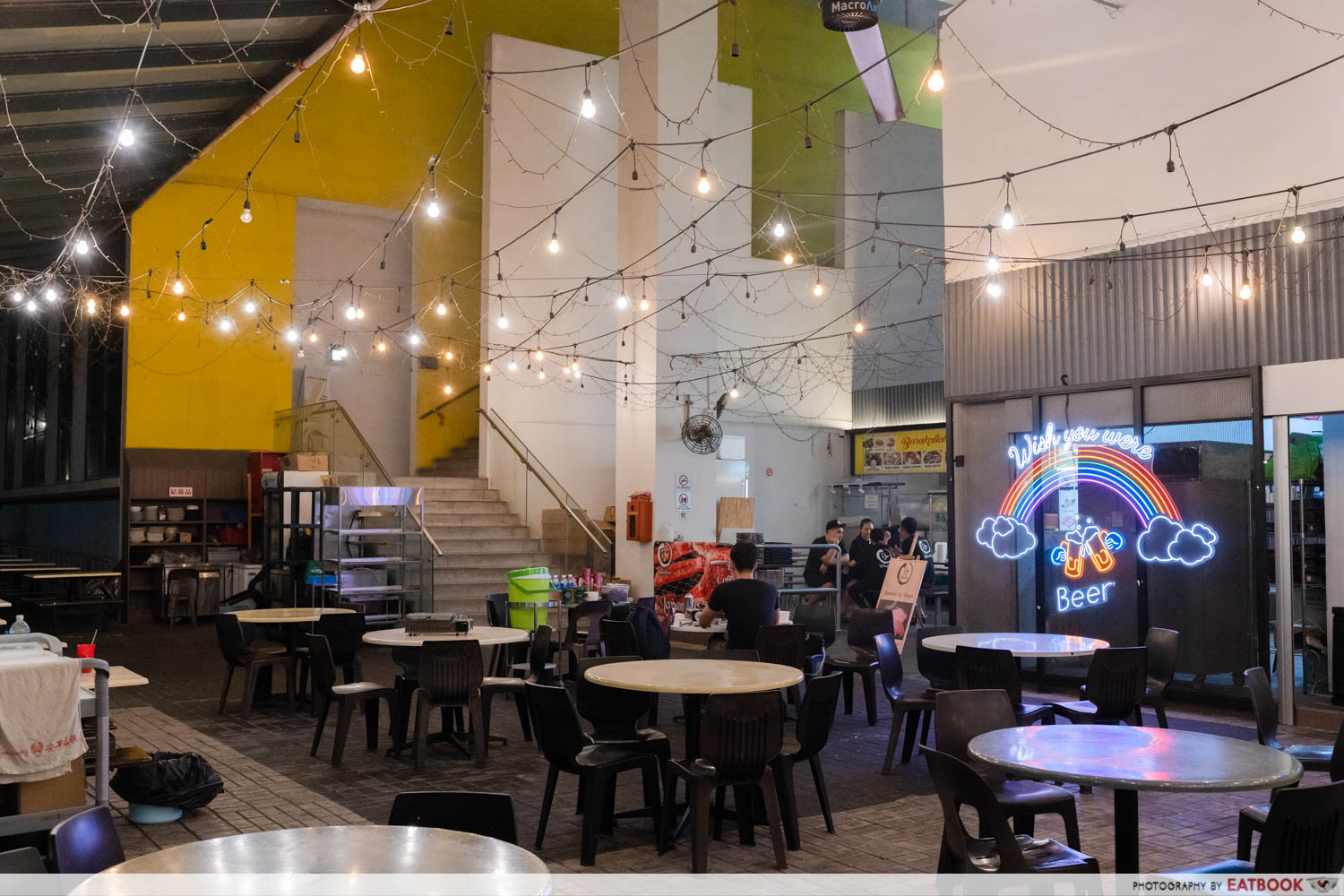 Ryo Yakiniku is located on the first floor of Print Media Hub, a five-minute jaunt from Tai Seng MRT Station. While Tai Seng is considered—I quote my colleague Michelle— "kind of ulu", the upside of their location is that it's relatively quiet and peaceful, unlike other busy yakiniku joints. Here, you can enjoy your BBQ in a breezy, open-air food centre with beautiful fairy lights hanging above you.
Also, it looks like Didih and his team are the DJs of the coffee shop, so you might find yourself vibing to their playlists, which can range from nostalgic Taylor Swift hits to hippy Indonesian pop remixes.
Yakiniku OK Review: New Japanese BBQ Restaurant In Pasir Ris With Wagyu Sets
The verdict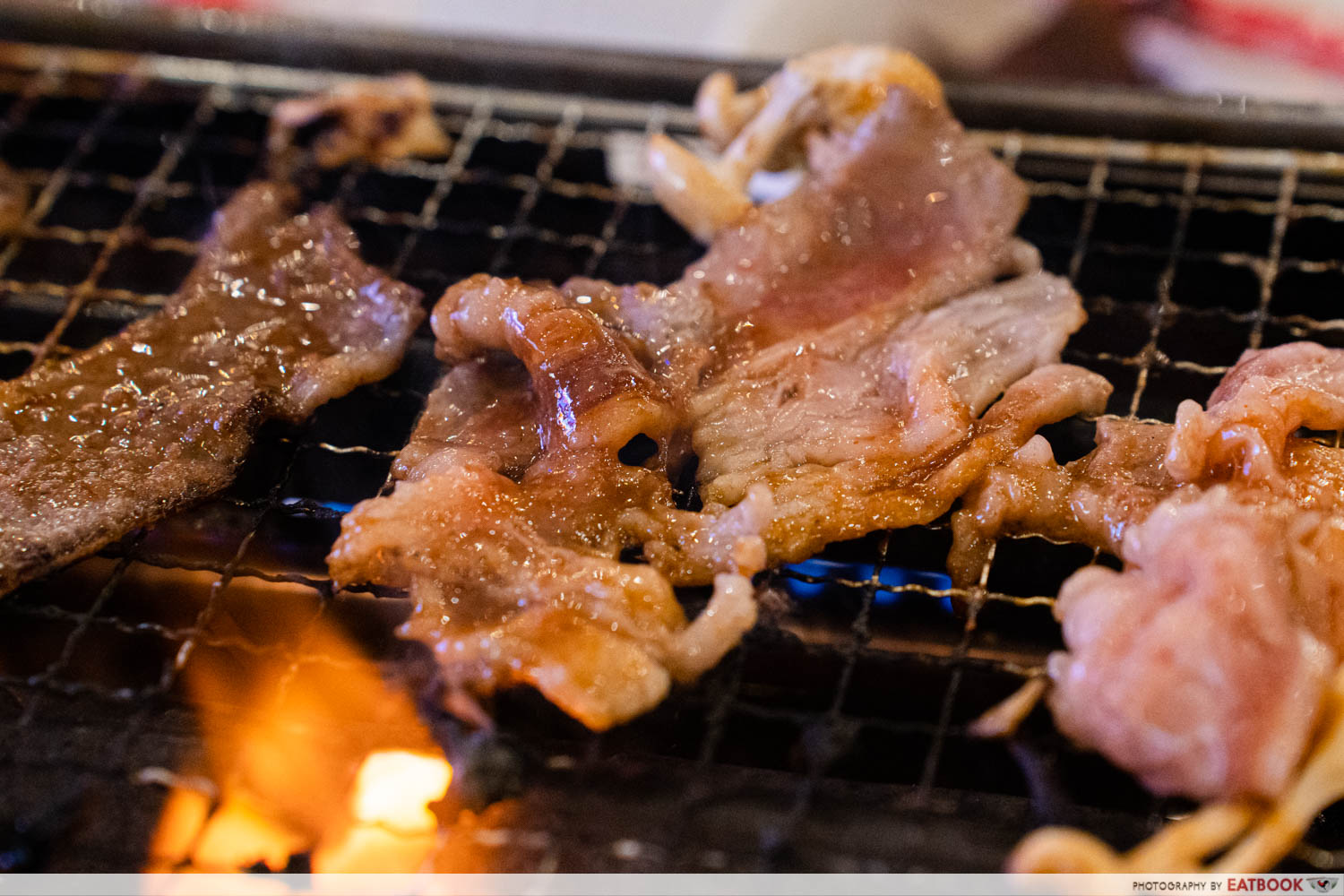 Our Eatbook writer Cheryl often talks about how "everything is expensive in this economy" and how we should "never settle for anything less than you deserve". I feel that Ryo Yakiniku has ticked both boxes of affordability and quality. If you're looking for a good halal-friendly Japanese BBQ spot without breaking your wallet, I'd definitely recommend paying them a visit. 
For more yakiniku to try and conquer, read our list of the best yakiniku places in Singapore. For another food recommendation in Tai Seng, check out Feng Ji Big Prawn Noodles, where you can catch your own live prawns for your hei mee!
Address: 61 Tai Seng Avenue, B1-02, Print Media Hub, Singapore 534167
Opening hours: Mon-Sat 5:30pm to 10:30pm
Tel: 9066 0981
Website
Ryo Yakiniku is a Muslim-owned eatery.
12 Yakiniku Places In Singapore For Your Japanese BBQ Fix, From $3.50
Photos taken by Rifdi Syahir.
This was an independent visit by Eatbook.sg
Ryo Yakiniku Review: Singapore's First Muslim-Owned Coffeeshop Yakiniku Joint In Tai Seng
Ryo Yakiniku Review: Singapore's First Muslim-Owned Coffeeshop Yakiniku Joint In Tai Seng -

7.5/10
Summary
Pros
– Good quality meat
– Affordable prices
Cons
– Location is rather remote
Recommended dishes: Deluxe Set ($40), Karubi ($6 for 100g), Kata Rosu ($6 for 100g)
Opening hours: Mon-Sat 5:30pm to 10:30pm
Address: Address: 61 Tai Seng Avenue, B1-02, Print Media Hub, Singapore 534167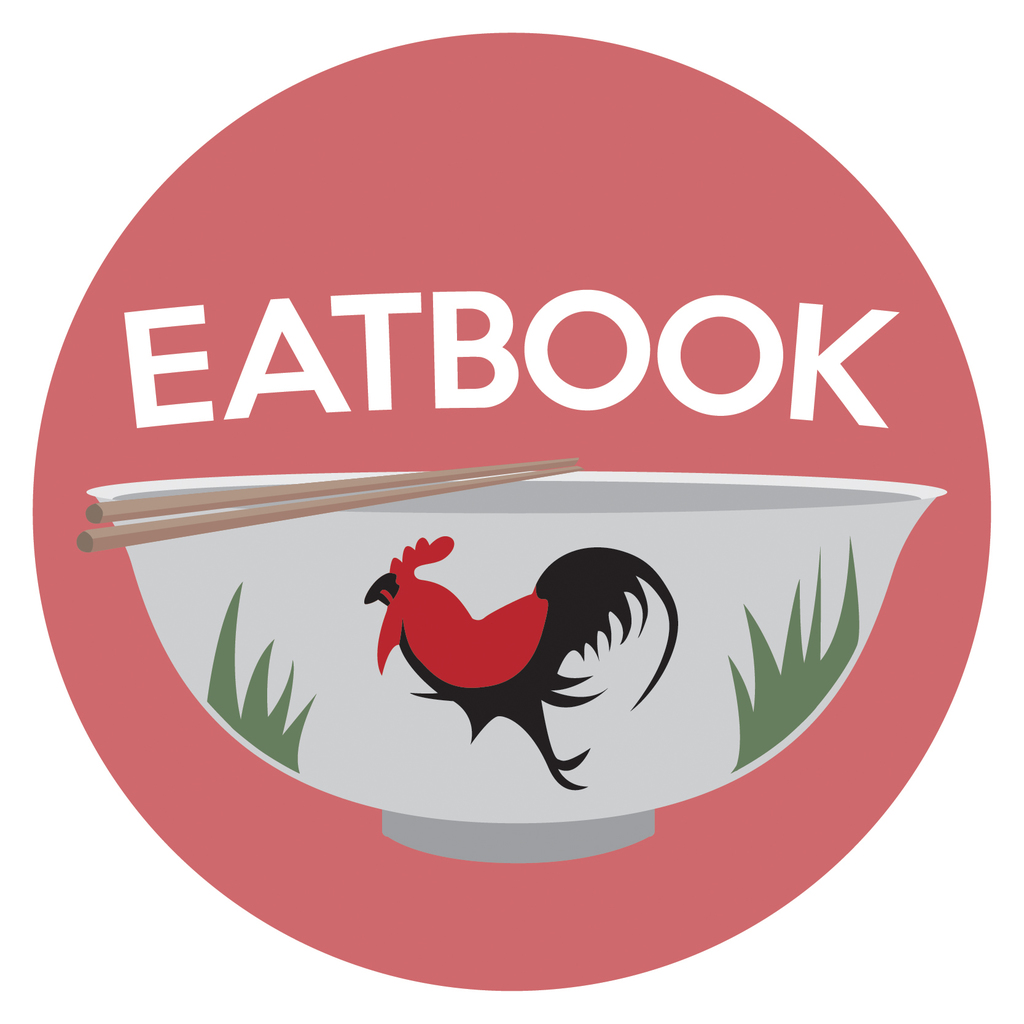 Drop us your email so you won't miss the latest news.