Feng Ji Big Prawn Noodle in Tai Seng lets you catch your own prawns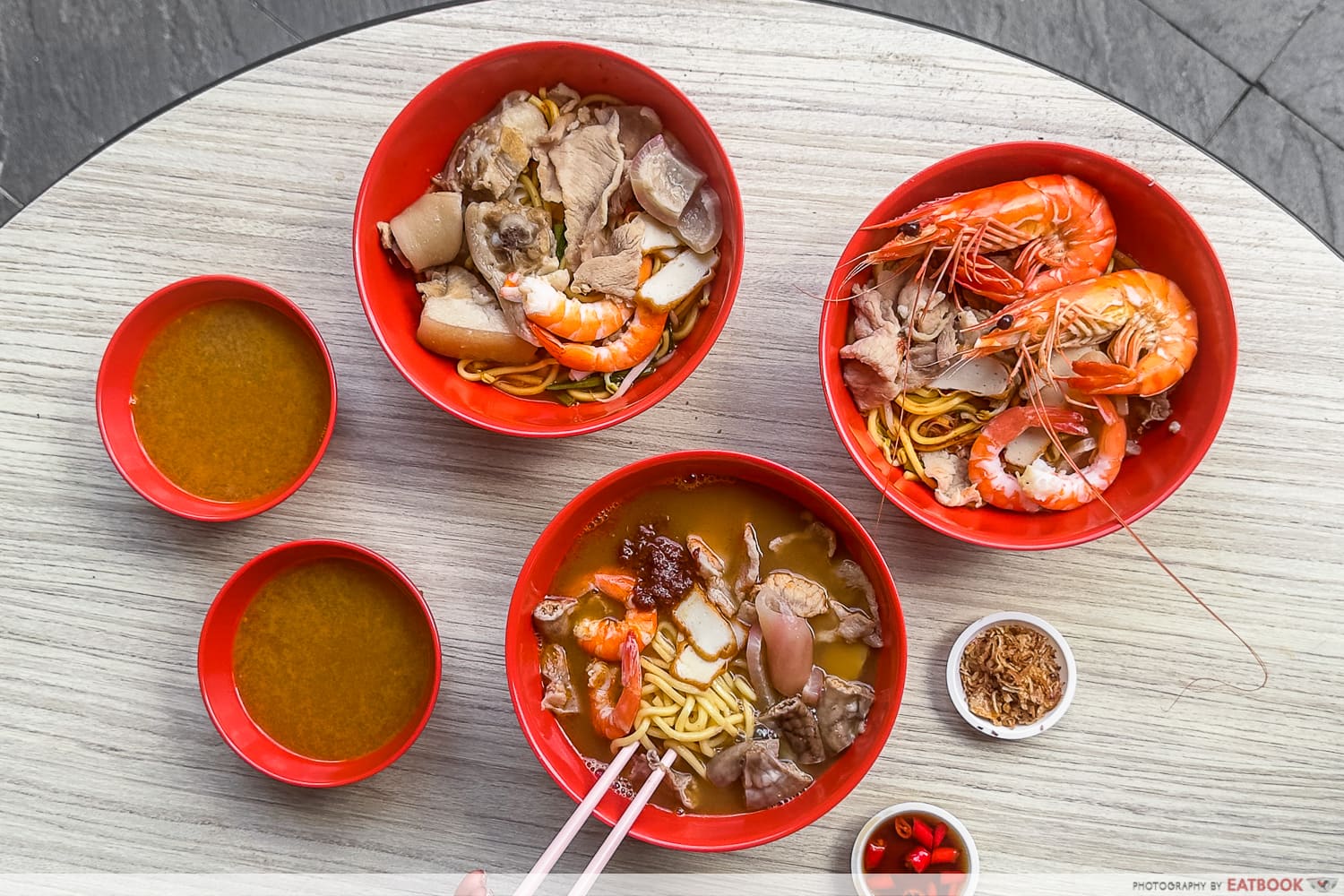 I'm 100% anti-creepy crawlies and against handling live produce, and I've never seen the appeal in late-night prawning or the like. Then my colleague sent us a video of a hawker stall in Tai Seng where you can catch your own live prawns for your hei mee, and nobody else on the team was available to head down—so I was it, and found myself at Feng Ji Big Prawn Noodle one fine morning.
Food at Feng Ji Big Prawn Noodle
To be fair, it's not absolutely compulsory for you to really catch your own prawns. Order their Traditional Prawn Noodle ($5), Big Prawn Noodle ($12/$16), or any of their other prawn noodles, and the prawns already come with your order—not live ones of course.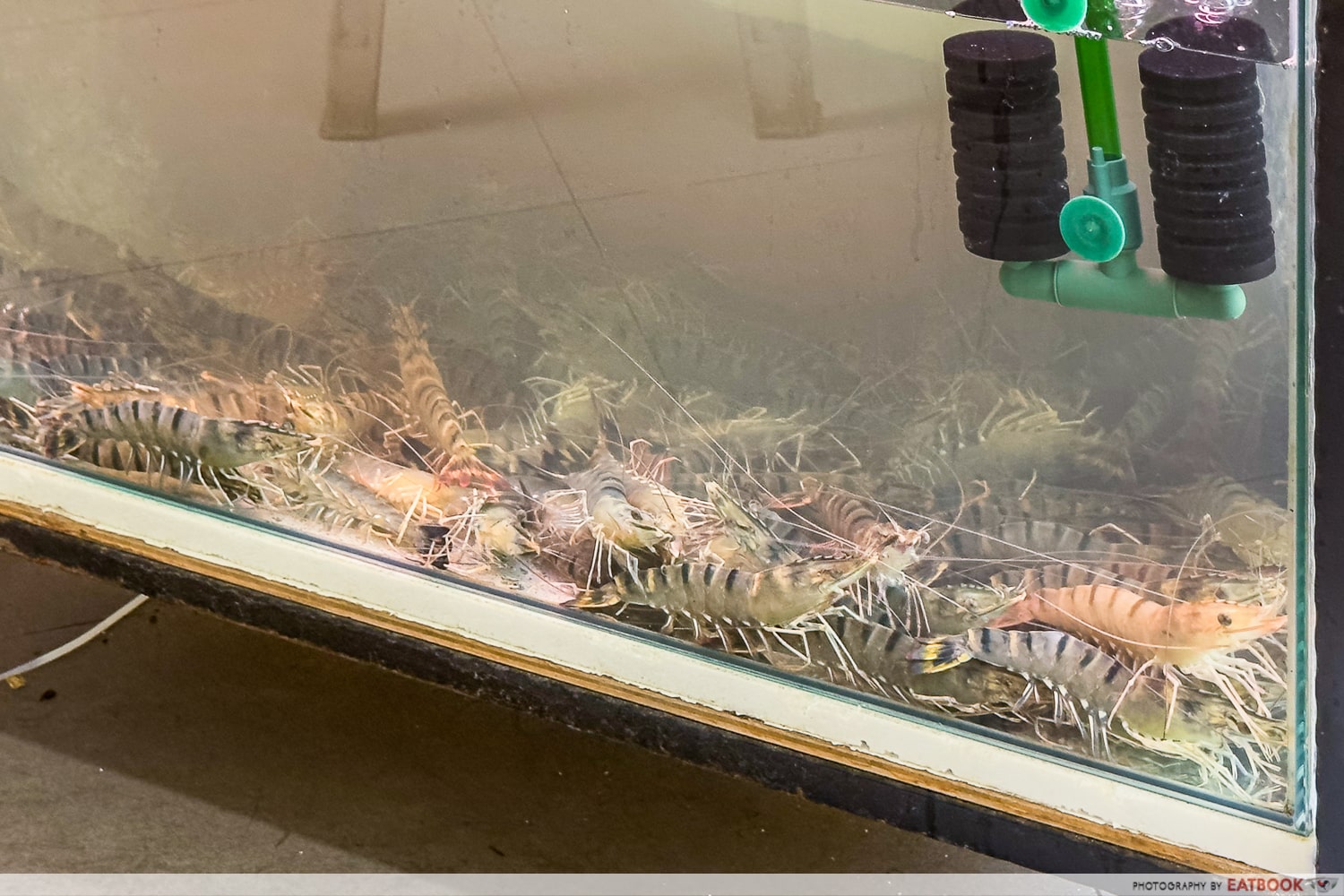 If you're looking for the experience, simply let boss Jacky know that you'd like to catch your own prawns, and he'll point you to the tank just in front of the stall. Each Live Prawn costs $1.80, discounted from the usual price of $2.80, and you are given a net to catch your lucky crustacean with.
Empty your chosen one(s) into the provided pail, and pass them off to Jacky, who gives them a tapwater rinse and chucks them unceremoniously into the boiling hot broth. It's not an experience for the tender-hearted.
On our visit, the tank was full of large tiger prawns, but on other days, they have more impressive-looking crayfish, which are similarly priced.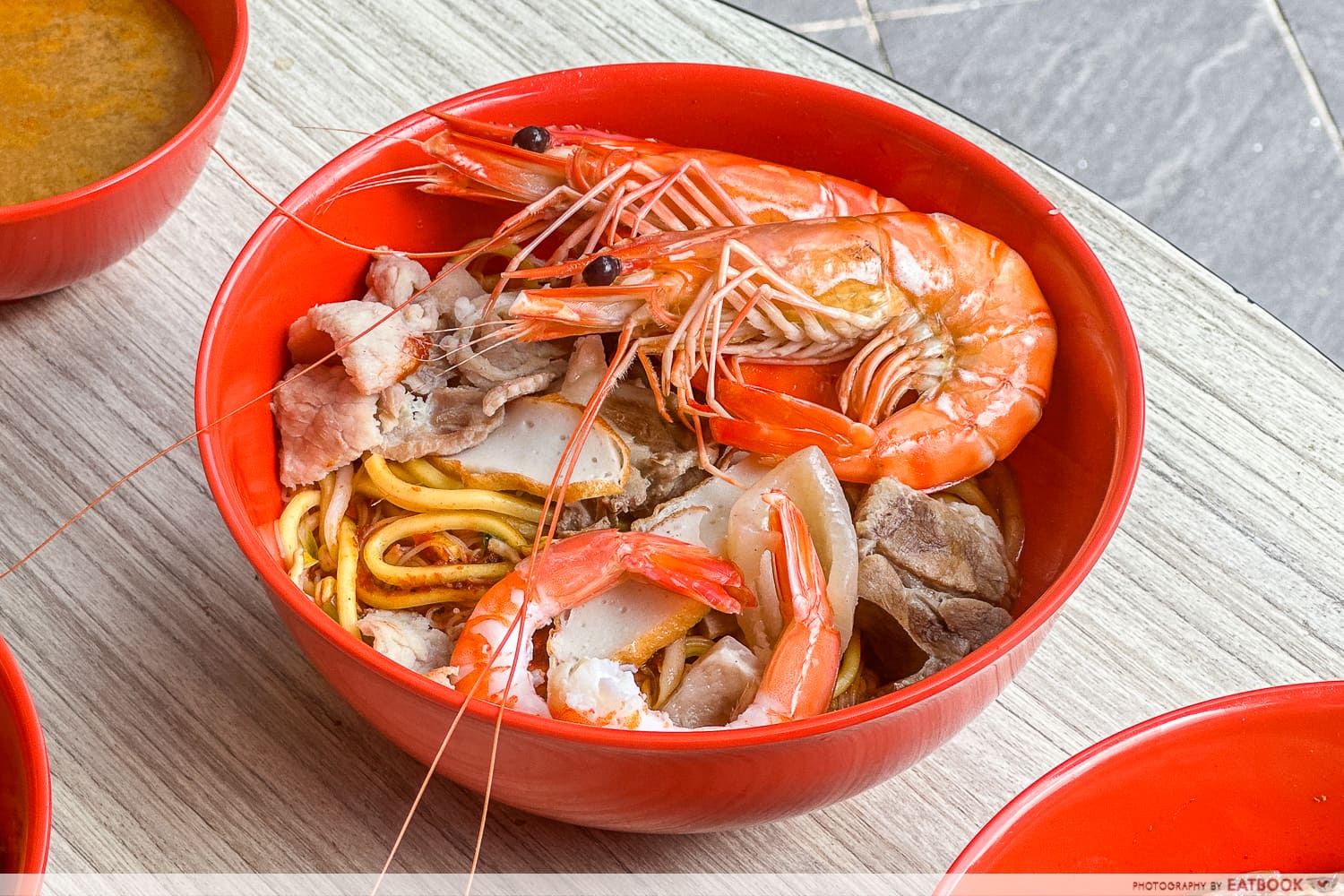 Since he was fresh out of crayfish, we couldn't order the Big Prawn Noodle, but settled for Pork Ribs Prawn Noodle ($7.50), to which we added two live prawns.
Fried shallots, chilli powder, and crisp pork lard are usually available on the counter for you to add to your noods. When we were there though, they'd sadly run out of pork lard, which is fried in-house.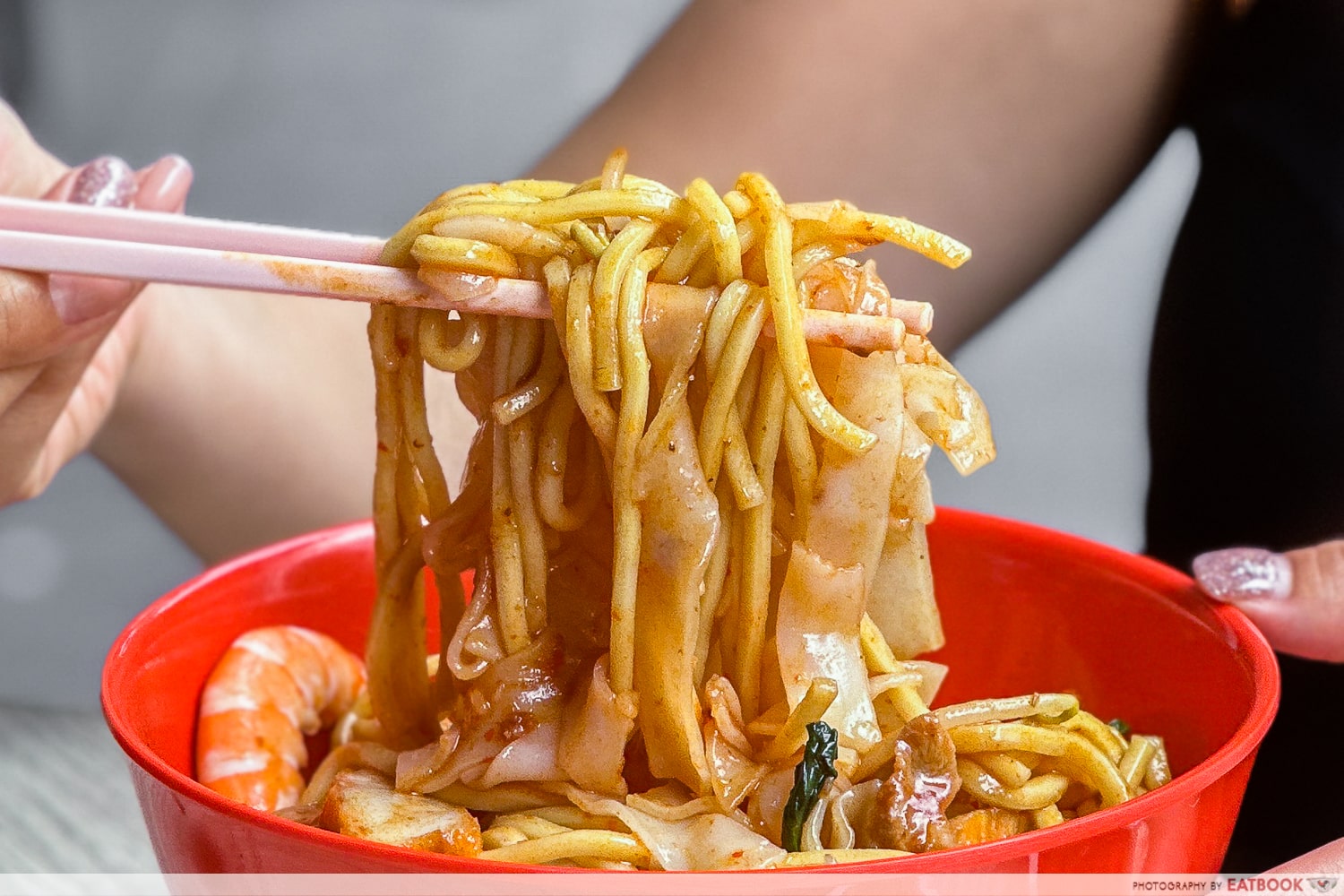 Another condiment that's house-made is their sambal, which unfortunately I couldn't really taste against the sweet ketchup in the dry-tossed noodles; I'd recommend asking him to skip the ketchup and add more sambal.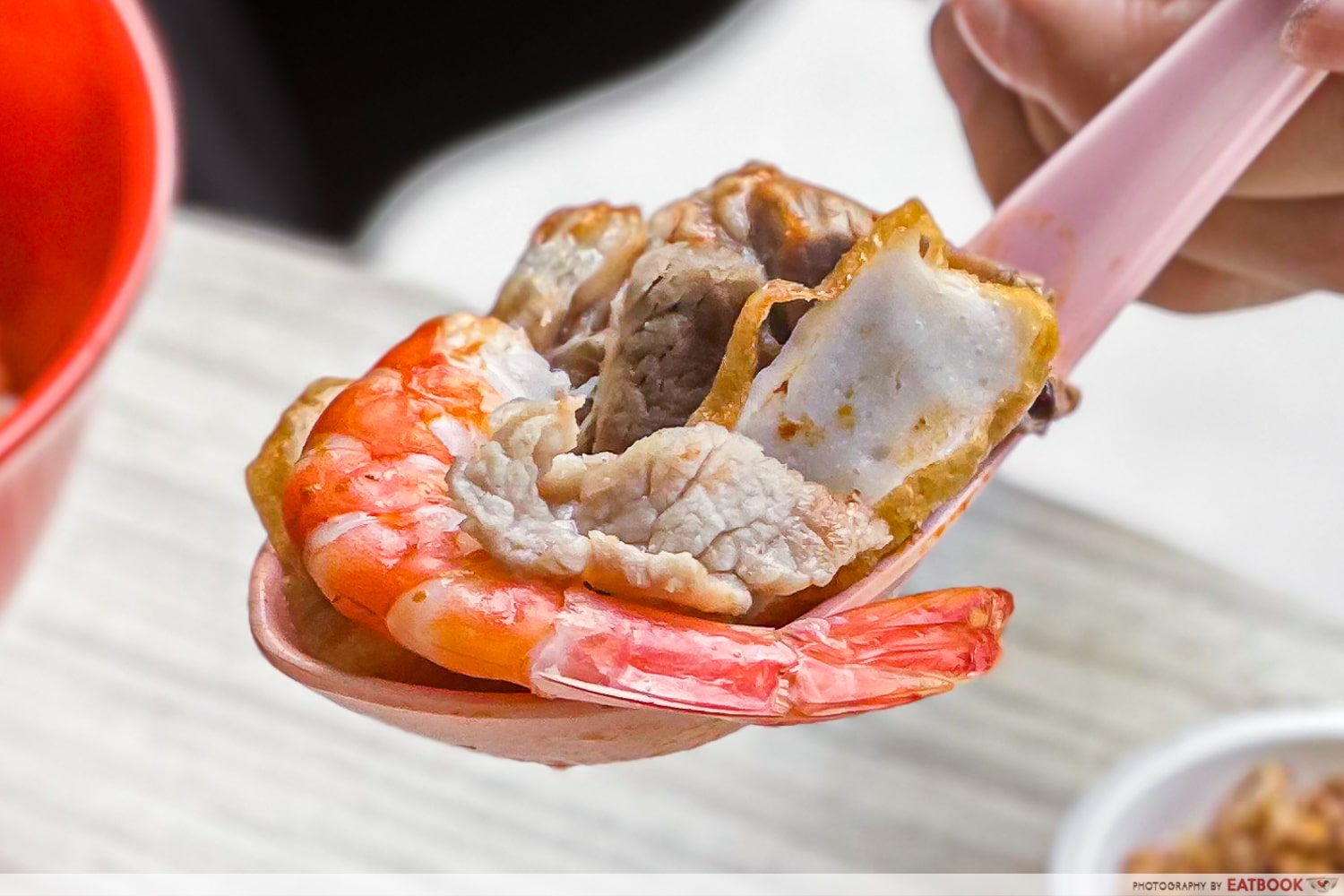 For $6.80, we found the bowl of noodles and its ingredients to be generously portioned, with fishcake, pork slices, pig skin, and fresh, succulent peeled prawns, alongside chunks of decently tender pork ribs. There's also a scattering of kang kong in each bowl, and for tau gey haters out there, here's some good news: there isn't any.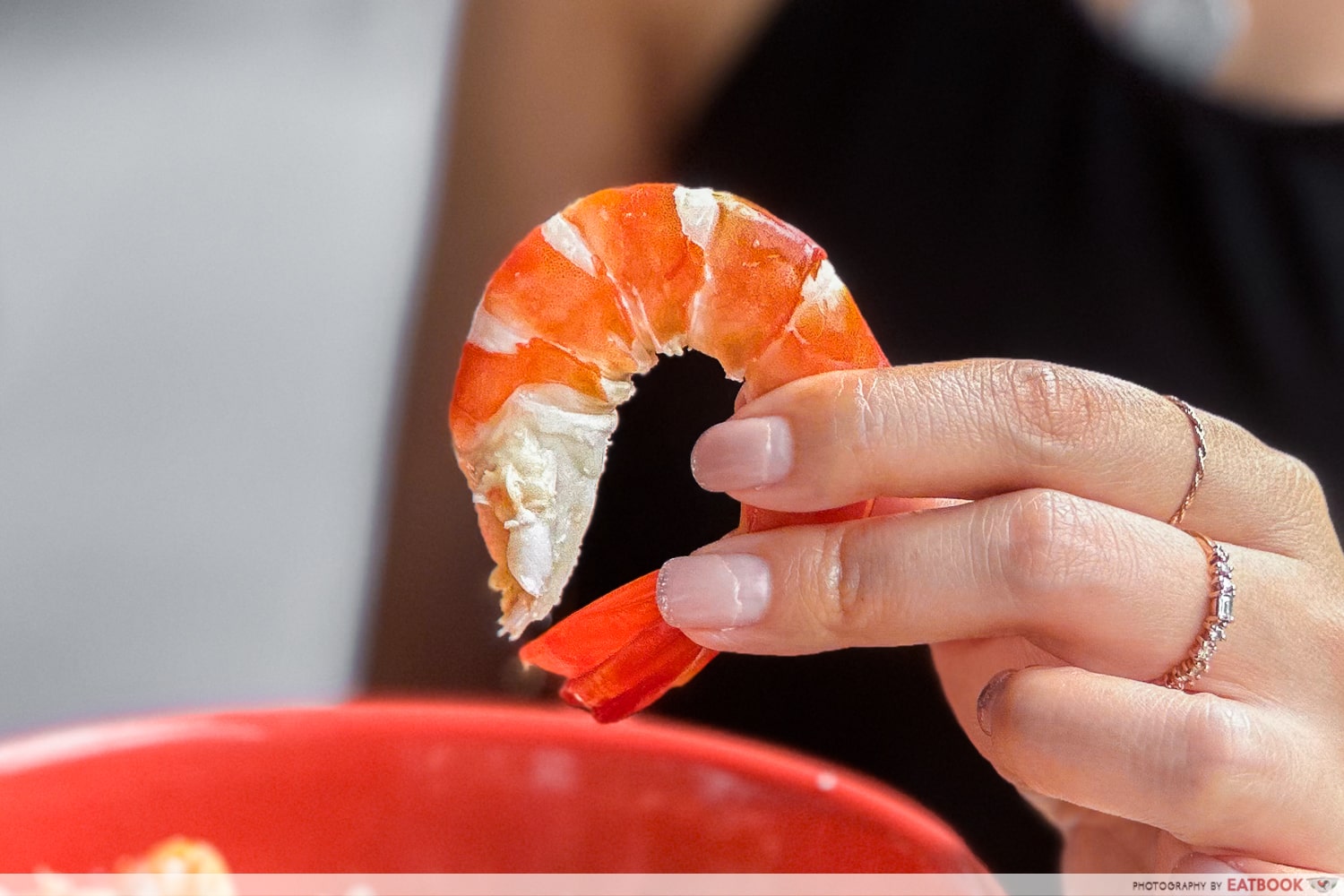 If you're not looking to get your hands dirty peeling prawns, stick to the ones already in the bowl. They're considerably fresh and of good quality. Nothing quite compares to those that are live and kicking from the tank, so have your wipes on hand if you're getting the live prawns—or have a willing tribute to do the peeling for you.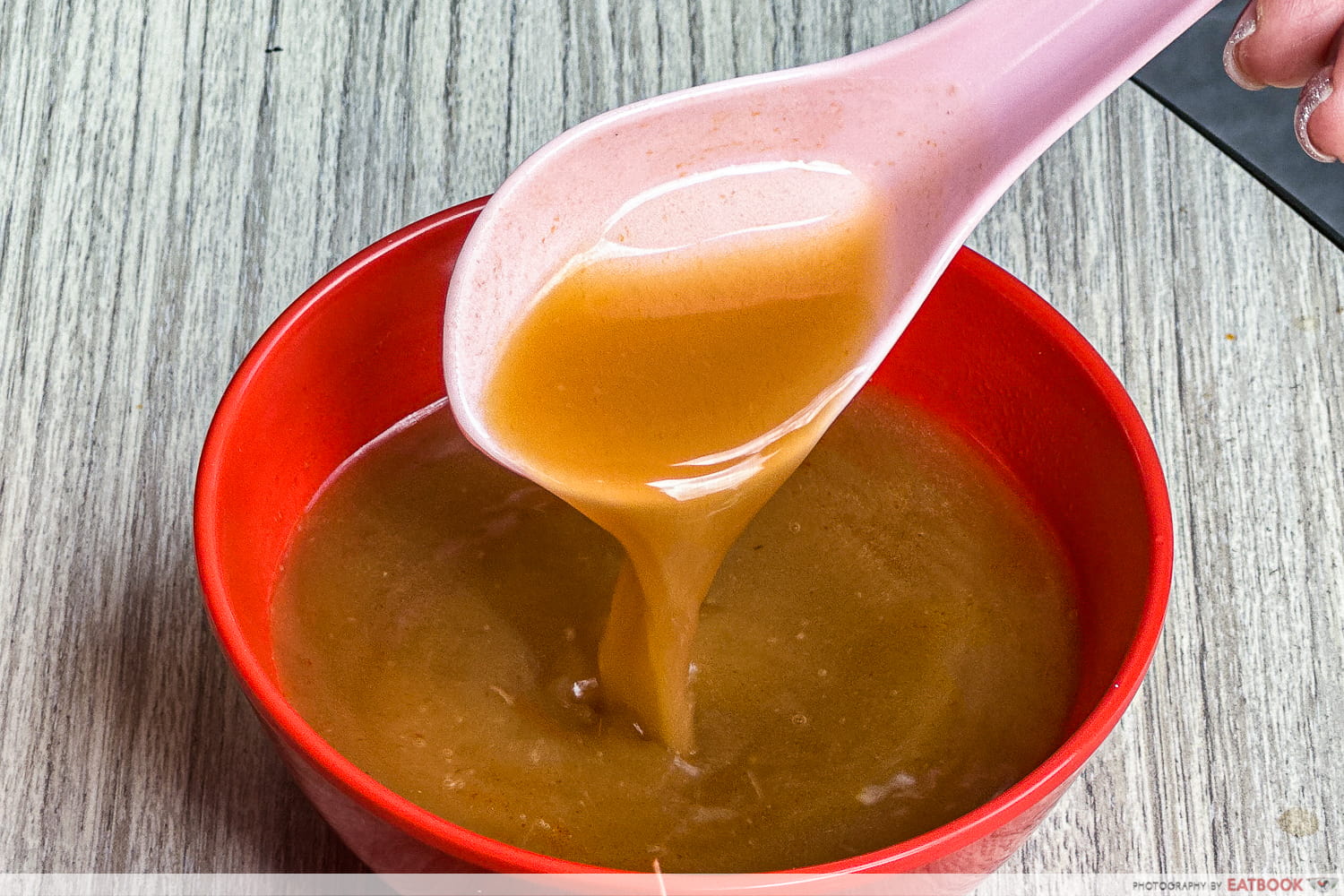 One of the most important elements, if not the most important, in any hei mee is the soup. Here at Feng Ji Big Prawn Noodle, I was properly pleased with their offering. It was prawny, not overwhelmingly so, and sweet, but not in the sugary way that I dislike. In fact, sipping on this soup reminded me of the turnip filling in popiah and kueh pie tee.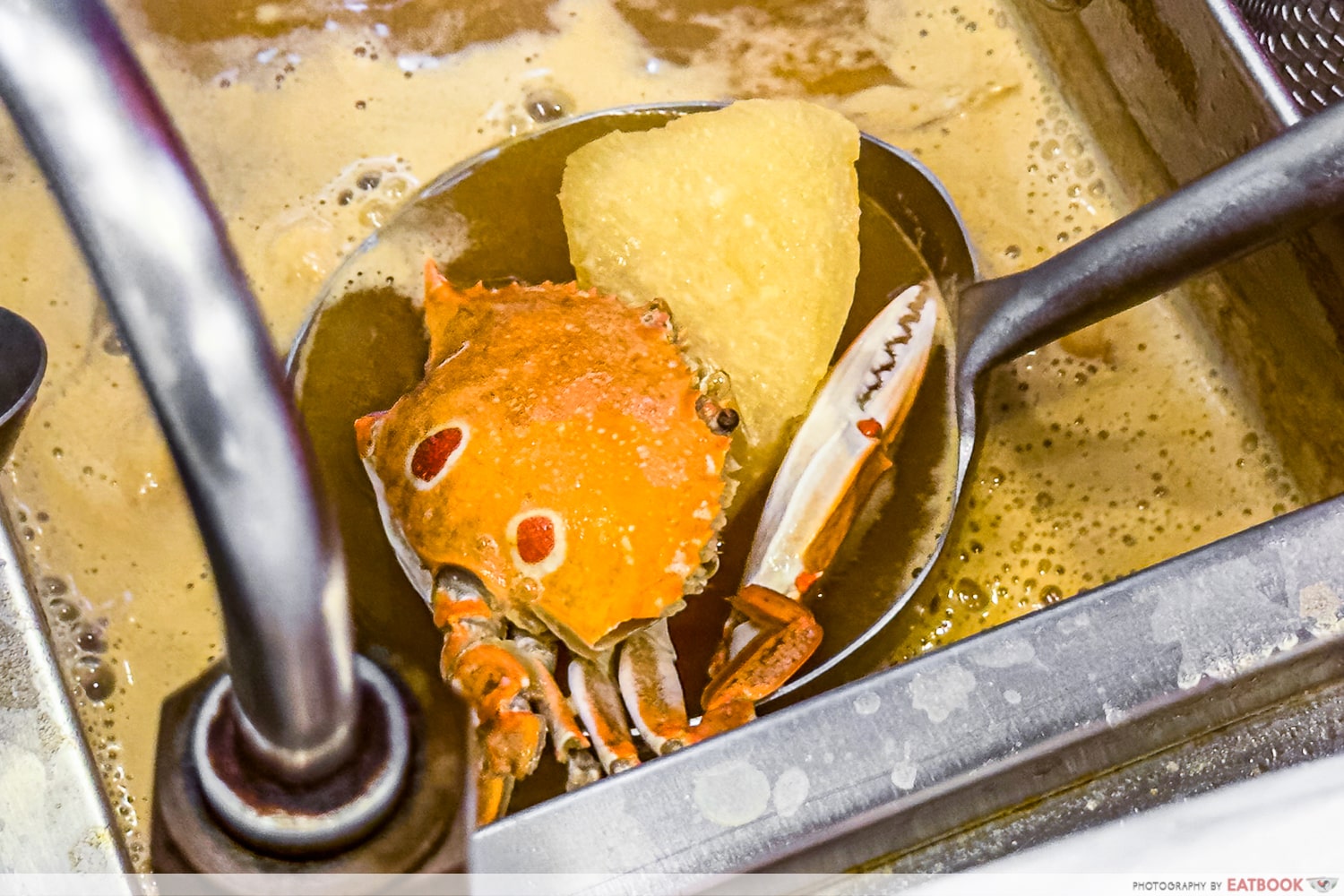 I say that with good reason: the broth here is boiled for at least one and a half days, with a medley of ingredients including crab, prawn heads, pork and chicken bones, conpoy, garlic, and fresh turnip. I tried probing for more, but Jacky said I'd have to pay him for prawn soup classes if I wanted his secrets.
In the name of comparison, I'd say this soup bears some similarity to that of my usual favourite, Da Dong Prawn Noodles.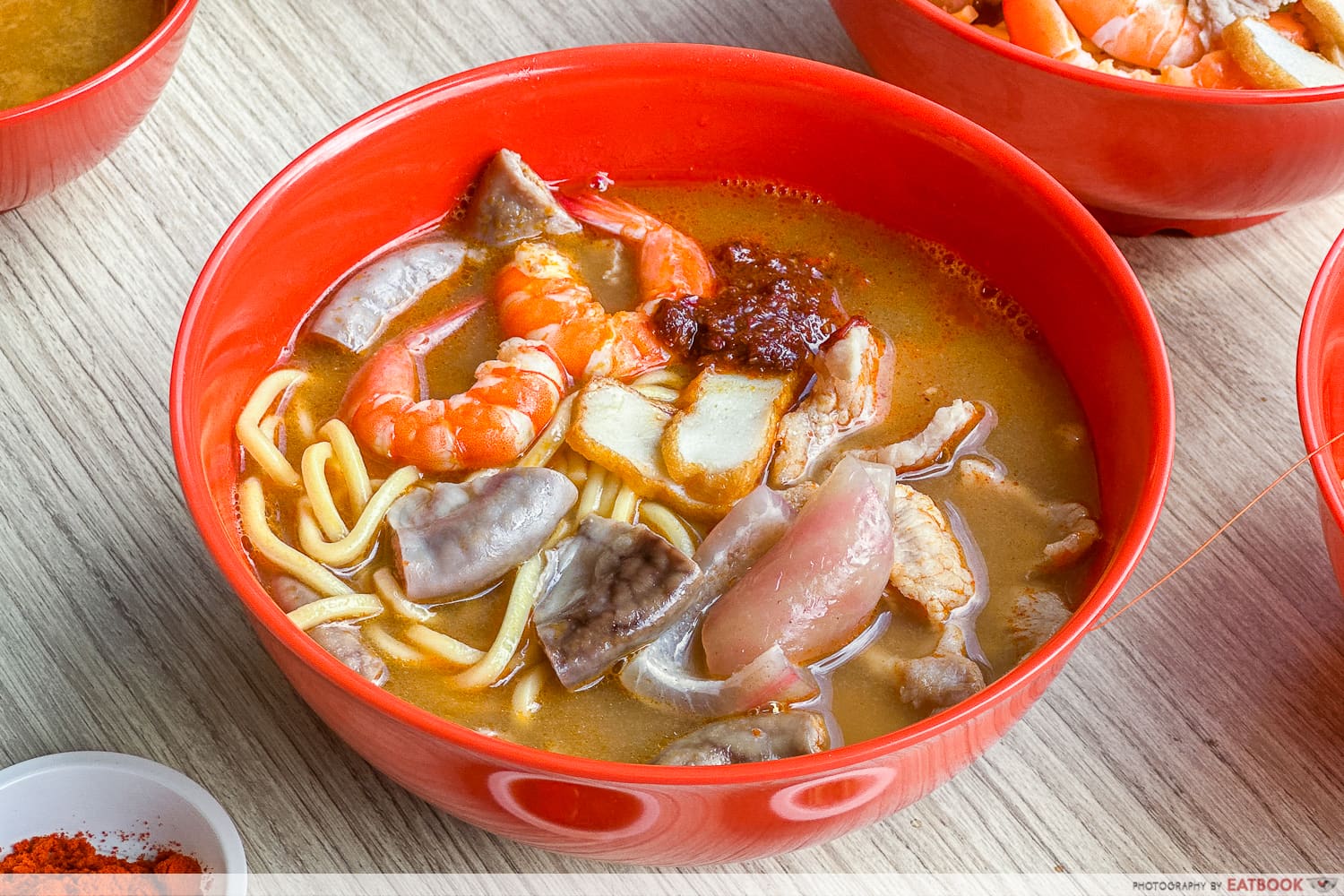 We also had Pig's Intestines Prawn Noodle ($7.50), opting to have it in soup. Jacky asked if we'd like some sambal in this, and told us to mix it in before eating. It added a pleasant spiciness to the broth, but I preferred it without. I found this prawn soup good enough as is.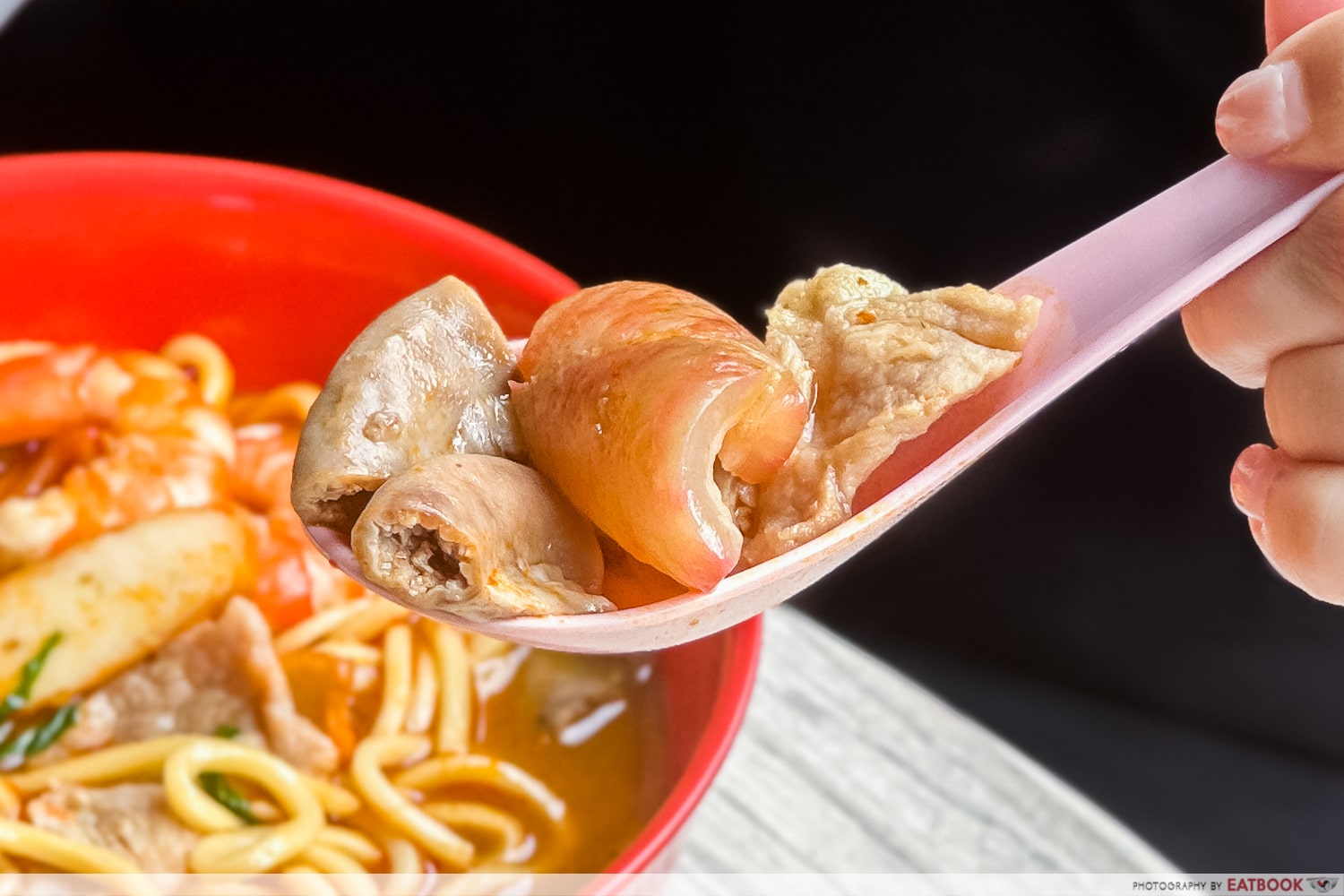 Again, there was a good amount of the intestines, along with gelatinous pig skin and pork slices, as well as fish cake. I'm not an innards kind of girl, but I did take a bite of the organ and found it tender, without any smelly gaminess.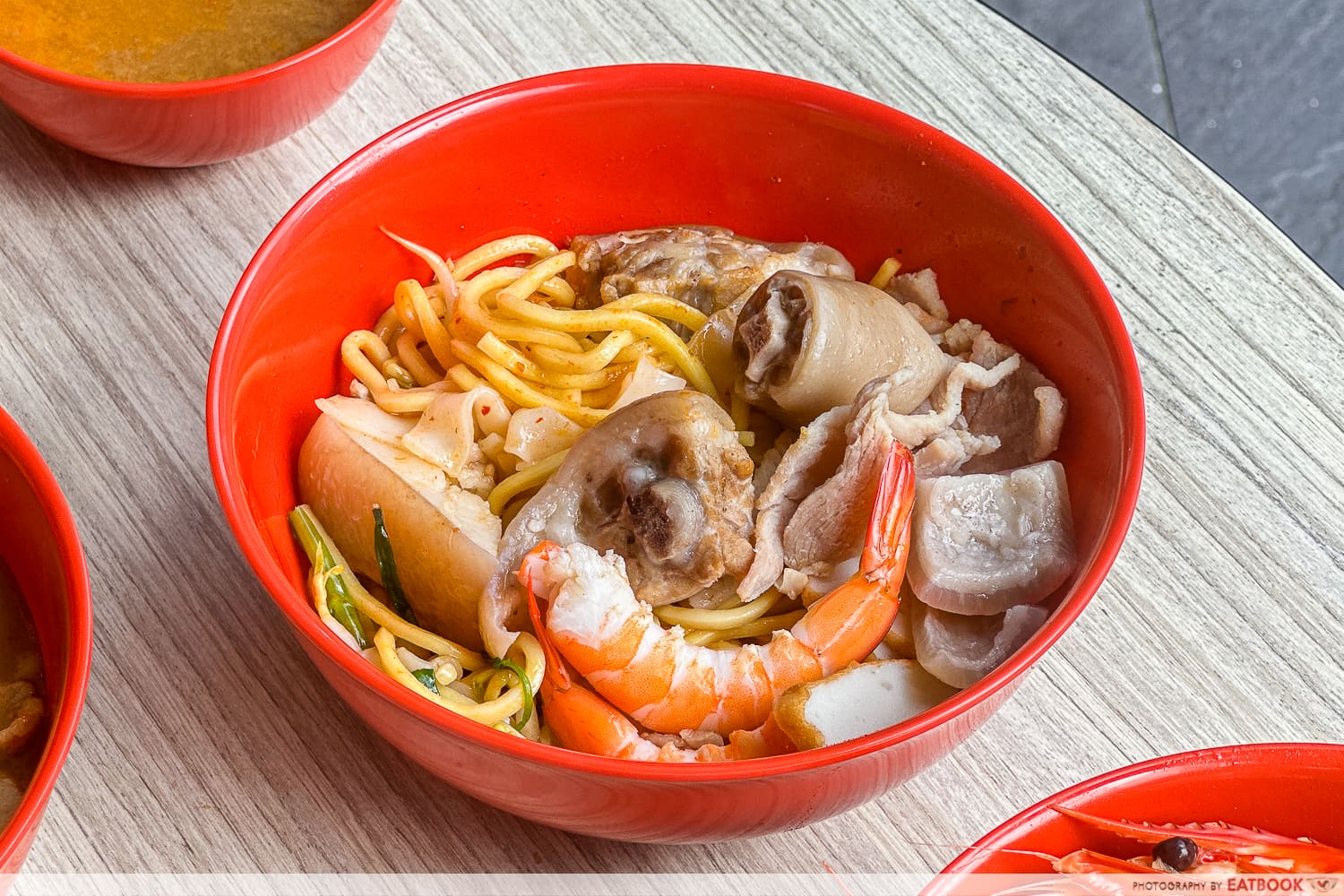 The last bowl we had was Pig's Tail Prawn Noodle ($7.50), which was similar to the intestines version, but with huge chunks of pig tail instead.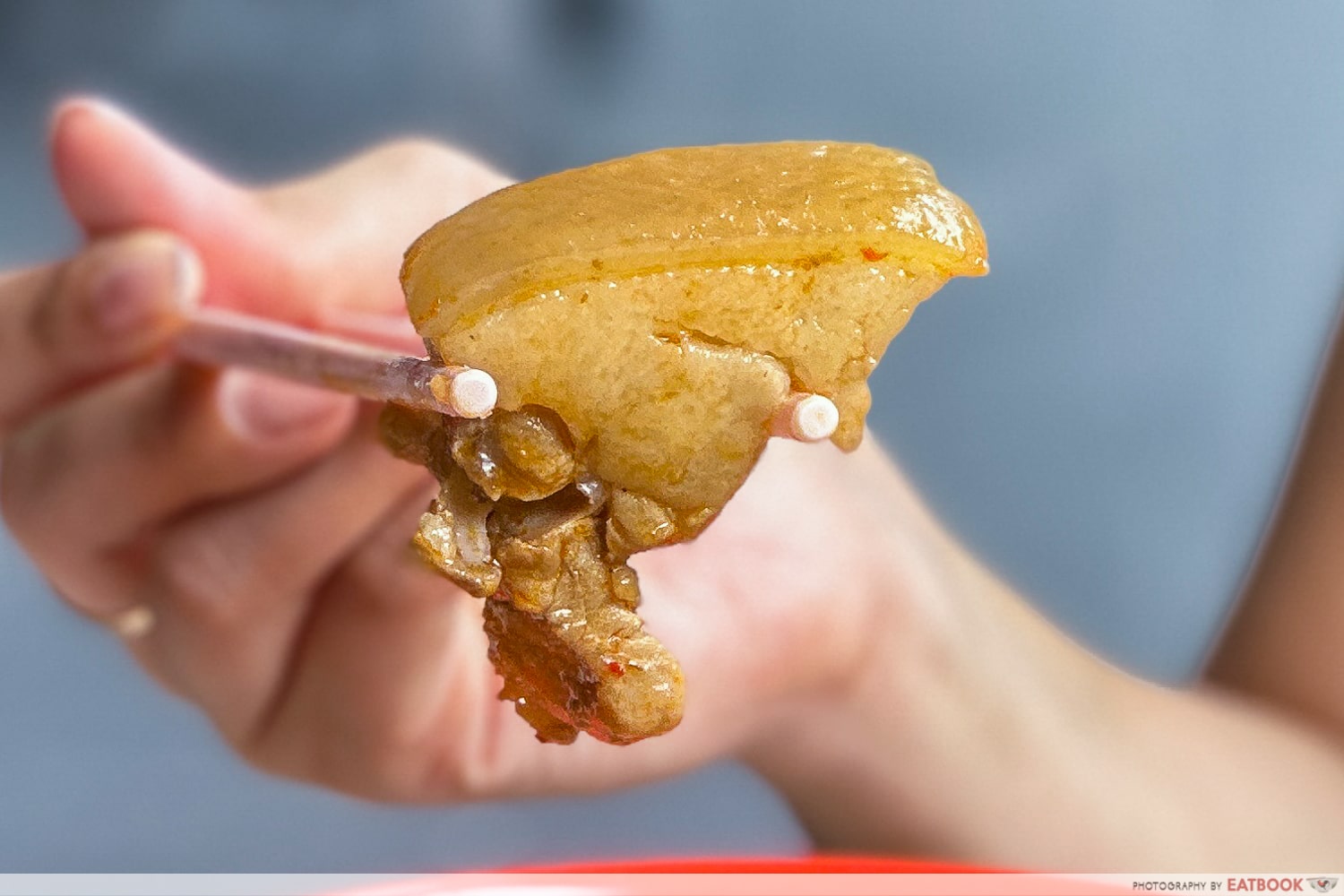 Fans of this nether bit will be happy to know it comes in all its jelly-like bits and glory. The bowl smelled slightly porky when I was shifting it around, but it didn't taste that way.
23 Prawn Mee And Seafood Soup Stalls In Singapore For XXL Hae Mee, Lobster Noodles And More
Ambience at Feng Ji Big Prawn Noodle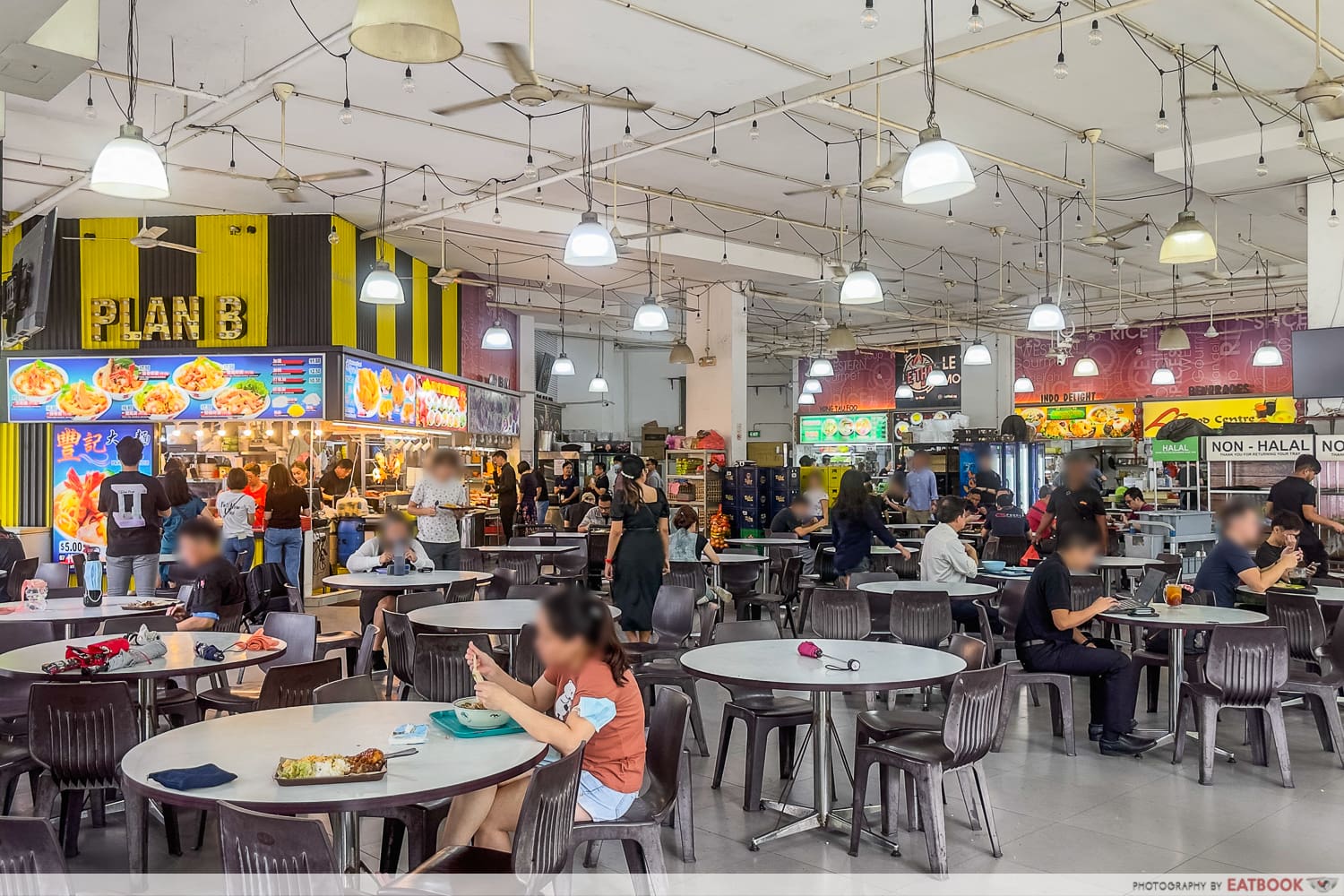 LC Food Centre is located on the first floor of Trivex—just a four-minute walk from Tai Seng MRT Station via Exit A. The high-ceilinged kopitiam gets pretty busy at lunch, thanks to the many offices in the vicinity, but is spaciously appointed with both indoor and outdoor tables. These latter ones are well-sheltered with large awnings, and there are fans aplenty to keep you cool.
The verdict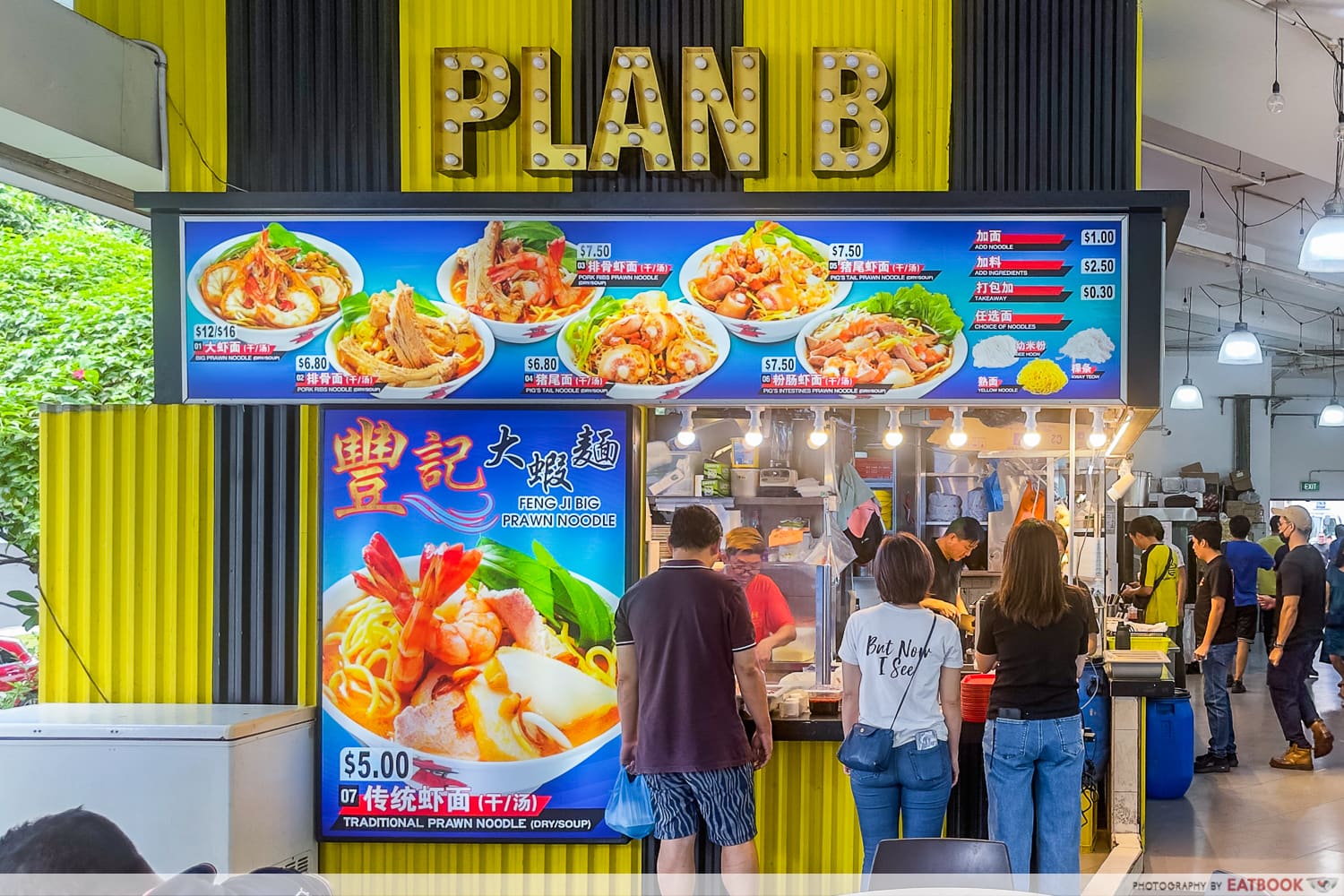 Novelty aside, Feng Ji Big Prawn Noodle does serve up a hearty, well-portioned bowl of hei mee that I'd be happy to come back for, with some customisations to my dry noodles. I genuinely appreciated the freshness of the prawns that came with the prawn mee, and would add their prawn soup to my list of recommended prawn mee stalls in Singapore. It's only too bad that Tai Seng is kind of ulu.
Just a little way down the road is Big Bakery, where you can pop over for some of their fabulous handmade apple pies. Otherwise, check out our list of prawn mee in Singapore for your next fix.
Address: 8 Burn Road, #01-12, LC Food Centre, Trivex, Singapore 369977
Opening hours: Daily 7am to 3pm, 6pm to 9pm
Tel: 9351 8693
Website
Feng Ji Big Prawn Noodle is not a halal-certified eatery
Big Bakery: Old-School Apple Crumble Made By Hand At This 30-Year-Old Bakery
Photos taken by Chiara Ang and edited by Zi Hui Tan.
This was an independent review by Eatbook.sg
Feng Ji Big Prawn Noodle Review: Catch-Your-Own-Prawn Hei Mee In Tai Seng
Feng Ji Big Prawn Noodle Review: Catch-Your-Own-Prawn Mee Hawker In Tai Seng -

7.5/10
Summary
Pros
– Novel concept
– Prawns are very fresh, with big portions
– Prawn mee soup is tasty
Cons
– Dry noodle seasoning is not punchy enough
– Tai Seng is not the most convenient location
Recommended dishes: Pork Ribs Prawn Noodle ($7.50), Traditional Prawn Noodle ($5)
Opening hours: Daily 7am to 3pm, 6pm to 9pm
Address: 8 Burn Road, #01-12, LC Food Centre, Trivex, Singapore 369977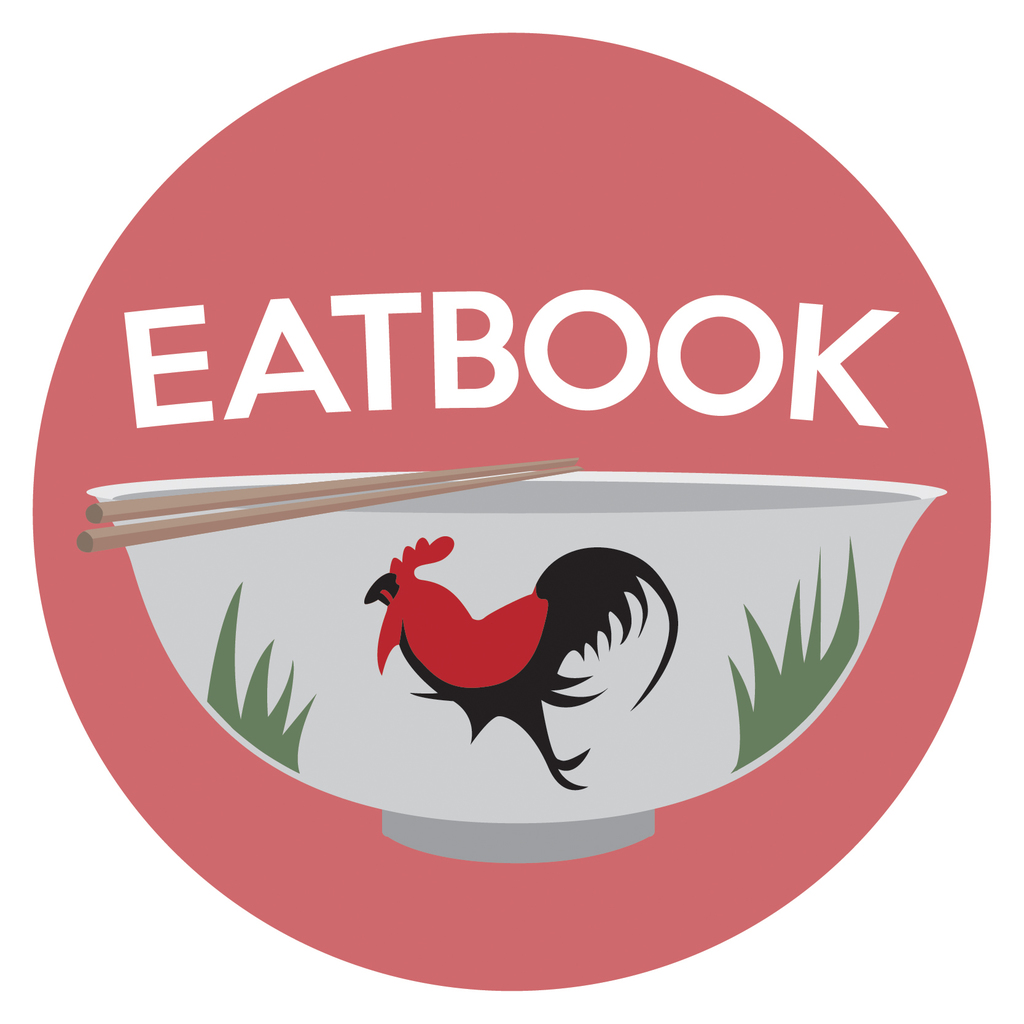 Drop us your email so you won't miss the latest news.