Sayan Night Market has affordable street food in Ubud Bali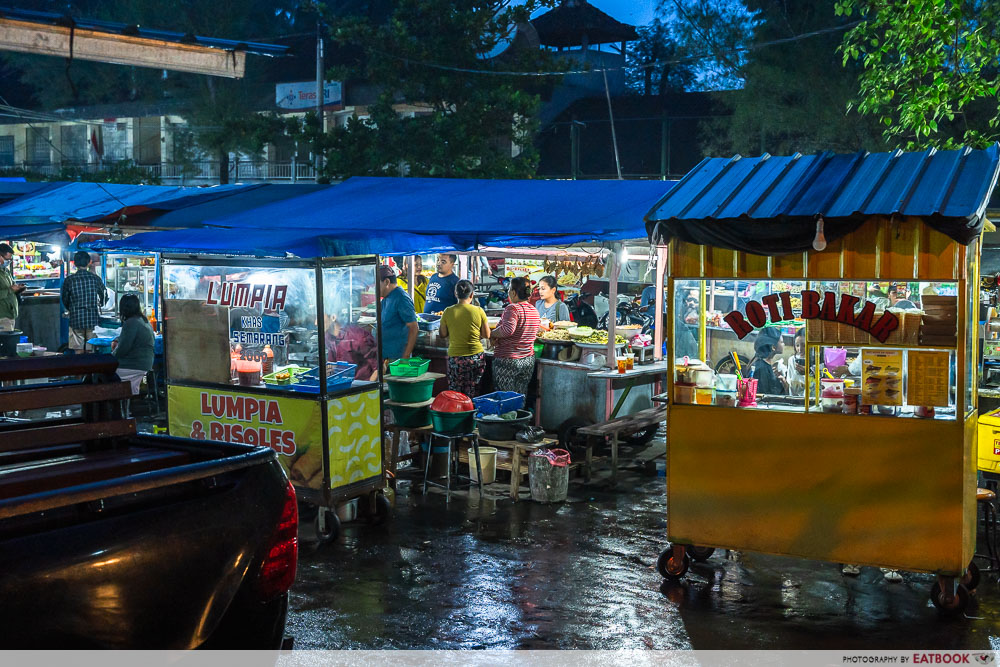 Your trip to Bali won't be complete without a visit to one of their vibrant, bustling pasar malams. During our week in Ubud, we visited Ubud Night Market, AKA Sayan Night Market. It's located at the T intersection between Tebongkang and Sayan Street, and exudes a more humble, traditional vibe as compared to other night markets in Bali.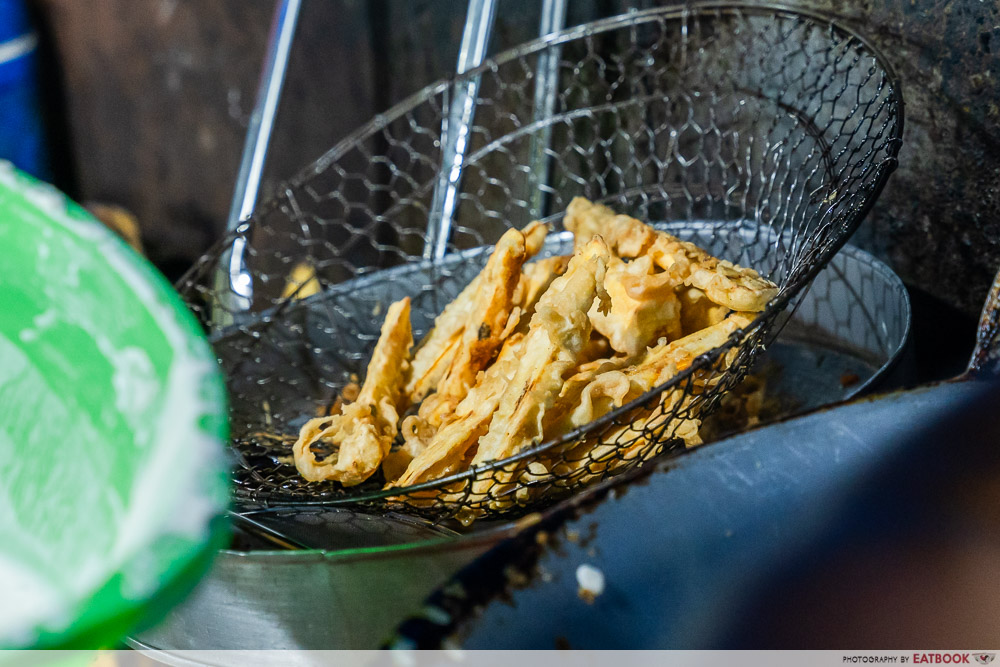 The market houses over 20 small food stalls, with most comprising make-shift tents that host vendors. Upon entering the lively space, you'll be greeted by an inviting aroma of spices and street food, coupled with the smell of incense. Most of the stalls here are also halal-certified.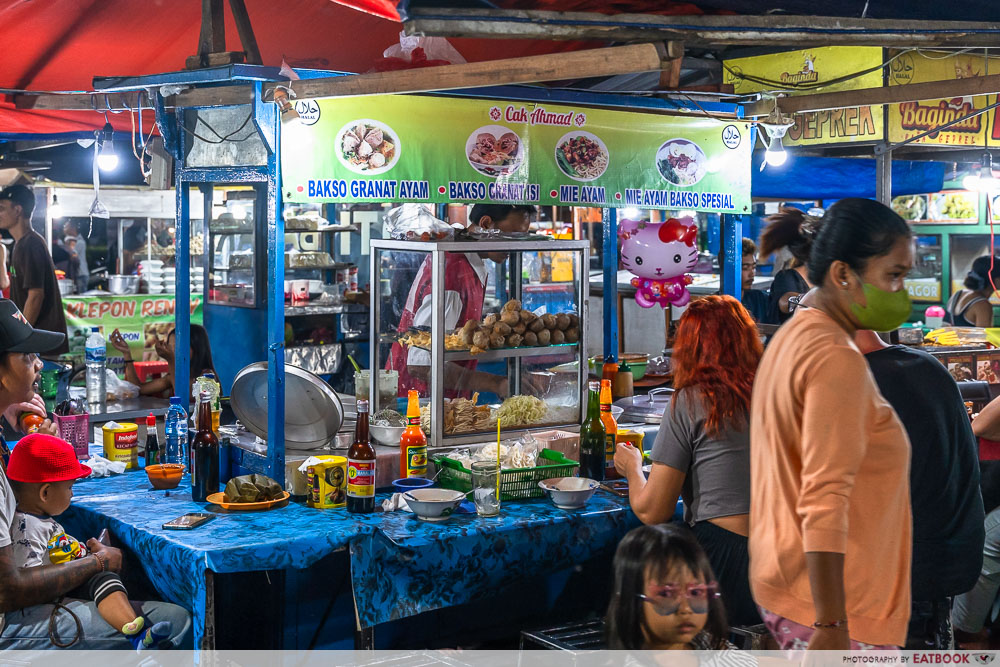 Many vendors sell street snacks such as fritters, which see ingredients with the likes of tofu, sweet potato, tempeh, or banana dipped into flour and then deep fried. As it was raining during our visit, we decided to get a warm bowl of Bakso Granat Ayam, which translates to Indonesian chicken meatballs. A serving of this dish set us back only IDR15K (~S$1.34).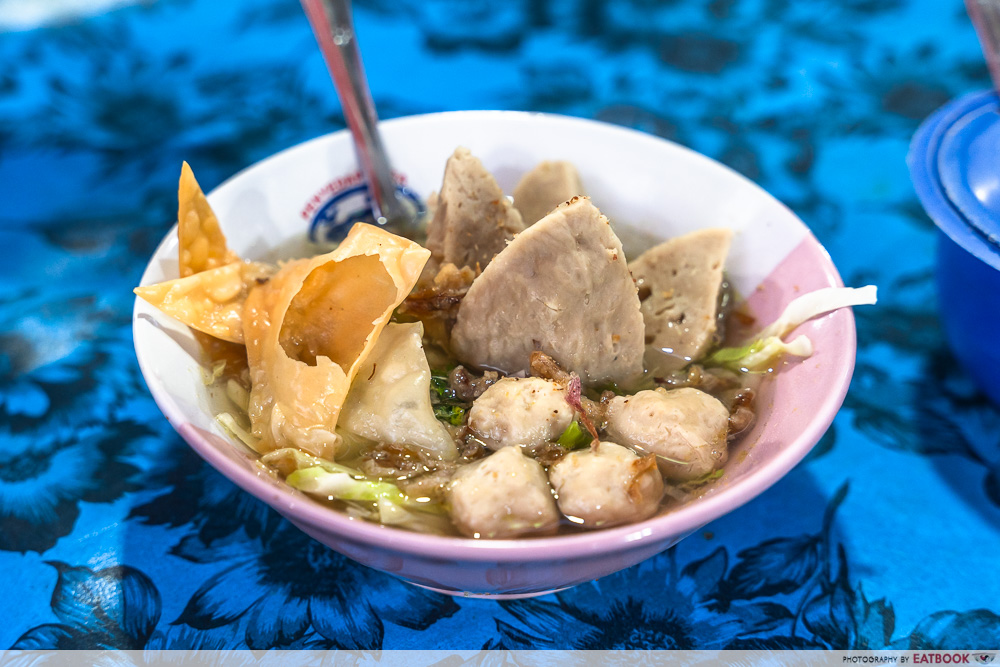 The dish came densely packed with chunky handmade meatballs, rice vermicelli, salted vegetables, and tofu, served in a savoury chicken broth.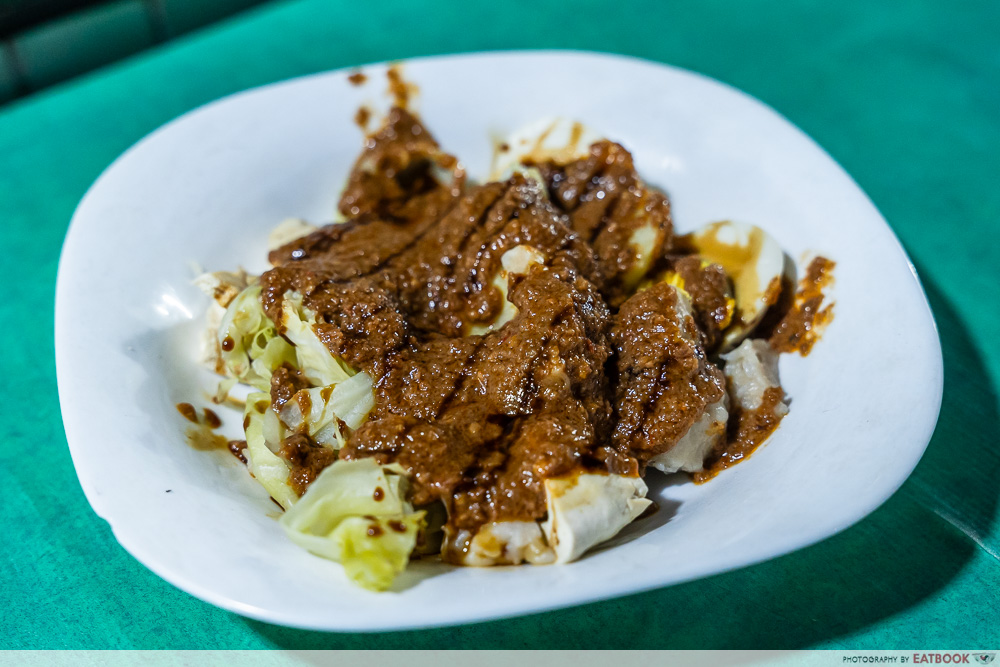 Another dish worth trying is Siomay (IDR12K/~S$1.07), which features steamed fish dumplings with vegetables and egg. It's similar to Chinese siew mai, but comes with a spicy peanut sauce instead.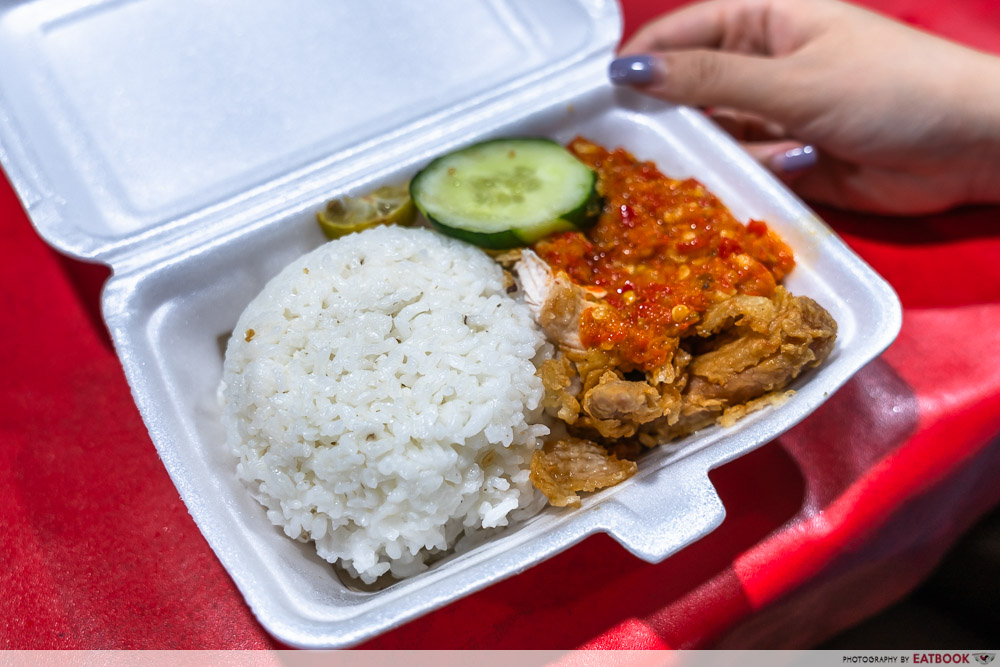 There's also Ayam Geprek, AKA Indonesia crispy battered fried chicken. The "large" size cost us only IDR16K (~S$1.43) and came with fried chicken slathered with a spicy sambal chilli sauce. You can also top up IDR4K (~S$0.36) to have your chicken served with white rice for a more filling meal.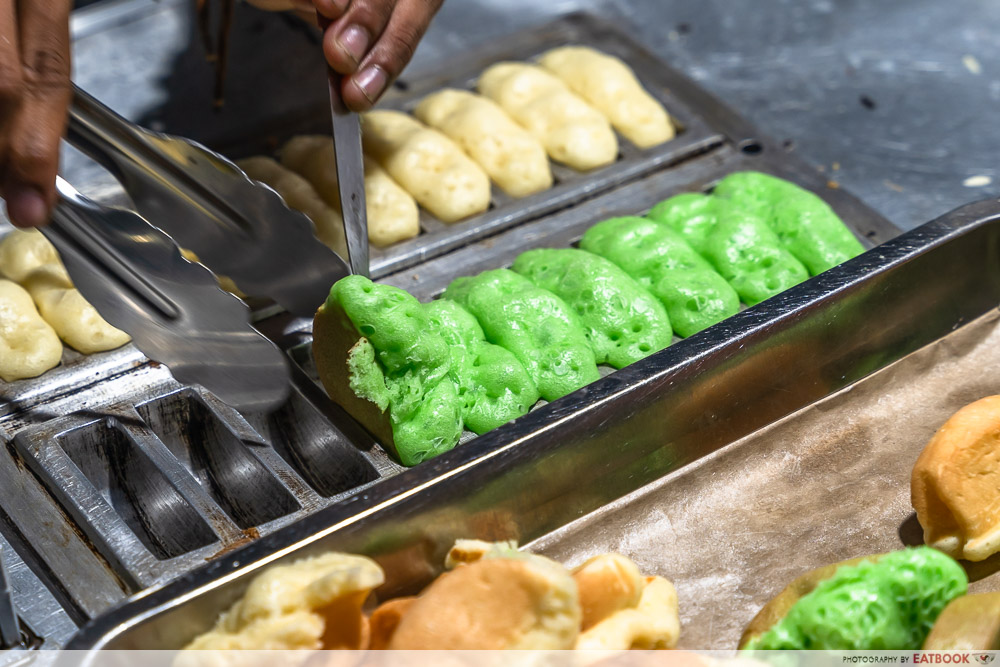 For something sweet, head over to Kue Spesial and treat yourself to yummy pancakes drenched in sweet syrup, such as matcha, tiramisu, chocolate, or cheese. The bittersweet Tiramisu Crunchy (IDR6K/~S$0.54), which was our favourite, came in a box of five pieces.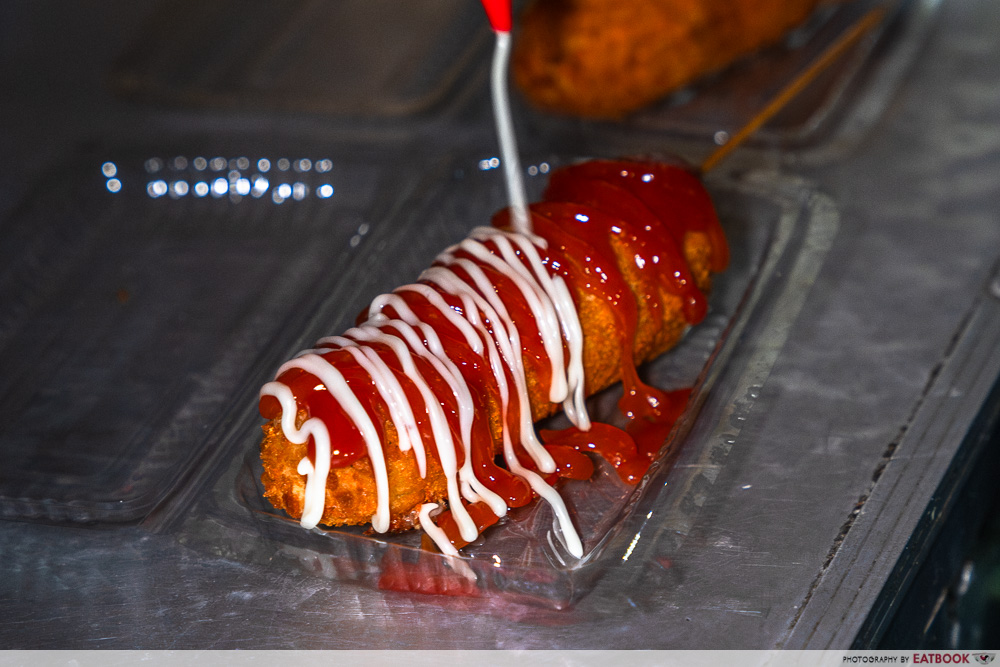 We also recommend the popular corndog stall, which sells this sinful treat with a twist. Our favourite was the Corndog Mozzarella (IDR10K/~S$0.89), which sees a thicc corndog stuffed with stretchy melted cheese. We had the Corndog Pisang With Green Tea (IDR7K/~S$0.63) too, which is a pisang goreng corndog completely drenched in matcha syrup for a burst of sweet and savoury flavours.
For more good food in Ubud, check out our Ubud food guide. Otherwise, read up on our list of cheap Bali food places that will keep your stomach satisfied while on a budget.
Address: Jalan Raya Tebongkang Nombor 39, Singakerta, Kecamatan Ubud, Kabupaten Gianyar, Bali 80571
Opening hours: Daily 5pm to 11pm
Photos taken by Yi En Chew.
This was an independent visit by Eatbook.sg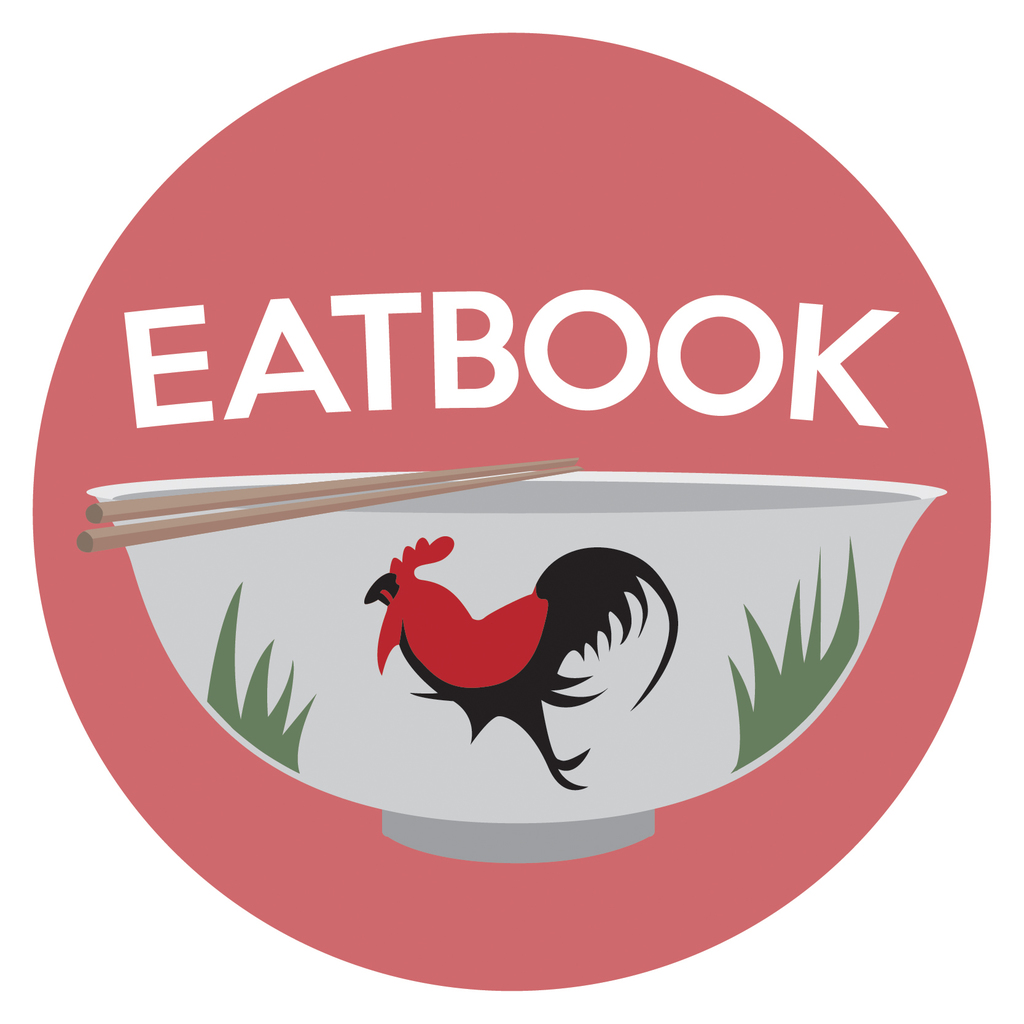 Drop us your email so you won't miss the latest news.