Pork bone soup
ma la
from Shan Ji Fragrant Hotpot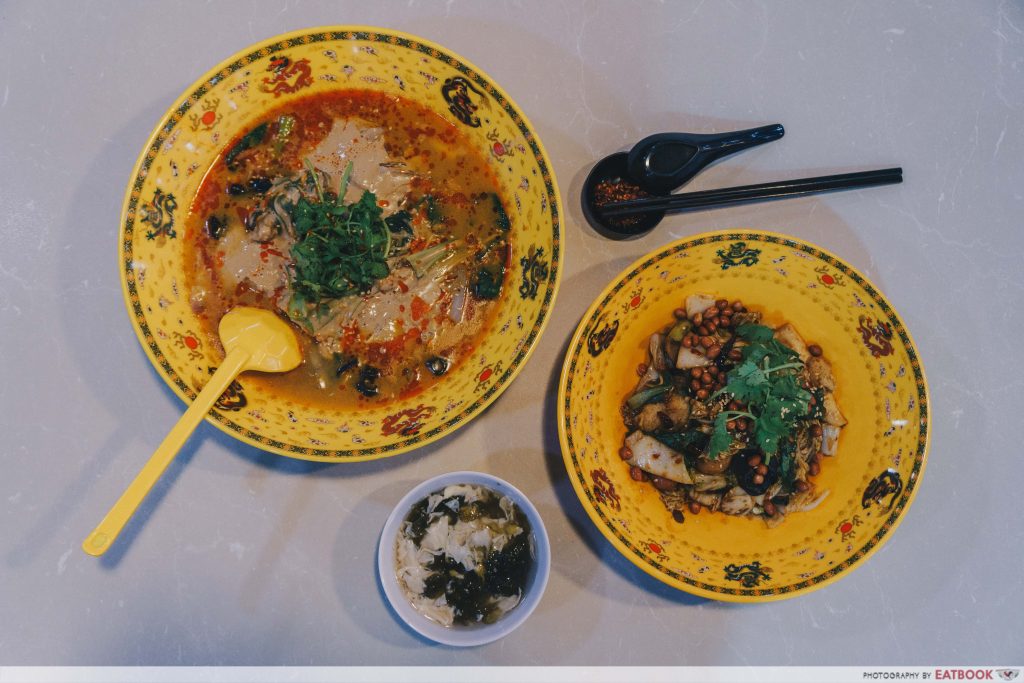 Around for over two years, Shan Ji Fragrant Hotpot may seem like your typical ma la stall in a food court. In fact, I've walked past it a couple of times when I'm at Cineleisure's Koufu, not giving it a second thought and opting to order from Fish & Chicks next door instead. That was until I came to realise that they offer a unique pork bone soup ma la.
10 Ma La Xiang Guo Spots All Over Singapore That Serves Ma La Worth Queuing For
Food at Shan Ji Fragrant Hotpot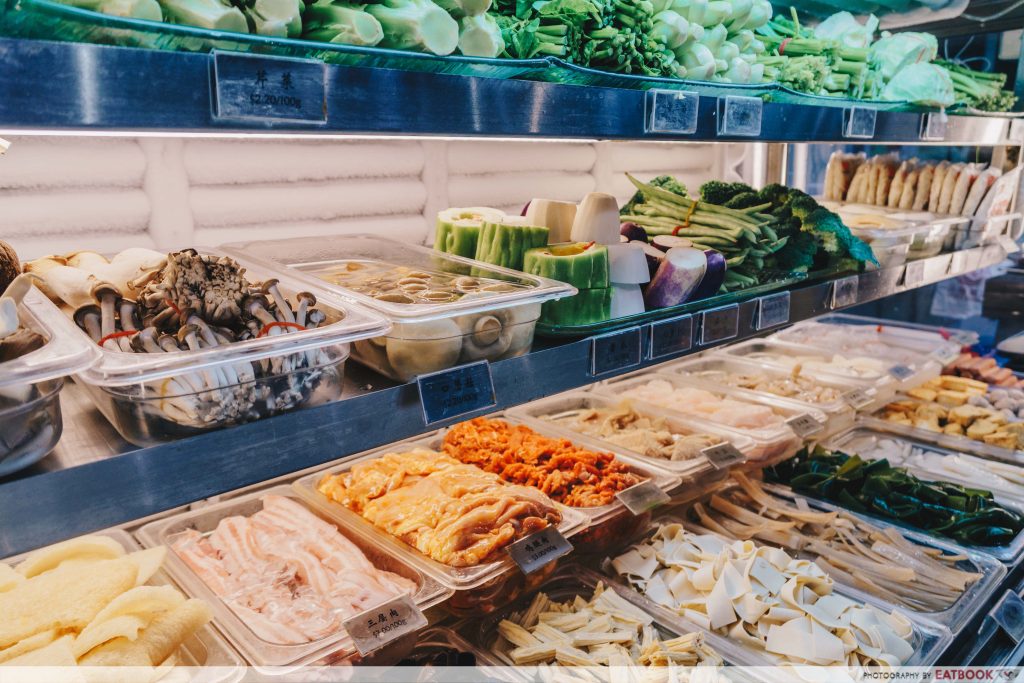 Items here are charged by weight, with prices ranging from $0.80 to $3.80 per 100g.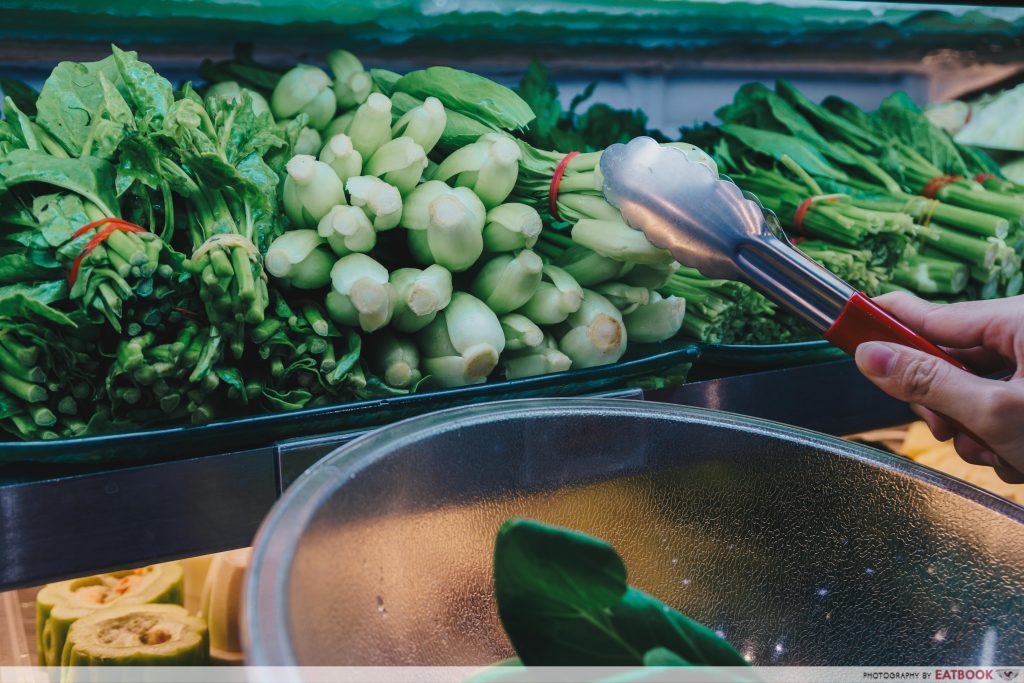 You are invited to pick the neatly lined ingredients yourself, and we piled our plates high with pork belly ($3 per 100g), chicken thigh ($3 per 100g), lotus root ($2.20 per 100g), sweet potato glass noodles ($1.20 per bunch), chye sim ($1.20 per 100g), bean curd skin ($2.20 per 100g), black fungus ($2.20 per 100g), and enoki mushrooms ($3 per bunch).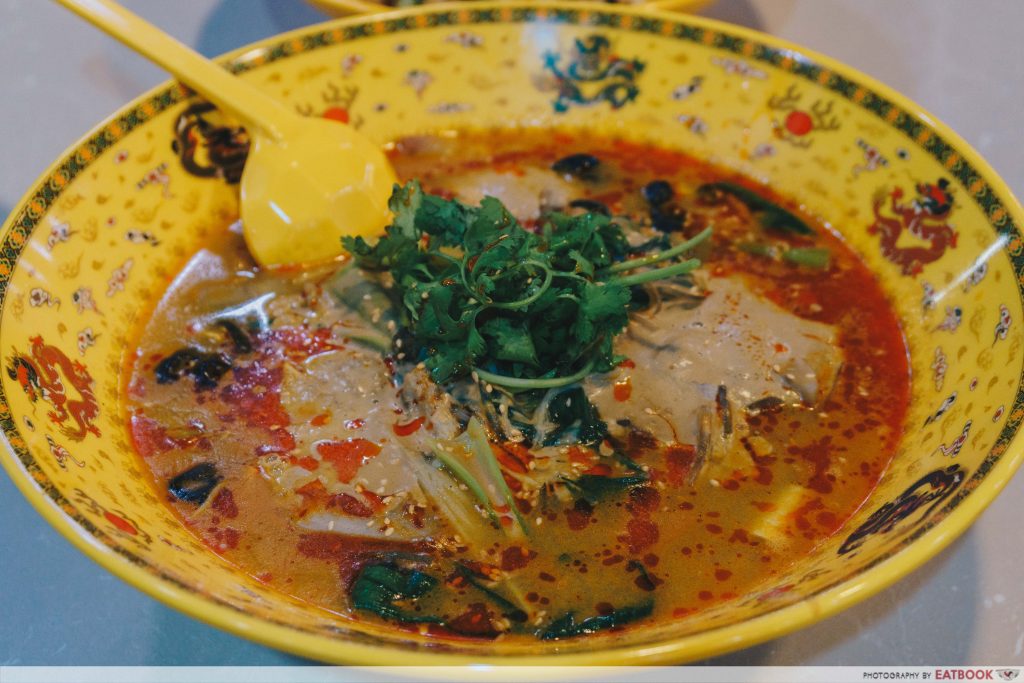 No matter the portion, the pork bone soup is set at $1.50. Slow-cooked for five hours every morning, until the bones disintegrate to a creamy consistency, I noticed there was a cloudy film resting on the fiery red broth. Now, don't be put off by this milky layer – it's actually good for you. Bone broth boasts a chock full of nutrients, as gelatin, minerals, collagen and other nutrients found in the bone are extracted during the simmering process.
While the pork bone base is only available from zhong la (medium spicy) onwards, I did not experience a numbing sensation or burn at the back of my throat, despite taking multiple gulps of the broth.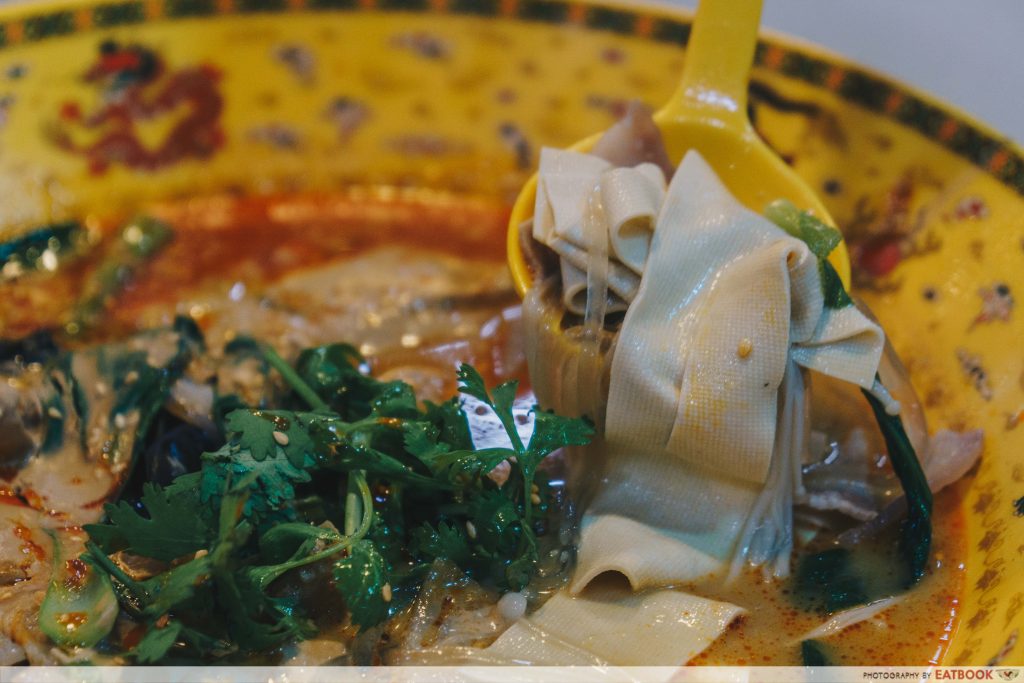 Akin to tonkotsu ramen broth, the one here also had a luscious, creamy texture. But that is where the comparison ends. Instead of bursting with savoury notes, the pork bone broth fell flat. What stole the limelight and masked the taste of peppercorns, chilli and porcine richness was the generous addition of sesame oil, which gave it an overly nutty aroma.
Sweet potato glass noodles, enoki mushrooms, and beancurd skin are popular items in ma la dishes, as they are known to soak up the delicious flavours of the sauce. However, this wasn't the case at Shan Ji Fragrant Hotpot. Perhaps it was due to the delicate-tasting broth, but these absorbent ingredients carried little taste.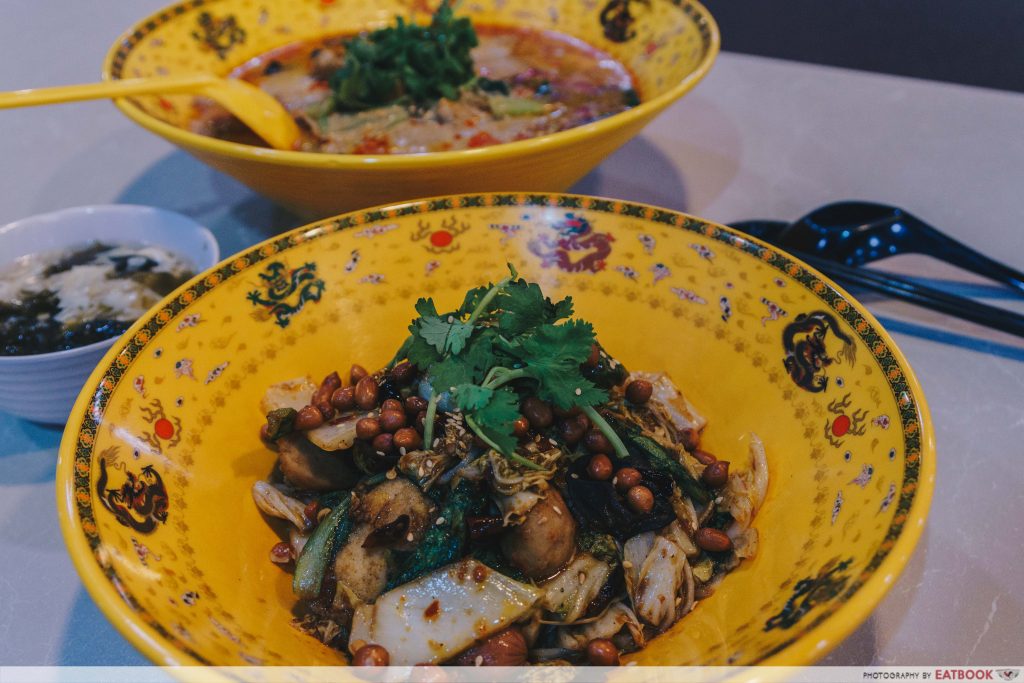 Nonetheless, while the pork bone soup did not leave an impression, their dry ma la certainly made up for it.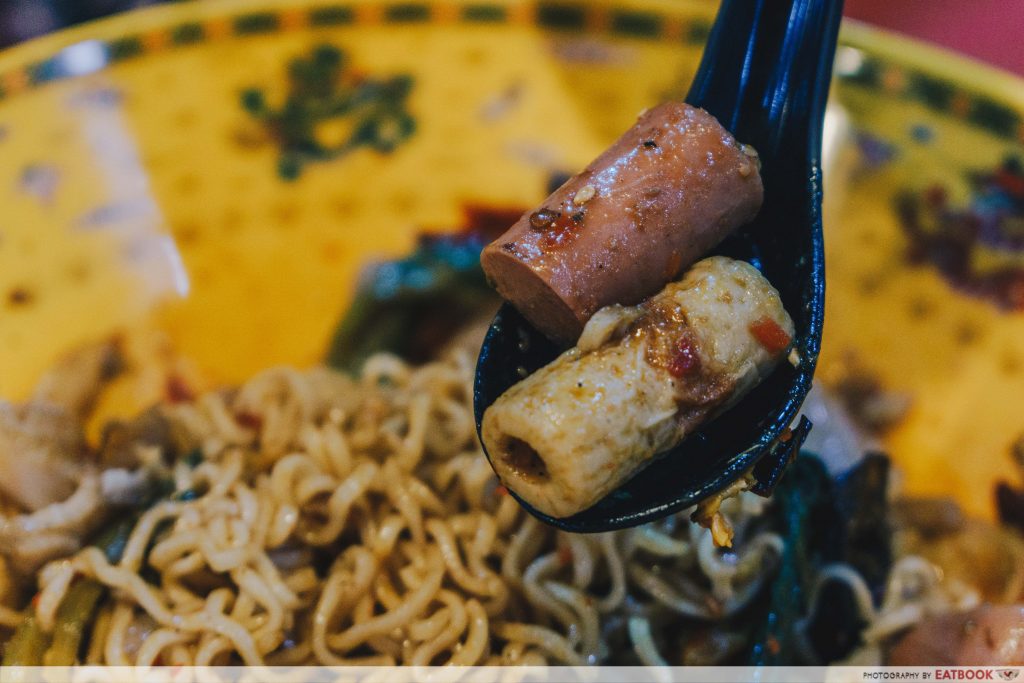 We decided to try their Economic Set ($6.80), which came with a choice of chicken, pork or fish, as well as chicken hotdog, crab stick, sotong ball, meatball, Chinese cabbage, green vegetables, seasonal vegetables, black fungus, mushroom, beancurd, and rice or noodles.
Since we had pork belly and chicken in our previous dish, we decided to opt for the fish. A wise choice there, as the flaky fish was fresh and sopped up the picante sauce perfectly.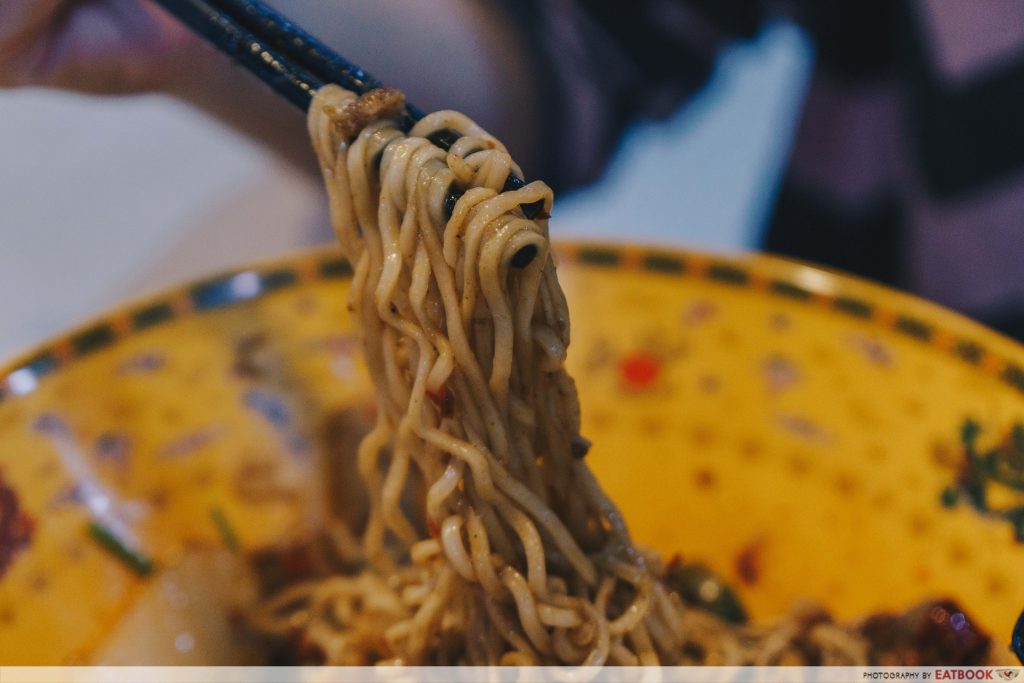 While the ma la taste wasn't as pronounced as most places, it still did a decent job in making me break out a sweat. It was not too oily or salty too, and there was a scrummy herby undertone. I recommend you choose noodles over rice, for a more decadent meal.
Ambience at Shan Ji Fragrant Hotpot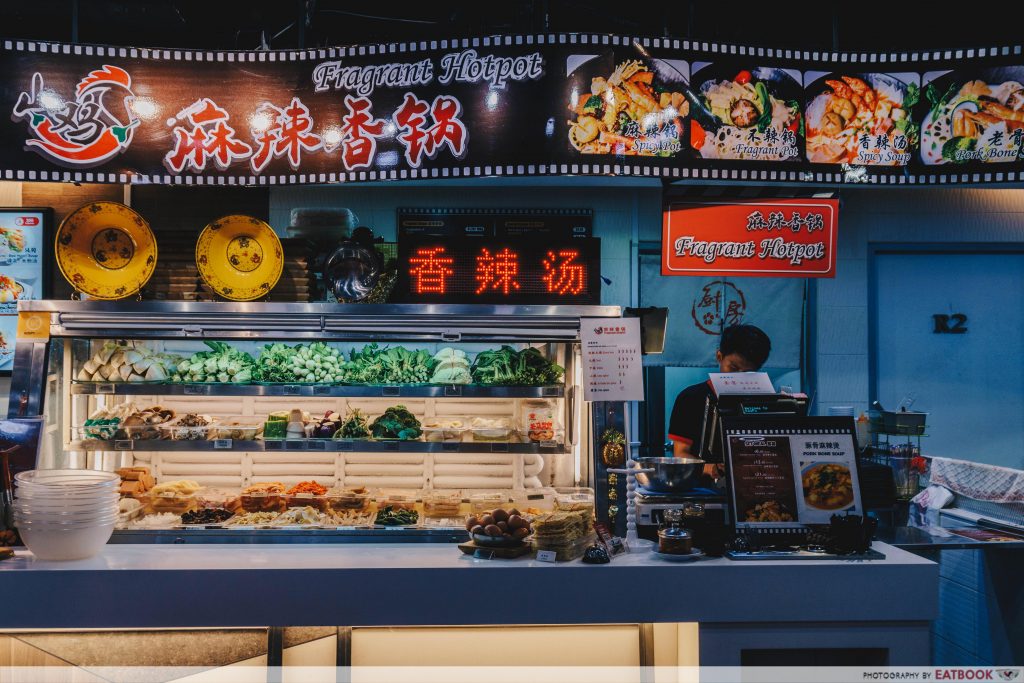 Located at Cineleisure's Koufu, Shan Ji Fragrant Hotpot is a great place to get your ma la fix if you're in town. The food court seems rather quiet, even during lunch hour, so you don't have to worry about not scoring a table. There's no need to stand in line waiting for your dish to be whipped up too, as you're given a buzzer.
The verdict
I won't deny that there are many better ma la stores in Singapore, but if you're in town and craving for some ma la, Shan Ji Fragrant Hotpot will definitely satiate your cravings. I do feel that they can be more generous with their chillies and peppercorns though. The next time I'm here, I would definitely go all out and order da la (extra spicy), as zhong la did little for me.
Fat Bird Review: Ma la Xiang Guo And Chicken Stew Hot Pot Buffet At $15.90++
Address: 8 Grange Road, #B1-01, Stall R1, Koufu at Cineleisure, Singapore 239695
Opening hours: Daily 11:30am to 9:30pm
Website
Photos taken by Becky Chong.
This was an indepedent review by Eatbook.sg.
Check out our new ratings guide!
Summary
Pros
– Set meals are affordable
– Fresh ingredients
Cons
– Ma la taste was not pronounced
– Pork bone soup was bland
Recommended dish: Economic Set ($6.80) with fish
Opening hours: Daily 11:30am to 9:30pm
Address: 8 Grange Road, #B1-01, Stall R1, Koufu at Cineleisure, Singapore 239695