Shanghai Renjia for dumplings and la mian at Ang Mo Kio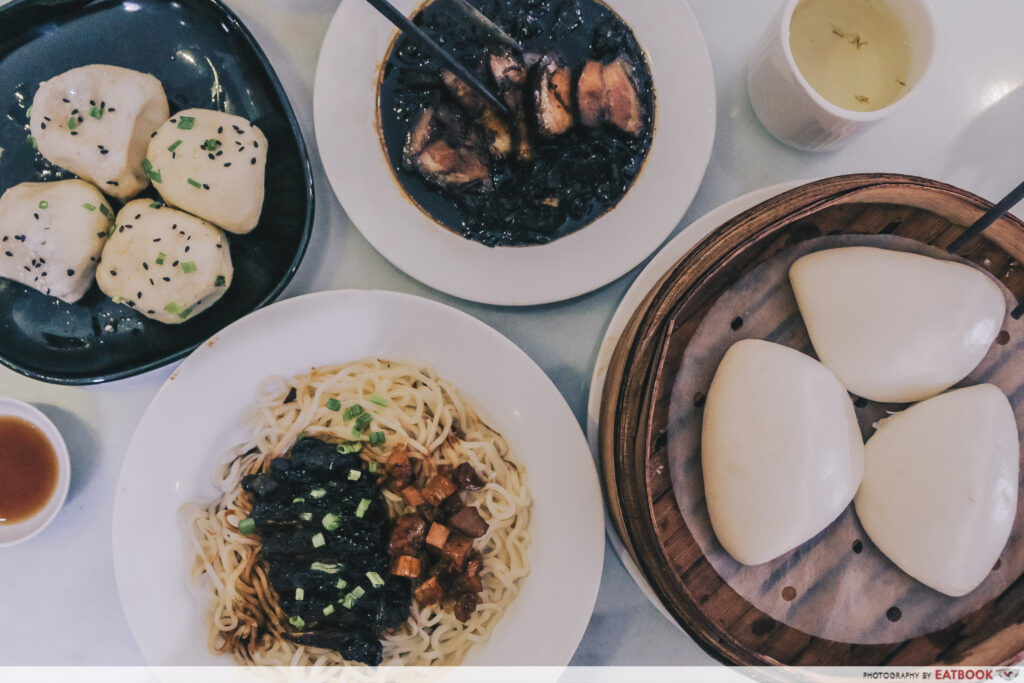 I love Chinese food. Be it dumplings, xiao long bao, or lamian, I love it all. And while one of my favourite restaurants is Din Tai Fung, it is impossible for me to go there regularly, as I don't have loads of cash to burn. Thankfully, I found Shanghai Renjia, an affordable family-run restaurant in Ang Mo Kio specialising in fresh house-made Shanghai food.
Food at Shanghai Renjia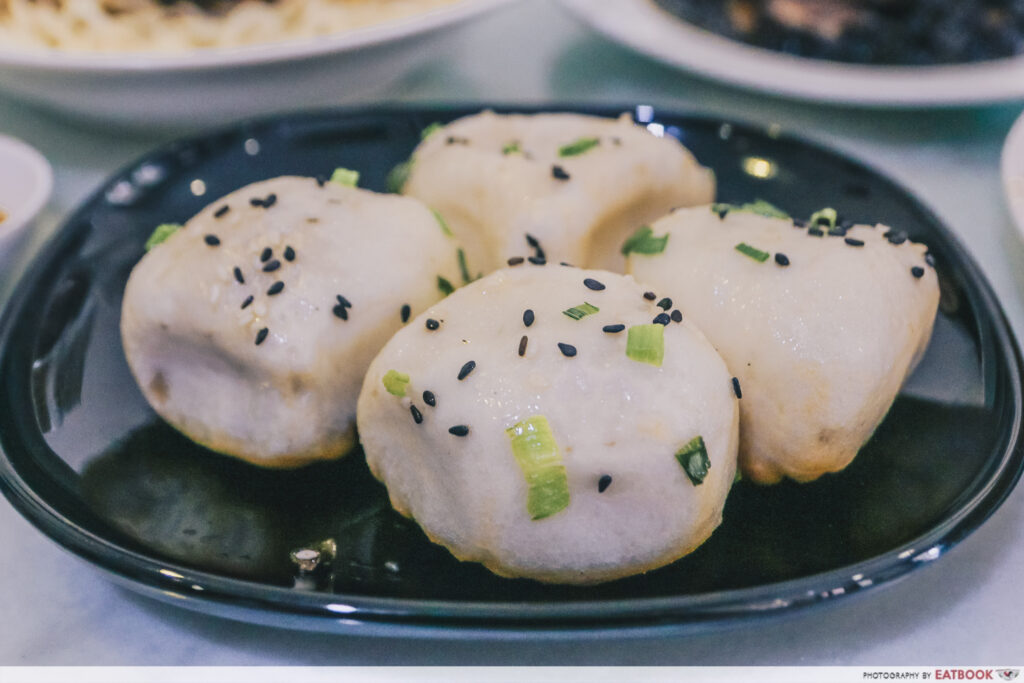 Sheng jian bao are less commonly found in Singapore compared to other Chinese buns, which explains my excitement when I saw Pan-Fried Buns ($6 for four) on the menu. After some research on what it was – it's like a xiao long bao, but pan-fried – I just knew I had to get it. When it was set on the table, it was not as picture-perfect as I expected it to be. However, I was still thrilled about the golden brown bottom and fluffy top bun.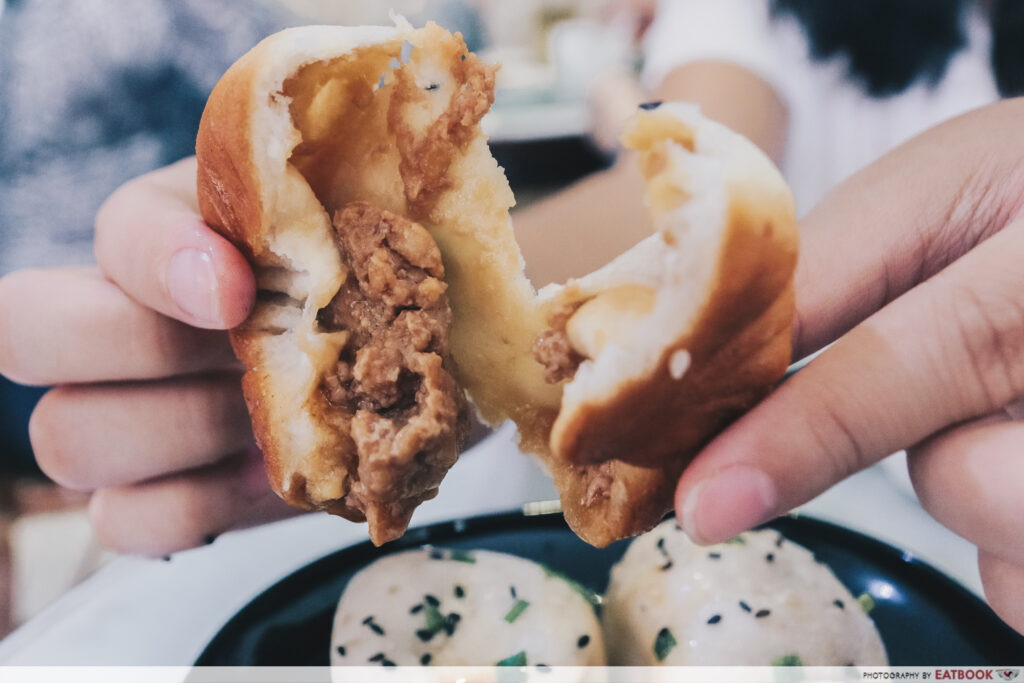 My ears were pleased to hear the crackling sound from the crispy bottom as I tore the bun open to reveal moist pork stuffings. I watched, with my appetite building up, as the soup within started dripping onto the plate. The sight was indeed one to behold.
I decided to pop an entire, unbroken piece into my mouth. The heavenly burst of flavours from the filling invaded my taste buds at first bite. The steamed top part of the bun absorbed the juices from the pork, while the crispy bottom added a contrasting crunch. Decorated with sesame seeds and spring onions, this is like a little treasure of savoury meaty goodness, hand-made to be devoured.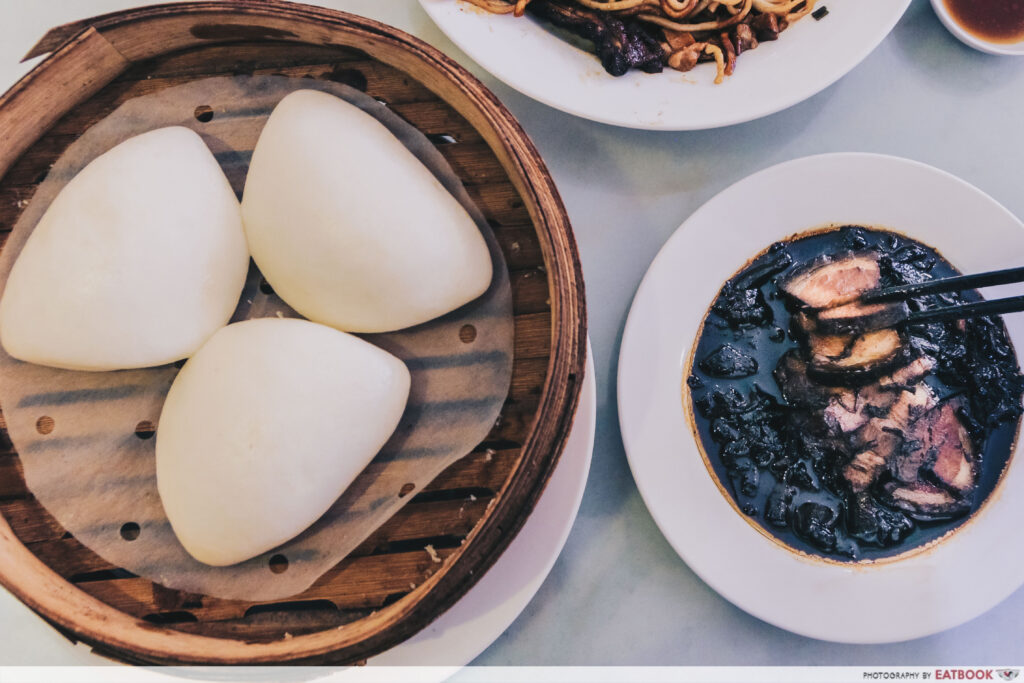 More commonly known as "mei cai kou rou bao", Shanghai Renjia's Braised Pork Buns ($2.50 for one, minimum two pieces) is a moreish dish that should not be missed. Served deconstructed, the perfectly dome-shaped buns are to be filled up with meat and preserved vegetable.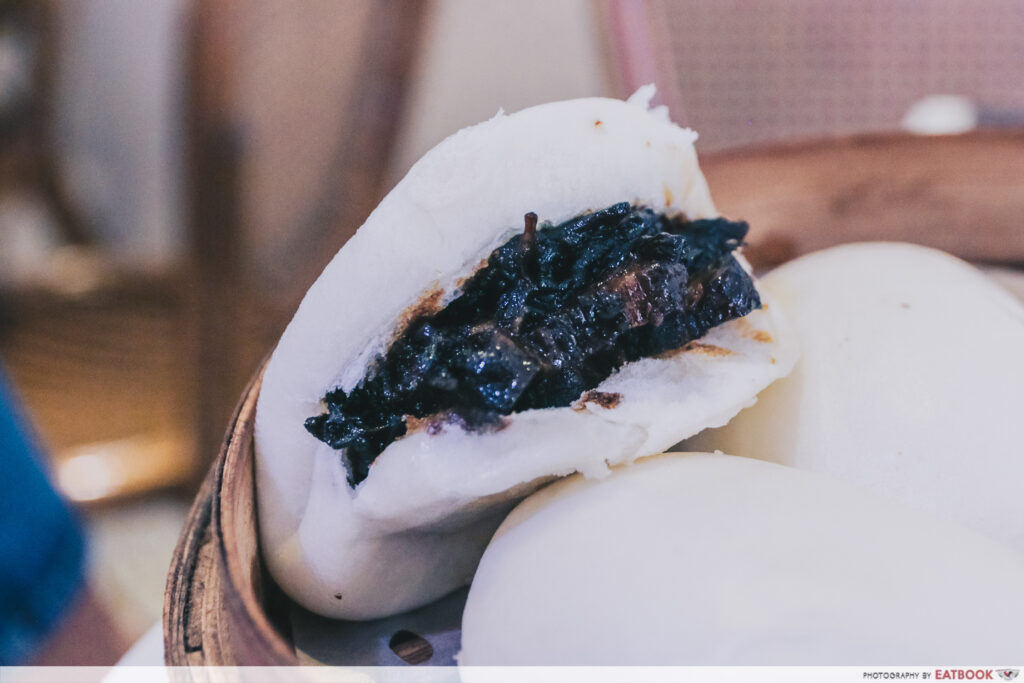 The house-made bao were soft and fluffy, while the pork belly was fatty and tender, packing a whole lot of flavour. The star of the show, however, was the preserved vegetables. Both salty and sour,  the fragrant greens elevated and gave the simple bao more depth.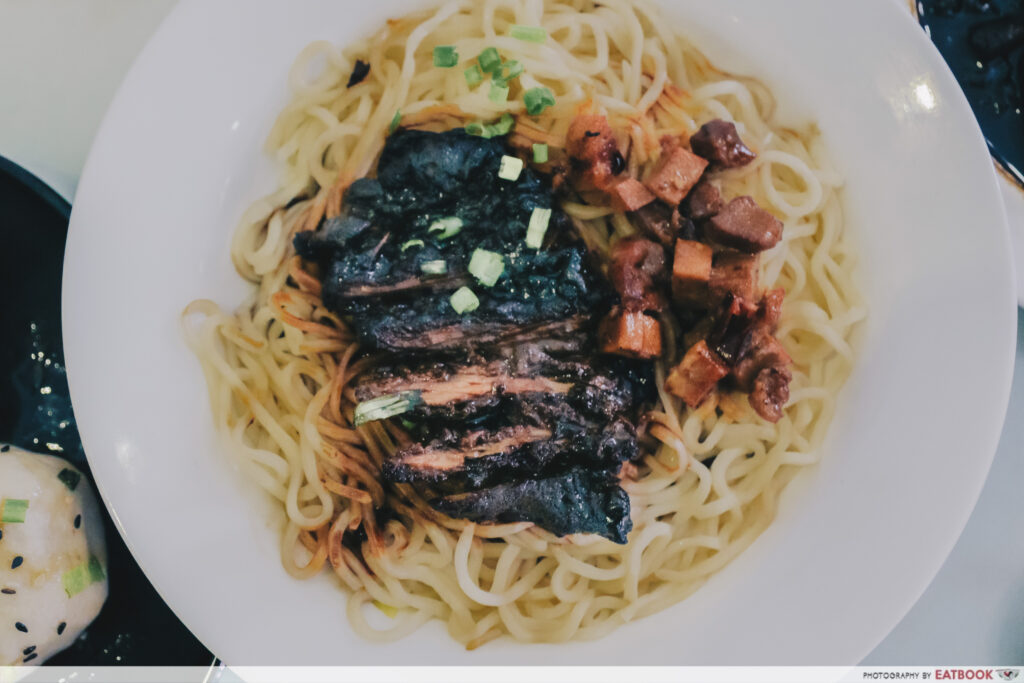 The last dish served was their highly raved about Pork Chop Noodles ($6). The dish came with a disappointing portion of pork chop and diced chicken, atop a generous portion of al dente hand-pulled noodles.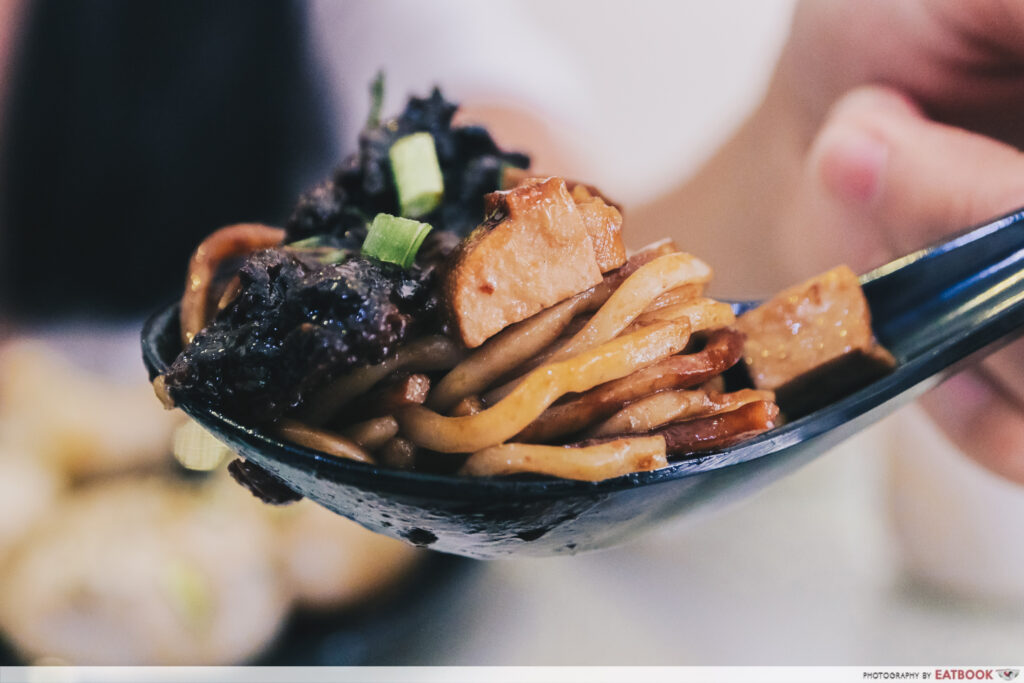 Aside from being let down by the portion of braised meat, I have to say this is one good bowl of noodles. Coated in shallot-infused oil and braised-meat gravy, the tantalising noodles carried a scrumptious nuttiness that was complemented with a deep sweetness from the pork gravy. As a whole, the dish was a good combination of sweet and savoury nuances, with deep intense flavours that had me slurping up the noodles with gusto.
Ambience at Shanghai Renjia

This family-owned business stands in a cosy space located in Ang Mo Kio, with merely eight tables. This means that it will be not be easy getting a table, especially during dinnertime. So unless you are ready to queue for roughly an hour or so, remember to make your reservations early! Do note that they serve a pitcher of tea and wet towels upon your arrival, which will cost $3.60, even if you don't request for it.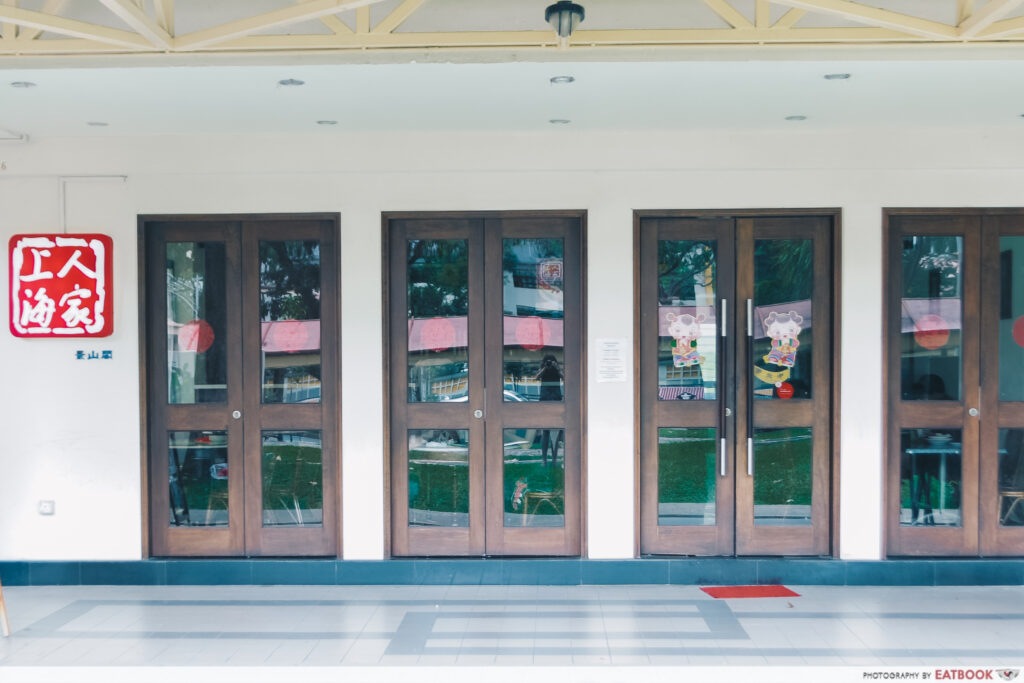 Just a 10-minute bus ride away from Ang Mo Kio MRT Station, it is easy to miss this unassuming store if you don't pay attention! So look out for their red and white signboard, bearing four Chinese characters, and get ready to alight once you see it.
The verdict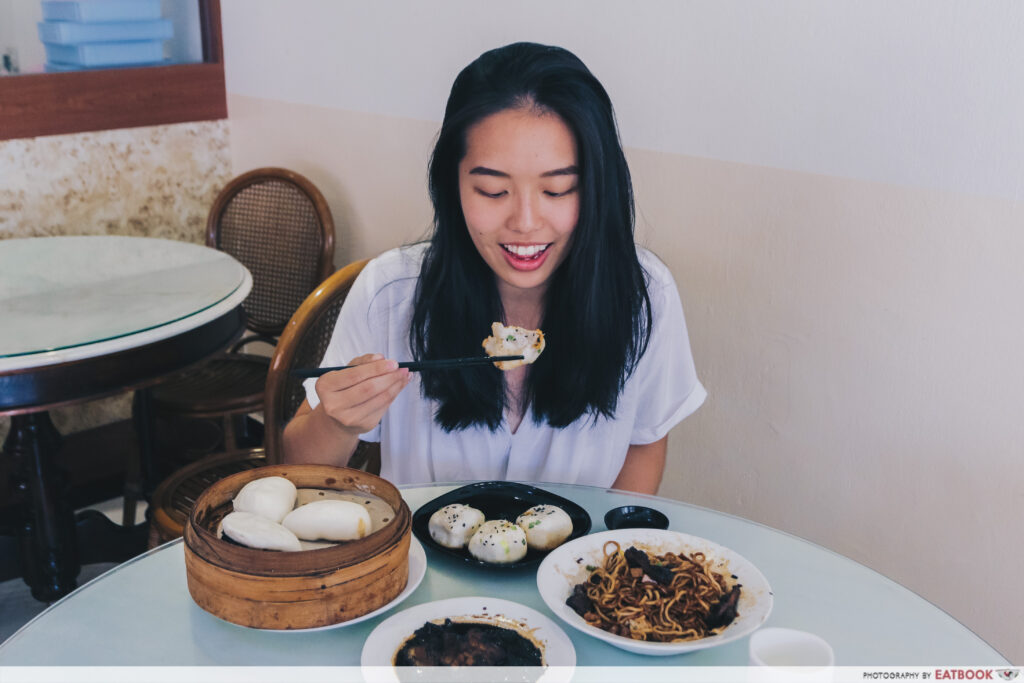 Being the budget diner that I am, Shanghai Renjia truly stole my heart with their affordable house-made food. There is no doubt that I would be back to try their xiao long bao, which is also highly raved by many. I would say this humble restaurant is a worthy competitor of Din Tai Fung, and definitely worth a try!
If you're looking for more interesting dumpling creations, pop by Master Wang Ramen for cheese xiao long bao and scallop xiao long bao! Alternatively, check out these cheap xiao long bao places if you're on a tight budget!
Address: 151 Ang Mo Kio Avenue 5, #01-3046, Singapore 560151
Opening hours: Tue-Sun 11am to 3pm, 6.30pm to 10pm
Tel: 6368 6927
Website
Shanghai Renjia is not a halal restaurant.
This is an independent review by Eatbook.sg
This article was originally written on 23 April 2018.
Summary
Pros
– All the dishes were house-made
– Sheng jian bao
– Friendly owners
– Many seats available
Cons
– Small portions
– Limited seats available
Recommended Dishes: Pan-Fried Buns ($6 for four), Braised Pork Buns ($2.50 for one, minimum two pieces)
Operating Hours: Tue-Sun 11am to 3pm, 6.30pm to 10pm
Address: 151 Ang Mo Kio Avenue 5, #01-3046, Singapore 560151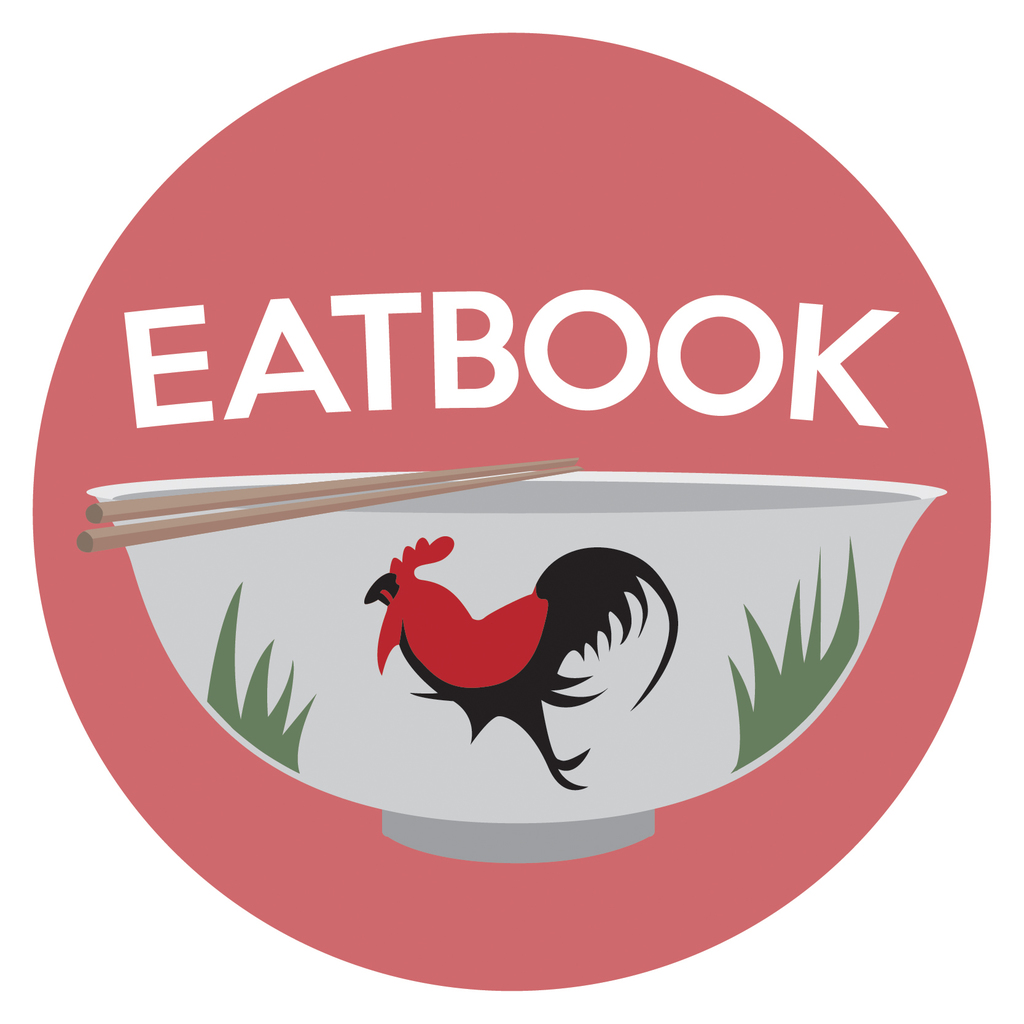 Drop us your email so you won't miss the latest news.