---
Dining with ShopBack GO
---
Standing on the weighing scales post-Christmas is bound to trigger some anxiety, 'cause let's face it, holidays = weight gain.
Luckily, ShopBack is helping you check off the "Eat Healthier" box on your resolutions list with a new feature on their app: ShopBack GO. This nifty tool gives you cashback whenever you dine at restaurants. To aid you on your quest for a slimmer waistline, here are 10 wholesome restaurants with healthy options, that offer cashback when you dine out with ShopBack GO.
---
1. Grain Traders
---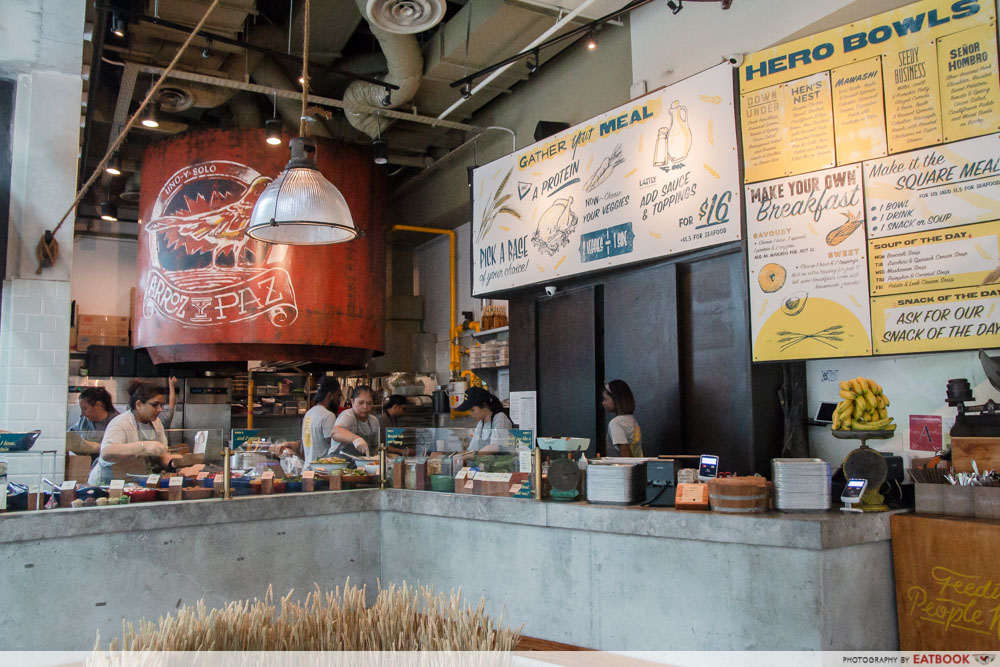 A stark contrast to the drab CBD area surrounding it, Grain Traders adopts an industrial-farmhouse aesthetic. Look around the cafe and you'll see farming influences such as walls adorned with sickles and a tray return area that's shaped like a shed house. Everything here is made from scratch, right down to the dressings and sauce.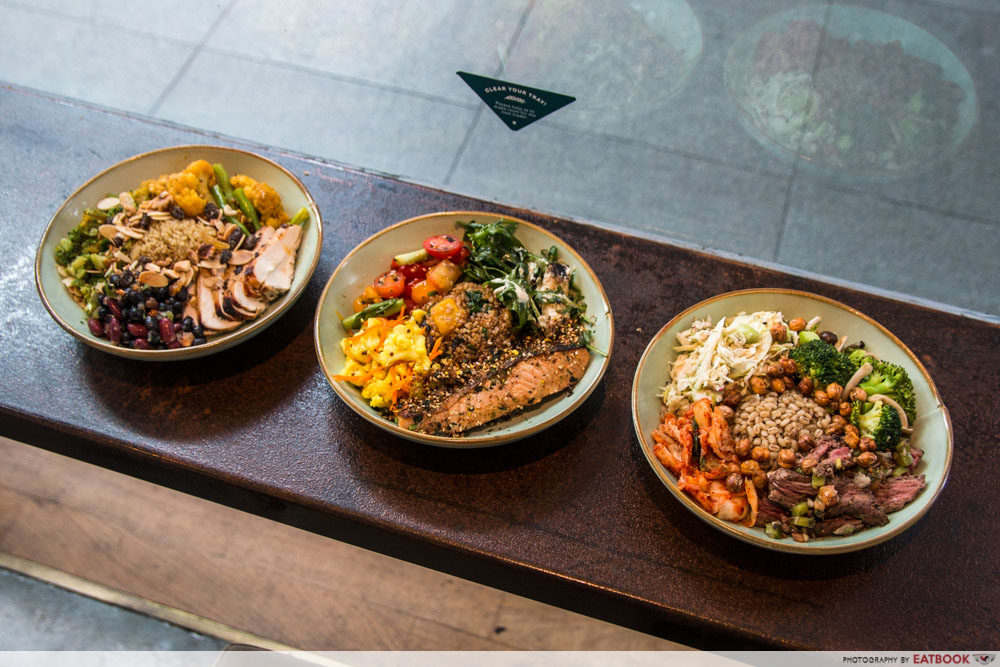 All these add to the homey vibe you get as you tuck into one of their customisable bowls ($16 for non-seafood, $17 for seafood). We tried the Hen's Nest – quinoa topped with roasted chicken breast, beans and vegetables – as well as two customisable bowls containing beef and salmon respectively.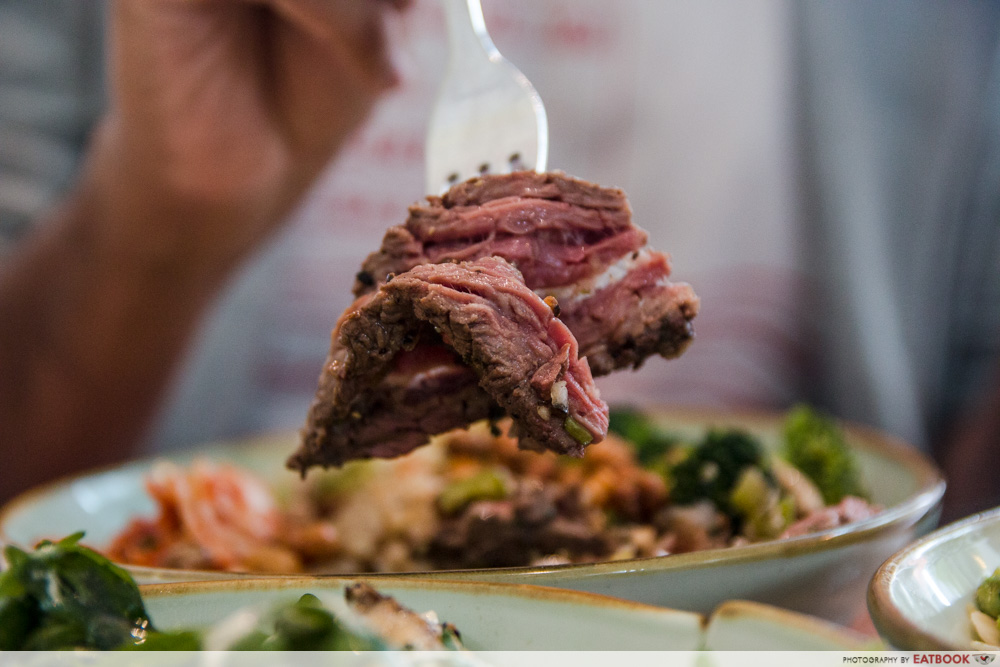 The salmon was cooked beautifully, giving it a nice char while still being juicy. Although the beef could have used a little more flavour, it was extremely tender and paired well with the fresh kimchi accompanying it.
Get 5% cashback when you dine here with ShopBack GO.
Address: 138 Market Street, #01-01/02/03, CapitaGreen, Singapore 048946
Opening hours: Mon-Fri 8am to 8pm
Website
---
2. The Daily Cut
---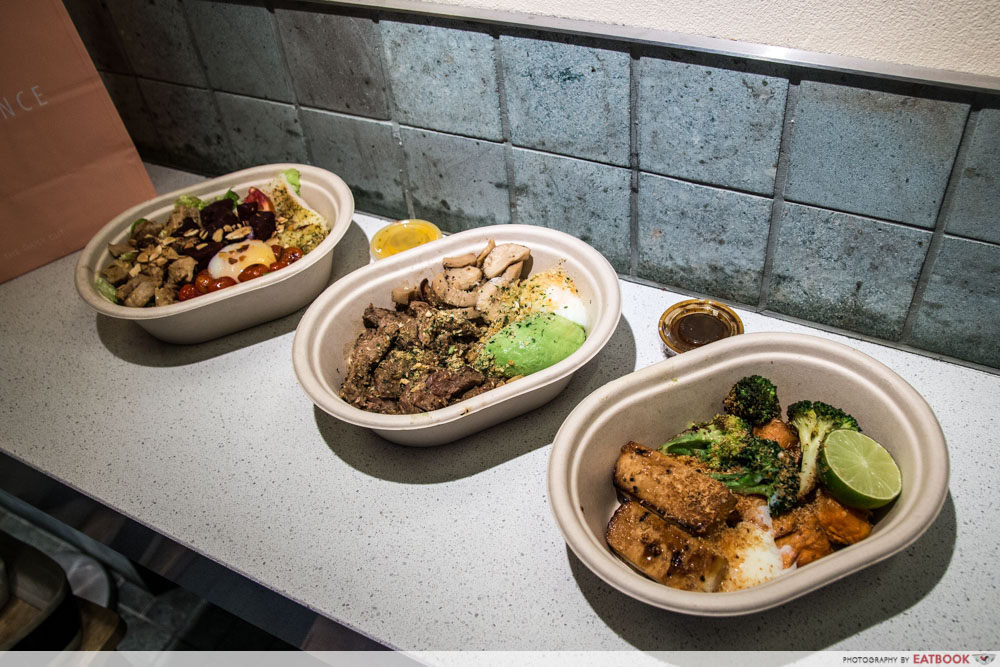 Getting a seat at The Daily Cut might be an arduous challenge, but it'll be worth it once you've taken a bite of their build your own bowls (from $9). These bowls come in three different sizes, and you can fill 'em up with an assortment of delish ingredients like tomato confit whole-grain pasta, herb-baked dory, onsen egg and Cajun skirt steak.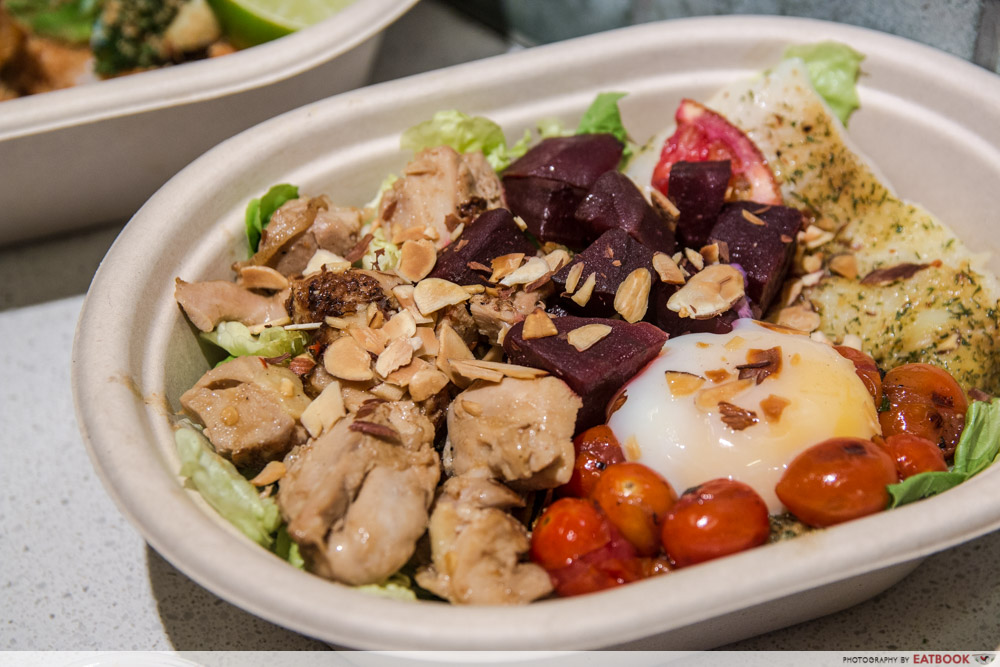 The baked dory had a slightly sweet flavour which worked wonders with the cherry tomatoes that came with it. We also recommend getting the mango habanero dressing, as its thick consistency and sweetness elevated most of the ingredients in our bowls.
Get 5% cashback when you dine here with ShopBack GO.
Address: 1 Raffles Place, #B1-31, One Raffles Place, Singapore 048616
Opening hours: Mon-Fri 11am to 3pm, 6pm to 8:30pm, Sat-Sun 11am to 3:30pm
Website
---
3. Ninja Bowl
---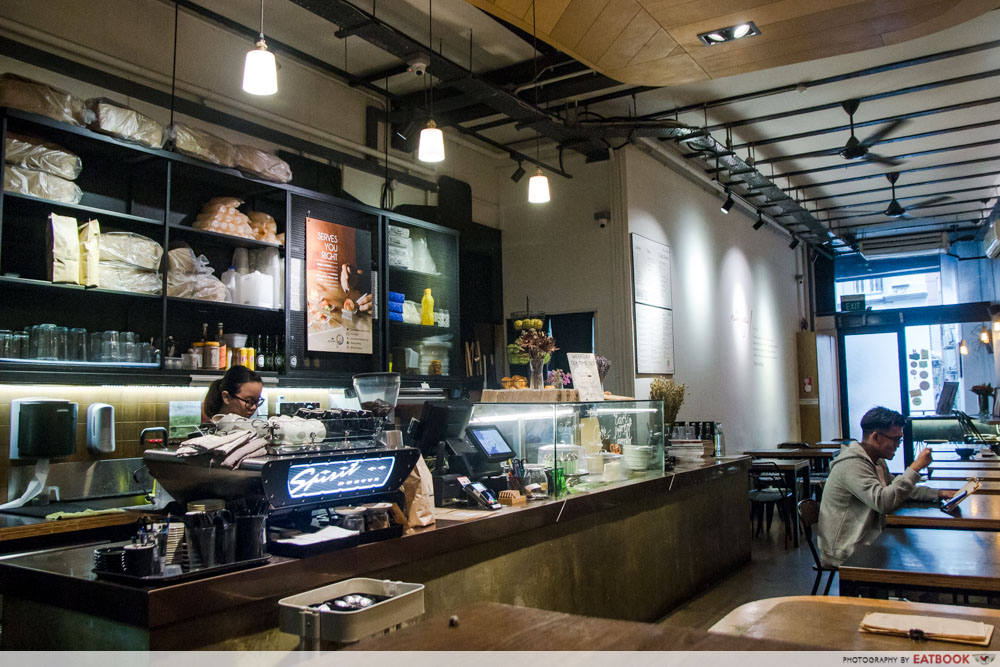 Given its nondescript facade, it might be easy to miss Ninja Bowl as you saunter to the watering holes surrounding it. Step inside, however, and you'll be greeted with a comforting ambience that sets the mood for good food.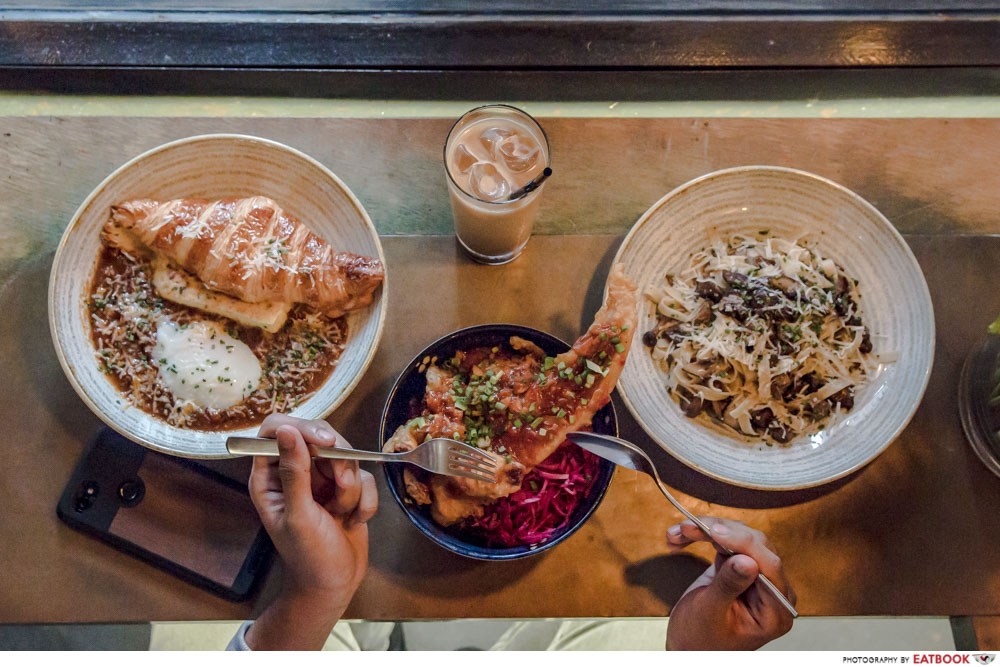 Making up their menu is a healthy mix of rice bowls, pasta and all-day brunch items. We got the Truffle Mushroom Pasta ($14), Tamago Sandwich ($16) and Hokkaido Ninja Bowl ($16), and were impressed by them all.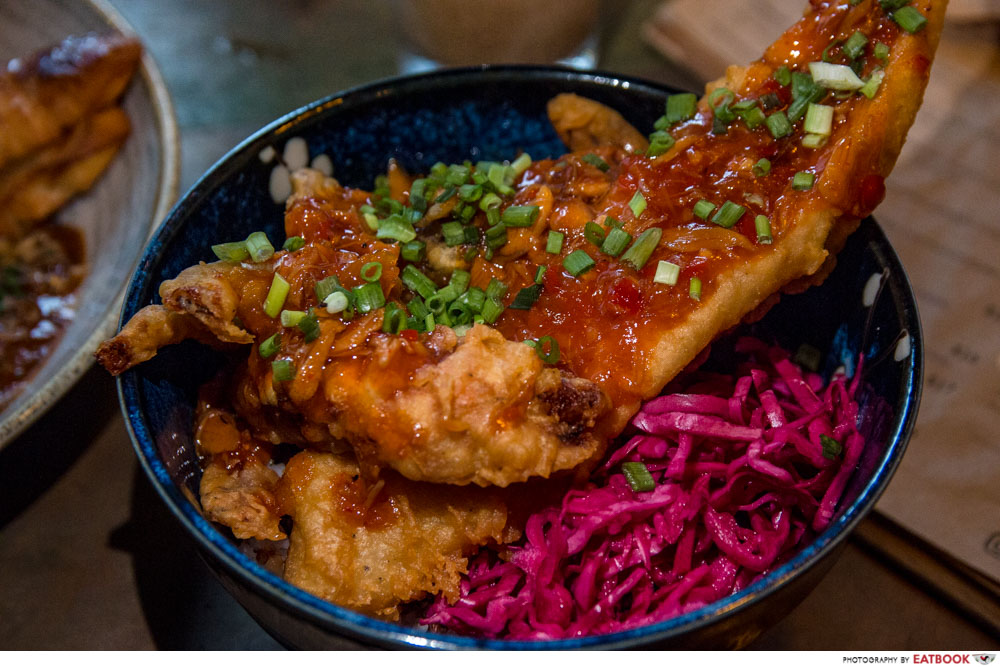 If you had to pick a dish, go with the Hokkaido Ninja Bowl, as it's extremely filling. The rice bowl comprises a huge slice of battered fish fillet and soft shell crab, both drizzled with a generous amount of homemade chilli sauce that isn't too spicy.
Get 5% cashback when you dine here with ShopBack GO.
Address: 15 Duxton Road, Singapore 089481
Opening hours: Mon-Fri 9:30am to 9pm, Sat-Sun 9am to 6pm
Website
---
4. An Acai Affair
---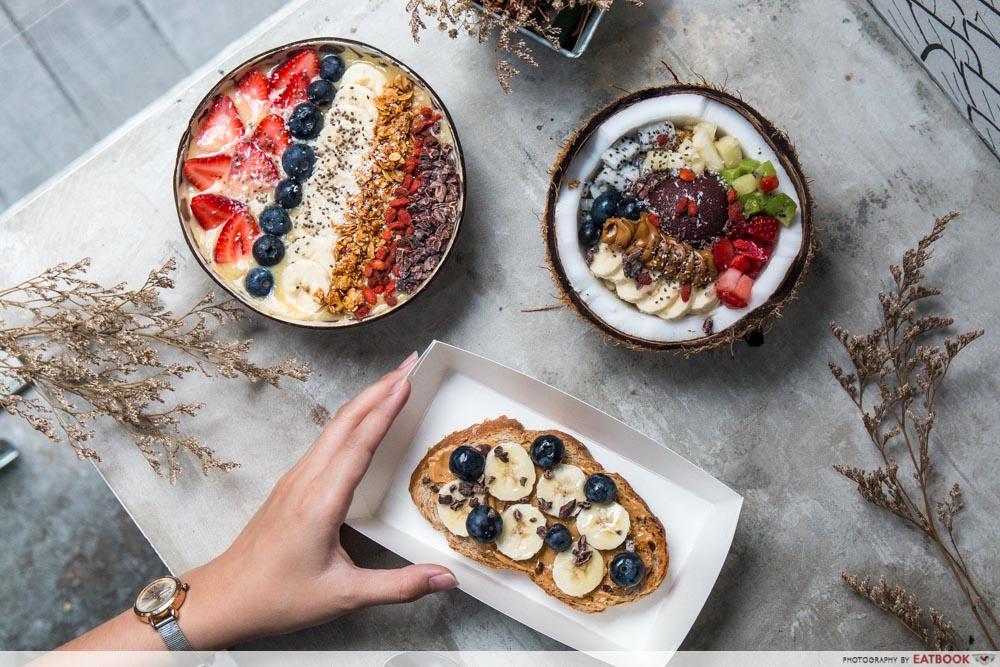 The founders of An Acai Affair were still studying in SMU when they decided to turn their love for acai bowls into a business venture. Fast forward a few years and the franchise has spawned multiple outlets around Singapore.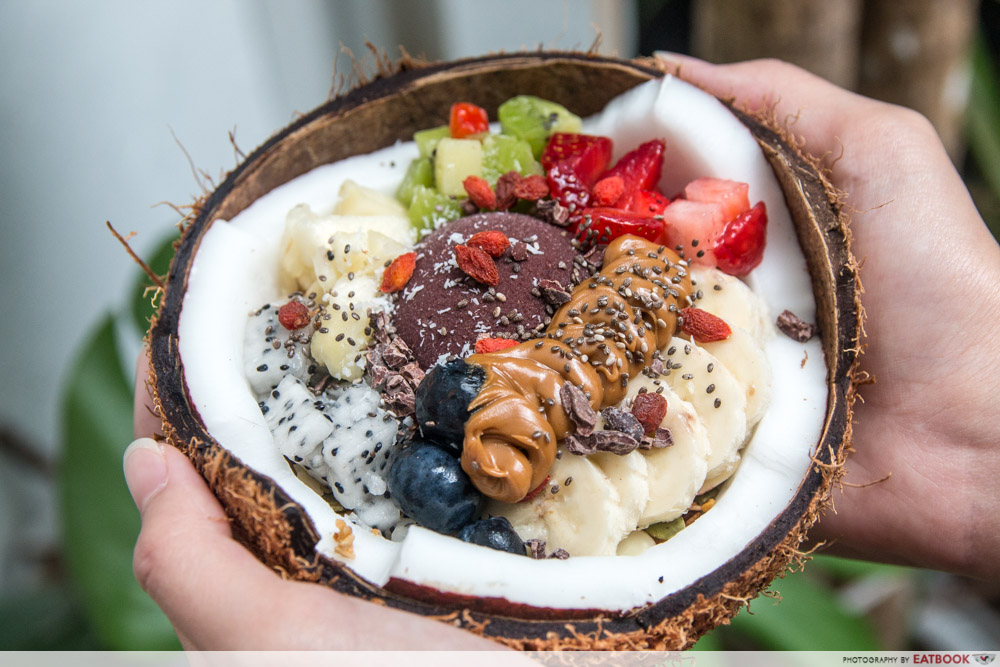 You can get your desserts in multiple forms here; be it in a bowl, coconut husk or on toast. We especially loved the Husk Solo ($6.90) – an assortment of fresh fruits and superfoods served in a mature coconut husk. The cookie butter complemented the acai very well, while the granola at the bottom added a good crunch.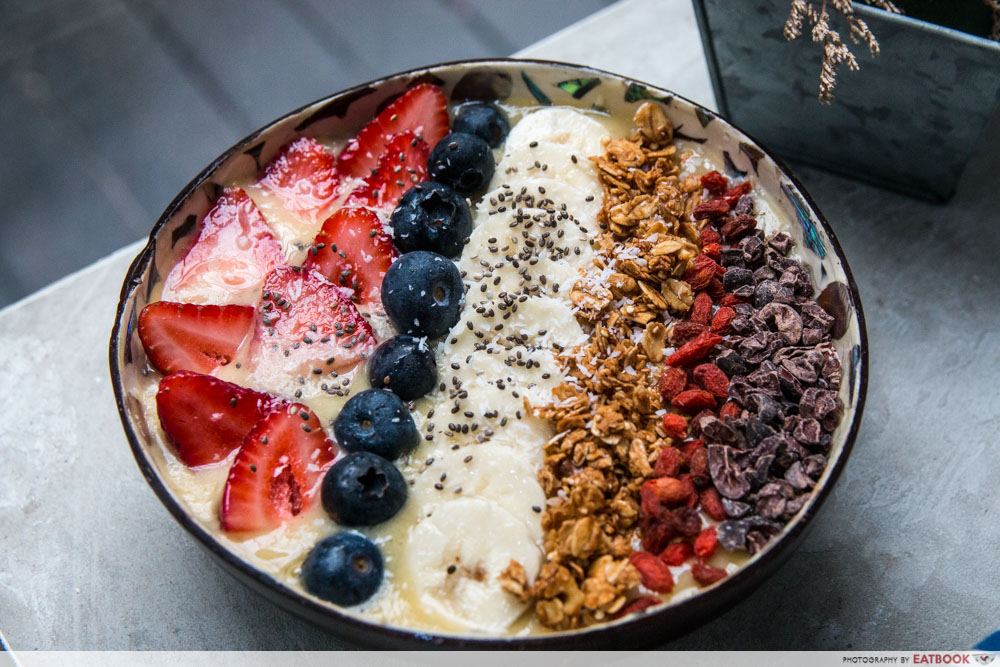 For a burst of freshness, get the Mangoes Wild ($9.90) – a blend of tropical mango with banana, pineapple and a splash of fresh coconut water. The mango isn't overly sweet, while the strawberries and blueberries add a slight sourness to the mixture. On its own, the cocoa nibs are quite bitter and hard, but they work well in balancing out the sweetness of the smoothie.
Get 5% cashback when you dine here with ShopBack GO.
Address: 101 East Coast Road, Singapore 428976
Opening hours: Mon-Thur 12pm to 10pm, Fri 12pm to 11:30pm, Sat 10am to 11:30pm, Sun 10am to 10pm
Website
---
5. Afterglow by ANGLOW
---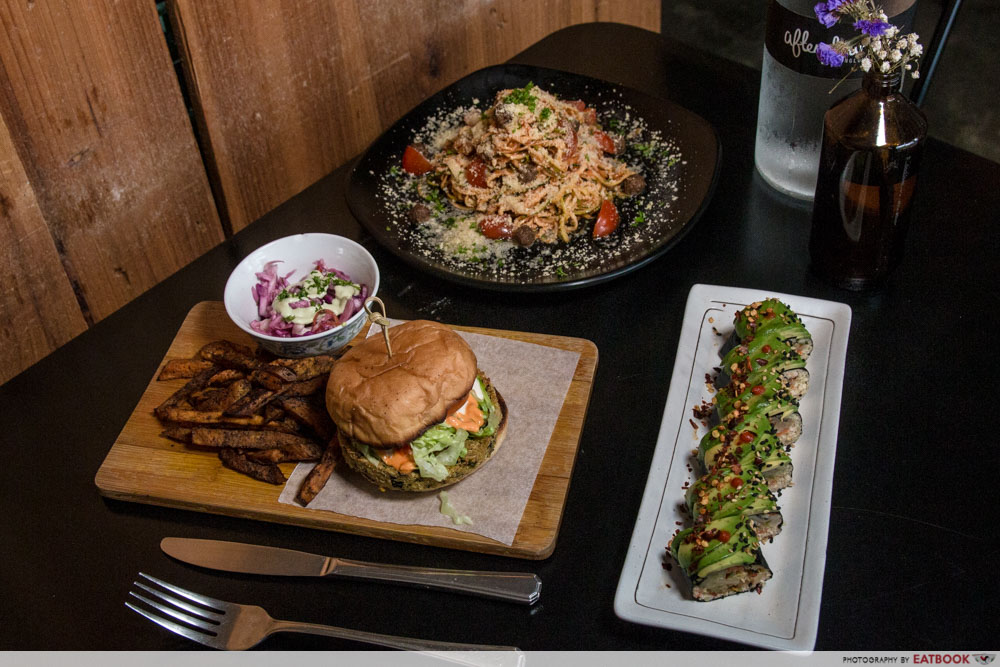 If meat isn't in your food dictionary, then you'd do well to bask in the warmth of Afterglow by ANGLOW. This vegetarian joint exclusively serves food that's farm-to-table, so every bite will be brimming with freshness.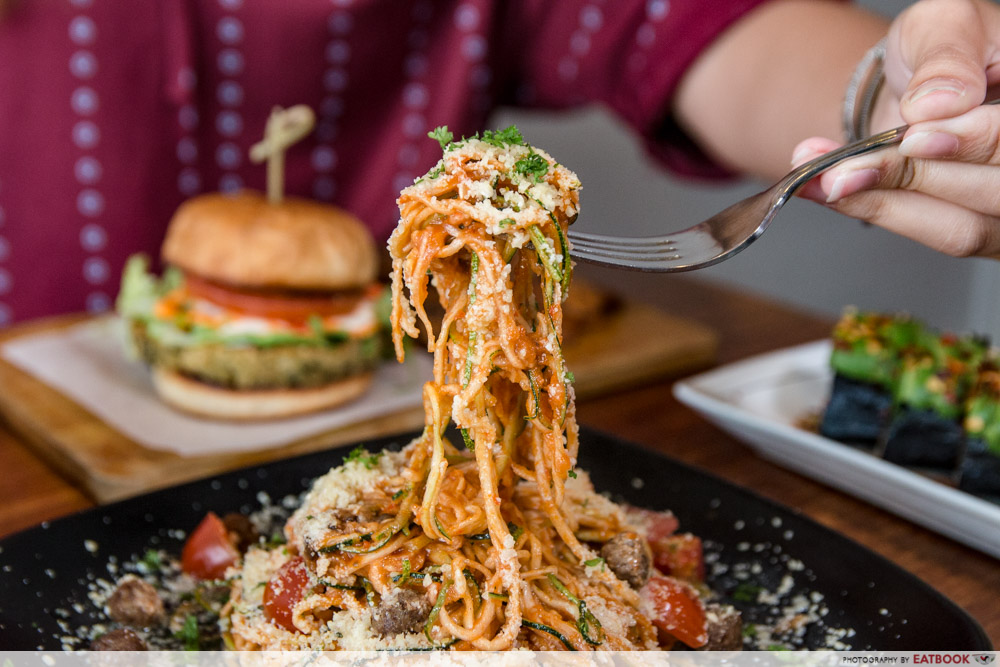 The Zucchini Linguine & Walnut "Meat"-Balls ($20++) might throw you off into thinking you're eating a pasta dish, but make no mistake, this is all salad. The spiralised zucchini was very crunchy and fresh, while the vegan cheese was rich and tasted like the real thing.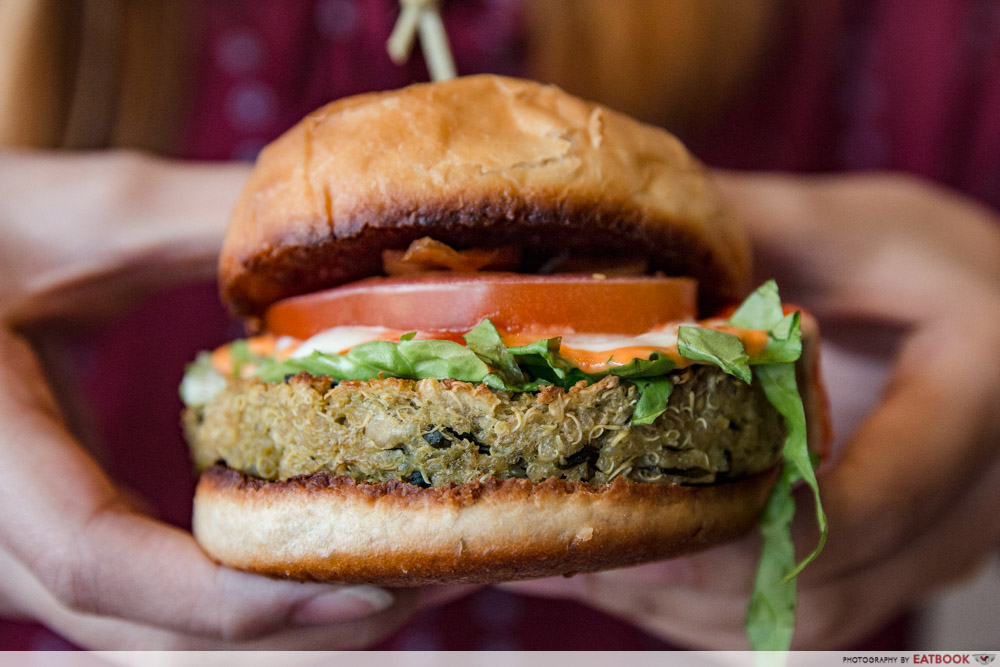 For those who need their fill of burgers, the Quinoa & Spinach "Hash Brown" Burger ($20++) will do the trick with its hearty mix of quinoa, goat cheese, rolled oats and cashew cheese sauce. This dish was very appetising as the flavours gelled well together.
Get 5% cashback when you dine here with ShopBack GO.
Address: 24 Keong Saik Road, Singapore 089131
Opening hours: Mon-Sat 12pm to 10:30pm
Website
---
6. HRVST
---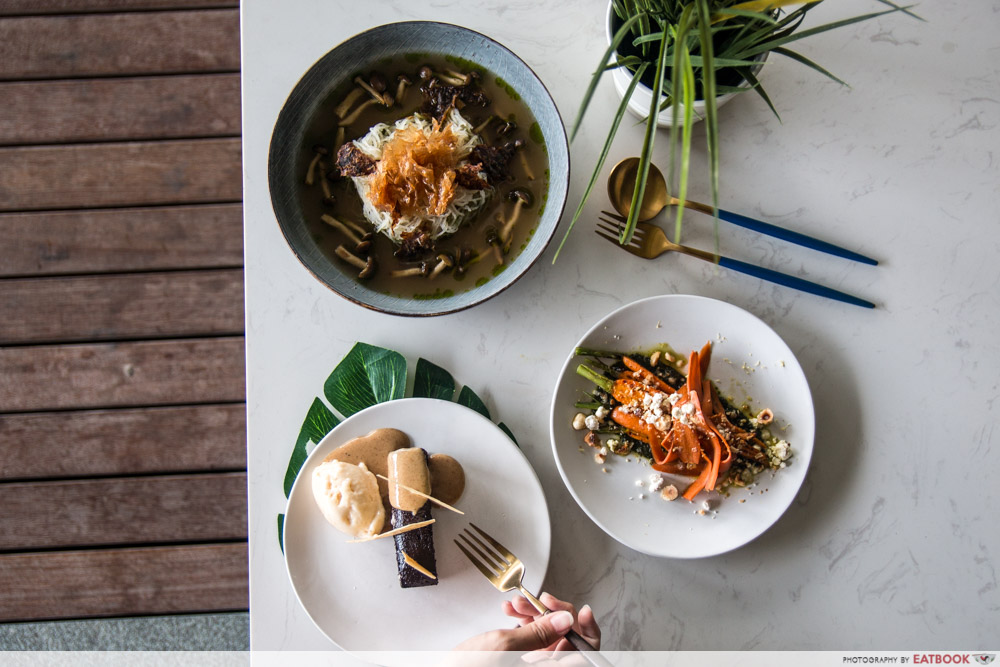 Joining the ranks of vegan food places in Singapore is HRVST. Catering to a variety of dietary restrictions, they also have aesthetically pleasing dishes to boot.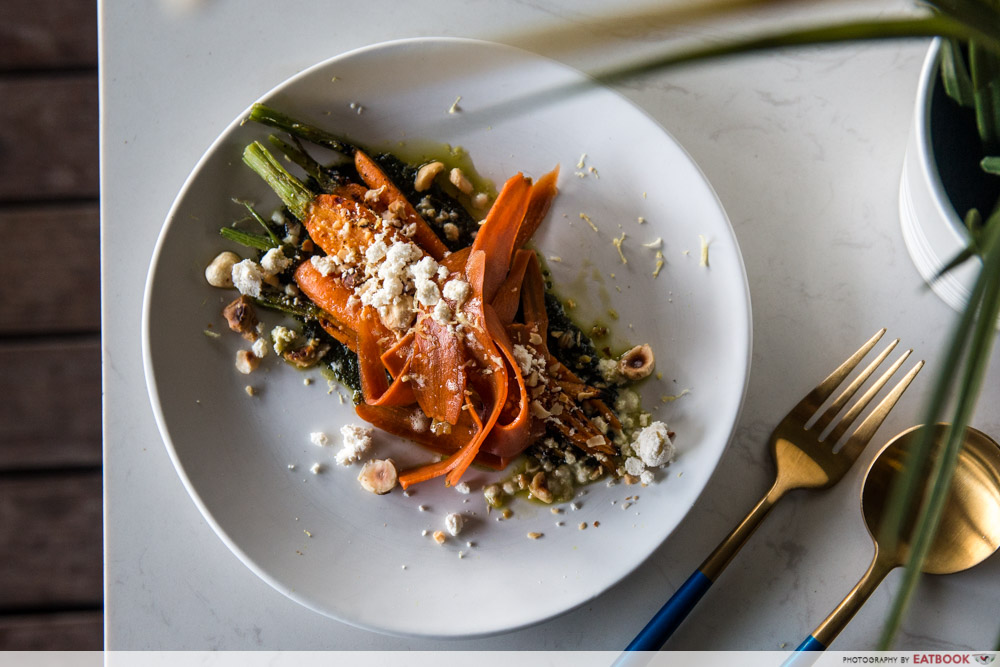 Their Carrot, Carrot, Carrot ($12+) is so nice they named it thrice. The appetiser consists of carrots that are done in three ways: blanched, grilled, and pickled. Biting into the carrots brought forth an explosion of flavours, as you could taste the sweet carrots complementing the salty carrot leaf pesto. There's also the garlic snow, which disintegrates in your mouth, adding a layer of texture for good measure.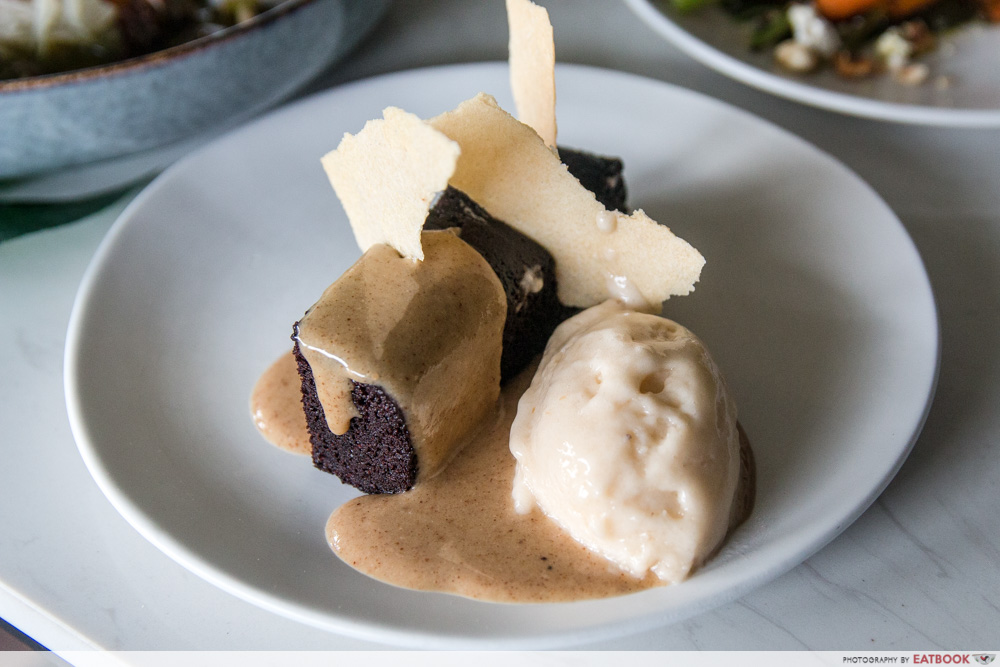 No meal is complete without dessert, so get their Chocolate Cake ($8+) to round up your dining experience here. The vegan chocolate cake is served with nut butter, banana sorbet and crisps made from almond paste. The saltiness from the nut butter balances out the sweetness from the sorbet and cake. Although the almond crisps didn't have much flavour, they added a pleasant mouthfeel.
Get 5% cashback when you dine here with ShopBack GO.
Address: 6A Shenton Way, #05-01, OUE Downtown Gallery, Singapore 068815
Opening hours: Mon-Fri 11:30am to 2:30pm, 5:30pm to 10pm, Sat 11am to 3pm
Website
---
7. A Poke Theory
---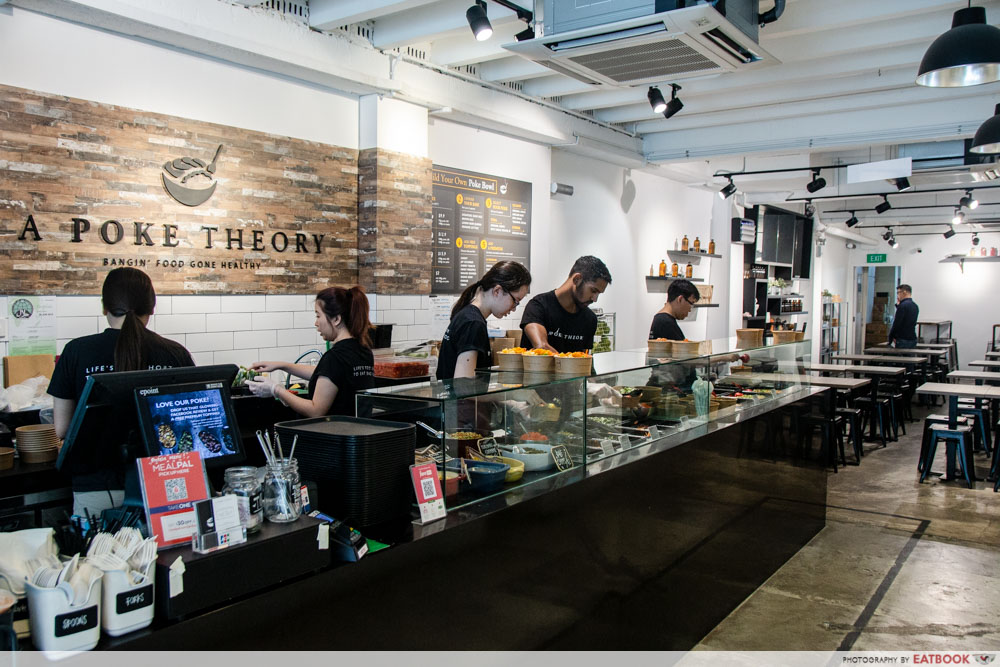 A Poke Theory has always been synonymous with delicious poké bowls and now that it's halal-certified, more people can indulge in these wholesome bowls of delight.
Ordering here is a fairly simple process, which involves choosing a bowl size (from $9.90 to $15.90) and filling it up with premium ingredients like lemon herb quinoa, shoyu salmon and salmon skin.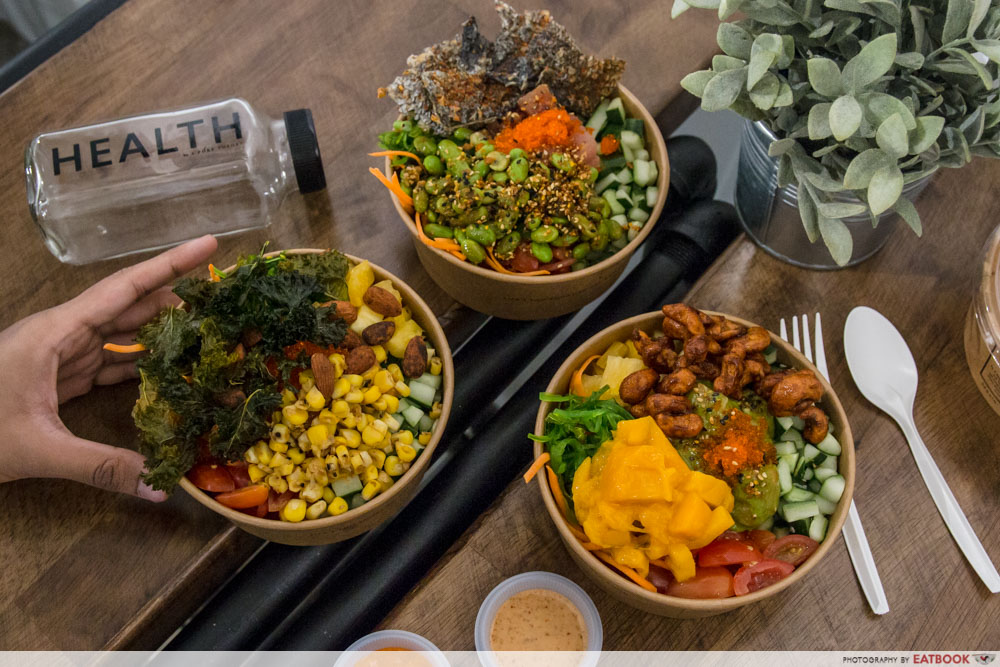 We tried three different bowls containing shoyu tuna, avocado salmon and salmon tuna, and were thoroughly impressed by how full-flavoured they were. The taste was elevated even more by the use of premium toppings (additional $2) such as salmon skin and kale chips.
The store also serves free sauces and we highly recommend getting the gochujang aioli and spicy mayo, as these dips taste beautiful when paired with seafood.
Get 5% cashback when you dine here with ShopBack GO.
Address: 27 Boon Tat Street, Singapore 069623
Opening hours: Mon-Fri 11am to 8pm, Sat 11am to 4pm
Website
---
8. Alter Ego
---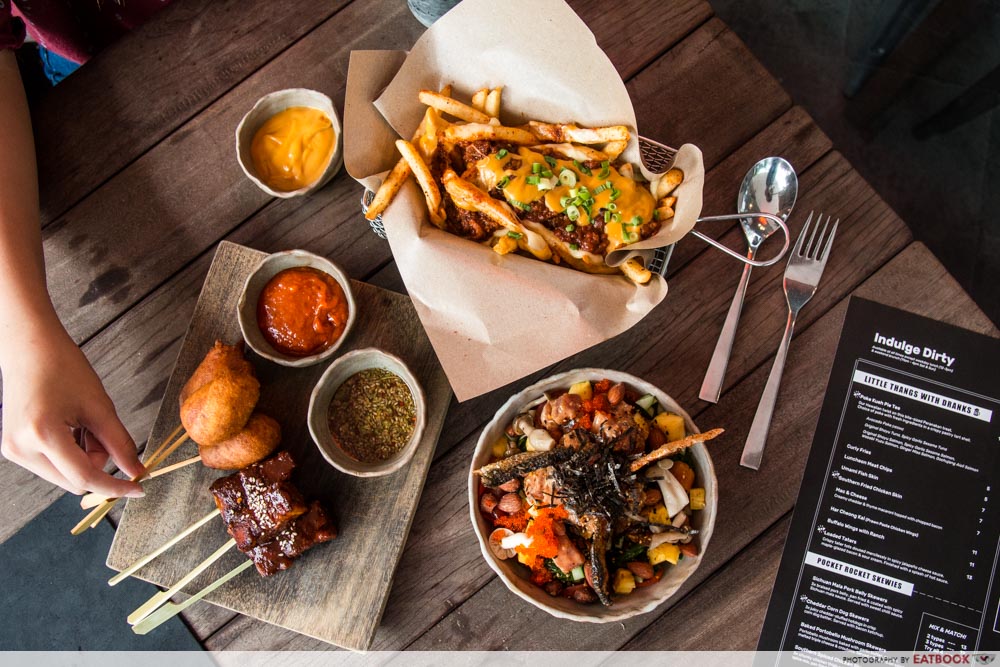 Think of Alter Ego as A Poke Theory's dark alter ego. The restaurant is a far cry from its wholesome sister, serving a sinful menu that includes stuff like Chilli Cheeseburger Fries ($16+), Sichuan Mala Pork Belly Skewers and Cheddar Corn Dog Skewers ($13+ for two sets). Amidst all these, they also sell poké bowls so you can get the best of both worlds.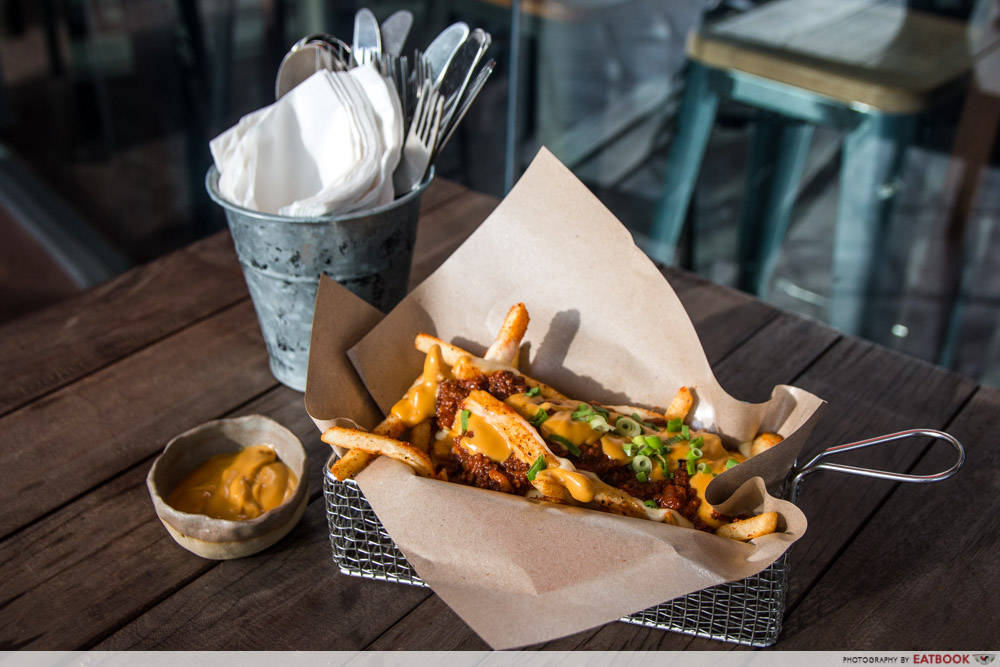 Since they're big enough to be shared, the Chilli Cheeseburger Fries shouldn't pack too many calories, allowing you to savour the gooey goodness guilt-free. Though the fries were a tad soggy, the chilli con carne added a good bite to them. The three-cheese sauce was also quite rich and decadent.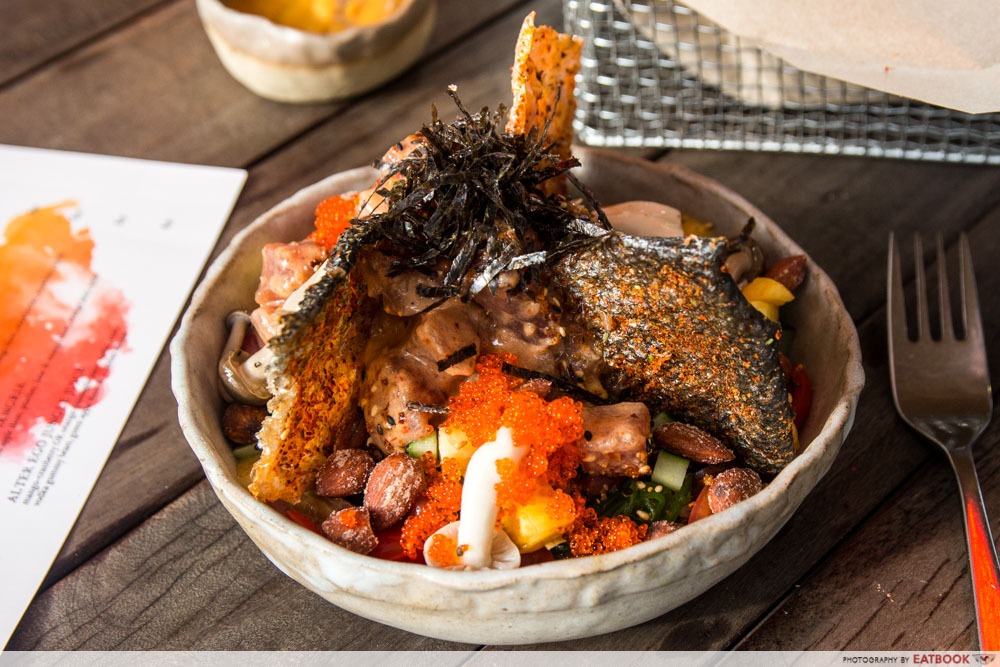 If you're someone who absolutely needs to eat healthily, try their Dynamite Kickin' ($17+) – a spicy garlic sesame tuna poke bowl topped with crispy salmon skin, smoked almonds and tobiko. The tuna was thick and had a strong umami taste, while the spicy sauce was potent without being overpowering.
Get 5% cashback when you dine here with ShopBack GO.
Address: 8 Raffles Avenue, #01-13D, Esplanade Mall, Singapore 039802
Opening hours: Mon-Fri 12pm to 11pm, Sat-Sun 11am to 11pm
Website
---
9. Cedele Bakery Kitchen
---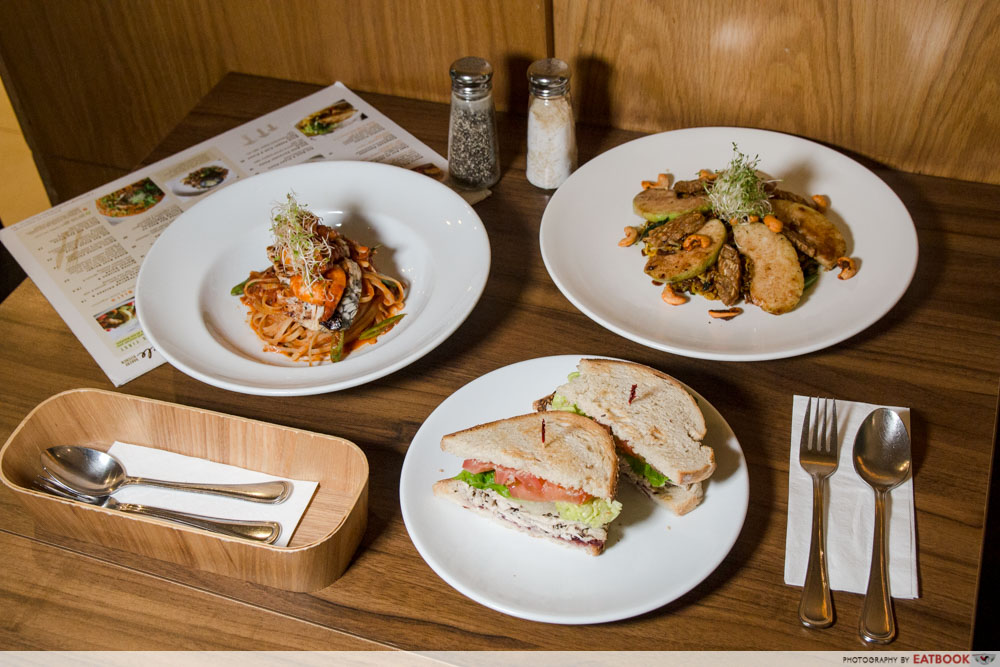 Most people would think of delicious cakes whenever they think of Cedele, but unbeknownst to many, the chain also sells a healthy mix of nutritious mains that are free from artificial and processed ingredients.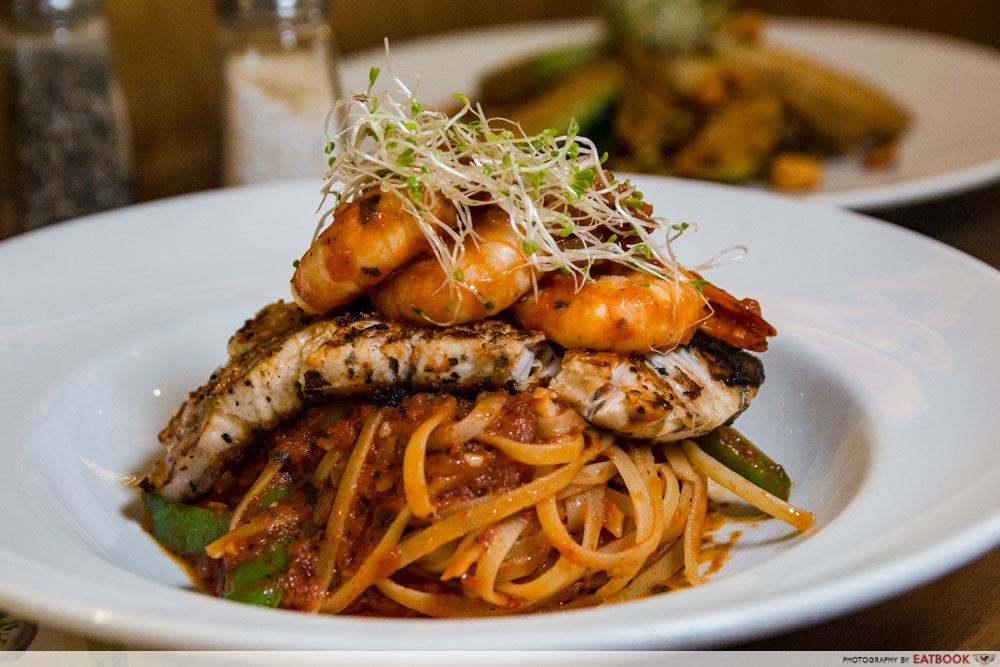 Their Sea Bass & Pasta ($22++) was doused in thick tomato sauce and topped with a juicy sea bass fillet and three prawns. We also liked how the pasta was firm to bite and brought together the flavours of the ingredients.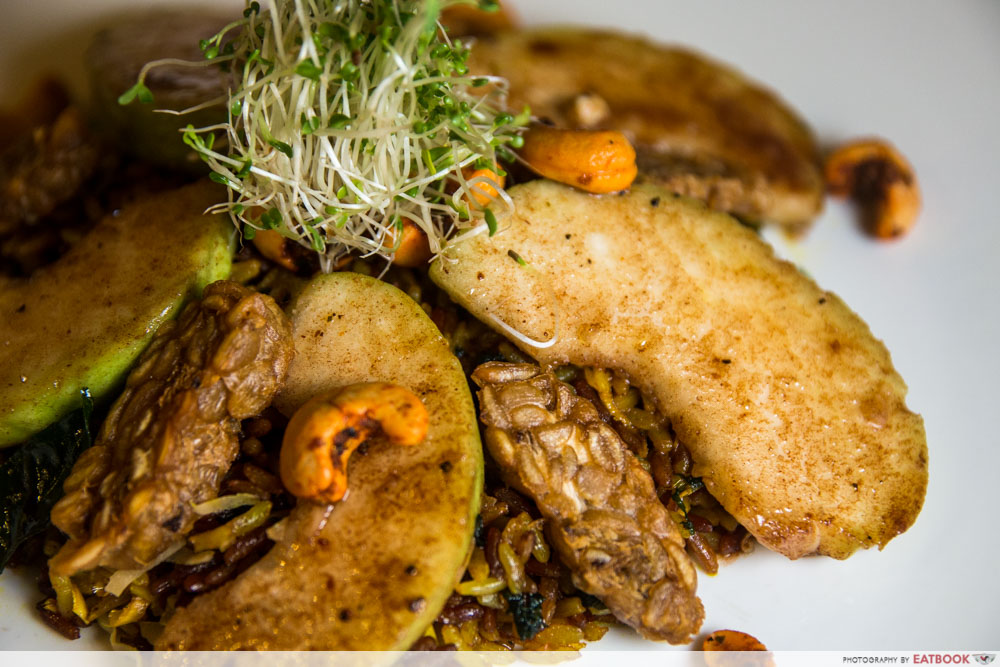 Admittedly, their Kerabu Brown Rice with Grilled Guava ($16++) is a bit of an acquired taste as the combination of brown rice, tempeh, and grilled guava slices is an unusual one. That being said, the dish was well-prepared and tasted simply divine.
Get 5% cashback when you dine here with ShopBack GO.
Address: 252 North Bridge Road, #03-28A, Raffles City Shopping Centre, Singapore 179103
Opening hours: Mon-Fri 12pm to 10pm, Sat-Sun 12pm to 9pm
Website
---
10. Toss & Turn
---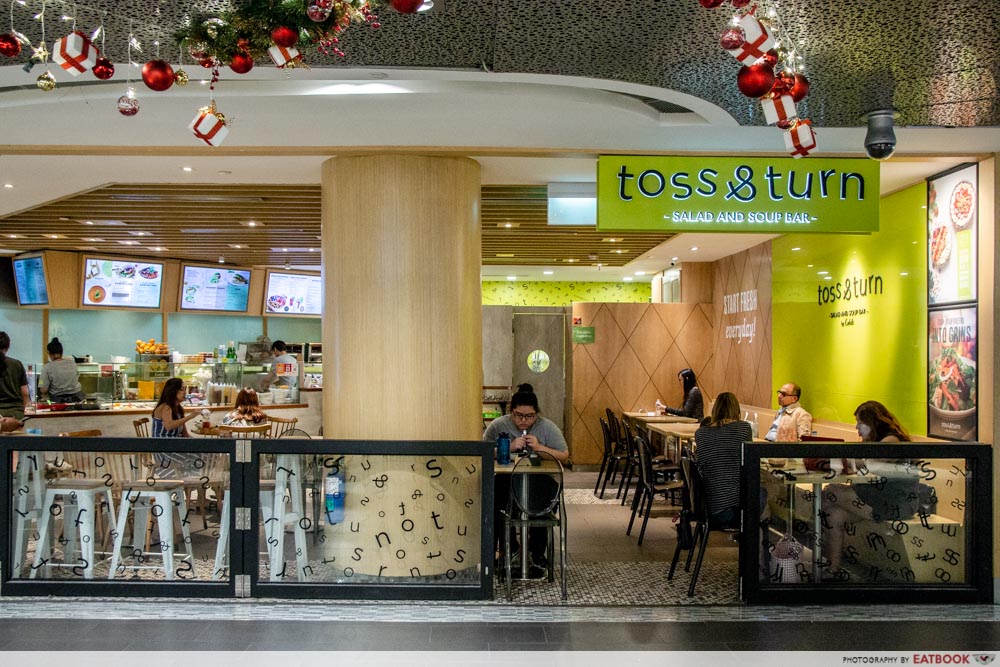 ION Orchard's Basement 4 is home to a medley of restaurants serving delicious food, and amongst them is Toss & Turn, which dishes out all sorts of salads, wraps and sandwiches.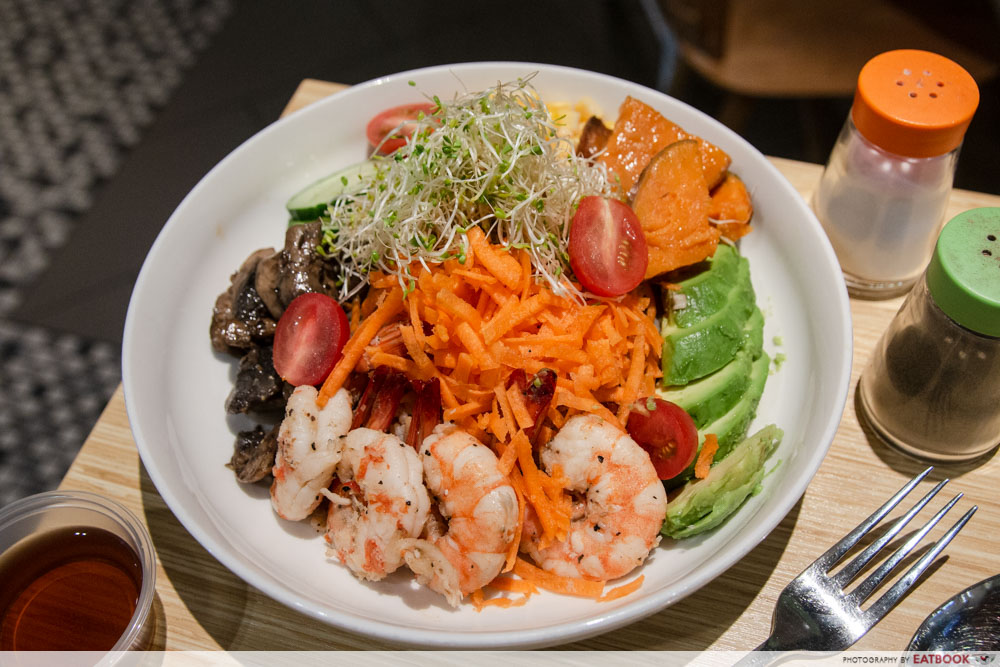 We got the Prawn Avocado Sesame Rice ($13+) and were full after a few bites. The roasted sweet potatoes and mushrooms did well to fill us up with carbs, while the sprouts and shredded carrots gave a nice crunch to the dish. That being said, the prawns were a lil' dry for my liking.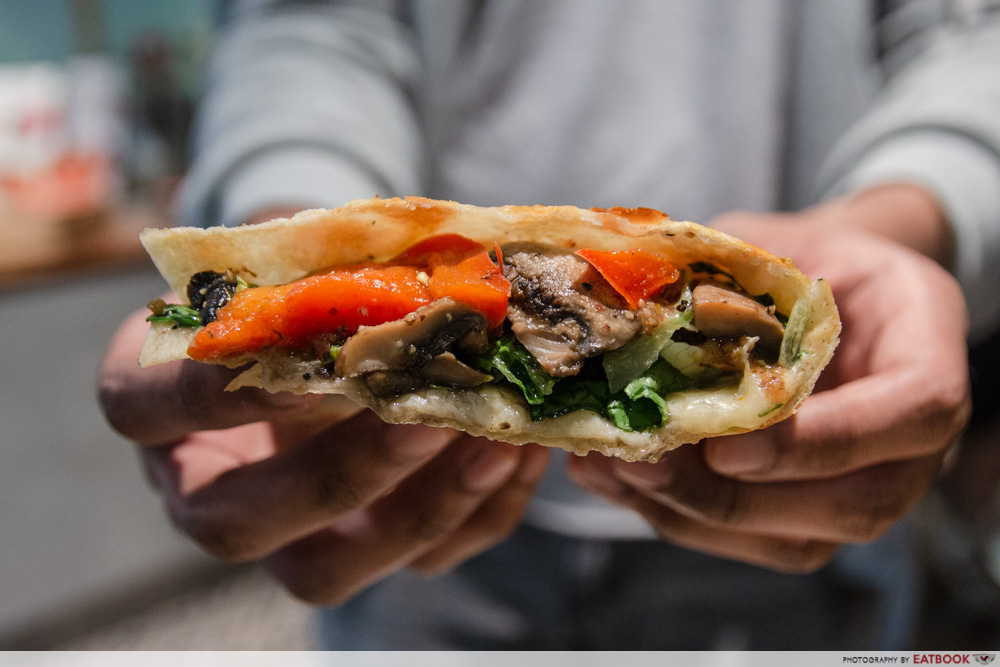 The Veggie Shrooms Thins ($8.30) is something that everyone needs to try 'cause it's simply amazing. Hidden beneath the crepe-like envelope is a liberal amount of sauteed mushrooms mixed with creamy vegan mayo. Chewing on this blanket of savoury goodness brings forth a burst of umami that makes for an impressive vegetarian-friendly option.
Get 5% cashback when you dine here with ShopBack GO.
Address: 2 Orchard Turn, #B4-55, Ion Orchard, Singapore 238801
Opening hours: Daily 11am to 10pm
Website
---
Earn cashback with ShopBack GO
---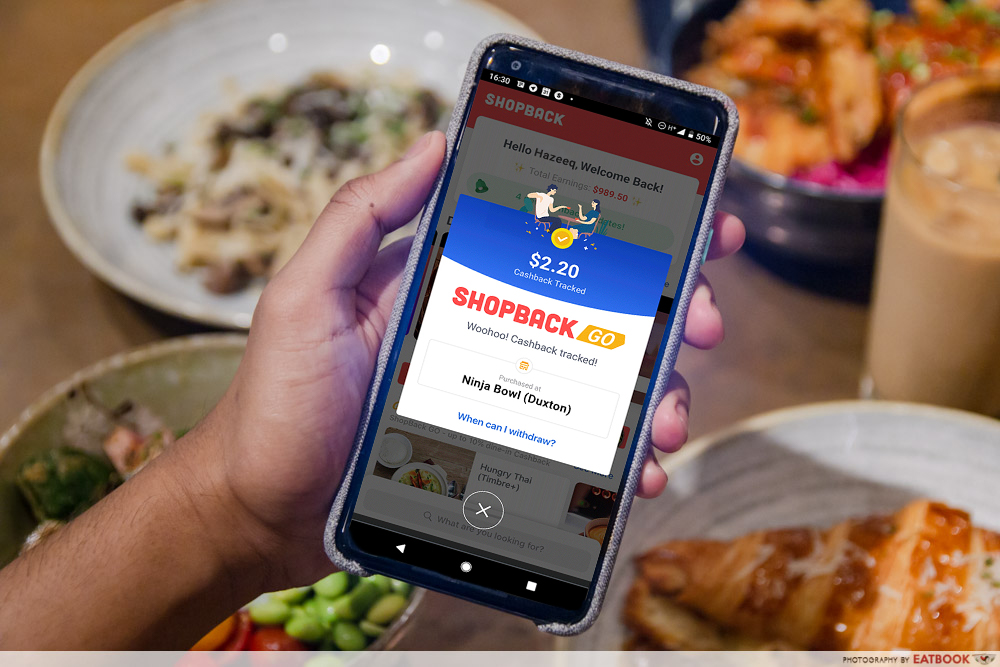 With a cornucopia of healthy restaurants all over Singapore serving great grub, there's no excuse for not hopping aboard the #cleaneating lifestyle. For a greater reason to splash the cash, ShopBack is giving you cashback – that's transferable to your bank account – whenever you dine at some of these restaurants!
Photos taken by Yeo Yuan Ning
This post was brought to you by ShopBack.