SORA lets you get your fill of Japanese food at Changi Airport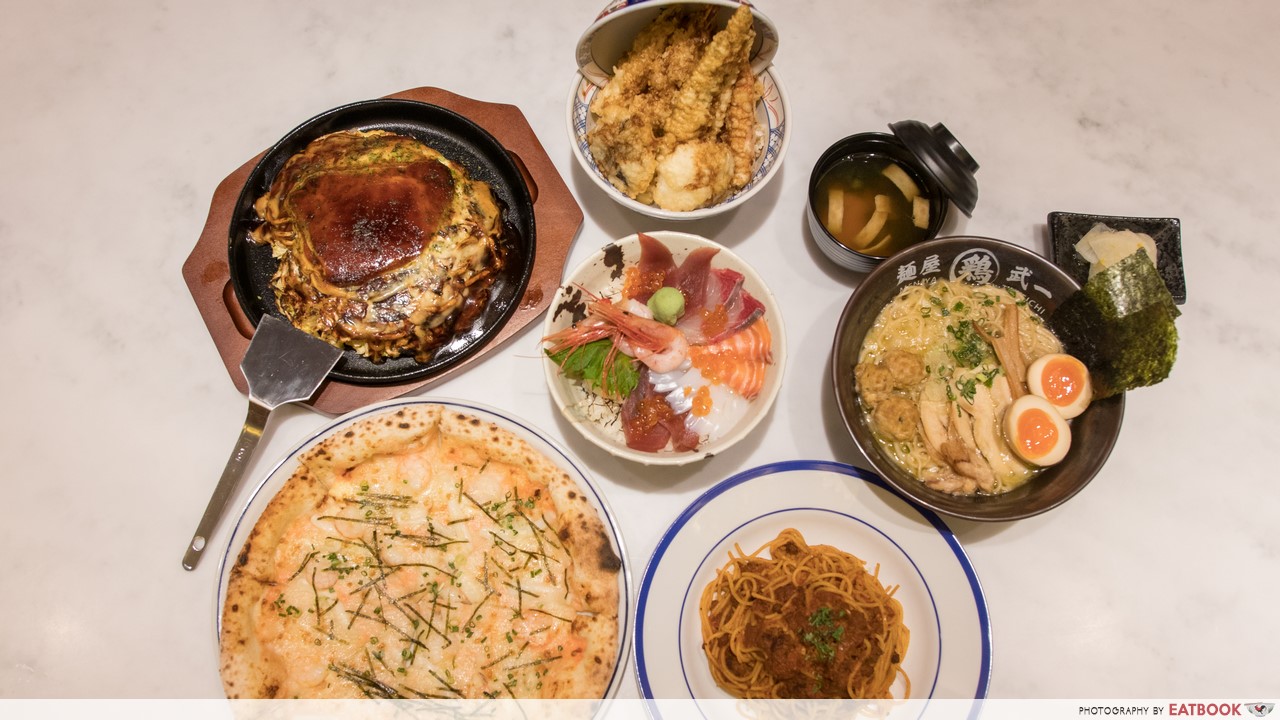 If you still think the airport is just a stop for you to travel in and out of the country, you are way behind the times. With restaurants like London Fat Duck and Treasures Yi Dian Xin now found at Changi Airport Terminal 4, it is almost impossible to tell if the place is an airport or a food heaven.
Just this week, SORA, a new Japanese food hall also opened their doors at Terminal 2. Owned by All Nippon Airways (ANA), the food hall houses six Japanese restaurant brands and here are 10 must-try dishes to have while you're there!
Food at SORA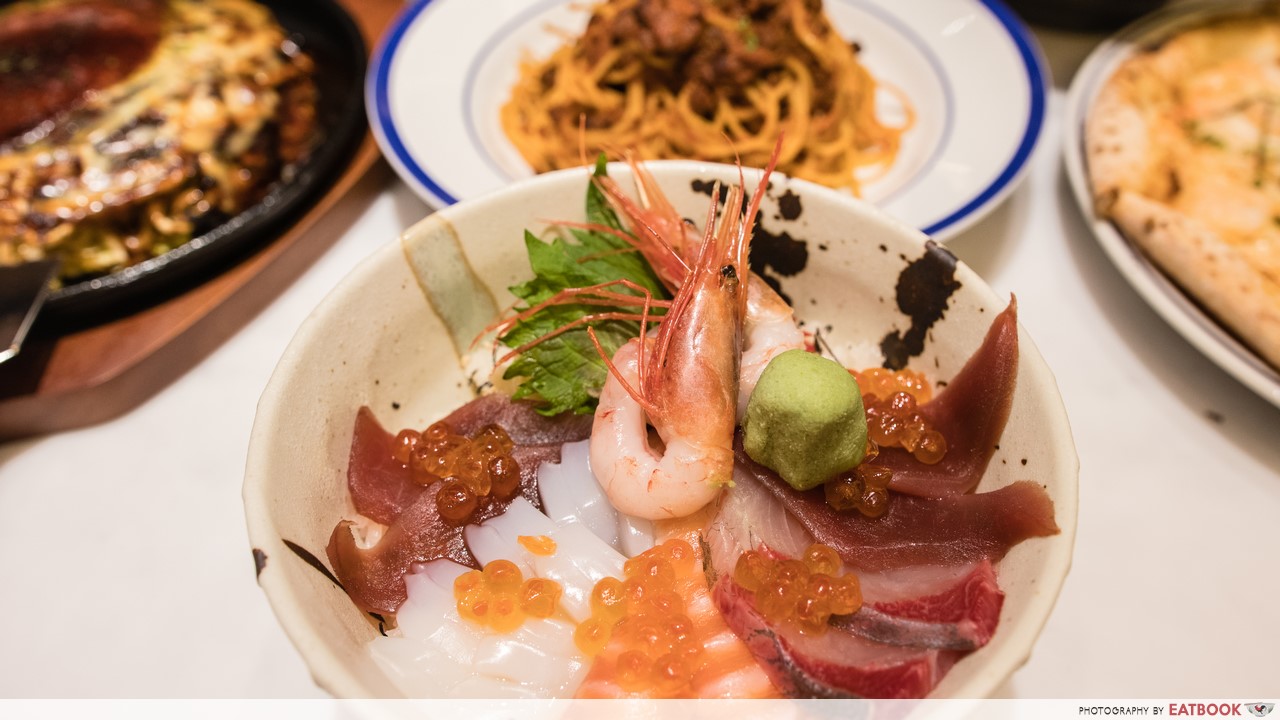 Of the six stalls that serve different types of Japanese food, the first one we decided to try was Kuro Maguro, which is started by a Japanese fish wholesaler. With fish air-flown from Japan daily, the stall specialises in rice served with kaisen (seafood).
Starting from $18, the stall serves 21 different types of sashimi rice bowls and one of the most value-for-money choices would be their Kaisen Meshi ($23.30). Aside from the thick slices of salmon, tuna, and sea bream sitting on a bed of Japanese white rice, the bowl is also topped with two huge amaebi (sweet shrimps).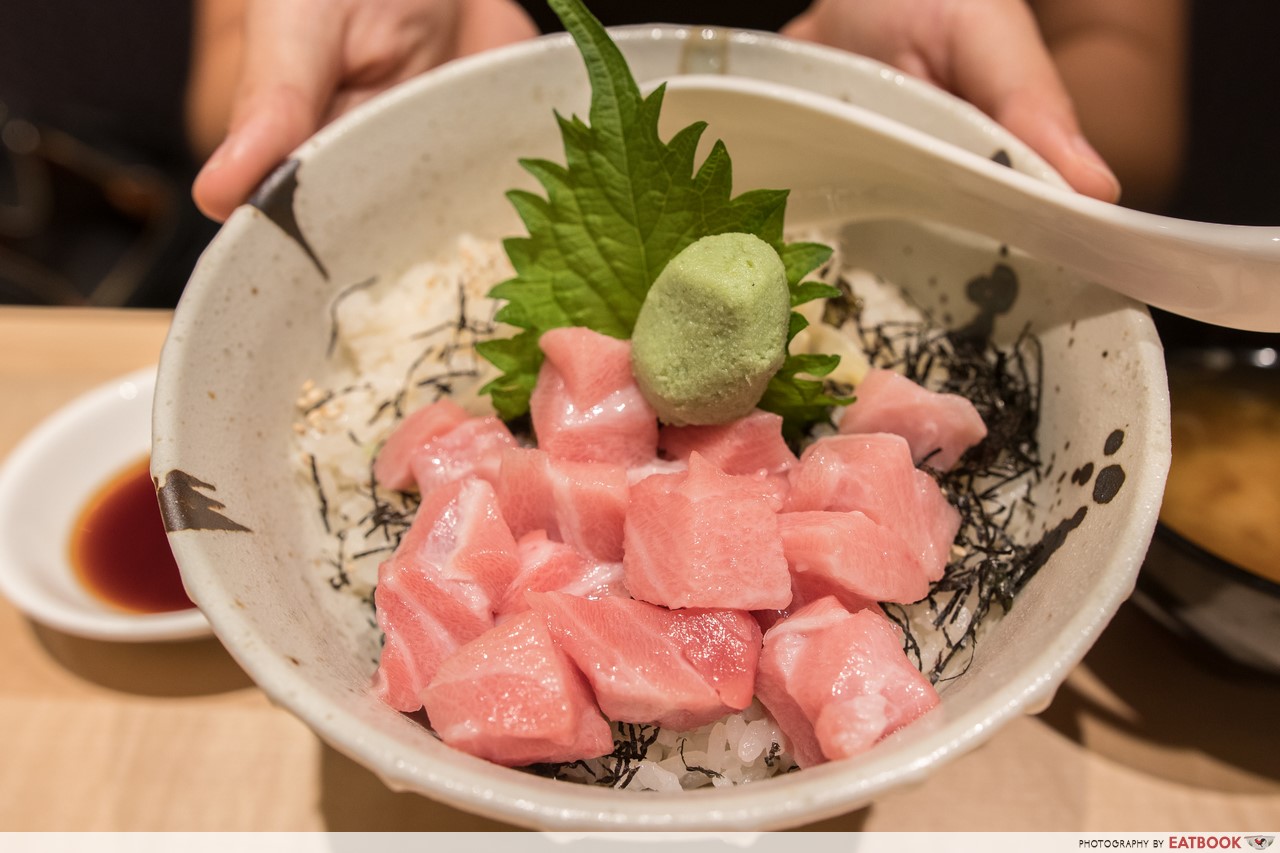 Also served at Kuro Maguro, a dish for tuna lovers would be their Toro Butsu Meshi ($29.80). Compared to the Kaisen Meshi, this bowl is a lot simpler, comprising just white rice and diced tuna. Although the price may be a little steep for this one, you can be assured that they do not shortchange you on the portion.
Slightly fatty, each chunk of tuna gave a melt-in-the-mouth sensation. Although the generous amount of tuna alone can get jelak, the lightly flavoured Japanese rice pairs well with the sashimi to balance out the tastes. For those who are not fans of raw fish, you can also go for their Toro Aburi Meshi ($29.80), where the tuna comes in slices and are lightly torched before being served.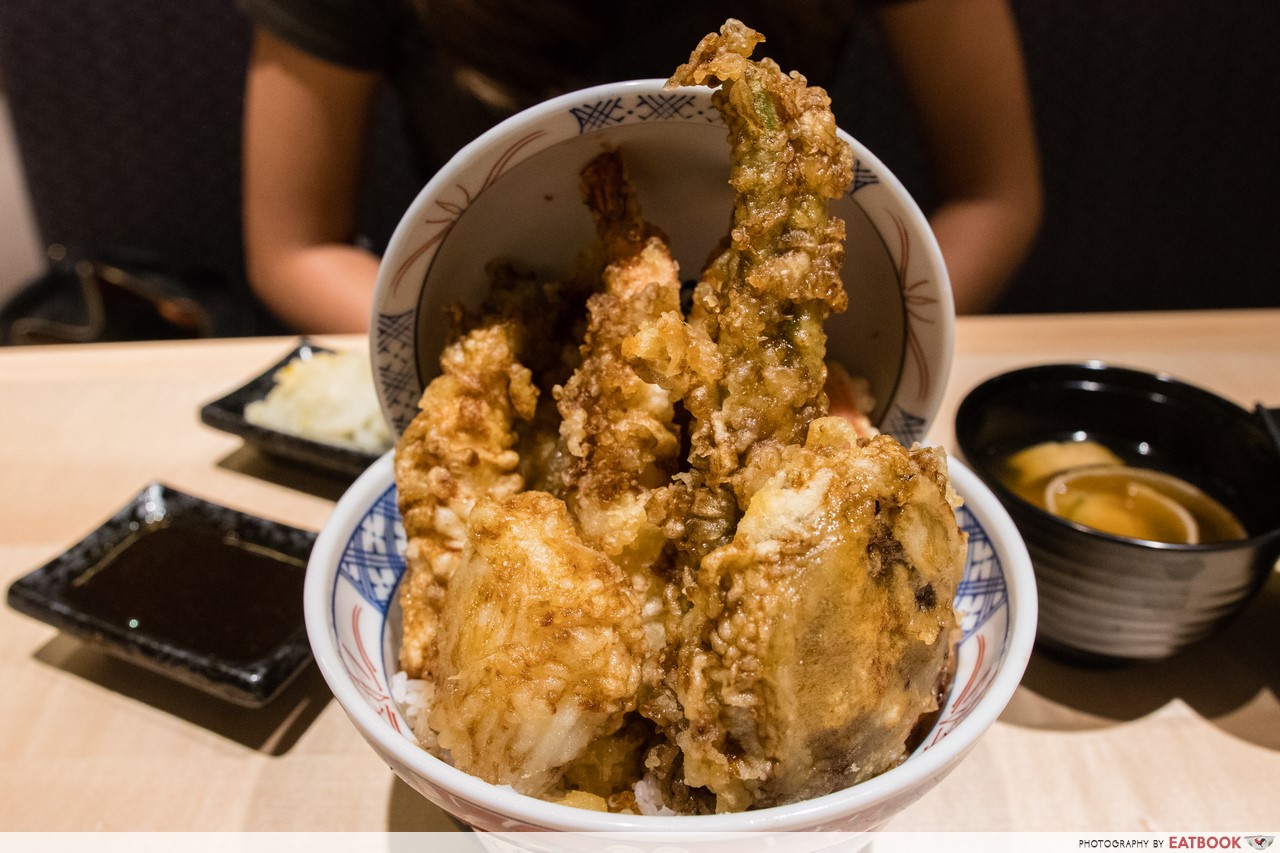 Whether or not you are one who is constantly updated on the latest food trends, you would probably have chanced upon Kohaku Tendon's bowl on your Instagram feed at least once. Known for their crazy queue at Suntec City, this famous tempura don shop now lets you hop onto the tendon bandwagon at SORA.
While there, we tried their specialty, Kohaku Tendon ($17.70). With a bed of Japanese white rice at the bottom, the bowl comprised ingredients such as tempura prawns, pumpkin, chicken breast, asparagus, and mushroom. Both the rice and tempura pieces were drizzled with a sweet and savoury sauce that enhanced the overall taste of the dish. For those who prefer the vegetarian option, the stall also serves Vegetable Tendon ($16.60) and both options have a spicy alternative!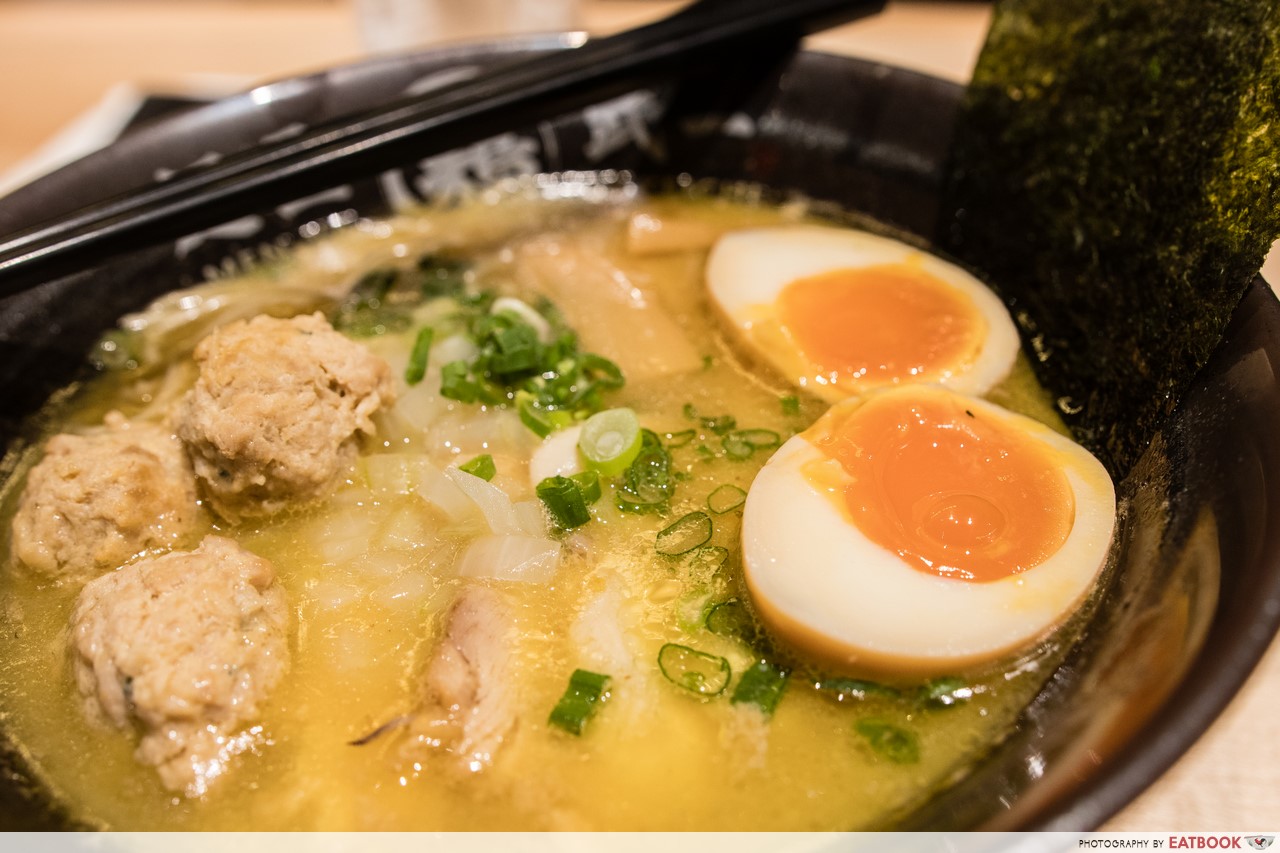 Another well-known name, Menya Takeichi's second outlet is now opened at SORA. This eatery specialises in ramen with collagen-rich broth made from chicken meat and chicken feet. With eight different types of ramen on their menu, one of the must-haves would be their Special Rich Shoyu Ramen ($17.20).
Served with three meatballs, thick slices of chicken meat, and a whole hanjuku egg, the creamy and rich broth formed a thin gelatinous layer within minutes after the bowl was served. Having always been a hopeless fan of tonkotsu ramen, I was surprised by how much the tasty chicken-based ramen appealed to me.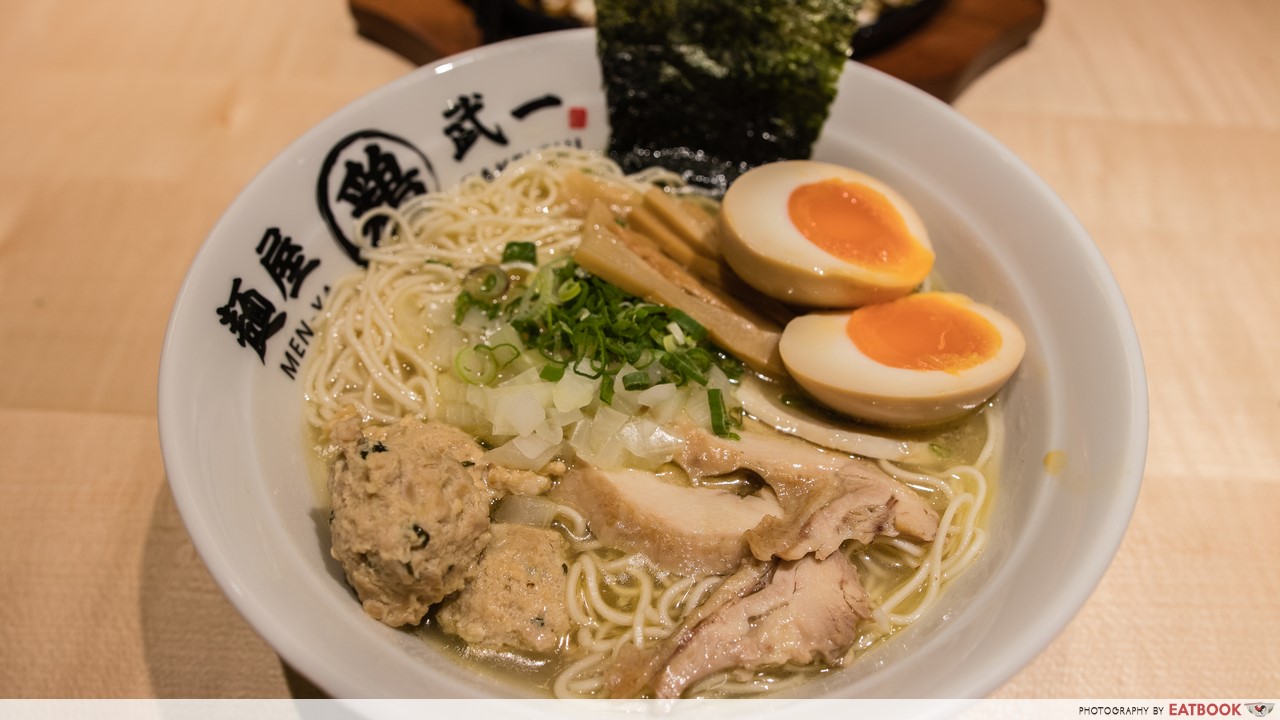 For those who prefer something lighter in flavour, try their Special Shio Ramen ($16.60). While all the ingredients are the same, the Special Shio Ramen is served with clear soup. Compared to the Special Rich Shoyu Ramen, this broth is less creamy and thinner in consistency. Taste-wise, the light but savoury clear soup still has a strong flavour and carries a distinct chicken fragrance.
On top of ramen, the stall also offers other Japanese dishes such as Gyoza ($6.50 for five pieces) and Mentaiko Rice ($6.50)!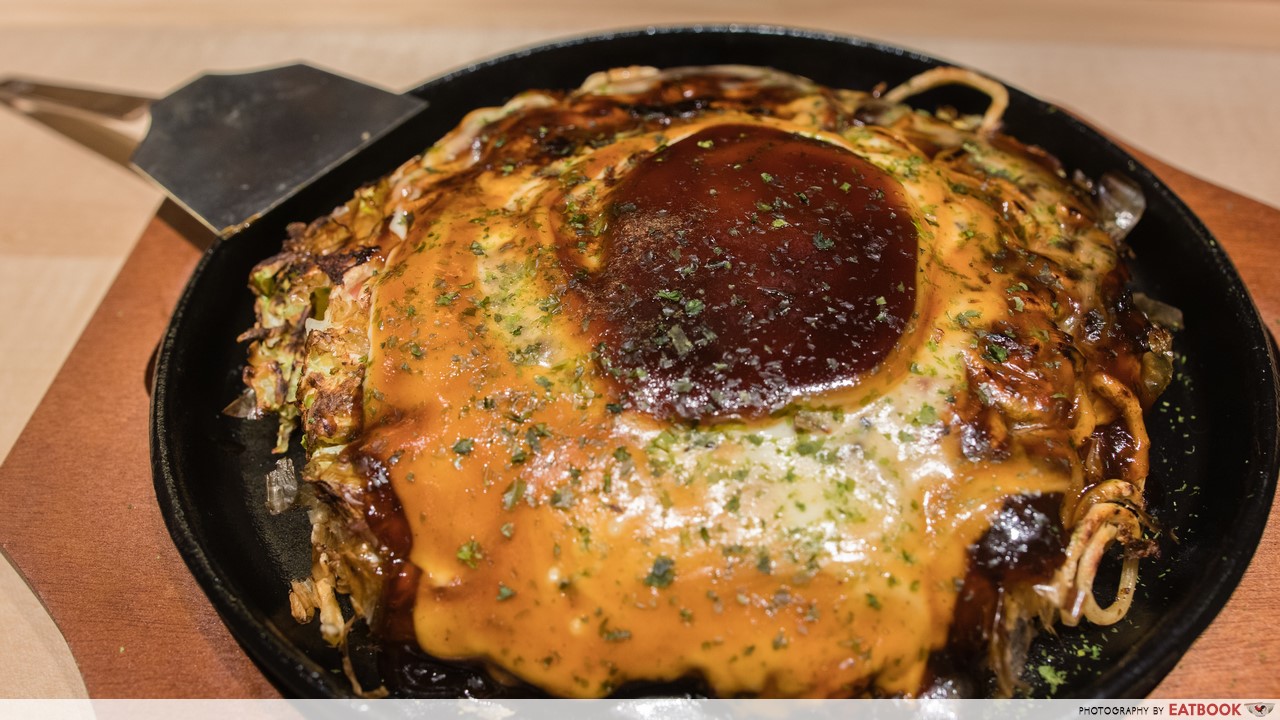 A popular okonomiyaki chain restaurant in Osaka, Tsuruhashi Fugetsu is one of the six stalls in SORA. The stall serves two main dishes – okonomiyaki and yakisoba. For their okonomiyaki, you can choose to have pork or seafood versions but to get the best of both worlds, I recommend their Mix Modan ($22).
A mixture of pork and seafood ingredients, the Mix Modan is also a combination of okonomiyaki and yakisoba. Each thick grilled pancake is packed with noodles, cabbage, shrimps, octopus, pork slices, and topped with mayonnaise and Worcestershire sauce.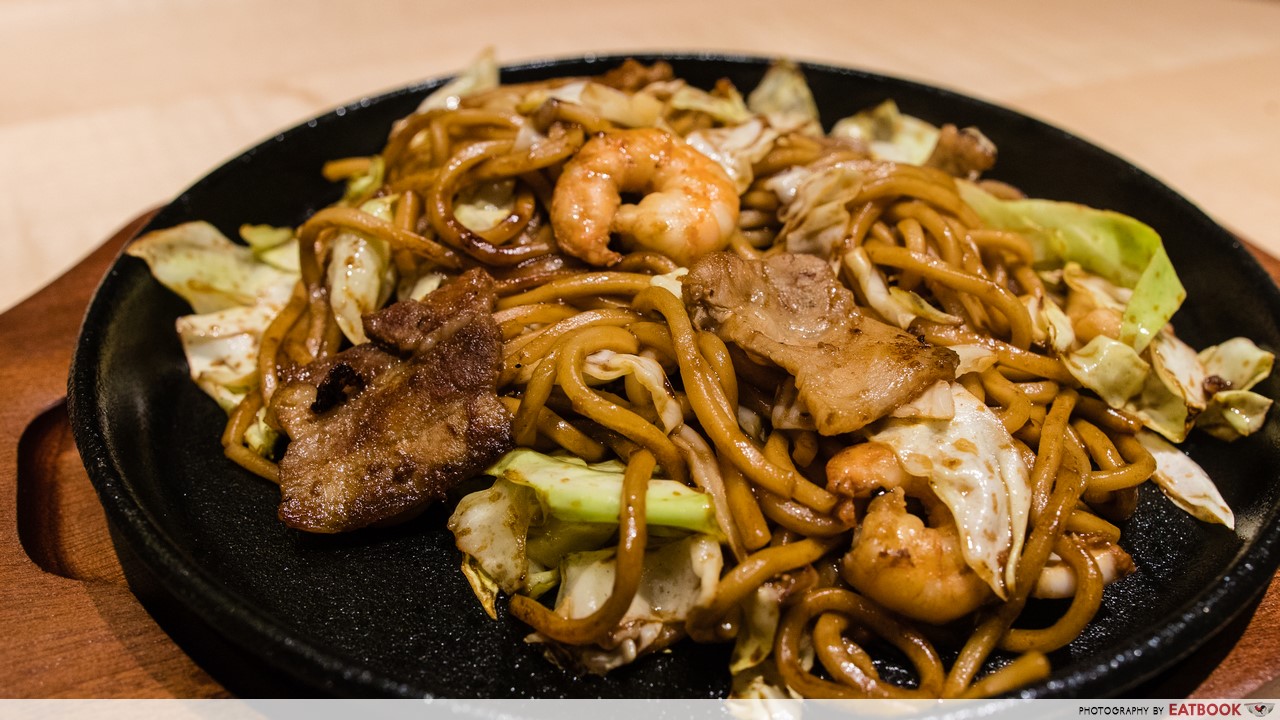 Although Fugetsu specialises in okonomiyaki, their yakisoba was surprisingly well-executed as well. For the noodles, you can choose to have the plain Yakisoba ($13), Seafood Yakisoba ($16), or Mix Yakisoba ($19). As always, we went for the one with the most ingredients – Mix Yakisoba. Served in a sizzling pan, the noodles came with prawns, pork slices, and a generous amount of cabbage.
Unlike some yakisoba that often lump together into a mushy, starchy mess, the noodles here are springy and so well-fried that every strand of noodles had a distinct sweet and savoury taste. The pork slices also added an additional texture to the noodles with their combination of fats and lean meat.
If none of the Japanese food appeal to you, check out Tokyo Sundubu for some Korean stew. With 19 options available, the stall serves stew with variations such as Cheese Sundubu ($18.20) and Beef Sundubu ($18.20).
For those who cannot decide which one to go for, try their Health and Beauty Sundubu ($19.30). Available in limited portions every day, this stew comes with a collagen-based broth, chicken, sake-steamed clams, shrimps, handmade tofu, and vegetables. A bowl of rice is also served with every order. Like those you find in army stews, the soup had a strong kimchi taste, which was appetisingly sour, salty, and spicy.
Another brand that is new to Singapore, Japoli Kitchen specialises in Italian cuisine. Among the many dishes available at the stall such as Margherita PIzza ($14) and Porcini Mushroom Risotto ($14), their Bolognese Pasta ($14) does not stand out. However, that does not mean you should give this dish a miss.
The spaghetti itself was neither too soft nor hard and every toothsome bite had a delightful mouthfeel. The generous amount of minced beef and tomato sauce also enhanced the taste of the seasoned spaghetti. With every component of this simple dish so well-prepared, I dare say this bolognese pasta can easily match most Italian restaurants' versions in Singapore.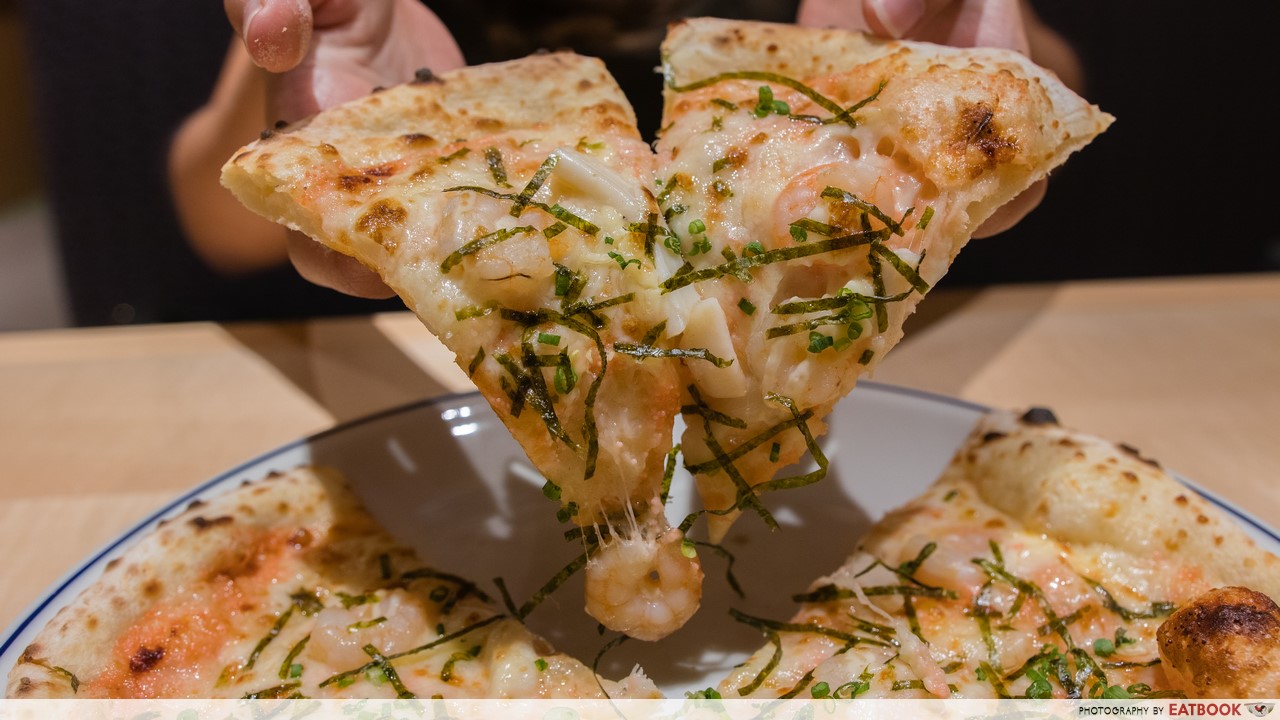 The last dish that you should look out for at SORA would be the Mentaiko Pizza ($15) that is also served at Japoli Kitchen. Instead of the typical tomato sauce, the base of this pizza is made of mentaiko. Along with melted cheese, it also includes shrimps, pieces of squid, and seaweed.
Although the mentaiko and cheese each had very distinct flavours, the two came together surprisingly well. The component that impressed me most was the crust. Unlike any pizza I've had, this one was pleasantly chewy and the texture reminded me of the mochi bread from Four Leaves. For a pizza that is nothing like typical ones in terms of both taste and texture, this Mentaiko Pizza is a must-try!
Ambience at SORA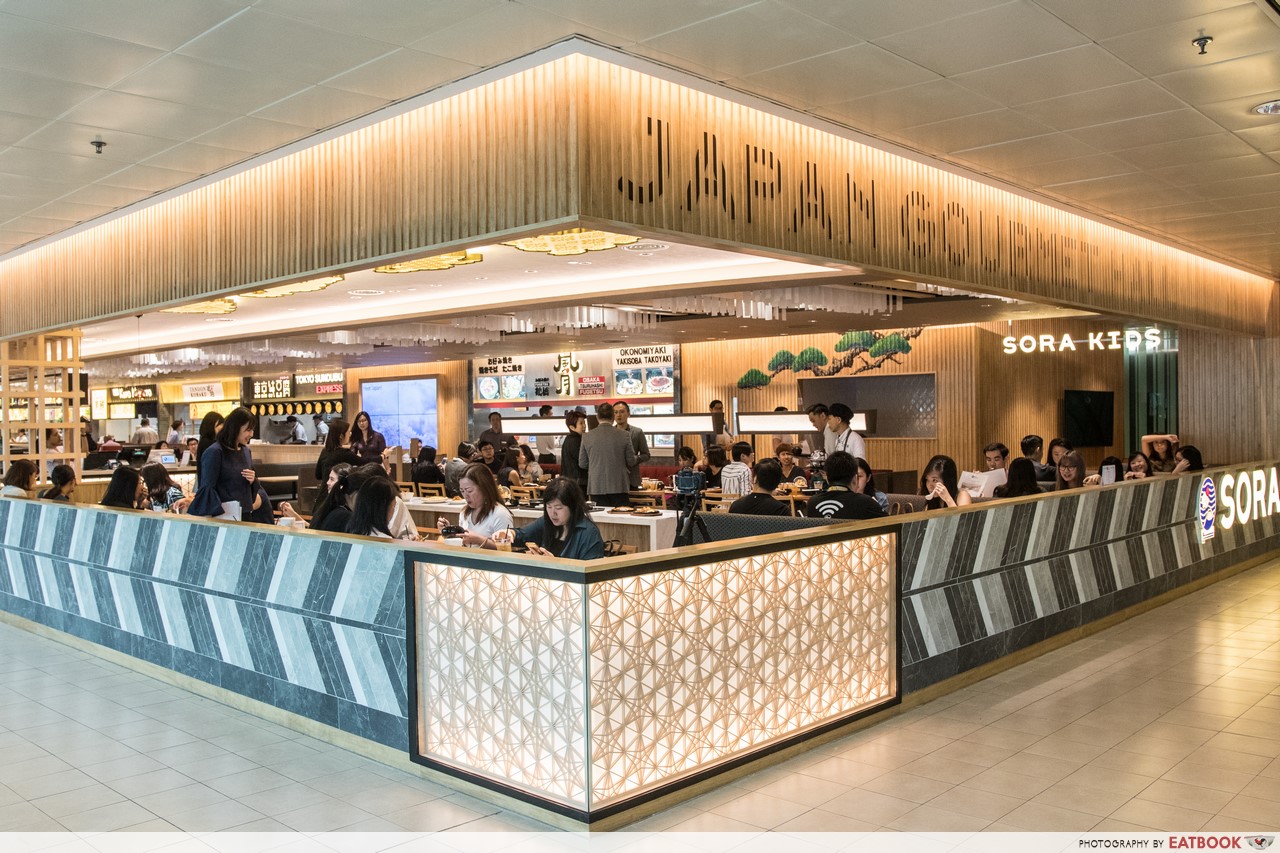 Found on the third level of Changi Airport's Terminal 2, SORA is the largest food outlet across all four terminals in the airport. With bar seats, long sharing tables, and even tatami floor seats, the food hall can fit about 300 people. Overall, it is comfortable and spacious. At the SORA Bar where they serve an extensive list of alcohol, coffee, and juice, charging points are also available for those rushing to clear their emails before taking off for a holiday! A SORA Kids corner filled with interactive screens is found at the side of the restaurant for the little ones to hang out at.
Like most food courts, SORA works on a self-service system where customers order food at the stall and collect them on the spot. However, you can do without the hassle of making payment at every stall here. At the entrance of the restaurant, you will be given a tag to present to the stall whenever you make an order. When you are done, payment for all your orders at the stalls can then be settled at one go at the cashier!
The verdict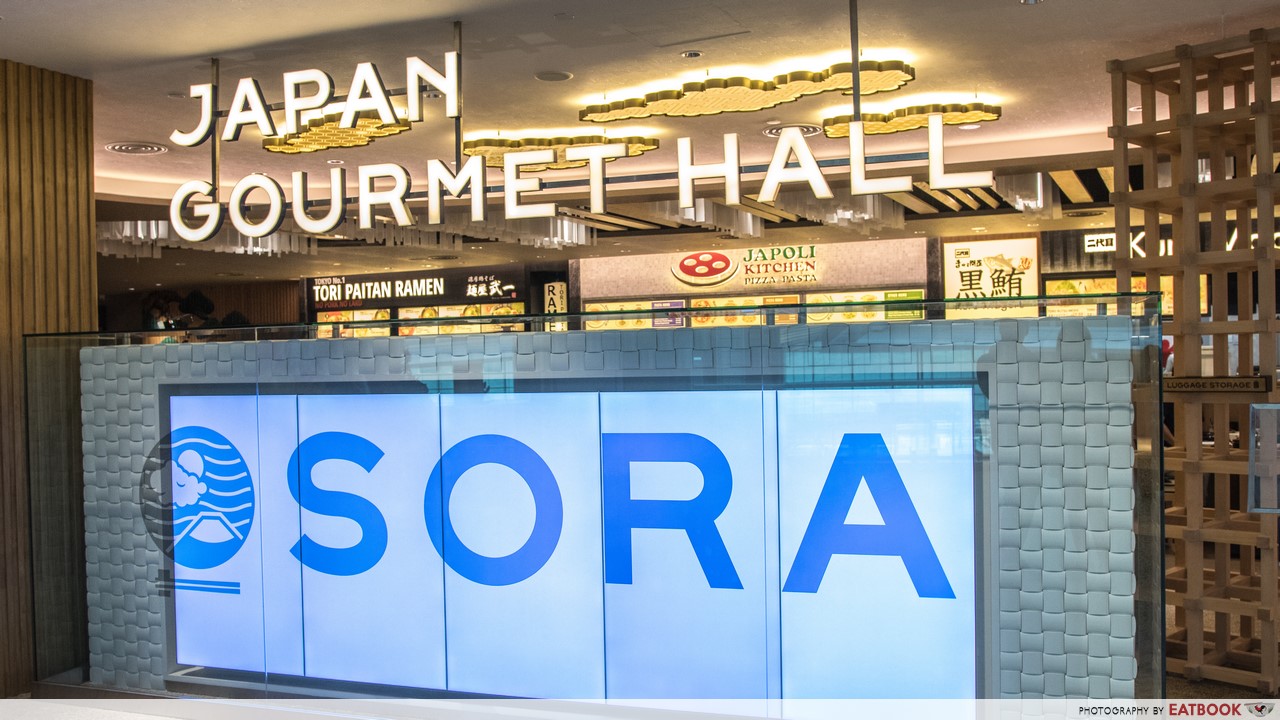 Even if you are already set to fly to Japan, there still isn't any reason not to visit SORA because there is no such thing as having too much Japanese food. But if you are simply sending someone off at the airport or flying off to somewhere else, you have all the more reasons to pop by this food hall to indulge in these Japanese goodness! If you're looking to check out the newly opened Terminal 4 for even more food options, here is our guide to good food at Terminal 4.
Address: 60 Airport Boulevard, #036-058/059, Changi Airport Terminal 2, Singapore 819643
Opening hours: Daily 10:30am to 11pm
Tel: 6386 7005
Website
This was a media tasting at SORA.
SORA Review: New Japanese Food Hall With Kohaku Tendon And Menya Takeichi At Changi Airport
Summary
Pros
– Located at the airport's public area
– Wide variety of Japanese food
– Fresh sashimi at Kuro Maguro
– Delicious food
– Charging points available at SORA Bar
– Ample Seats
Cons
– Expensive
Recommended Dishes: Kohaku Tendon ($17.70), Mix Yakisoba ($19), Bolognese Pasta ($14), Mentaiko Pizza ($15)
Opening Hours:
Daily 10:30am to 11pm
Address: 60 Airport Boulevard, #036-058/059, Changi Airport Terminal 2, Singapore 819643