SpongeBob SquarePants cafe in Singapore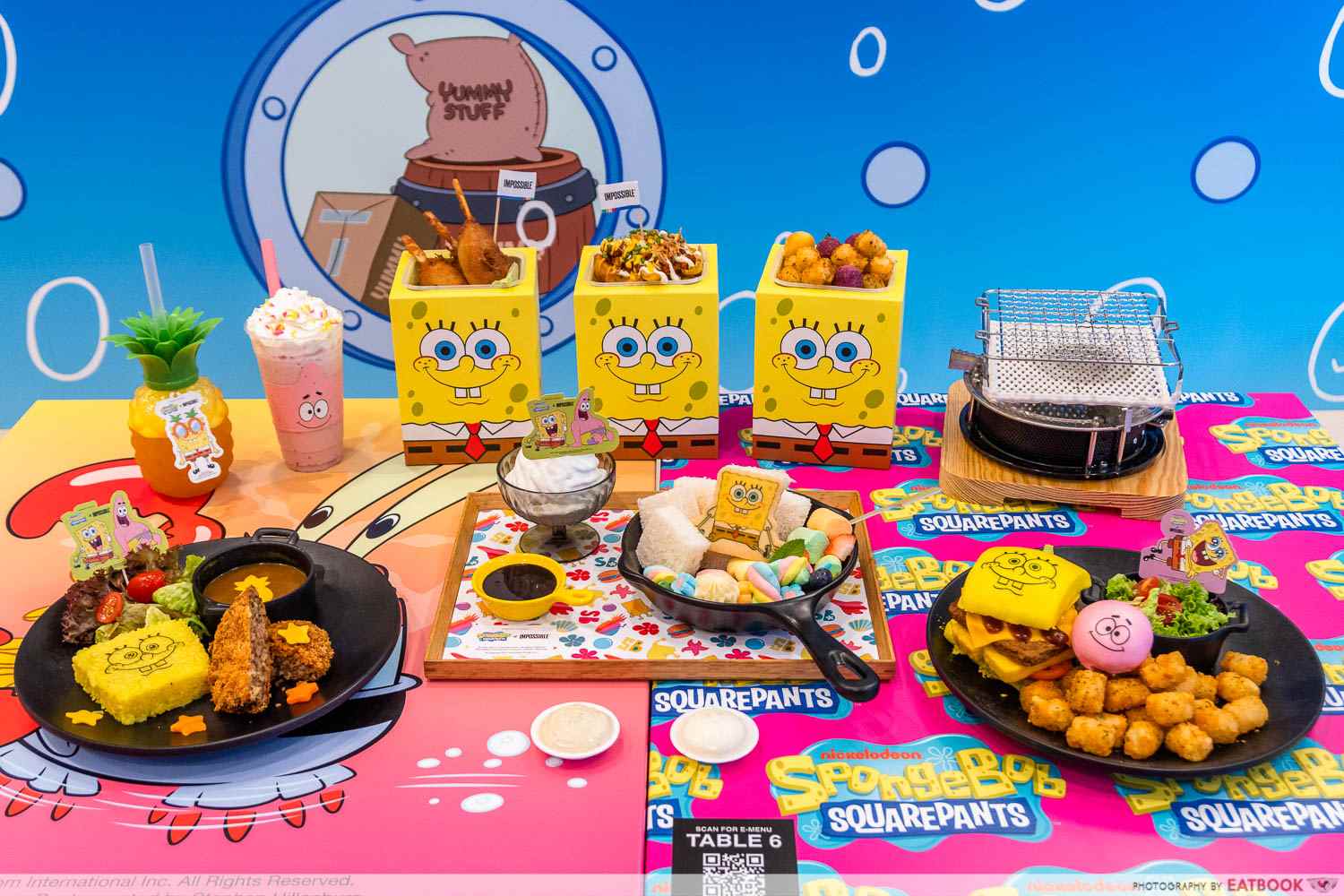 Move over, Hello Kitty, because Kumoya's got a new pop-up in town. This time, they're bringing you to Bikini Bottom, home to everyone's favourite yellow sponge—the one who lives in a pineapple under the sea. The all-new SpongeBob SquarePants x Impossible Foods pop-up is open for a limited time only, so hurry down soon.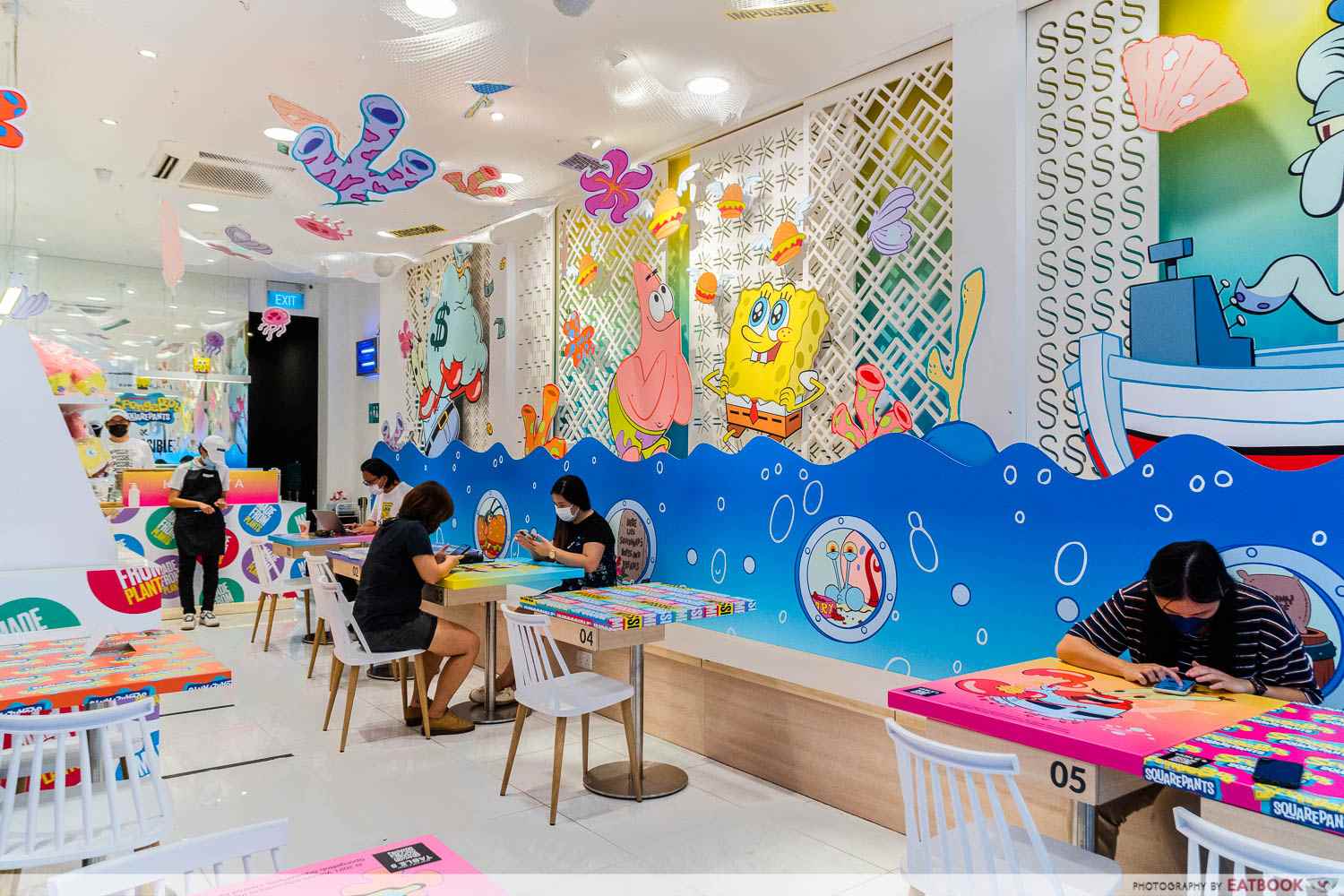 With six snacks, four mains, two desserts, and four drinks on the menu, all designed by local bento artist Shirley Wong, AKA @littlemissbento, there's lots of Spongebob-themed grub to choose from. Prepared in collaboration with Impossible Foods, this pop-up is the first-ever meat-free Kumoya experience! 
10 Bugis Restaurants For Affordable Unagi Don, Wagyu Buffet, Mala Tang, And More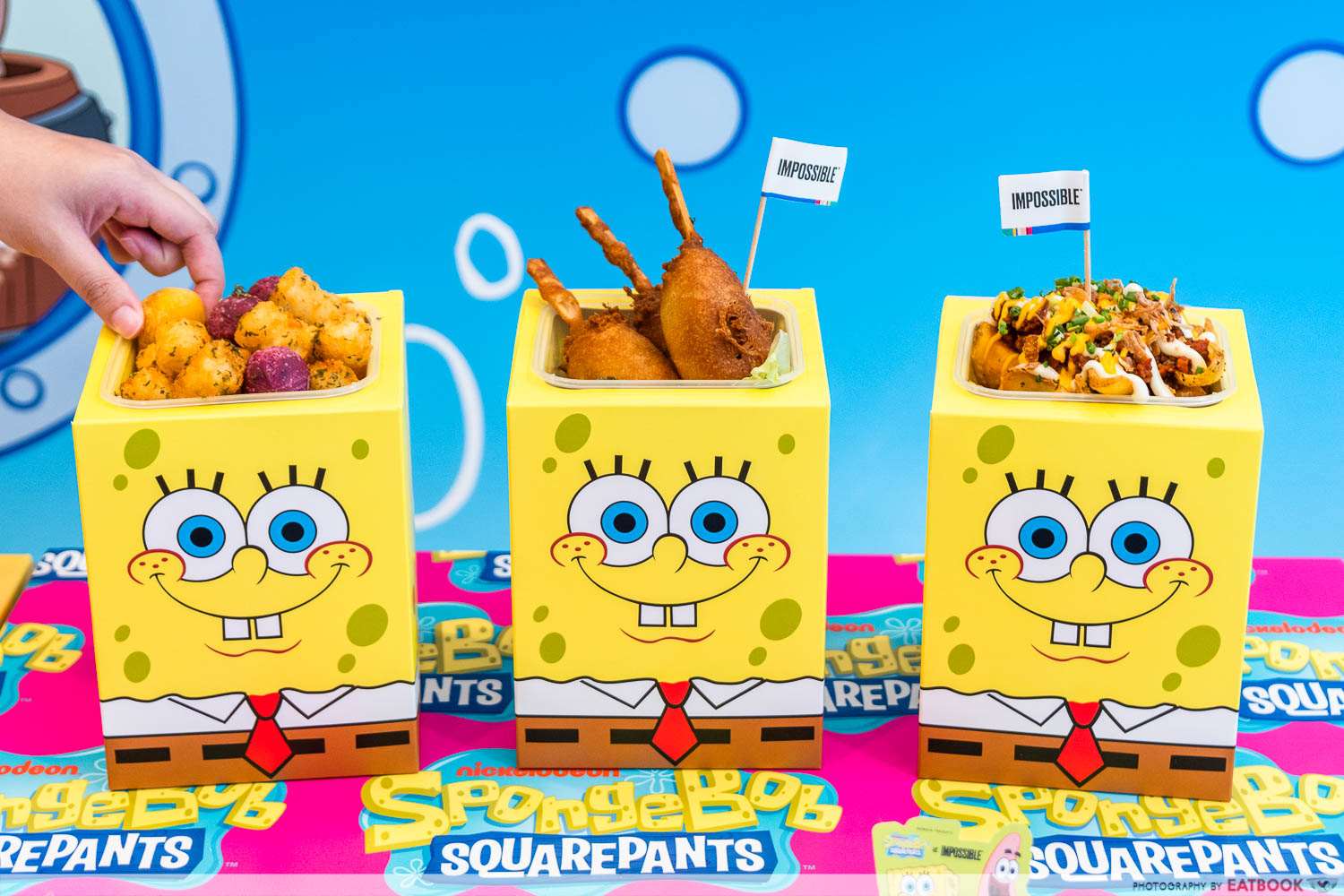 Start with Impossible Chilli Con Carne Fries ($12.90+), where the chilli con carne is made with a plant-based meat substitute. It comes with fries drizzled with nacho cheese, sour cream, and minced "meat". The con carne has a tomatoey flavour with a slight hint of spice, which helps to cut through the greasiness of the nacho cheese.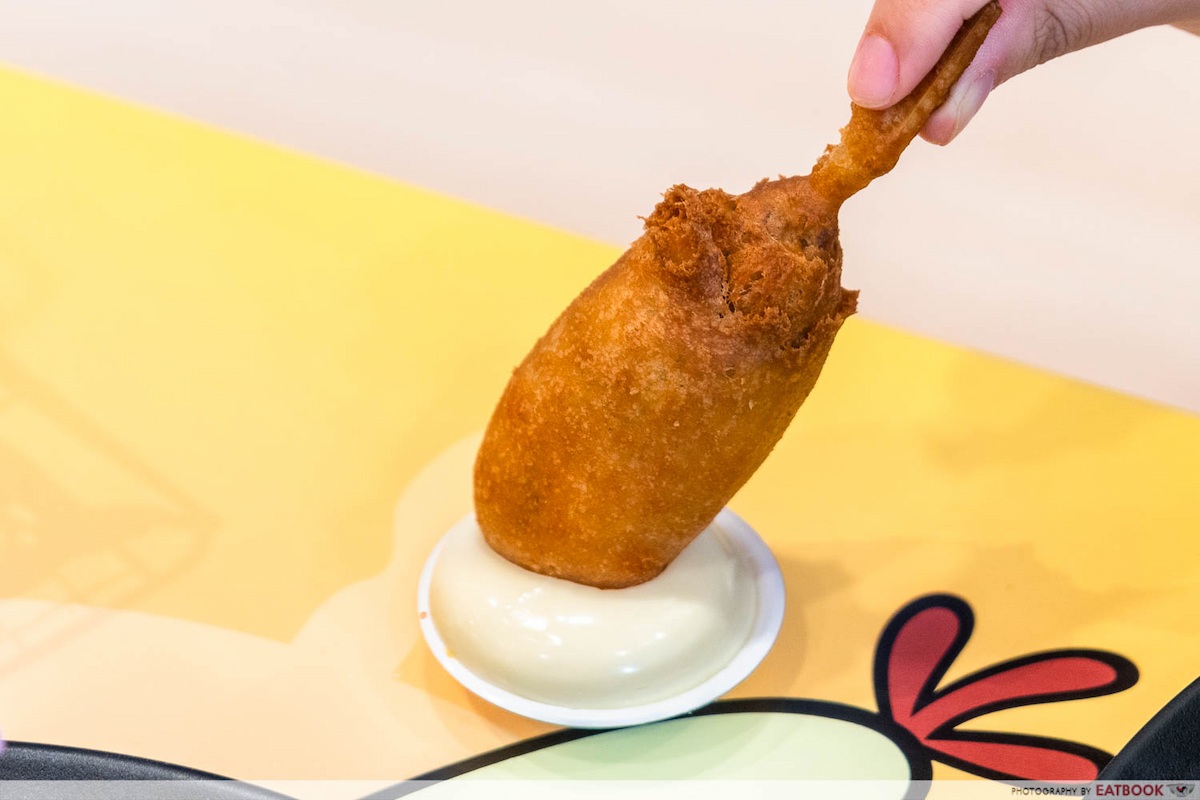 With the trend for corn dogs going strong, get them here, Impossible-style, when you order the Impossible Mini Corn Dogs ($13.90+). The corn dogs come with a pickle mayonnaise and herb dipping sauce. The Impossible meat in this dish leans salty, but the sweetness of the bread and the tartness of the dipping sauce help to balance everything.
For a mix of sweet and savoury, try the Mini Tater Tots & Sweet Potato Mochi Balls ($12.90+). The sweet potato mochi balls feature crackling skin with a mochi interior mixed with sweet potato. When we tried them, they were a little tough, but their sweetness complemented the crispy and salty tater tots.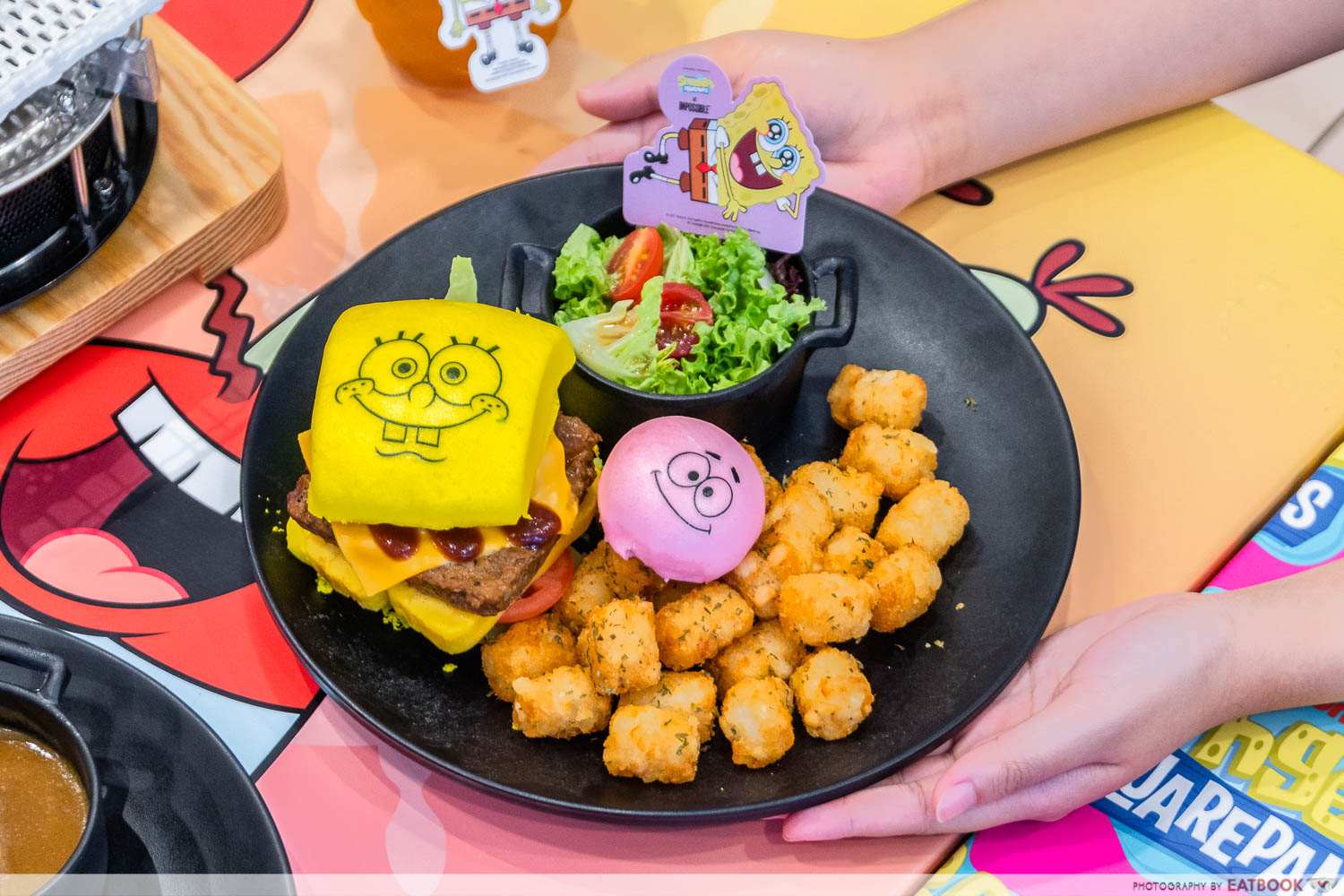 Mains wise, there's the "No problemo." The Impossible Burger ($25.90+), which sees an Impossible patty with a cute SpongeBob bao, tamagoyaki, caramelised onions, tomatoes, and sliced cheddar. It's accompanied by mini tater tots and Spongebob's adorable sidekick, Patrick's matcha bun!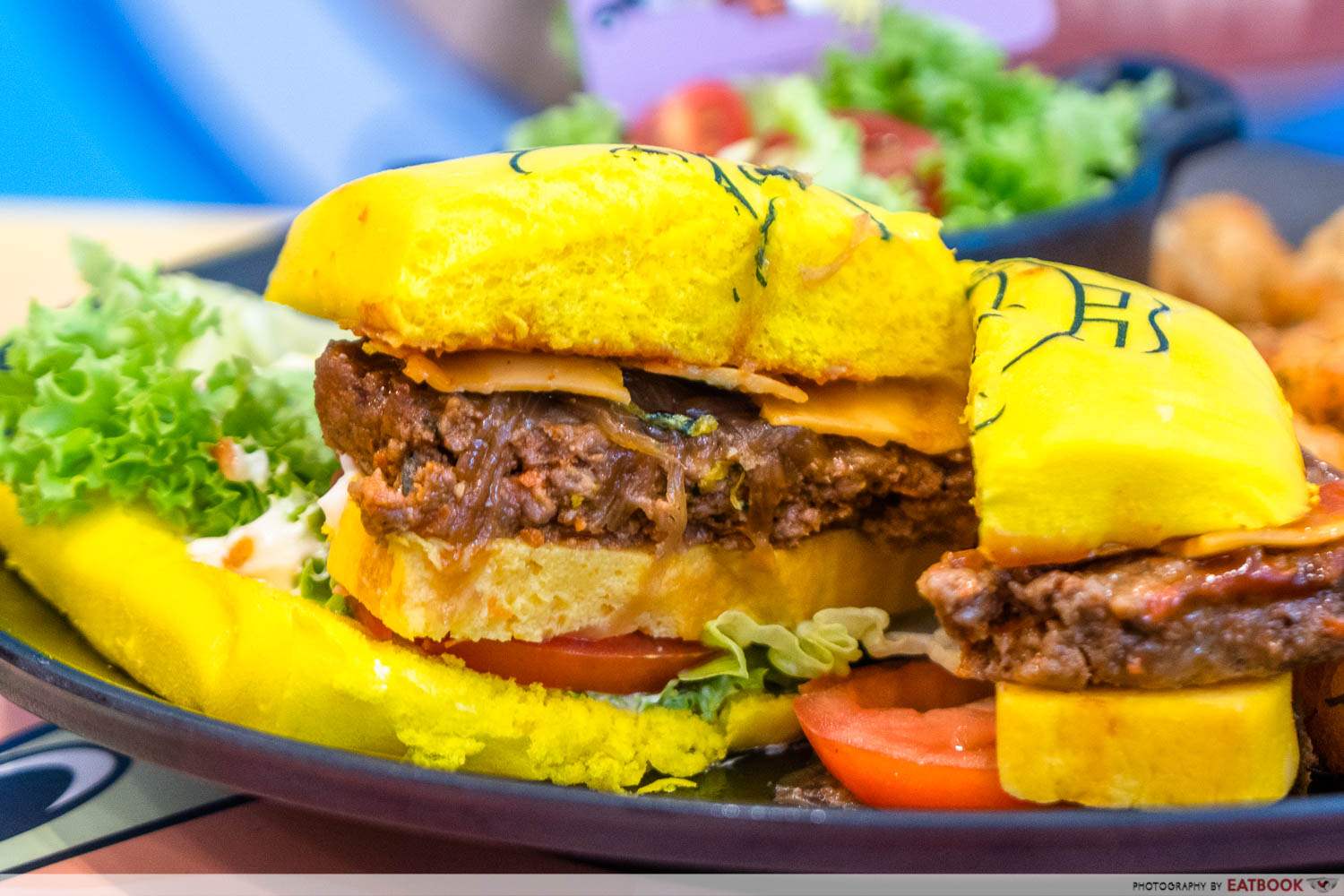 The Impossible patty has a smokiness that brings out all the components of the burger. The buns, though fluffy and soft, can be a little doughy, but the adorable design makes up for it. A note for vegans: the sliced cheese is not made from plant-based ingredients.
The matcha bun has a rich matcha flavour and the right amount of sweetness, but for those who are not familiar with matcha, it may come off quite strong.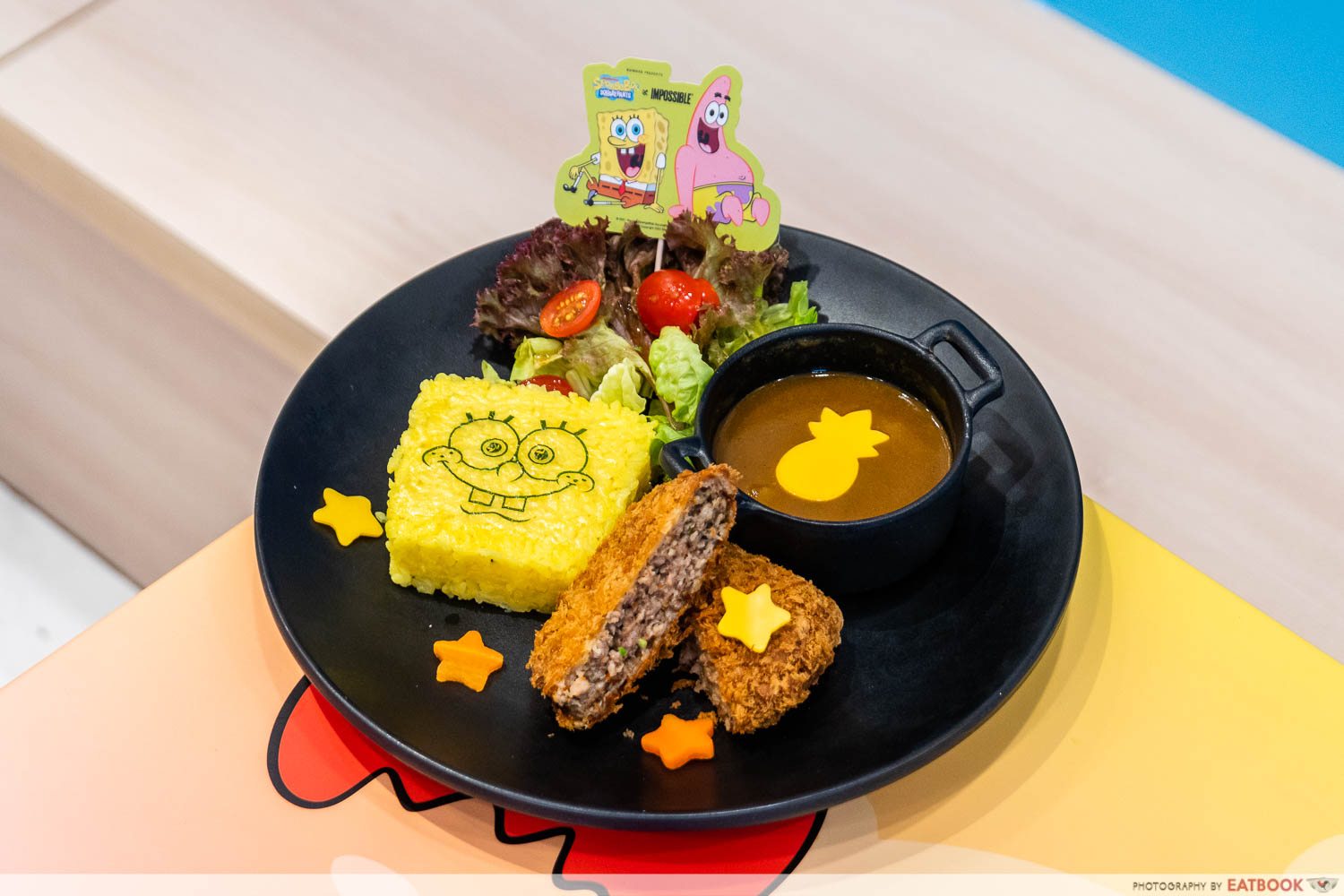 Japanese curry rice has been a mainstay across all Kumoya pop-up menus, and this Spongebob one is no different. "Aye-aye, Captain". Impossible Japanese Croquette Curry Rice ($24.90+) spotlights turmeric rice, shaped and decorated to look like Spongebob himself. Alongside is an Impossible Homemade Plant-based Katsu and pineapple curry.
The katsu is coated in breadcrumbs, which gives it a crunchy texture; we really couldn't tell that it was plant-based as it tasted very similar to actual katsu.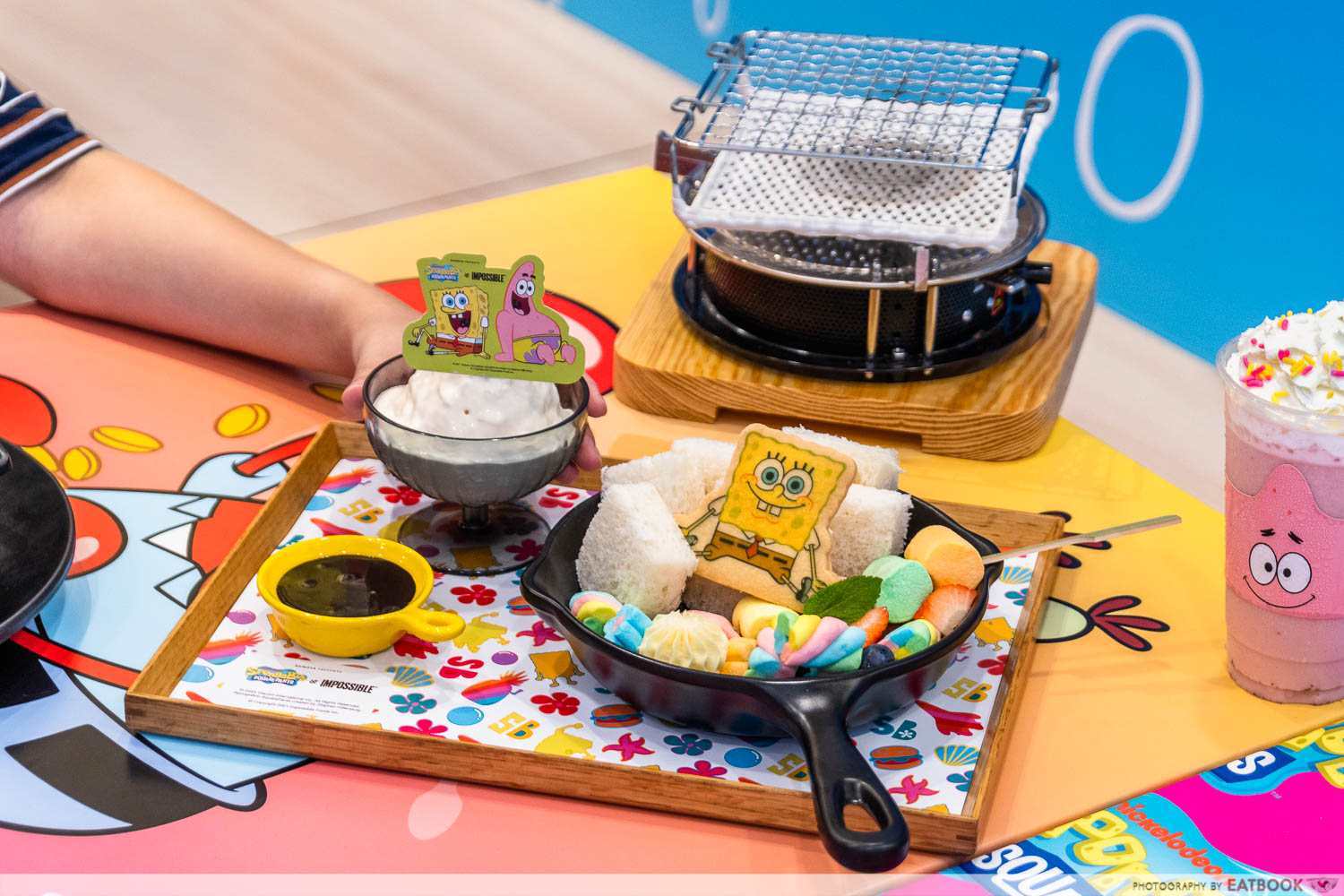 On the dessert front, "Order Up!" Get Toasty Dessert Set ($21.90+) comes with a personal grill, where you can toast your own marshmallows, with a Shibuya toast, and Hokkaido milk soft serve! There's also chocolate dip, fresh fruits, and a super cute Spongebob butter cookie.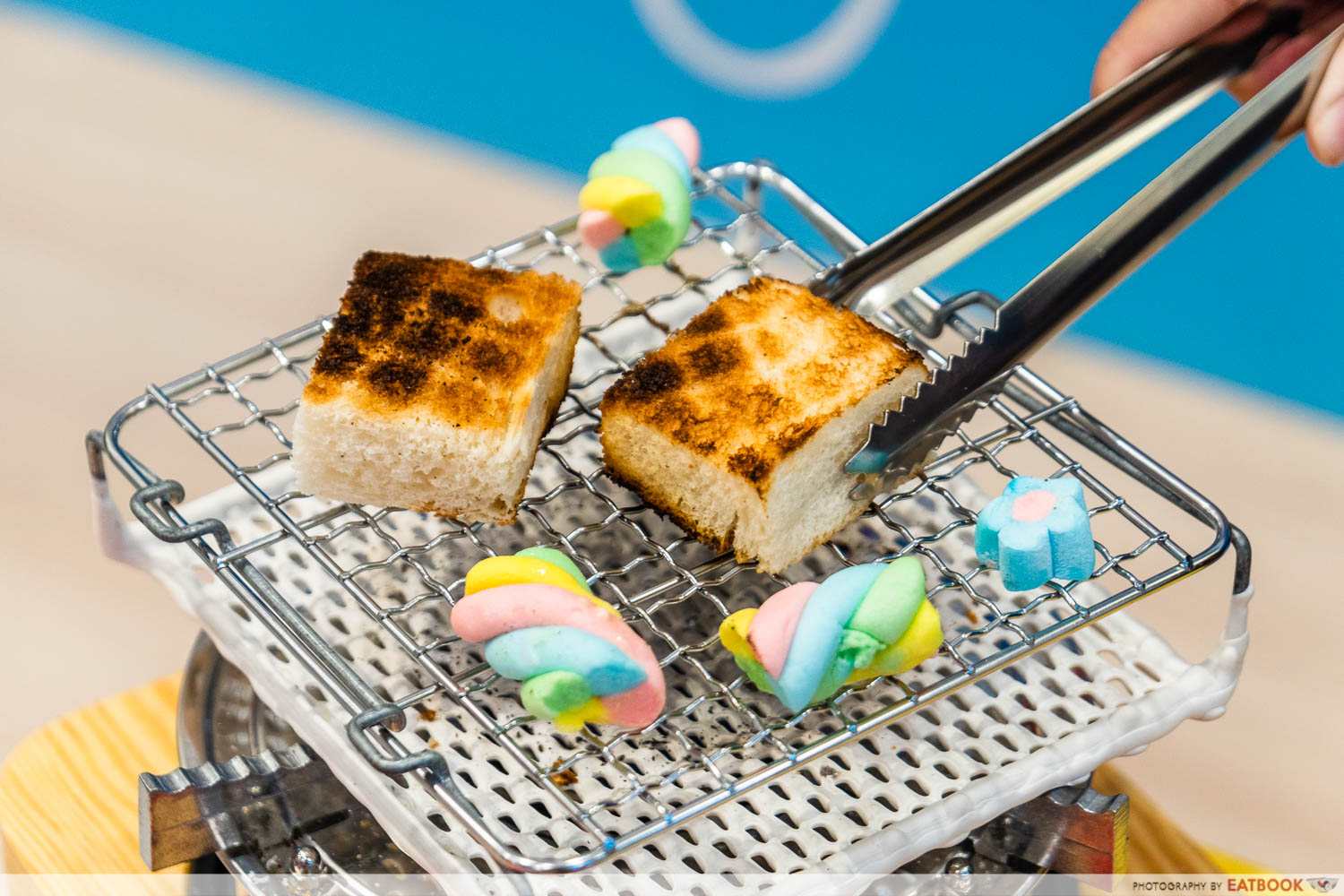 For us, the experience of cooking everything on a personal grill was almost similar to making s'mores by a campfire. The Hokkaido milk soft serve is a creamy, sweet soft serve that is tasty on its own or spread onto the thick and fluffy Shibuya toast.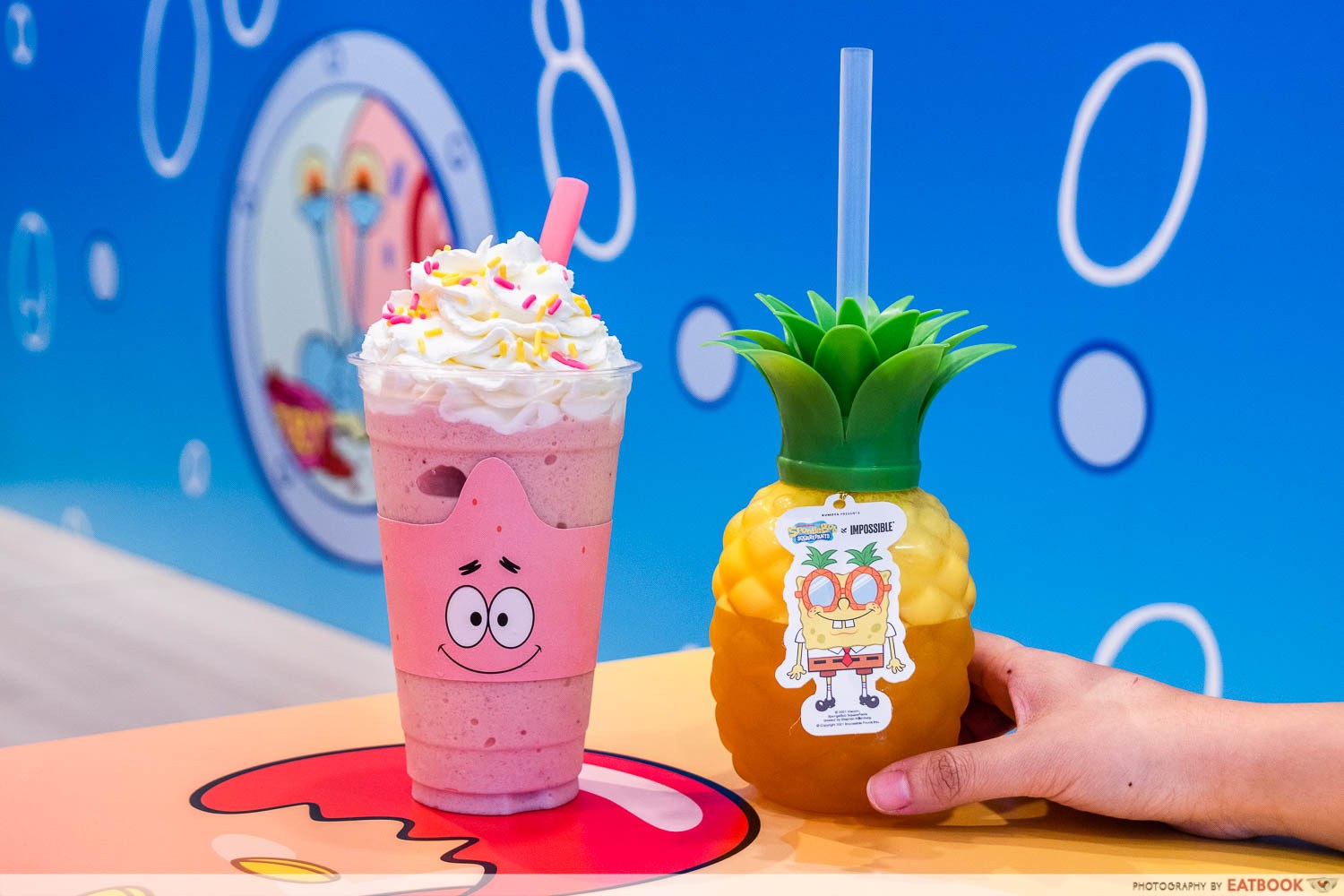 Since you're in Bikini Bottom, bring home your very own pineapple cup when you order the Pineapple-Under-The-Sea Pineapple Iced Tea ($12.90+), which gives you a strong sour flavour from the pineapple and a little bitterness from the tea. If you're on Team Patrick, show your loyalty with the Patrick Star Strawberry Frappe ($12.90+), which is milky and creamy—similar to strawberry ice cream.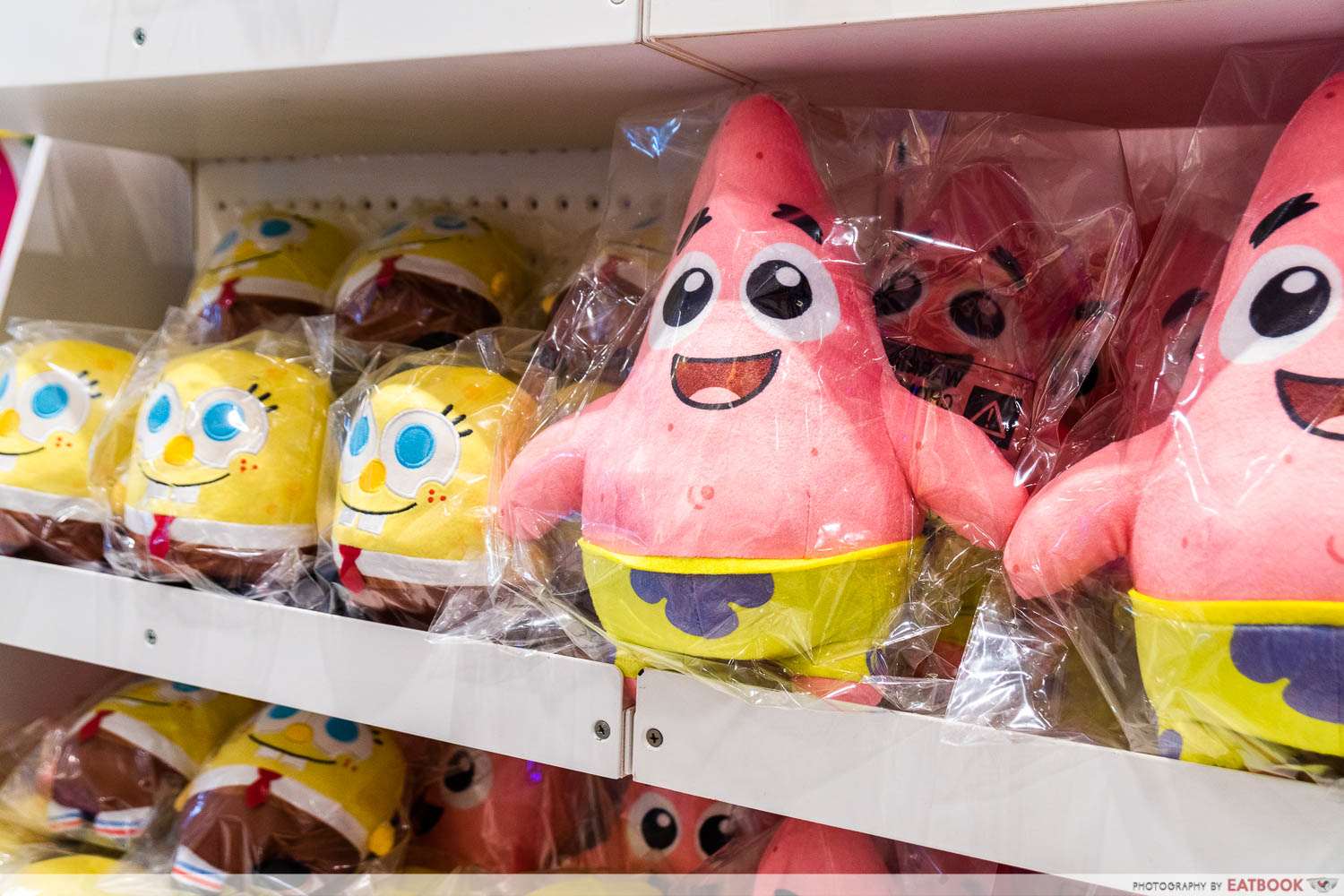 For those who are looking to grab some merchandise, there are Spongebob and Patrick Star plushies up for purchase. You can also try your luck catching these soft toys with their claw machine, located right outside the cafe. It's a rather small cafe with limited seating, so bear that in mind when you're visiting with a large group of friends!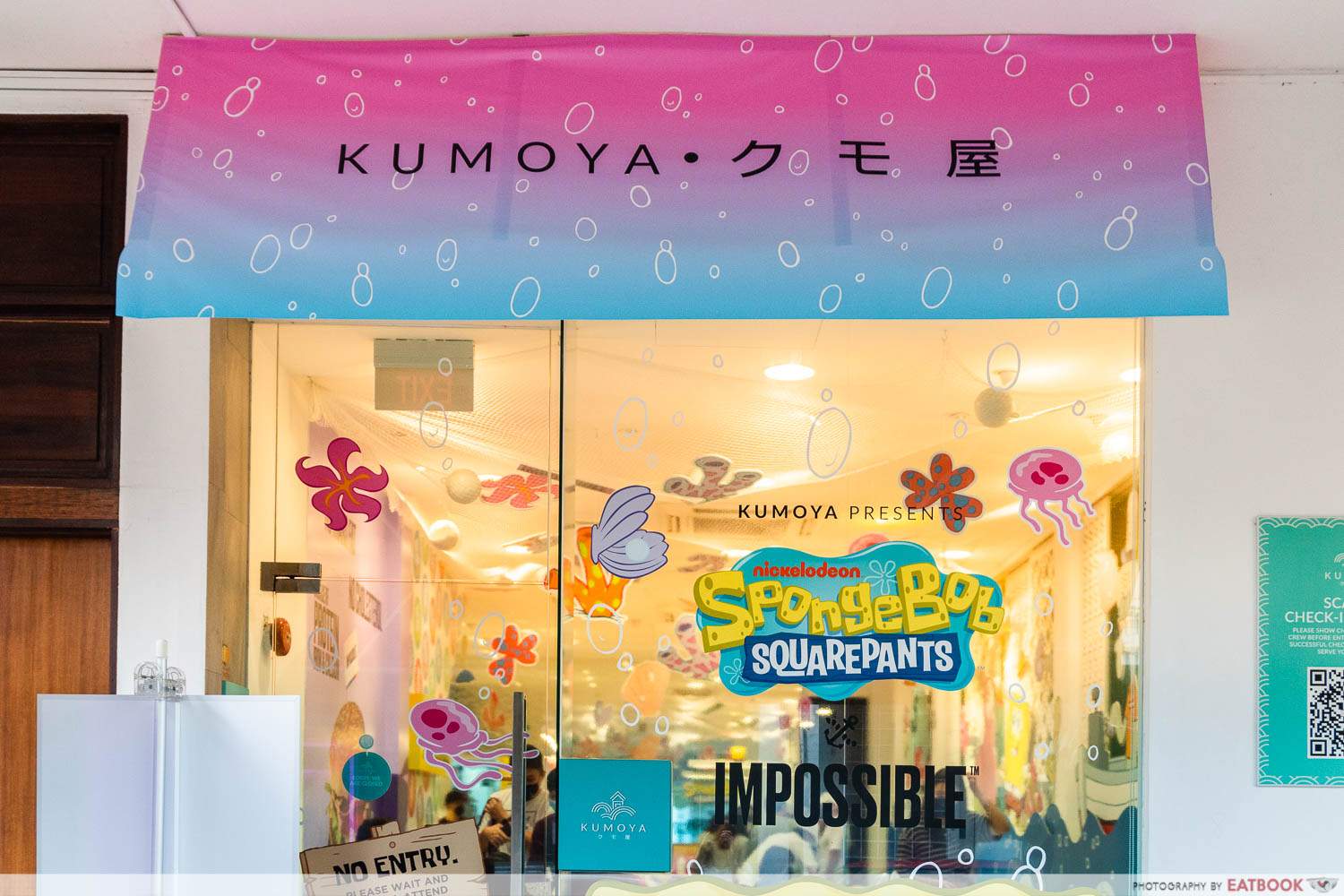 Make your reservations through their online portal. Do note that there is a minimum order of one food or drink item per person when you dine in.
13 Late-Night Dessert Places That Close After 11pm For Muah Chee Gelato, Thai Milk Tea Bingsu And More
Check out our guide to late-night dessert spots in Singapore, or our Around Cafe review for ice cream and waffles in a glasshouse cafe!
Address: 8 Jalan Klapa, Singapore 199320
Opening hours: Tue-Sun 12pm to 9.30pm
Tel: 8204 5330
Website
SpongeBob SquarePants x Impossible Foods is not halal-certified, but uses no pork, lard, or alcohol
Around Cafe Review: Glasshouse Cafe Opens Till 2am, Serving Gelato And Chunky Cookies At Tampines
Photos taken by Tan Zi Hui.
This was a media tasting at Spongebob Squarepants x Kumoya.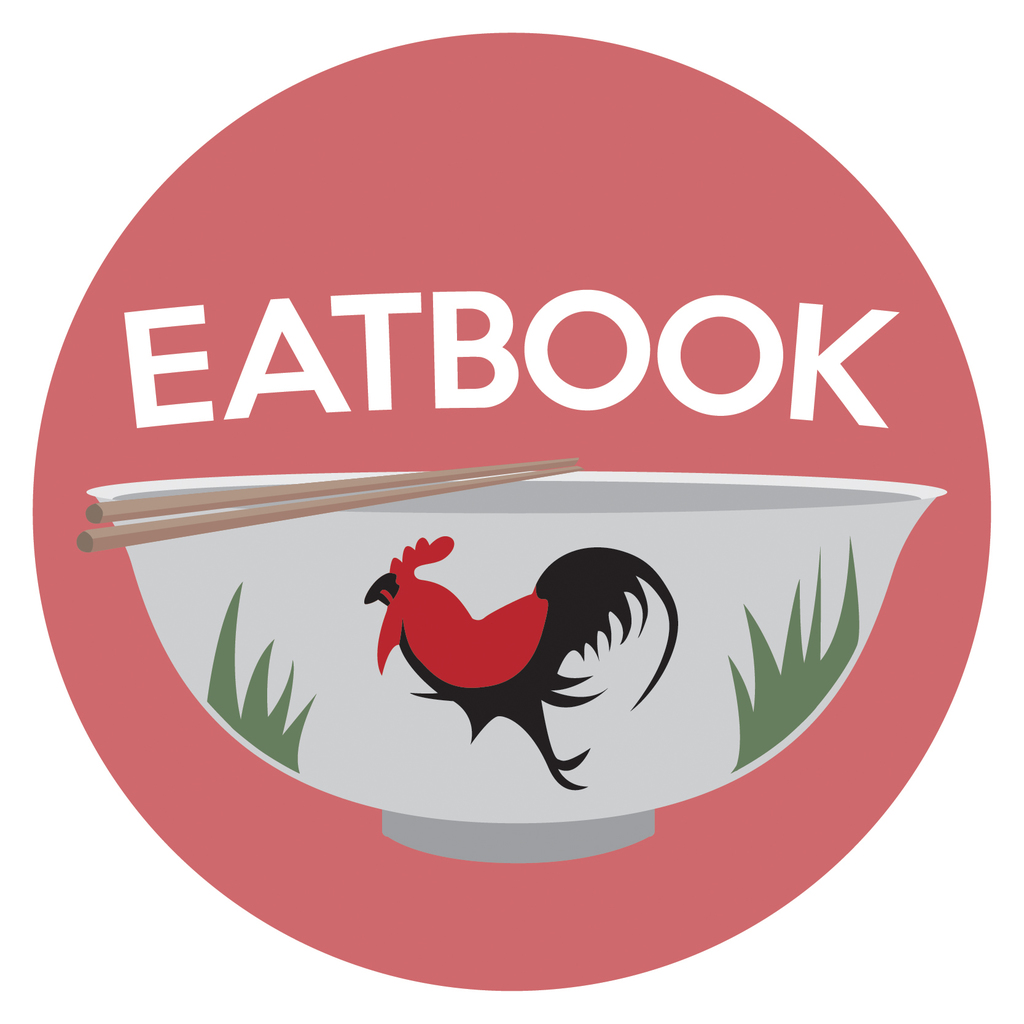 Drop us your email so you won't miss the latest news.