Hello Kitty restaurant in Singapore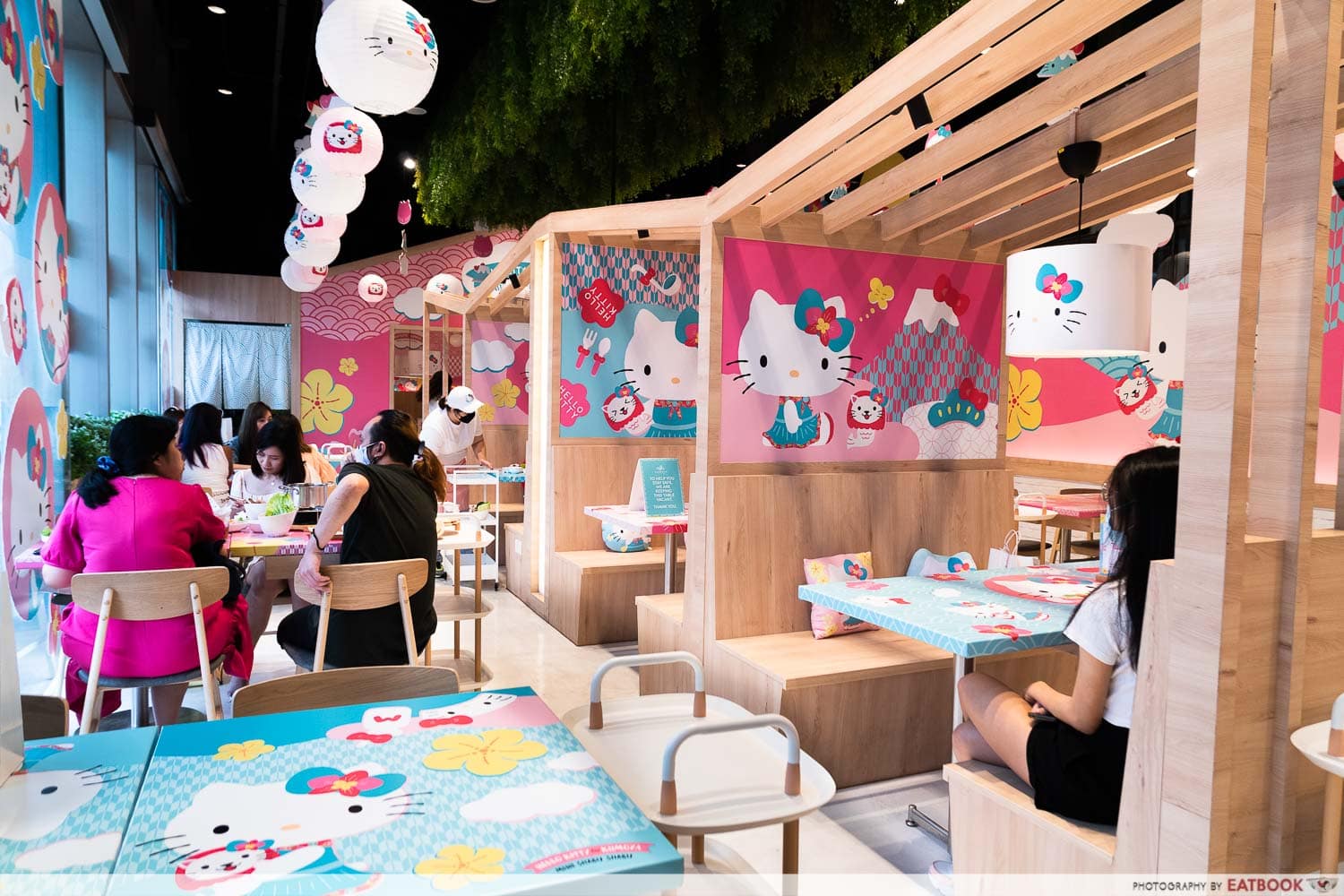 Following the opening of the adorable Crayon Shinchan Cafe, Kumoya strikes once again with a mini Hello Kitty Shabu Shabu Restaurant, the first of its kind in Singapore. This pop-up will be open at Orchard Central for a limited period of time, starting from 1 September—just in time for the upcoming September holidays. 
As with all previous Kumoya pop-ups, the experience and food have been designed in collaboration with award-winning local bento artist Shirley Wong, also known as Little Miss Bento. For the first time, there will also be exclusive Hello Kitty shabu shabu merchandise that you can purchase to complete your Hello Kitty Shabu Shabu experience.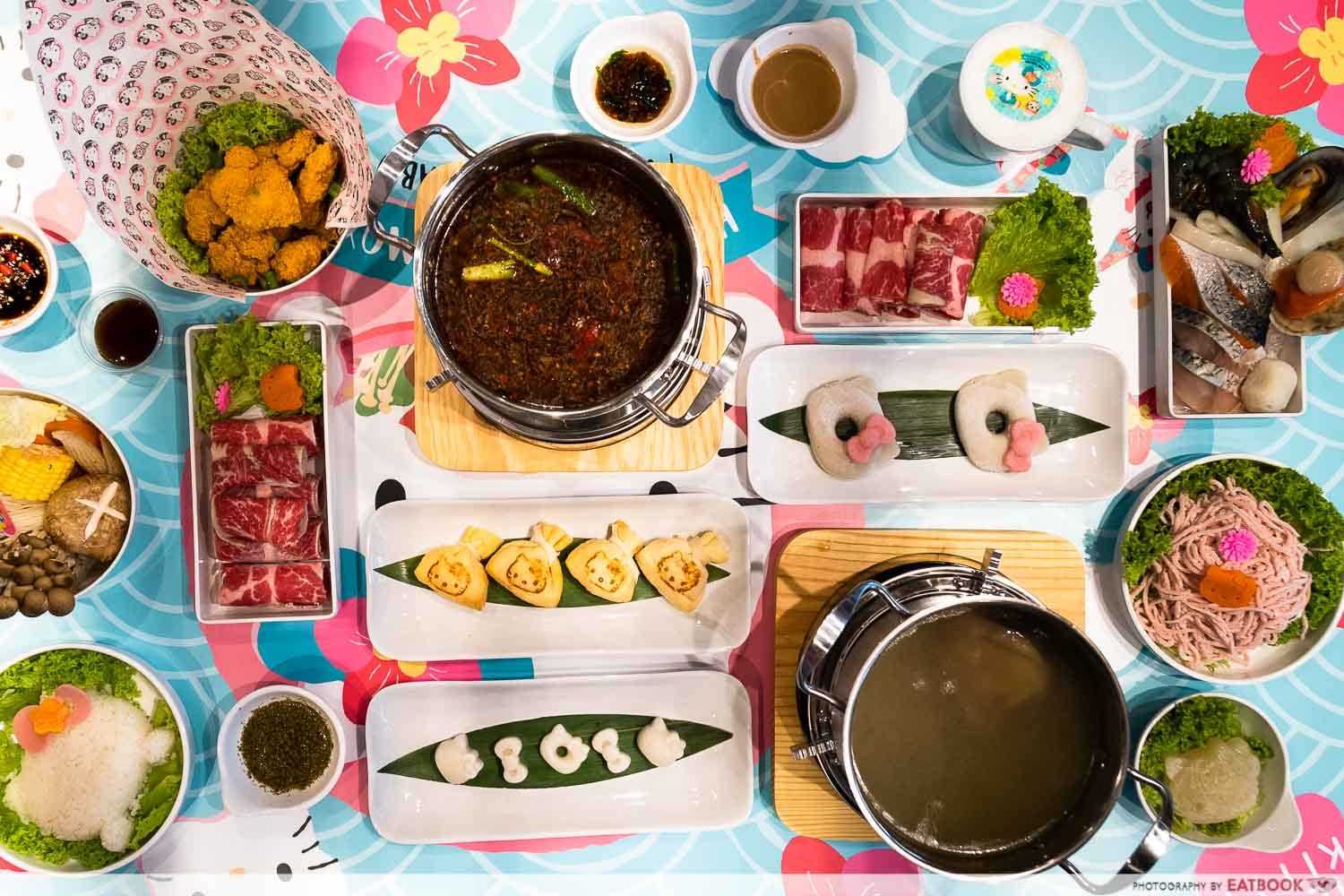 Their Shabu-Shabu Set, priced from $24.90+, allows you to choose a soup base, followed by a meat, seafood, or vegetarian dish for the hotpot, and a portion of rice or noodles, along with one dipping sauce. There are a total of 10 soup bases to choose from, including familiar flavours such as Chicken Beauty Collagen, and Szechuan Mala. 
The rice is shaped to look like Hello Kitty's head and paws, while their house-made noodles are naturally coloured with beetroot for that oh-so-kawaii pink hue!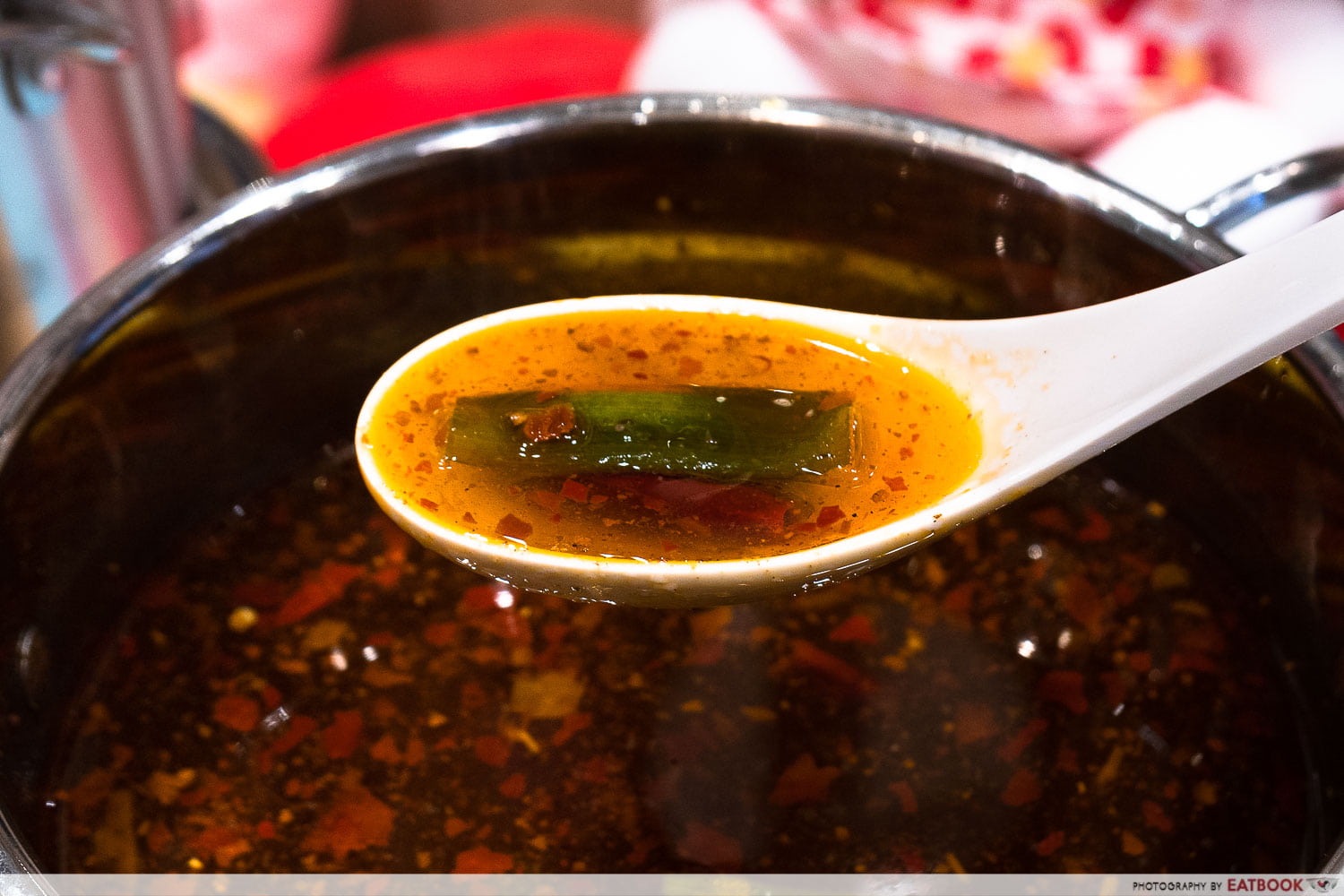 Contrary to its intimidating looks, the Szechuan Mala broth was palatable and light. Despite the numerous pieces of dried chilli swimming around, it was neither overpowering nor too spicy.
The Chicken Beauty Collagen soup base came with a large piece of chicken thigh, along with a Hello Kitty-shaped collagen block for you to plop into the soup. There was a subtle hint of flavour from the chicken, and I felt no traces of MSG after drinking this. It slowly became more gao as we started adding the ingredients such as seafood and other meats into this clear broth.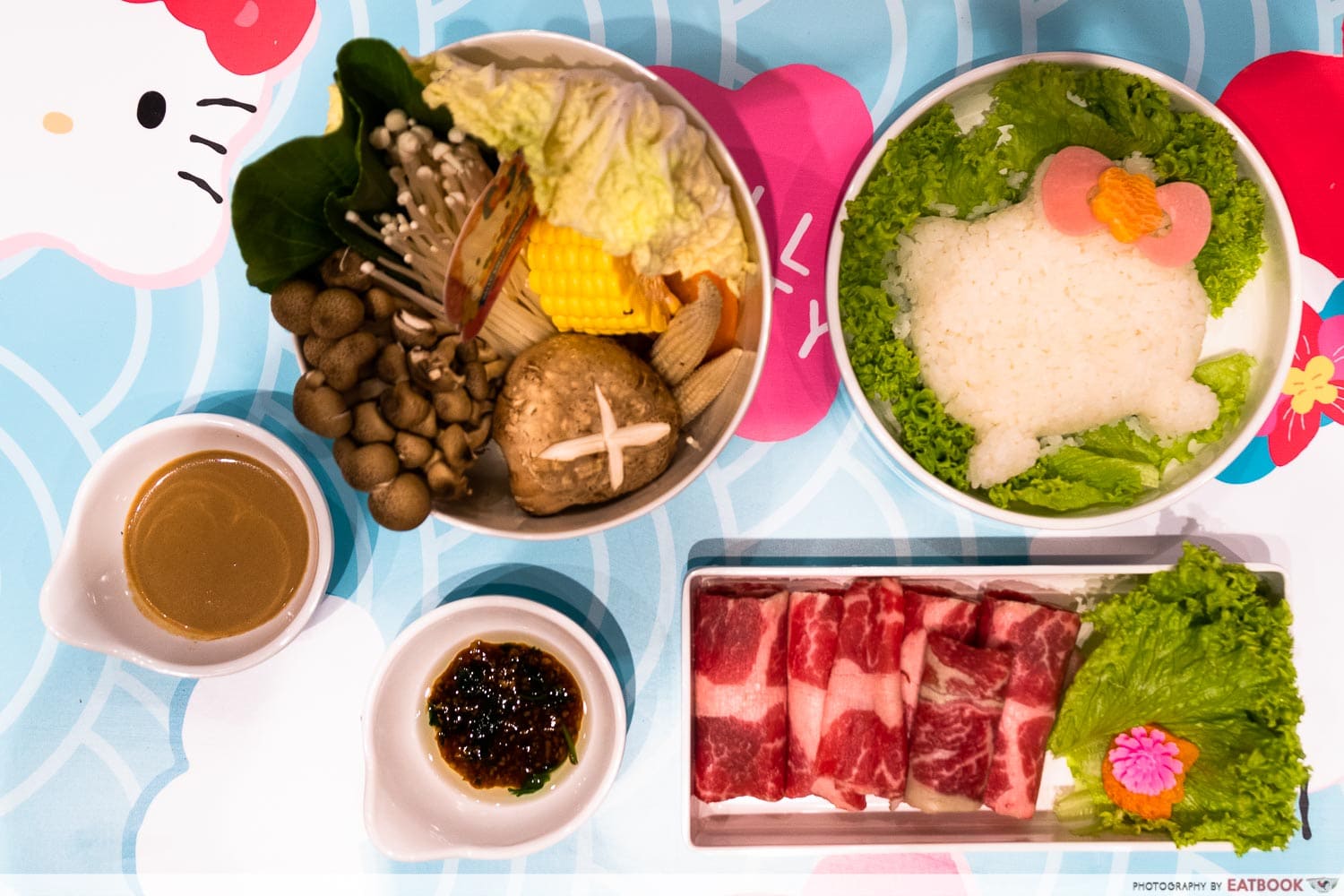 Their Premium Beef Short Rib Boneless Set ($33.90+) comes with five to six pieces of nicely marbled beef slices along with the side of vegetables and rice or noodles. The beef was tender with a right amount of glistening fat, allowing it to glide down my throat easily. 
Choose to dip your beef in their array of sauces, including their Signature Thai Basil Sauce, Signature Sesame Sauce, or the Signature mix of Coriander, Fried Garlic, Oyster Sauce and Garlic Oil. You can also opt to mix your own sauce, if you wish!
They also have a Seafood Mixed Set ($33.90+) that comes with a variety of seafood, including a prawn, scallop, mussels, salmon, and squid. Even though the seafood came frozen, it still gave the soup a pleasant sweetness, making it a rich mouthful. 
The noodles were QQ, and had a nice bite to them. I would recommend opting for these IG-worthy noodles as they are not only unique-tasting but also good for the 'gram!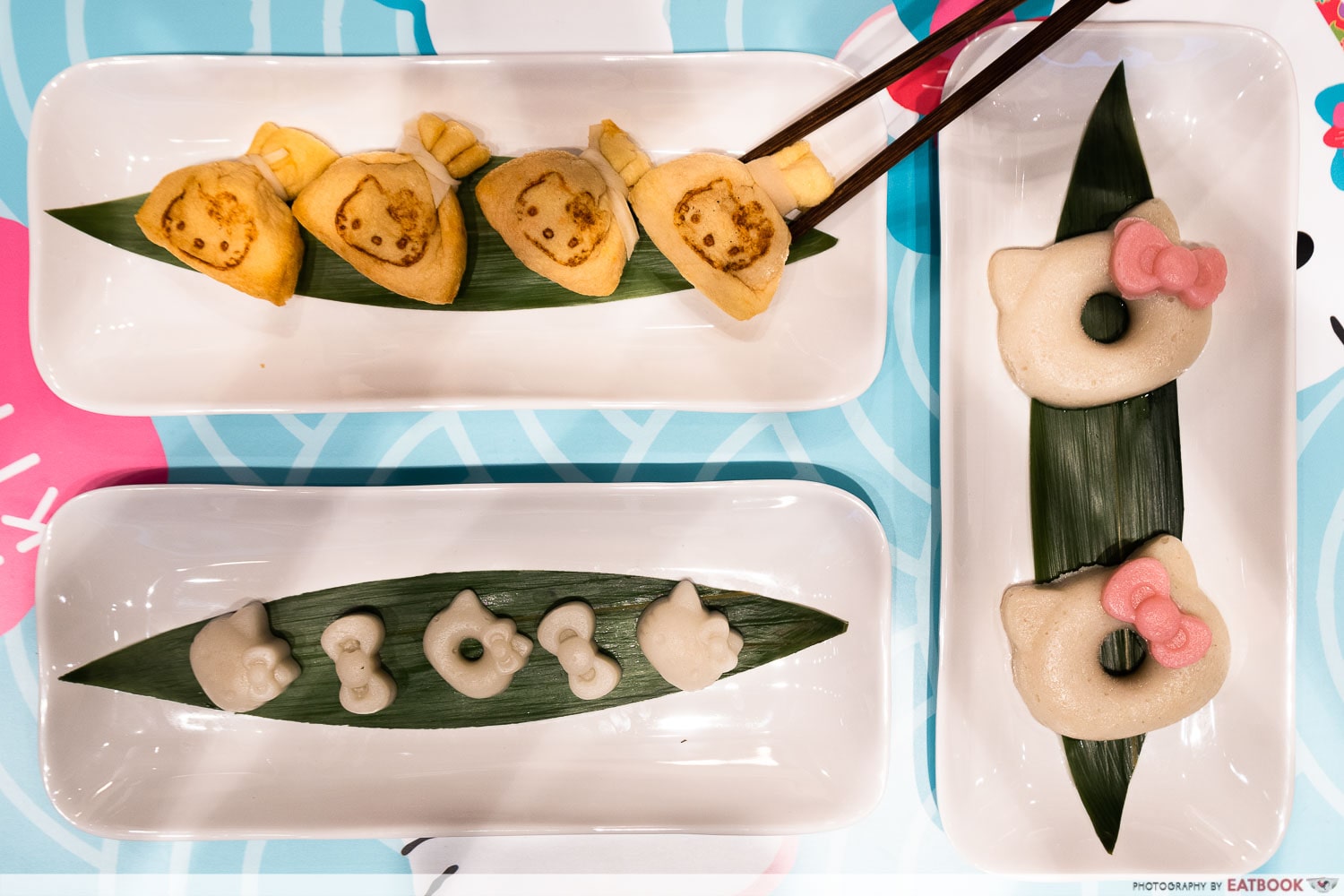 As for add ons, try their Kawaii Hello Kitty Donut Fishcake ($14.90+), that has a melt-in-your-mouth texture after cooking. They also have a Tobiko and Fish Stuffing Lucky Fortune Bag ($11.90+), which bursts with a savoury flavour when you bite down into it, or the Special QQ Mochi Rice Cake ($8.90+) that are soft and chewy Hello Kitty-shaped mochi pieces.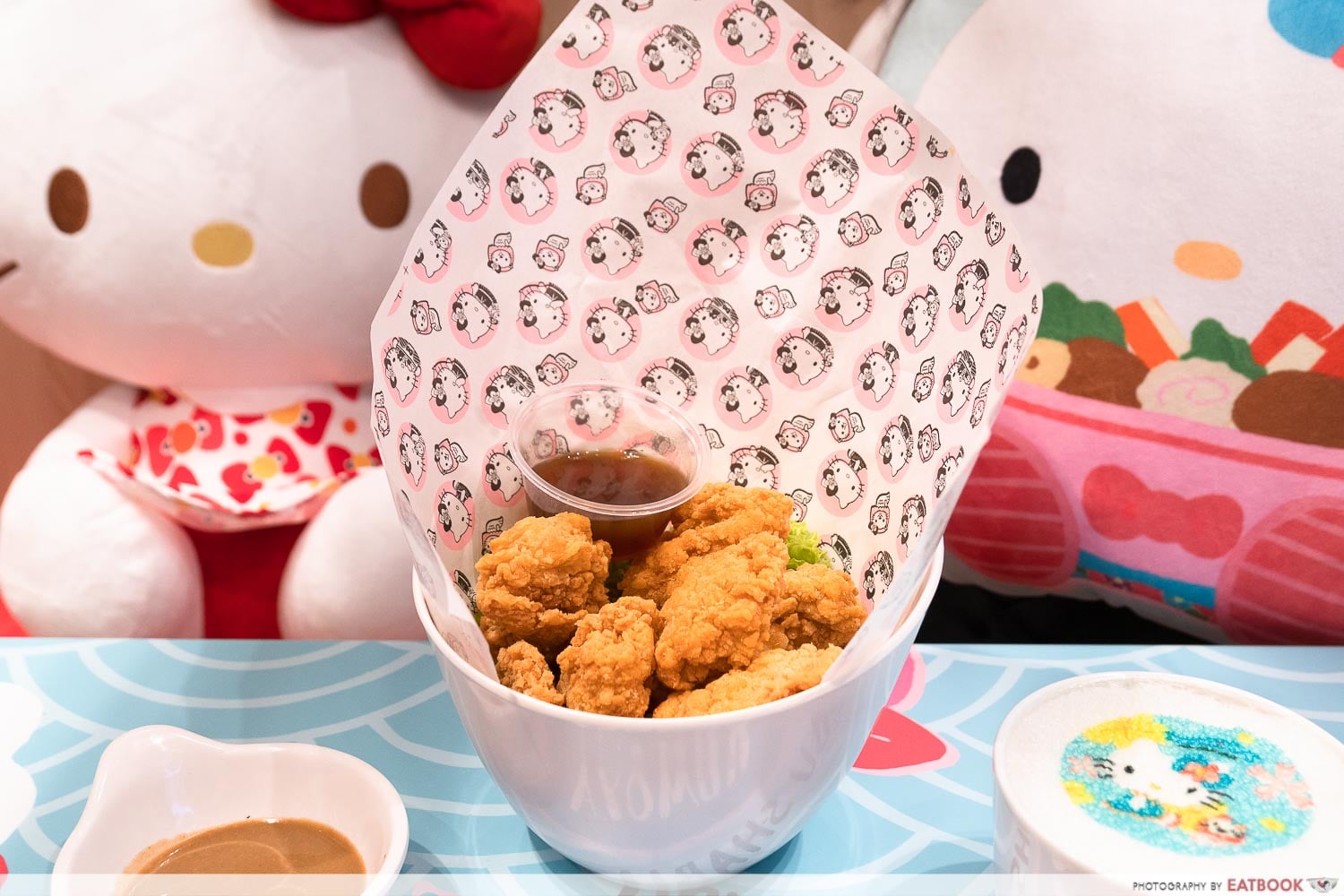 If you're looking for sides to share, they have a Karaage Chicken with Shoyu Glaze ($14.90+) featuring bite-sized chunks of chicken pieces along with a savoury-sweet shoyu sauce on the side. 
The chicken was crispy but slightly dry on the inside, reminding me of a larger version of popcorn chicken. The shoyu glaze adds a touch of umami, making this an addictive snack to munch on.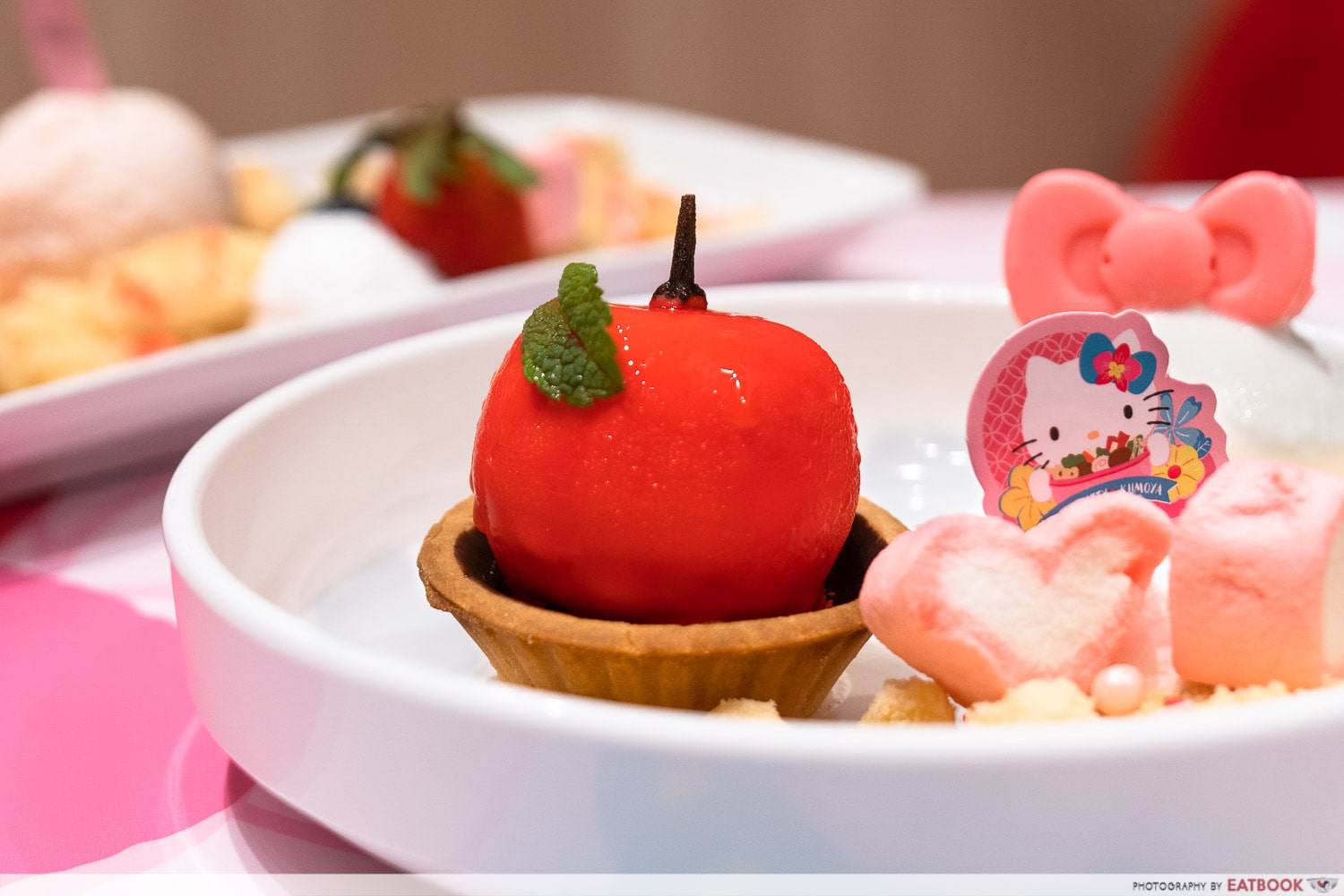 Once you're done with your meal, head straight for their dessert selection including the cute Hello Kitty Apple Mousse Cake ($12.90+). Nestled on a chocolate tart is an apple-shaped dessert, which is filled with cream and apple jam, coated in a decadent layer of white chocolate. 
All the desserts are decorated with butter cookie crumble, a few pieces of marshmallows, and a scoop of either vanilla or strawberry ice cream.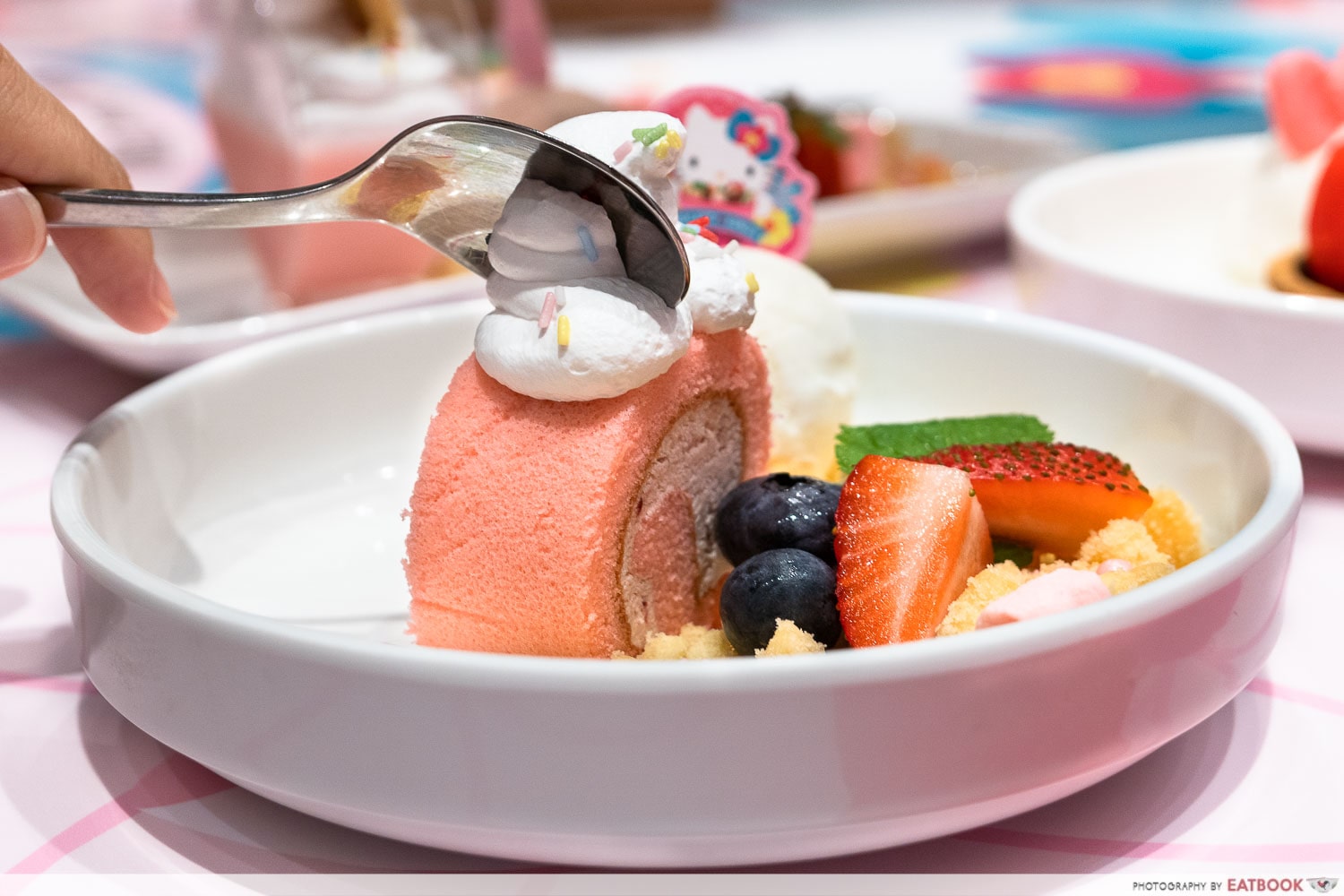 Something lighter on the palate would be the Strawberry Swiss Roll ($11.90+) that comes with a mini fluffy and airy strawberry-flavoured Swiss roll, with a hint of sourness from the strawberry jam.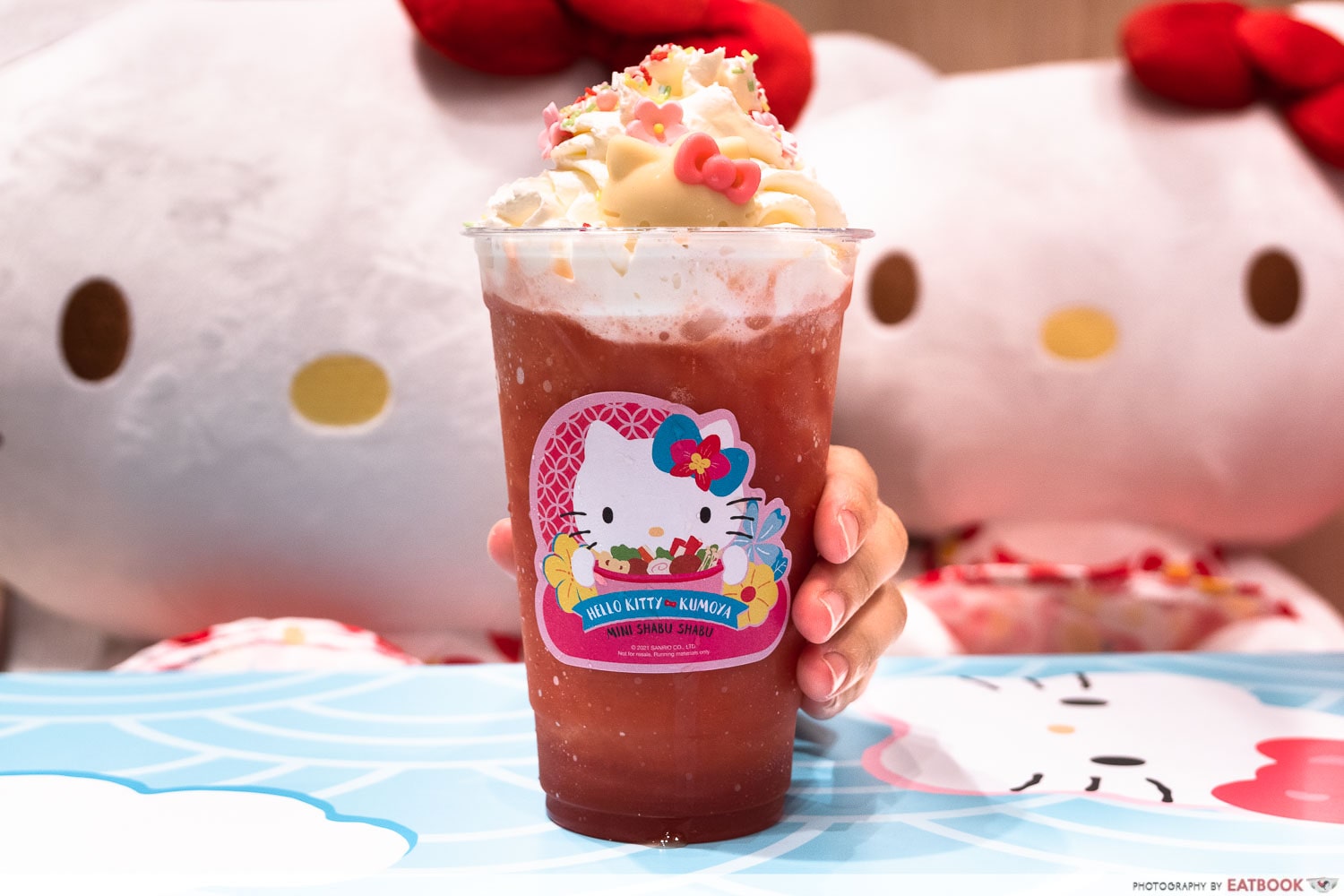 To wash everything down, go for the refreshing Momo Watermelon Frappe ($13.90+) that is topped with whipped cream and vibrant-coloured sprinkles. If watermelon is not your thing, they also have other interesting flavours like the Mango Yuzu Frappe ($13.90+) or the Soursop Mint Frappe ($13.90+)! 
While the Hello Kitty Mini Shabu Shabu pop-up restaurant is not halal-certified, there is no pork, lard, or alcohol on the menu, and the ingredients used are sourced from major halal distributors and suppliers.
Porcelain Cafe Review: IG-Worthy Unicorn And Galaxy Smoothie Acai Bowls In Orchard
If you're looking for other food in the area, check out our Porcelain Cafe review for IG-worthy unicorn and galaxy acai bowls. Alternatively, head to our Jincha review for a unique fix of Korean soju bubble tea. 
Address: 181 Orchard Road #04-08 Orchard Central Singapore 238896
Opening hours: Daily 11am to 9.30pm
Tel: 8946 4181
Website
Feature image adapted from Kumoya Singapore.
7-Eleven Has Hello Kitty Instant Tteokbokki For $3.90, Available In Spicy Or Cheese