Crayon Shinchan cafe in Singapore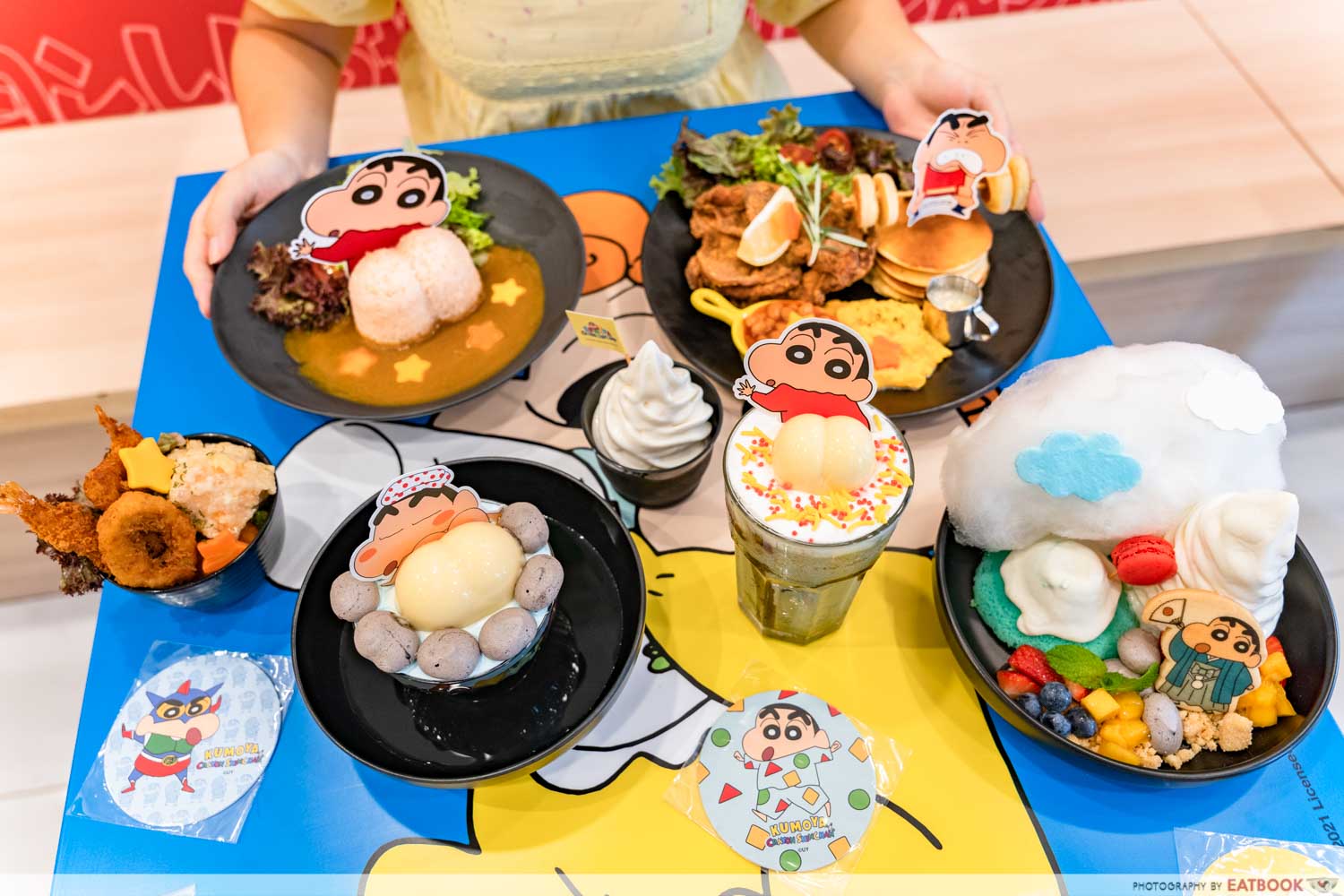 Kumoya, the group responsible for bringing us cafes themed after the likes of Rilakkuma and Friends, Little Twin Stars, Sumikko Gurashi and more, are back once more with a brand new concept: a Crayon Shinchan Cafe in Jalan Klapa, near Bugis.
If you aren't already familiar with the character, Crayon Shinchan, or La Bi Xiao Xin, is one of the most iconic cartoon characters for many Singaporeans. The small, mischievous boy is a nostalgic force for many of us, and with that, my colleague and I headed down to this cafe, eager to relive my yesteryears.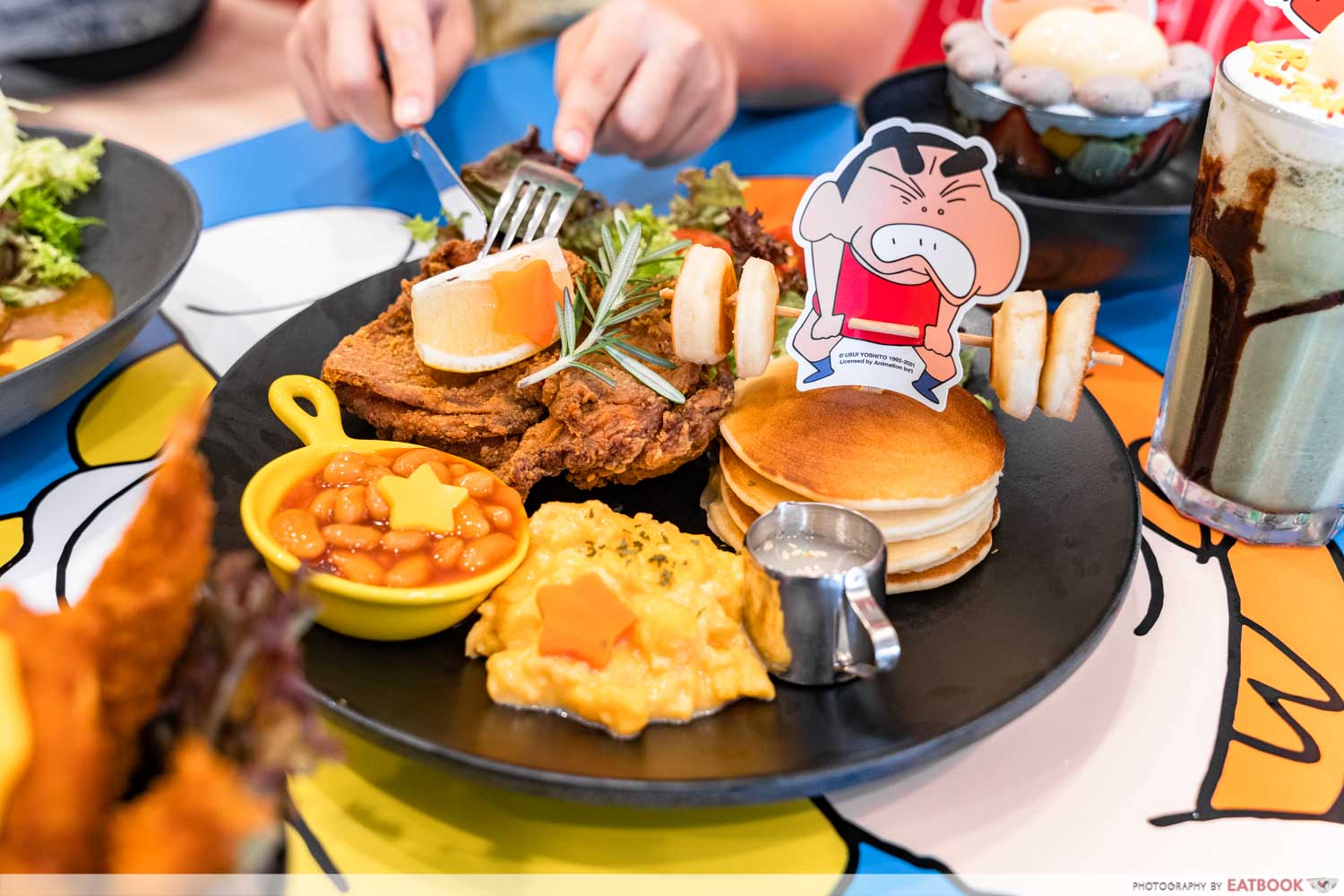 The first dish that we tried on our visit was It Ain't Heavy, It's My Pancakes! ($26.90+). This came with pancakes, baked beans, scrambled eggs, salad, and a giant slab of fried chicken. The dish is cheekily dressed with a Crayon Shinchan cutout, clutching onto a mini pancake skewer that resembles a barbell.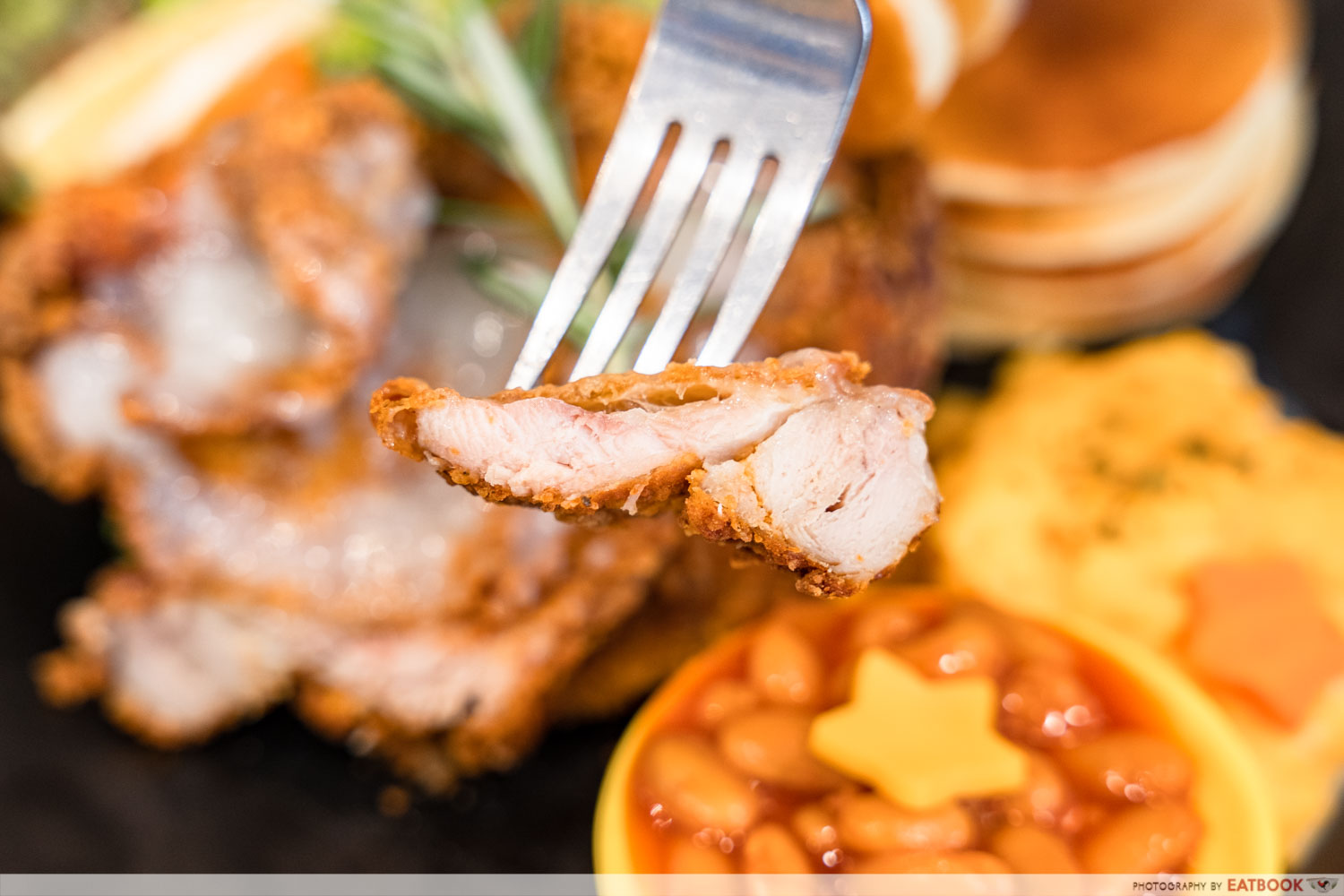 Despite being heavy-handed with the batter, the fried chicken remained tender within. I also liked that it was well-seasoned.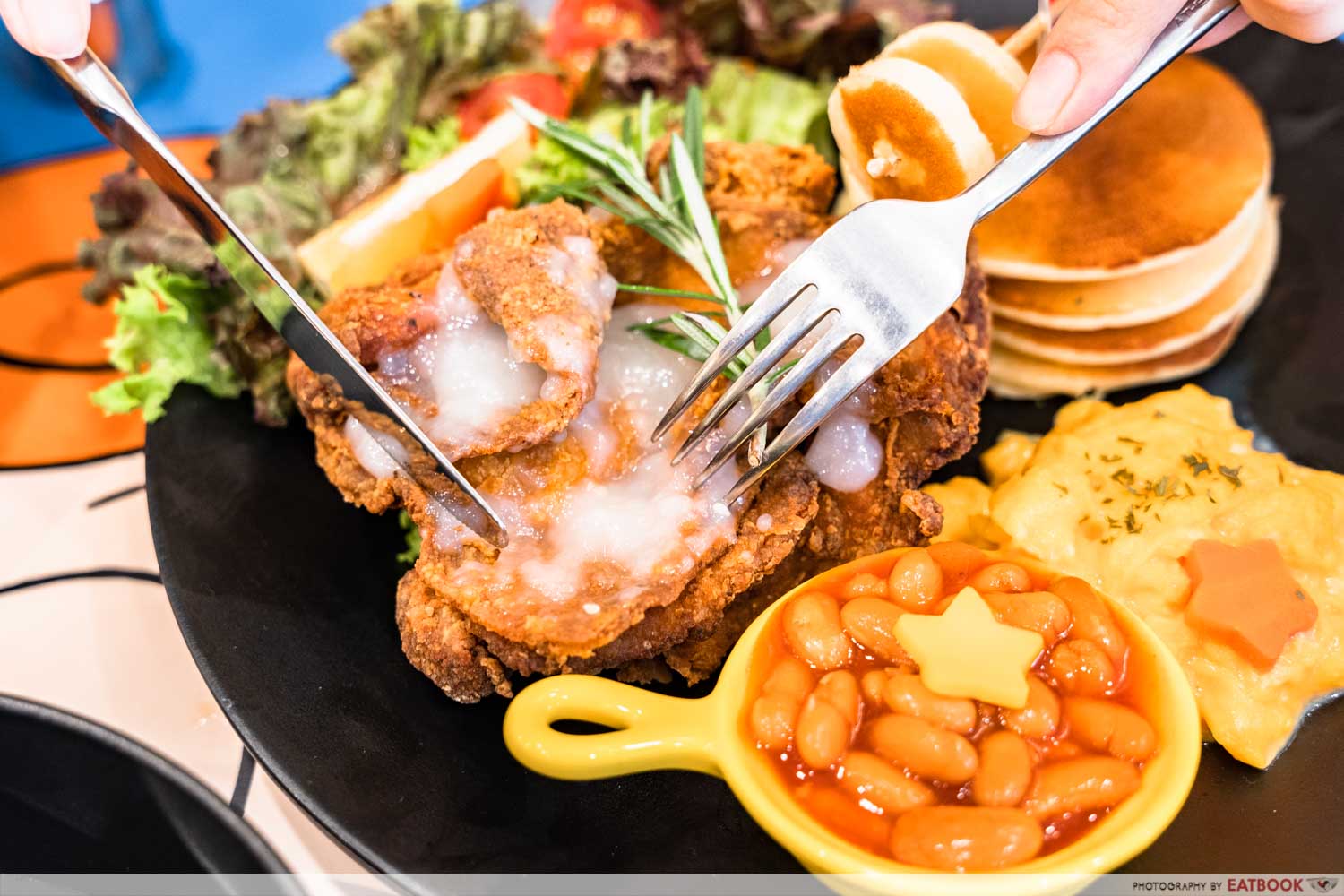 We were given lemon sauce as a dressing, which I assumed to be heavy, because of its whitish, viscous appearance. To my surprise, it didn't have much flavour, tinged with just a little bit of zest.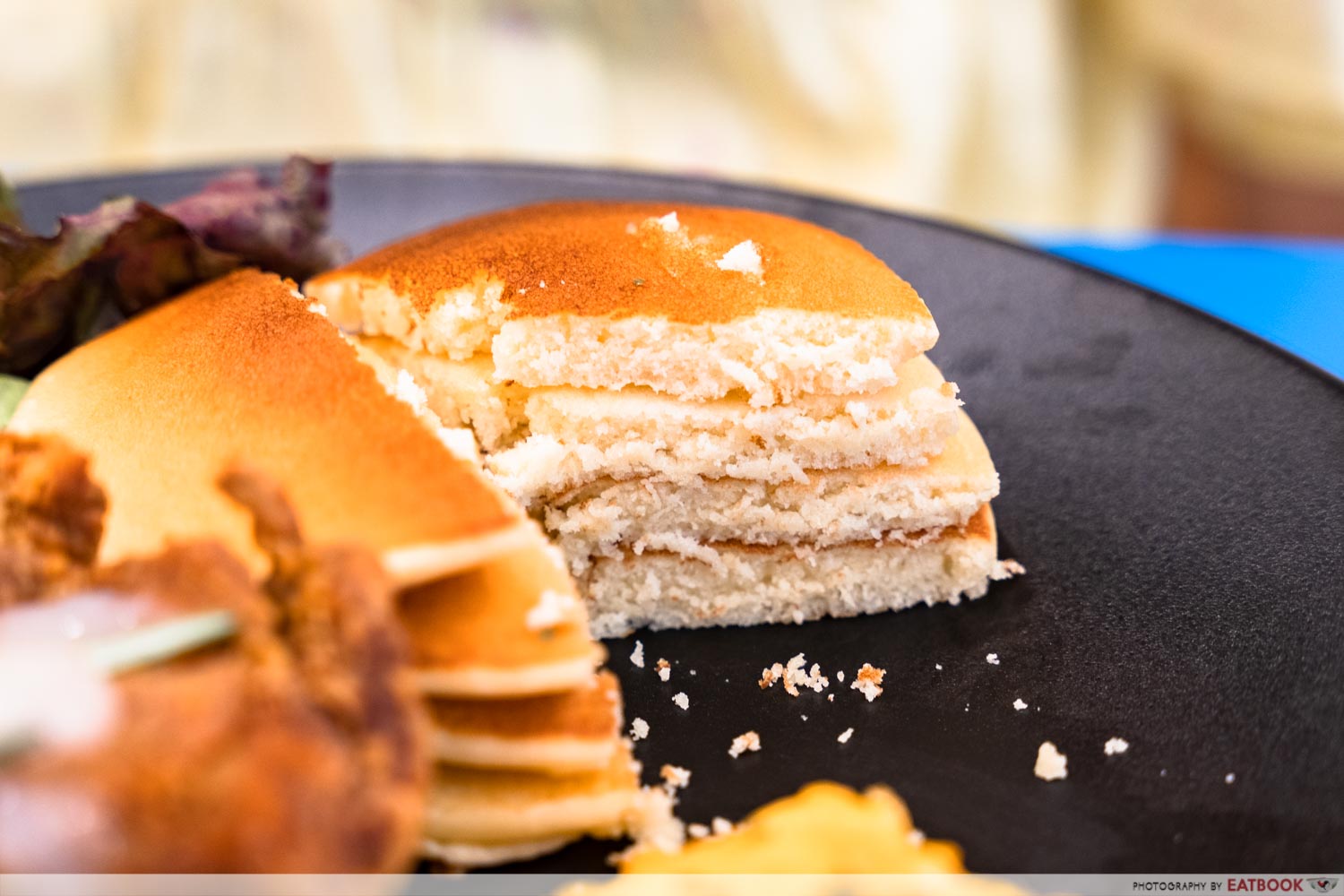 The pancakes were sticky, and felt too dense for me. As I like my pancakes to be fluffy, this could just be a matter of preferences. Flavour-wise, these tasted slightly buttery, and went well with the fried chicken.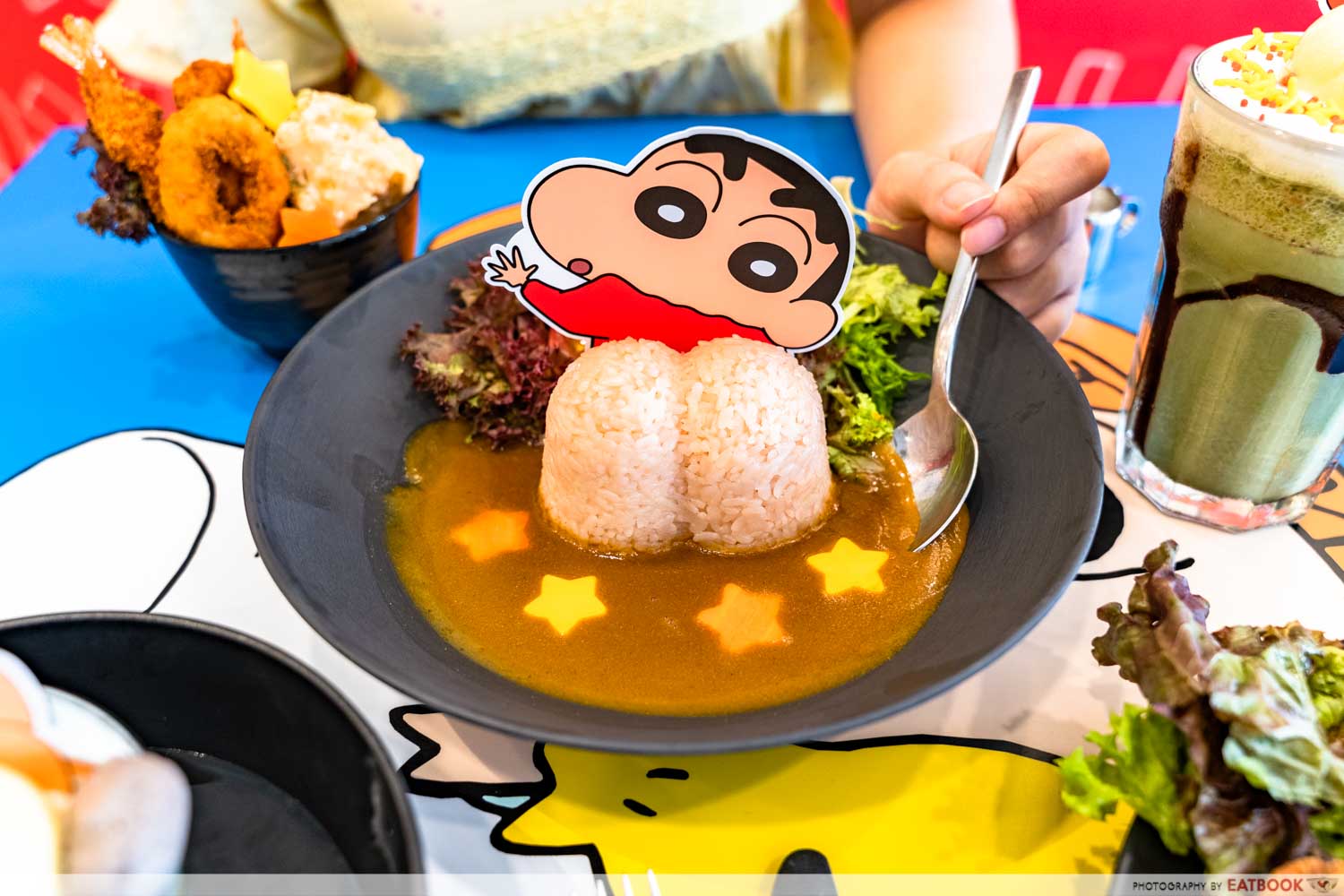 Our next dish was the So Mischievous Japanese Seafood Curry Rice ($26.90+), with a rice mold shaped after Crayon Shinchan's buttocks, served with curry and an assortment of deep-fried seafood.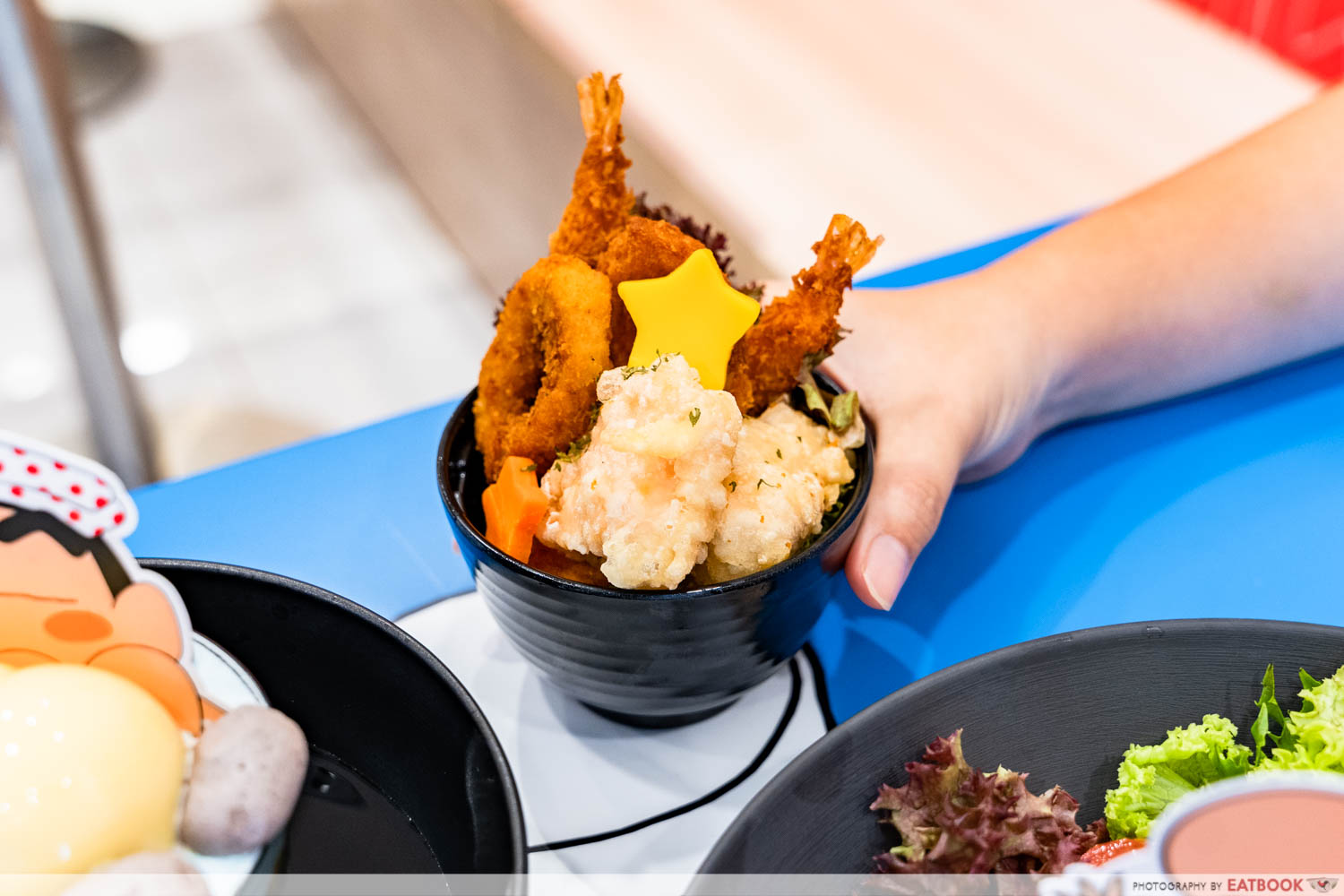 The breaded seafood comprised salmon chunks, prawns, squid rings, and scallops. These were generally well-fried, with my favourite being the squid rings, as they remained crispy on the exterior, and QQ within.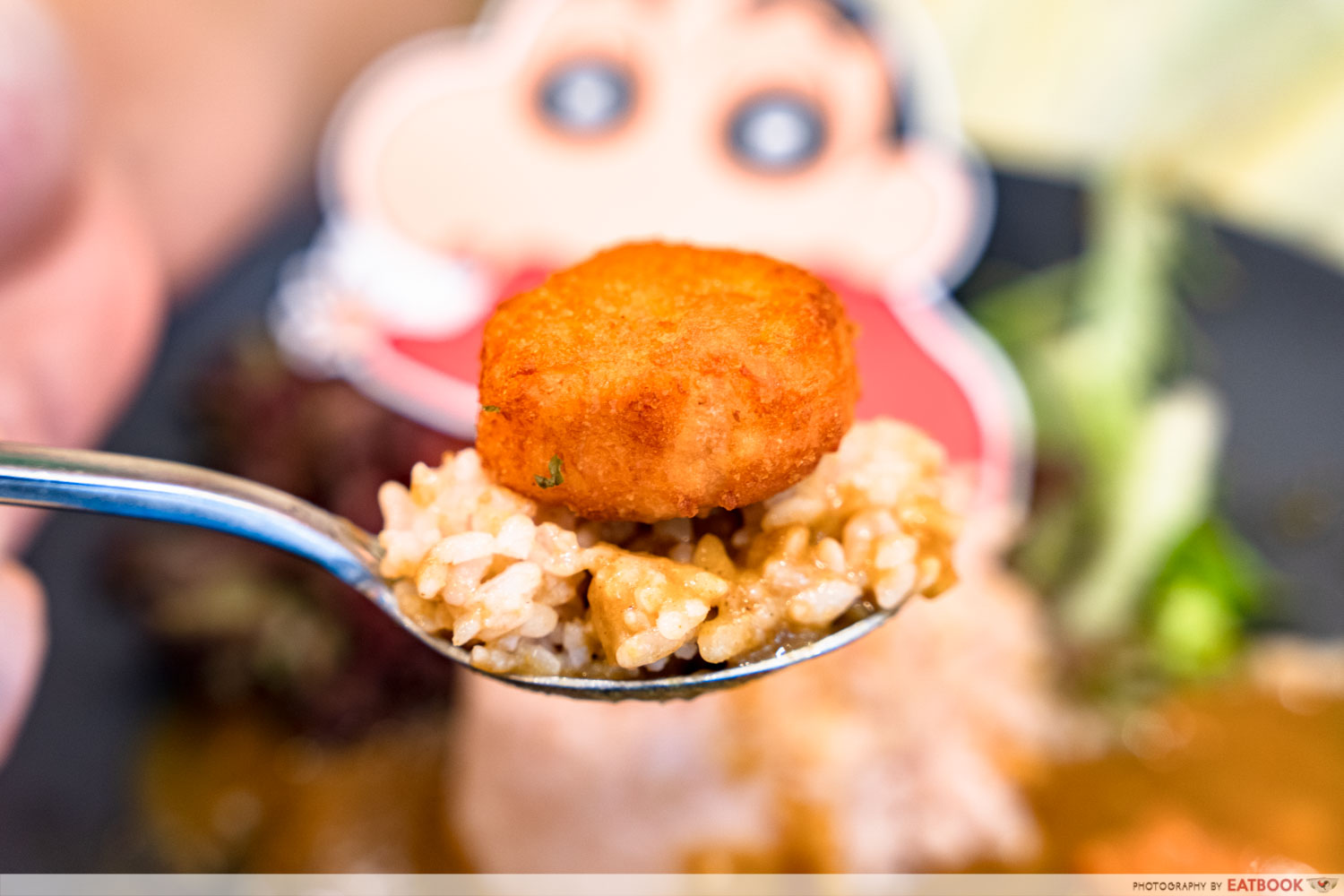 I also enjoyed the scallops, as they were plump and firm. Meanwhile, the curry ran thin in consistency, and leaned towards the saltier end of the spectrum. Perhaps the cafe could dial down on the salt, and amp up the spices, to create a more well-balanced curry.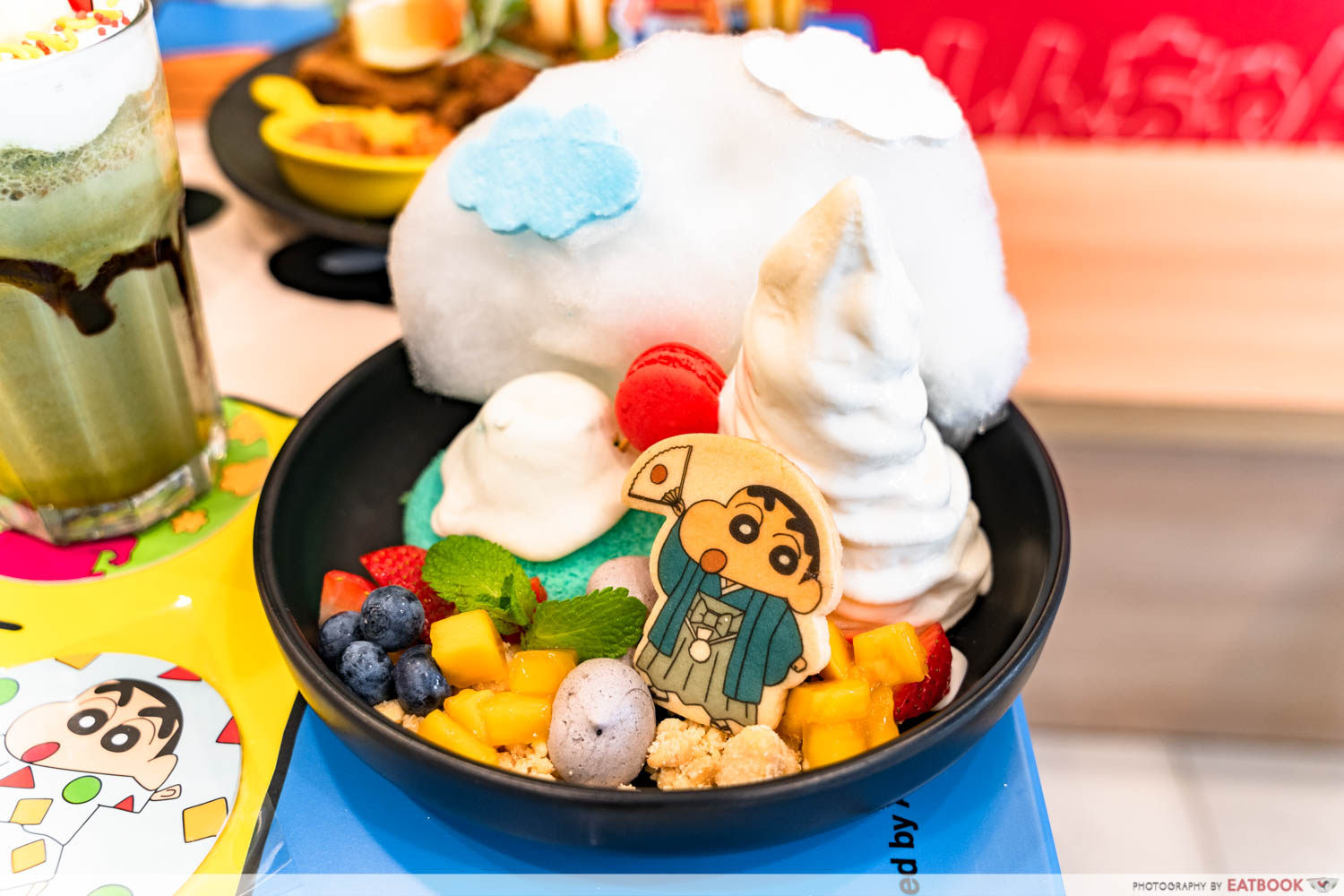 A meal isn't complete without desserts, especially when they're primed for the 'gram, as with the ones at the Crayon Shinchan cafe. From their dessert selection, we tried the Shinchan Fuji-san Chiffon Cake ($21.90+). Here, the blueberry chiffon cake is shaped to resemble Mount Fuji, alongside a dollop of Hokkaido soft serve, vanilla sable crunch, fruit, meringue pebbles, and a large cotton candy cloud.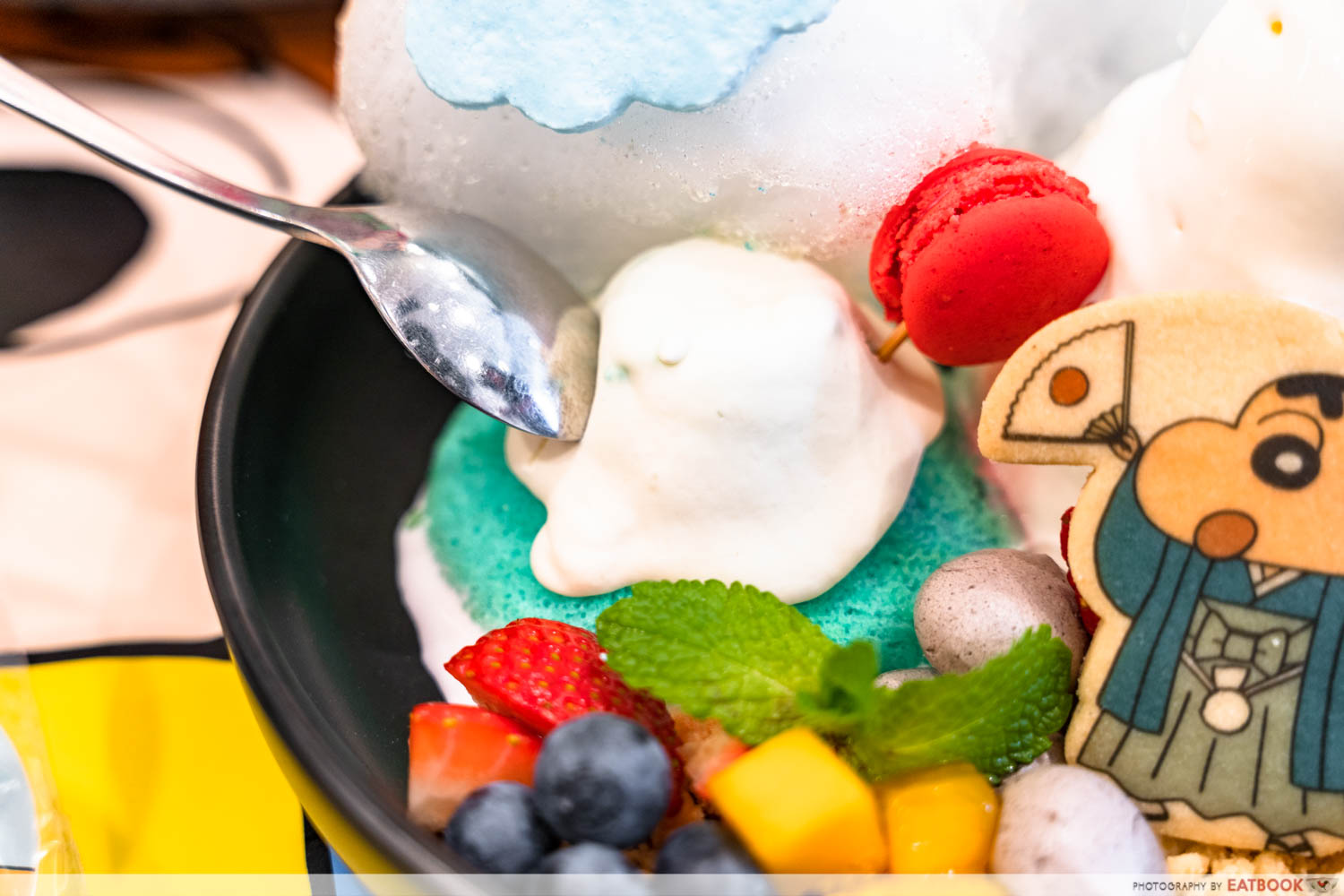 The blueberry flavouring tasted artificial, but I enjoyed the texture of the cake, which fell right between fluffy and dense.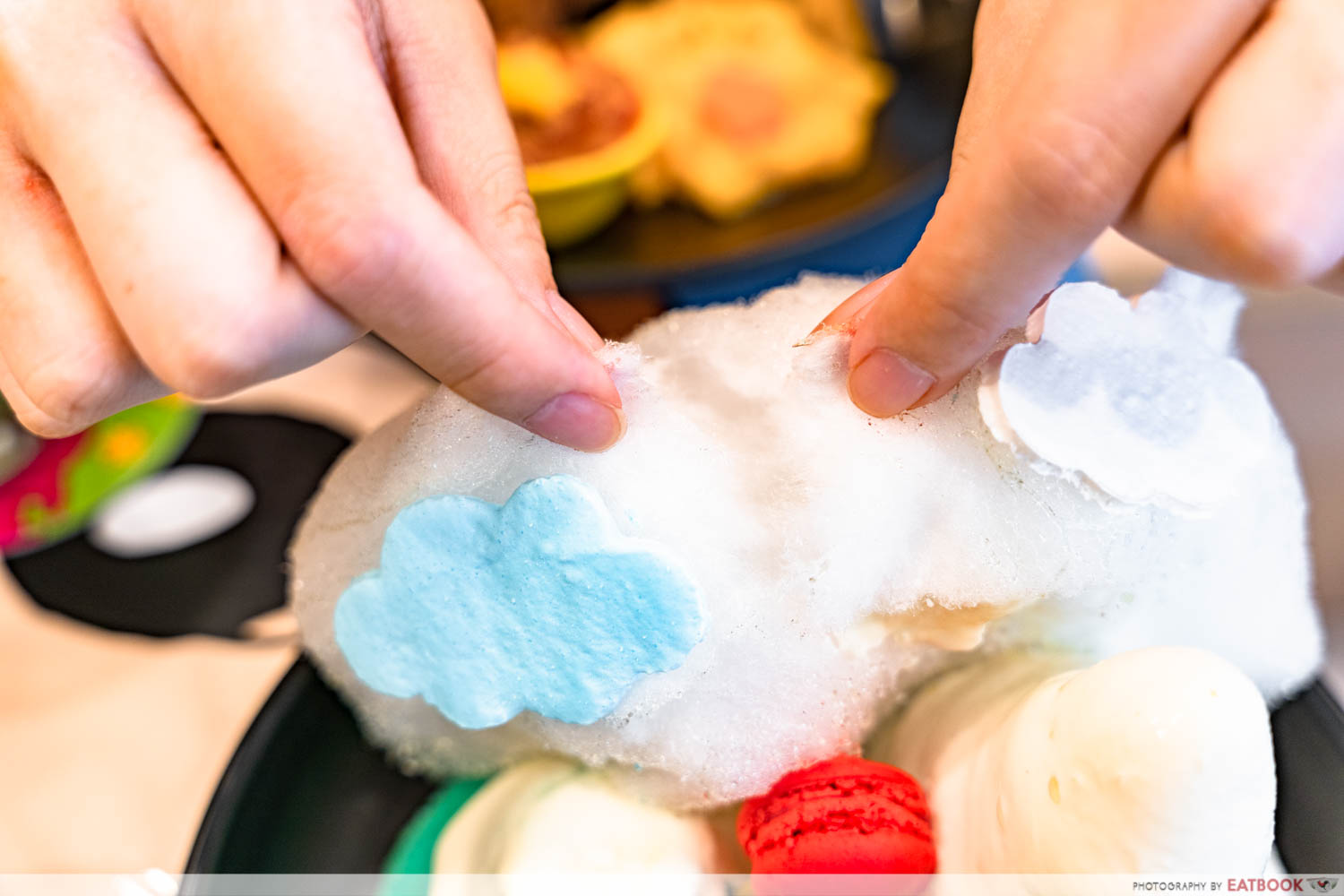 Meanwhile, the cotton candy cloud hardened quickly, sticky to the touch. It was also more chewy than melt-in-the-mouth. My favourite element on this plate would be the Hokkaido soft serve, as it was smooth and milky, with a slight zing that reminded me of frozen yoghurt.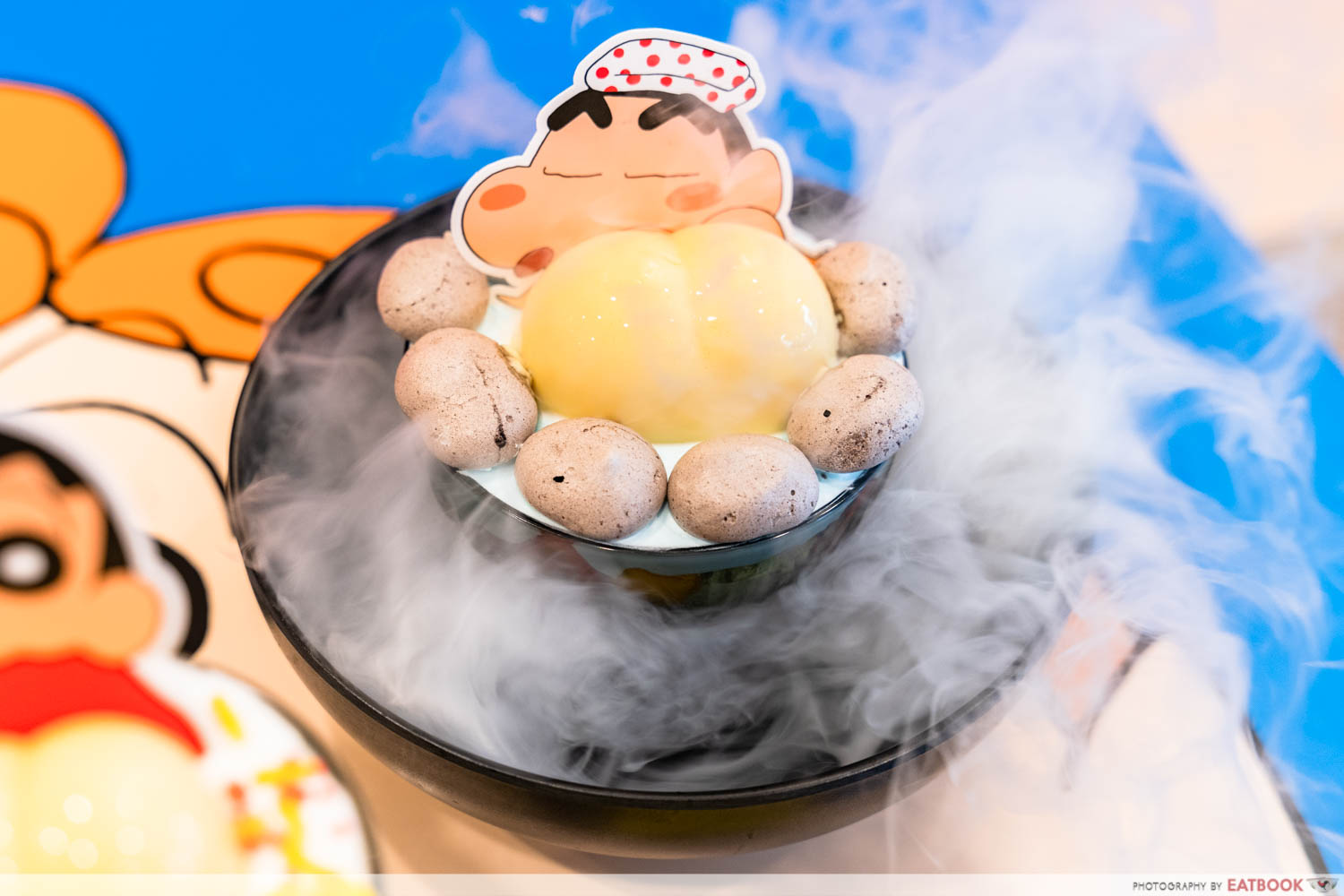 We also had the Relaxing Onsen Pudding Parfait ($22.90+), which billowed with mist when it arrived, a spectacle to behold. This parfait is layered with matcha sponge cake, fruit, and rice puffs, then topped with meringue pebbles, and a custard pudding shaped like Crayon Shinchan's backside.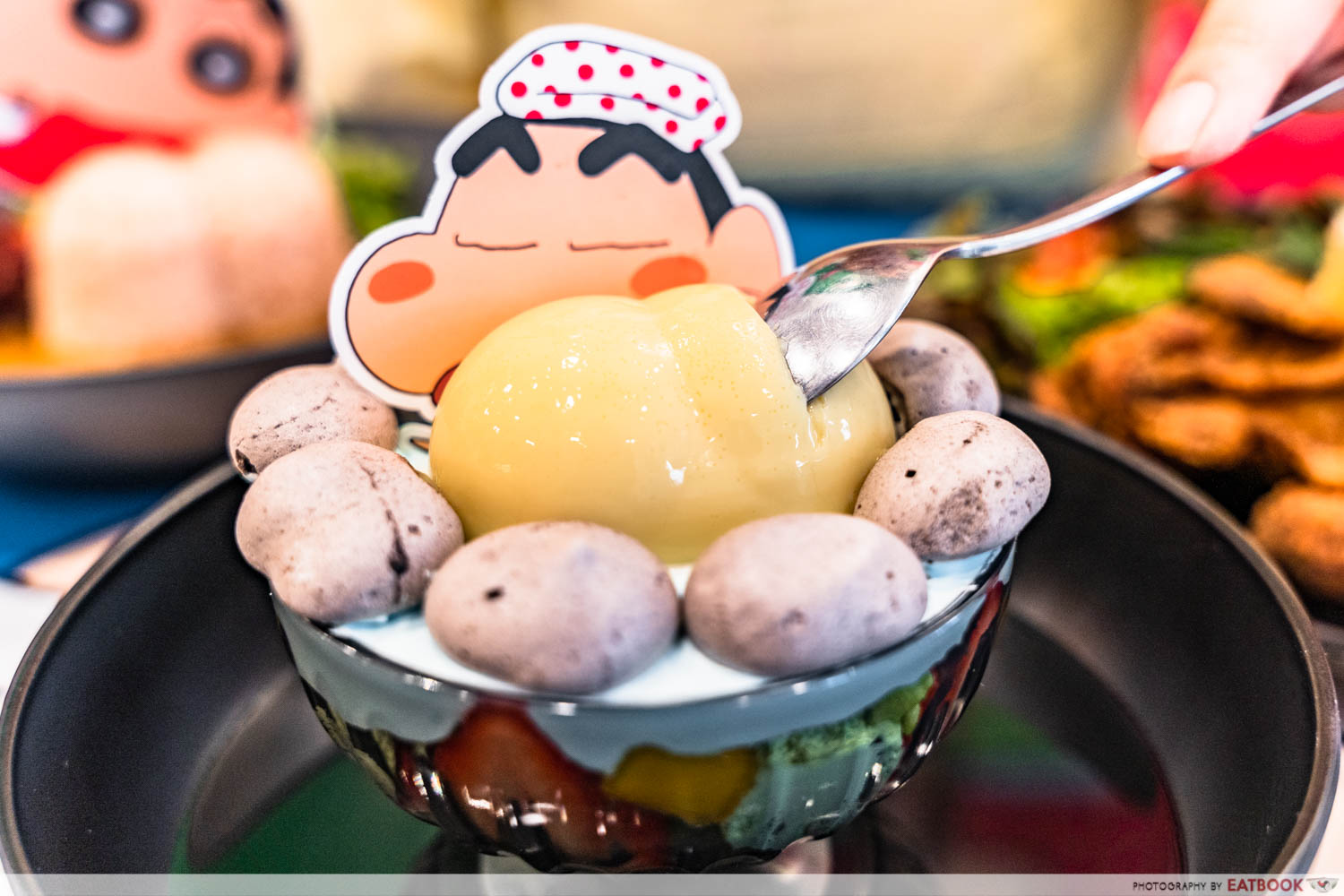 The pudding was most likely used for the sake of aesthetics, as it tasted lightly sweet, without much flavour to it.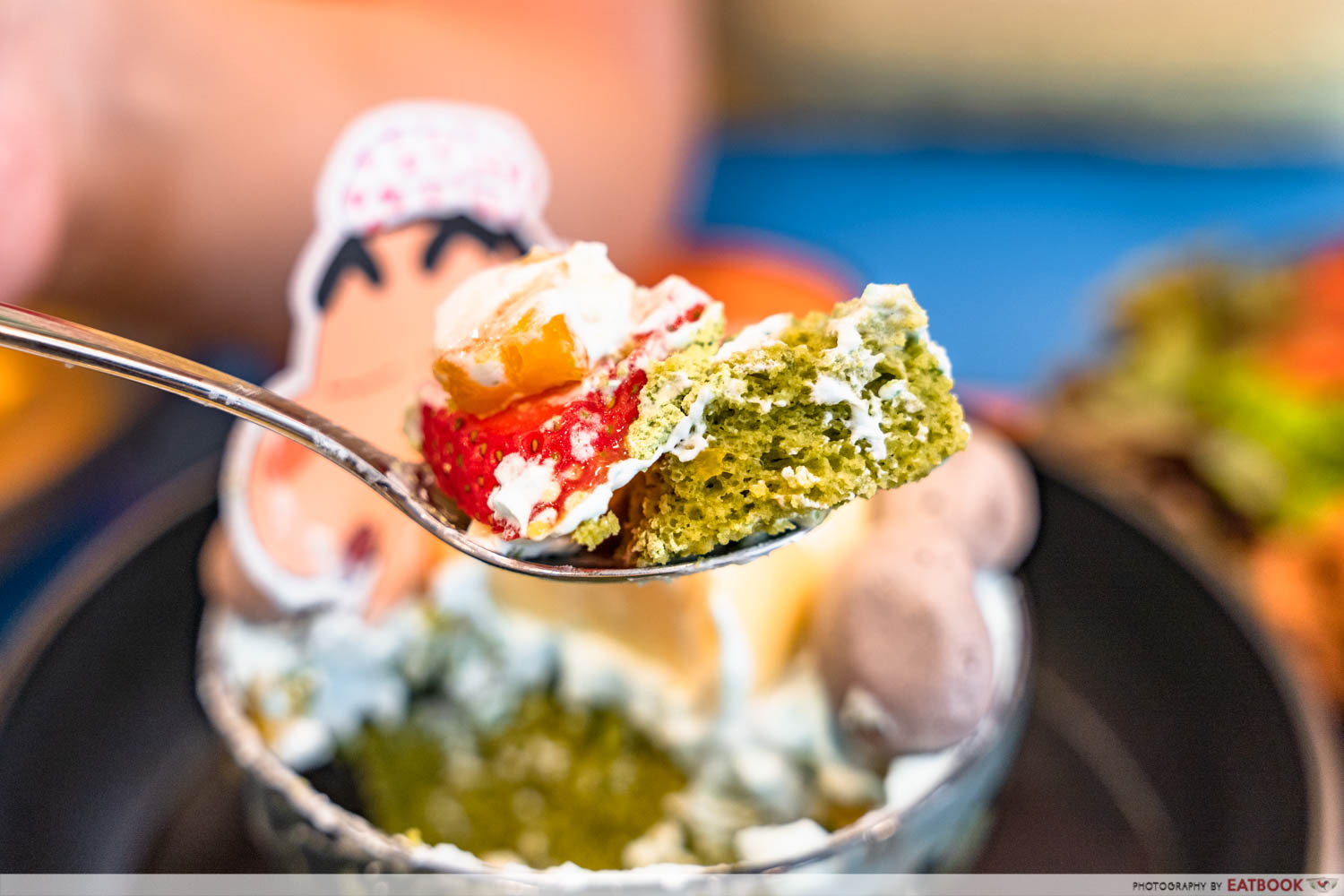 I enjoyed the addition of the crispy rice puffs, as they contrasted well against the moist, bittersweet matcha cake. On the other hand, I felt that the dessert could do without the meringue pebbles, which were too sugary for my liking.
We washed everything down with the Piak! Piak! Matcha Frappe ($13.90+), which had drizzles of chocolate within, topped with the same custard pudding shaped after Crayon Shinchan's buttocks. The matcha had a strange, earthy aftertaste, and I personally felt that it didn't pair well with the chocolate. Nevertheless, I liked the smooth consistency of the frappe, which made it easier to drink.
This matcha frappe is just one of the many drinks the Crayon Shinchan cafe has to offer, where every order of drink is served with a limited-edition Crayon Shinchan coaster, with four designs to collect.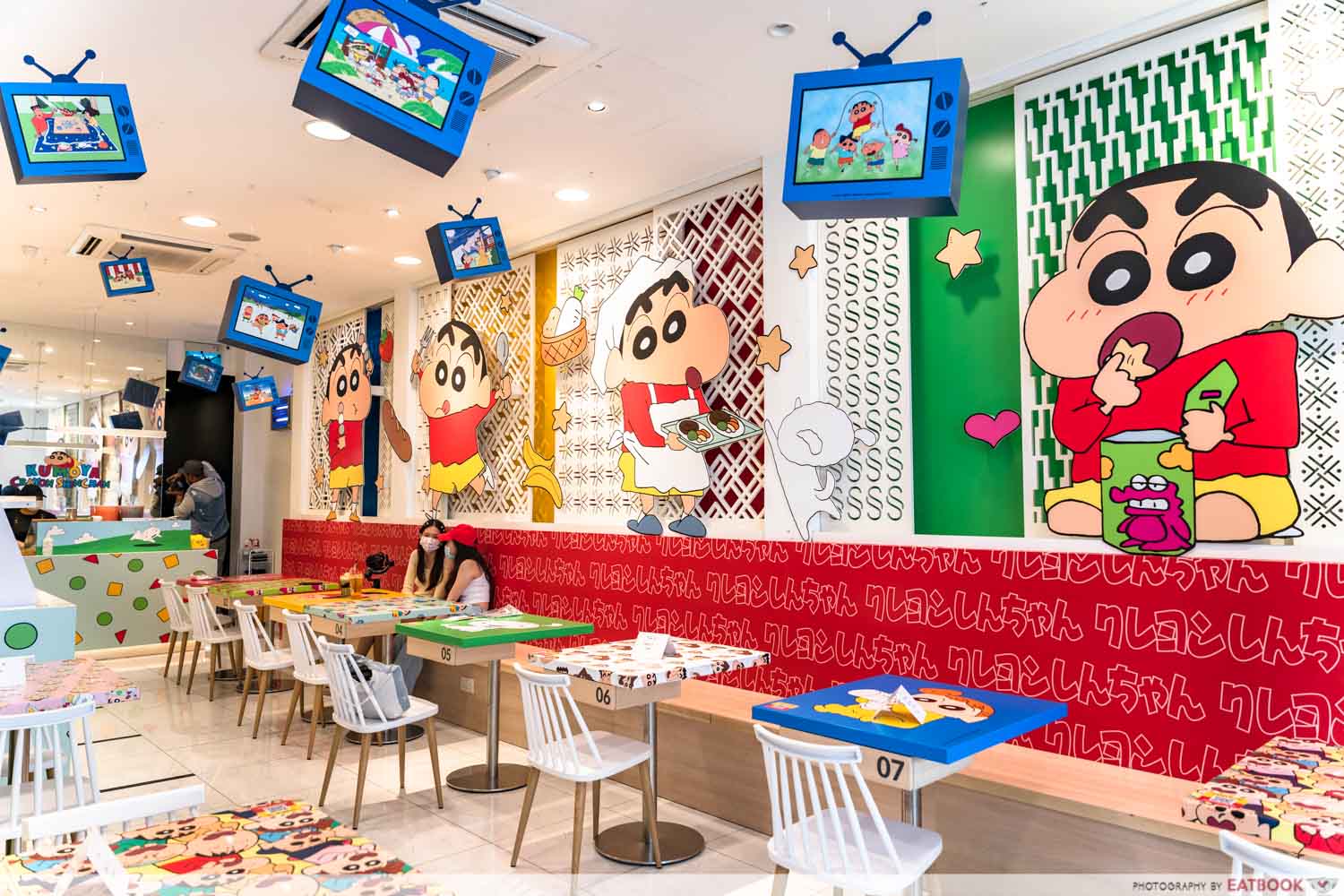 The Crayon Shinchan cafe is decked in vibrant Crayon Shinchan backdrops, decorated tables, and themed props that hang from the ceiling. These include the titular character doing all manner of things, from snacking, to cooking, and yes, even the flashing we all know and love him for. 
There's also a merchandise bar at the counter, with exclusive, never-seen-before-in-Singapore items for fans of the animation to peruse. Do note that the merchandise will only arrive from 17 May, due to shipping delays.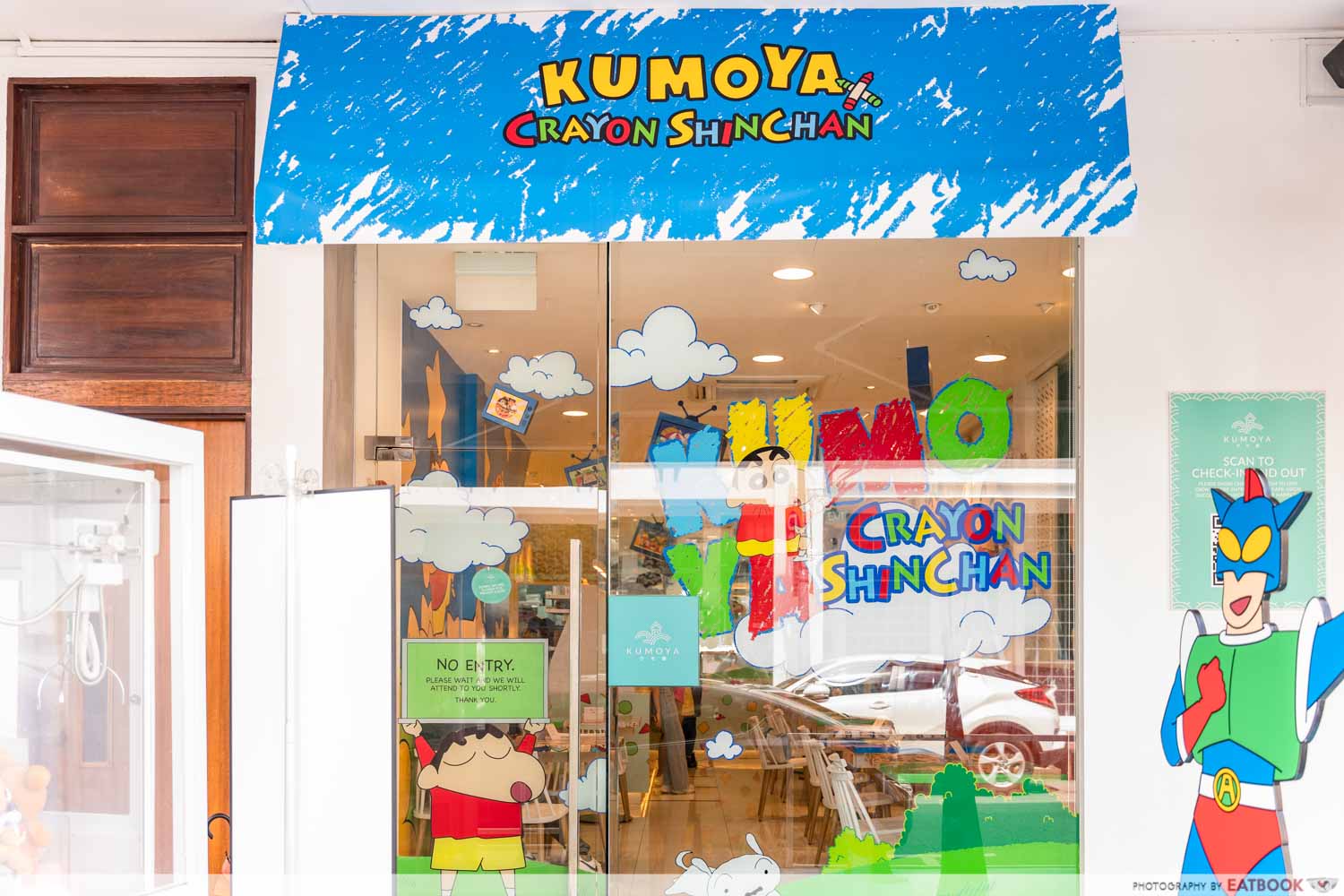 It is best to reserve a table beforehand, which you can do so on the Kumoya website. The cafe will be around for a limited time only, so head down as soon as you can!
For more food in the 'hood, check out our guide to cafes in Bugis. Otherwise, read our King of Pao Fan review, for pao fan made by an ex-Raffles Hotel chef in Bugis too!
Address: 8 Jalan Klapa, Singapore 199320
Opening hours: Tue-Sun 12pm to 9:30pm
Website
Kumoya is not halal-certified but uses no pork and no lard in their menu, and sources from halal-certified distributors.
13 Bugis Cafes For Cotton Candy Coffee, Mochi Croissants And Souffle Pancakes
Photos taken by Yi En Chew.
This was a media tasting at Crayon Shinchan X Kumoya.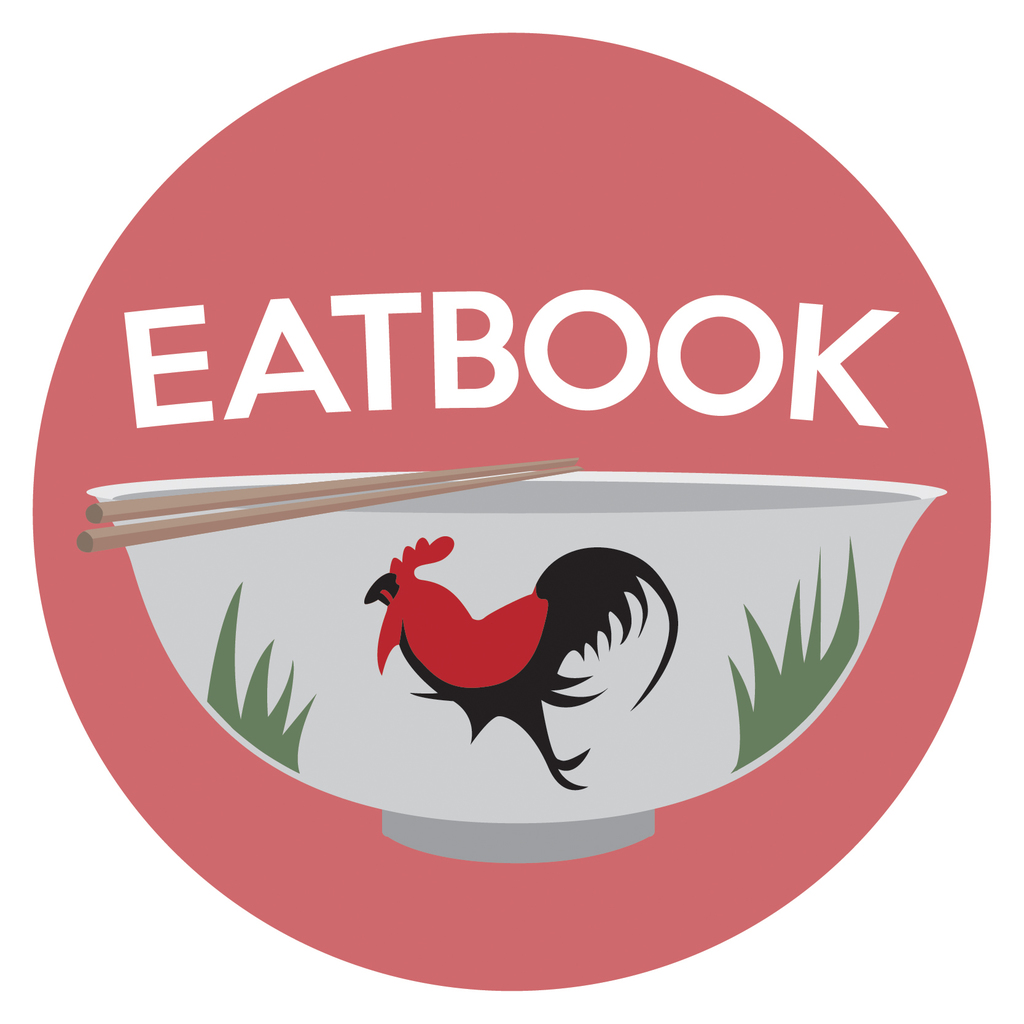 Drop us your email so you won't miss the latest news.