Sumikkogurashi x Kumoya cafe at Somerset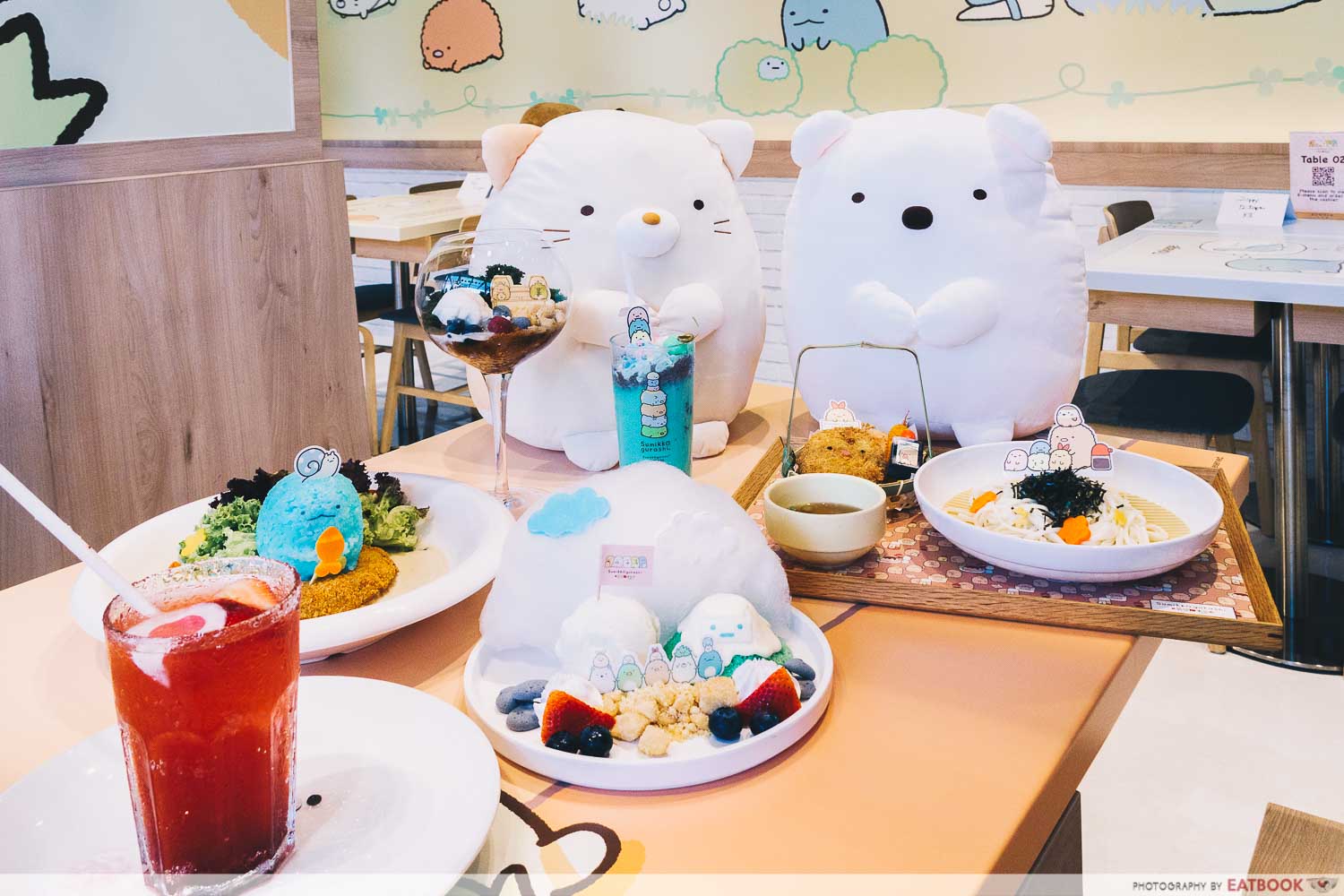 Closely following the introduction of Molang x Kumoya Pop Up Cafe, Kumoya is set to open another pop-up cafe on 12 March, at their Orchard Central outlet. This time, it's based on characters from Sumikkogurashi.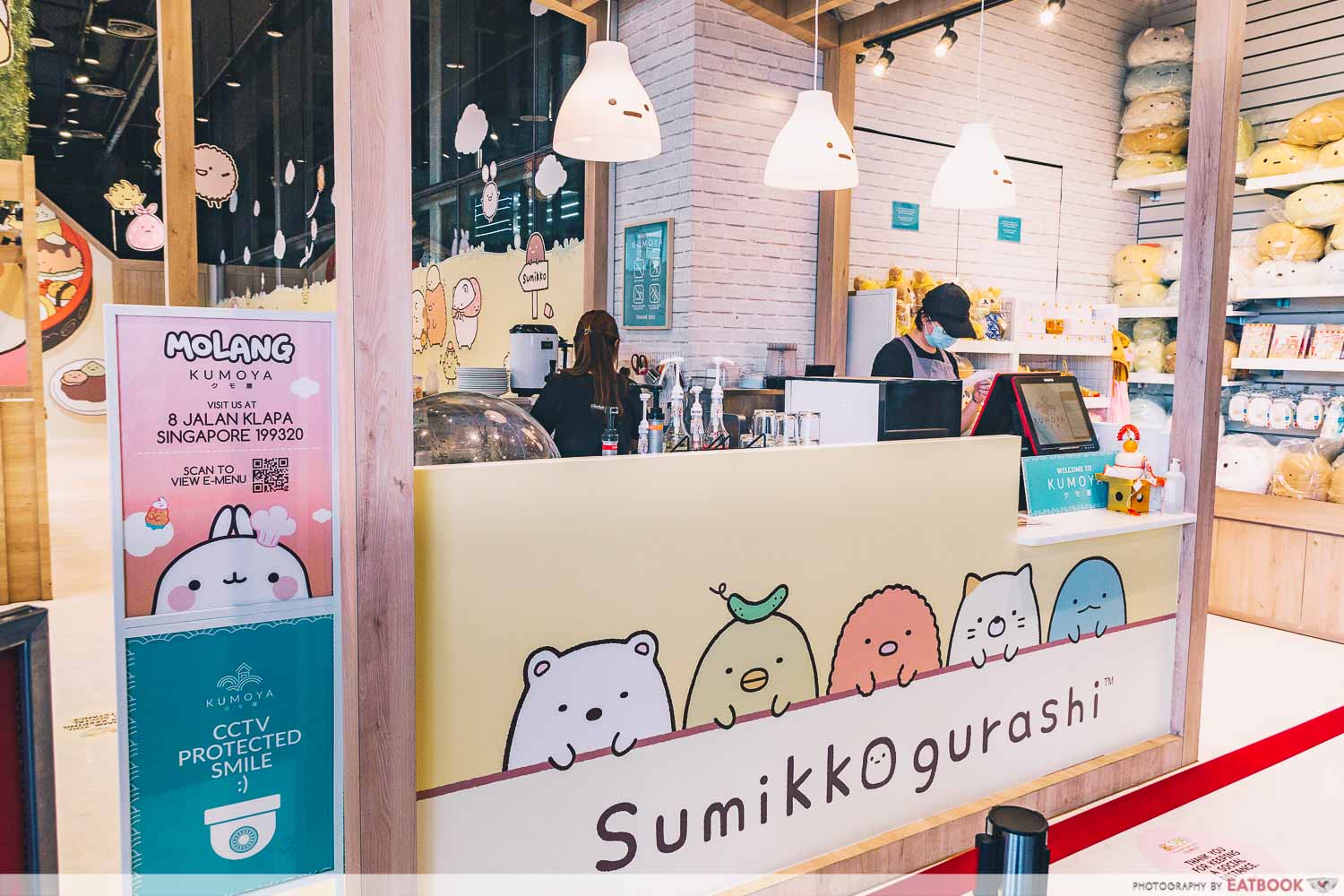 Sumikkogurashi is a group of fictional characters created by San-X, who also designed Rilakkuma. What's adorable about the characters is their misfitting yet relatable qualities. There is a polar bear named Shirokuma who is unacquainted with the cold, a timid and anxiety-ridden cat named Neko, a lizard-like dinosaur named Tokage, a Penguin? who is unsure of its identity, a leftover Tonkatsu cutlet piece, and leftover Tapioca balls from a cup of milk tea.
Food at Sumikkogurashi x Kumoya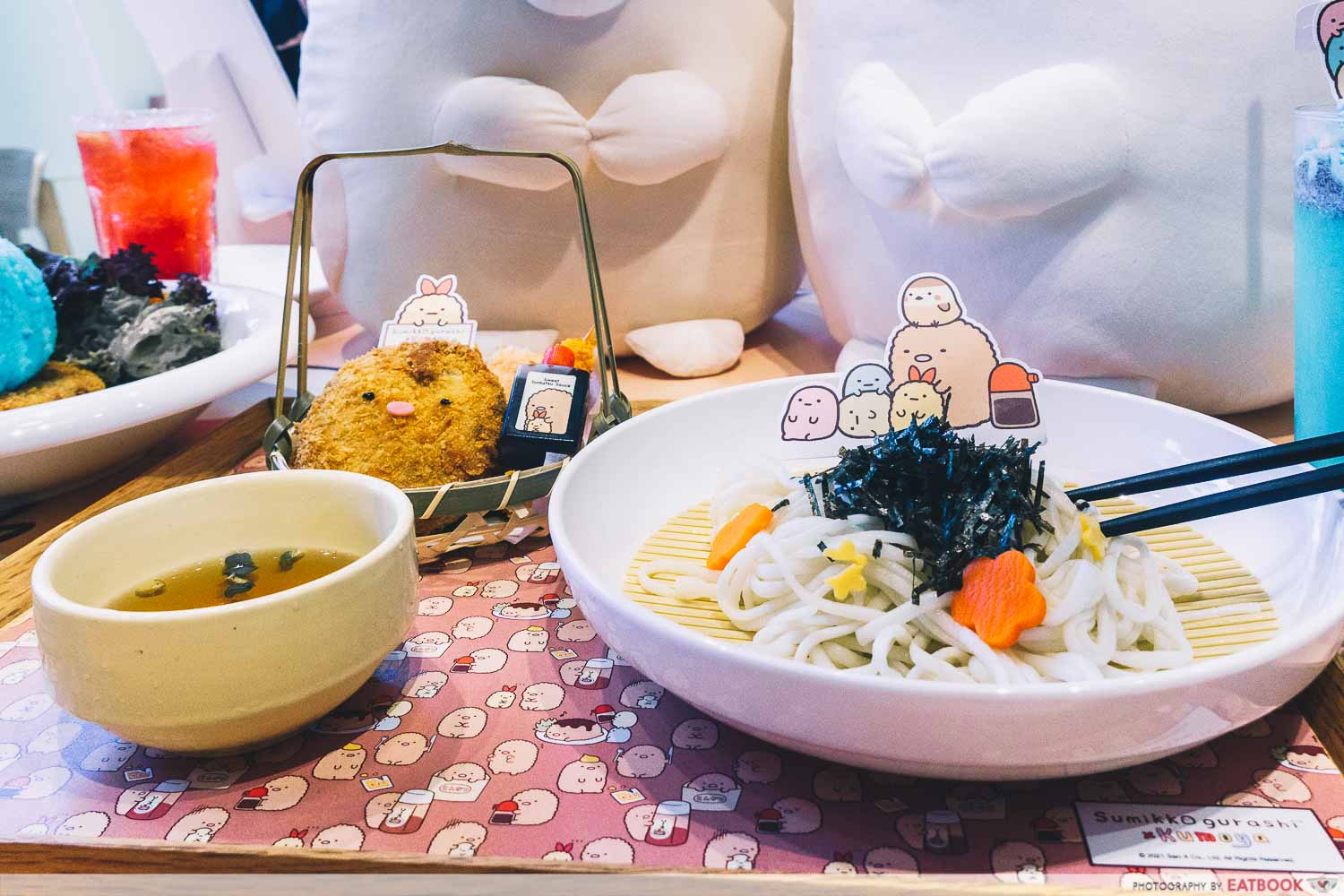 The Left Behind Tonkatsu and Ebifurai no Shippo Cold Udon ($25.90+) featured a bowl of thin, springy udon that was served along with crispy tonkatsu, fried ebi, and an assortment of fried tempura.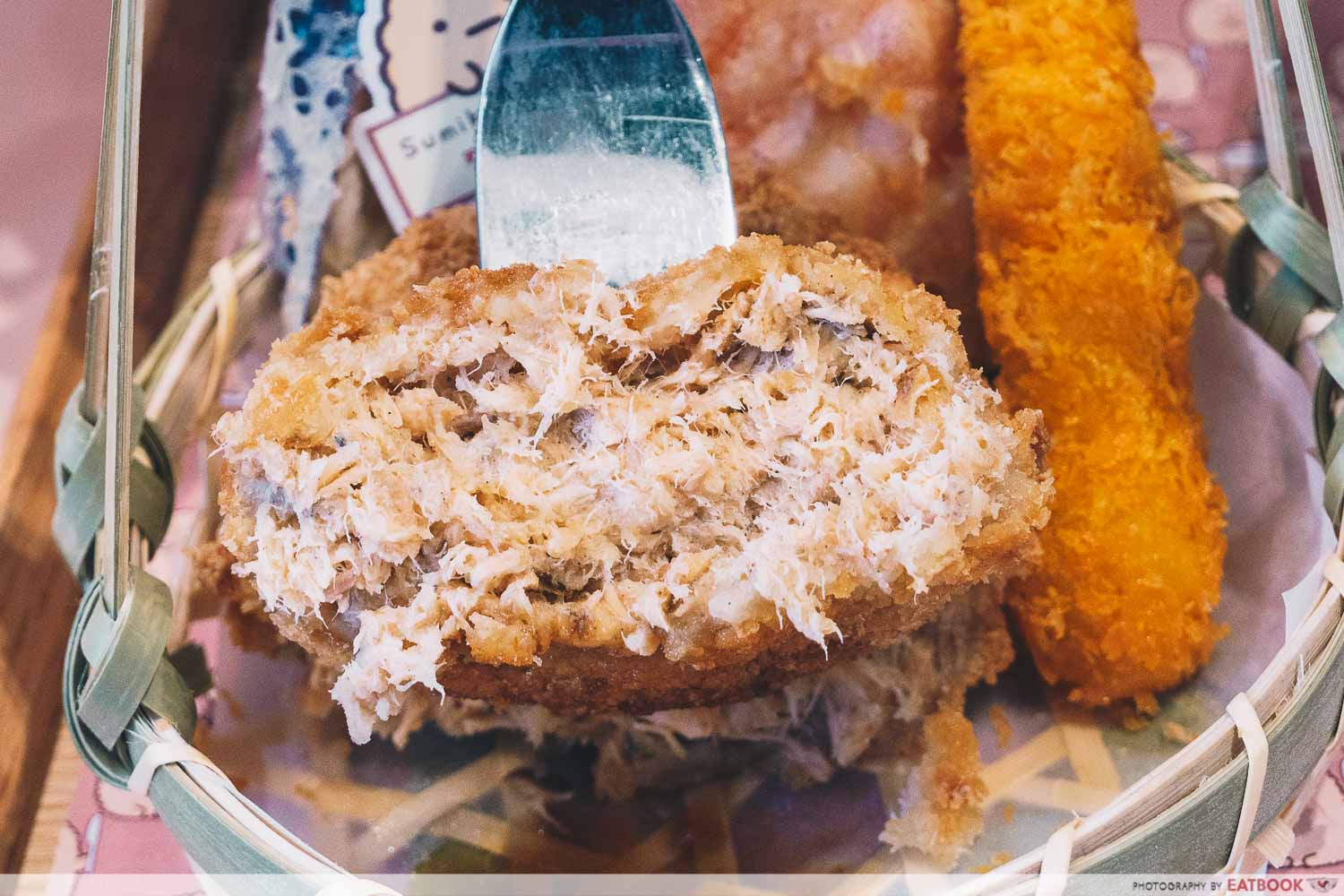 While the original character was left behind, unwanted, due to it being made of 99% fat instead of meat, the actual Tonkatsu character served on our plate was a deep-fried salmon croquette. This was expectantly so, as the food at Kumoya is all prepared with Muslim-friendly ingredients. Creamy and meaty, the slab of croquette was simply moreish—something I definitely did not leave behind.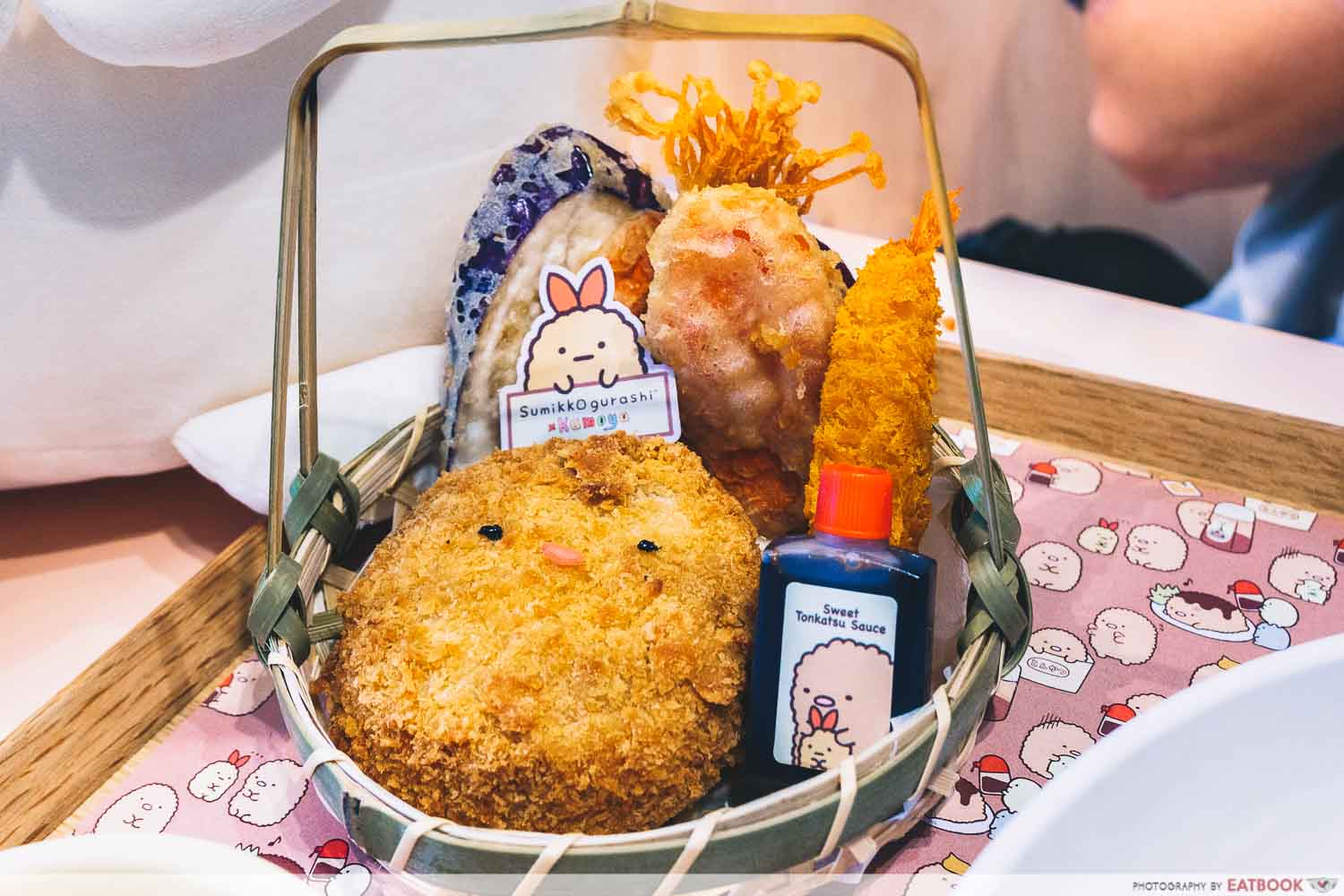 The measly fried tempura, however, was disappointing as the fried batter was too thin, and easily slid off the vegetables with a few nudges. I wished they provided more crunch to each bite.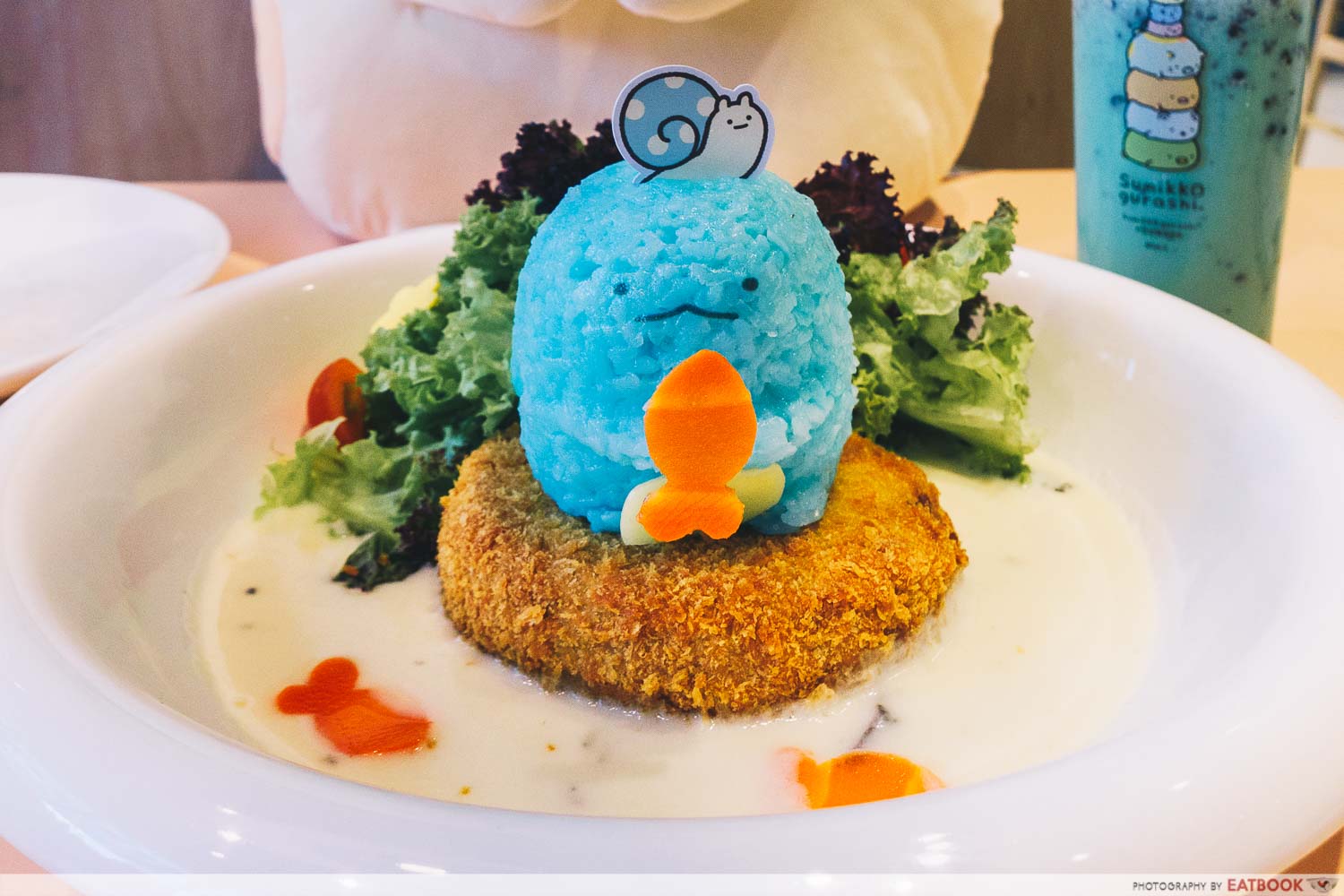 For another visually striking dish, the Gone Fishing Tokage Salmon Croquette Cream Rice ($25.90+) featured the scared dinosaur fishing on a croquette 'island'.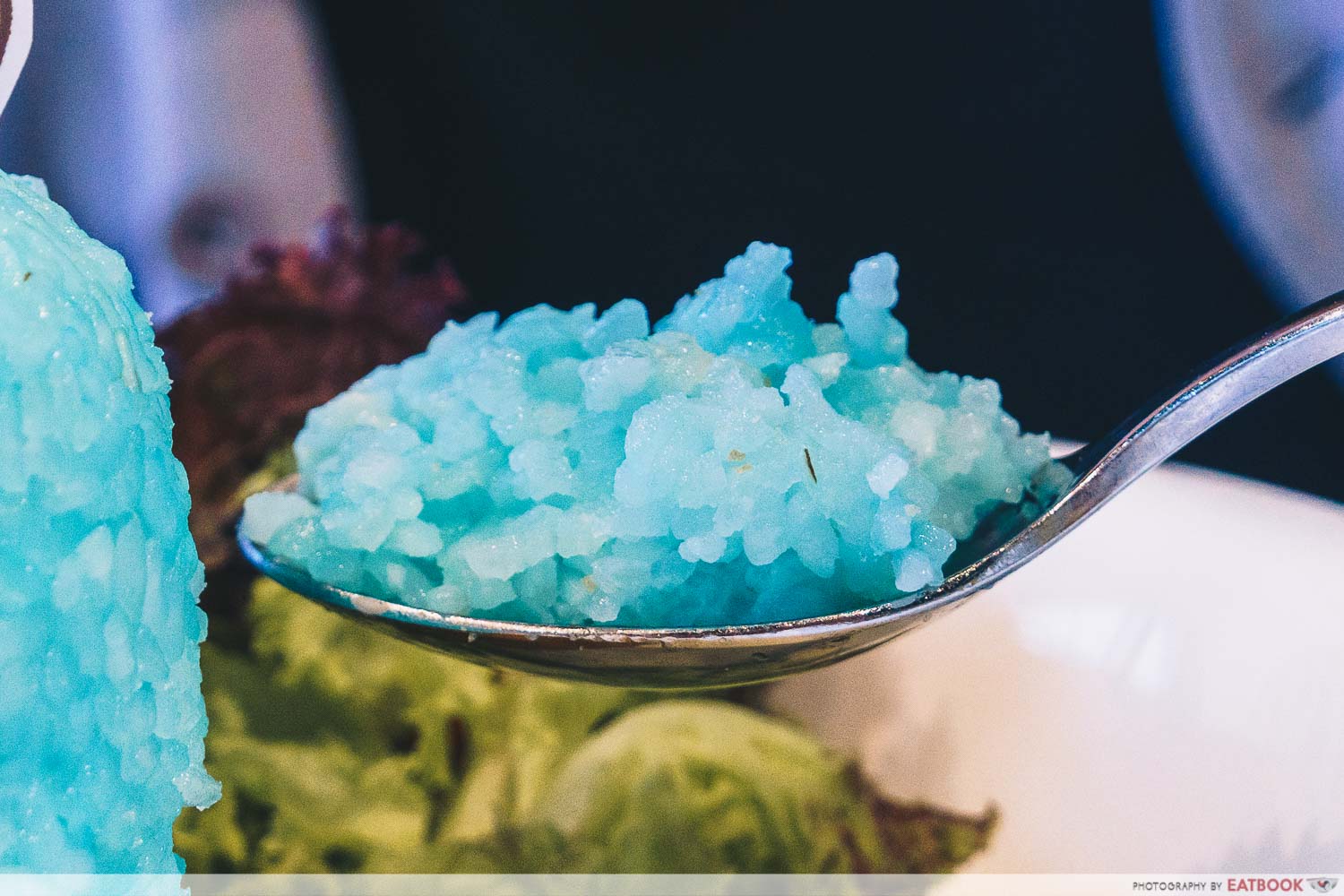 While the silhouette of Tokage fishing out of the white waters was highly IG-worthy, the flavour of the baby blue rice and mushroom cream sauce was quite the opposite. When combined, they tasted rather bland, and I can't help but to wish for a bottle of salt for extra seasoning.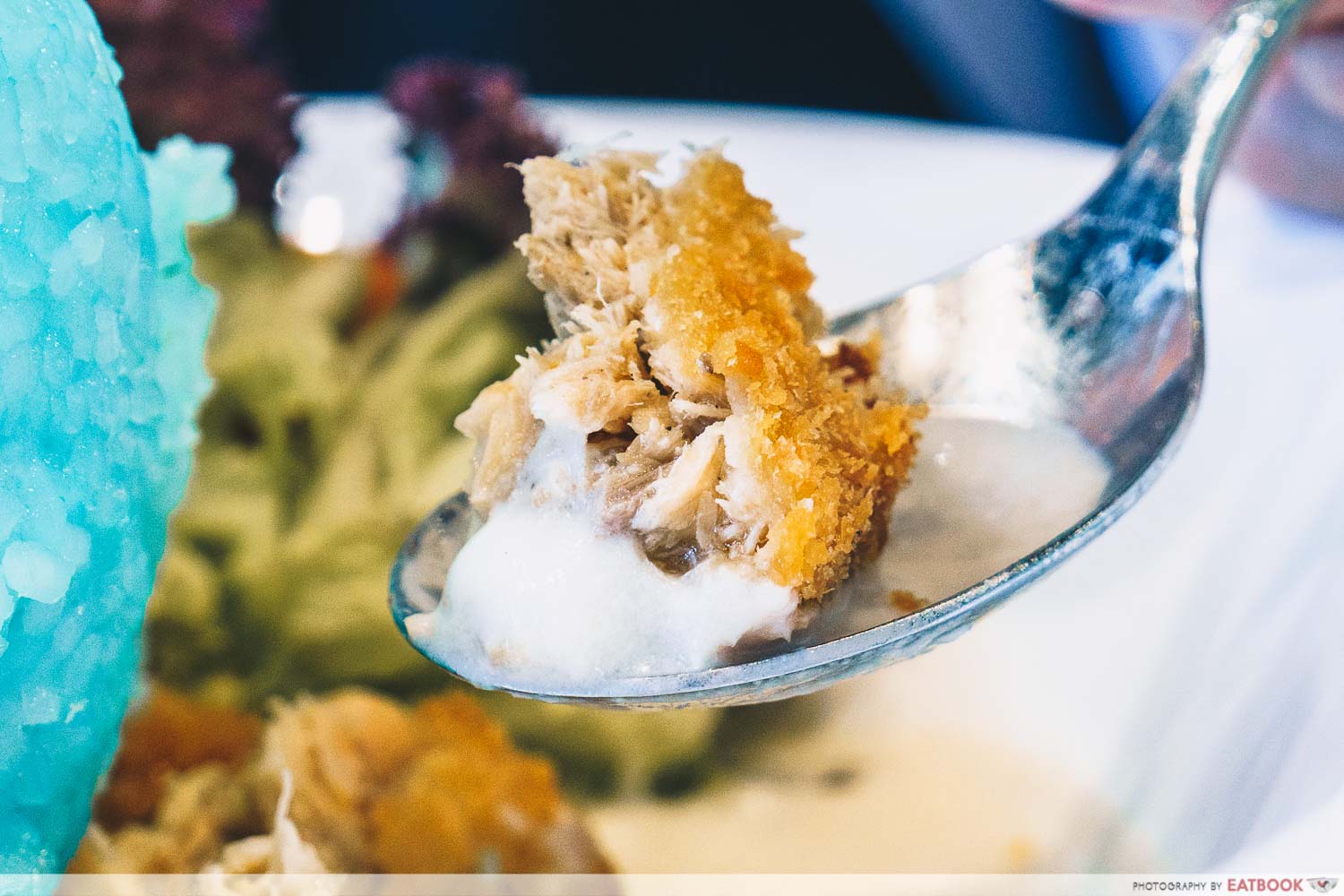 Thankfully, the dish came with the same salmon croquette as the previous dish. The crispy croquette was densely packed, with a flavourful salmon filling that tasted good even on its own.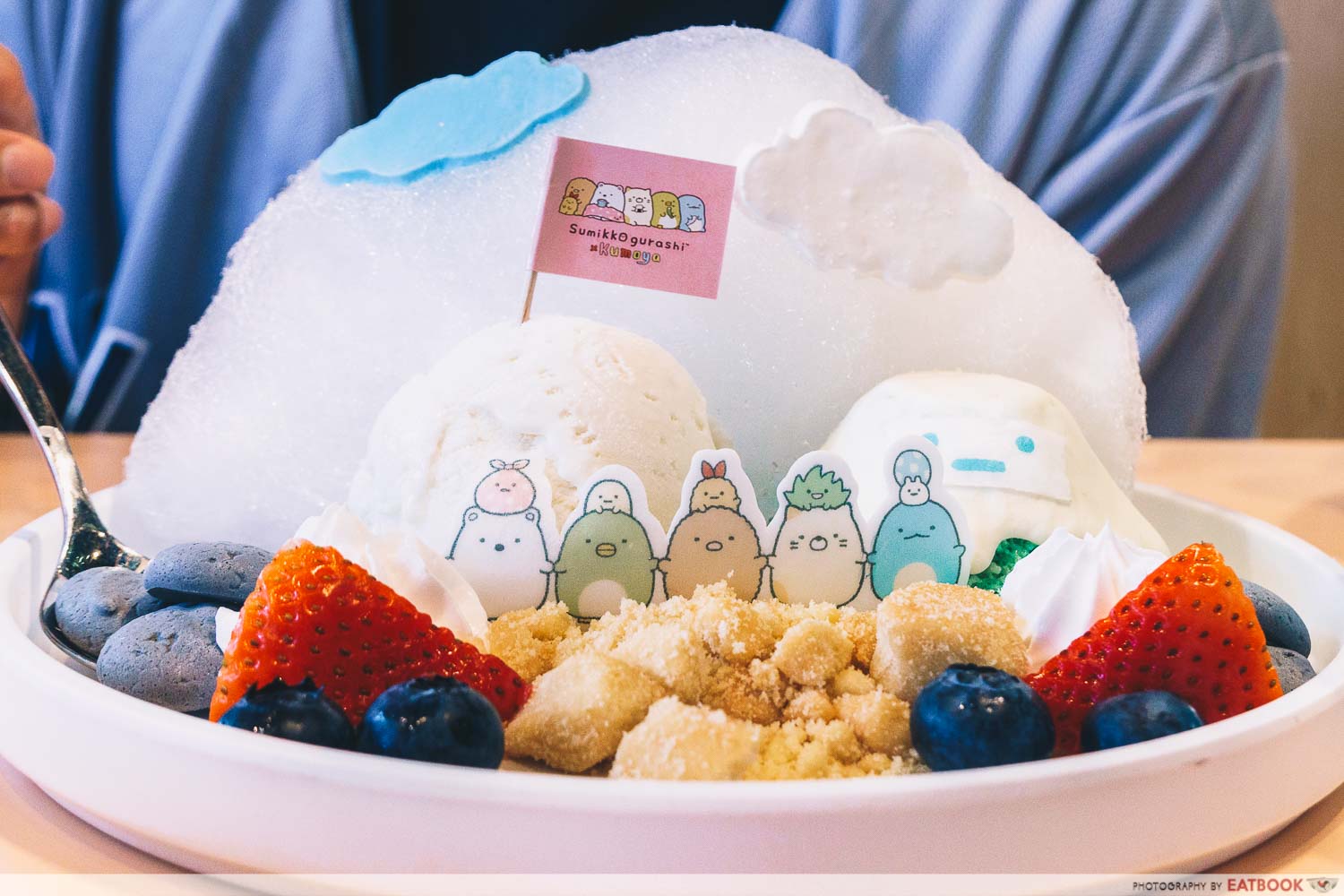 There was also an expansive menu of adorable desserts offered. One of which was the Yama and Friends Blueberry Chiffon Cake (S$22.90+), a plated dessert with a scenic setting of the character Yama, along a mountain of cotton candy as backdrop.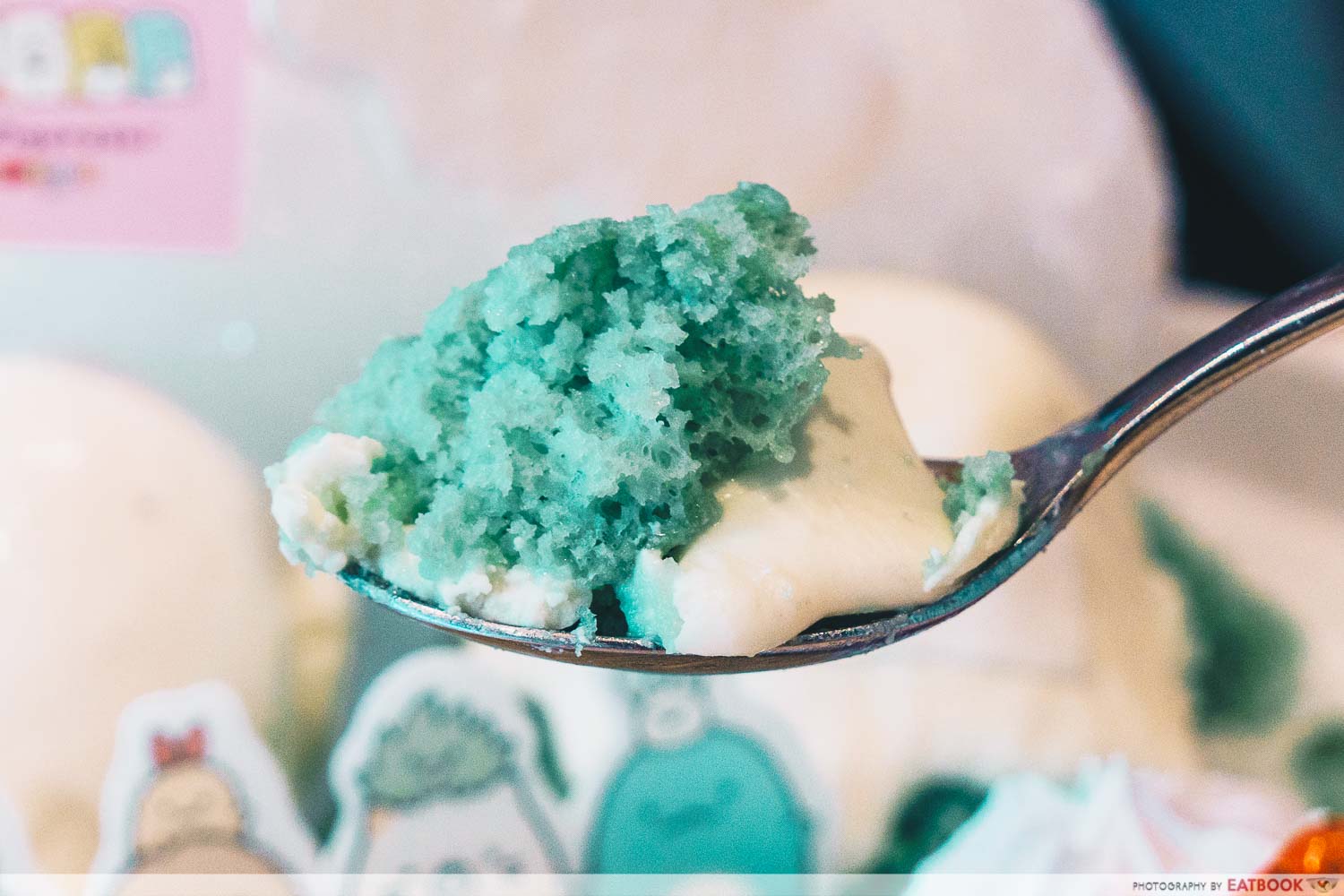 Other than colour, the cake bore little semblance to blueberry. Though very moist, the cake tasted one-dimensionally sweet, and its texture was heavy, unlike what you would expect out of a typical chiffon cake. 
Served in a large wine glass, the intricately decorated Magical Matcha Terrarium Garden ($24.90+) came with an assortment of sweet treats that resembled garden elements. While beautiful and, again, IG-worthy, the tall and narrow structure was pretty tricky to scoop out from.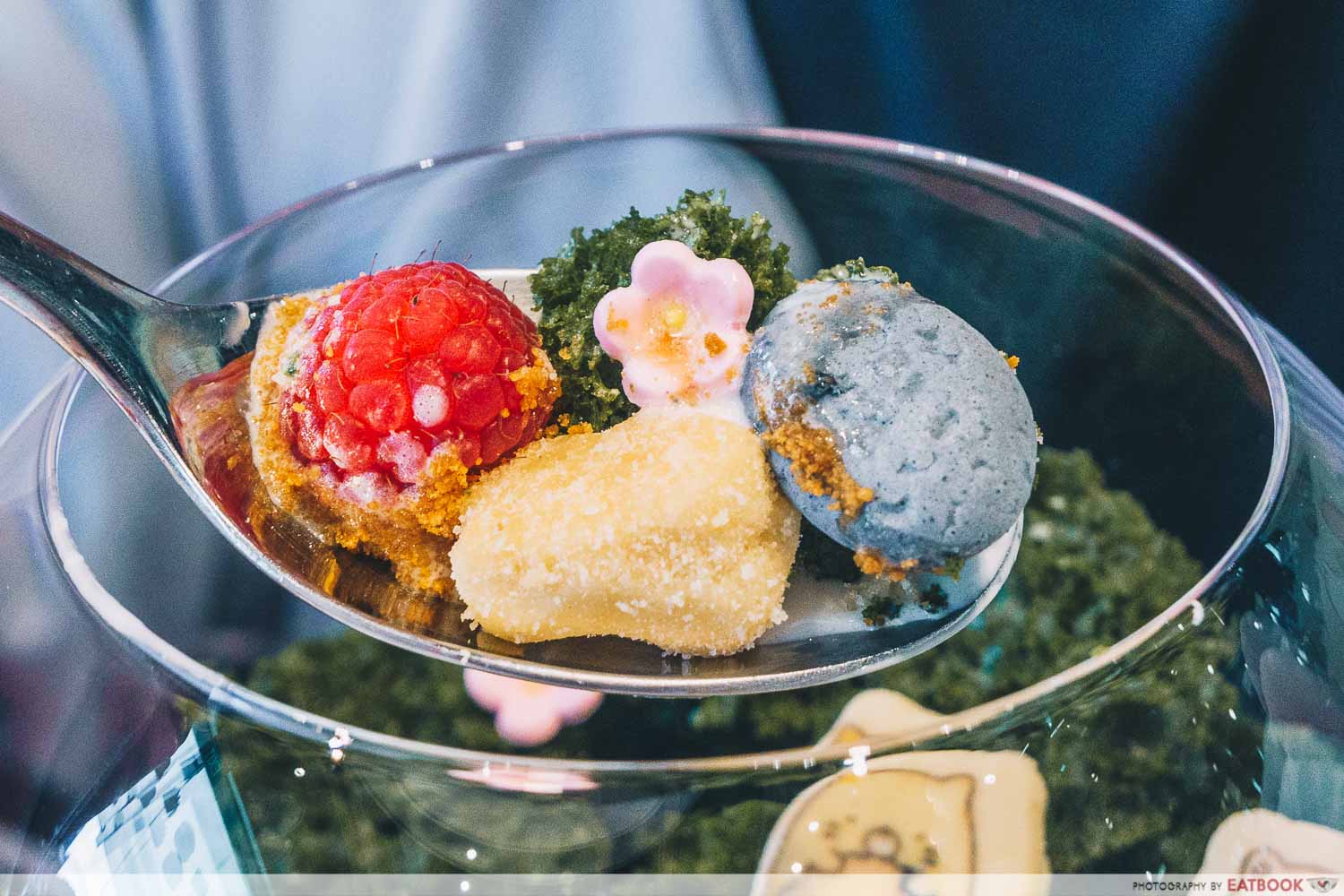 My favourite part of the dessert was the matcha sponge cake. Unlike the Yama chiffon cake, it bore only a light sweetness and had obvious hints of aromatic bitterness from matcha powder.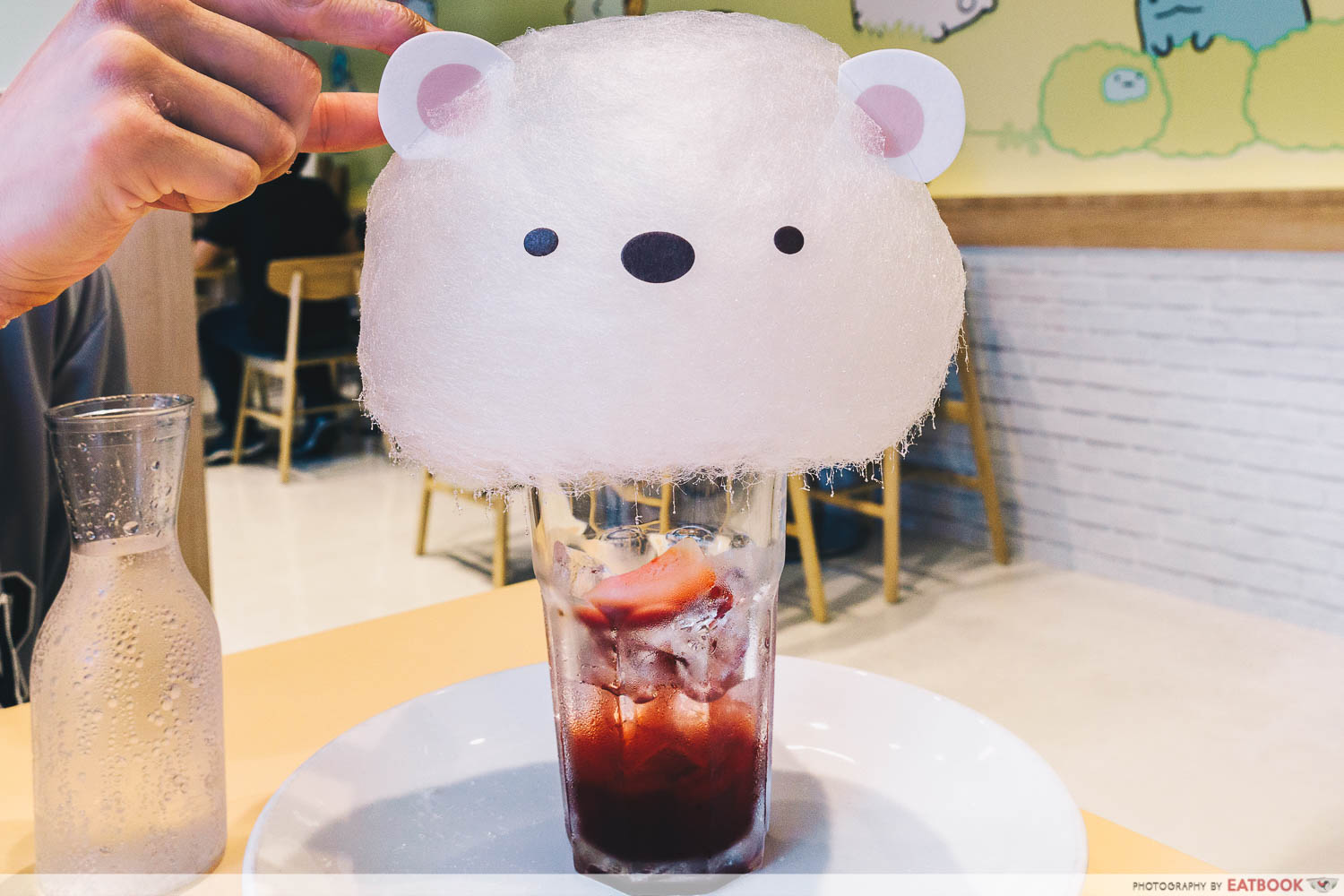 I almost couldn't see my dining companion when Shirokuma Kawaii Strawberry Soda ($16.90+) was served. The large, fluffy cotton candy reminded me of my regular pasar malam visits during childhood.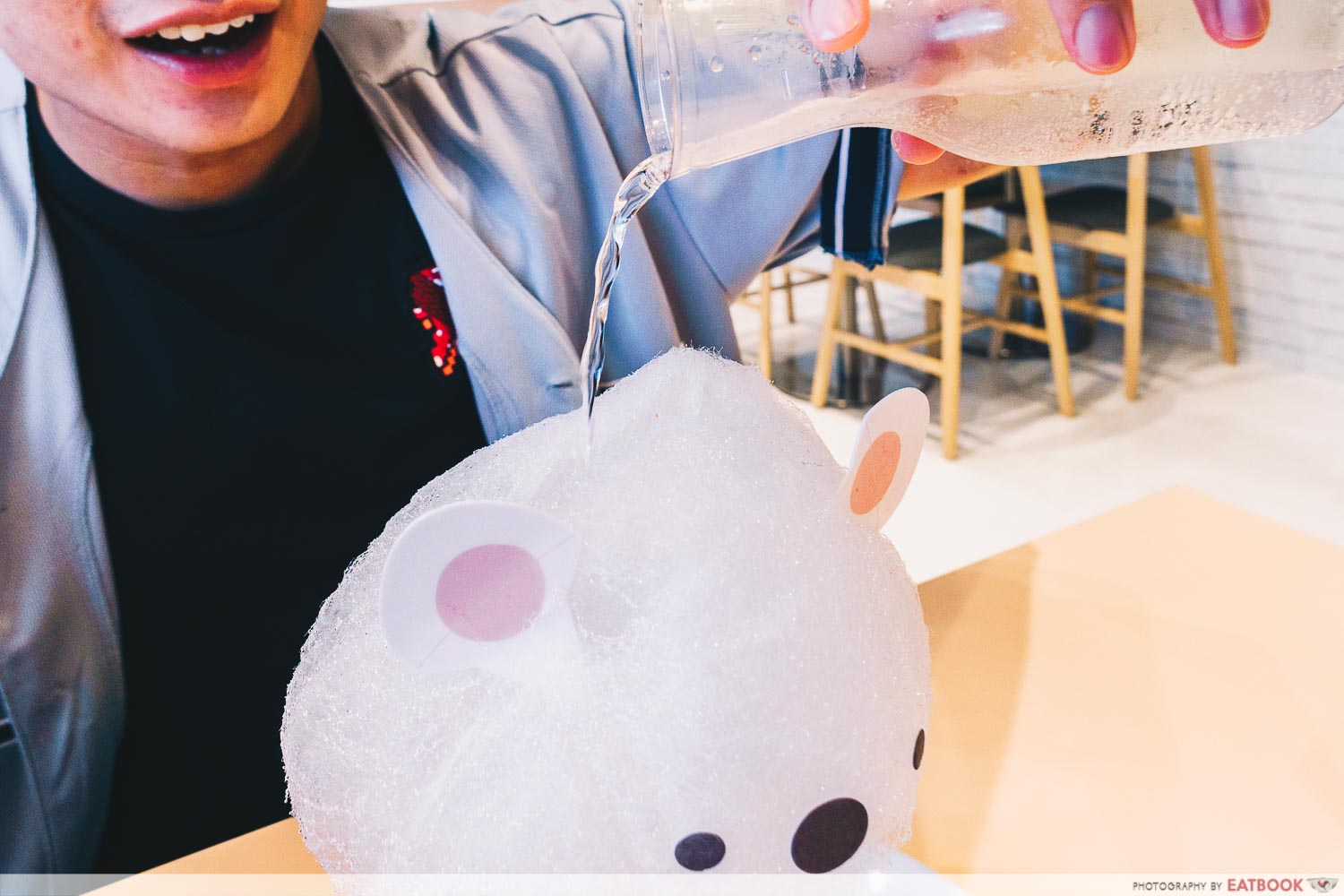 The strawberry soda was a refreshing break from the slew of sweet dishes thanks to its slight tartness. The cotton candy, however, lost its structure rather rapidly and was almost impossible to enjoy as it quickly melted onto the plate.
Ambience at Sumikkogurashi x Kumoya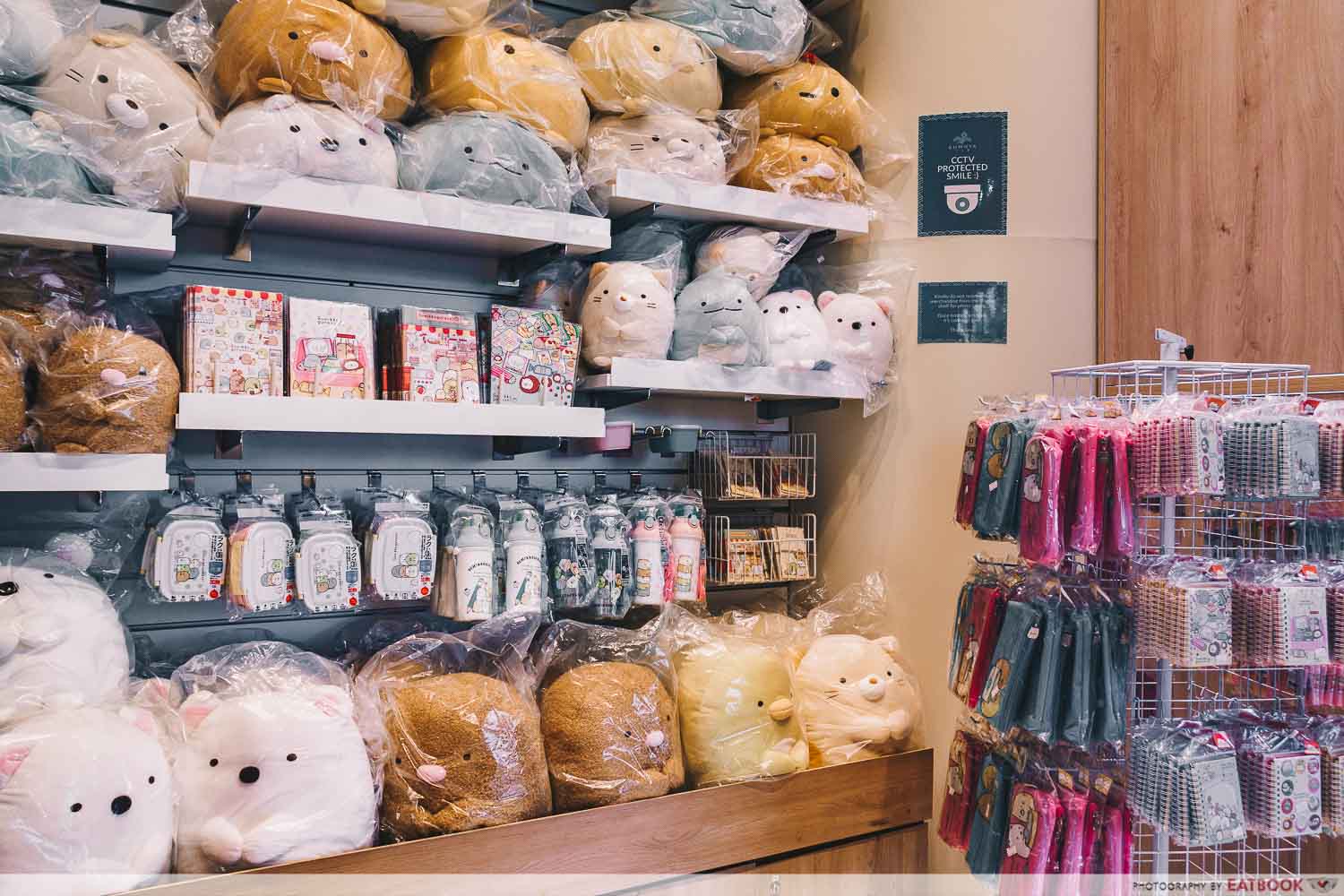 Located on the fourth floor of Orchard Central, the Sumikkogurashi x Kumoya cafe, is easily accessible from Somerset MRT Station.  
The pop up stall seats about 55 to 60 people, with a private Japanese-style dining room for larger groups. There is also a Sumikkogurashi merchandise area that also carries Rilakkuma merchandise for fans of the San-X brand.
The verdict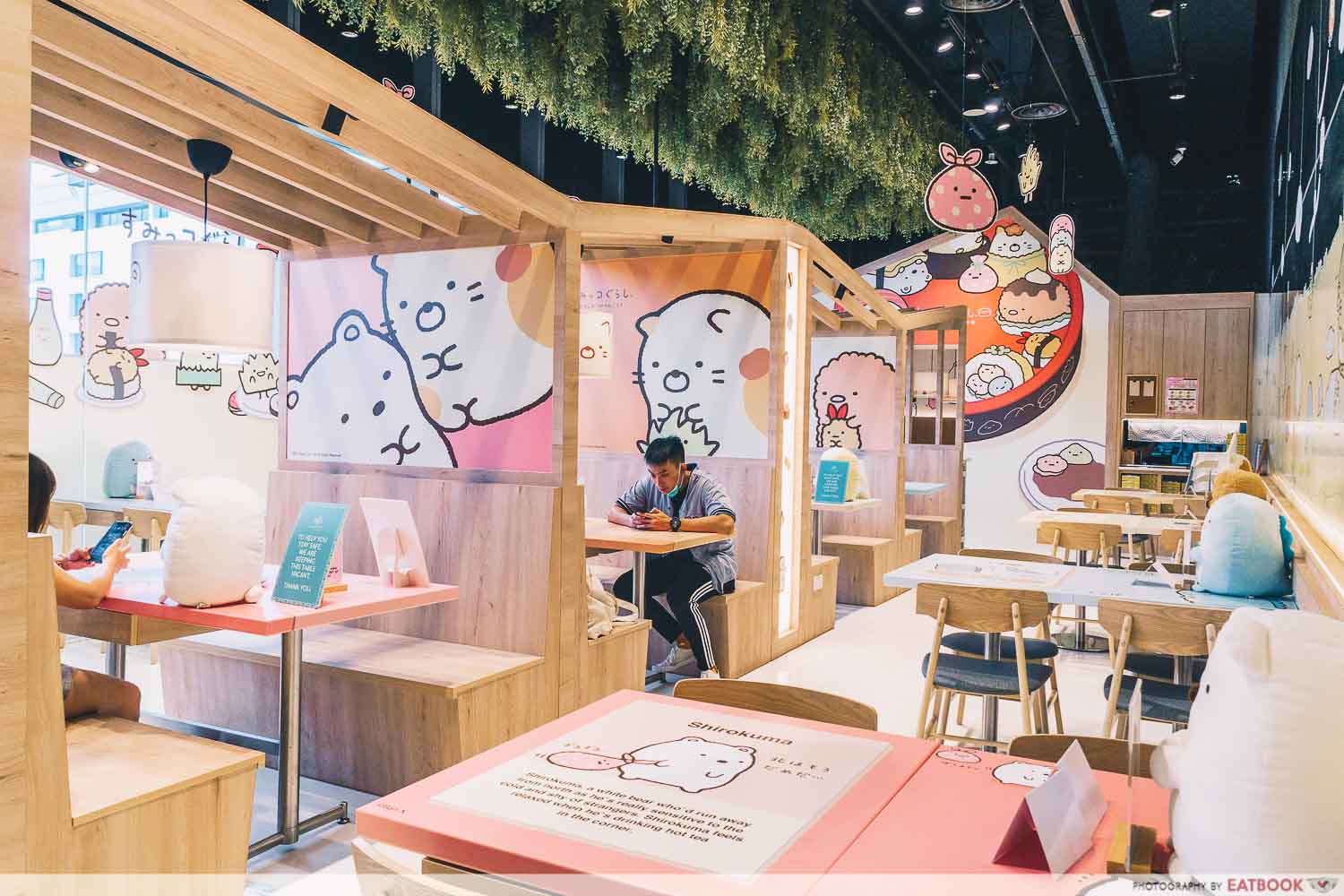 I must say that all the dishes exceeded my expectations in terms of their presentation and creativity. However, in terms of flavour, these dishes seem to only cater to families, children, and fans of the exorbitantly cute characters.
Molang x Kumoya Pop-Up Cafe Near Bugis Has IG-Worthy Cotton Candy Floats And Shibuya Thick Toasts
If you've succumbed to the cuteness, check out our Molang Cafe review, another kawaii concept by Kumoya. Or for more food around the area, check out our Somerset food guide that features mains below $15.
Address: 181 Orchard Road, #04-08, Orchard Central, Singapore 238896
Opening hours: Daily 11am to 9:30pm
Website
Sumikkogurashi x Kumoya Cafe is not a halal-certified eatery, but their food contains no pork or lard.

Photos taken by Nur Syamira.
This was a media tasting at Sumikkogurashi x Kumoya.
Sumikkogurashi x Kumoya Cafe Review: New Cafe In Town With Edible Terrarium Dessert And Croquette Cream Rice
Sumikkogurashi x Kumoya Cafe Review: New Cafe In Town With Edible Terrarium Dessert And Croquette Cream Rice -

7/10
Summary
Pros

– Super IG-worthy dishes
– Creative menu of dishes
Cons

– Slightly pricey
– Desserts were too sweet
Recommended dishes: Left Behind Tonkatsu and Ebifurai no Shippo Cold Udon ($25.90+)
Opening hours: Daily 11am to 9:30pm
Address: 181 Orchard Road, #04-08, Orchard Central, Singapore 238896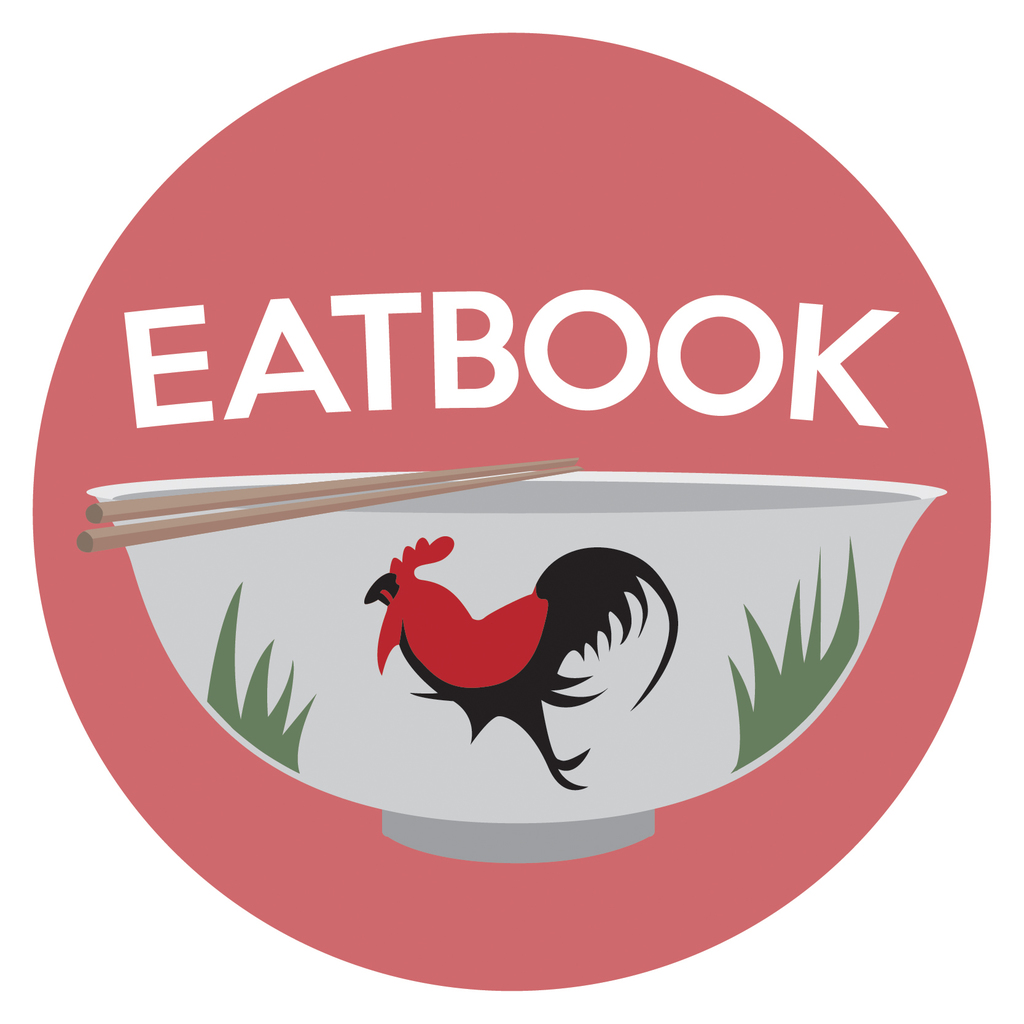 Drop us your email so you won't miss the latest news.