Molang x Kumoya cafe at Jalan Klapa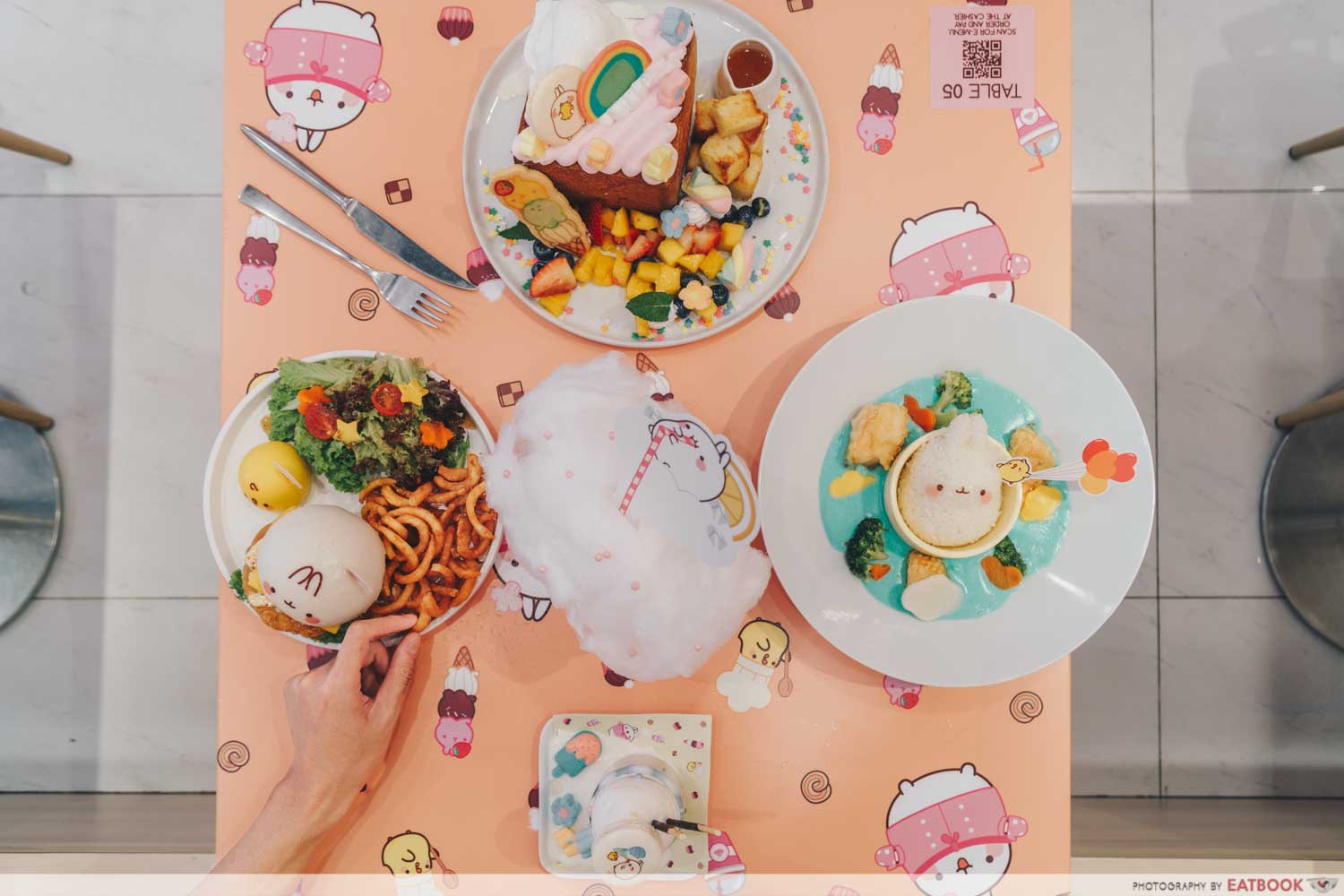 We last heard from Kumoya when they opened a Little Twin Stars pop-up cafe near Bugis at Jalan Klapa. From 18 February, the brand will open the world's first Molang-themed pop-up cafe in the same location. 
If you aren't familiar with the character, Molang is a character from an animated TV series by French studio Millimages. This adorable, round bunny was designed by South Korean illustrator Hye Ji Yoon. You can expect Molang-themed dishes and even merchandise at the pop-up cafe, set against IG-worthy pastel backdrops.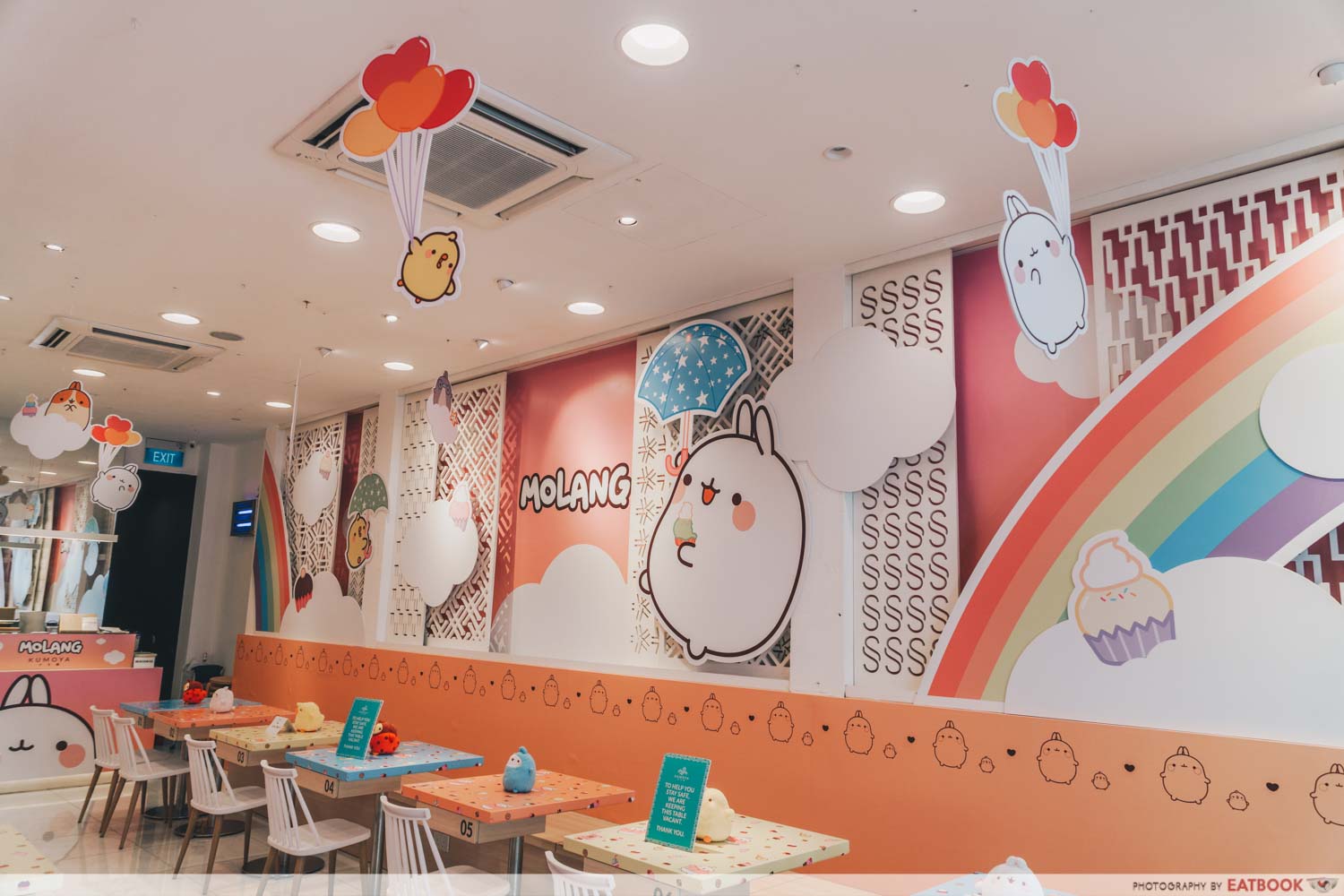 Though I'm on the cusp of adulthood this year, my forever-childish self couldn't resist the opportunity to pay them a visit and relive my childhood dreams, with a dining companion to keep my playfulness in check.
The menu sees eight snacks, four mains, four desserts, and 10 beverages, with prices ranging from $10.90 to $25.90. These are specially curated by Shirley Wong, more popularly known as Little Miss Bento. This local food artist has won numerous accolades, and we've seen her expertise in previous collaborations with Kumoya, including the Gudetama and My Melody pop-ups.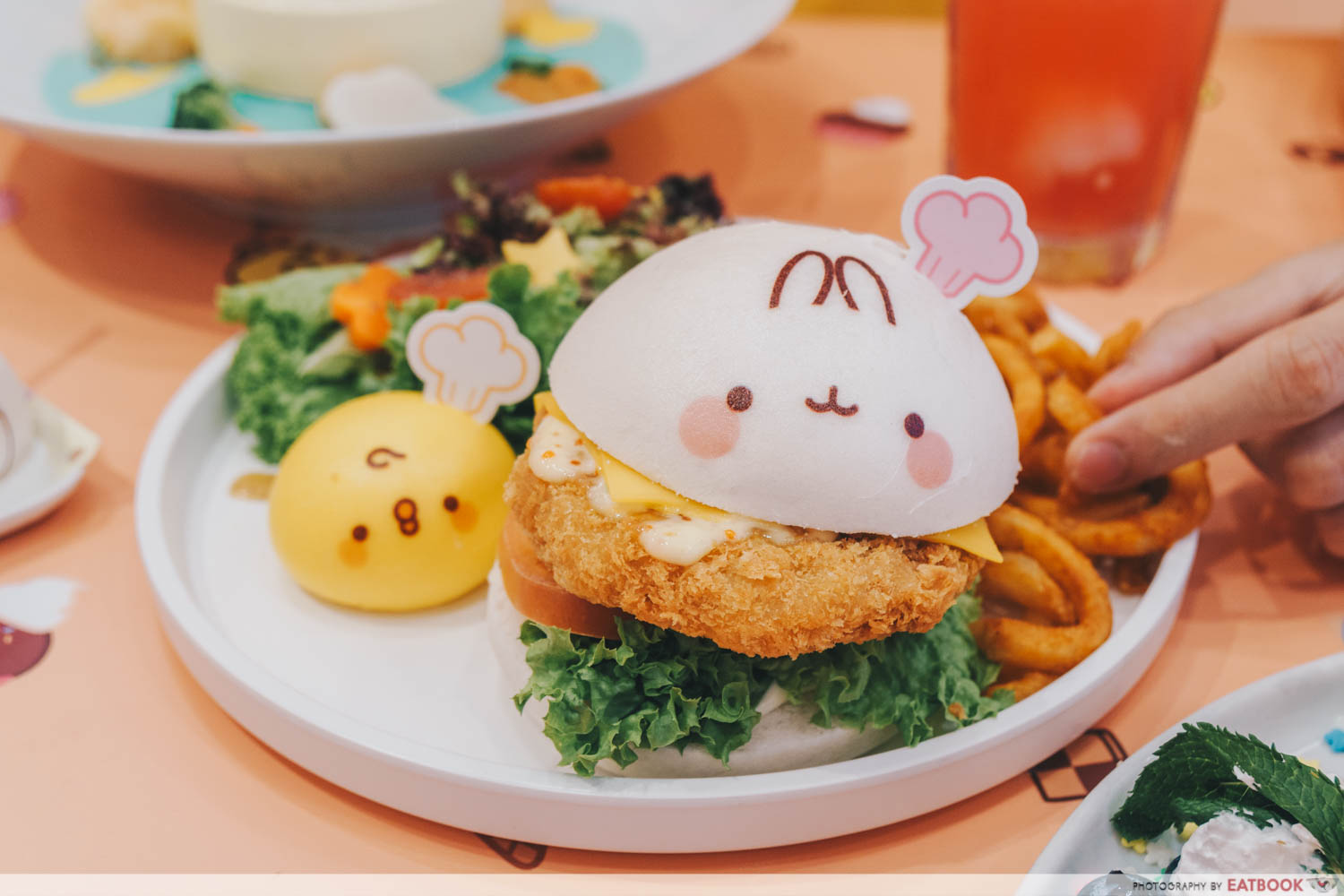 My undying love for mantou drove me to first try their BFF Salmon I Love You Burger ($23.90+), as I was curious about how my favourite bun would work as a burger. What also caught my eye were the crispy, golden-brown curly fries on the side, reminiscent of McDonald's Prosperity Twister Fries.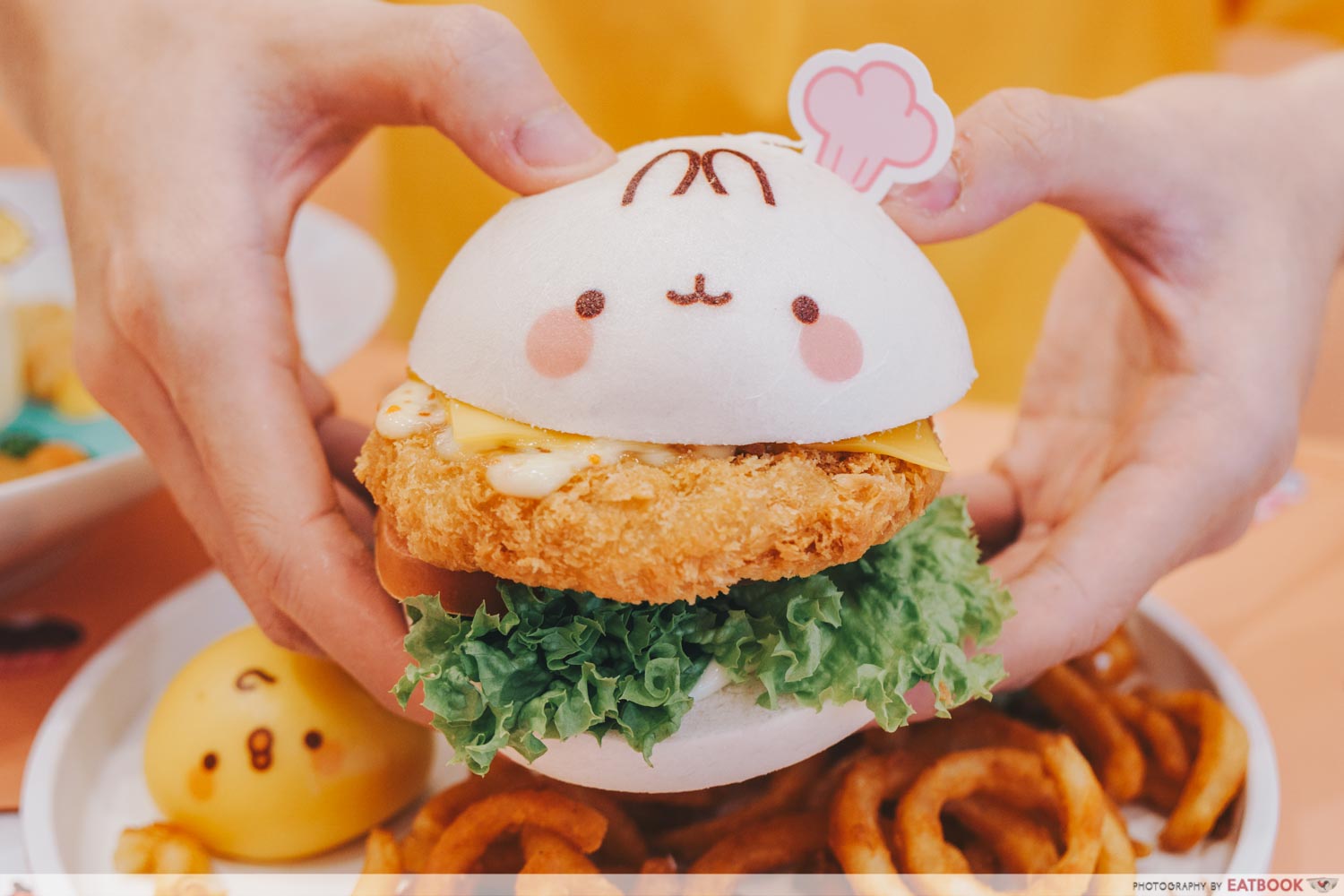 A fried salmon patty is topped with special tobiko mayo, accompanied by cheddar cheese, lettuce, and tomato slices. The salmon patty was juicy and meaty, with the tobiko mayo adding an umami touch. However, I was slightly disappointed with the mantou, which was tough to bite into and lacked the softness that I craved.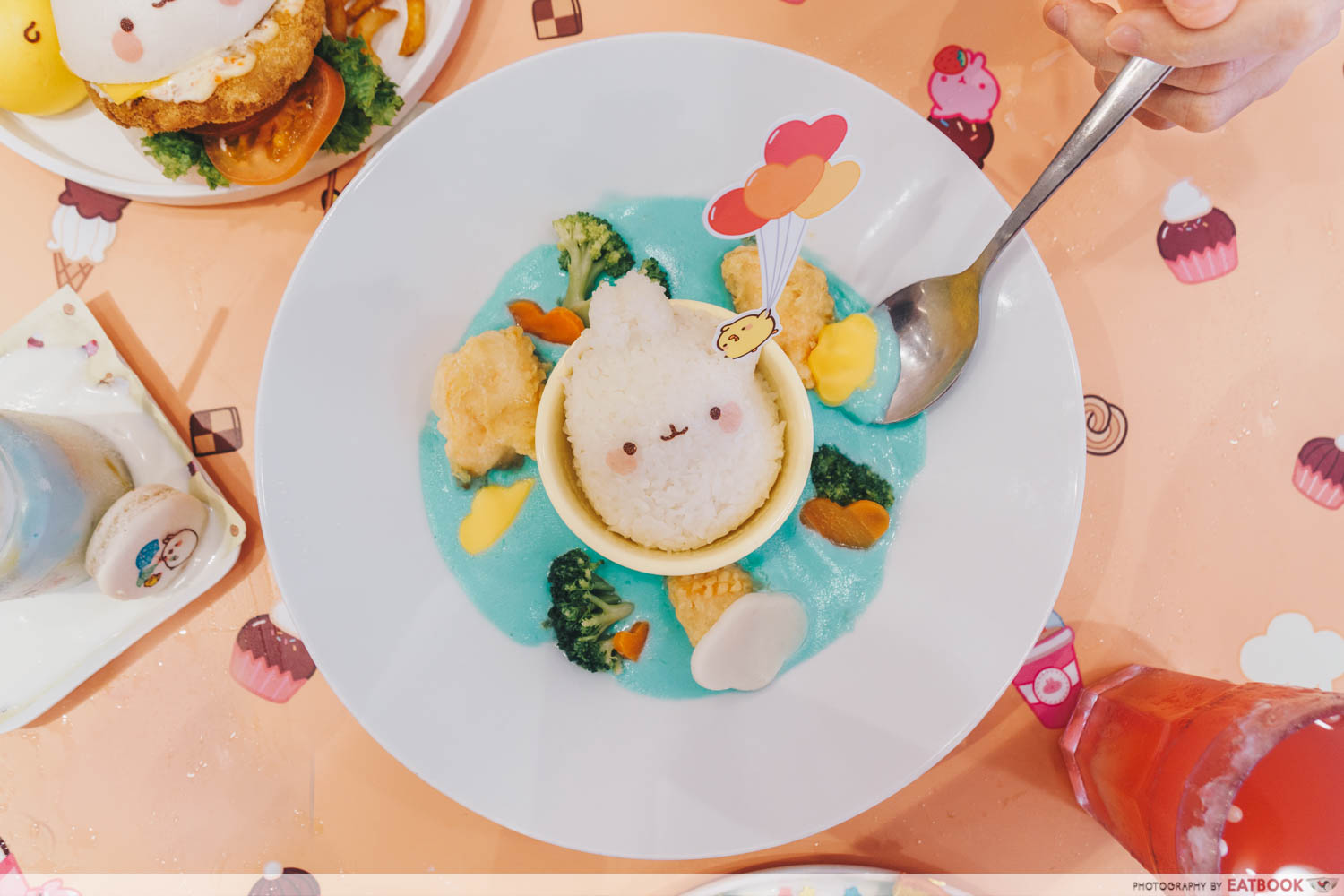 The appearance of the Up, Up And Away Happy Creamy Salmon Rice ($23.90+) really befuddled me, as I spent a while trying to find where the supposed "cream" was. Little did I know, the light "blue ocean" surrounding the rice was the cream sauce I'd been looking for, naturally coloured with blue pea flower.
A Molang-shaped rice ball is served in a mug that sits in the middle of the cream, with crunchy tempura salmon nuggets, heart-shaped carrots, cloud fishcakes, cheddar cheese, and broccoli all resting on the bed of sauce. To their credit, the tempura salmon was well-seasoned and maintained its crunch even after we'd taken a while to photograph this, though their pea flower cream sauce felt a bit diluted.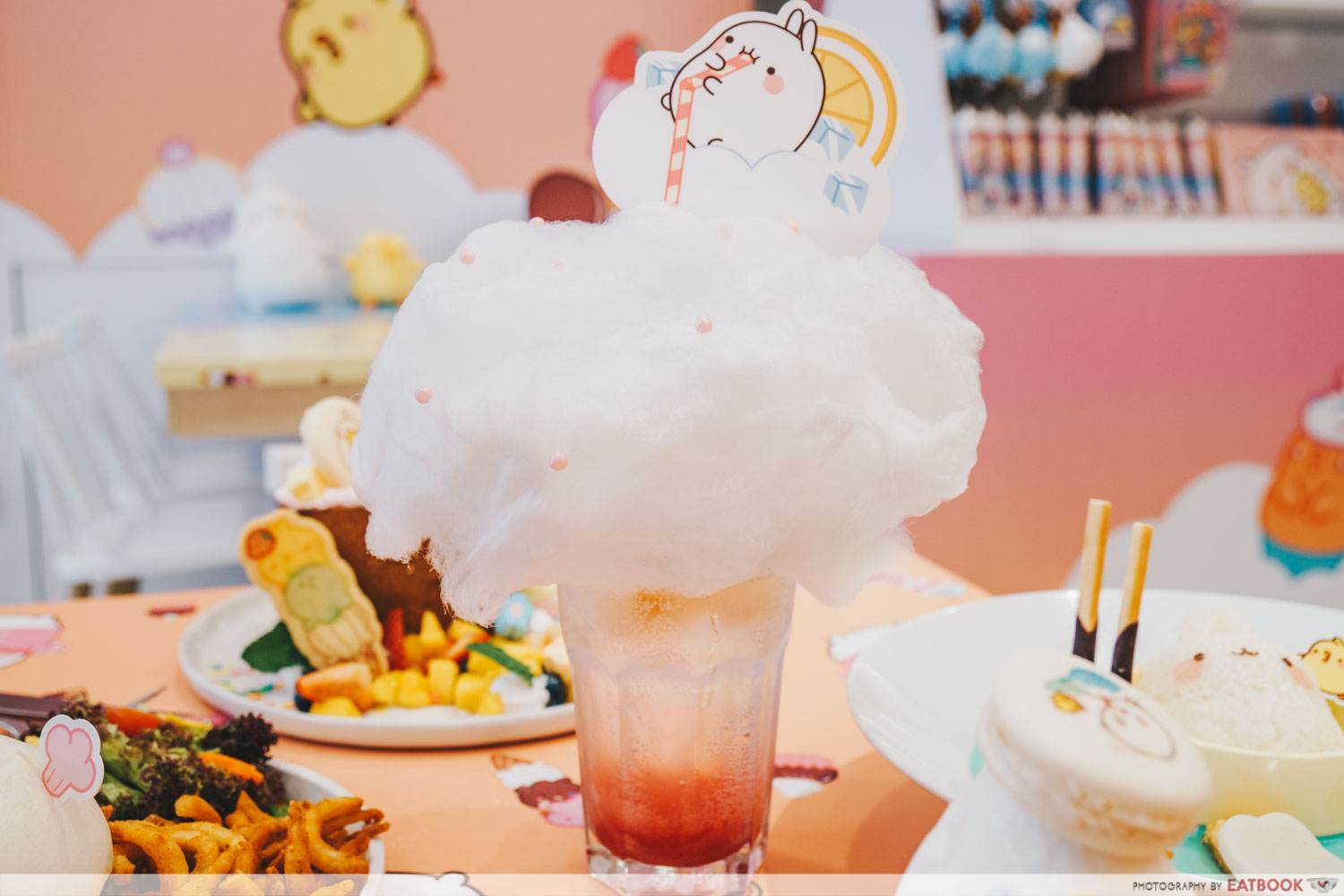 My childhood obsession with cotton candy gave me a rush of excitement when the Molang Lychee Soda Slurper ($13.90+) arrived. The drink is aesthetically pleasing, with a large cloud of cotton candy sitting atop a lychee soda, with actual lychees floating in the cup. The drink also came topped with a generous dose of pink sprinkles.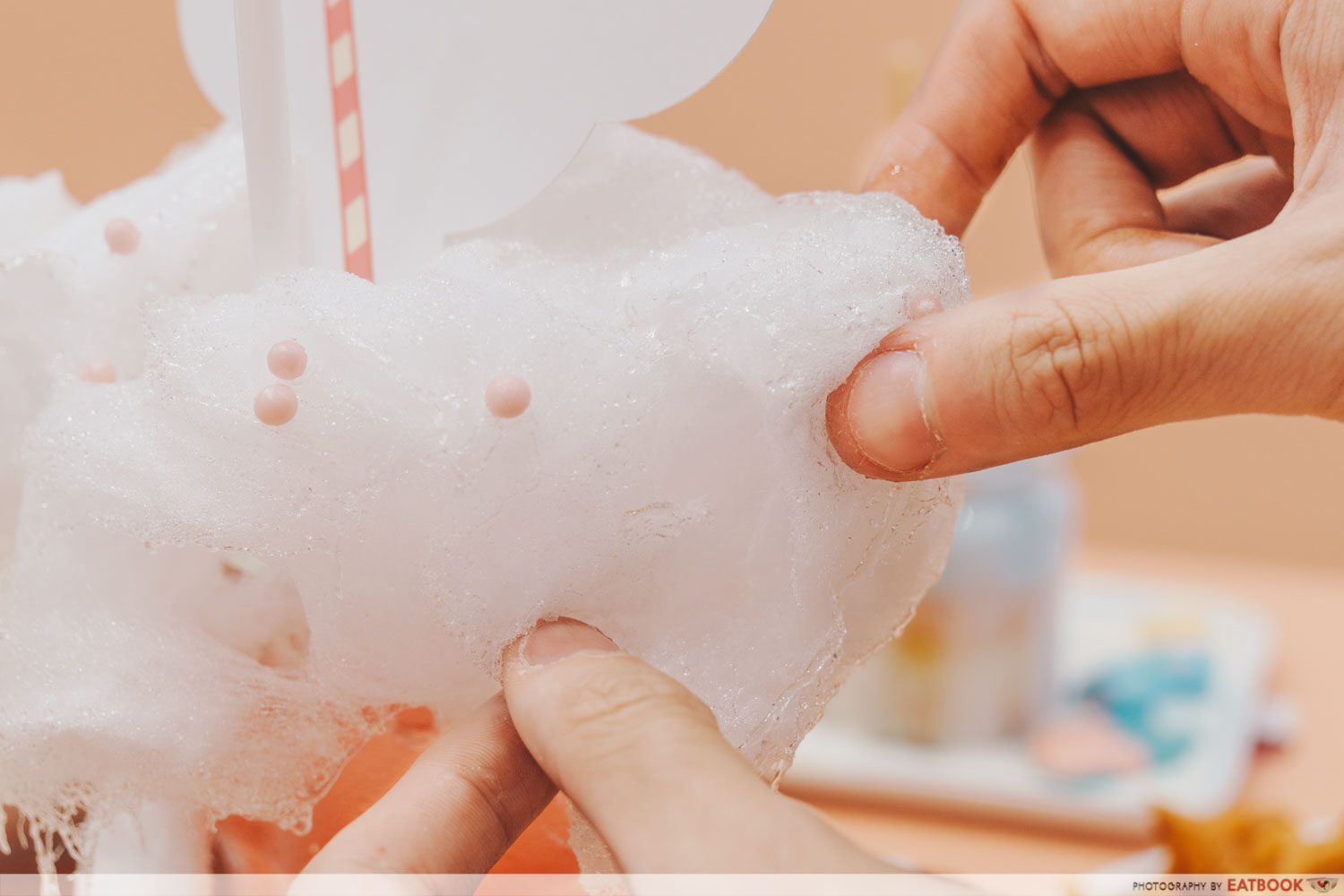 The soda had the right sweetness, with a slight tartness that was pleasant. The actual lychee fruit added texture to the drink. We found, however, that the cotton candy melted pretty fast and became a bit too sticky to the touch. Still, the beverage was very refreshing, and really appealed to the inner kid in us.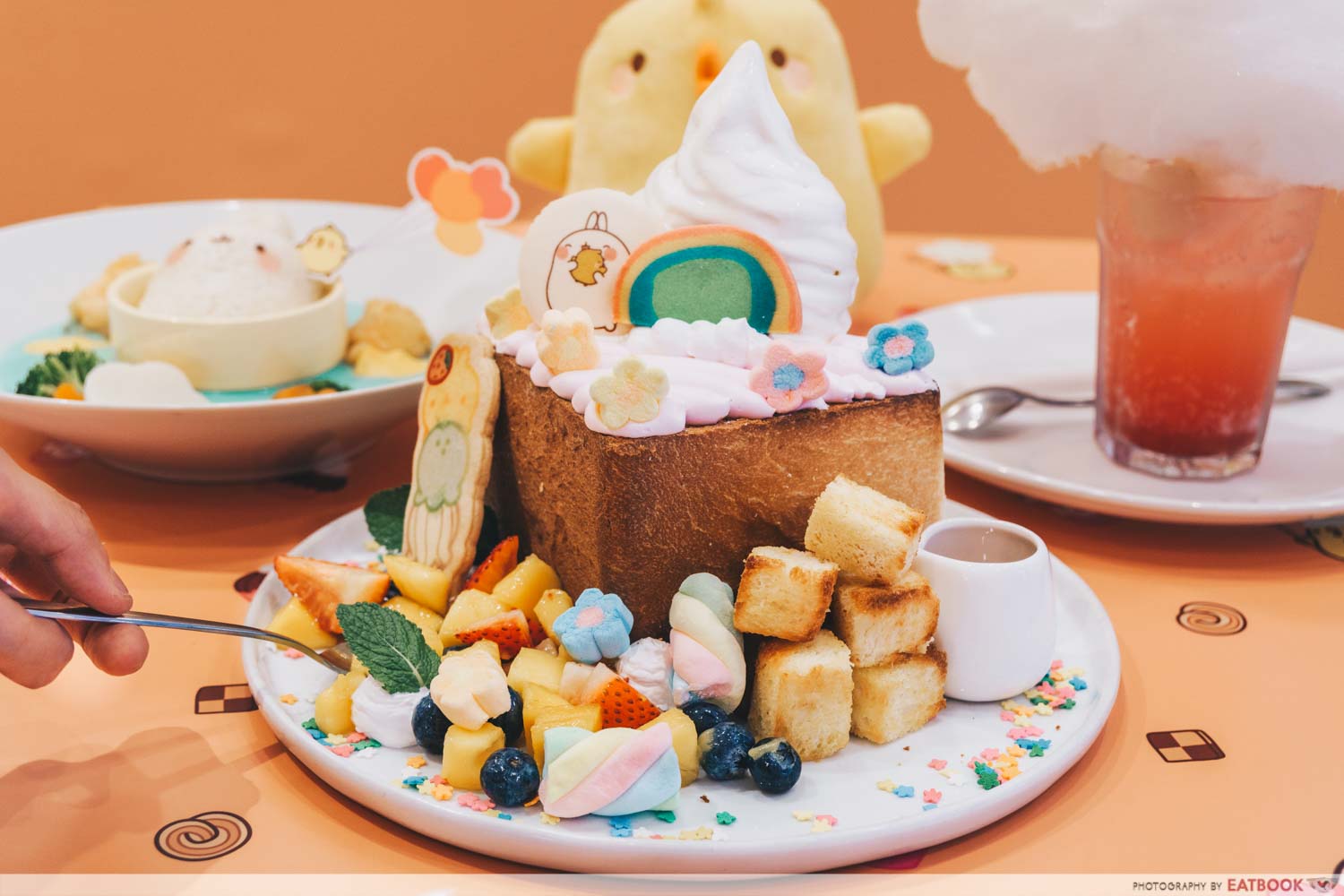 Since we can't travel to Bangkok to savour After You Dessert Cafe's famed Shibuya honey toast, we settled for Kumoya's Huggy Hugs Mango Berries Shibuya Toast ($24.90+) that is a fruity twist on the dessert. Their version includes Hokkaido soft serve, macarons featuring Molang and her sidekick Pui Pui, rainbow cookies, and fresh cream with a side of mangoes and berries.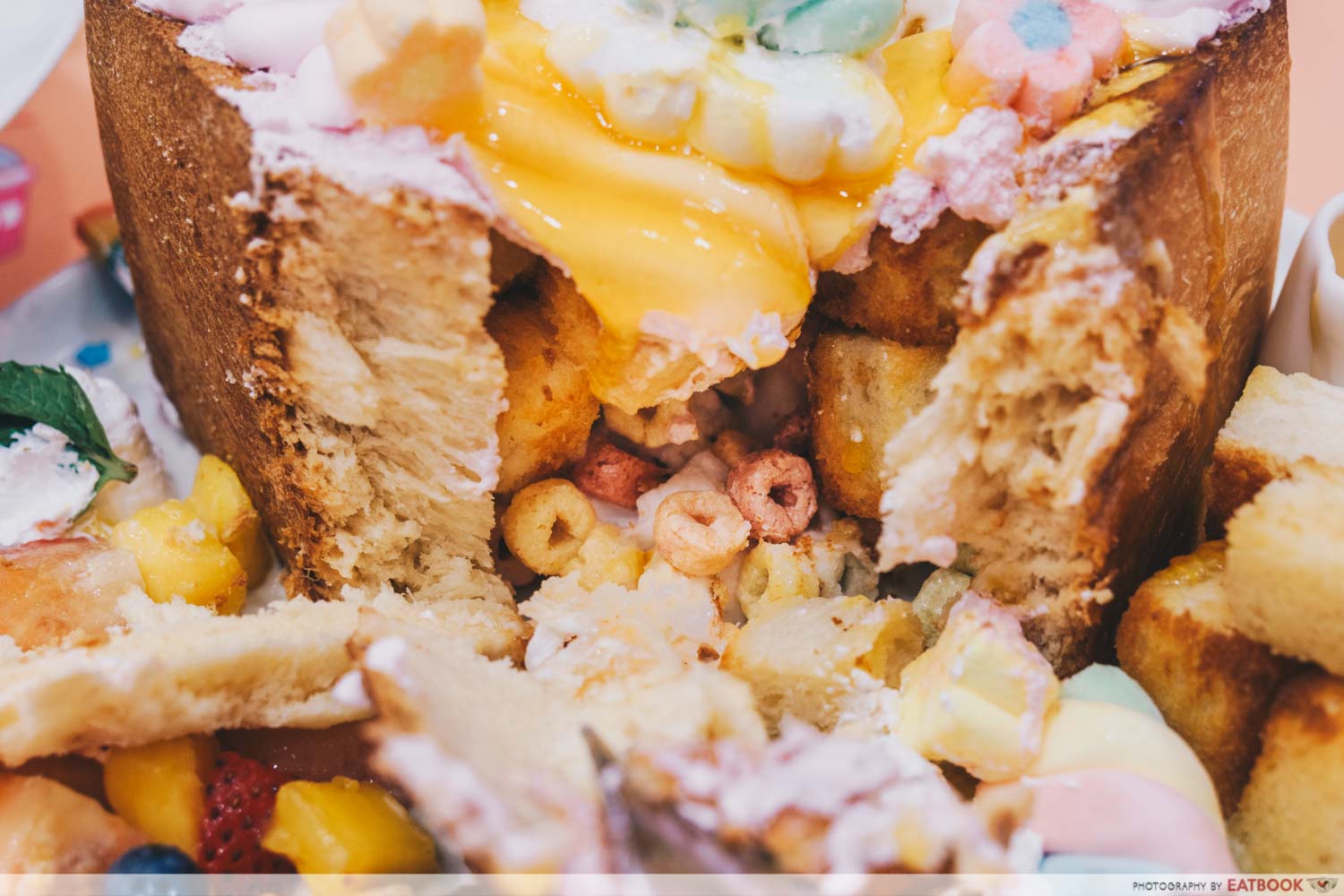 To our surprise, we found Froot Loops and more toasted bread cubes after we cut open the toast. Their bread is made in-house, so it was extra soft and fresh. The honey syrup was infused with mango and added a tropical sugariness to the toast, although it started becoming overpowering after a few bites.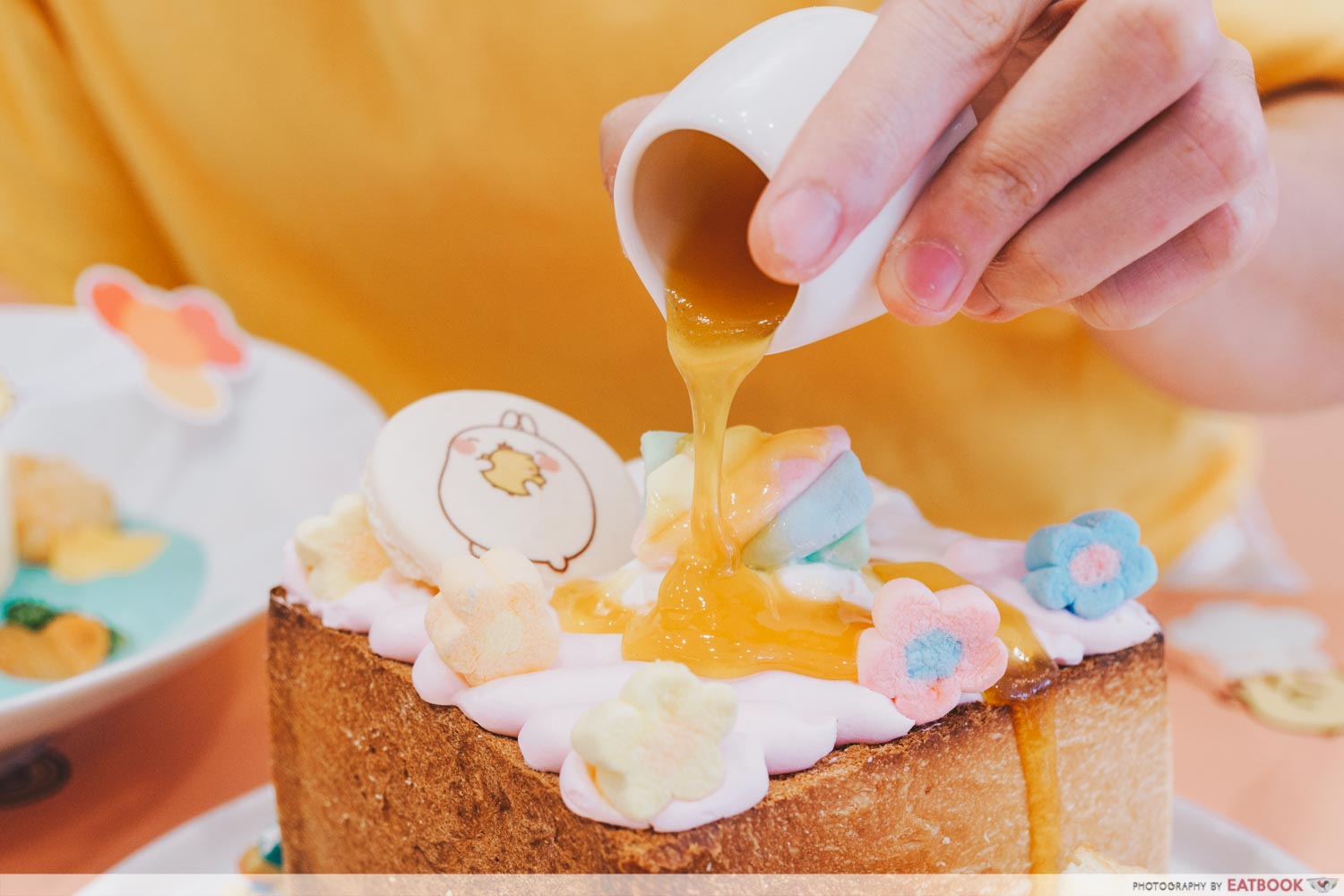 Diners will be intrigued by how neatly assembled the Happy Sunny Day Mango Berries Cake Jar ($14.90+) is. This vibrant dessert comes with Hokkaido soft serve, multi-coloured sponge cake with fresh cream, mango jam, marshmallows, and a Molang and Pui Pui macaron, among other toppings.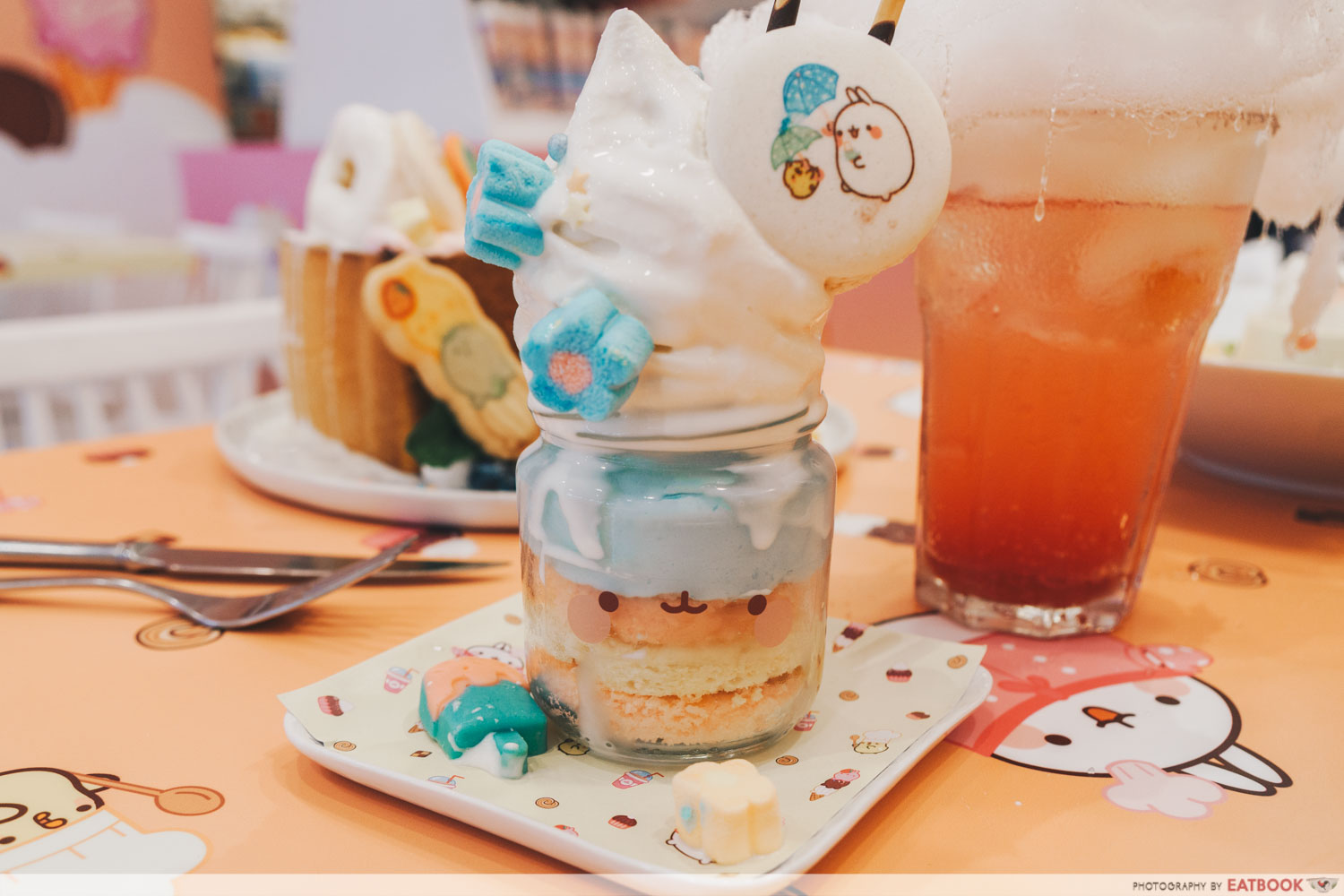 The creaminess of the soft serve went well with the sponge cake, with the granola adding a good crunch. I felt the taste of the mango jam was a bit too subtle, while the soft serve melted way too fast for us to properly enjoy the dessert.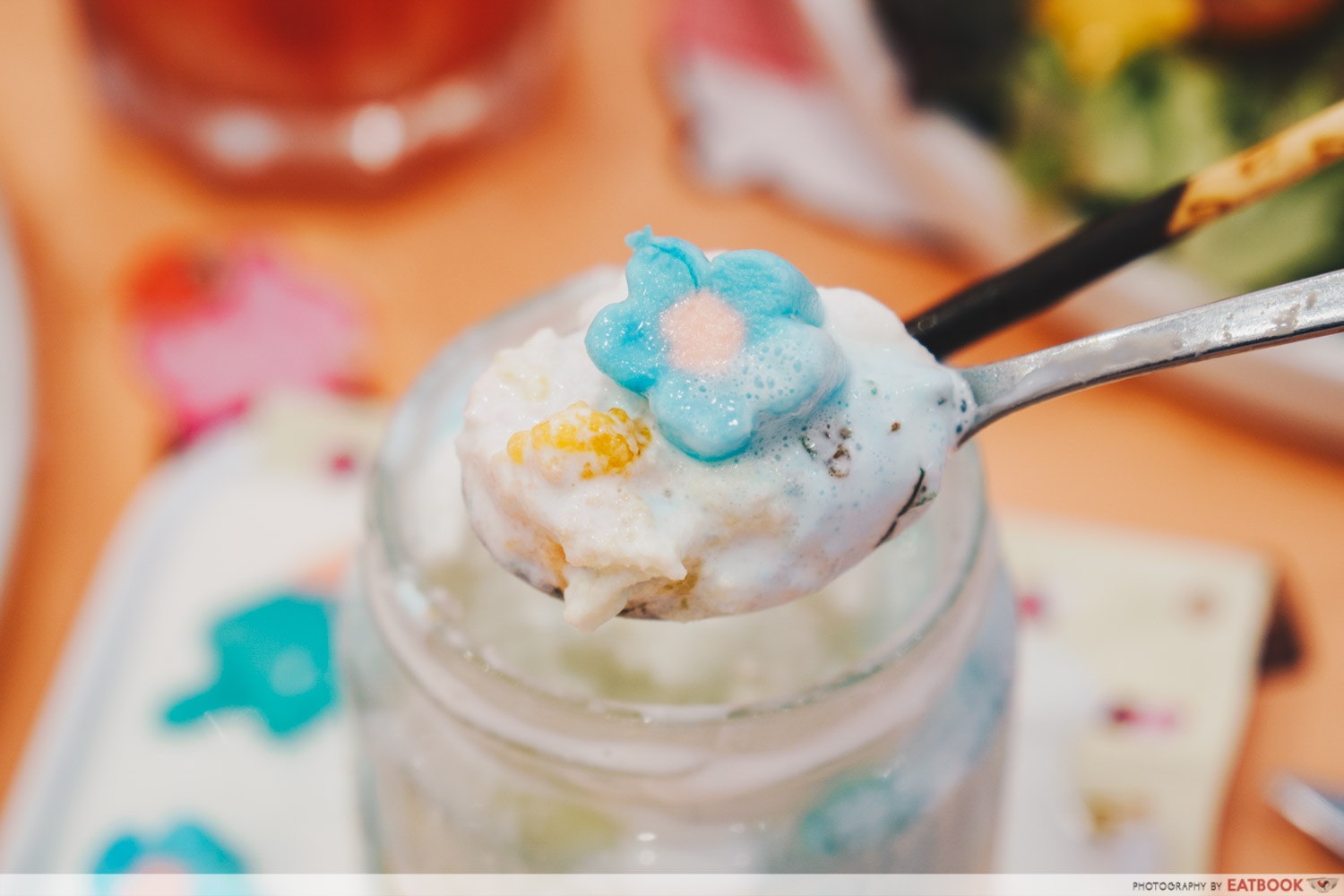 The Molang x Kumoya Cafe is tucked inside the stretch of shophouses at Jalan Klapa, about a 10-minute walk from Lavender and Bugis MRT Stations. Though hidden, the storefront beckons you to come in, with a transparent backdrop of Molang floating amongst clouds, and a Kumoya soft toy claw machine for customers to play on.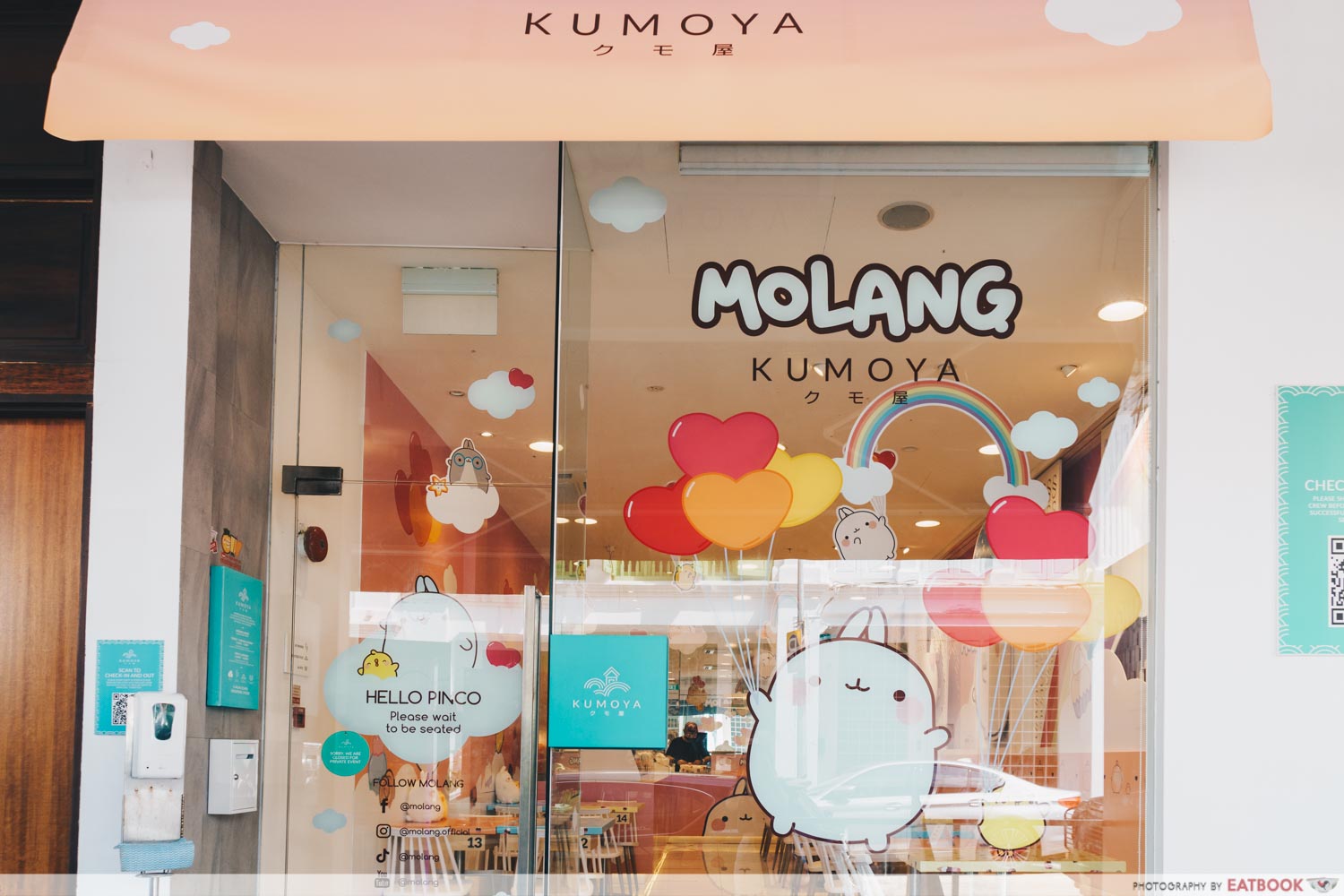 The cafe seats about 25 to 30 customers indoors. The walls are adorned with themed pastel backdrops of Molang and its friends─very cutesy and completely IG-worthy. There's also a Molang merchandise bar near the counter, for die-hards to take home a piece of their favourite cartoon characters.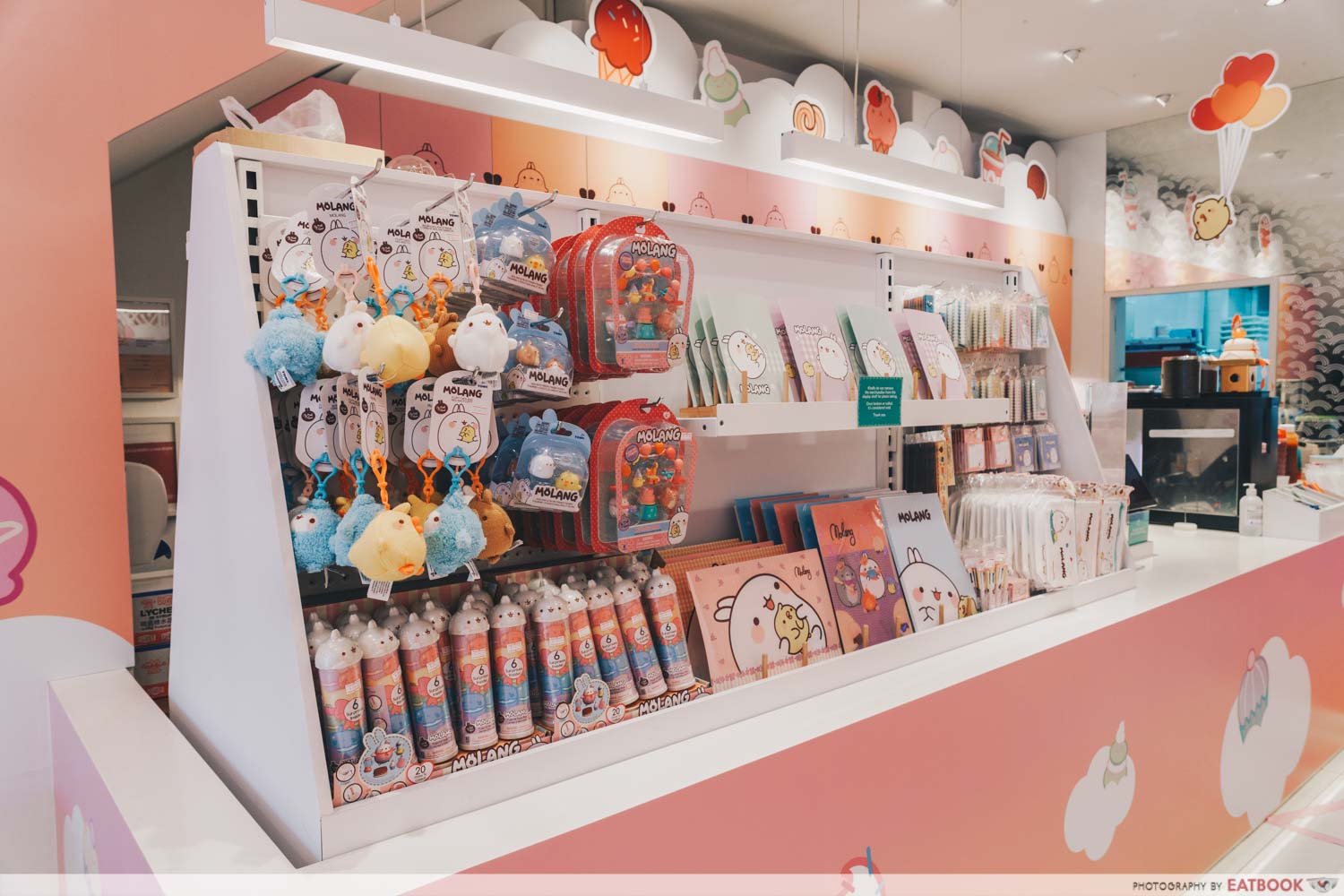 If you're looking for more food options around the Lavender or Bugis area, read our Flying Pig review for Thai crab meat omelette rice and more at Golden Mile Complex, or our King of Pao Fan review for affordable seafood and lobster pao fan by an ex-Raffles Hotel chef at Queen Street.
Flying Pig Review: $10 Thai Crab Meat Omelette Rice And More At Golden Mile Complex
Address: 8 Jalan Klapa, Singapore 199320
Opening hours: Tue-Sun 12pm to 9.30pm
Tel: 8204 5330
Website
Molang x Kumoya is not a halal-certified pop-up cafe, but the food is prepared with Muslim-friendly ingredients.