Porcelain Cafe in Paragon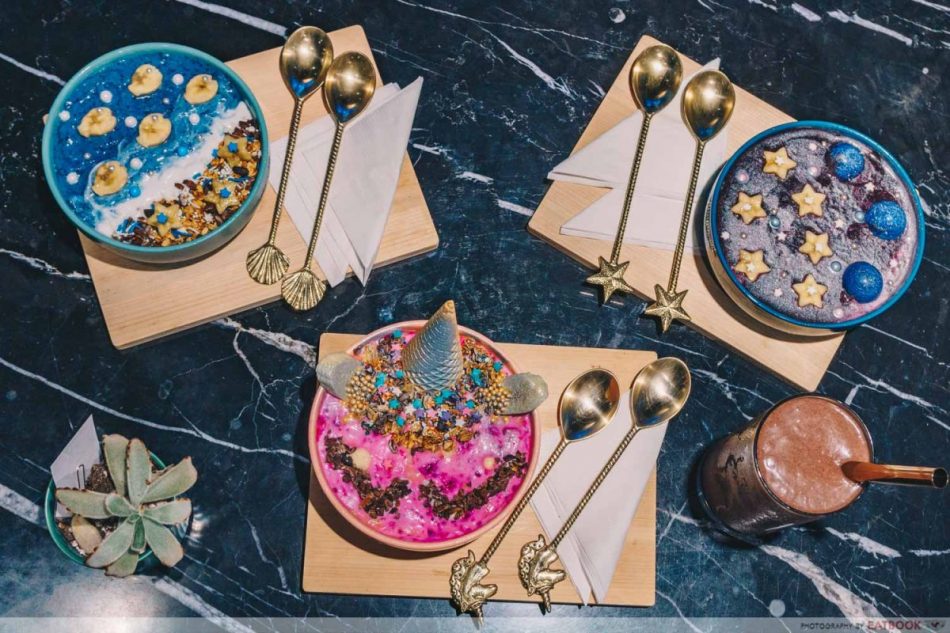 Porcelain Cafe is not your typical acai bowl spot. Located in Paragon, the cafe is the first to bring Instagrammable smoothie art bowls to Singapore, which make for refreshing additions to our health foods scene. 
The cafe was opened in late 2020 by Gratefood Co, a local distributor of acai and other plant-based superfoods. Together with a dining companion, I decided to visit their sole outlet in Paragon along Orchard Road, excited to try out their creations.
10 Acai Bowl Spots For A Refreshing Pick-Me-Up To Combat Singapore's Warm Weather
Food at Porcelain Cafe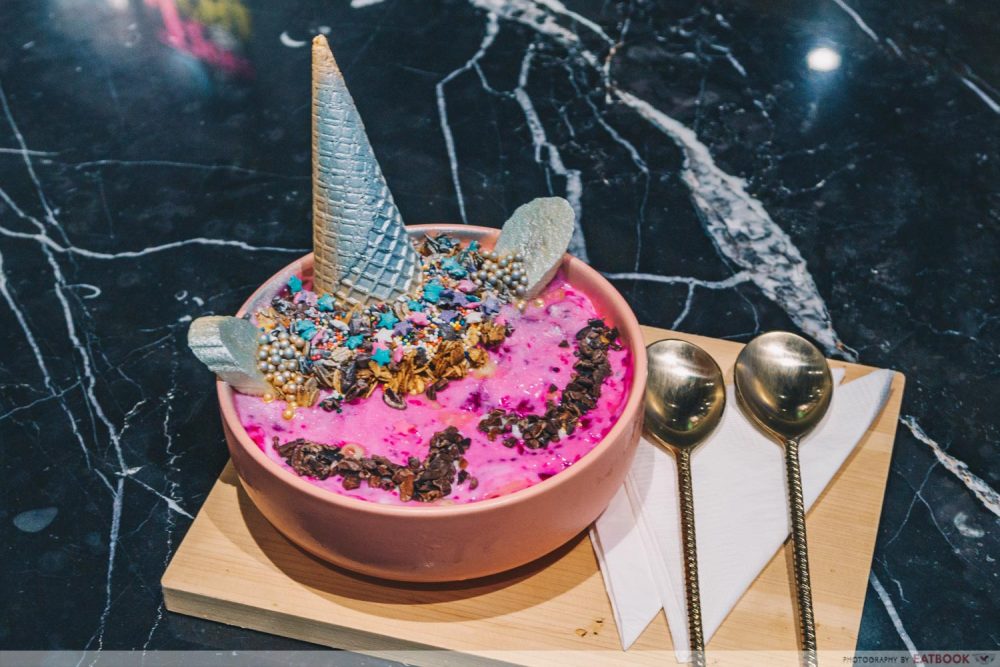 First up, I tried their best-selling smoothie art bowl, the Unicorn Dreams ($24). The bowl is predominantly pinkish because of an interesting blend of red dragonfruit and coconut yoghurt.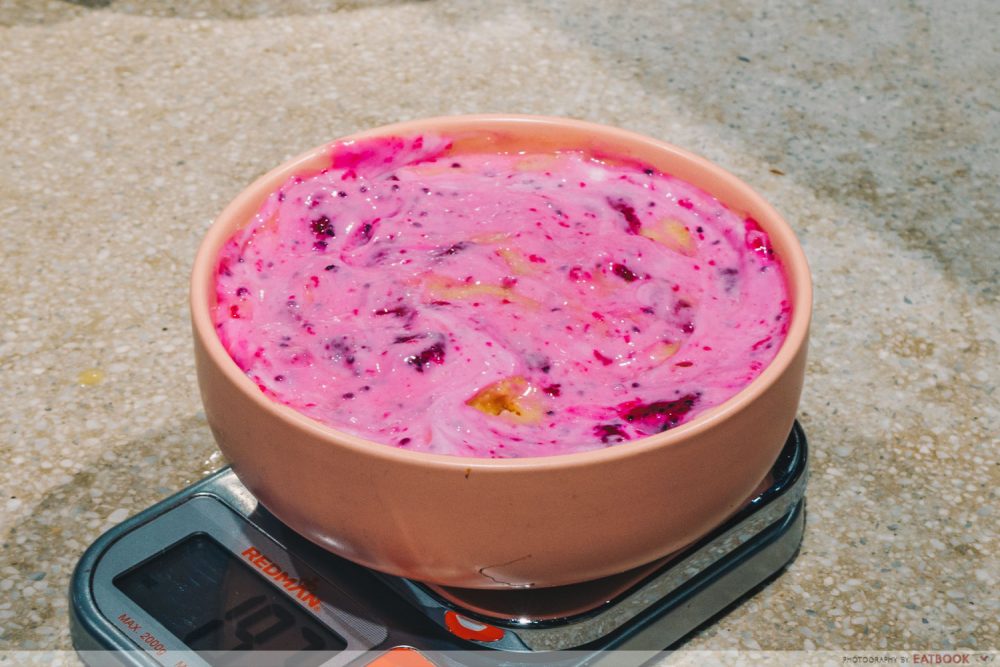 Also, topping the bowl is an orange acerola sorbet that's ideal for health junkies, as it has more than 15 times your daily recommended vitamin C intake. For those who don't know, acerola is a type of cherry native to South America. 
The dessert is also decorated with colourful rainbow sprinkles, bananas, and a whole ice cream wafer cone finished with edible silver icing. 
Taste-wise, the sorbet is refreshing but has a sourness that overpowers the other sweeter ingredients.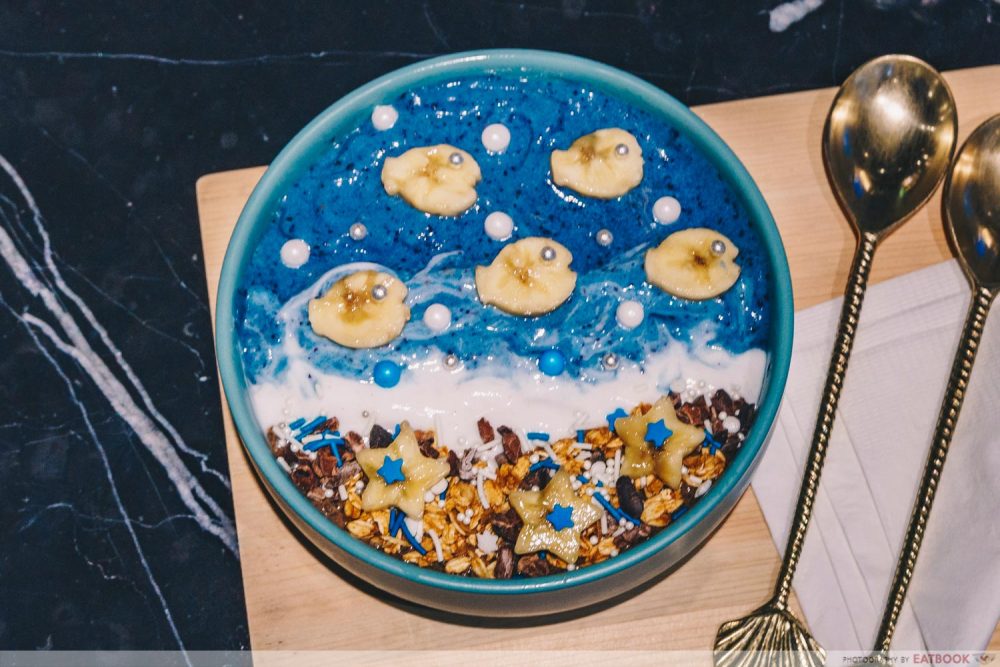 If you're feeling blue, opt for their Beach Paradise ($24) instead, a good reminder of light blue oceans and silky sand beaches from when we could travel overseas. The "sea" in the bowl is created with a housemade blueberry, blue spirulina, and banana ice cream.
I couldn't really taste the blueberry portion of the ice cream, as the banana was a bit too overwhelming for my liking. But, the raw cacao nibs on top added a subtle bitterness to balance out the dessert. Maple granola and chia pudding also gave texture to the dish, and more depth of flavour.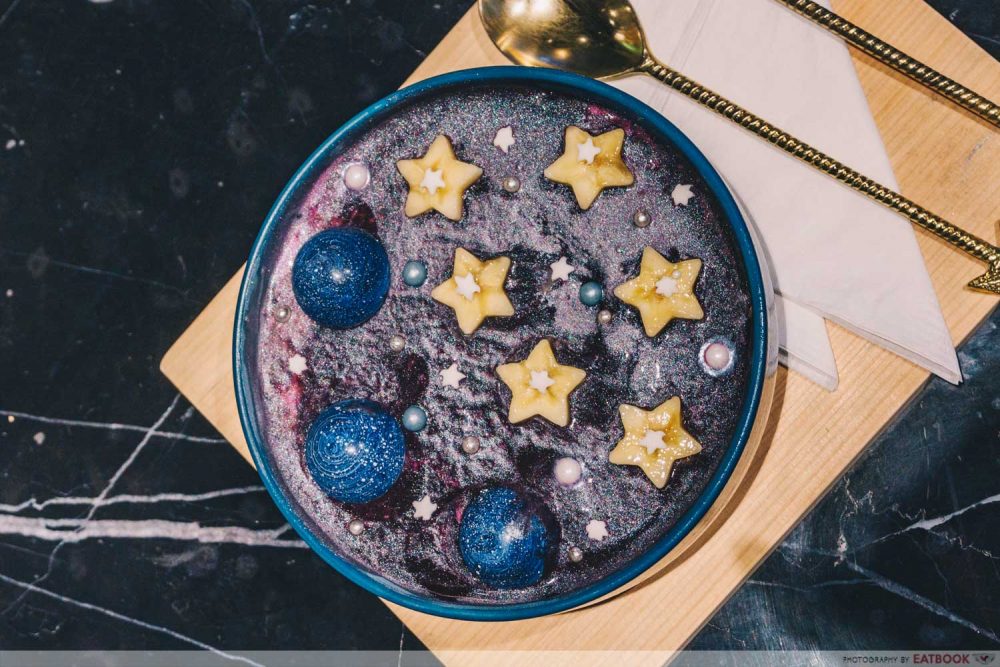 My pick of the smoothie bowl bunch would be the Starry Galaxy ($24), the only smoothie bowl to contain their house specialty organic acai pulp. Fun fact: Gratefood Co have actually been selling their acai for about four years, mostly found at supermarkets like NTUC Finest. The acai is harvested from the Amazon rainforest too.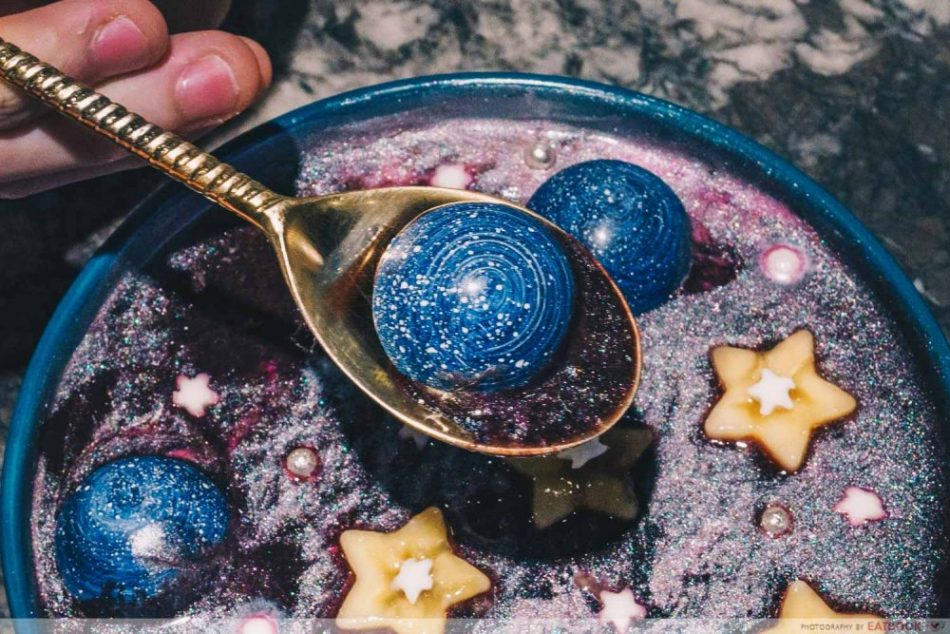 Chances are you've tried charcoal-grilled food but not charcoal on its own. Their sweet acai blend comes laced with Japanese bamboo charcoal powder, though admittedly, this didn't add much taste to the dessert. Their acai isn't just rich in antioxidants, but rich in flavour too. It wasn't bland and had a natural sweetness, even though no sugar was added.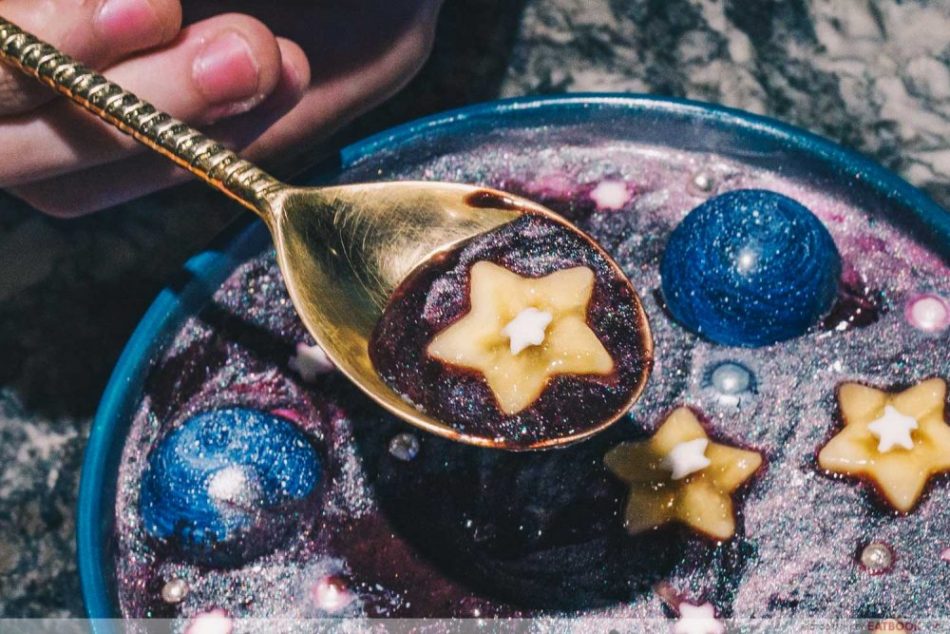 The bowl made me revisit my childhood dreams of becoming an astronaut, as it was adorned with planet-shaped dark chocolate, star-shaped bananas, and a darker pitaya coconut yoghurt mixture to simulate space. It was the most enjoyable bowl among the three, mainly because of how each and every ingredient was well-balanced and complemented one another, without being cloying. 
It's worth noting that every smoothie bowl order comes with a complimentary pot of tea as well.
For a lighter option, go for their Speculoos Spice Really Thick Smoothie ($9.90). Made with a mix of Speculoos spread, organic turmeric powder, oat milk, and bananas, the drink is made with zero ice added and 100% acai pulp, making it extra gao.
The creamy drink is not overly sweet, but still not to my liking as the turmeric powder added a very bitter and rather peppery aftertaste.
Ambience at Porcelain Cafe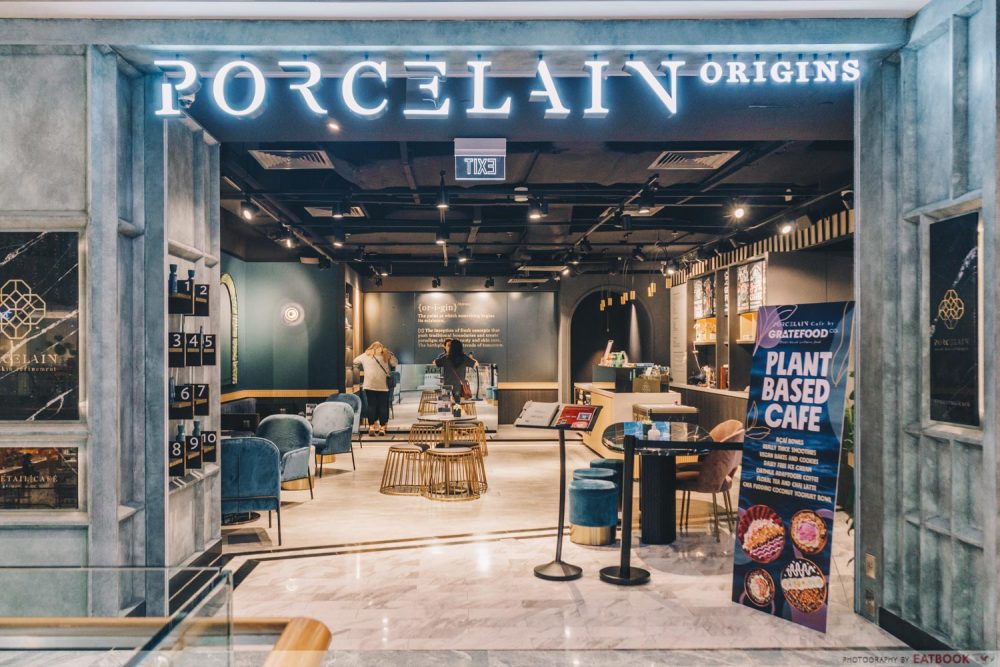 Porcelain Cafe is located on the fourth floor of Paragon, a 10-minute walk from both Orchard or Somerset MRT Station. Its interior resembles that of a waiting area for a beauty spa, with facial products on display as you walk in. The owner of Gratefood Co took over the cafe space from her cousin, the owner of local spa Porcelain, in September 2020 and they've been sharing the place since.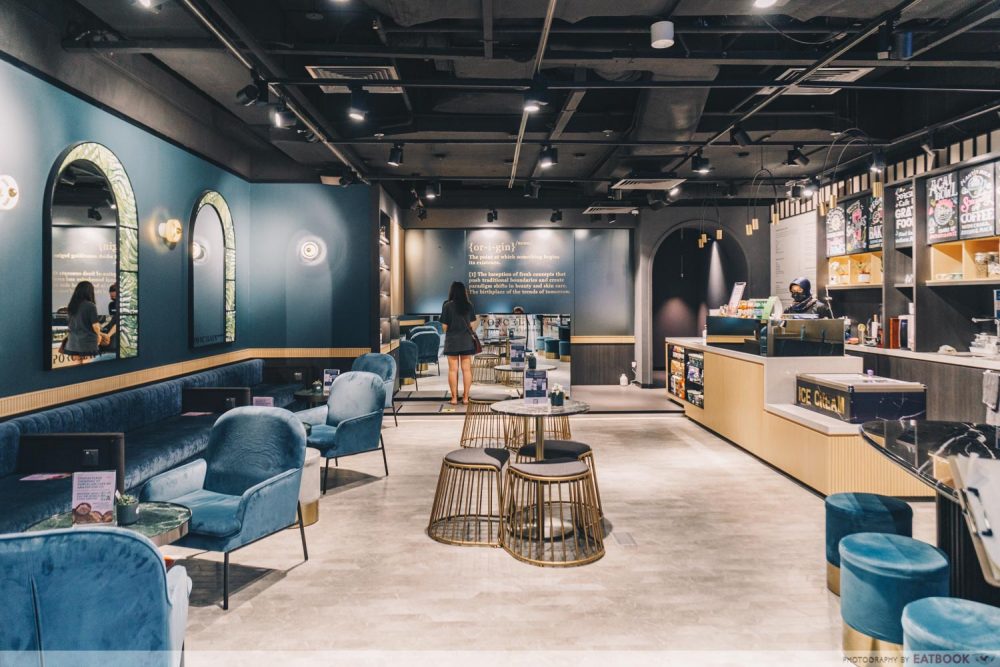 The terrazzo tabletops, cushioned seats, and stools give the place a very relaxed vibe, with the cafe able to seat about 20 to 25 people comfortably. The cafe tends to get packed only on the weekends, and is especially popular during the school holiday periods. Weekdays tend to be quieter.
The verdict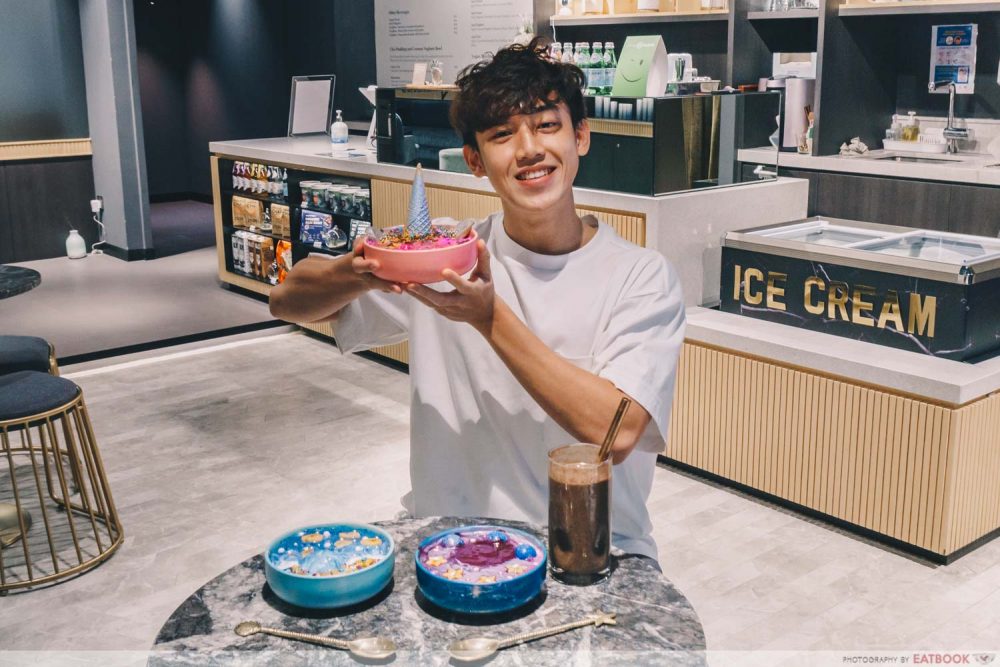 Considering how each smoothie art bowl feeds two to three, I'd highly recommend returning to Porcelain Cafe with friends or family to make the most out of your $24. Being the first of its kind here, their smoothie art bowls are worth a try, especially for health-conscious foodies and Instagrammers.  
I was very impressed by how meticulous they were in plating each dessert, taking 15 to 20 minutes to carefully place each ingredient, giving "made with love" a completely new meaning.
They pride themselves on not being cookie cutter, but a cut above the rest in the "saturated" acai game. The cafe certainly has the potential to prove themselves as such with steady improvements to other aspects of their menu too.
If you're looking for more food in the Orchard area, check out our JUMBO Seafood Afternoon Tea review for $24++ afternoon tea with chilli crab buns in ION Orchard. Also, read our Tempura Tendon Tenya review for reasonably priced Japanese tempura dons in Orchard Central.
Alternatively, check out our ION Orchard food guide for a variety of dining options for you to choose from!
Address: 290 Orchard Road, #04-48, The Paragon, Singapore 238859
Opening hours: Mon-Fri 11am to 6pm, Sat-Sun 10am to 6pm
Tel: 8907 7376
Website
Porcelain Cafe is not a halal-certified eatery.
JUMBO Seafood Afternoon Tea Review: $24++ Per Person With Chilli Crab Bun And Salted Egg Lava Mochi
Photos taken by Nur Syamira.
This was a media tasting at Porcelain Cafe.
Porcelain Cafe Review: IG-Worthy Smoothie Art Bowls And Acai Bowls In Orchard
Summary
Pros
– Starry Galaxy was refreshing
– Smoothie bowls are beautifully plated
Cons
– Unicorn Dreams tasted a bit too sour
– Speculoos Really Thick Smoothie had an overpowering turmeric taste
Recommended dishes: Starry Galaxy ($24)
Opening hours: Mon-Fri 11am to 6pm, Sat-Sun 10am to 6pm
Address: 290 Orchard Road, #04-48, The Paragon, Singapore 238859