Fruit juice mee siam that's one of its kind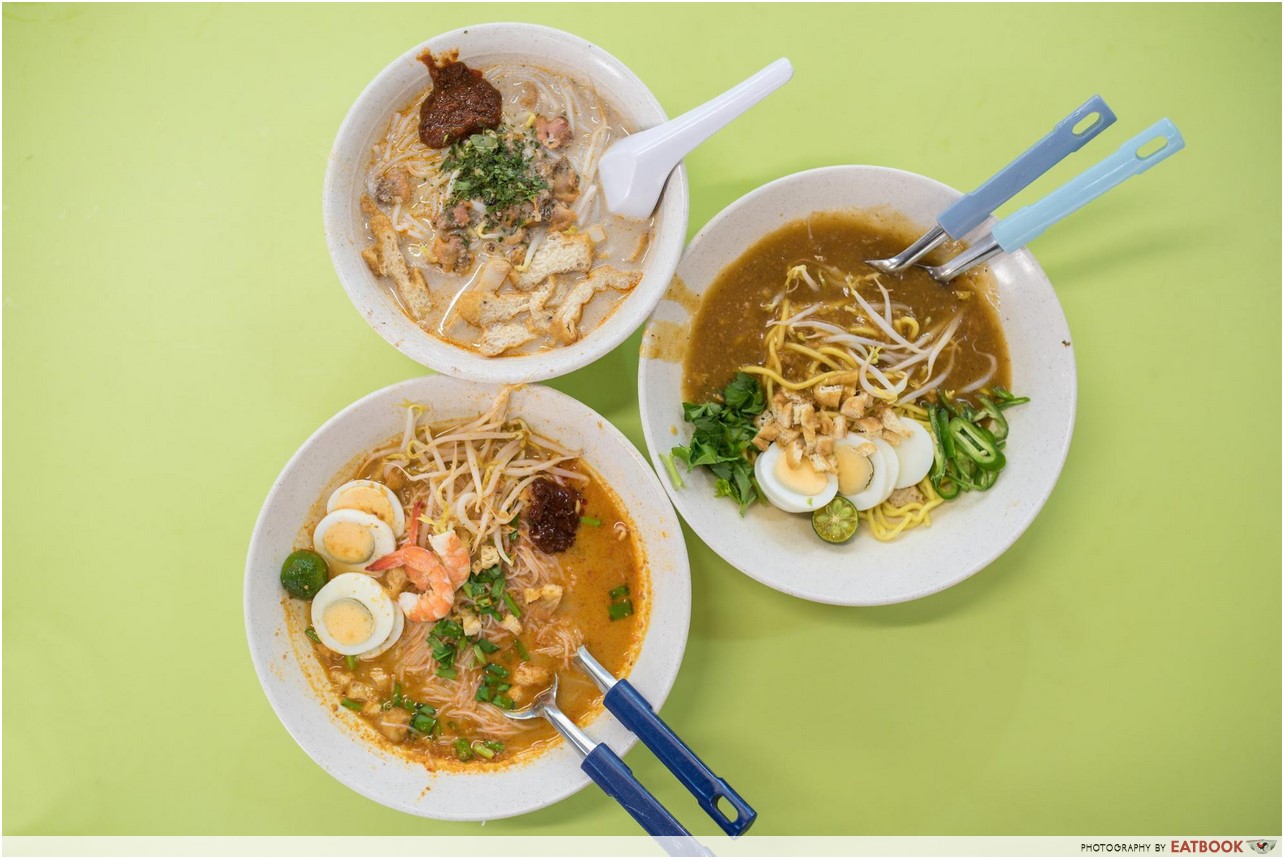 Just like any other Singaporean, I grew up eating laksa, mee siam and mee rebus. But as much as I appreciate their rich and intense flavours, eating a full bowl of any of these tends to get jelak after a while. Incorporating uncommon ingredients into these everyday dishes to keep them light while retaining traditional flavours is Famous Sungei Road Trishaw Laksa at Hong Lim Food Market. 
Fruit juice mee siam at Famous Sungei Road Trishaw Laksa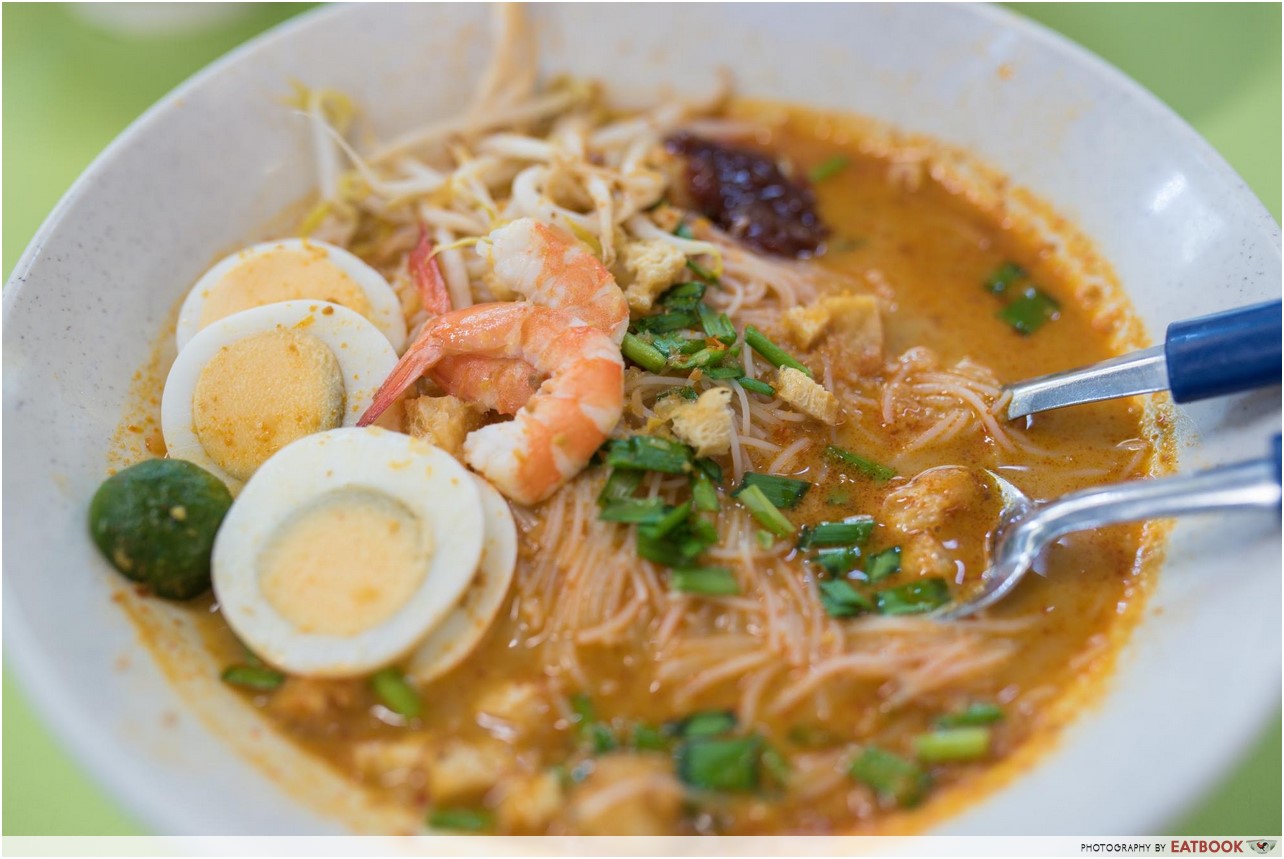 Starting off with the most interesting one, Fruit Juice Mee Siam ($3) was remarkably refreshing. As its name suggests, fresh fruit juices were used in the mee siam gravy instead of the usual assam (tamarind paste).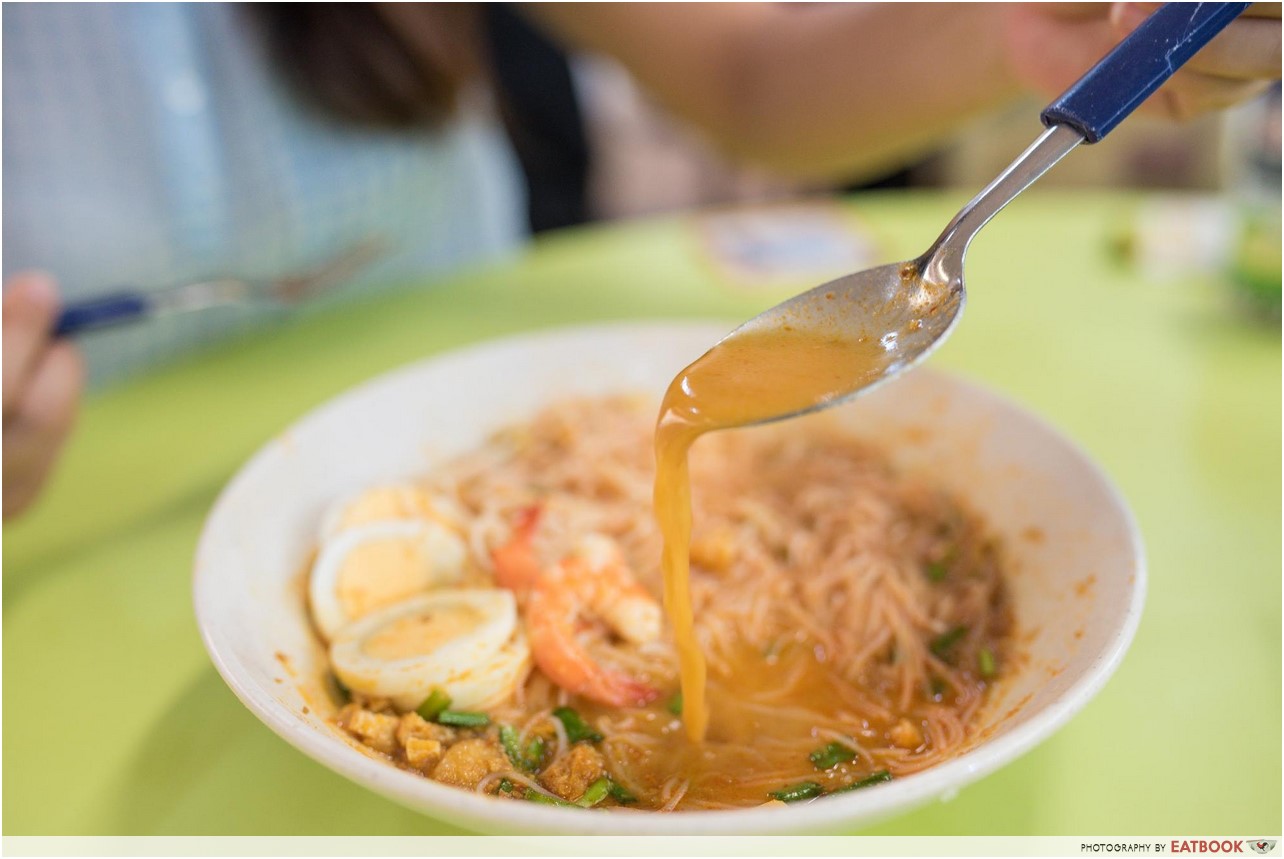 Initially, I didn't get the rationale of switching out assam with fruit juice because assam tastes pretty much like a fruit anyway. But I understood it right after my first spoonful, which was tangy, citrusy and a little spicy. Without assam, the gravy had a smoother consistency without that sharp tart aftertaste. Pineapple or orange juice might have been used, but there's no point guessing because every time I ask the stall owner, he just says, "SECRET".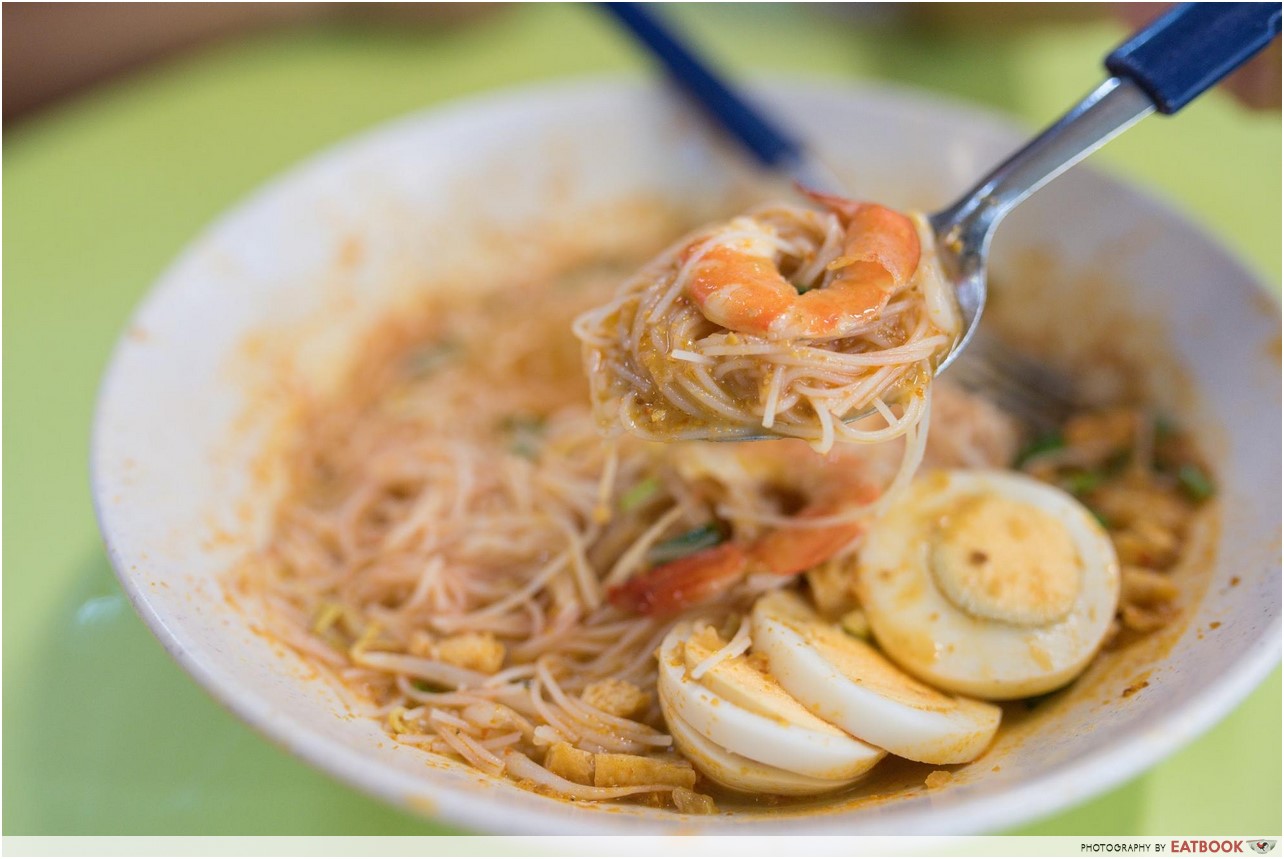 As we ordered the smallest portion, our mee siam didn't come with many ingredients. There were prawns, tau pok, bean sprouts and a hard-boiled egg. The bee hoon soaked up the flavour of the gravy very well. To be able to try a dish with such strong flavour and a refreshing aftertaste was definitely a welcomed surprise.
Laksa at Famous Sungei Road Trishaw Laksa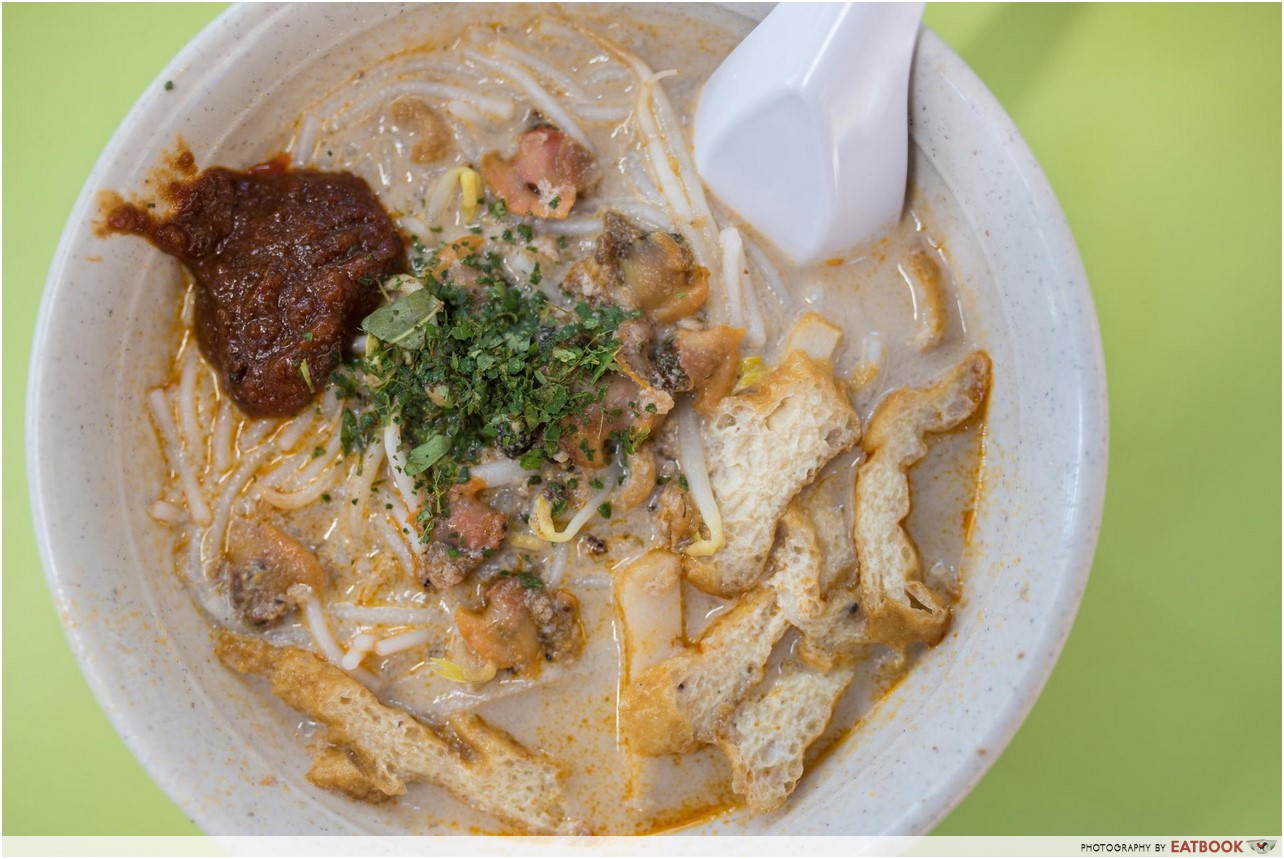 Next, we have the most popular dish here – Asia Delight Laksa ($3). Even though the broth looks grey and diluted, it packs a whole lotta punch in every mouthful. Made by simmering scallop, dried oysters and dried prawns in the broth for two hours and replacing coconut milk with fresh coconut juice, this is one unique laksa broth you won't find anywhere else in Singapore.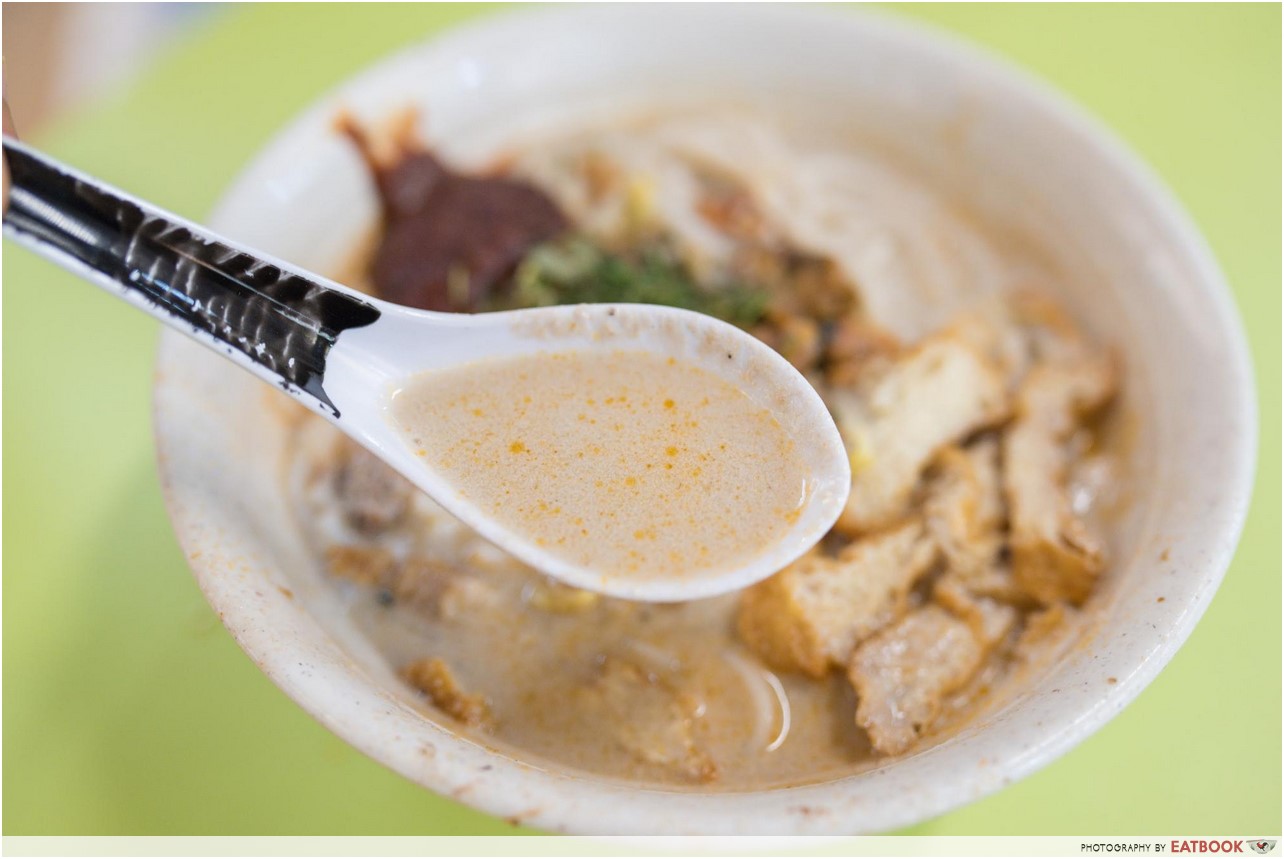 It tastes like what you'd expect from a laksa on normal days but leaving out coconut milk did compensate a bit of the iconic laksa fragrance we adore. That being said, the fresh coconut juice injected a light and refreshing texture and taste that made it addictive.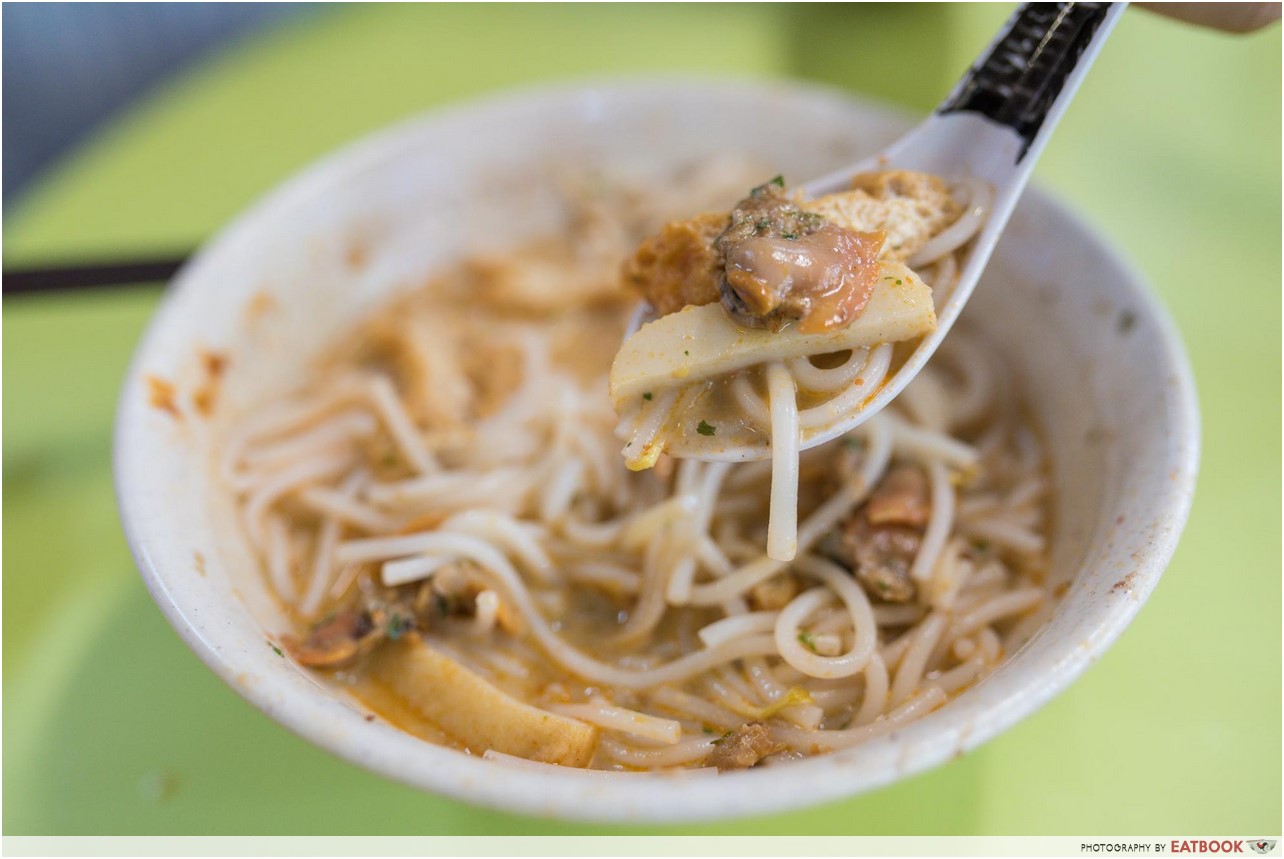 As compared to the mee siam, there were more ingredients in the laksa. For $3, we found plenty of fish cakes and cockles.
Mee rebus at Famous Sungei Road Trishaw Laksa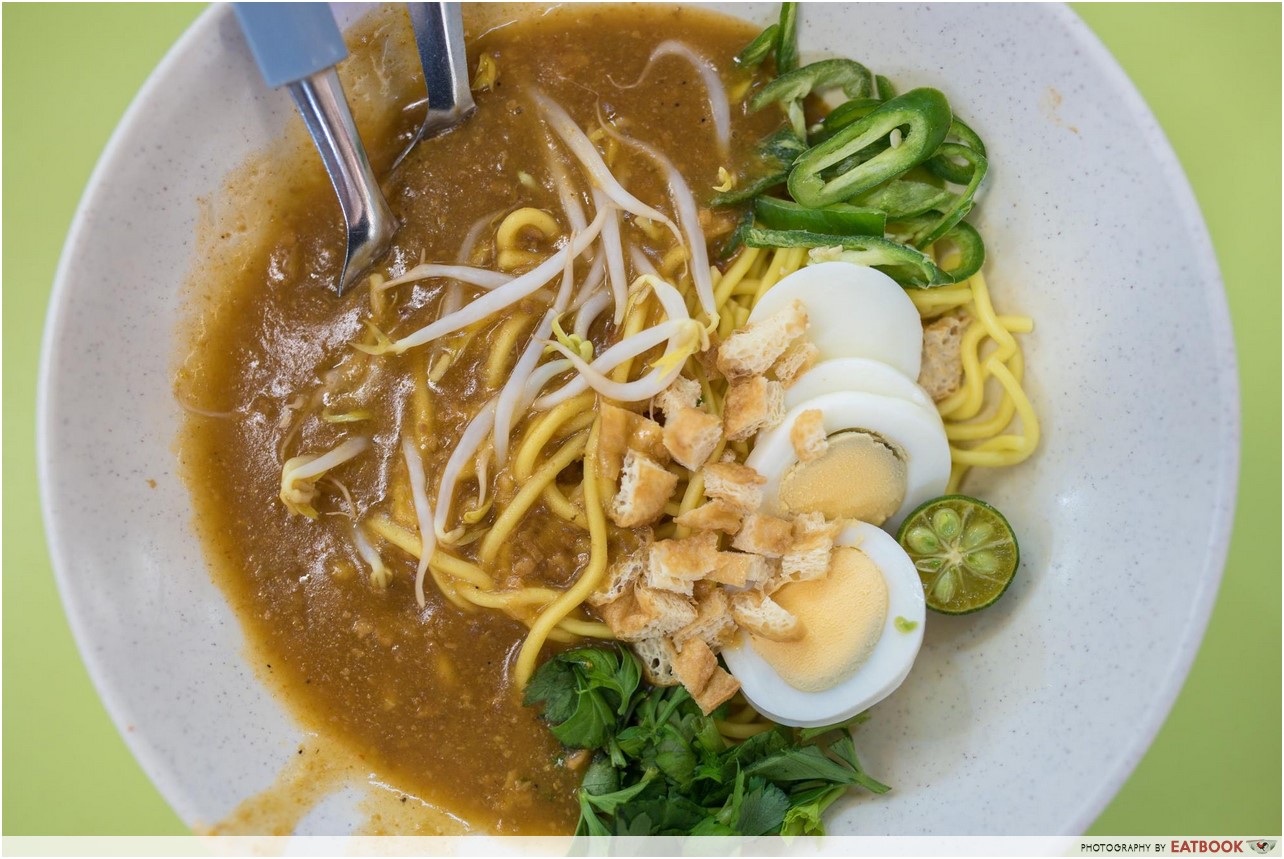 Instead of switching out something traditional for a new ingredient, it was another way round for this bowl of Mee Rebus ($3). To make the gravy thick and delightfully gooey, the stall owner added real potatoes instead of flour, which is often used elsewhere as a cheaper and easier alternative. Apart from that, he also incorporated lemongrass juice to make the thick gravy less jelak.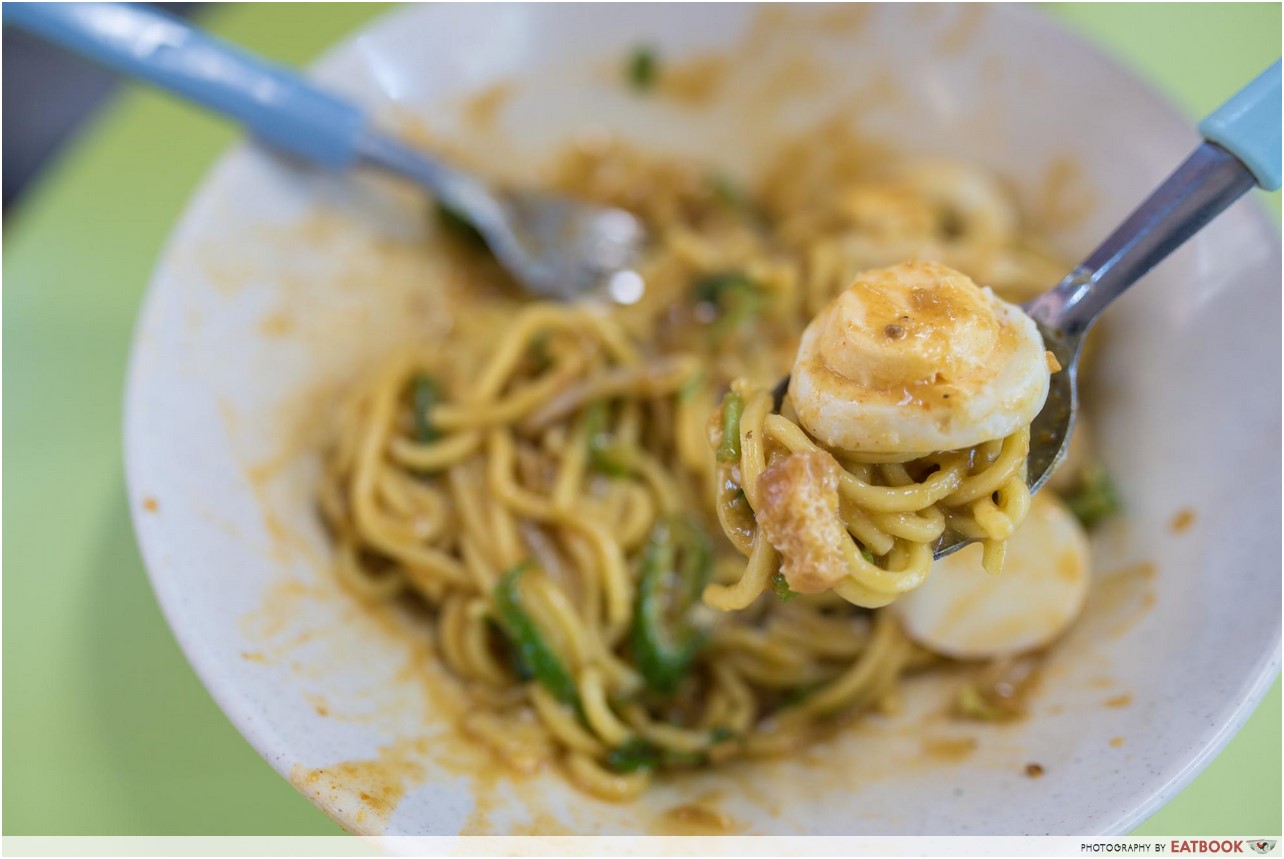 The flavour of the gravy is really well-balanced: a little sweet, salty and a tiny kick of curry spice flavour. The noodles and ingredients were nothing out of the norm so what makes all the dishes here stands out from other stalls is really the soup or gravy. If you want to make your laksa, mee siam or mee rebus more atas, you can add crayfish at $7 for small or $8 for large.
The verdict
What makes this stall worth visiting is the owners' ability to eliminate the jelak factor yet retain the rich and intense flavours of some of our favourite local fare. For those who aim to try everything on the list of this year's Michelin Guide's Bib Gourmand, you'll be glad to know that they're part of it as well. Based on my experience, I'd say come at 11am and be the first in line. Don't come later than noon because the first time I went at 1pm, fruit juice mee siam was sold out. 
This is an independent review by Eatbook.sg,
Summary
Pros
– Affordable
– Unique dishes
Cons
– Long queue
– Sold out fast
Recommended Dishes: Fruit Juice Mee Siam ($3), Asia Delight Laksa ($3), Mee Rebus ($3)
Operating Hours:
Monday – Saturday 11am to 5:30pm
Address: 531A Upper Cross Street, #02-66, Hong Lim Food Centre & Market, Singapore 051531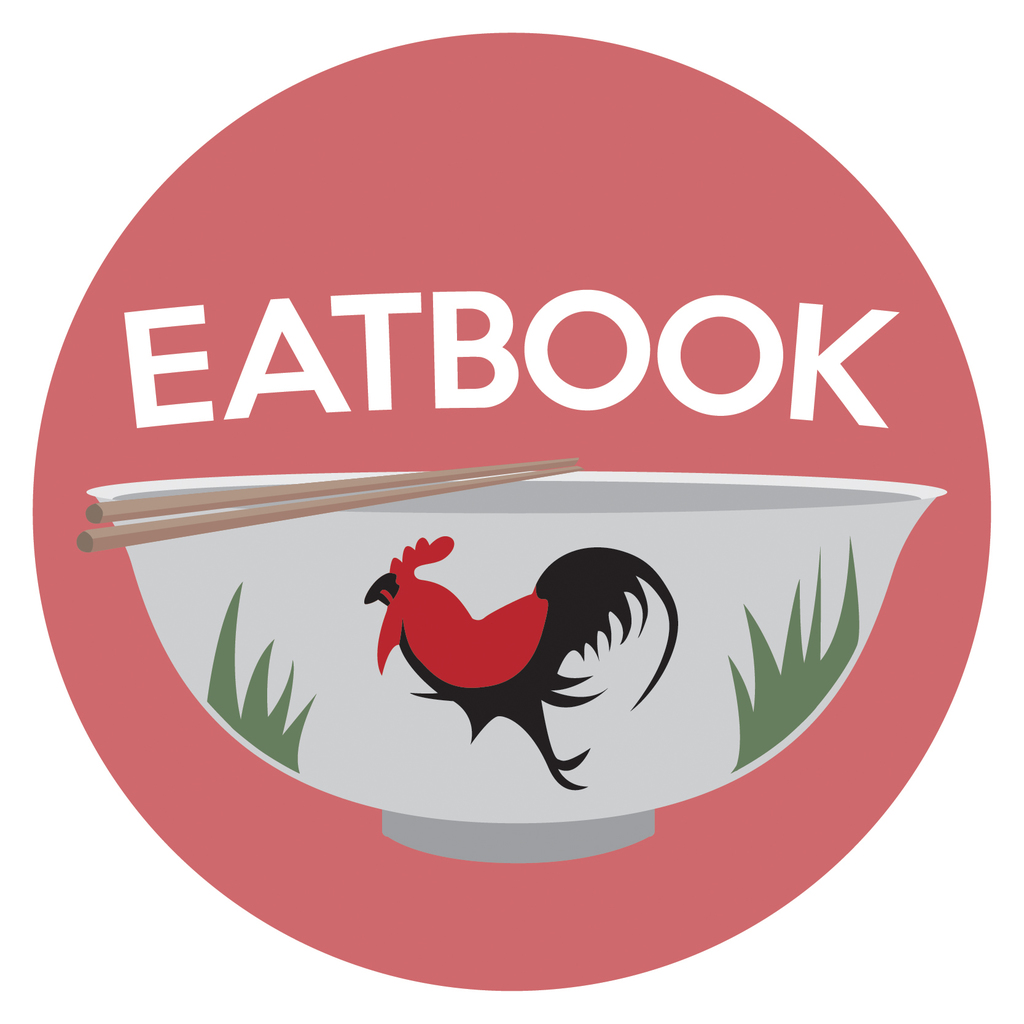 Drop us your email so you won't miss the latest news.