Update: Supuramen is now permanently closed.
Supuramen serves affordable ramen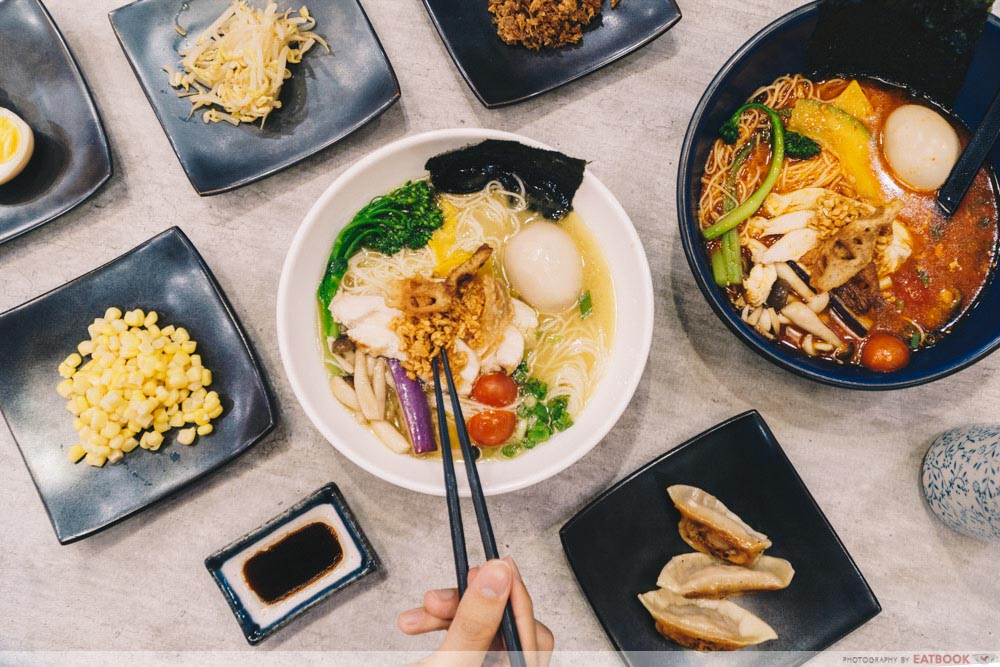 Halal-certified ramen can be difficult to find, and restaurants with no GST and service charge are just as rare. Supuramen is both at once. Opened in February 2019, this cosy restaurant in Tampines boasts heaping bowls of warm, comforting halal ramen at a low price.
Food at Supuramen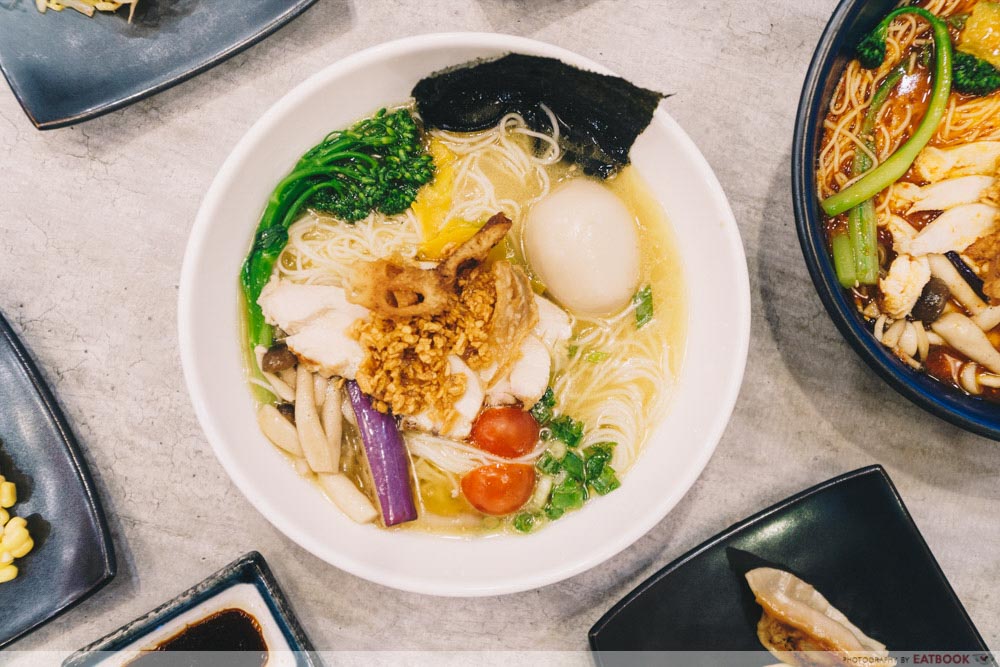 It wasn't long before the bowls of steaming ramen were set down before us. Remarkably, it looked exactly like the menu and website photos, right down to the vivid colours of the vegetables. The Original Supuramen ($9.90) came in a rich chicken broth, with a generous heap of thin somen noodles.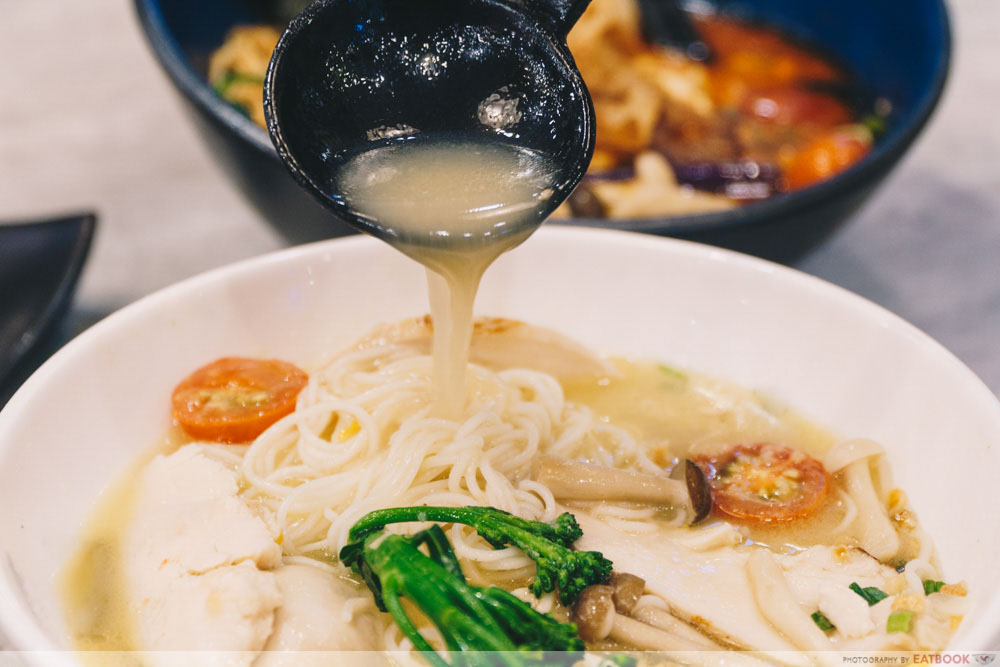 The chicken-based soup was no less flavourful than my favourite tonkotsu broth from Nantsuttei. It was equally rich yet clean-tasting, with no particular element being overpowering. It was a bit thicker than the regular ramen base, and left a sticky oily film on my lips.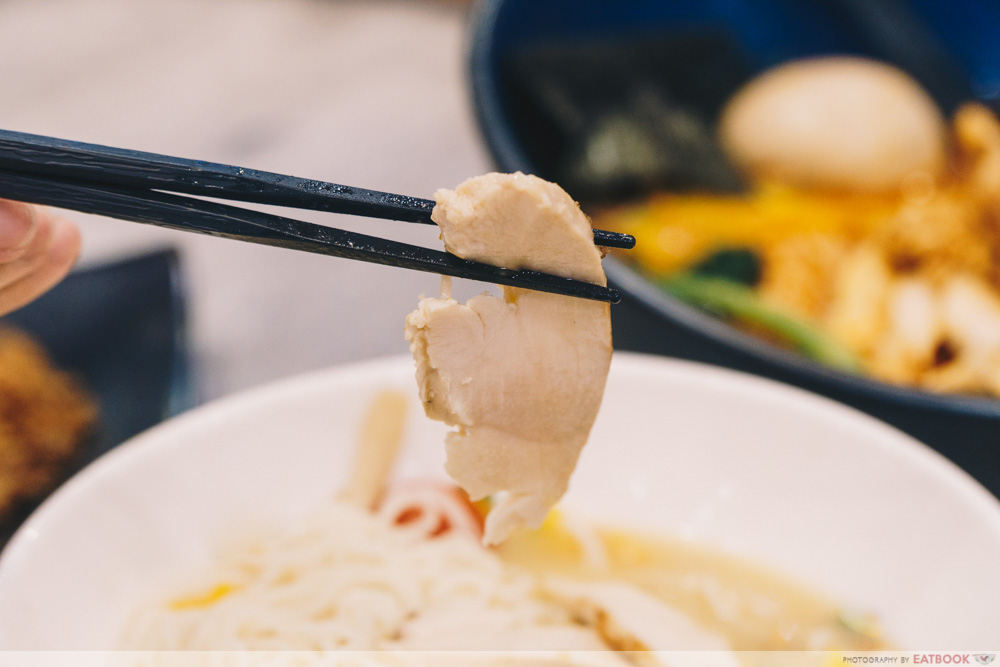 I've never considered the idea of chicken chashu before. But the generous slices went amazingly with Supuramen's hearty soup and soft noodles. Although some parts of the chicken were a little dry, overall it was a worthy substitute for regular pork chashu.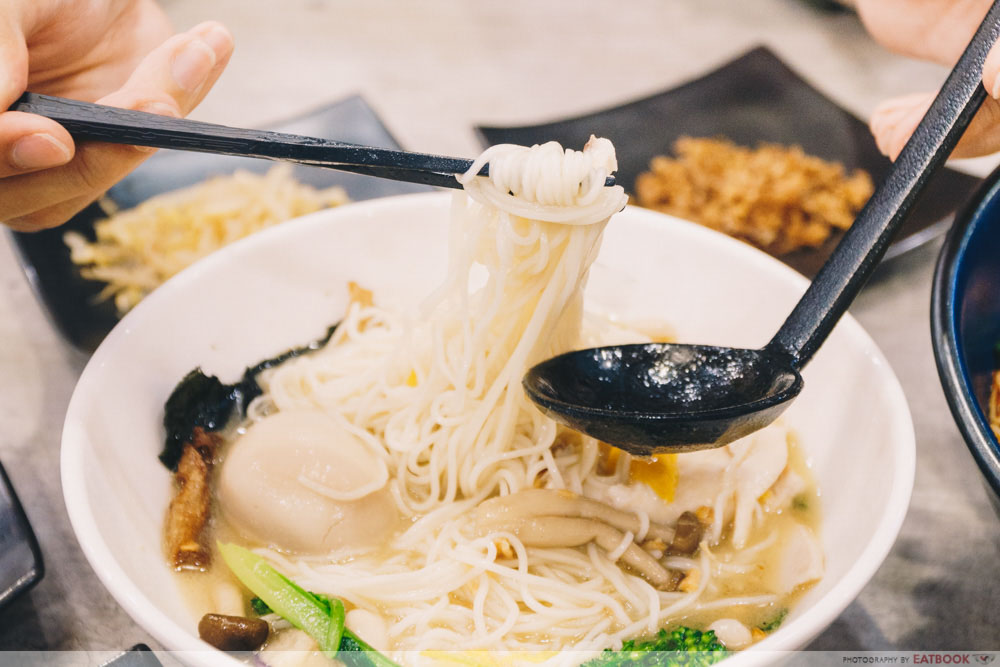 The handmade somen noodles were a bit softer than what I usually prefer, but was no less tasty. The bundles of thin noodles trapped copious amounts of warm soup between them, making sure each bite was evenly flavoured.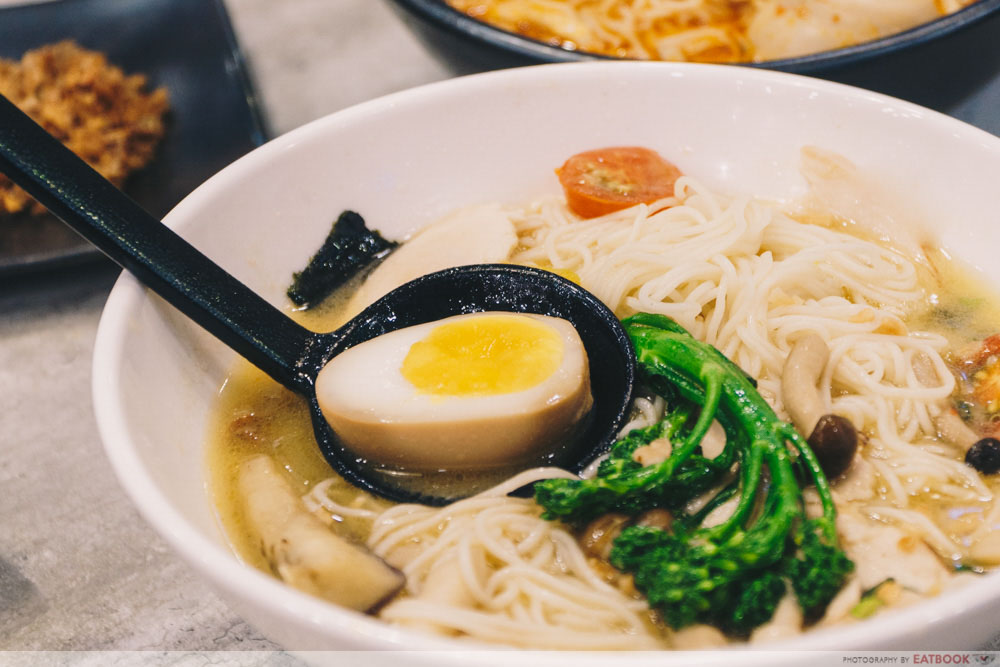 Noodles and soup are the definitive part of ramen. But it's the hanjuku egg I look forward to the most when diving into a bowl of Japanese noodles. I love them so much that I sometimes find myself eating them right out of the bag at 7-Eleven. 
The egg was solid on the outside, allowing me to cleanly bite through the top and reach the yolk within. The whites got softer and jigglier closer to the yolk, and the yellow core was runny in places and gooey in others—a perfect blend of textures.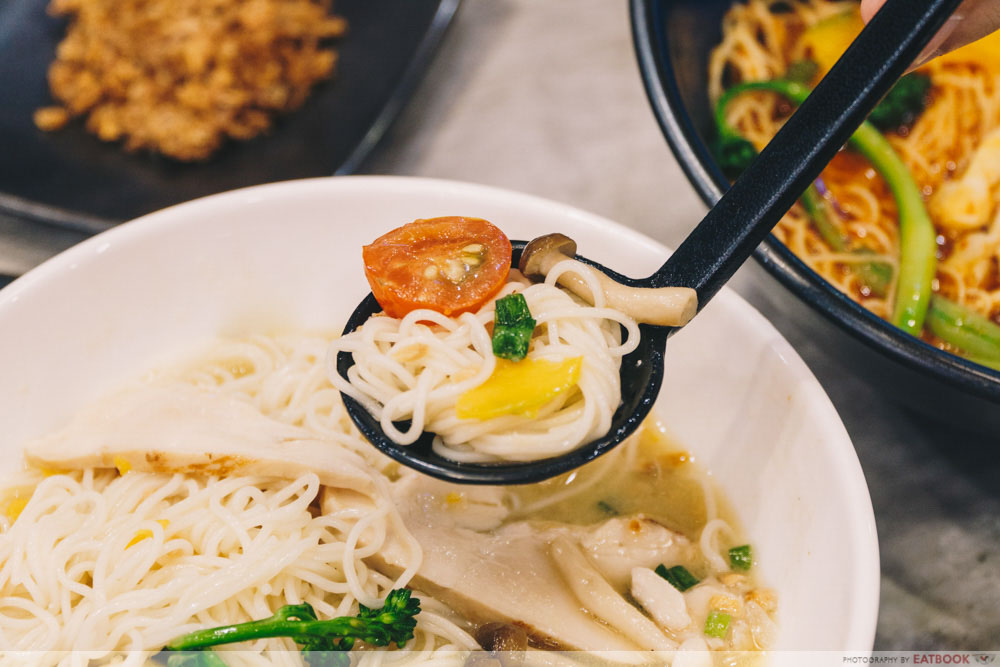 A whole medley of vegetables accompanied the rich ramen: a crunchy piece of broccolini, a slice of eggplant, sweet tomatoes, a colossal square of seaweed, thinly sliced pumpkin, crispy lotus, and juicy mushrooms. They were fresh and provided a beautiful splash of colour, as well as a unique variance in texture when pairing them with the broth and ramen noodles. 
Overall, the Supuramen signature was a comforting, wholesome dish that left me feeling warm and fulfilled on the inside.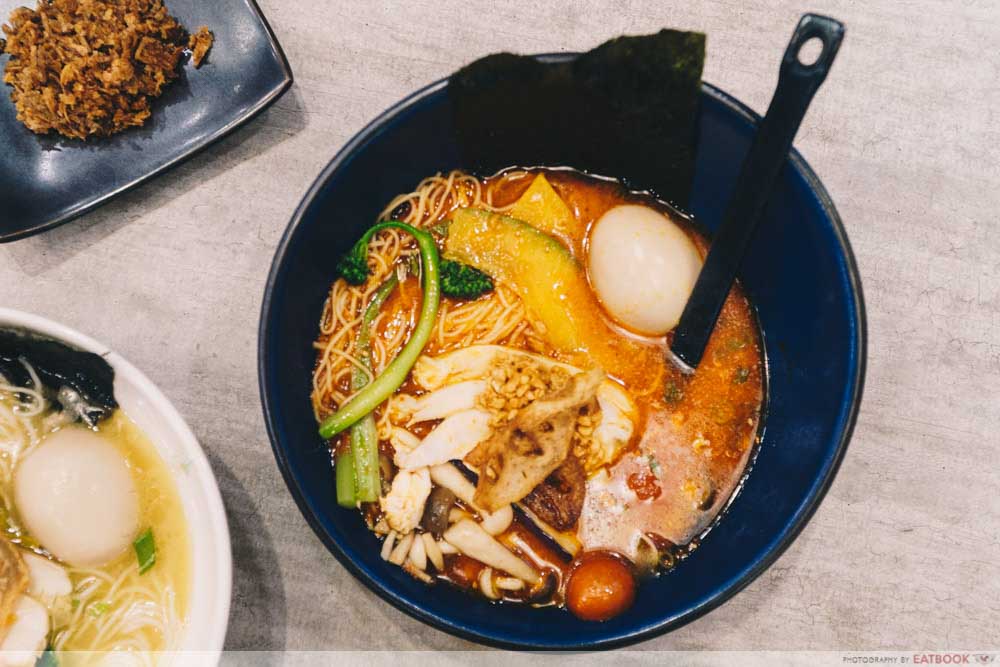 Next up was the glorious bowl of spicy ramen: The Supuspicy ($10.90). The sheer brightness of the soup gave a clear warning of the intensity to come.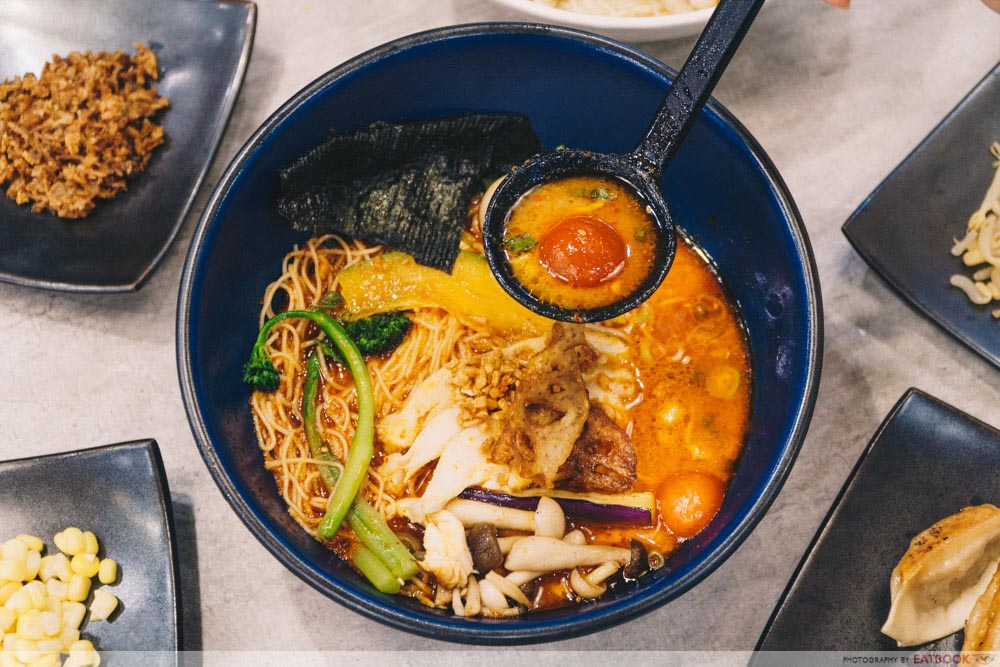 The first spoonful of soup was a little thicker than the Original Supuramen. It immediately hit me with a kick of spice and umami flavour that spread through my whole mouth.

Little bits of chilli were present in the soup; I would feel occasional flakes of crunchy chilli when drinking the soup. I immediately tasted what I thought was belacan.
However, when I went to ask the staff about it, they told me that the taste came from a vegetarian substitute, to account for those allergic to shellfish. I'm not sure exactly what magic they worked in the kitchen, but it tasted just like the real deal.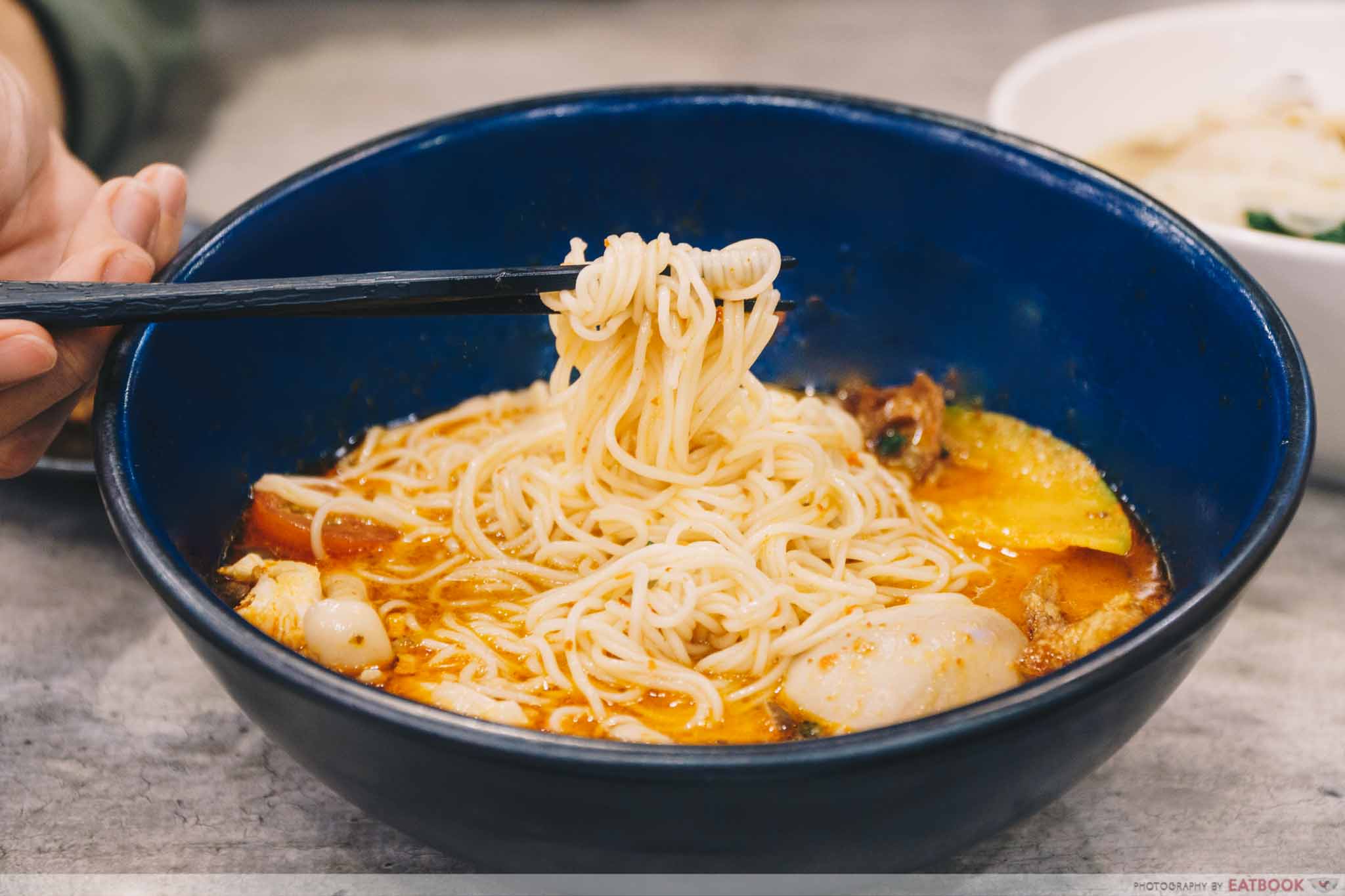 The same rich chicken base of the Original Supuramen is used here, but with added heat and a unique aftertaste. It was unlike any ramen I had tasted before. Just like the last bowl, these bundles of noodles trapped the rich soup and made sure every bite was blessed with a kick of heat.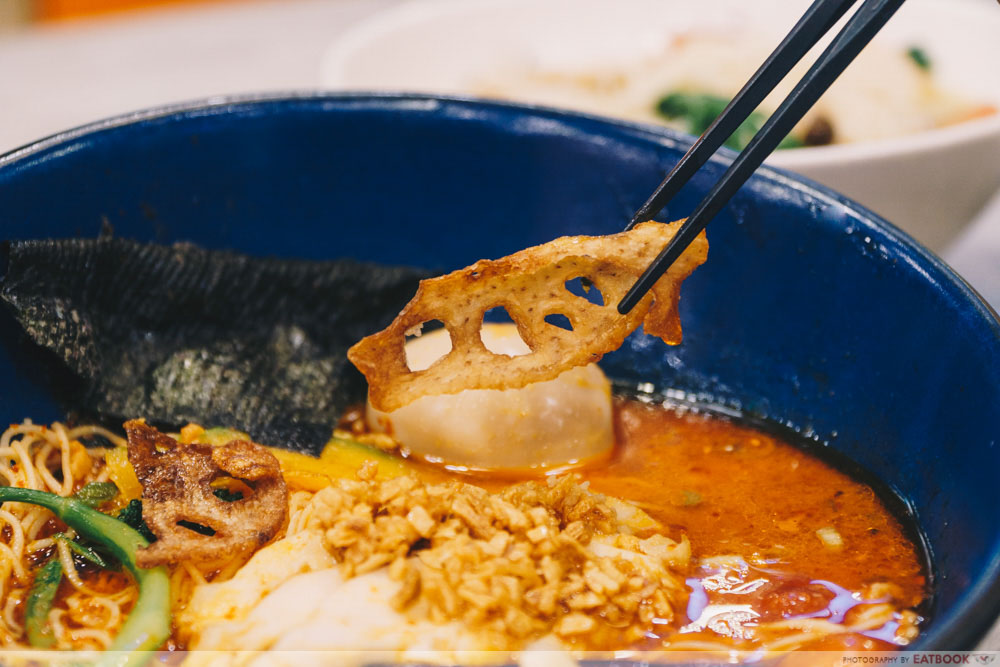 The refreshing vegetables were a welcome respite from the spice and complemented the spicy base a lot better than the original. 
While the basic bowl is good for lifting your spirits, spice lovers and those looking for a more intense meal would definitely want to give the Supuspicy a try.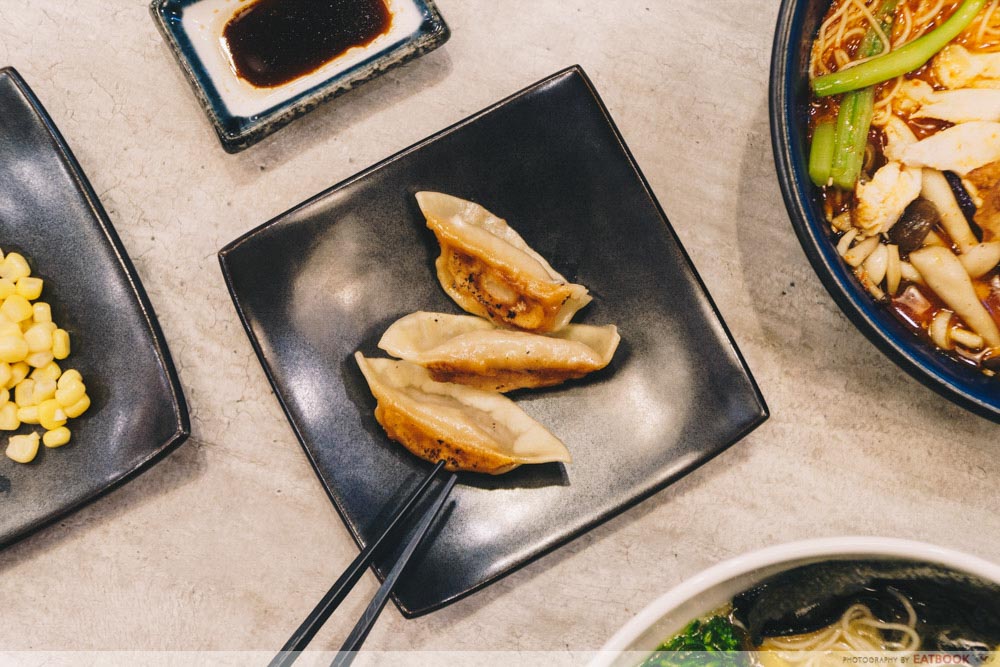 The Chicken Gyoza ($3) tasted plain on the outside and had a distinct doughy feel to its batter. The dumpling skin was overly slick and felt artificial.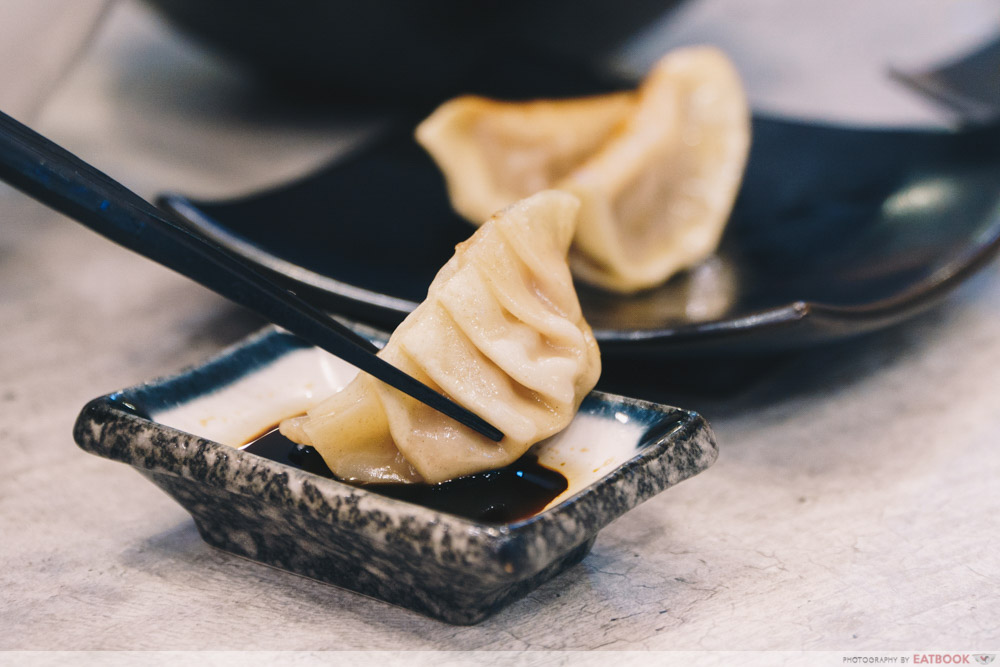 Despite the unappetising exterior, the meat within was juicy, with sharp-tasting chives scattered within. Overall, it was nothing too groundbreaking. Dipping it in the gyoza sauce helped flavour the outside and made it more palatable.
Drinks at Supuramen were pretty standard. Free-flow Ocha (hot/cold) and soft drinks were available at $2 per person.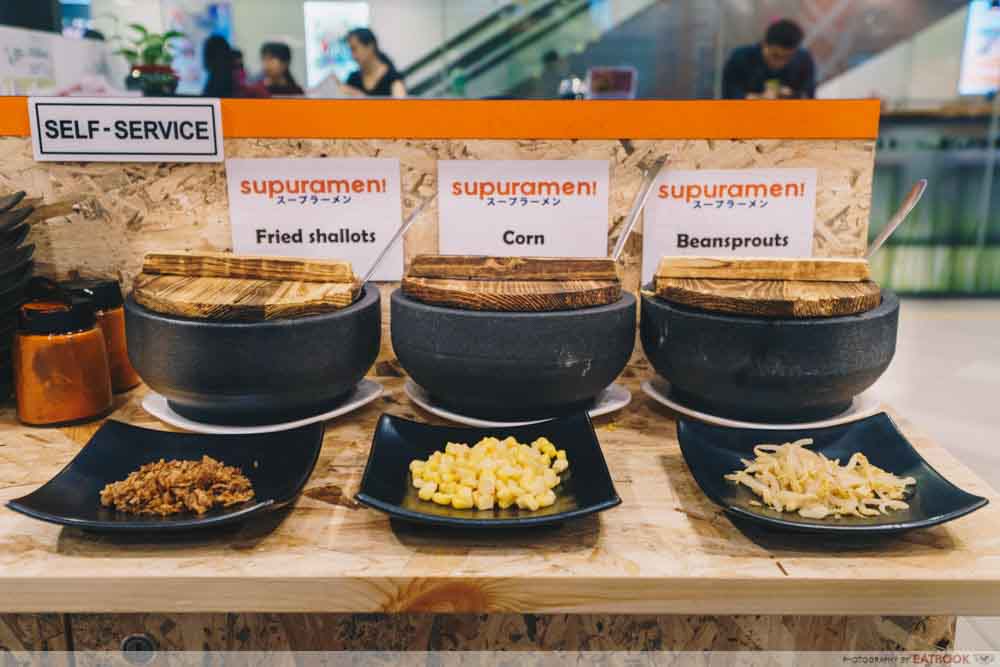 Ever since we entered the restaurant, I had been eyeing the condiment station. Three bowls of toppings sat there, tempting me with fried shallots, steamed corn, and my favourite: marinated bean sprouts. 
Having a free-flow condiments bar left a great first impression. It was a nice touch to a restaurant that already looked welcoming and warm. 
Ambience at Supuramen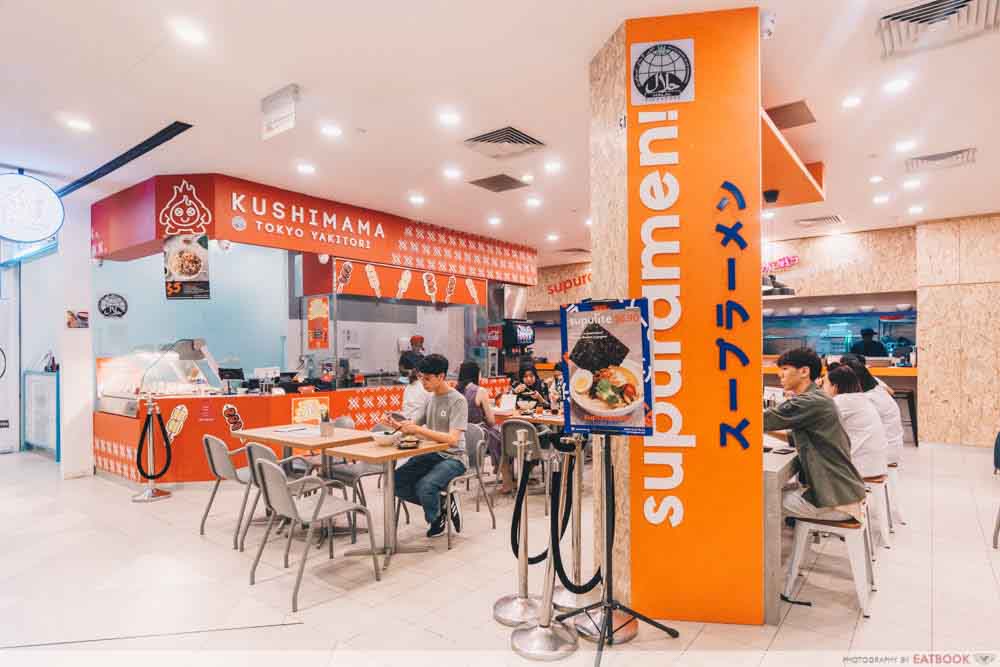 Supuramen immediately struck me as the sort of place I would love to visit with my friends after work. It's affordable and comes with free condiments, which I thought was a great touch. Even after the ramen was gone, I continued piling beansprouts onto my plate. It sure made a great place to wind down after a long day,
The restaurant had plenty of seats and had a section further in for those who prefer a cosier atmosphere.
Right next to Supuramen is their sister store: Kushimama Tokyo Yakitori. After filling up on ramen, you can get sticks of savoury-sweet yakitori without needing to walk more than a few steps.
The verdict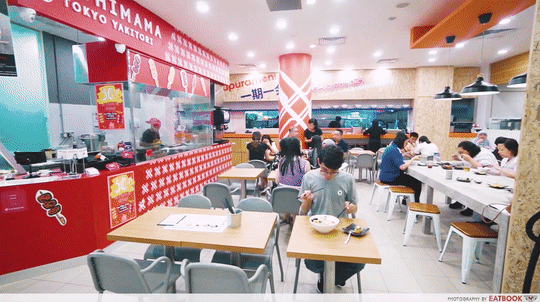 With nothing above $11, Supuramen's halal ramen provides great value. I have a bad tendency to overspend massively on food, and my friends seldom accompany me on my wallet-slaying trips to restaurants. I'm happy to say that I've finally found a place affordable enough to tempt them into visiting.
If you live in Tampines or around the East, I strongly suggest you give the store a visit. There's no GST or service charge; what you see on the menu is what you pay for. I'll definitely return eagerly if I happen to be in the area.
Address: 1 Tampines Walk, #B1-53A, Our Tampines Hub, Singapore 528523
Opening hours: Daily 11am to 9:45pm
Tel: 6909 3938
Website
Supuramen is a halal-certified eatery. 
Photos taken by Joshua Lee
This is an independent review by Eatbook.sg.
Summary
Pros
– Very affordable
– Noodles are all handmade
– Broth doesn't compromise on flavour, despite being non-traditional
– Free-flow condiments
Cons
– Gyoza very plain on the outside
– Soup quite oily
Recommended dishes: Original Supuramen ($9.90), Supuspicy ($10.90)
Opening hours: Daily 11am to 9:45pm
Address: 1 Tampines Walk, #B1-53A, Our Tampines Hub, Singapore 528523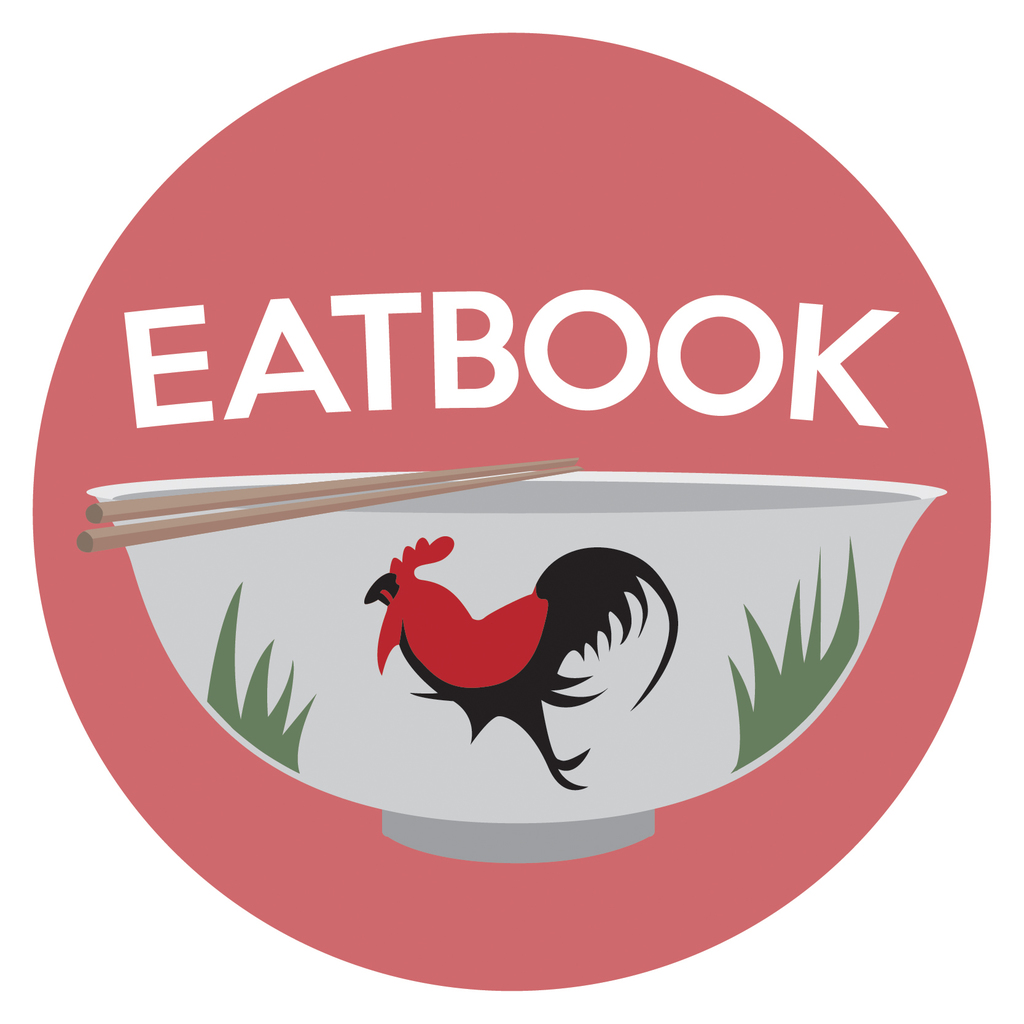 Drop us your email so you won't miss the latest news.