Syohachi Yakiniku buffet at Tanjong Pagar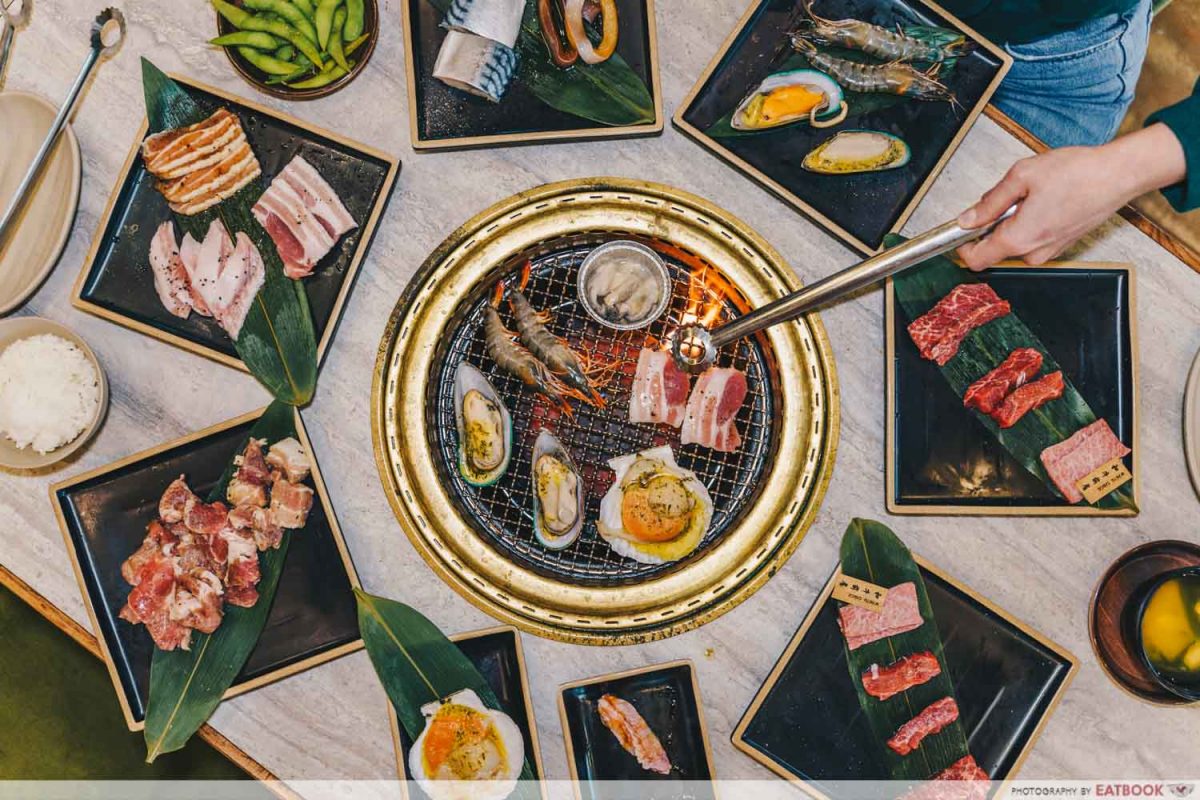 When Hong Kong's famous Syohachi Yakiniku came to Singapore in November last year, the restaurant seemed like a love letter to carnivores. Their press statement promised premium free-flow meats, a central CBD location, and buffets that ran till 1am. 
While they were gaining buzz for their two-hour A5 Wagyu Ala Carte Buffet (from $70++ per person), they also launched a much more wallet-friendly 90-minutes Yakiniku Ala Carte Lunch Buffet ($30++ per person), which was all the excuse my colleague and I needed to head down to their Guoco Tower outlet to feast. This affordable buffet option is available from Mondays to Thursdays, between 11:30am to 3pm, and reservations are recommended. 
Unfortunately, that's where the good things took a backseat, and our time at Syohachi Yakiniku began to go awry.
Syohachi Wagyu Hamburg Review: Japanese A5 Wagyu Hamburgs And Sandwiches From $7.70 At Raffles Place
Food at Syohachi Yakiniku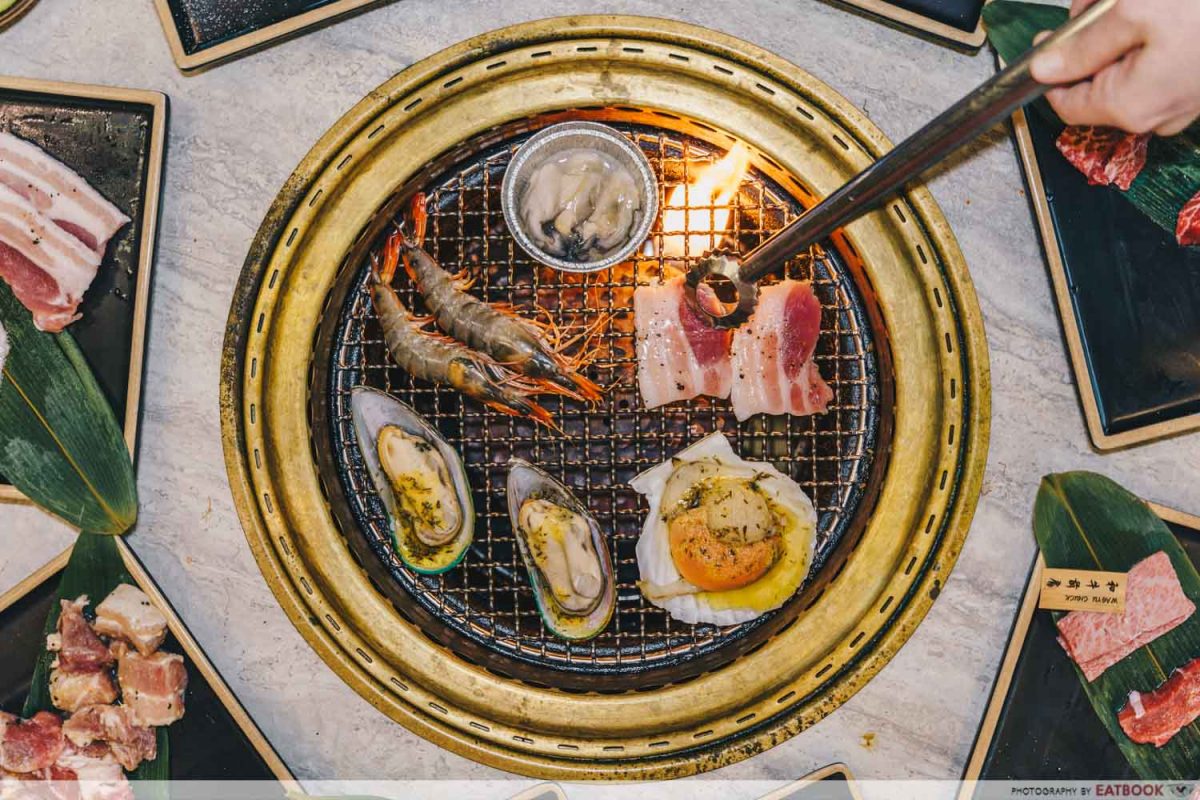 When you think of yakiniku buffets, you think of free-flow beef. The menu at Syohachi Yakiniku had images promoting A5 Wagyu Beef and a beef Tasting Platter for the $30++ price tag, which was the main draw. However, the reality was that every diner only gets one of those platters, with six slices of premium beef, and six pieces of seafood throughout the buffet. Additional orders of beef were chargeable, starting at $6++ for four slices.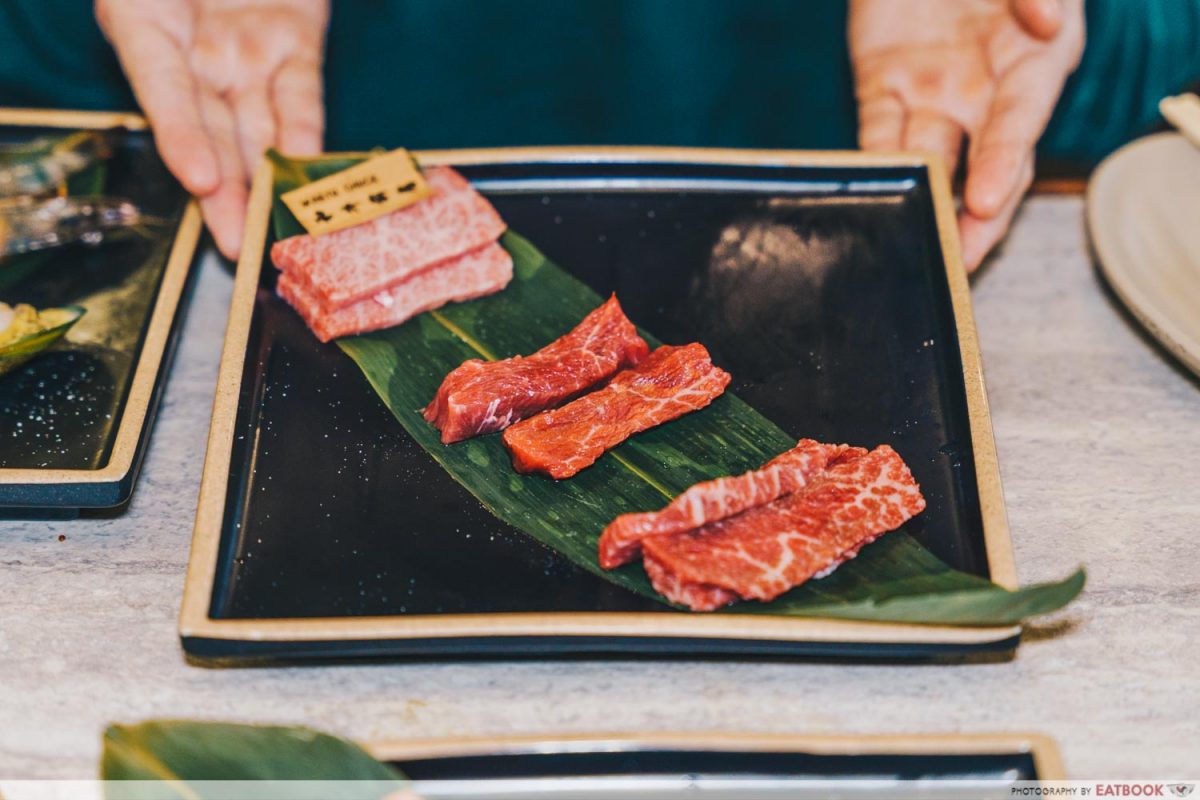 The unlimited options spanned 42 items, of which there were hot sides, cold sides, pork, chicken, seafood, vegetables, soup, rice, and noodles. 
Though I felt slightly deflated, I still awaited the platter eagerly, because I'll take whatever portion of wagyu I could get. Expectations once again fell short of reality. The slices were small, which I could look past, but it was tough to close an eye to the waitress dropping a prawn on our table while serving, and picking it up with her bare hands to put it back on our plates.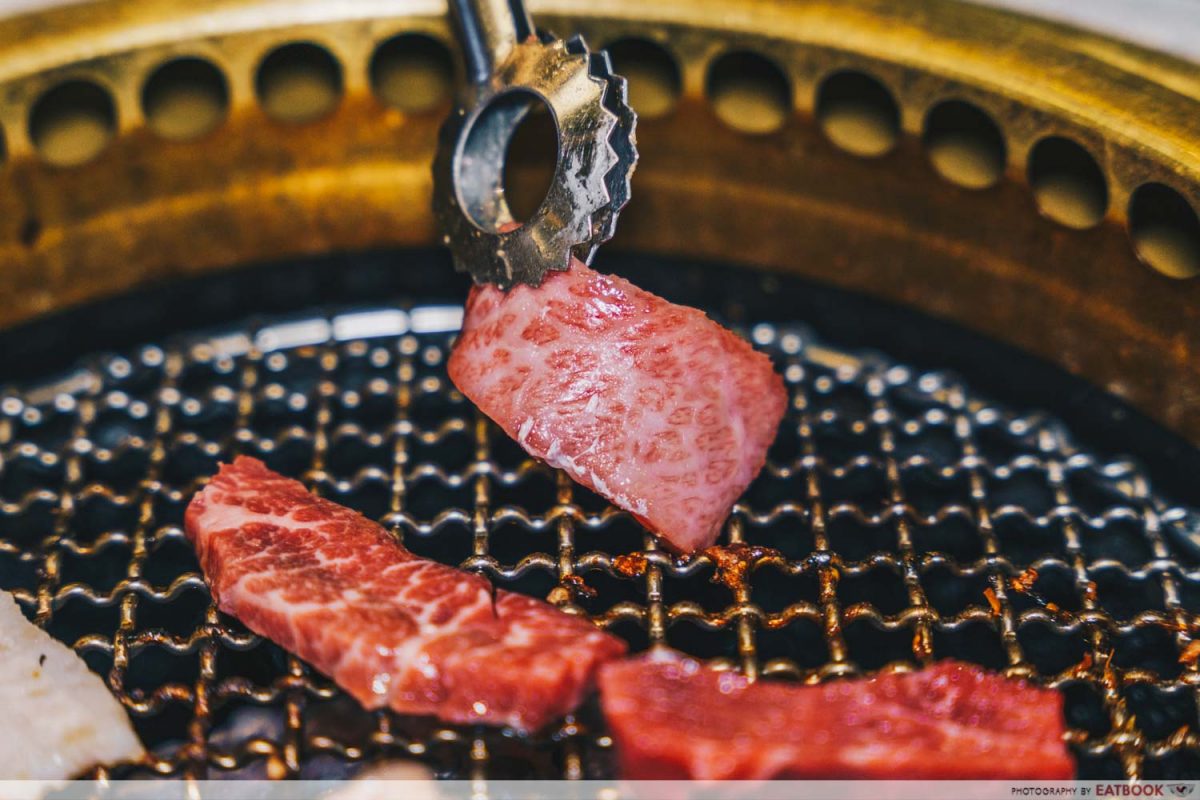 My colleague and I must have looked like the shocked Pikachu meme for a good two minutes after this hygiene slight. We requested a change, and for a while, things were smooth.
We started grilling the tasting platter first, working our way through the A5 Wagyu, Japanese Ox Tongue, and Short Ribs.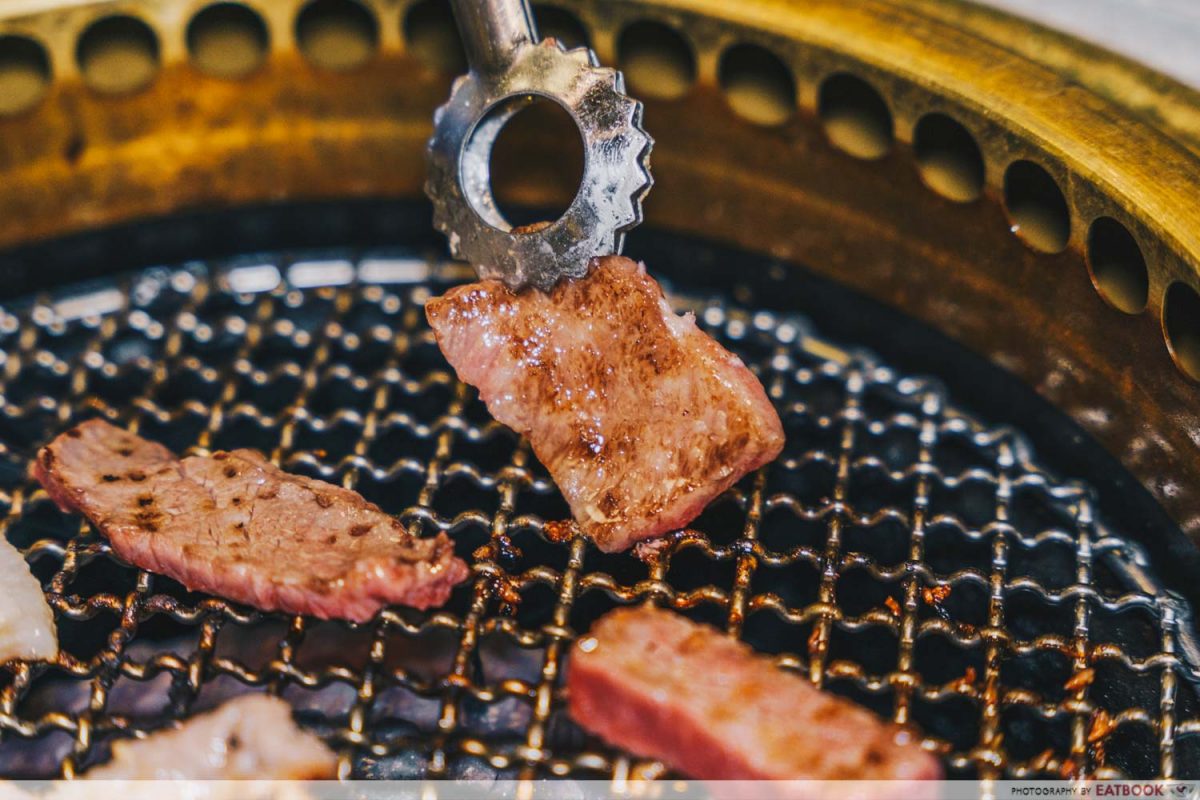 The A5 was as expected: lightly salted and fatty to the point of being creamy, we only wished there were more. The Ox Tongue is well seasoned with salt, though the thicker cut makes it harder to chew. The Short Ribs are slightly marbled, which kept the slices tender even though I left it a touch too long to grill.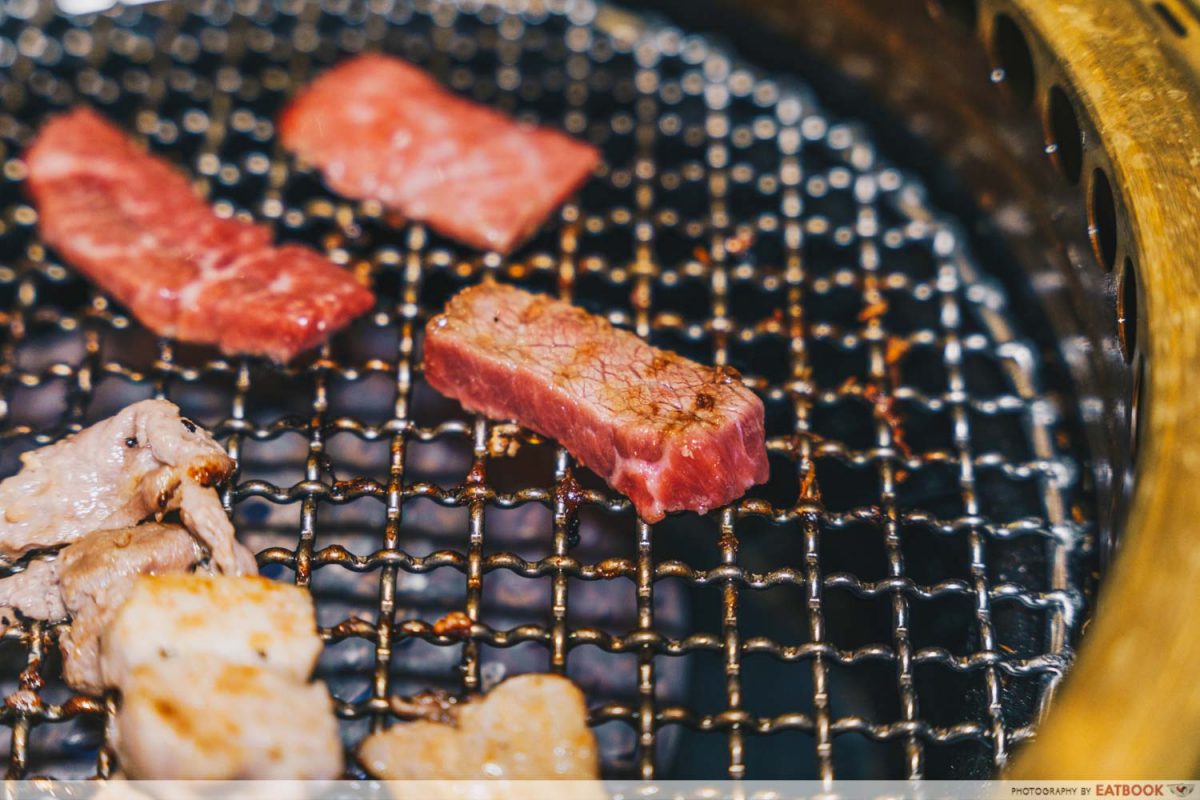 While the menu promised six pieces of seafood on the same platter, we only received four: two Tiger Prawns with Salt, and two Mussels with Herbs Butter Sauce. The Japanese Oysters with Herbs Butter Sauce were, instead, a premium item that we had to get as an add-on $4++ during our visit.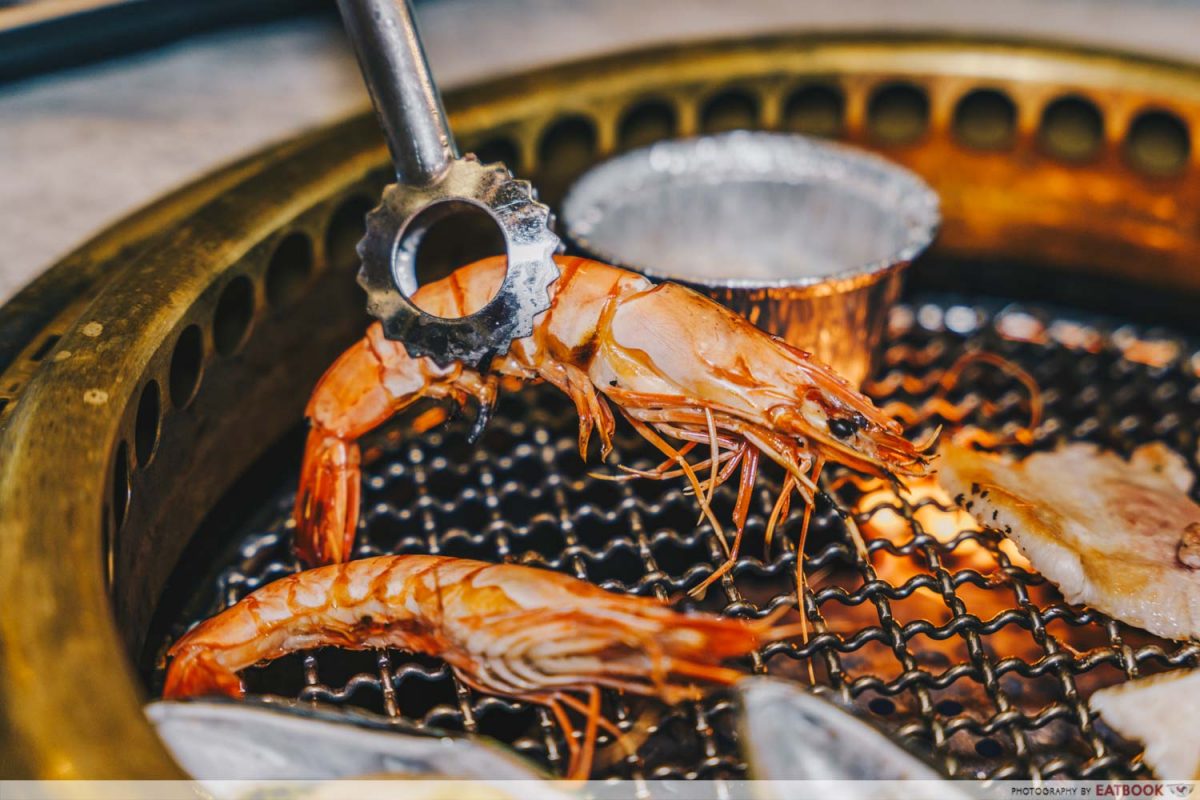 We also ordered the Scallops with Herbs Butter Sauce, which cost an additional $4++ per piece.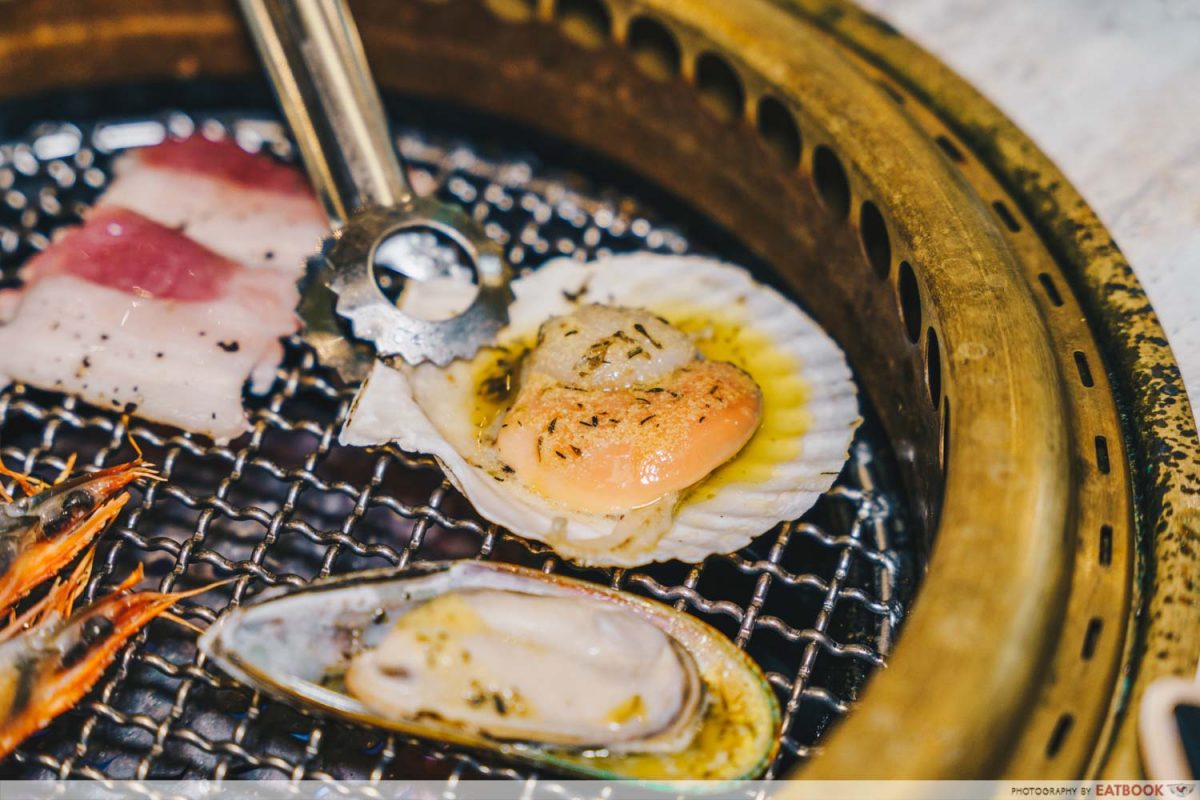 The prawns were a little smaller than what we expected for tiger prawns, but still fresh. The mussels and scallops are substantial, though the herbed garlic butter far too strong. I wish they sieved out the herb leaves after making the butter, or diced them finer because these felt like harsh grains on the tongue.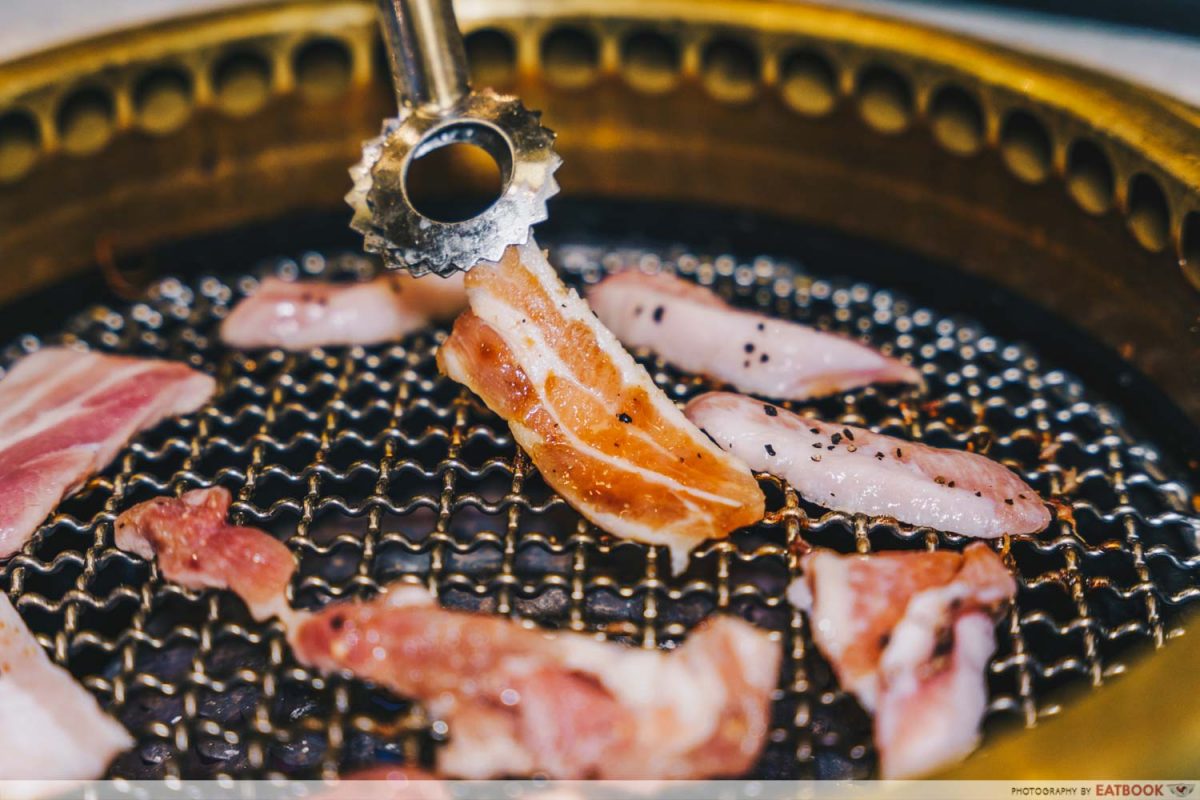 As for the other meats, I highly recommend their Pork Belly with Ginger Sauce, as the ginger gives a welcome zing to the fatty cut.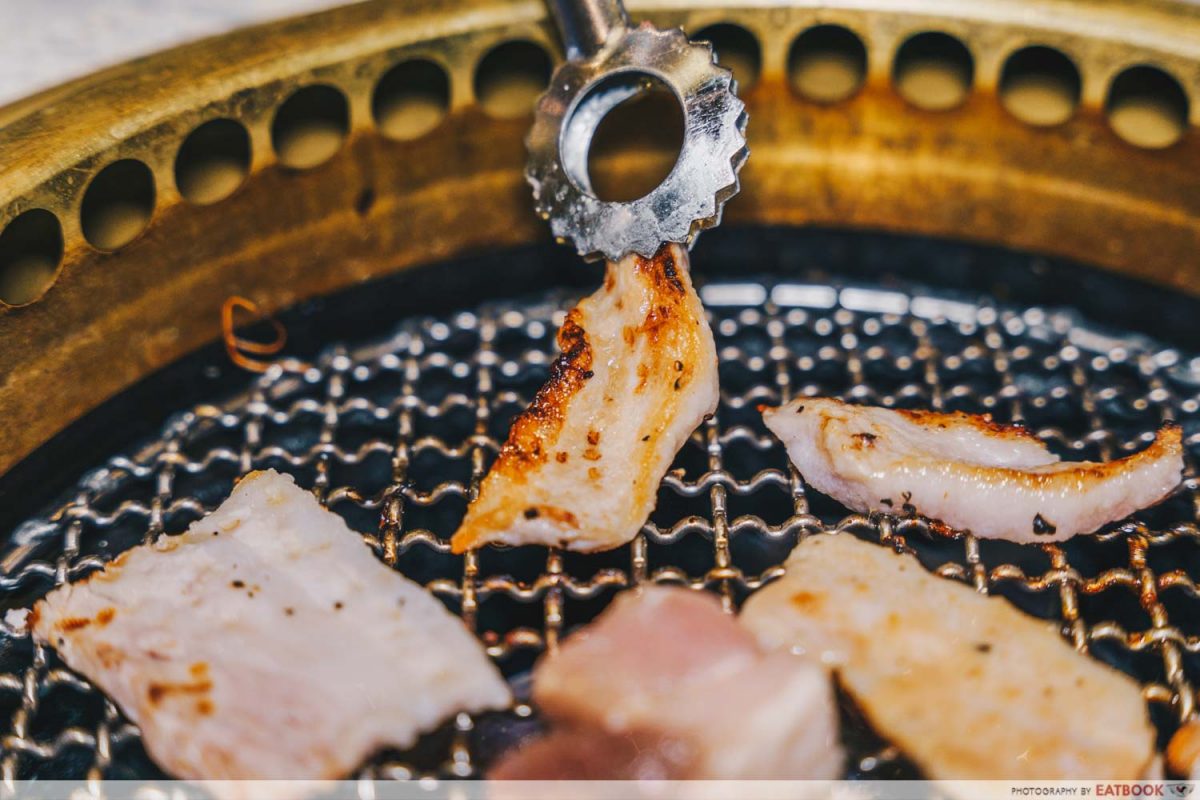 Also, get the Thick-Sliced Pork Belly with Yuzu Zest and Peppers. Not only is the thicker cut more shiok if you're a pork belly fan, the yuzu marinade also gives it a nice zesty lift.
The chicken options are unremarkable, and in general, take longer to cook, so definitely stick to eating your money's worth in pork.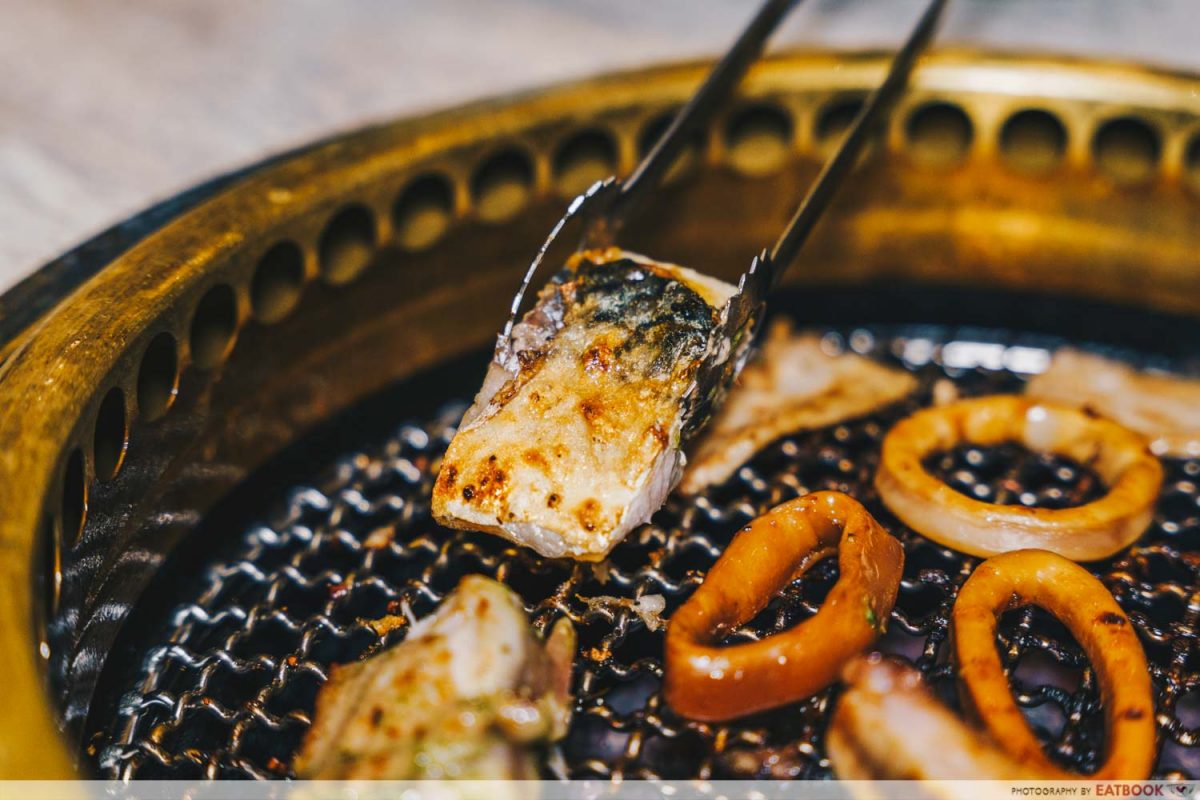 If you don't want to shell out extra for premium seafood, they have two free-flow options in the category: Japanese Squid with Sauce, and Mackerel with Salt. The mackerel could do with more seasoning, but the teriyaki sauce on the squid made up for it as the better of the two.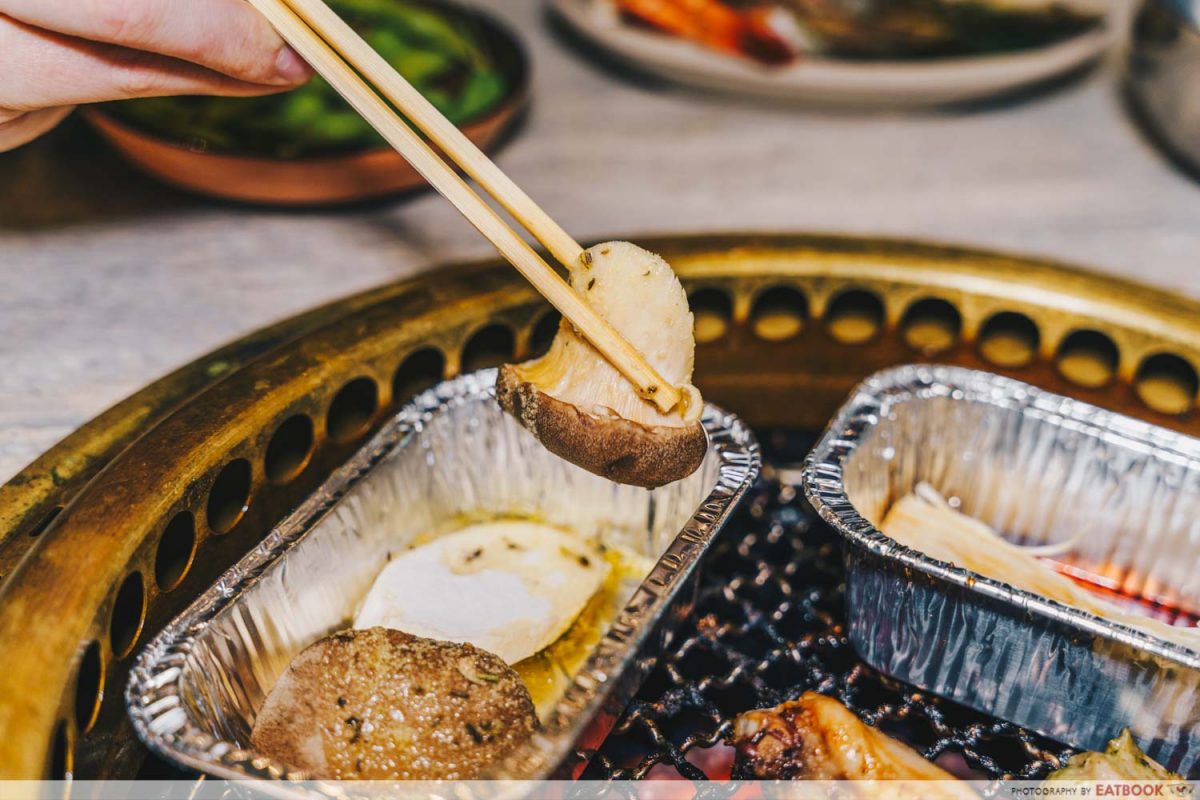 For greens, you can choose from a variety of mushrooms in the same herbs butter sauce, eggplant, corn, or pineapple.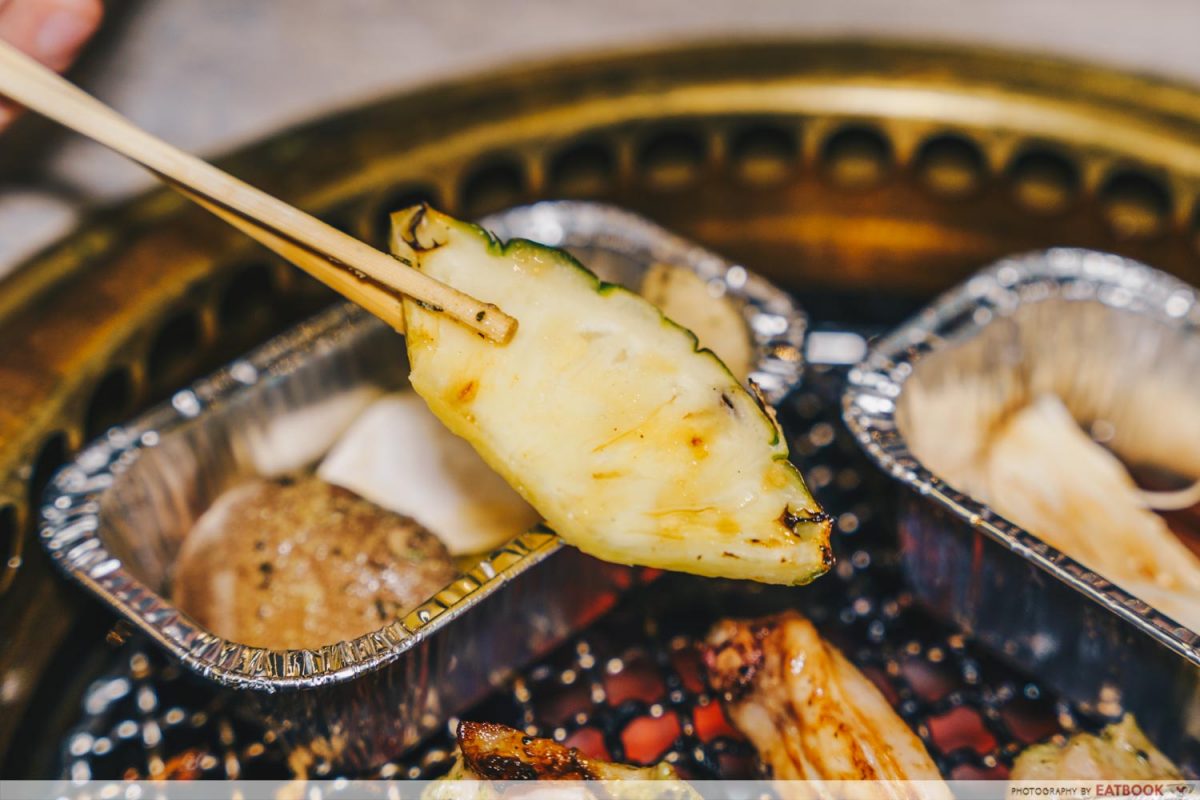 The pineapple was an unexpected hero—caramelised after grilling, eating this with pork belly instantly turns your mouthful into gu lou yok (sweet-sour pork).
10 Japanese Food Places In 100AM For Unlimited Beef Shabu Shabu, Matcha Sundaes And More
Ambience at Syohachi Yakiniku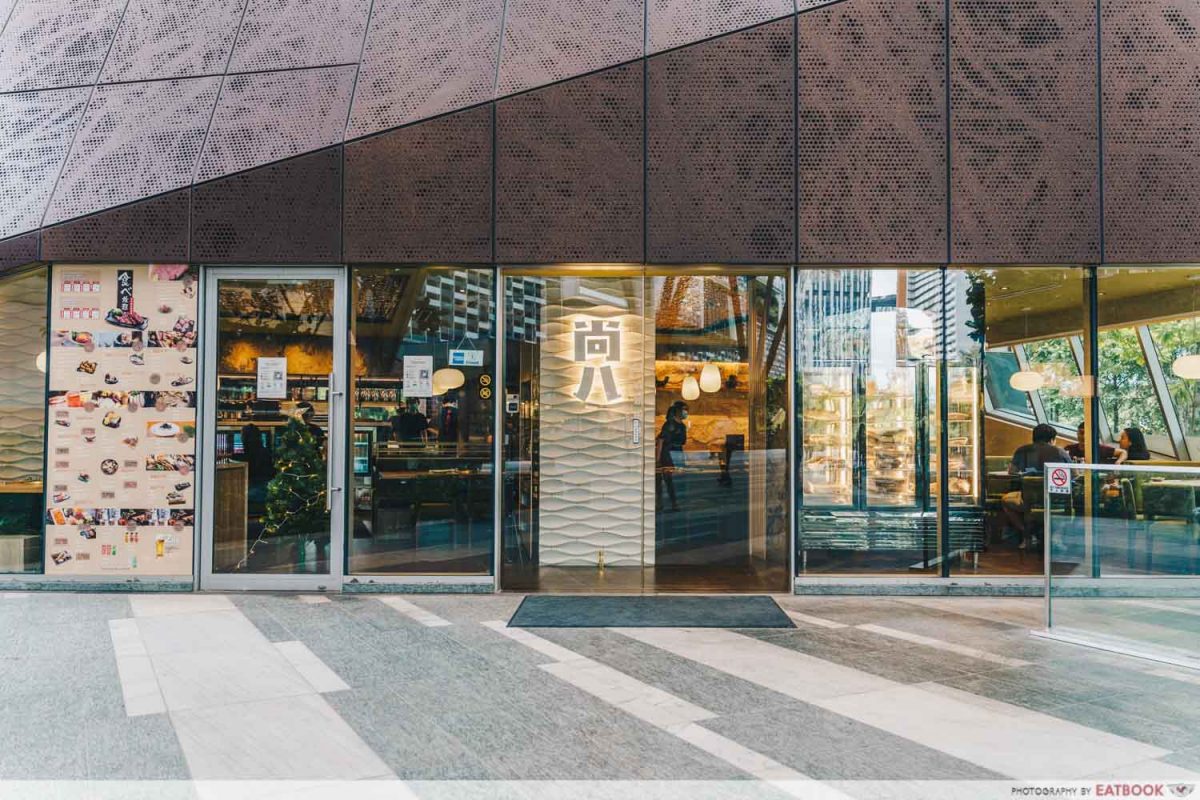 Located at Guoco Tower, the restaurant is extremely accessible, as it is just above Tanjong Pagar MRT Station.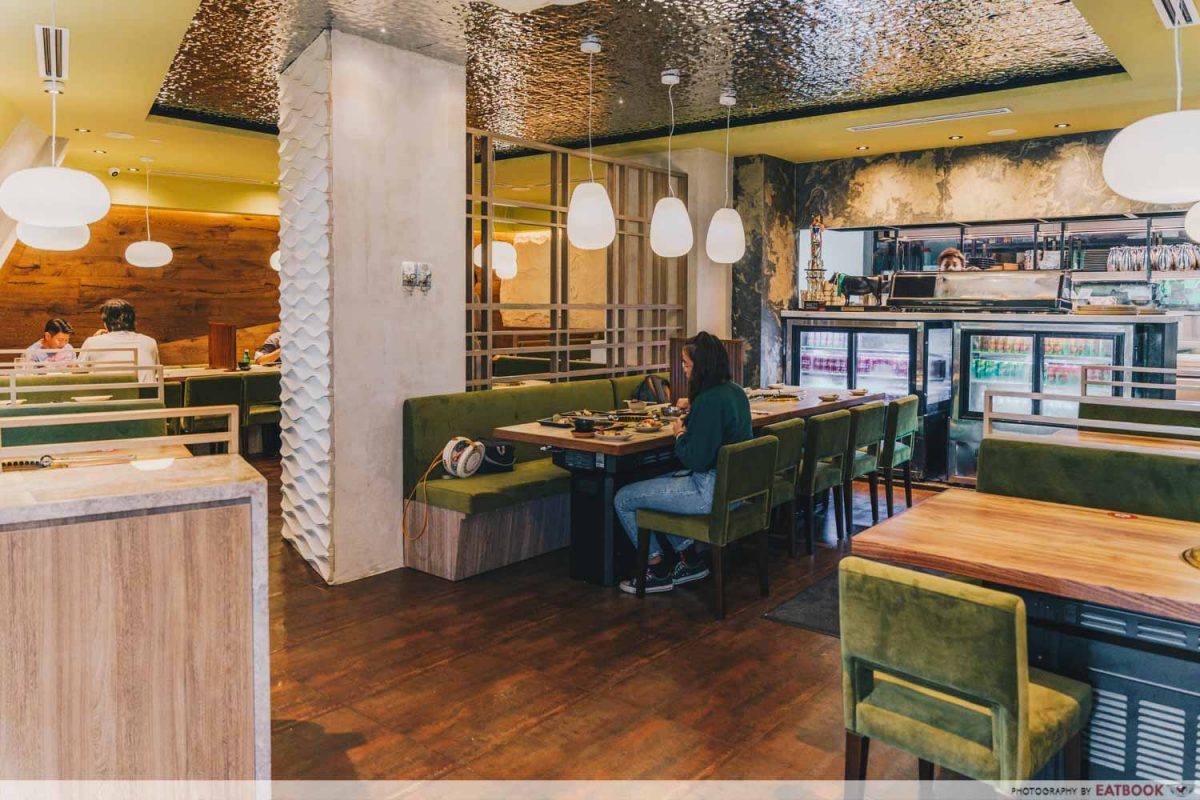 The interior was comfortable, with partitioned velvet booth seats for guests, as well as exhaust-free grills. 
However, the stylish decor couldn't make up for lacking service. Long waiting times are expected even with a reservation, which is fine if you're not in a rush to head elsewhere, but tricky if you have plans after your meal. 
Certain waiters were brusque, emphasising food wastage costs or tsk-ing when we had issues with our grill. 
Even the most basic of things were amiss—because we weren't served water, we had the impression that drinks were chargeable. After an hour plus of eating grilled meats, the jelakness was too much, so we were willing to pay for mineral water at the end of our meal. Two glasses came, and they were complimentary. The staff simply forgot to water to us from the get-go.
Yakiniku Warrior Review: Singapore's First Yakiniku In A Coffee Shop Has Barbecue Meat Platters From $6
The verdict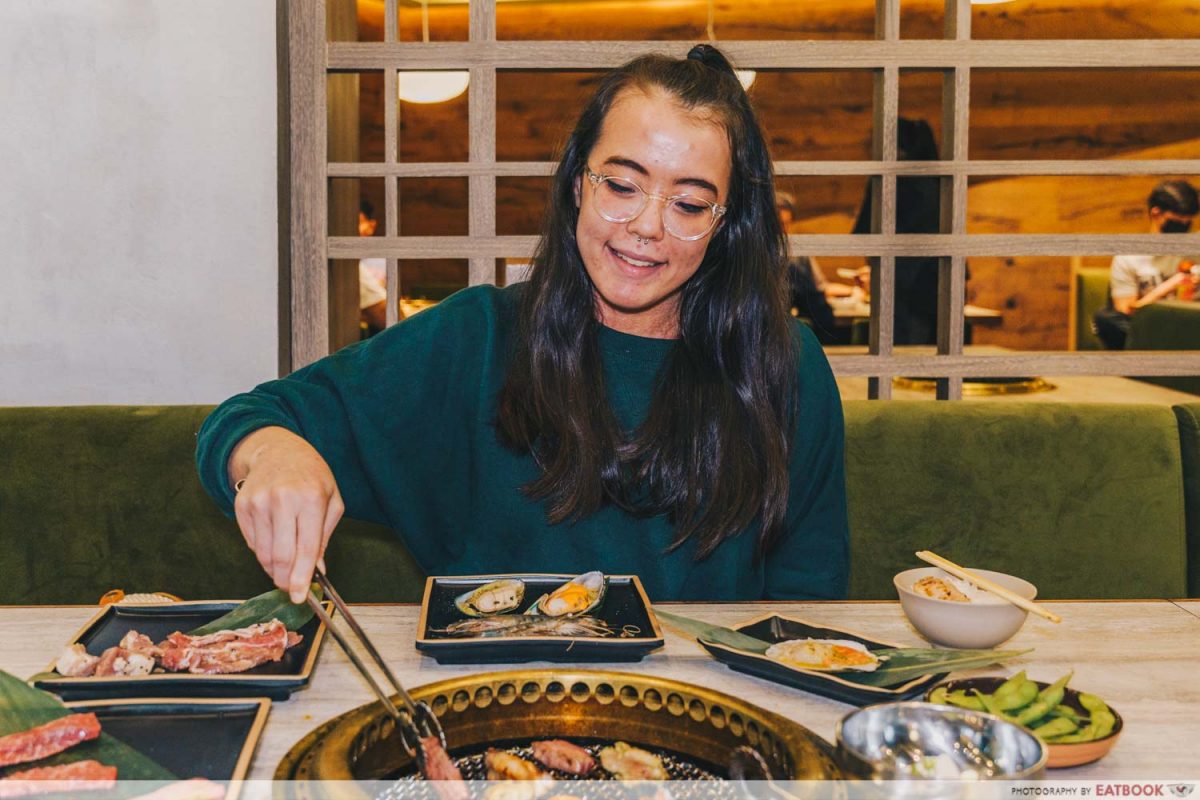 It is the service that made our visit memorable, though, and for all the wrong reasons. Here's hoping that Syohachi Yakiniku betters its standard to match its food, because to their credit, the menu isn't terrible. Our biggest gripe on that front was that we wished the free-flow included some kind of beef option, even at a lower grade than wagyu. The "niku" in "yakiniku" literally translates to beef, after all.
Check out our guide to Japanese buffets in Singapore for other similar options, or read our Yakiniku Warrior review, where we try out the first local yakiniku based in a coffee shop. Finally, check out Syohachi Yakiniku's sister restaurant by reading our Syohachi Wagyu Hamburg review, trying out their affordable wagyu hamburgs and sandwiches.

Address: 5 Wallich Street, #01-13, Guoco Tower, Singapore 078883
Opening hours: Daily 11:30am to 3pm, 5pm to 1am
Tel: 9431 8804
Website
Syohachi Yakiniku is not a halal-certified restuarant.
Photos taken by Lim An.
This is an independent review by Eatbook.sg.
18 Japanese Buffets In Singapore From $18.90++ For Unlimited Sashimi And Wagyu
Syohachi Yakiniku Review: Yakiniku Buffet With Wagyu Tasting Platter For $30++ Per Person
Syohachi Yakiniku Review: Yakiniku Buffet With Wagyu Tasting Platter For $30++ Per Person -

6/10
Summary
Pros
– Tasty pork belly
– Convenient location
Cons
– Poor service
– Tasting Platter was very limited
Recommended dishes: Japanese Squid with Sauce, Thick-Sliced Pork Belly with Yuzu Zest and Peppers
Opening hours: Daily 11:30am to 3pm, 5pm to 1am
Address: 5 Wallich Street, #01-13, Guoco Tower, Singapore 078883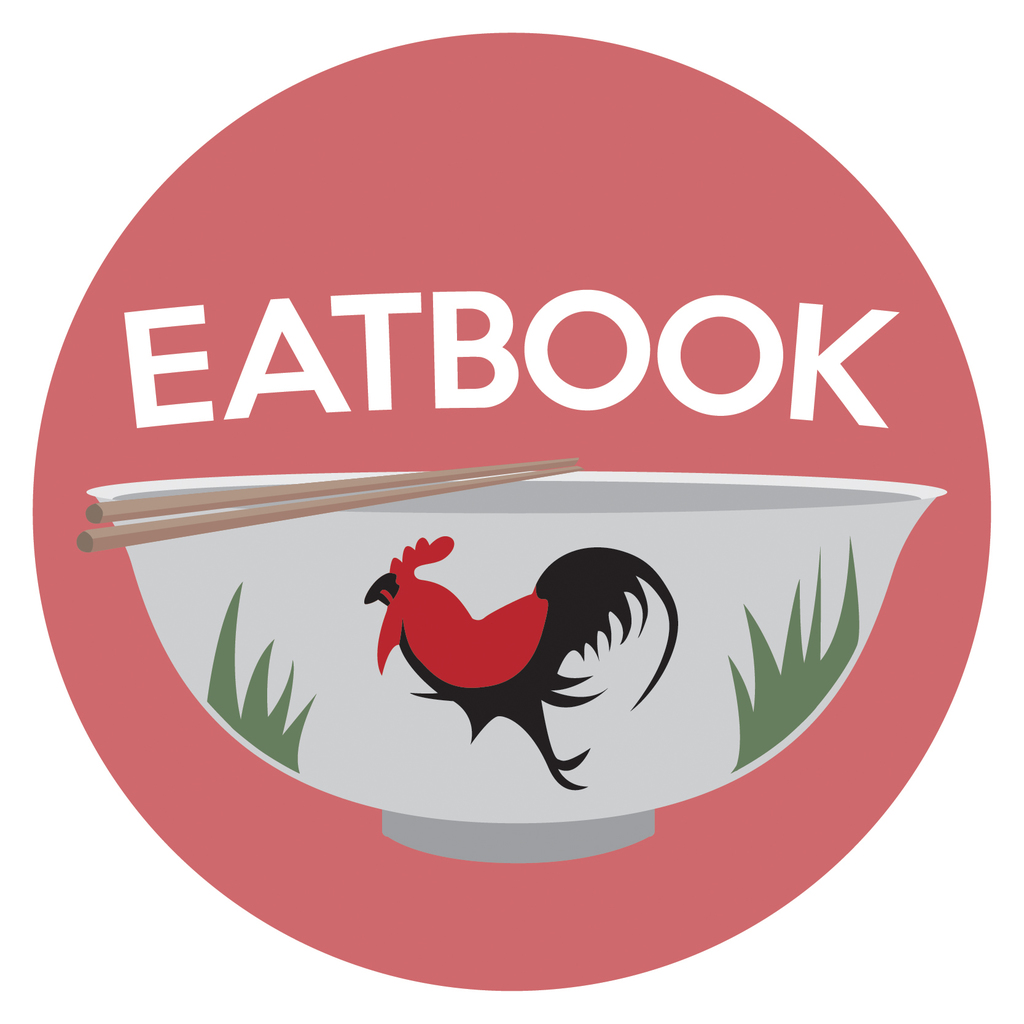 Drop us your email so you won't miss the latest news.