Taste of Taiwan sells $4.50 lu rou fan
Update (8 January 2019): Taste of Taiwan has permanently closed.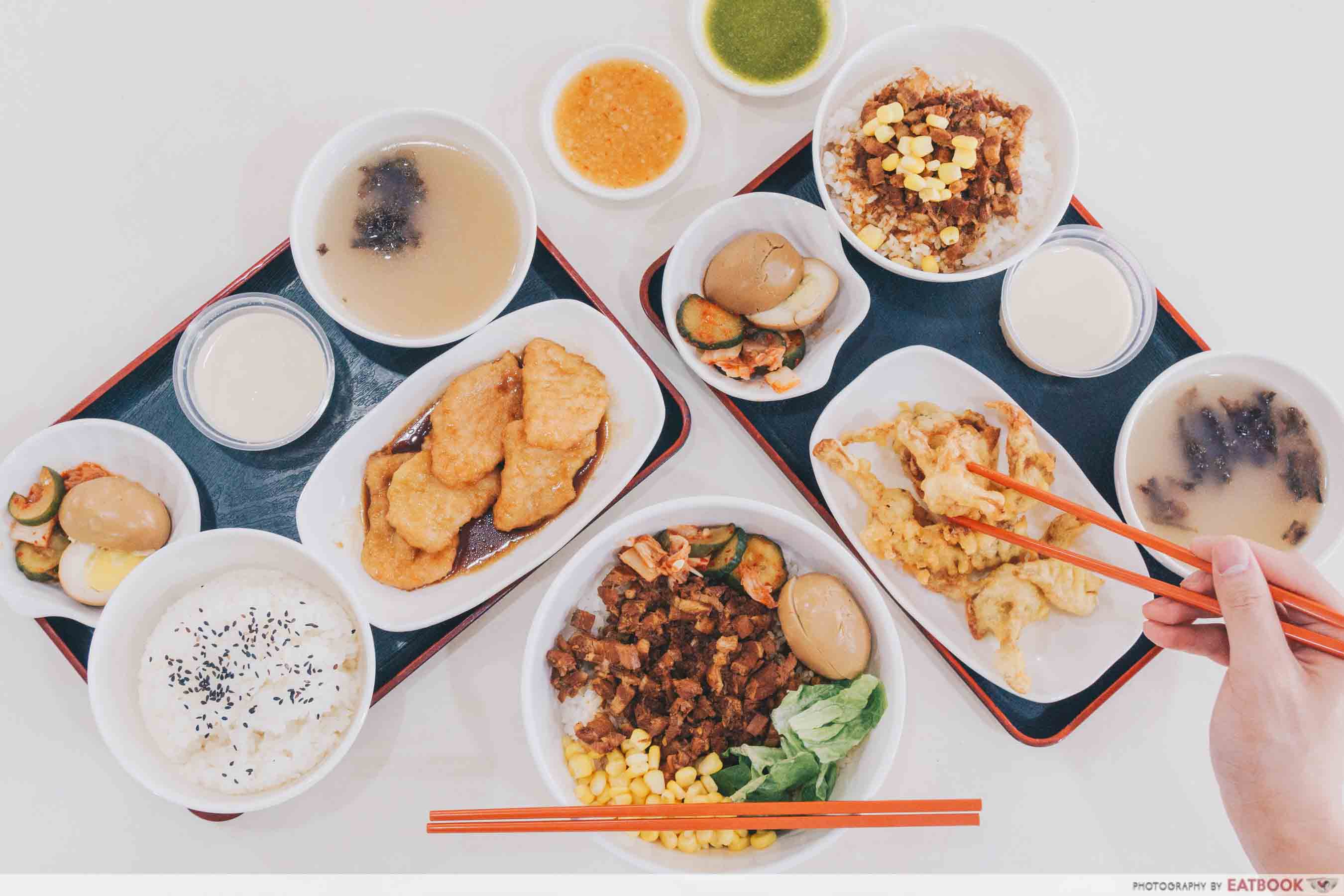 Mediacorp artiste Chen ShuCheng (陈澍城) has had many food ventures, including Teochew City along MacPherson Road. His newest addition is Taste of Taiwan, a hawker stall selling lu rou fan (braised pork rice).
During one of his overseas projects in Taiwan, the actor developed a love for this meaty rice dish; thus the decision to bring it back home.
Food at Taste of Taiwan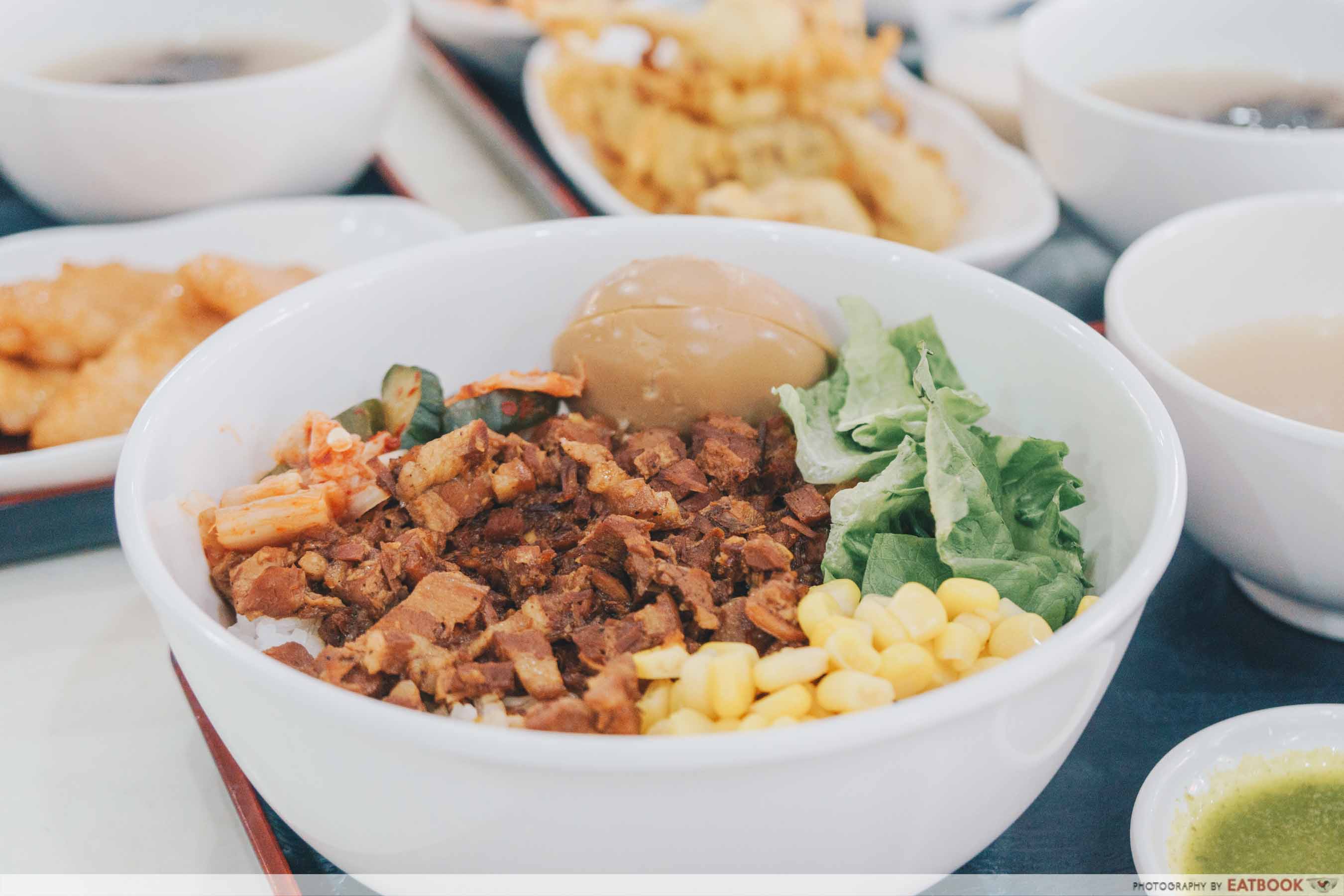 Defying Taiwanese tradition, a Japanese twist of miso is used in the Miso Lu Rou Fan ($4.90). The result is an umami-laden dish with an uncanny salivating effect.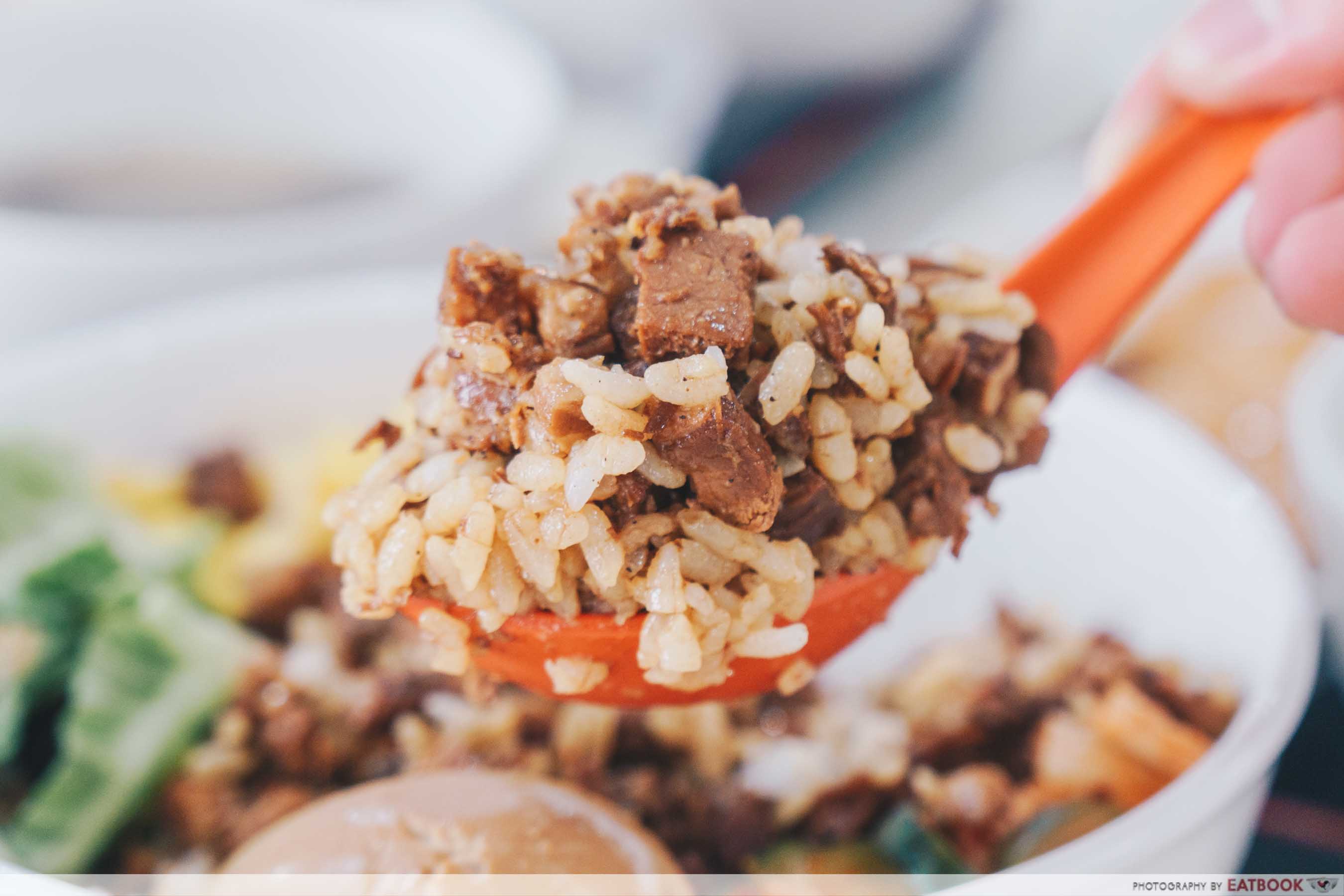 You can really tell that the pork was cooked low and slow. Its tendons and fat have been rendered to create tender and unctuous lu rou. I would compare the texture to the fall-off-the-bone ribs I tried at Meatsmith Western BBQ.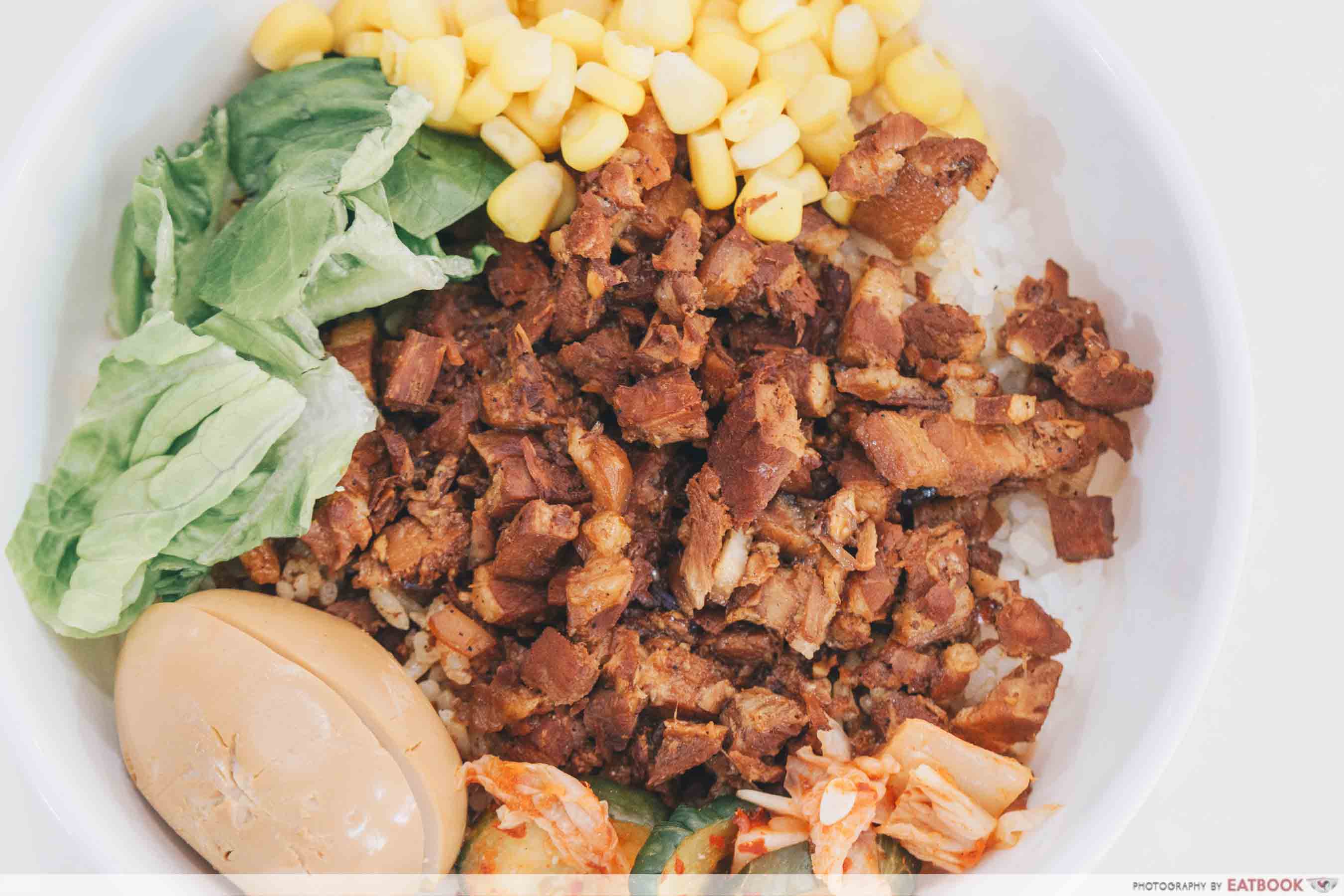 Light wafts of miso perfumed the strong earthiness of the pork. One can tell that the miso is used strategically — sparingly. A sufficient amount is used to elevate the dish, giving an explosion of umami meatiness, yet not too much such that the rich porky flavour is masked.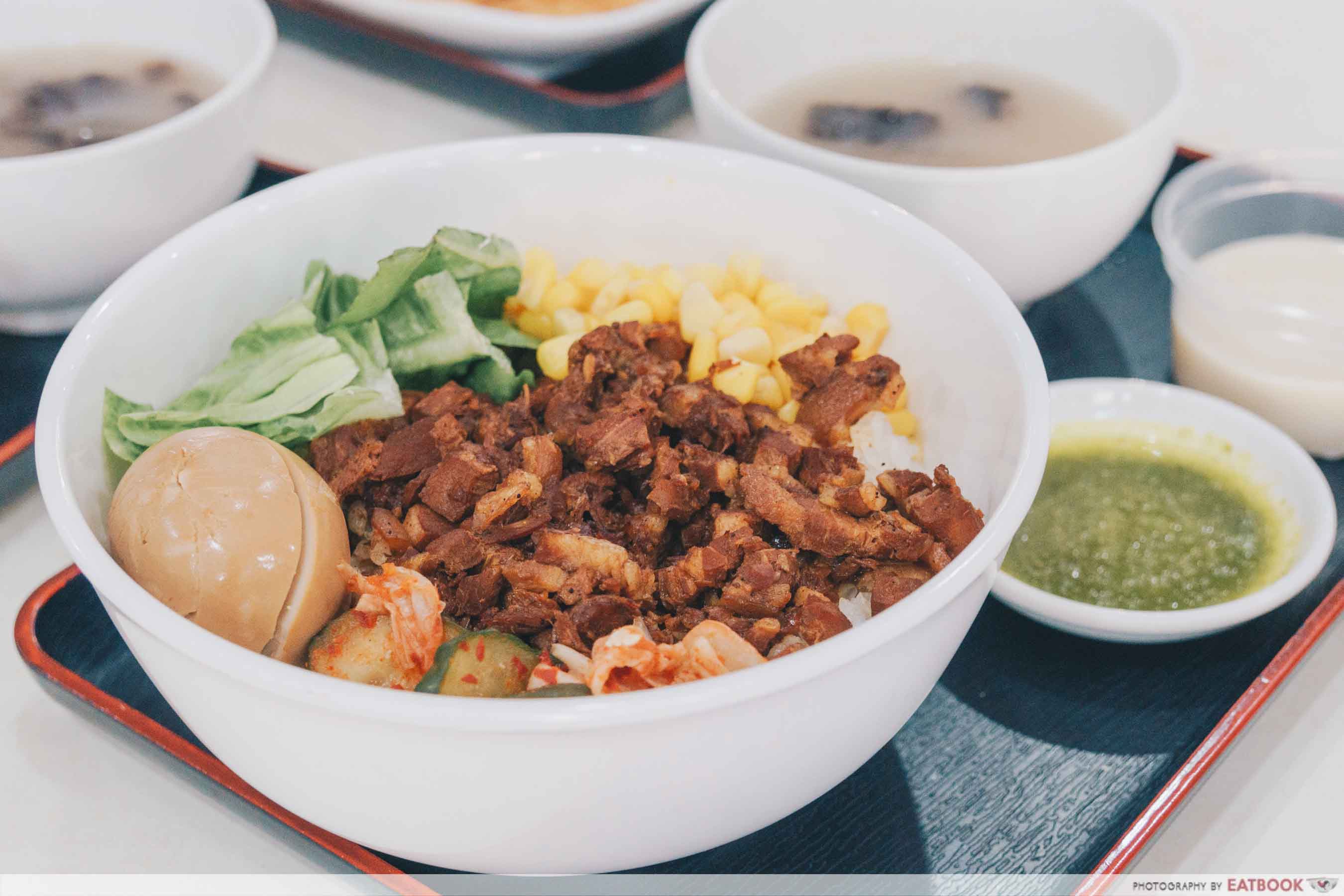 The portion size of Taste of Taiwan's lu rou fan is much larger than other lu rou fan. Every dime of our $4.50 was definitely well spent.
That being said, my team felt that the braised pork to rice ratio could be improved. The lu rou came in a rather small portion, relative to the generous serving of pearl rice.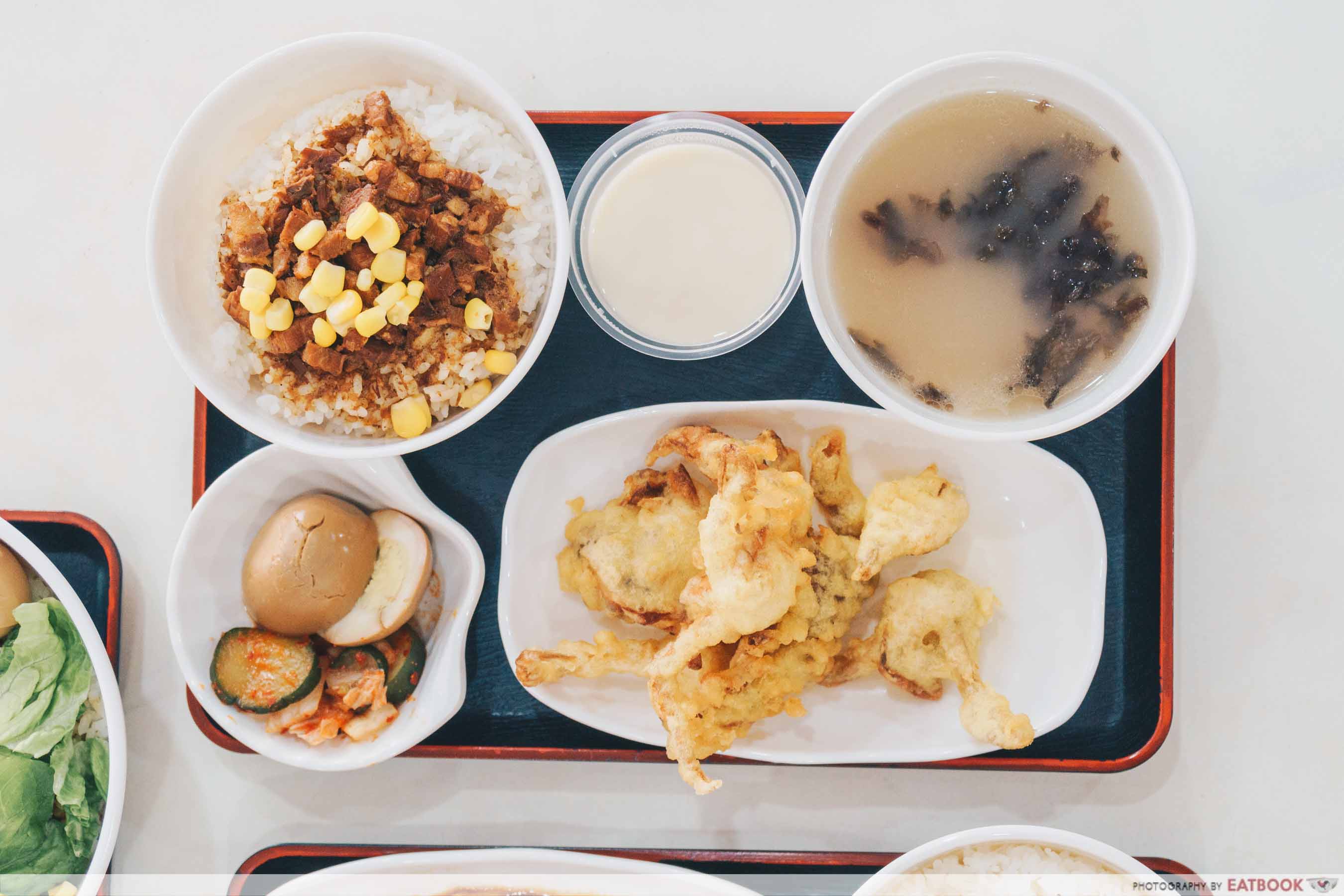 For a change of texture, Taste of Taiwan's Soft Shell Crab, Lu Rou Fan ($9.80) features crunchy soft-shell crabs. Fried upon order, the crabs are battered and submerged into bubbling oil.
10 Taiwanese Street Food And Where To Get Them In Singapore For Less Than $10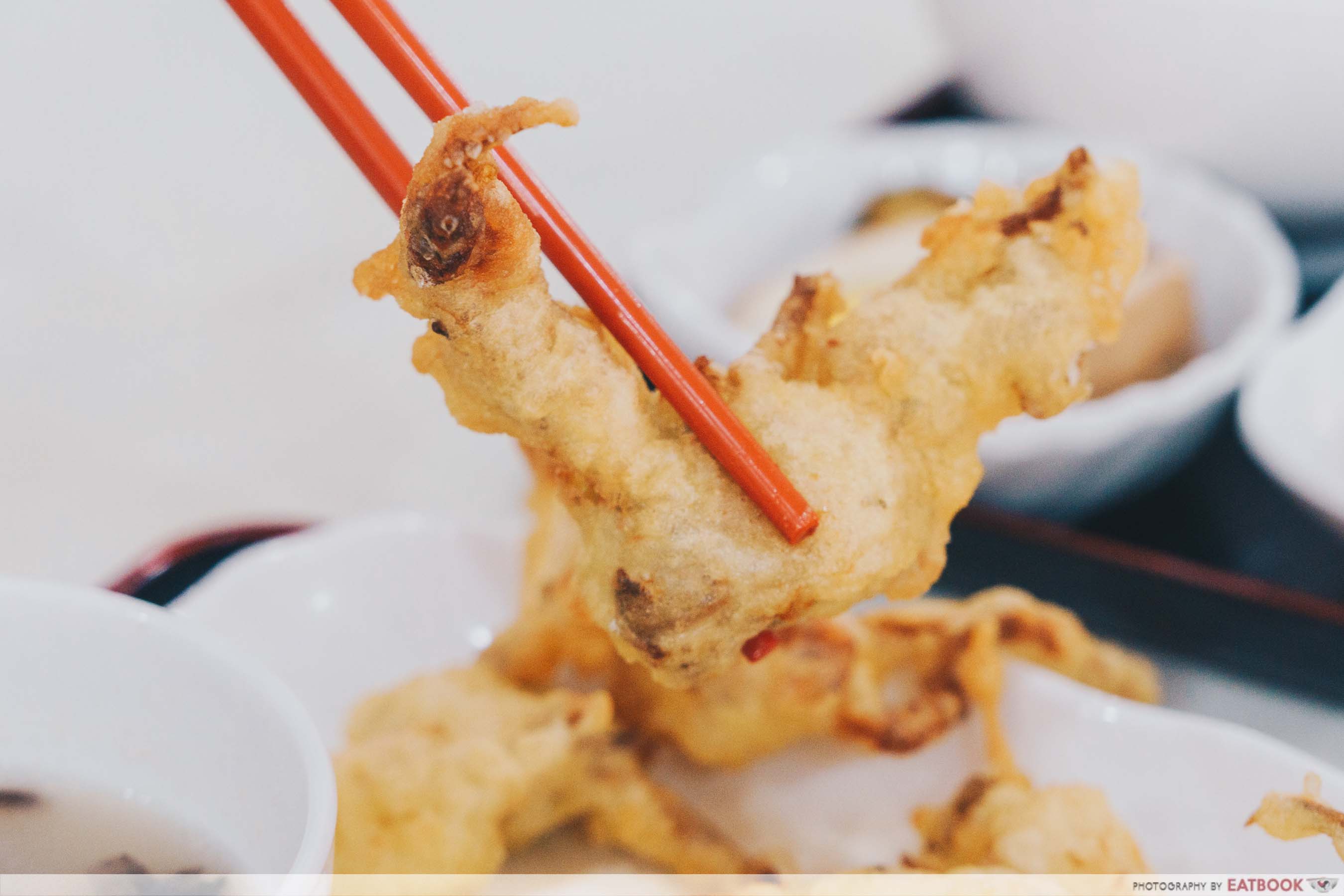 Bumps and indents on the crust create the perfect crevices for the batter to be crisped up. The result is a beautiful light brown crust that encases the succulent, juicy crab.
Steam rose into the air as we tore the crab in half. A soft pillowy flesh is then revealed. The crab has a tender succulence, leaving you loving this fried goodness.
Sadly, the soft-shell crabs lacked the briny, ocean-sweet flavour you'd associate with such a crustacean. The taste of flour and batter overpowered the delicate sweetness of the crabs, making it too bland.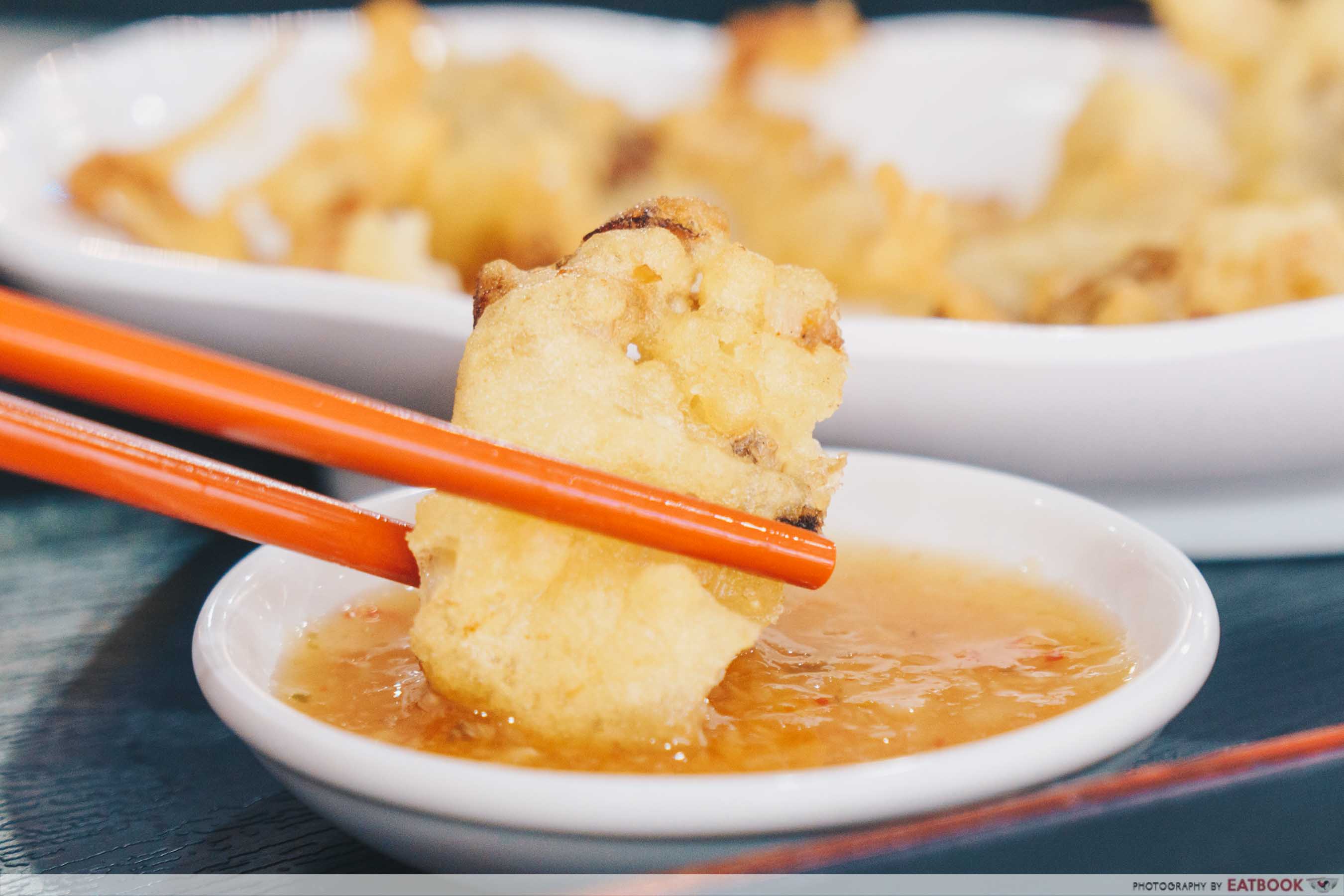 Thankfully, the deus ex machina was the Thai garlic dip. A Singaporean rendition of Thai chilli sauce, the heat and tartness riles up one's salivary glands, adding much-needed flavour to the crab.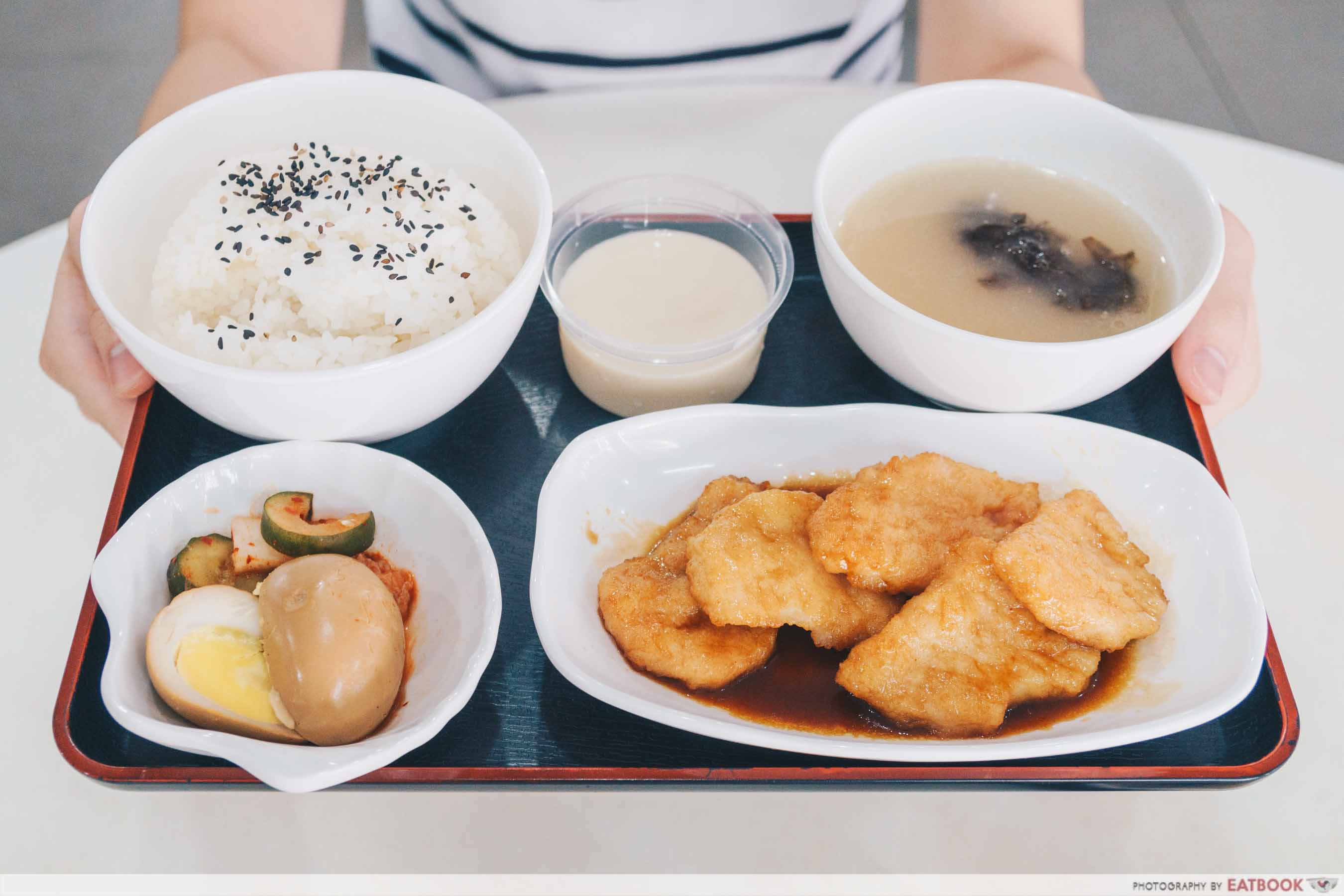 Our producer lit up like a child when she tasted the Passion Fruit Sweet and Sour Pork with Pearl Rice ($6.80). "Eh eh, it tastes like Heaven and Earth passion fruit tea!", she shrieked.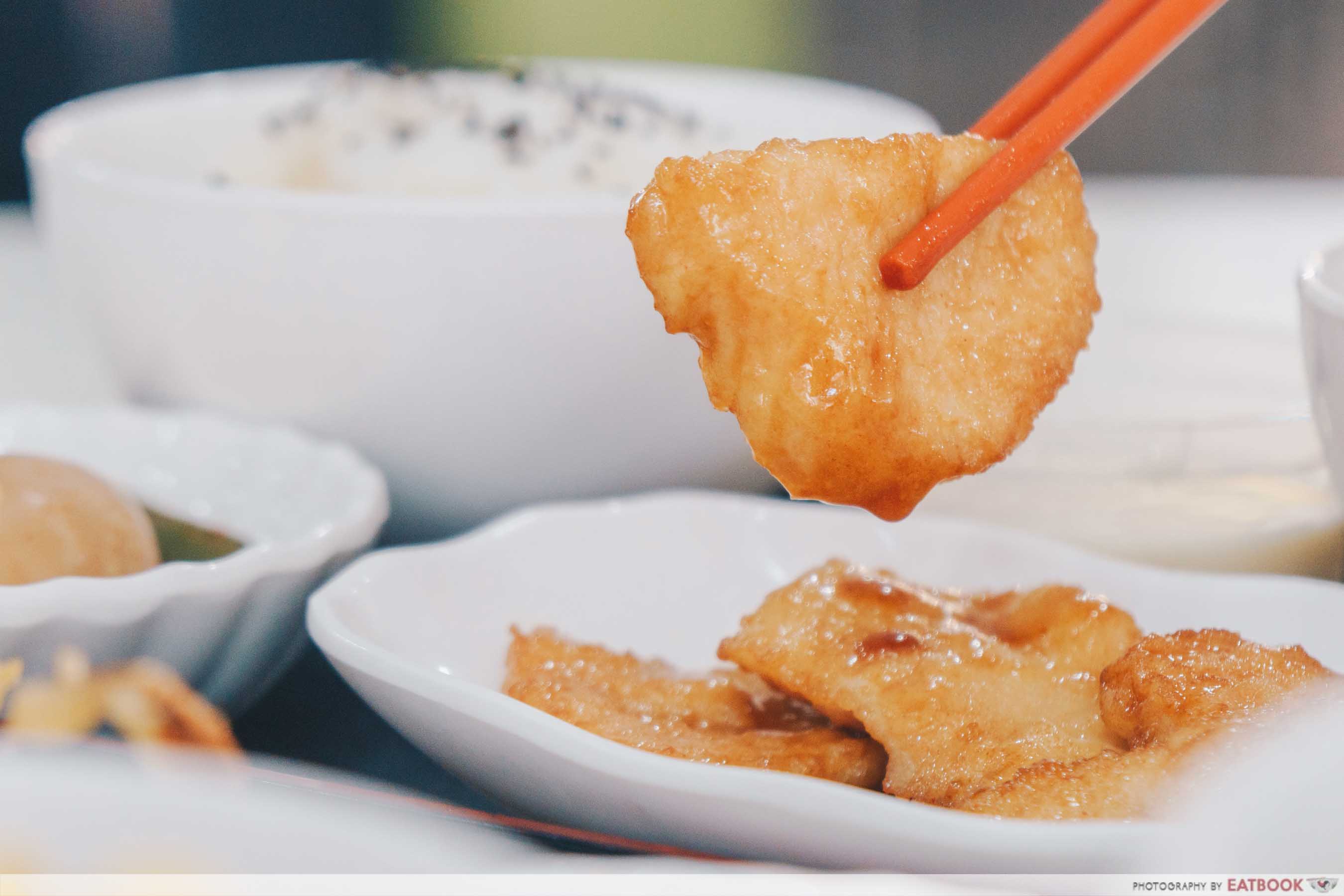 The glaze does taste similar to passion fruit tea. And it's precisely this characteristic that truly makes this dish fun and whimsical.
Ambience at Taste of Taiwan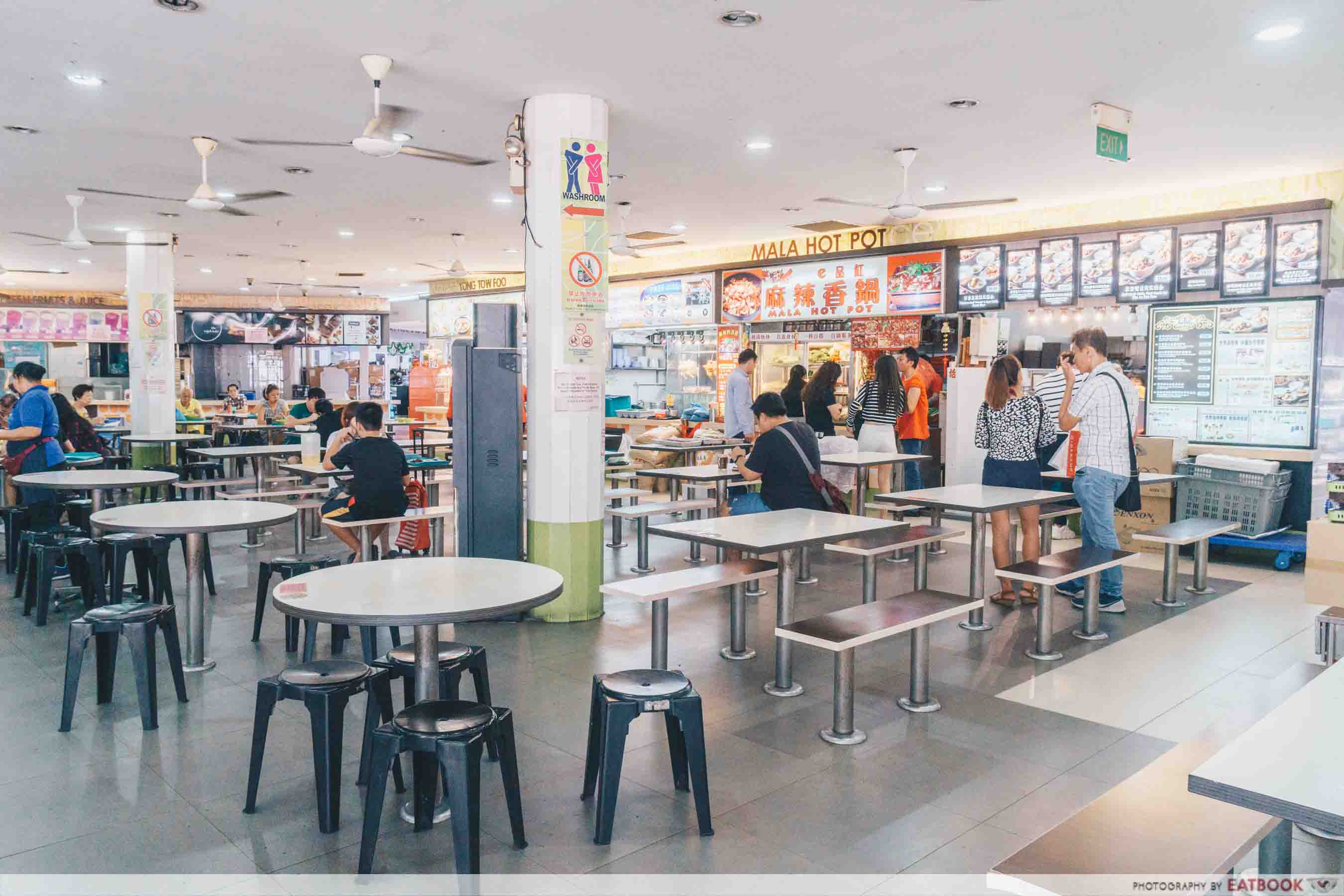 The food court has many seats, but might be overpacked during lunch. That aside, the army of ceiling fans ventilate the food court well. Tables and chairs are also rather sanitary.
The verdict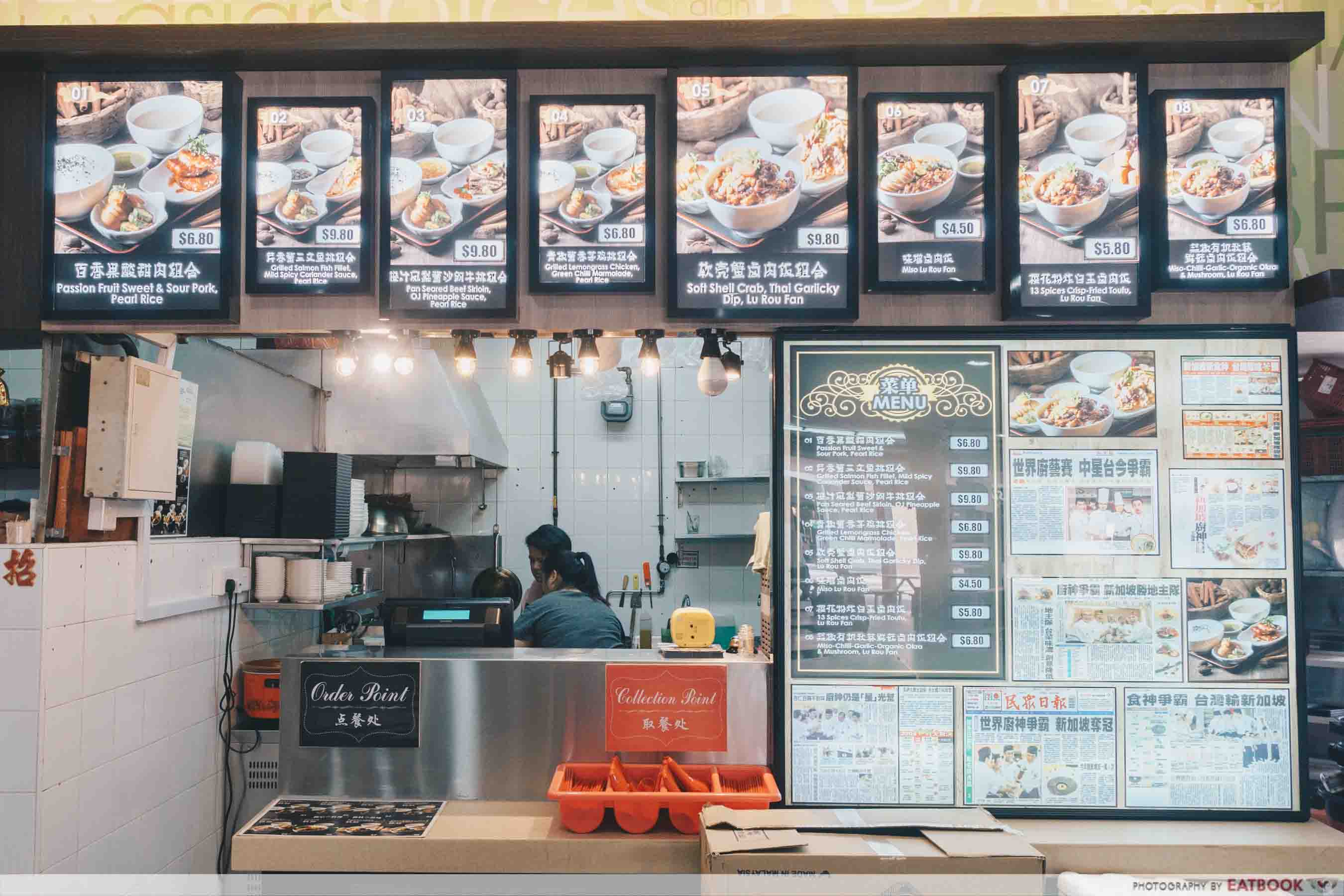 To come here for an authentic taste of Taiwan should ironically not be your goal. This eatery gives an uncontemporary take on traditional Taiwanese dishes. They're simple yet showcase an astute knowledge in Eastern culinary techniques.
Whilst some elements could have been improved, I feel that it's this raw, unpolished character that inexplicably draws me in.
Address: Blk 711 Ang Mo Kio Avenue 8, S11 Coffeeshop Stall 12, Singapore 560711
Opening Hours: Sun-Thurs 11am to 9pm, Fri-Sat 11am to 9.30pm
Website
Photos taken by An Lim
This is an independent review by Eatbook.
Summary
Pros:
– Huge portions
– Value for money
– Near the MRT station
Cons:
– Some dishes lacked flavour
Recommended dishes: Miso Lu Rou Fan ($4.50) Passion Fruit Sweet and Sour Pork ($6.80)
Opening Hours: Sun-Thurs 11am to 9pm, Fri-Sat 11am to 9.30pm
Address: Blk 711 Ang Mo Kio Avenue 8, S11 Coffeeshop Stall 12, Singapore 560711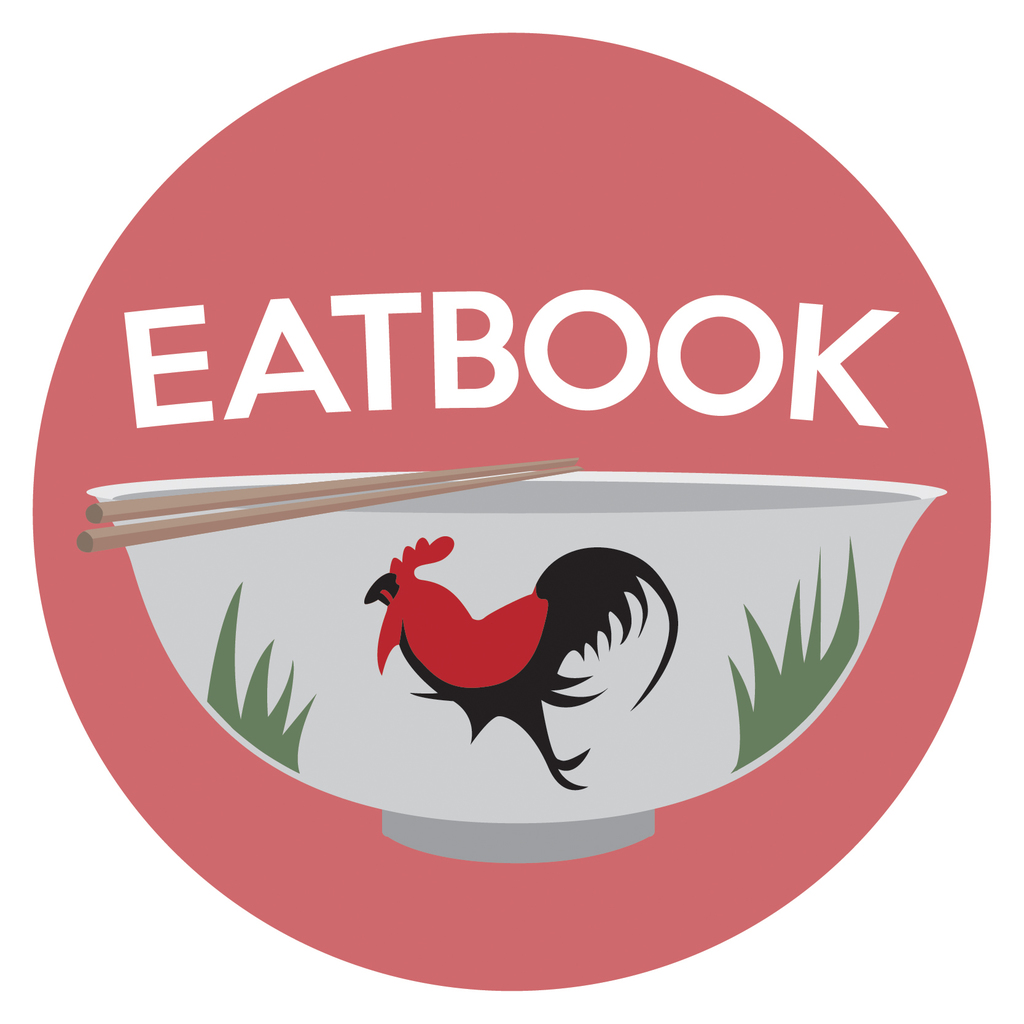 Drop us your email so you won't miss the latest news.