Teppan Kappou Kenji at Tanjong Pagar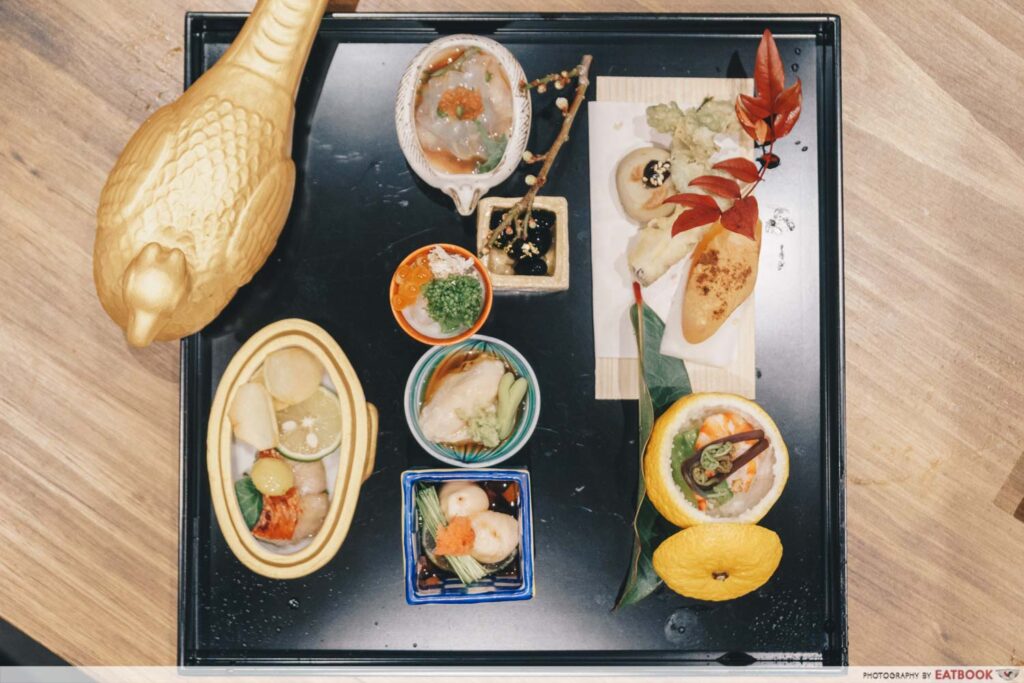 Omakase is often viewed as an exclusive affair meant for the elites. Directly translating to "I'll leave it up to you", this unique form of dining comprises dishes specially selected based on their freshness – a key component of Japanese cuisine.
Opened late last year in November, Teppan Kappou Kenji joins the list of omakase restaurants in Singapore. But this is no ordinary omakase joint. Instead, this place feels like a close hybrid between an izakaya and traditional Japanese restaurant.
Unlike traditional Japanese restaurants which practise a great deal of omotenashi or Japanese hospitality, this cosy restaurant gives off a chill vibe that makes it a casual restaurant to visit on any day.
Food at Teppan Kappou Kenji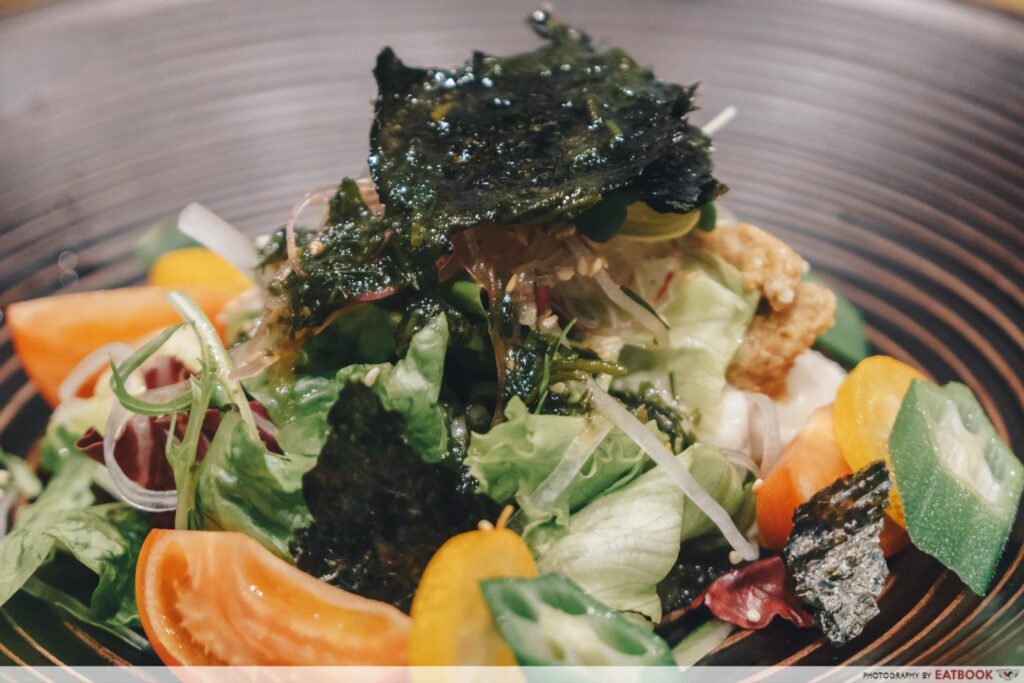 Food is the main attraction here, with each dish masterfully plated by chef-owner Kenji Okumura.
Having been traditionally trained in kaiseki, a traditional multi-course Japanese dinner, the chef showcases a wide collection of skills in perfecting dishes such as tempura, stews, and teppanyaki. This translates to a wide and expansive selection of food available on the menu. 
The unsmiling chef might look intimidating at first sight, but with an impressive CV serving guests, such as the Japanese emperor, the last leader of the Soviet Union Mikhail Gorbachev, and China's ex-premier Wen Jiabao, it's easy to see why.
For this media tasting, we tried a variety of dishes from the grand menu and their most expensive dinner-course, the Omakase (from $150++).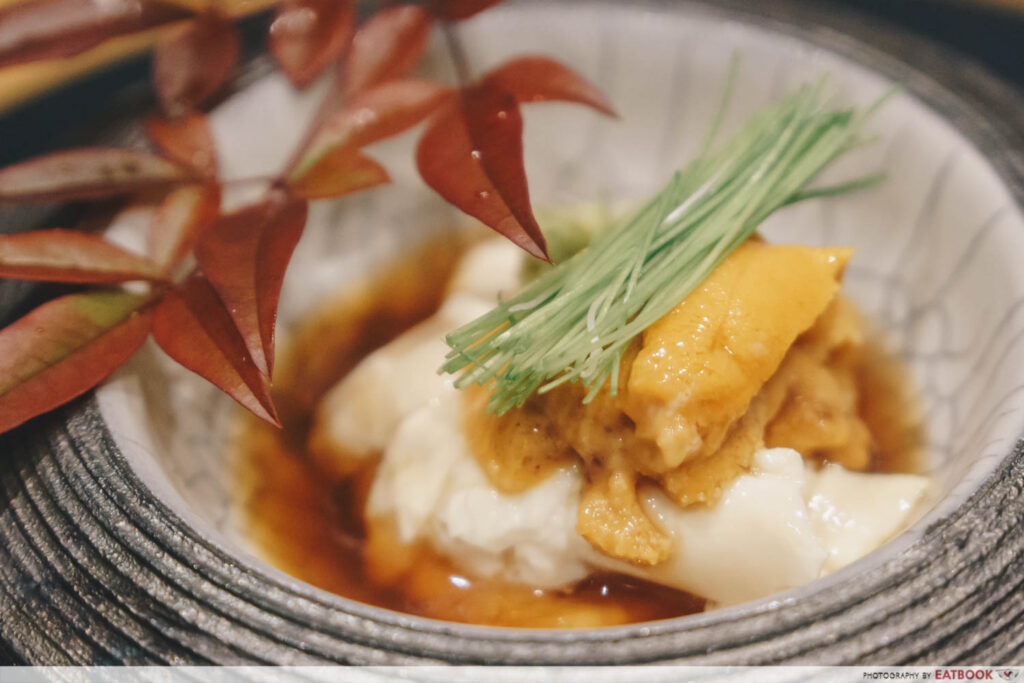 We started off with Uni and Yoba, which features a simple but elegant combination of fresh sea urchin and house-made beancurd skin. The sweetness of the uni is enhanced by rich and creamy beancurd, whetting our appetites for more.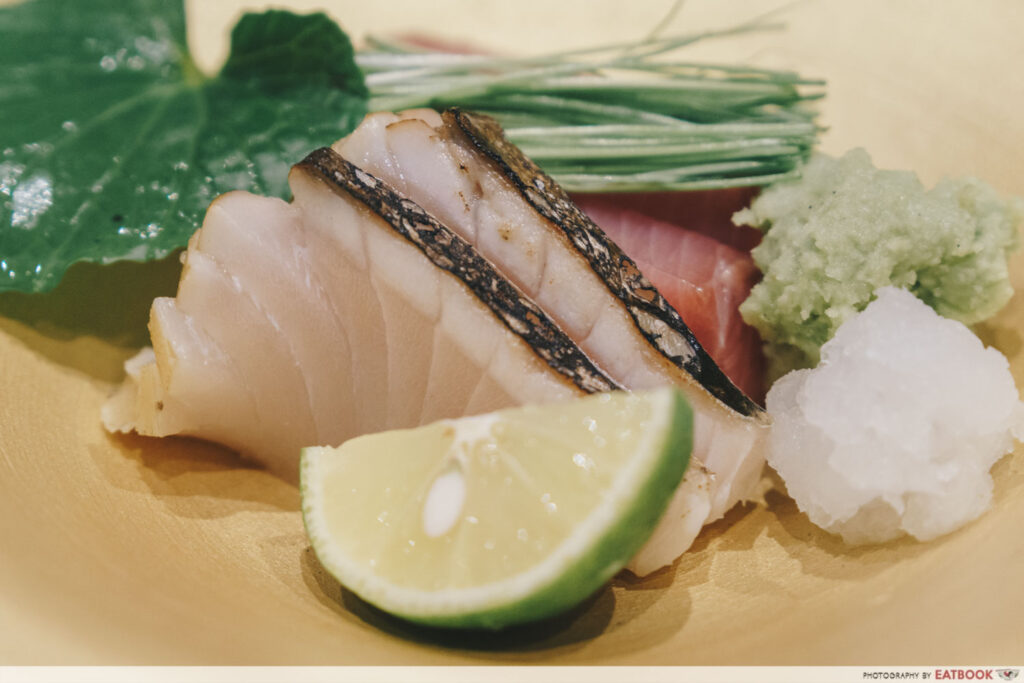 What followed was an assortment of Sashimi. True to the omakase tradition of trusting your food in the chef's hands, only the freshest produce is served. But if you'd like certain types of sashimi such as tuna or salmon, just ask and the chefs will be more than happy to accommodate.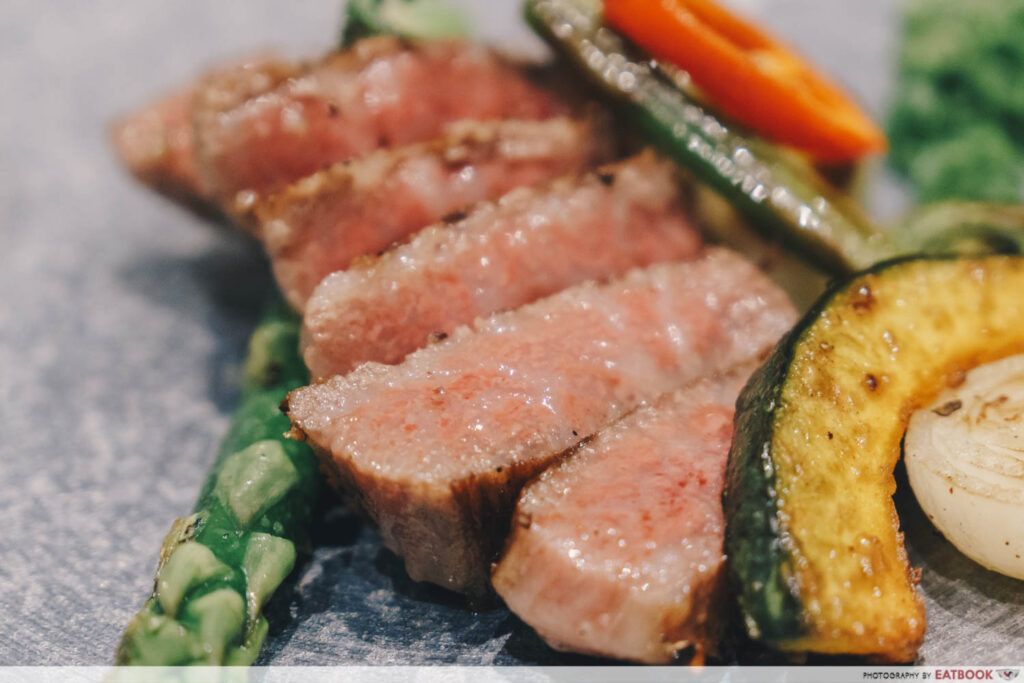 The A5 Miyazaki Wagyu Tenderloin Steak ($60++) is available on both the grand and omakase menu. Simply seared to bring out its natural flavours, the beef had a beautiful and even marbling that simply melted in our mouths.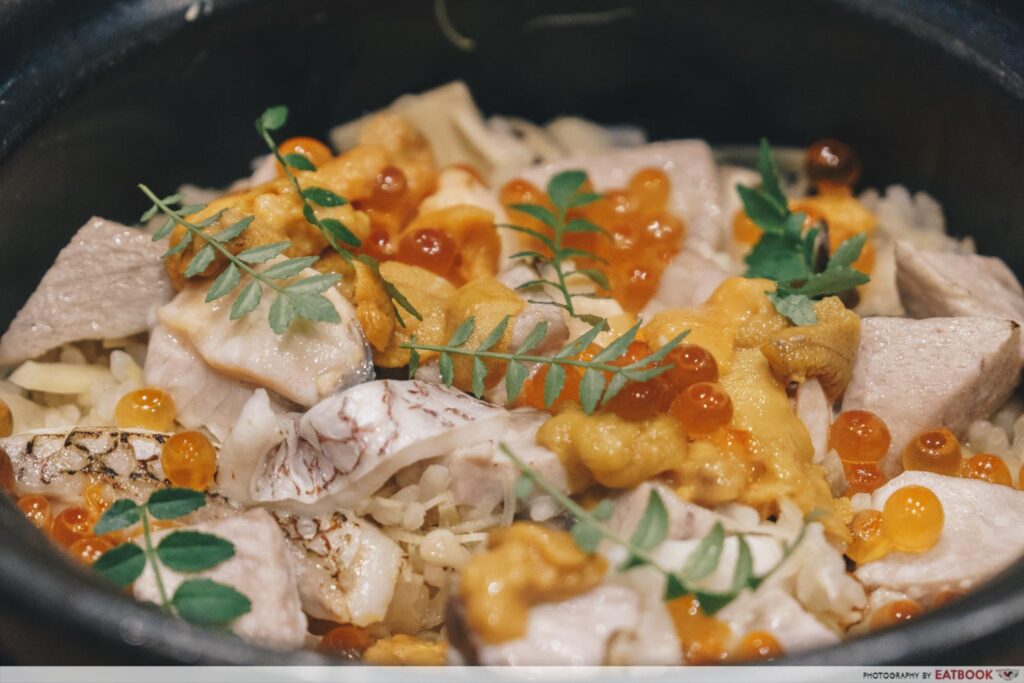 It was the Seasonal Kamameshi ($28++) that won our hearts. The omakase version is given a slight boost with additions of uni, ikura, and seasonal fish. Note that the regular version only includes an assortment of seasonal fish, which is still quite a good deal considering the generous portion dished out.  
This Japanese version of clay pot rice features a blend of rice from Niigata prefecture that's cooked in a flavourful fish bone broth. Seasonal fish such as amadai and kinmedai are then generously scattered all around the clay pot.
What I really liked was how the rice soaked up all the rich and briny flavours. Mix it up with the sliced fish, and you'll see how the flavours blend beautifully together.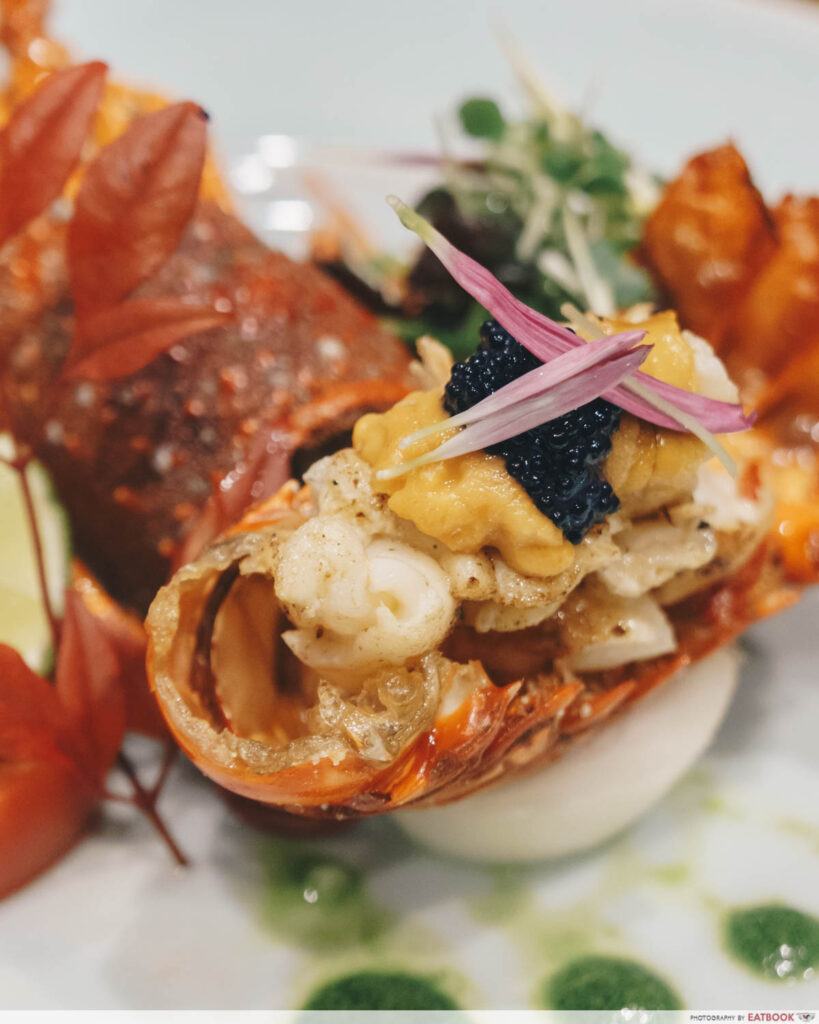 One of chef Okumura's signature dishes, the Fresh Oyster and Spiny Lobster (Ise Ebi) is a good test of his teppanyaki chops, with the delicate lobster meat being cooked to perfection.

Sweet and succulent, both the lobster and oysters are specially sourced from Mie prefecture, a region highly coveted amongst Japanese chefs for its extremely fresh produce.
The beauty of this charming restaurant is that it's not reserved strictly for omakase. The menu also offers plenty of affordable finds, which ought to fill up your belly, whatever the budget.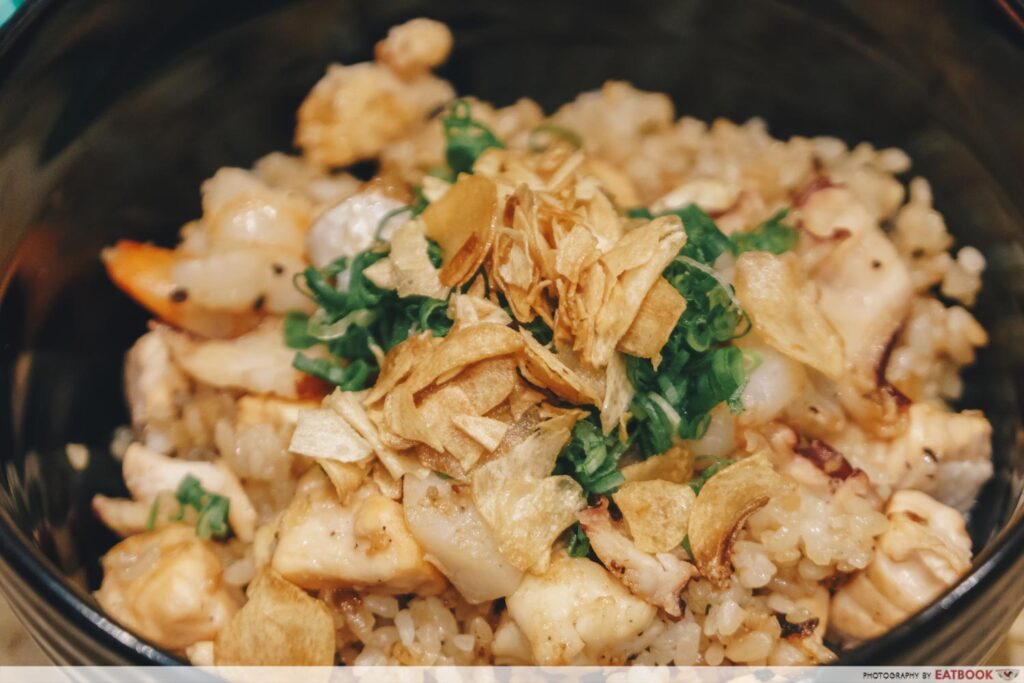 Seafood Garlic Rice ($15++) provides great value for money, with flavourful Niigata rice and a fresh medley of seafood masterfully fried together. Garlic lovers will also be in for a treat, with the generous helping of thinly sliced garlic chips that give a sweet and robust aroma.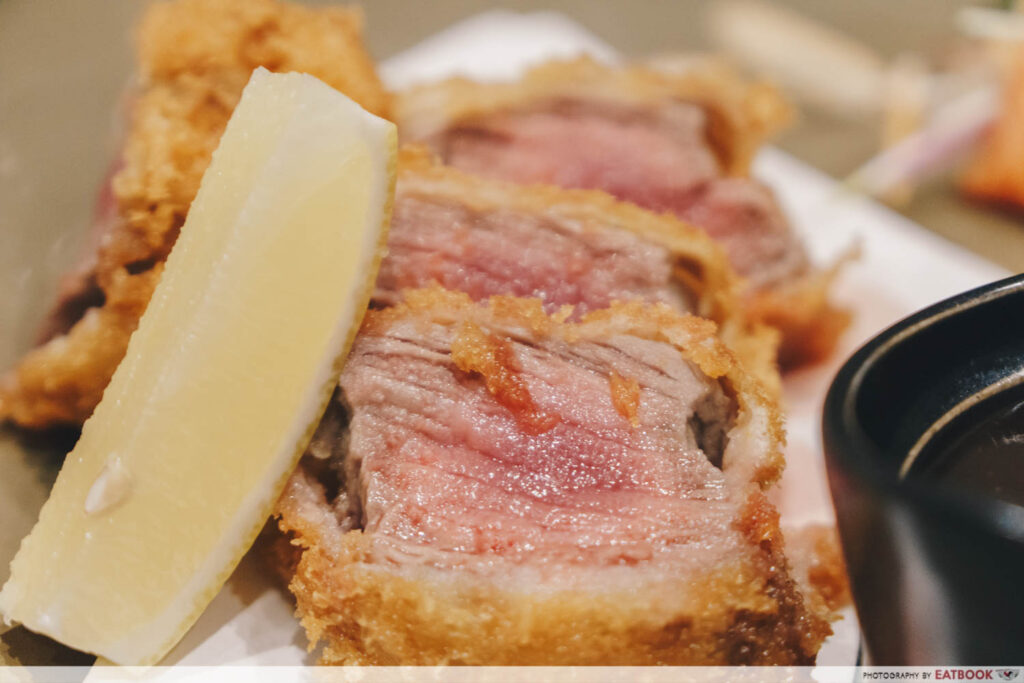 Gyu Katsu ($22++) was another one on the list of impressive dishes. Tender strips of beef are coated with panko crumbs to give a crispy crunch. Reminiscent of izakaya grub, this dish goes great with their wide range of sake and beers.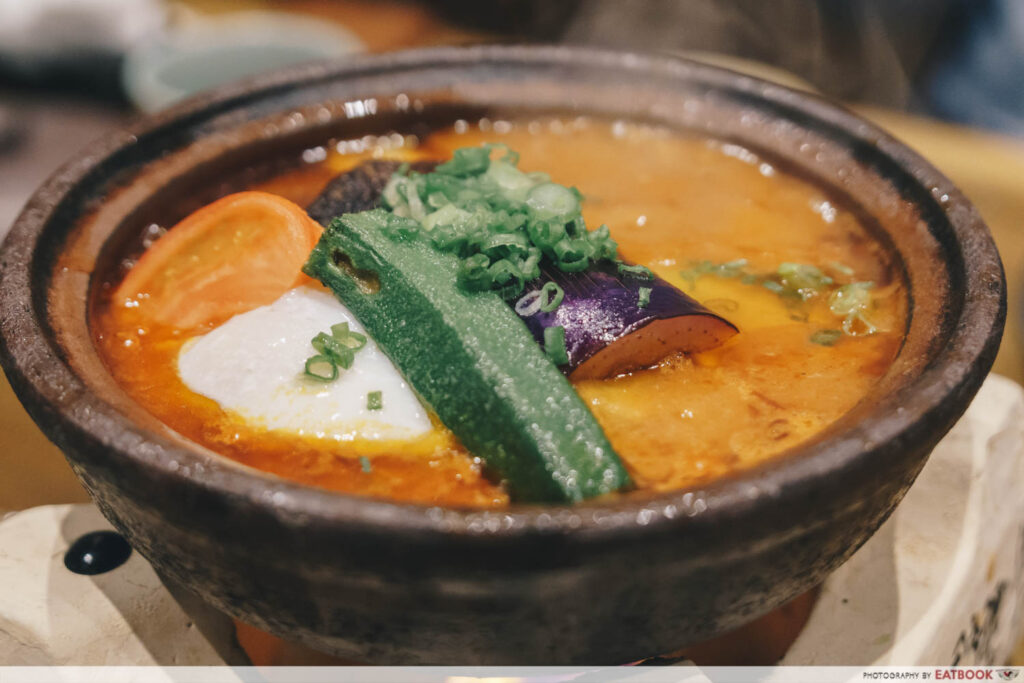 Also offering great value is their Stewed Wagyu Hamburg ($15++). Tasting similar to bolognese sauce, this hearty tomato stew comes packed with loads of tender vegetables, making this heartwarming dish extremely endearing on a cold, rainy day.
Ambience at Teppan Kappou Kenji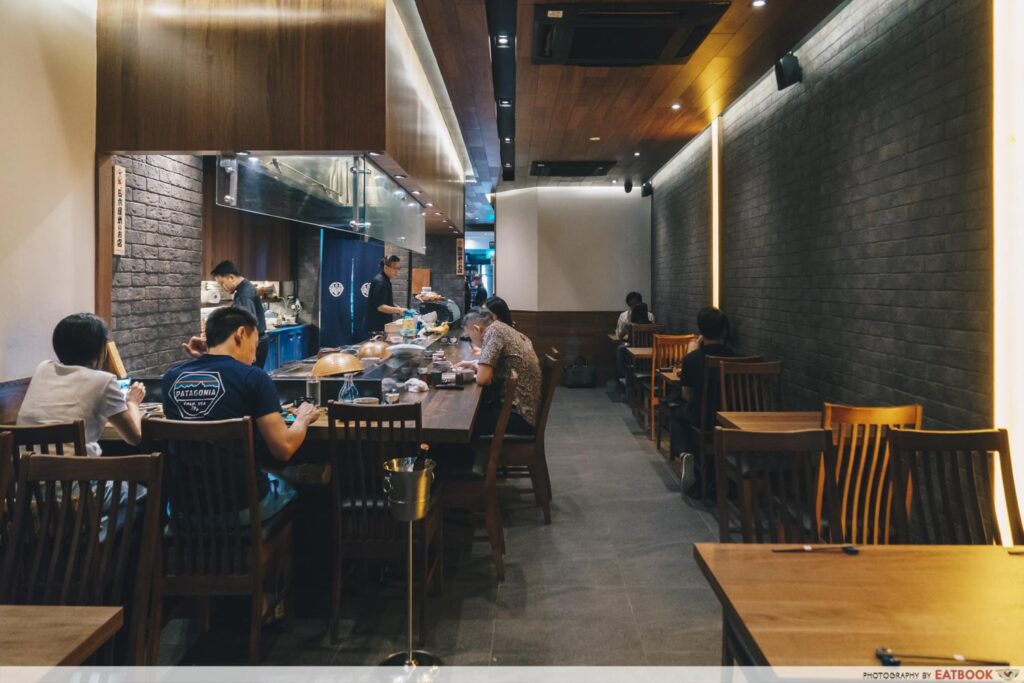 Located along Tanjong Pagar Road, this cosy restaurant easily blends in with the many Japanese restaurants nearby. But take a step inside and you'll be greeted with a polished interior, and the chefs who are hard at work behind the teppanyaki.
For those who like to watch the chef at work, there are 12 counter seats for  you to catch Chef Okumura and his team weave their magic.
The verdict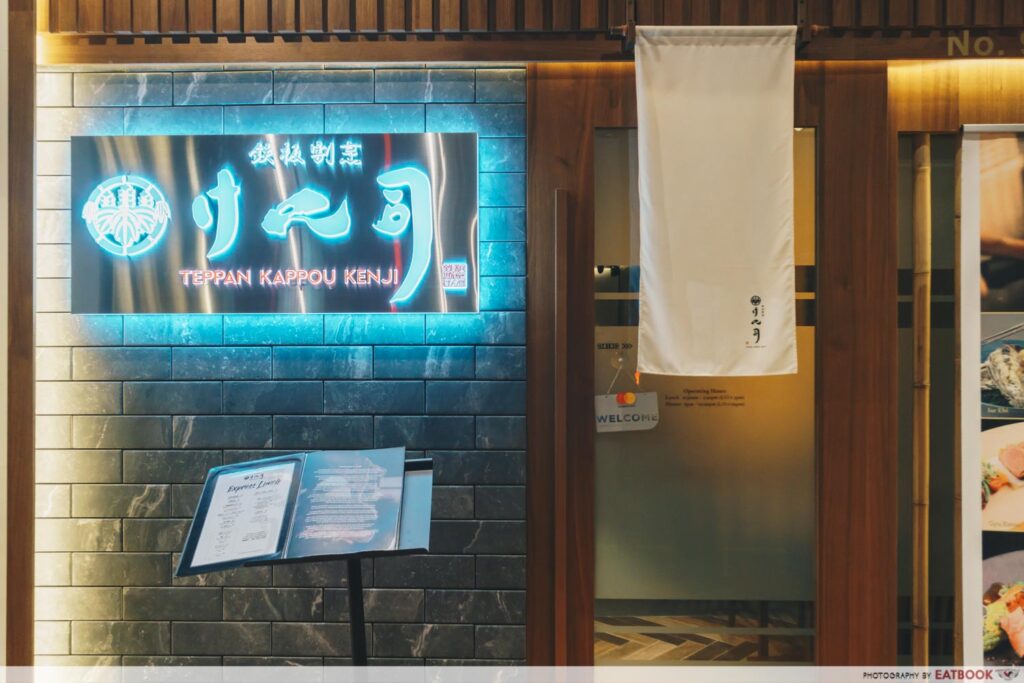 Teppan Kappou Kenji would never appear on a list of extravagant omakase restaurants in Singapore. Instead, it delivers honest and unpretentious Japanese fare that can be enjoyed by even the most discerning of diners.  
Along with plenty of value finds in their large and extensive menu, this little restaurant in the corner of Tanjong Pagar road is poised to be a hot spot in due time.
The restaurant also offers a wide range of express lunch sets that provide great value for money. Look out for favourites such as Salmon & Negitoro Don ($12++) and Tempura Soba Set (12++) that come complete with chawanmushi, a side dish, and dessert.
If you're around the area, be sure to also check out Hamburg Steak Keisuke which received a 9/10 rating from us!
Address: 99 Tanjong Pagar Road, #01-01, Singapore 088520
Opening hours: Daily 11:30am to 2:30pm, 6pm to 10:30pm
Tel: 9152 3118
Website
Photos taken by Maverick Chua
This was a media tasting at Teppan Kappou Kenji.
Summary
Pros
– Fresh produce
Cons
– Stiff ambience
– Expensive
Recommended dishes: Seasonal Kamameshi ($28++)
Opening hours: Daily 11:30am to 2:30pm, 6pm to 10:30pm
Address: 99 Tanjong Pagar Road, #01-01, Singapore 088520