Thai YTF for $8.50 found at Orchard
Update: Yentafo Kruengsonge is now permanently closed.

As someone who considers BKK her second home, Thai food is no stranger to me. Whether it's phad thai, tom yum goong, or pat krapao moo sap (Thai basil minced pork), I've had loads of them in Thailand. But I was, for once, caught off guard at a Thai restaurant in Cineleisure selling a dish I've never heard of – yentafo (Thai yong tau foo). 
Yentafo Kruengsonge is a chain of restaurants from Bangkok that came to Singapore last year. And just like Thien Long and Pick A Boo, Yentafo Kruengsonge lets you have a filling meal at Orchard for less than $10!
Food at Yentafo Kruengsonge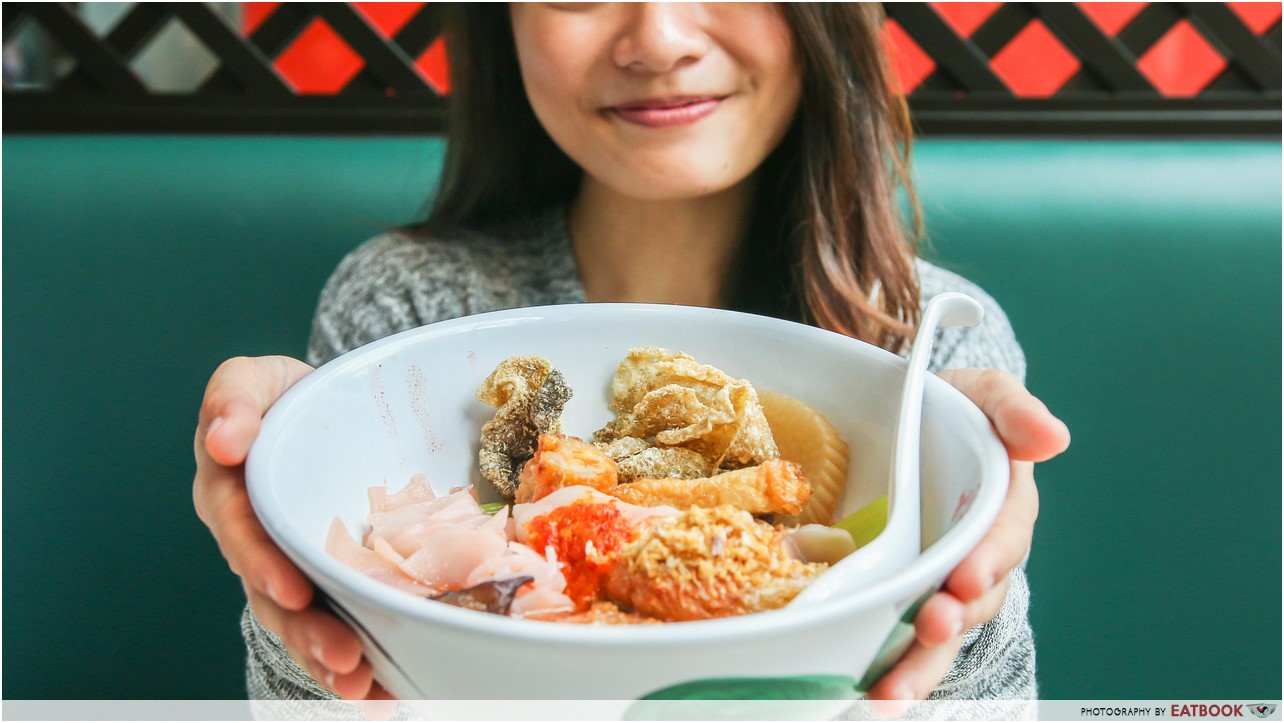 When ordering Yentafo Kruengsonge (Soup) ($8.50), you get to choose the level of spiciness you want. Options include dek-dek (non-spicy), jai-soh (spicy) and rod-jeb (screaming spicy). Even though I tend to get a little crazy over spicy food, I went with jai-soh to appreciate the original flavour of the soup.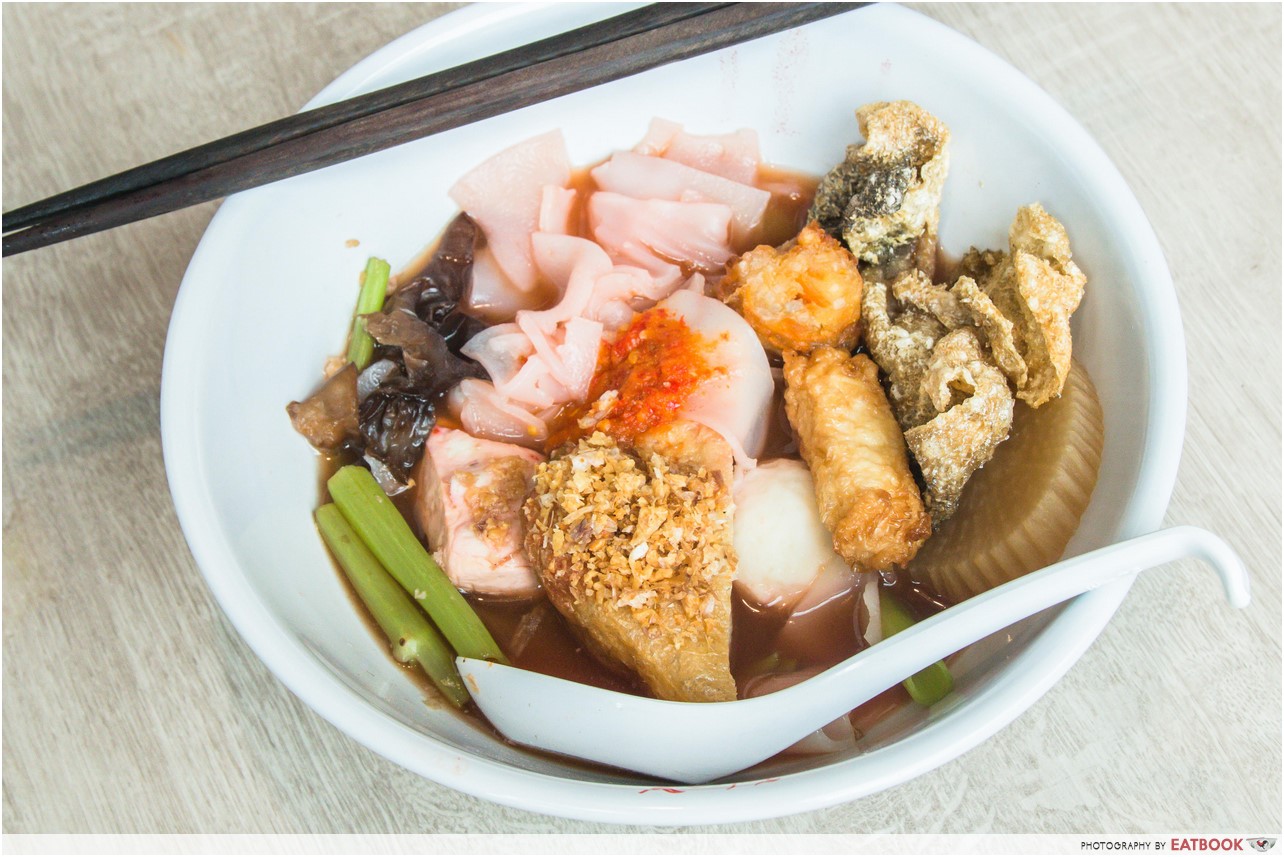 The bowl of handmade kway teow and yong tau foo ingredients in a shallow pool of bright pink broth were photogenic to say the least. The clear and savoury broth was pink due to fermented soybean paste, and the taste was so intriguing I had to take a couple of spoonfuls more to make sense of it. It had layers of sweetness, tanginess and spiciness – very addictive.
Aside from usual YTF ingredients such as tau pok, fish ball and black fungus, this also came with deep-fried salmon skin and white radish.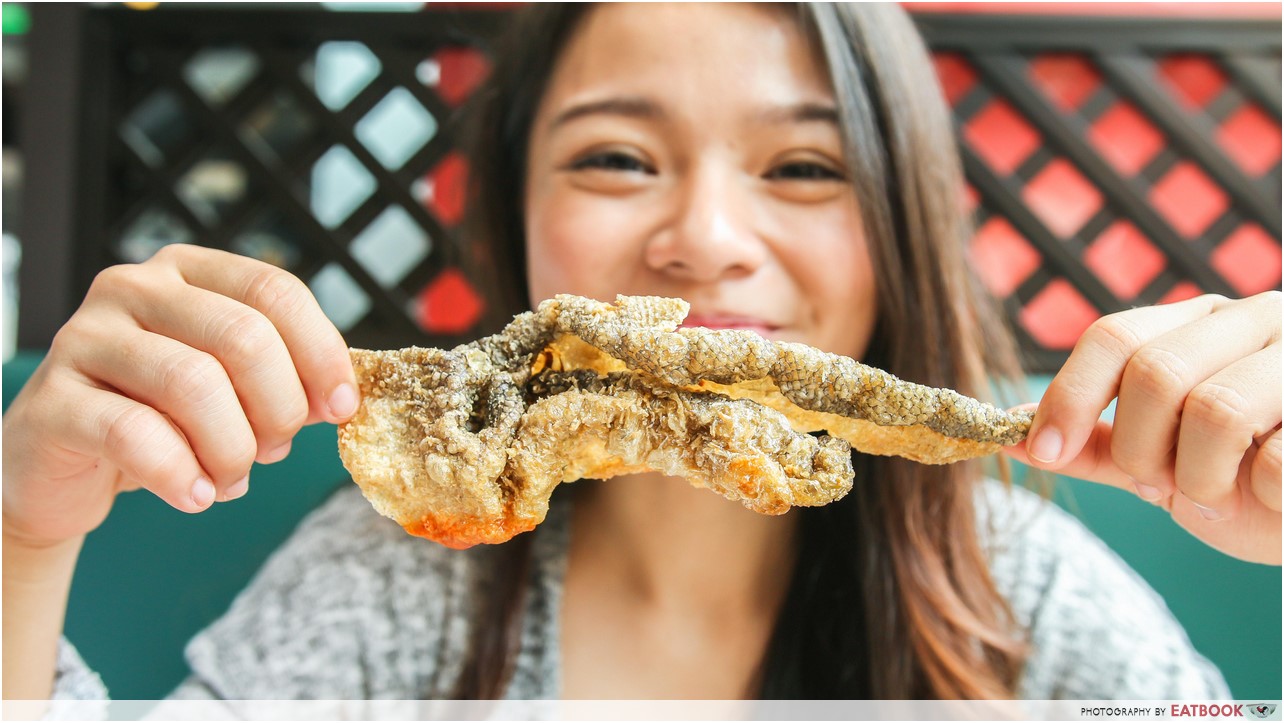 My favourite component was the salmon skin. I suggest eating it immediately because it absorbs the soup and turns soggy pretty fast.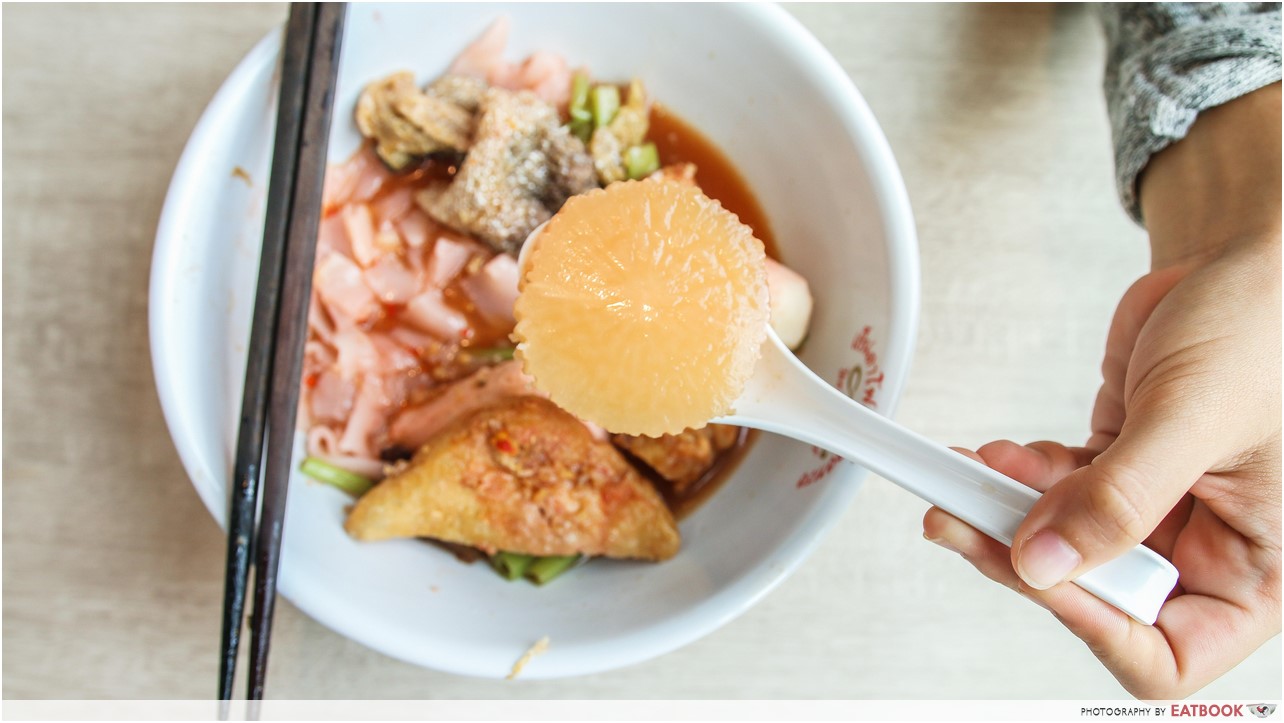 Another ingredient worth mentioning would be white radish. It was flavourful and tasted like it was simmered in the broth for hours.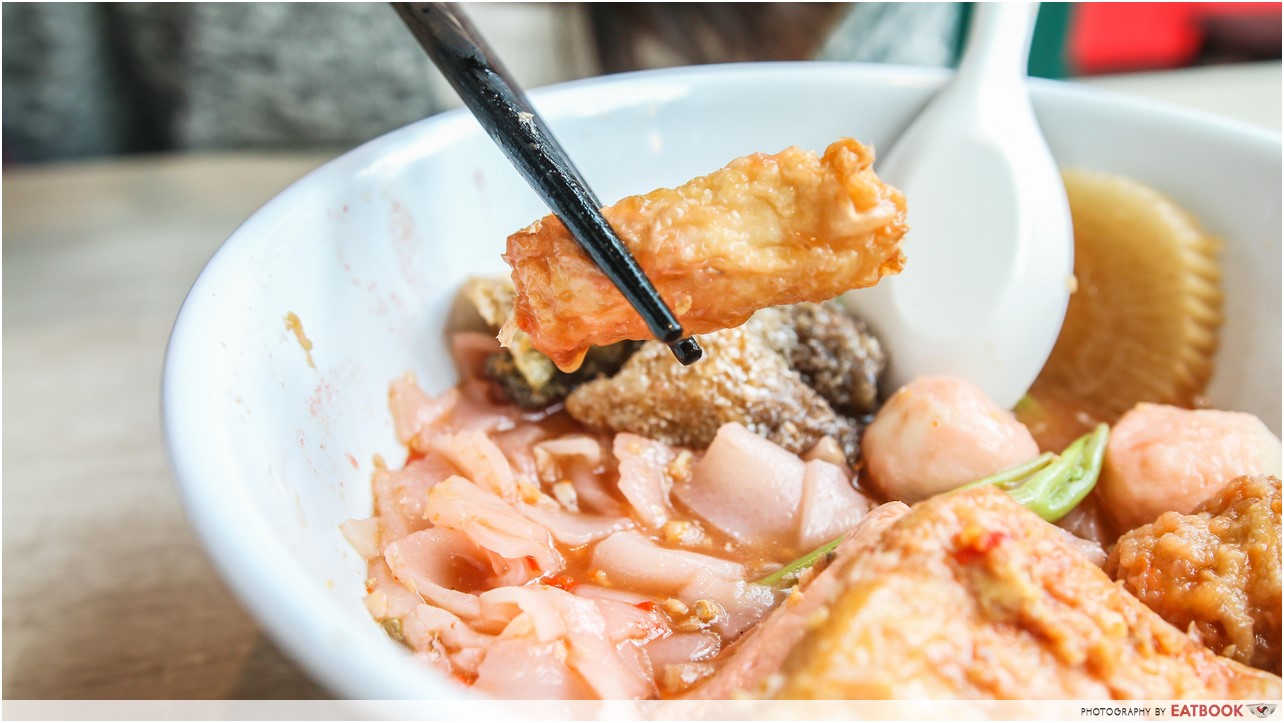 The kway teow came in non-uniform sizes but was consistently thin and thoroughly infused with the flavour of the broth.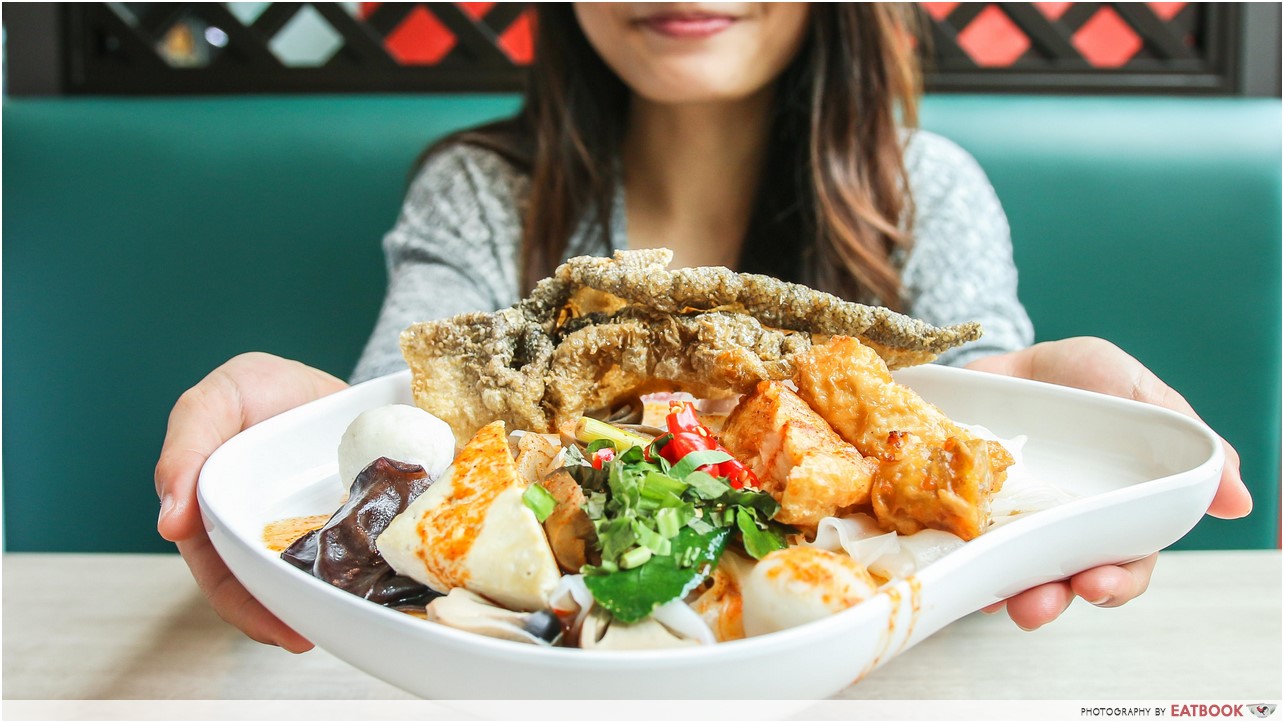 Apart from the yentafo, we also got Original Tom-Yum Noodles (Dry) ($9). I wasn't quite sure about dry tom yum initially, but my first taste of the tom yum sauce in this dish dismissed all doubts. It was citrusy and incredibly spicy, as warned by the amount of fresh chilli padi that garnished the dish. In short, a highly-concentrated version of tom yum soup.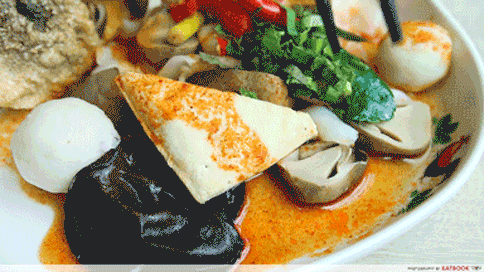 Our bowl came with the same ingredients as our yentafo, with an addition of straw mushrooms.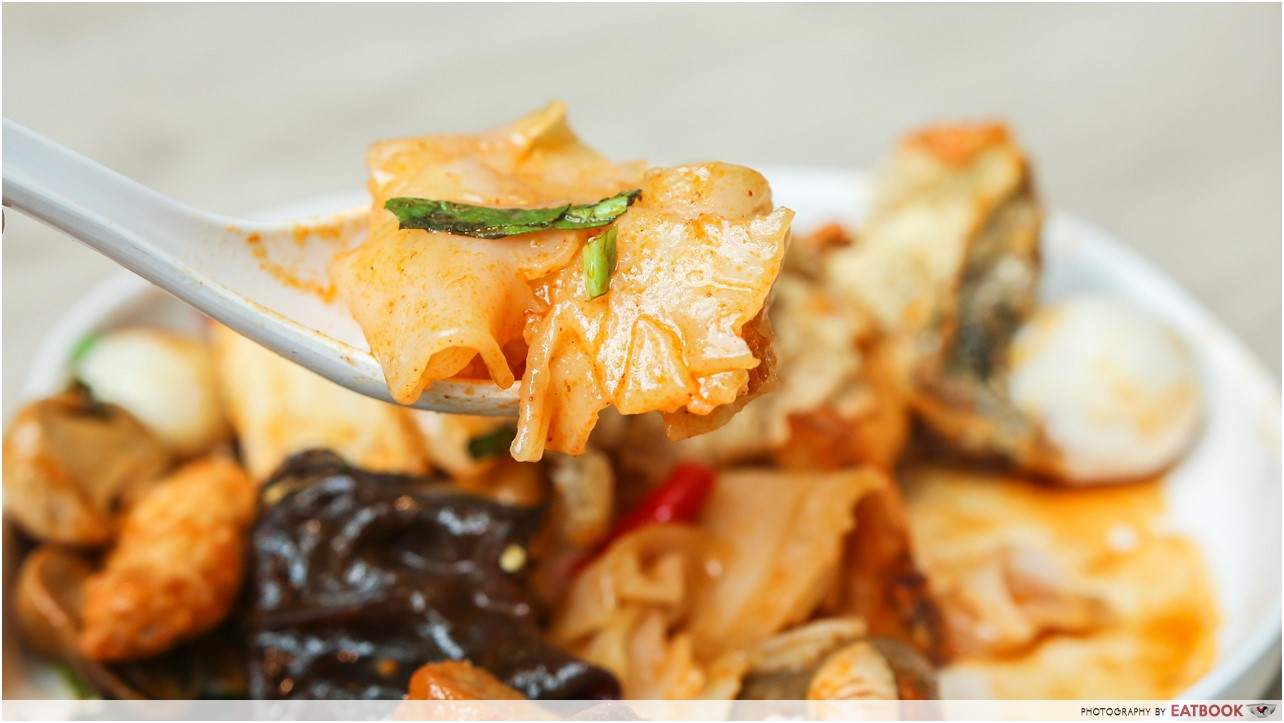 The kway teow got a little clumpy in this dry version as opposed to our yentafo.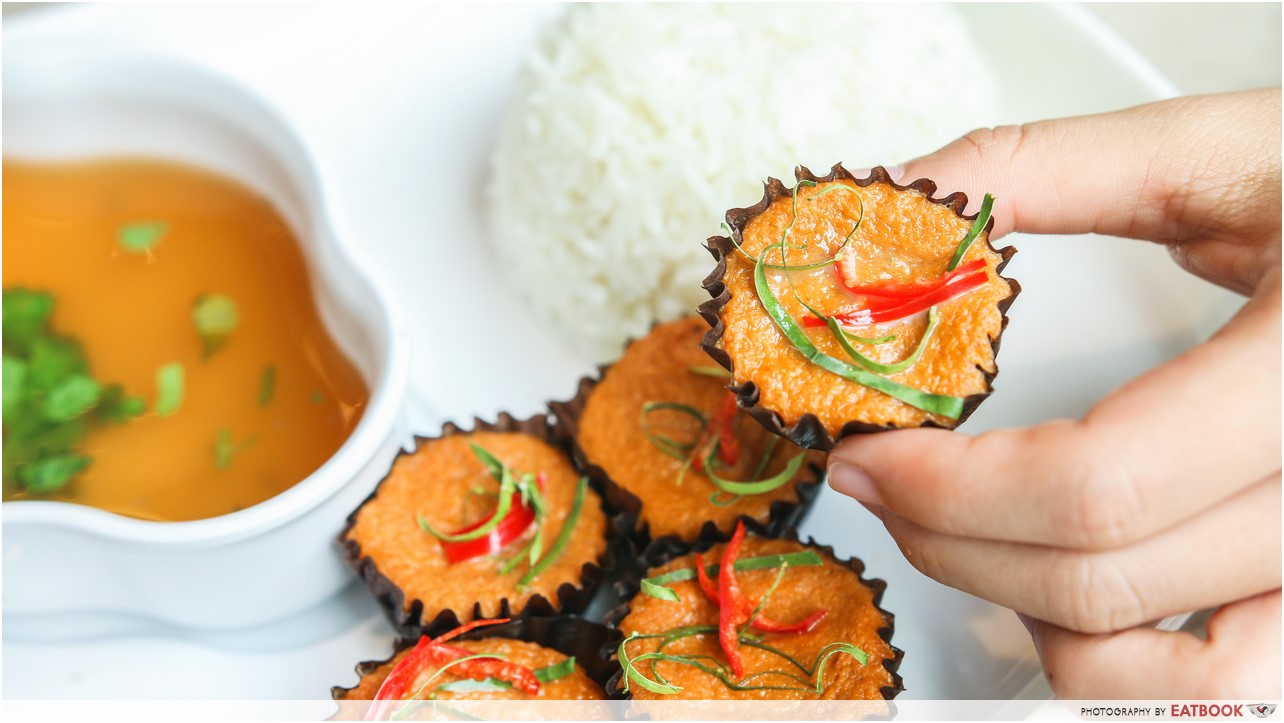 I spotted Hor-Mok Fish & Crab Coconut Souffle with Rice ($9.50) on the menu and was curious to see how hor mok (Thai steamed otah) with a souffle texture would turn out.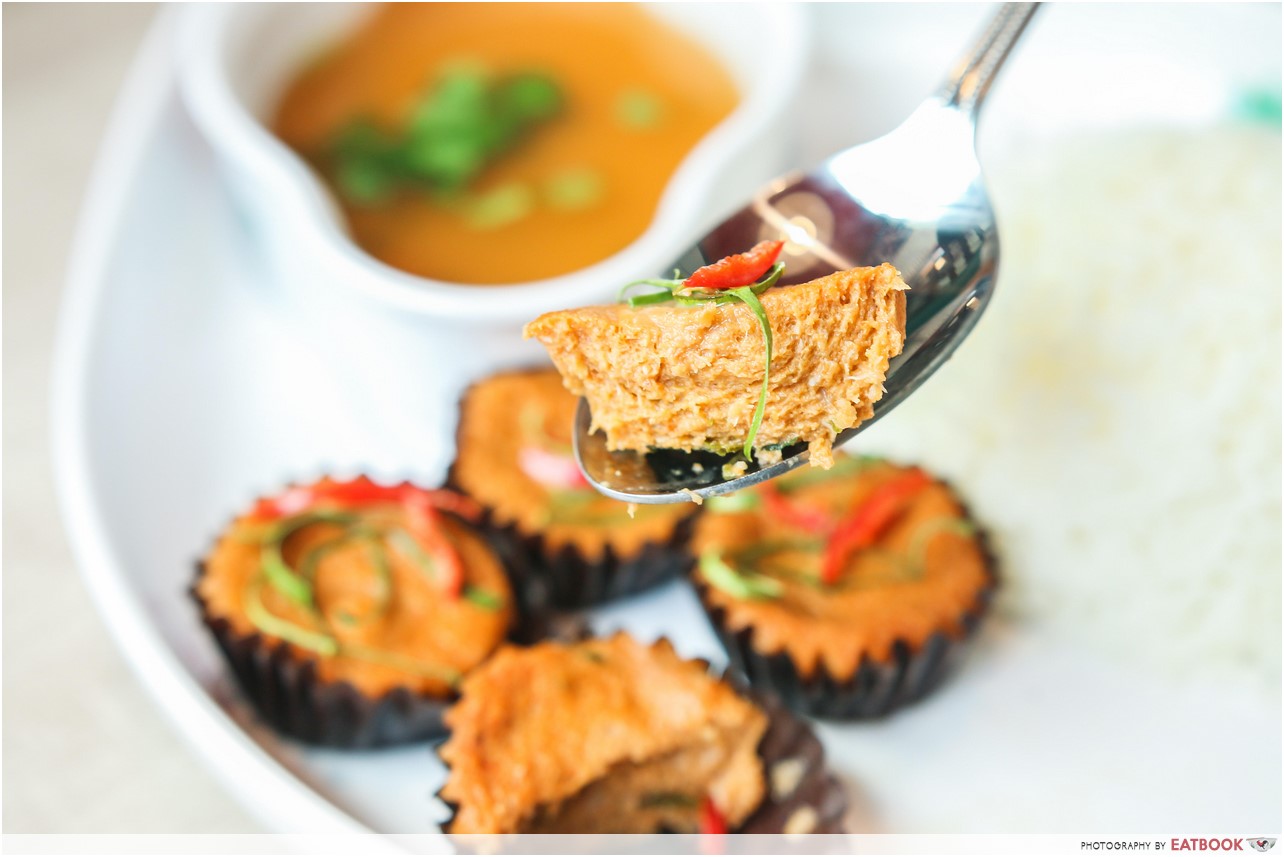 Anticipating a soft and fluffy bite, I was disappointed by how it tasted exactly like grilled otah. Aside from the huge miss on texture, there wasn't any taste of crab either. That being said, if someone gave this to me and said it was a usual piece of otah, I would have enjoyed it.
It came with a small bowl of soup that had a sweetness akin to white radish – similar to odeng soup you'd find on a Korean street.
Dessert at Yentafo Kruengsonge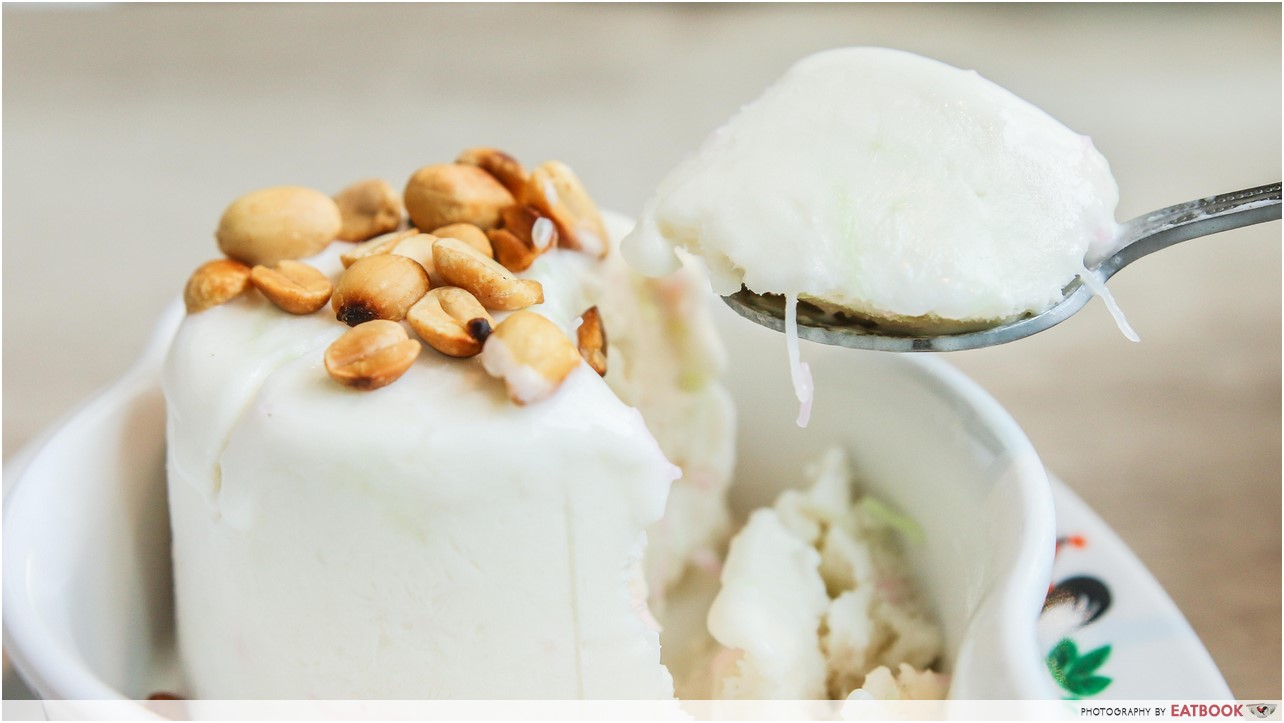 One thing in Thailand I'll always miss is coconut ice-cream. So I gave this Homemade Coconut Ice Cream with Rainbow Sparkles ($5) a shot.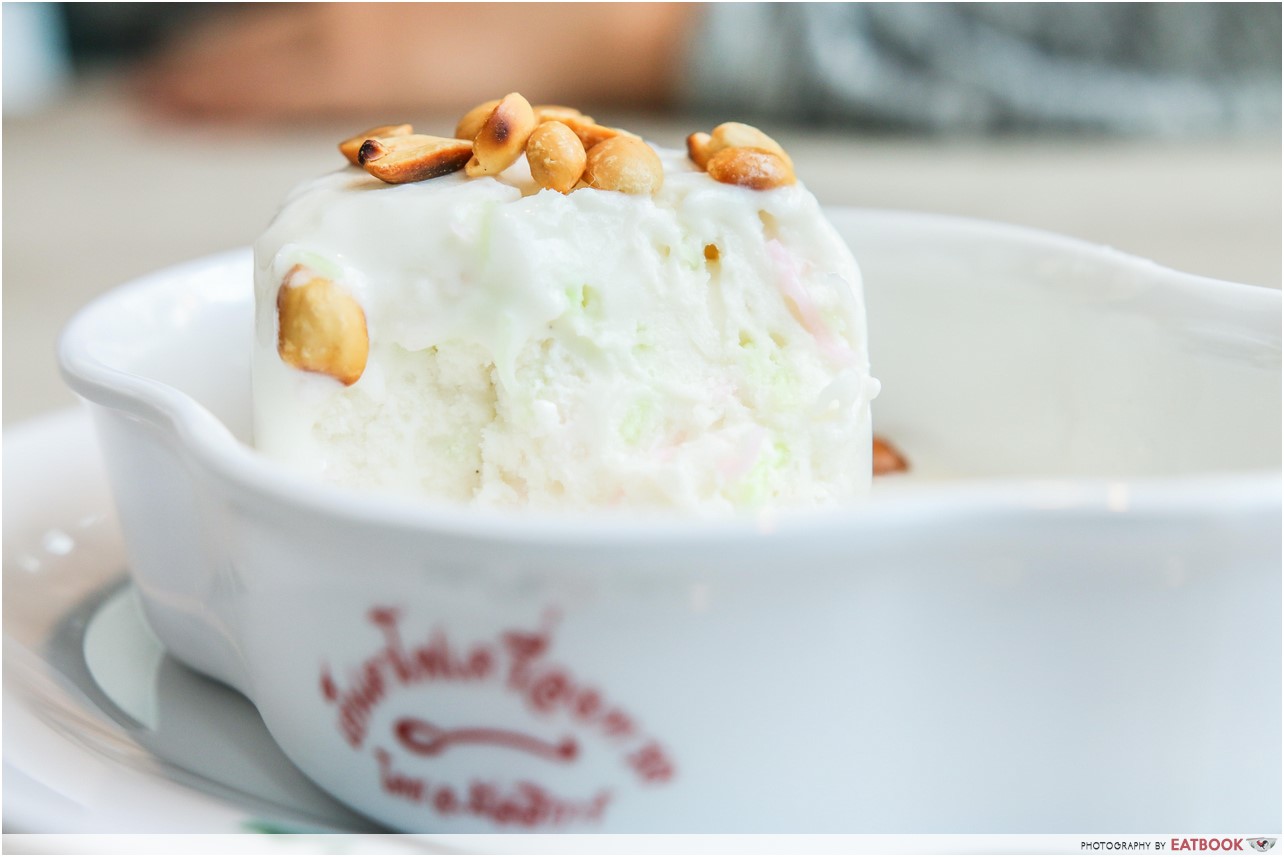 Even though it didn't have all seven colours and doesn't look as vibrant as a Paddle Pop, the pastel green and pink hues made this sweet treat a nice-looking one. The green and pink strips in the ice-cream were actually roasted shredded coconut that added a charred taste to the entire dessert. I recommend sharing this because it might be too jelak for some.
Ambience at Yentafo Kruengsonge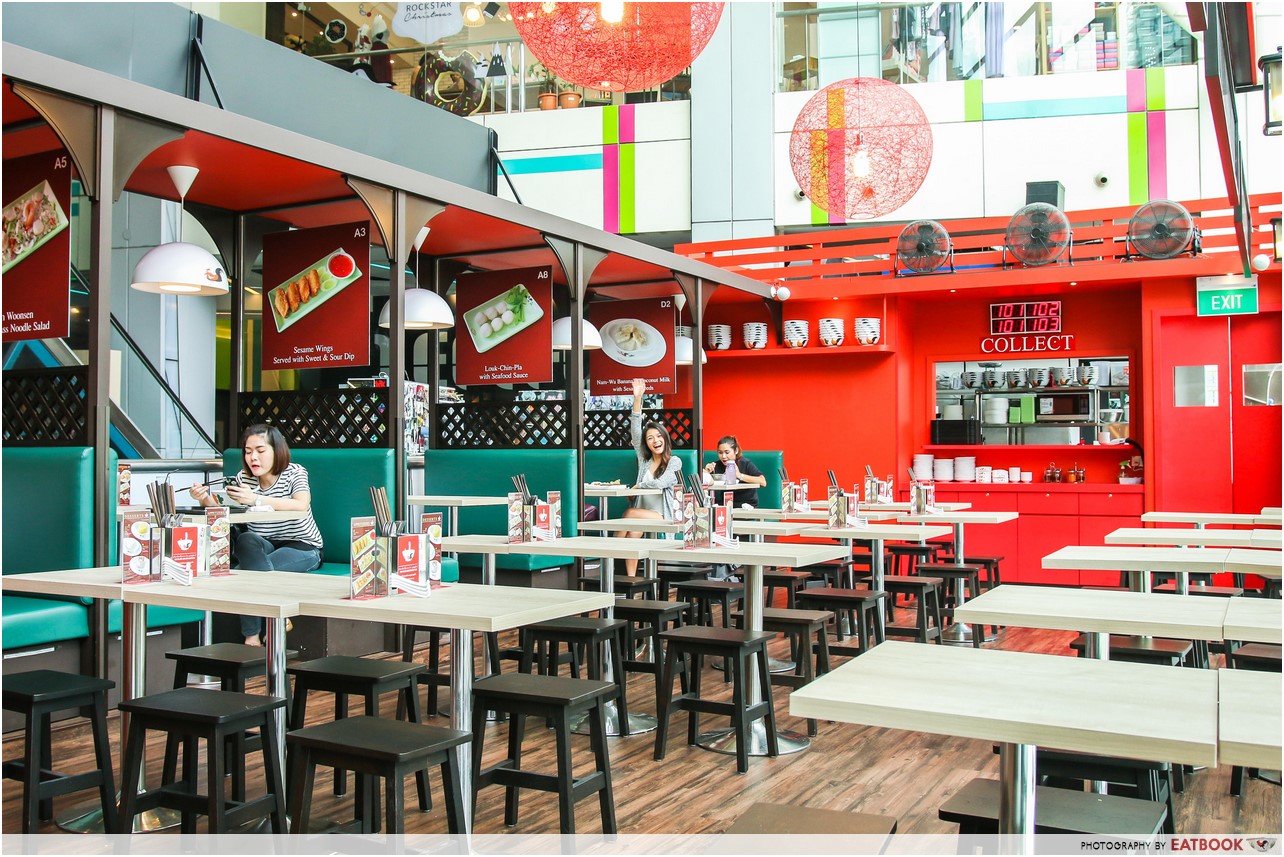 Even though this place branded themselves as a Thai street food restaurant, it didn't have much of a rustic vibe but was really comfortable to dine at. The food was served relatively fast during lunch time on a weekday. It's self-service, so you have to collect your food from the counter, but that means you get to save on service charge.
The verdict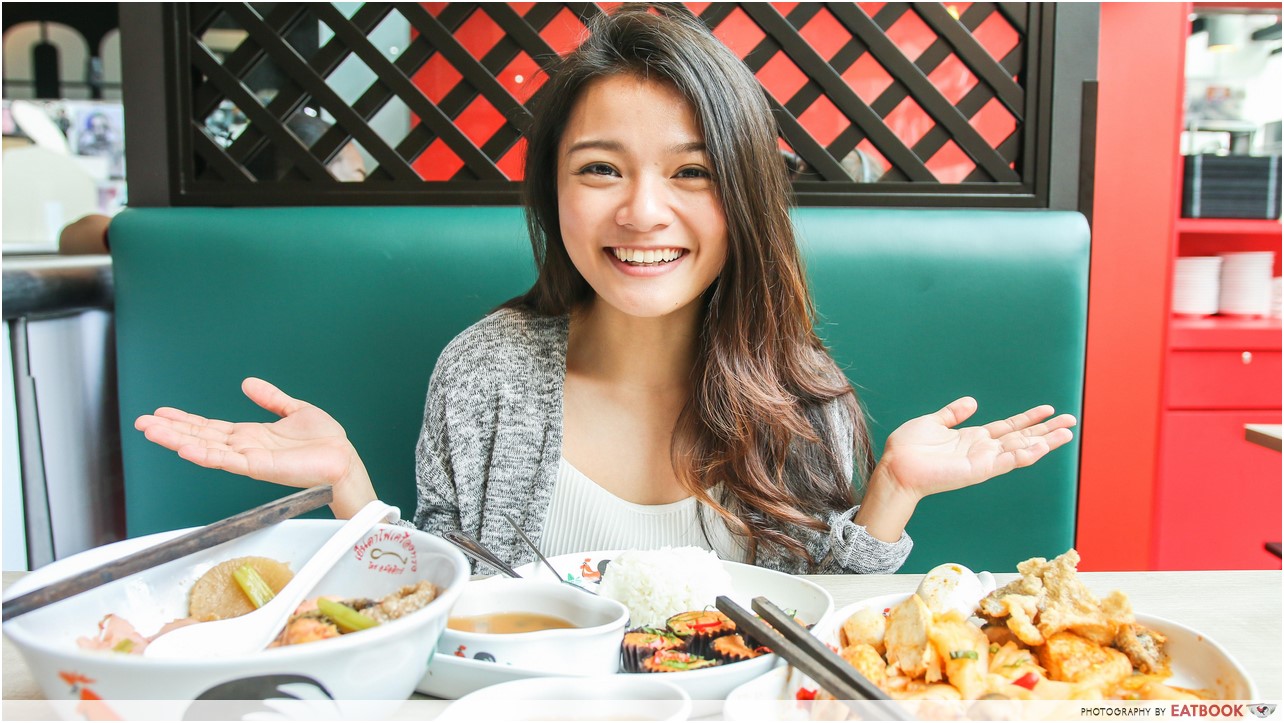 Though there were hits and misses, this makes a refreshing change from the YTF we're used to at kopitiams. On days I want YTF that has a stronger punch of flavour, this would be my go-to.
Address: 1 Lower Kent Ridge Road, #01-09 & #01-19/20, Singapore 119082
Opening hours: Mon-Fri 10am to 8pm
Tel: 6334 6023
Website | Menu | Full list of outlets
This is an independent review by Eatbook.sg.
Summary
Pros
– Affordable
– Convenient location
– No GST and service charge
Cons
– Hits and misses
Recommended Dishes: Yentafo Kruengsonge (Soup) ($8.50), Original Tom-Yum Noodles (Dry) ($9), Homemade Coconut Ice Cream with Rainbow Sparkles ($5)
Operating Hours:
Wednesday – Sunday 10am to 10pm
Tel:
6736 0971
Address: 1 Lower Kent Ridge Road, #01-09 & #01-19/20, Singapore 119082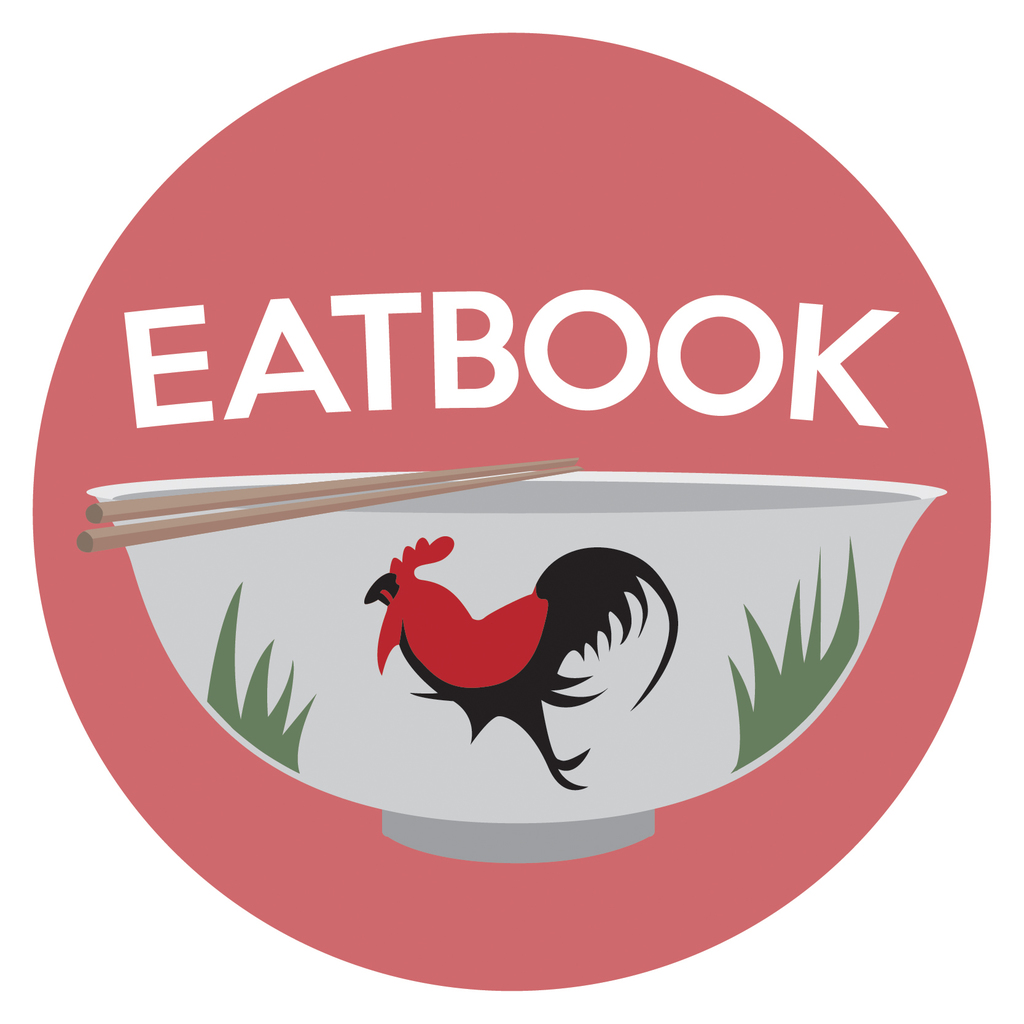 Drop us your email so you won't miss the latest news.