Tiong Bahru Bakery dishes out pancake burgers
Update: These seasonal dishes are no longer available.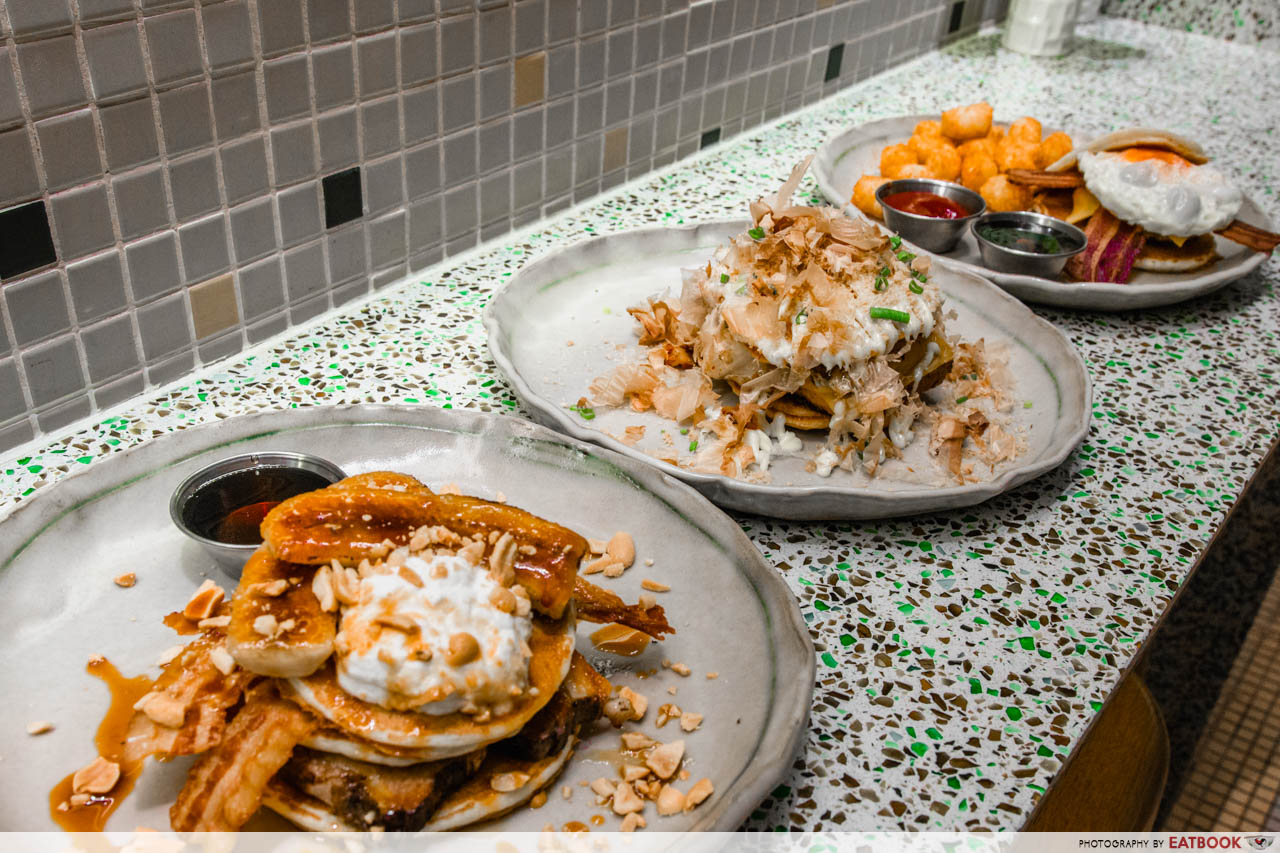 I've heard of waffle burgers, ramen burgers, lettuce burgers, and even chocolate burgers, but pancake burgers were unfamiliar to me until Tiong Bahru Bakery started serving them as part of their new dinner menu. As far as I'm concerned, a stack of pancakes is one of my favourite breakfast dishes to wake up to, and a juicy burger is my go-to whenever I'm craving for a greasy and indulgent meal. Mashing these two dishes up makes one helluva crazy food combi and, of course, the foodie in me just has to give it a try.
Food at Tiong Bahru Bakery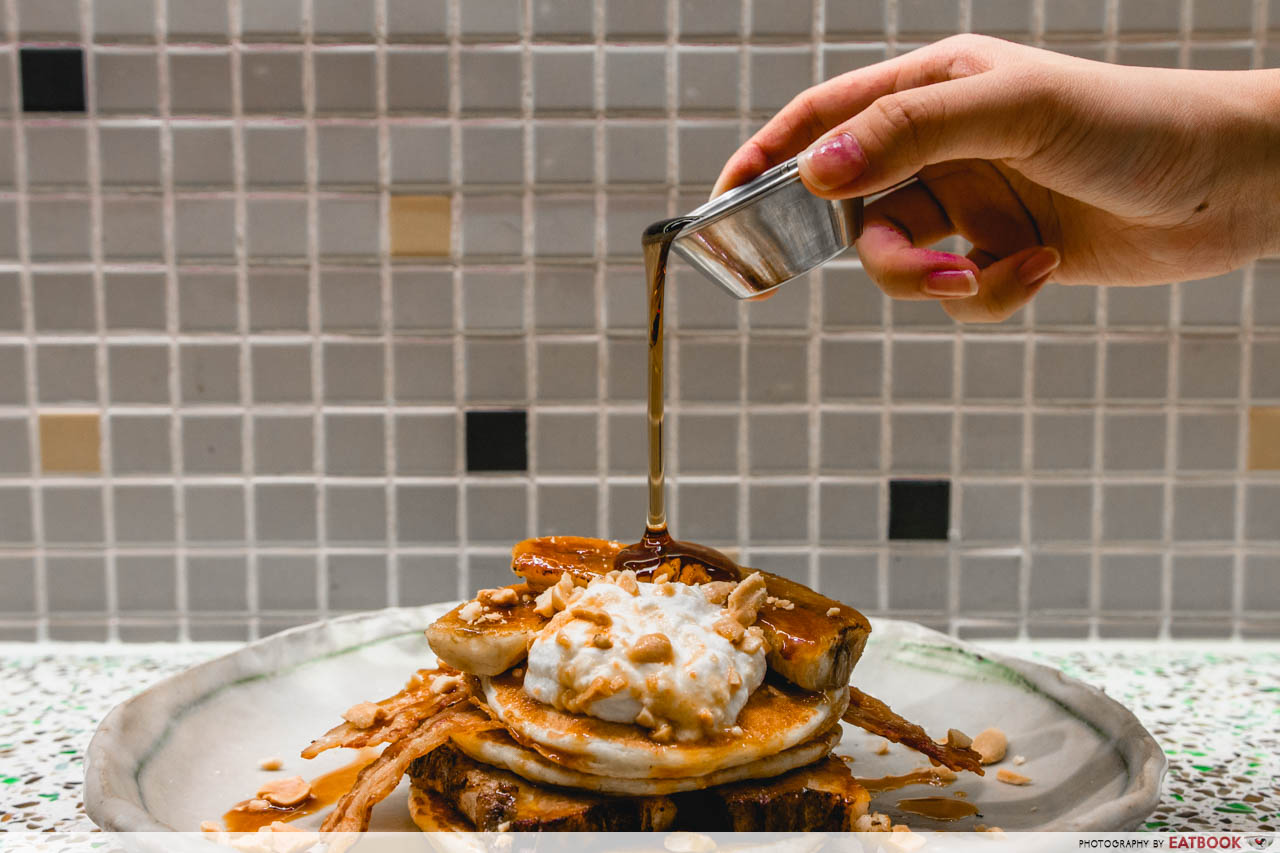 The PB&B Pancake Burger ($23++) made a dramatic entrance with its massive portion and towering layers of pancake, five-spiced pork belly, and bacon. That's not it; the pancakes were further topped with brȗléed bananas, ricotta cheese, toasted peanuts, and served with a side of maple syrup.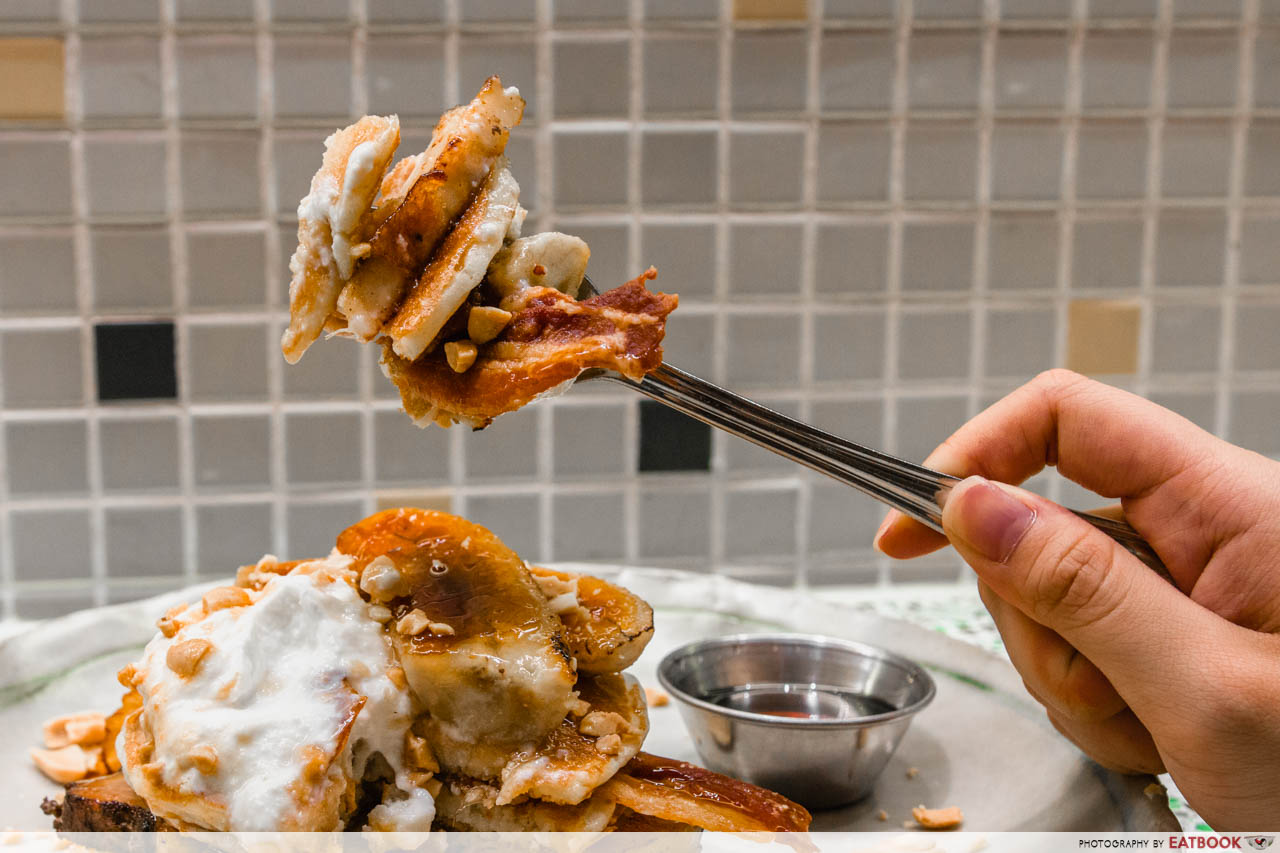 I didn't know how to start eating this monstrous dish, so I cut myself a little cake-like slice while praying for all the layers to stay on my fork.
In just a mouthful, I could taste the sweet and soft caramelised banana balancing out the salty and chewy pork belly as well as the crispy bacon. Biting into bits of crunchy peanuts was a pleasant surprise, and it added another layer of flavour that reminded me of peanut butter.
Though the flavour of the ricotta cheese was masked by the rest of the ingredients, its creaminess brought the dish up a notch. I would have given this full marks if not for the piece of bone I found in a chunk of pork belly.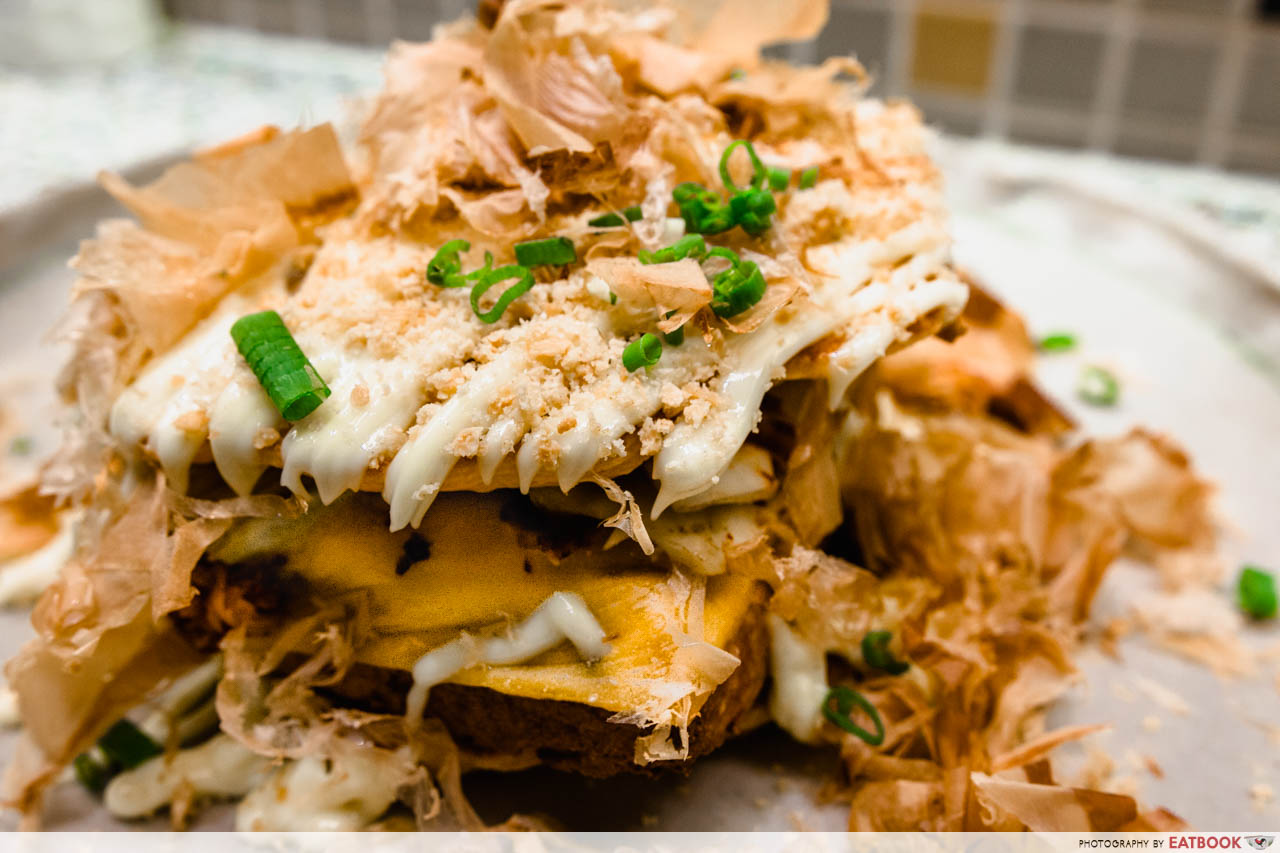 The Kim Cheesy Pancake Burger ($23++) was like a heavily-zhnged version of okonomiyaki. The usual burger buns were swapped out for kimchi pancakes, and a panko-crusted tofu patty replaced the usual meat patty. It also had kimchi slaw instead of lettuce. Copious amounts of Japanese mayo, smoked bonito flakes, and scallions crowned the pancake burger.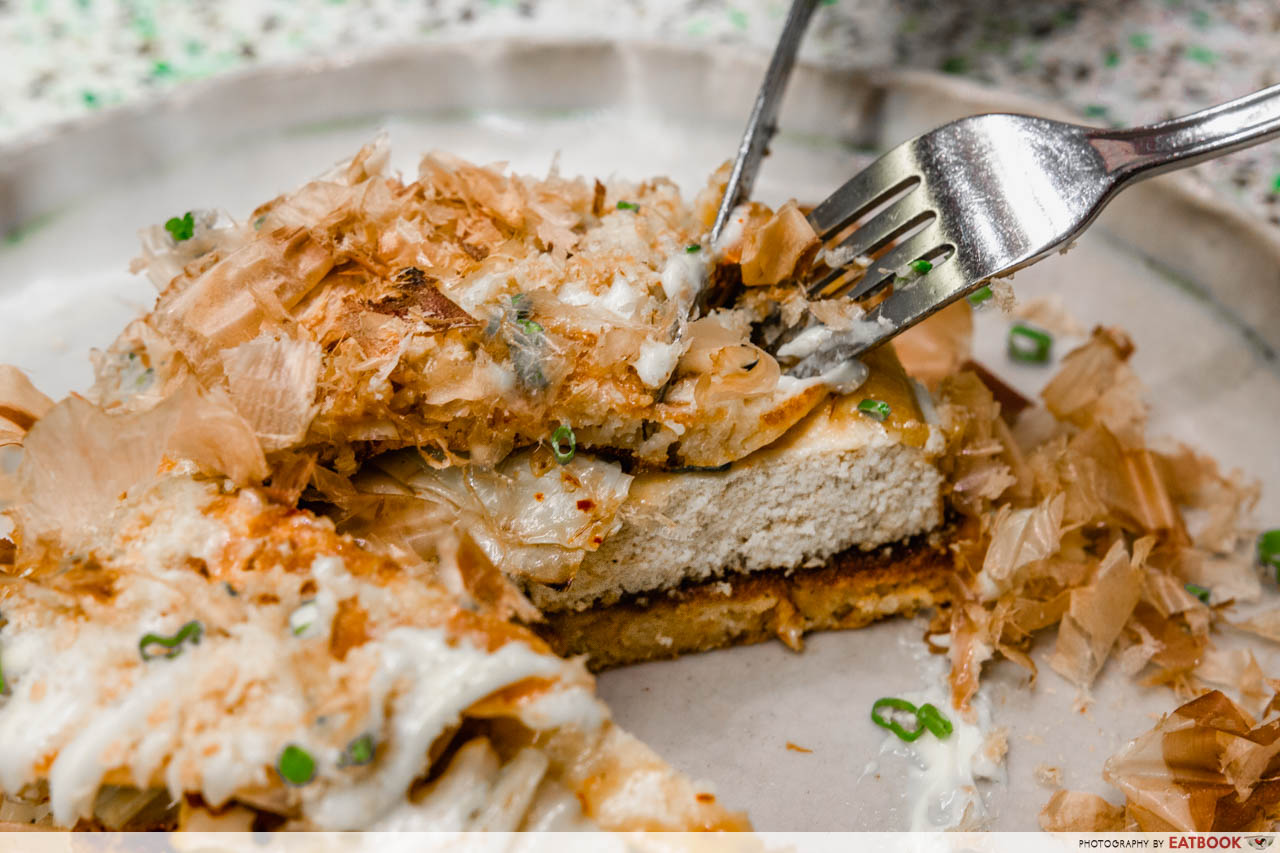 The tofu patty made up the bulk of the dish, yet it paled in comparison when compared to the rest of the components. Its texture resembled a block of dry sand, and I would have preferred more sweet bean sauce to balance things out. Nonetheless, I thoroughly enjoyed the kimchi pancakes and the kimchi slaw that managed to give the dish tang and a little spicy kick.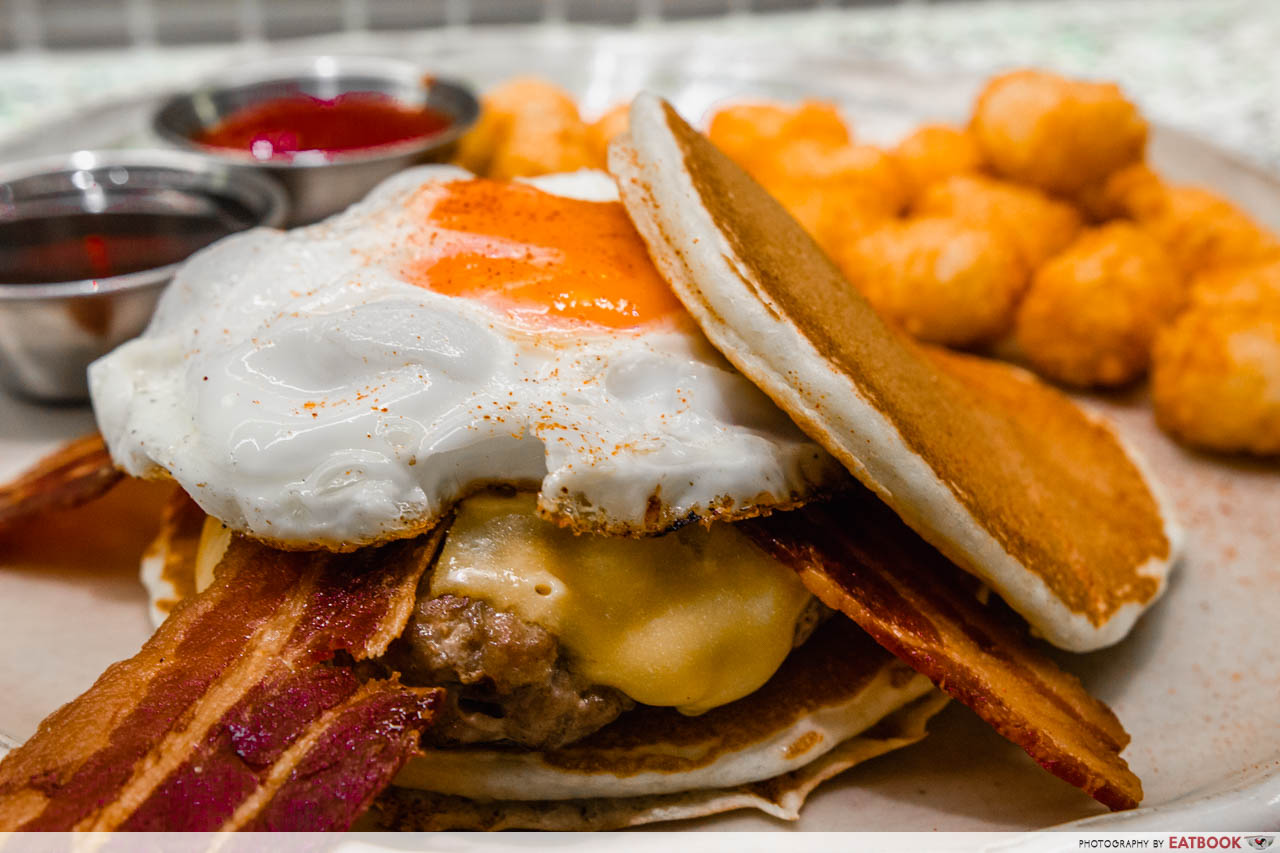 The Breakfast Pancake Burger ($20++) was the most ordinary of the lot, comprising house-made breakfast sausage stacked with crispy bacon strips, cheddar cheese, and a sunny side up.
The bacon was extra crispy and complemented the fluffy pancakes well. The sausage, however, was a tad too dry for my liking, and I found myself having to constantly drizzle more maple syrup over it.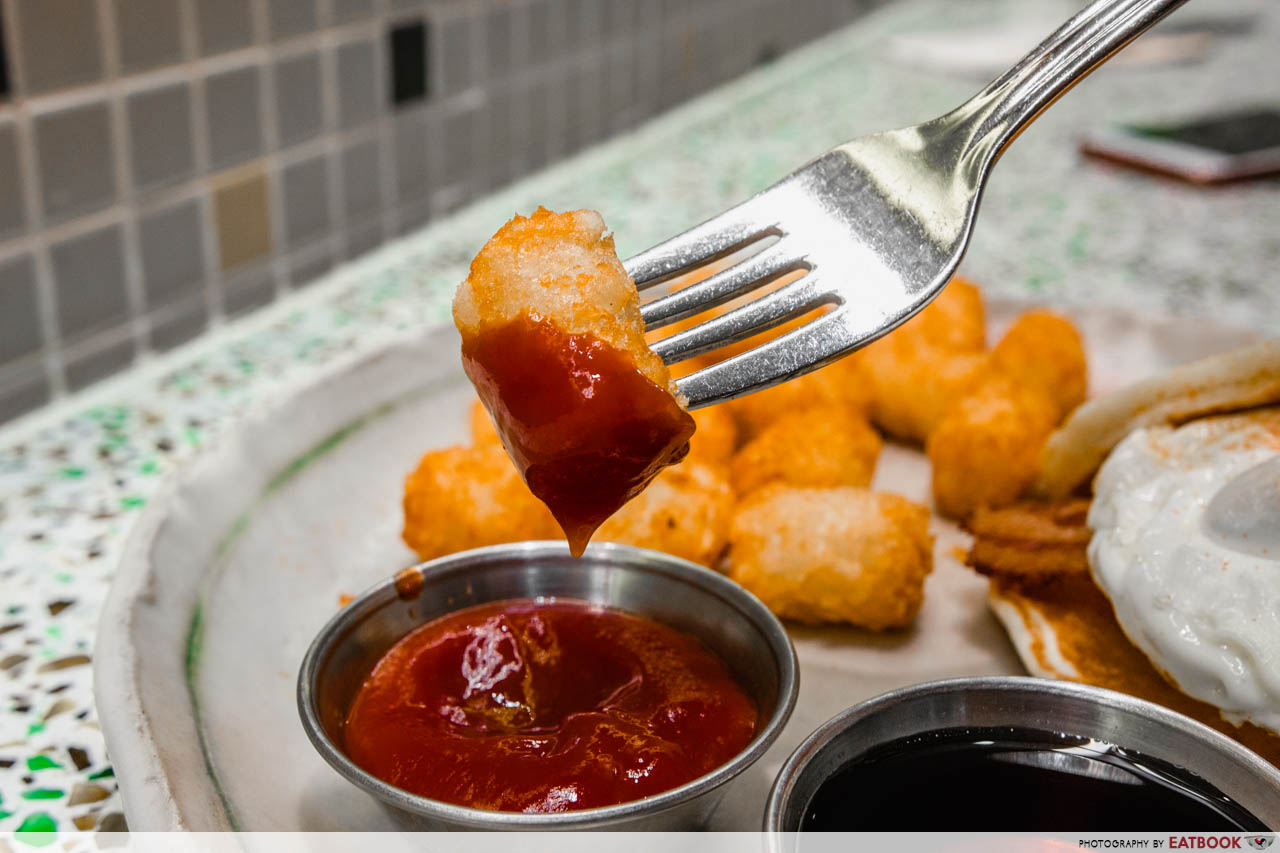 Served on the side was handful of tater tots. Each of it had a golden brown and crunchy exterior that tore apart to reveal a warm, mushy filling, and I had to mentally will myself to stop going back for more of these addictive bombs.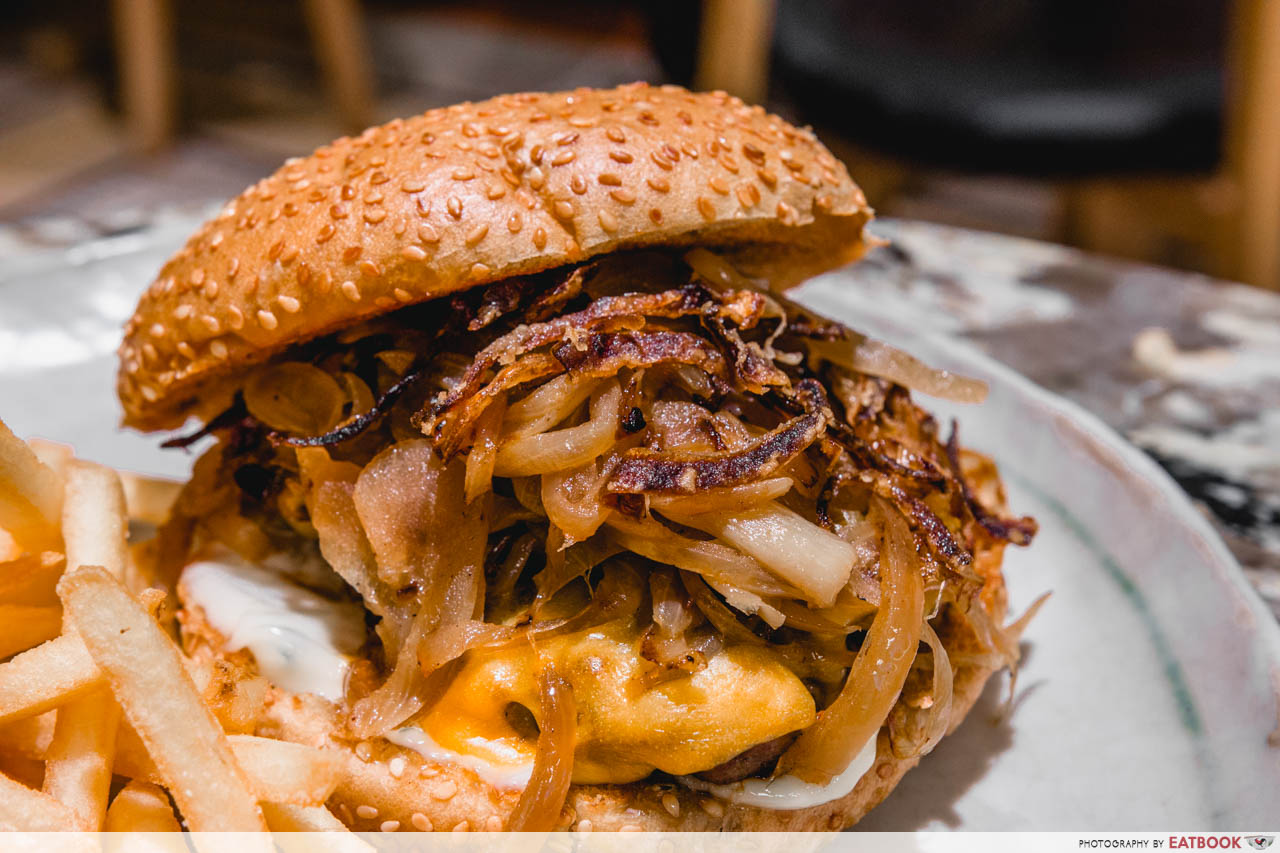 The French Onion Burger ($23++) came in a whopping portion, with the bun on top struggling to stay on two patties, bacon jam, scallion aioli, and two types of cooked onions – caramelised and deep fried. Each patty had a mix of beef and pork in it.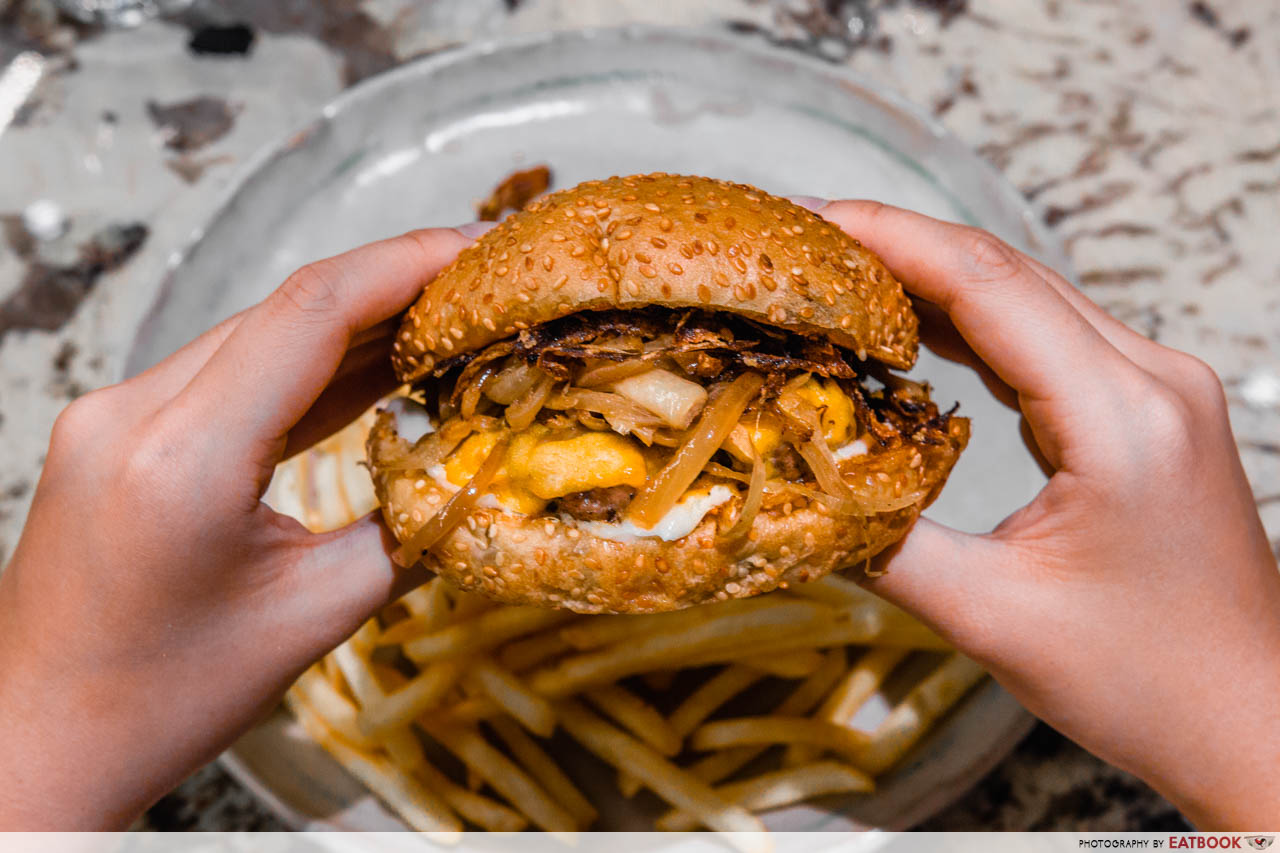 If you're a health junkie, you'd be glad to know that these patties were not fatty. Yet, that stripped away some of the melt-in-your-mouth texture and juiciness that a good burger usually comes with.
The onions were done in two different ways for a fantastic texture and flavour combination – soft, sweet, and with crispy, charred bits. I wouldn't mind eating this burger sans the patties, and with extra onions!
The fries included in the dish were not the most impressive, and I would have preferred to have some bacon jam or scallion aioli on the side to serve as dips for them.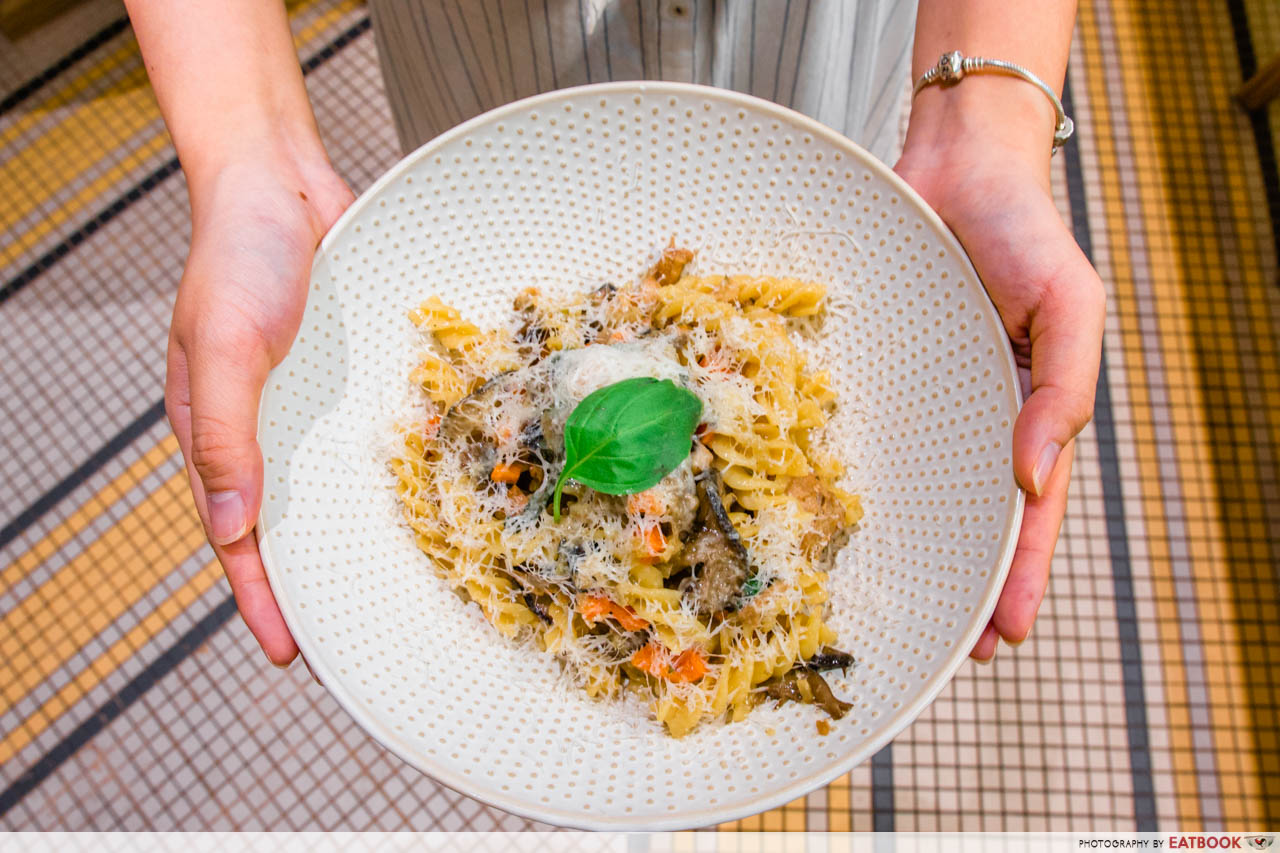 Aside from crazy creative burgers, we also had some classic dishes such as this No Fuss Yummy Chicken Fusilli ($19++). Although the portion looks tiny in this photo, it was more than enough to fill up a regular eater's belly.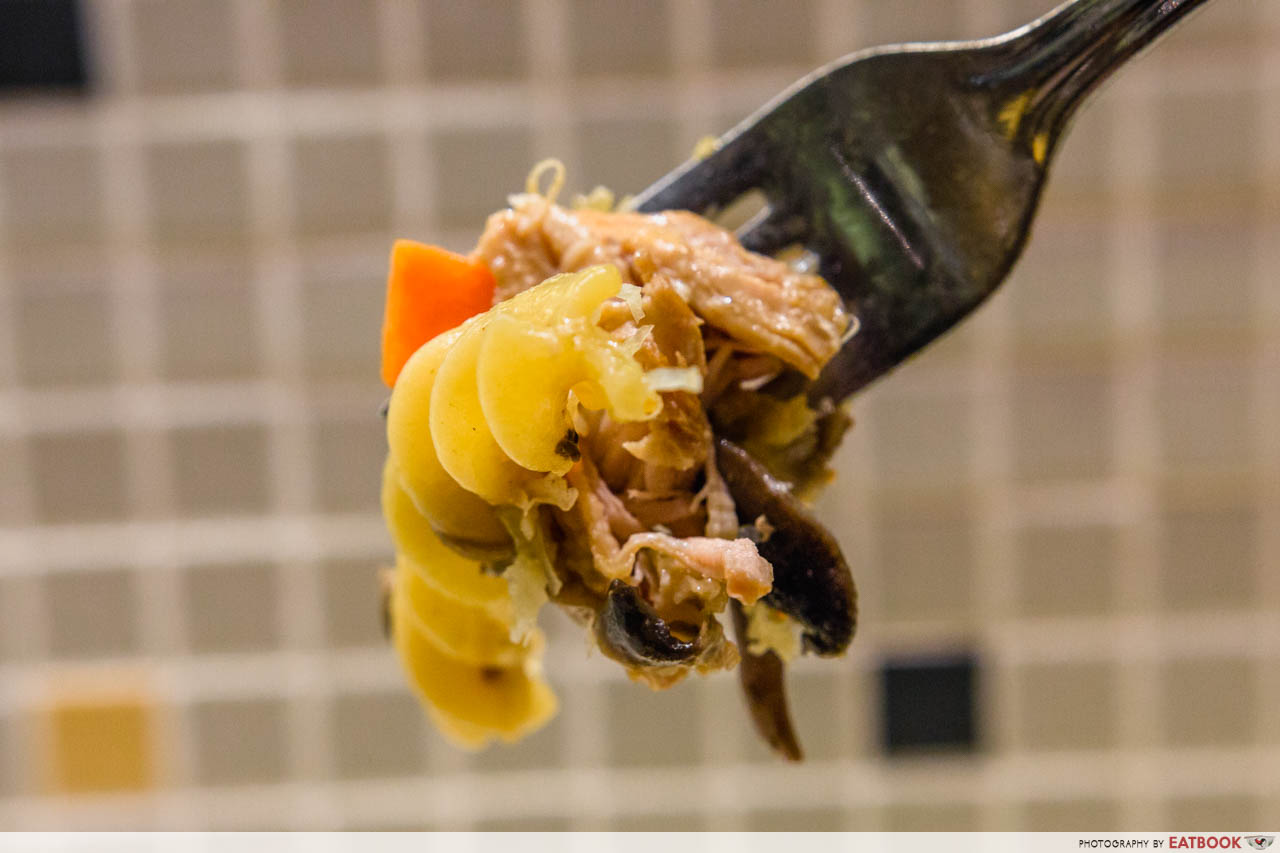 True to its name, this plate of pasta was simple yet tasty. The fusilli was tossed aglio olio-style with mushrooms, generous chunks of chicken thigh, diced carrots, and then topped with a generous amount of sharp parmesan cheese and fresh basil. The chicken was succulent and easy to shred using the fork. I have absolutely no qualms about ordering this dish again.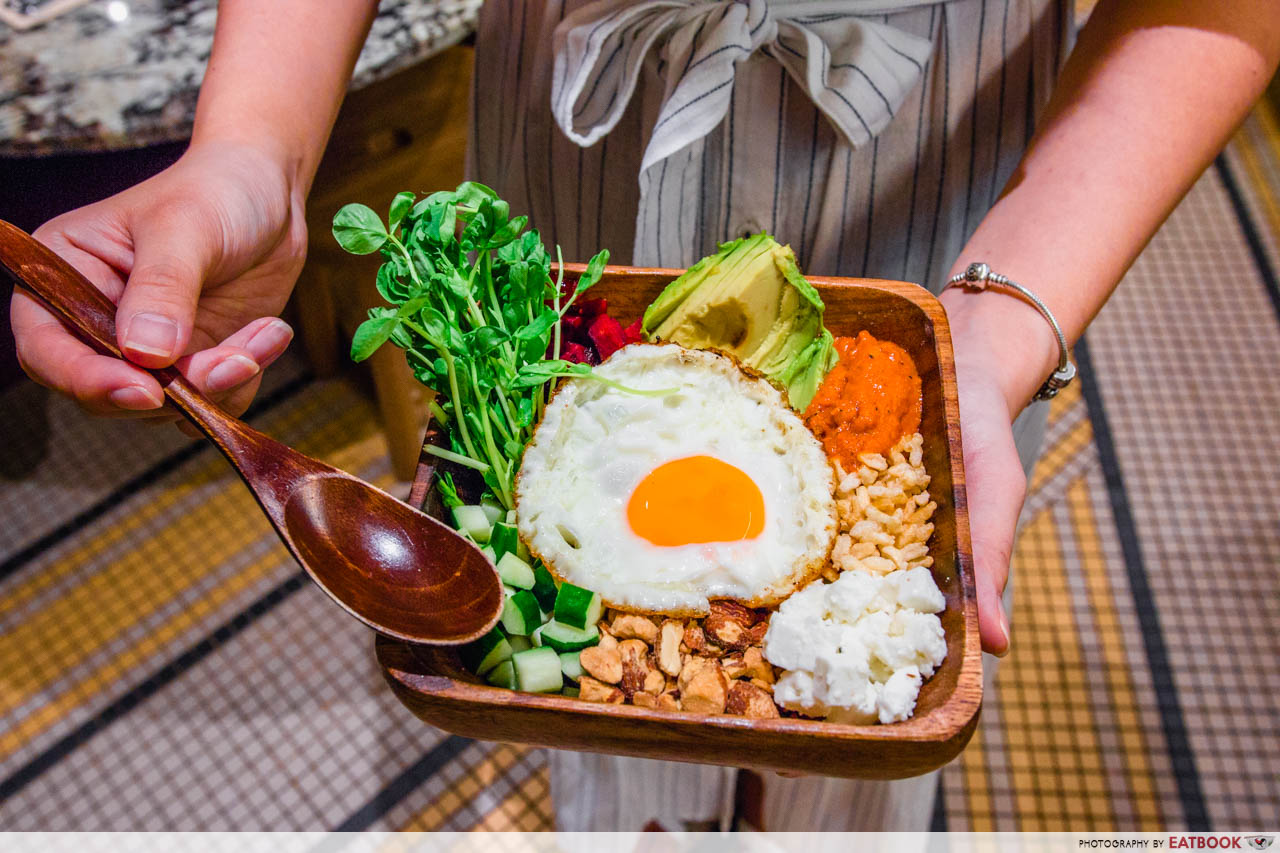 So far, all the food we had were pretty Insta-worthy, but this Rainbow Rice Bowl 2.0 ($22++) topped the charts with its vibrant colours and gooey egg yolk – perfect for Boomerang addicts.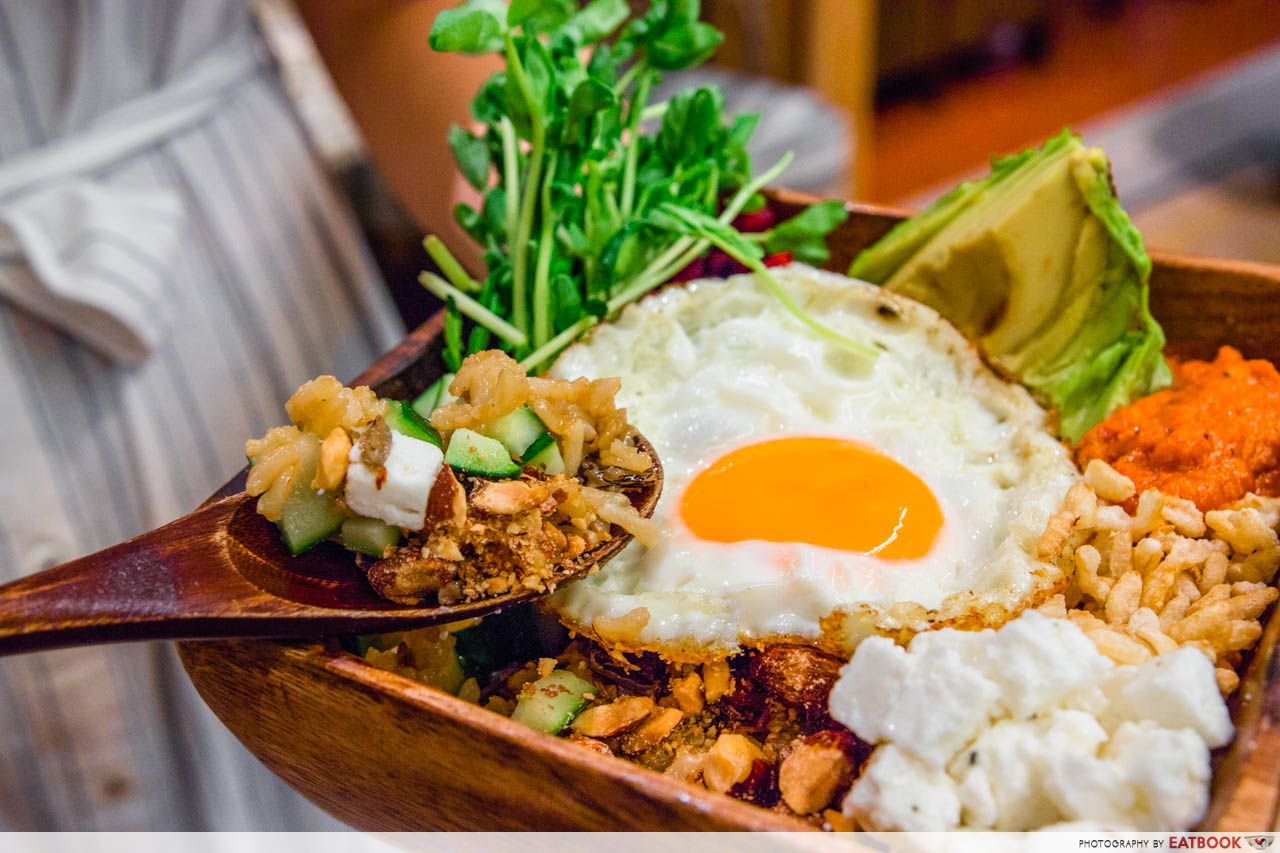 It was built with a mixture of brown and wild rice as its base, with sliced avocado, feta cheese, pieces of chorizo sausage, pea shoots, and rich romesco sauce artfully arranged on it. I ate this the same way I would eat a bibimbap and mashed everything together to savour all the ingredients in a bite.
The romesco sauce added a slight sweetness that balanced out the salty feta cheese and pieces of chorizo sausage. Meanwhile, toasted almonds, cucumber, and rice puffs added crunch to the dish.  
Ambience at Tiong Bahru Bakery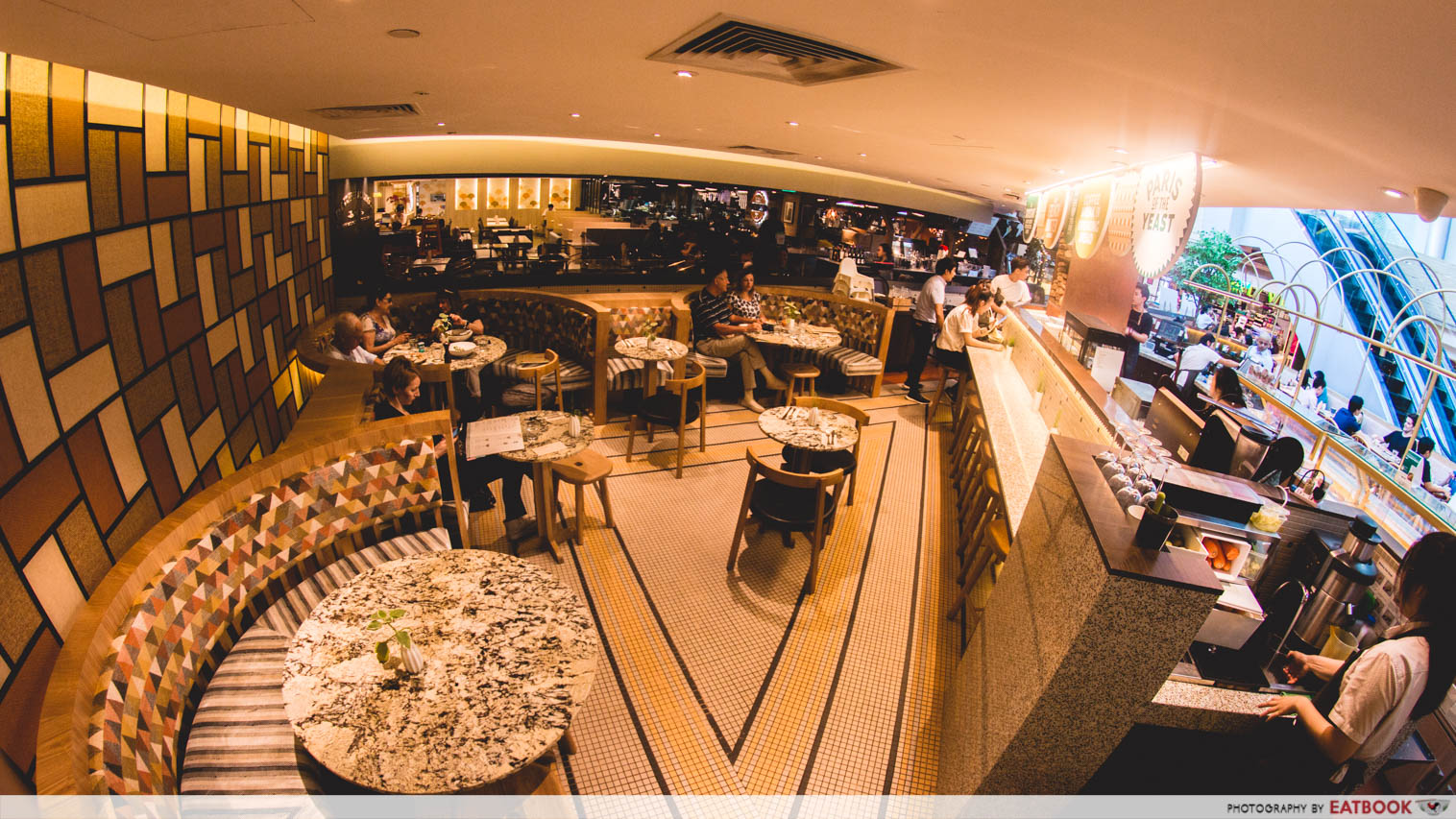 Tiong Bahru Bakery takes up a cosy area in the basement of Raffles City Shopping Centre, and exudes a relaxing vibe with geometric tiles and warm lighting. I felt at home while dining, thanks to the friendly staff and cosy ambience. If you prefer more privacy, request for a table in a booth – great for a gossip sesh with your friends.
The verdict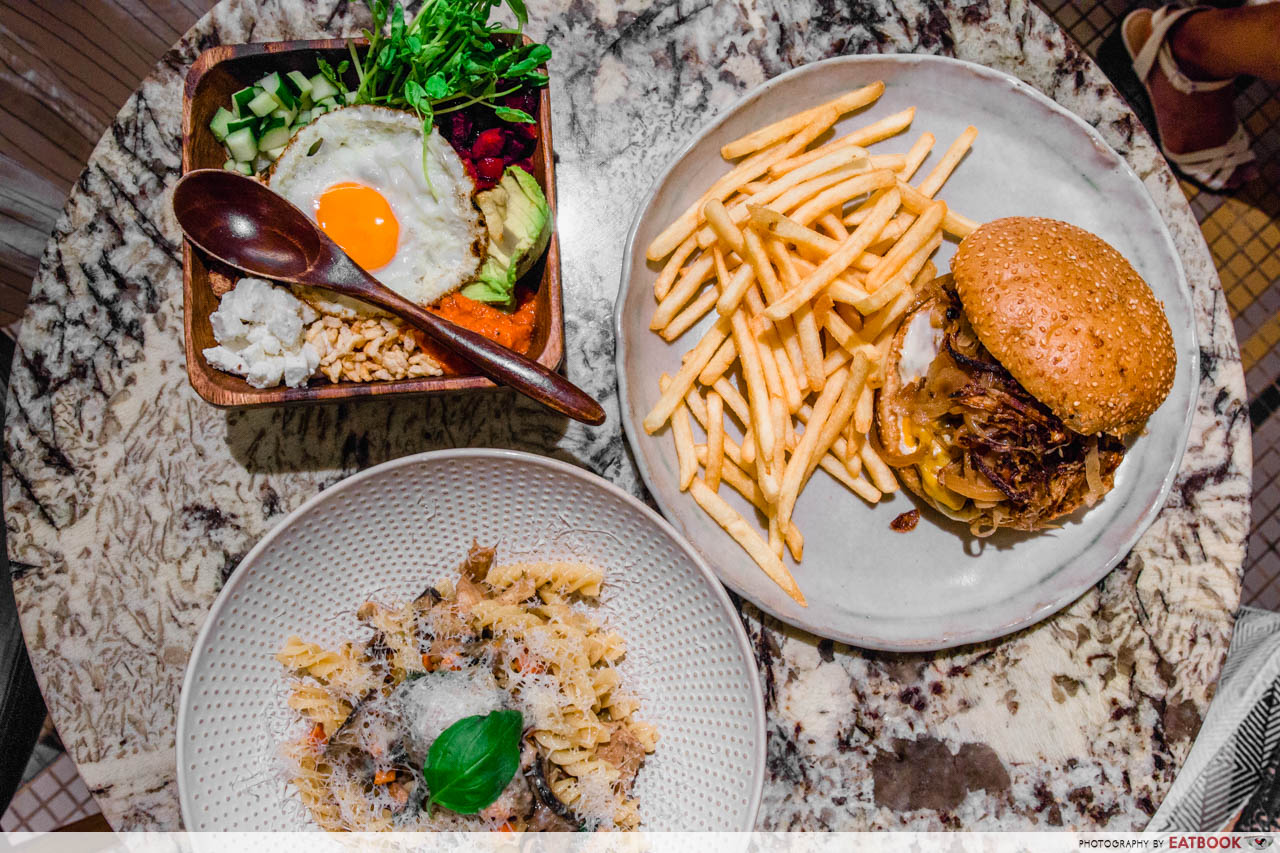 Dining here frequently might not be the most practical, but I will definitely suggest Tiong Bahru Bakery during special family occasions, or dine here with my gal pals once in a while.
The dinner menu is exclusive to their outlet at Raffles City Shopping Centre, and it is available from 5pm to 9:15pm on weekdays and 9am to 9:15pm on weekends. Pop by just to have a taste of their new dishes, even if you live closer to other outlets, because the FOMO will hit you hard if you miss out on their pancake burgers!
Address: 252 North Bridge Road, #B1-11, Raffles City Shopping Centre, Singapore 179103
Opening hours: Daily 8am to 10pm
Tel: 6333 4160
Website
Menu
Full list of outlets
Tiong Bahru Bakery is not a halal restaurant.
This was a media tasting at Tiong Bahru Bakery.
Summary
Pros
– Cosy ambience
– Great service
– Unique take on burgers
– Offers vegetarian options
Cons
– Expensive
Recommended Dishes: No Fuss Yummy Chicken Fusilli ($19++), Rainbow Rice Bowl 2.0 ($22++), The PB&B Pancake Burger ($23++)
Operating Hours:
Daily 8am to 10pm
Tel:
6333 4160
Address: 252 North Bridge Road, #B1-11, Raffles City Shopping Centre, Singapore 179103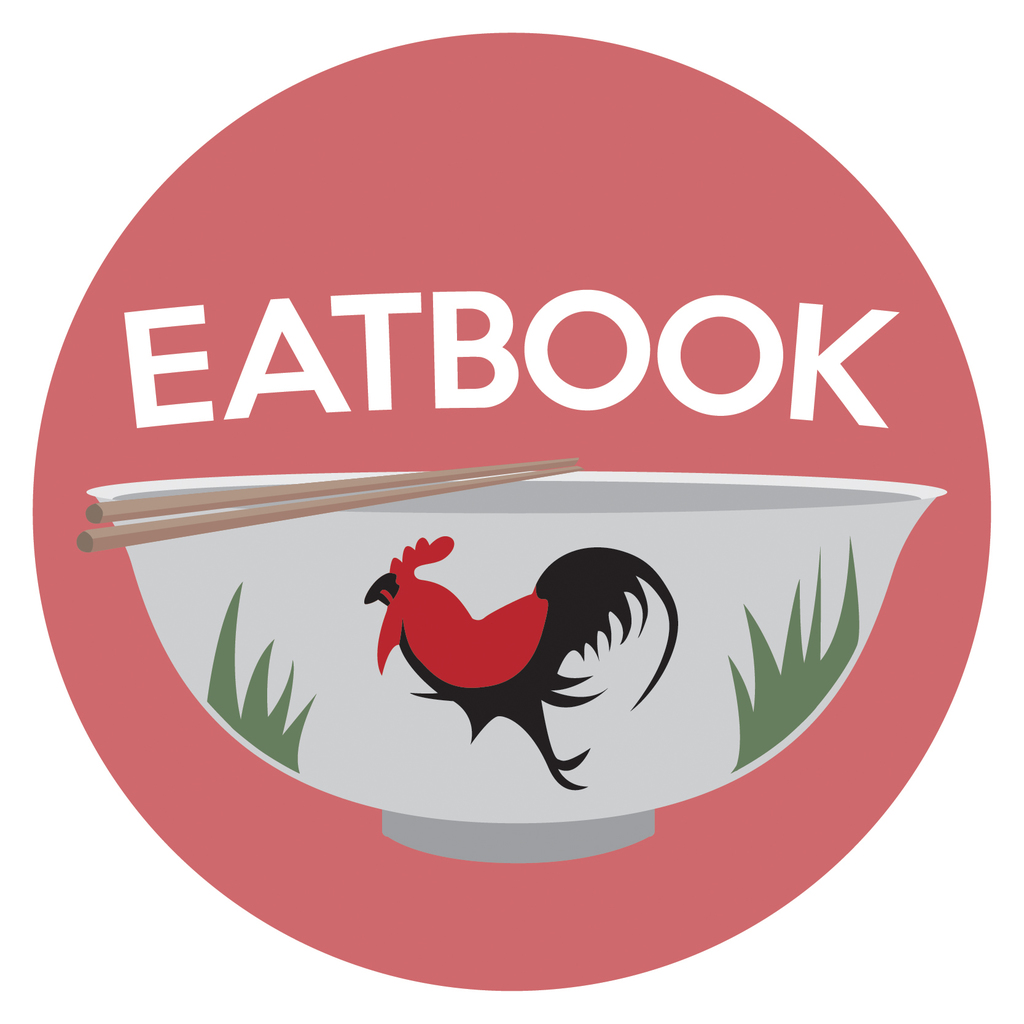 Drop us your email so you won't miss the latest news.