---
Crazy food combinations you need to try
---
Some pairings, like burger and fries, are meant to be. Others leave you with an inedible mess when you attempt to mix things up. Just ask my family – they've been guinea pigs to my kitchen experiments. Thankfully, this list is about the combinations that professional chefs have come up with. Here are 10 that will have you wondering why you never thought of putting them together sooner.
---
1. Crispy Muah Chee Salad
---
Croutons are my guilty pleasure whenever I have a salad. But when I heard Sinpopo tops their salad with deep fried muah chee, it blew croutons out of the water. Cue their Crispy Muah Chee Salad ($12++): chewy, crisp rounds tossed with lettuce and garlic hollandaise sauce plus a generous handful of parmesan cheese. No one's going to tease you for "eating grass" any longer.
Address: 458 Joo Chiat Road, Singapore 427671
Opening hours: Tue-Thur 12pm to 10pm, Fri-Sat 12pm to 12am, Sun 12pm to 10pm
Tel: 6345 5034
Website
Menu
---
2. Mapo Tofu Burger
---
Meat lovers, hold on. This tofu burger still deserves a shot. Inspired by Sichuan cuisine, Birds of A Feather coated tofu and cheese in a katsu-like batter to form a patty before spooning spicy and aromatic mapo pork ragu over, and sandwiching it between fluffy homemade bao. It may not taste just like the actual dish, but their Mapo Tofu Burger ($22++) is a version you have to try.
Address: 15 Amoy Street, #01-01, Singapore 069935
Opening hours: Mon-Wed 10am to 11pm, Thur-Sat 10am to 12am, Sun 11am to 11pm
Website
Menu
---
3. Hainanese Chicken Rice Risotto
---
It's not every day that you find a hawker centre staple in a cafe. Stateland combines everything we love about chicken rice with atas cafe fare in their Hainanese Chicken Rice Risotto ($20). Soy-marinated chicken is piled on a serving of creamy, flavourful risotto and drizzled with chilli vinaigrette reminiscent of chicken rice chilli, then topped with fragrant fried shallots that add a crunch to the overall texture of the dish.
Address: 30 Bali Lane, Singapore 189868
Opening hours: Sun-Mon, Wed-Thur 12pm to 9:30pm, Fri-Sat 12pm to 10:30pm
Tel: 9296 4997
Website
---
4. Rosti Mentai
---
You wouldn't think that Swiss and Japanese cuisine could complement each other, but Shukuu Izakaya proves it can be done. Rosti Mentai ($8++) is fried till golden brown and slathered in mentaiko sauce that is torched to create a smoky flavour. Perfect for those who consider potatoes their favourite carb.
Address: 8 Stanley Street, Singapore 068727
Opening Hours: Mon-Fri 11:30am to 2pm, 5:30pm to 11pm, Sat 6pm to 10:30pm
Website
Menu
---
5. Pulot Hitam Pudding

---
Revolution Coffee cleverly transformed pulut hitam into a Western dessert with Pulot Hitam Pudding ($10). This moist dessert has bits of black glutinous rice scattered throughout to give it its sticky texture and is blanketed in gula melaka butterscotch sauce. Paired with a scoop of coconut ice-cream, it's clear that they've managed to pay tribute to the traditional dessert by turning it into this decadent treat.
Address: 21 Media Circle, #01-03A, Infinite Studio, Singapore 138562138562
Opening hours: Daily 9am to 6pm
Tel: 6777 2110
Website
---
6. Bak Chor Mee Grilled Cheese
---
A toasted sandwich oozing with gooey melted cheese is already tempting. Loof made it even better by stuffing minced pork and mushrooms into the sandwich. Cheesy, chunky, and completely satisfying, B.C.M. Grilled Cheese ($18++) is the one to reach out for between drinks.
Address: 331 North Bridge Road, #03-07, Odeon Towers Extension Rooftop, Singapore 188720
Opening hours: Mon-Thur 5pm to 1am, Fri-Sat 5pm to 2am
Tel: 6337 9416
Website
Menu
---
7. Tom Yum Cereal Salmon

---
We've all had our fair share of cereal prawns. Cereal salmon, though, not so much. Pluck serves salmon that's coated with tom yum spiced cereal, and the crunch contrasts nicely with the flaky salmon. Each piece of Tom Yum Cereal Salmon ($15++) also gets a dollop of Pluck's housemade mentai mayonnaise, which lends a savoury depth to the dish. Excuse me, I'll just be cleaning every bit off my plate.
Address: 90 Club Street, Singapore 069458
Opening hours: Mon-Thur 12pm to 11pm, Fri 12pm to 1am, Sat 5pm to 1am
Tel: 6225 8286
Website
Menu
---
8. Chendol "Xiao Long Bao"

---
The best part about eating a xiao long bao is biting into the ball of meat and juices, but Restaurant Labyrinth swaps that for some red bean and spheres of grass jelly, complete with a splash of coconut milk. Instead of dipping this Chendol "Xiao Long Bao" ($8++) in vinegar and piling sliced ginger on top, you're meant to drizzle on it a bit of gula melaka masquerading in a vinegar pot.
Address: 8 Raffles Avenue, #02-23, Esplanade Mall, Singapore 039802
Opening hours: Tue-Wed 12pm to 2:30pm, 6:30pm to 11pm, Thur-Fri 12pm to 2:30pm, 6pm to 11pm, Sat-Sun 6pm to 11pm
Website
Menu
---
9. Kimchi Carnitas Fries
---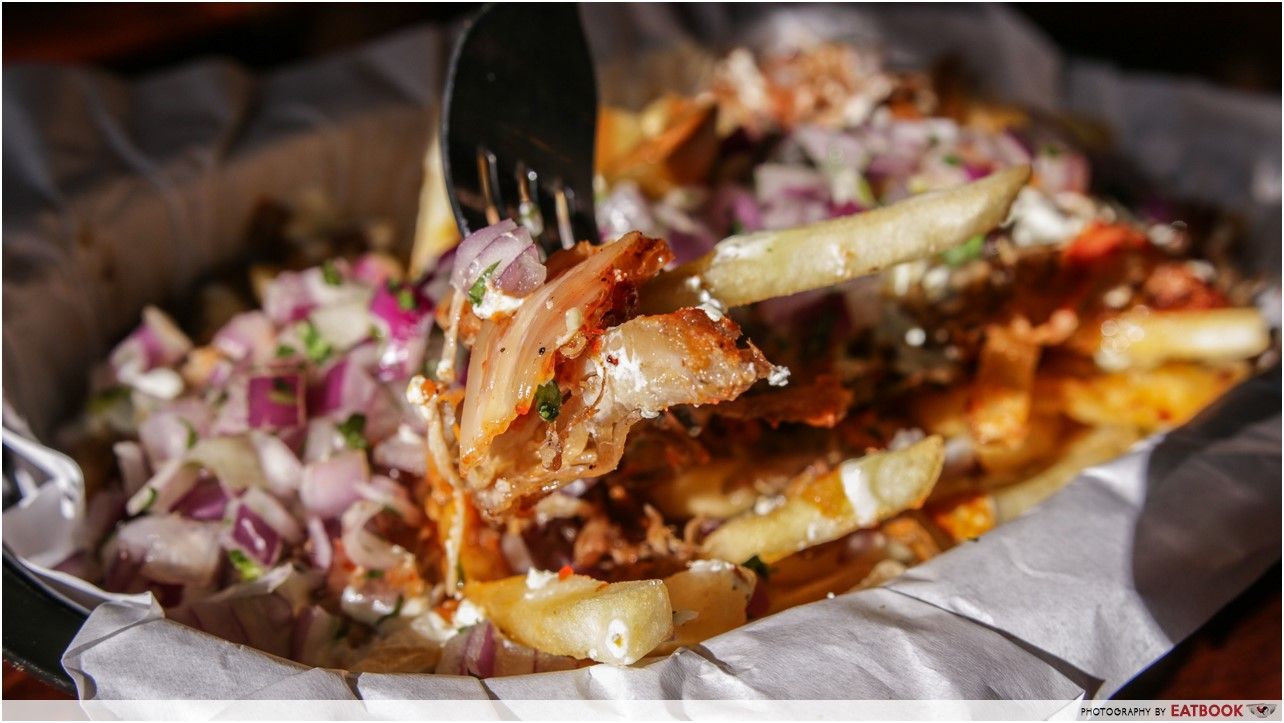 Truffle fries got nothing on Kimchi Carnitas Fries ($18++) at Vatos Urban Tacos. This mountain of shoestring fries is covered in sautéed kimchi, melted cheese, drizzles of sour cream and hot sauce, and a heap of chopped onions. That's not all, tender braised carnitas pulled pork hides underneath all that goodness. You won't need to think twice before tucking into this bad boy.
Address: 36 Beach Road, South Beach Quarter, Singapore 189766
Opening hours: Sun-Thur 12pm to 11pm, Fri-Sat 12pm to 12am
Website
Check out our full review of Vatos Urban Tacos.
---
10. Ayam Buah Keluak Burger
---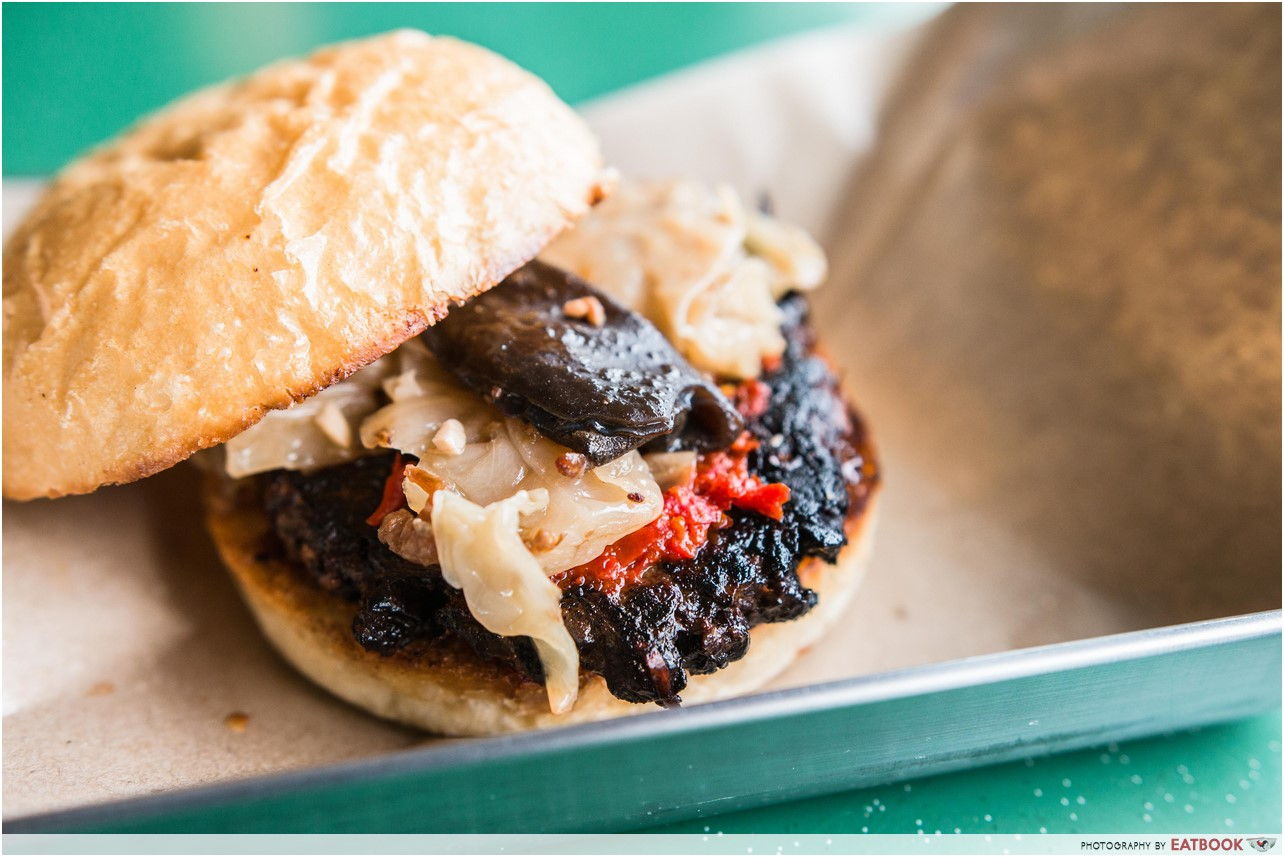 For folks who have a thing for Peranakan food, this Ayam Buah Keluak Burger ($5) from Hambaobao may suit your fancy. Its patty is made from buah keluak mixed with minced chicken, resulting in a nutty flavour. Fiery rempah (spice paste) and chap chye is then spread over the patty to complete the twist on this traditional Peranakan dish.
Address: 144 Upper Bukit Timah Road, #04-49, Beauty World Food Centre, Singapore 588177
Opening hours: Wed-Sun 12pm to 5pm
Website
Read our full review of Hambaobao.
---
Exciting things on the menu
---
Some of these combinations are unfathomable, but the chefs made it work. Let us know the strangest food combis you've had in the comments below!