Tuk Wan Kitchen for the ultimate Thai buffet
Update: Tuk Wan Kitchen has permanently closed.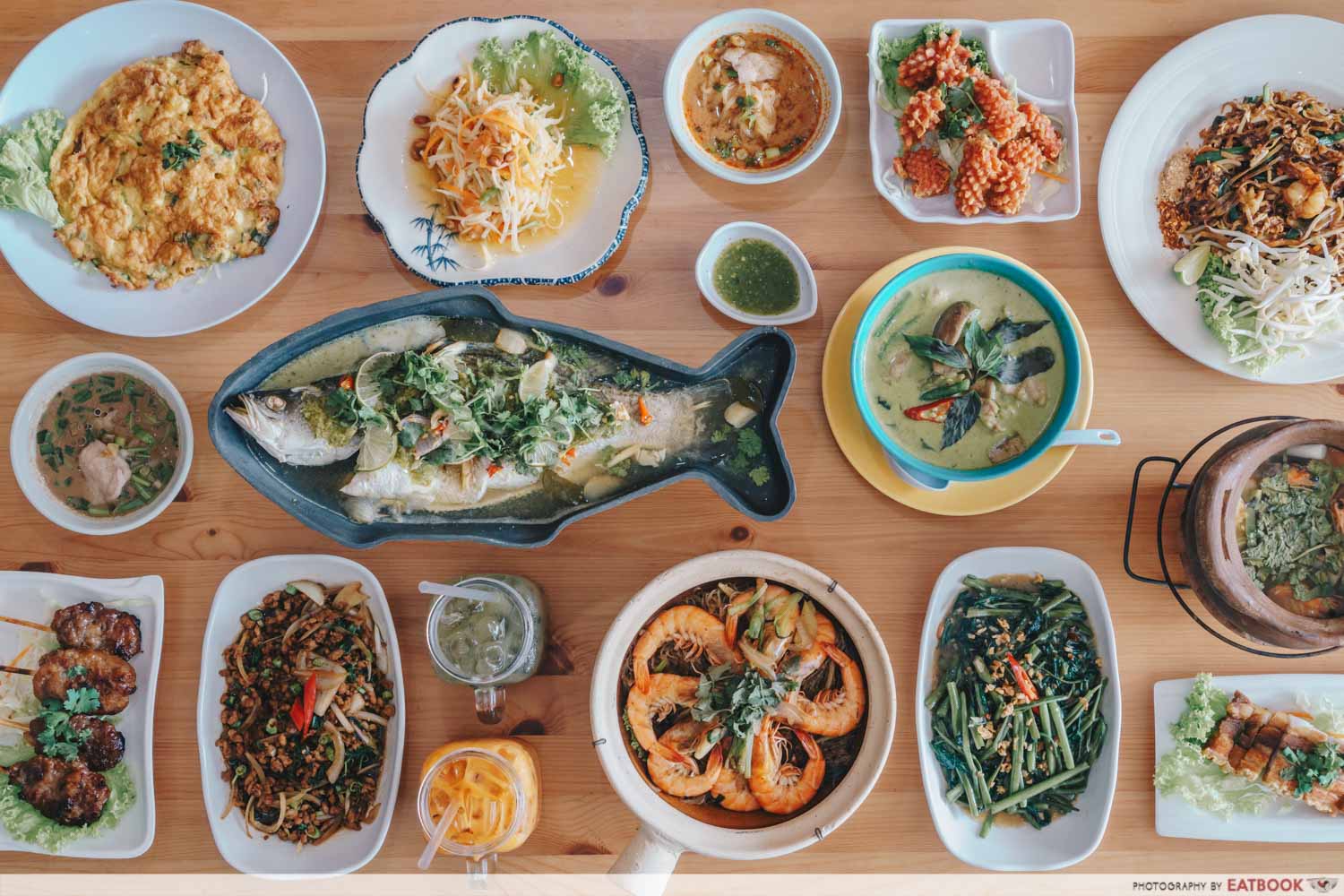 Tuk Wan Kitchen eliminates the need to constantly fly to BKK for their mouth-watering street food. To enjoy their $28.80+ buffet, at least four diners are needed in a group—so grab three other makan kakis, and the spread of over 100 dishes is yours. Here's our review of what to get and what to miss for you to make full use of the 90-minute time limit.
Food at Tuk Wan Kitchen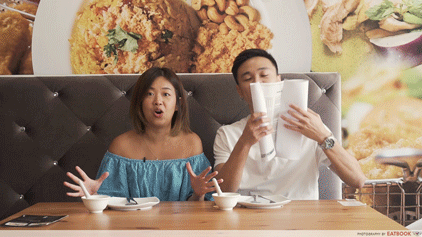 Whipped up by Thai chefs with a collective experience of over 30 years, the super-extensive spread highlights over 100 dishes with 12 wittily named categories including Fish over the Sea, Hen on Pen, Pork from the Sty, and Vegetable on the Farm. We ate as much as our stomach could take from the A3-sized menu, and whittled down some of our favourites.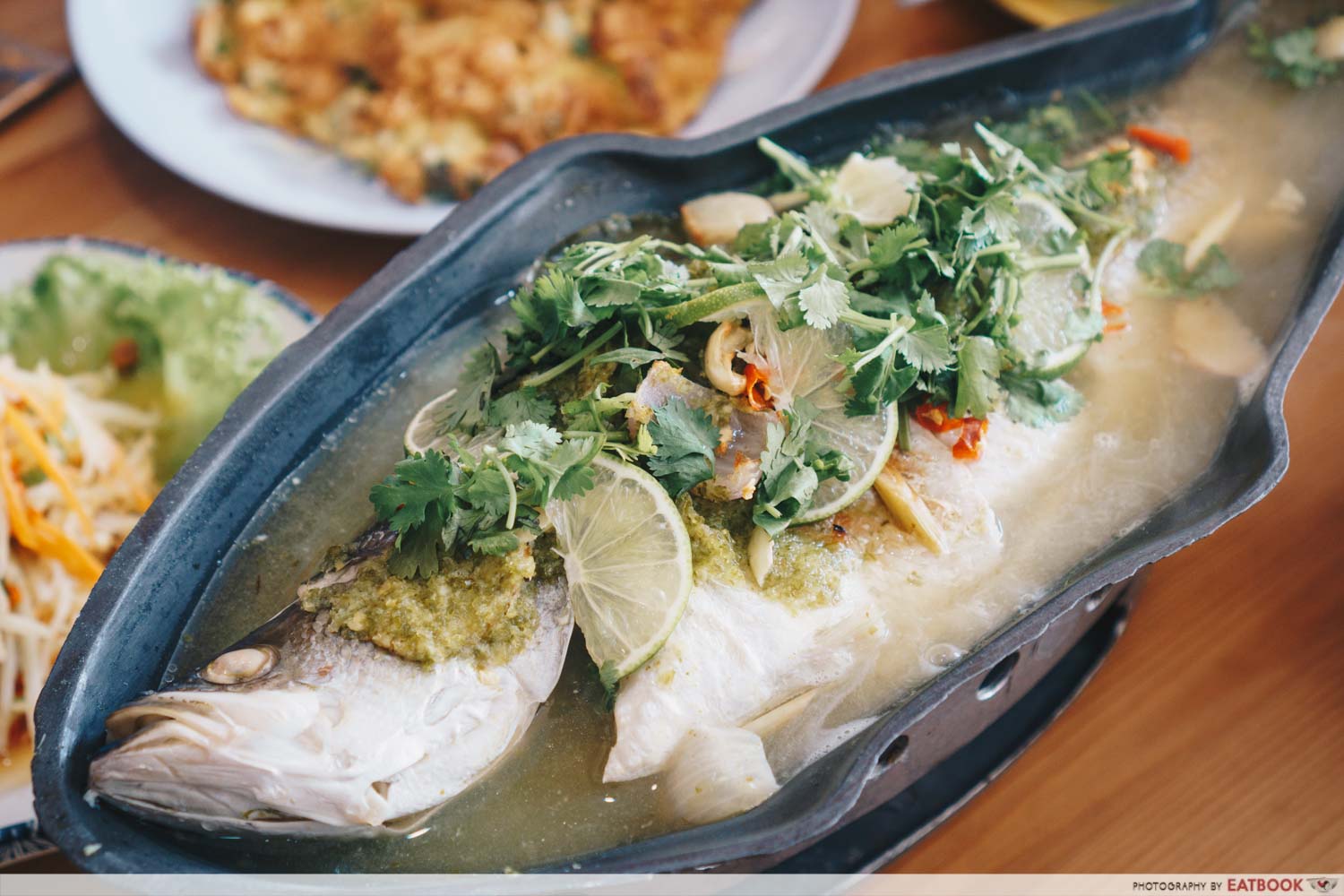 Voted unanimously as a must-order, the Steamed Seabass Thai Green Lime was evidently fresh and tasted the best.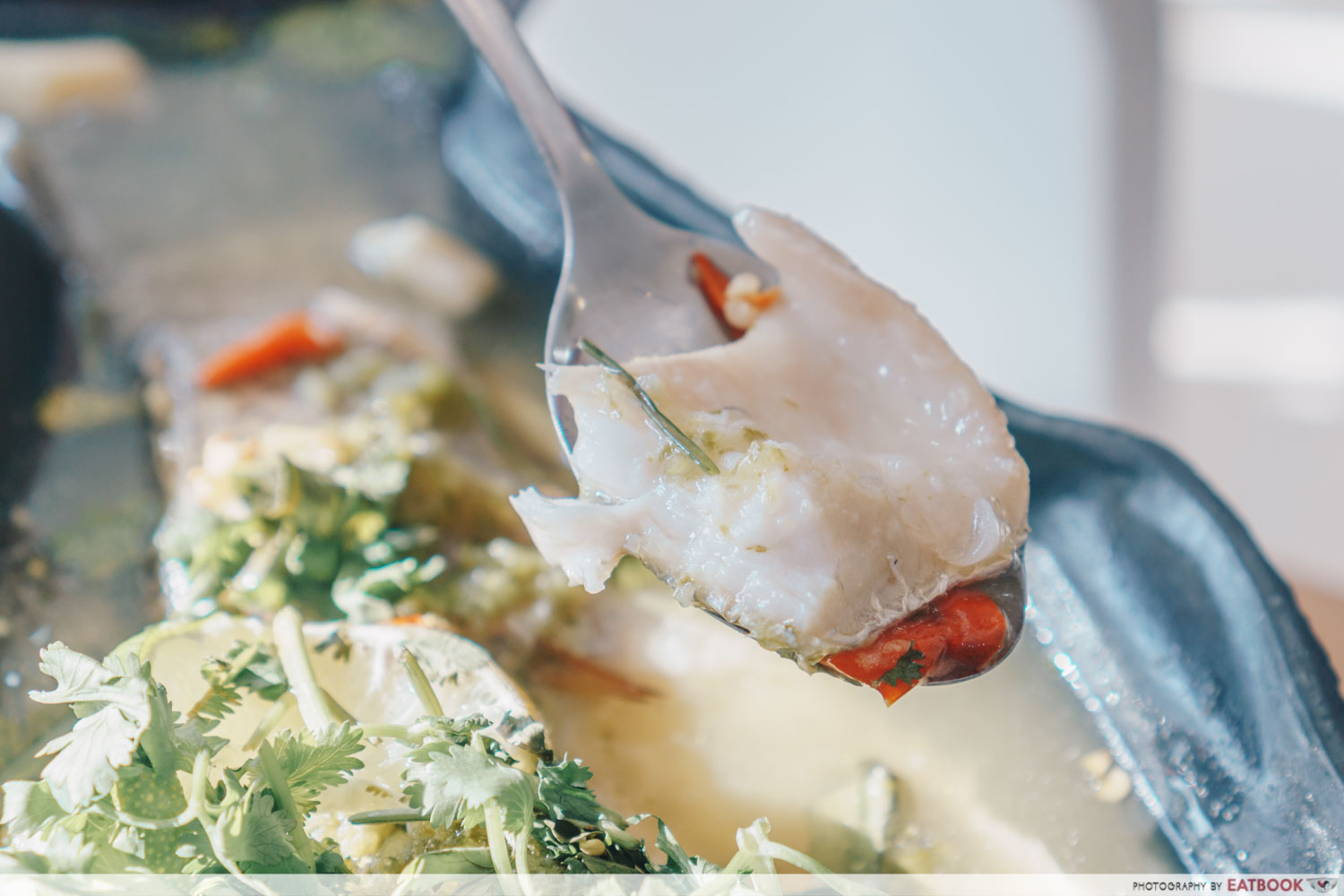 Packed with meat, each scoop of fish was succulent with a refreshing tart flavour from lime and lemongrass. Warning: do not take the innocent-looking broth lightly. It delivered a potent punch of spicy and tangy flavours to my throat when I first tried it.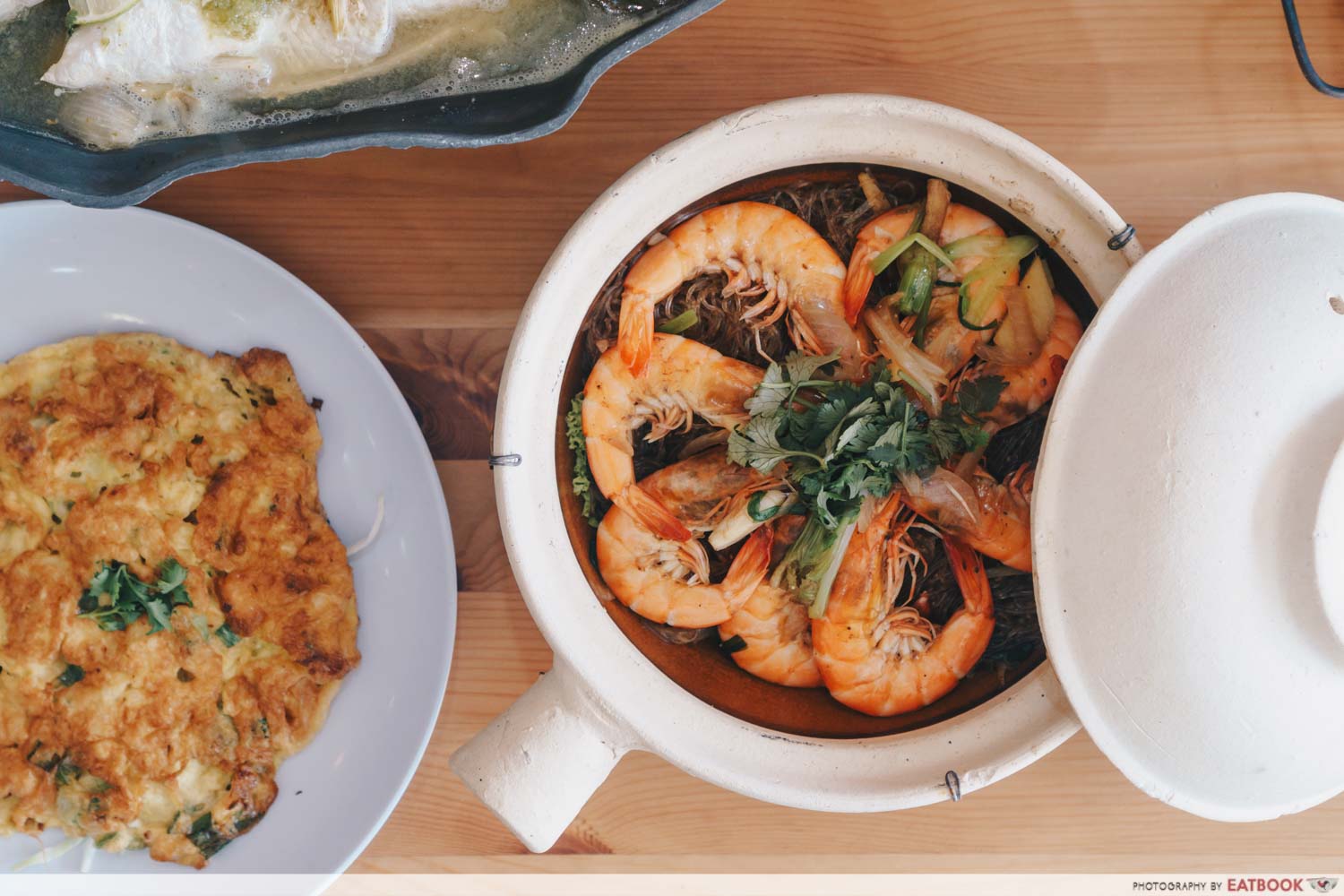 Your parents would be proud if you ordered a serving of the Thai Style Prawn with Glass Noodles as well. Getting more premium items such as steamed fish and this dish is the best way to ensure more bang for the buck at a buffet.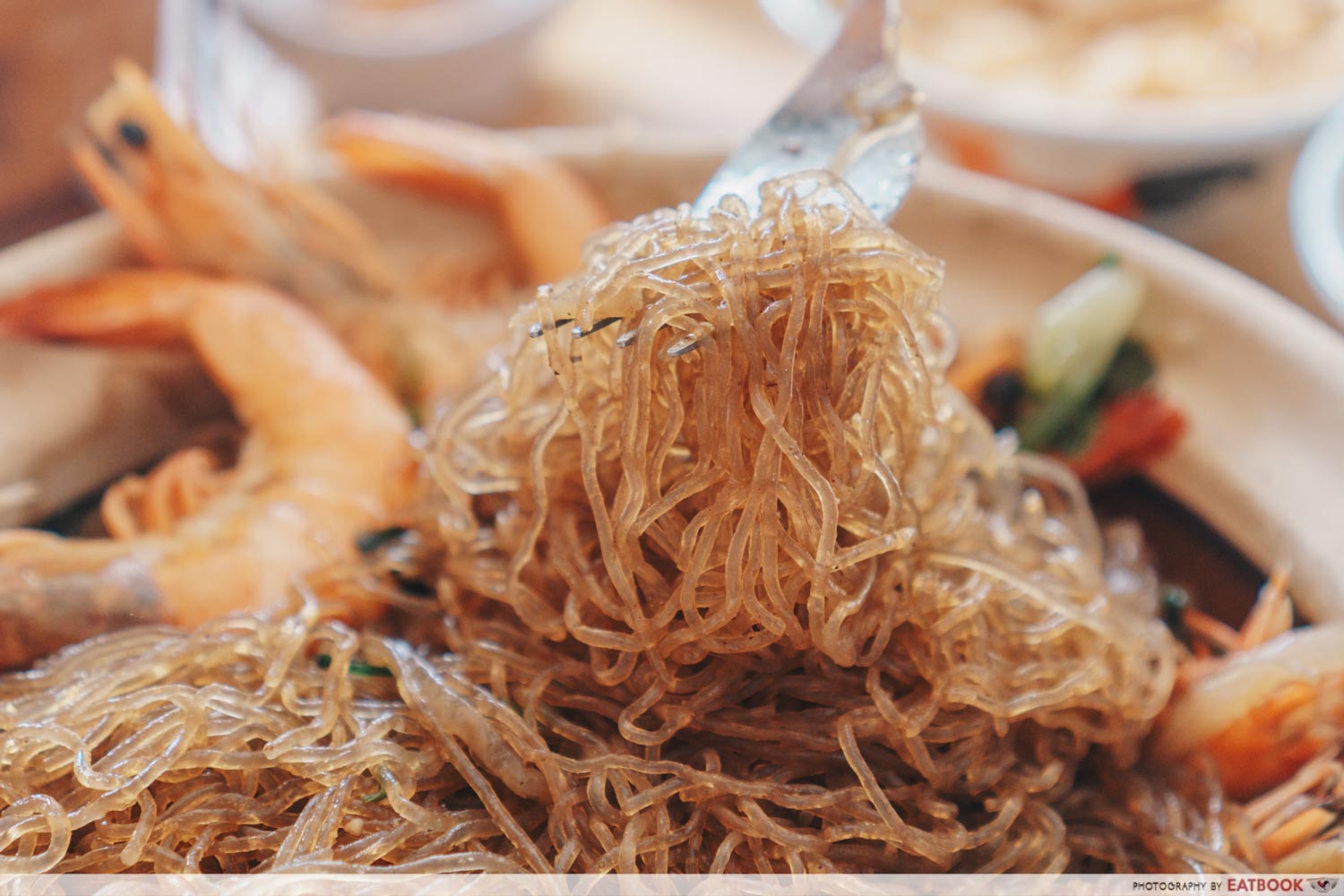 With eight full prawns sitting atop a bed of glass noodles, the dish is large enough to go around. Served in an earthen pot and delivering a whole lot of flavours, the glass noodles were a delicious mix of sweet and savoury. From the taste and the colour of the noodles, you can tell that it has been left simmering in a mix of light soy sauce, oyster sauce, black pepper, and stock.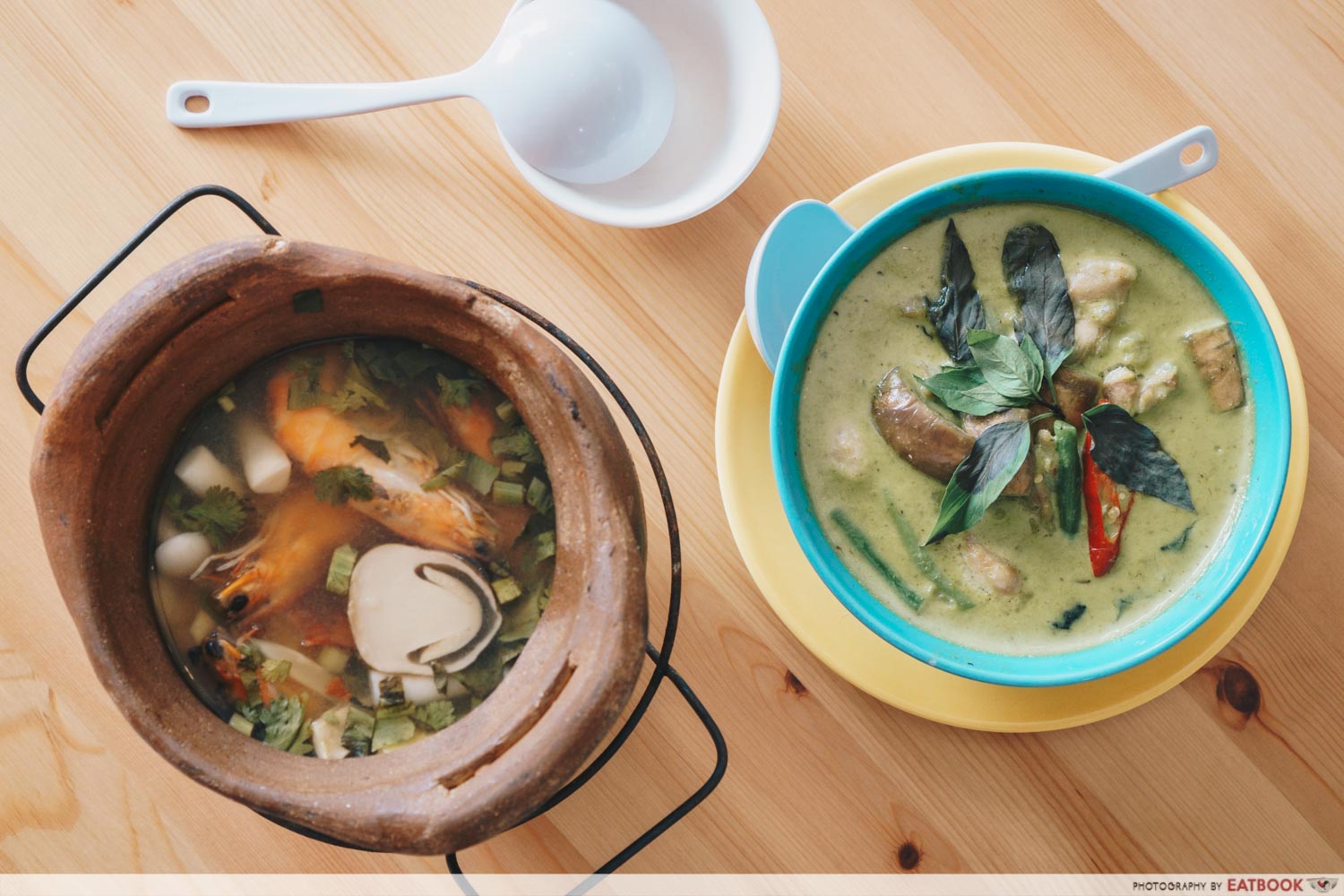 Other than value-for-money seafood dishes, satisfy your Thai food cravings with classics including Tom Yum Clear Soup and Thai Green Curry. Something commendable about Tuk Wan Kitchen is that they offer customisation, as everything is cooked à la minute. You can have soups, fried rice, and noodles with your choice of pork, chicken, prawn, or seafood.
The Tom Yum Clear Soup was just as appetising as the broth from the steamed fish with green lime. It might be a tad less spicy, but the soup is still equally moreish with a good ratio of sweet and tangy. There's also a variety of ingredients such as shimeji mushroom, rice straw mushroom, and whole prawns in the mix.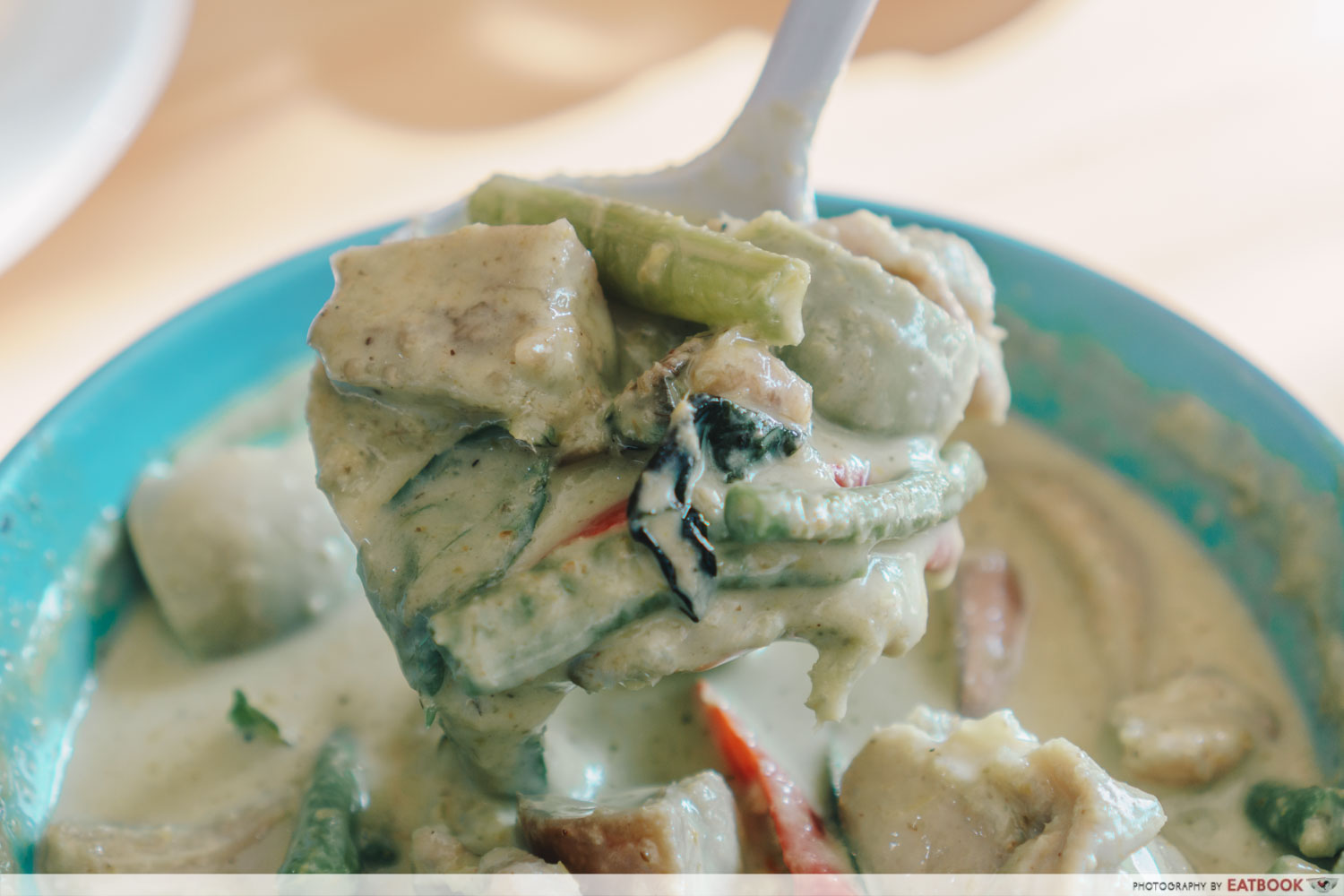 I can't say the same for their Thai Green Curry though. The curry was too thick and salty, even as a gravy on plain white rice. The only saving grace was the generous amount of ingredients unearthed from that single portion.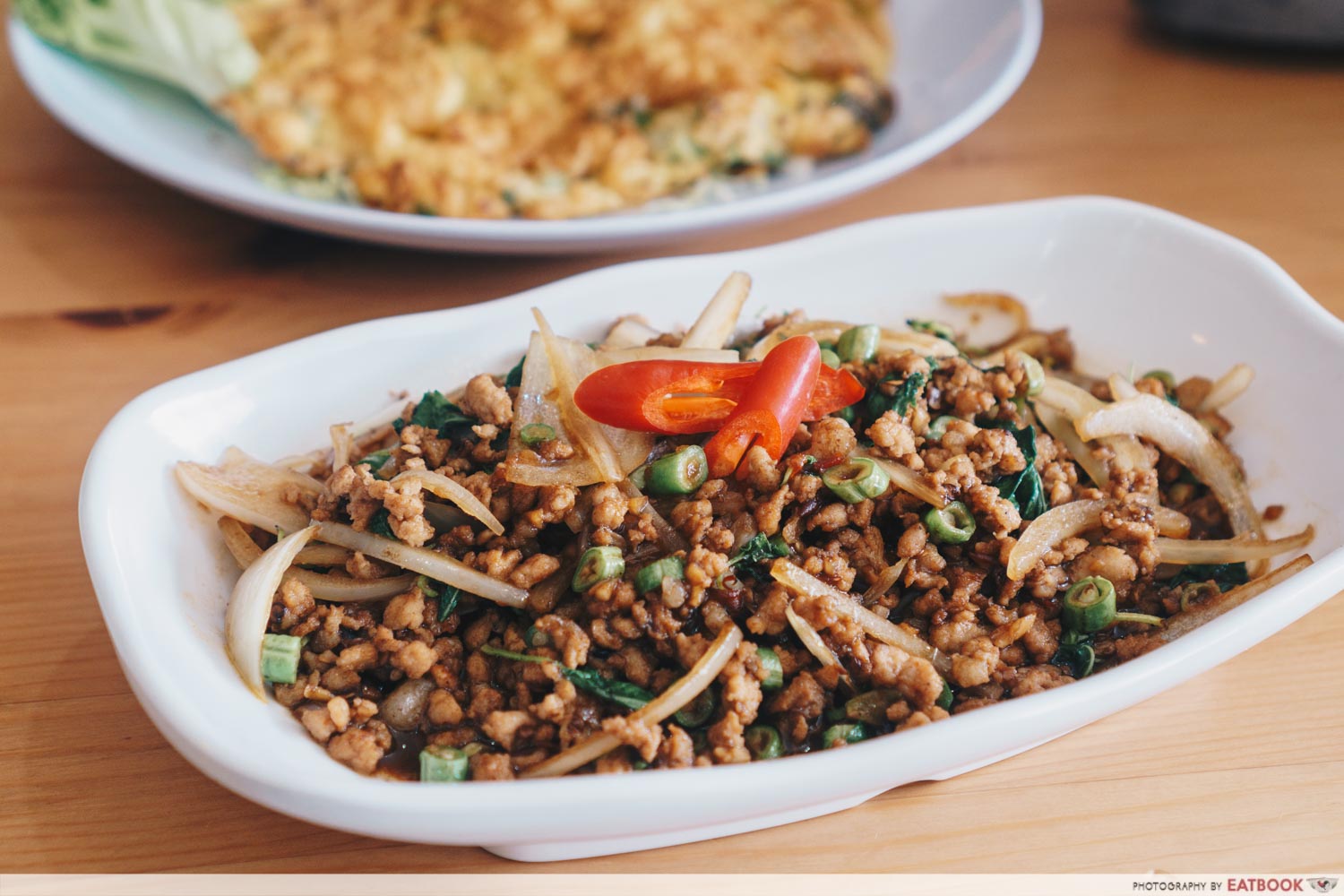 The Minced Pork Infused with Thai Basil was another dish that had me ordering a second serving. Even though I would have appreciated a stronger aroma of Thai basil, the stir-fried minced pork was still delectably flavourful. The chewy orbs were flanked with the savoury essences of sliced shallots, dark soy sauce, oyster sauce, and a hint of fish sauce.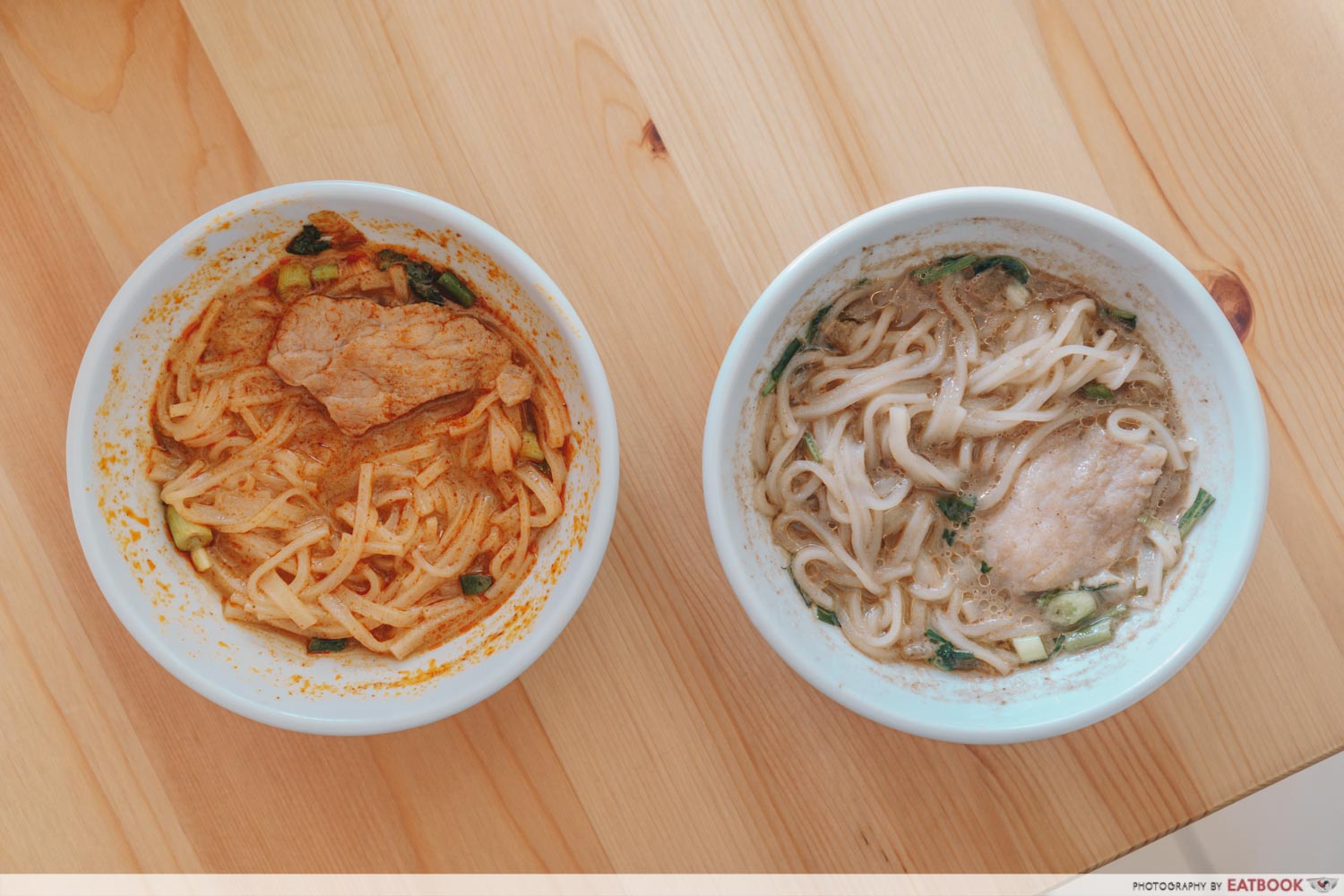 Other than the usual carbs suspects of Phad Thai, Authentic Pineapple Fried Rice, and Tom Yum Fried Rice, Tuk Wan Kitchen has Thick Thai Herb Boat Noodle and Tom Yum Boat Noodle to fill your tummy up with. Aside from the novelty of an unlimited boat noodle buffet, the broth from both bowls brought me back to the streets of BKK.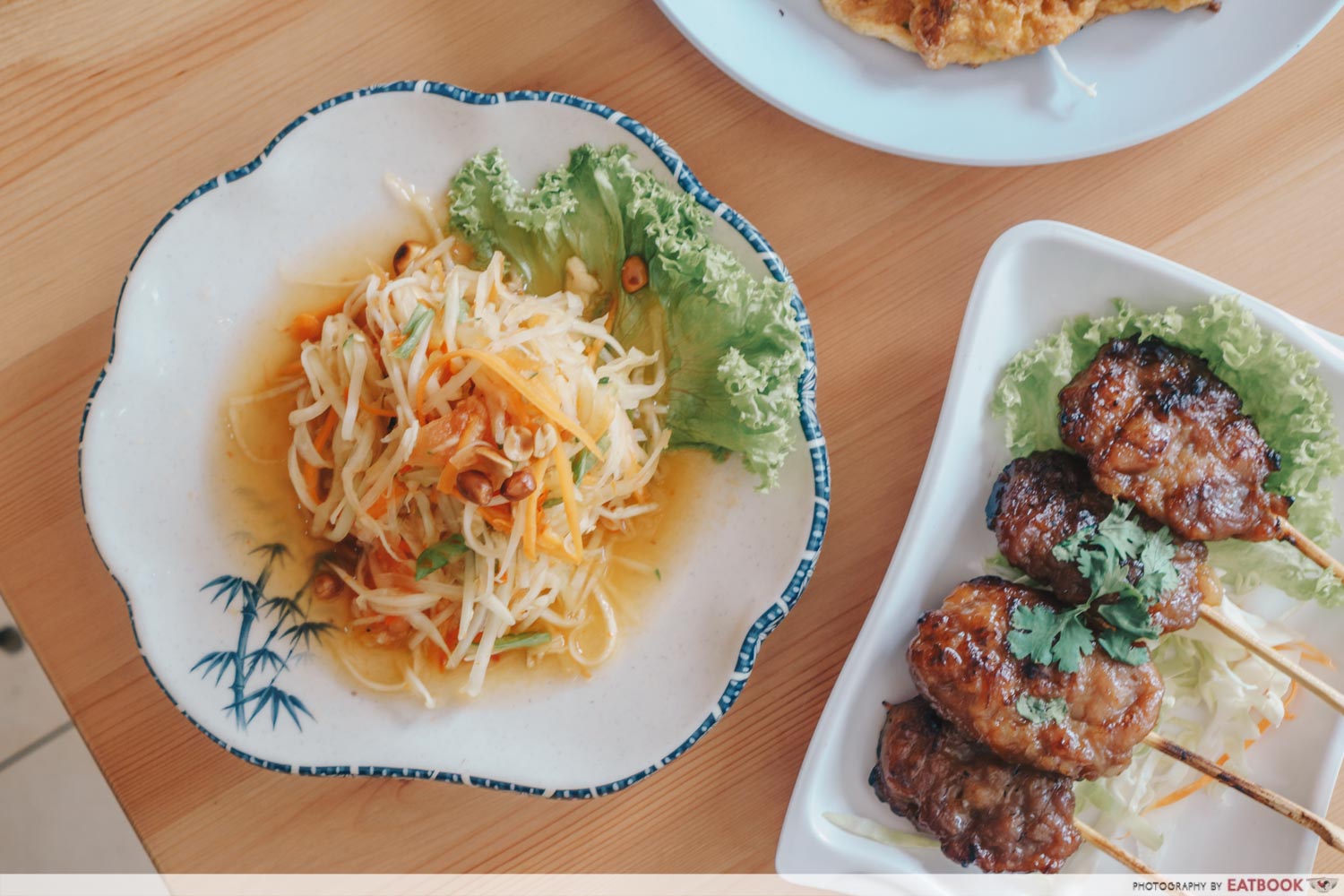 If you have more stomach space, dishes such as their Signature Pork Skewer make for addictive sides with their sweetness and tenderness. However, give their Papaya Salad with Seafood a miss, as they lacked crunch, spice, and tang. It was also too fishy for my liking.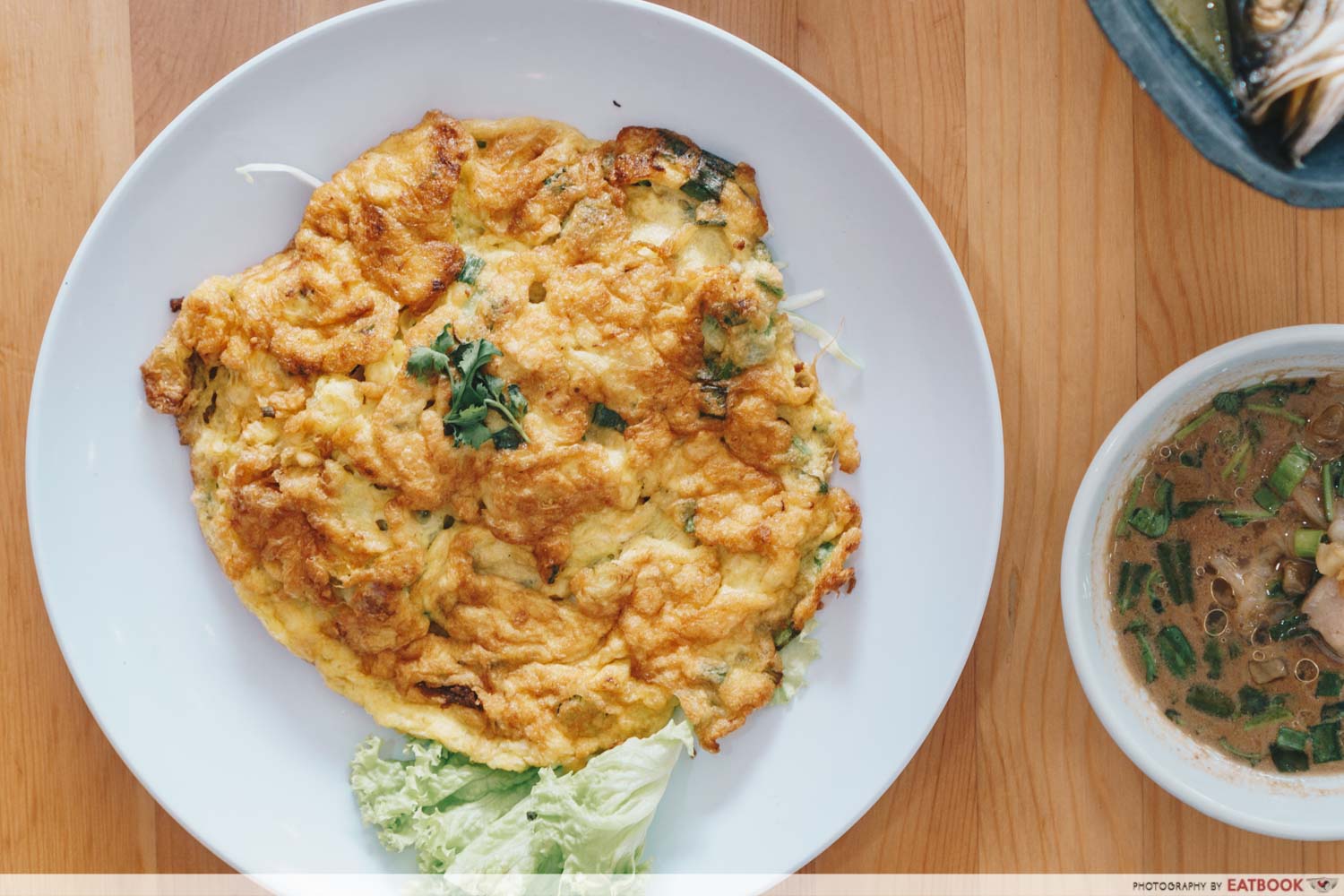 If, like me, you expect nothing less of a crispy, fluffy, and aromatic Thai-style fried omelette, the one here will leave you unimpressed as well. Unless you're okay with a plate of homely, Chinese-style fried omelette, I suggest giving this a miss too.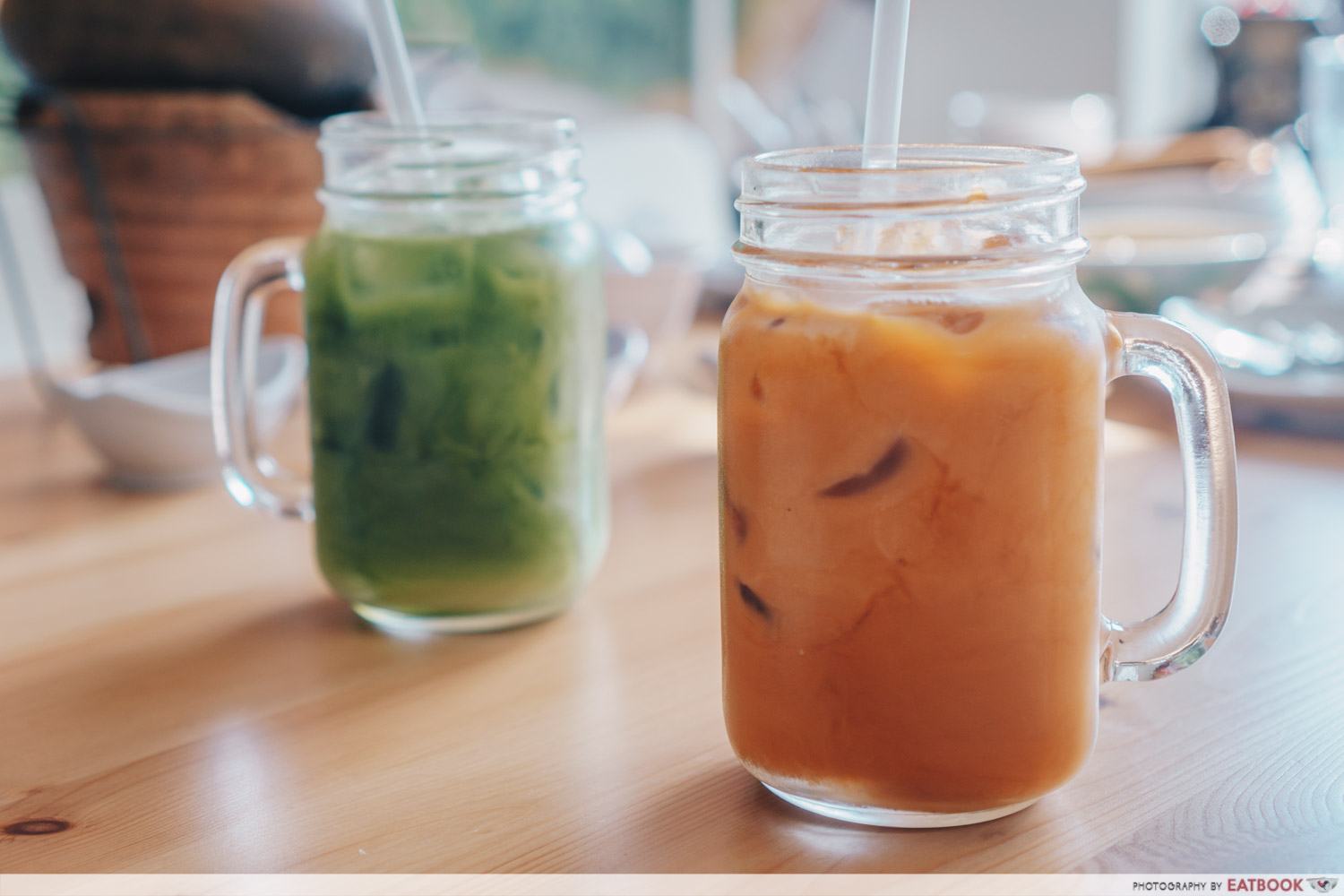 For a full Chatuchak experience, pay an additional $3.50+ for free-flow Thai Milk and Thai Green Tea! A cup would already set you back as much outside, so ordering this was a no-brainer for me. 
Ambience at Tuk Wan Kitchen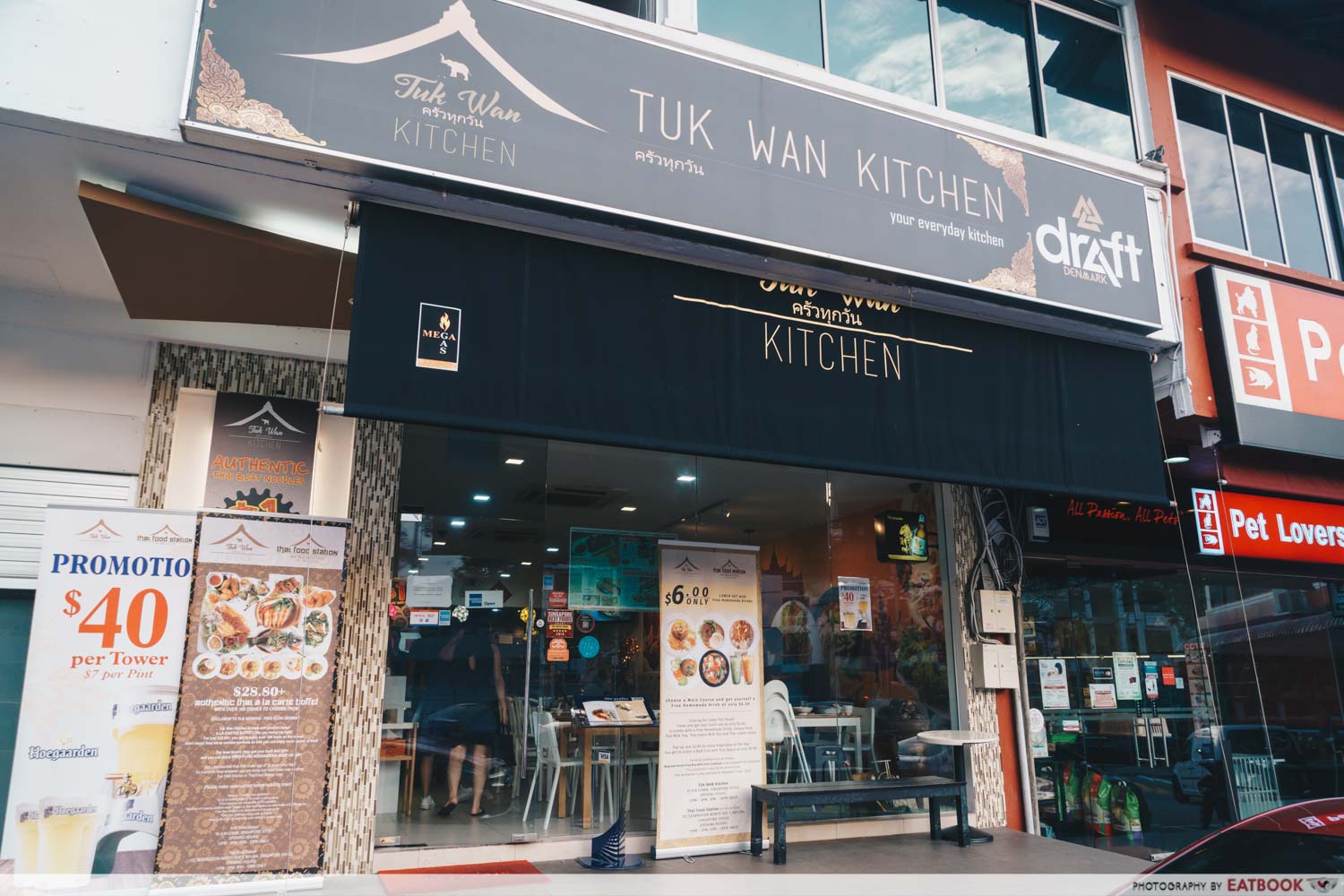 Located at Thomson, Tuk Wan Kitchen isn't like most of the Thai eateries such as Nimman Soi 9 and Im Thai Kitchen, which operate out of hawker centres or food courts. This restaurant has a fully air-conditioned dining area, decked out with comfortable seats and couches lined with velvet covers.
The verdict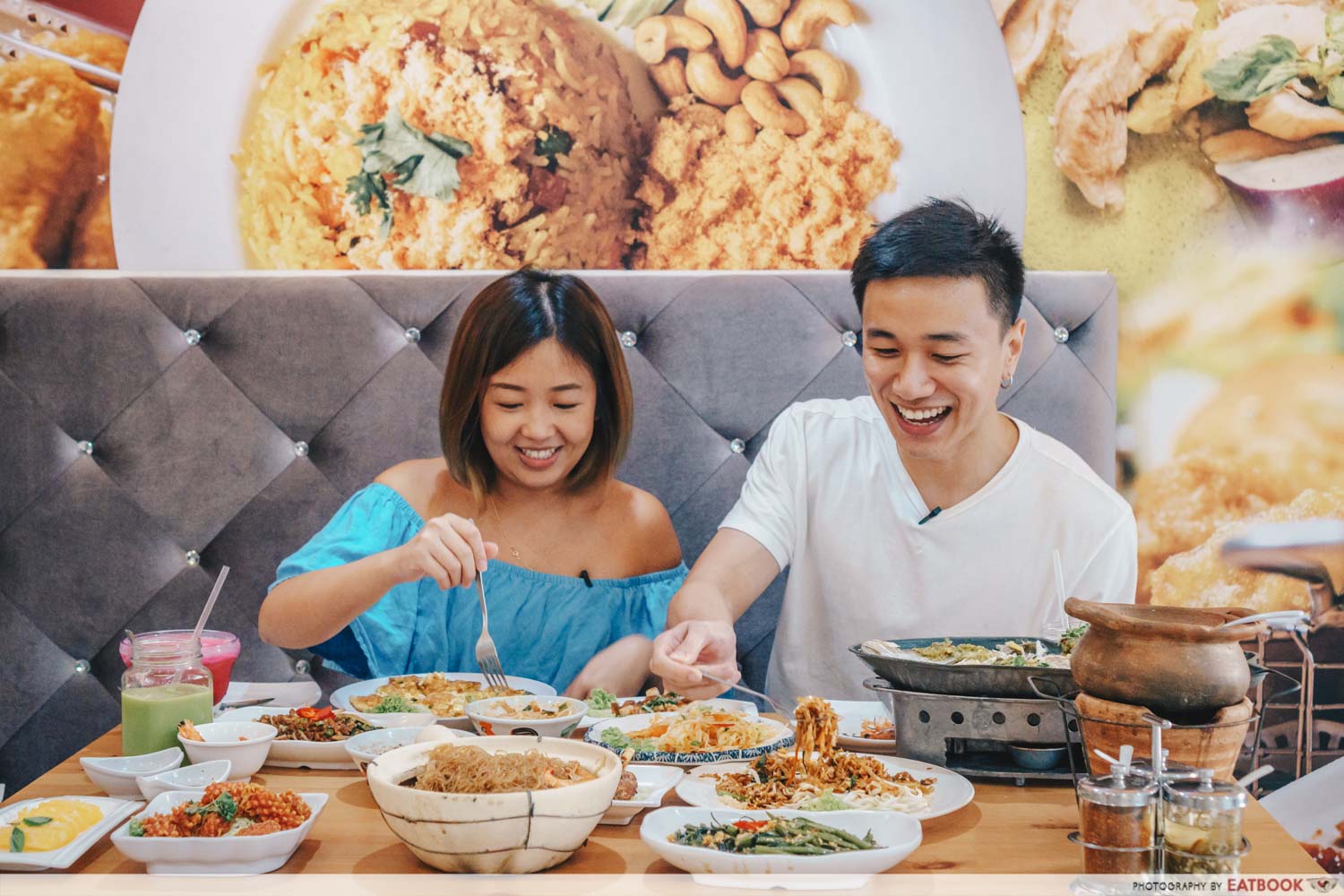 There might be hits and misses, but Tuk Wan Kitchen is a good solution to anyone who is in need of a quick BKK food fix. It is hard to find a place where you can try so many Thai food at once. Getting your money's worth of food is also easy with the spread of premium seafood dishes. 
Good news to all Westies! Tuk Wan Kitchen has also recently opened an outlet at Pioneer under the name Ratchada Thai Food. They might not offer the same buffet, but expect an equally extensive slew of Thai dishes in this restaurant too.
Address: 10 Jalan Leban, Singapore 577551
Opening hours: Daily 11am to 3pm, 5pm to 10pm
Tel: 6748 9909
Website
Photos taken by Maverick Chua.
This was a media tasting at Tuk Wan Kitchen.
Summary
Pros
– Value for money
– Generous portions
– Well-seasoned dishes
Cons
– Inconvenient location
– Some dishes were too salty

Recommended dishes: Steamed Seabass Thai Green Lime, Minced Pork Infused with Thai Basil, and Signature Pork Skewer
Opening hours: Daily 11am to 3pm, 5pm to 10pm
Address: 10 Jalan Leban, Singapore 577551