Update: Two Hana Dough is now permanently closed.
Two Hana offers delicious Korean-Western dishes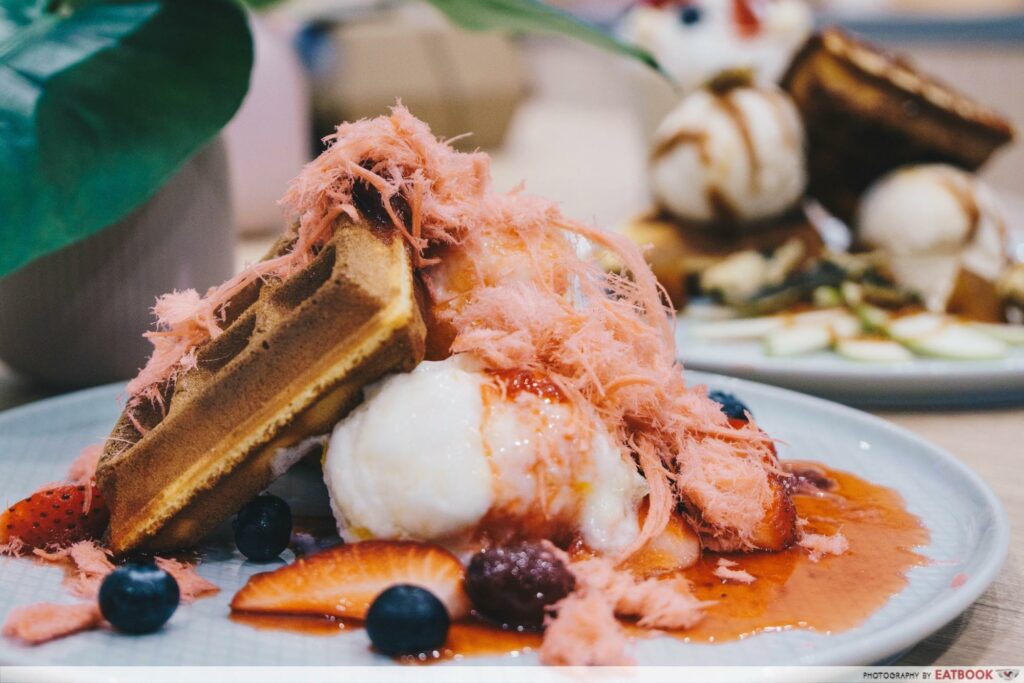 Let me preface this by saying my knowledge of Korean cuisine is exclusively limited to bingsu and K-BBQ. That said, I visited Two Hana – a Korean-Western cafe in the newly revamped Century Square – with an open mind and a more open stomach, curious about the spread that awaited me. What followed was a series of dishes and drinks that's definitely earned them a second trip.
Food at Two Hana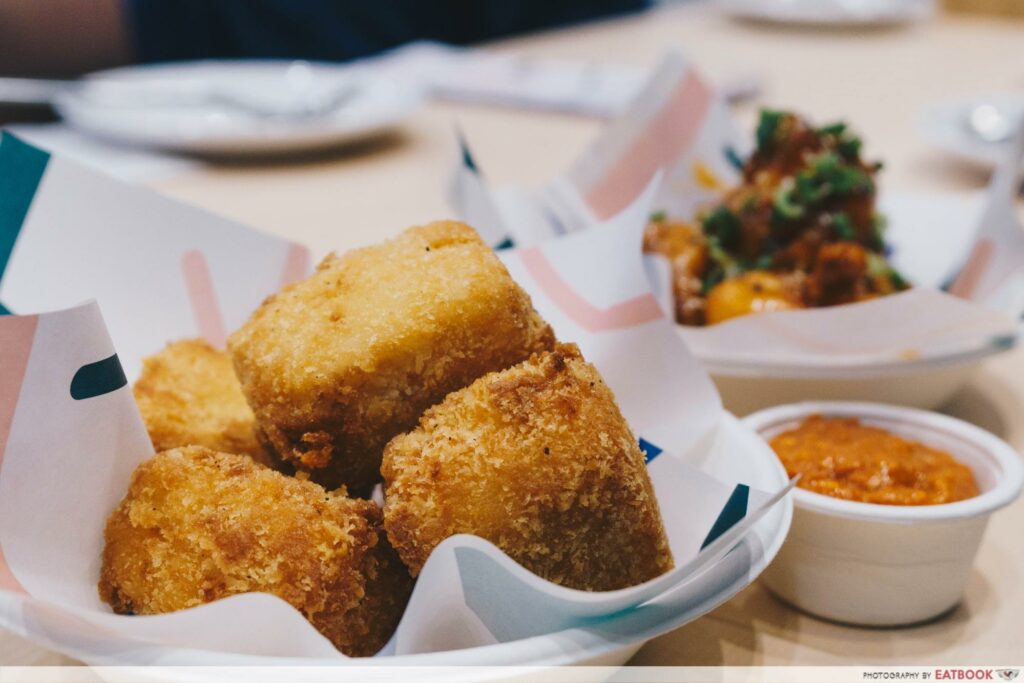 Fun fact: I'm not the biggest fan of kimchi. So it's highly ironic that the first dish we ate was Kimchi Mac and Cheese ($9). But one crunch was all it took to dispel any trepidation I had.
Bite into the deep-fried panko breading and you'll unleash a torrent of gooey mac and cheese that's peppered with diced kimchi bits. The macaroni was soft while the melted mozzarella had the right amount of richness – a combi that worked even better when juxtaposed against the crispy exterior.
If you're a fan of all things spicy, dip the pieces into the chilli sauce that's served with the dish. A blend of chilli padi, sesame oil and kimchi jiggae paste, the sauce was lip-numbing and the heat even lingered at the back of my mouth.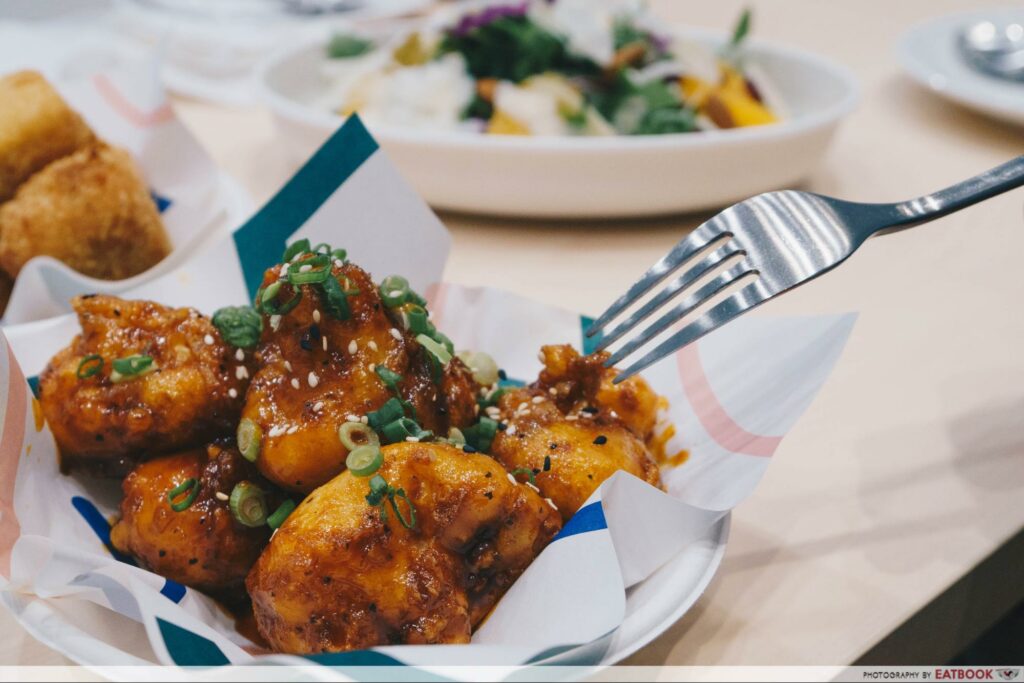 The glazed finish and sweet aroma wafting around the Korean Cauliflower Fritters ($9) threw me into thinking that it was a teriyaki chicken dish. But make no mistake, this dish is all vegetarian.
The soft cauliflower surrendered to the pressure of my fork and I loved how the dakkangjung-inspired sauce had the perfect mix of sweetness and spiciness.
10 Century Square Food Places To Check Out For Korean Sandwiches, Cheese Tteokbokki And More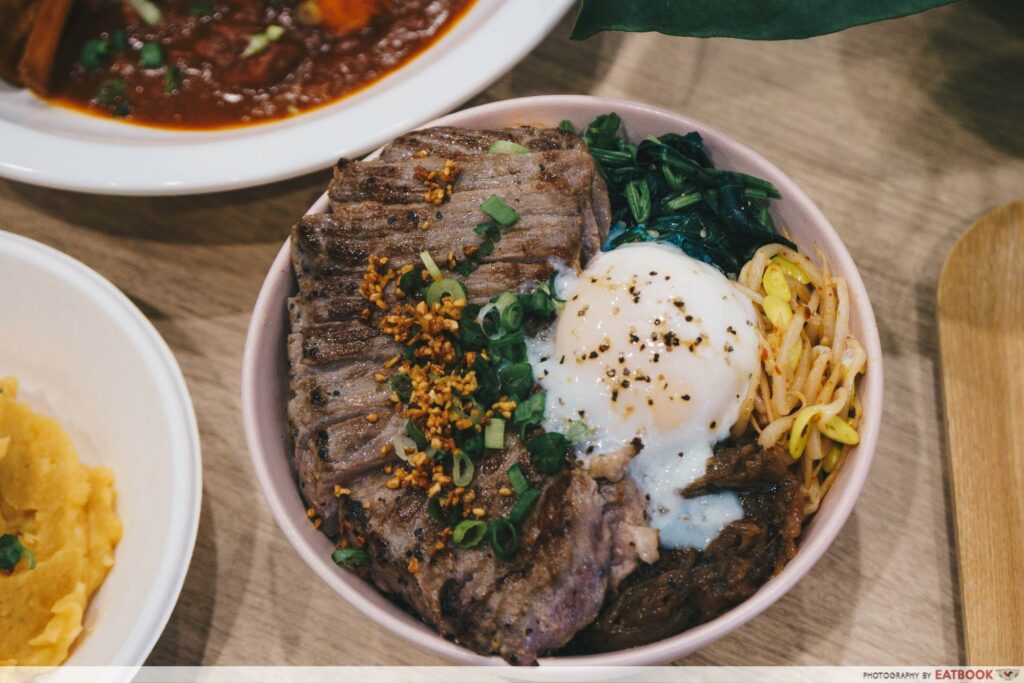 Moving on to the mains. The Striploin Bap ($13) was a fortress of kimgarou (shredded seaweed flavoured rice) that's shielded by copious amounts of medium-rare striploin slices, kimchi, bean sprouts, caramelised onions, and capped with a poached egg.
While the rice was nothing much to shout about, the striploin slices definitely deserve paeans. The seared meat packed a robust flavour while still being tender.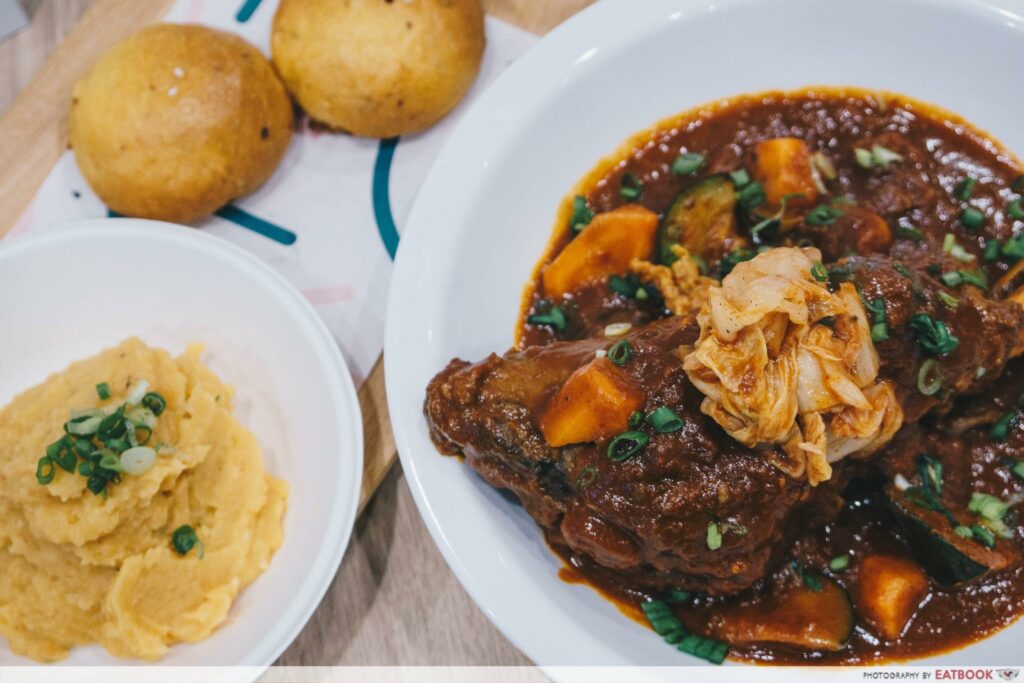 Next up was the Braised Gochujang Lamb Shank ($24) which, hands down, is the most value-for-money item on the menu. The shank was big enough to feed two and the lamb meat was soft like butter – a result of being sous vide for 36 hours.
The dish was doused in gochujang-infused tomato sauce, which lent to its earthy flavour, and I liked how there was zero gamey taste in the lamb.
Also worth a shout-out is the mashed potatoes that came with the shank. The mash is prepared with 60% potatoes and 40% butter, and you can even taste a hint of kimchi within that creamy goodness.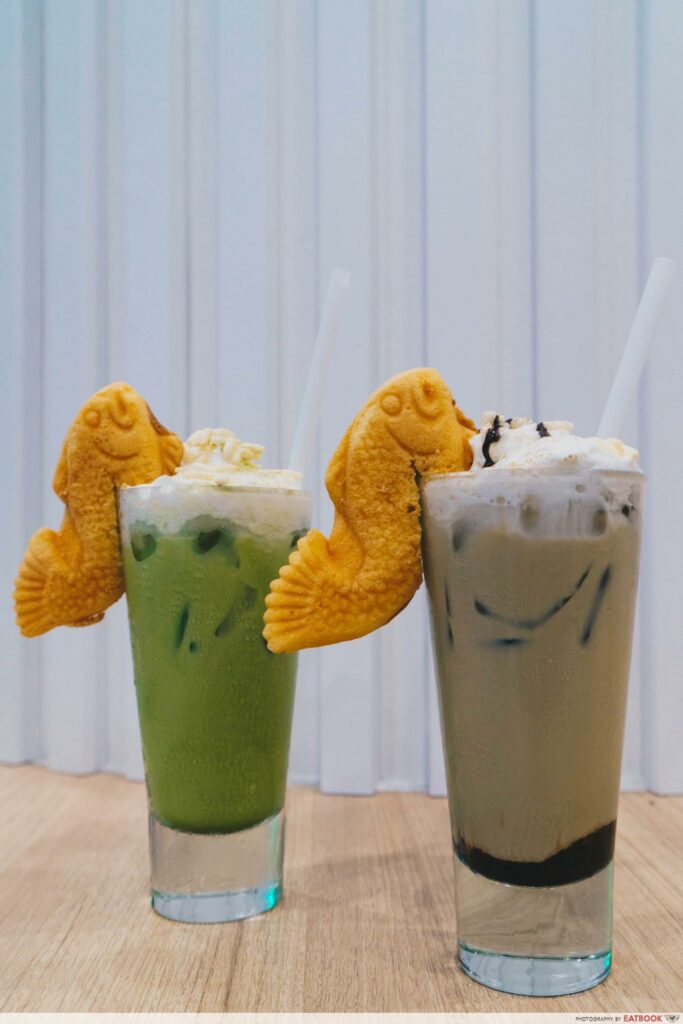 I wasn't too impressed with the Iced Matcha Latte ($6) as I found it too cloying, and the fish bungeoppang that crowned the drink wasn't as fluffy as I'd hoped. Definitely something I'll pass the next time I'm here.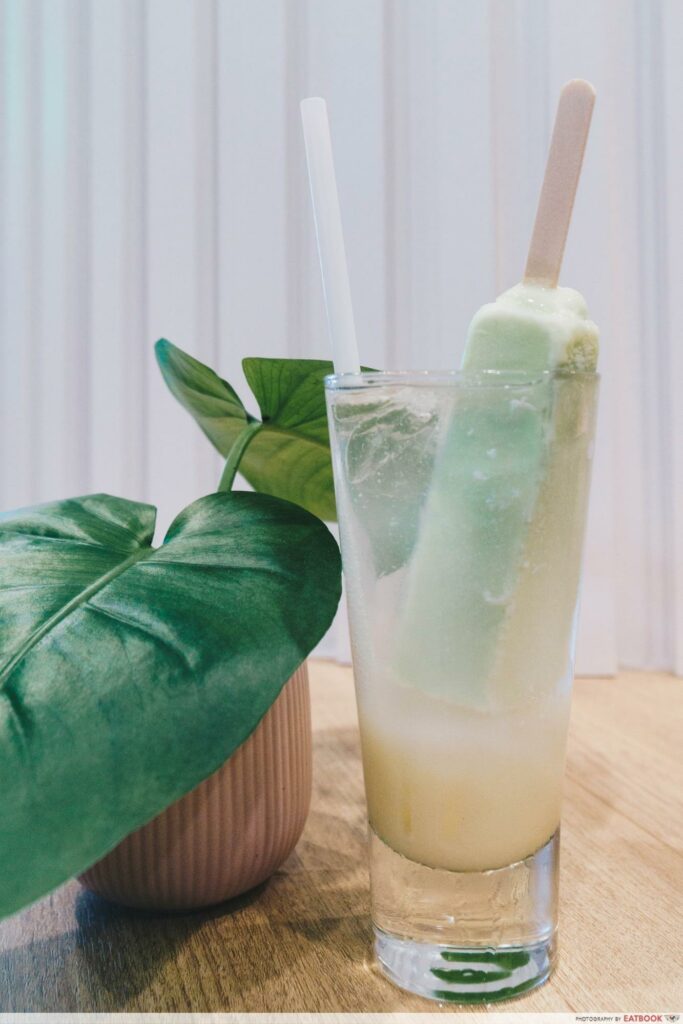 Do.Yourself.A.Favour and get the Melona Melon Calpis Float ($7) 'cause it's simply amazing. The drink's made of Calpis puree, layered with Sprite, and topped with Melona ice-cream. The result: a refreshing and well-layered flavour profile that gives just the right amount of sweetness and creaminess.
The cafe recommends stirring the concoction before drinking it but I say it's perfectly fine to drink it as it is.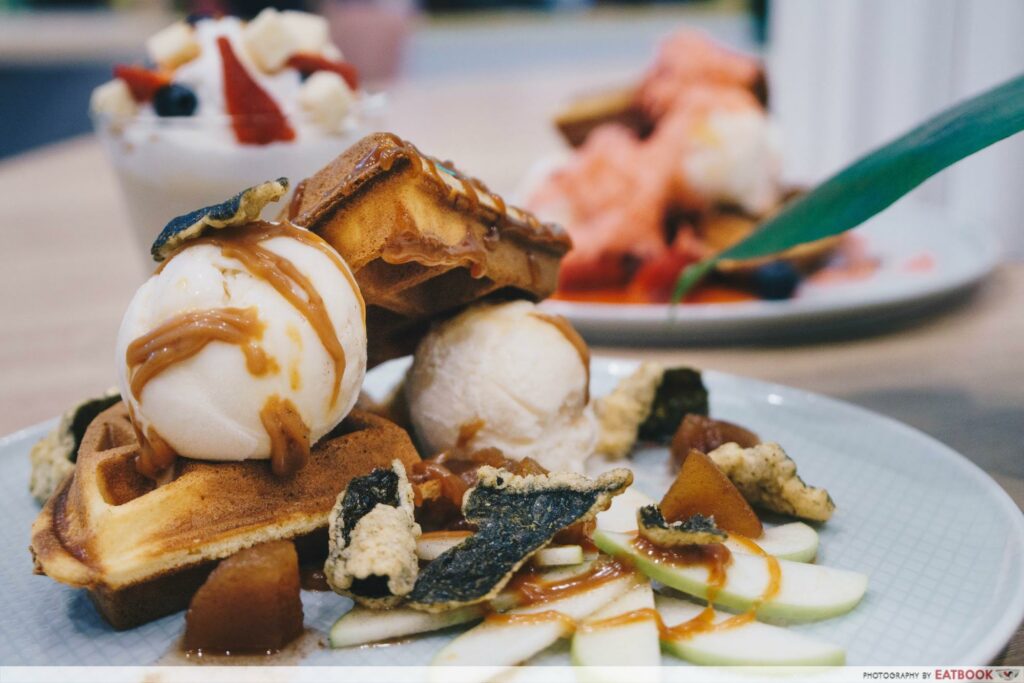 What better way to end the session than with waffles and luckily, we had the chance to try both the Strawberry Waffles with Honey Citron Ice Cream ($9) and Apple Caramel Waffles with Doenjang Caramel Ice Cream ($9).
The berries and honey citron ice-cream meshed well to give the dessert a fruity taste. I was pleasantly surprised by the strawberry fairy floss that topped the waffles as I expected it to be overly dry. However, they packed a strong strawberry punch and tasted divine when eaten together with the ice-cream.
On the other hand, the apple caramel waffles was a hodgepodge of random ingredients including seaweed crackers, stewed apples and doenjang (soy bean paste) caramel ice-cream, which on its own, has a very strong taste.
Here's the thing though. The combination of flavours on this dessert absolutely worked. The slight saltiness of the crackers took the edge off the ice-cream's strong taste, and highlighted the sweet and savoury flavours within. The crunchiness of the fresh apple slices and crackers contrasted beautifully with the fluffy waffles – making this dessert a must-get.
10 Tampines Cafes That Prove Tampines Could Be The New Tiong Bahru
Ambience at Two Hana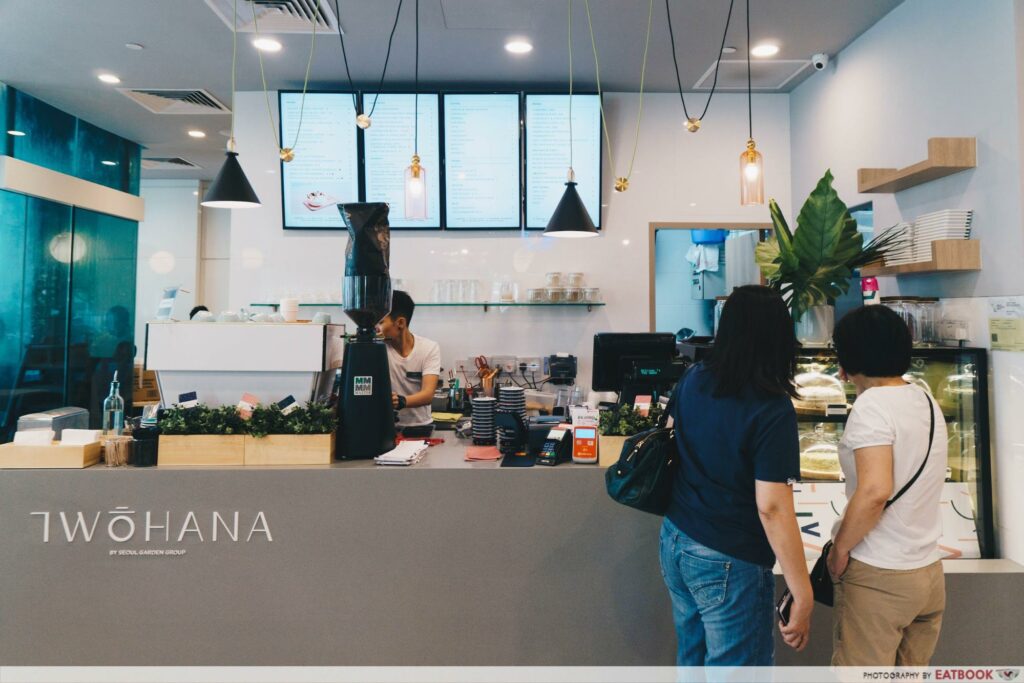 Two Hana adopts a clean, two-toned interior which lends to its cosy atmosphere. Do note that it's self-service; so brace yourself for a lot of moving about, which shouldn't be much of a problem, given how spacious it is.
The verdict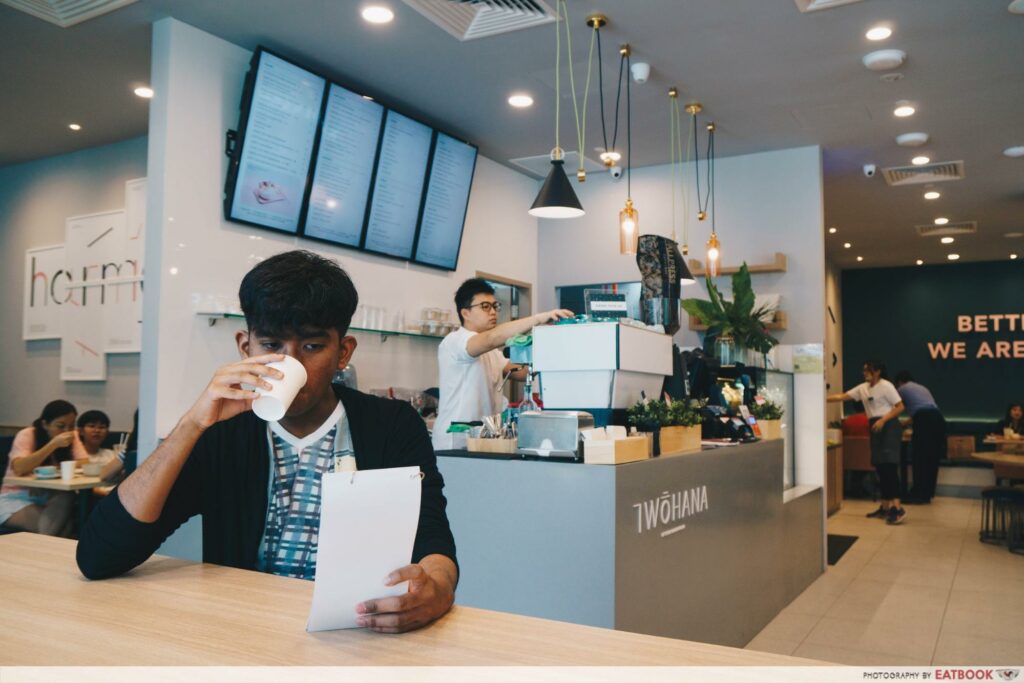 Almost every dish we tried was a total knockout – which is saying something since I'm not the biggest fan of Korean food. I highly recommend the lamb shank and Calpis float. For its portion and taste, the prices here are worth it and I can see myself coming here again with my fellow Easties.
Address: 2 Tampines Central 5, #01-21, Century Square, Singapore 529509
Opening hours: Daily 8am to 10pm
Tel: 6260 4321
Website
Two Hana is halal-certified.
This was a media tasting at Two Hana.
Summary
Pros
– Dishes are very flavourful
– Food is prepared fast
– Comfy ambience
Cons
– Drinks could be improved
Recommended dishes: Striploin Bap ($13), Kimchi Mac and Cheese ($9), Melona Melon Calpis Float ($7)
Opening hours: Daily 8am to 10pm
Address: 2 Tampines Central 5, #01-21, Century Square, Singapore 529509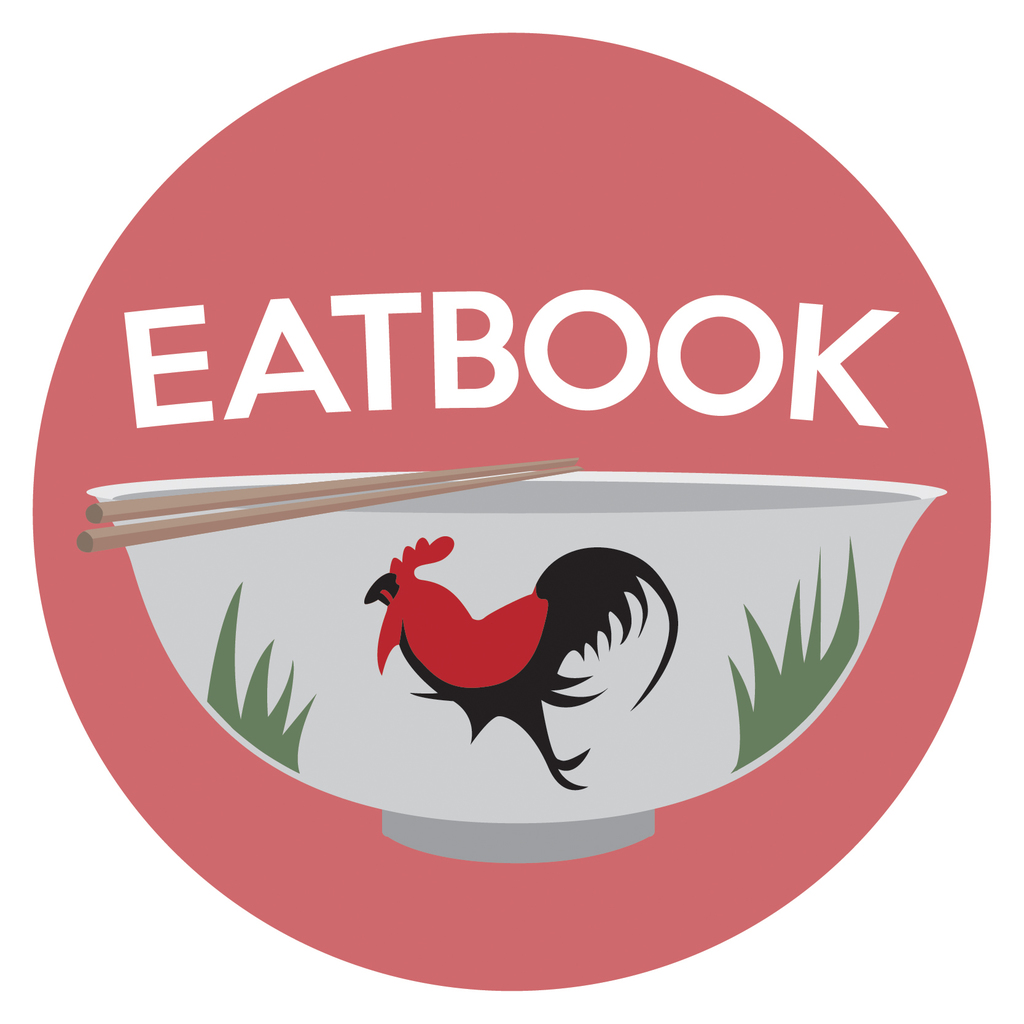 Drop us your email so you won't miss the latest news.