---
Tampines cafes for a hip chill-out
---
We've introduced sedap hawker food in Tampines, so it's only right to bring attention to Tampines' cafes too. Tampines may not come to mind when the word 'cafe' is mentioned, but there are gems hidden throughout the neighbourhood. With most of them offering cafe fare at affordable prices, you now know where to bring your hipster mates to the next time you guys are in the area!
---
1. Brothers in Fine Food
---
Opened by the folks behind Penny University, Brothers in Fine Food (BFF) is one of the latest additions to Tampines' cafe scene. Their Asian-fusion mains are priced between $8 to $15, and their menu includes items such as Beef Steak ($13.50) served on a bed of beetroot purée, Dashi Noodles Breakfast ($8.90) and Spiked Muddy Espresso with Gula Melaka ($6.50).
Address: 5 Tampines Ave 3, #02-07, Tampines West Community Club,Singapore 529705
Opening hours:  Tue-Fri 12pm to 10:30pm, Sat-Sun 9am to 10:30pm
Tel: 9008 9314
Website

---
2. Griddy
---
Waffle cafe Griddy offers both sweet and savoury options so you can have waffles as your main, side and dessert. They have unique dishes such as Battered Chicken with Laksa Sauce ($8.90++) and Salted Egg Yolk and Caramel ($8.50++) – a waffle topped with a huge scoop of vanilla gelato, salted egg yolk sauce, and caramel sauce.
Address: 51 Tampines Ave 4, #01-86, Our Tampines Hub, Singapore 529684
Opening hours: Daily 11am to 10pm
Website
Menu
---
3. Sugarloaf
---
Located within Temasek Polytechnic, Sugarloaf is a training cafe run by students. That being said, the food here is anything but amateur. From lemon tarts to caramel puddings and opera cakes, desserts at this busy cafe seek to satisfy students and the public alike. Hot meals such as pastas and rice bowls are also available. The menu changes regularly so get ready to be surprised when you pop by!
Address: 21 Tampines Avenue 1, Level 1, Block 31, Temasek Polytechnic, Singapore 529757
Opening hours: Mon-Fri 10:30am to 2pm
Operating period for this term: now till 17 February. Sugarloaf is closed during school vacations and exam periods.
Tel: 6780 6363
---
4. Commonground
---
With platters perfect for sharing, Commonground is great for a family day out. They've also got interesting dishes such as Smoked Salmon and Salted Eggs Benedict ($12++), Blue Cheese Pizza topped with Poached Pear ($14++) and Affogato ($7++) made with a scoop of cookies and cream ice-cream.
Address: 51 Tampines Ave 4, #01-103, Our Tampines Hub, Singapore 529684
Opening hours: Mon-Thu 10am to 10pm, Fri 10am to 12am, Sat-Sun 8am to 12am
Tel: 6386 6917
Website
---
5. Alt-Yard

---
With Churros ($3.80 for seven pieces) that are crispy on the outside and chewy in the middle, it's easy to see why Alt-Yard is a popular after-school hangout. If you're bored of the accompanying chocolate dip, go for their Liquid Cheesecake Dip ($1.50) instead. They've also got Ondeh Ondeh Churros ($3.80) and Pandan Kaya Cheese Cupcake ($4) for those who can't get enough of upgraded childhood snacks. 
Address: 5 Tampines Avenue 3, Tampines West Community Club, Singapore 529705
Opening hours: Mon 2pm to 8pm, Tue-Sun 2pm to 9:30pm
Tel: 9610 8946
Find out where else to get upgraded childhood snacks here.
---
6. Rocky Master
---
It's hawker favourites meet cafe fare at Rocky Master. Their signature dish is Laksa Supreme ($10.90), which they use top grade belachan for. The joint has also recently launched their Ayam Panggang Charcoal Burger ($14.50) that comes with juicy grilled chicken sandwiched between a toasted charcoal bun.
Address: 9 Tampines Ave 5, #01-11, Tampines Grande, Singapore 528735
Opening hours: Mon-Fri 7:30am to 6pm, Sat 8:30am to 3:30pm
Tel: 6785 2874
Website
Menu
---
7. Meet & Melt

---
Here's a perk you'll receive only at Meet & Melt's Tampines outlet: you get to sample their ice-cream flavours before committing to one. Looks like there's no need to travel to town for their famed Charcoal Lava Toasts ($14.90) anymore. Newer to their menu is Flying Ice Cream Ramen Toast ($15.90), which features strands of jelly on thick toast.
Address: Block 915 Tampines Street 91, #01-49, Singapore 520915
Opening hours: Tue-Fri 3 to 11pm, Sat-Sun 2 to 11pm
Tel: 9185 8173
Website
---
8. Ice Cream Skool

---
To keep their menu interesting, Ice Cream Skool rotates gelato flavours frequently ($3 per scoop, $5.80 for two scoops). You can also get a Waffle ($3.80) that comes in flavours including matcha and butter chip, or opt for savoury mains such as Creamy Mushroom Pasta ($9.90) for a complete meal.
Address: Block 445 Tampines Street 42, #01-10, Singapore 520445
Opening hours: Mon-Sat, 12pm to 9:30pm
Tel: 6260 0842
Website
Menu
---
9. Out Of The Cake Box
---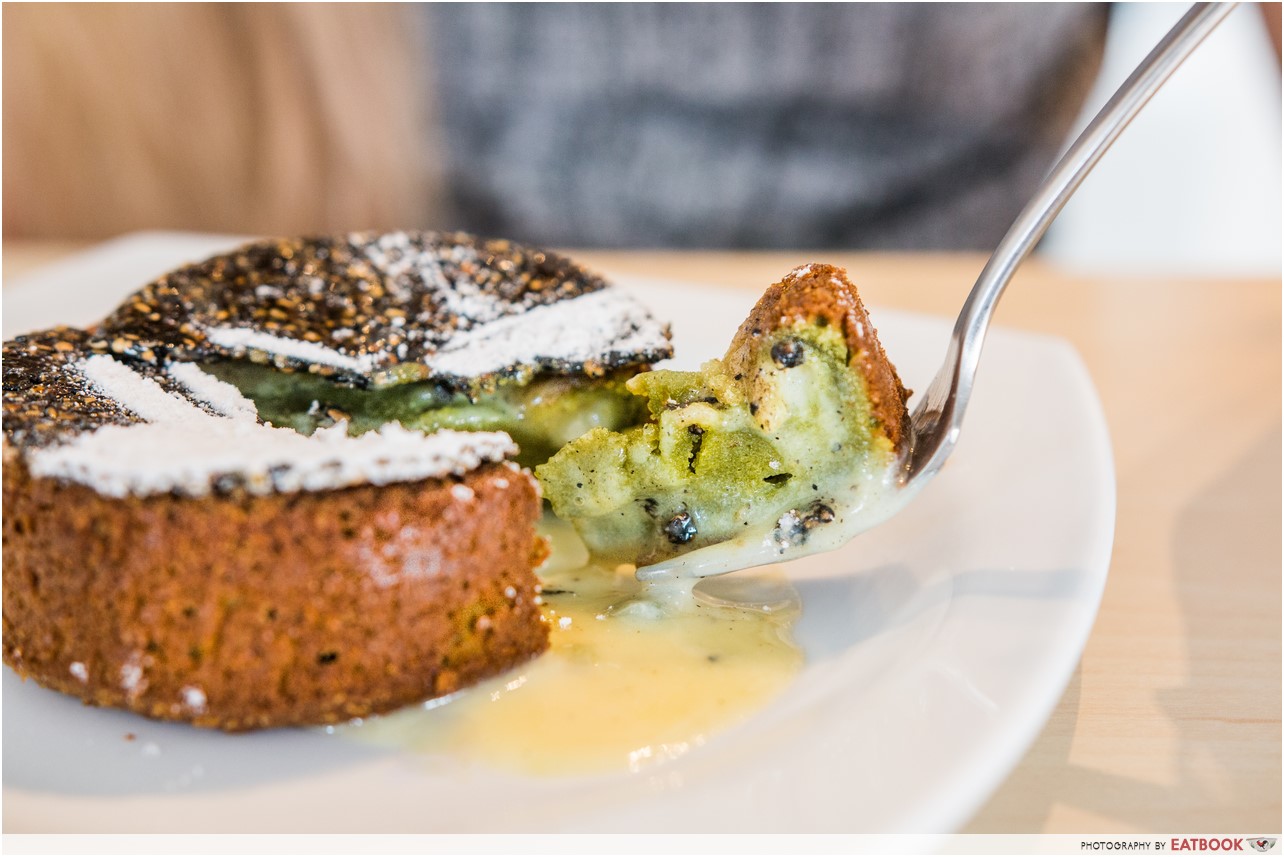 Out Of The Cake Box reinvents our childhood desserts and sweets by creating unique cakes such as Chendol Fudge ($5.50 per slice, $22.80 to $88 for a whole cake) and White Rabbit ($6.50). The latter is a matcha lava cake with White Rabbit Candy sauce, and topped with a piece of black sesame brittle. Their original store is at Telok Blangah, and they've just opened a new outlet at the basement of Our Tampines Hub!
Address: 25 Tampines Street 82, Our Tampines Hub, Singapore 528988
Opening hours: Daily 10am to 10pm
Website
Menu
Read our full review of Out Of The Cake Box.
---
10. The Flourist
---
Cosy little neighbourhood cafe The Flourist popped up in August 2016 and has already scored good reviews. Try their new Tiramisu Waffle ($9.90), which comes with a scoop of mascarpone and espresso gelato atop a coffee waffle.
Address: Block 824 Tampines Street 81, #01-36 Singapore 520824
Opening hours: Tue-Sat 12pm to 11pm, Sun 2pm to 11pm
Website
---
Not just malls and kopitiams at Tampines
---
I used to travel for miles just to read a book at a chill cafe, but I won't be doing that anymore. With these cafes proving they can sparkle in neighbourhoods, I'll pick one from this list the next time I feel like relaxing. If you know of any other cafes in the area worth trying, let us know in the comments below.