Uncle Penyet has crispy Indonesian smashed fried chicken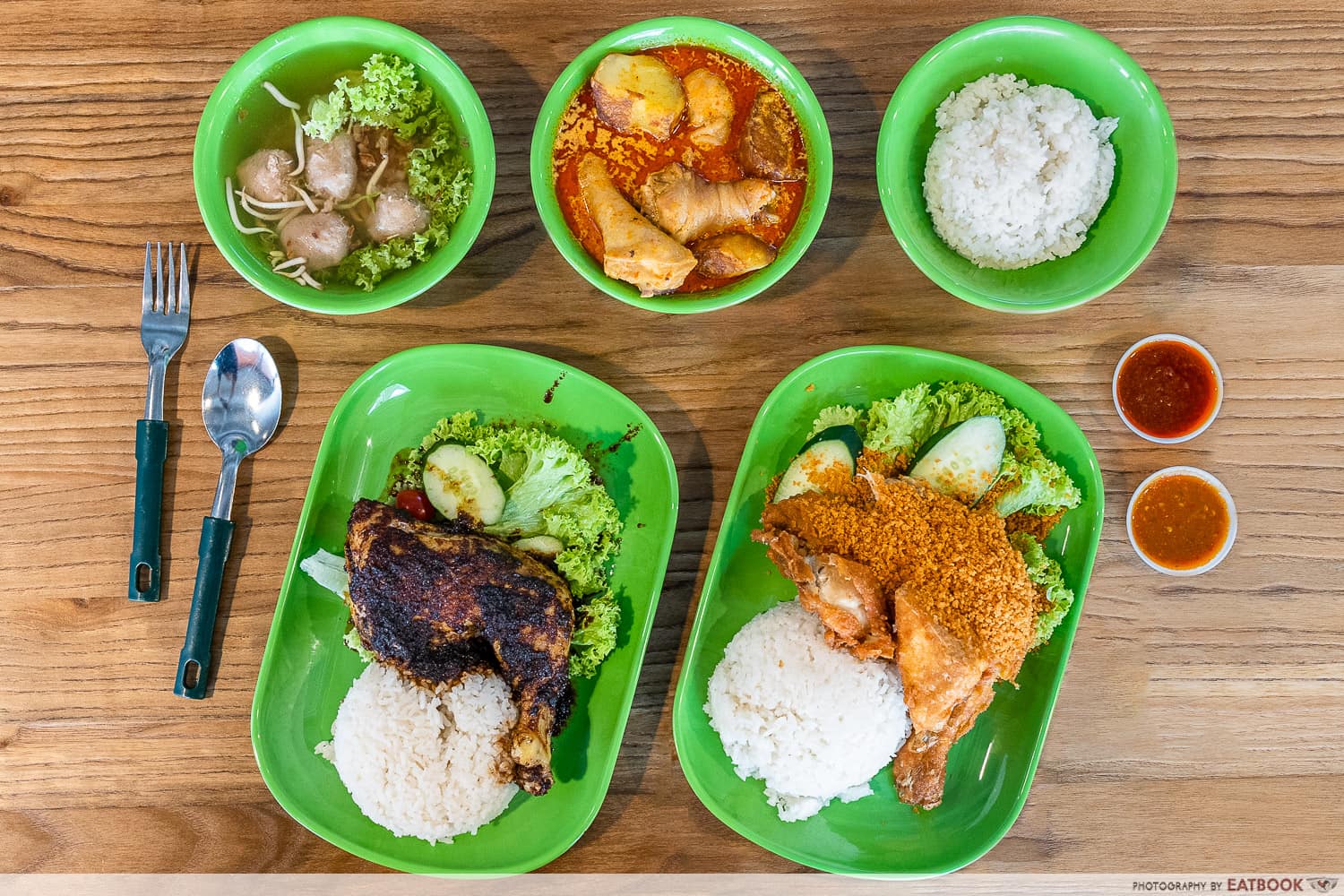 My first encounter with Uncle Penyet was at a friend's party, where everyone went crazy over the trays of fried chicken and tubs of crispy garlic crumbs—these crumbs proved so popular, people were bagging them home.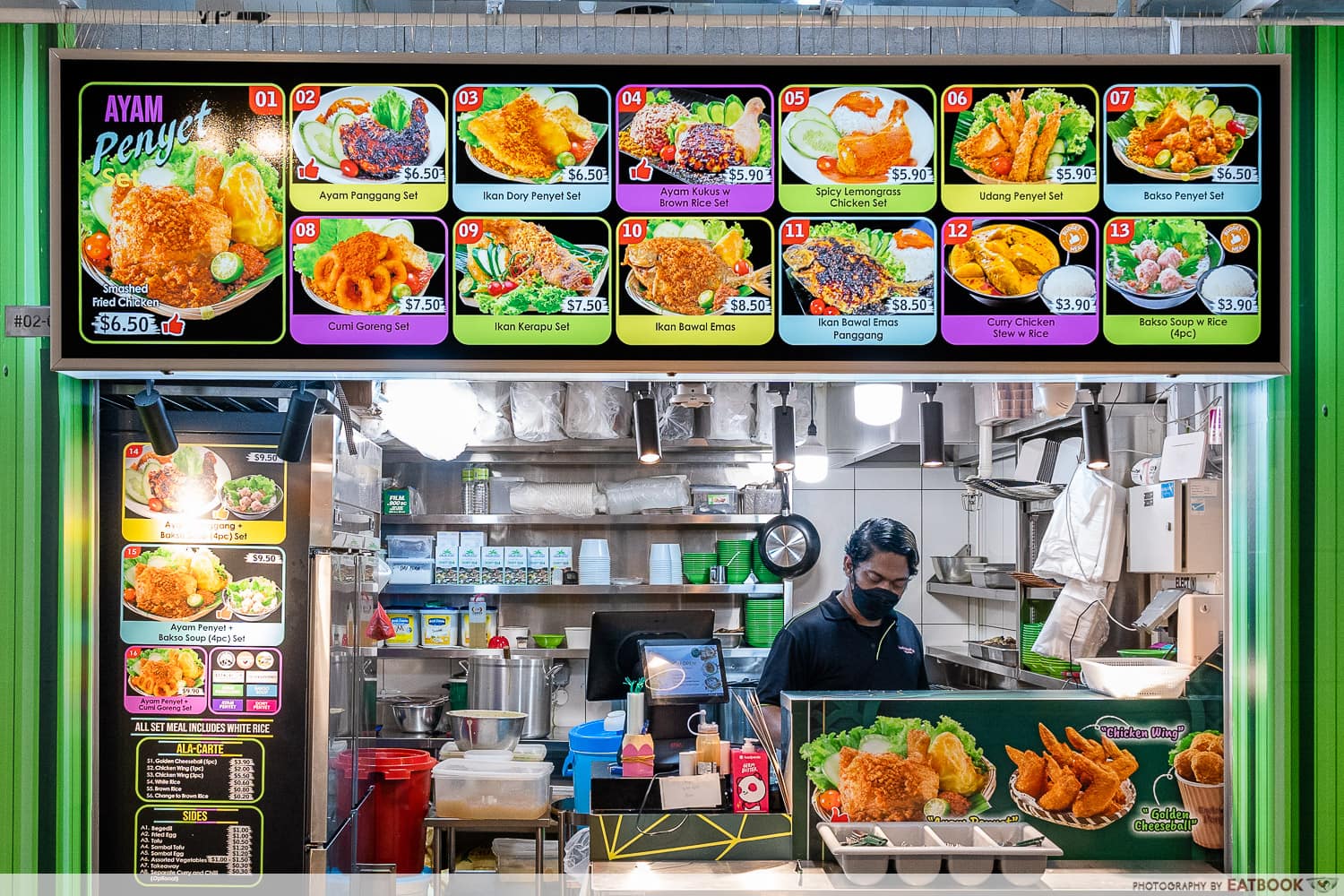 So when I had the chance to visit One Punggol Hawker Centre, where the chain's latest stall is located, I leapt at the opportunity to pay them a visit in person.
Food at Uncle Penyet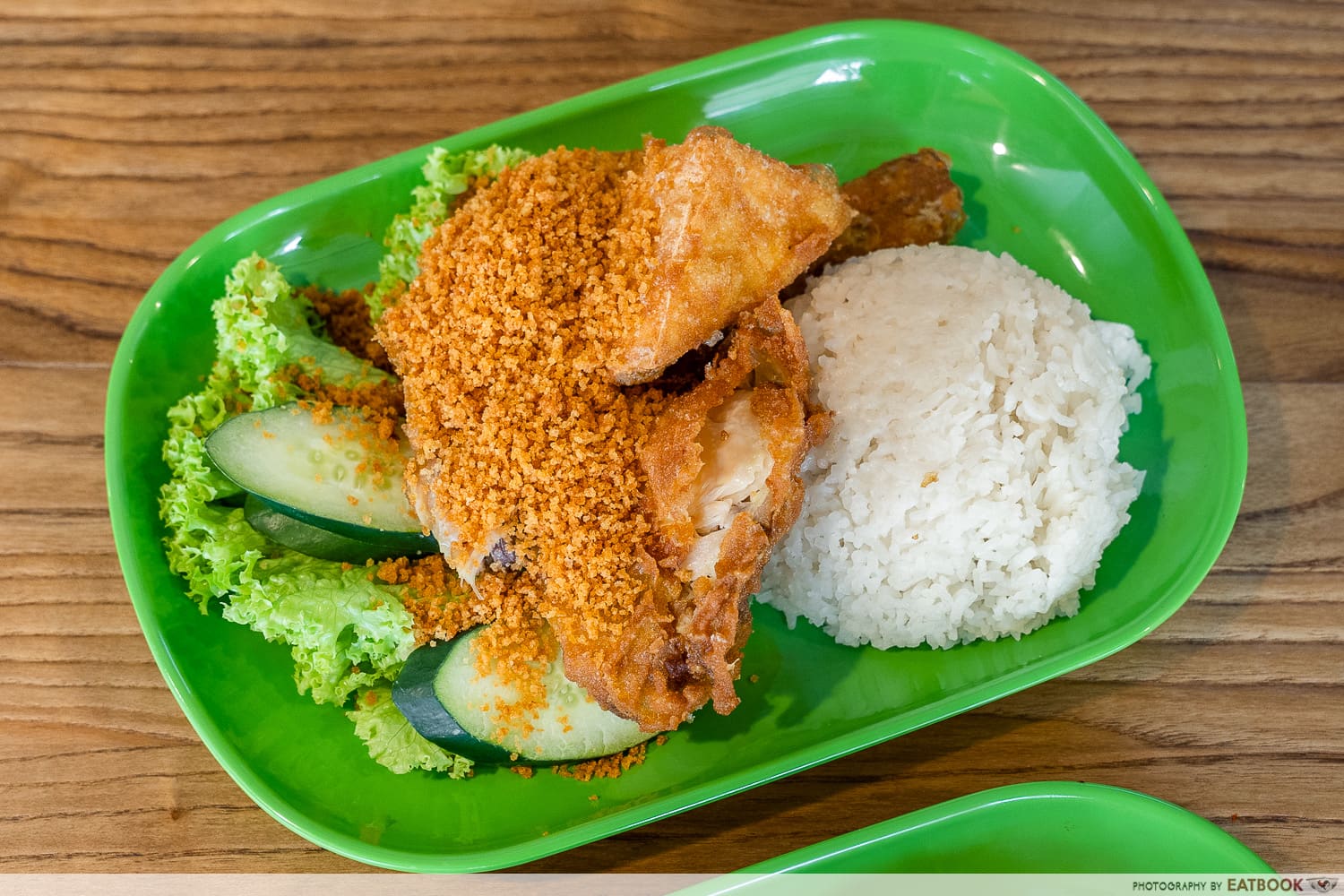 Of course, we started with their signature Ayam Penyet Set ($6.50), which came with a whole chicken leg, triangle of deep-fried tau kwa, rice, and fresh greens.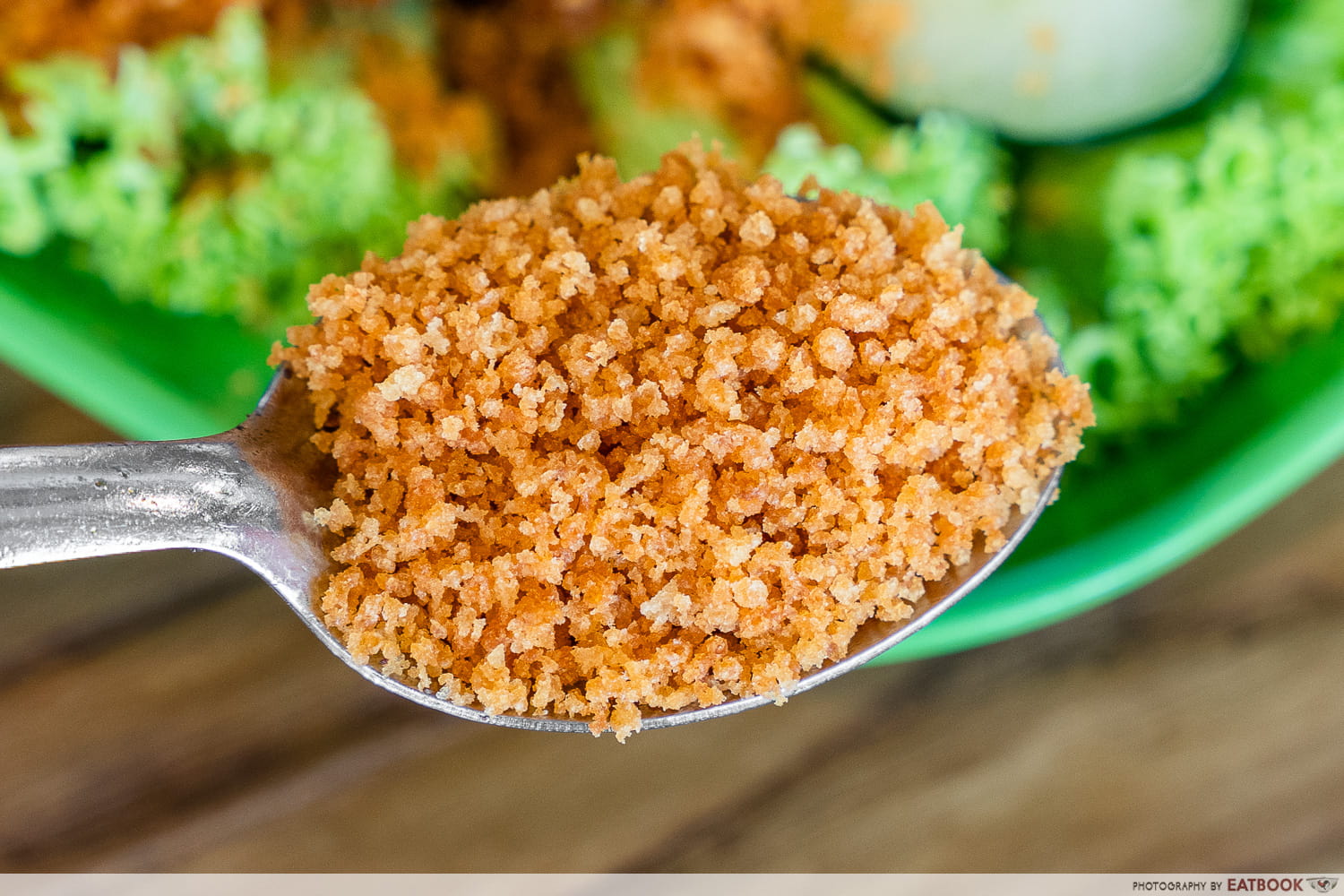 Topping it all was a generous scattering of the aforementioned crumbs. Personally, I could do without the rice: I'd much rather eat the chicken with the crumbs, without plain rice getting in the way.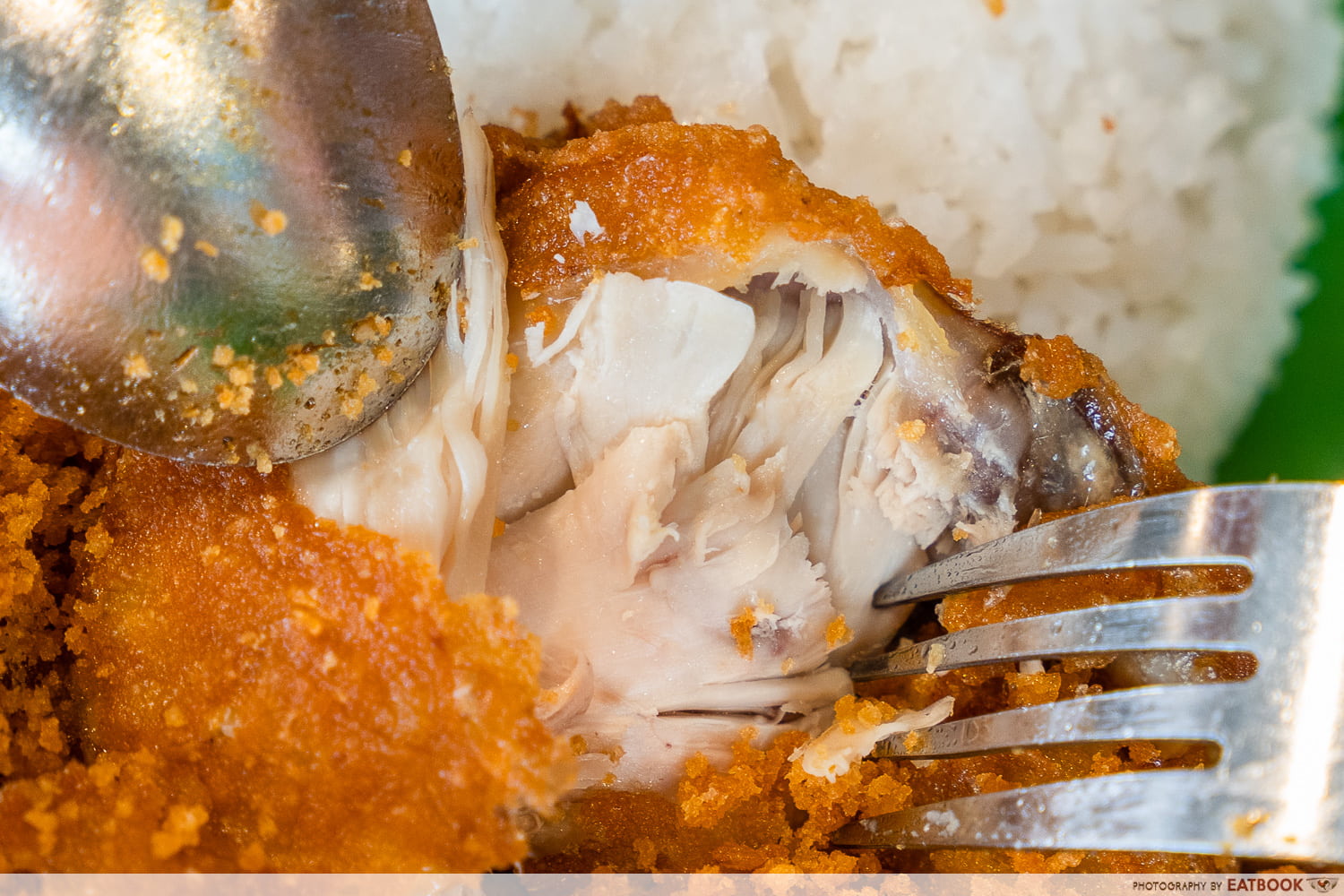 Tearing into the chicken leg, we found the skin fried crisp, with juicy, moist flesh within. My colleague thought that the meat could be tastier, though dipping it in their piquant sambal did the trick.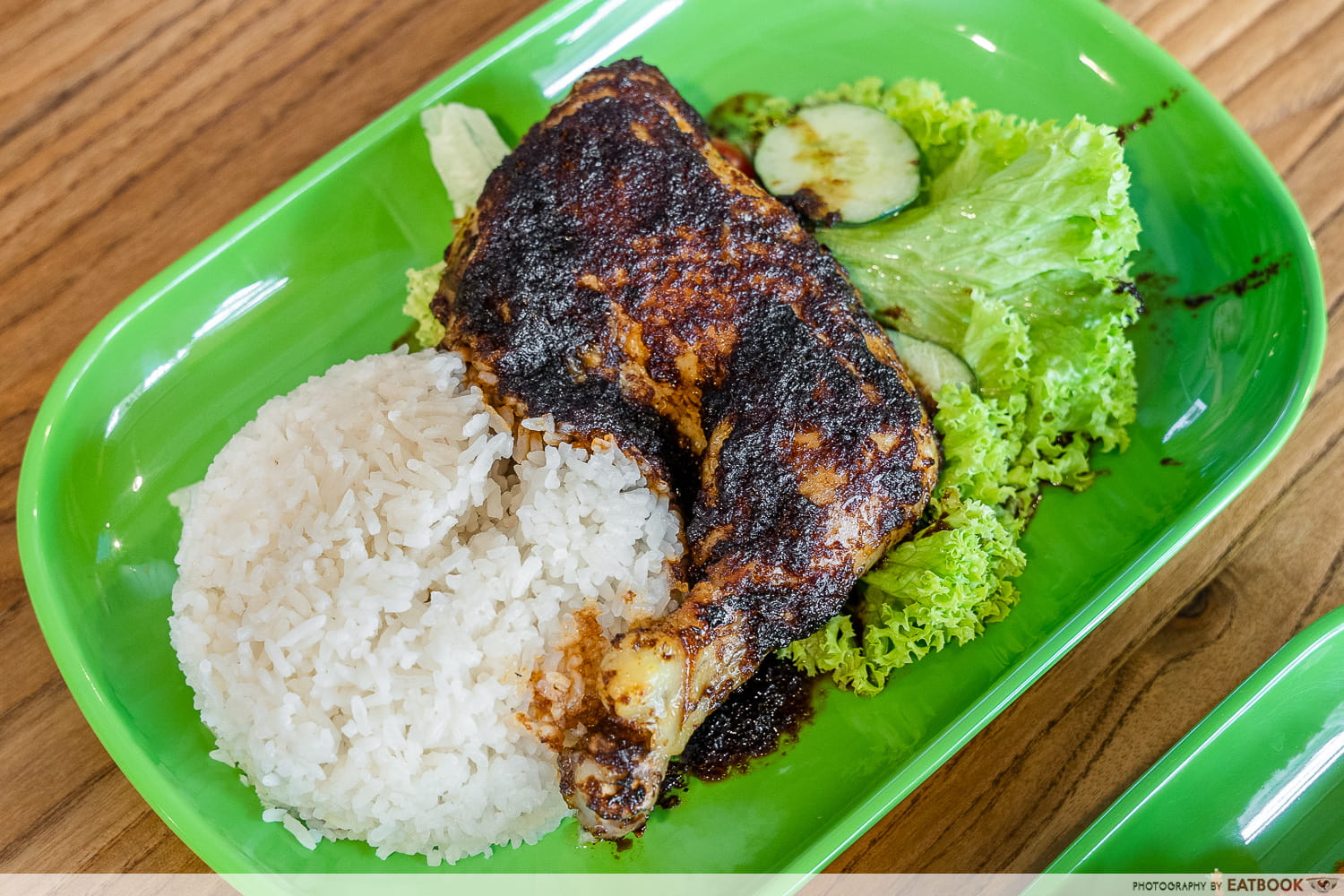 Apart from ayam penyet, which is Javanese for smashed fried chicken, Uncle Penyet also has Ayam Panggang ($6.50) on the menu.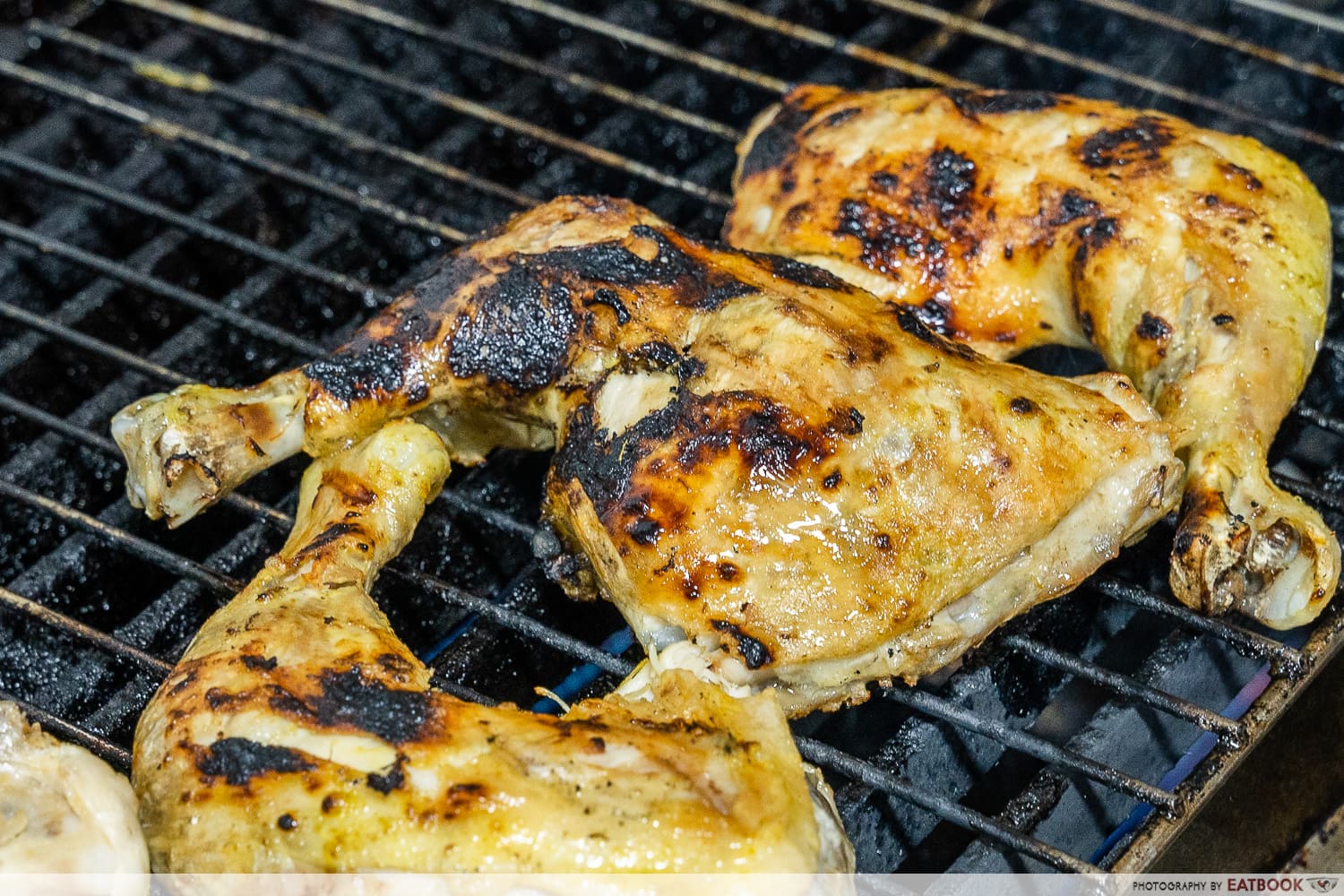 Panggang, for those unfamiliar with the term, means to grill, or roast. There's a small grill set up in the stall, where whole chicken legs are roasted to order, complete with smoky, charred skins. Before serving, a dark sauce, made with a base of sweet kecap manis, is brushed over.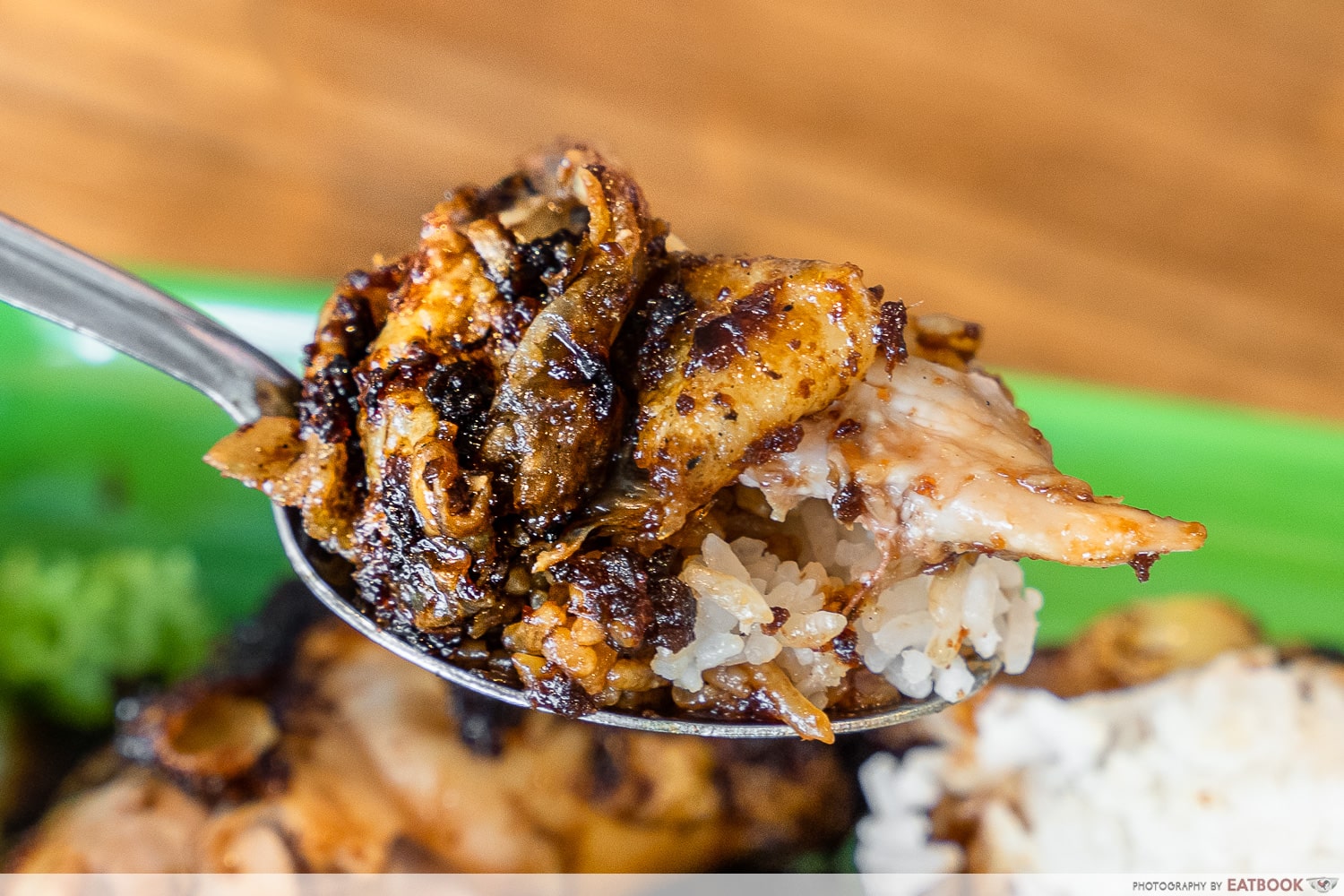 Thanks to the flavourful glaze, the chicken was extra tasty; it also added moisture to the overall dish—making this more palatable, perhaps, for those who find the ayam penyet dry.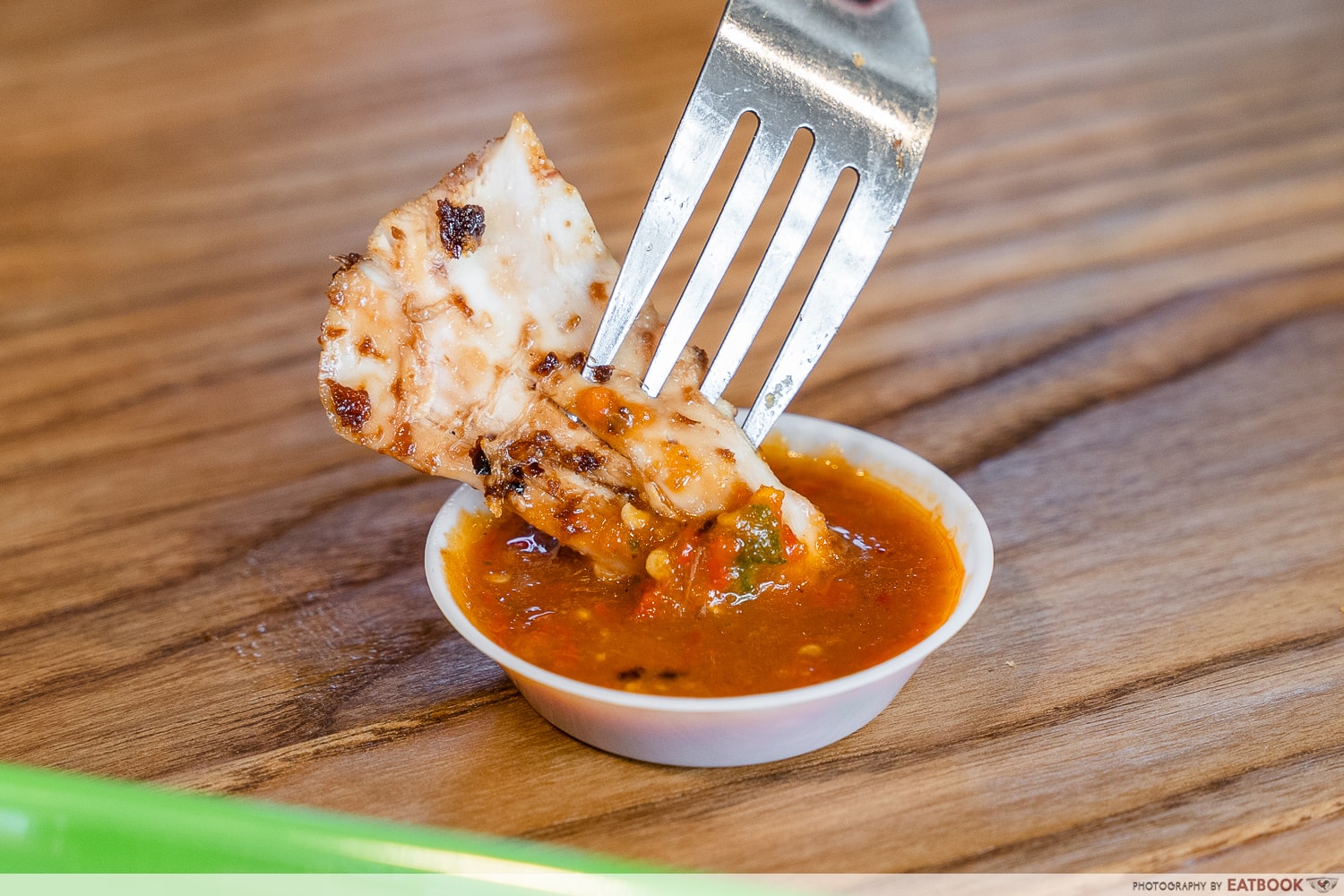 There are two sambals provided at the stall: one is a spicy belacan-based dip, while the other is sweeter and more akin to nasi lemak chilli. Of the two, my vote goes to the spicy belacan for sure, for its slightly pungent, umami notes.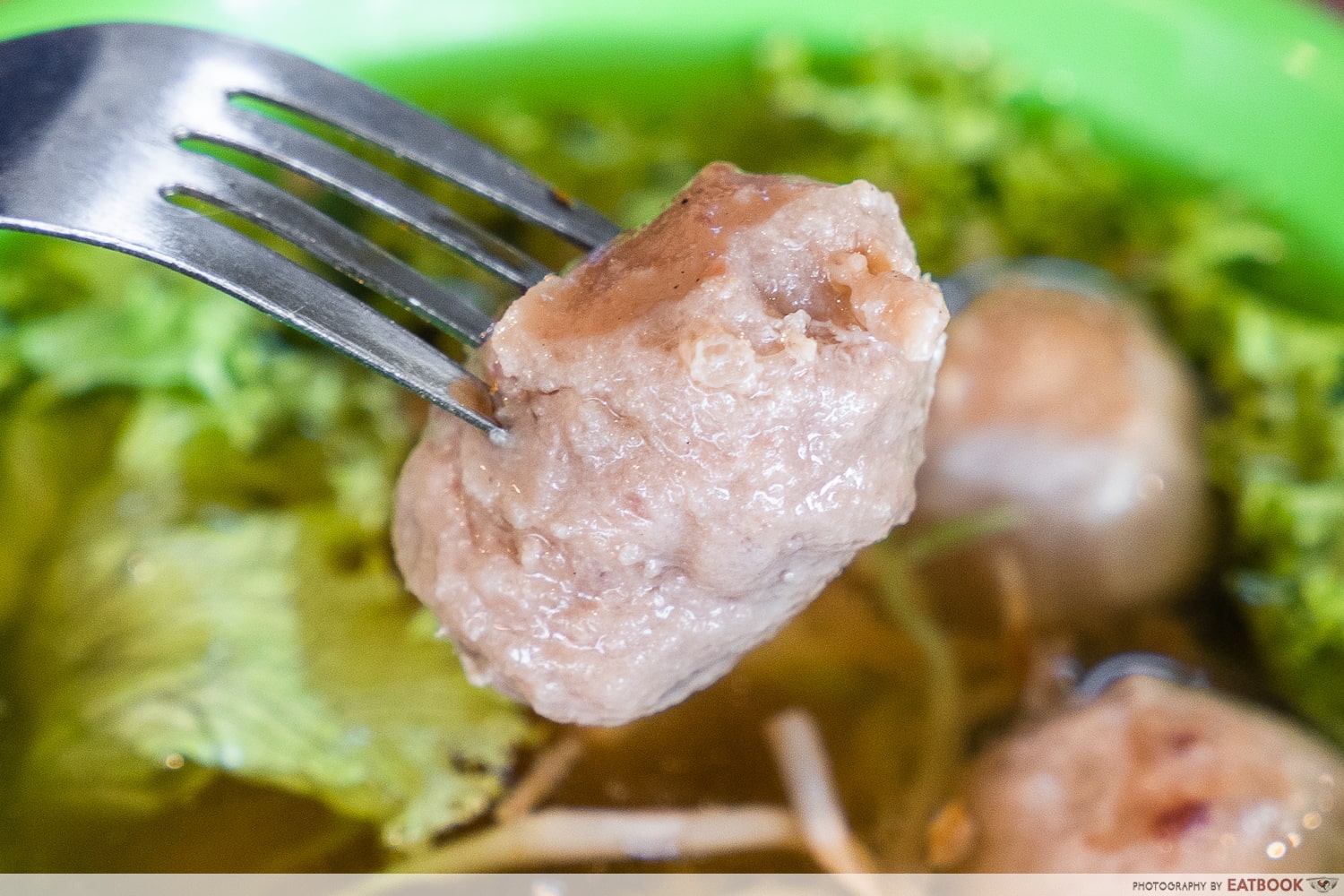 For an extra $3, you'll get a bowl of Bakso Soup, usually priced at $3.90 with a bowl of rice, with your choice of main.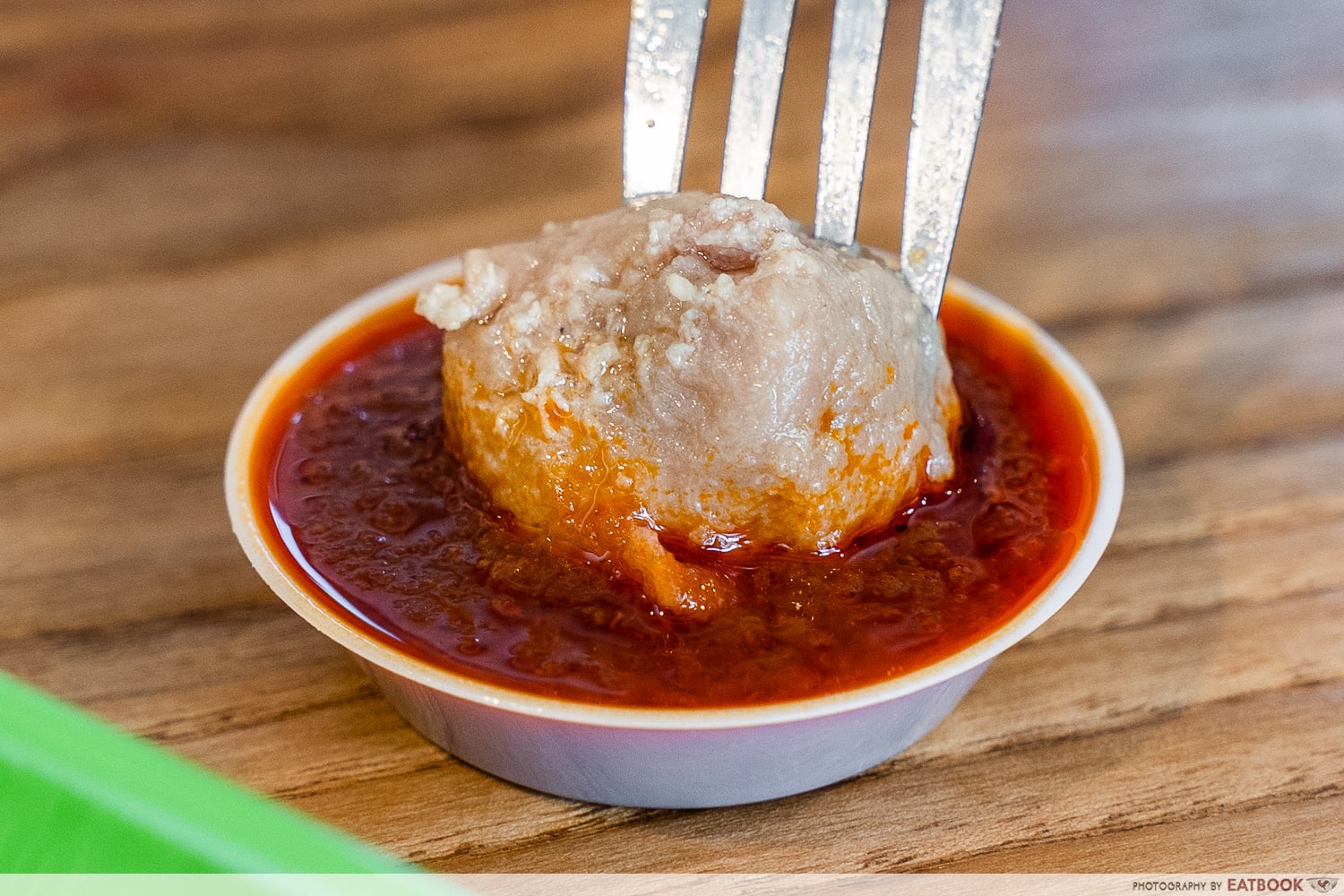 Made of beef surimi, or beef paste, you'll find the bakso to be like any typical commercially made meatball. Have it with either of the chilli dips to spice up the eating experience.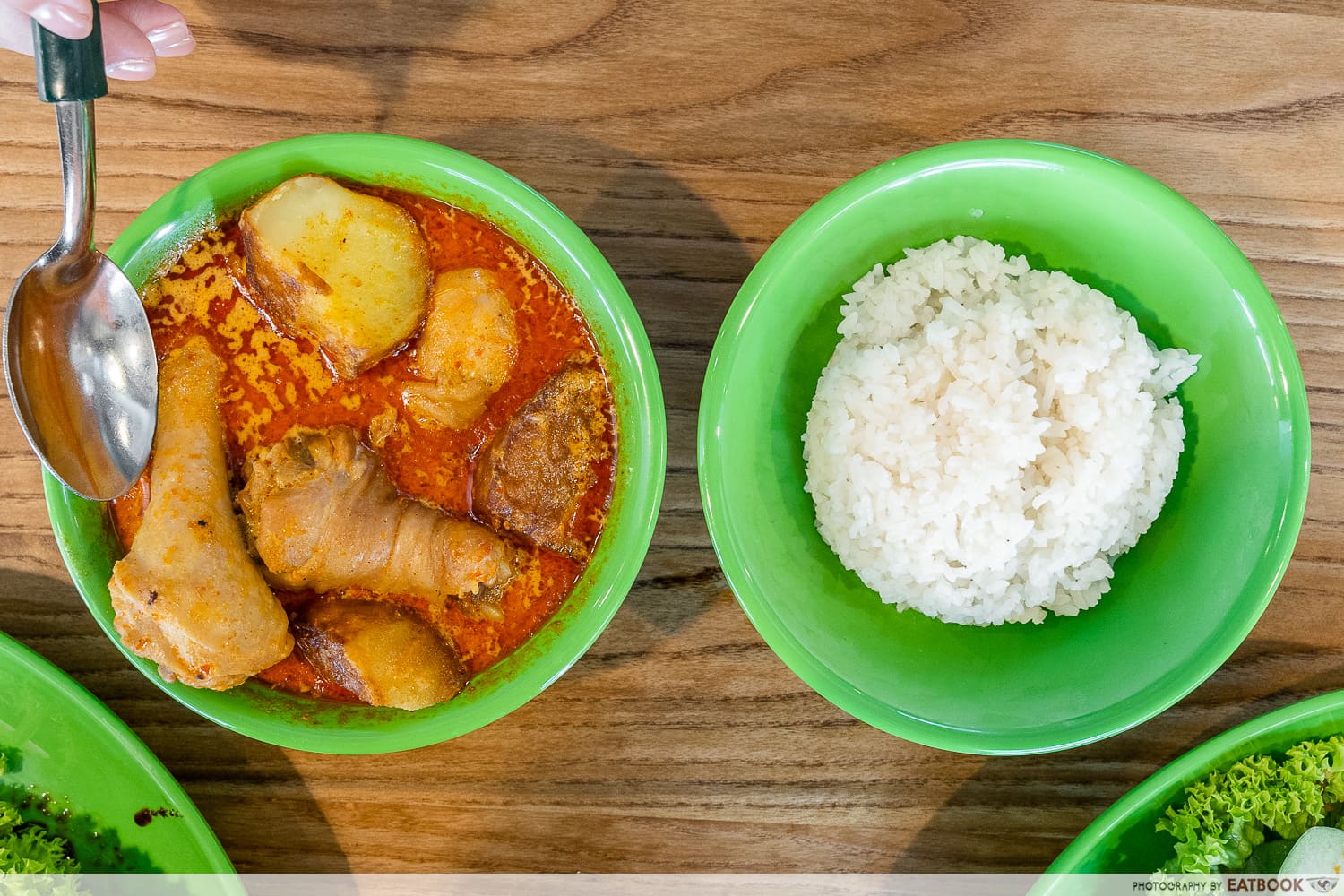 Like the Bakso Soup with Rice Set, there's a similarly priced Curry Chicken Stew w Rice ($3.90), both of which are the cheapest dishes on the menu. The curry is house-made and comes loaded with chicken drumlets and chunks of fried potato.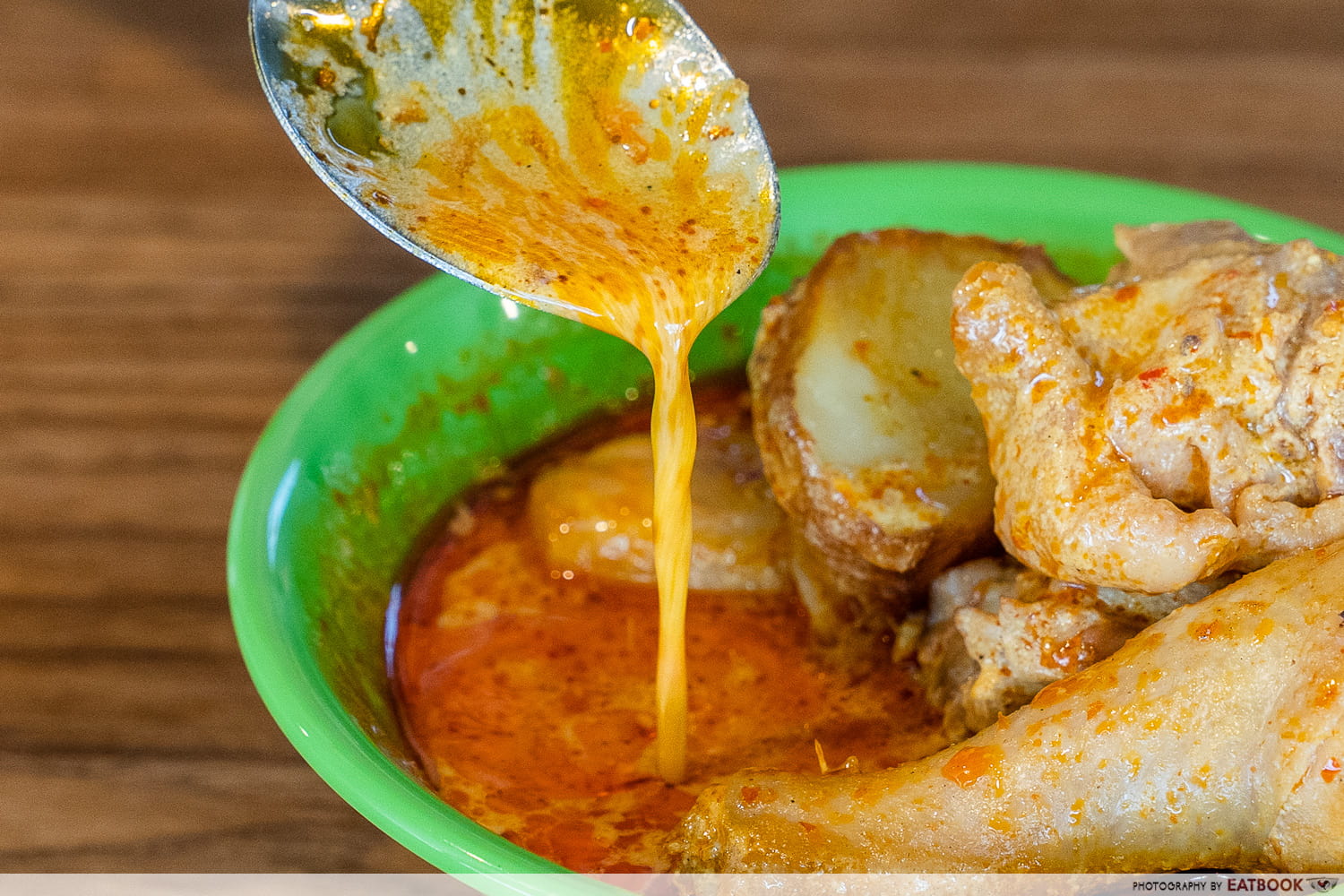 It looked promising, but we found the curry to be on the thin side, rather than the thick, lemak sort that my colleague and I prefer. Nonetheless, it was tasty, and with so much liao for its wallet-friendly price, it's still worth ordering.
Ambience at Uncle Penyet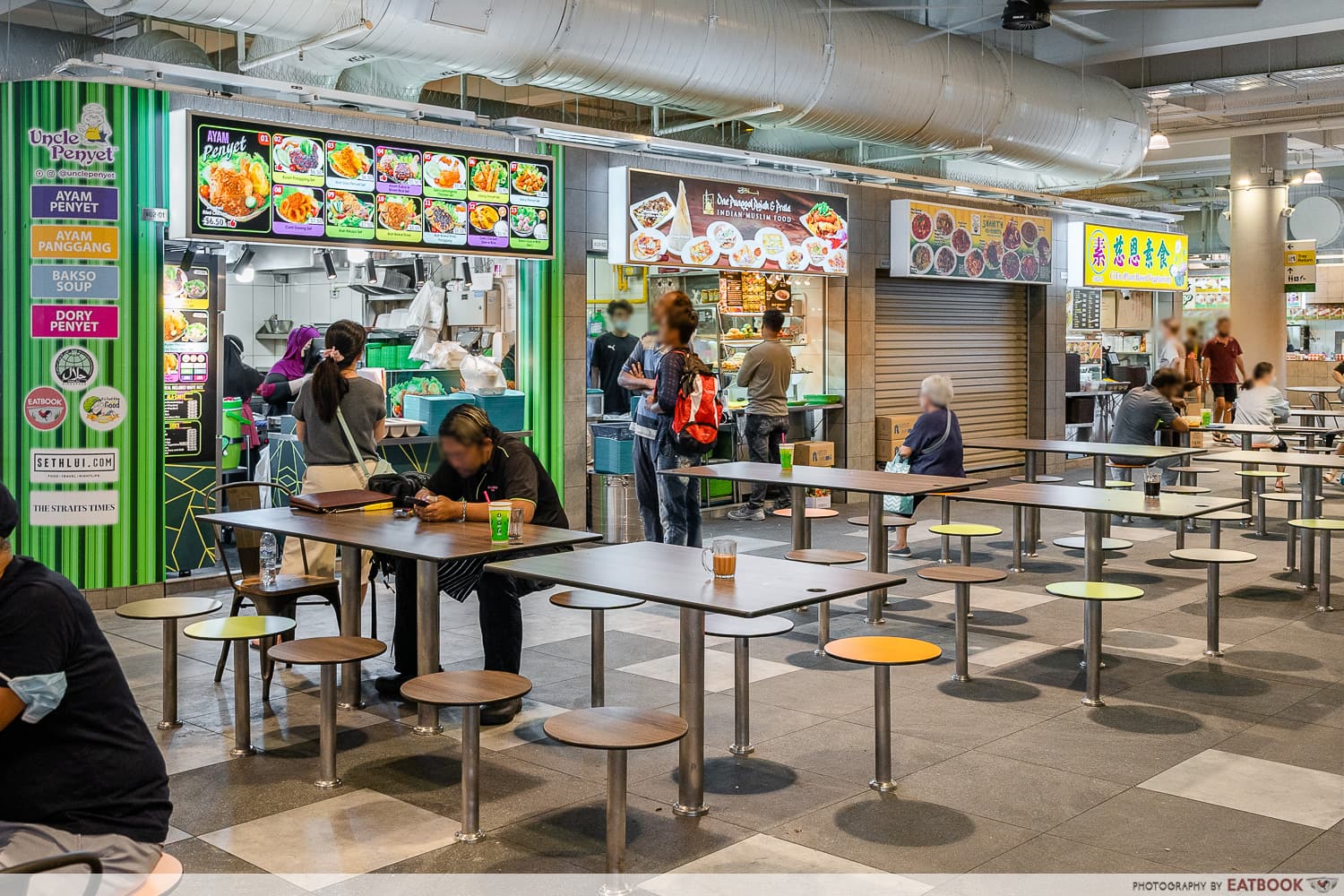 One Punggol Hawker Centre, being only a couple of months old, is extremely new and clean, with an abundance of seats. There's even an automated tray collection point! Most of the stalls are closed by mid-afternoon, though Uncle Penyet operates till 9pm daily. While we were waiting for our order here, there was a steady flow of customers and delivery orders coming in, so you can be quite assured that the food is freshly prepared.
One Punggol Hawker Centre is just 700m, or a nine-minute stroll down a sheltered connector, from Punggol MRT Station.
The verdict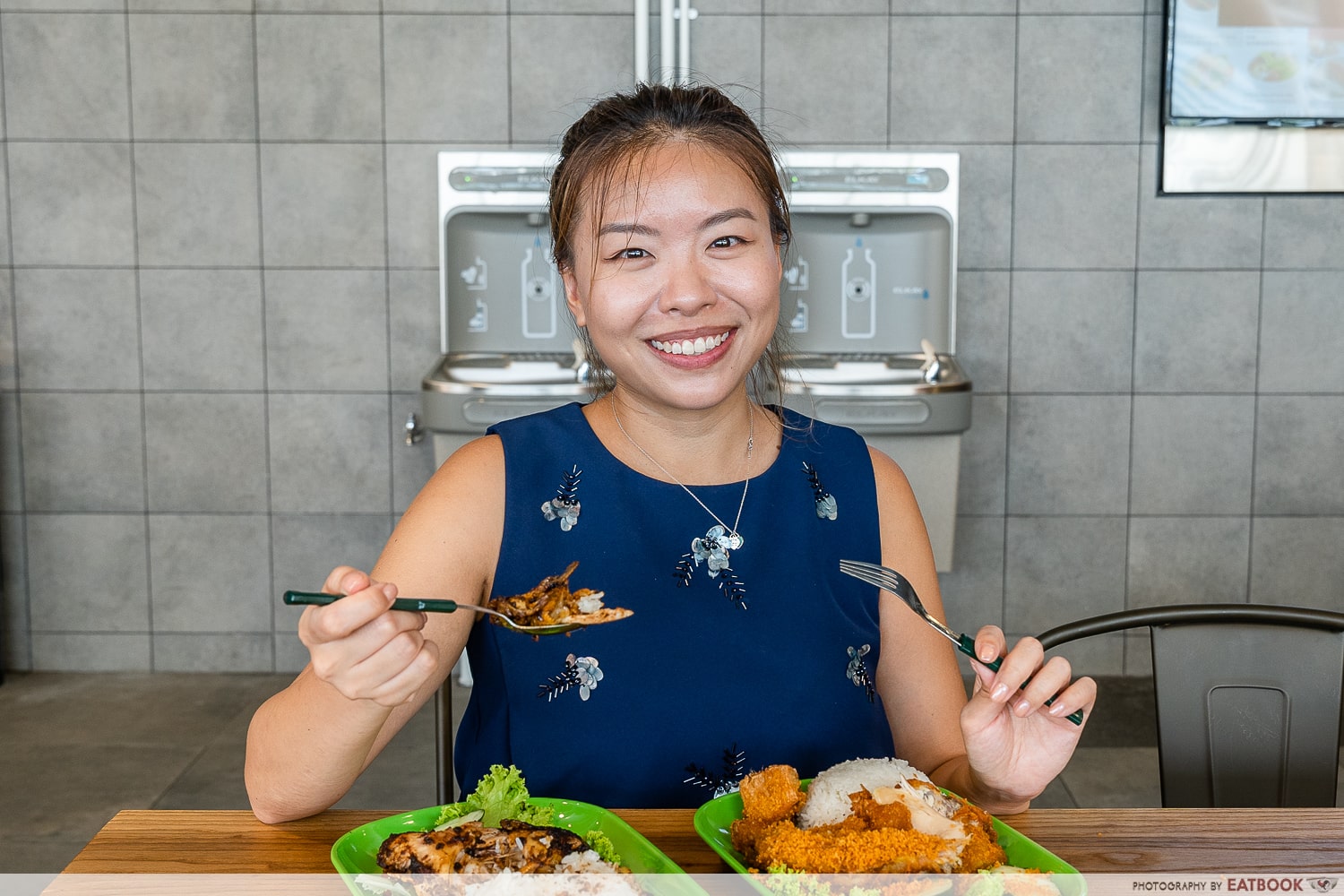 Perhaps it was because the chicken was cold when I had it this time, but it didn't quite blow me away as when I had it at my friend's party. The crispy garlic crumb, however, was just as I remembered it to be. The ayam panggang, with its sweet-savoury, smoky flavours, was also pretty moreish. Personally, I'd skip the rice and just order more chicken. Plus, Uncle Penyet has stalls all over the island, which means I don't have to come all the way to Punggol just to get my hands on some.
When Newton Food Centre reopens, check out La Porpo for ayam geprek and more with a super fiery sambal. Otherwise, there's Makan Makan at Marina Square, for ayam penyet and grilled beef ribs in a restaurant.
Address: 1 Punggol Drive, #02-01, One Punggol Hawker Centre, Singapore 828629
Opening hours: Daily 9:30am to 9pm
Website
Uncle Penyet is a halal-certified eatery
La Porpo: Legit Ayam Goreng Stall With Fiery House-Made Sambal In Newton
Photos taken by Tan Zi Hui.
This was a media tasting at Uncle Penyet.
Uncle Penyet Review: Crispy Smashed Fried Chicken And More From $3.90
Uncle Penyet Review: Crispy Smashed Fried Chicken And More From $3.90 -

7.5/10
Summary
Pros
– Convenient location
– Crispy garlic crumbs were very tasty
– Chicken is cooked to order
Cons
– Curry gravy could be thicker
Recommended dishes: Ayam Penyet ($6.50), Ayam Panggang Set ($6.50)
Opening hours: Daily 9:30am to 9pm
Address: 1 Punggol Drive, #02-01, One Punggol Hawker Centre, Singapore 828629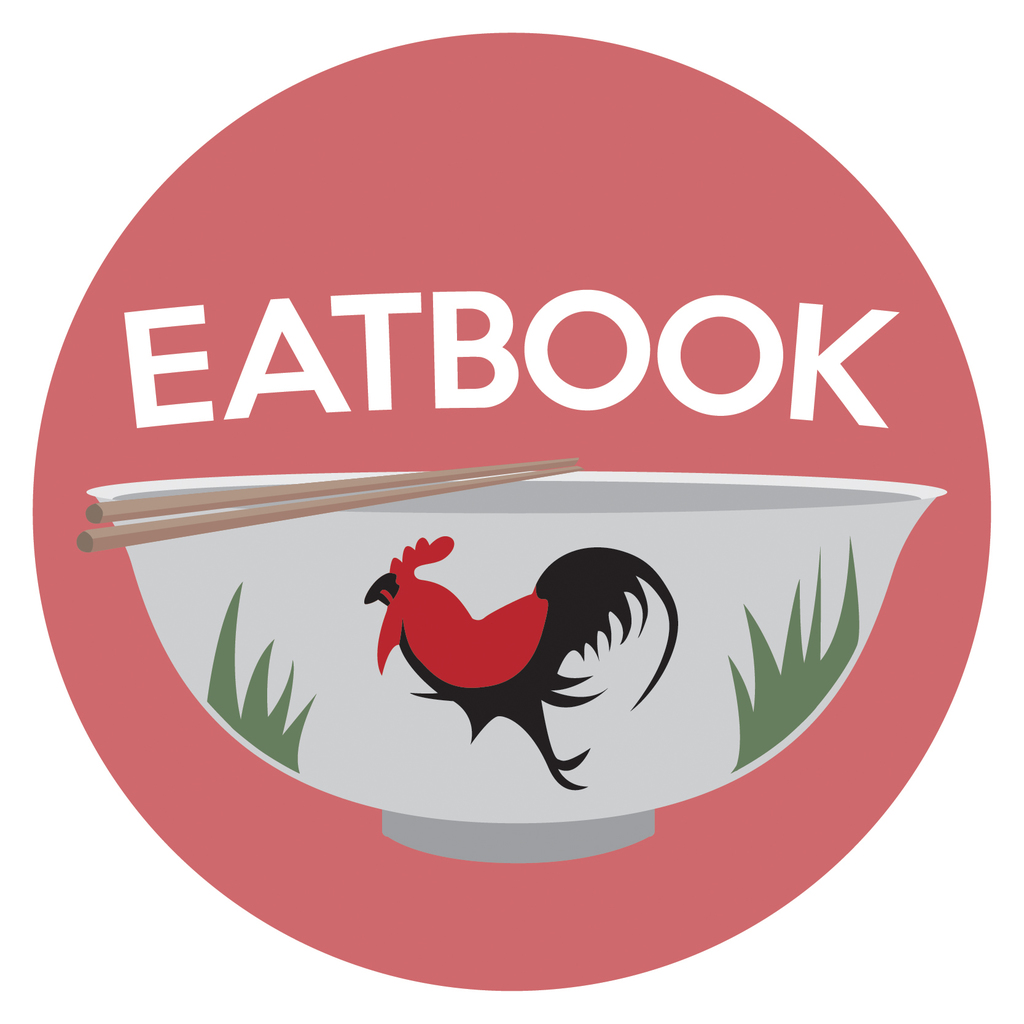 Drop us your email so you won't miss the latest news.