---
Unique items to order on GrabFood
---
Food delivery has since evolved from delivering pizzas and fast food, to a service that lets you order anything you want.
From juicy xiao long bao to ma la hot pot, getting your favourite foods delivered straight to your doorstep is now possible. The next time your stomach is craving for something special, check out these 10 unique items to order on GrabFood.
---
1. Marble Slab Creamery
---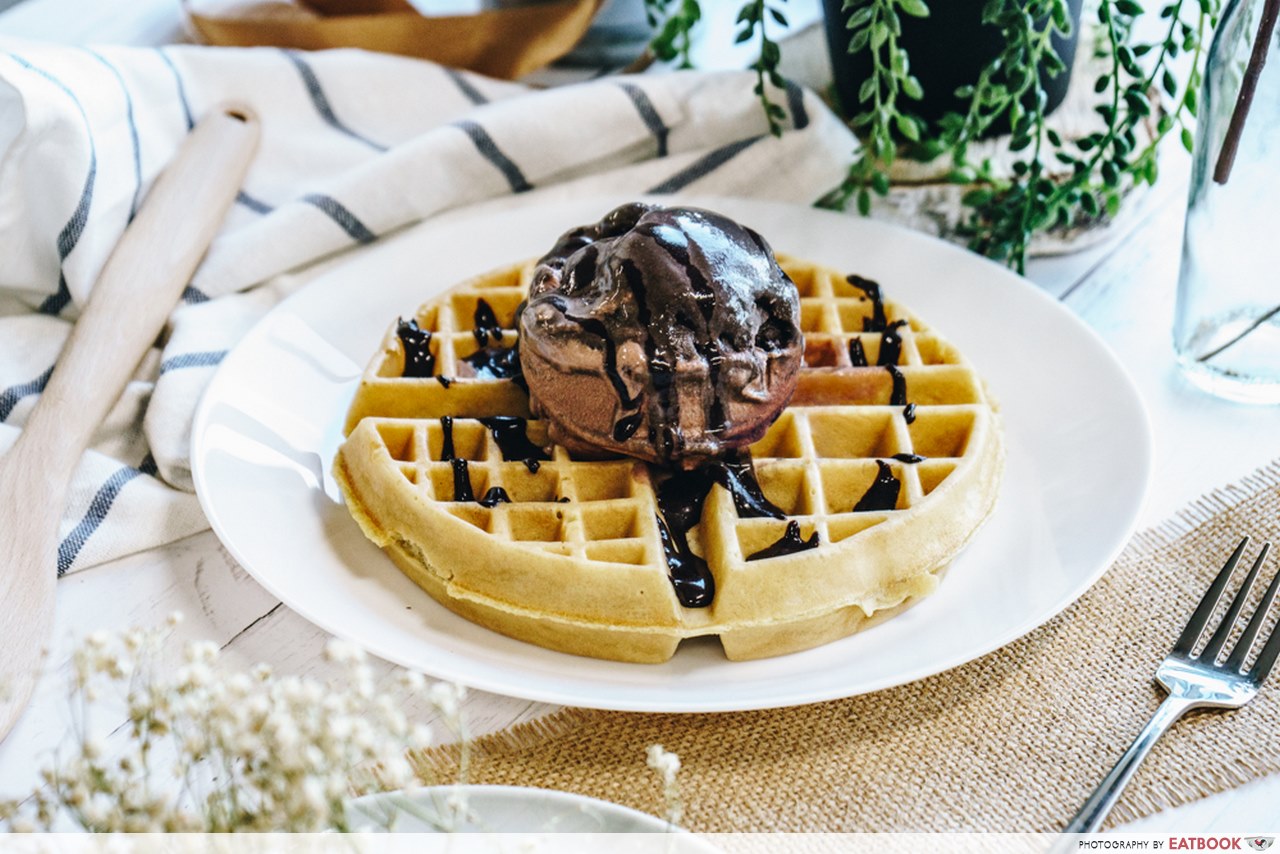 You know that food delivery has reached a new milestone when you can get ice-cream on the menu. The Country Waffle Set Chocolate Fantasy ($13.80) at Marble Slab Creamery lets you get a scoop of chocolate ice-cream that is accompanied by a freshly baked waffle. The waffles and ice-cream are packed separately, so you can combine them however you like.
Address: 1 Stadium Place, #01-55, Kallang Wave Mall, Singapore 397628
Opening hours: Daily 10am to 10pm
Tel: 6702 3039
Website | Full list of outlets
---
 2. LiHO
---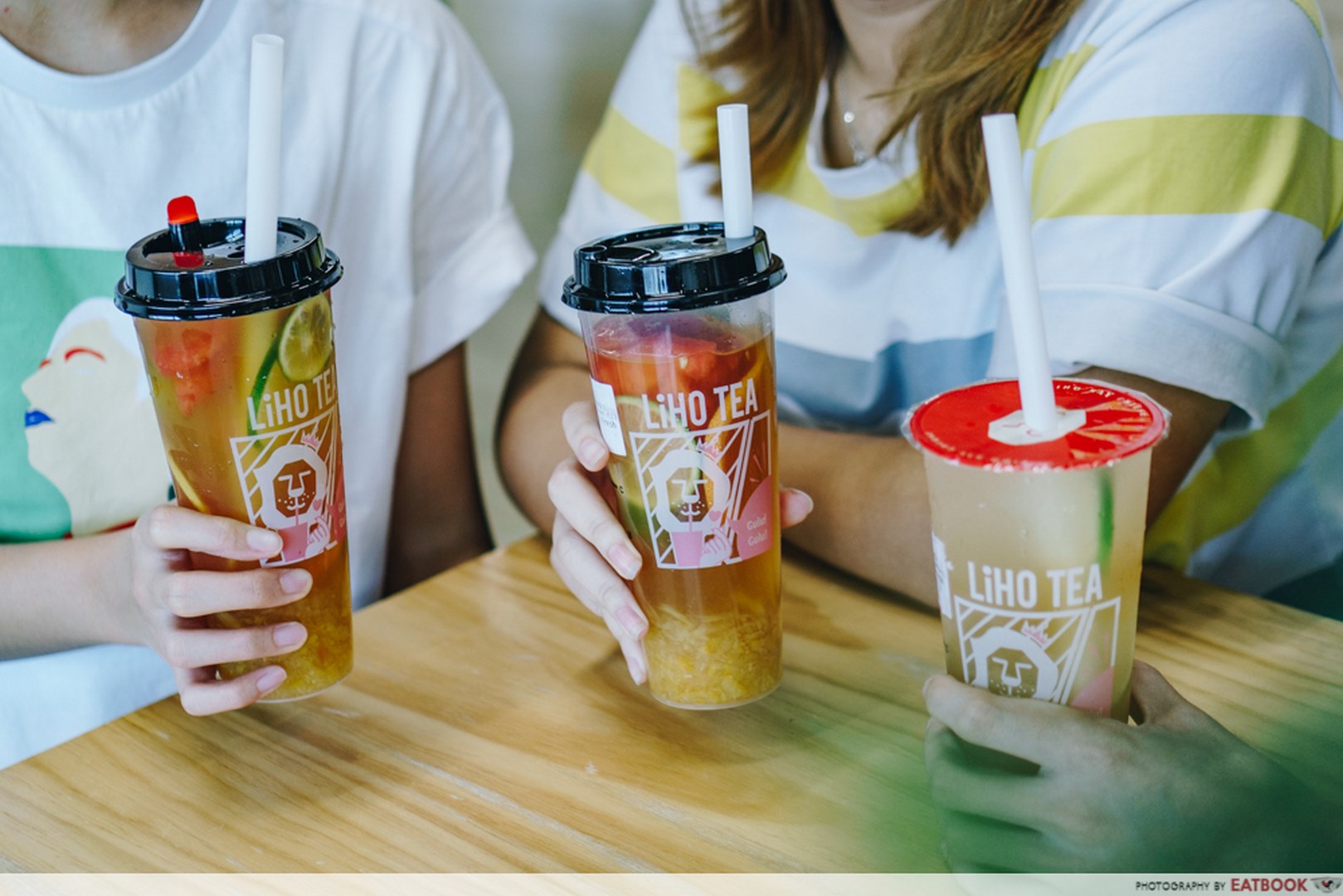 Nothing is better than a refreshing glass of fruit tea after a hearty meal. You no longer need to wait in line or walk under the sweltering heat for a cup. LiHO's Refresher ($30.20) gives you two servings of Singapore Fruit Tea, two servings of Korea Fruit Tea, and two servings of Fresh Lemon Juice with White Pearl and Aiyu Jelly.
Filled with a variety of citrus fruits, this drink set is a great way to cool down with friends on a hot sweaty day. Also, check out the LiHO's Avocado ($37.40) that gives you six avocado-based drinks which include the signature Cheese Avocado Smoothie.
For all the drinks we had received, none of them came diluted and tasted as good as the ones bought straight from the store!
Address: 60 Sims Drive, Aljunied MRT Station, Singapore 380060
Opening hours: Daily 11am to 10pm
Website | Full list of outlets
---
3. Crystal Jade La Mian Xiao Long Bao
---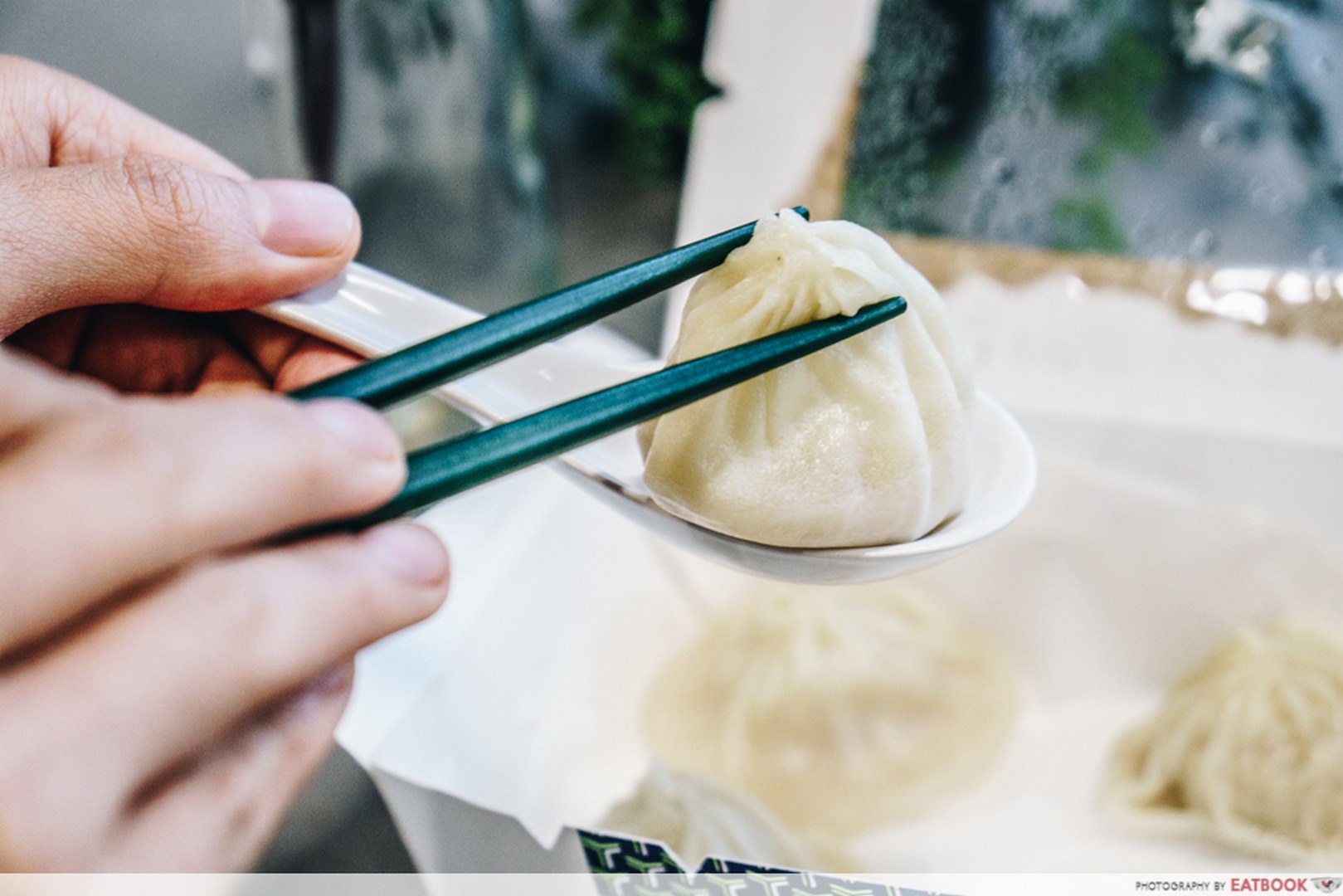 Yes, you can now get squirt-in-your-mouth xiao long bao without leaving your couch. Known for their Steamed Shanghai Xiao Long Bao ($7.80 for three pieces), Crystal Jade La Mian Xiao Long Bao is a must-try when you're in the mood for some dim sum. The bao came securely packed, with none of them leaking out the precious pork juice. You will also get vinegar and ginger slices on the side, for the full XLB experience.
Address: 200 Victoria Street, #B1-04A, Bugis Junction, Singapore 188024
Opening hours: Daily 11am to 10pm
Tel: 6339 6902
Website
---
4. Xiao Man Niu Mala Hotpot
---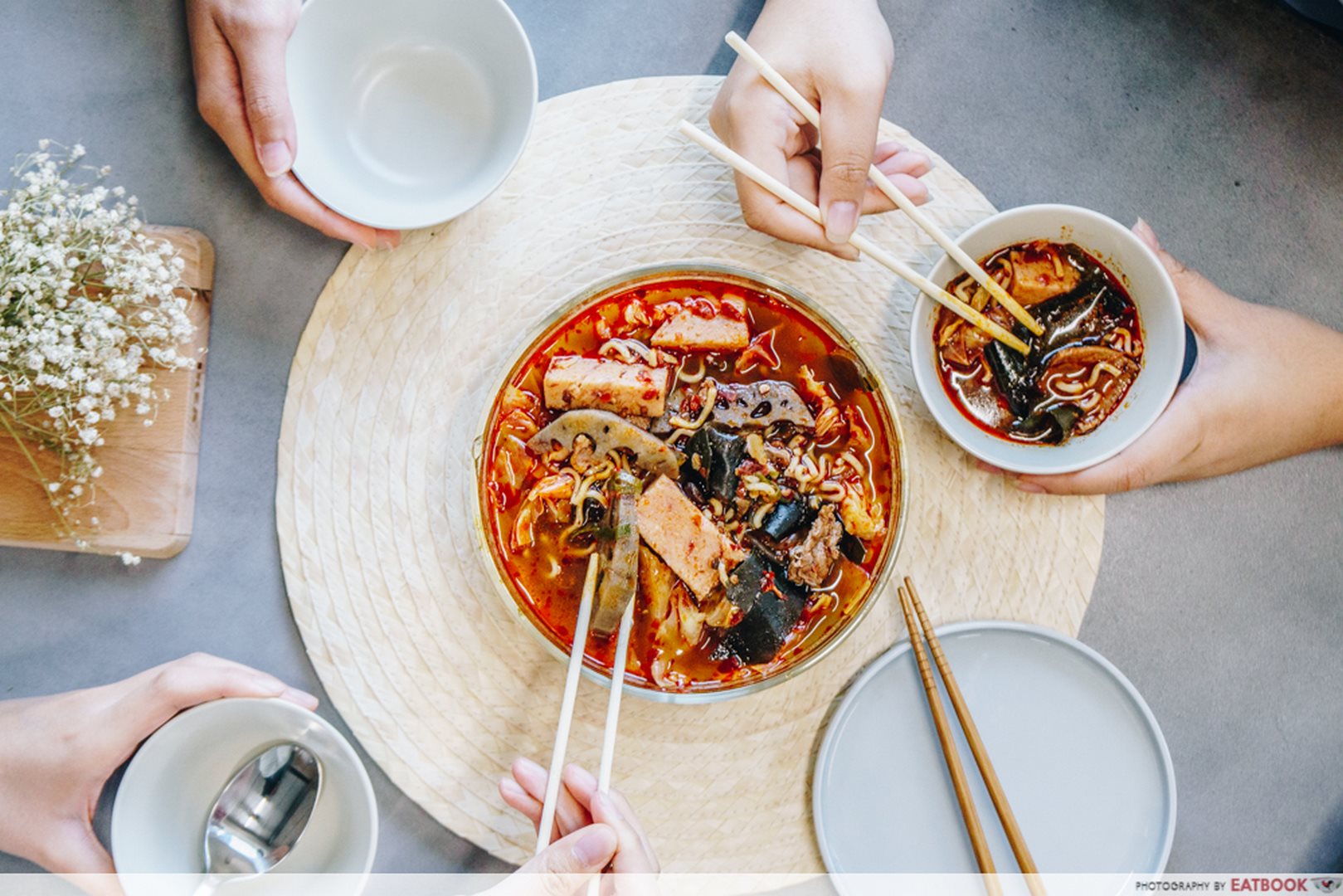 Xiao Man Niu Mala Hotpot lets you get your fix of everyone's favourite tongue-numbing food in either soup or dry. Take your pick from 42 ingredients and even your own spice level. We liked how the ma la came piping hot, and because it arrived to our office so quick, none of the ingredients were soggy.
Address: 3 Temasek Boulevard, #03-367, Suntec City, Singapore 038983
Opening hours: Daily 11am to 9pm
Website
---
5. The White Ombre
---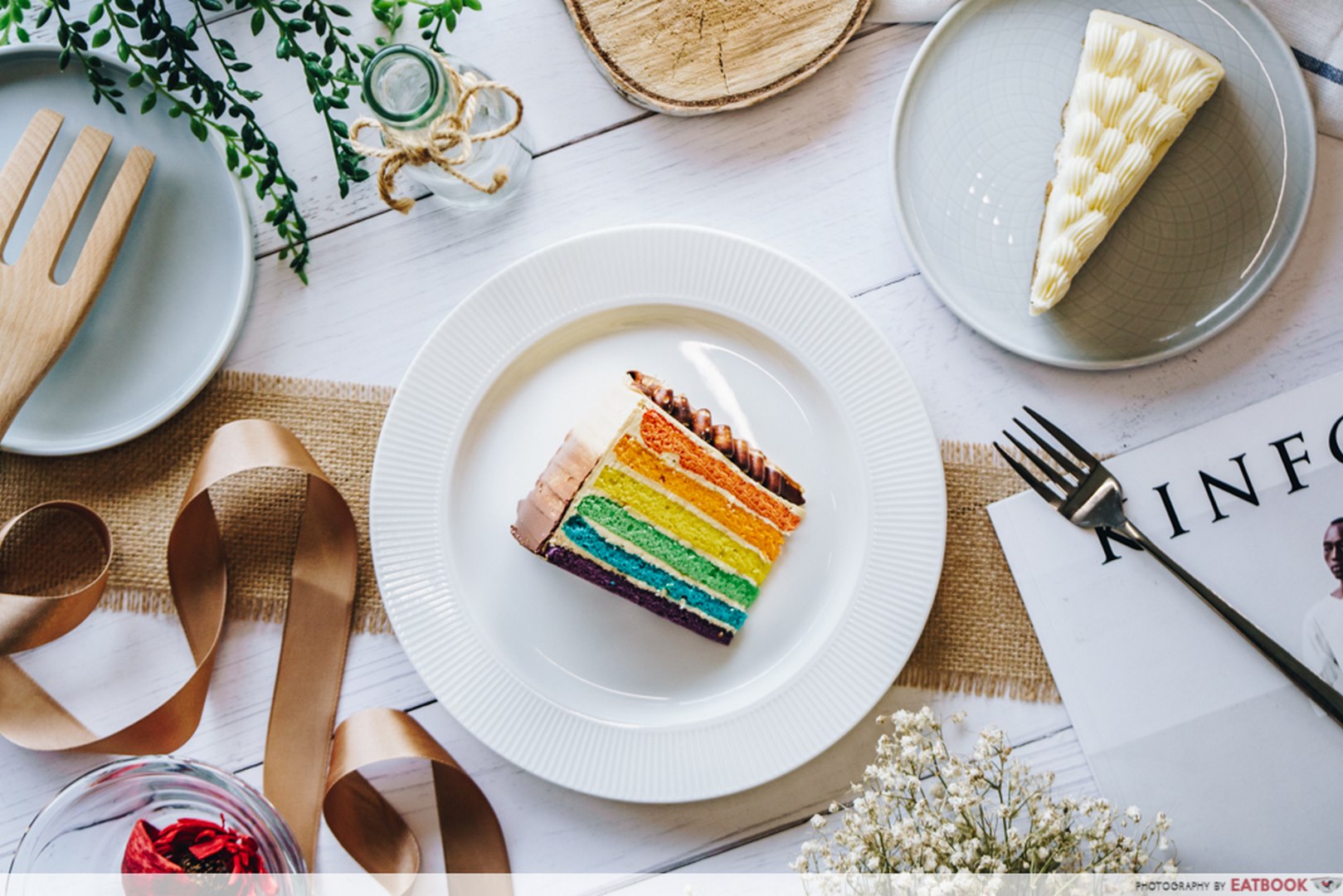 There are some people who only eat cakes on birthdays, but for those who beg to differ, The White Ombre is a great option to satisfy their cake cravings. The Rainbow Cake ($7) tastes just as good as it looks. Cut in a thick wedge, the cake features rich Italian buttercream that is layered between a colourful and moist butter cake. Mad props to the drivers who carefully delivered it, as the cake came in pristine condition, with none of the buttercream smudged.
Address: 500 Jalan Sultan, #01-14, Hotel Boss, Singapore 199020
Opening hours: Tue-Sun 10am to 7pm
Website
---
6. Ah Chew Desserts
---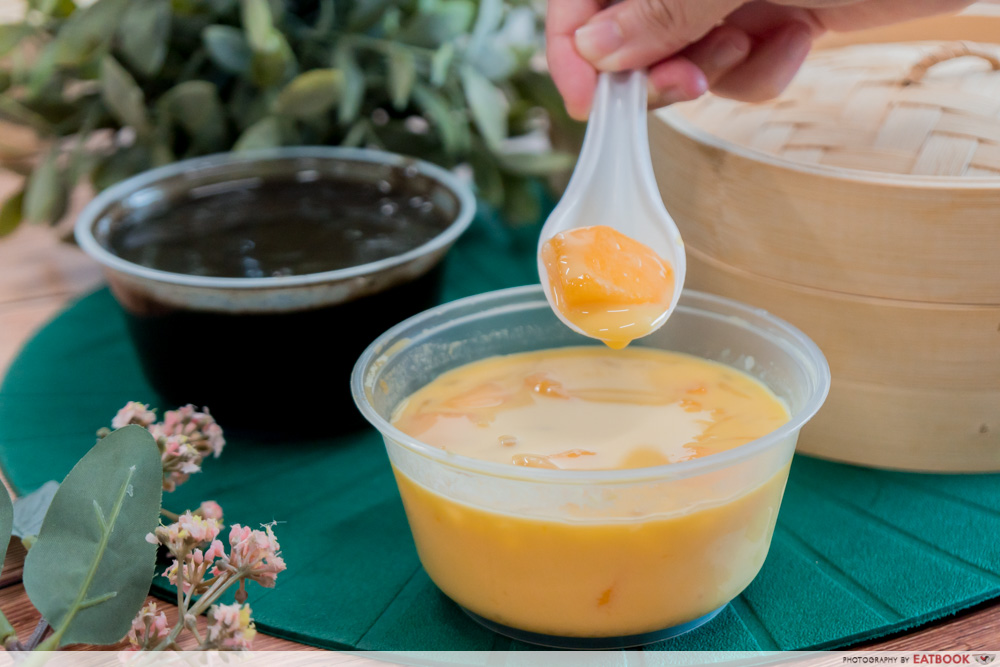 Nothing makes me happier on a warm day than a bowl of comforting traditional dessert at Ah Chew Desserts. You can now get desserts such as Mango Sago with Pomelo ($4.50) delivered straight to you. The mangoes are cut into huge chunks, mixing well with the pomelo pulps that had a slightly crunchy bite to it. My favourite bit was how everything comes nicely chilled, so that you can enjoy it the moment it arrives.
Address: 181 Thomson Road, Goldhill Shopping Centre, Singapore 307627
Opening hours: Mon-Fri 12pm to 12am, Sat-Sun 12:30pm to 12am
Tel: 66254 8198
Website | Menu
---
7. Mr Coconut
---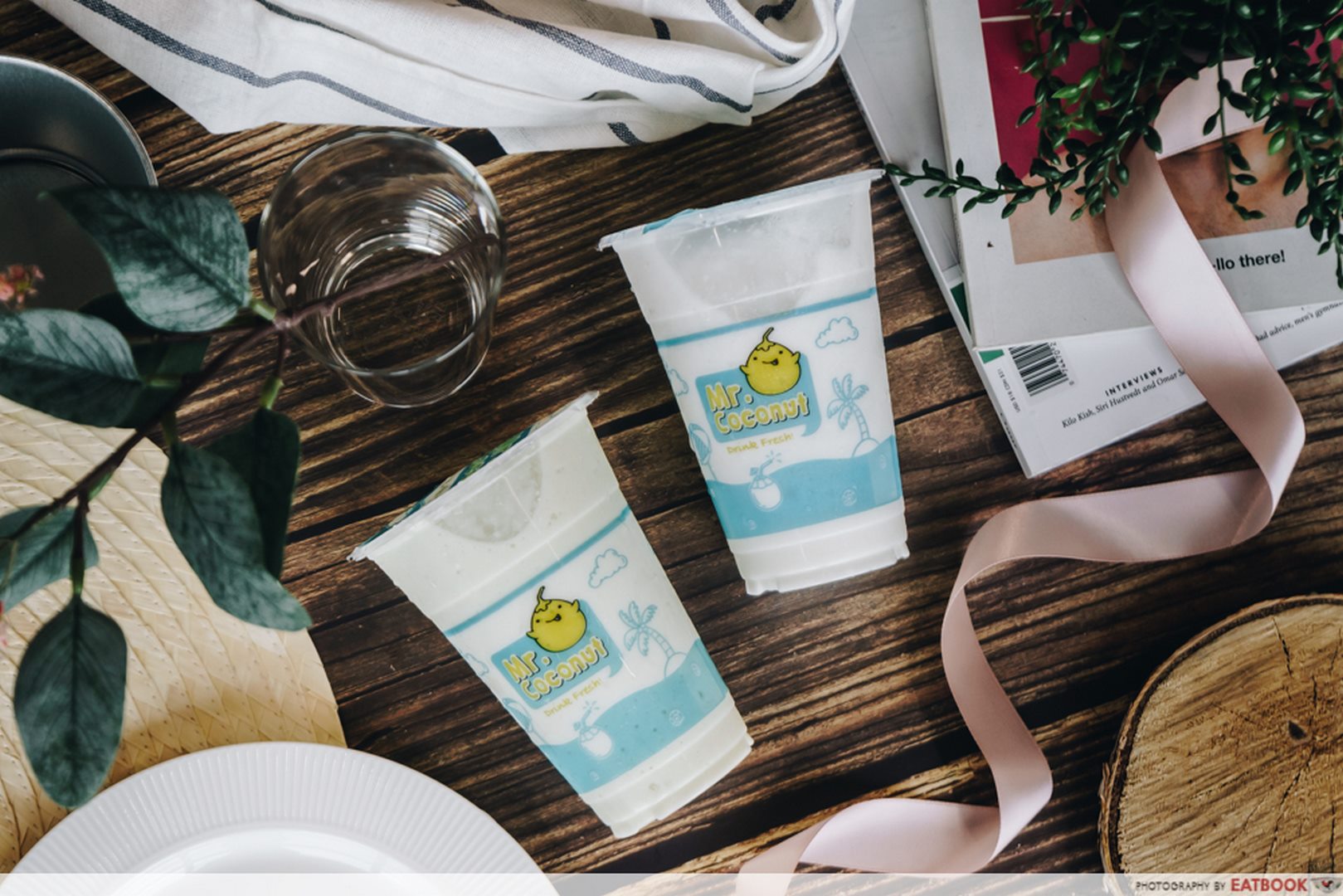 On hot and sunny days, beat the heat with Mr Coconut. The Coconut Shake ($4.40) is delivered in a sealed cup and uses only fresh coconuts that are juiced upon order. It is then mixed with fresh milk and flesh from sweet young Thai coconuts. The result is a refreshing and tasty drink that is great for cooling down in this tropical climate.
Address: 70 Jellicoe Road, #01-15, V Hotel Lavender MRT, Singapore 208767
Opening hours: Daily 10am to 10pm
Website
---
8. Cornerstone Wines
---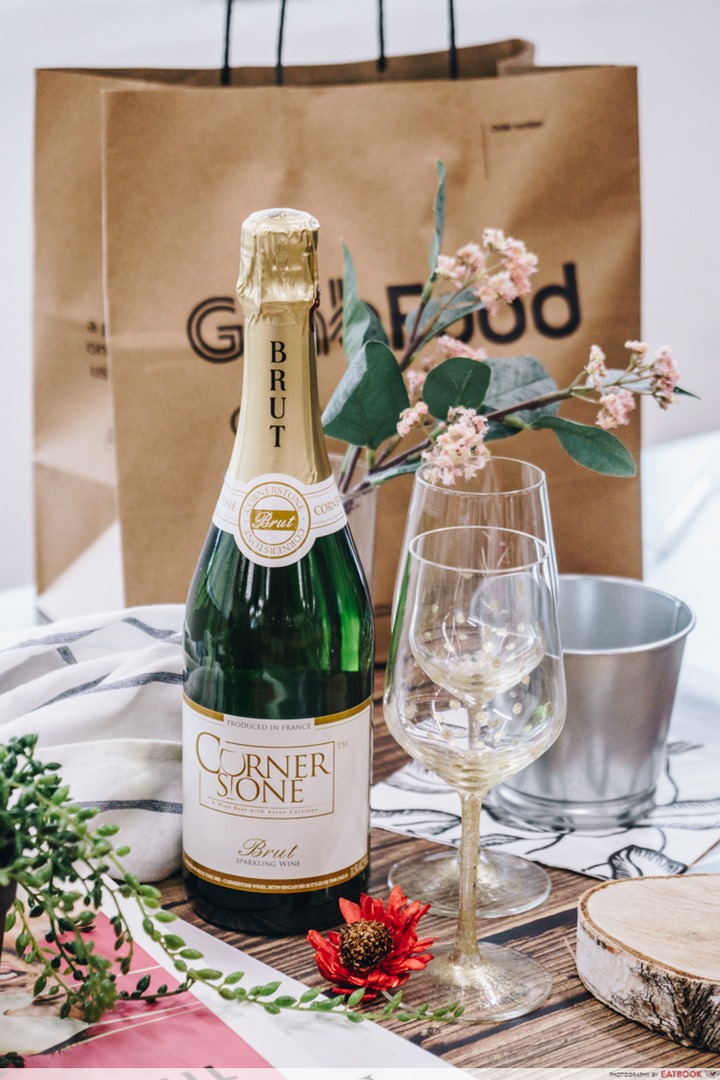 With so many to choose from, picking out a bottle of wine can be intimidating. Working directly with French vineyard owners, CornerStone Wines delivers popular wine varieties that are easily enjoyed by all.
Spare yourself the hassle of lugging heavy bottles this festive season and get a bottle of bubbly delivered with the Cornerstone Sparkling Brut NV ($30).
Address: 10 Sims Close, #01-00, Cornerstone Building, Singapore 387299
Opening hours: Mon-Fri 9am to 6:30pm
Website
---
9. My Juice Kaki
---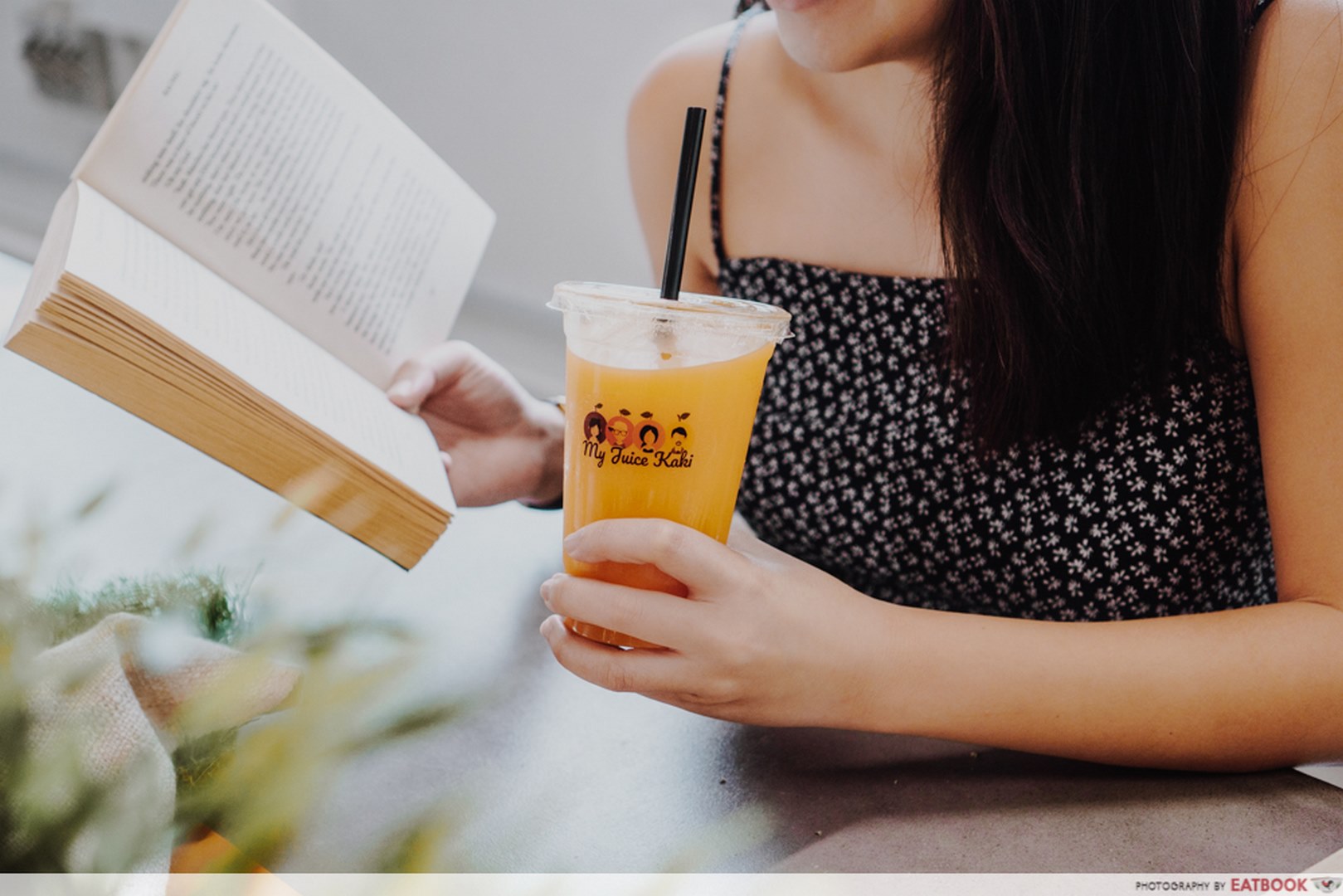 Taking away drinks from the coffee shop always results in slight spillage on our hands, so we were shooketh by how the drivers managed to deliver the juices from My Juice Kaki without spilling a single drop! Using only fresh fruits, enjoy cold-pressed blends that are specially formulated to give a boost to your diet.
The juices are only prepared to order, ensuring they're enjoyed at optimum freshness. The Tropic Garden ($5,$6) is made from orange, mango, pineapple, and carrot, aiding in digestion and metabolism.
Address: 2 Tai Thong Crescent, #01-19, The Venue Shoppes, Singapore 347836
Opening hours: Tue-Sun 11am to 11pm
Website
---
10. An Acai Affair
---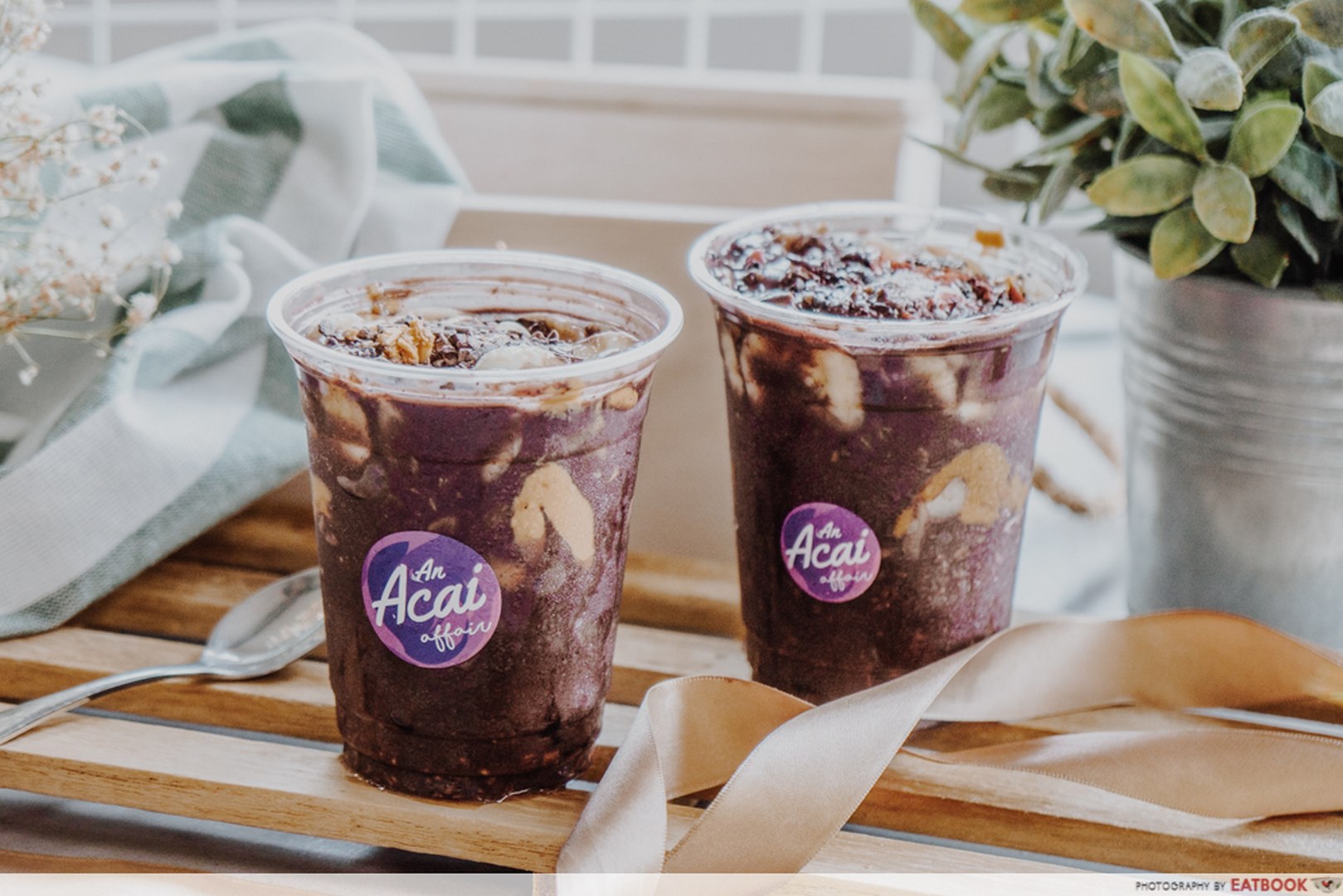 An Acai Affair prides themselves on using only undiluted acai with no added liquids or juice concentrate. This results in a higher acai content that makes for a more robust cup of the Brazilian superfood. Each cup of acai came nice and cold, showcasing how fast the drivers must have driven to get it to our office.
We like the Nutty Party ($8.90), which is filled with banana, granola, nuts and cacao nibs – giving a nice combination of textures. You can also choose to get your acai bowl drizzled with honey, cookie butter or peanut butter at no additional cost.
Address: 7 Fraser Street, #B3-06, DUO Galleria, Singapore 189356
Opening hours: Mon-Fri 10am to 8pm, Sat 11am to 5pm
Website
---
Satisfy your cravings with GrabFood
---
There are days when you're just too lazy to leave the house to get a fix of your favourite food. Don't relegate yourself to just instant noodles. With GrabFood, you can now get almost anything you want, whenever you want, all while chilling on your couch.
From now till 31 December 2018, the delivery surcharge will be waived for ALL GrabFood orders. All you have to do is hit "HUNGRYSIA" in the promo code section. This makes ordering for your end-of-year parties so much more economical and convenient!
10 Famous Eateries To Order From Grabfood To Beat The Long Queues
Photos taken by Huy Pham.
This post is brought to you by GrabFood.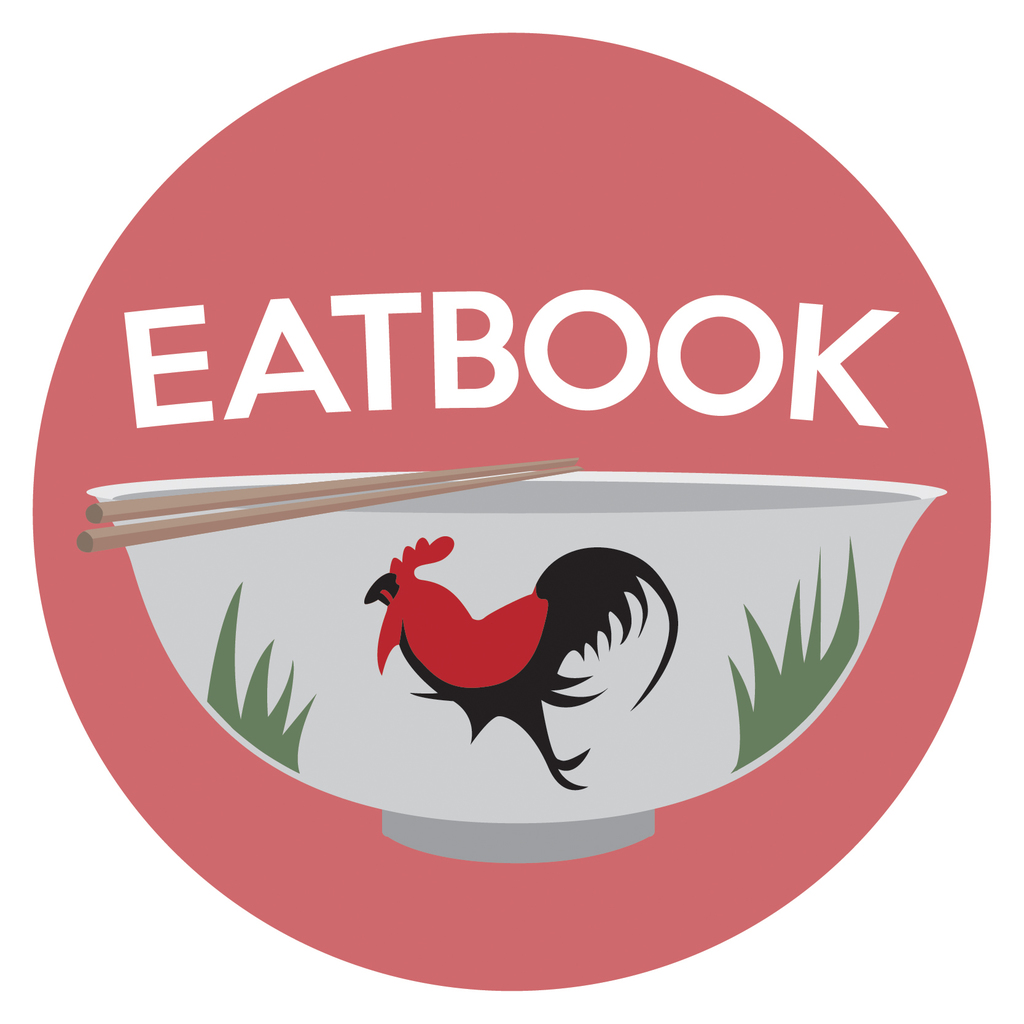 Drop us your email so you won't miss the latest news.