Vietnamese Favourites sells #legit Vietnamese food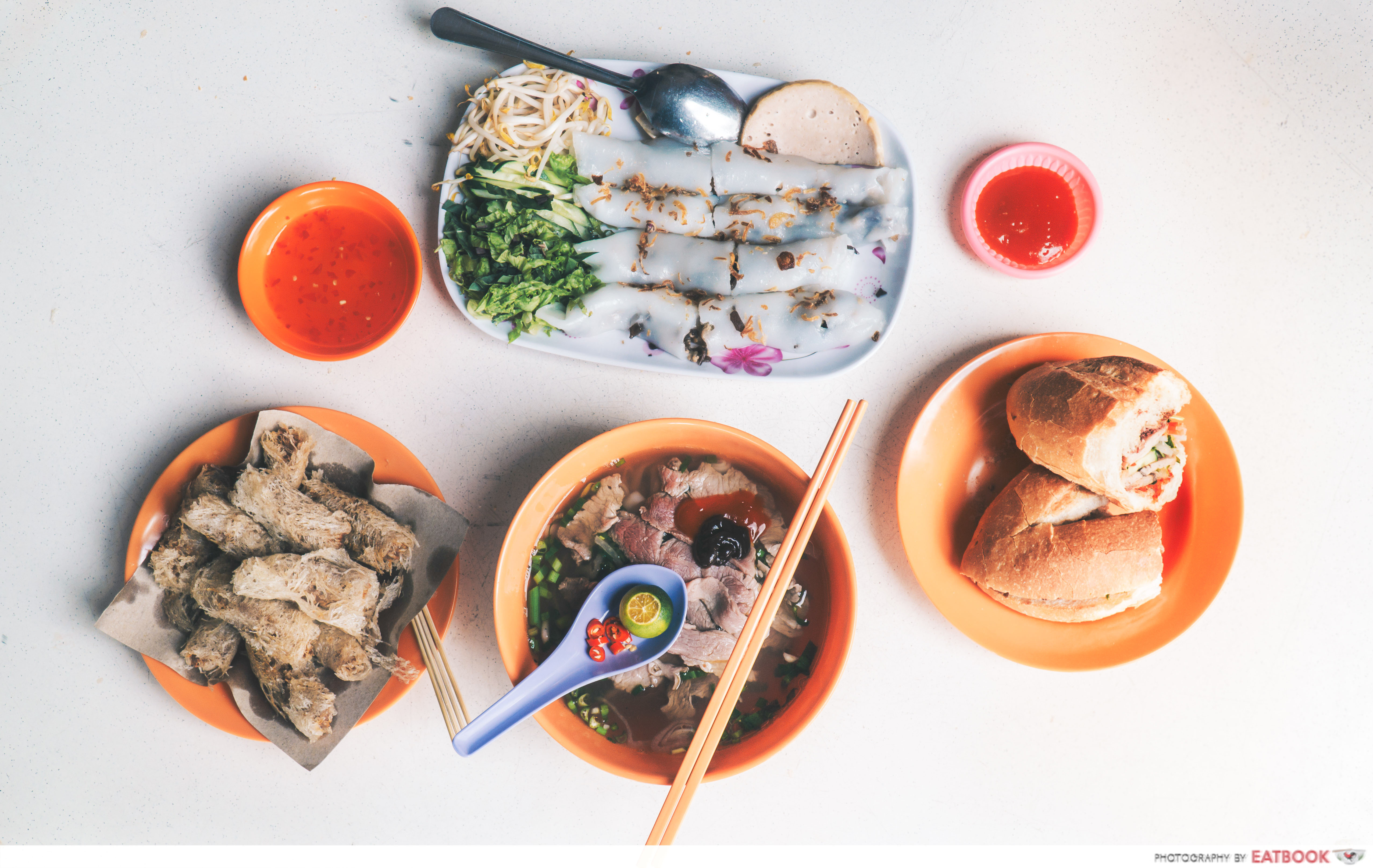 I first gained an interest in Vietnamese cuisine when I travelled to Vietnam for a school trip five years ago. I had my first bowl of pho there, and its taste still remains etched in my mind. Just a few weeks ago, my colleague recommended Vietnamese Favourites to me. It is a stall run by a Vietnamese lady, and it is hidden in a modest coffee shop along Joo Chiat Road.
Food at Vietnamese Favourites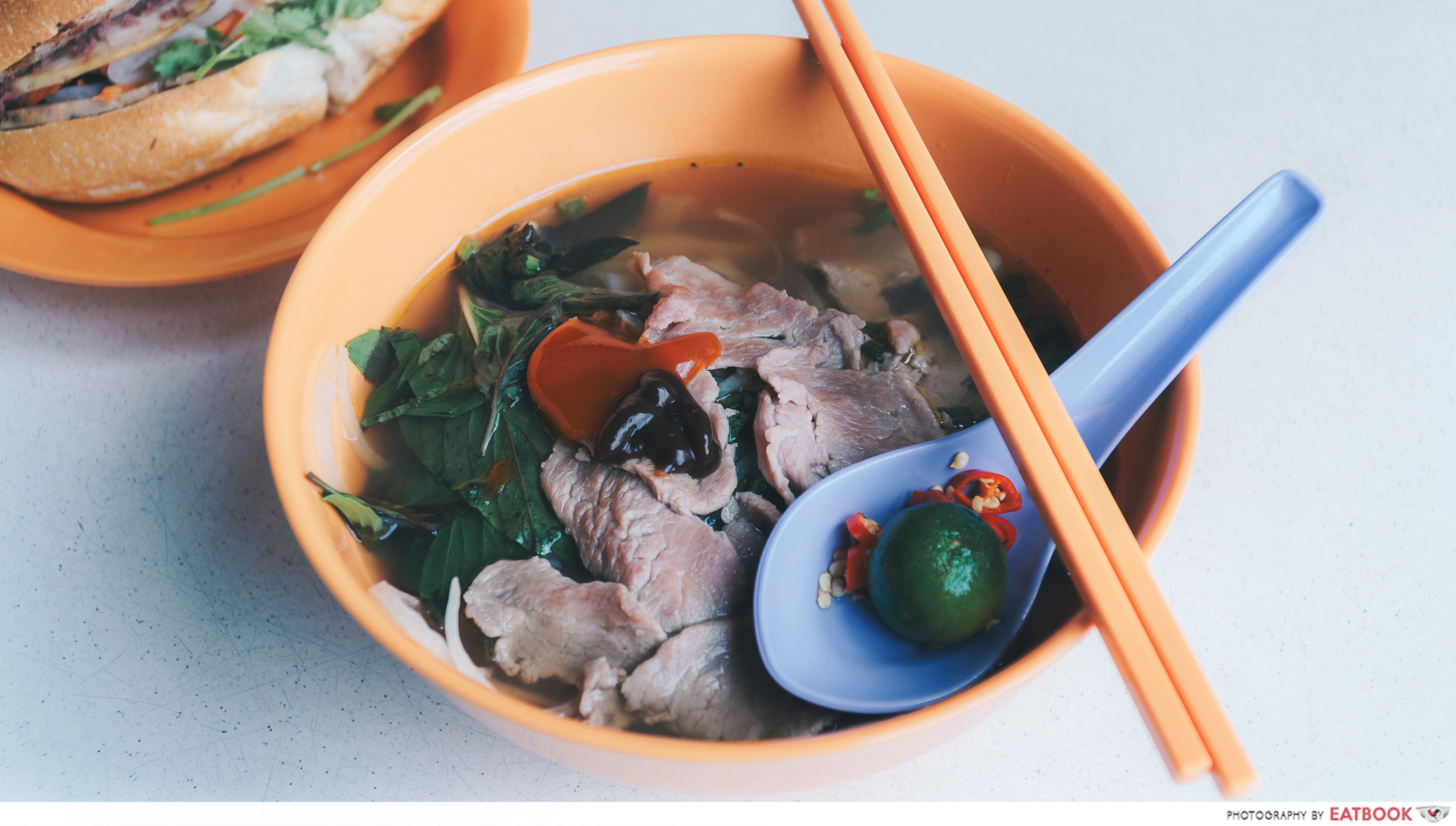 Whenever Vietnamese food is mentioned, pho would usually be the first dish that pops up in everybody's minds. Phở Bò (Beef Pho) ($6), was the first dish we tried. It came with rice noodles, beef slices, and a medley of fresh vegetables. A dash of chilli and sweet sauce are also added atop, along with a spoon of dangerously red chopped chilli padi and lime.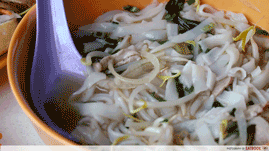 I took a sip of the light broth that was made using beef bones. It was full of flavour, reminding me of a lighter version of mee soto broth.
After squeezing the lime and mixing everything together, I took another sip of the broth to see if the sauces made any change to the taste. The lime added a hint of tartness, and the chilli gave each mouthful a kick, but they were not enough to mask the taste of the already flavour-packed soup.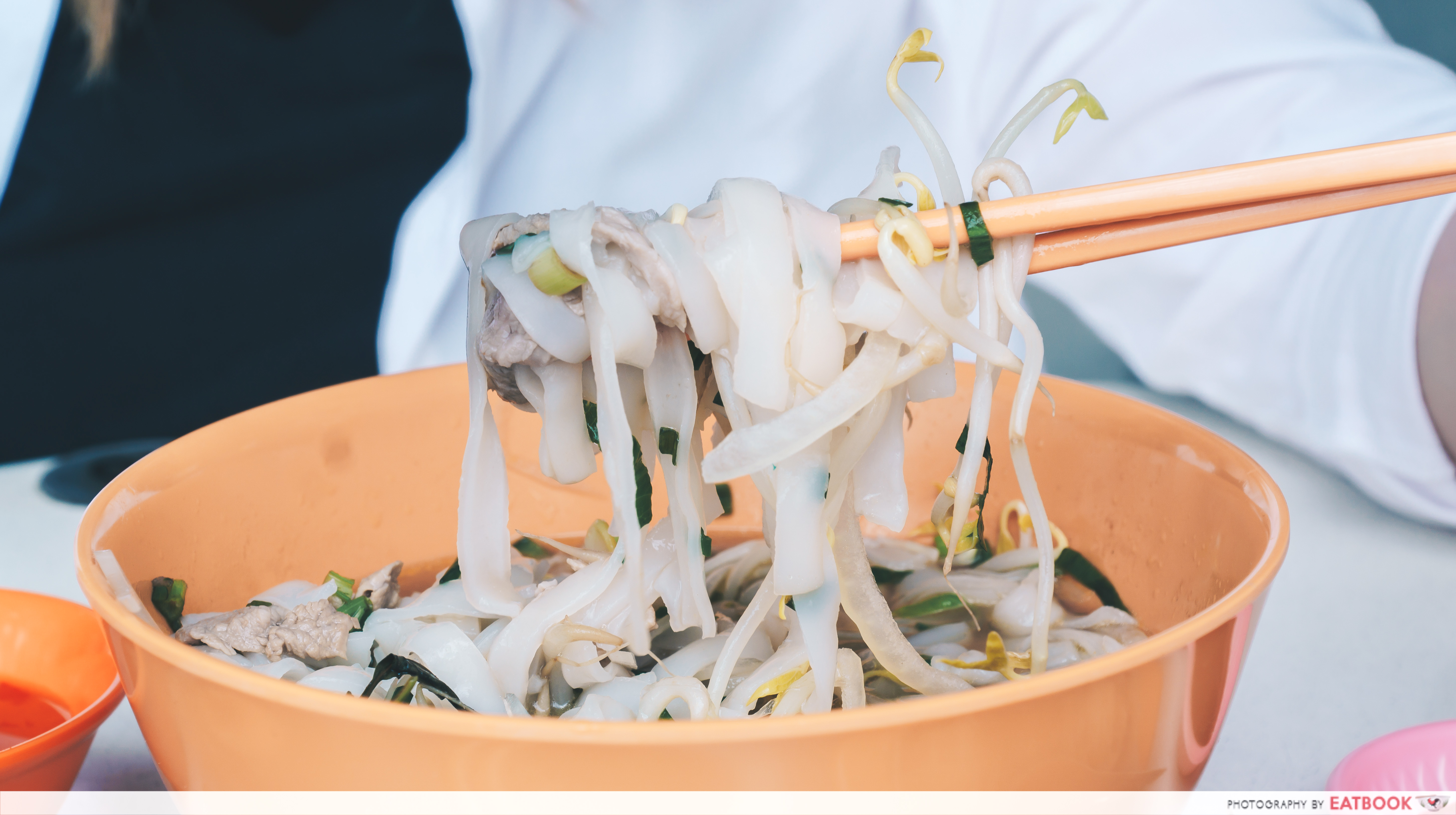 The rice noodles in the bowls of pho I had before were chewy. But the noodles at Vietnamese Favourites carry a much softer bite. It also turns soggy fast, so make sure to slurp the noodles up in a jiffy!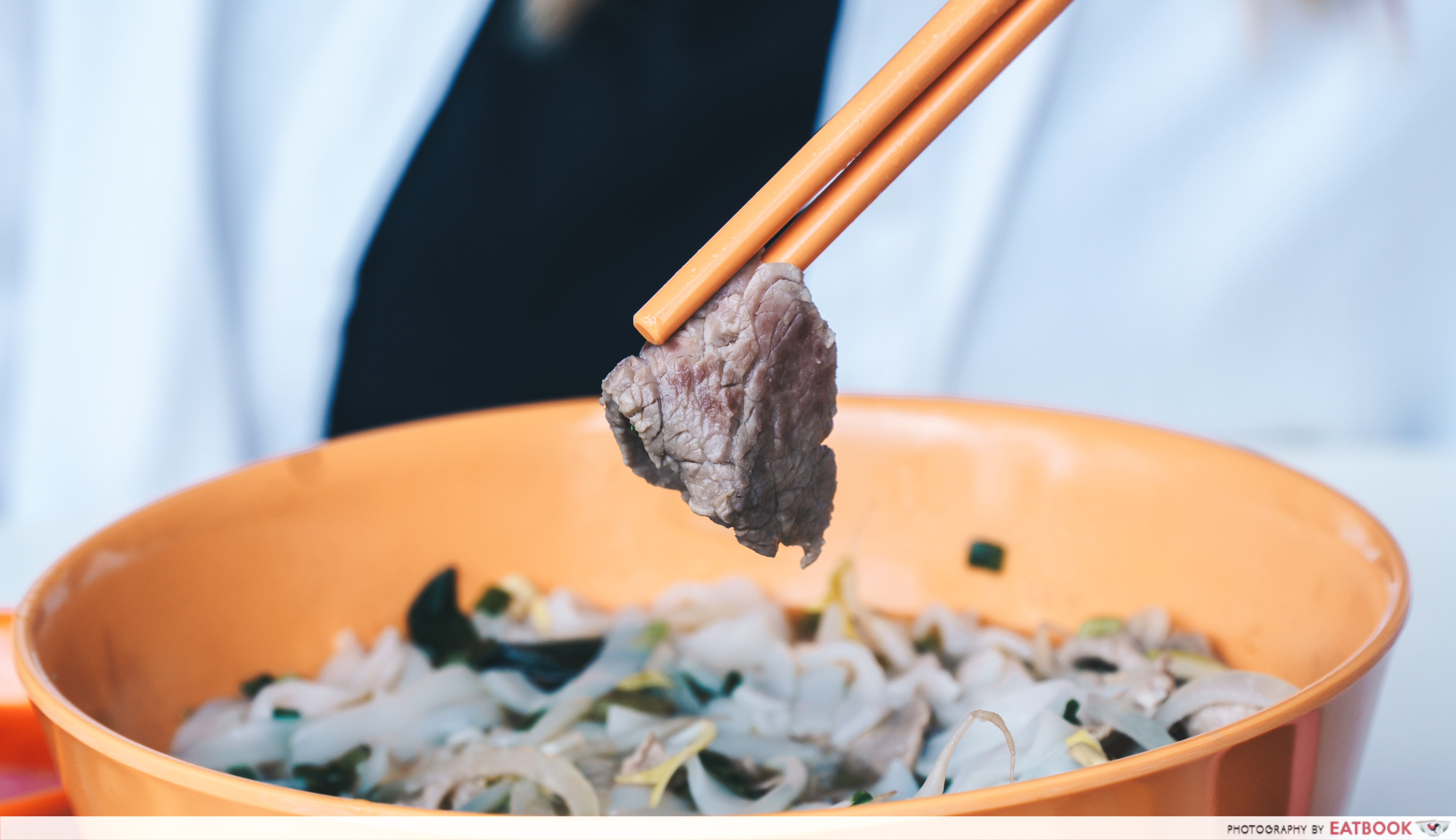 Raw thin beef slices were left to cook in the piping hot broth. They were both tender and lean. Though they were not marinated beforehand, every slice was flavourful from the broth it soaked up.
Next up was their Bánh Cuốn Chả Lụa (Stuffed Pancake) ($7). It is like an oilier version of the chee cheong fun we are familiar with. This dish comes with four rice rolls containing black fungus and minced pork. Two huge slices of Vietnamese sausage, bean sprouts, and green vegetables were also placed neatly around a side of the plate. Fried shallots are then sprinkled on the top to complete the dish.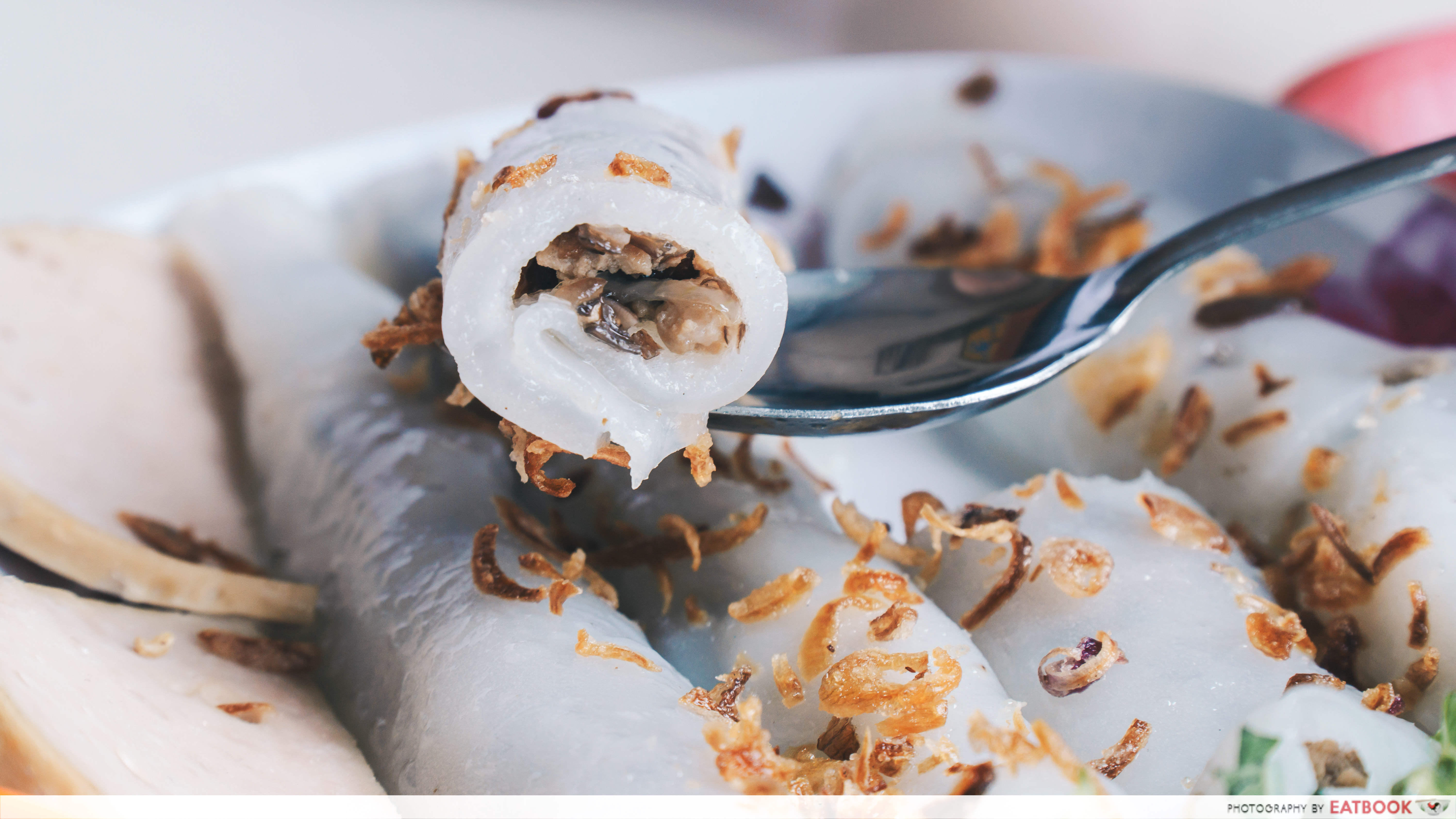 The black fungus and minced pork were seasoned lightly before they were wrapped. Each time I bit into the rice roll, the black fungus gave a satisfying crunch. The filling tasted nice on its own, but they could have done a better job with the ratio of rice wrap to fillings. Dipping it in the chilli sauce was a game changer. The sweetness and sourness of the chilli sauce made a great addition in flavour to the plain rice wrap.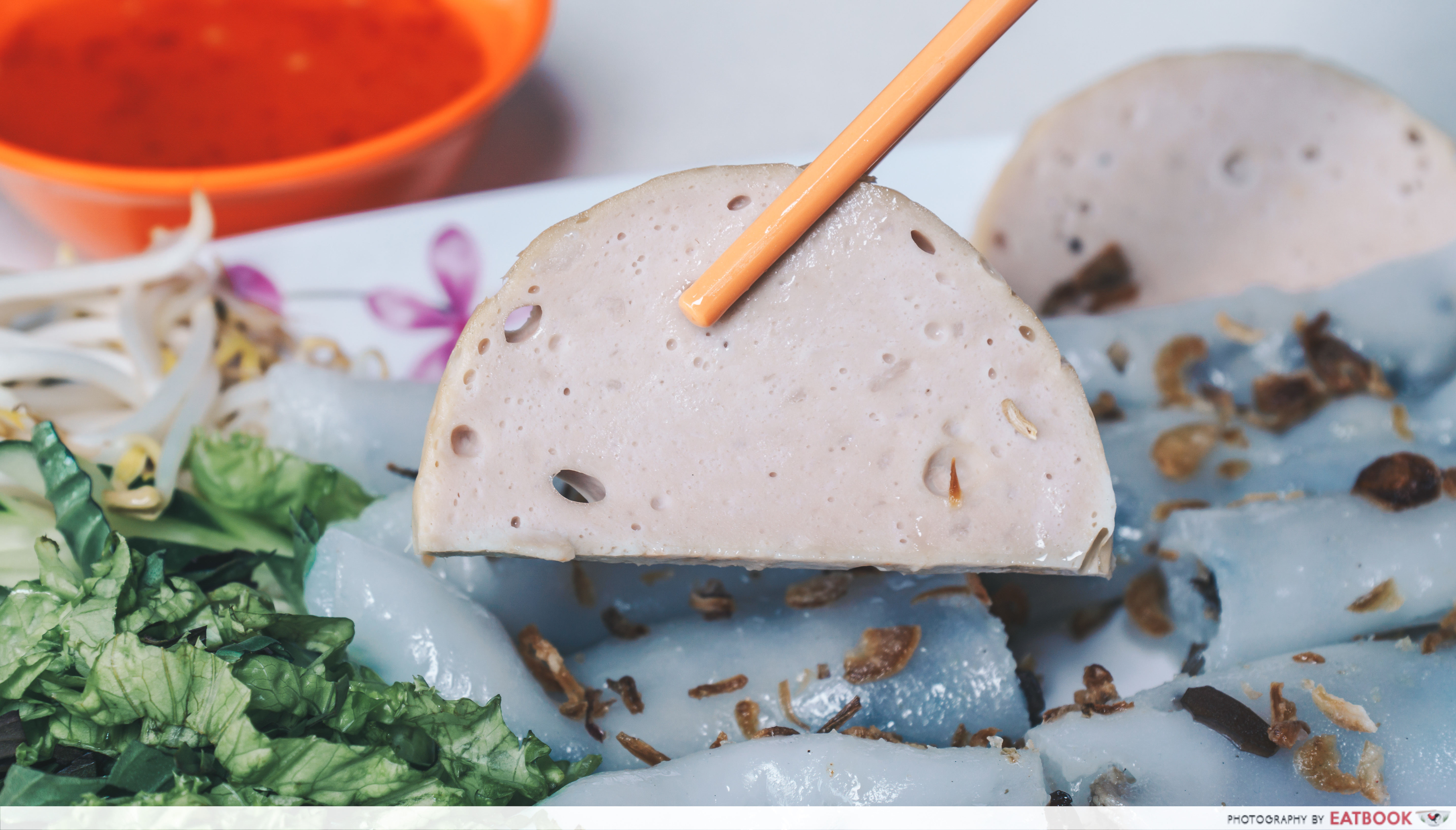 The Vietnamese sausage did not appeal to me. It had a rubbery texture, giving my jaw a good workout. There was an initial nutty taste, but towards the end, I was hit with a really strong flavour of pork.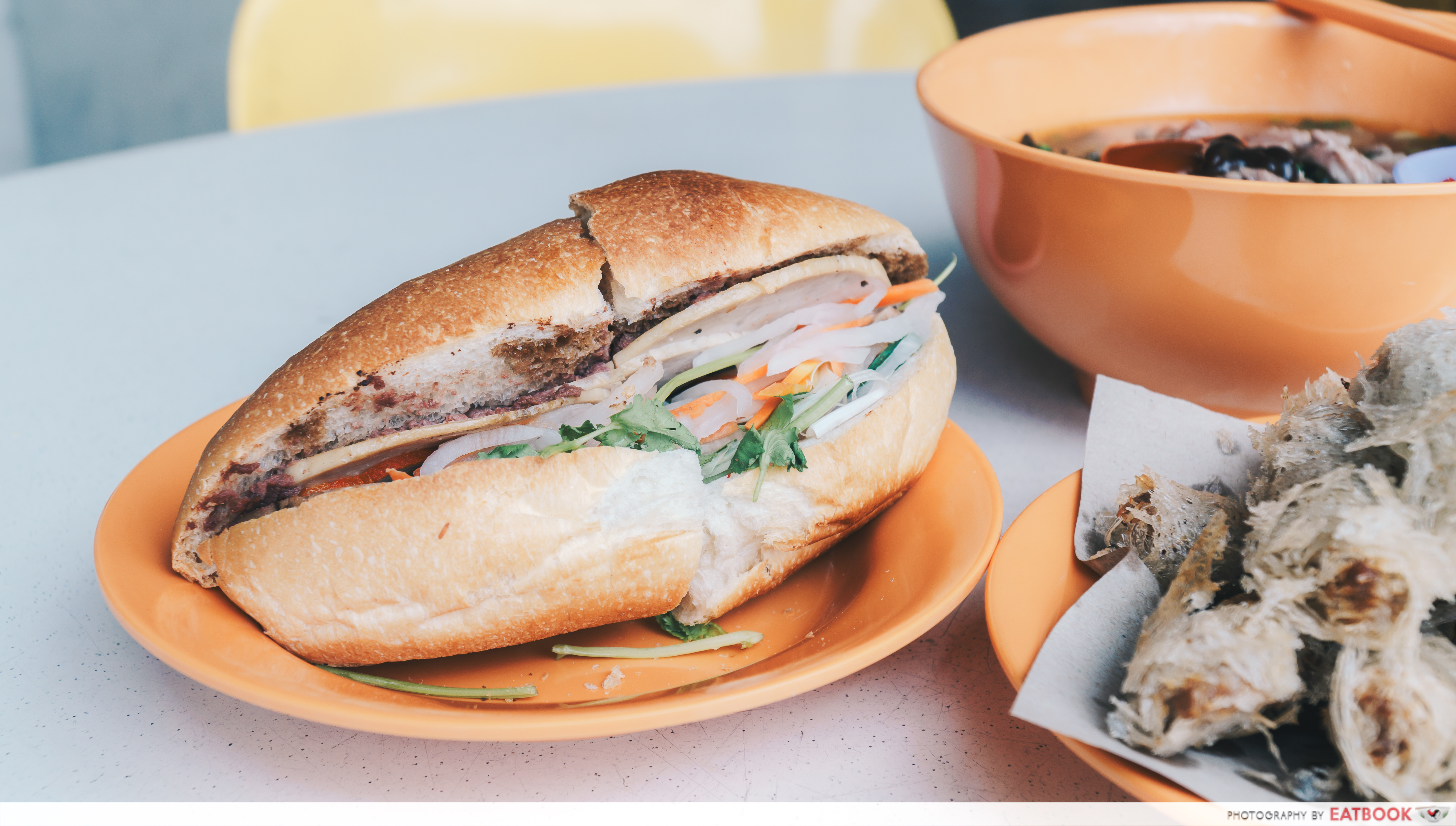 Coming right after was their Bánh Mì Thịt (Pork Bread) ($5). The moment it was placed in front of us, a fragrant aroma from the baguette got us eager to try it. However, it was quite a challenge to yank a bite off as the bread was pretty tough.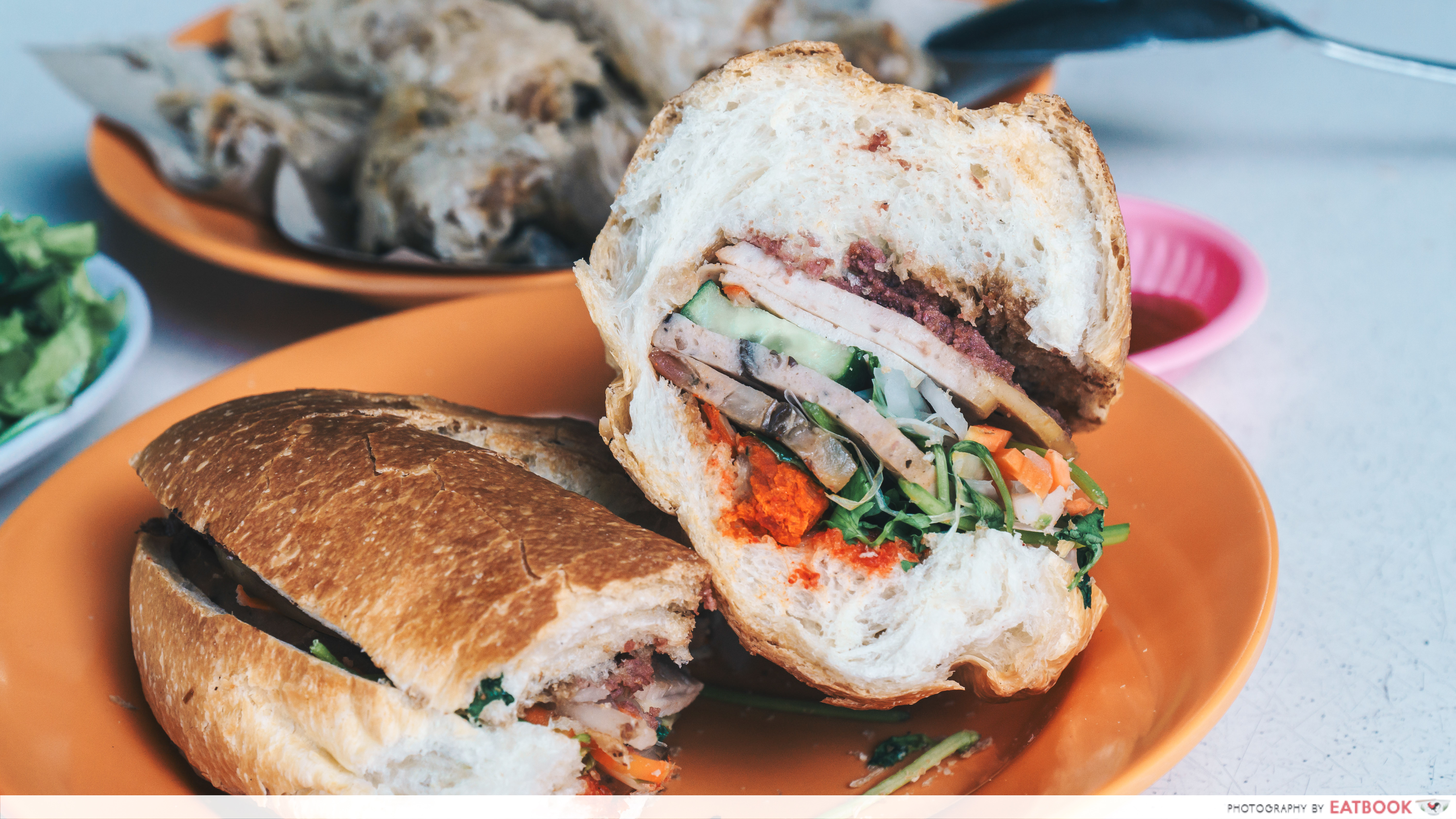 Sandwiched between the baguette were pork slices, Vietnamese sausage, cucumber, carrot, onions, bean sprouts, chilli paste, and a house-made special – cow lung paste. The taste of the cow lung paste was not strong and it went well with the other ingredients. So if you are adventurous, you can give this dish a try!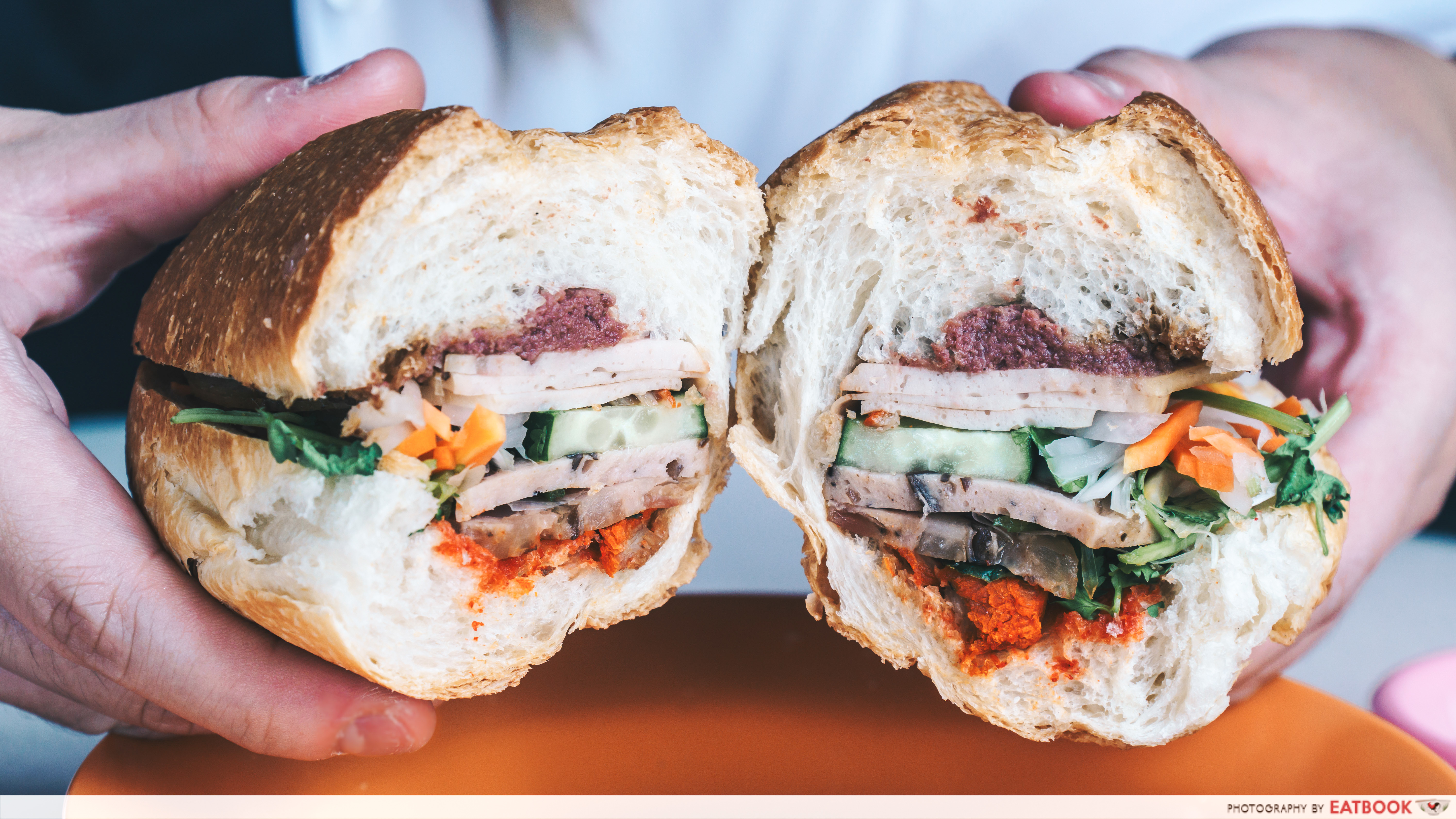 The pork slices were thinly sliced, and they come with a thin layer of fats. They tasted sweet, but when eaten together with the baguette and other ingredients, it was hard to detect the pork's taste.
There was also a tinge of spiciness from the chilli paste. The level of spiciness is just right for spicy food lovers but you might want to request for less or none of the chilli paste if you're not good with spicy food, or if you're ordering it for kids.
Lastly, we had their Chả Giò (Fried Spring Roll) ($10). With a plate consisting of at least 12 fried spring rolls, this dish offers value for money.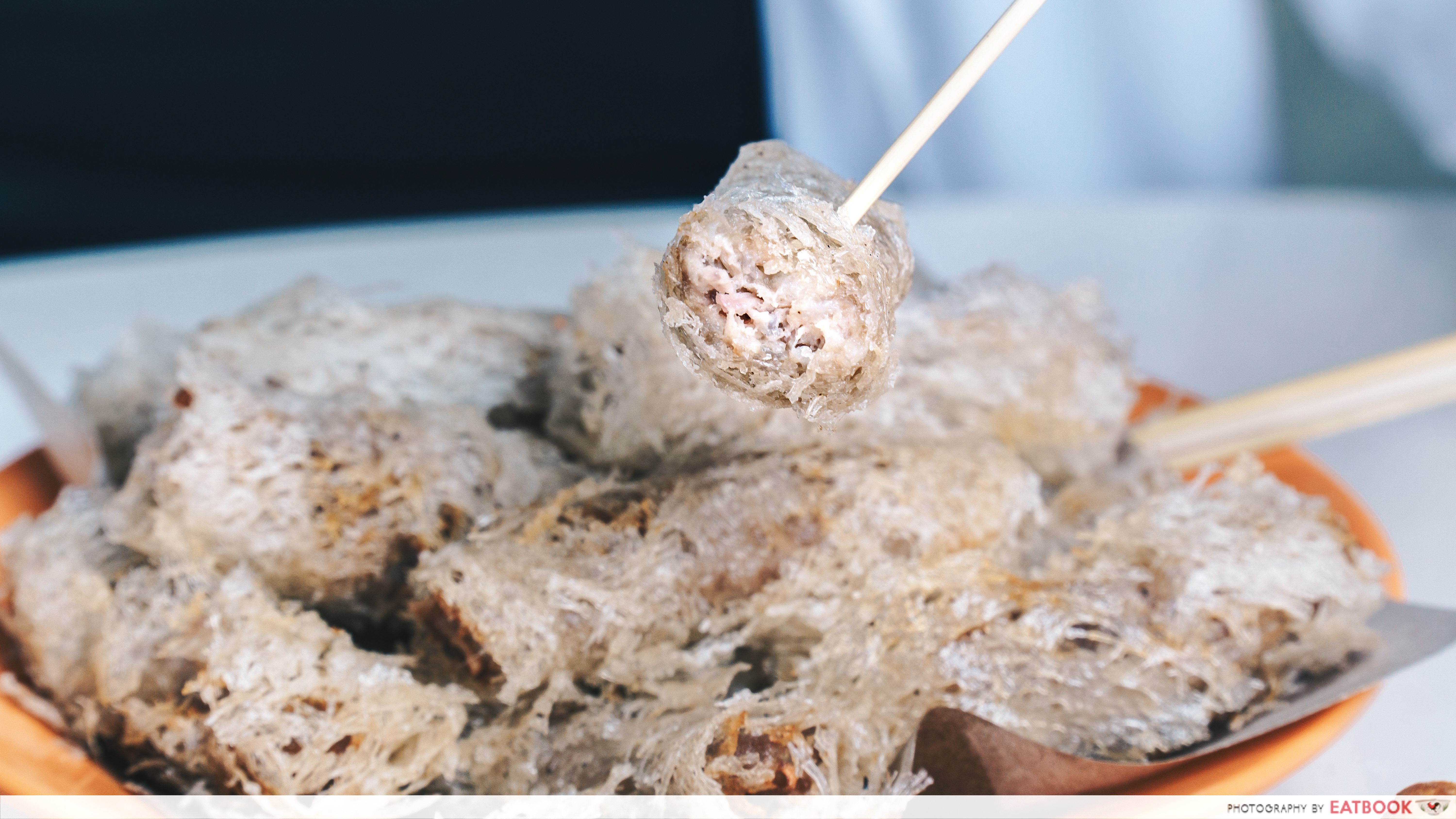 The fried spring roll was extremely crispy, producing a good crackling as I bit into it. Even when left untouched for a while, it still delivered the same type of crispiness.
The inside of the spring roll was made up of a bunch of onions and minced pork. The fried spring roll was very fragrant due to the generous amount of onions in it. It was also not too oily, so eating more than half of the fried spring rolls served should not be a problem.
Ambience at Vietnamese Favourites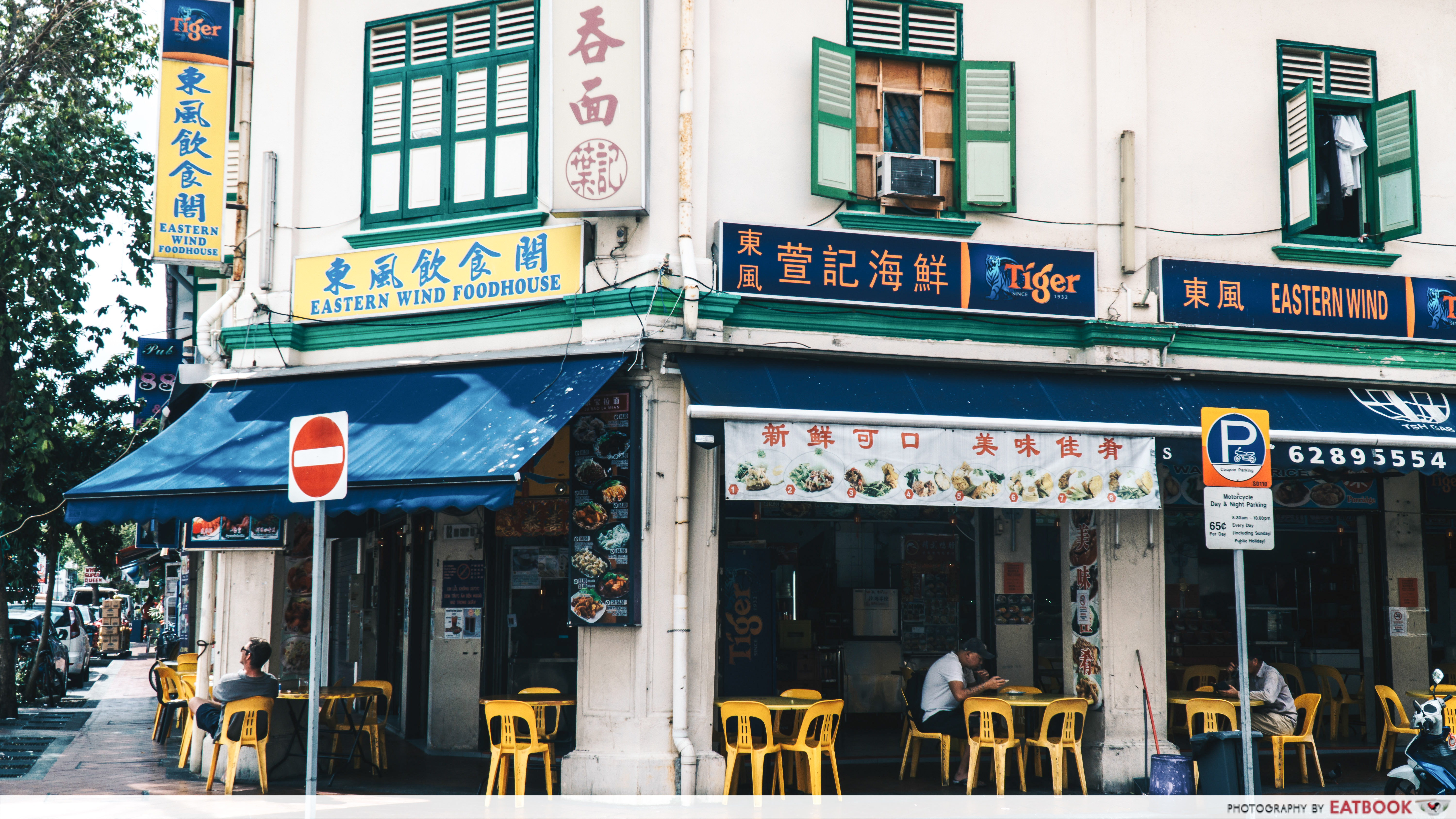 Eastern Wind Foodhouse houses other food stalls apart from Vietnamese Favourites. There are stalls selling la mian, Indian food, and zi char. Grab your wallet as you get ready to feast on a table full of dishes from different cuisines!
The verdict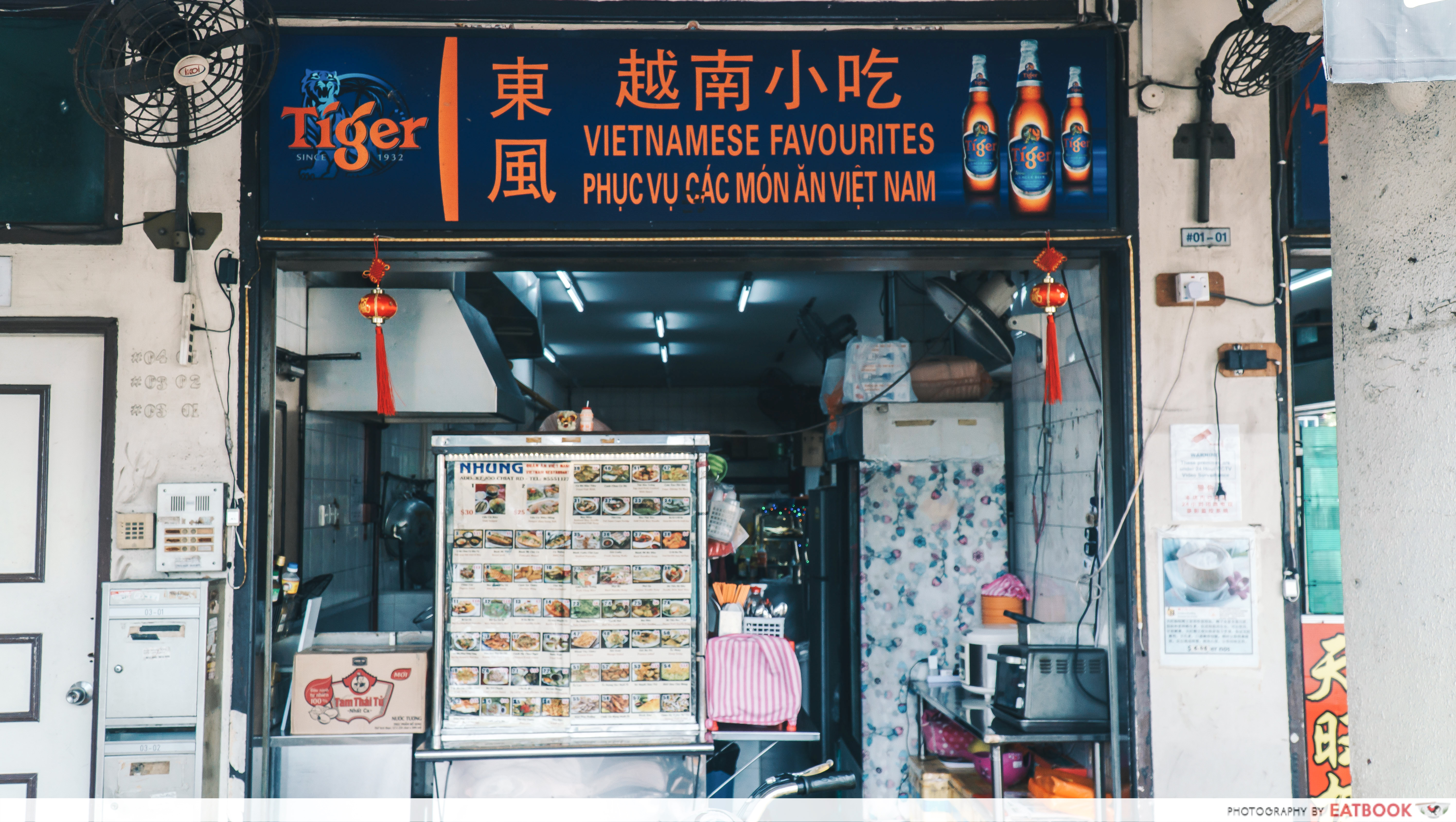 On a whole, the food at Vietnamese Favourites is value-for-money considering the portions provided. I was satisfied with my meal, although there is still room for improvement for some dishes. Eating here really brought back the memories I have of Vietnam.
As this stall is run by a Vietnamese, communicating with the stall owner in English might be a bit of a challenge. If possible, it'd be better to converse with her in Mandarin or Cantonese. Her cousin, who runs the stall together with her, is relatively fluent in Cantonese, so she will be able to help translate.
If this place piqued your interest in Vietnamese food, check out our review on Saigon Food Street, a hawker stall that sells pho at only $2.50, and our list of cheap pho eateries with pho at $10 or less!
Address: 82 Joo Chiat Road, Eastern Wind Foodhouse, #01-01, Singapore 427379
Opening hours: Daily 11:30am to 12:30am
Tel: 8555 1127
Vietnamese Favourites is not a halal eatery.
This is an independent review by Eatbook.sg
Summary
Pros:
– Filling portions
– The broth of Phở Bò (Beef Pho) was flavourful
Cons:
– Bánh Cuốn Chả Lụa (Stuffed Pancake) was very oily
– Baguette in Bánh Mì Thịt (Pork Bread) was tough
Recommended dishes: Chả Giò (Fried Spring Roll) ($10)
Operating hours: Daily 11:30am to 12:30am
Address: 82 Joo Chiat Road, Eastern Wind Foodhouse, #01-01, Singapore 427379