Saigon Food Street gives you a pho fix at $2.50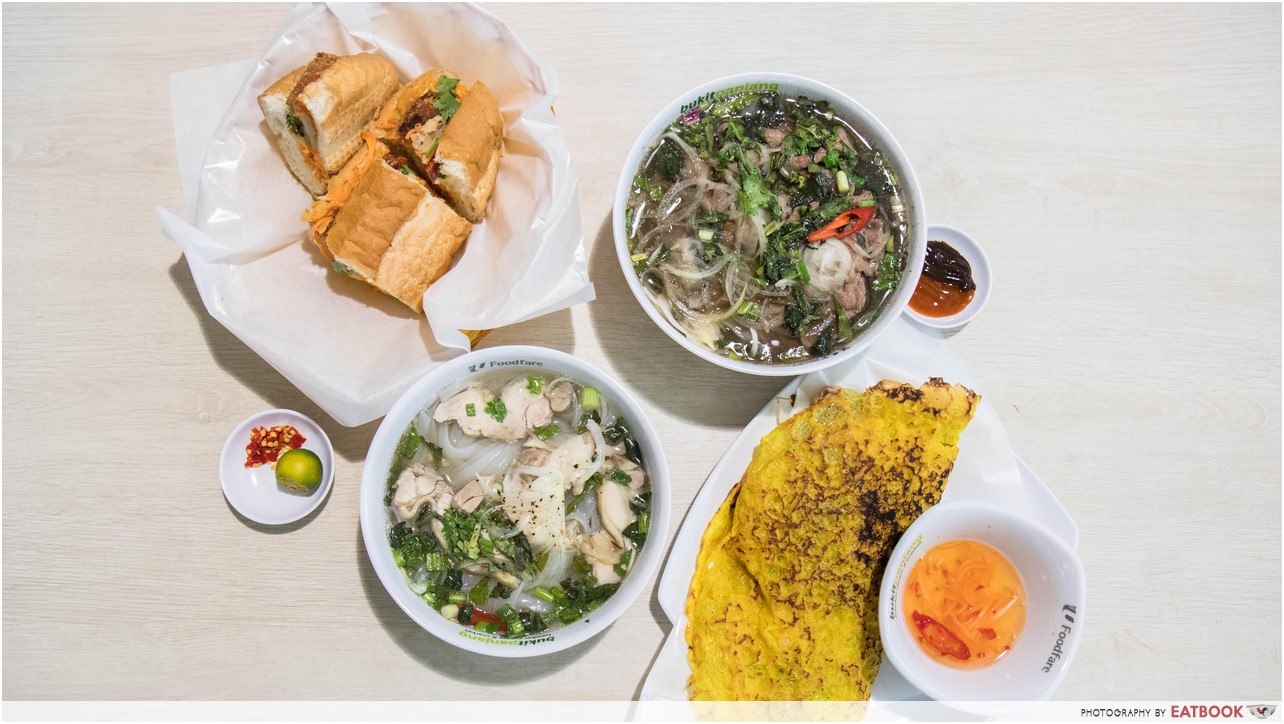 Mention Vietnamese cuisine and your friends will probably mention pho. It's easy to see why this dish has quickly seduced and comforted many – its fragrant broth, springy rice noodles, and meat are more than enough reason for us to love it. But it takes a lot more than just plain ol' good food to impress. Food has to be both delicious and affordable before the crowds start talking. At Saigon Food Street, you'll find what sparked the motivation behind our visit: pho that's priced at $2.50.
Food at Saigon Food Street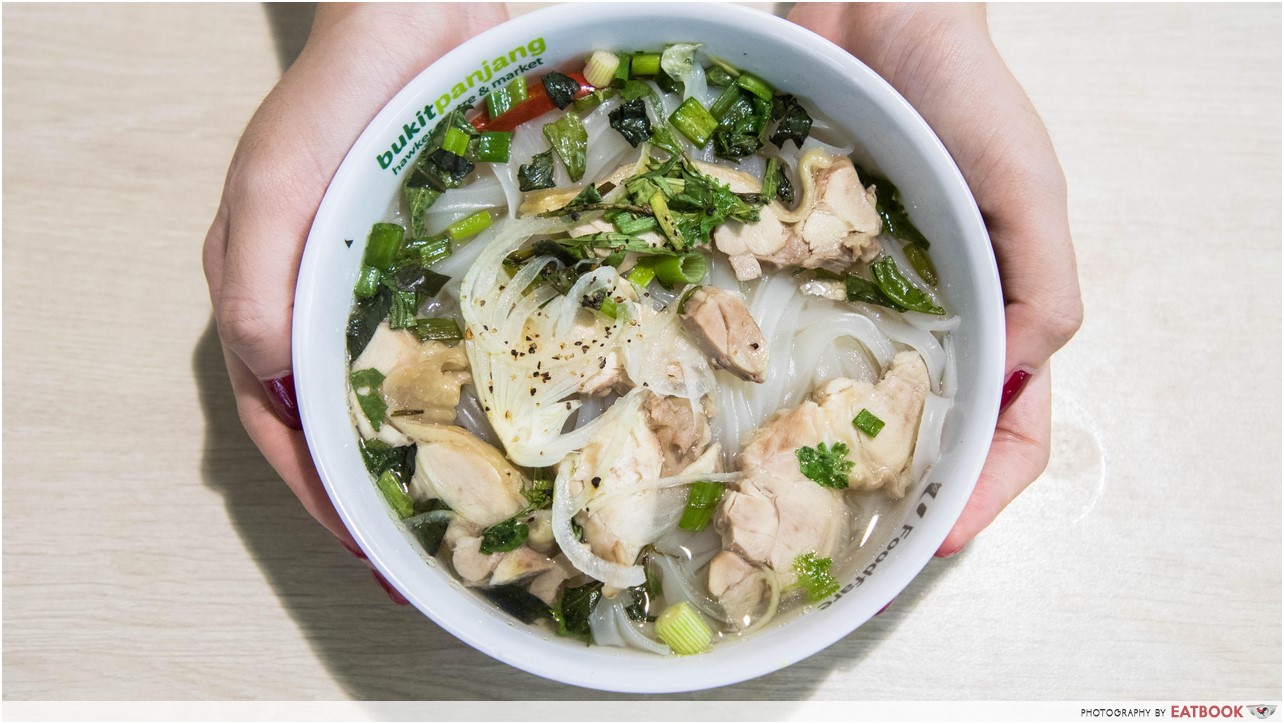 Before Bukit Panjang Hawker Centre & Market opened, the lady boss and chef of Saigon Food Street was hustling at Nam Nam Noodle Bar. She worked in the kitchen and trained new chefs for two years before calling it quits, and opened her own stall with her husband once the hawker centre was ready for operations.
We started things off with the star of the show: Pho with Chicken ($2.50 for small, $5 for regular). I didn't search for any photos prior to our visit as I didn't want to be disappointed by the size of the dish. Turns out, I had nothing to worry about. The bowl we got was pretty substantial for its price. Aside from chicken, they also have pho with beef, beef balls, wanton, or pork at the same price.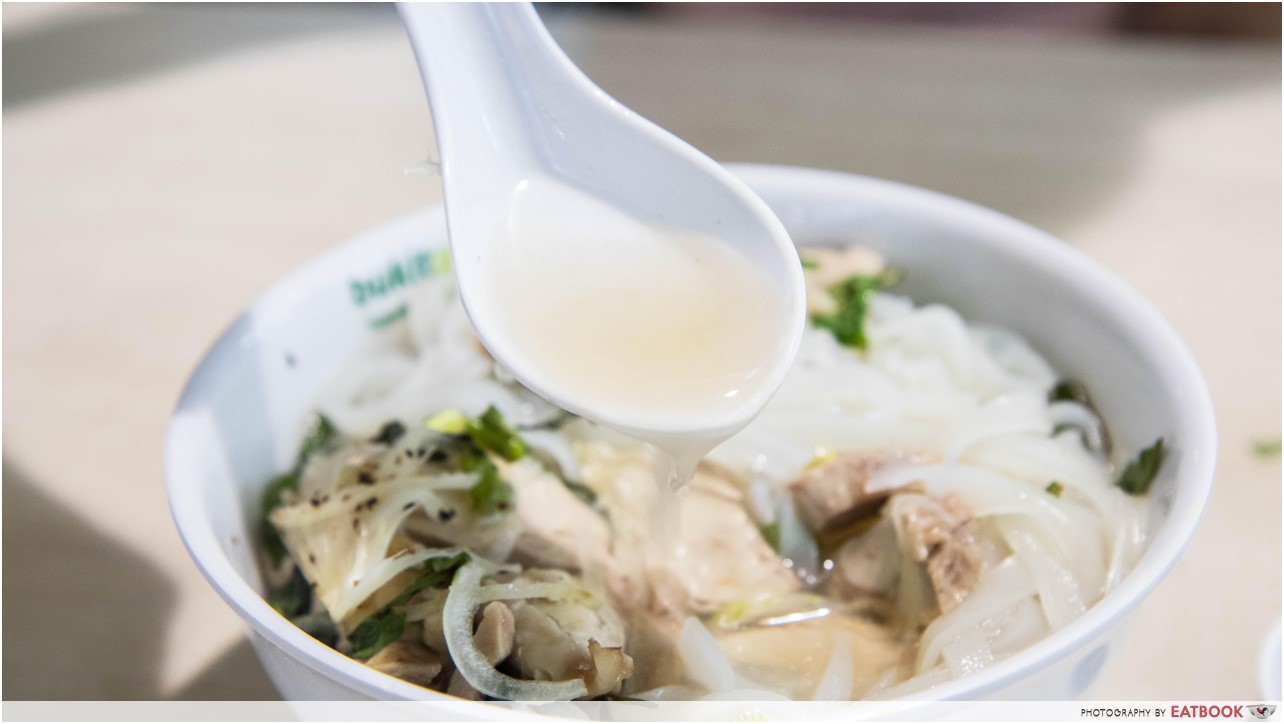 Pork bones are used to create the broth of the chicken pho, and the first sip was a lot sweeter than I expected. This light broth bore tastes of star anise and cinnamon, and a slight savoury flavour laced through the soup. It's the type of soup you could finish down to the last sip.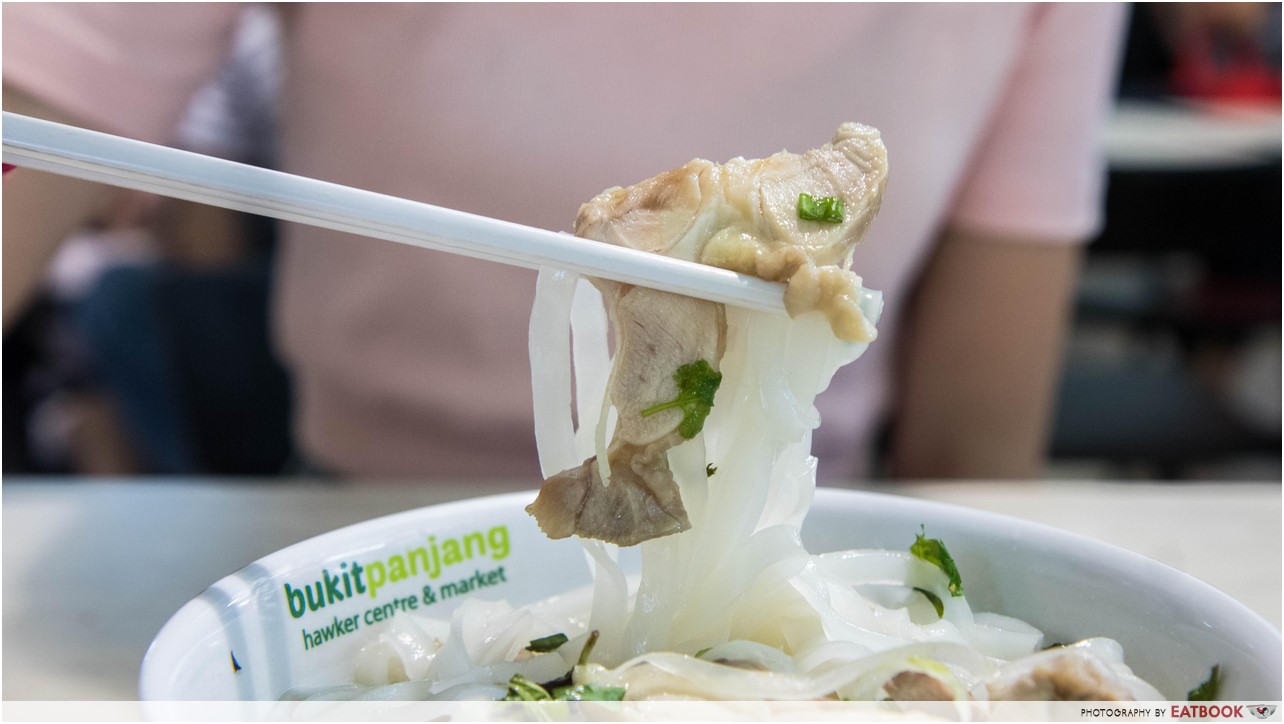 The noodles used in all of Saigon Food Street's pho are shipped in from Vietnam. These are as slippery as the chu mi fen (thick beehoon) used in laksa. Even though they've been soaked in the soup for a while, they didn't turn soggy or limp, and had the texture of half-cooked kueh tiao. While I could see its appeal, I prefer noodles with a chewier texture.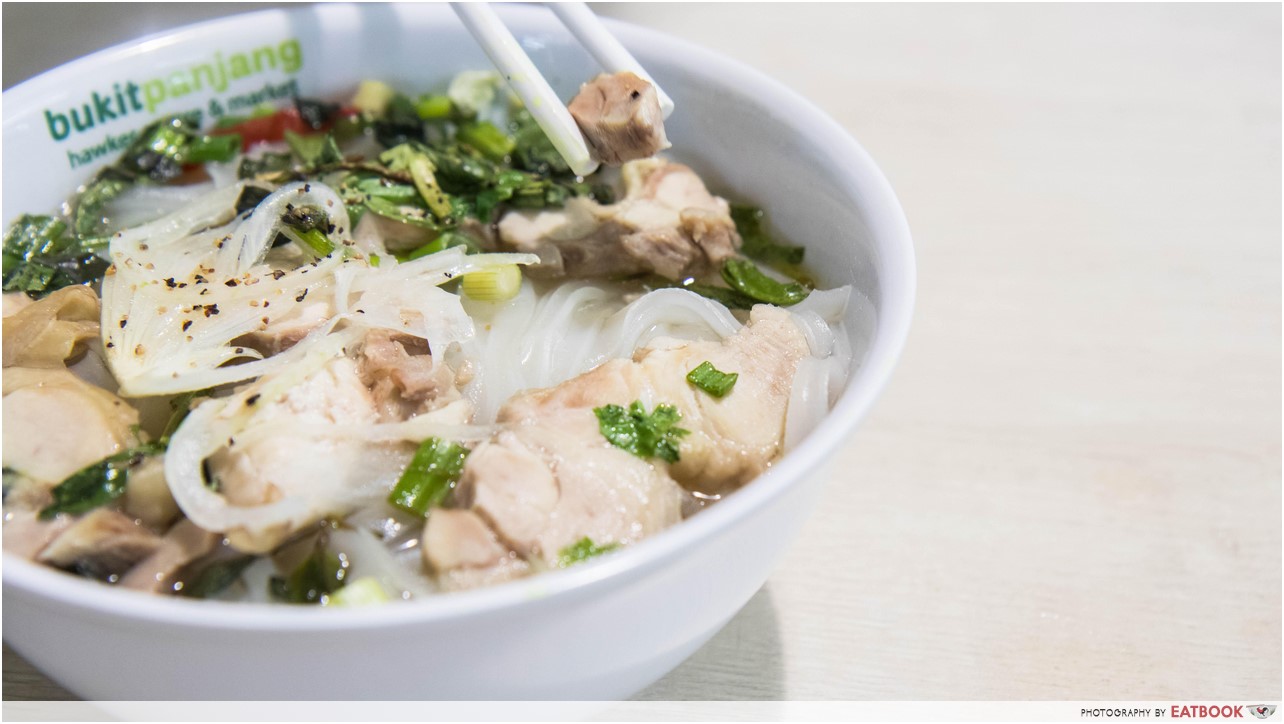 The only difference between the $2.50 and $5 bowl is the quantity of the meat served. But that didn't pose much of a problem for us since the chicken in our $2.50 bowl covered a good half of the bed of noodles. These slices of chicken deserve a shout-out for being tender and slightly fatty, similar to a cut you'd get on a plate of chicken rice. They were also seasoned to lean on the salty side, which added to the flavour of the dish.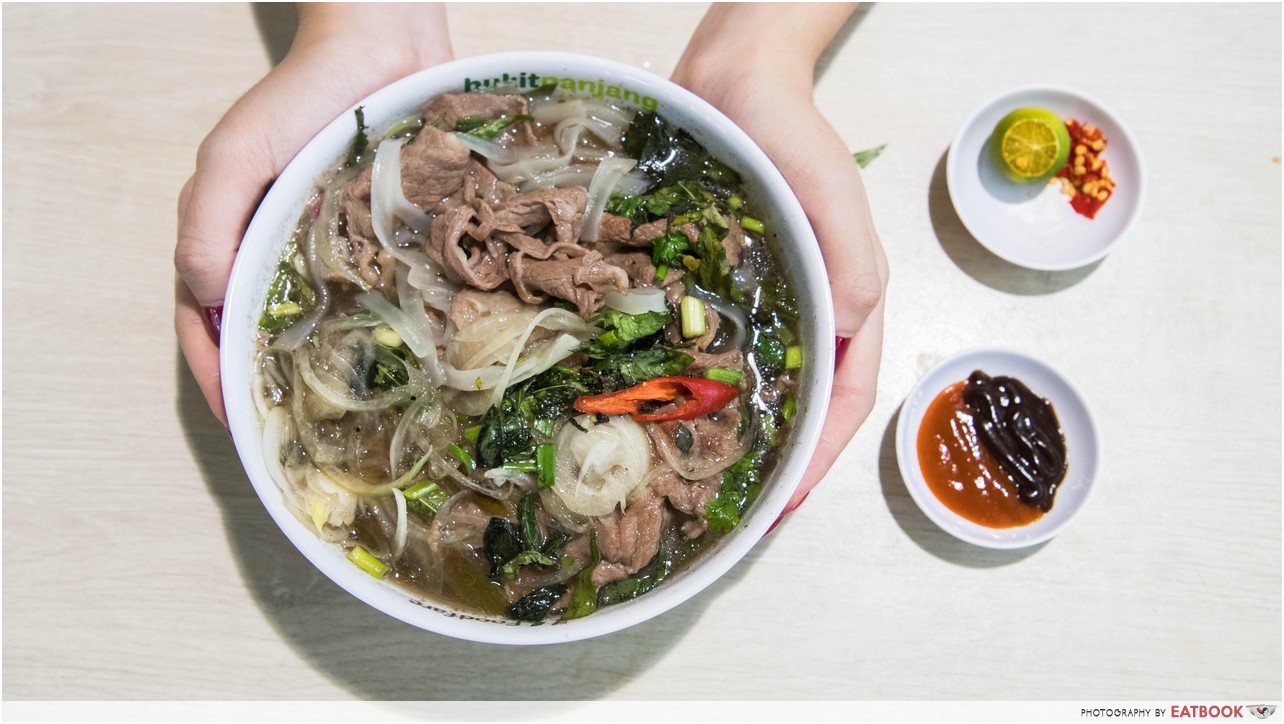 We then tried a more premium option on their menu: Pho with Wagyu Slices ($8.50). This is a dish that isn't around all the time; its availability depends on when they bring this cut of beef in. You could drop the owners a phone call at 9794 3631 to see if they have it on the day you're planning to go down.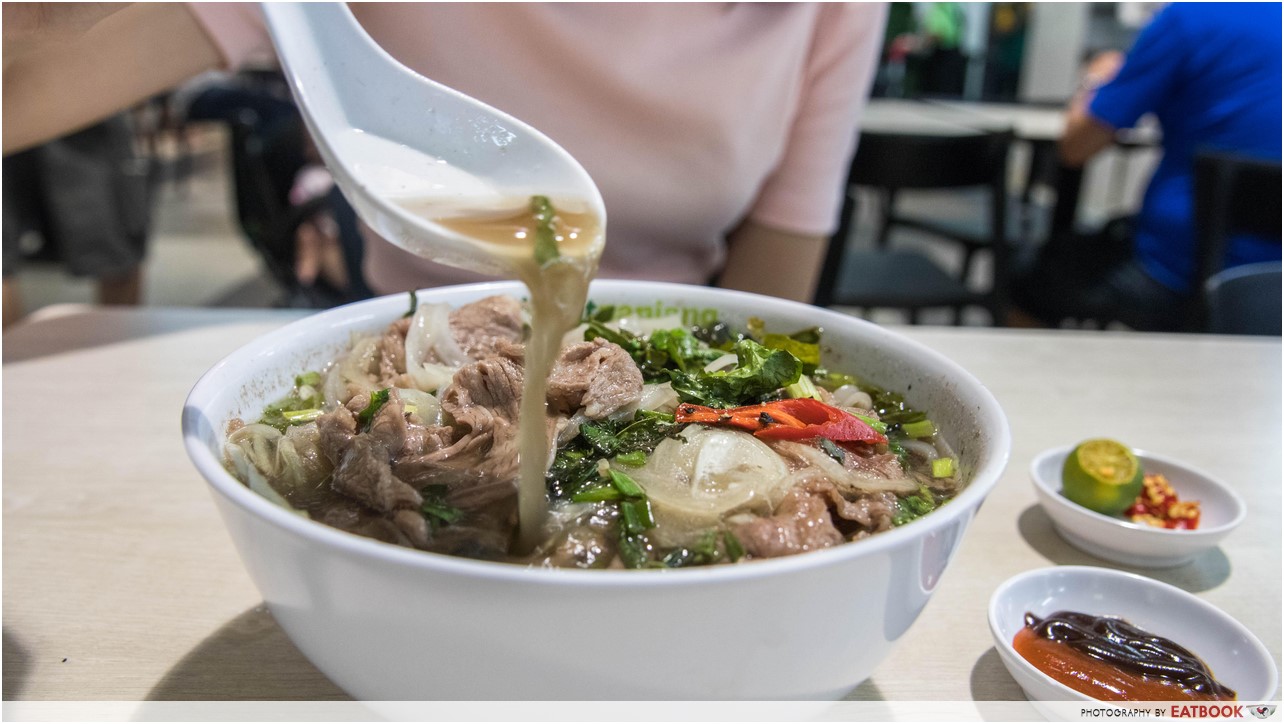 For this broth, beef bones are boiled overnight to achieve a stronger flavour. But don't let its cloudy appearance fool you – it was much lighter than it seemed. Perhaps it's because I'm used to heavy, dark broths that accompany beef, so I didn't enjoy this as much as I wish I had. The soup had a lingering sweetness and wasn't oily, so you'll be able to finish off the soup.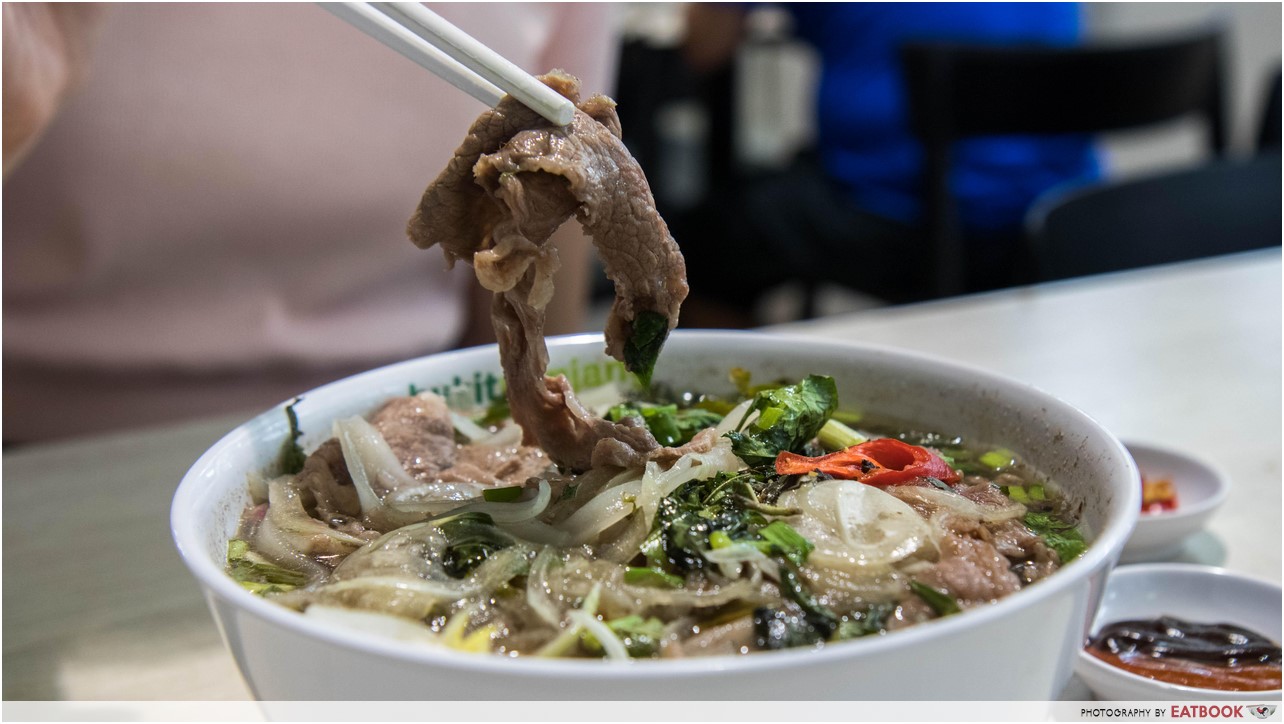 I'll admit I was a little disappointed when the wagyu slices came cooked, as I like my beef medium rare. It also made me feel that the owners weren't confident of putting out raw slices of beef. That aside, the beef turned out to be creamy and superbly tender, so I guess you can't judge a book by its cover. The price might seem a little steep compared to the chicken pho, but you get quite a generous amount of beef in this one!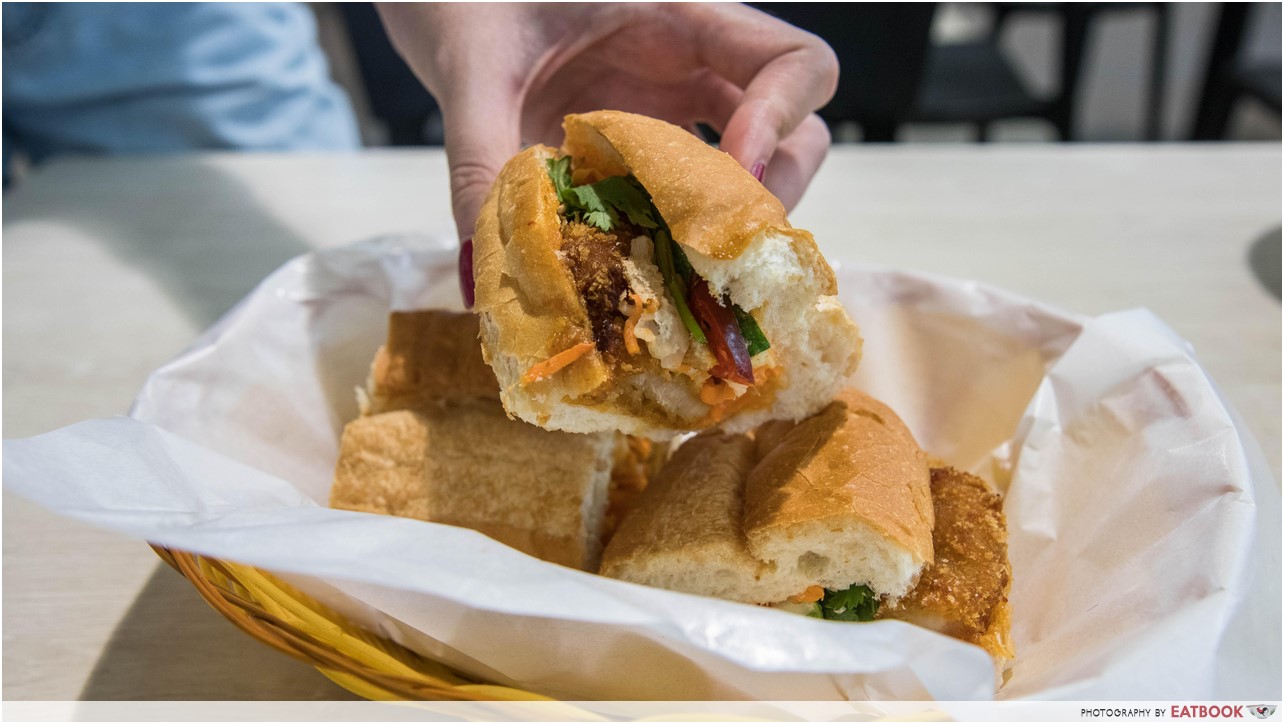 What's special about their Pork Banh Mi ($4.50) is the bread. Baked by a Vietnamese friend of the owners, this bread is crusty and doesn't falter into sogginess even with the sauce. Unlike any bread I've ever eaten, this just crumbled and melted away in my mouth, so if you're a fan of chewy bread, you might not fancy this one.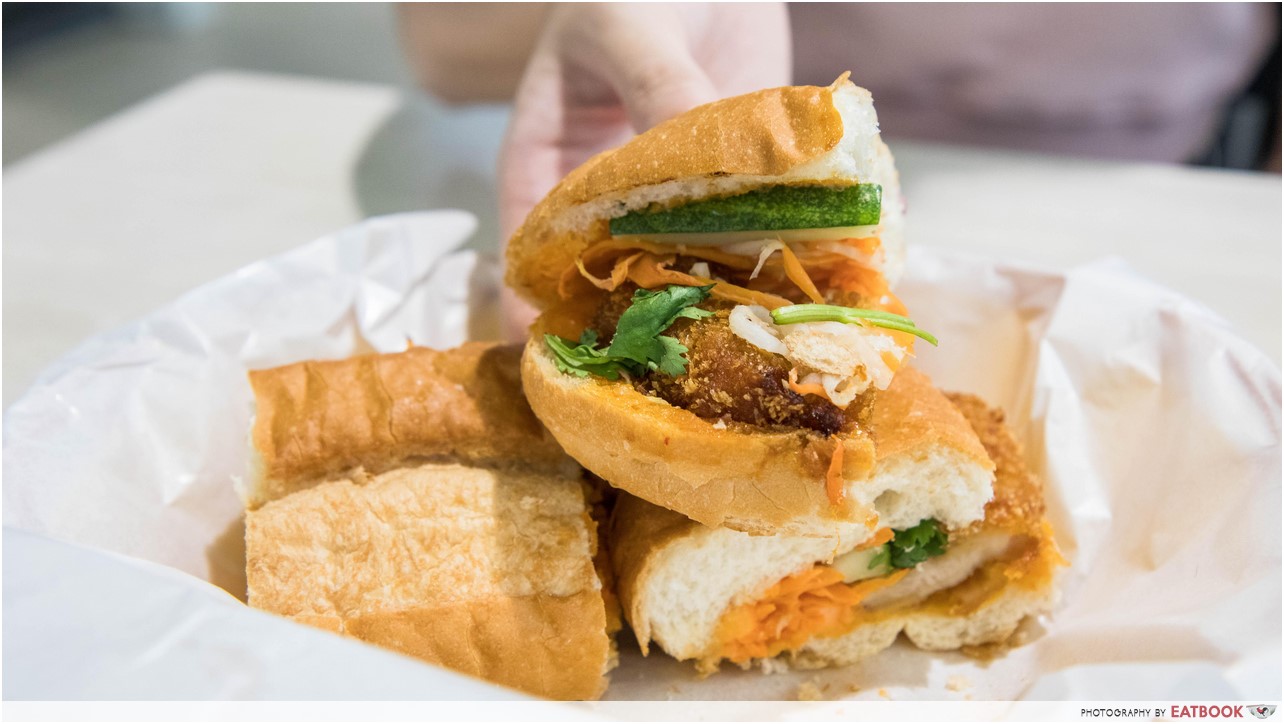 Inside, it's packed with shredded carrots and cucumber, a fried and breaded pork patty, and house-made sauce. The pork patty looked like it had just the perfect amount of breading, but turned out to be rather tough in texture. Nothing really stood out except for the bread, so I might try their chicken or ham banh mi instead when I drop by in the future.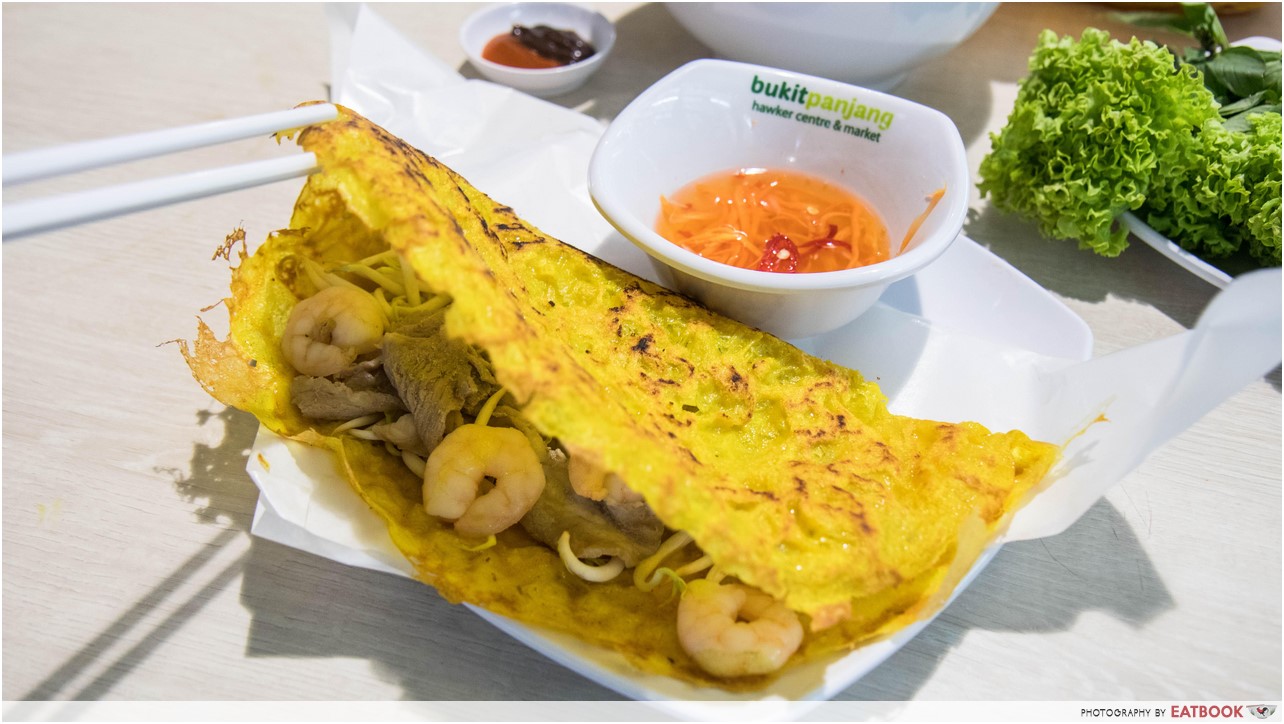 Their Banh Xeo ($5) was the first of this Vietnamese dish that I'd ever tasted, so I had no idea how to approach this at all. I was instructed to tear off a little mouthful, wrap it in lettuce and dip it in the sauce provided. Doing as I was told would supposedly result in a burst of sweet and savoury flavours, but somehow the dish didn't meld well together for me. The crunchy prawns, overly chewy pork, bean sprouts, and crispy pancake felt like a random bunch of ingredients that were thrown together on a plate and served.
Ambience at Saigon Food Street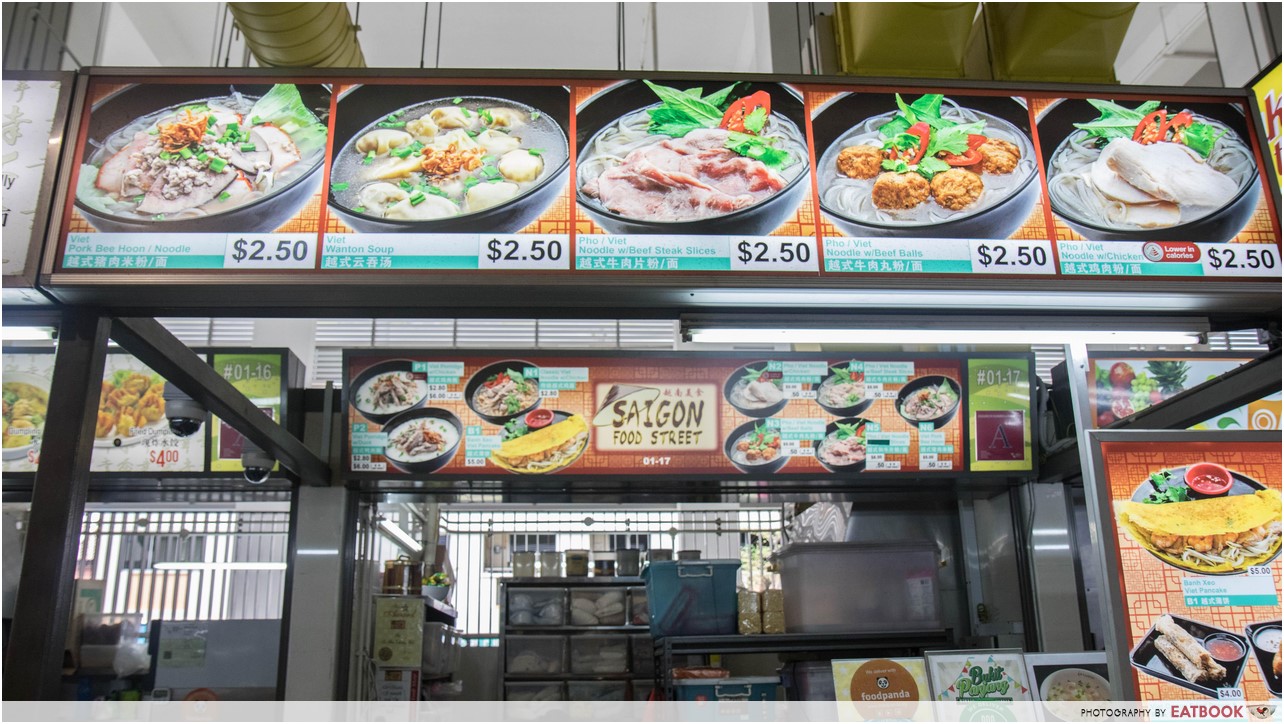 Saigon Food Street is housed in Bukit Panjang Hawker Centre, and the nearest LRT Station is Pending Station. The hawker centre is ventilated well so we didn't leave smelling like food, and it has ample seats for the crowds.
The verdict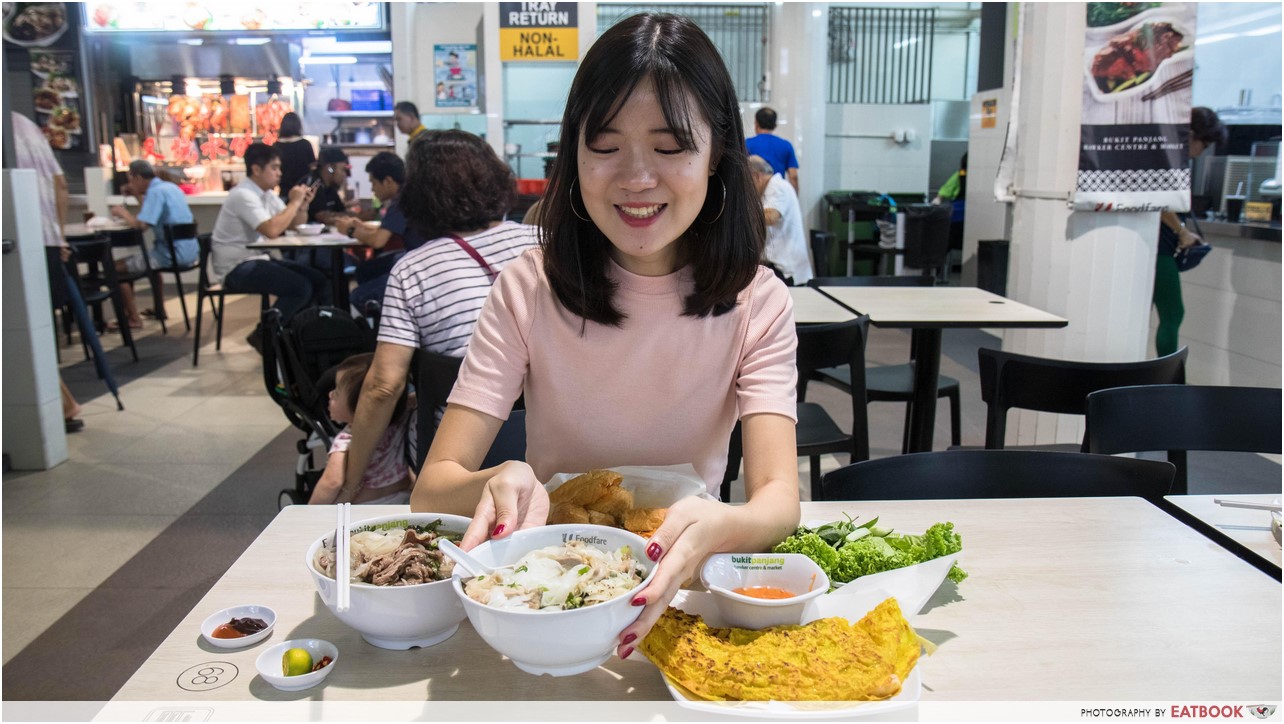 With such affordable pho, I know where I'll be eating the next time I'm in the area. There's no better place to hit up if you're looking for a good bowl of pho that will fill you up and go below your lunch budget! For more affordable pho, check out our list of cheap pho eateries. If you prefer having your pho in an air-conditioned restaurant, drop by Pho Stop or Mrs Pho!
Address: 259 Bukit Panjang Ring Road, #01-17, Bukit Panjang Hawker Centre and Market, Singapore 671259
Opening hours: Daily 8am to 9:30pm
Tel: 9794 3631
Saigon Food Street is not a halal eatery.
This is an independent review by Eatbook.sg.
Summary
Pros
– Affordable Vietnamese food
– Friendly owners
Cons
– Inconvenient location
– Wagyu beef pho is not available daily
Recommended Dishes: Pho with Wagyu Slices ($8.50)
Operating Hours:
Daily 8am to 9:30pm
Address: 259 Bukit Panjang Ring Road, #01-17, Bukit Panjang Hawker Centre and Market, Singapore 671259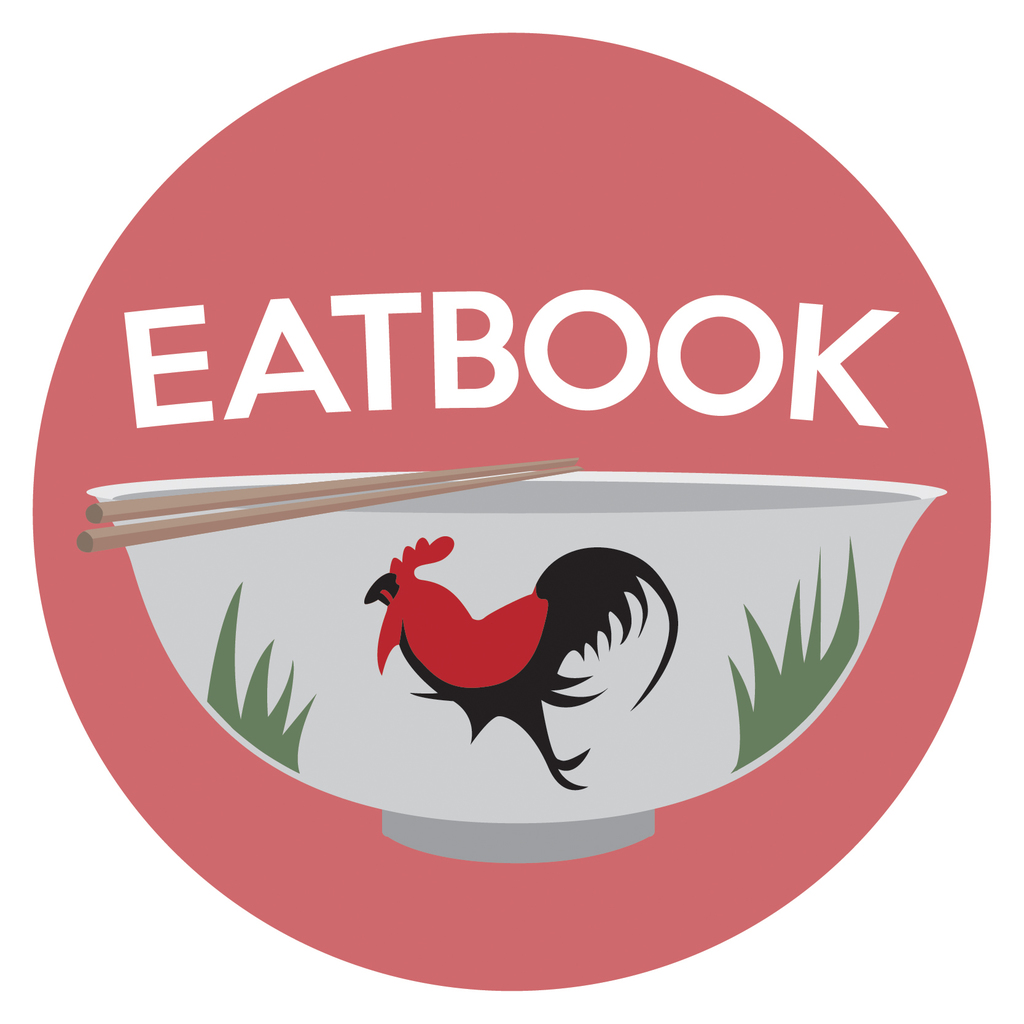 Drop us your email so you won't miss the latest news.