Wah Cai 3-in-1 Chinese Cake in JB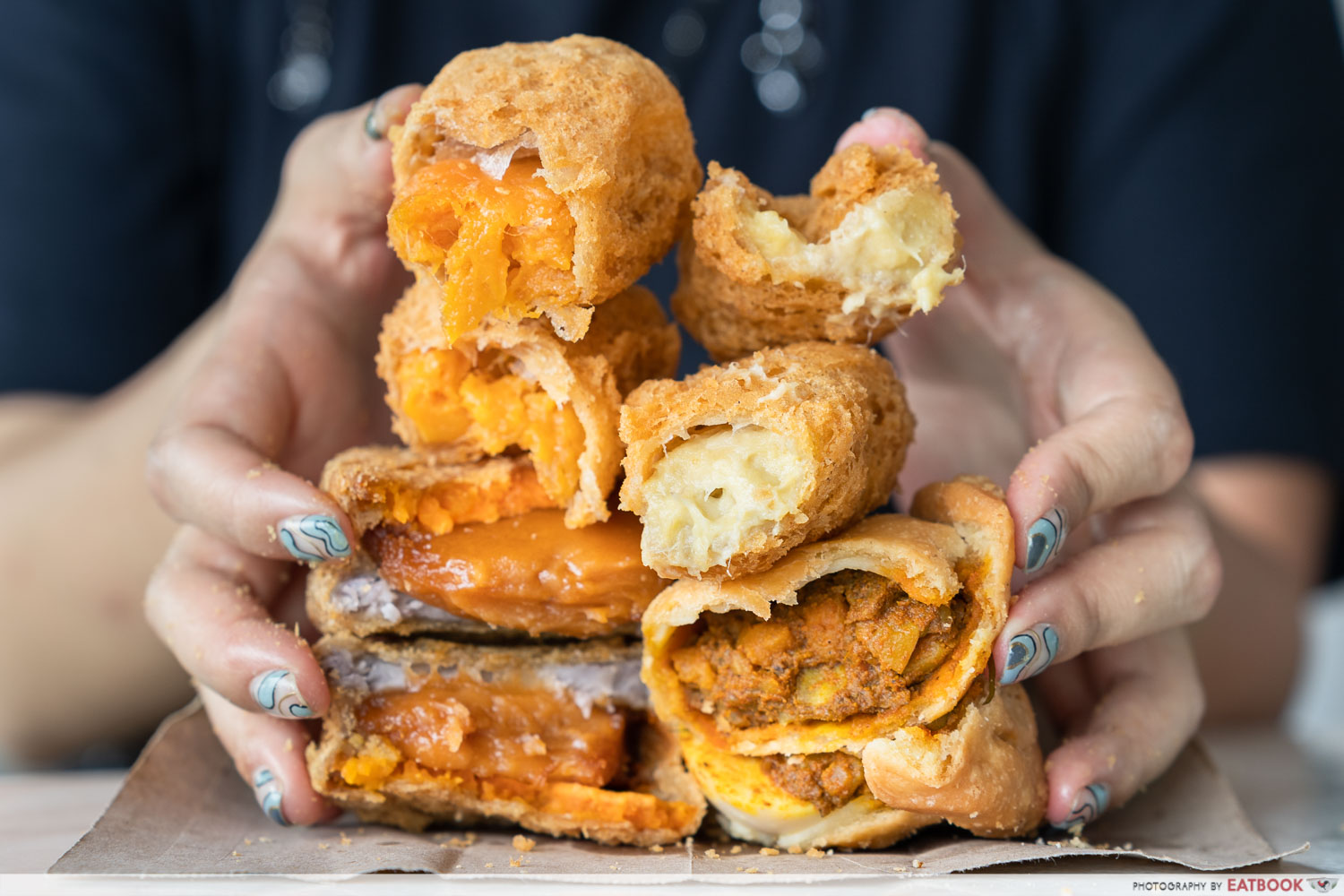 We'd come to this part of Skudai to check out Restoran Lai Kee, but found ourselves distracted by the intense queue going on next door. There wasn't much to the get-up: a simple, glass-fronted stand, massive fans blowing into the stall, and tray after tray of deep-fried fritters being tirelessly dished out of two extra-large woks. Thus was our introduction to Wah Cai 3-in-1 Chinese Cake, which we hurriedly joined the line for.
Do note that getting to the front of the line might not necessarily mean the end of the wait: we were in line for half an hour, only to discover we had to return an hour later to pick up our 3-in-1 cake.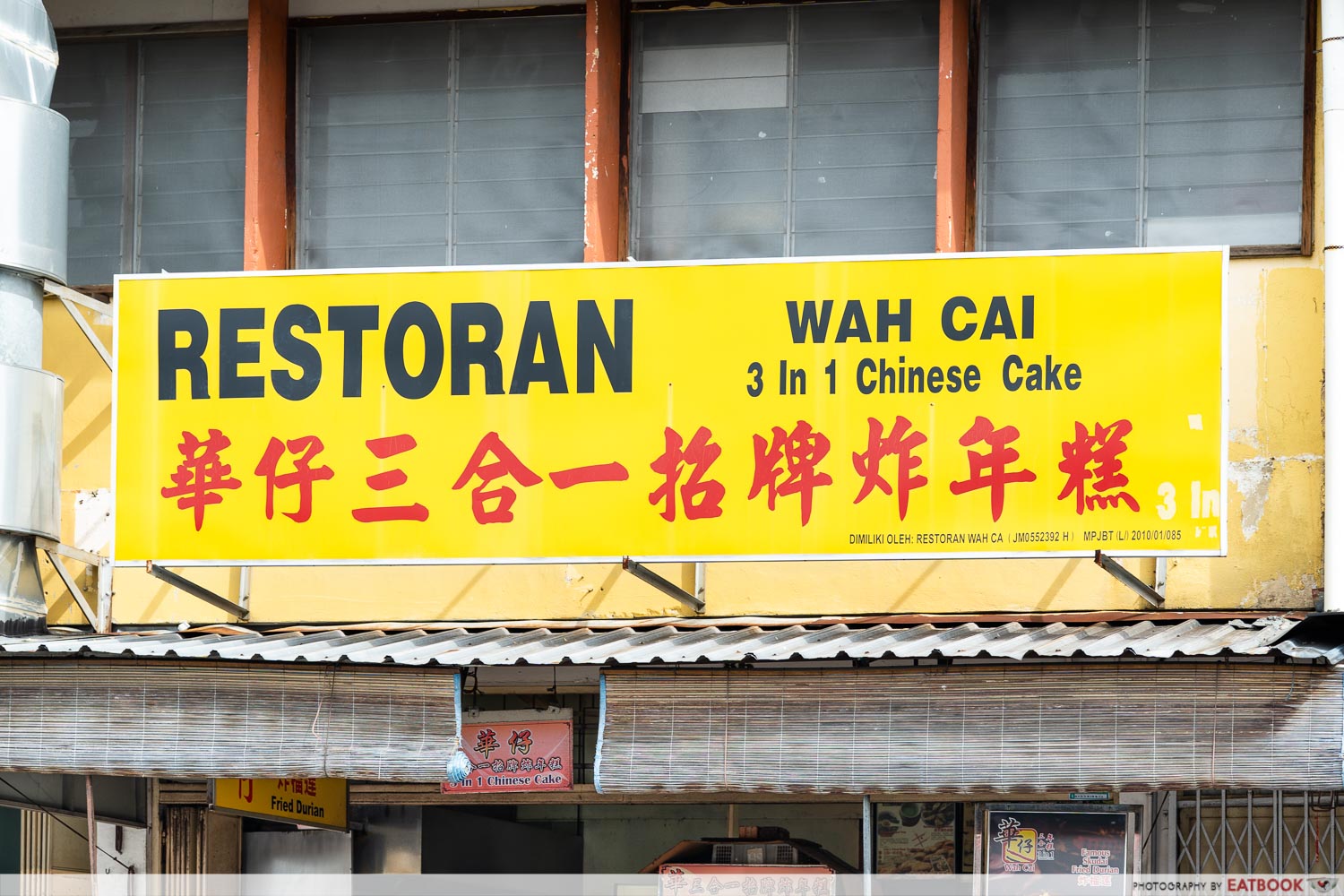 They're said to have been around since 2000, with a menu that's remained relatively unchanged since the beginning—specialising in their signature 3-in-1 Chinese Cake, or Fried Chinese New Year Cake with Sweet Potato & Yam (RM2.50/~S$0.80), Fried Cempedak (RM4/~S$1.30), and Fried Durian (RM4.50/~S$1.50).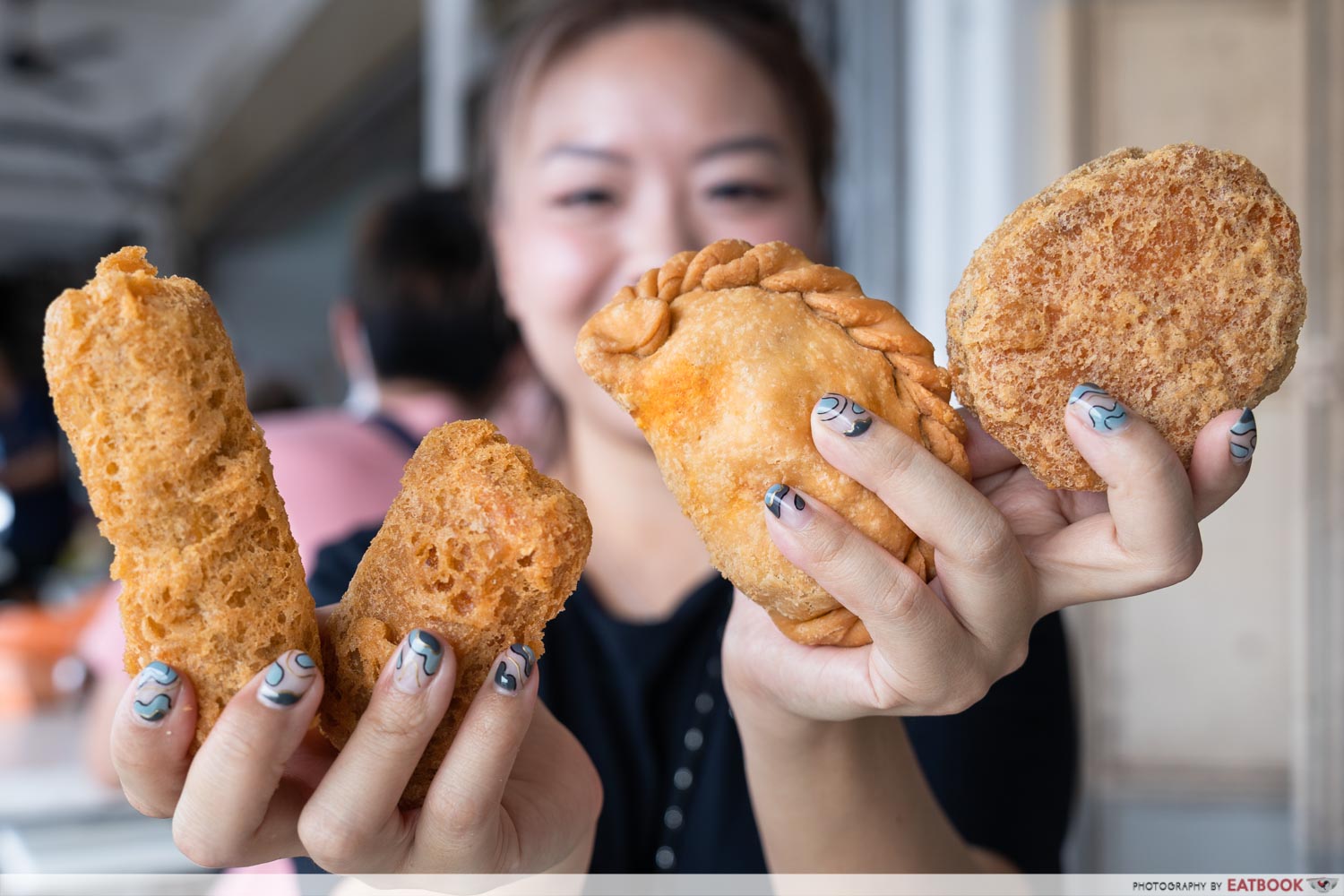 If you've seen other stalls around touting the same 3-in-1 fritter and not tried it before, consider making Wah Cai your virgin experience. They claim to be the first to have created this golden brown snack, which is a tri-layered confection comprising nian gao sandwiched between a slice each of sweet potato and yam.
18 Johor Bahru Hawker Food Stalls To Eat At During Your JB Getaway
Whichever deep-fried item you choose, besides the curry puff, it'll come in their impossibly light and airy-crunchy batter. They're also not so heavily battered that there's too much crust for you to bite through.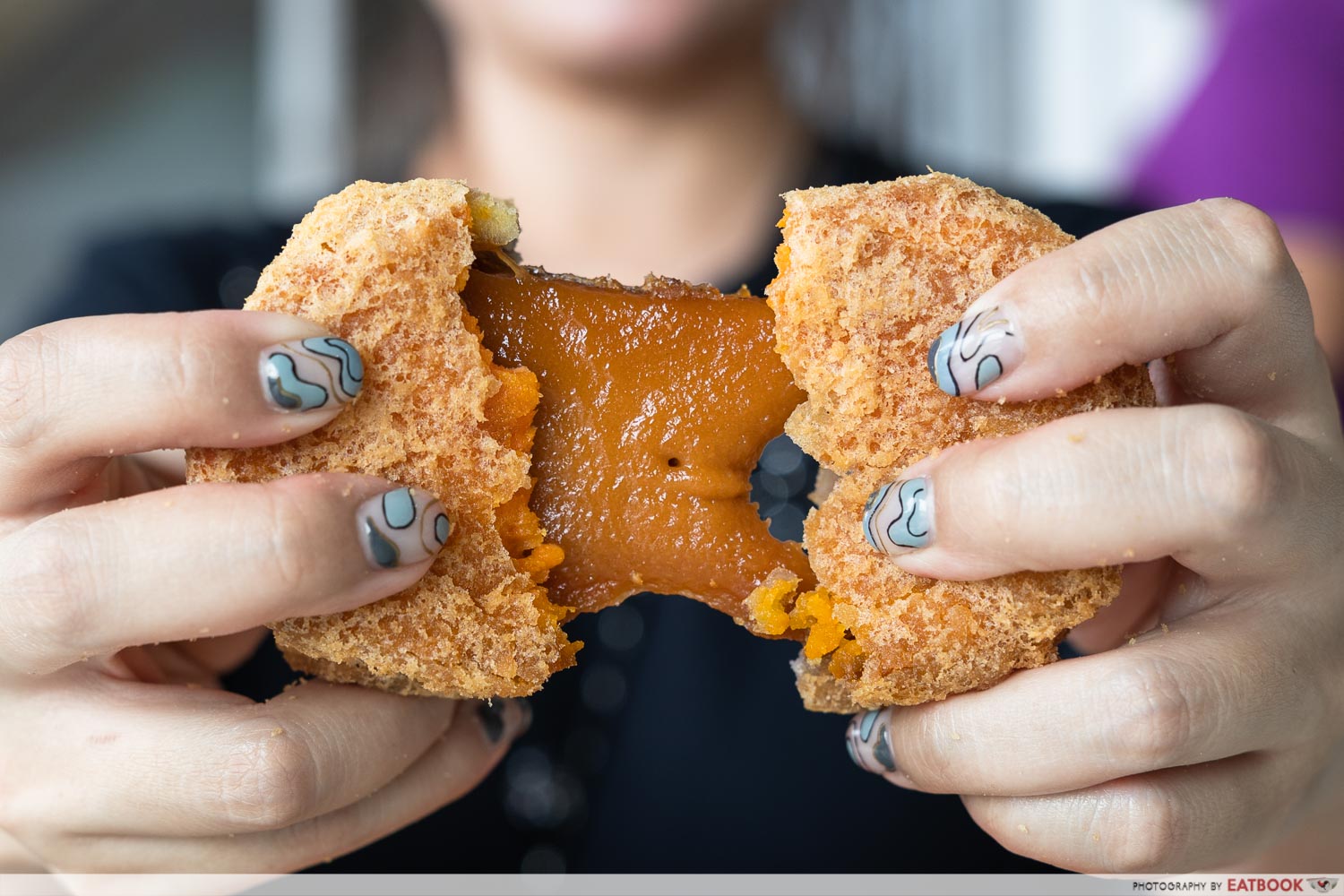 You should most definitely dig into the 3-in-1 cake ASAP for maximum gooeyness, where the house-made nian gao has melted into a sticky, sweet, caramel-ey centre.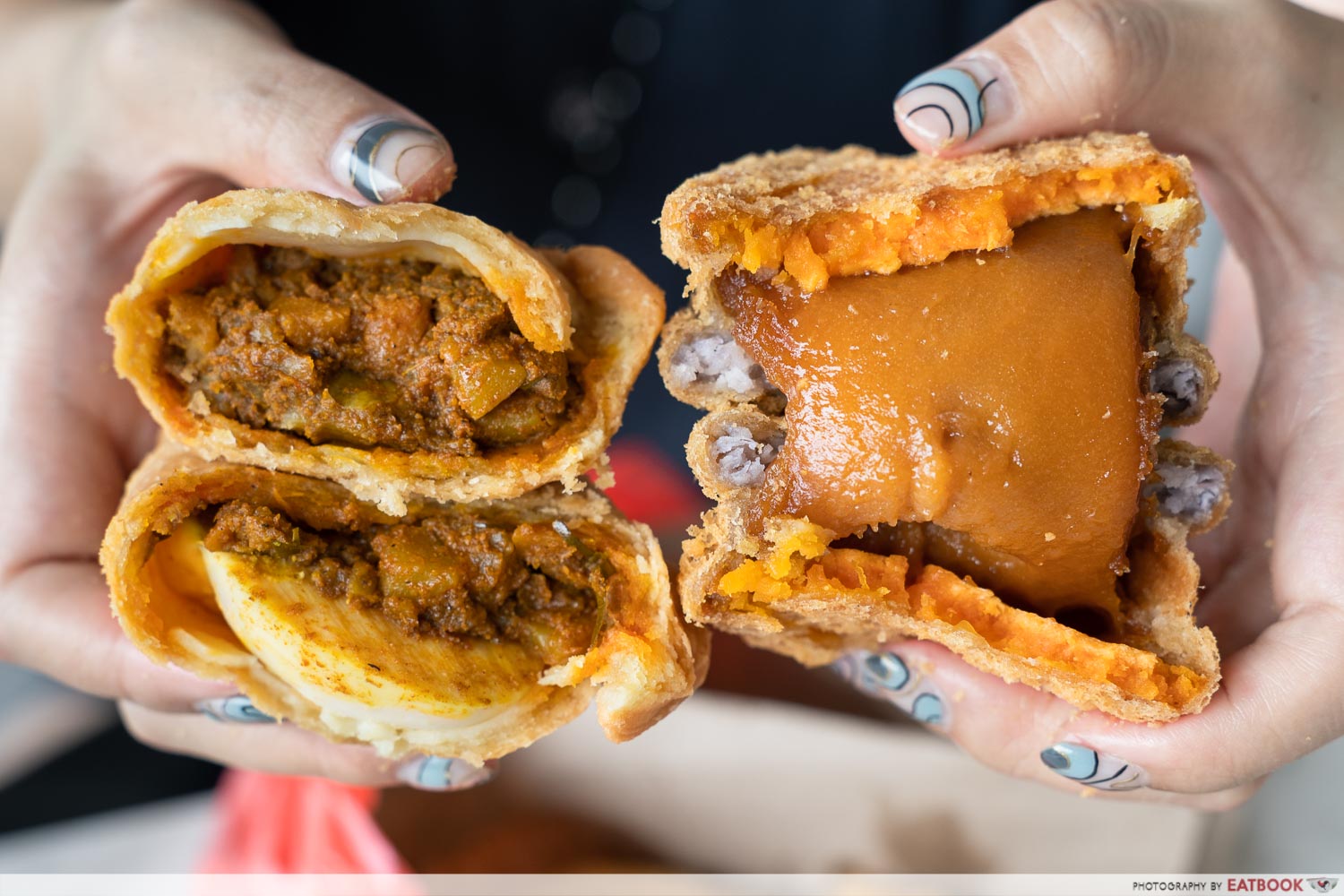 Apart from the 3-in-1, there's also Karipuff (RM2.50/~S$0.80), which features a thin pastry enwrapping a thick, spicy potato curry. If you aren't a fan of strong spices, skip this.
On the other hand, you must have the Fried Durian and Cempedak—the former features actual D24 durian flesh that's almost like molten lava within the shatteringly crisp batter; the latter is less molten, but equally sedap.
If you like curry puffs, head to Fang Handmade Curry Puff in Singapore for curry puffs that sell out super quickly every day. Otherwise, check out our JB hawker guide for more of these finds across the Causeway.
Address: 86, Jalan Pahlawan 2, Taman Ungku Tun Aminah, 81300 Skudai, Johor, Malaysia
Opening hours: Mon, Wed-Fri 11am to 4pm, Sat-Sun 9am to 4pm
Tel: +60 19-750 5616
Website
Wah Cai 3-in-1 Chinese Cake is not a halal-certified eatery
Fang Handmade Curry Puff Review: Salted Egg Lava, Char Siew Puffs And More For Under $1.50 
Photos taken by Brad Harrison Lee
This was an independent visit by Eatbook.SG