Fang Handmade Curry Puff at Ubi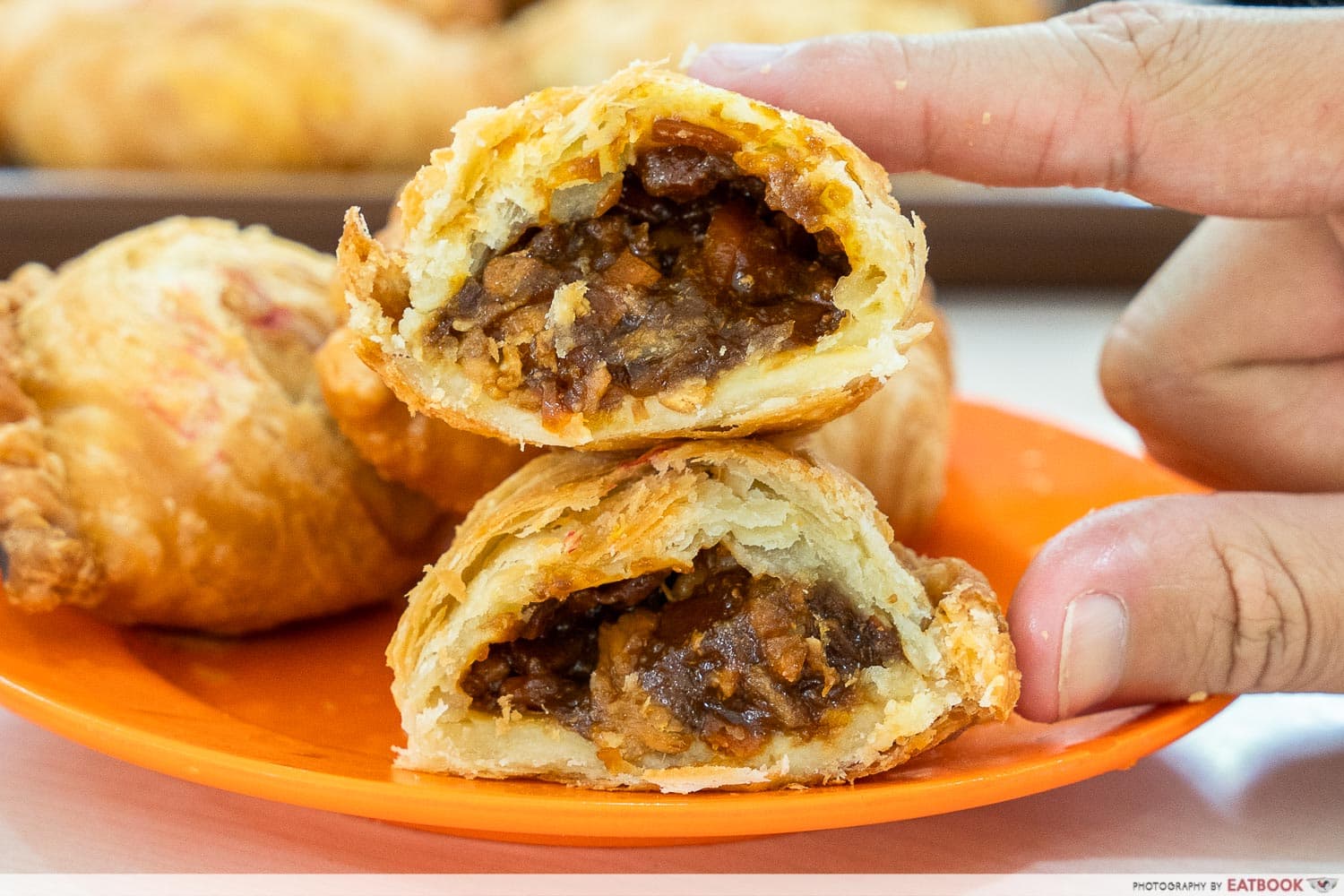 Despite its ubiquity as a tea-time snack, we've never reviewed curry puff before. We've covered curry places and eateries that sell puffs, but we've yet to feature this local delicacy. Thus, I was urged to review Fang Handmade Curry Puff anonymously, to see if it lives up to the hype it's been receiving of late. Spoiler alert—it does. 
Even though it's not situated in a prime location, Fang Handmade Curry Puff does not fail to draw a long line of customers at lunchtime. Even at off-peak hours, there's always also someone waiting for their order.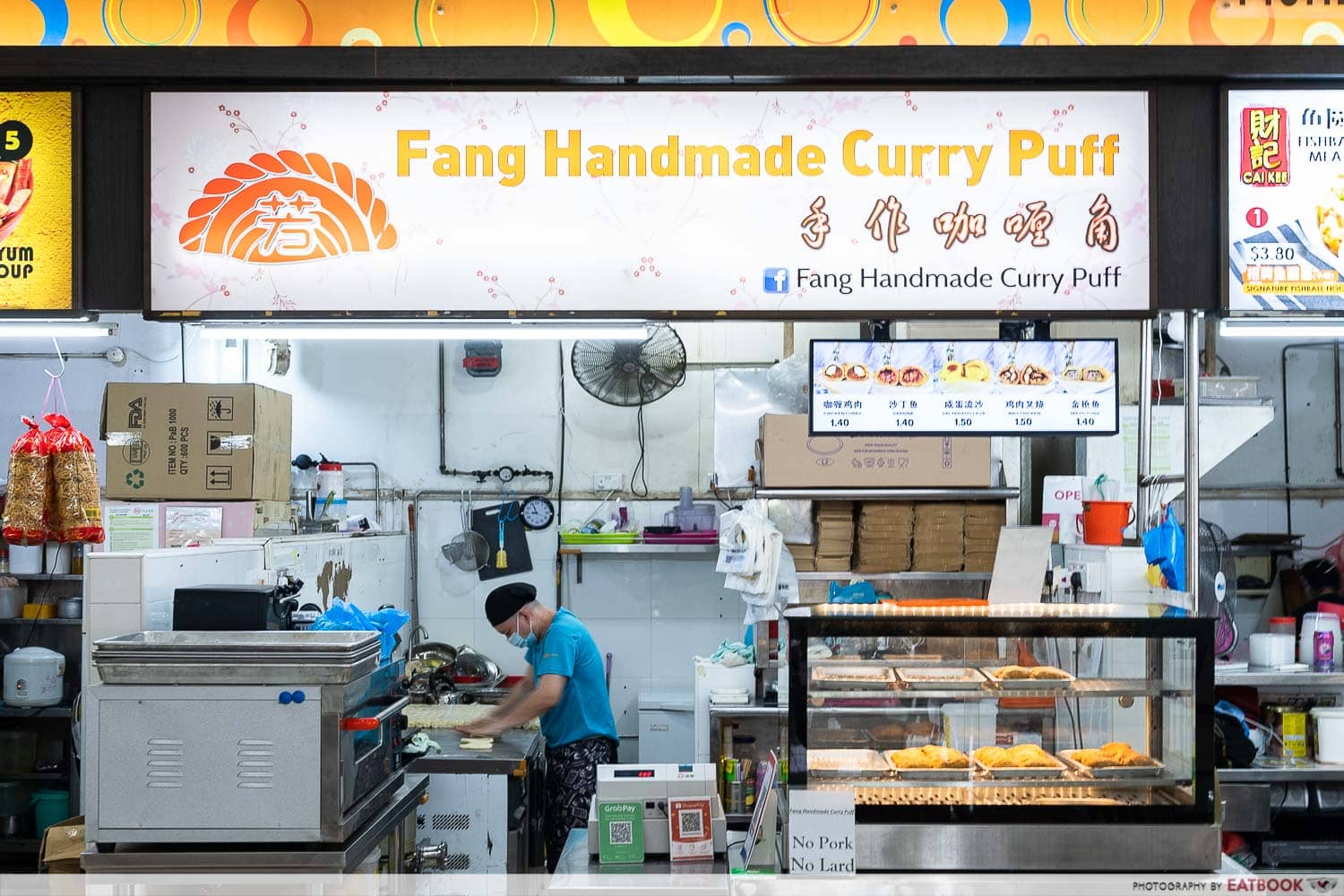 We had initially wanted to take a nice photograph with a full display of their handmade puffs, but this was not very feasible, since the puffs are almost always snapped up as soon as they are ready. 
Food at Fang Handmade Curry Puff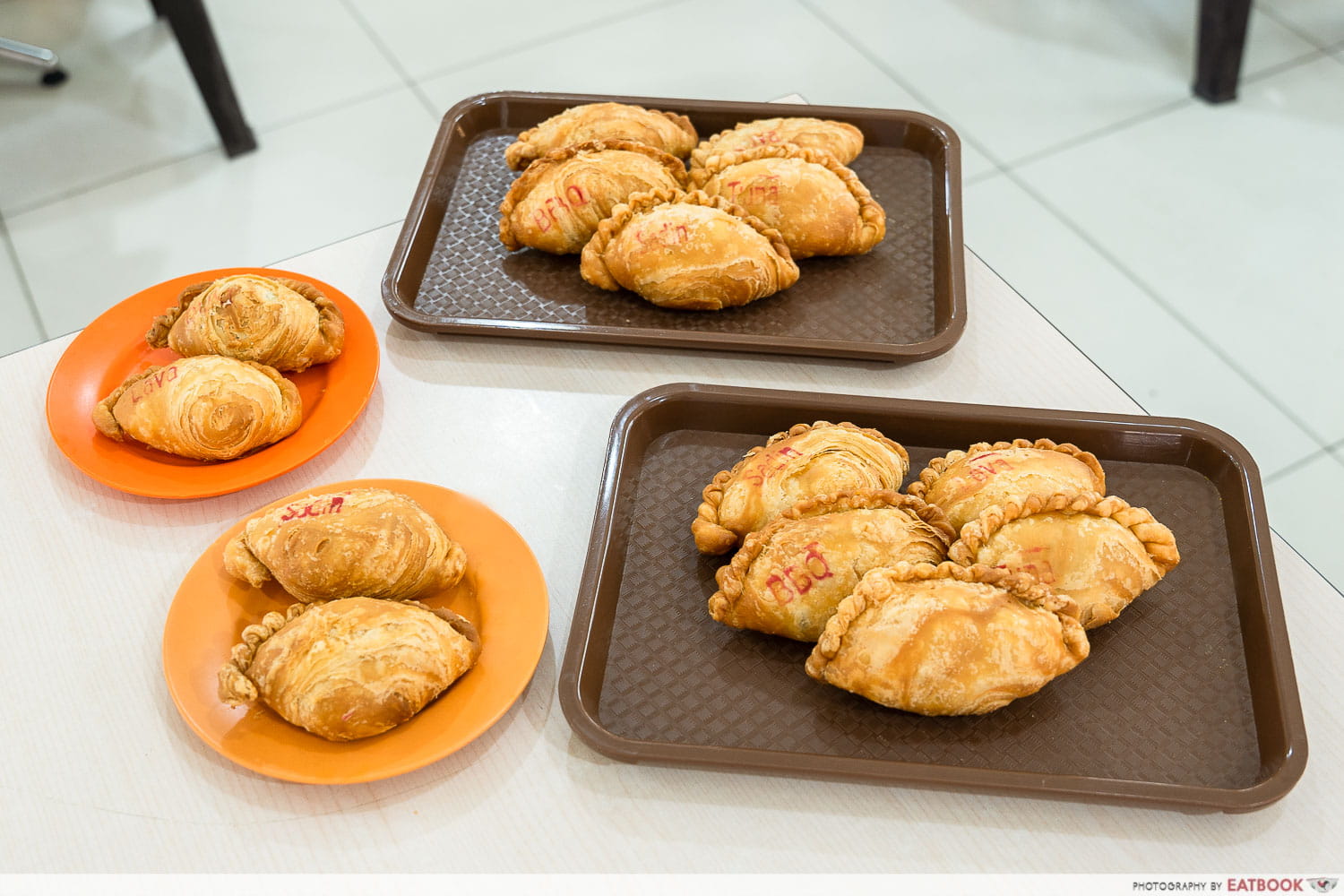 To be clear, the curry puffs are not usually served on plates and trays—we borrowed them for the aesthetic. Rather, they come either individually packed in paper bags, or in a box of 10. There are only five items available at Fang Handmade Curry Puff, so we got them all.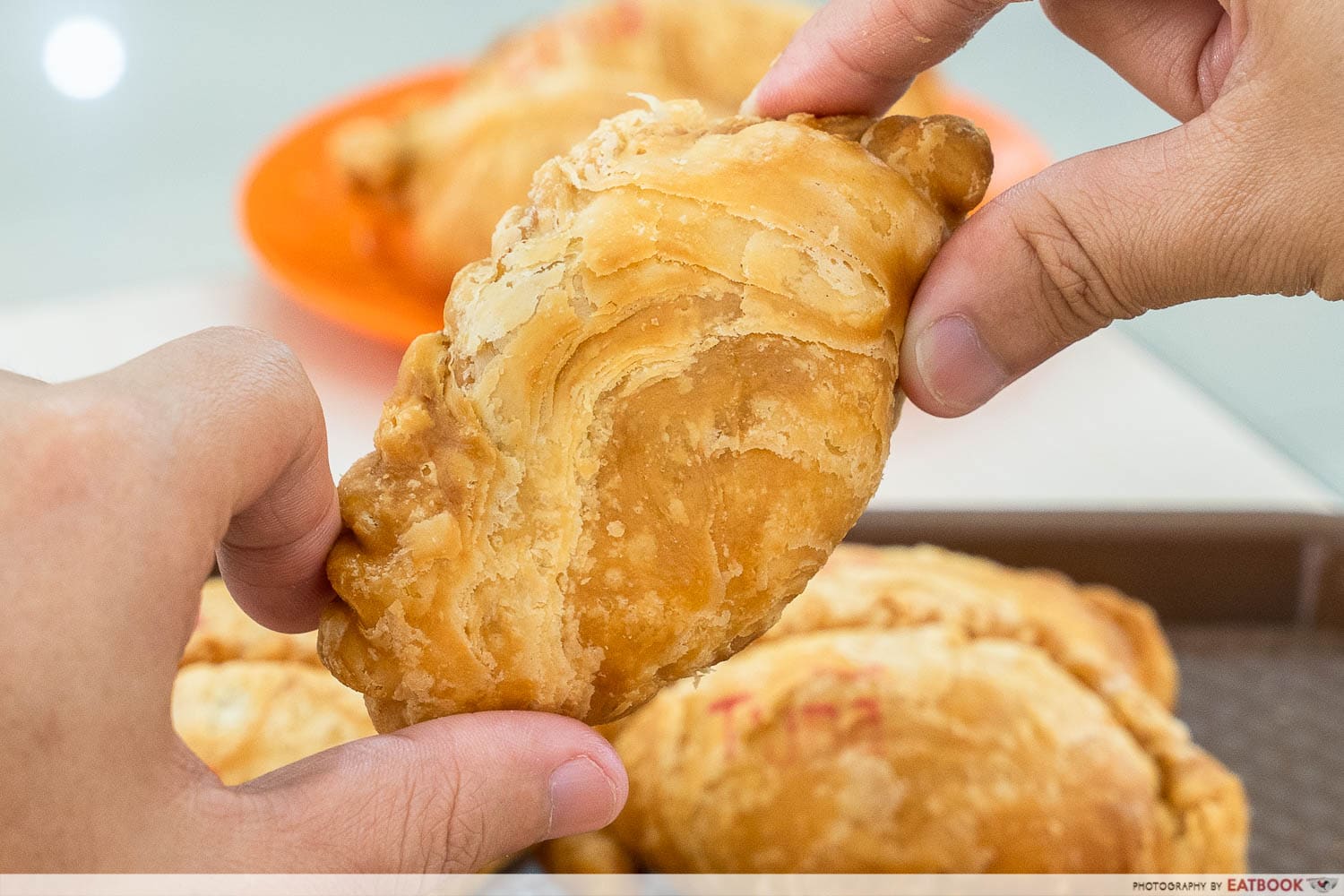 Starting with the classic Chicken Curry ($1.40), it was clear why it's the stall's best-selling item. The curry puff leans sweet, and features a light fragrance of turmeric and curry powder. It's also not too spicy, so you don't have to worry about that.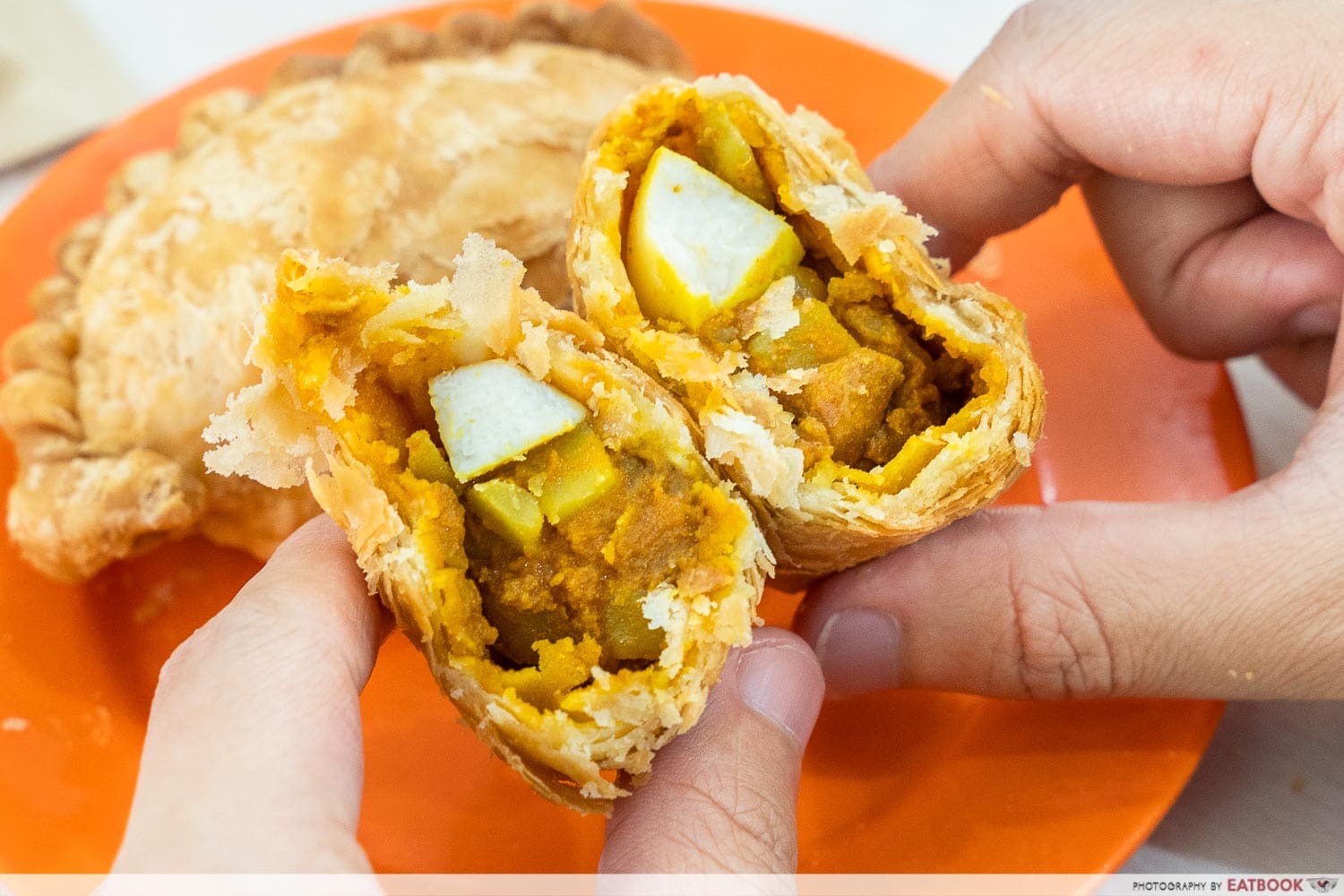 Chunks of potato and chicken fill the curry puff from end to end, and you also get a wedge of egg as well. Although the puff pastry isn't the most buttery I've tasted, it received brownie points for being extra thin and flaky. Even if you have them some time after they've been fried, the Chicken Curry still remains relatively crispy and delicious!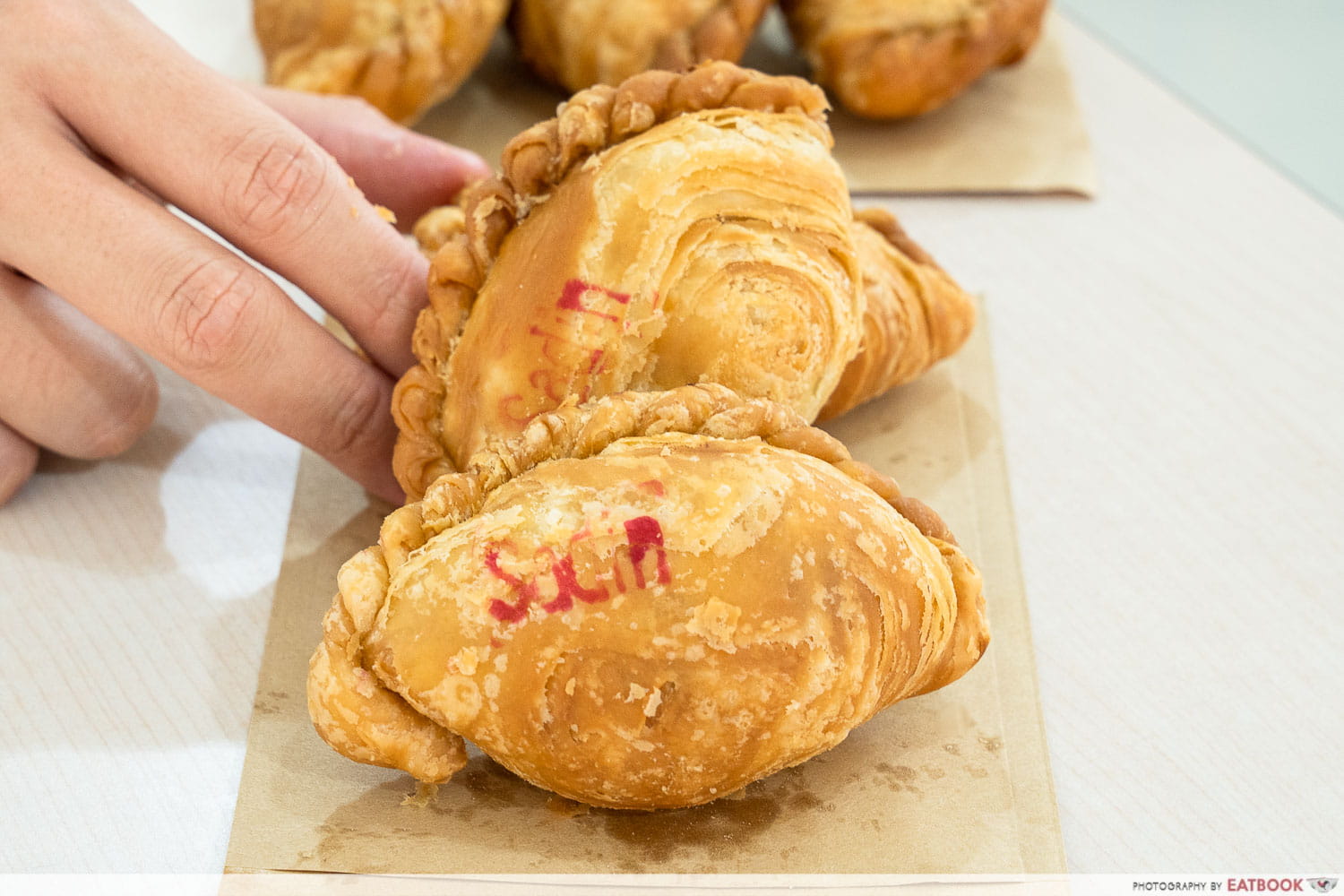 Another classic flavour at Fang Handmade Curry Puff is the Sardine ($1.40). Barring the Chicken Curry, all the puffs are labelled in red for easy identification. Unlike the original puff though, the Sardine actually features a tinge of spiciness.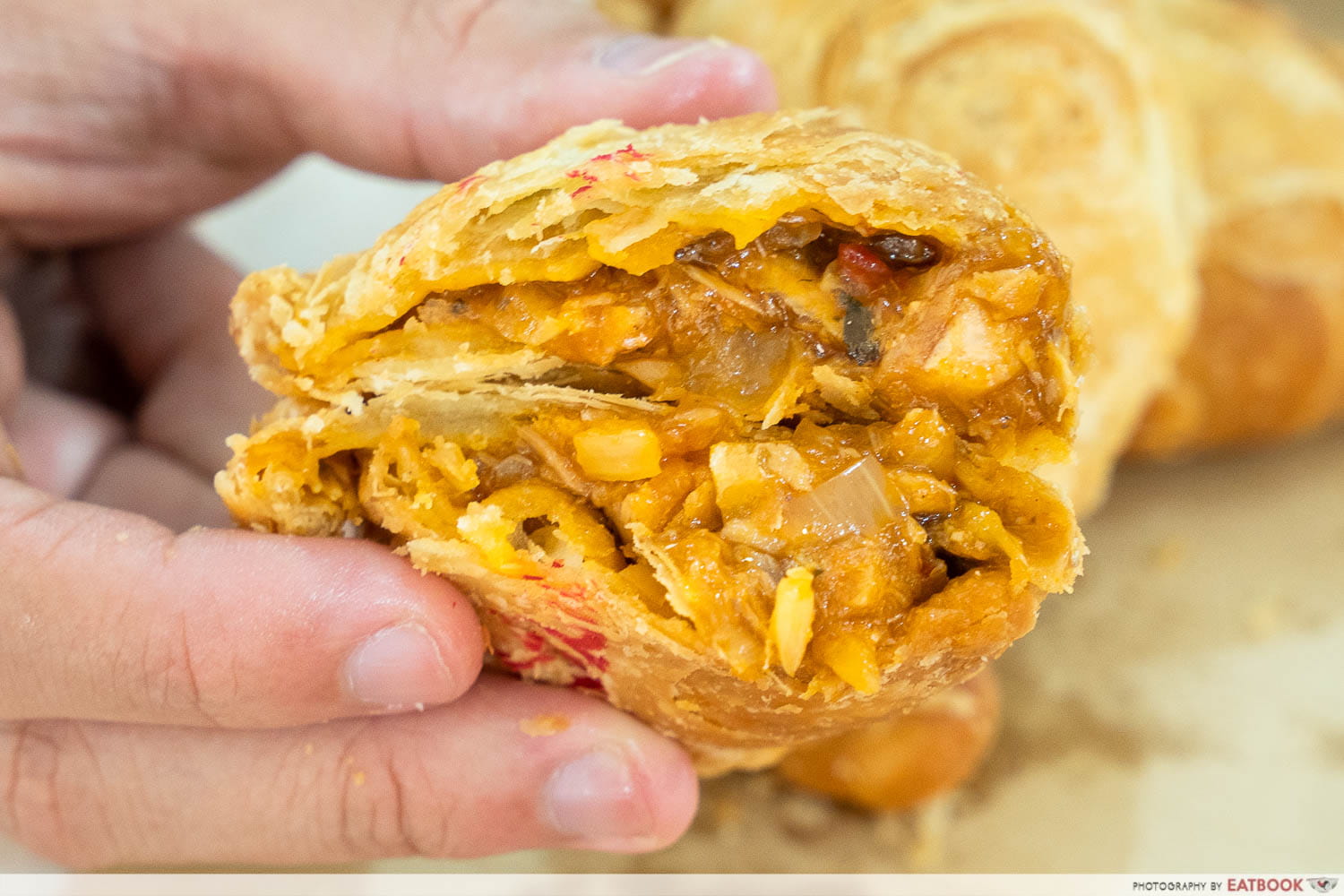 Not only do you get many pieces of onion, which imbues the puff with an intense fragrance, but you also get small bits of sardine. This made the mouthfeel of the sardine puff great, as it gave it some chew.
Although I don't usually enjoy eating sardines, I found this handmade puff to be my favourite out of all the items. Something about the tartness of the tomato sardines, along with the sweetness of the onion and touch of spice just does it for me.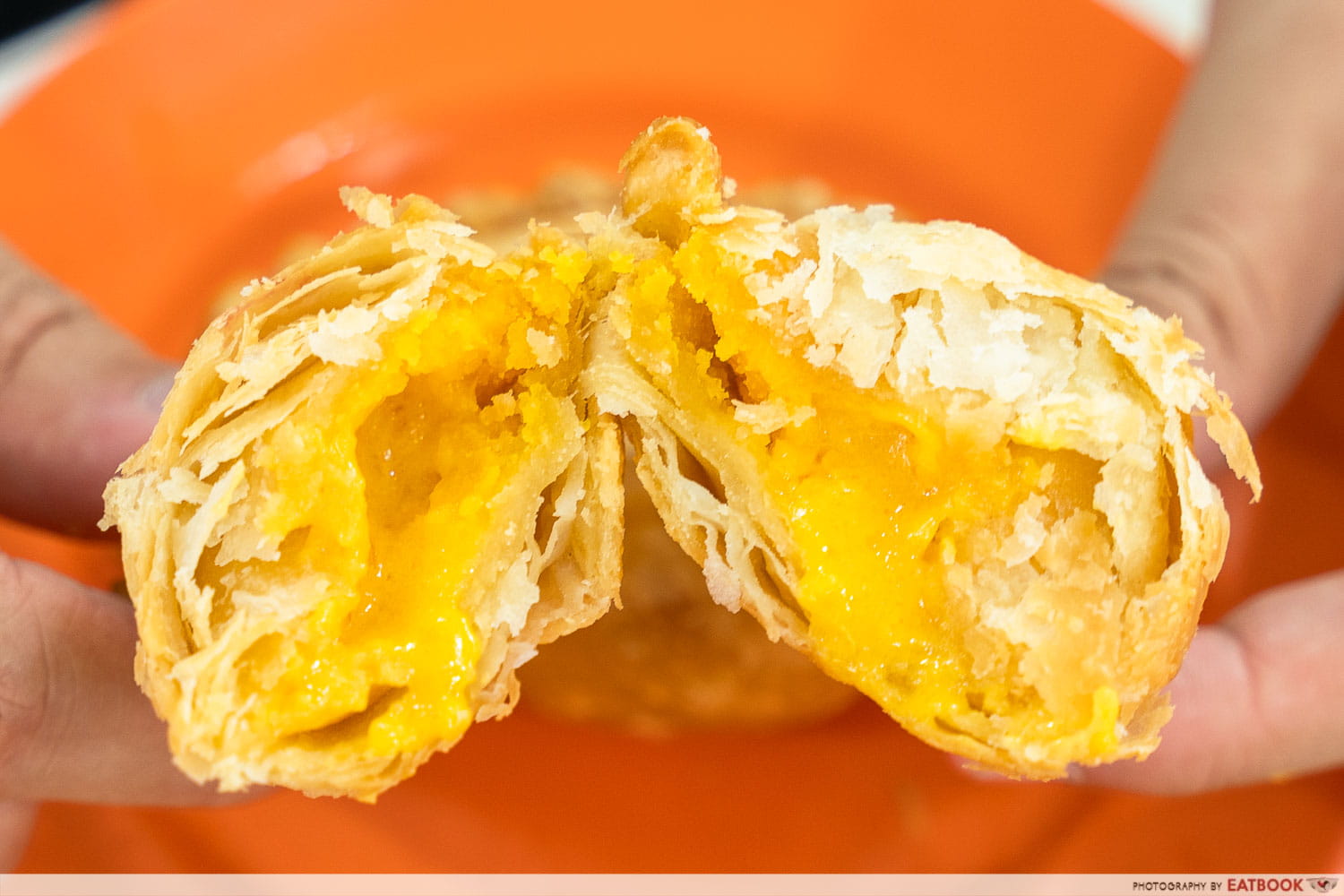 Moving on to the puff that's said to be the most photo-worthy, I tried the Salted Egg Lava ($1.50). I was quite satisfied to find that the salted egg custard was indeed as flowy as the menu photos had depicted it to be. 
Featuring notes of butter, milk and custard powder, I thought that the salted egg custard tasted delightfully creamy and savoury. However, I found the lava to be a tad powdery, and the puff to be doughier than the others. I guess this is an inevitable tradeoff, to prevent the salted egg lava from overcooking and curdling.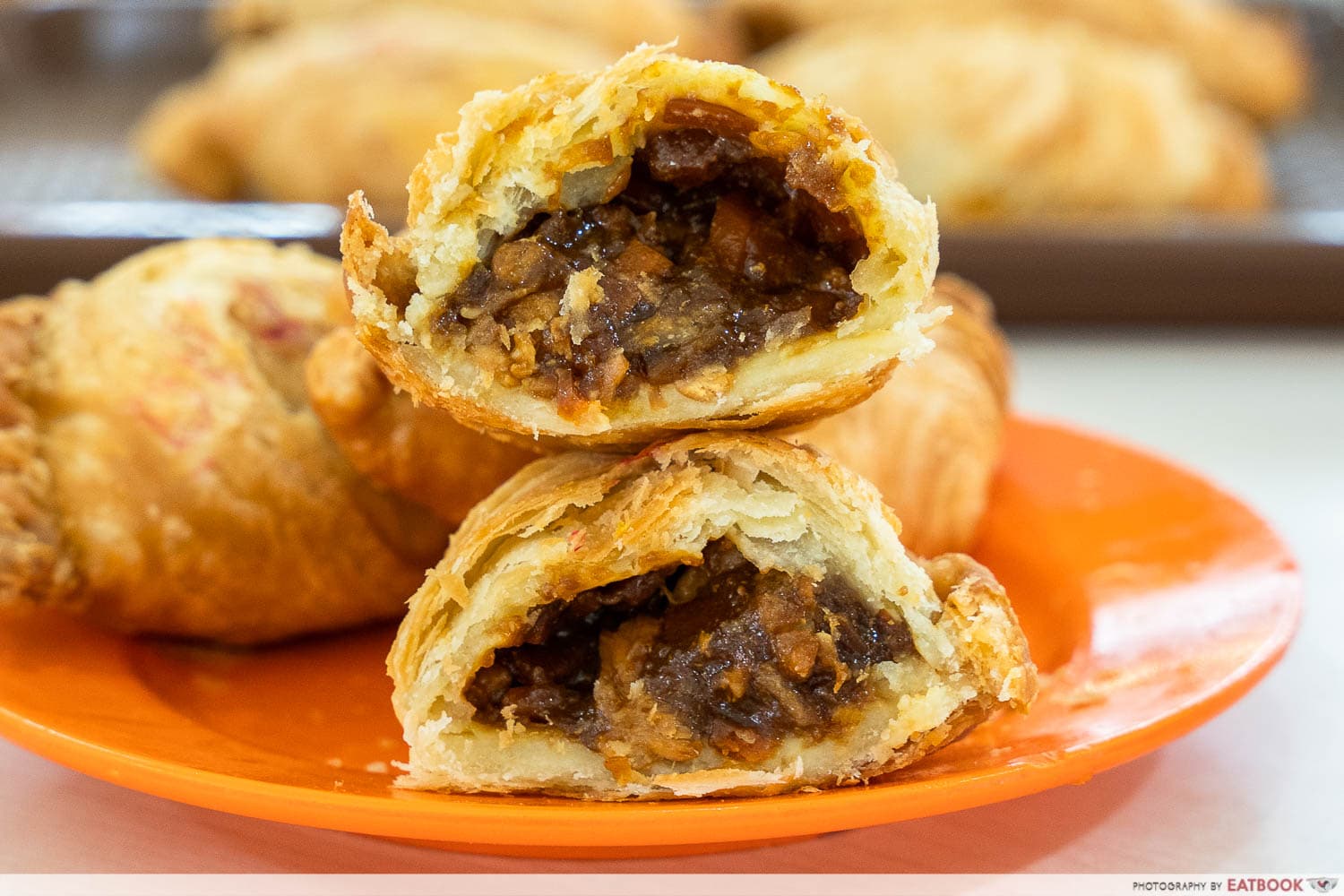 We also tried the BBQ Chicken ($1.50), which was in fact, char siew chicken as opposed to the barbecued variety. This was my colleague's favourite puff, as it toed the line between sweet and savoury perfectly. I enjoyed it similarly, but my only gripe with it was that the chunks of chicken were not big enough.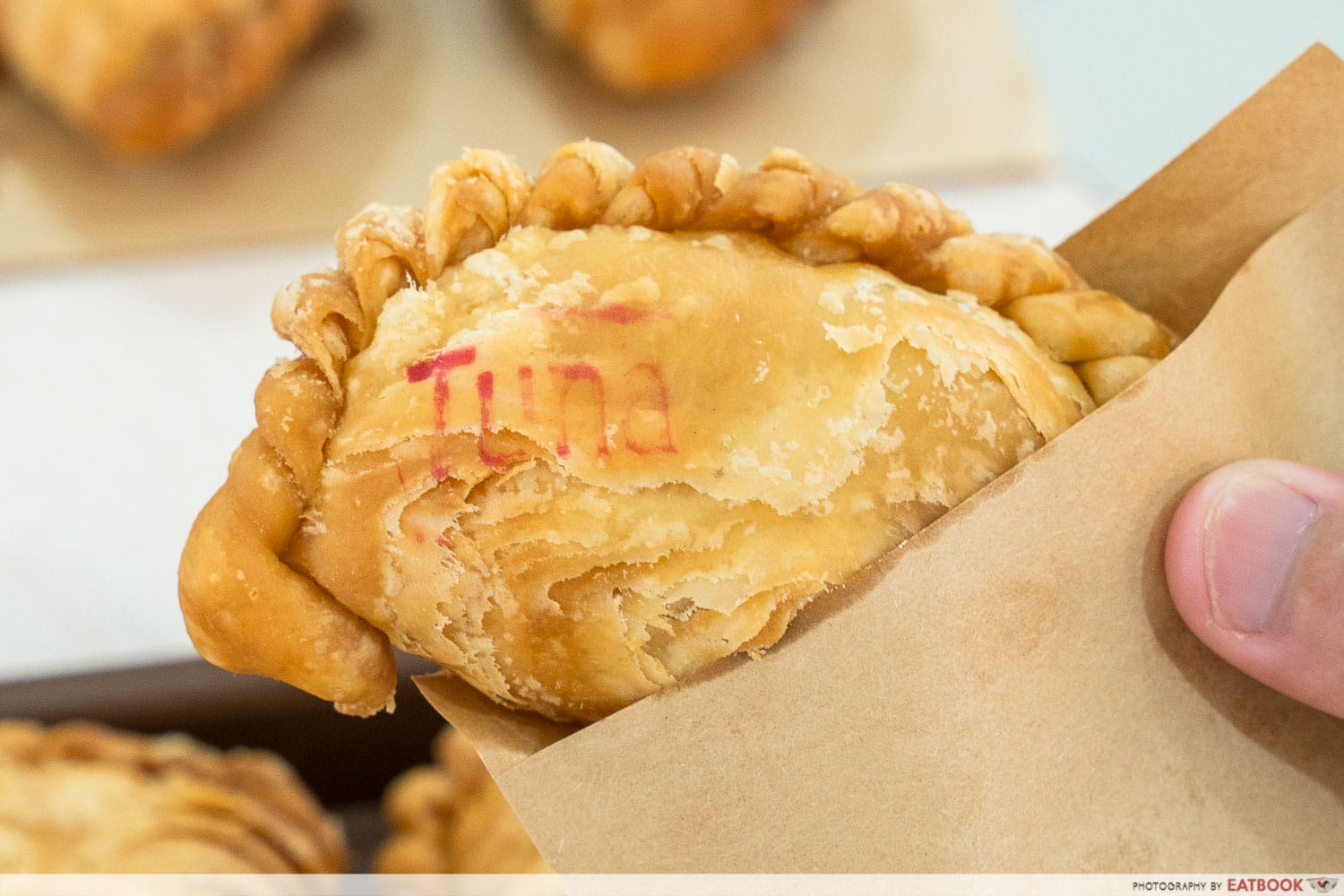 The last dish we tried was the Mayo Tuna ($1.40)—Fang Handmade Curry Puff's inventive take on a tuna pie.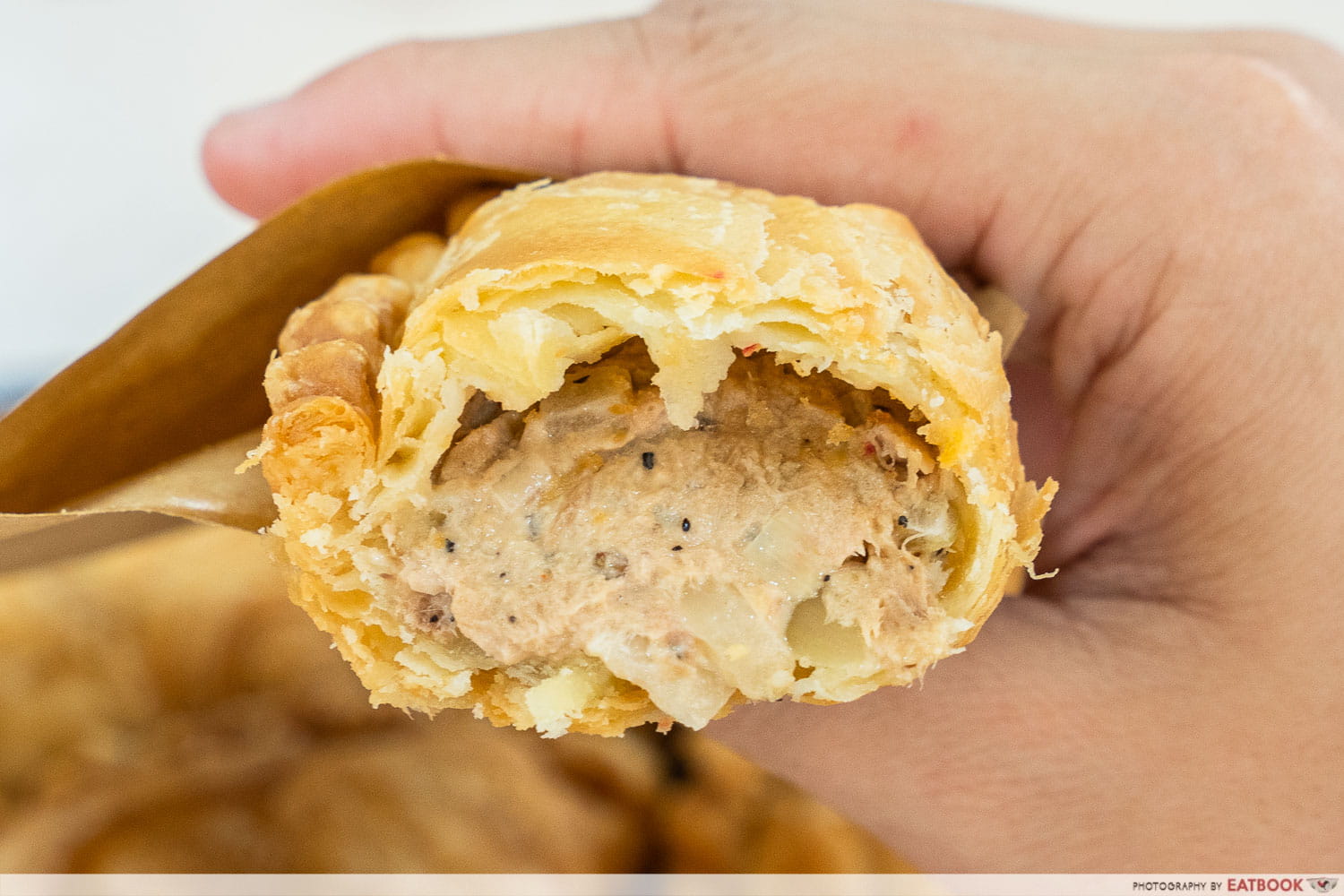 Biting into it revealed a prominent fragrance of black pepper, while the tuna was a wee bit tangy due to the mayo. I appreciated the creative concept behind the Tuna, but I didn't enjoy it as much as the others, because I felt that it carried a slight fishiness.
Ambience at Fang Handmade Curry Puff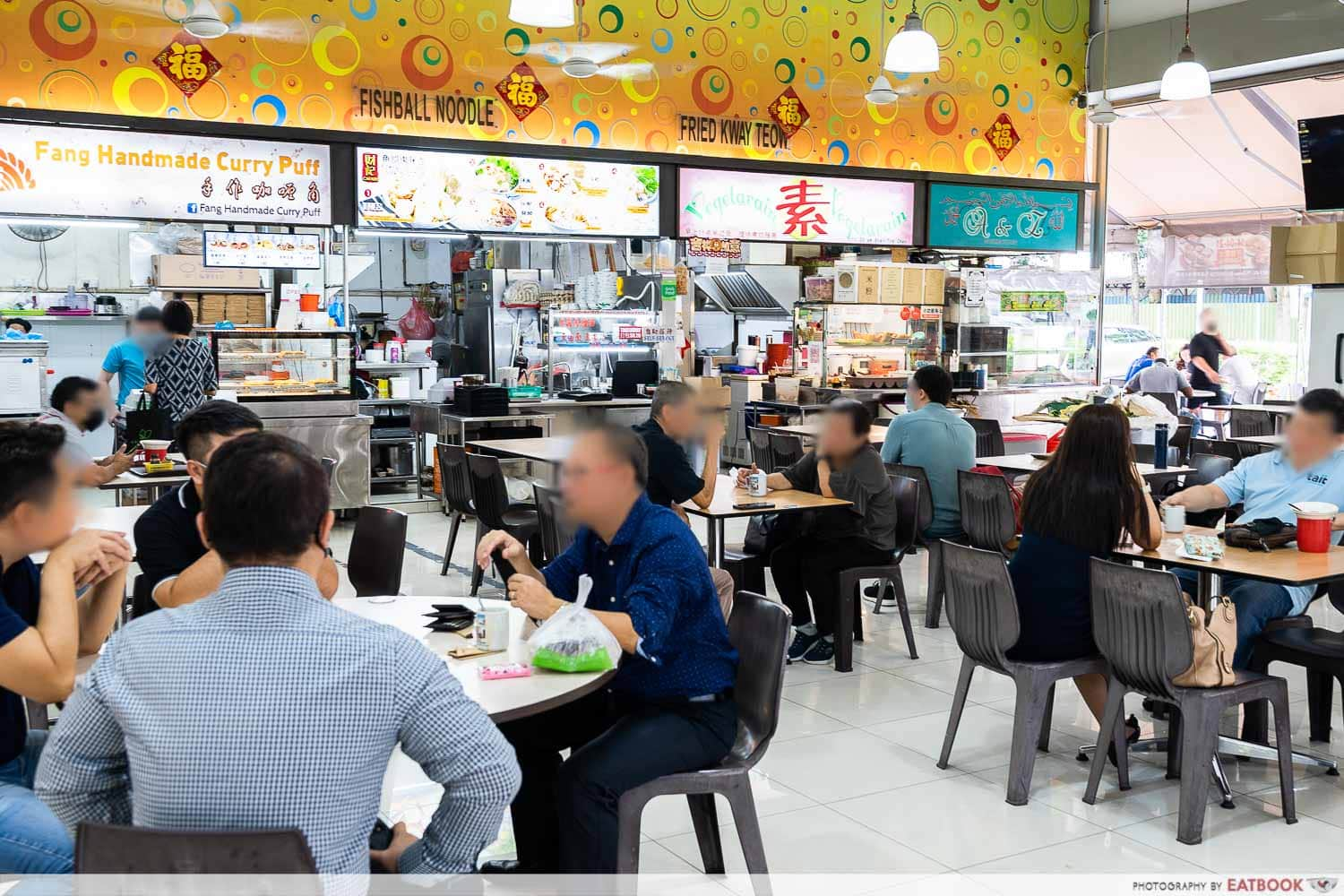 Fang Handmade Curry Puff is located right smack in the Ubi industrial area, and it takes a little over 10 minutes to walk there from Tai Seng MRT Station. Bring an umbrella—the path is not sheltered, and we all know how painfully hot Singapore's weather can be. 
The high ceilings and many fans help keep the coffeeshop it's located in cool though, so you can wait for your curry puffs in comfort. If you're lucky enough to catch a fresh batch of curry puffs when they're out, you'll get your order immediately. Else, it's about a 15- to 20-minute wait. 
The verdict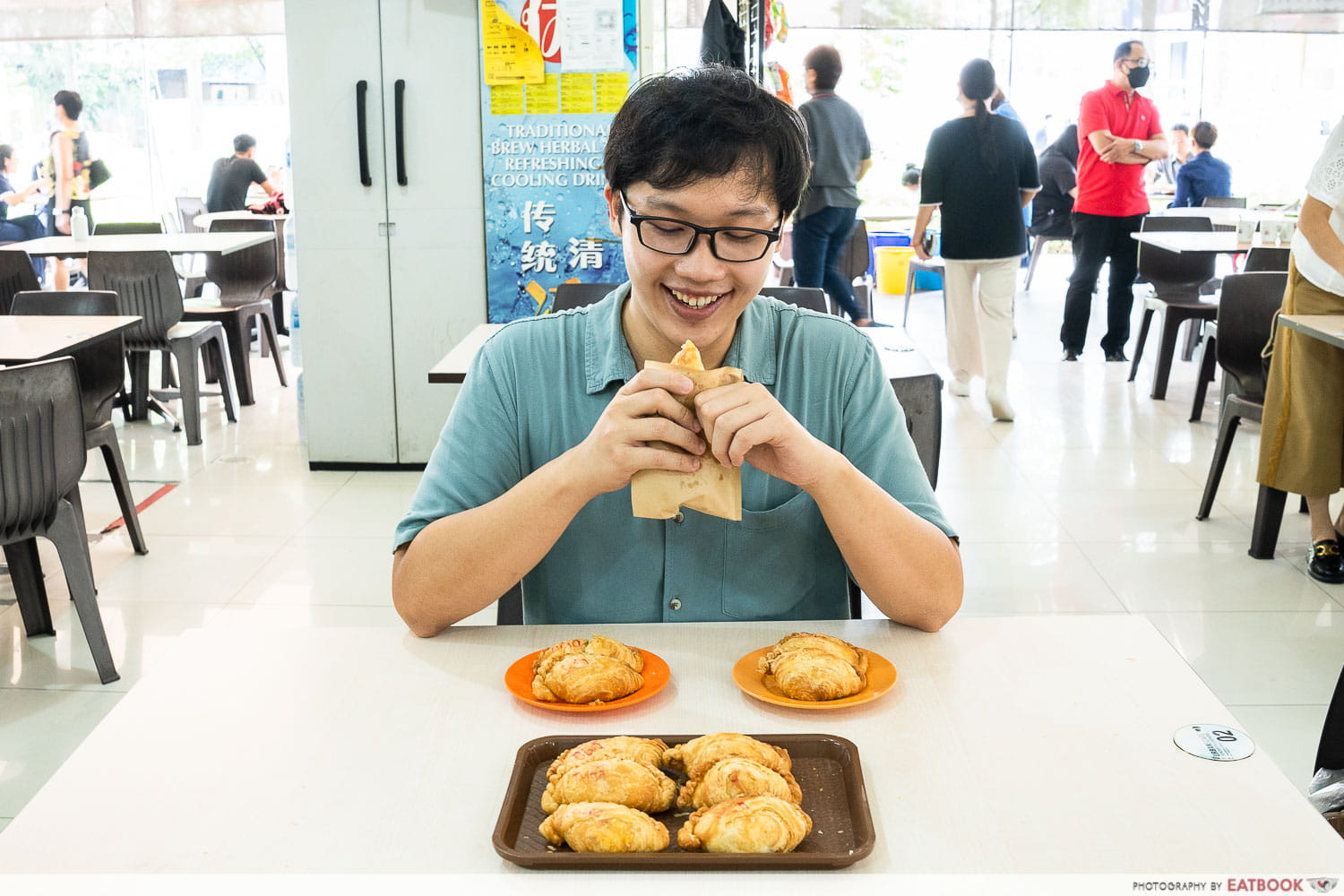 Retailing at only $1.40 and $1.50 a puff, you're getting great taste and value at Fang Handmade Curry Puff. It's way more labour intensive to make each item by hand in small batches, but the store does so to keep each puff warm and crispy. You might have to wait longer, but it's definitely worth it. 
My favourite's the Sardine, but I would honestly recommend getting a box or two of everything, so you can try all the flavours with your friends and family.
For a value-for-money buffet option, check out the nearby Zao Lek Lok Lok for $24 all-you-can-eat skewers! If you want to try other curry puffs in Singapore, our curry puff food guide gives you 12 suggestions so you don't have to always fall back on Old Chang Kee! 
Address: 8 Ubi Road 2, Zervex Building, Singapore 408538
Opening hours: Mon-Sat 9am to 1pm (or sold out)
Tel: 9382 0396
Website
Fang Handmade Curry Puff is not a halal-certified eatery but uses no pork or lard.
Photos taken by Kong Zu Yi. 
This was an independent review by Eatbook.sg
Fang Handmade Curry Puff Review: Salted Egg Lava, Char Siew Puffs And More For Under $1.50 
Fang Handmade Curry Puff Review: Salted Egg Lava Puff, Handmade Char Siew Puff And More For Under $1.50 -

7.5/10
Summary
Pros
– Curry puff pastry was flaky
– Freshly made in small batches
Cons
– Salted egg lava puff was a bit doughy
Recommended dishes: Chicken Curry ($1.40), Sardine ($1.40), BBQ Chicken ($1.50)
Opening hours: Mon-Sat 9am to 1pm (or sold out)
Address: 8 Ubi Road 2, Zervex Building, Singapore 408538