Warung K at Pioneer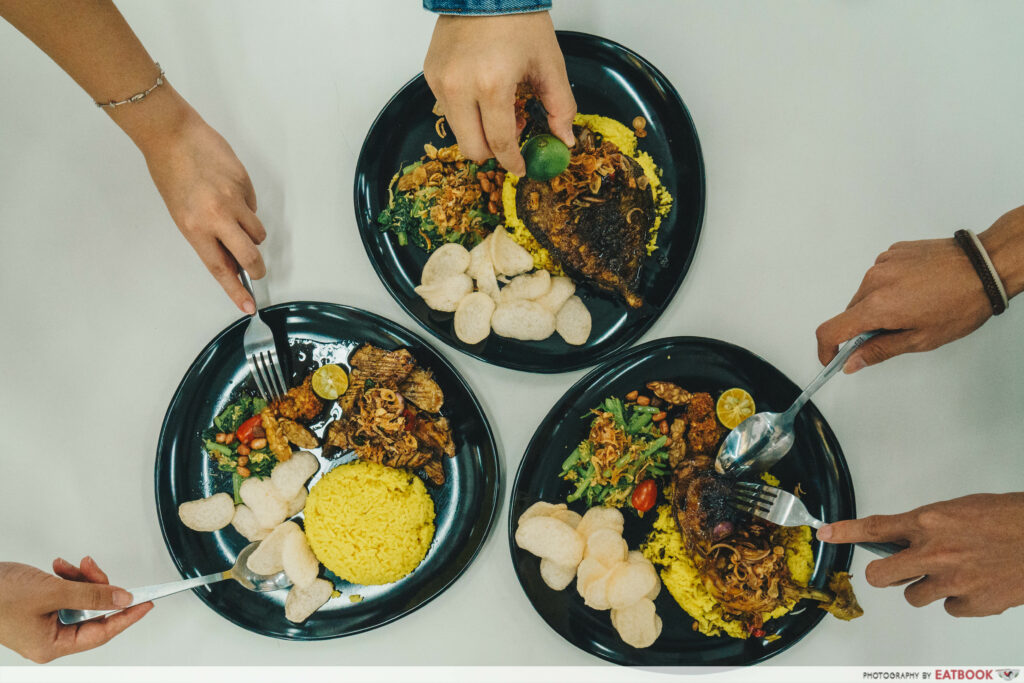 Good Indonesian grilled meat stalls at hawker centres and kopitiams are always considered lucky finds. Warung K, however, is even more special. It's started by Chef Ken, an ex-chef at The Fullerton Bay Hotel and Pan Pacific Singapore. Chef Ken uses charcoal to grill his meats, making them extra delicious and fragrant.
Food at Warung K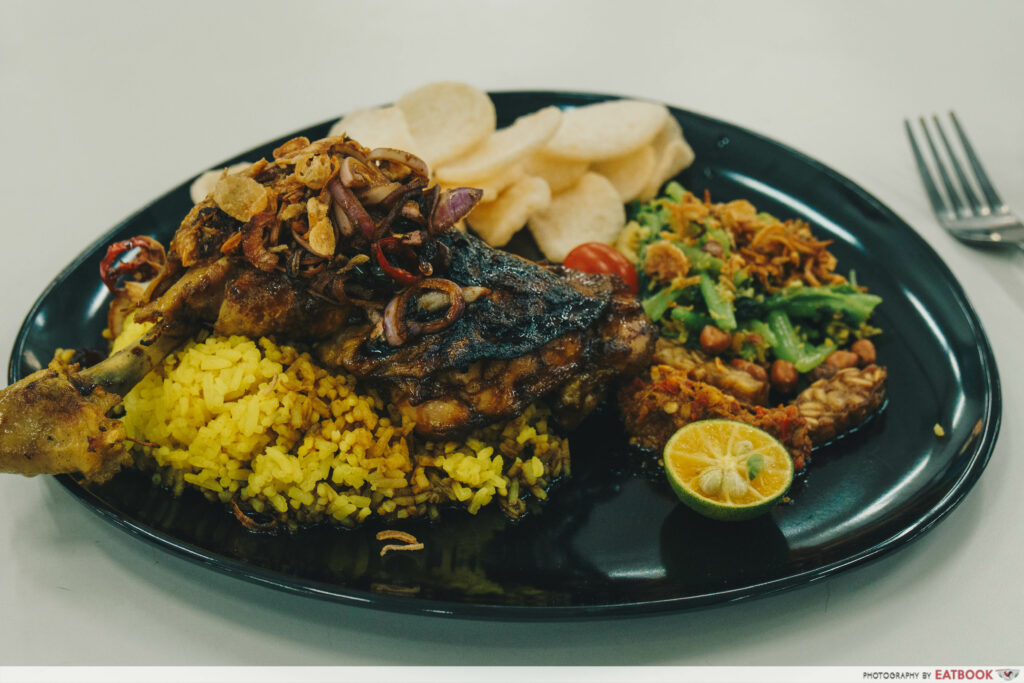 We ordered three of their specialties: Ayam Bakar ($6), Ikan Bakar ($7), and Mushroom Raja ($6). Each plate comes with a bowl of yellow rice, a handful of keropok, lawar salad, and a spoonful of their fiery sambal chilli.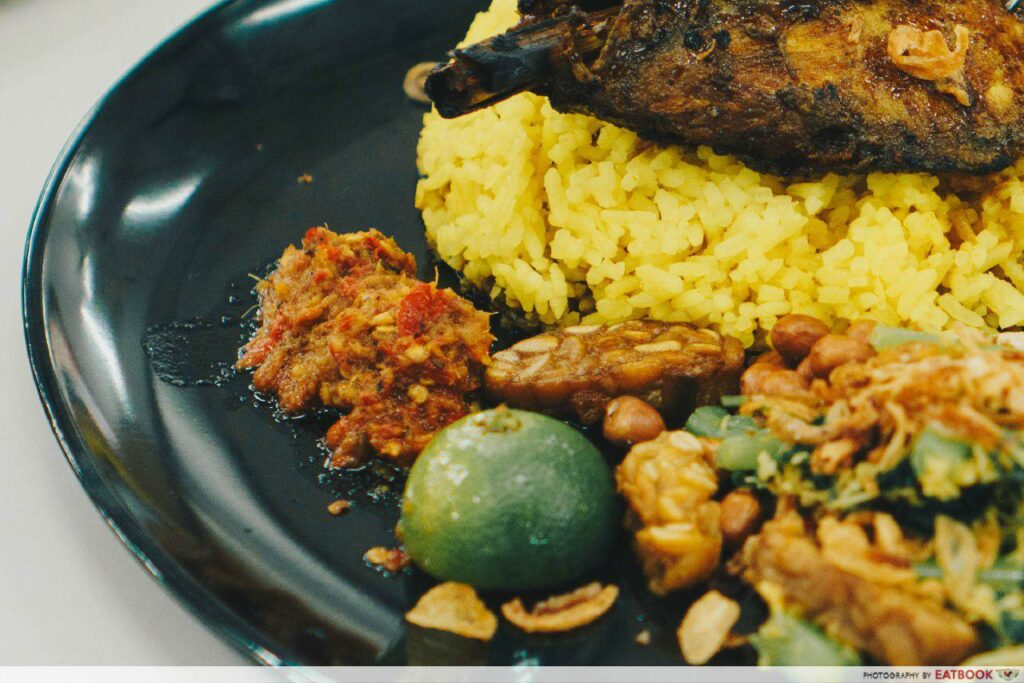 I couldn't get enough of that fragrant yellow rice, which was made with tumeric and cooked with curry leaves, lime leaves, lemongrass, and coconut milk. Just when I thought it couldn't get better, I squeezed the lime on my sambal before dabbing it on the rice. The kick from this chilli threw me off. It had a great sweet-to-spicy ratio; the added tanginess elevated the taste of the whole dish.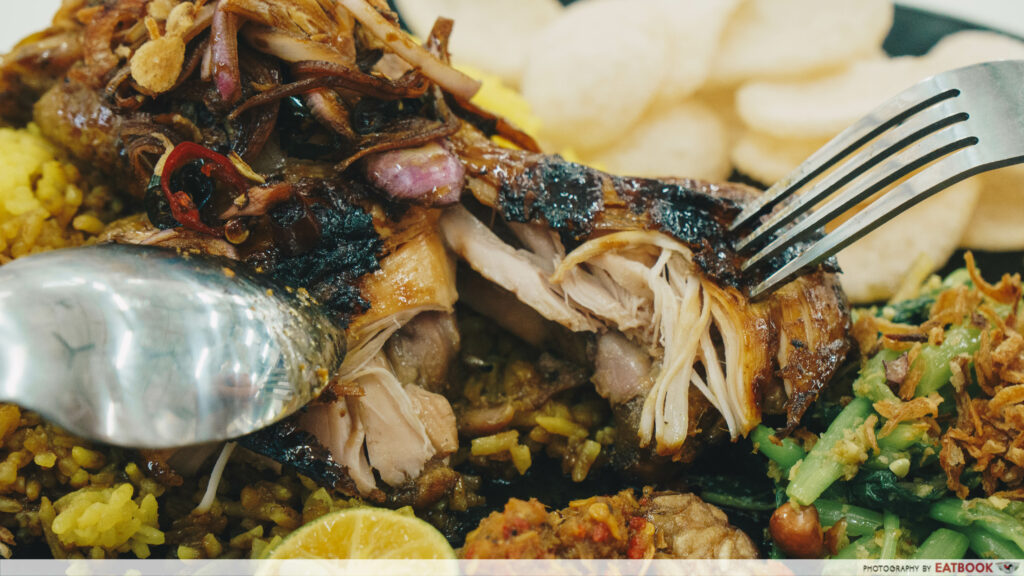 I was head over heels in love with Warung K's Ayam Bakar ($6). The nicely charred skin was paper thin and neither too fatty nor greasy. Tearing into the chicken, I was impressed by how easily the meat fell off the bone with a simple tug. It had the classic sweet and savoury gravy that I love about this Indonesian dish.
Biting into the chicken thigh, I could almost taste the fire from the charcoal grill. The charcoal imprinted a smoky aftertaste on the meat. While my colleagues were waxing lyrical about the chicken, I wished it could have been slightly more tender.
Yakinikuohji Review: Japanese-Style Charcoal BBQ Meat Buffet From $20.30+ At Clementi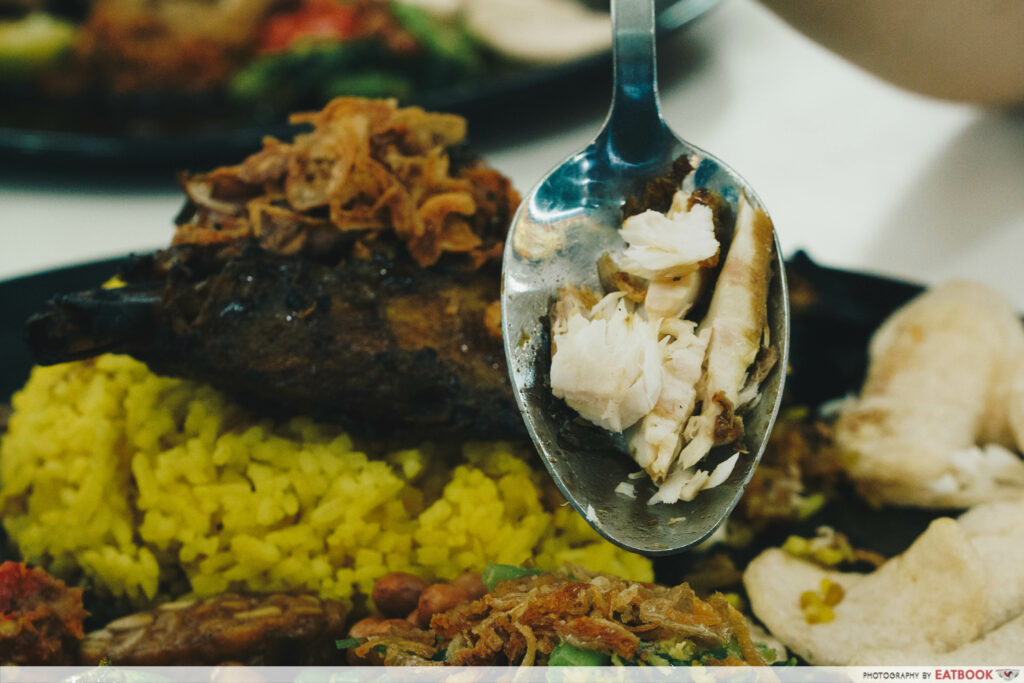 Next up, we tried their charcoal-grilled fish, Ikan Bakar ($7). The type of fish changes every day, as Chef Ken would head down to the market every morning and choose the freshest fish they have. When we were there, we had the pleasure of trying the charcoal-grilled pomfret.
I was impressed by the size and freshness of the fish, considering the affordable price. Just like the chicken, the fish was slightly chewy. However, I didn't mind it at all, as the flavours intensified in my mouth the longer I chewed on it. Don't forget to smear some of their sambal on it for an extra kick!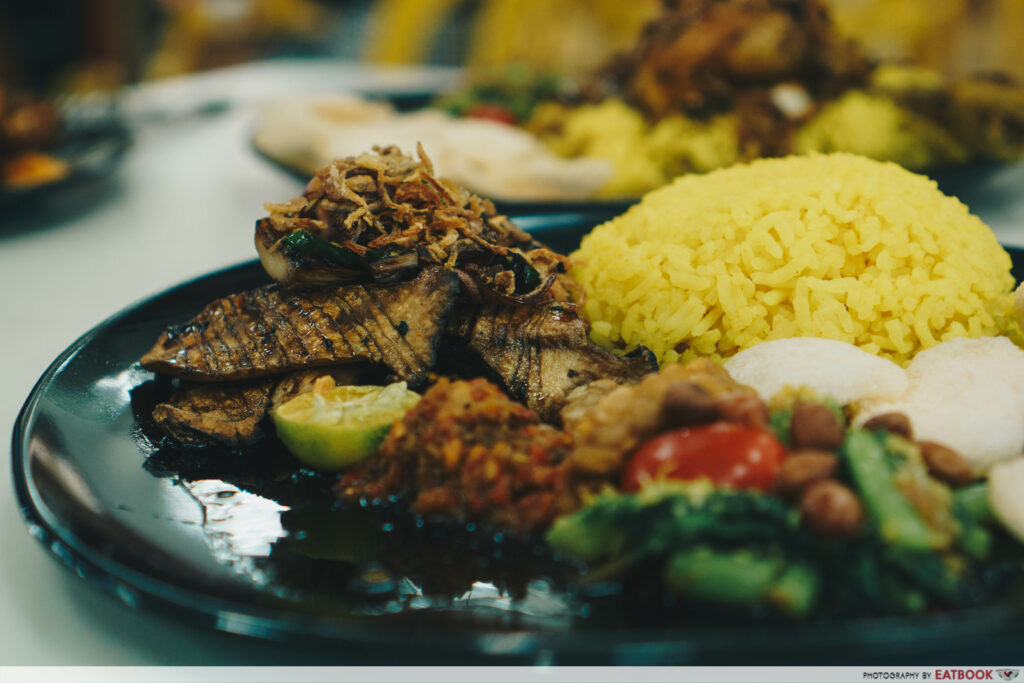 Lastly, we tried their Mushroom Raja, a dish not commonly found in Singapore. This was my favourite out of all. Chef Ken would smoke oyster mushrooms to intensify the flavours and lock in their juices before grilling them over charcoal. The earthy mushrooms were plump, juicy, and tasted almost like meat! My colleagues and I fought over the last paiseh piece – that must say something.
Ambience at Warung K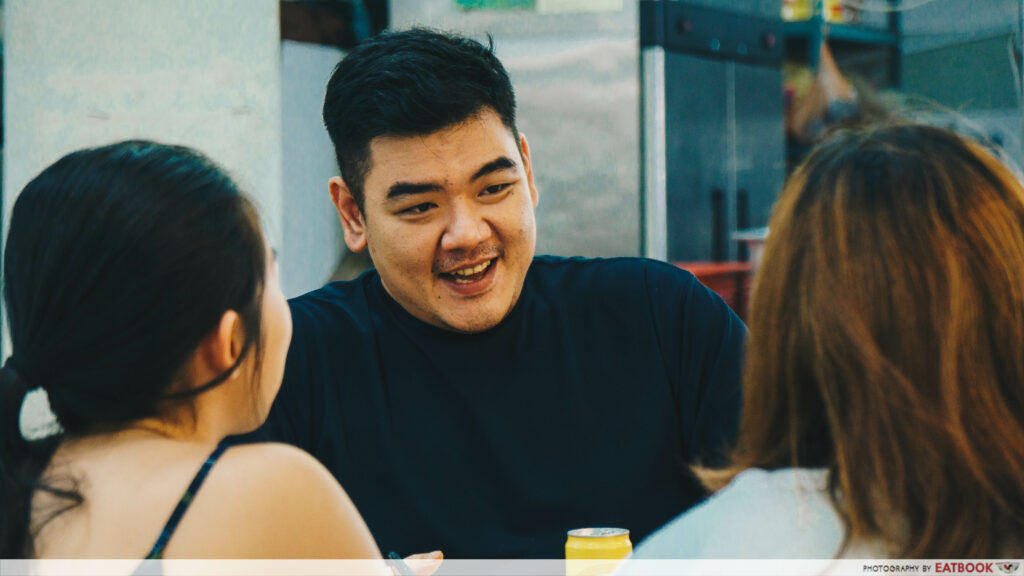 After our meal, we caught up with Chef Ken and found out that his love for Indonesian food came from his annual fishing trip to Indonesia. He finally decided to open his own stall after cooking in hotels for 18 years to bring affordable charcoal-grilled Indonesian food to Singapore. Chef Ken also mentioned he has plans to bring Indonesian rice bowls to Tanjong Pagar soon.
Meet 4 Meat Review: Ex-Wooloomooloo Chef Opens A Hawker Stall Serving Quality Steak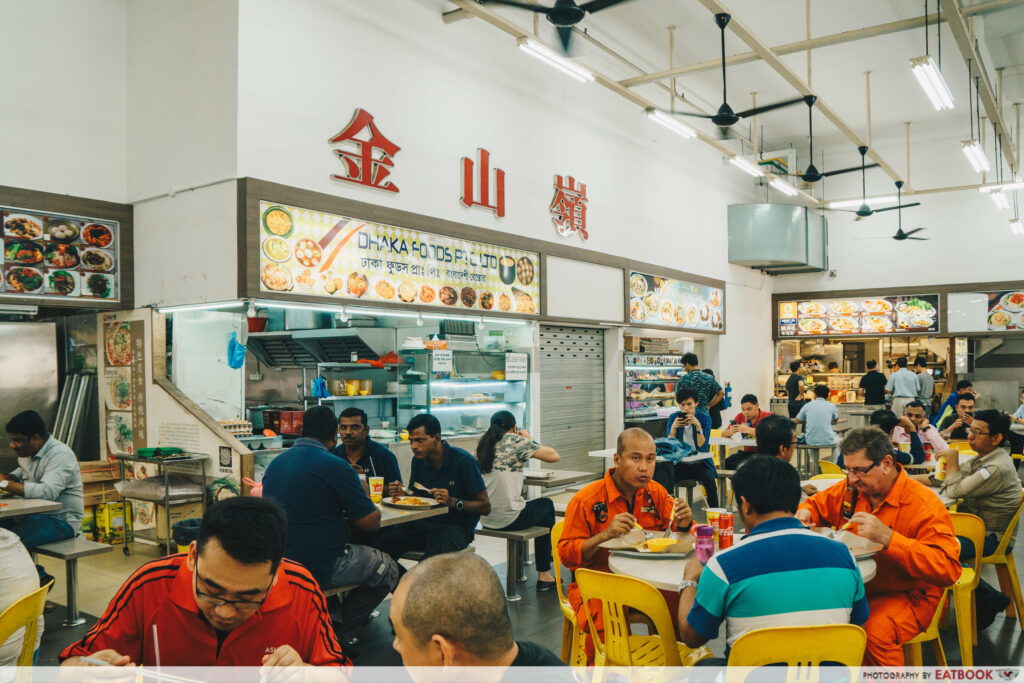 Hidden deep in the industrial area of Pioneer, Warung K sits in a coffeeshop visited by many workers in the area. This means that their lunchtime crowd is real, so come during non-peak hours to avoid that.
The verdict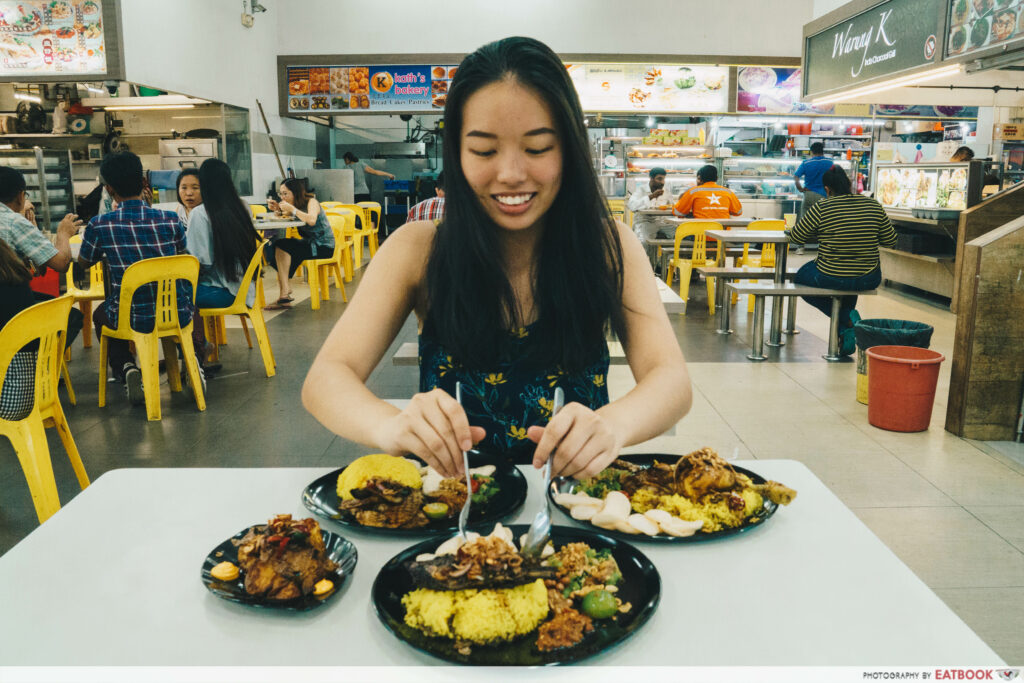 At the end of the day, my colleagues and I agreed that Warung K serves delicious charcoal grilled dishes that will have you drooling just from its aroma. Though I don't see myself travelling an hour to eat this regularly, this is a place all you Indonesian food lovers must try, even if you live on the other end of our Little Red Dot.
G Bar and Grill Review: Charcoal Grilled Dishes Including Crispy Pork Egg, Ribeye And Unagi
UPDATE: Warung K has moved to Timbre+
Address: 73A Ayer Rajah Crescent, #01-26, JTC LaunchPad @ one-north, 139957
Opening hours: Mon-Sat 11am to 9pm
Tel: 9270 0770
Website
This is an independent review by Eatbook.sg
Summary
Pros
– Delicious charcoal-grilled dishes
– Value-for-money
– Friendly owner
– House-made sambal was good
Cons
– Inconvenient location
Recommended Dishes: Ayam Bakar ($6), Ikan Bakar ($7), Mushroom Raja ($6)
Operating Hours: Mon-Sat 11am to 7pm
Address: 5 Soon Lee Street, Pioneer Point, Singapore 627607