Warung K offers delicious Indonesian BBQ
Update: Warung K is now permanently closed.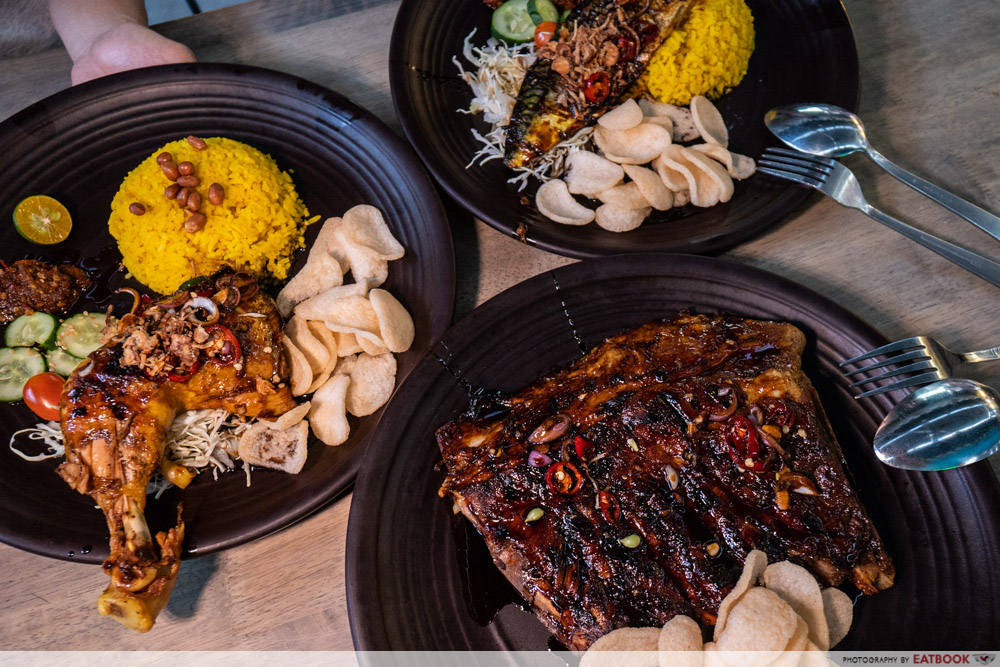 It's interesting how Indonesian food is not as appreciated as their Thai and Malaysian counterparts in Singapore. When compared to local food, you'll actually find many familiar ingredients that are used.
Opened by Chef Ken, an ex-chef at The Fullerton Bay hotel and Pan Pacific Singapore, Warung K is a hawker store at Timbre+ serving up grilled Indonesian meats.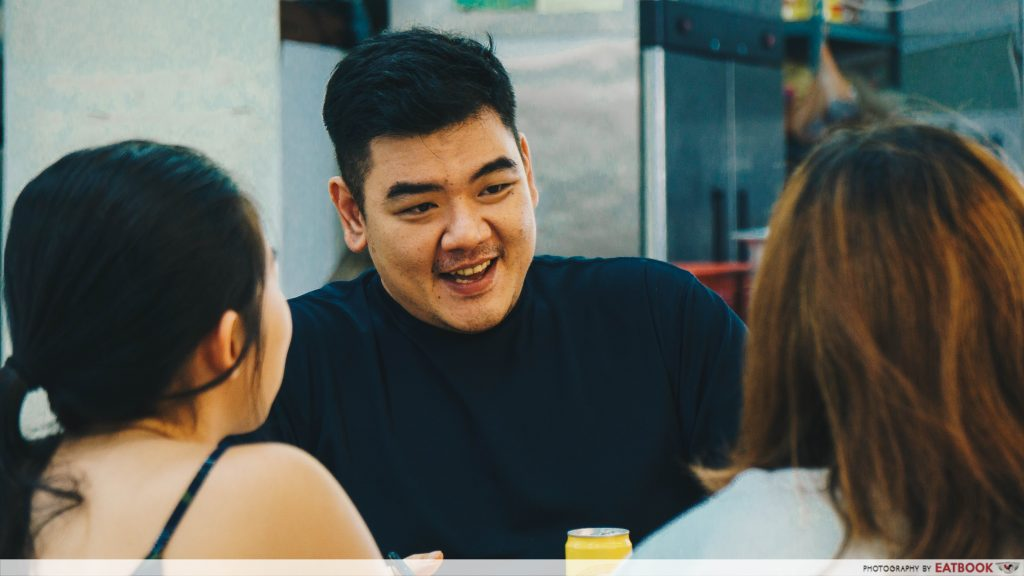 After cooking in hotels for 18 years, Chef Ken decided to open up an Indonesian food store after a fishing trip to Indonesia. Citing how there was not enough recognition for Indonesian food in Singapore, he wanted to bring affordable Indonesian fare to Singaporeans for everyone to enjoy.
Previously located at Pioneer, the stall has since relocated to a more accessible location and caters to the dinnertime crowd as well.
Food at Warung K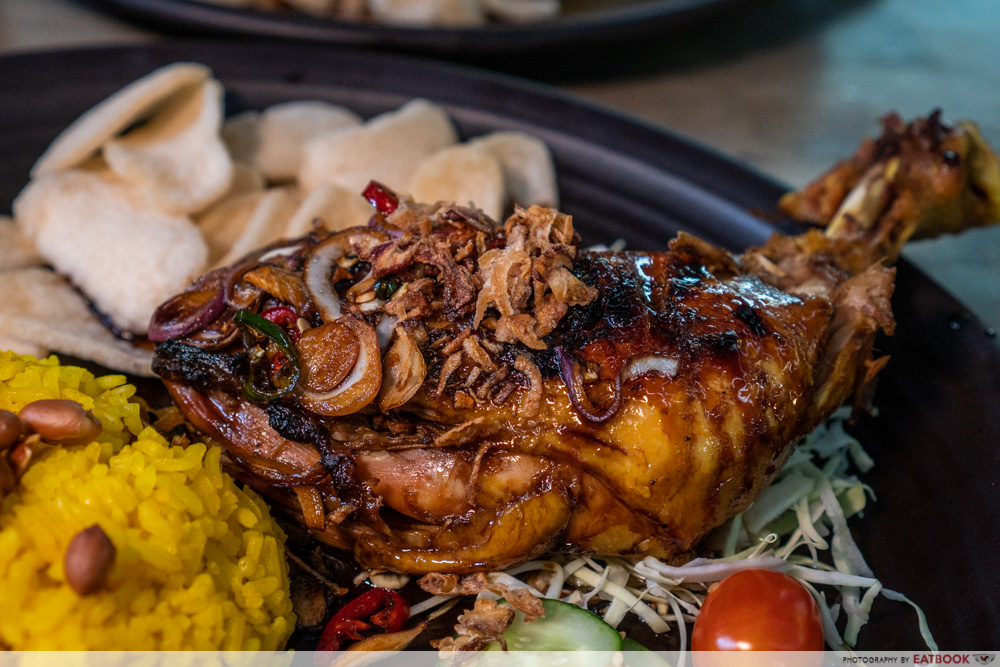 The meats are prepared over a charcoal grill, giving a nice smoky aftertaste. Each of them is also basted with the house's signature sweet sauce.
Chicken Leg Bakar ($6.90) is one of the most popular items here, coming with a whole leg of chicken, house-made sambal chilli, fragrant turmeric rice, and prawn crackers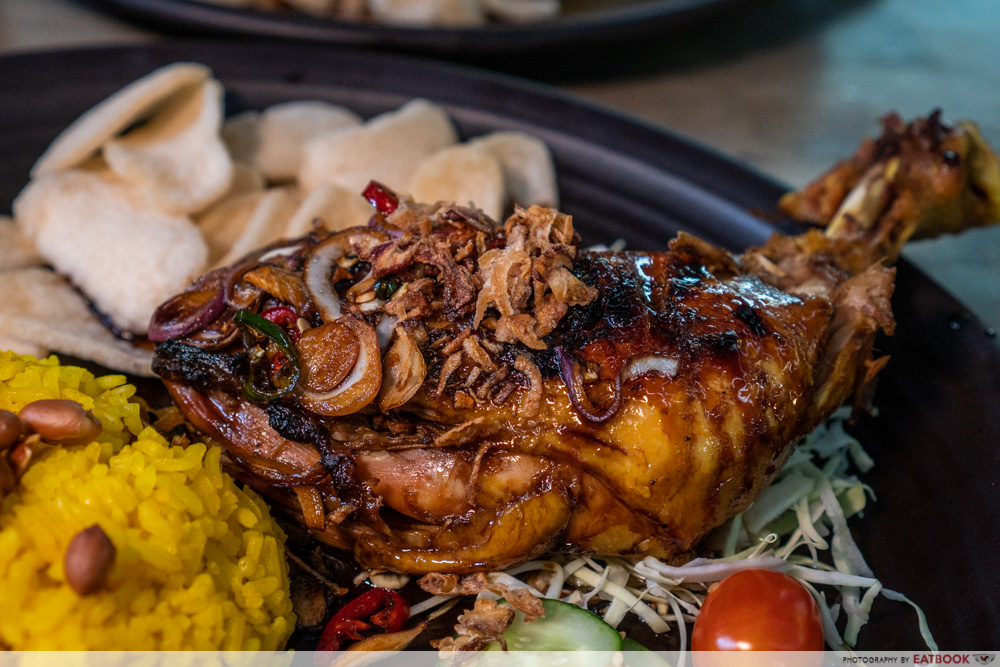 Fried shallots are also sprinkled on top, giving a nice crunch. I felt that the sauce did well in bringing out the natural flavours of the meat, but could have been less sweet.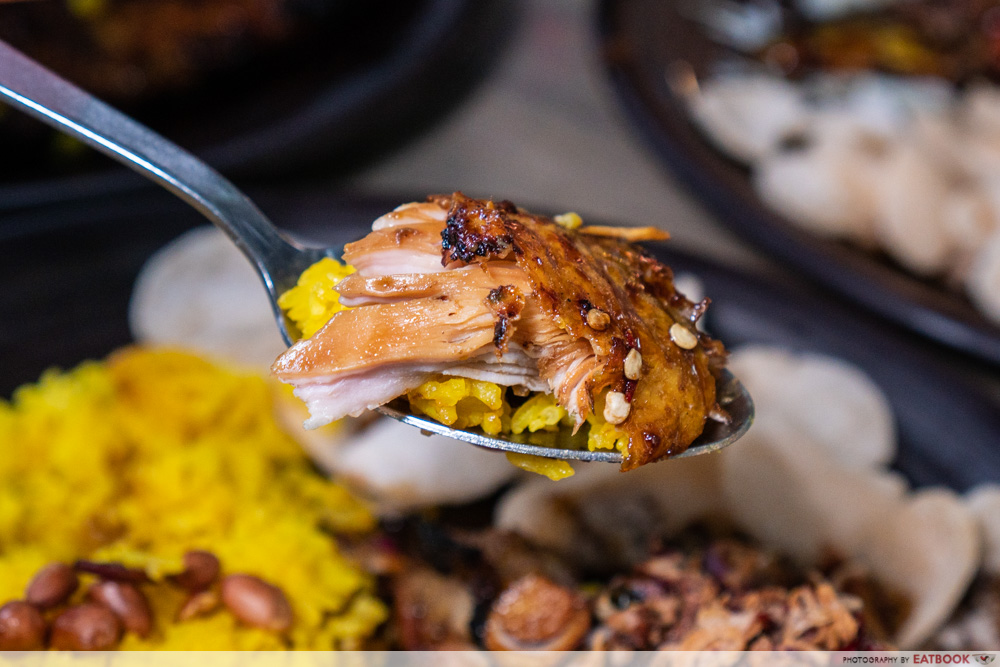 One thing I also noticed was the exceedingly tender meat. It had just the right amount of fats, with my fork tearing through it easily.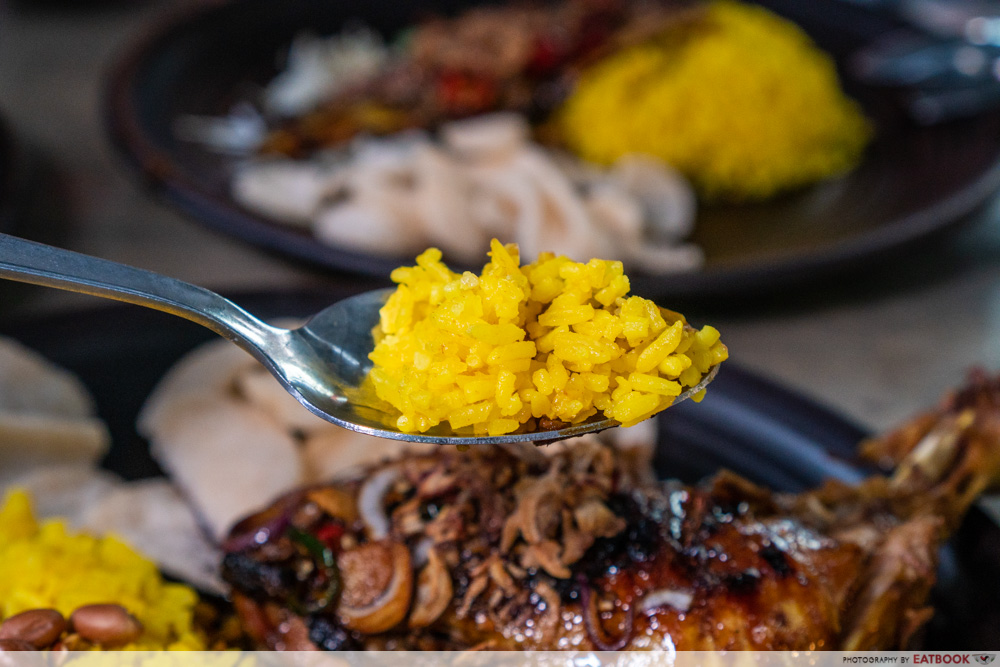 All their mains come with a side of fragrant turmeric rice. These vibrant-coloured grains gave a nice yellow hue to the entire presentation, brightening up the dish. The rice had just the right amount of moisture to it too, without being overly clumpy or dry.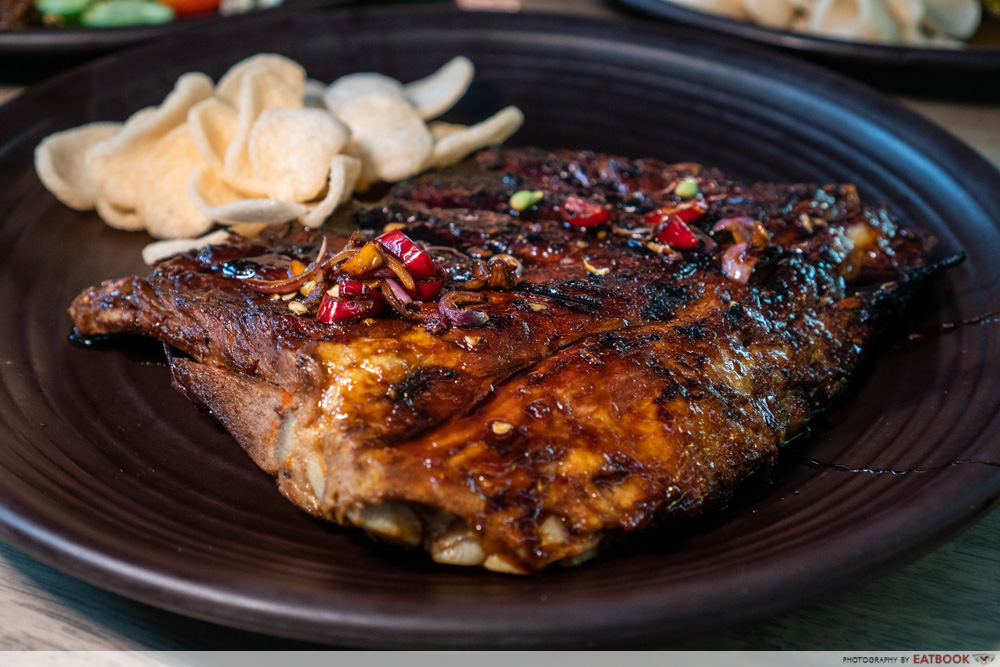 If you've been to Bali, you might be familiar with the tasty ribs at Naughty Nuri's. The Balinese Pork Ribs ($15) here is slightly more expensive but comes close in terms of taste.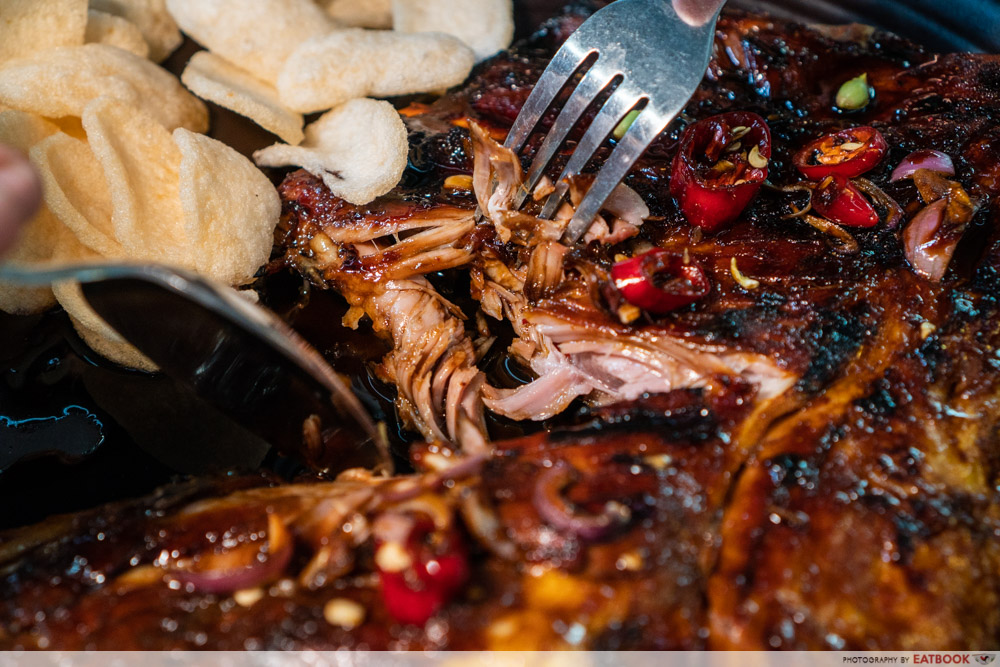 The slab of meat was fork-tender and the slow-cooking process allowed the sauce to penetrate through the skin, giving plenty of flavour. I'd recommend ordering this dish to share, as the portion is huge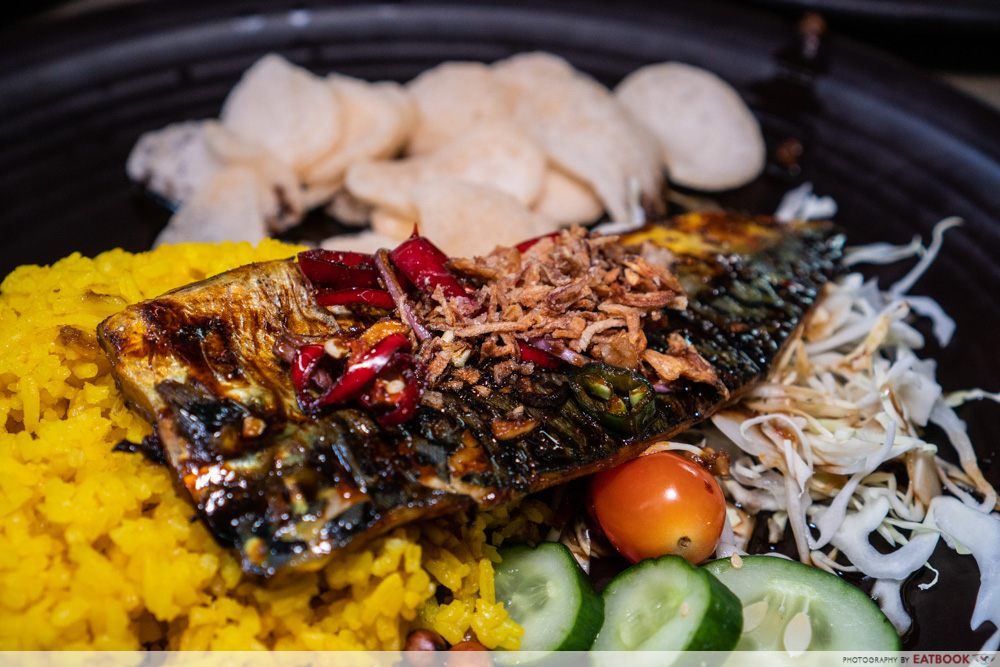 Catch of the Day ($7.90) gives you a choice of mackerel or garoupa. The skin on the fish was crispy and revealed a moist juicy flesh. Once again, I found the sauce to be a little too overpowering, removing the natural sweetness of the fish.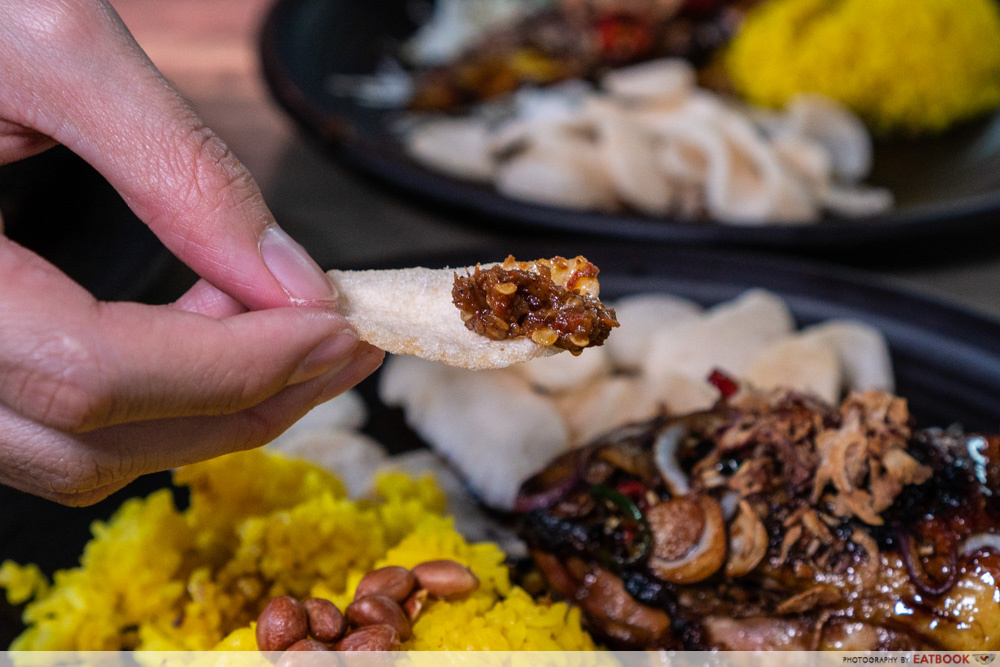 The sambal chilli here is something special. Each batch is painstakingly made in-house by Chef Ken. It had just the right amount of spice and heat that went well with the accompanying prawn crackers.
Ambience at Warung K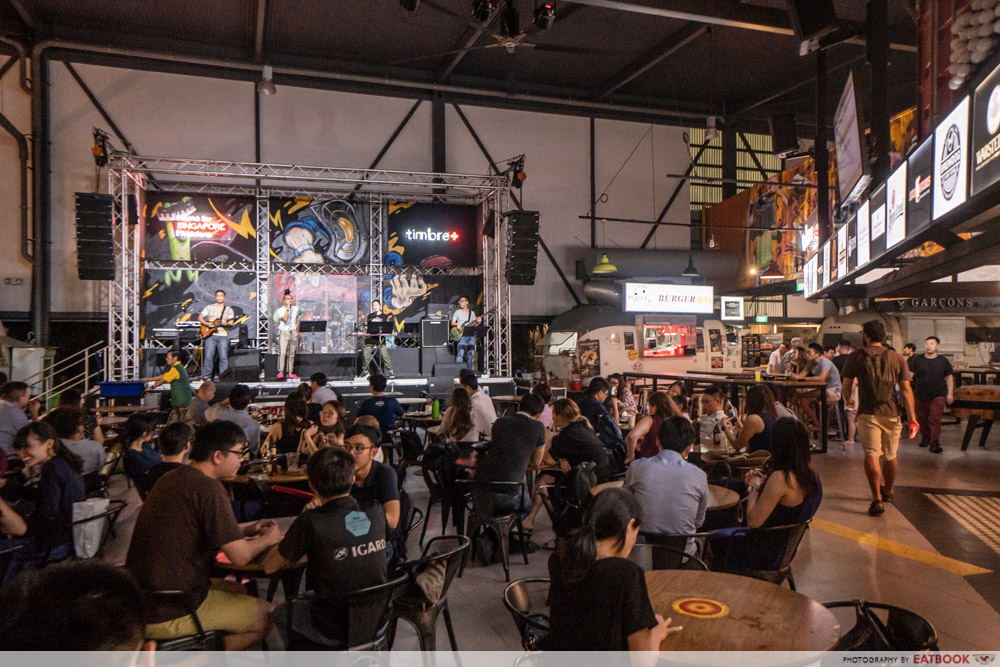 Located at Timbre+, the area is well-ventilated and has plenty of seats available. We paid a visit to Warung K twice and recommend visiting during dinnertime to avoid the lunchtime office crowd.
There's also a live-band performance during the evenings, and you can chill out over some craft beers and Indonesian BBQ.
The verdict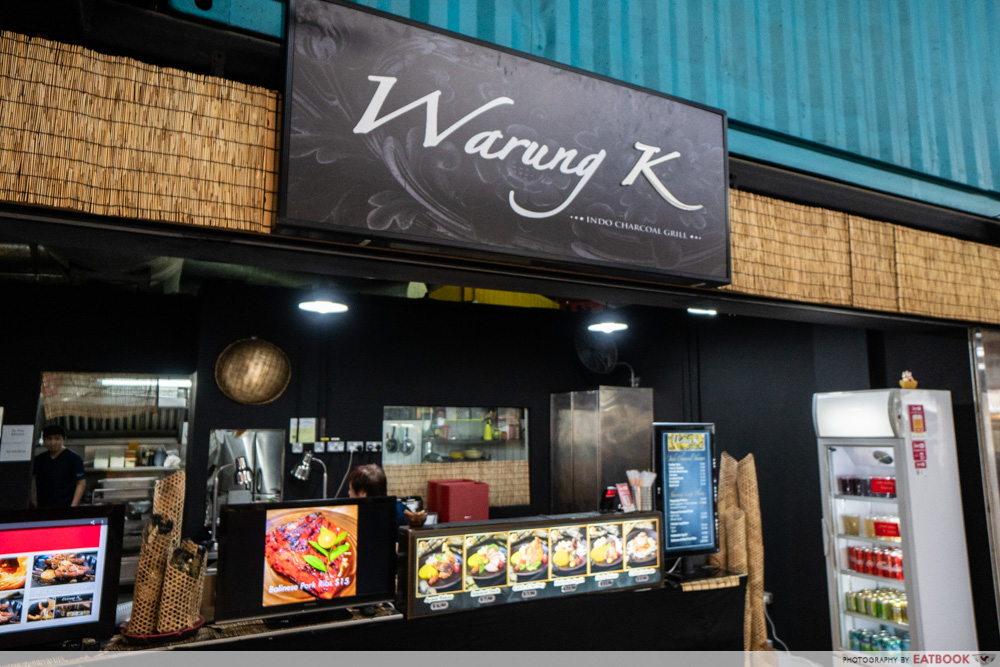 It's always inspiring to hear of new businesses that are opened by ex-hotel and restaurant chefs. The food at Warung K did not disappoint. With a slew of exciting plans lined up for Warung K, we're looking forward to more new creations from this new player in the Indonesian BBQ game.
Address: 73A Ayer Rajah Crescent, JTC LaunchPad @ one-north, Singapore 139957
Opening hours: Mon-Sat 11am to 9pm
Tel: 9270 0770
Website

Photos taken by Dexter Looi.
This is an independent review by Eatbook.
Timbre+ Review: Massive Food Park With Tasty Eats, Cheap Craft Beer And Live Music For After-Work Hangs
Summary
Pros
– Delicious charcoal-grilled dishes
– Convenient location
– House-made sambal was good
Cons
– Sauces used were too sweet
Recommended Dishes: Chicken Bakar ($6.90), Balinese Pork Ribs ($15)
Operating Hours: Mon-Sat 11am to 9pm
Address: 73A Ayer Rajah Crescent, JTC LaunchPad @ one-north, Singapore 139957