Wellsmoocht at Marymount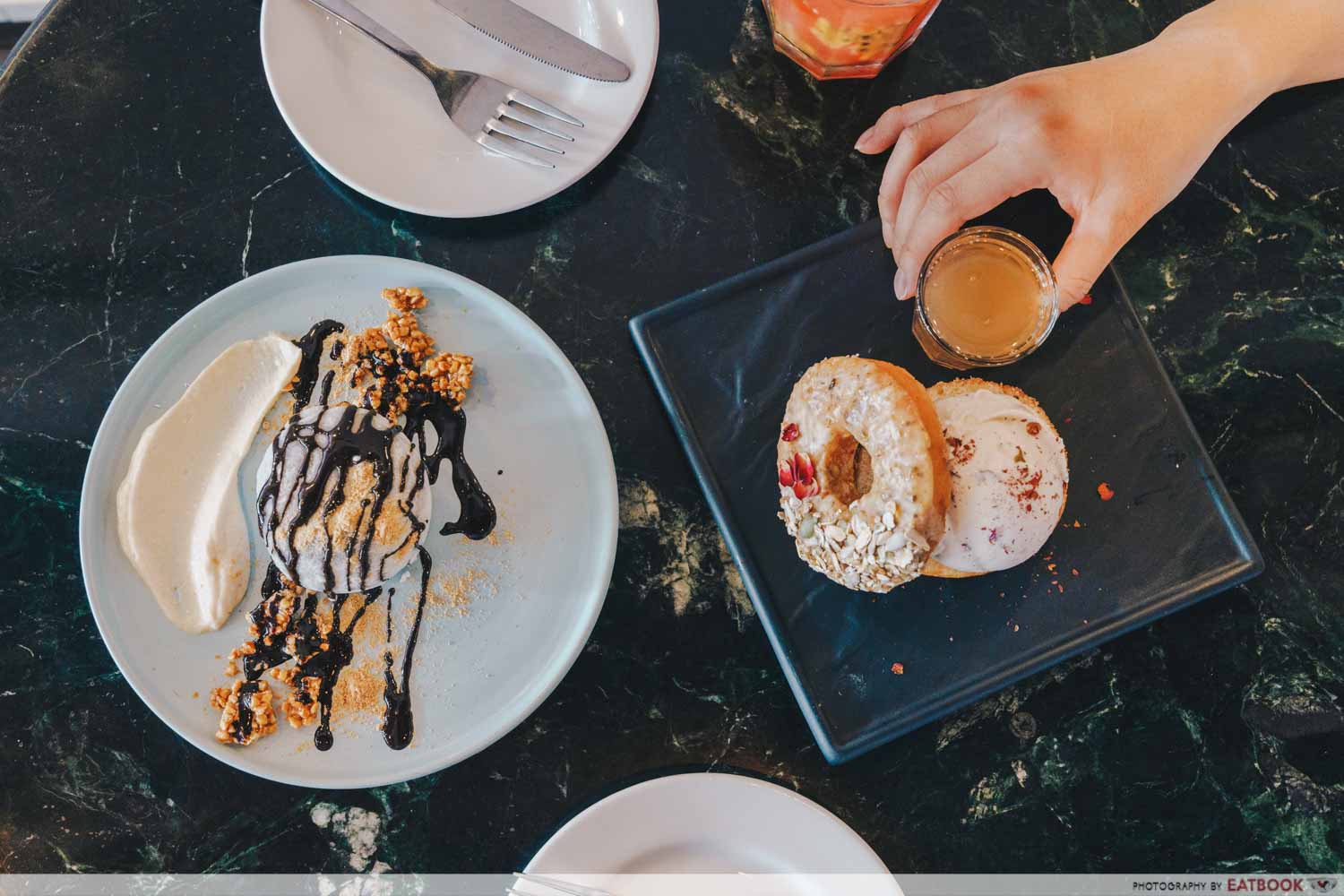 Wellsmoocht is the cafe collaboration of Well Dressed Salad Bar and Smoocht Ice Cream. An all-vegan eatery, the spot serves up vegan-friendly grub, and a selection of desserts crafted with plant-based gelato from Smoocht—all at nett prices.
I didn't go into Wellsmoocht with the idea that it would be vegan. The menu just didn't have the same motifs that I was used to. The first thing I saw when I walked in was a sign for Rose Pistachio Donutlato, and a whole lot of indulgent pastries from peanut butter brownies to chocolate orange cakes. It didn't have 'vegan' and 'plant-based' plastered all over, or any of the same health is wealth rodeo that I usually see in vegan dessert shops.
The menu at Wellsmoocht is quite extensive. The all-day food menu comprises wraps, toasties, burgers, salads, soups, pizzas and more. But I didn't go for any of that. I heard the desserts here were bomb, and well, I wasn't going to fill myself up for anything else. The dessert menu in question is a lot simpler with an array of plated desserts and ice cream. 
Food at Wellsmoocht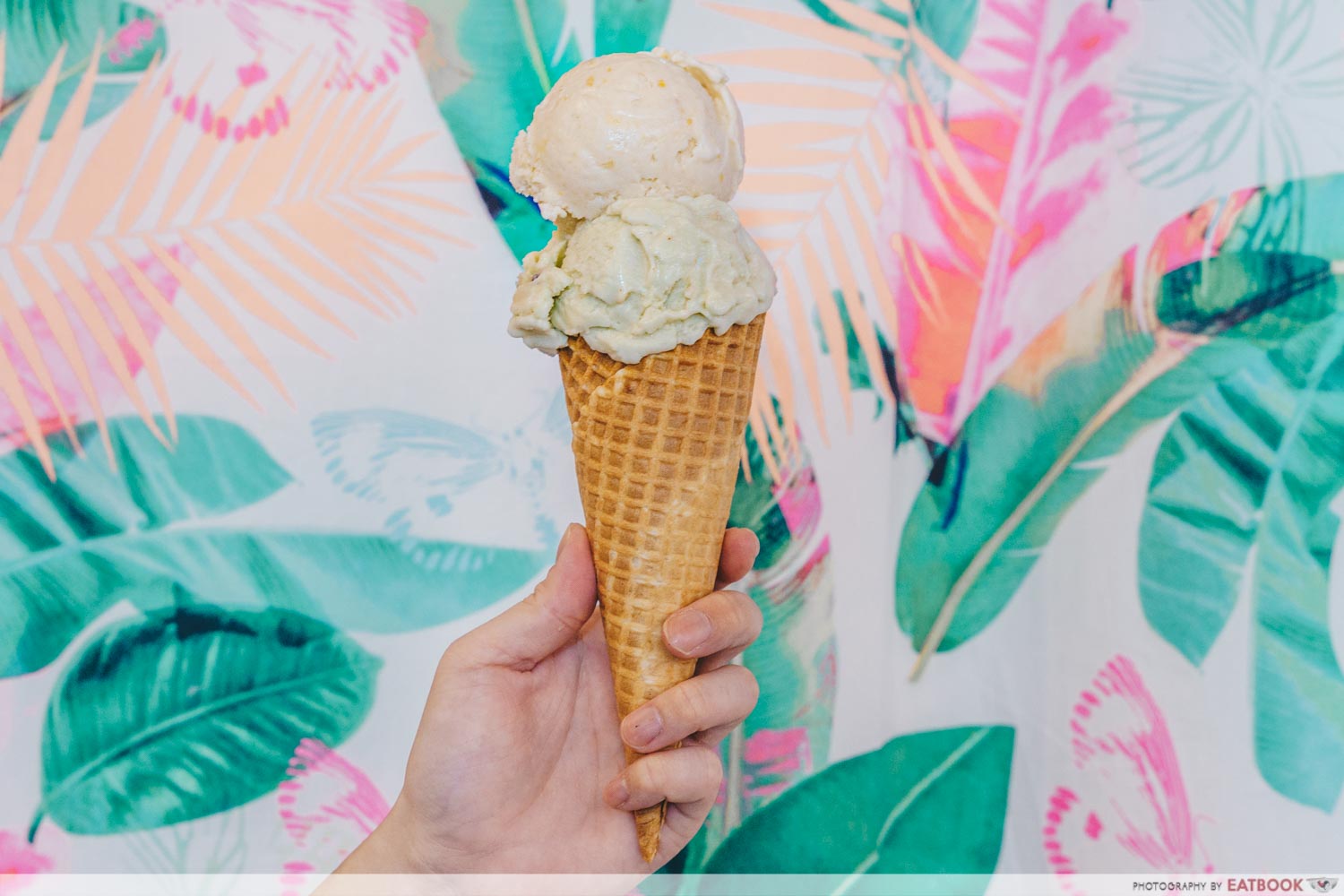 I started off with a double scoop of their premium non-dairy Smoocht ice cream ($7.50). Or as they call 'em, 'r'ice cream—traditional gelato made with organic brown rice milk and organic evaporated cane sugar. Out of the 12 ice cream flavours available, some were well-known Smoocht flavours such as the Hazelnut and the Strawberry Fields. However, there were also a couple of Wellsmoocht exclusives such as the Cream Corn and Rose Coconut.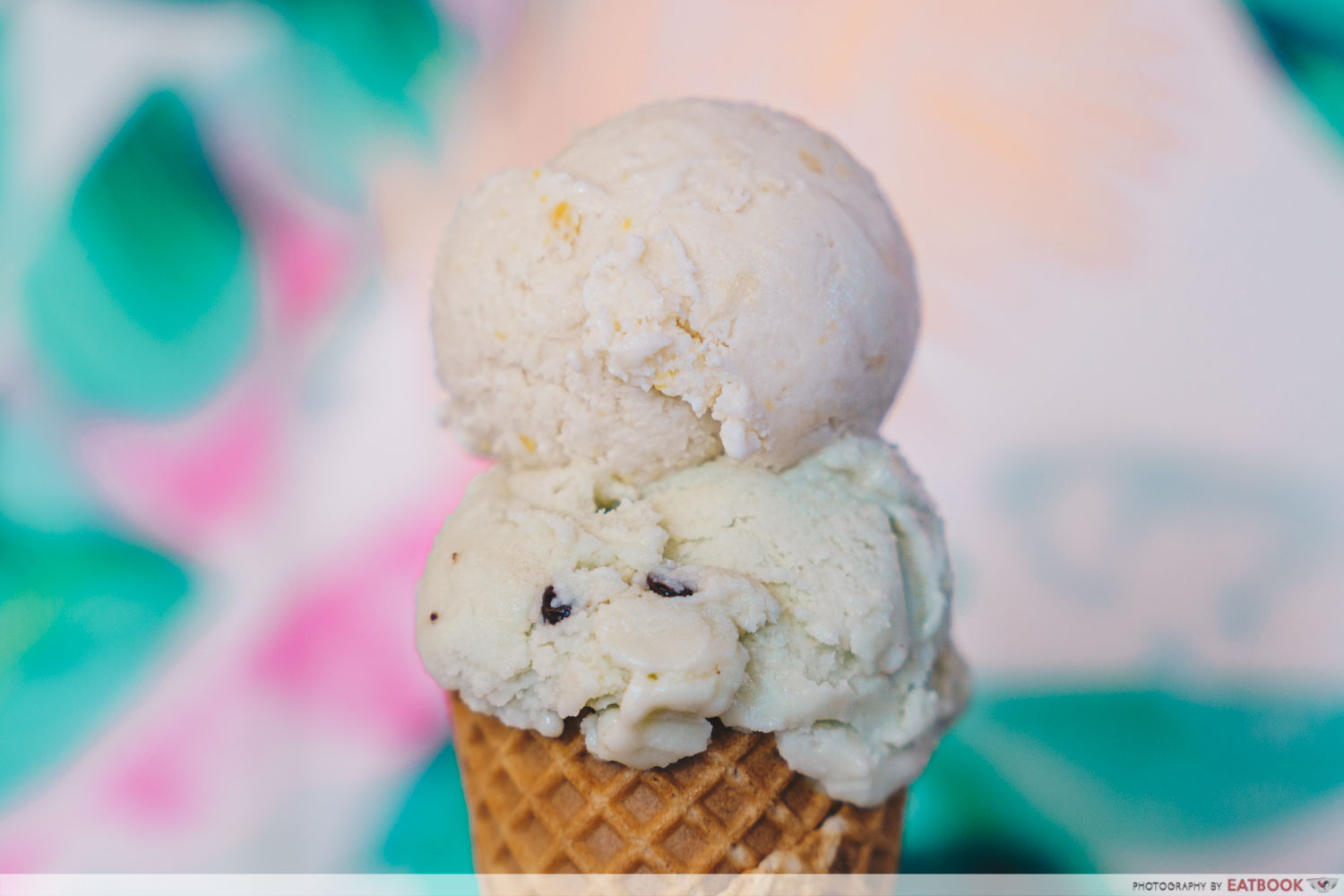 I went for a scoop of Cream Corn and a scoop of my personal favourite, Morning Mint, on a cone. The r'ice cream was indulgent and substantially creamy, with none of that soy and coconut milk aftertaste. The texture was similar to something between a creamy gelato and a sorbet—definitely a lot more watery than other milk substitutes.
The first flavour I chose, Cream Corn, wasn't overwhelmingly creamy nor was it grainy and studded with hard corn bits. It was very sweet with slightly savoury notes, similar to that of a Japanese corn potage snack.
The mint ice cream was much better. The watery element of the rice milk really helped in bringing out a stronger mint flavour, and the accents of little chocolate chips kept each bite interesting.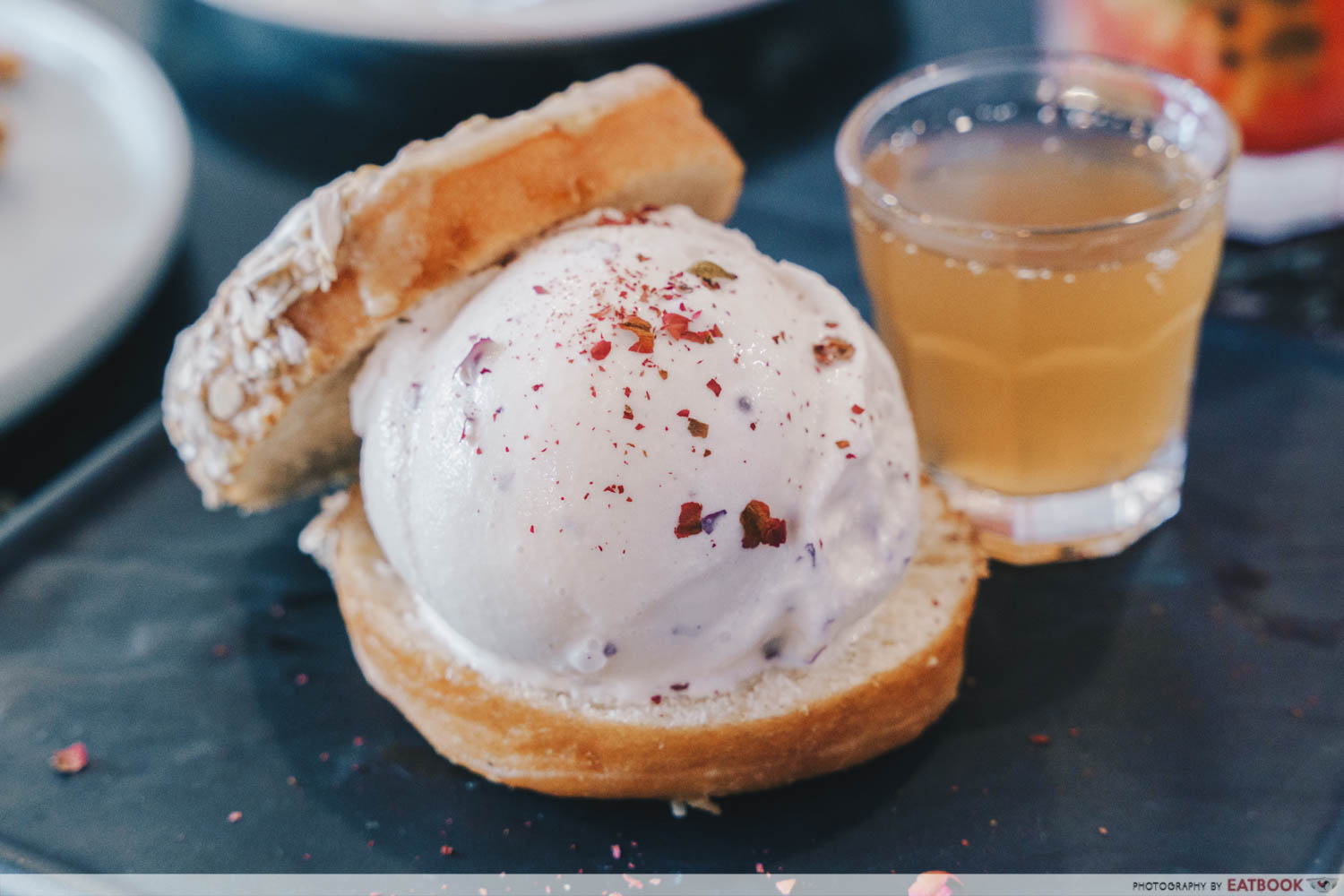 I went on to order two plated desserts: the Rose Pistachio Donutlato ($7.50) and the How Mochi Do You Love Me ($9.50) with ice cream-filled mochi.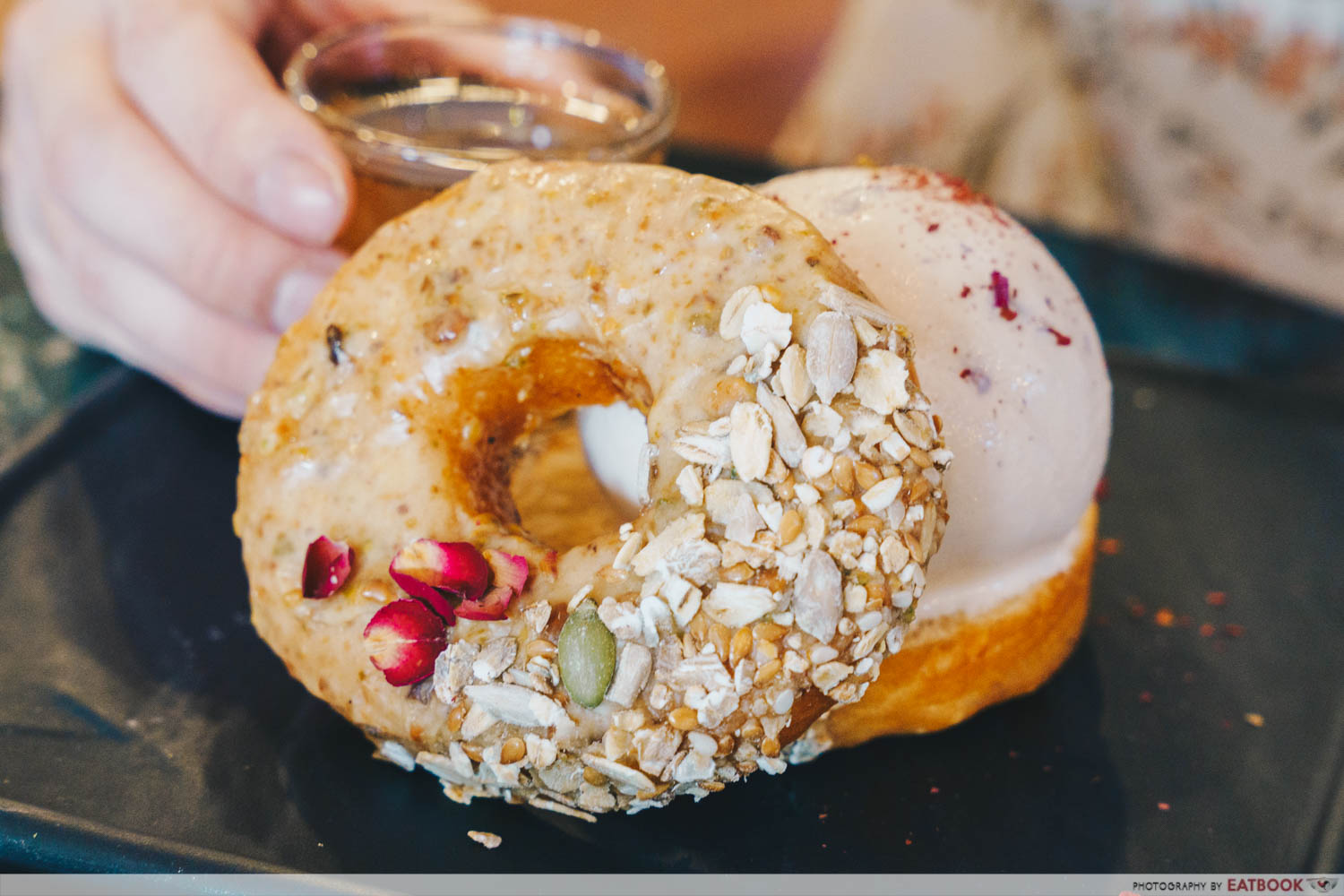 The Rose Pistachio Donutlato ($7.50) came with a mini pistachio-glazed doughnut, cut in the middle and filled with a scoop of creamy coconut rose gelato. There was a random tiny shot of kombucha on the side that didn't particularly go well with the rest of the plate. It was more like a plate filler.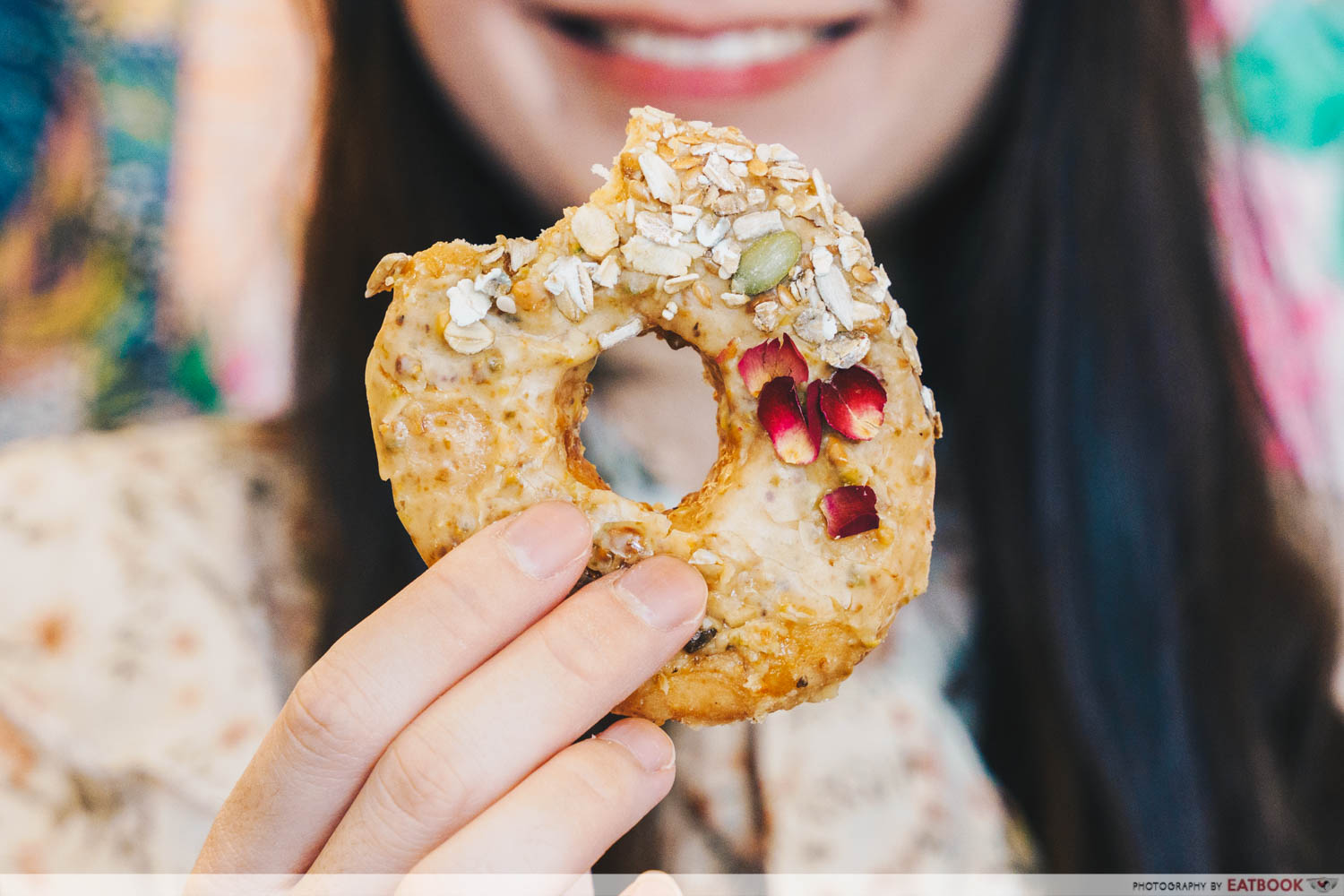 While the pistachio glaze atop was wonderful, the doughnut itself was dense and hard, possibly from being stored in the fridge for some time.
On the other hand, the coconut rose gelato was incredible! Creamy and indulgent, the dessert had a hint of rose that kept it from being too perfumy.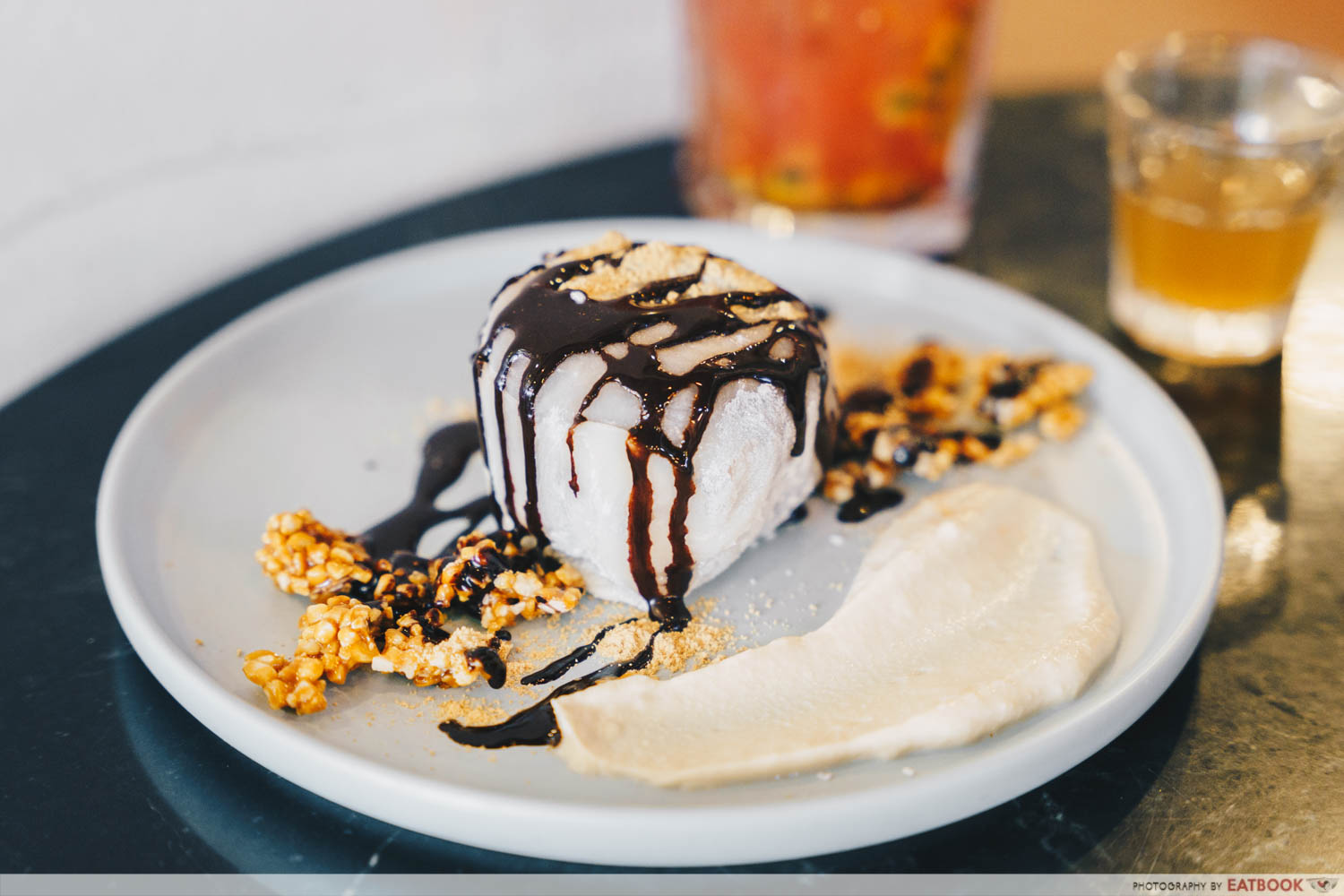 The How Mochi Do You Love Me ($9.50) came with a house-made mochi that was filled with Smoocht dark chocolate gelato with almond praline, kinako snow (soy bean powder) and soy-based vanilla cream.
The mochi is a must-have! I used the spoon to dig into the ice cream inside. Its skin had a QQ texture but was soft enough to give way for an easy scoop.
The dark chocolate r'ice cream was a real dream! Chocolatey and very creamy, it was not at all watery like the ones we had prior. The almond praline gave each bite a nice crunch. However, the soybean powder and vanilla cream did not do much for the dish—the latter even had a strange grainy texture.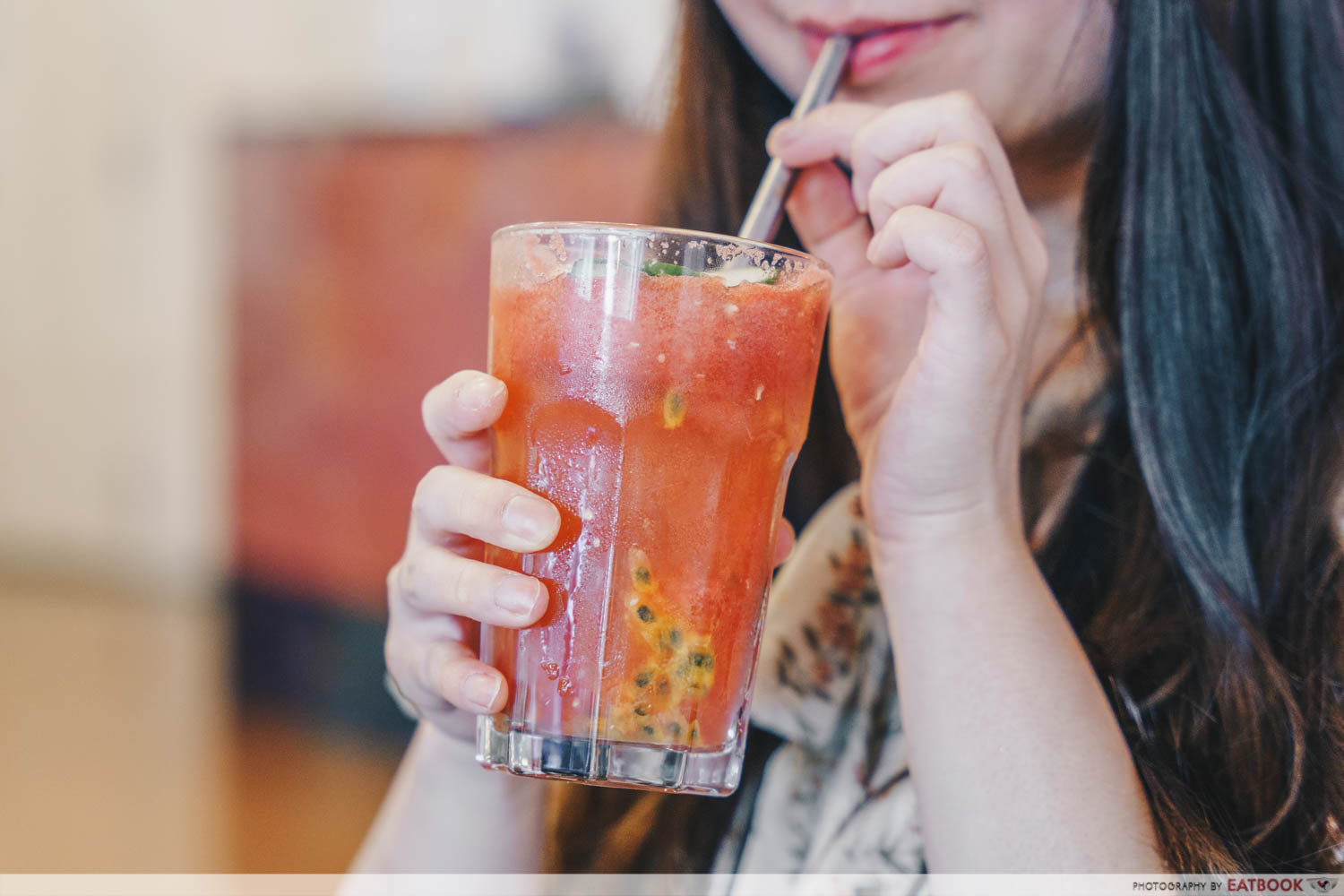 With the weather hitting 35°C, I couldn't help but reach out for their thirst-quenchers. The Watermelon Passionfruit Kombucha Spritzer ($7.50) was a tall concoction of Forage Kombucha, watermelon juice and passionfruit juice. The drink was refreshing and energising, with a sour kick in its aftertaste. 
Ambience at Wellsmoocht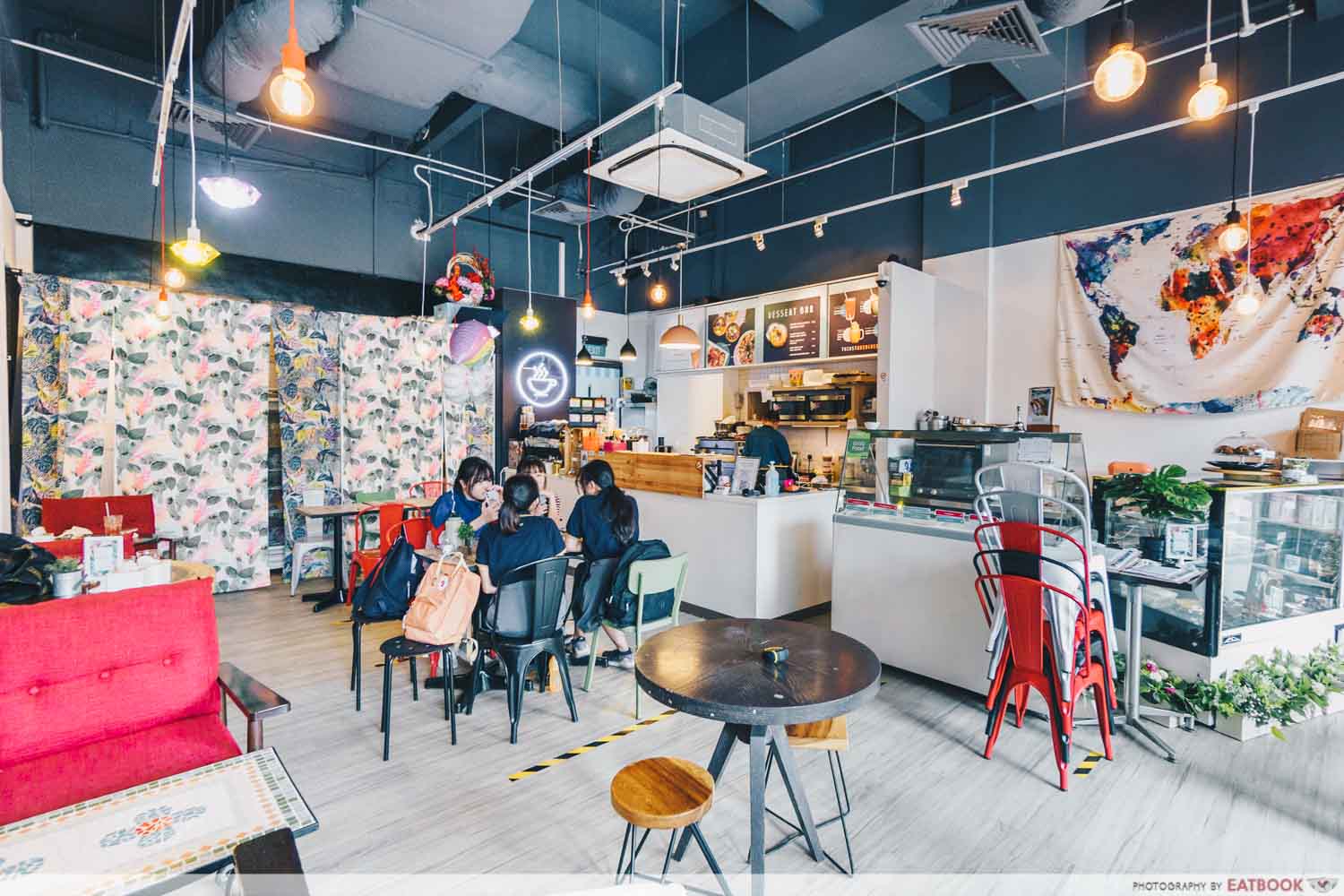 The lively little cafe with its ceiling to floor windows is brightly lit during the day. With lots of students coming in during the after-hours, and regulars coming with their families over the weekends, Wellsmoocht seems to already have set themselves as a neighbourhood gem.
The verdict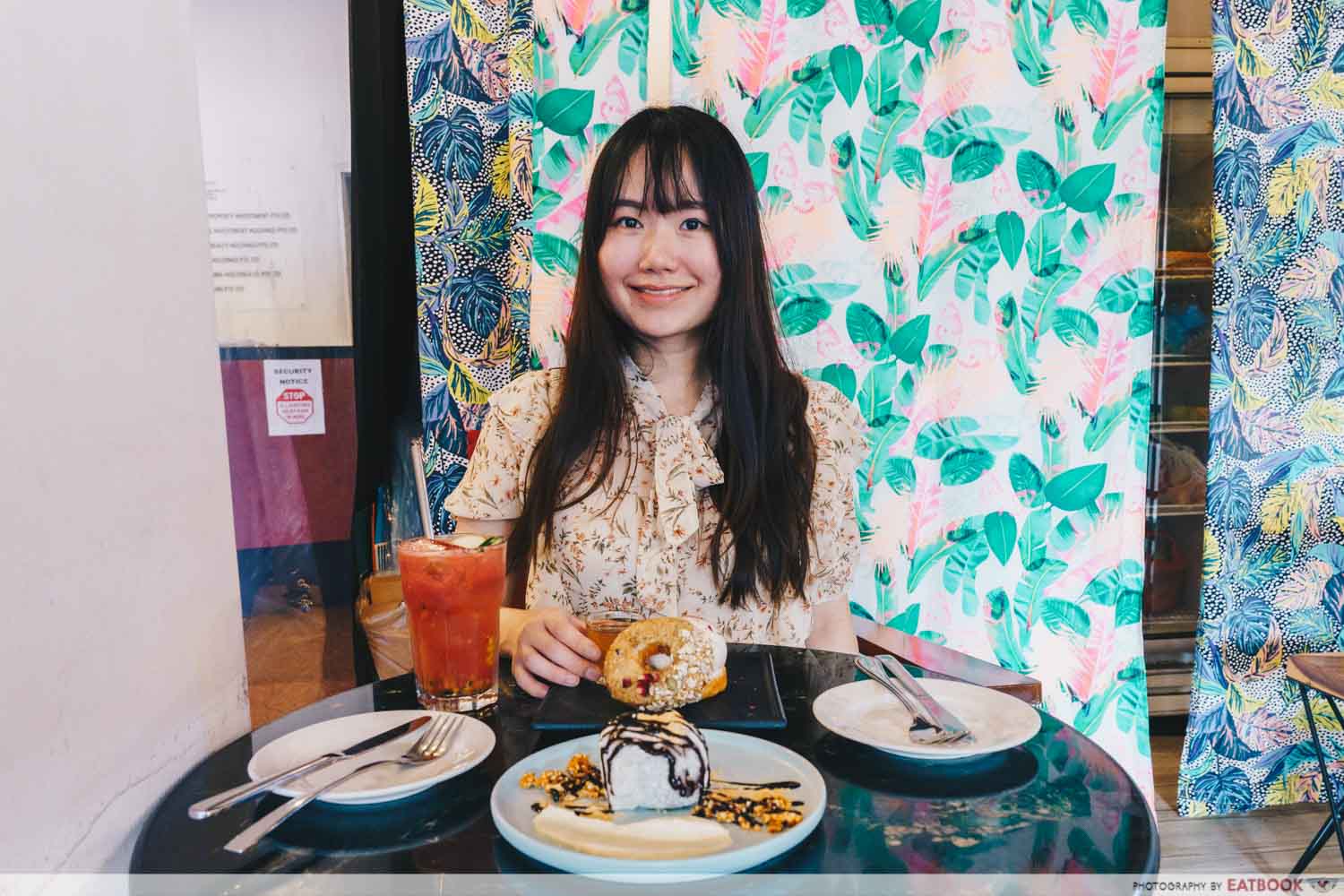 Wellsmoocht is worth the pit stop for vegan eaters looking for something a little more than just vegan ice cream or coffee. Vegan plated desserts, pizzas and kombucha are some of the highlights you will find here.
They also have a few exclusive ice cream flavours such as Corn Cream and Rose Coconut. While the desserts were a hit or miss, the dark chocolate mochi dessert is easily a must-try for vegan and non-vegan eaters alike.
The best part of Wellsmoocht is that it doesn't ever mean to be guilt-free. They focus on giving hearty wholesome grub and keep their desserts in the category they belong—sweet, indulgent and comforting. I'll definitely come back to try the pizzas next time.
You can now order their range of vegan food via their website. Although you won't be able to get stuff like their Donutlato, items such as their ice cream pints, pizzas, and wraps will still be available.
14 Ice Cream Delivery Services In Singapore For You To Cool Down During Circuit Breaker
If you're looking for more options to satisfy your sweet tooth this period, check out our lists of ice cream delivery services and dessert delivery options.
10 Dessert Delivery Places With Islandwide Delivery Via Chope For Matcha Cakes, Souffle Pancakes And More
Address: 8 Sin Ming Road, #01-03, Sin Ming Centre, Singapore 575628
Opening hours: Daily 12pm to 9:30pm
Tel: 6456 6431
Website
Photos taken by John Lery Villanueva.
This is an independent review by Eatbook.sg, and was written before the Circuit Breaker measures.
Summary
Pros
– Has exclusive Smoocht gelato flavours
– Wholesome interior and lovely staff
– Delicious vegan food
– Their Chocolate r'ice cream was on point
Cons
– Their doughnut was a little hard and dense
– Some parts of their dessert plates were unnecessary
– Their double scoop was a tad pricey
Recommended dishes: How Mochi Do You Love Me ($9.50), Premium R'ice Cream Double Scoop ($7.50)
Opening hours: Daily 12pm to 9:30pm
Address: 8 Sin Ming Road, #01-03, Sin Ming Centre, Singapore 575628