---
Get dessert delivery with the new Chope On Delivery
---
All those who have been on #workfromhome can probably relate to hours of scouring the internet, just to find food delivery options that are fast and worth the money. If you're tired of dabao-ing from the same coffeeshop, or simply craving some post-dinner dessert, give Chope's brand new delivery service a go. Chope On Delivery delivers island-wide from over 120 different restaurants, with flat delivery fees starting from $0. This means you can savour HVALA's matcha cakes and Hoshino Coffee's fluffy stacks from the comfort of your home!
---
1. HVALA
---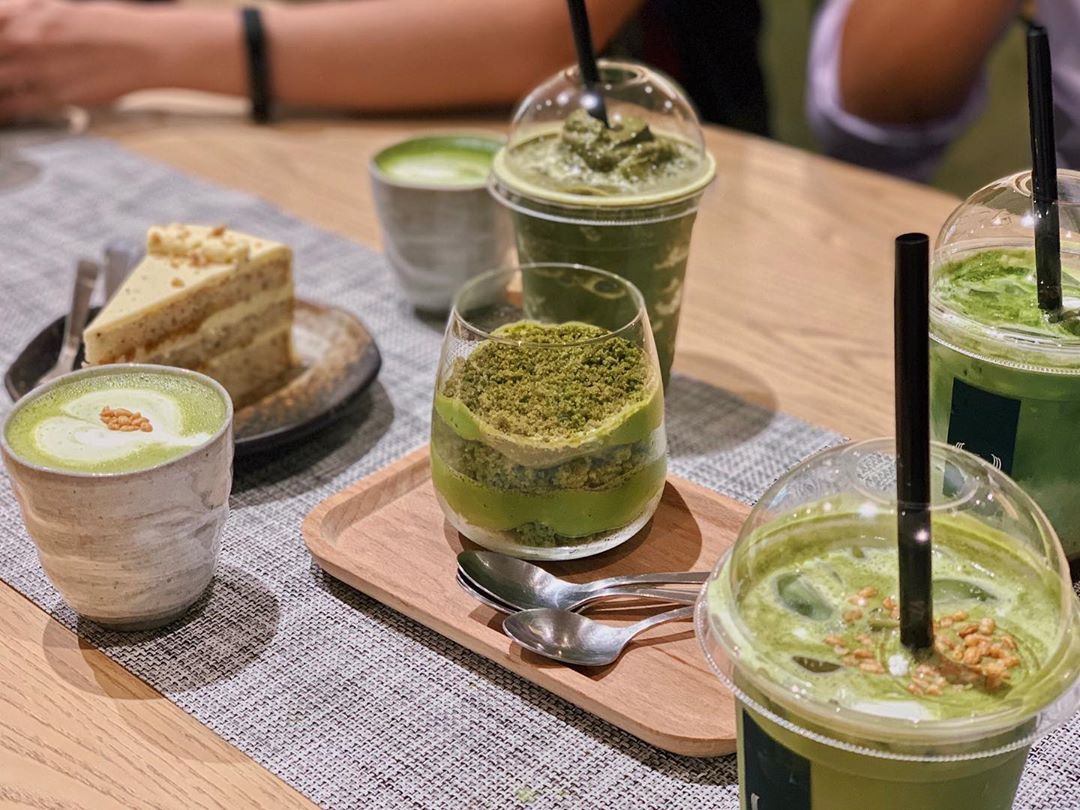 Image credit: @thehungrynoonaaa
HVALA is the dream cafe for any matcha lover. The Japanese teahouse and cafe sells IG-worthy ombre brews, smooth layered cakes, and beautiful European-style tarts. A fan-favourite is their Matcha Azuki Cake ($7.80) which is layered with light, matcha-infused sponge, sweet azuki beans, and green tea cream.
All their lattes will be delivered in bottles, including the unique Genmaicha Latte ($6.80), which is a fragrant green tea latte topped with toasted rice. If you're looking for something to beat the heat, you can also get a pint of their Matcha Cookies and Cream Gelato ($20.80) to snack on at home. Deliveries are island-wide with a fee of $8, and a minimum order of $50 is required.
---
2. Clinton Street Baking Company & Restaurant
---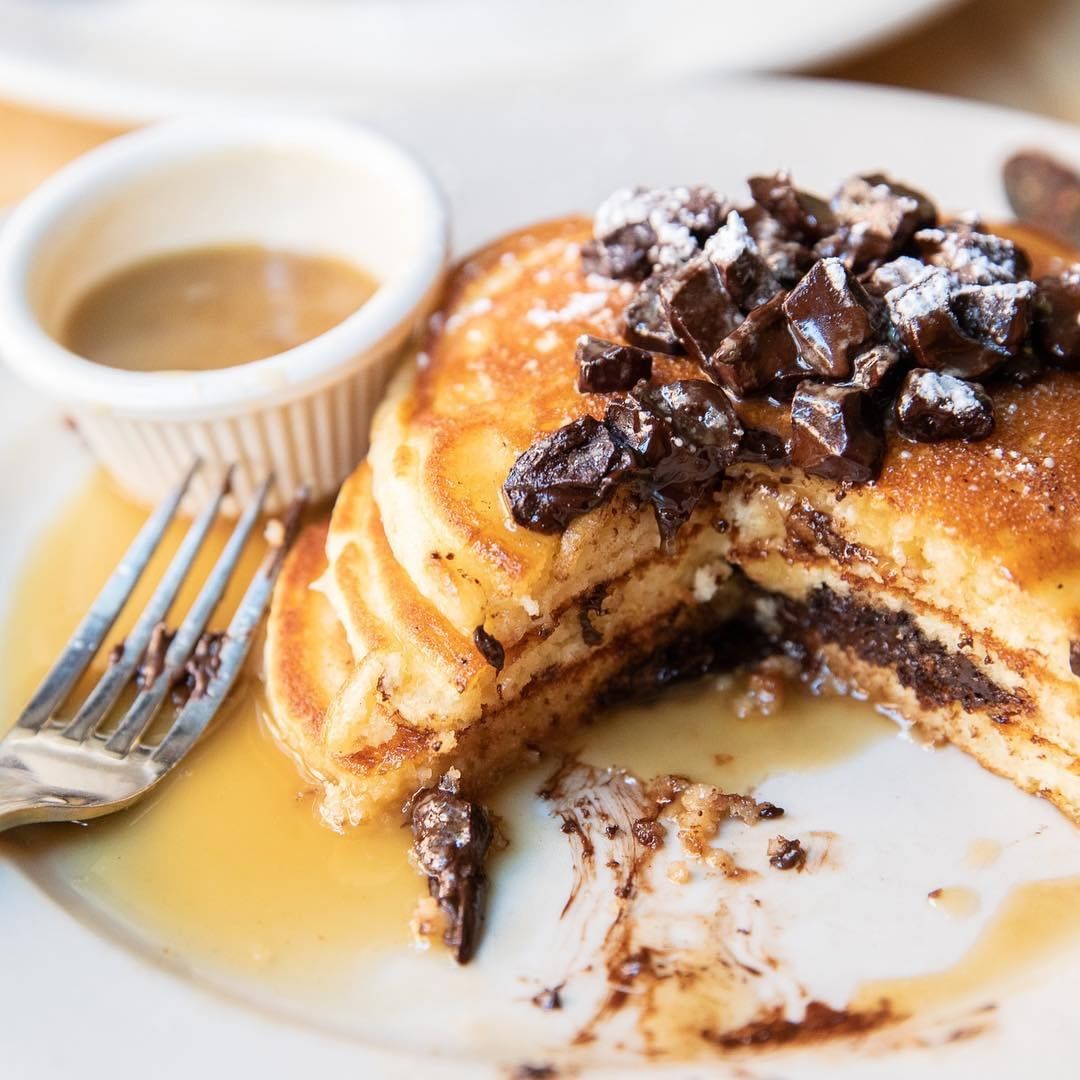 Image credit: @carpecityguide
Hailing all the way from New York, Clinton Street Baking Company & Restaurant sells classic American grub, such as all-day breakfast and buttermilk pancake stacks. The thick stack of Chocolate Chunks Pancakes w/ Warm Maple Butter ($20.33) is generous enough for a full meal. But if you're craving something savoury as well, go for their Spanish Scramble ($22.47), which is a plate full of breakfast ingredients including scrambled eggs, chorizo, lightly charred hash browns, crispy sourdough and more.
Delivery is free, but they have a minimum order requirement of $50, so grab some Double-Smoked Bacon ($7.49) or Buttermilk Onion Rings ($7.49) as sides before checking out!
Order now from Clinton Street Baking Company & Restaurant
---
3. D9 Cakery
---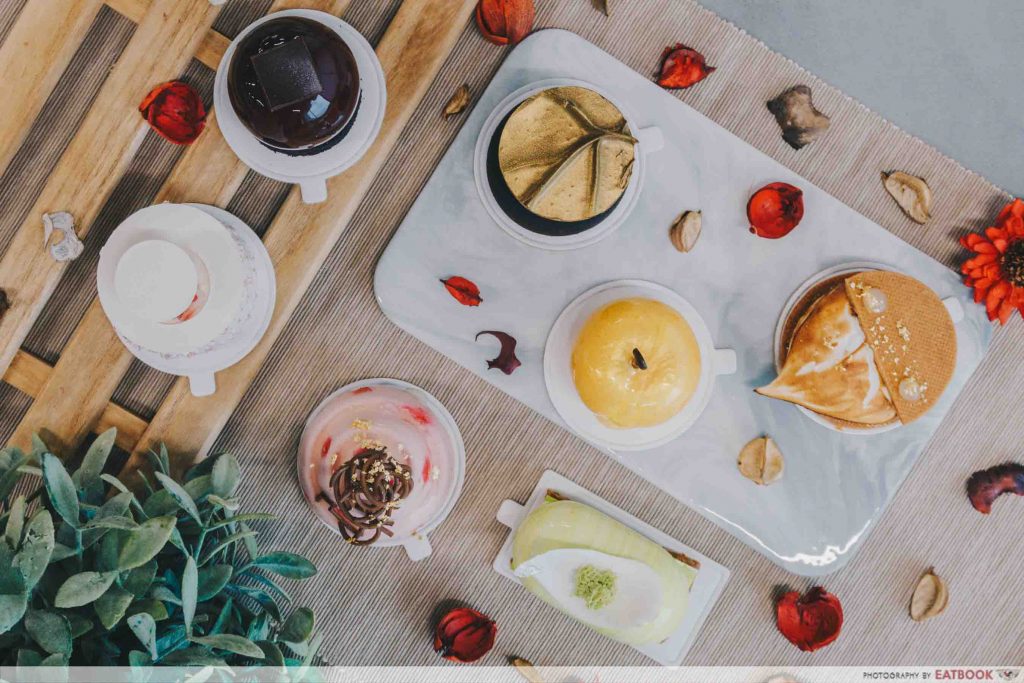 Part of the Hilton Singapore family of restaurants, D9 Cakery puts together elegant pastries and handcrafted desserts that are perfect for a special occasion. A slice of their Signature Double Chocolate Cake will set you back $7, and comes with eight layers of yoghurt cocoa sponge as well as rich Valrhona chocolate. For something more delicate, try a slice of the patisserie's Fraise Chantilly ($9), which is their take on strawberry shortcake. 
Order from multiple restaurants under the Hilton Singapore group, and a single, flat delivery fee of $8 applies. To meet the minimum order of $80, get some hearty mains such as flame-grilled 300g Wagyu Sirloin ($84) from Opus Bar & Grill, or a 5 Course Italian-Japanese Bento Set ($52) from il Cielo together with your desserts!
D9 Cakery: IG-Worthy Cakes From Hilton Singapore That Are Worth The Money
---
4. Sarnies
---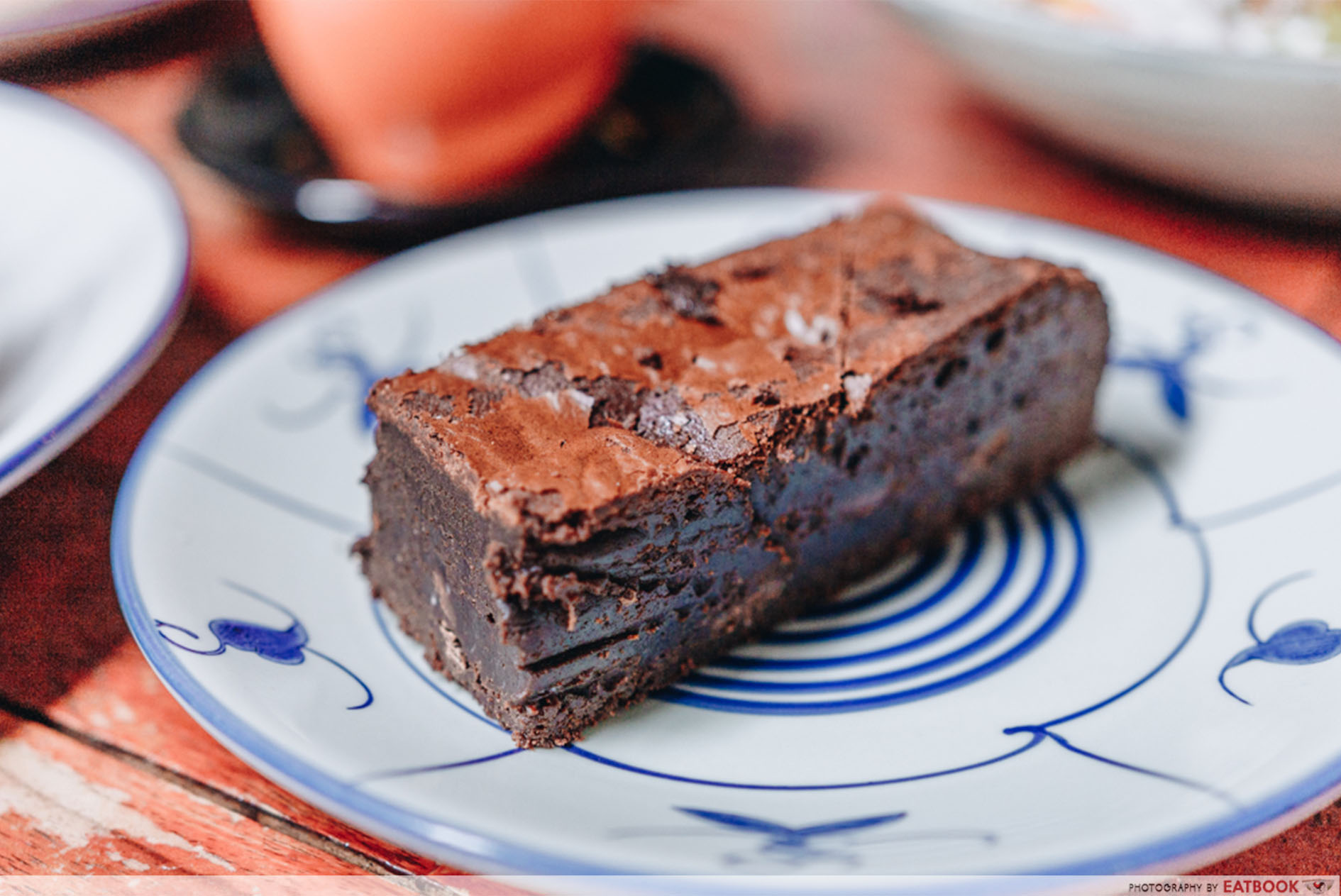 Those who used to frequent CBD food spots will probably recognise Sarnies. The popular brunch stop is best known for their impressive sandwiches as well as unique coffee concoctions, such as the coconut-spiked Bulletproof Coffee ($6). 
Get your sweet fix with a slice of their fudgy Brownie ($5) or a bowl of Homemade Granola ($7.50). They also whip up mean sandwiches, such as the Grass-fed Steak Sarnie ($16.80) which is a monstrous stack of juicy steak, caramelised onions, and buttery mushrooms. Delivery is free, but do note that they have a minimum order requirement of $45.
---
5. Pollen
---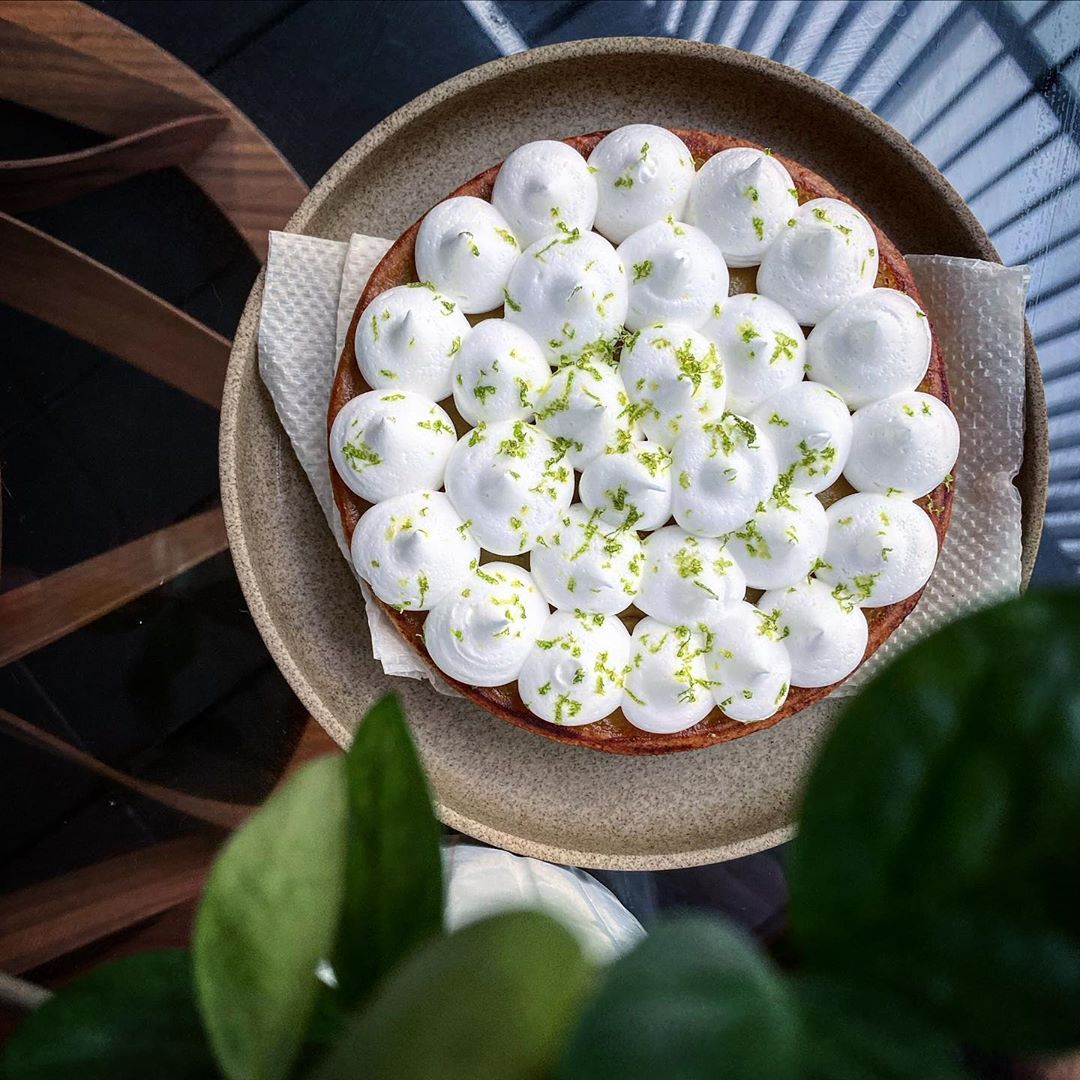 Image credit: @benandleonie
Located at Gardens By The Bay's Flower Dome, Pollen is the go-to place for a fancy lunch date. During this #StayHome period, the restaurant is delivering their high-end meals for a flat fee of $8, with a minimum order of $60. You can get their zesty Lemon Meringue Tart ($29.95) on its own, or in their Beef Wellington with Lemon Tart ($126.25) set that feeds two. 
For something more affordable, go for the Cottage Pie Set with Valrhona Soft Chocolate Tart ($48.15) or the Slow Cooked Lamb Ciabatta Set with Lemon Tart ($64.20) that you can share with your family.
---
6. Hoshino Coffee
---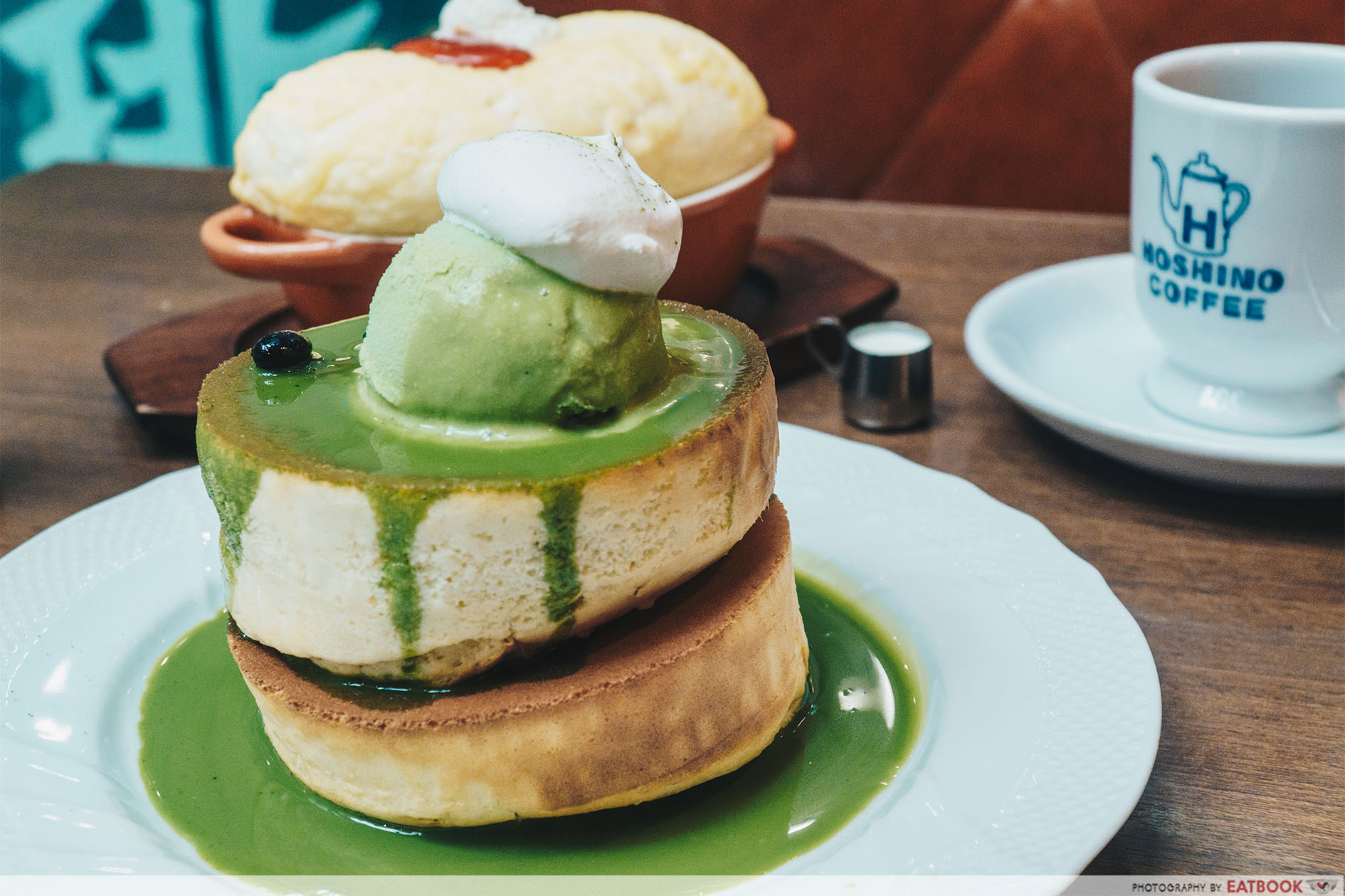 With multiple coffee houses scattered around Singapore and Japan, Hoshino Coffee is no stranger to the brunch cafe scene. Dig into one of their jiggly souffle stacks which are priced at $11.24 for their single Pancake Souffle, and $13.59 for their Double Pancake Souffle. 
For something more unique, go for their Chocolate Book Chiffon w/ Chocolate Chips ($10.06). The dark chocolate chiffon cake is sliced open halfway then filled with chantilly cream, decadent Nama chocolate, and a drizzle of Valrhona chocolate sauce. The cafe requires a minimum order of $45, and a flat delivery fee of $10 applies. 
---
7. Bakalaki Greek Taverna
---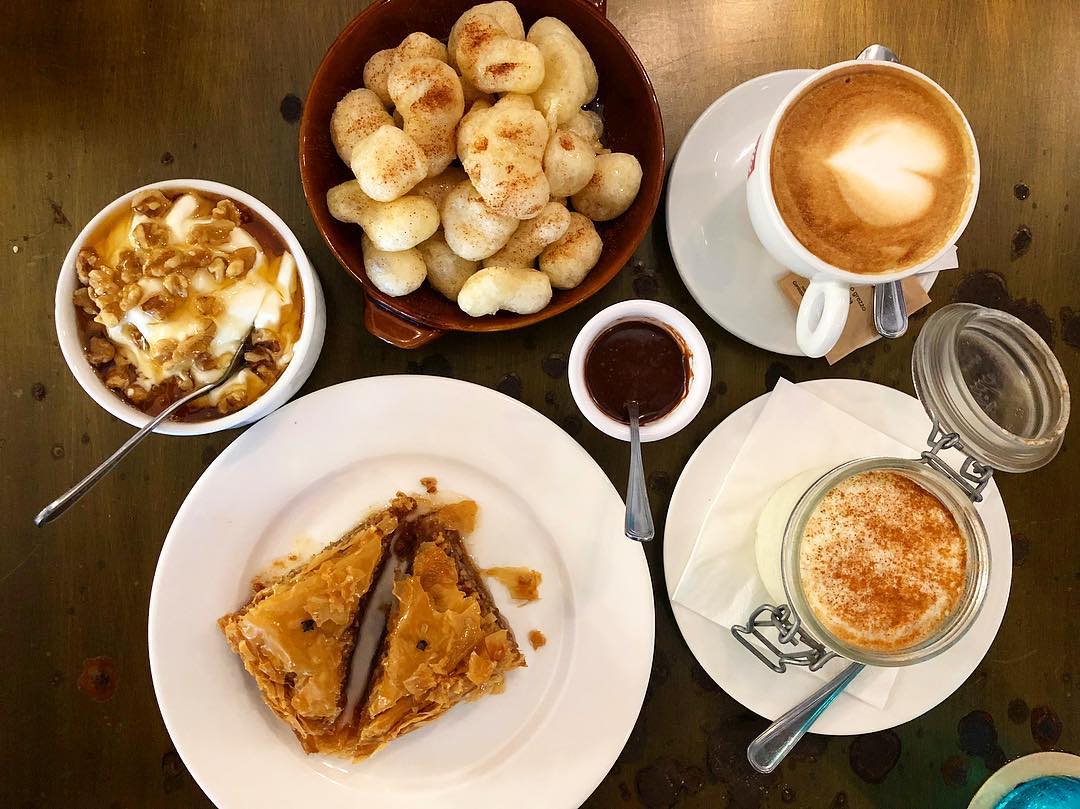 Image credit: @chinesecookie
Greek food spots don't get enough appreciation in our food scene. Bakalaki Greek Taverna is an eatery serving Mediterranean dishes alongside classic Greek desserts that are hard to find elsewhere. The Giaourti ($13.80), for instance, is a creamy and tart Greek yoghurt dessert balanced out with a sweet drizzle of honey and crushed walnuts. For a more recognisable sweet number, try their Baklava ($15.94) which consists of thin, crispy Filo pastry layers stuffed with Greek honey and warm spices.
You can get your dessert on its own since their minimum order is only $10. Alternatively, pair it with a hearty main or side from their huge selection of Greek grub. To top it all off, island-wide delivery is free.
Order now from Bakalaki Greek Taverna
---
8. Salted & Hung
---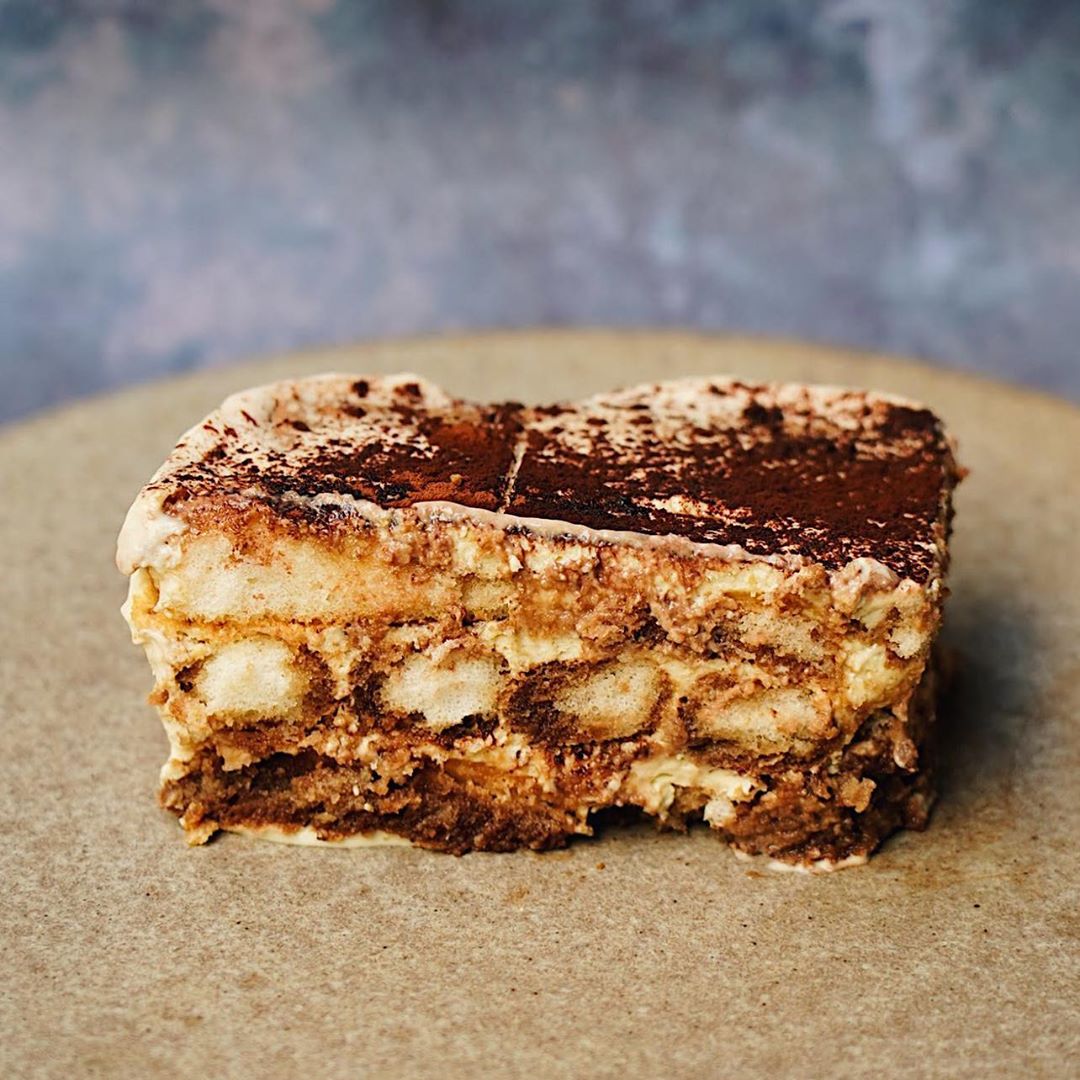 Image credit: @chef.drew.nocente
With a kitchen helmed by renowned Australian chef, Drew Nocente, Salted & Hung is a hip restaurant centred around reducing waste through culinary creations. Their Tiramisu ($14) is a thing of beauty. They have both alcoholic and non-alcoholic versions of the Italian dessert, so no worries about sharing this treat with children. Alternatively, snack on a bag of Anzac Cookies ($8 for six) that are stuffed with bits of bacon, oats, coconut, and salted caramel. 
You'll have to put in a minimum order of $50 for delivery, so order some mains such as the Wagyu Pastrami Sandwich ($25) to go with your desserts. An island-wide delivery fee of $8 applies as well.
---
9. The Halia
---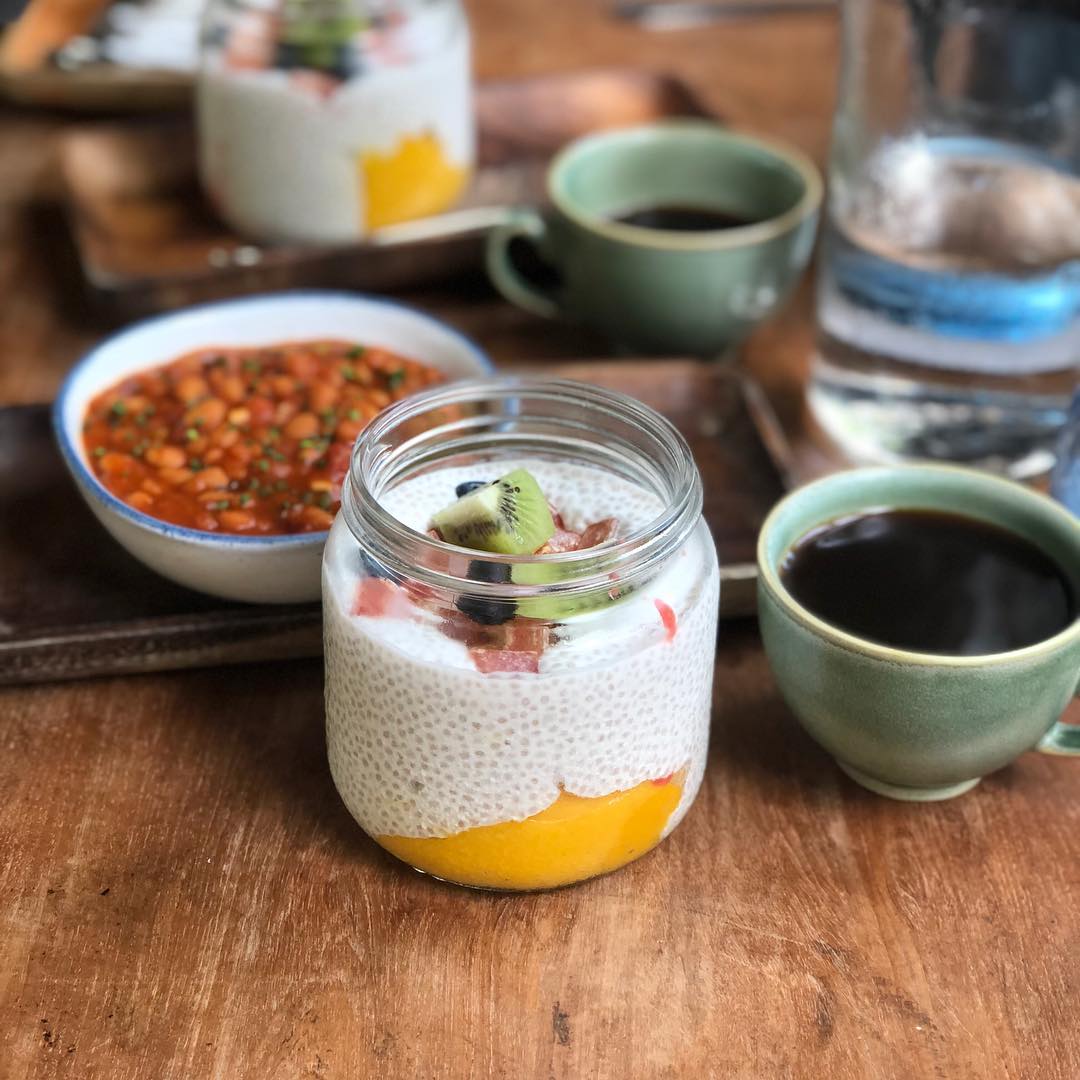 Image credit: @gfree.sg
The Halia is a halal-certified restaurant serving exquisitely-plated fusion dishes, infused with tons of local flavour. For a healthier dessert delivery option, try the Organic Chia Seed Porridge ($9.63) which is speckled with strawberry jelly, mango, and pomelo for pops of sweetness. If you're craving something more decadent, go for the Die Die Must Have Chocolate ($11.77) which is a velvety chocolate mousse cake accompanied by tart raspberry sauce.
You can order as much or as little as you want since there's no minimum order for delivery, but note that a flat delivery fee of $5.35 applies!
---
10. Basque Kitchen by Aitor
---

Image credit: @brenda_lifang
There's nowhere better to get the iconic Basque Cheesecake than Basque Kitchen itself. Sold at $18 a slice, this burnt-top cheesecake is made from Idiazabal cheese which gives its a smokier, buttery flavour. Besides this trendy dessert, the restaurant also specialises in bold meat dishes, including a whole rack of Iberico Pork Ribs ($60) that can fill two people. They deliver island-wide for a minimum order of $50, and a flat delivery fee of $8.
---
Dessert delivery services via Chope On Delivery
---
This Circuit Breaker has not been easy on businesses, and while some restaurants had to close their doors, many are doing their best to reach out to customers via platforms such as Chope On Delivery. Making deliveries, whether it's a dessert delivery or hawker food delivery, is not only essential to the F&B sector, but also for taxi and private hire drivers who have partnered with Chope to offer their services. So while we're staying safe at home, we can use these dessert delivery services to treat ourselves and support our fellow Singaporeans and businesses at the same time!
Not to worry if you're unfamiliar with the platform, ordering off Chope is completely fuss-free. Just look for your desired restaurant on their website or on the Chope app, select your dishes, make payment, and wait for your meal to arrive.
This post is brought to you by Chope.
Feature image adapted from @toddy_toddy and @hvala_sg's posts.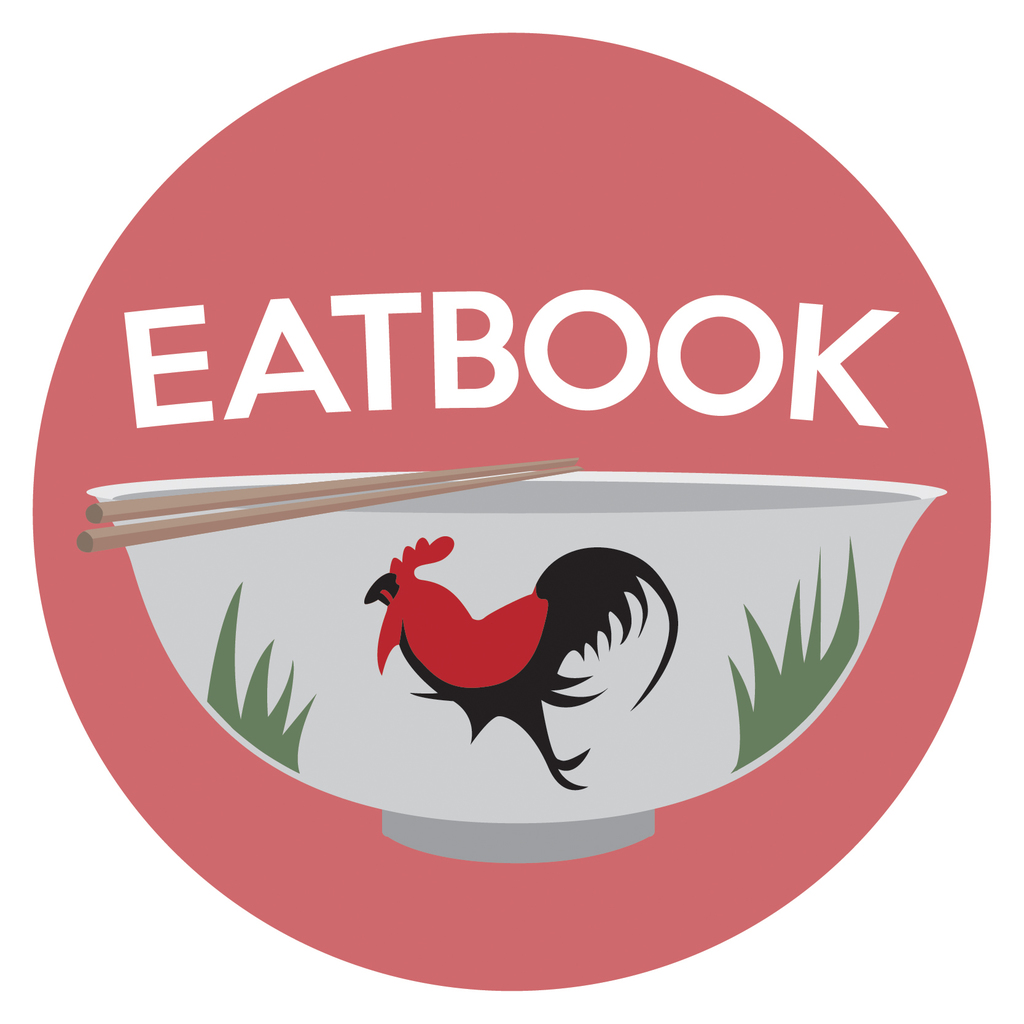 Drop us your email so you won't miss the latest news.