---
Ice cream delivery in Singapore
---
What I miss the most about working in an office is not the fast Wi-Fi or comfy chairs, but the sweet, sweet air-conditioning. A quick Google search shows that the current weather is 35 degrees Celsius, but the RealFeel is 39 degrees Celsius—help.
Not to fret, those who are melting like me can cool down with these ice cream delivery services available during Circuit Breaker. From gelato to vegan ice cream and even old-school ice cream, this list can help you get yummy relief sent to your doorstep.
---
From ice cream cafes
---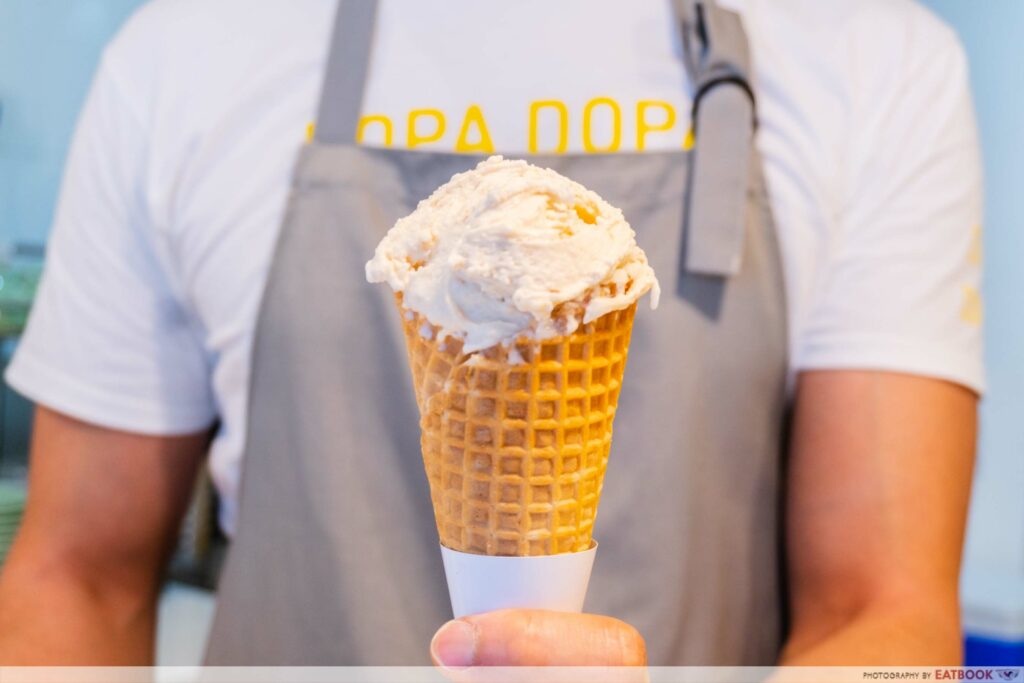 1. Birds of Paradise Gelato Boutique
Birds of Paradise is a popular gelato shop at Katong and Jewel Changi Airport that specialises in floral and herb-based ice cream flavours, such as Strawberry Basil, Pandan and Peach & Rose Sorbet. A pint goes at $17 or $20, depending on the flavour, and there's a minimum order of three pints and maximum order of four pints for delivery. Island-wide delivery is available at a flat fee of $8.
Order on Bird of Paradise's website
2. Creamier 
Creamier has won the hearts of young and old with their creamy, flavour-packed ice cream. You can get popular flavours such as Sea Salt Gula Melaka ($12) and Earl Grey Lavender ($12) delivered to your door, no matter where you stay. The delivery fee is $18, but you can get it free if your order is $65 or more.
3. Tom's Palette
Tom's Palette first came into my radar when they launched their salted egg yolk ice cream, and they've continued to impress with more wacky flavours such as White Chocolate Nori. The cosy cafe recently shifted to 51 Middle Road, and they're offering delivery during this tough period. Each tub goes at $18, with a delivery fee of $11. Delivery is free for orders of $54 and above.
Order on Tom's Palette's website
4. Dopa Dopa
For gelato that's a little thicker and chewier, check out Dopa Dopa. They produce fewer than 10 flavours a day, and use only natural ingredients in their gelato. To find out what flavours are available and the shipping fee to your area, drop a message via WhatsApp to 9123 2143 on weekdays, between 12pm and 6pm. Deliveries are done on Thursdays and Fridays, and you'll get free delivery if you buy four tubs or more.
WhatsApp 9123 2143 to order
Find out more on their Facebook page
Dopa Dopa Creamery Review: Gelato Croissant Shop At Clarke Quay
5. The Daily Scoop 
Variety is the name of the game at The Daily Scoop. You'll find plenty of interesting flavours, such as Utterly Avocado and Peanut Butter & Jelly. Prices start at $12.50 for a tub. There is a minimum order of $70, with free delivery included, and you need to order three days in advance. 
6. Salted Caramel
Before COVID-19 struck, you'd find Salted Caramel packed with families and friends enjoying their wide range of flavours on weekends. While that's not possible now, you can still get their pints delivered. Some popular flavours are Horlicks Tim Tam, Lemon Cheesecake and Kaya Toast. You can get waffles and brownies as well. There's a minimum order of $35, with delivery fees starting at $5. 
Order on Salted Caramel's website
7. Udders 
Udders can be found at some convenience stores nowadays, but you can still order their ice cream online if you're not stepping out. Their website shows new flavours such as Yakult Soju and Himalayan Salt Lemon Sherbet, which are great for those who prefer something novel. The minimum order is $30 for island-wide delivery, with a delivery fee of $5. Free delivery is provided to most locations if your order hits $60. If you're new to Udders' online shop, you can get $5 off $30 with the code "UDDERSNEW".
8. Scoopz 
Scoopz has been around since 1996, which should give you an idea of how well loved they are. Their Mao Shan Wang ice cream is a dream for durian fans, and those who aren't can try flavours such as Soursop or Milo instead. Prices start at $16 for a pint. Get free ice cream delivery if your order exceeds $48. 
9. A Spoonful of Sugar
With two pints going at $18.90, A Spoonful of Sugar is one of the more affordable options in this list. Interesting flavours include Sea Salt Malt, Pink Grapefruit and Honey Matcha. You can also get 10 single scoops at $35 if you want to try more flavours. The minimum order is $30, with a delivery fee of $5 required for orders below $65. 
A Spoonful of Sugar order form
10. OCD Cafe
The "OCD" in OCD Cafe stands for "Obsessive Chocolat Desire", so it's no surprise that their chocolate ice cream comes highly recommended. Must-tries are their Africa 85% Dark Choc and Ecuador 40% Milk Choc. A pint goes at $14 and four pints go at a slightly discounted price of $50. Delivery fee is $8 regardless of your location. 
WhatsApp 9008 9726 to order
Find out more on their Facebook page
Obsessive Chocolat Desire Cafe: New Chocolate Cafe That Opens Until 1am At Ang Mo Kio
---
Vegan ice cream
---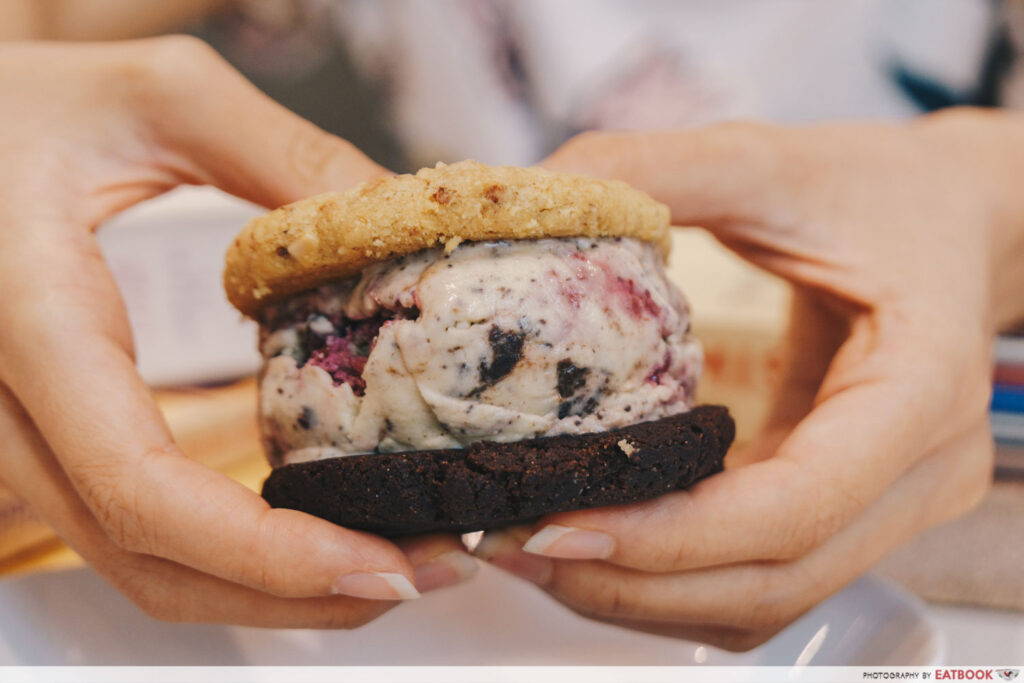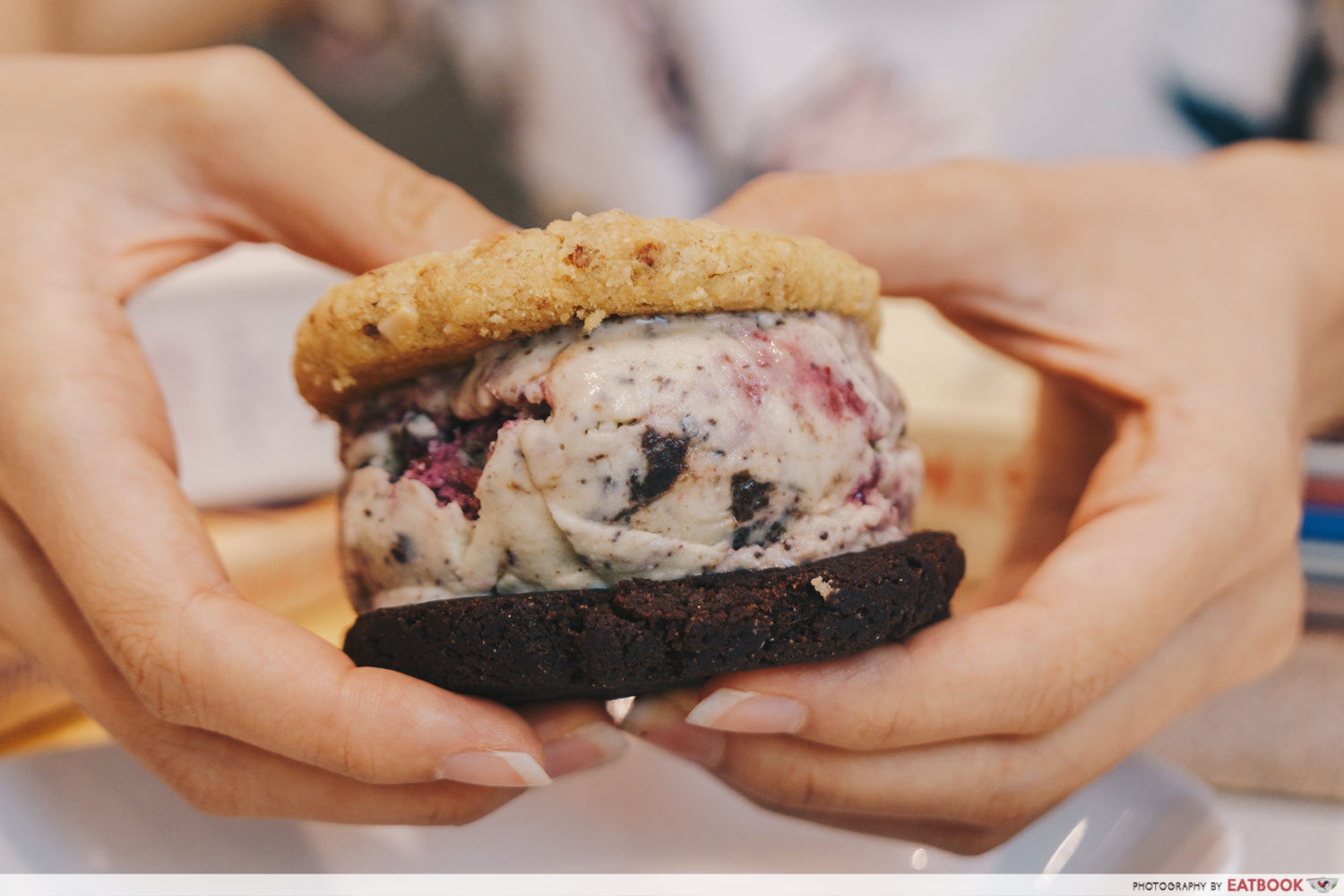 11. Kind Kones
Kind Kones offers a wide range of vegan ice cream, with interesting flavours such as Lychee & Pink Guava Sorbet as well as Mocha Almond. Most flavours are free from gluten as well. A pint costs $18.50, and you can also get desserts such as cake and cookies to go with it. Delivery is available island-wide at $10, and a minimum order of $30 is required. Get free delivery if your order hits $100. 
Message them on Facebook to order
Delivery menu
Kind Kones Review: Vegan Ice Cream In Singapore With Pandan Gula Melaka And Black Forest Flavours
---
From old-school carts
---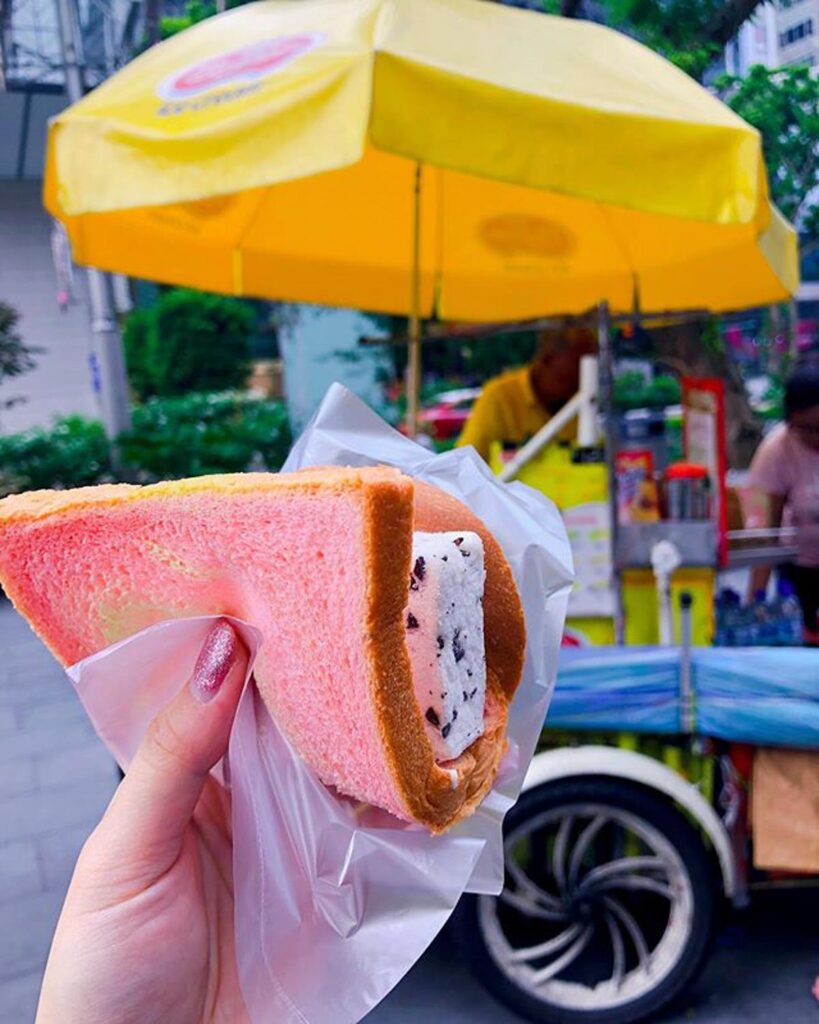 Image credit: @annyeh14
12. Lao Chuan Tong Traditional Ice Cream
Those who miss old-school ice cream can check out Lao Chuan Tong Traditional Ice Cream. They offer 12 flavours, including yam and mango, at just $8 per pack. Delivery fee is free if you order three packs or more, and $4 for smaller orders. Only certain addresses are accepted for delivery, so check out their order form beforehand. You can pay via bank transfer, PayNow and PayLah! for their ice cream delivery.
Lao Chuan Tong Traditional Ice Cream order form
13. Tampines Ice Cream
If Tampines is your hood, consider supporting the uncle and aunty behind Tampines Ice Cream. They've got 12 flavours of old-school ice cream as well as biscuits and ice cream bars such as Solero Lime and Cornetto. Each block costs $8, and there's a minimum order of $20 with free delivery thrown in if you stay in Tampines. Only PayLah! and PayNow are accepted. 
WhatsApp 8932 5926 to order
Find out more on their Facebook page
14. Ice Cream Boy
Ice Cream Boy's got old-school ice cream in interesting flavours such as Tutti Fruity and Nata De Coco. Each box goes at $7, whereas the most premium flavour, Salted Caramel Brownie, goes at $8. There's a minimum order of three flavours, and delivery fee ranges from $5 to $10 depending on your location. Order six boxes or more to get a free loaf of rainbow bread.
WhatsApp 8332 1903 to order
Find out more on their Facebook page
If you've got time to spare, consider making your own ice cream with our recipe for Want Want Milk ice cream!
Want Want Milk Ice Cream Recipe: Make This Nostalgic Milk Ice Cream At Home
Featured image adapted from Instagram user @annyeh14's post.