Wingstop offers classic American wings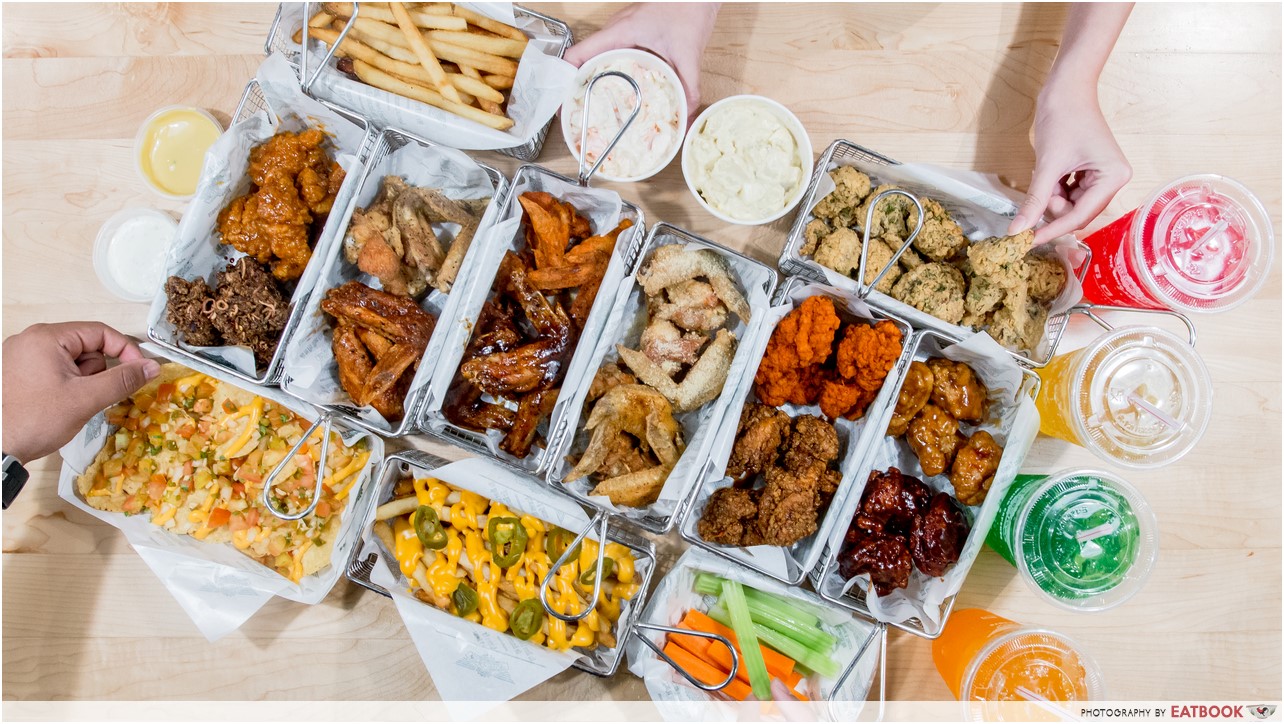 At home, chicken makes an almost daily appearance. Most days it's done stir-fried or steamed with ginger. On a good day, the chicken is seasoned, deep-fried to a golden brown, and served while they're still shimmering in hot oil. That, is my idea of a perfect chicken dish. So you can't fault me for skipping out on Friday's stir-fry for a fried chicken fix at Wingstop.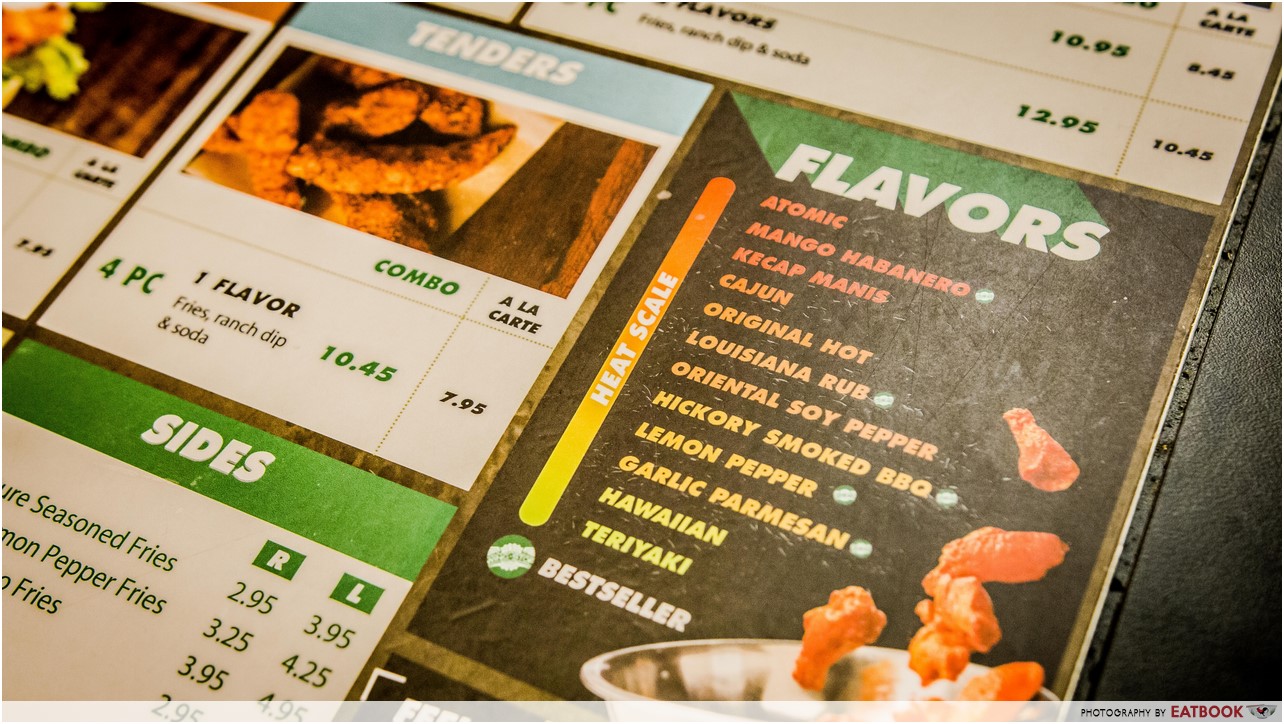 And it wasn't just because Wingstop is good at crisping chicken in oil. It's also because you can pimp up your already glorious fried nosh with 12 different flavours. The chicken here is done two ways: Classic and Boneless. Wings have long been my favourite part of a chicken, but it's hard to deny the juicy cuts of thigh used for their Boneless option.
Food at Wingstop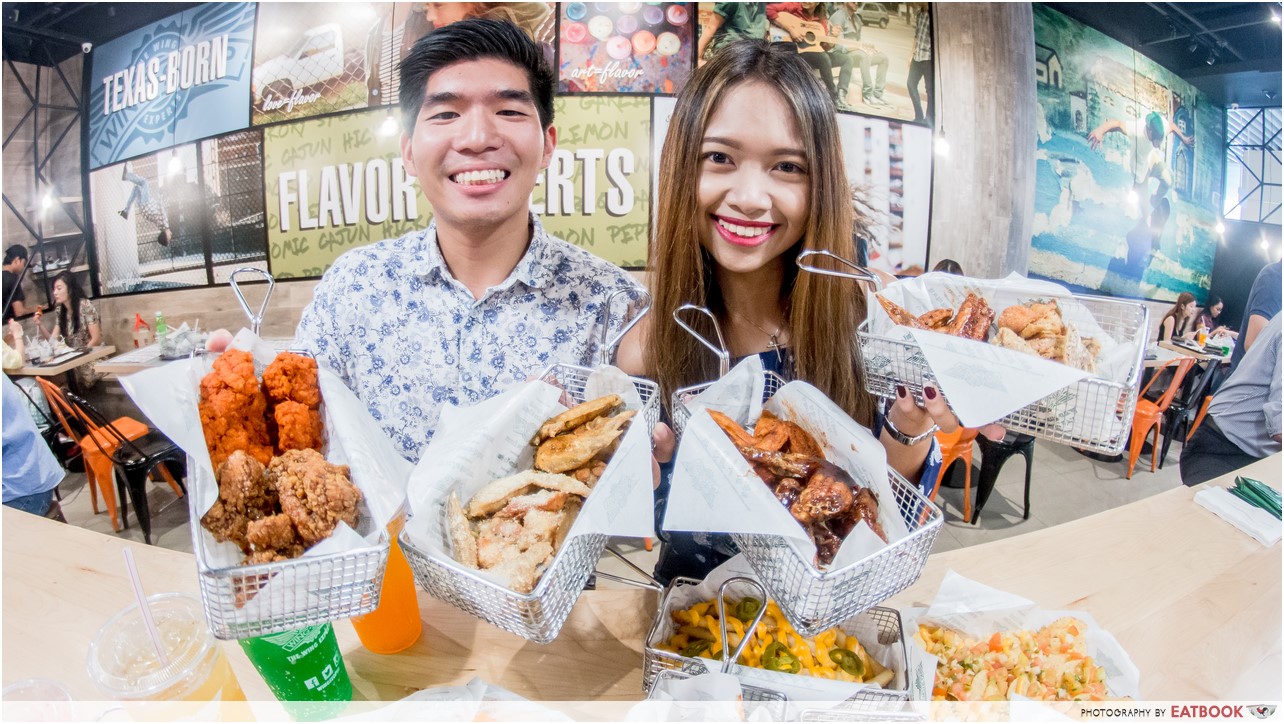 But I digress. We came to consume our weekly protein intake in a meal, so chicken is priority. At Wingstop, you get to choose between their 6 piece ($8.45 a la carte, $10.95 with combo) and 8 piece ($10.45 a la carte, $12.95 with combo) meal. Each set allows you to pick up to two flavours, and the combos come with fries, ranch dip, and a soda, which I never skip out on. If you're unsure of which flavours to pair with your chicken, go with their best sellers: Kecap Manis, Mango Habanero, Garlic Parmesan, and Louisiana Rub.
The first flavour that called out to us was Kecap Manis, an Indonesian sweet soy sauce. This came boneless, and had a crunchy exterior that was sweet upon first bite before the spiciness crept up. It wasn't enough to have me sniffly and sweating, and instead whet my appetite for more.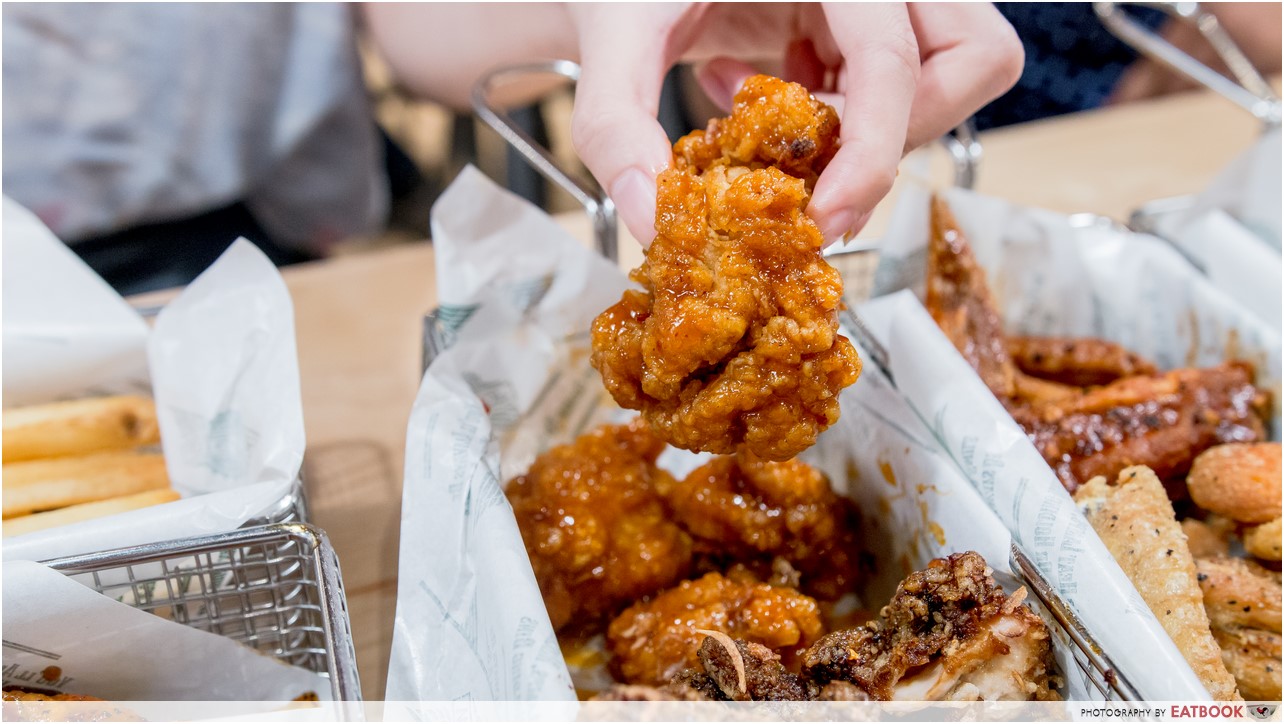 On the other hand, their Mango Habanero had me reaching for tissues. This flavour is worthy of proving how big of a spicy food eater you are to your friends, but unfortunately I could only prove how runny my nose can get. Still, I enjoyed the sweetness of the mango, and this is great for spicy food lovers who are fans of sweet-savoury dishes. I also liked how the boneless pieces reminded me of huge, succulent pieces of popcorn chicken.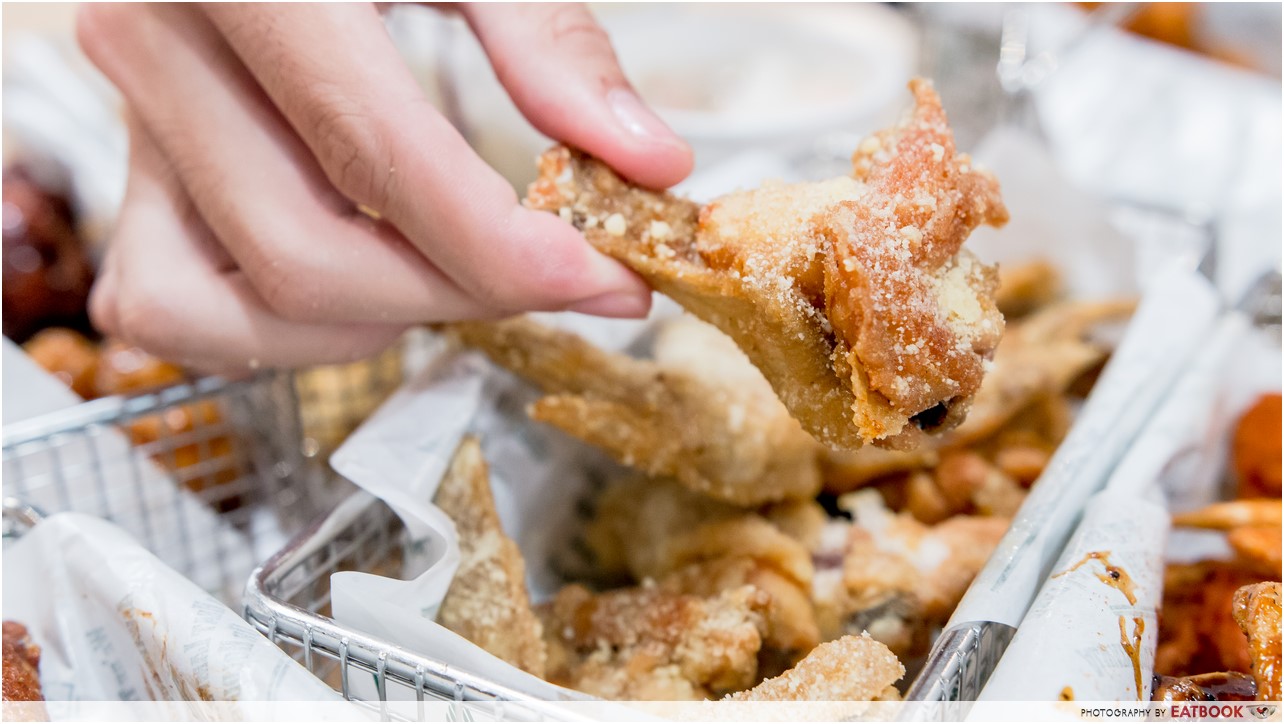 Next up, we had the Garlic Parmesan done in their Classic style. Some might be put off by how sharp the cheese smells, but as someone who attempts to add cheese to everything, I loved it. To me, the chicken should've been named Parmesan Garlic instead since you'll taste the cheese dusted on the chicken for the most part. The garlic provided more of a fragrance, and wasn't overwhelming on the taste buds at all.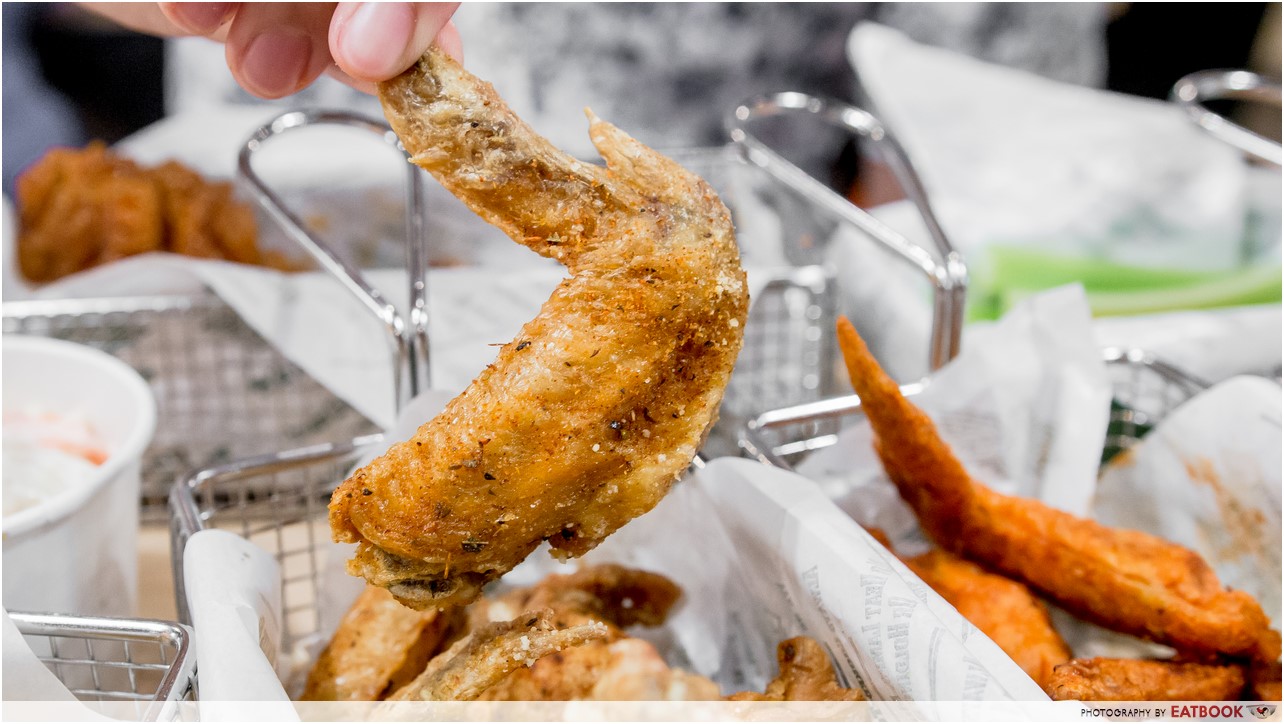 Lastly, we had Louisiana Rub done in the same style. This is great for when you want a little something more than just savoury, and the spices in the rub does just that. This flavour fits the classic way best to me.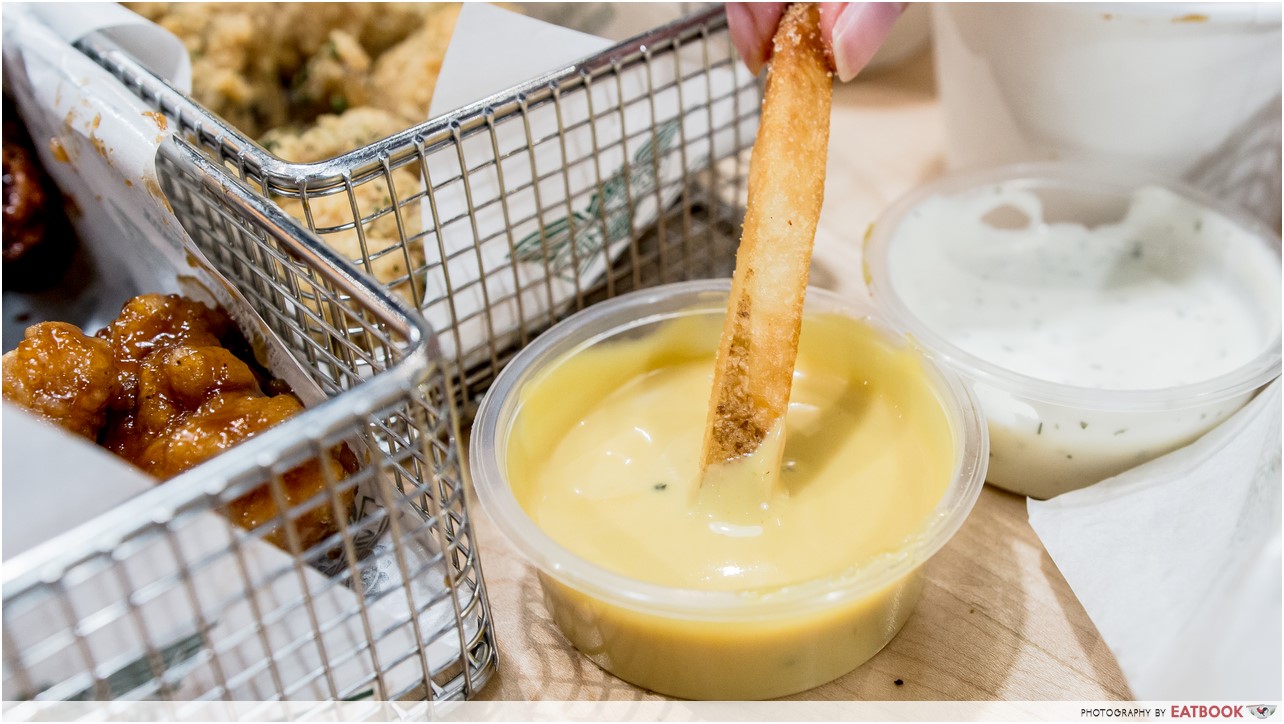 Here's the biggest reason why I never miss out on Wingstop's fries. Their fries are thick-cut, making each fry the perfect vessel for their ranch and honey mustard dips. This all boils down to your preference but, for me, ranch will always be the winner. The creamy, savoury sauce was crazy addictive and had me dipping almost everything in sight.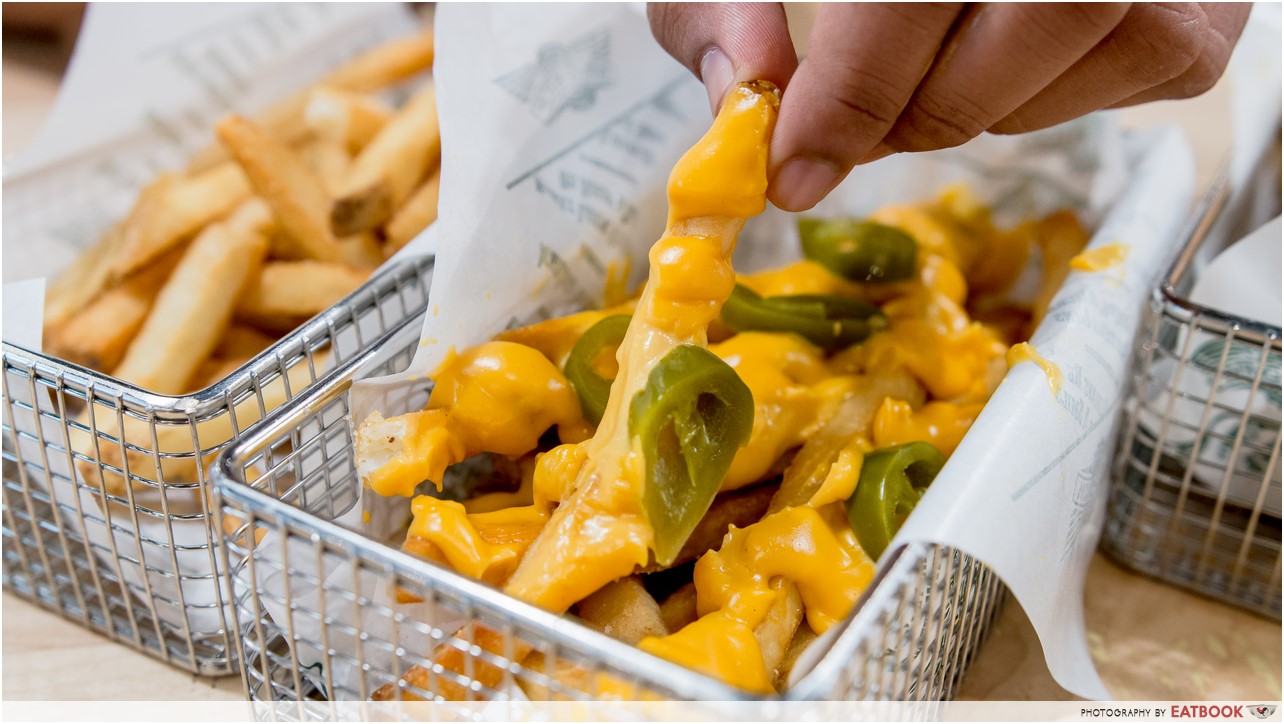 If you're up for something more, I'd say get their Jalapeno Cheese Fries ($4.95). These are generously doused in a cheese sauce that reminded me of the same one that coated my after-school-cheese-fries back when I was 13, and studded with jalapenos that added a little heat.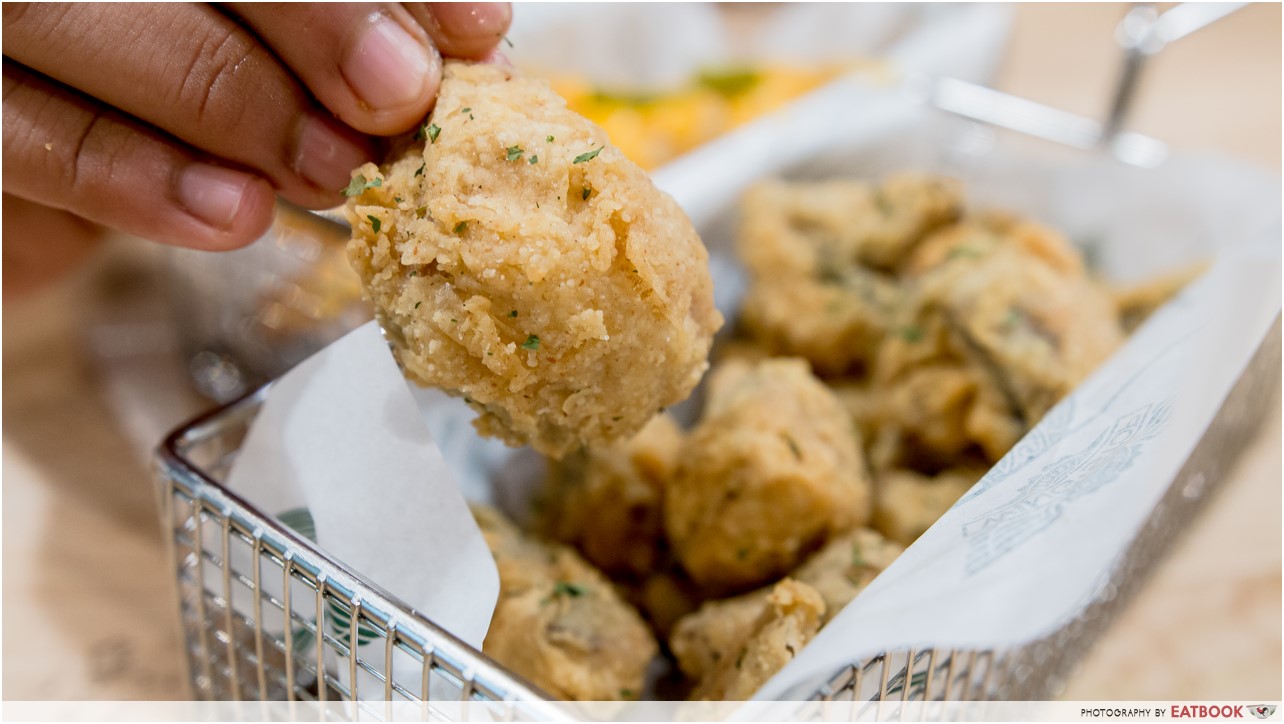 Mushroom Fritters ($5.95) are a crowd-favourite and it's easy to see why. These bombs burst with hot juices from the whole mushrooms that were coated in a crisp, light, batter, and we had to stop ourselves from eating too many before there weren't enough of these deep-fried mushrooms for a shot.
Coke Freestyle Machine at Wingstop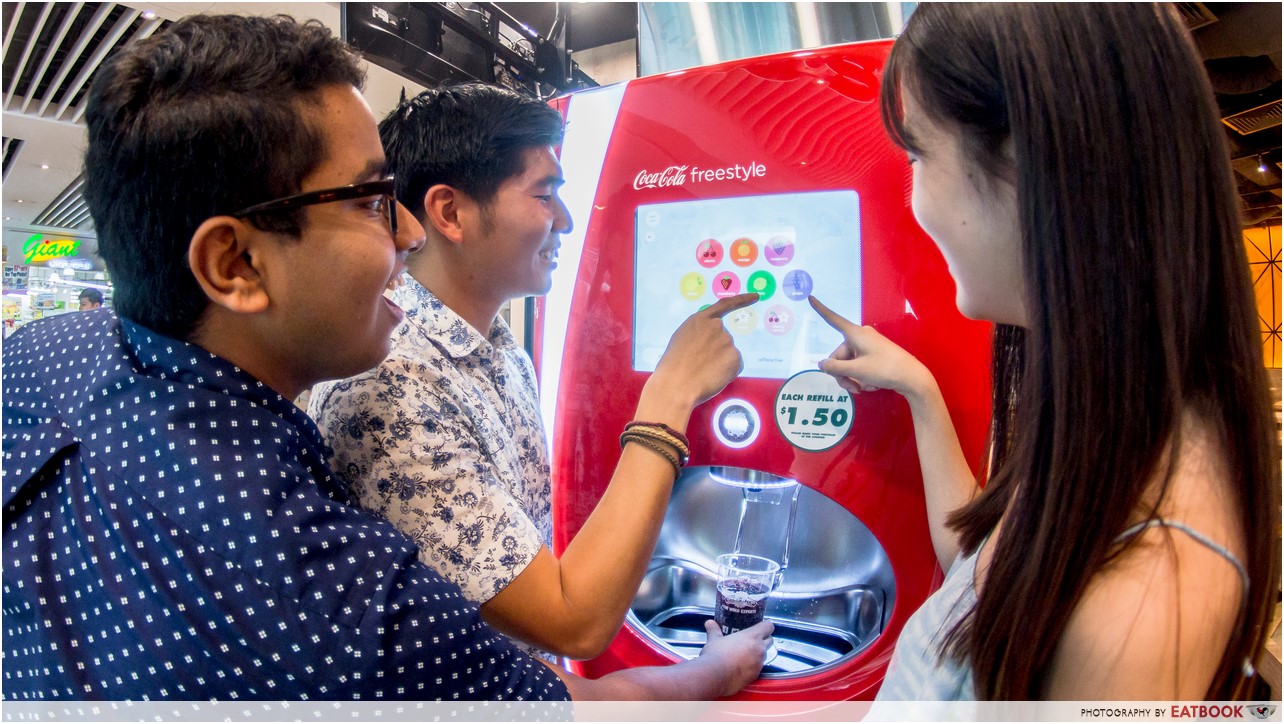 We couldn't miss out on competing for the title of the one who could create the best drink combination with Wingstop's Coke Freestyle Machine. This is basically the same experience as you filling your Big Gulp at 7-11 with all the drinks at the dispenser in one cup, except Wingstop's machine has about 10 times more drinks – Vanilla Coke included. That's more than 80 different permutations so you're bound to get a new drink each time you're here.
Ambience at Wingstop
After ordering at the counter, you chill for around 11 minutes – the time taken to freshly fry up your chicken – with your mates. That worked out well for us since we spent a good 10 minutes at the Coke Freestyle Machine ogling at the various flavours of drinks and fighting over who got to go first.
The Suntec outlet we visited had seat options for two, four, and a ton more, making it great for a one-on-one hangout or a bunch of noisy friends. The bright lighting also means better photos for your 'gram.
The verdict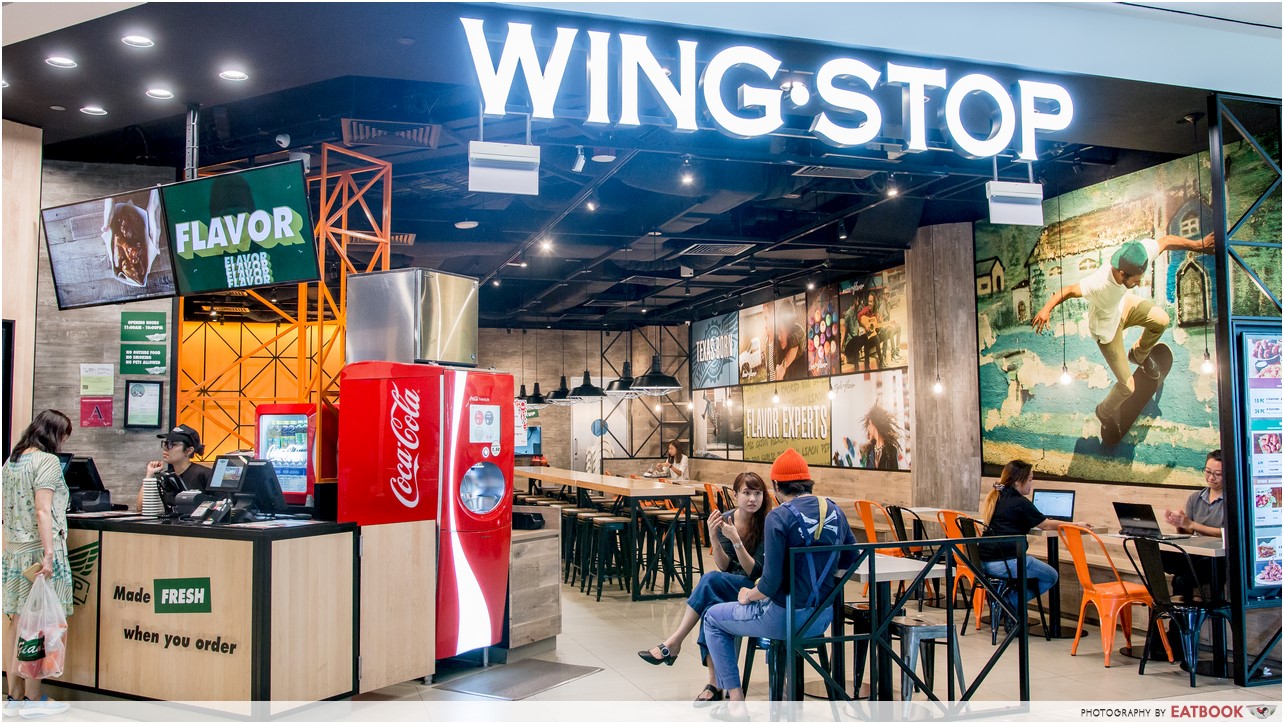 12 unique flavours, tasty sides, and a soda machine is possibly all I'd need from a chicken place. Their boneless wings mean that I have a place to hit up when I get too lazy to chomp meat off bones while my friends have the option of doing the opposite, which makes me think I'll be back pretty soon.
If Suntec City isn't near you, Wingstop has five different outlets across Singapore so you're bound to find one that'll make a convenient visit. West-siders can head down to their newest outlet at JCube for a fried chicken fix!
Address: 3 Temasek Boulevard, #B1-108, Suntec City Mall, Singapore 038983
Opening hours: Daily 11am to 10pm
Tel: 6265 2648
Full list of outlets
Wingstop is halal-certified.
This article is brought to you by Wingstop.
Summary
Pros
– Wide range of flavours
– Fried chicken doesn't leave you feeling jelak
– Sides are good on their own
Cons
– Certain flavours might not be for everyone
Recommended Dishes: Garlic Parmesan, Kecap Manis
Operating Hours:
Daily 11am to 10pm
Tel:
6265 2648
Address: 3 Temasek Boulevard, #B1-108, Suntec City Mall, Singapore 038983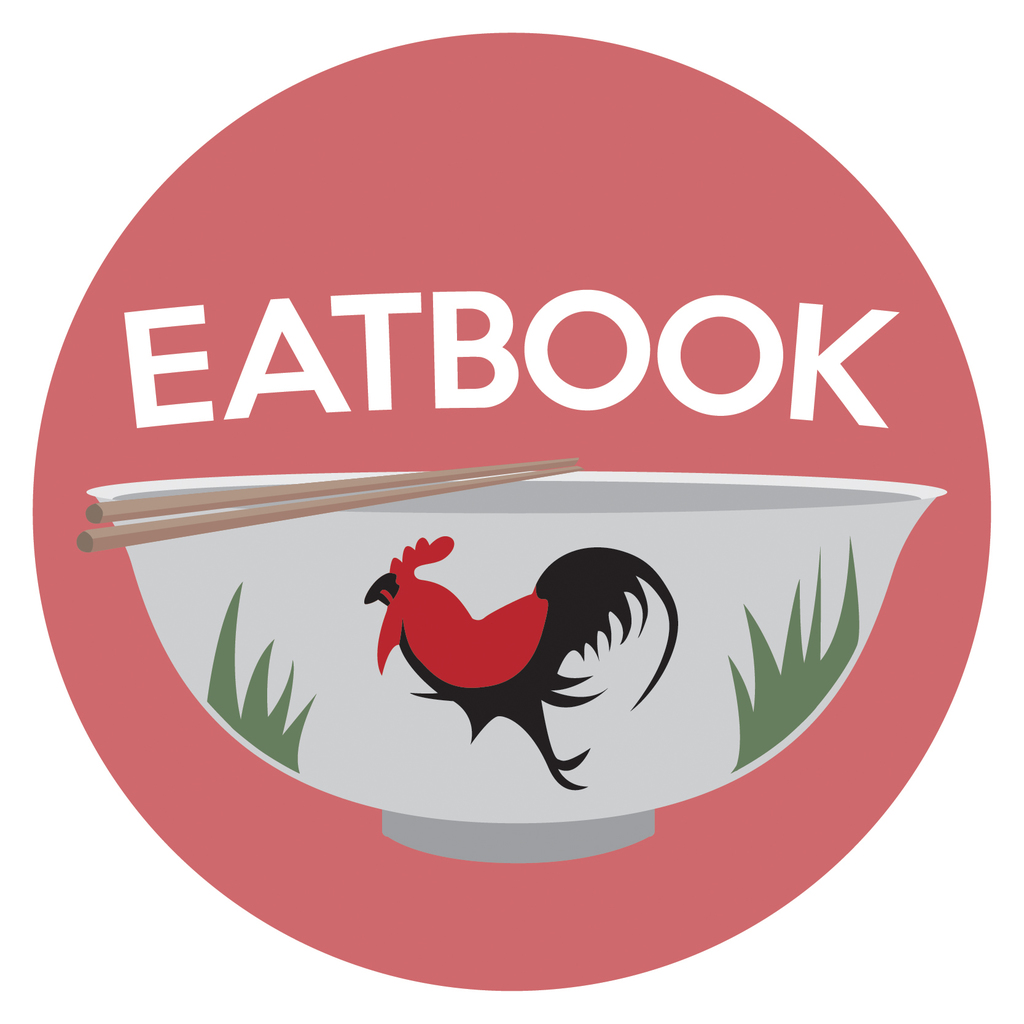 Drop us your email so you won't miss the latest news.