Xiabu Xiabu at Bras Basah is a famous Chinese hotpot restaurant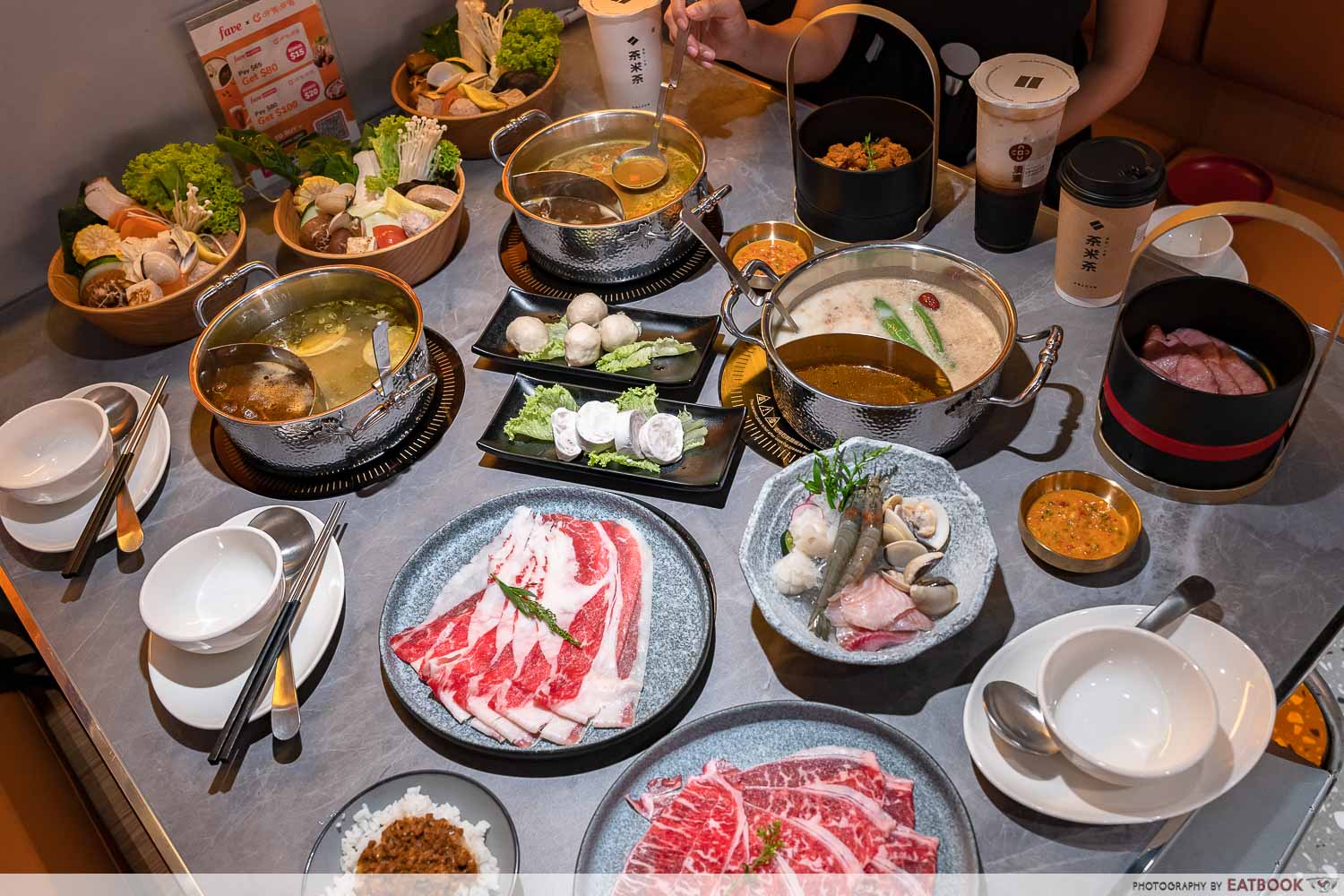 We've just come through a spate of ultra cool, hotpot-approps weather, but the heat has never stopped us from enjoying this perennially loved dish. For those of us who are still just the slightest bit conscious of communal steamboat-ing, Singapore's newest restaurant import lets you have your cake, and eat it too. Xiabu Xiabu is one of China's most popular individual hotpot chains, with more than 1,000 stores in the Mainland alone—this new restaurant in Lazada One, just opposite SMU, is their first overseas opening.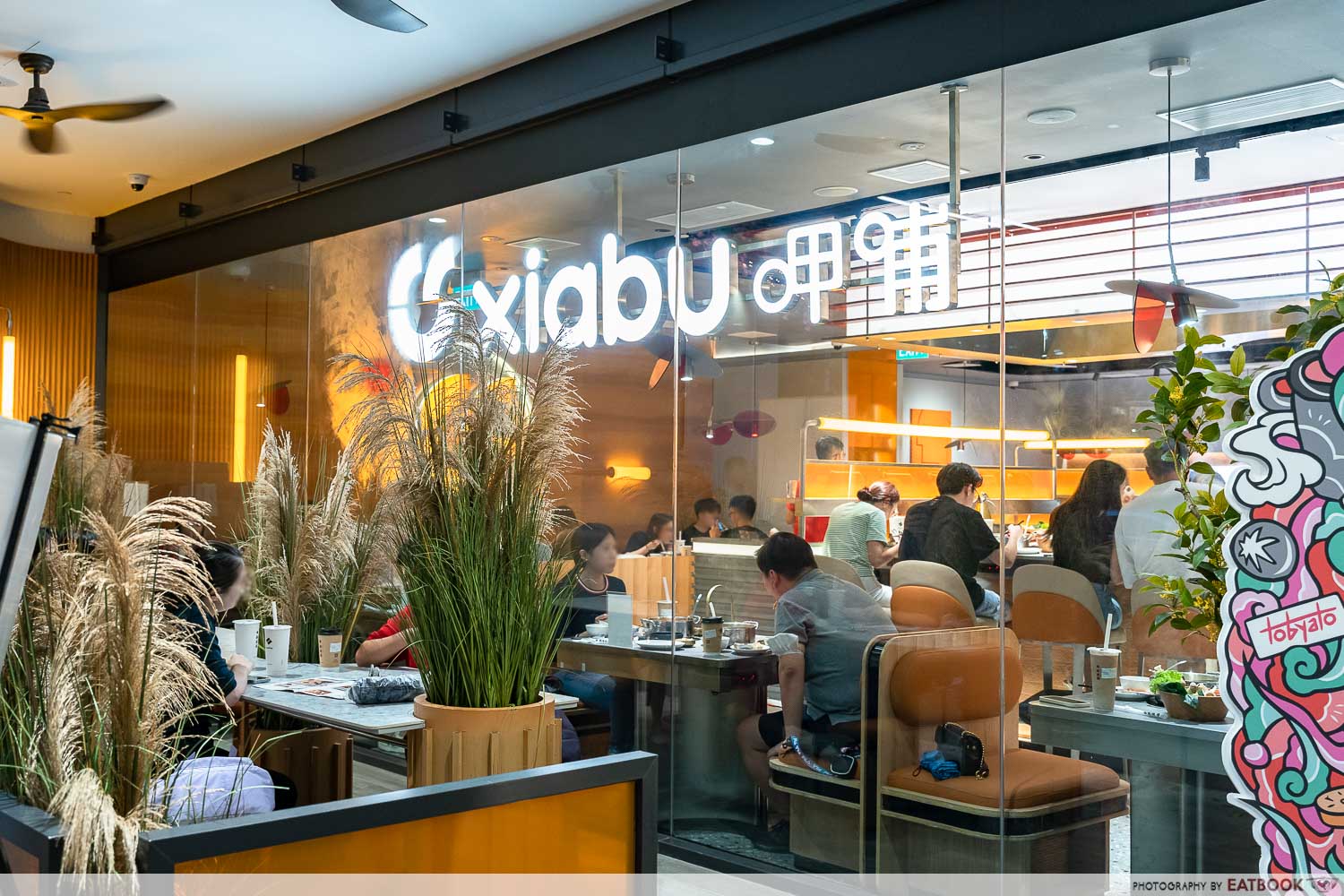 They belong to the same parent company behind Coucou Hotpot, so you'll find some of the soup bases familiar. Unlike at Coucou, however, Xiabu Xiabu only serves individual hotpots with two soups, and with more accessible prices too—perfect for quick meals in town. And ICYMI, the name Xiabu Xiabu is their play on しゃぶしゃぶ, or shabu-shabu.
Famous Chain Coucou Hotpot To Open In Suntec, Serving Taiwan Beer, Bubble Tea, And Hotpot With Wagyu
Food at Xiabu Xiabu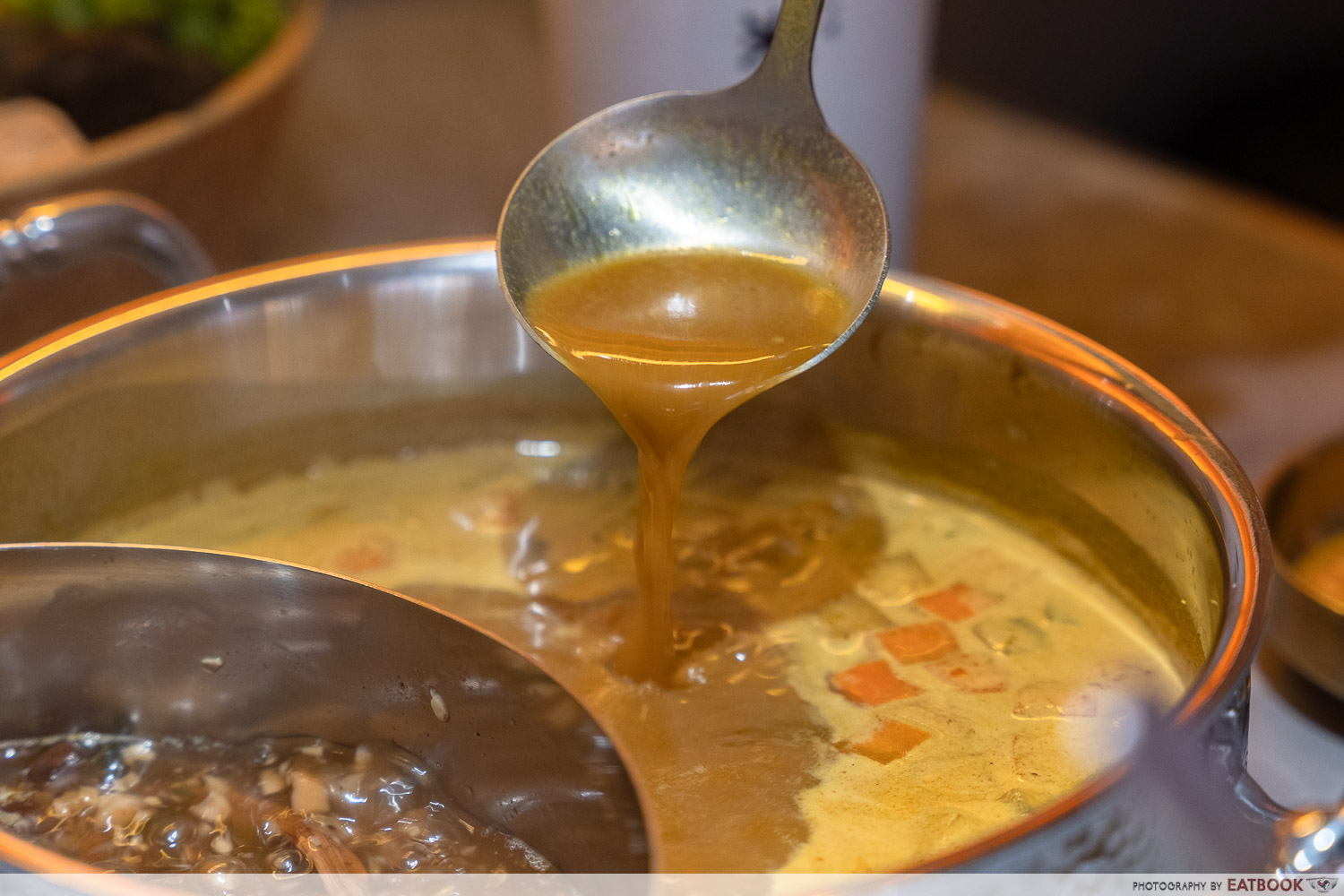 The first step to ordering your meal at Xiabu Xiabu is to choose your soup base: there are six, although the Mushroom Soup Base is compulsory across all pots. Unique to Singapore is Nanyang Curry Soup Base, for which there's an additional $2++ top-up. The best way to describe this broth is to compare it with NISSIN's Curry Cup Noodle, so order it if that's what you like. My dining companion and didn't quite fancy it.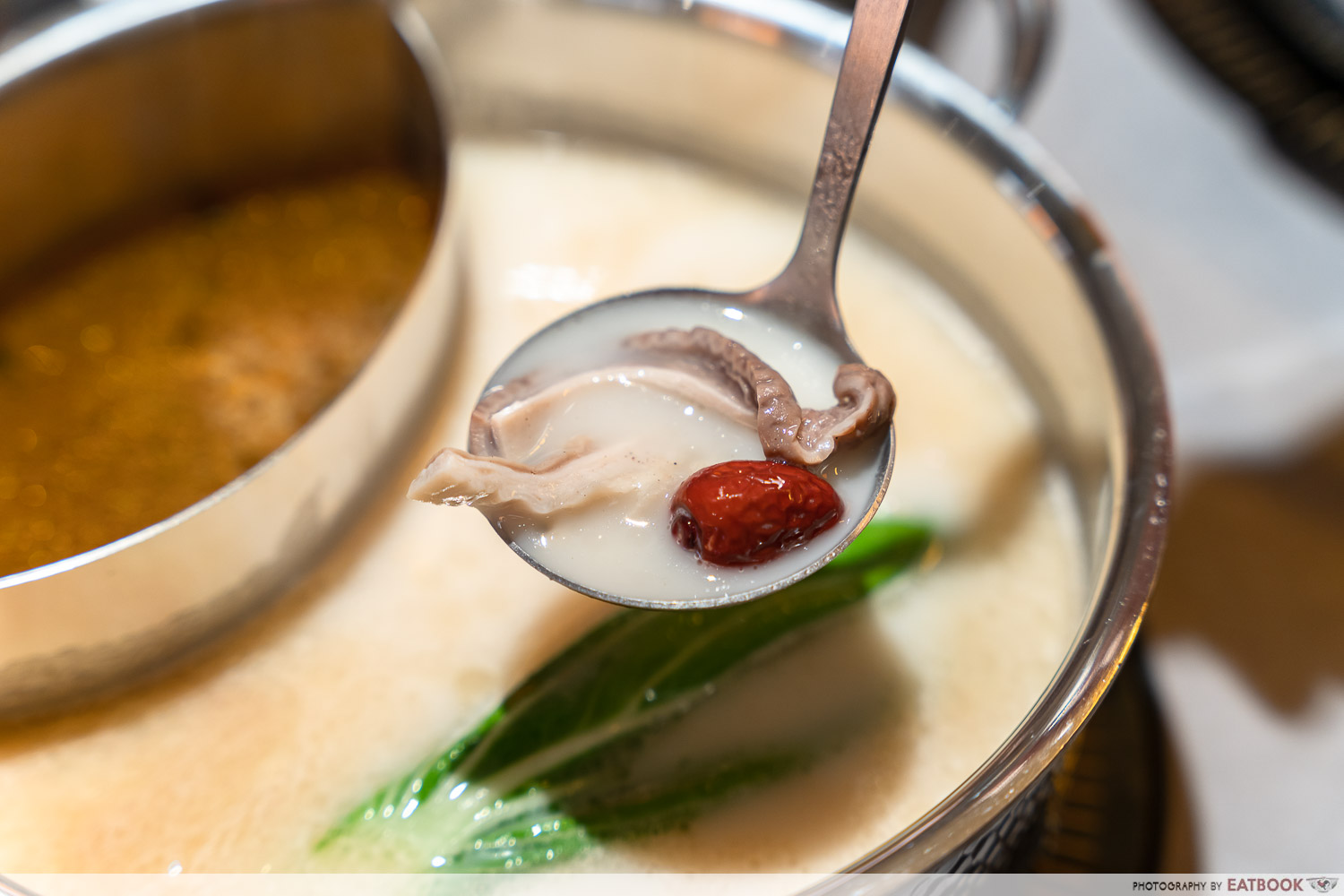 We also had Stew Pork Tripe and Chicken Soup Base ($2++ top-up), a soul-warming, peppery, and rich broth that's enriched with Oatly and barley. I personally enjoyed this best, with the soup maintaining its creaminess even after repeated top-ups of broth.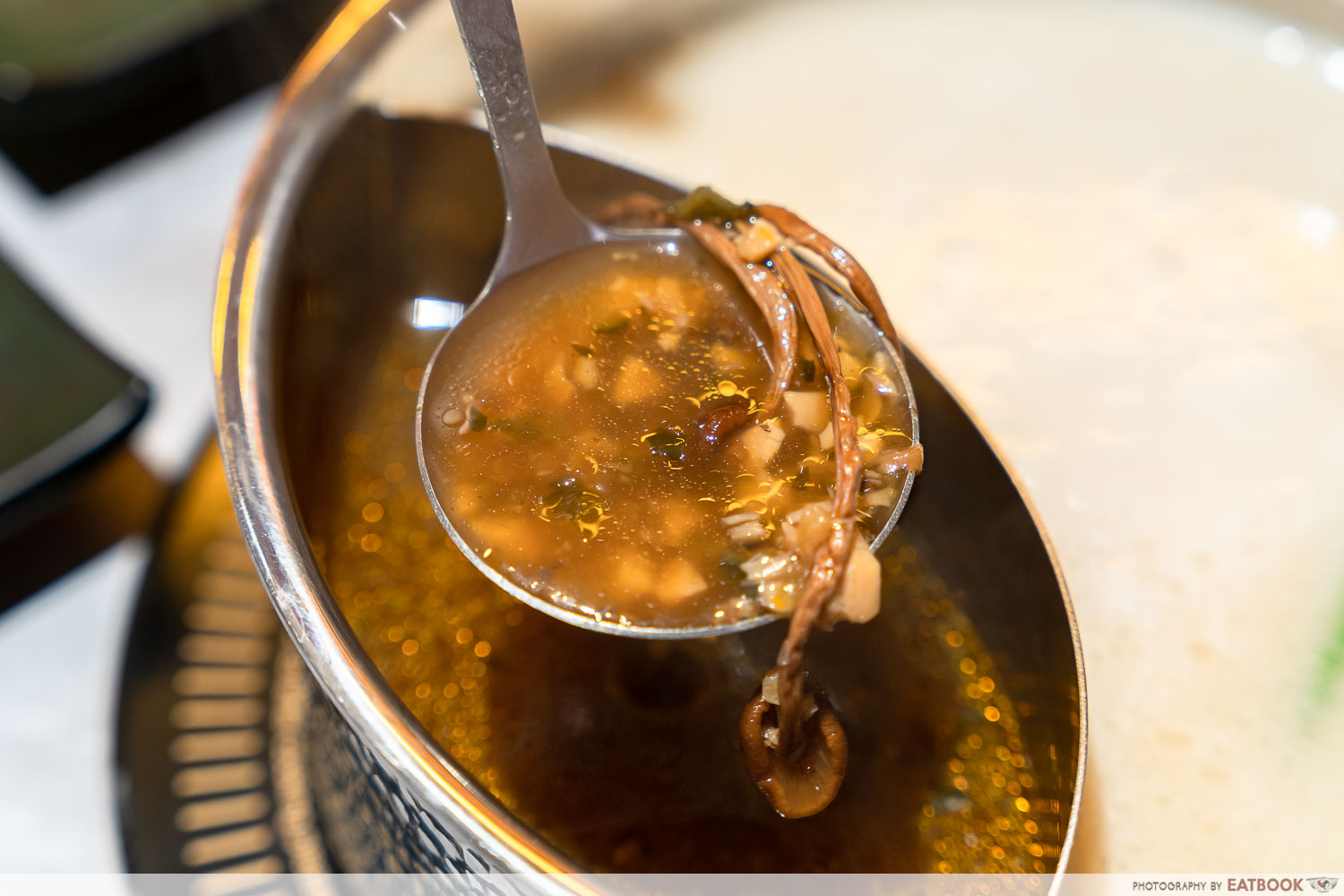 Made with a base of shrooms including stir-fried King Trumpet, Straw, and Blaze mushrooms, the earthy Mushroom Soup Base came in a close second for me; cook your enoki in this for a tasty treat.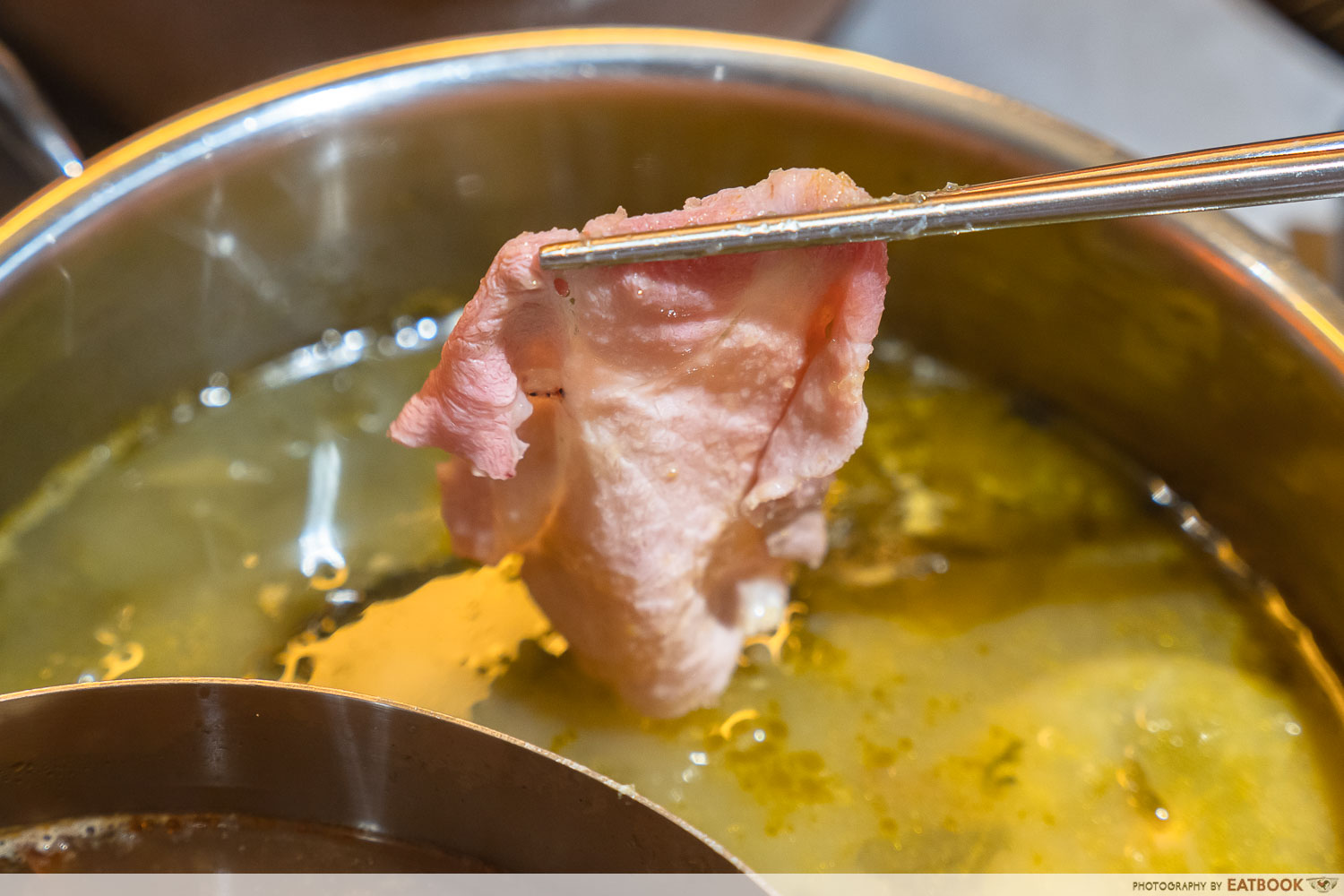 My dining companion's broth of choice was the appetising, sour-spicy Golden Sauerkraut Soup Base, which appears here with a recipe different from Coucou Hotpot's. All of the soups are house-made, with the remaining two choices being Tomato Soup Base and Hot and Spicy in Sichuan Style Soup Base ($2++ top-up).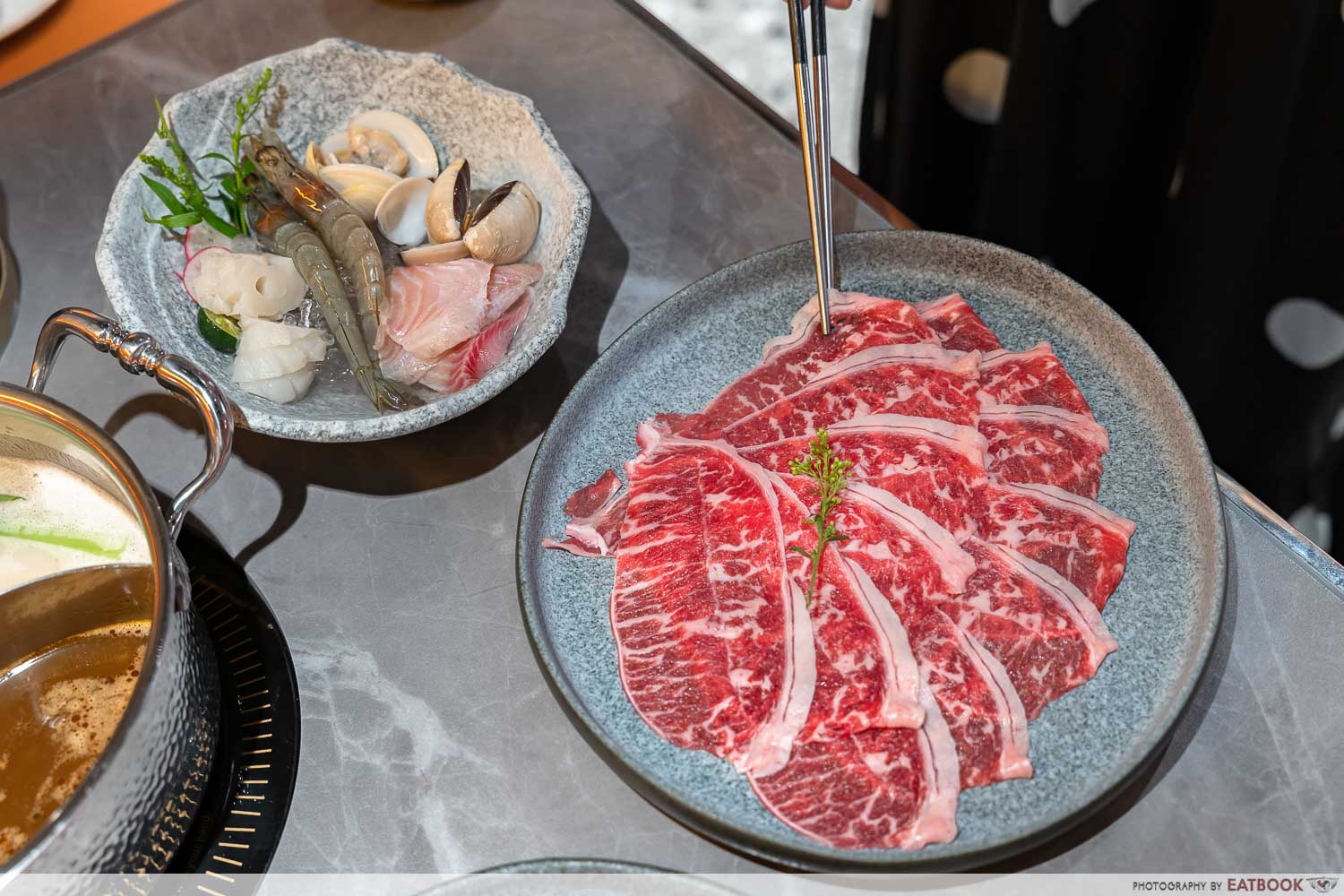 The downside to dining at Xiabu Xiabu is that you definitely need to order a set, comprising soup, meats, a Vegetable Platter, condiments, desserts, and a drink. One of these is a surf and turf Seafood & Beef Set ($38++), which comes with a small Seafood Platter, and 100g of USDA Shortplate, Australian Oyster Blade, or Australian Beef Thin Flank. Alternatively, a large Seafood Platter Set with no beef is priced at $32++.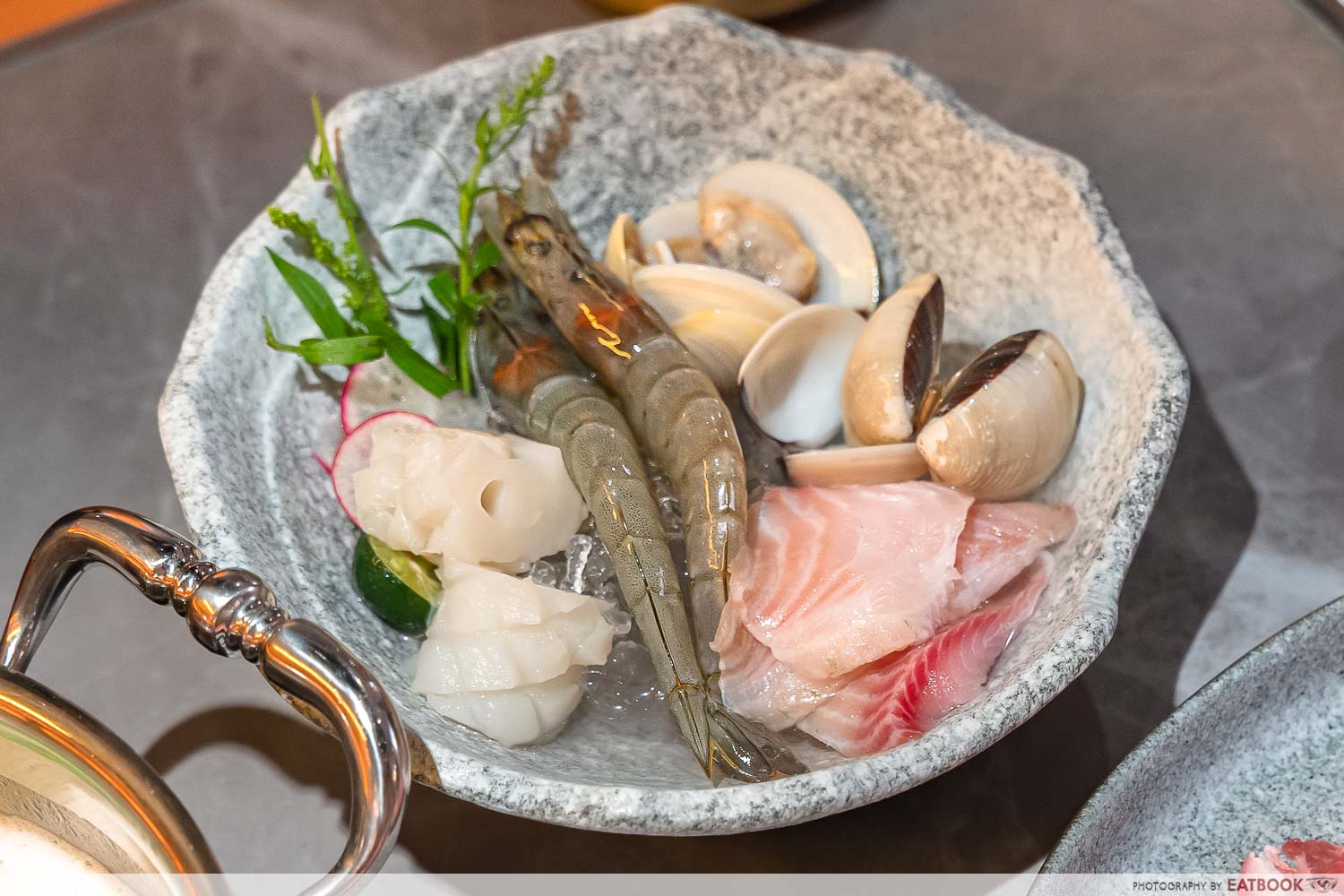 As platters go, the selection of seafood is pretty comprehensive, including fresh prawns, fish slices, squid, and clams.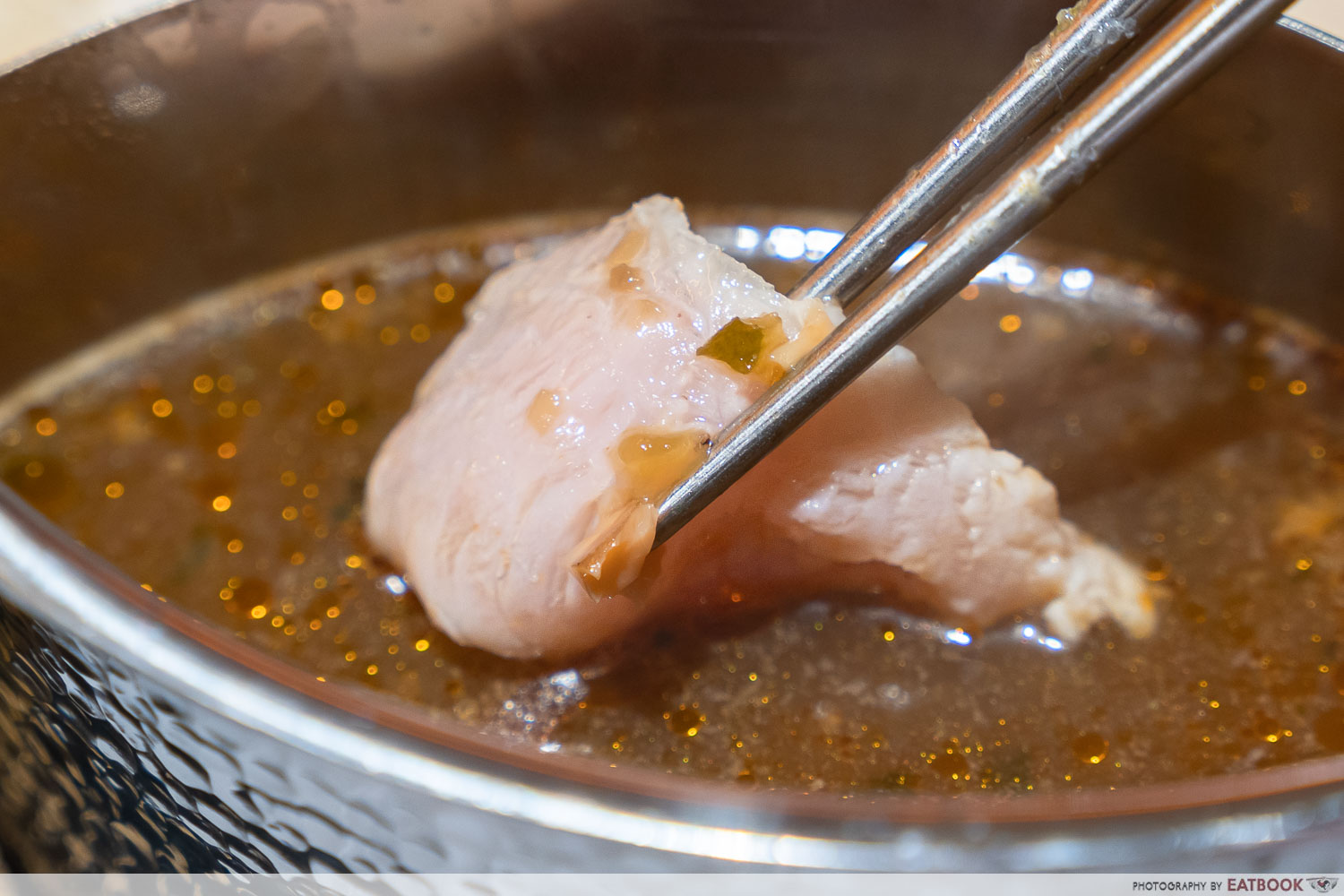 I did find the fish mildly fishy, but it's more about the type of fish used, rather than it not being fresh.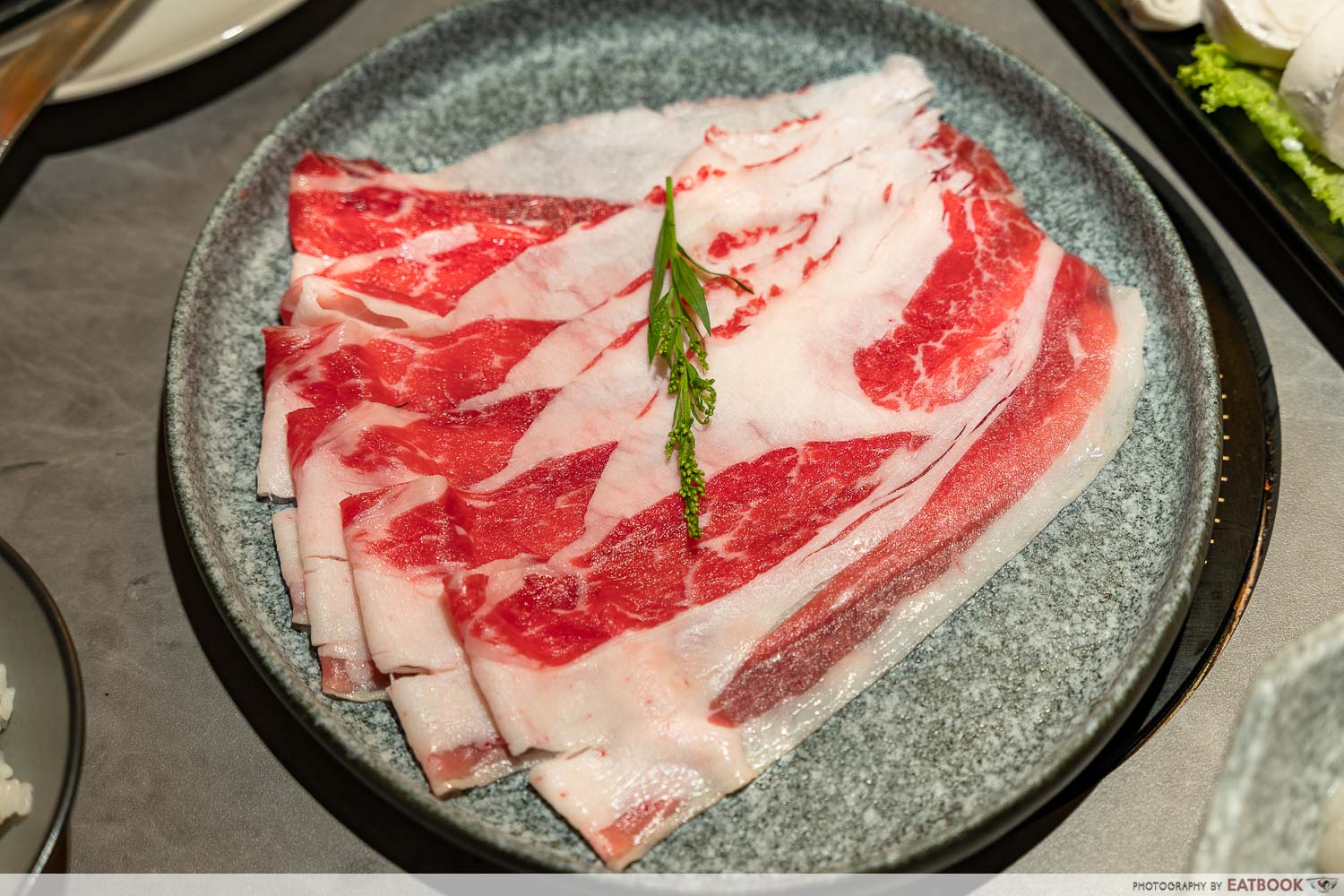 For $28++, there's the Popular Beef Set, where you'll be served 140g of USA Choice Shortplate, Australian Oyster Blade, or Australian Thin Beef Flank.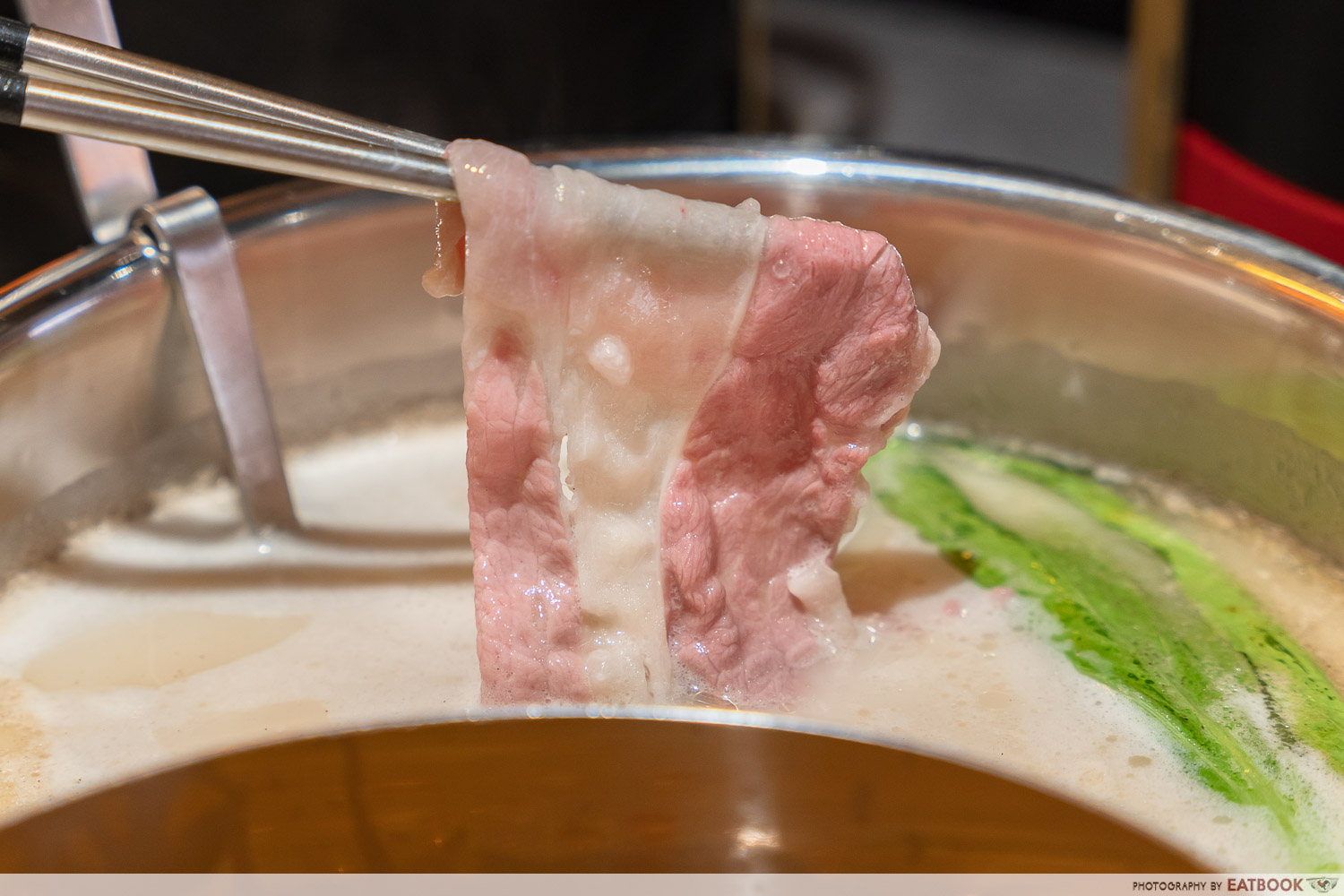 Similarly priced is the Classic Pork Collar Set ($28++), where you'd get 140g of Belgian pork collar. Otherwise, the Signature Chicken Set ($28++) gets you 200g of boneless drumstick meat!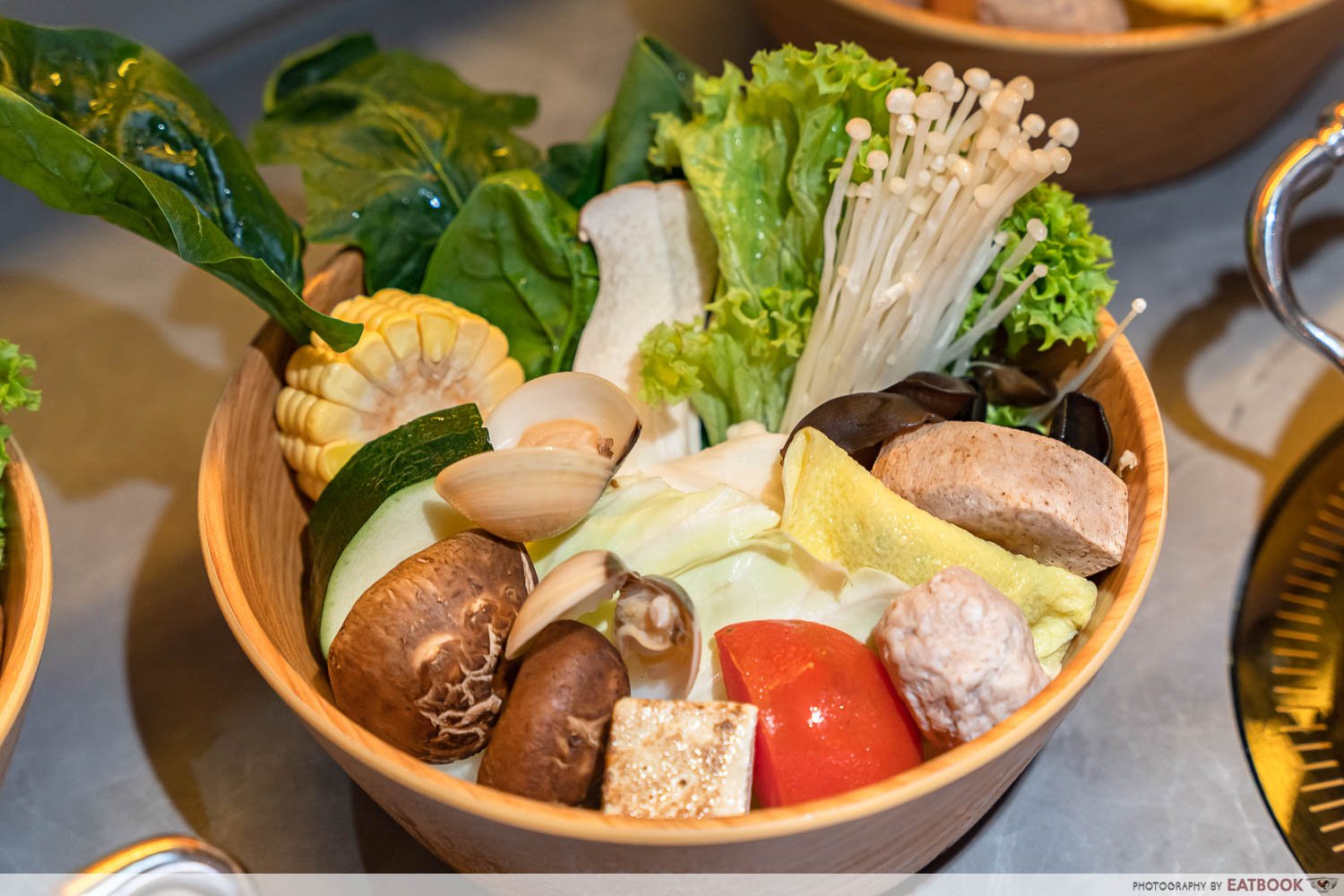 All of these sets are accompanied by a platter of veg—though it's a misnomer since there's a beef ball,  dumpling, and clams here too. Nonetheless, the spread also includes mushrooms, taro slices, zucchini, and assorted greens.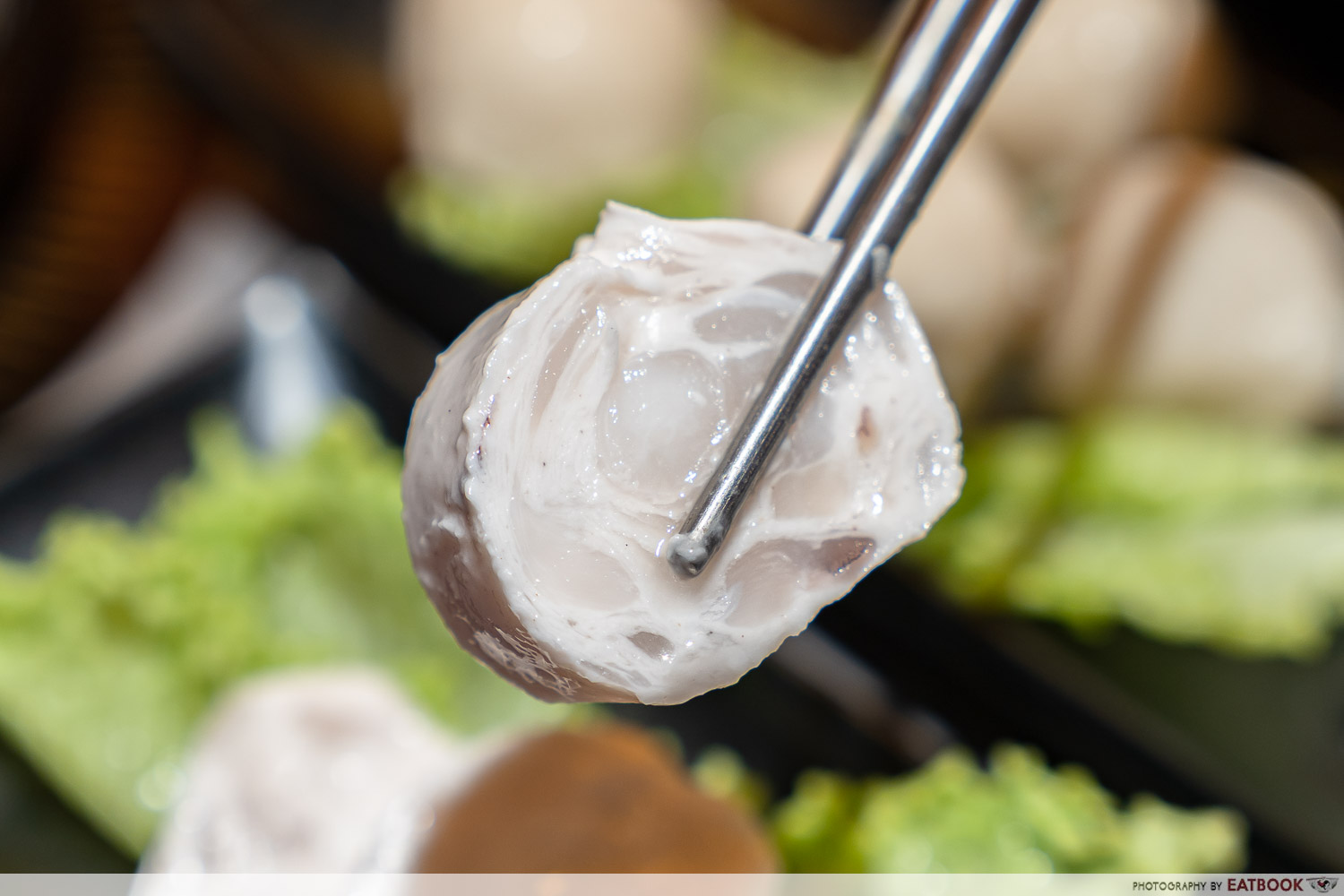 On the a la carte menu, which you can finally get to after you've chosen a set, a signature item is Squid Paste ($10++), which is freshly made, with chunks of sotong within.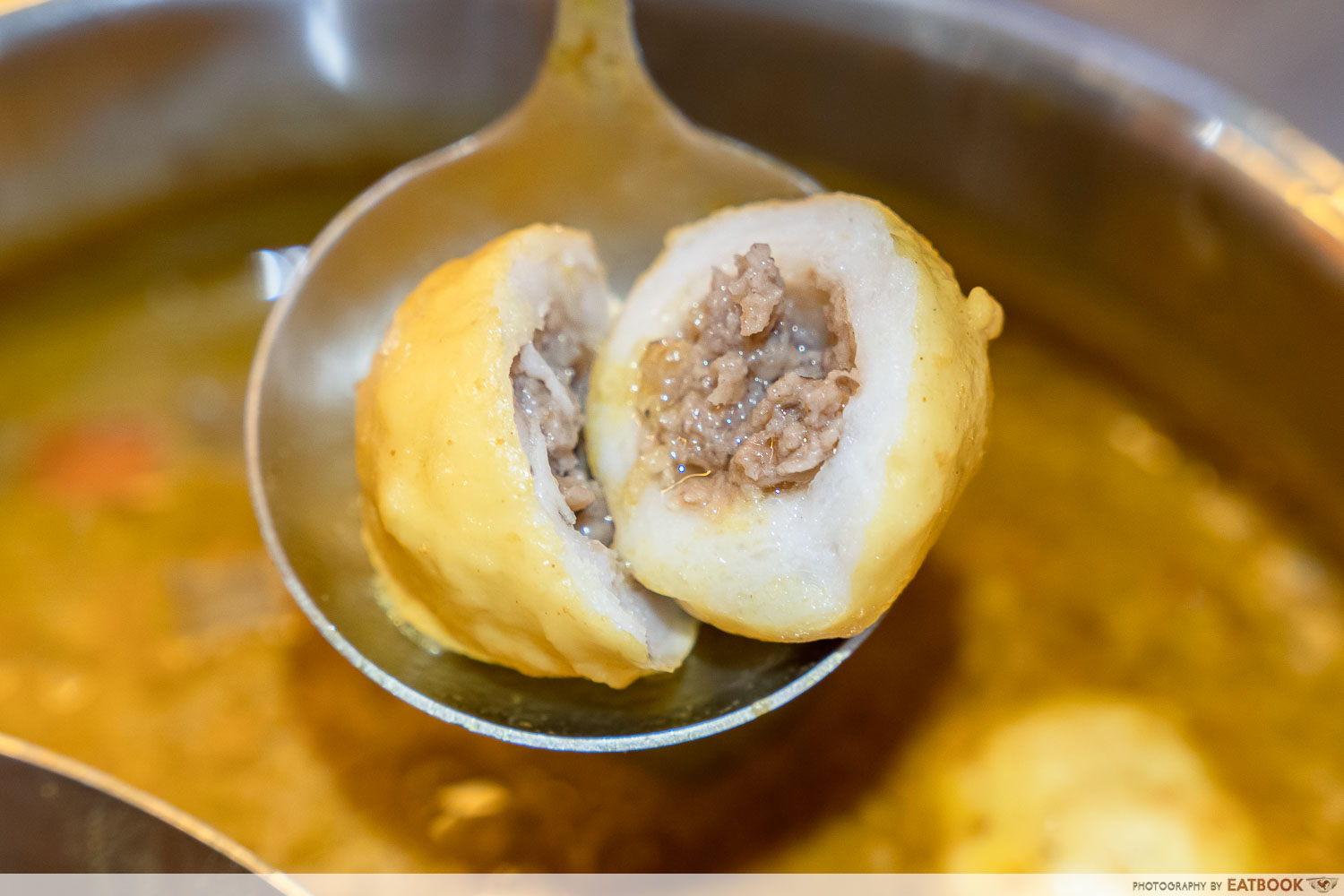 There are also Fuzhou Balls ($9++), which are specially imported from Taiwan, and feature a meat-filled centre.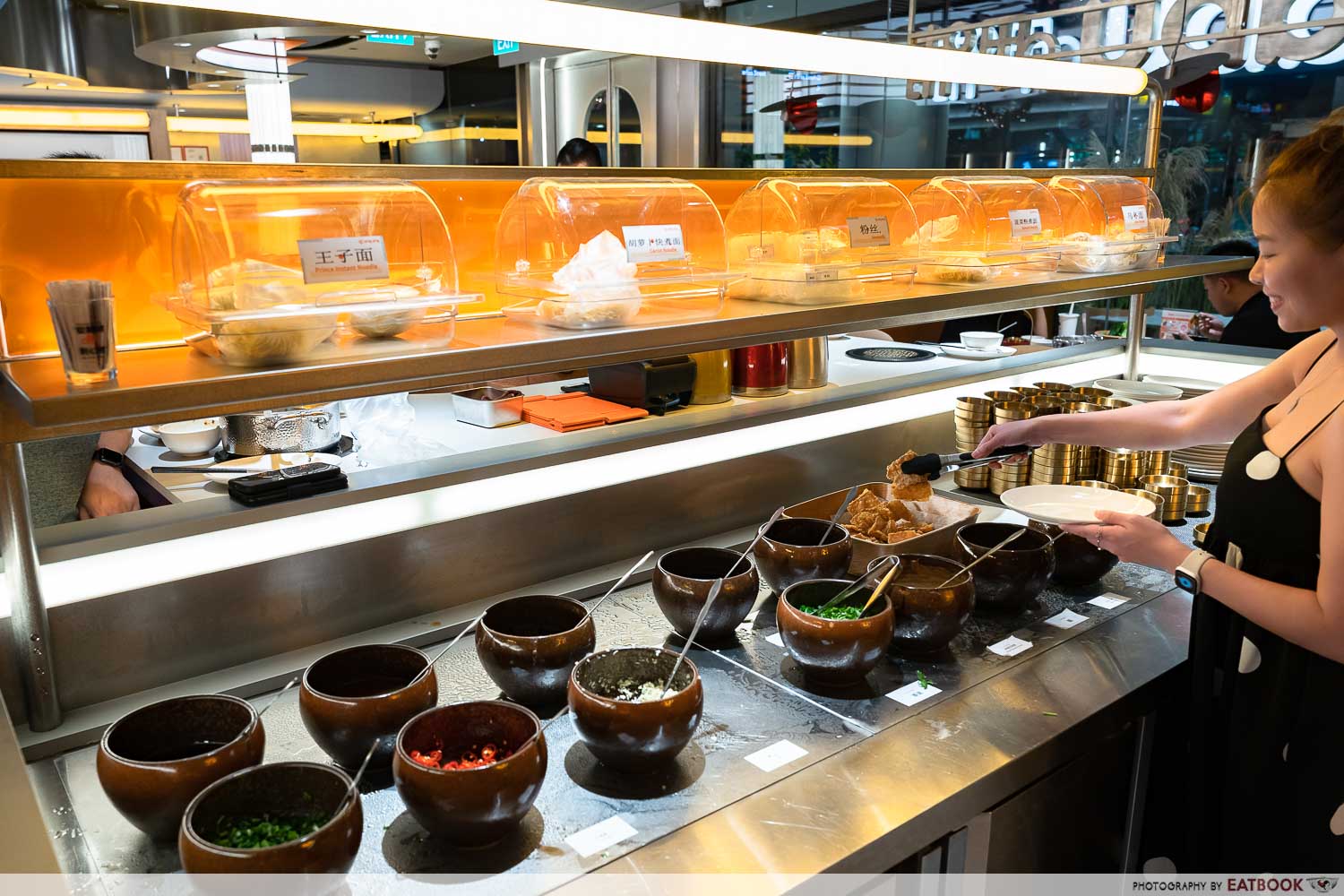 No hotpot meal is complete without condiments and fried beancurd skin. This latter item is available, free-flow, at the condiments station, along with their signature Xiabu Sesame Sauce and the usual suspects of fresh garlic, sliced chilli, coriander, soya sauce and more.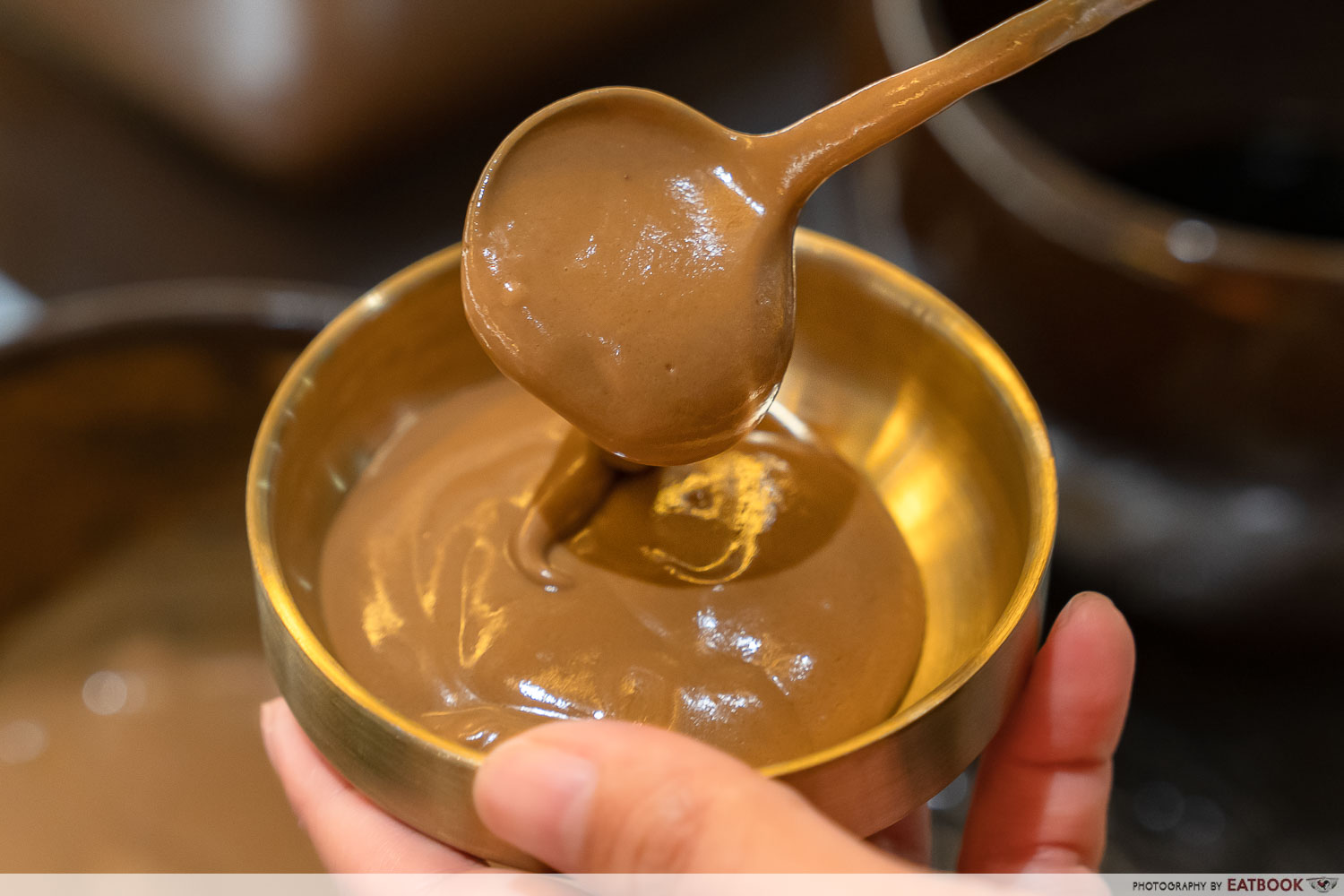 We liked the Xiabu Sesame Sauce for its bodied nuttiness, though it might be a little too thick for some. Perhaps you could thin it down with some broth if you like.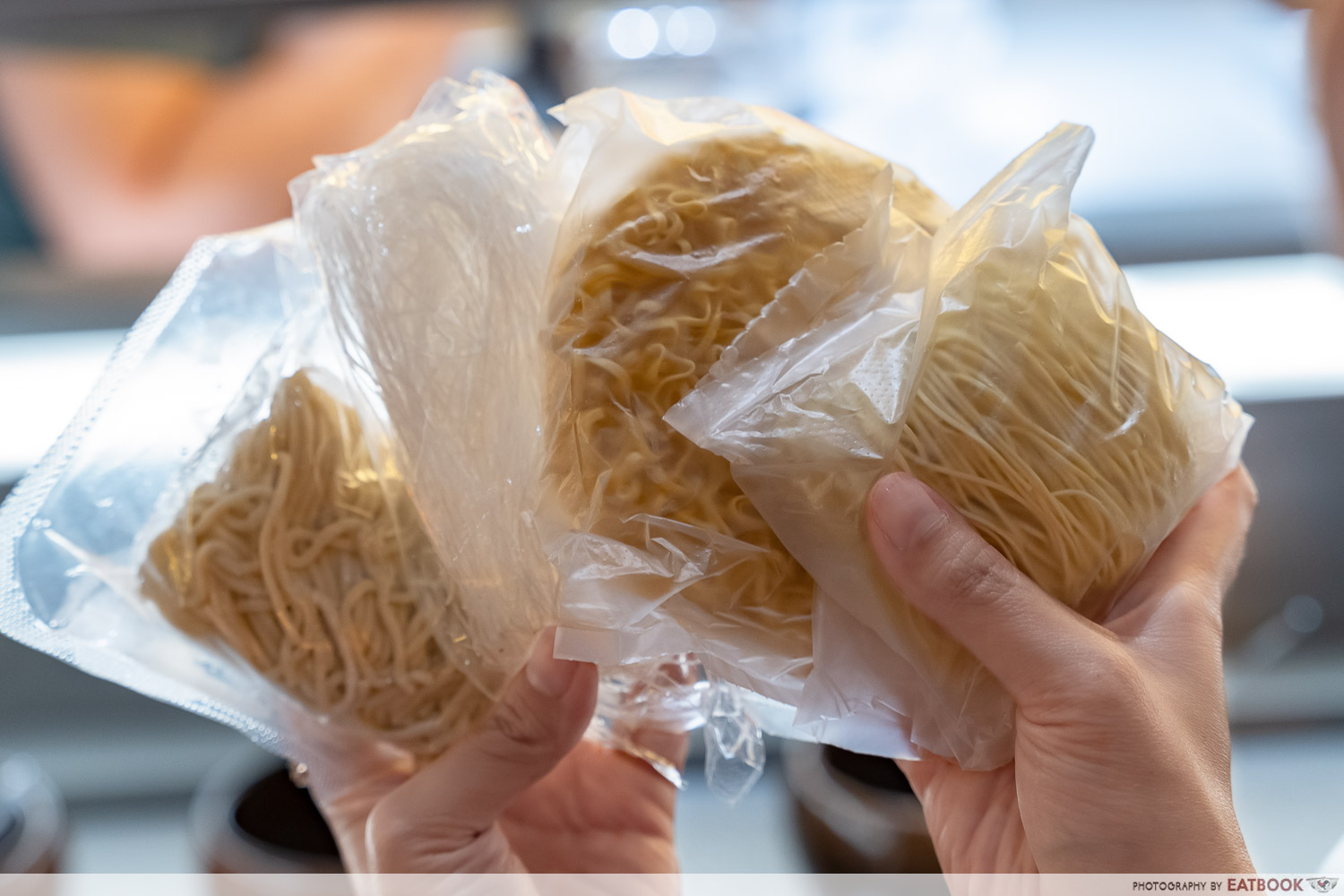 Unlike at your usual hotpot restaurant, the noodle selection here at Xiabu Xiabu is already included in the price of your set, and found at the condiments station. Noodle fans, this is your paradise. There are five to choose from: Udon, Spinach Noodles, Carrot Noodles, Prince Instant Noodle, and bean vermicelli.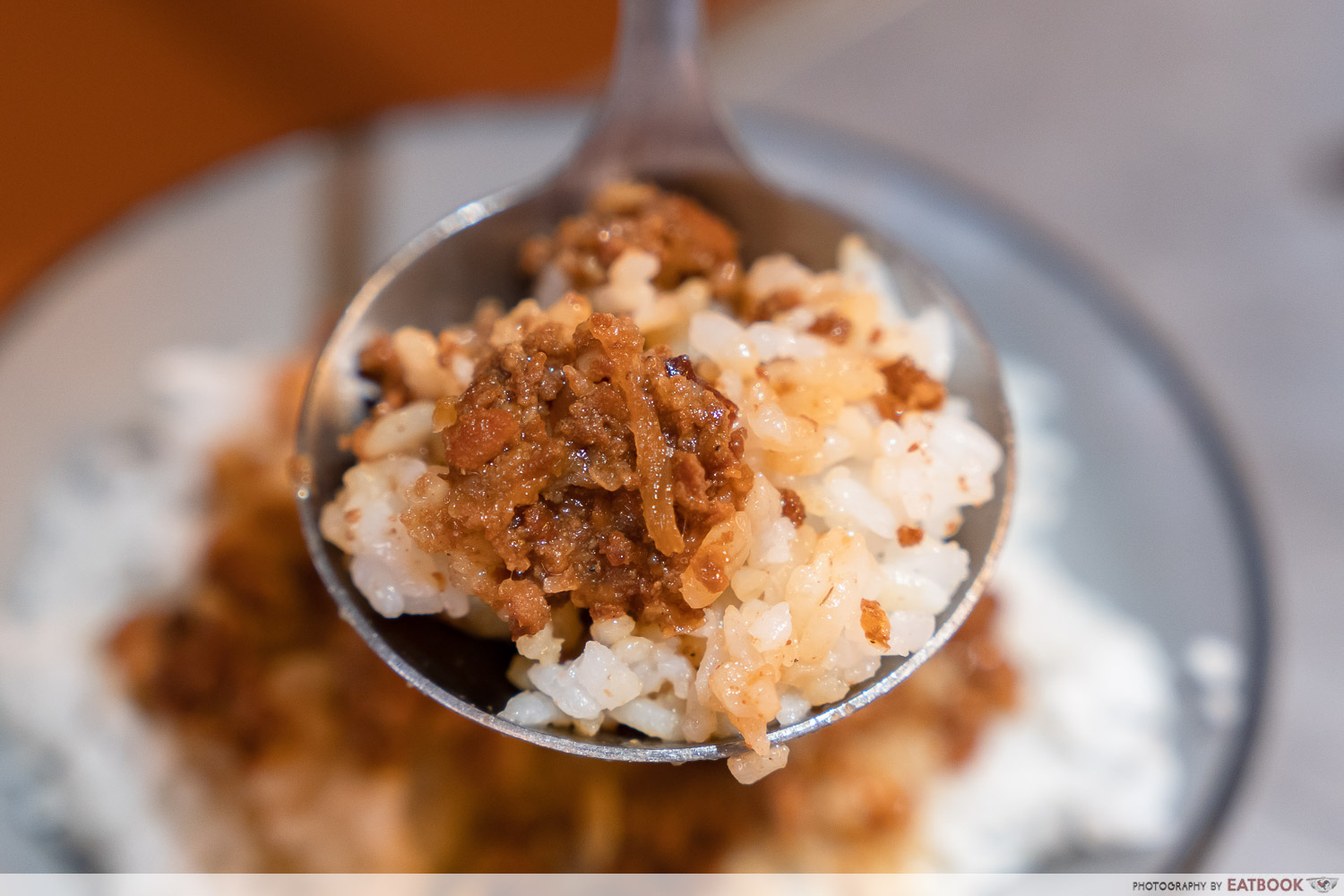 If you're looking for rice, their Taiwanese Braised Pork Rice will only cost you $2.50++ a bowl! Understandably, there's not a lot of lu rou, but it does come with short-grain rice, and is only $2.50++.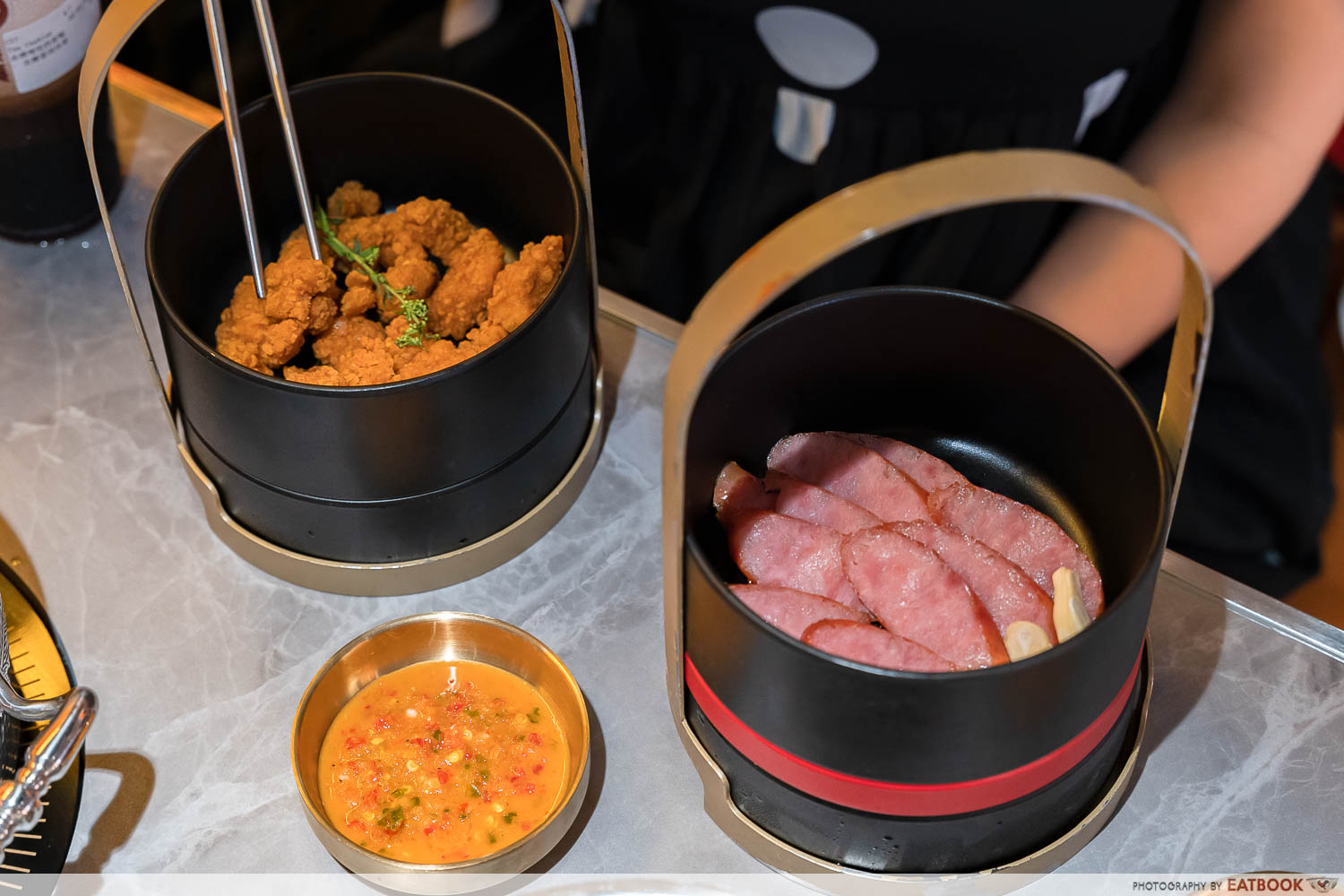 For snacks, Spicy Fried Popcorn Chicken ($6.30++) and Taiwanese Sausage ($7.80++) come highly recommended. They're served with a tasty, belacan-based chilli dip, which I found myself enjoying with the hotpot food too.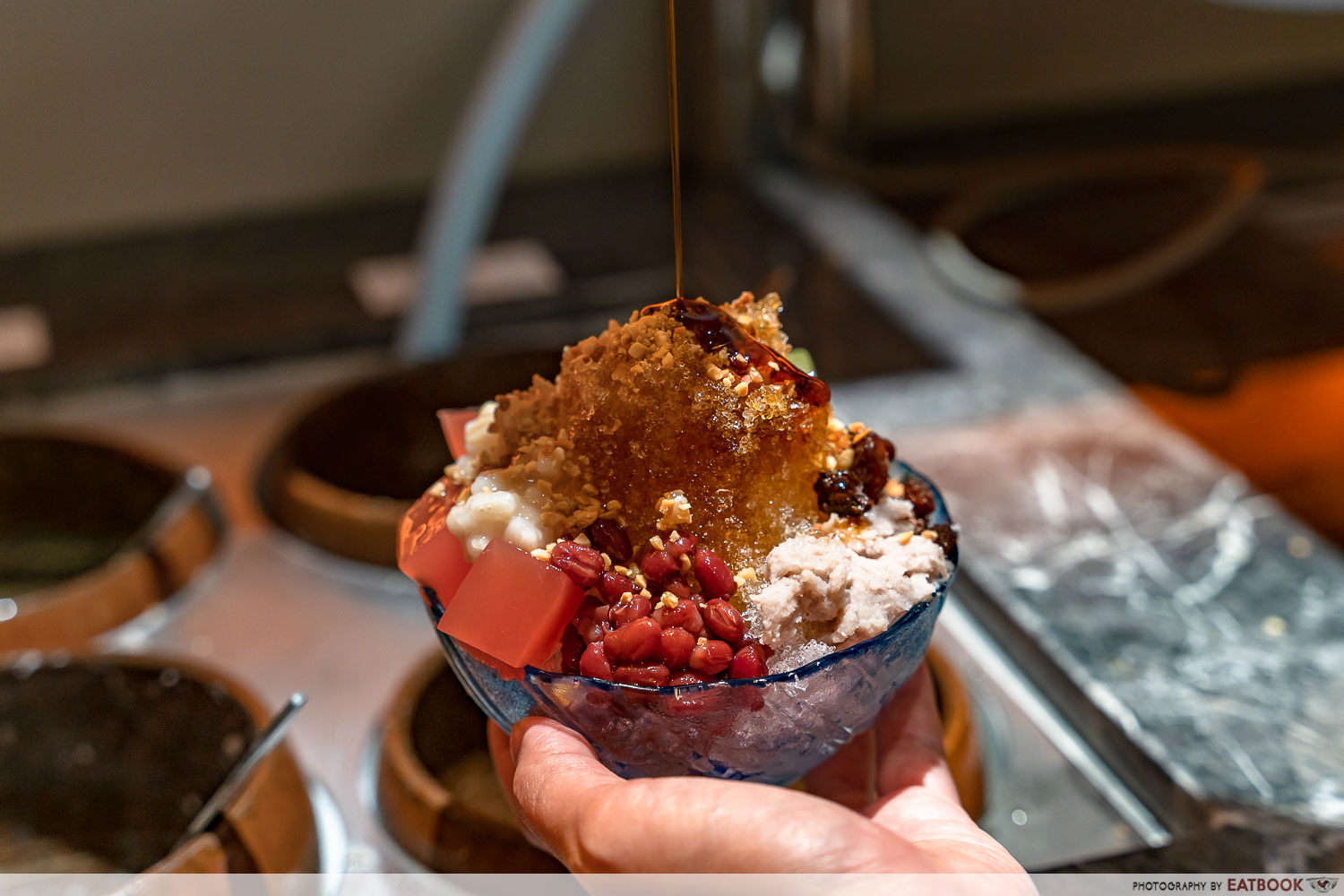 There's a single choice when it comes to dessert: shaved ice or ice kachang. The whole fun in this is that you get to operate the ice machine yourself, and then go ham on the toppings, which include red beans, watermelon jelly, cucumber jelly, yam paste, oatmeal, coarse-ground peanuts, raisins, and Okinawan brown sugar syrup. The most popular, which ran out by the time we got there, is green tea jelly.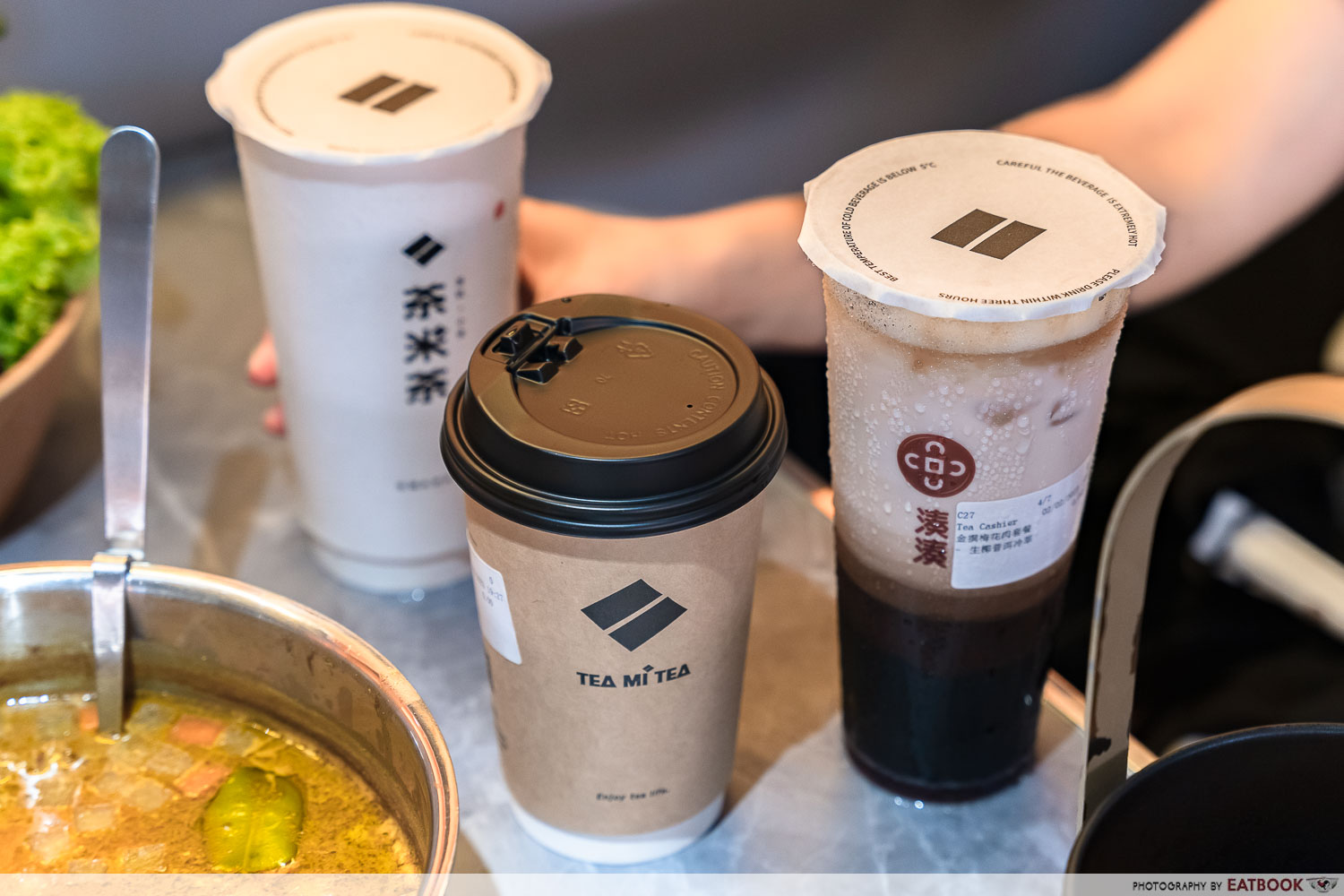 Each set comes with Da Hong Pao Tea or Aged Pu Erh Tea, though you can top up for one of the fancier drinks from Tea Me Tea—also available at Coucou Hotpot. This means you can also have Da Hong Pao Bubble Tea ($5.80++), Winter Melon Tea with Da Hong Pao ($5.20++), or Pu Erh with Oat Milk ($6.20++)!
There's also a new coconut-based series of drinks, which include Da Hong Pao with Coffee & Coconut Milk ($6.20++).
This Hotpot Restaurant In Orchard Has Unique Lobster And Fish Maw Soups, A4 Wagyu And More
Ambience at Xiabu Xiabu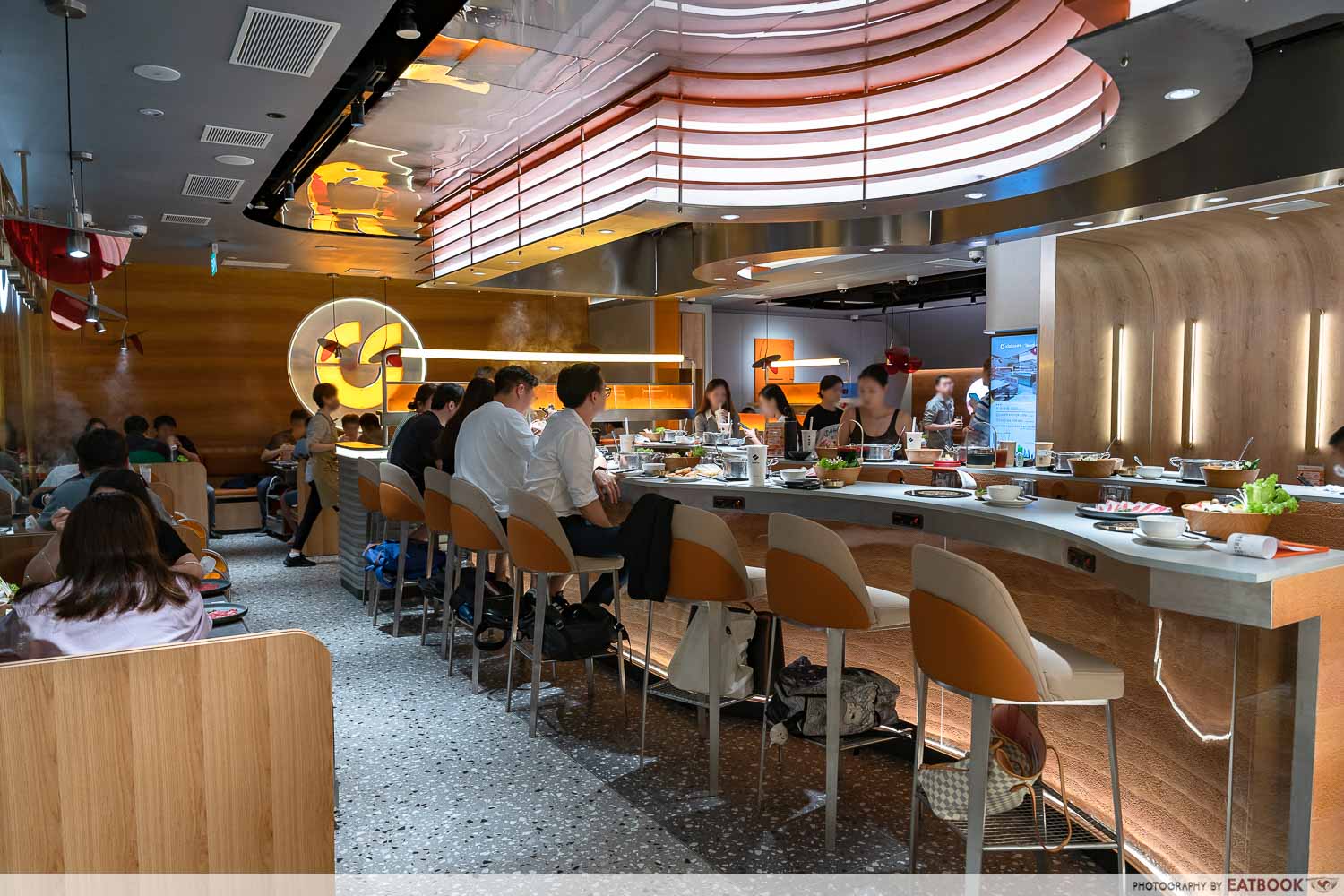 There are 72 seats spread across booth seats for groups of diners, and bar seats that are more suitable for solo diners or couples looking for a more intimate dining experience. All the seats come equipped with power sockets and USB points for charging your gadgets! Be prepared to leave smelling like hotpot; it's inevitable, though the outdoor seats might help with this.
Xiabu Xiabu faces Bras Basah Road and the School of Information Systems at SMU. It's right in front of Exit D of Bras Basah MRT Station, and is just across from Bencoolen MRT Station as well. We were there at 7pm on a Thursday evening and the restaurant was almost full—so it's best to make reservations ahead of your visit!
The verdict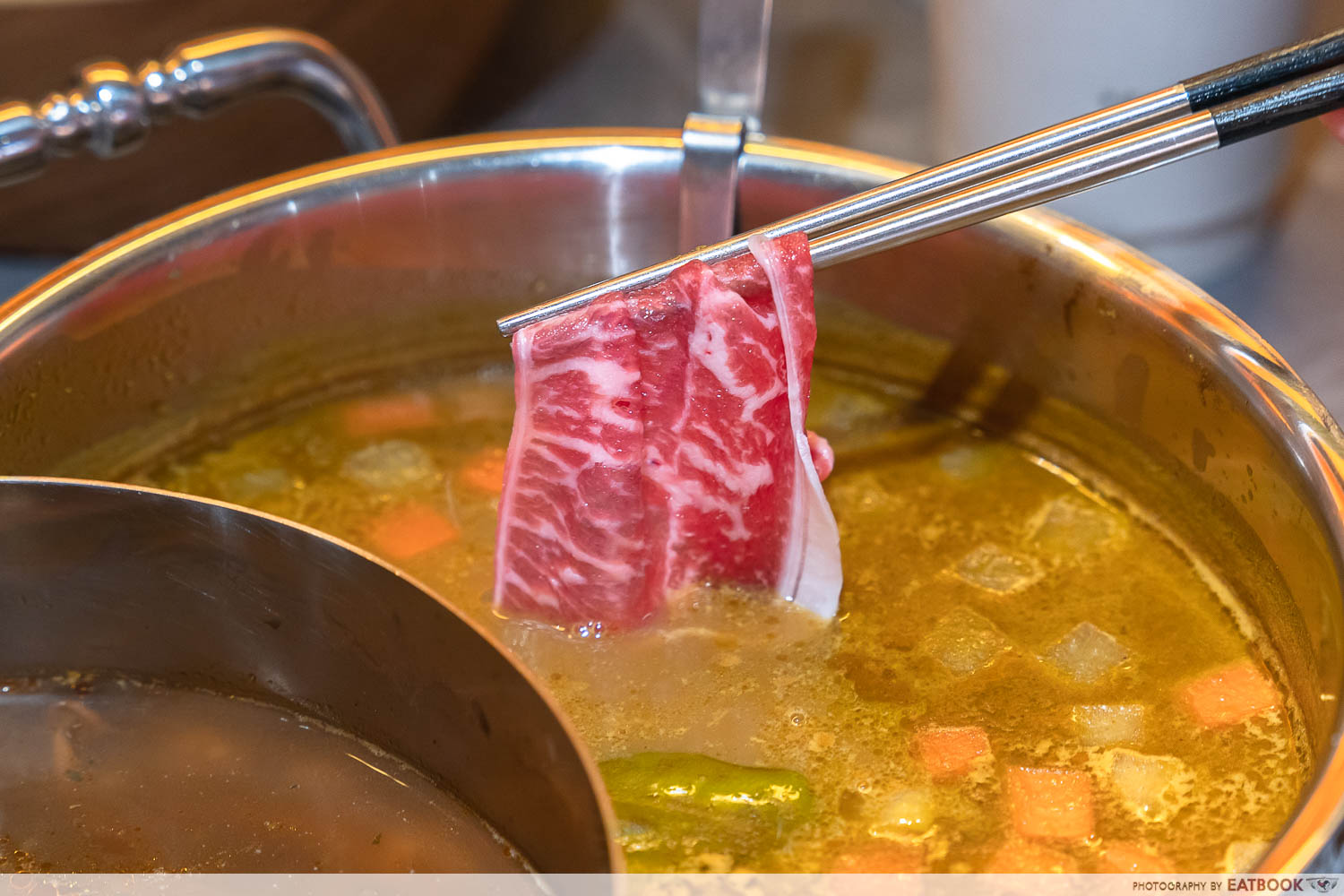 For its price point and convenience, Xiabu Xiabu will definitely appeal to the many office workers and students in the area, plus it takes the hassle out of having to jio hotpot buddies along when a craving hits. I liked how I could enjoy two soup bases at the same time, even though you can only choose one of these. Also, the pot is significantly larger than other individual hotpots I've previously had, which makes it feel immediately more hearty.
If you're feeling fancy, check out Empire Hotpot at Ngee Ann City for lobster and fish maw hotpot soup bases. Otherwise, Spicy Bangkok Hotpot near Chinatown has hotpot buffets from just $13.90++!
Address: Bras Basah Road, #01-03/04, Lazada One, Singapore 189554
Opening hours: Daily 11am to 11pm
Tel: 6022 0116
Website
Xiabu Xiabu is not a halal-certified eatery
Enjoy $13.90+ Thai Hotpot Buffet With Free-Flow Soup Near Chinatown MRT
Photos taken by Chew Yi En.
This was a media tasting at Xiabu Xiabu.
Xiabu Xiabu Review: Famous Individual Hotpot From China Now At Bras Basah, With Curry Broth And Ice Kachang
Xiabu Xiabu Review: Famous Individual Hotpot From China Now At Bras Basah, With Curry Broth And Ice Kachang -

7.5/10
Summary
Pros
– Individual dual-soup pots
– Affordably priced, with a good variety of food and soups
– Conveniently located in town
Cons
– Nanyang Curry tasted like NISSIN Curry
– A la carte ordering is not possible without first getting a set
Recommended dishes: Stew Pork Tripe and Chicken Soup Base, Golden Sauerkraut Soup Base, Popular Beef Set ($28++)
Opening hours: Daily 11am to 11pm
Address: Bras Basah Road, #01-03/04, Lazada One, Singapore 189554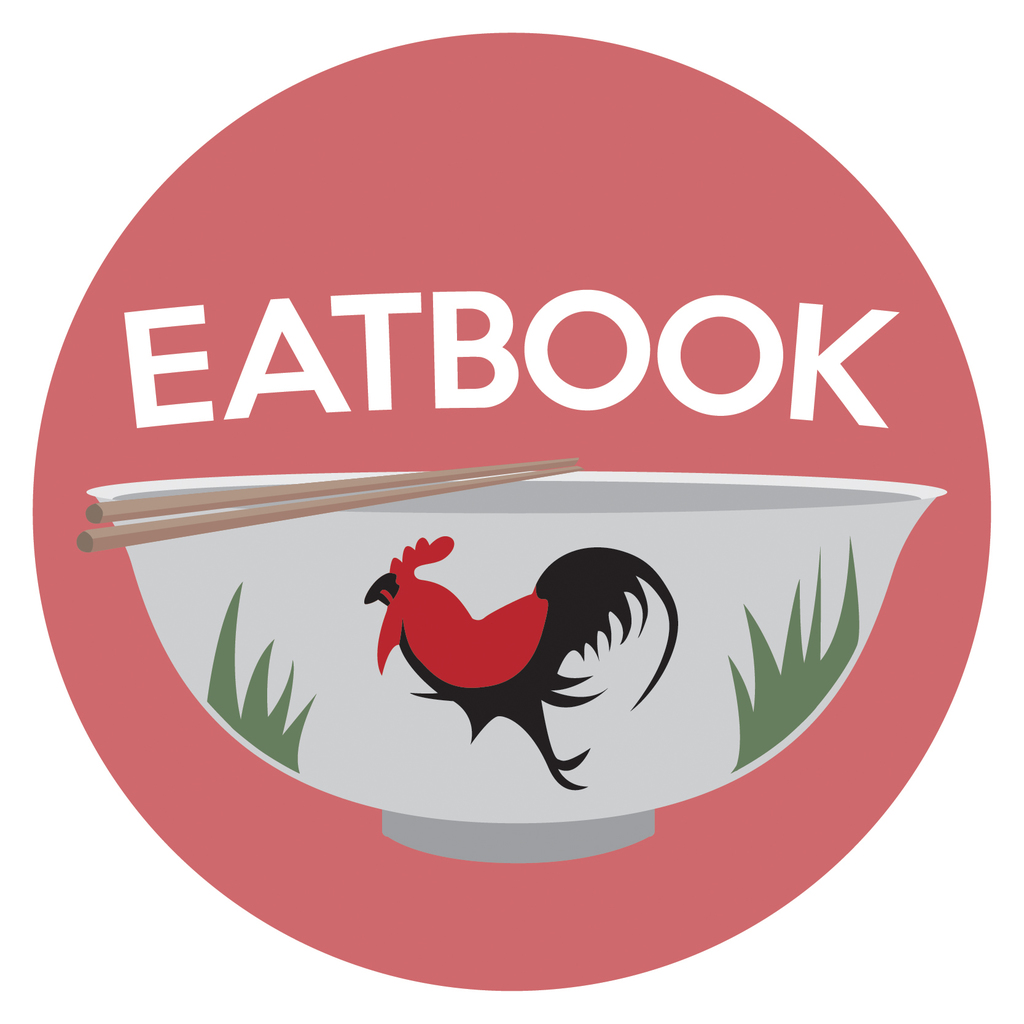 Drop us your email so you won't miss the latest news.