Xian Dan Chao Ren at Waterway Point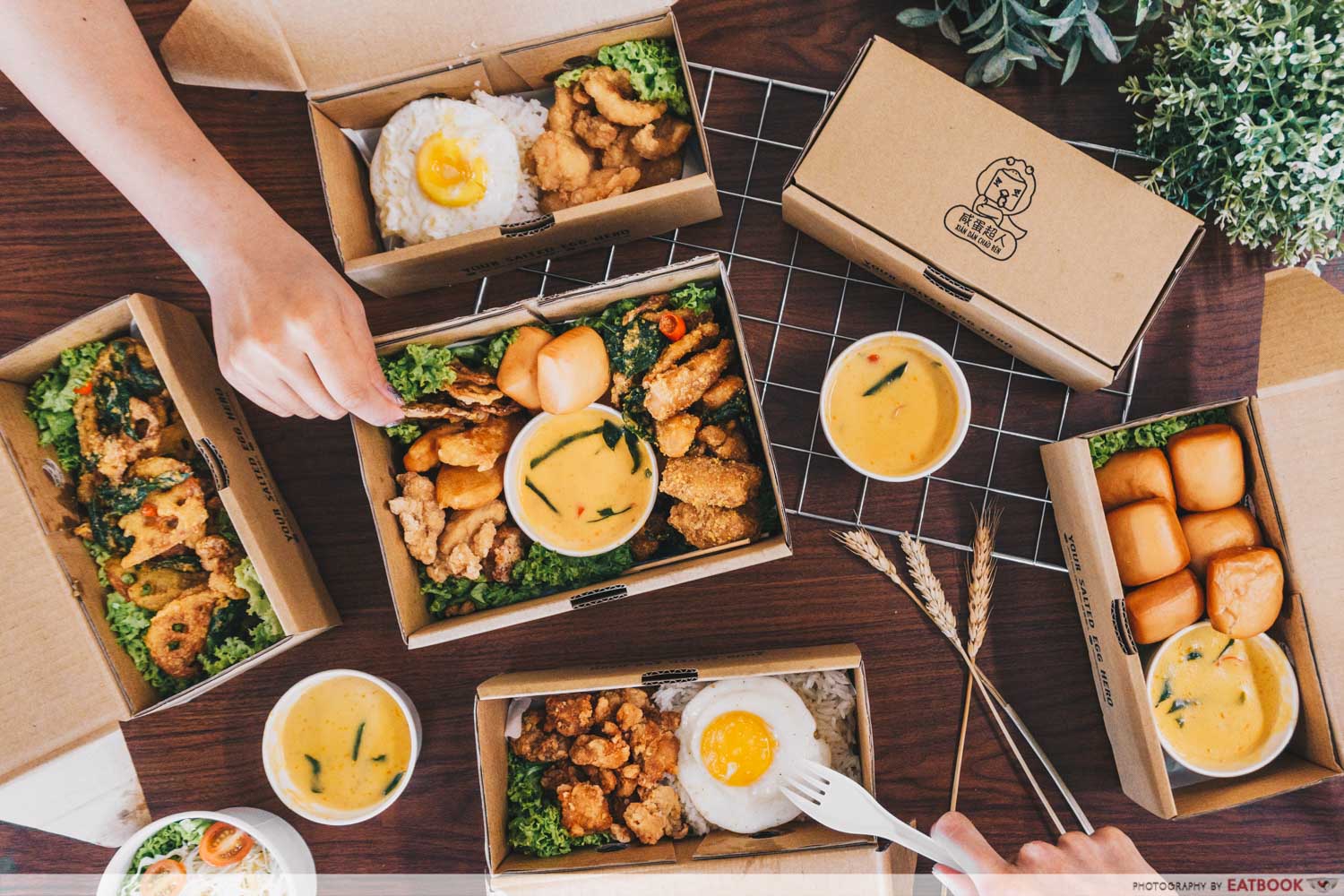 Just when you thought salted egg was a dying fad, Xian Dan Chao Ren lands on the scene to revive the craze. This brand new takeaway kiosk in the basement of Waterway Point introduces nifty, party-friendly boxes of salted egg munchies, with the option to upgrade them to meal combos with rice, and even a salad.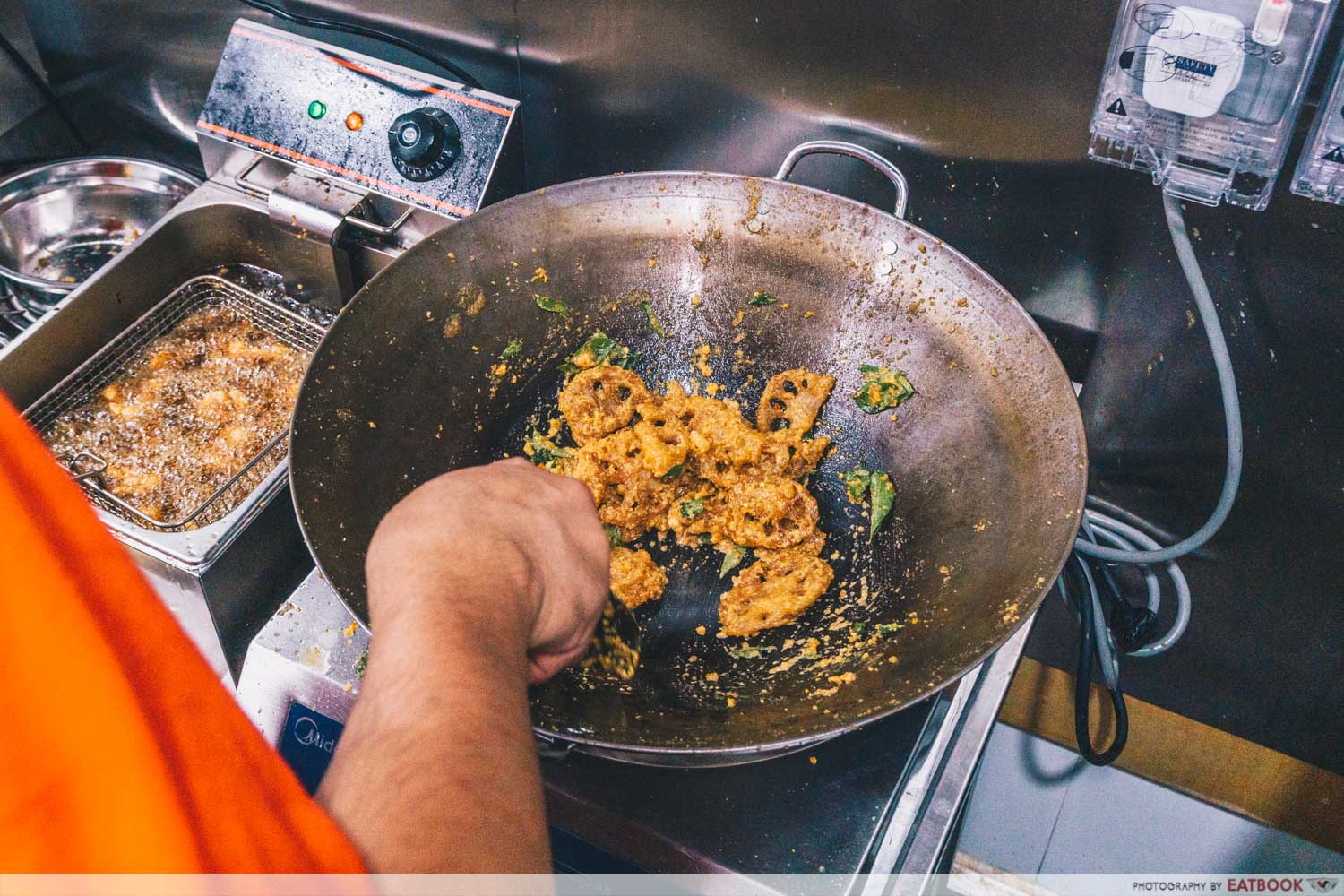 This kiosk saves Punggol-dwellers the trouble of having to either make zi char-level salted egg dishes themselves, or trudge to a zi char eatery and be distracted by everything else on the menu.
Food at Xian Dan Chao Ren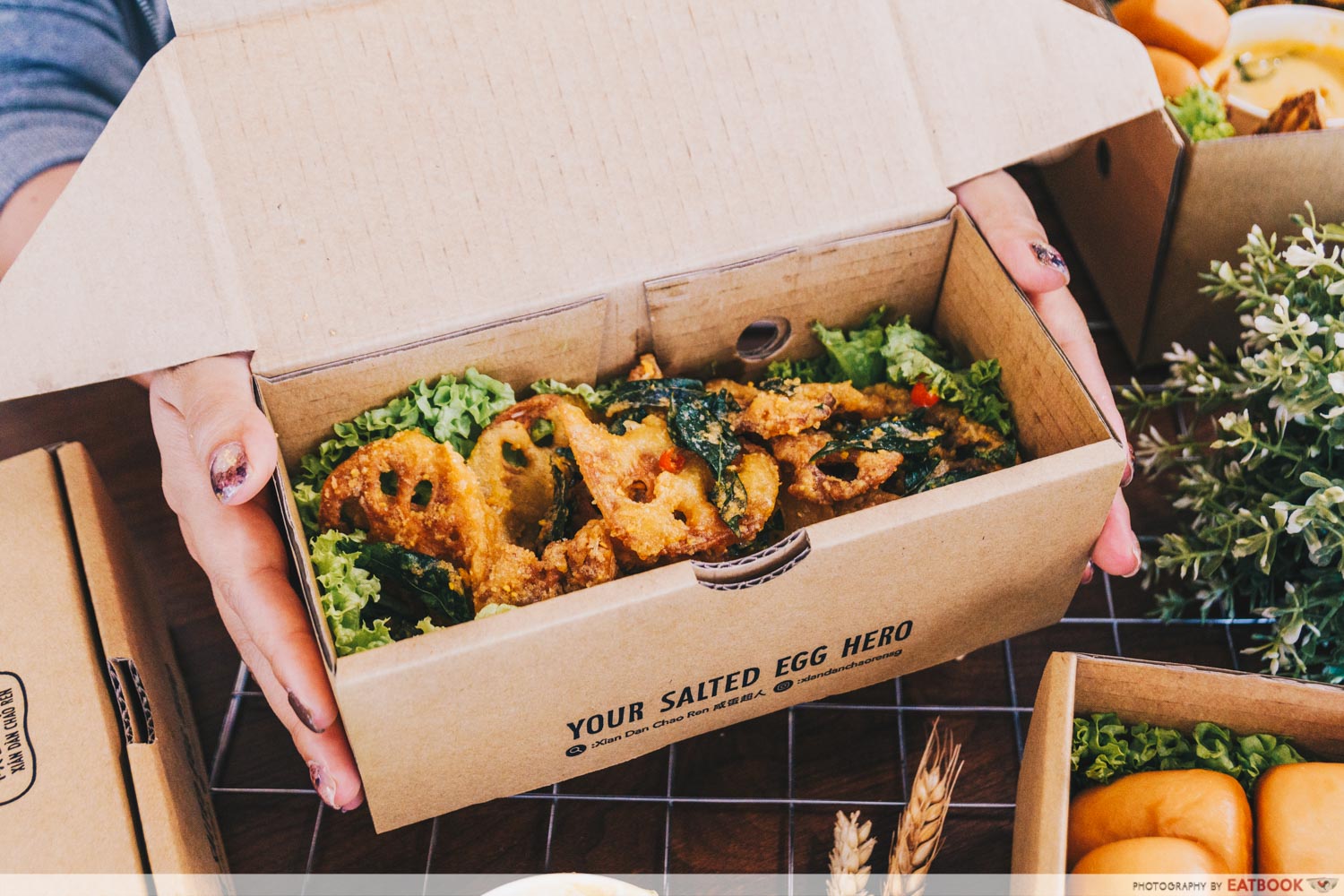 There are five main items on the menu at Xian Dan Chao Ren: Chicken ($5.90), Fish ($5.90), Lotus Root ($4.90), Pumpkin ($4.90), and Man Tou ($4.90). You can get them individually, or get your choice of two, three, or five items in a set. Keeping with the superhero theme, these sets are aptly coined Dynamic Duo ($7.90), Terrific Trio ($9.90), and the Ultimate Team-Up ($15.90).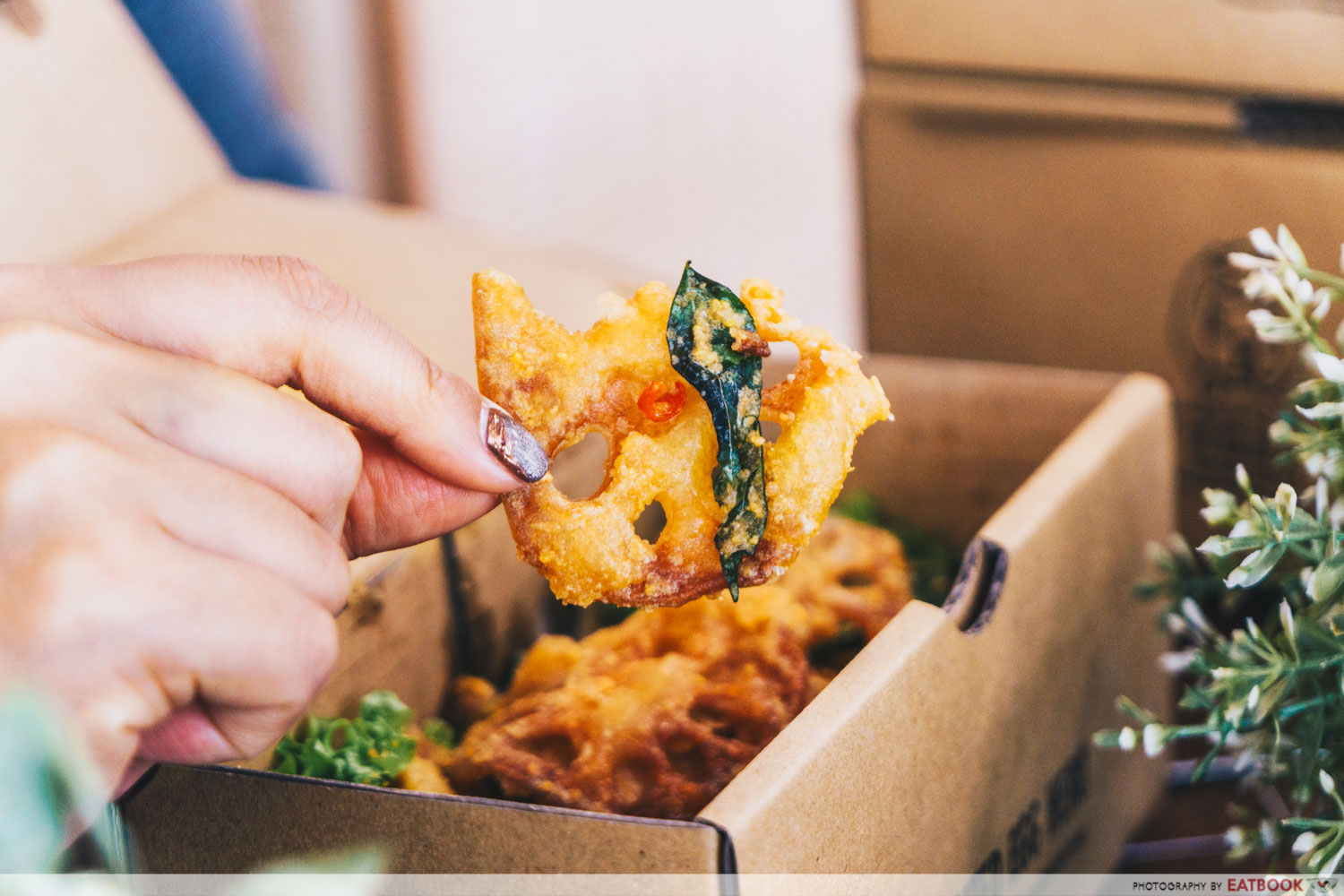 After choosing which of Xian Dan Chao Ren's two to five hero items you'd like, you can then opt between the Flip, or the Dip. The former sees the deep-fried hero item tossed in a crunchy, deeply savoury, and addictive salted egg crumble, while the latter comes as a dipping sauce.
You'll also get the requisite curry leaves, fried to a crisp, and red chilli slices, although we'd recommend dusting the chilli off for a less spicy bite. We had the Lotus Root with the Flip option, and we couldn't stop popping these into our mouths.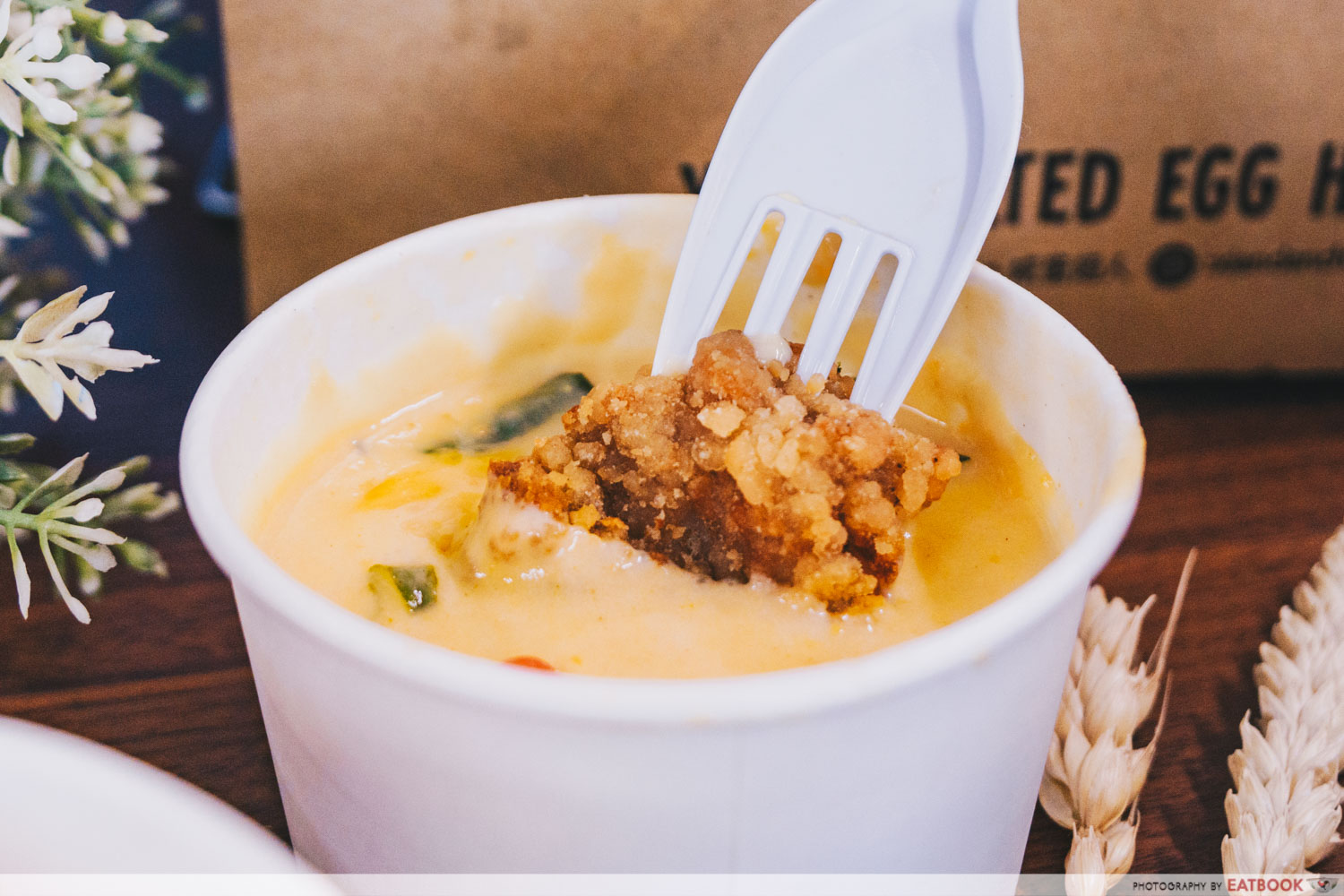 Should you decide on the Dip, your order will come with a tub of salted egg cream. As with the Flip, it's flecked with curry leaves, and chilli, although these are not crispy in this case. If you're the sort who loves dunking things in gravy, this is it for you. The salted egg sauce is mildly sweet, and great at the start, but I find it gets cloying.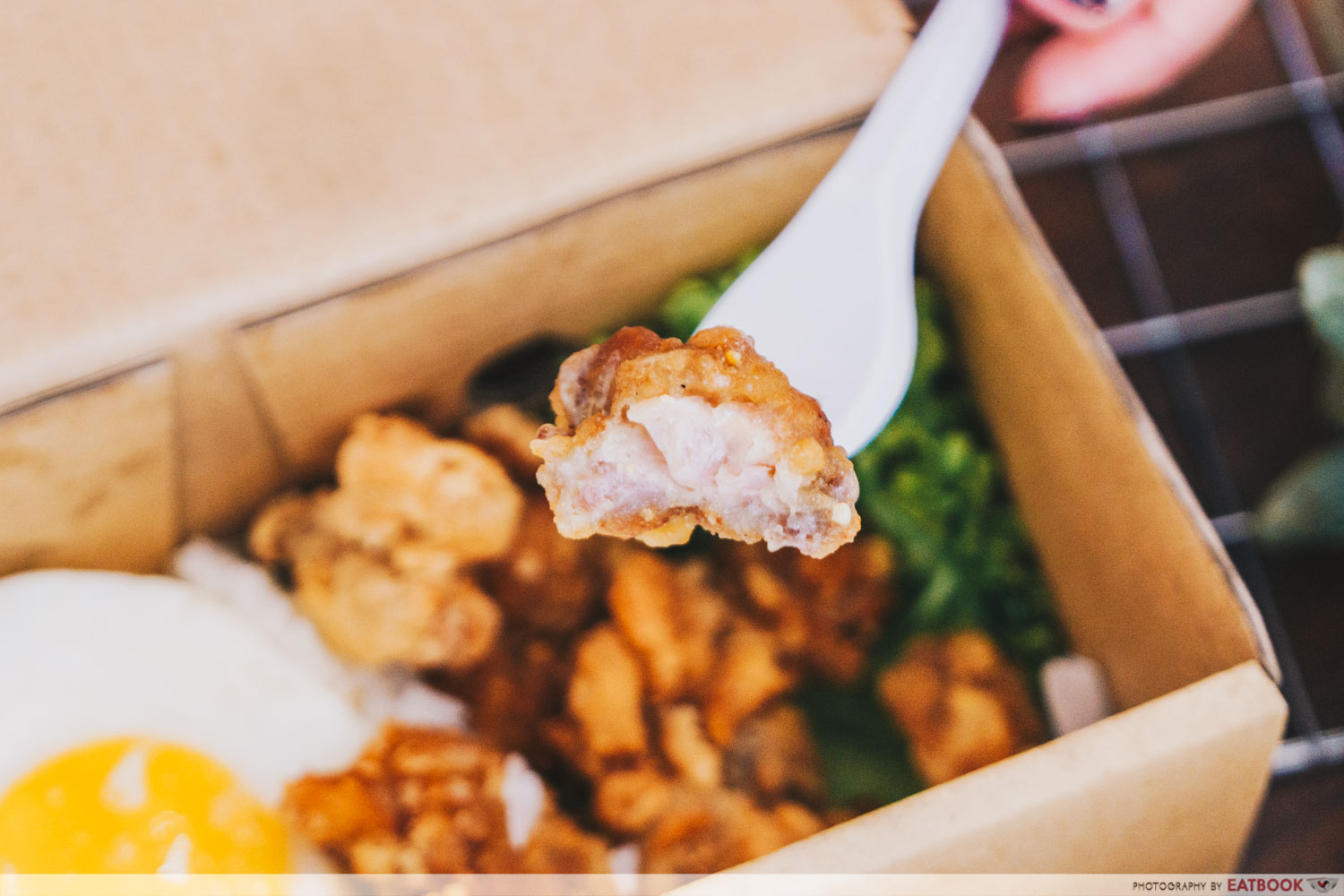 On the plus side, the fried nuggets of chicken and fish are tasty as they are, even without the salted egg sauce. They're also well fried, and I imagine they would be great, fresh.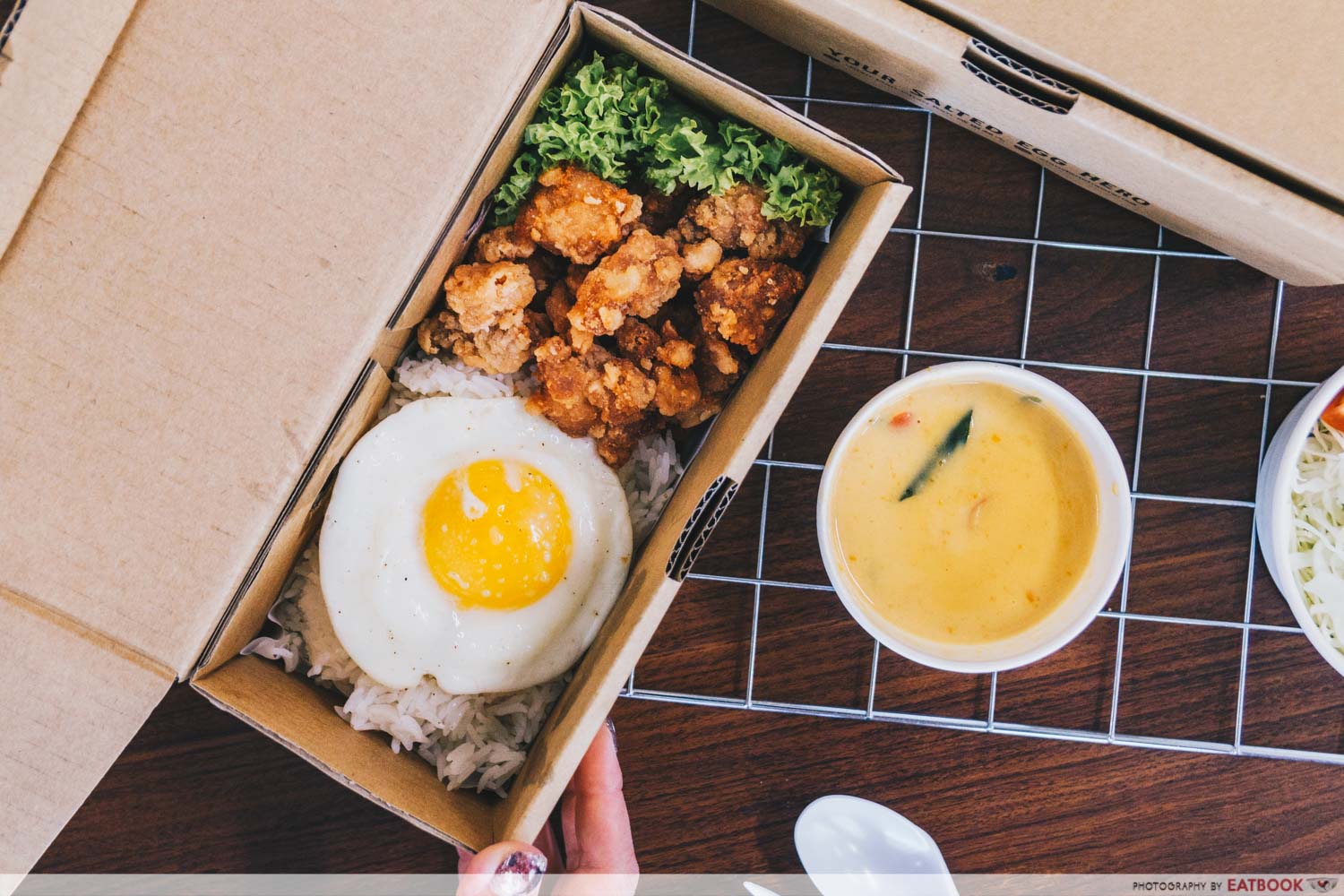 With any of these, top up $2 to make it a meal Combo, and you'll get yourself a generous portion of rice and a sunny-side-up egg. While I didn't eat any of the lettuce lining the boxes, it seemed fresh and provided a courtesy bit of green in this otherwise sinful meal.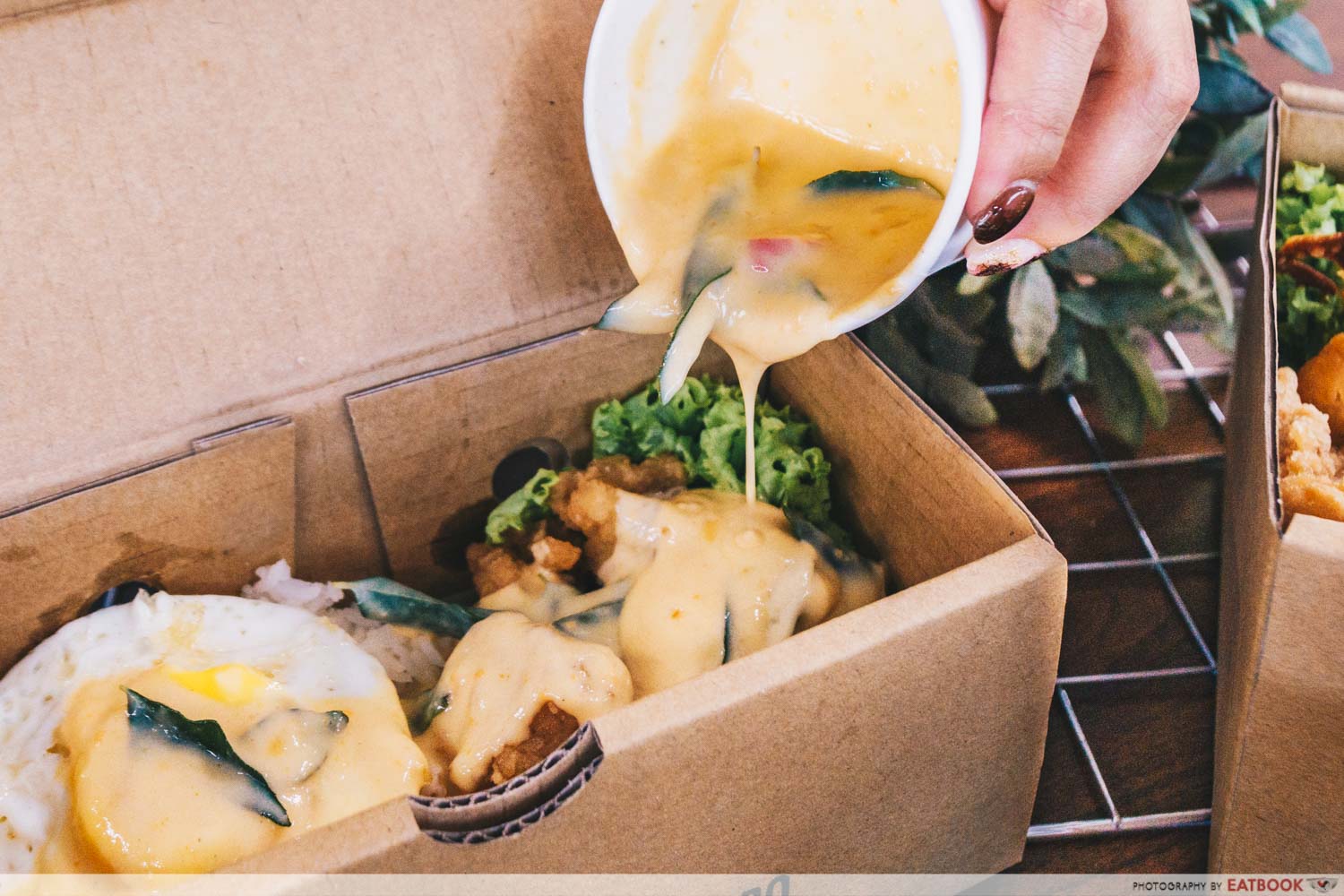 We tried drizzling the salted egg sauce into the Fish Combo, and tossing to combine. The cardboard boxes used at Xian Dan Chao Ren were not the best vehicle for this, seeing as the gravy soaked into the porous material. A waxed, shallower, box might be a better option.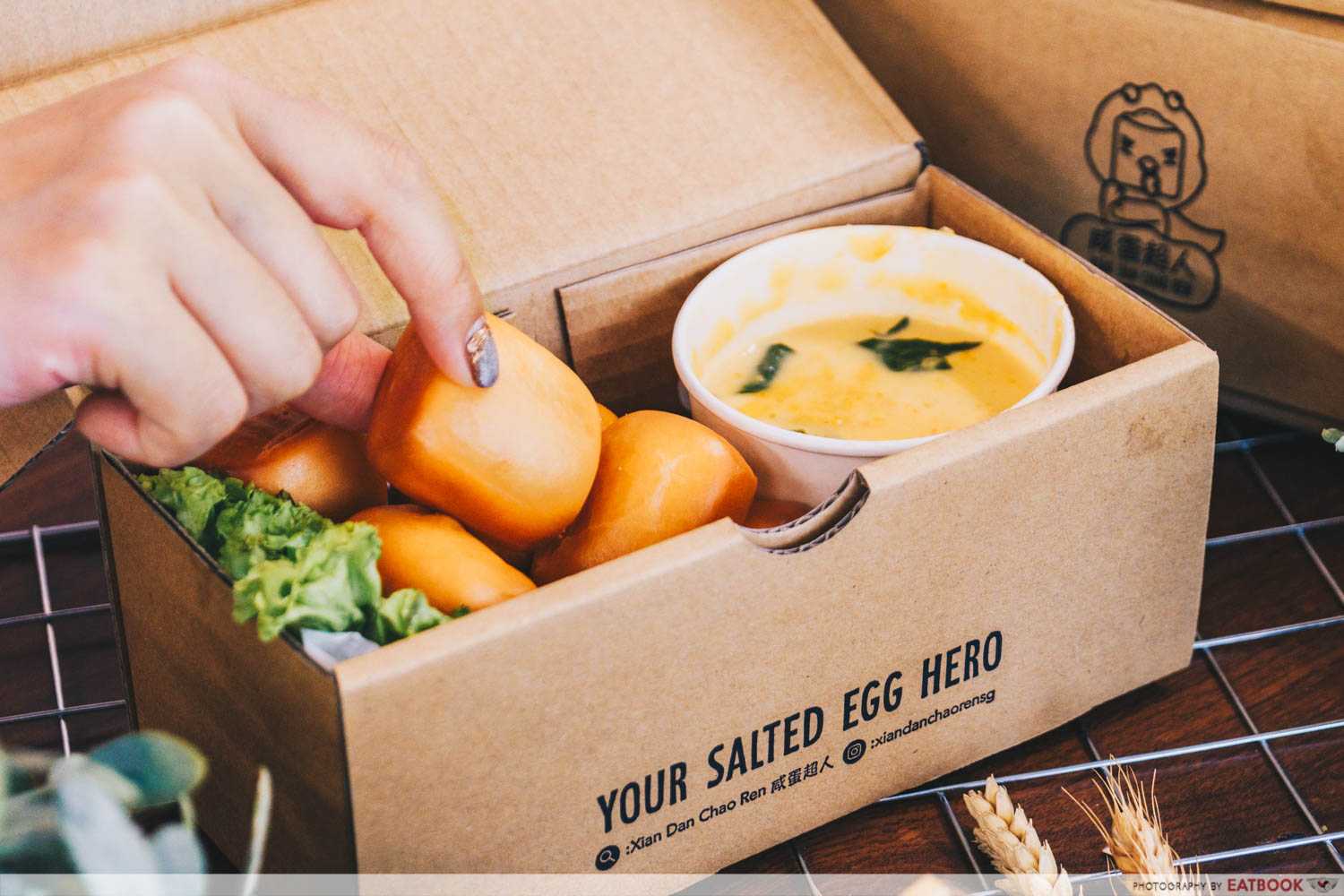 Another favourite was the golden, deep-fried Man Tou, dipped in the rich sauce. It's the best of Salted Egg Crab, without the messy, crabby, part. Again, I'd definitely get this to share, because it is jelak.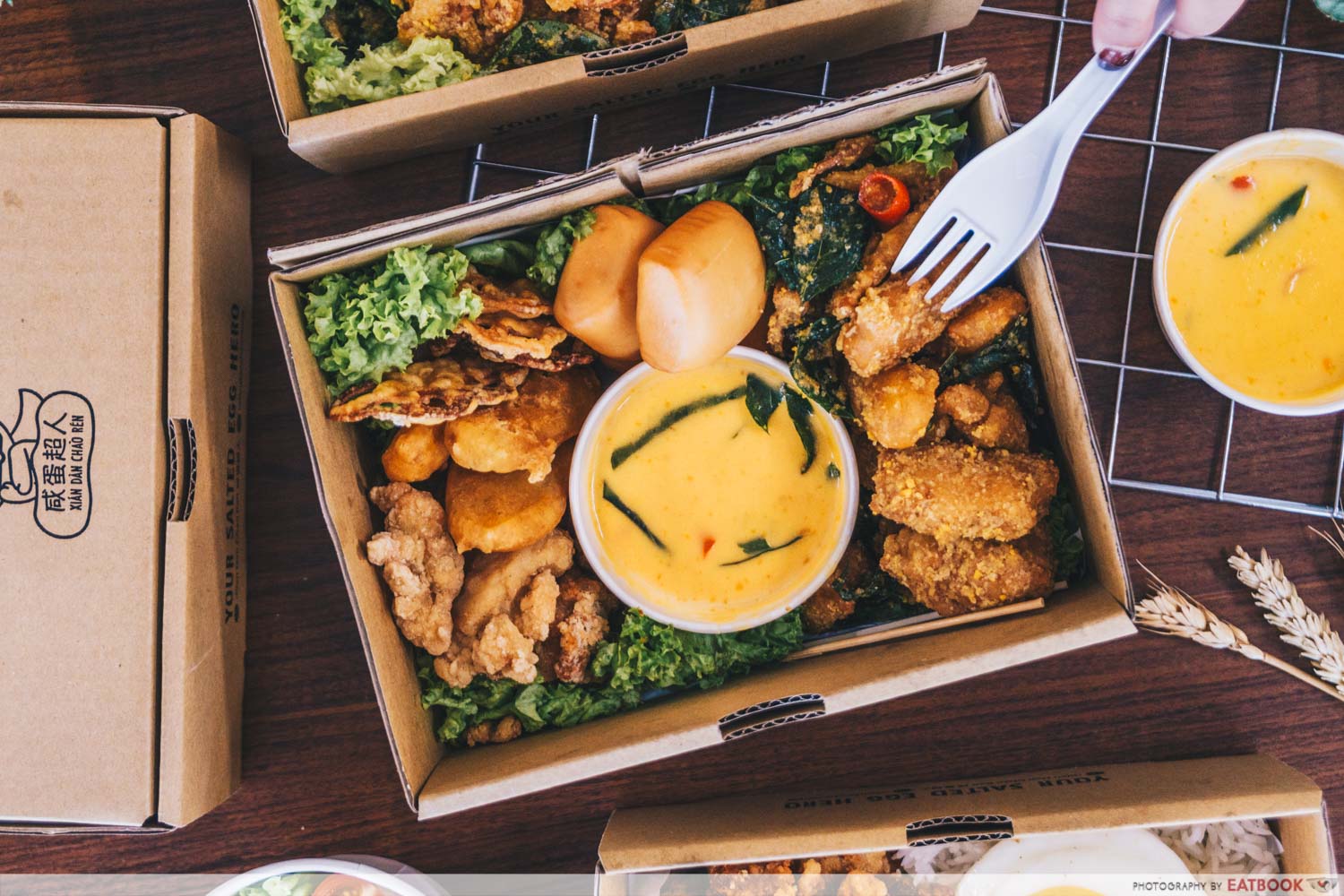 If you can't make up your mind, or are headed to a party, the Ultimate Team-Up is a great solution. It's got a little bit of everything, visually accented by the reds, yellows, and greens of the accompaniments.
Unfortunately, as much as the pumpkin in the pumpkin fritter was delightfully sweet and soft, there was way too little of it in each bite. There was an unpleasantly high ratio of floury batter to actual pumpkin, which made for a disappointing eating experience. With a thinner batter, and more pumpkin, this item would be much more ideal.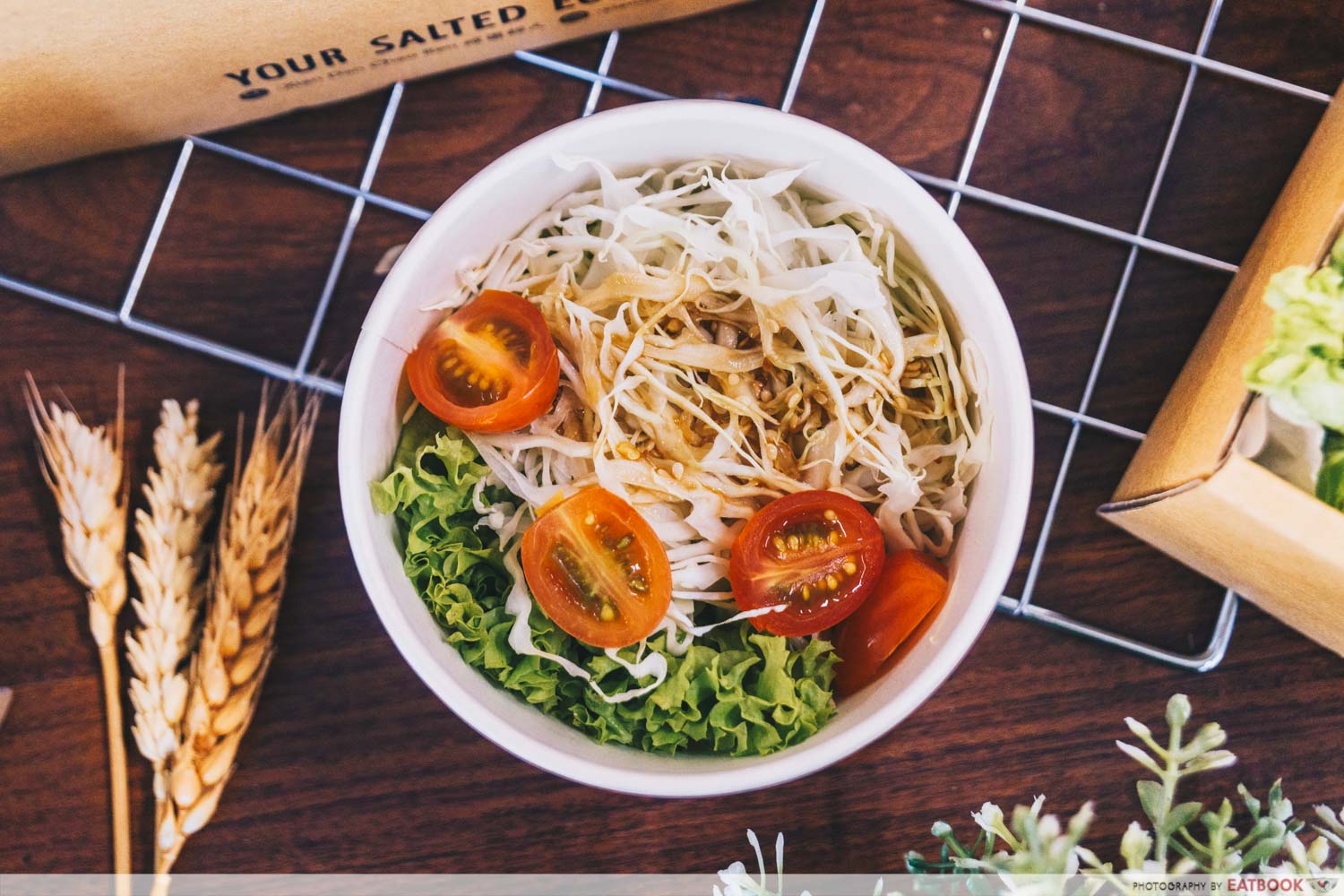 To make up for all the indulgence, Xian Dan Chao Ren also has a Salad ($2) add-on that you can purchase. This comes with an aromatic sesame oil-laced dressing that complemented the shredded cabbage well.
Ambience at Xian Dan Chao Ren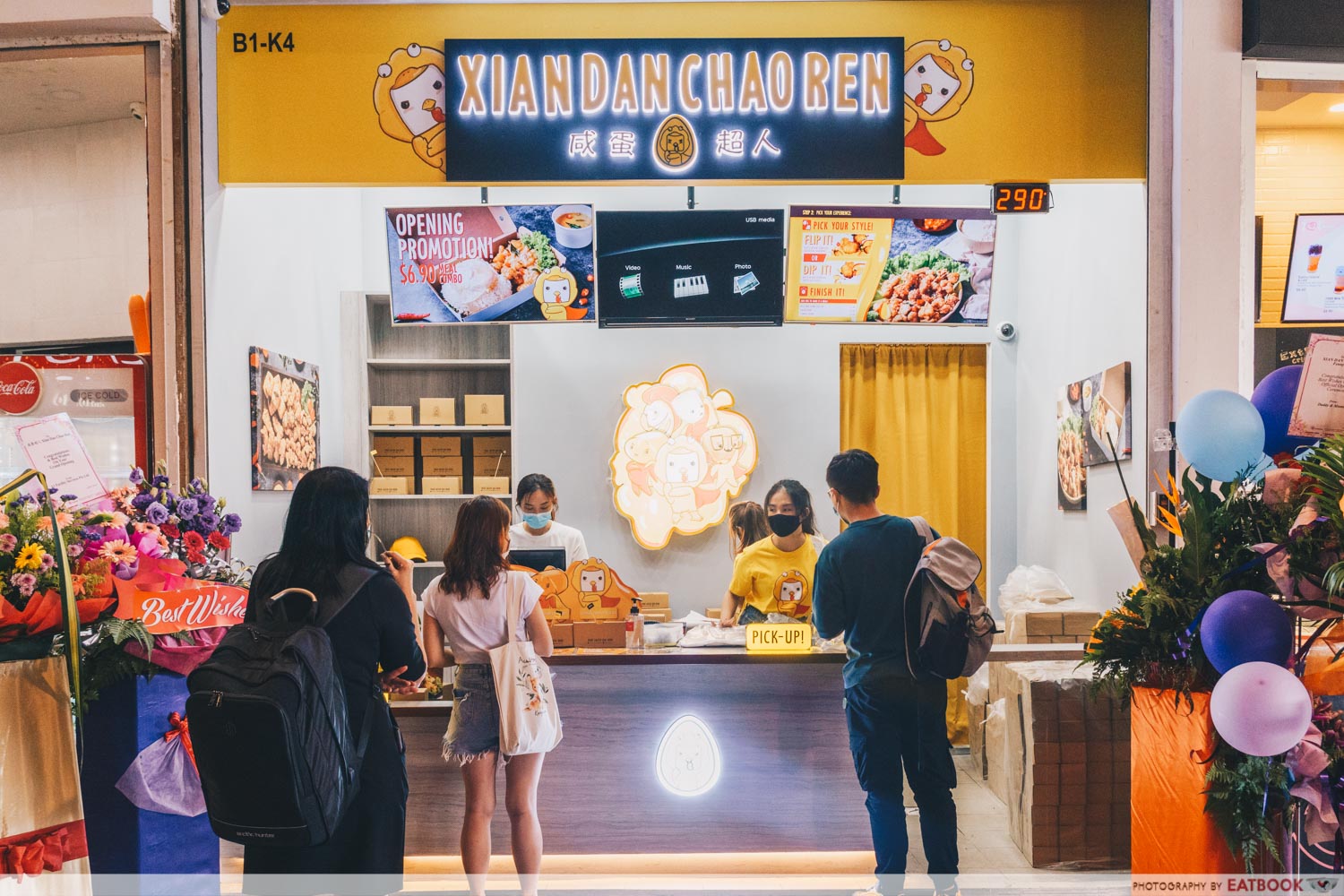 Xian Dan Chao Ren is located in the basement of Waterway Point, fronted by their signature yellow signage and unmissable Salted Egg Hero mascot. The passageway the kiosk is located along is spacious, which is conducive for when the crowd situation gets intense. Punggol MRT Station exits right into this mall, so it's extremely convenient if you're thinking of taking the train down.
Juparo Coffee Review: Crab Toast, Chicken Parmigiana And Blue Iced Tea At Potong Pasir
The verdict
While the offerings at Xian Dan Chao Ren will more than satisfy any salted egg craving you may have, it's not something I would travel all the way to Punggol for. I would, if I were in the area, possibly pop by to get myself a box of the Lotus Root Chips. I would also definitely recommend ordering this to bring with you for your next potluck or gathering, if it's in the North East.
If you're looking for other eats in the North East, try Breakfast Club at Kovan for brunch such as rosti from $3.90 at a hawker stall, or give Juparo Coffee's crab toast and blue iced tea a shot!
Breakfast Club Review: Hawker Stall Has Cafe Breakfast And Rosti From $3.90 At Kovan
Address: 83 Punggol Central, #B1-K4, Waterway Point, Singapore 828761
Opening hours: Daily 11am to 10pm
Tel: 9618 9069
Website
Xian Dan Chao Ren is not a halal-certified eatery.
Photos taken by Chew Yi En.
This was a media tasting at Xian Dan Chao Ren.
Xian Dan Chao Ren Review: Salted Egg Mantou, Lotus Root, Chicken, And Platters From $4.90 At Waterway Point
Xian Dan Chao Ren Review: Salted Egg Mantou, Lotus Root, Chicken, And Platters From $4.90 At Waterway Point -

7/10
Summary
Pros
– Tasty salted egg sauce
– Reasonably priced
Cons
– Only takeaway is available
– Pumpkin fritter had more batter than pumpkin
– Can get jelak after a while
Recommended dishes: Lotus Root ($4.90), Chicken Rice Combo ($7.90), Man Tou ($4.90)
Opening hours: Daily 11am to 10pm
Address: 83 Punggol Central, #B1-K4, Waterway Point, Singapore 828761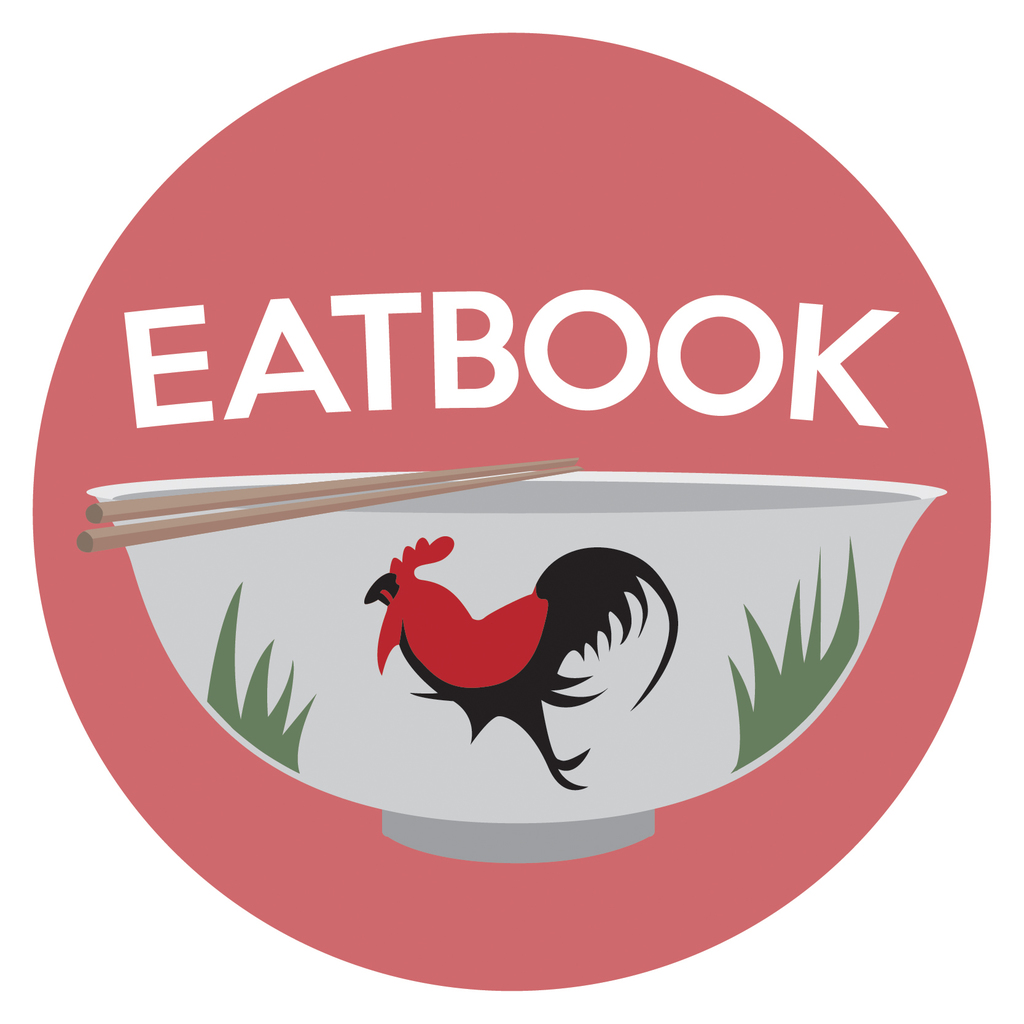 Drop us your email so you won't miss the latest news.