Eating at Xiao Mu Deng on a
xiao mu deng.
Update: this restaurant has shifted to a new location in 1 Selegie Rd, #01-18 GR.ID Mall.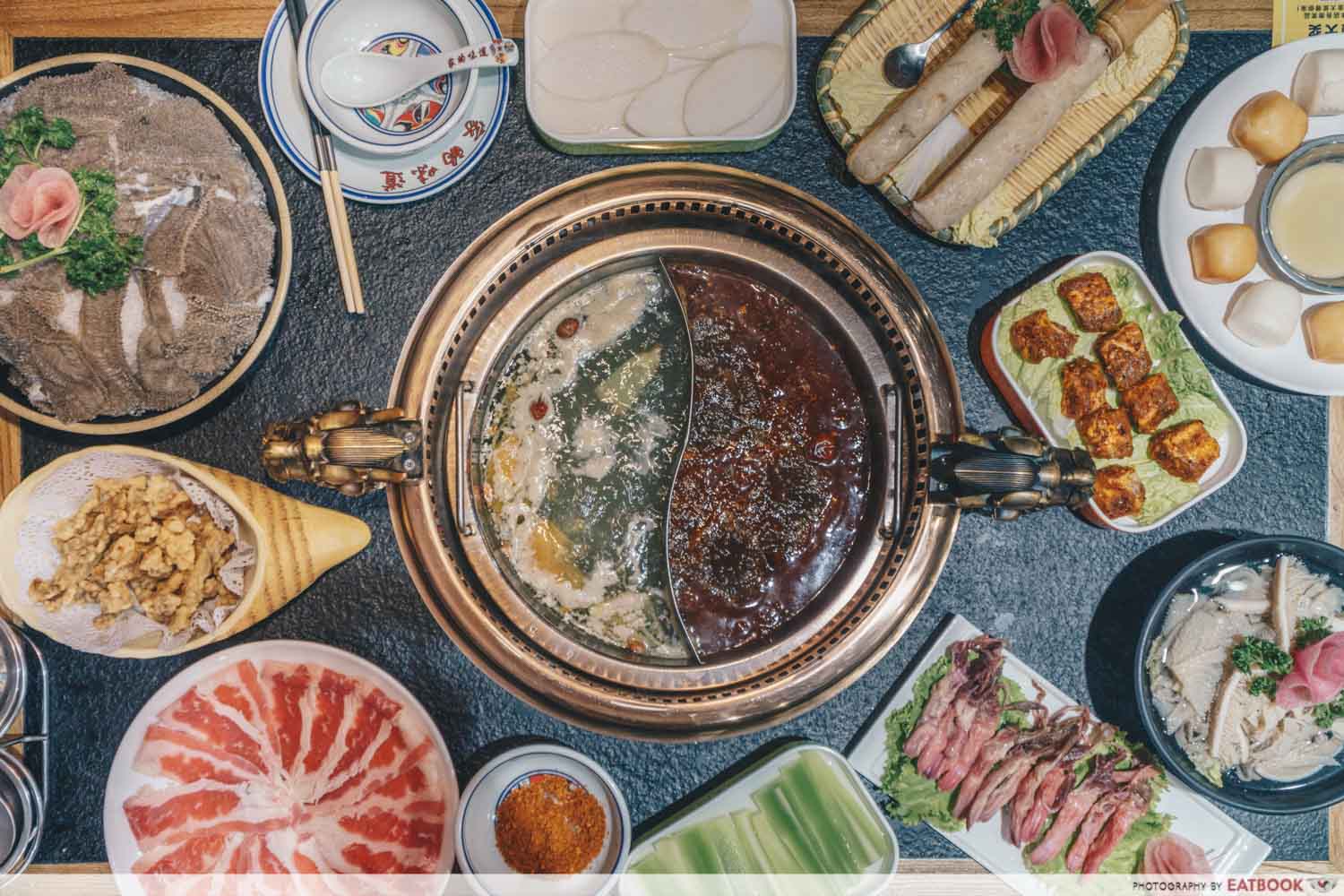 We walked down an endless row of hot pot restaurants in Chinatown before arriving at Xiao Mu Deng Traditional Hotpot. Their interior seemed to be styled just like every other shop we've walked past: Chinese decor, Chinese lanterns, and rows of tables fixed with an inbuilt hot pot stove.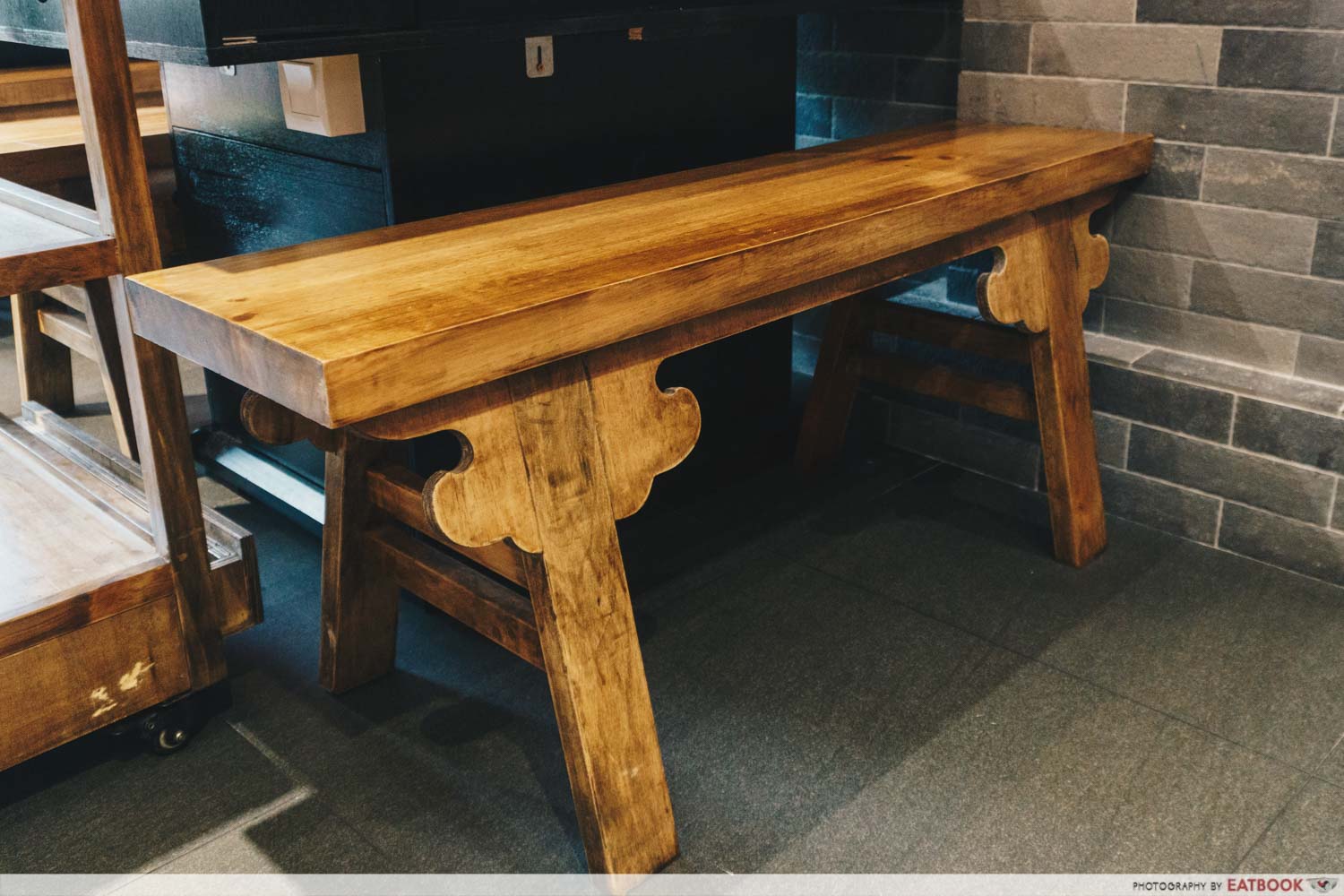 One defining feature was the emblematic wooden stools, known as xiao mu deng in Chinese, used. These traditional chairs reminded us of old-school restaurants across China. 
Food at Xiao Mu Deng Traditional Hotpot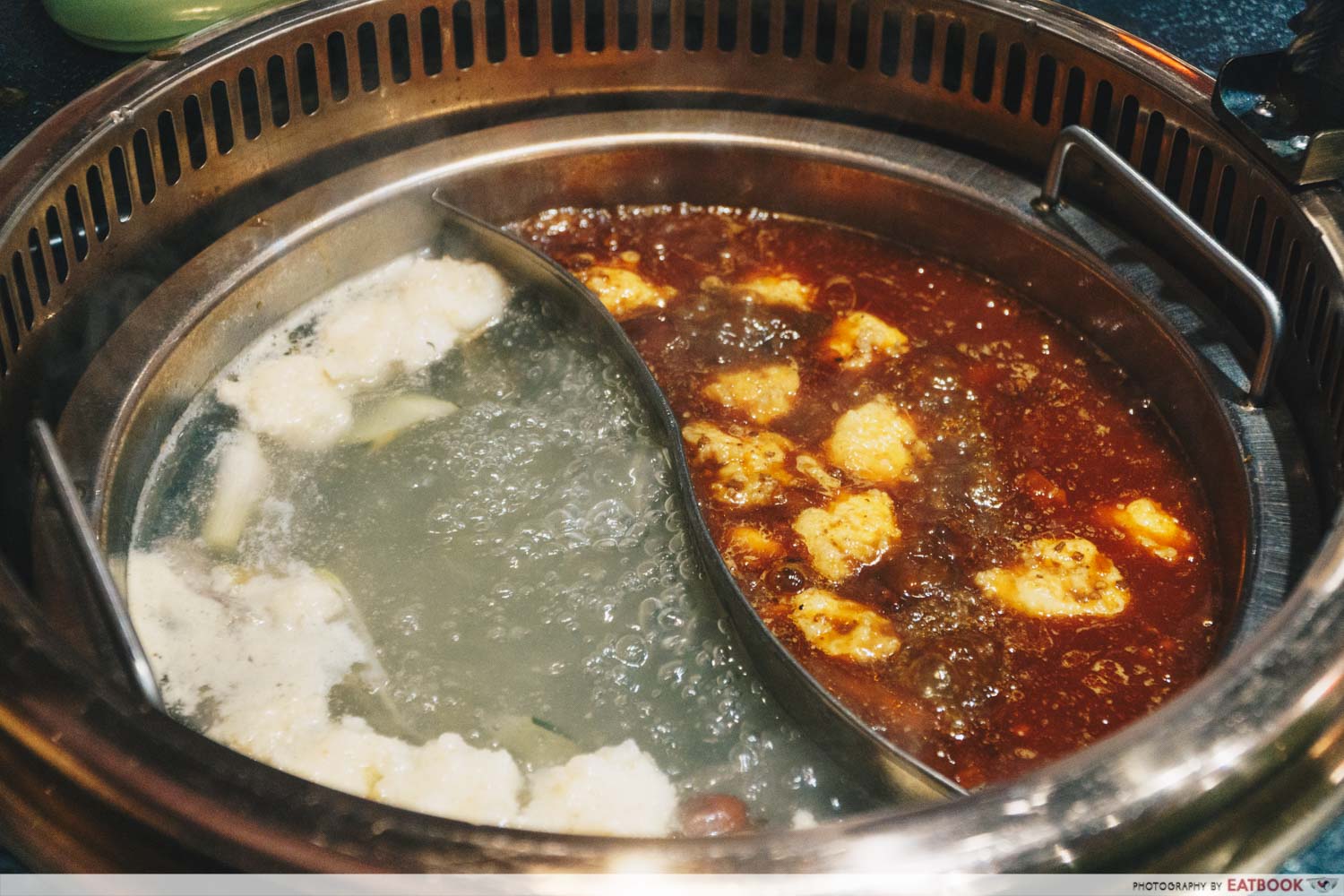 We started with the soups that came in a dual-cavity yuan yang pot. Pork Bone and Spicy Soup ($15++) was our choice.
Then came the question of spice level for the spicy soup. I strongly advise you against anything above one chilli. Above that, the ma la would mar the taste of any ingredients you put into the broth.
As the liquids boiled, a light herbal fragrance emanated from the pork bone soup. It was delightful to have such a gentle tasting, as it neutralised the ferocious heat from our spicy soup.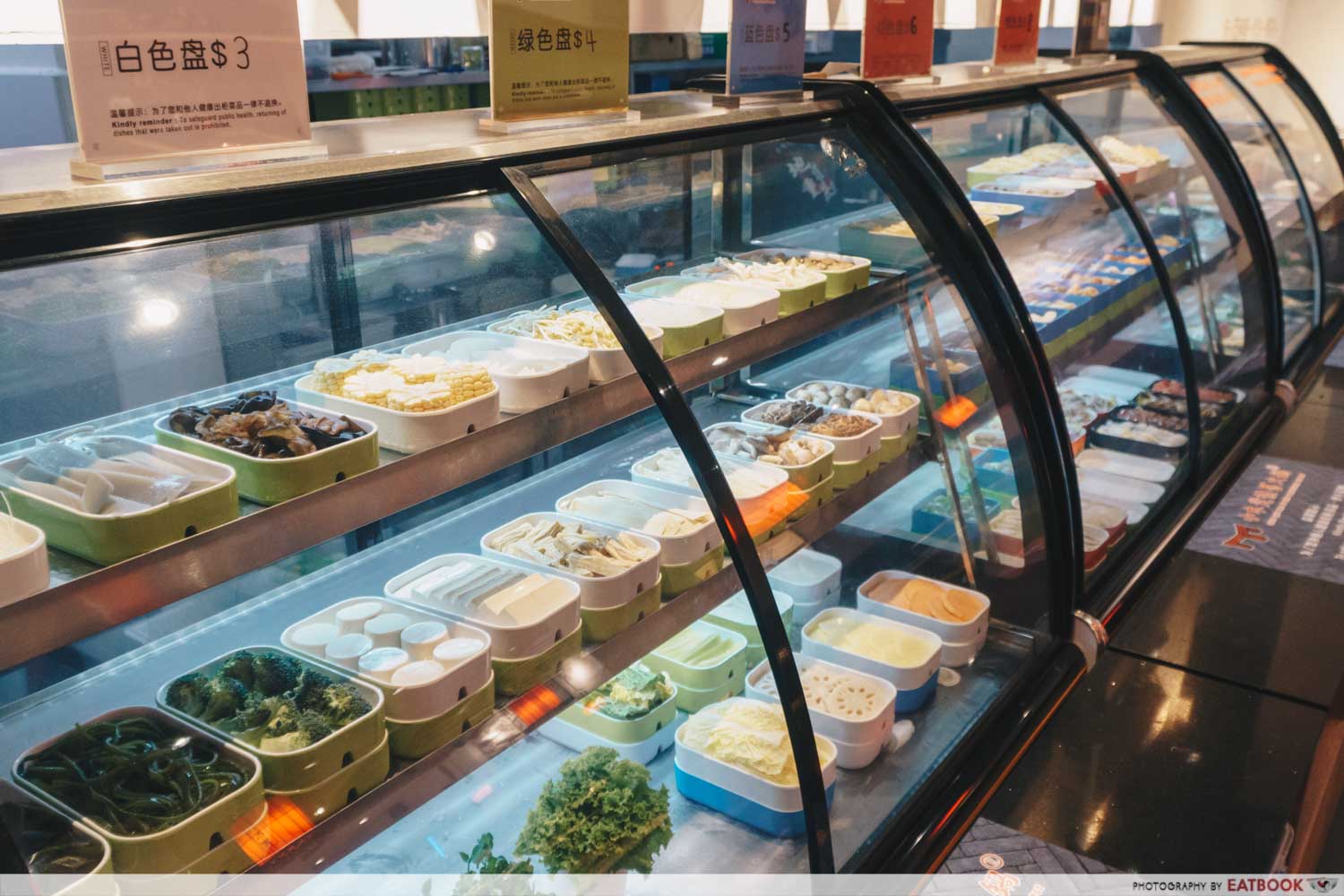 While waiting for the other items to be served, we were ushered to a fridge lined with various vegetables, placed on either a white plate ($3) or green plate ($4).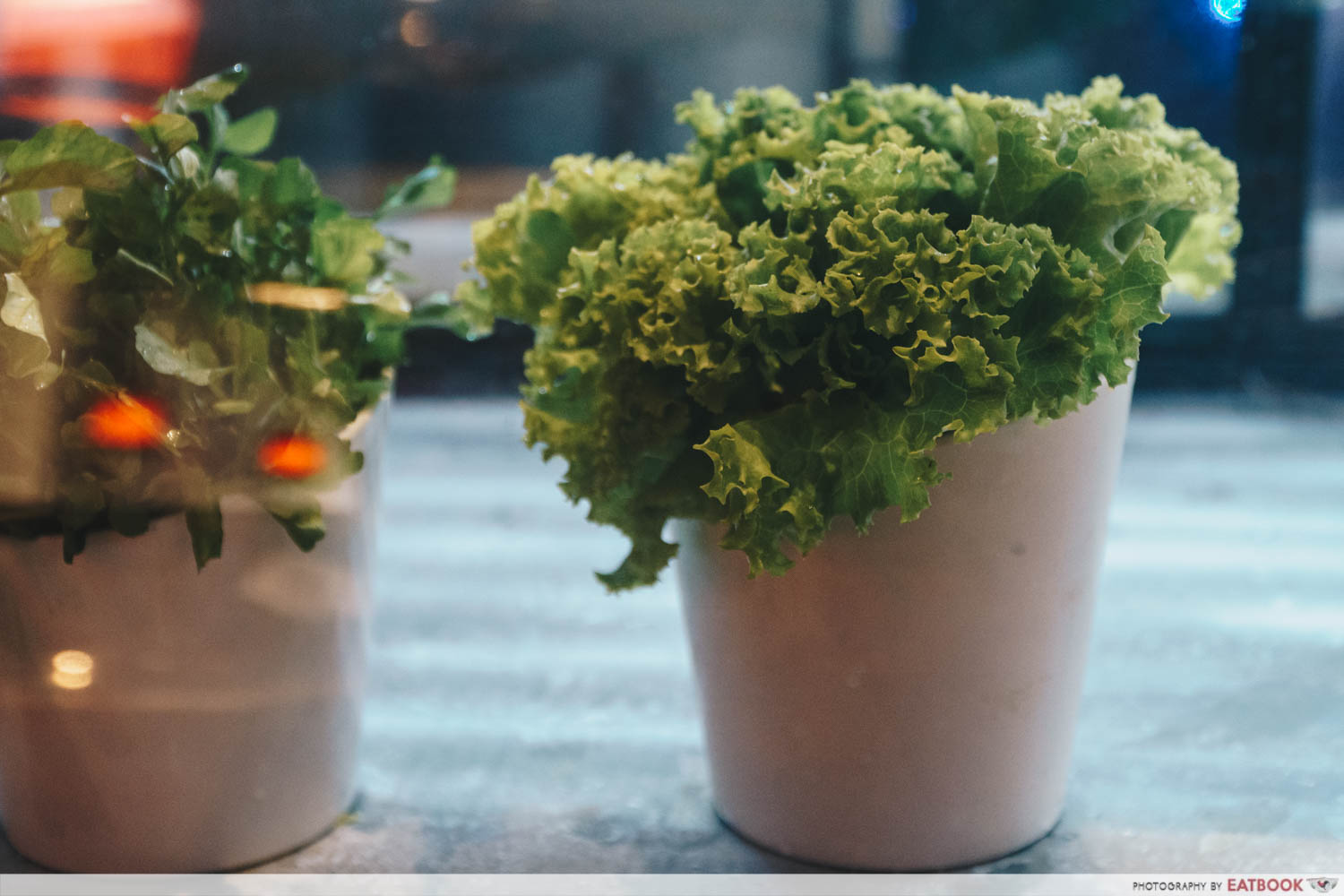 It was rather refreshing to see only one of each selection displayed, breaking free from the typical horde of items stacked haphazardly in most ma la shops.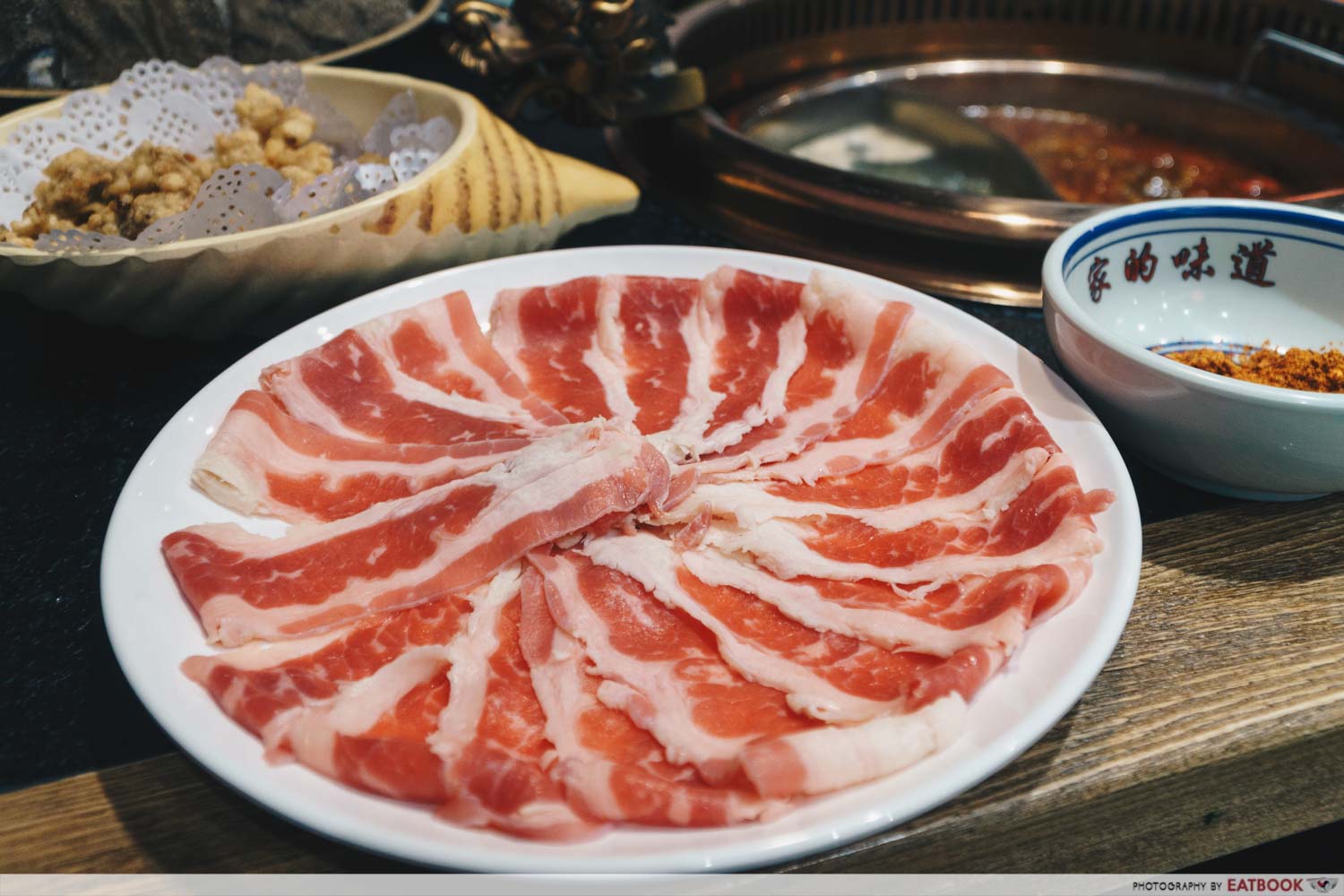 Ribbons of Australia Prime Beef ($18++) were beautifully draped onto a white porcelain plate.
Mesmerising streaks of fat ran through every morsel of meat, which made the beef appear so much more alluring.
I cooked the beef shabu shabu-style. A few quick swishes in the boiling soup allowed the meat to retain its natural juices.
Biting into it, pockets of fat burst in an explosion of beefy flavour. What upped the anté were shimmers of ma la oil that clung onto the beef. Those quiet slivers of heat aroused my appetite, leaving me salivating for more.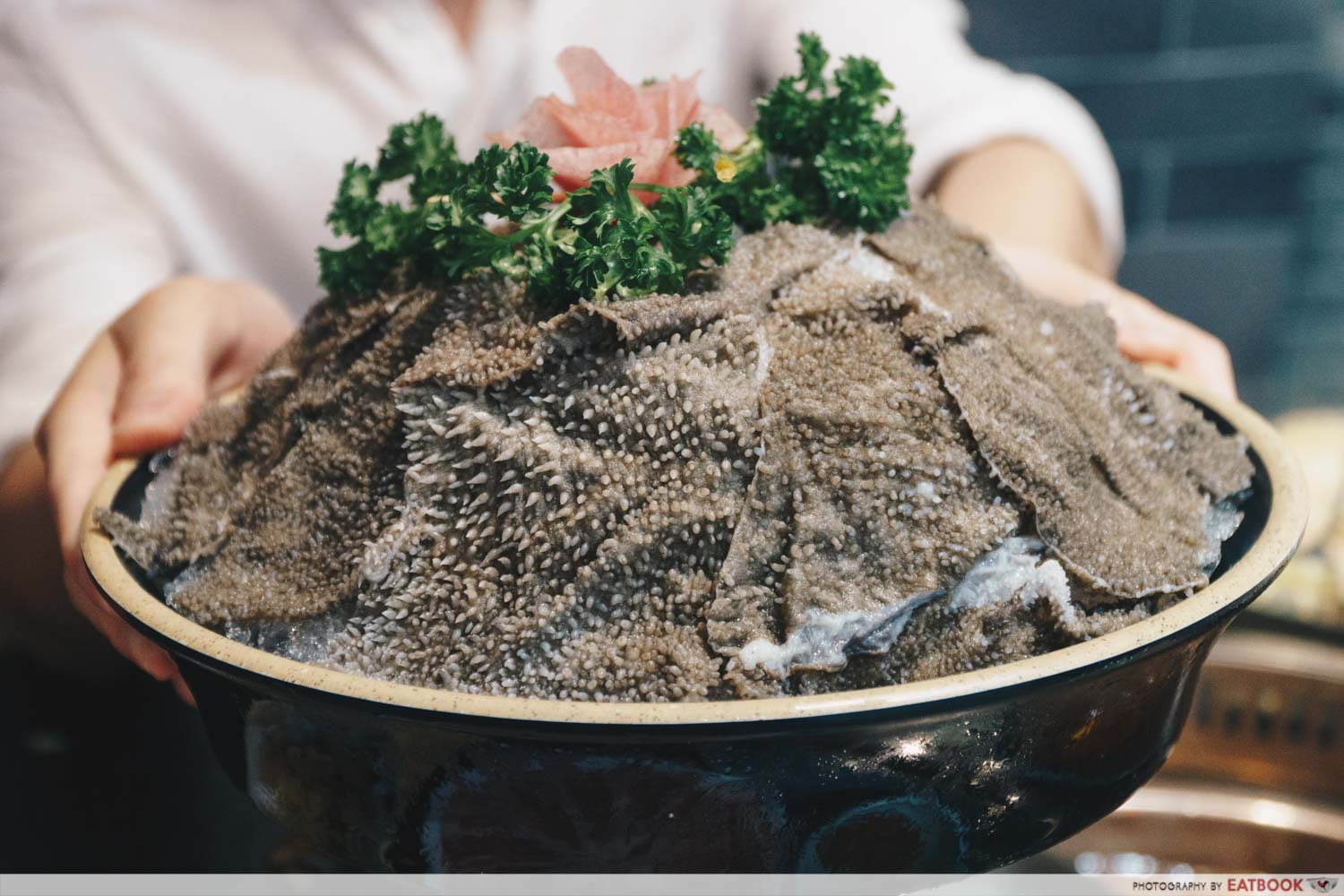 Then came the Prime Fresh Beef Tripe ($12). Slices of black beef tripe were plastered onto a mound of shaved ice.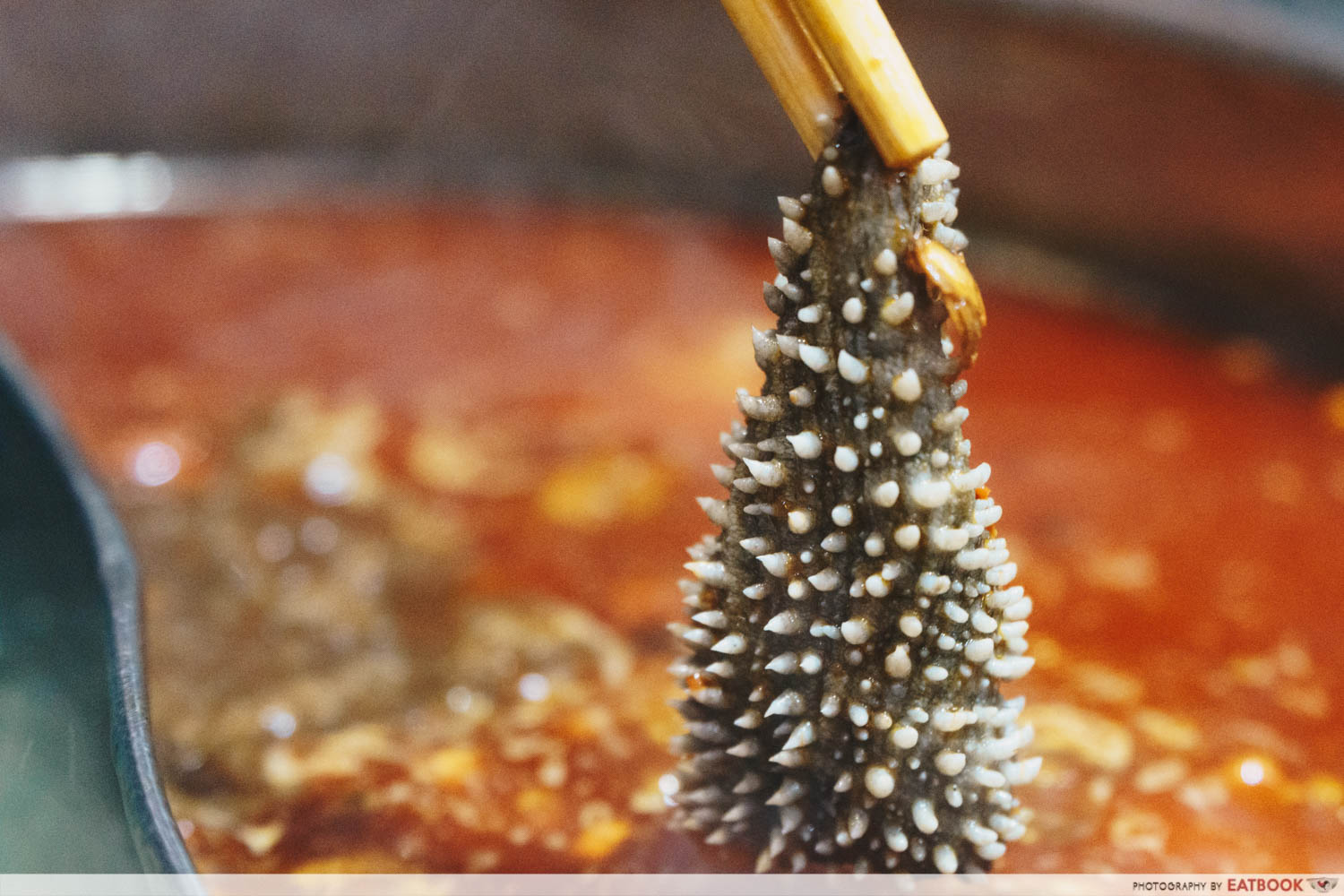 Having cooked the tripe, its villi became more pronounced. It looked like an alien emerging from a bubbling pit of lava.
Thankfully, it tasted less grotesque than it looked, with its chewy texture and a mild gamey funkiness.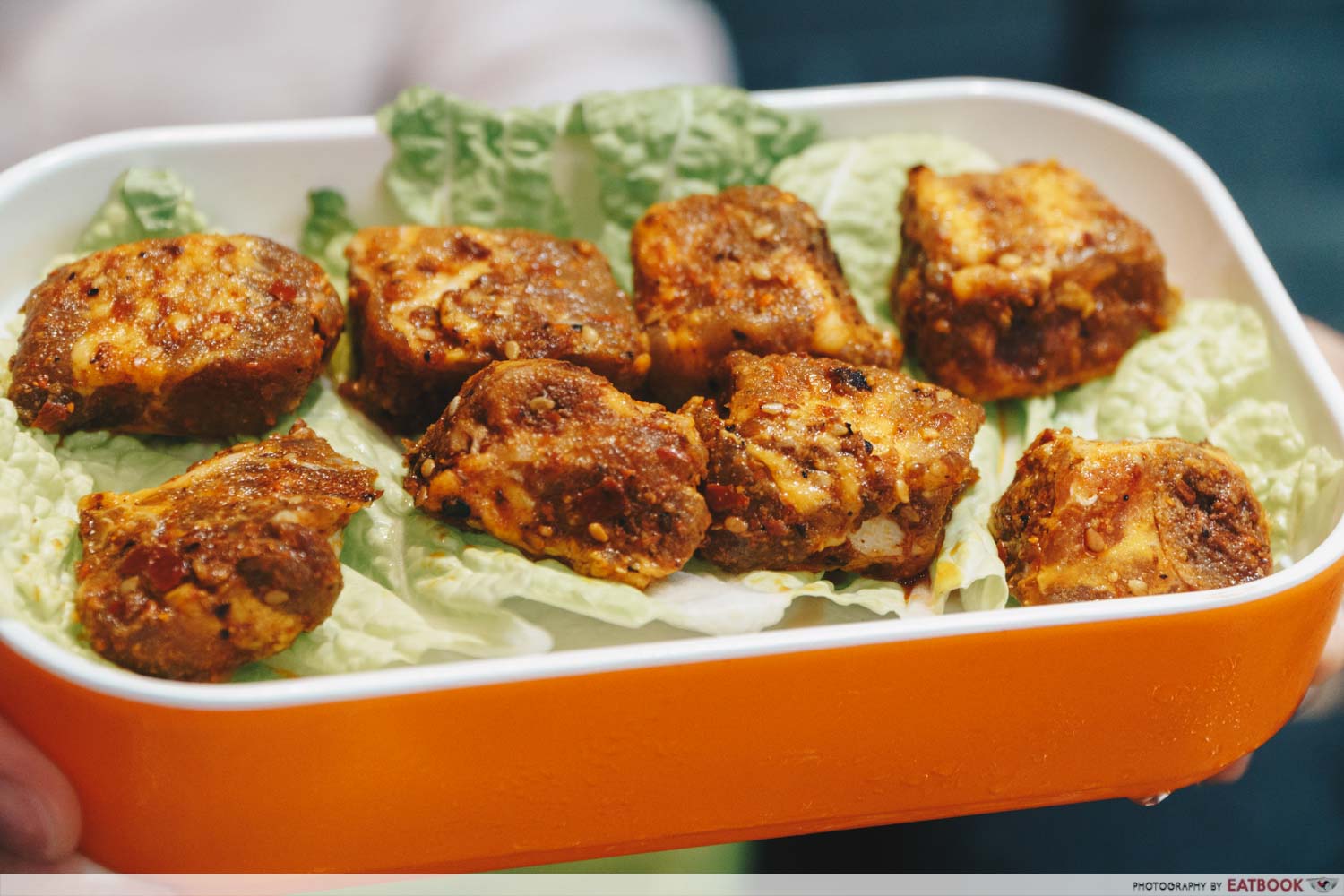 Pork Ribs ($6++) was a dish I was eagerly anticipating; pork ribs are a must-have at steamboats. They impart a rich meaty flavour to the soup and yet, absorb the essence of its cooking liquid.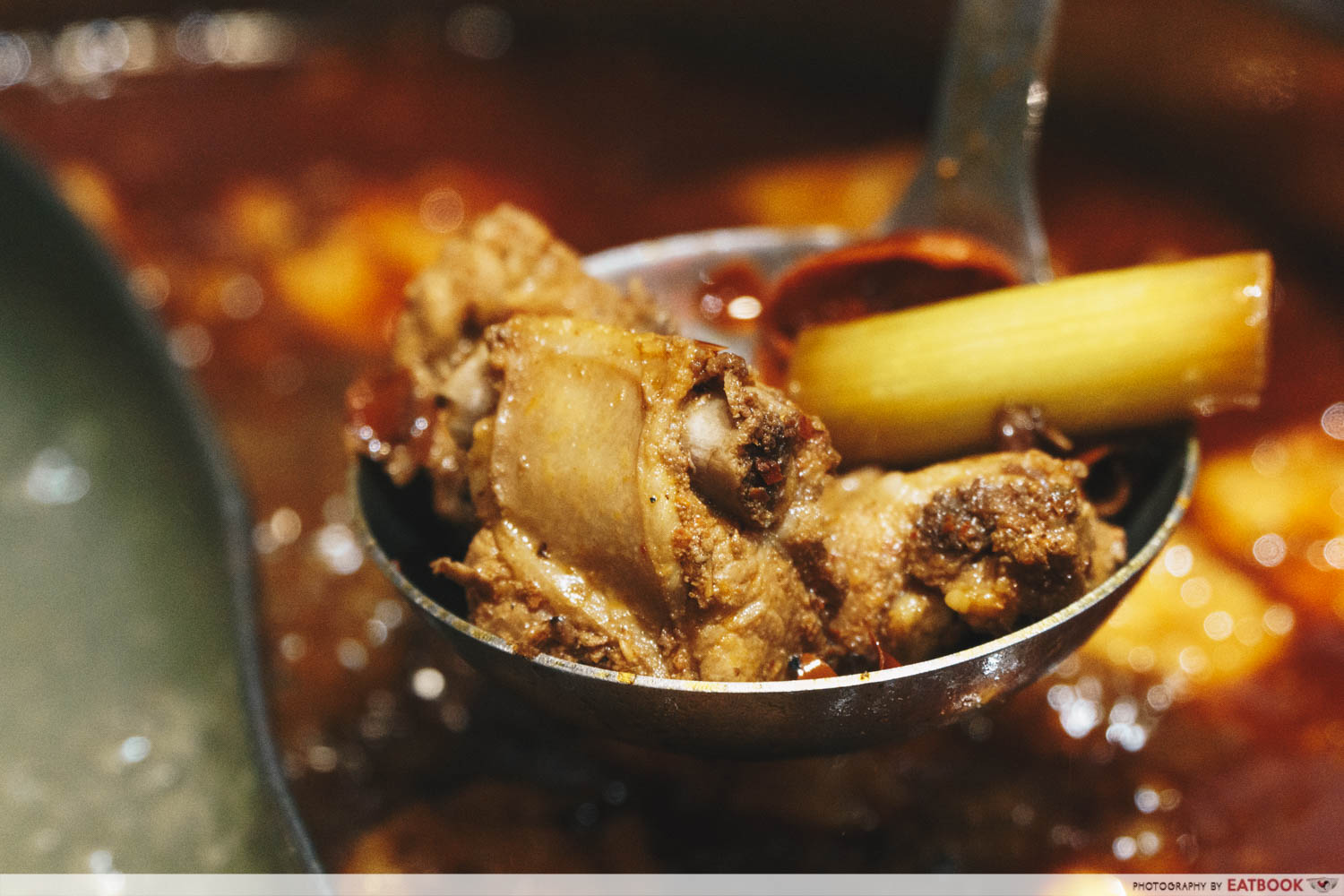 As it cooked, the fat and cartilage were rendered, leaving us with a fall-off-the-bone parcel of meat.
I could also taste nutty and floral notes imparted by the spicy soup, ending with a slight numbing sensation.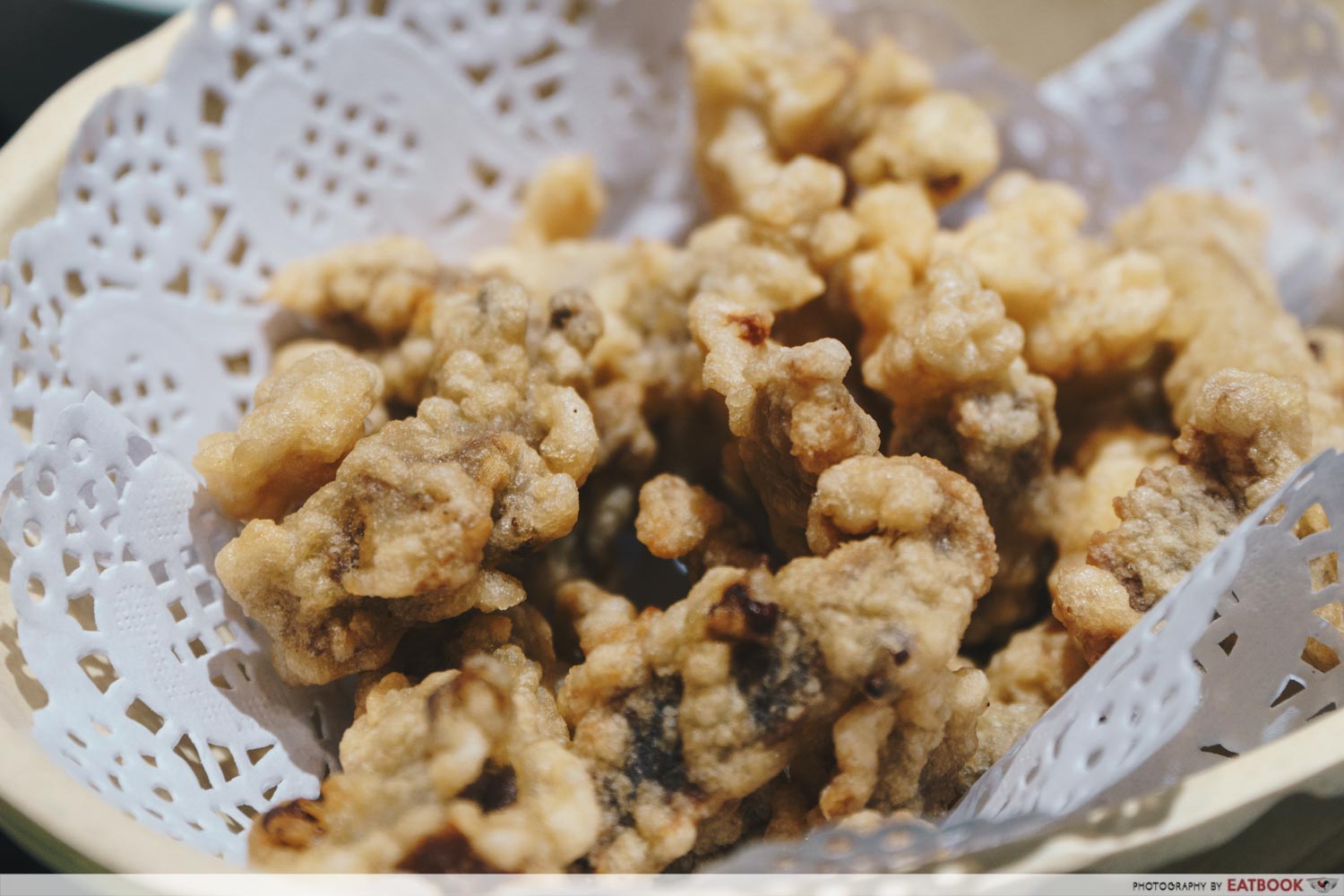 Lest the Fried Crispy Meat ($8++) lose their crunch, I quickly dived into them once served.
It was a beguiling experience. What I expected to be succulent parcels of chicken tenders turned out to be firm bites of fried pork. And despite looking seemingly harmless, they packed a sneaky punch of ma la.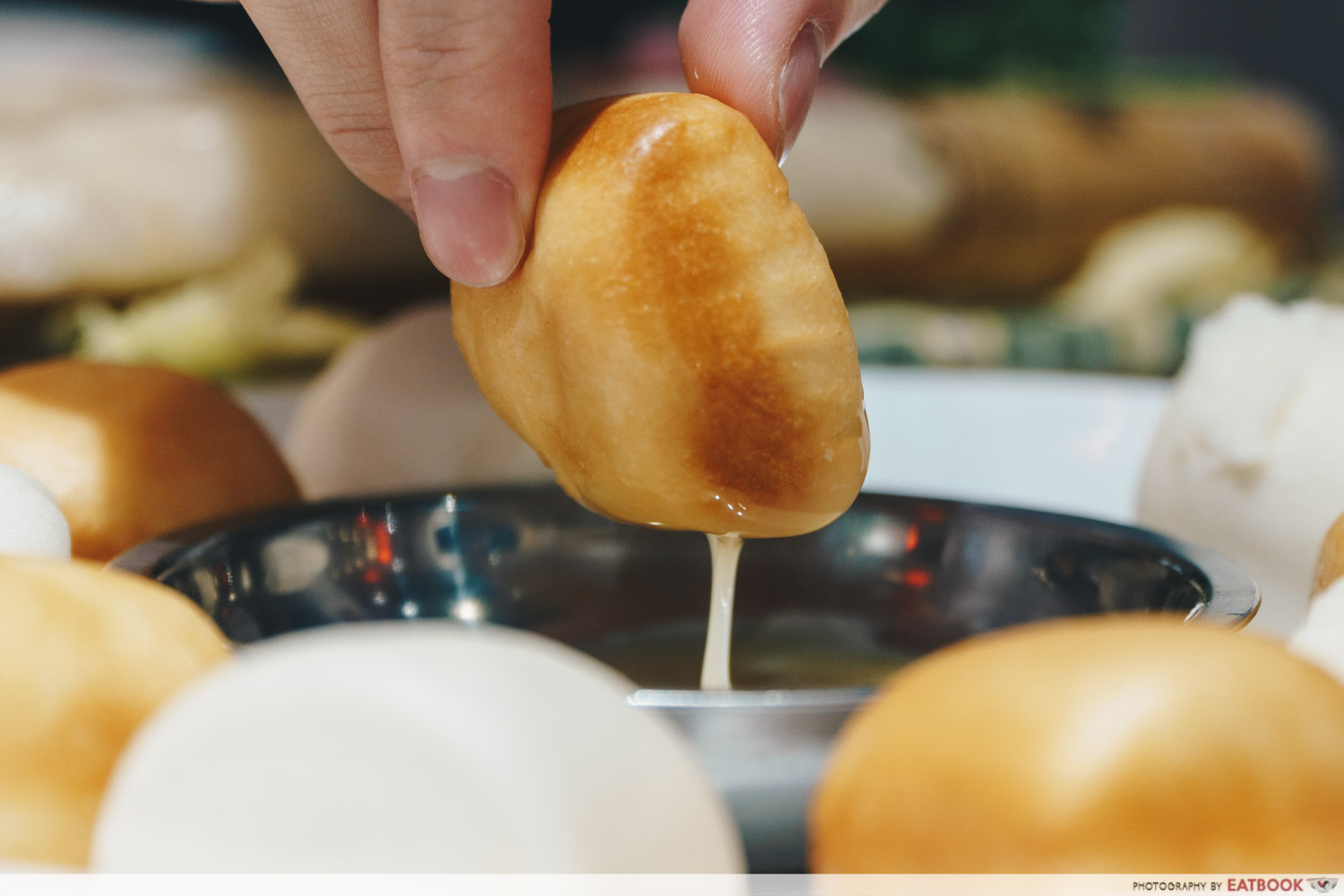 Seeing Fried Bun with Condensed Milk ($5++) on their menu, I knew we had to get them. It's a versatile dish that's both a dessert and a main.
Dunking them into the soups made for a good conduit of briny and spicy flavours, while dipping them in a pool of condensed milk confers a silky, milky sweetness I absolutely adore.
Ambience at Xiao Mu Deng Traditional Hotpot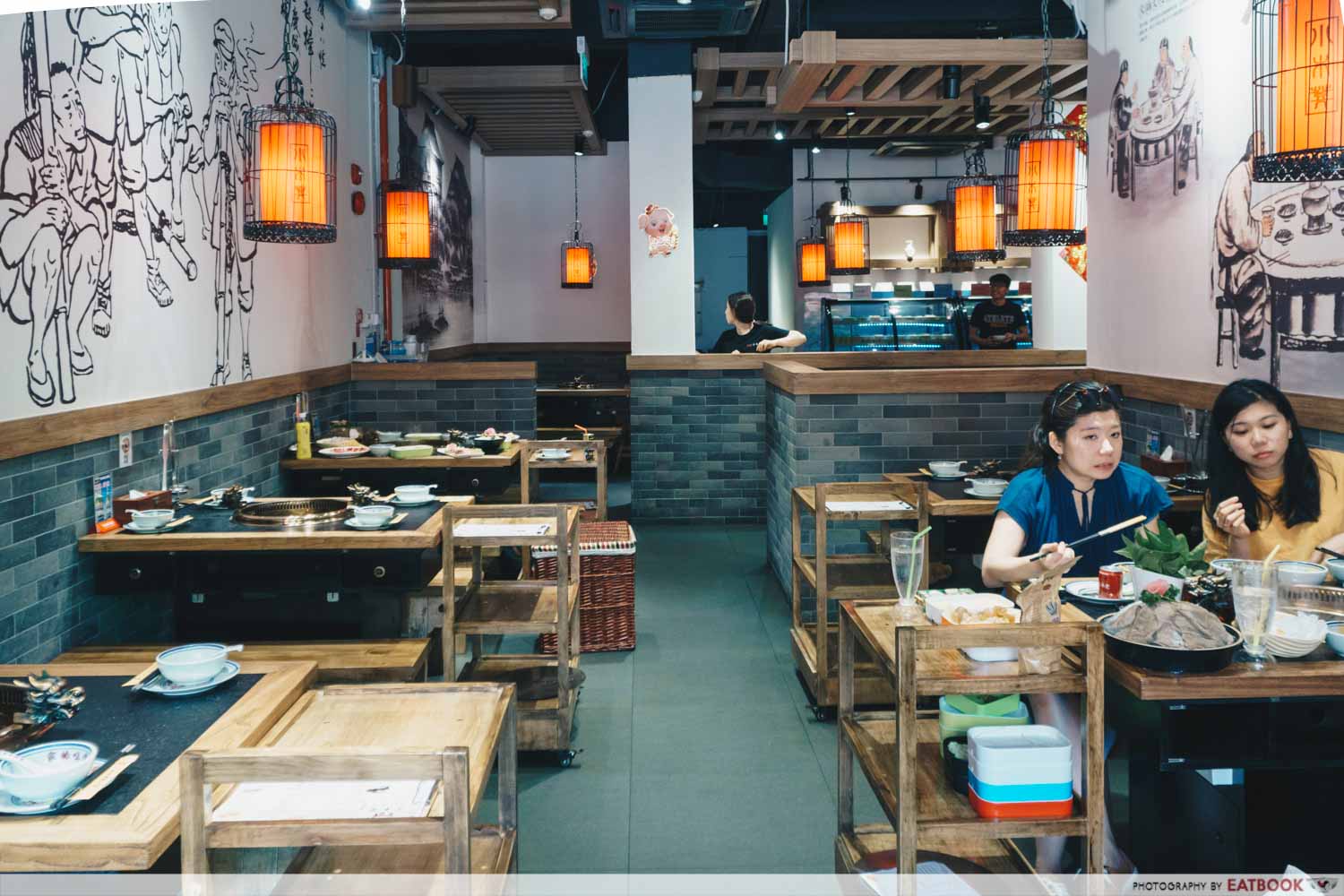 The furnishings here took me back to the days when I was in China for an exchange trip. It must have been the wooden carts, grey brick tiles and endless tracks of Jay Chou serenading customers in the background that made it feel so authentic.
The verdict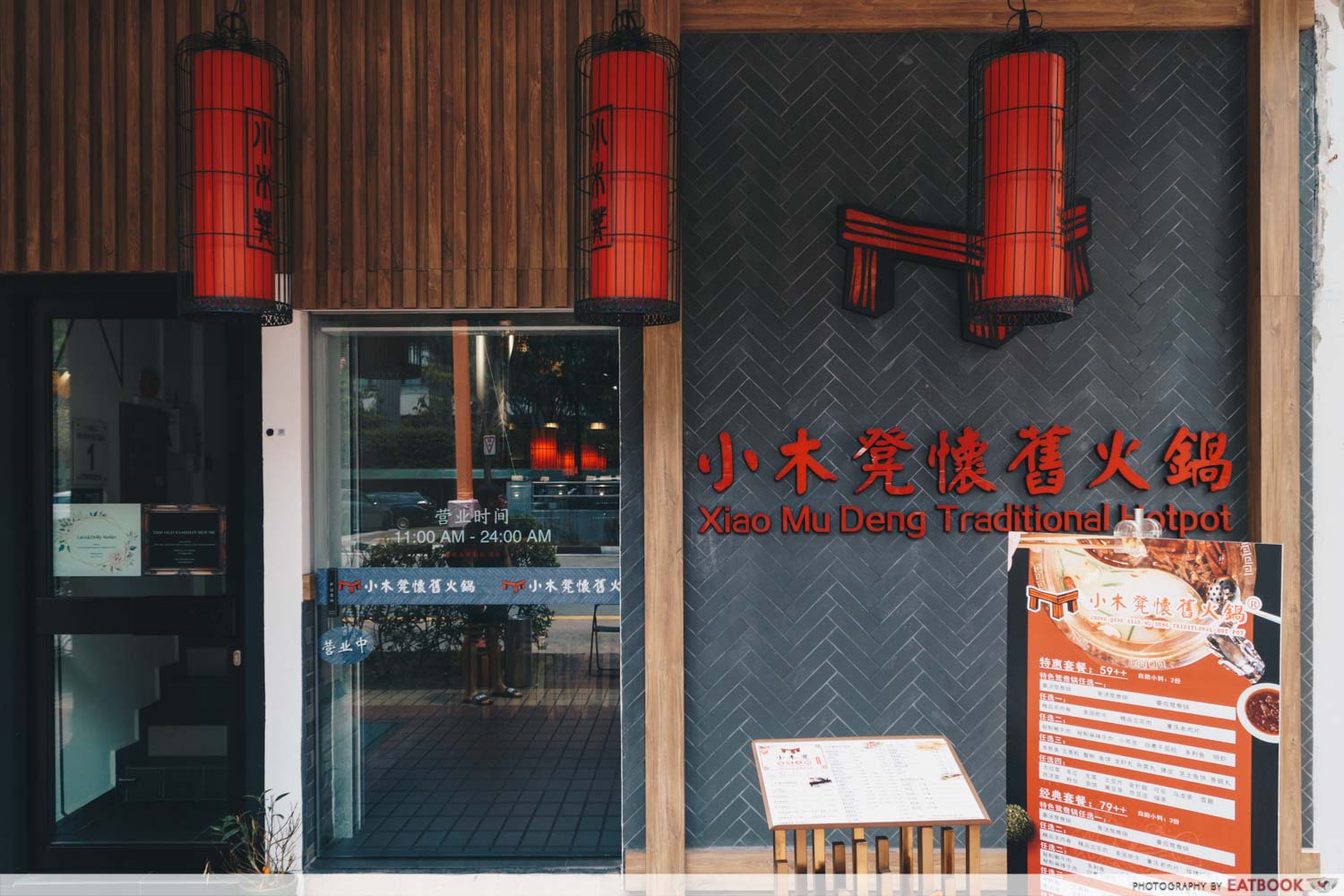 Don't expect a $20 bill when coming here. While other hotpot stalls focus on keeping prices low, Xiao Mu Deng focuses on keeping food quality high. 
Perhaps if they decided to offer free manicures or free screen protectors, I could see them being a rather good alternative to Hai Di Lao.
Address: 279 New Bridge Rd, Singapore 088752
Opening hours: Daily 11am to 12 am
Tel: 6227 7017
Website
Photos taken by Maverick Chua.
This was a media tasting at Xiao Mu Deng Traditional Hotpot.
Xiao Mu Deng Traditional Hotpot Review: Chongqing Ma La Hot Pot With Unique Ingredients At Chinatown
Summary
Pros
– Nice ambience
– Wide selection of dishes
– Authentic tasting ma la soup
Cons
Tad too expensive
Recommended dishes: Australia Prime Beef ($18++), Pork Ribs ($6++), Fried Bun with Condensed Milk ($5++)
Opening hours: Daily 11am to 12 am
Address: 279 New Bridge Rd, Singapore 088752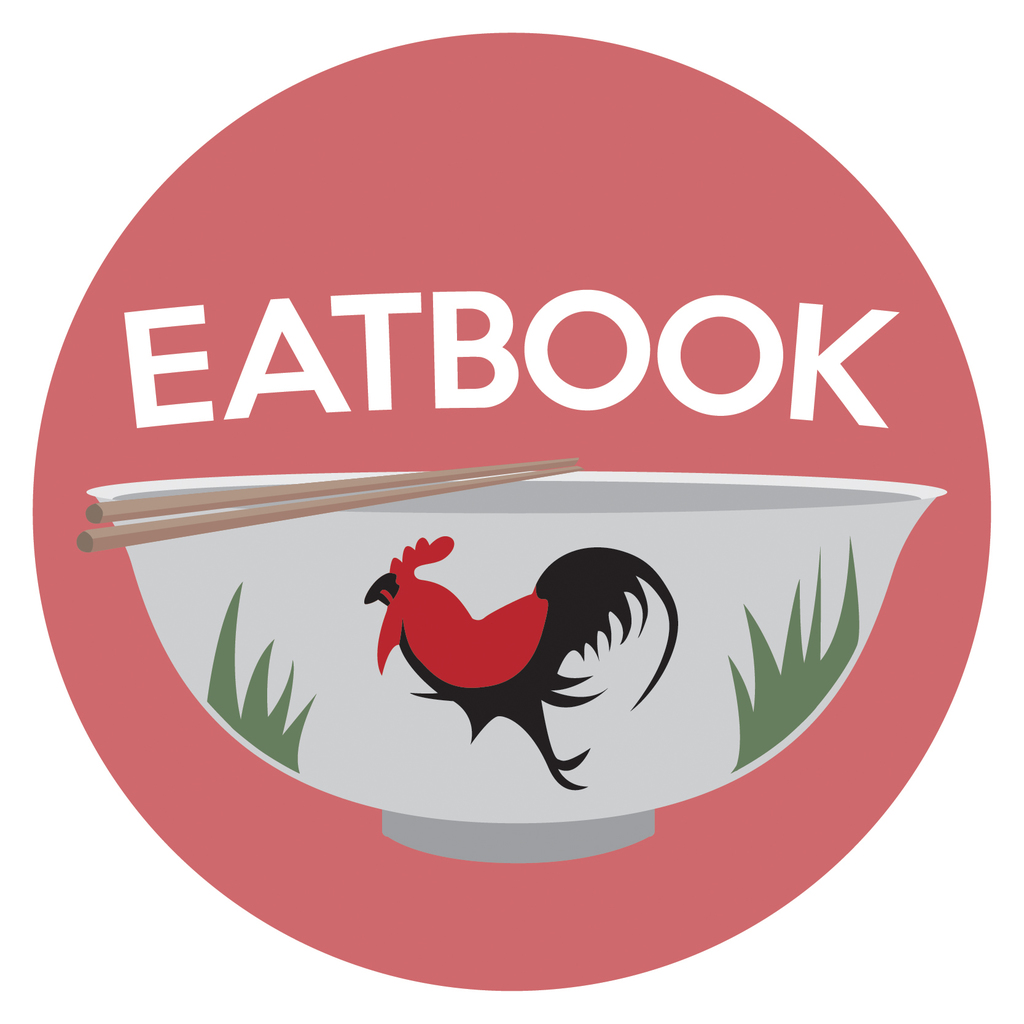 Drop us your email so you won't miss the latest news.