Kazan Steamboat's super cheap steamboat buffet
Update (19 March 2019): Kazan Steamboat is temporarily closed for renovations. Keep a lookout on their Facebook page for their reopening date!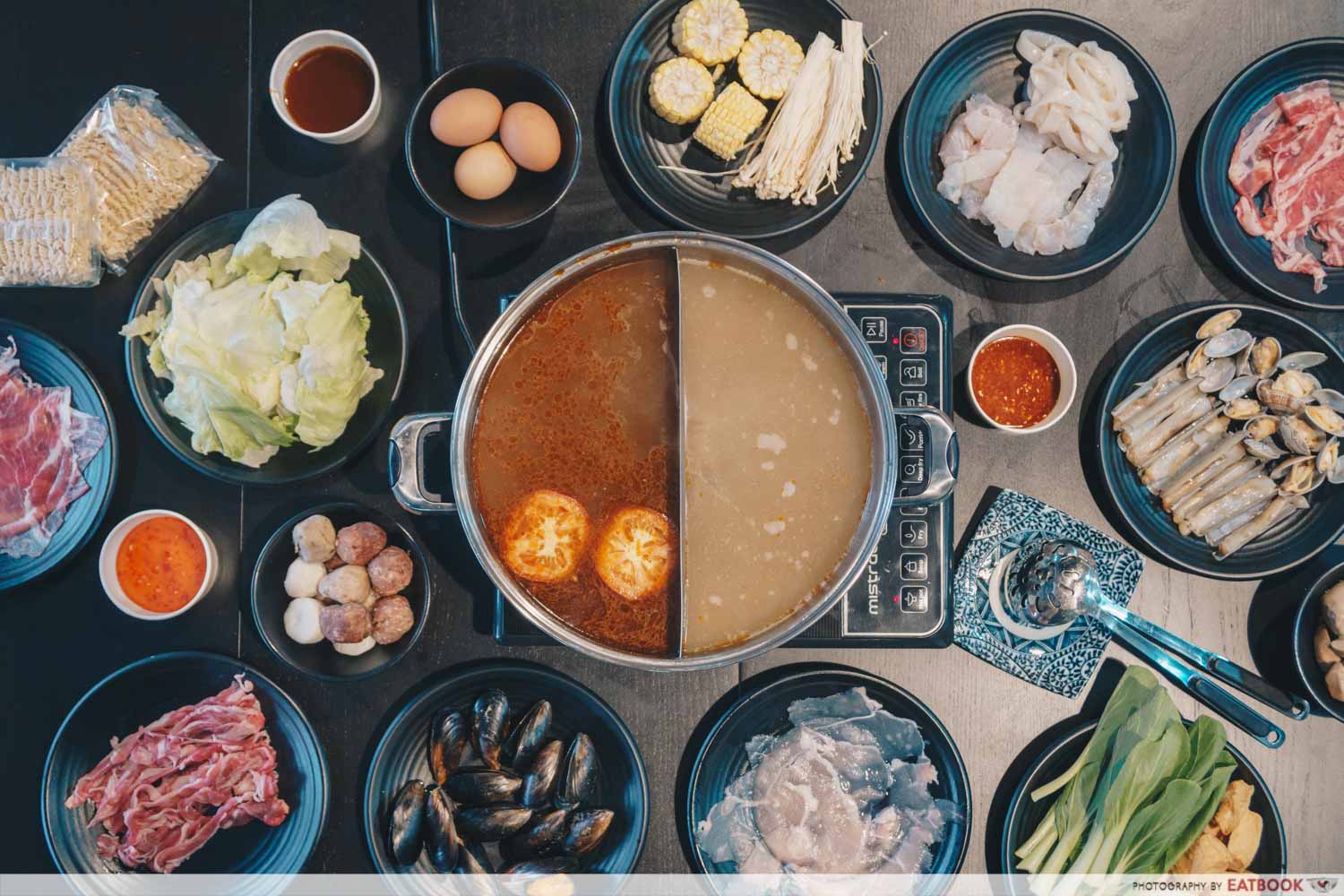 I was shooketh when I heard that a $10++ steamboat buffet exists at Kazan Steamboat. Situated at The Grandstand, this hot pot restaurant serves a good range of ingredients, from bamboo clams to beef slices. Being a lover of all things cheap, I knew I had to go for a visit.
Food at Kazan Steamboat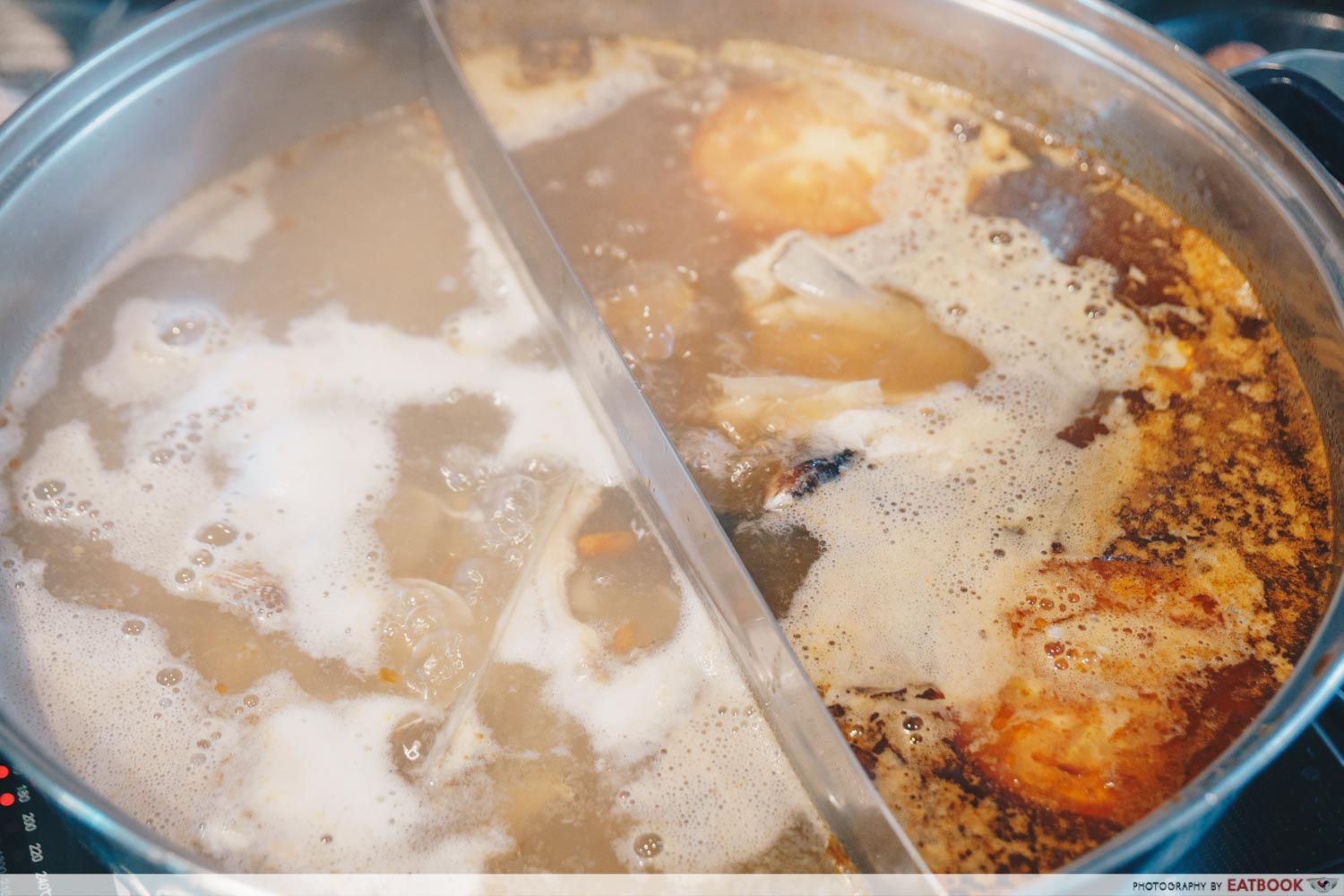 To start off your meal, you are asked to choose from a selection of soup bases: Tomato Tom Yum, Herbal Chicken, Miso, and Imperial Mushroom (vegetarian). We opted for the Tom Yum and Herbal Chicken as recommended by the waiter.
As the soup bubbled, a light fragrance of herbal essence wafted from the chicken soup. Upon tasting it, there was an unmistakably pleasant Chinese herbal flavour —  not too loud to be distasteful, but sufficient enough to provide depth.
The Tom Yum soup, on the other hand, was somewhat disappointing. It lacked the quintessential lemongrass aroma and spicy oomph I expected.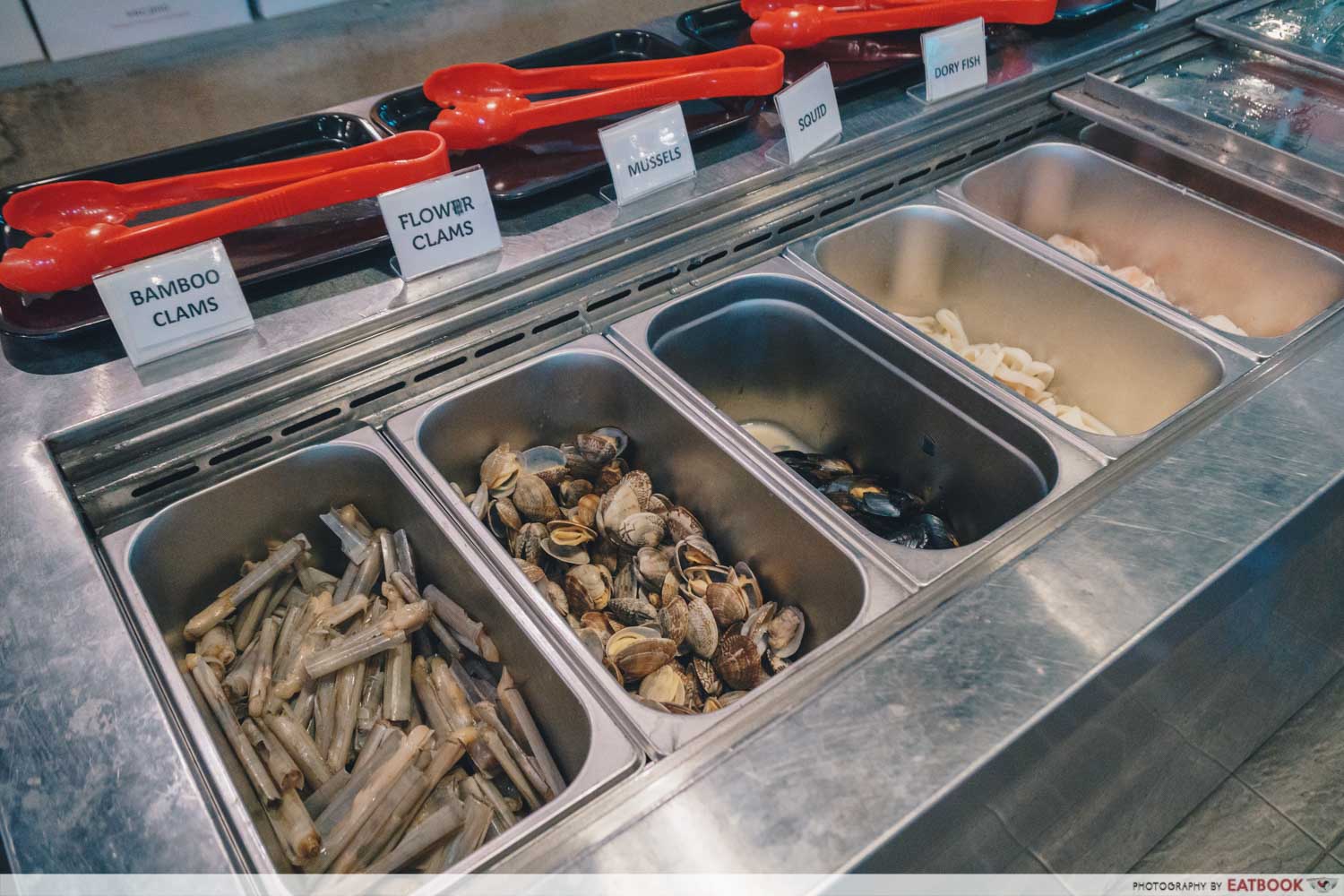 With the exception of beef, chicken and pork, all other ingredients are self-service at the buffet counter.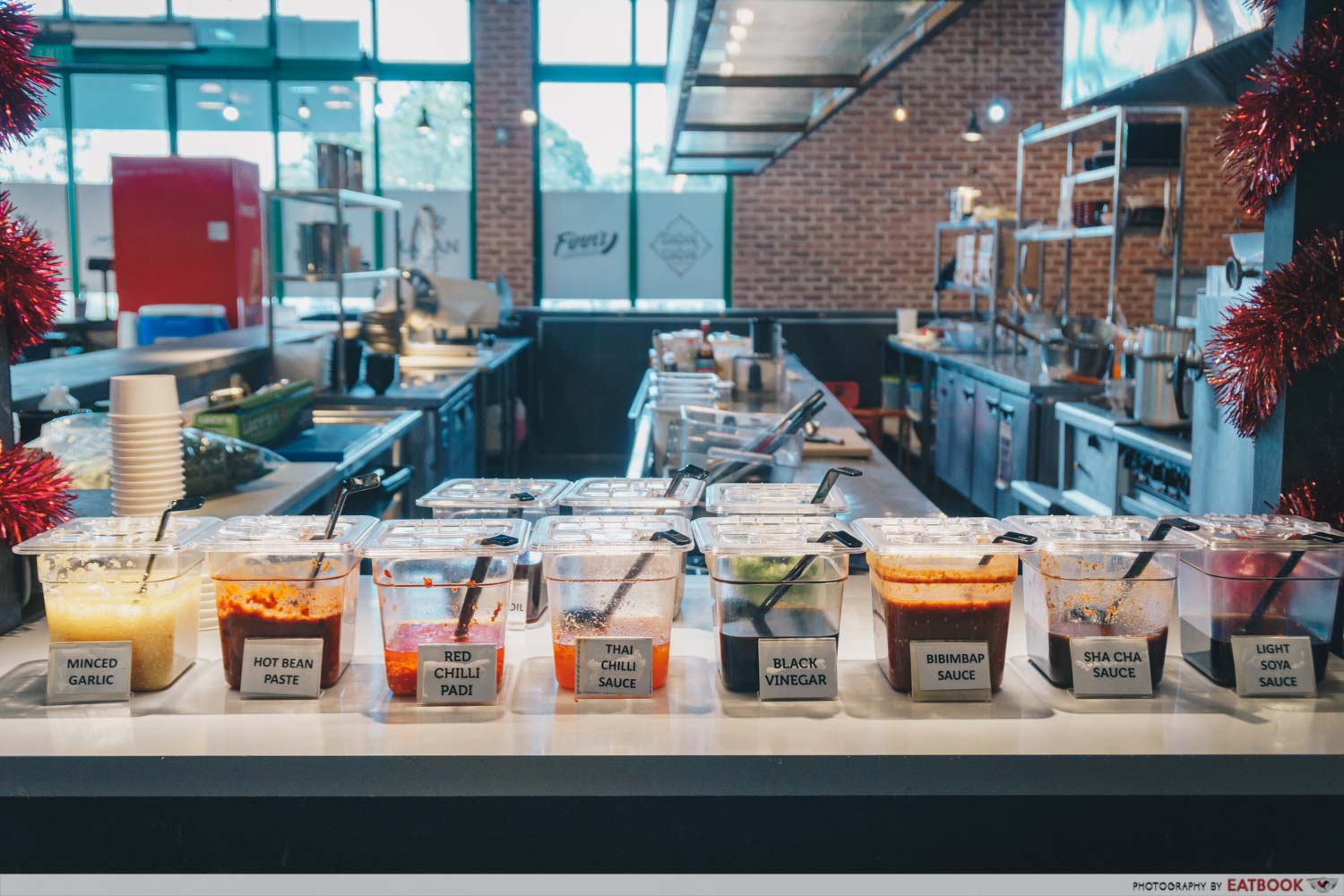 A smorgasbord of sauces and condiments are also available. Having tasted them all, the Bimbimbap, Hot Bean Paste, and Thai Chilli Sauce struck me as having the boldest flavours.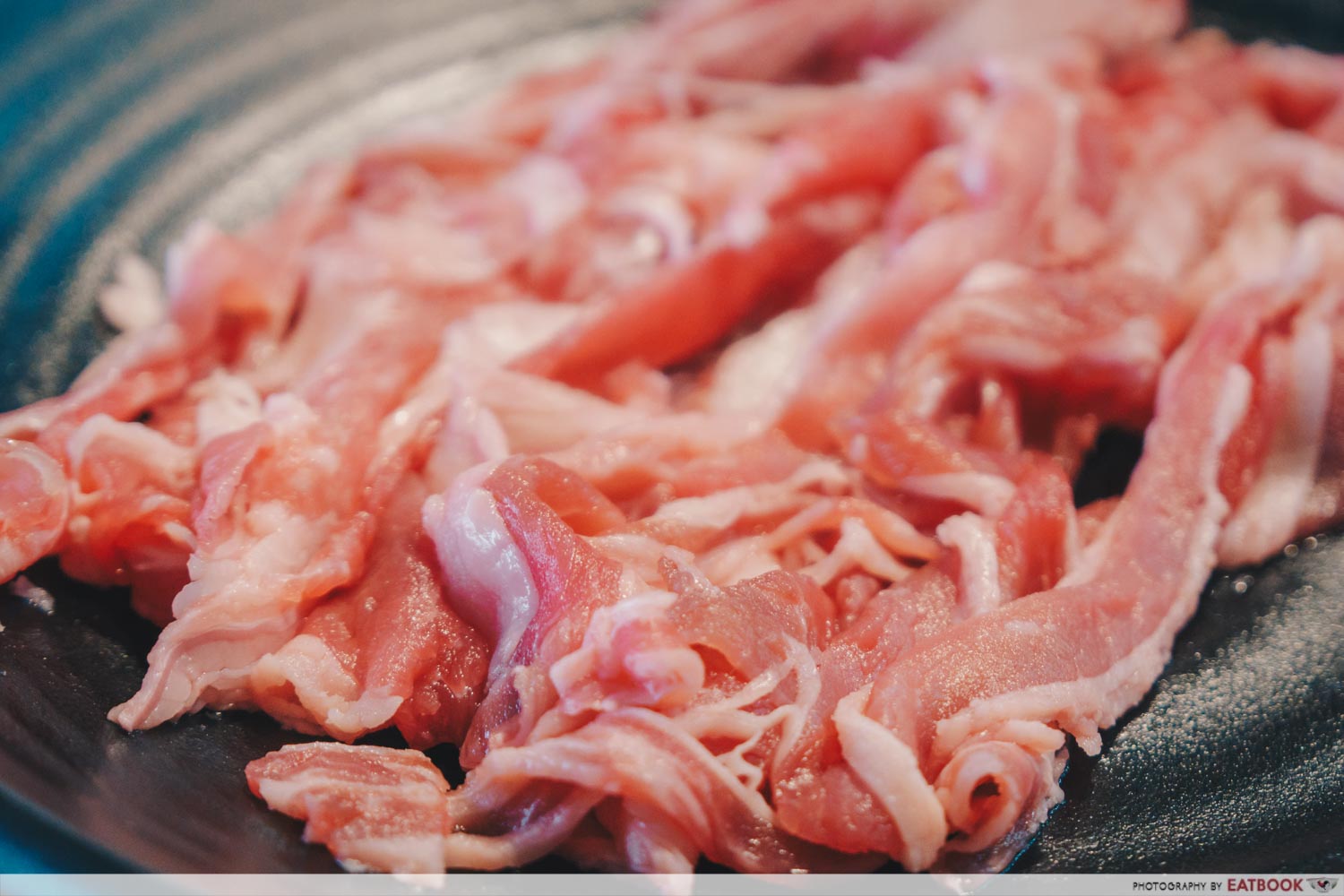 We ordered a few plates of beef to start. Gorgeous striations of fat run through the flesh, with a light pink hue that validates its freshness.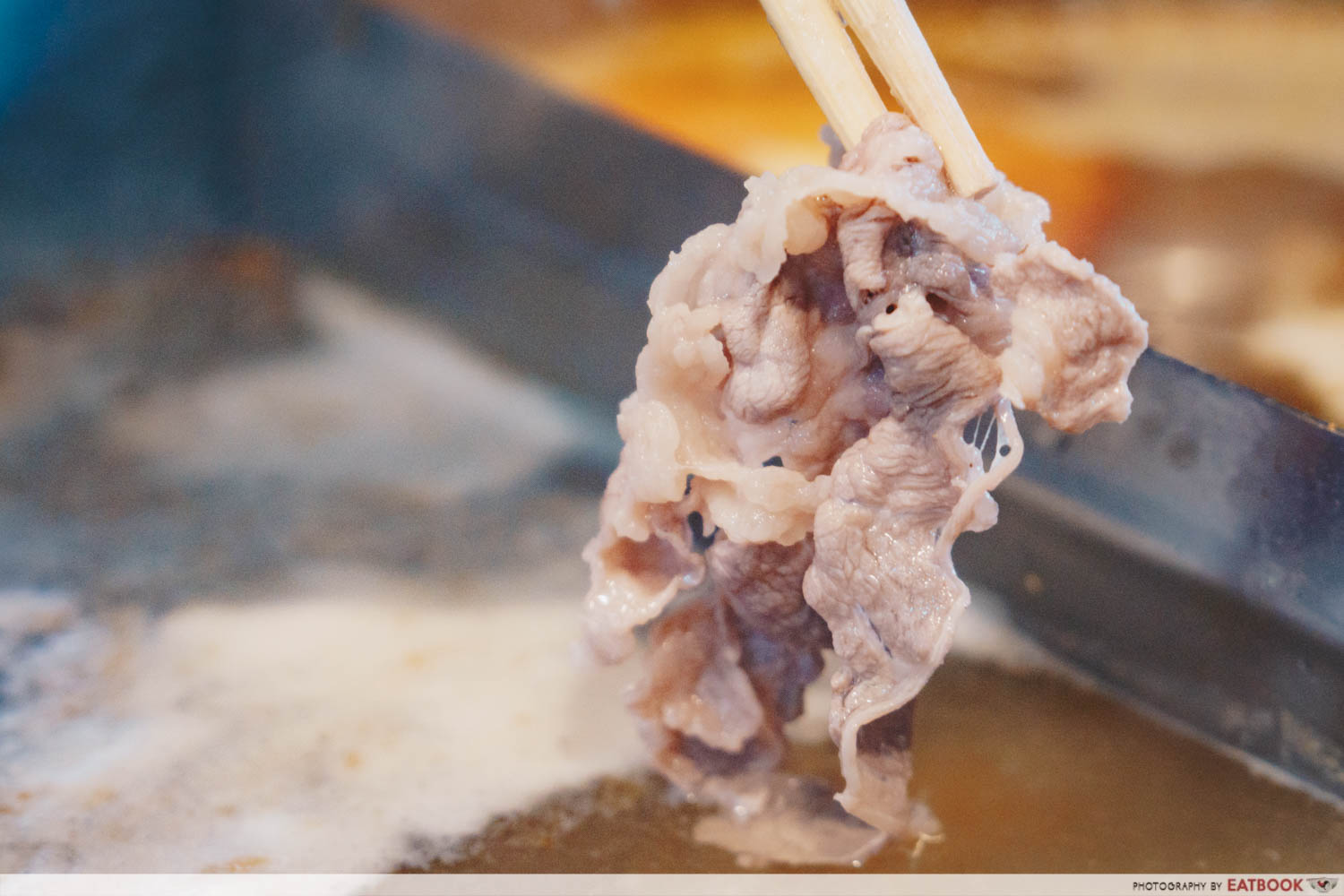 In true shabu shabu fashion, we swished the thinly sliced beef in boiling soup. It cooked quickly, allowing the flavoursome meat juices to be retained.
What enhanced the experience were the streaks of fat that conferred an unctuous mouthfeel. This is a rarity for steamboat — much less for one at this price.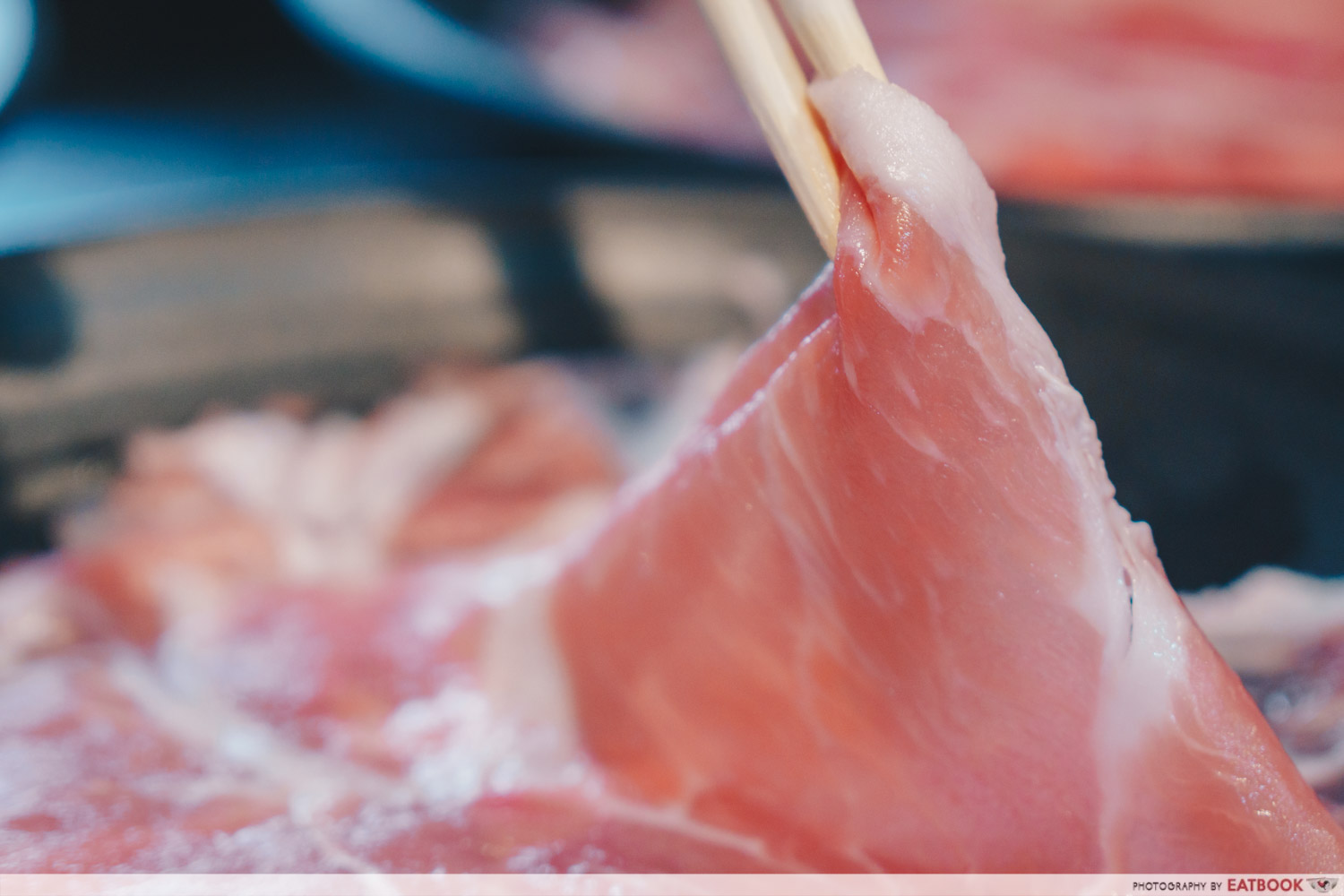 Disappointingly, the pork slices aren't rave-worthy. They lacked flavour or any porky meatiness one would enjoy from pork. I suspect it's due to the prolonged freezing these meats went through during transportation.
That said, if you enjoy pork without any gaminess, you would probably appreciate these pork slices.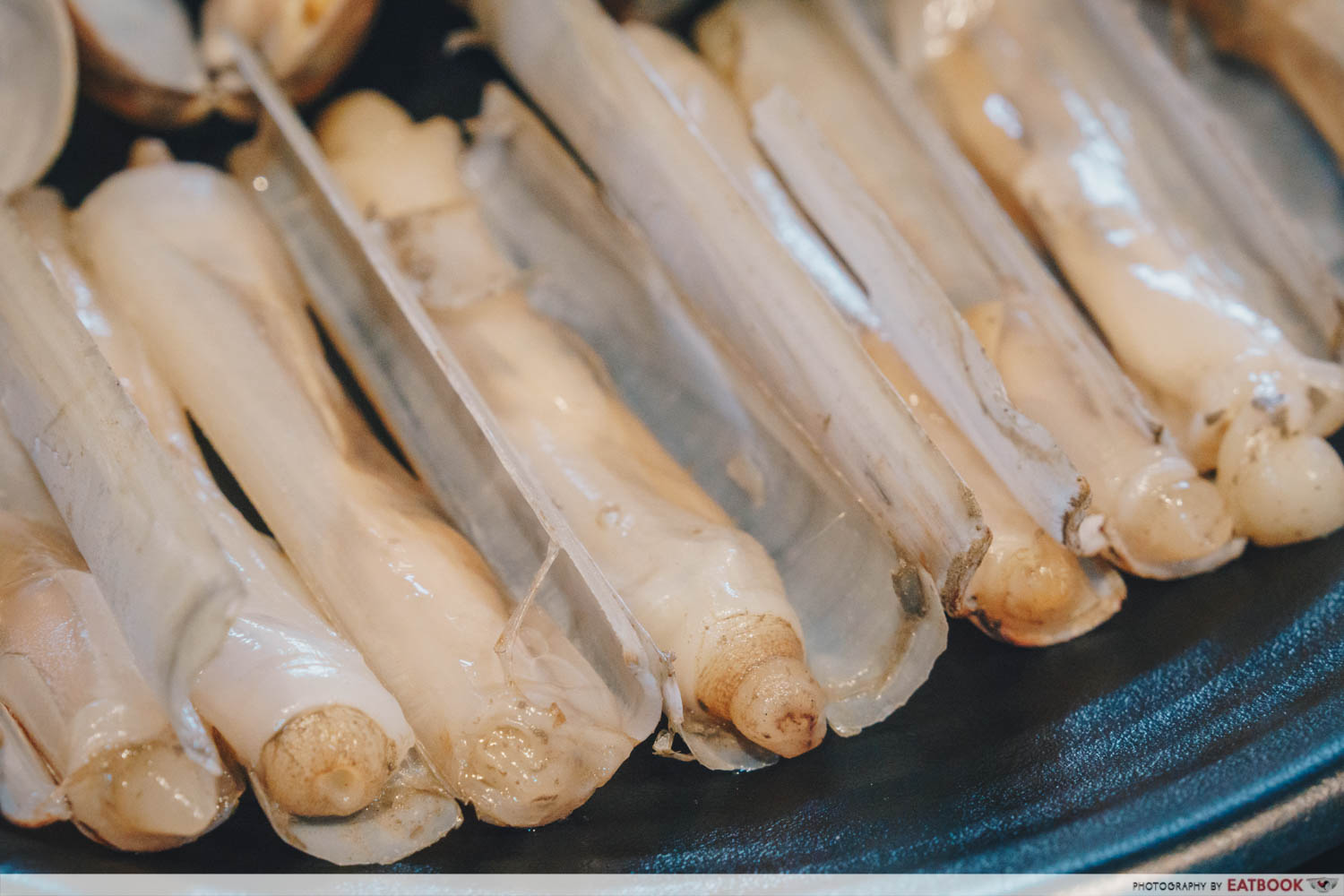 Because of how pricey they generally are, the bamboo clams were my most anticipated item at Kazan.
Granted, they are not as huge as those you are accustomed to, but these babies are saturated with flavour. Packaged in each shell is a plump and sweet sac of juicy flesh. Upon biting into it, the clams burst with a wave of oceanic saltiness that envelops your mouth.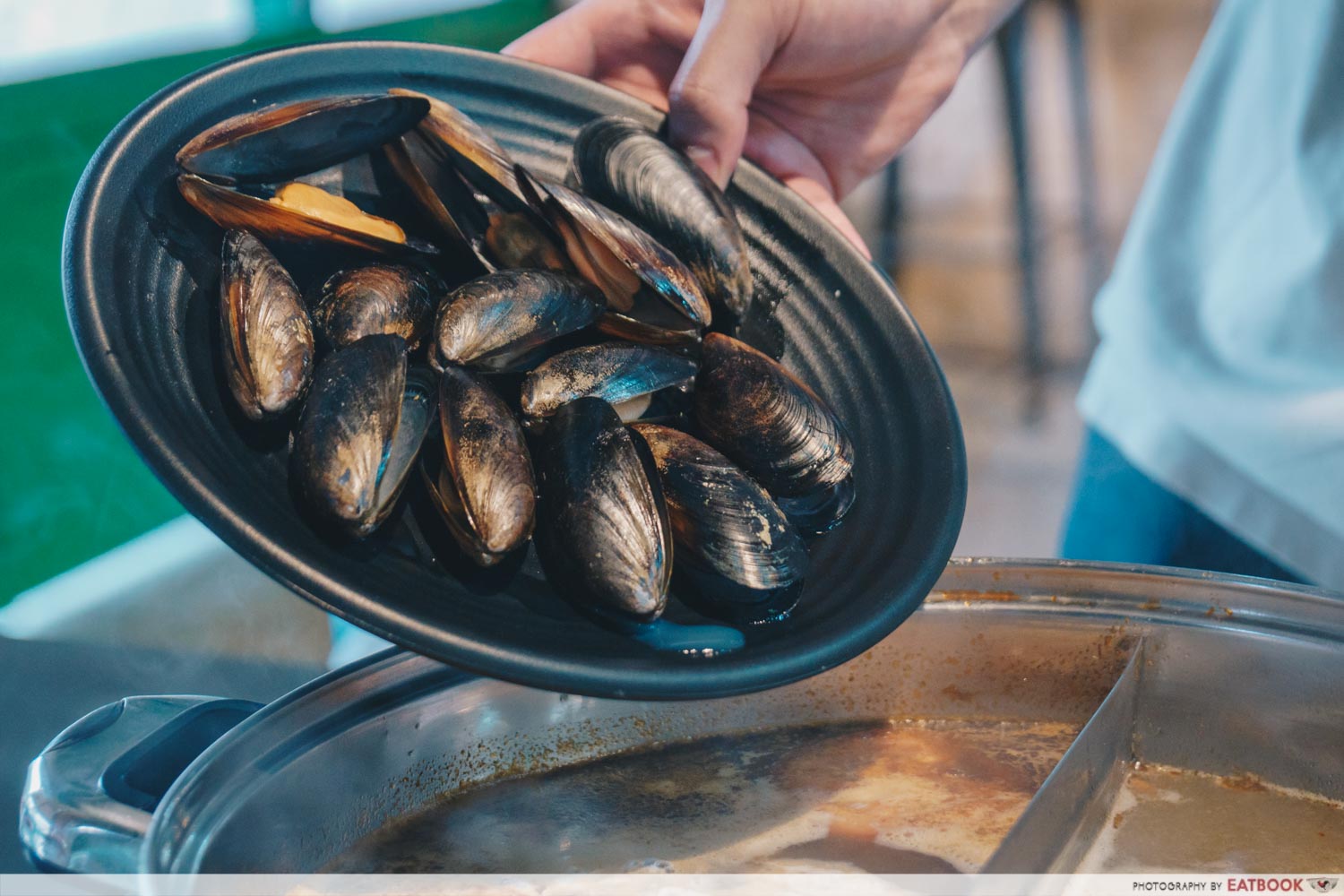 Mussels are also served here. They ooze a briny liquid when cooked, enlivening the tom yum soup with a strong seafood punch. Unfortunately, the mussels themselves taste bland in comparison to the other seafood options available.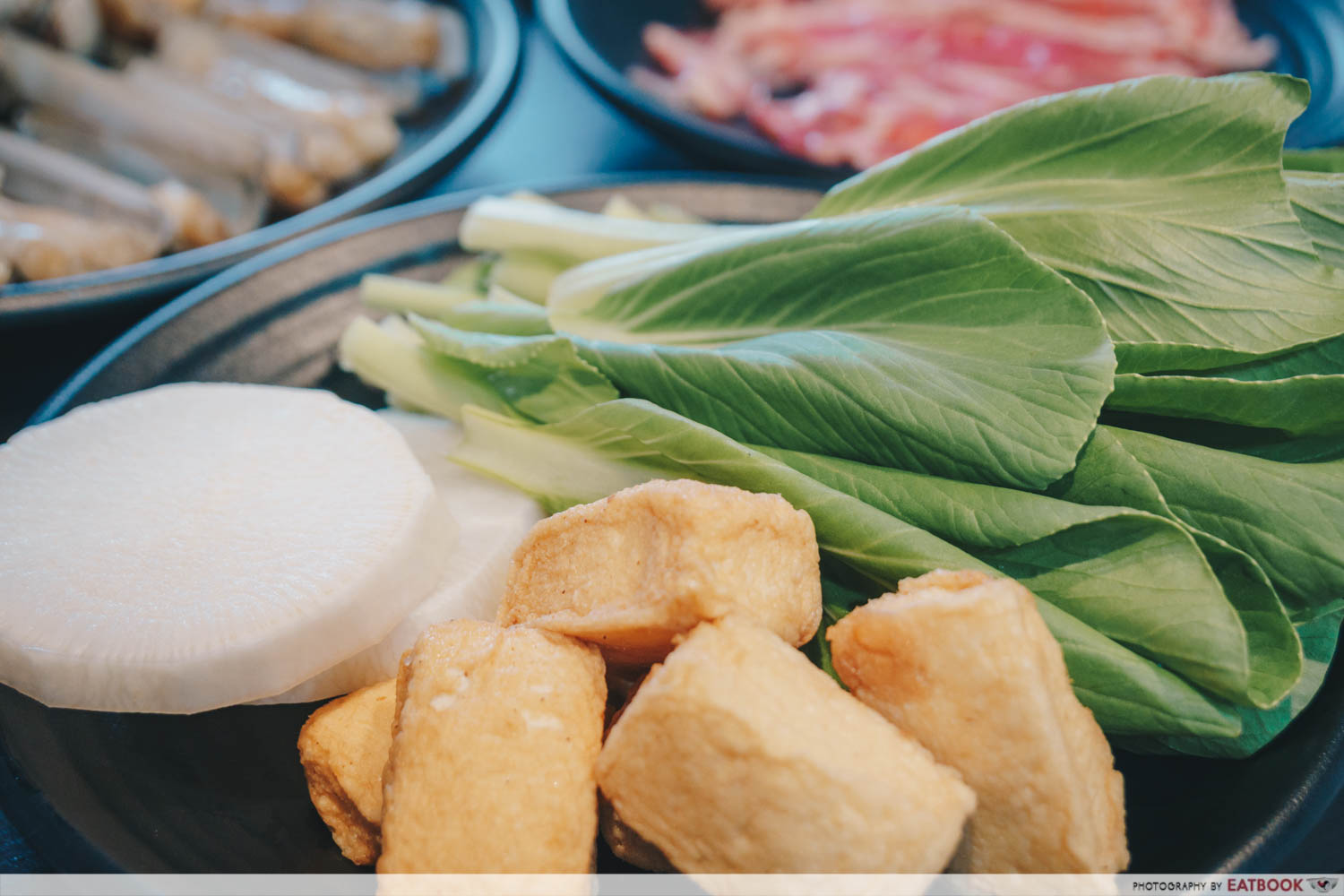 For our health-conscious readers, they do have vegetables. In fact, one entire fridge is dedicated to our leafy greens. You can find freshly washed bok choy, cabbage, and corn.
Ambience at Kazan Steamboat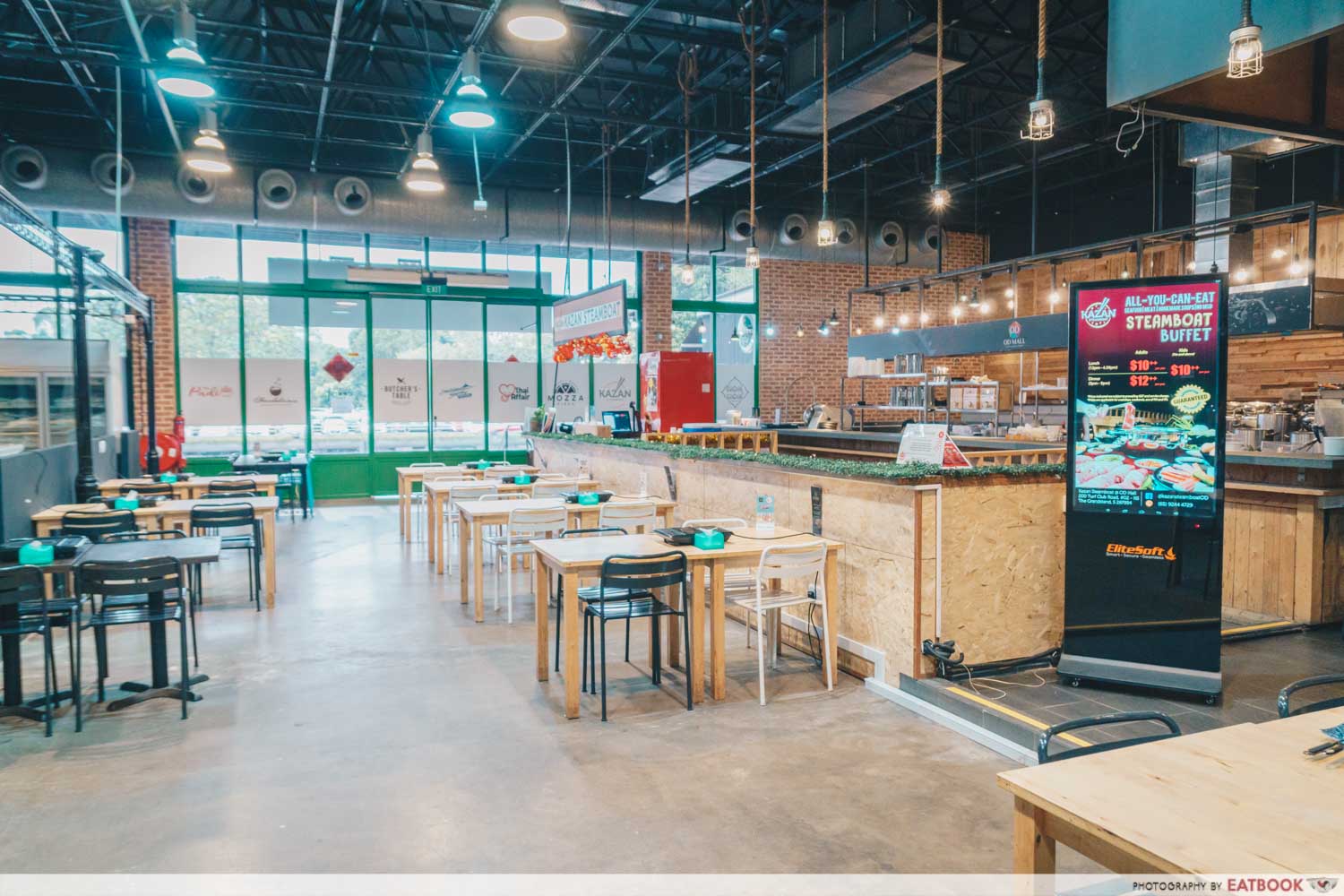 The overall vibe struck me to be rather Korean: exposed ceilings, bare brick walls, and organic colours. Servers were also reasonably attentive, quickly topping up our meats upon request. I was thoroughly impressed by the service throughout my meal here.
The verdict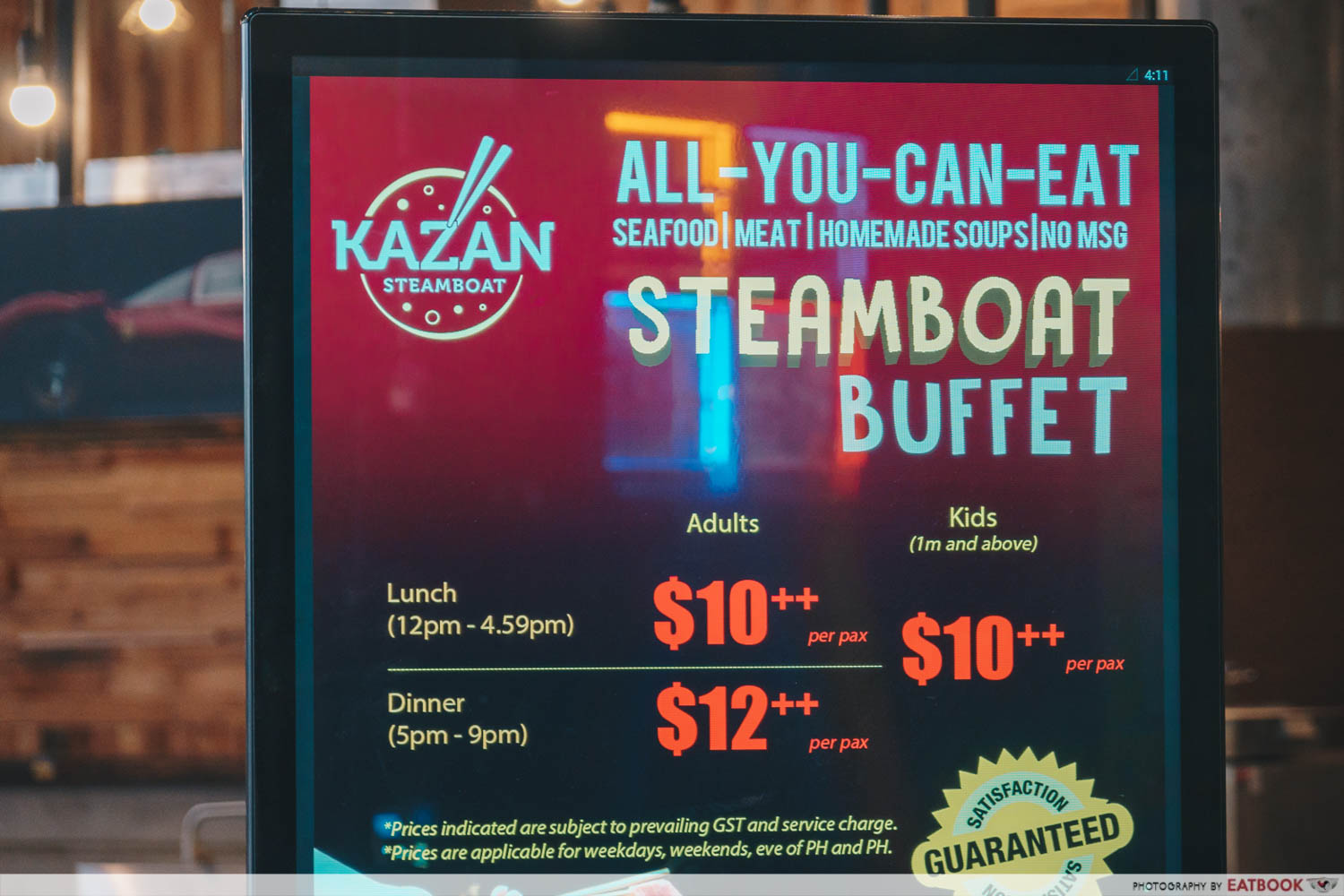 Since my initial tasting, I've visited them once more for dinner, which runs between 5pm and 9pm. Then, I paid 12++ per pax, which is still a steal. The quality of food and service were consistent with what I experienced the first time.
Sadly, they have increased their prices from 26 January to 19 February. It's now $16.80++ per adult. They are, however, reverting back to their original pricing after 19 Feb!
For those of you who want something more atas, you can check out Hai DI Lao or these Hai Di Lao alternatives to satiate your steamboat cravings.
10 Hai Di Lao Alternatives With Equally Good Food And Service Sans Queue
Address: 200 Turf Club Road, #02-K06, The Grandstand, Singapore 287994
Opening hours: Daily 12pm to 9pm
Website
Kazan Steamboat is not a halal eatery.
Photos taken by Maverick Chua
This is an independent review by Eatbook.sg.
Summary
Pros
– Low prices
– Wide variety
– Friendly staff
Cons
– Inconvenient location
Recommended ingredients: Beef slices, Bamboo clams, Beef balls
Opening Hours: Daily 12pm to 9pm
Address: 200 Turf Club Road, #02-K06, The Grandstand, Singapore 287994