Xin Ban Mian has bak kwa and collagen broth noodles in Geylang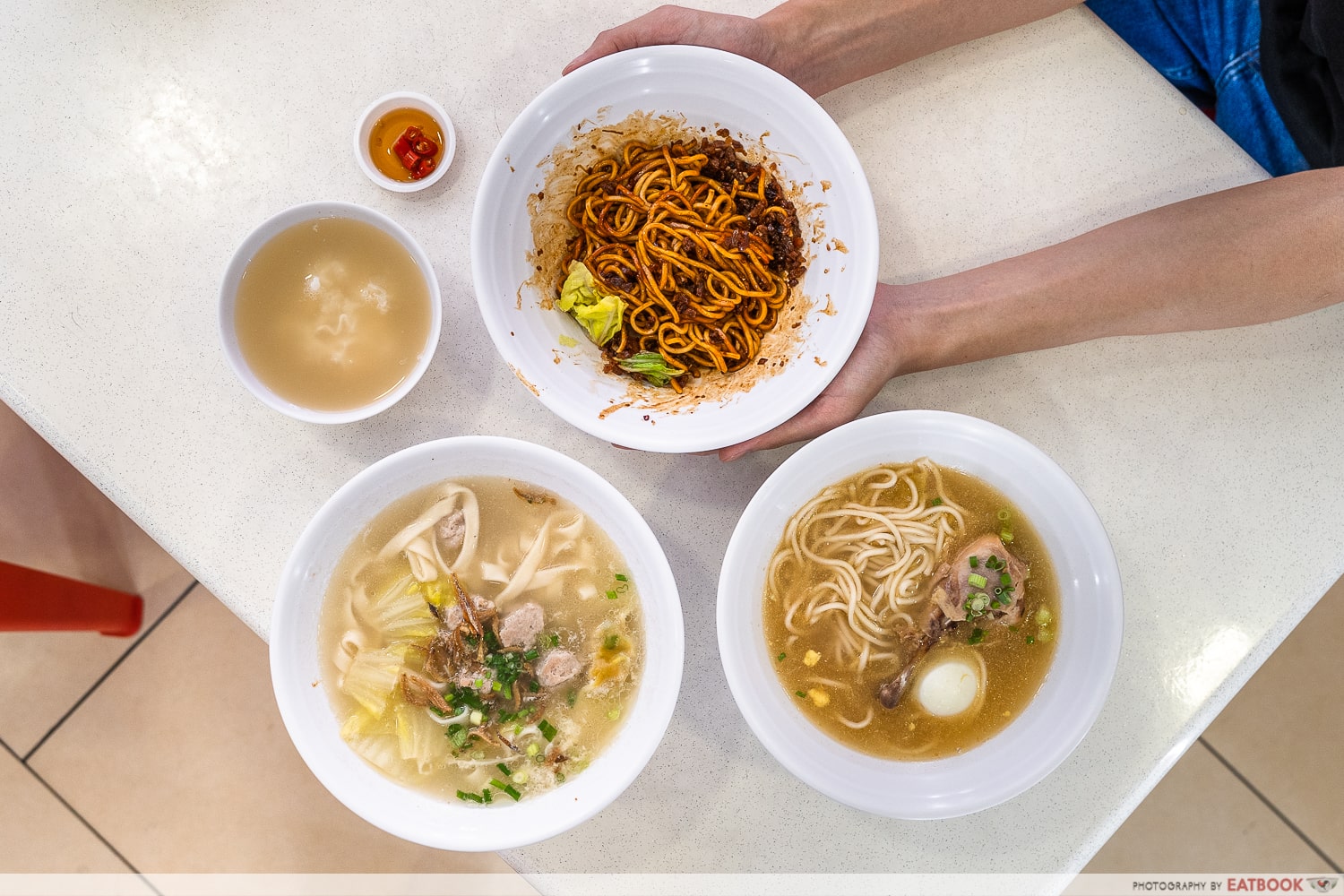 Though ban mian has this unshakeable reputation as a comforting and homely dish, few would argue that it is exciting. Xin Ban Mian, a noodle stall in Geylang, seems intent on challenging that by offering a startling variety of ban mian and you mian renditions, 24 hours a day. Even to the most jaded foodie out there, that has to be at least somewhat intriguing.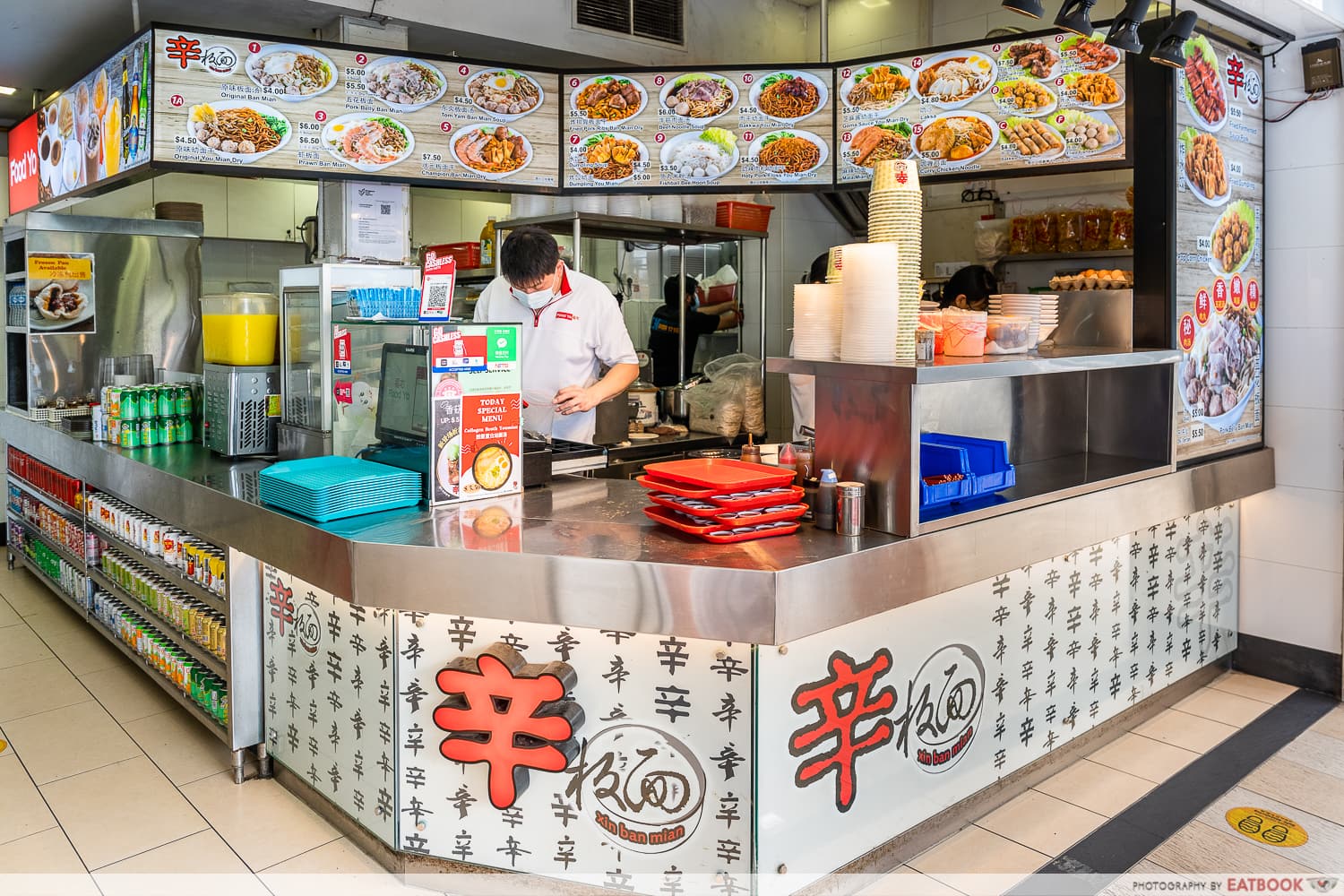 But having an eye-catching concept doesn't necessarily mean delicious food. And so, we headed down to the stall to try out a few bowls of noodles ourselves.
Food at Xin Ban Mian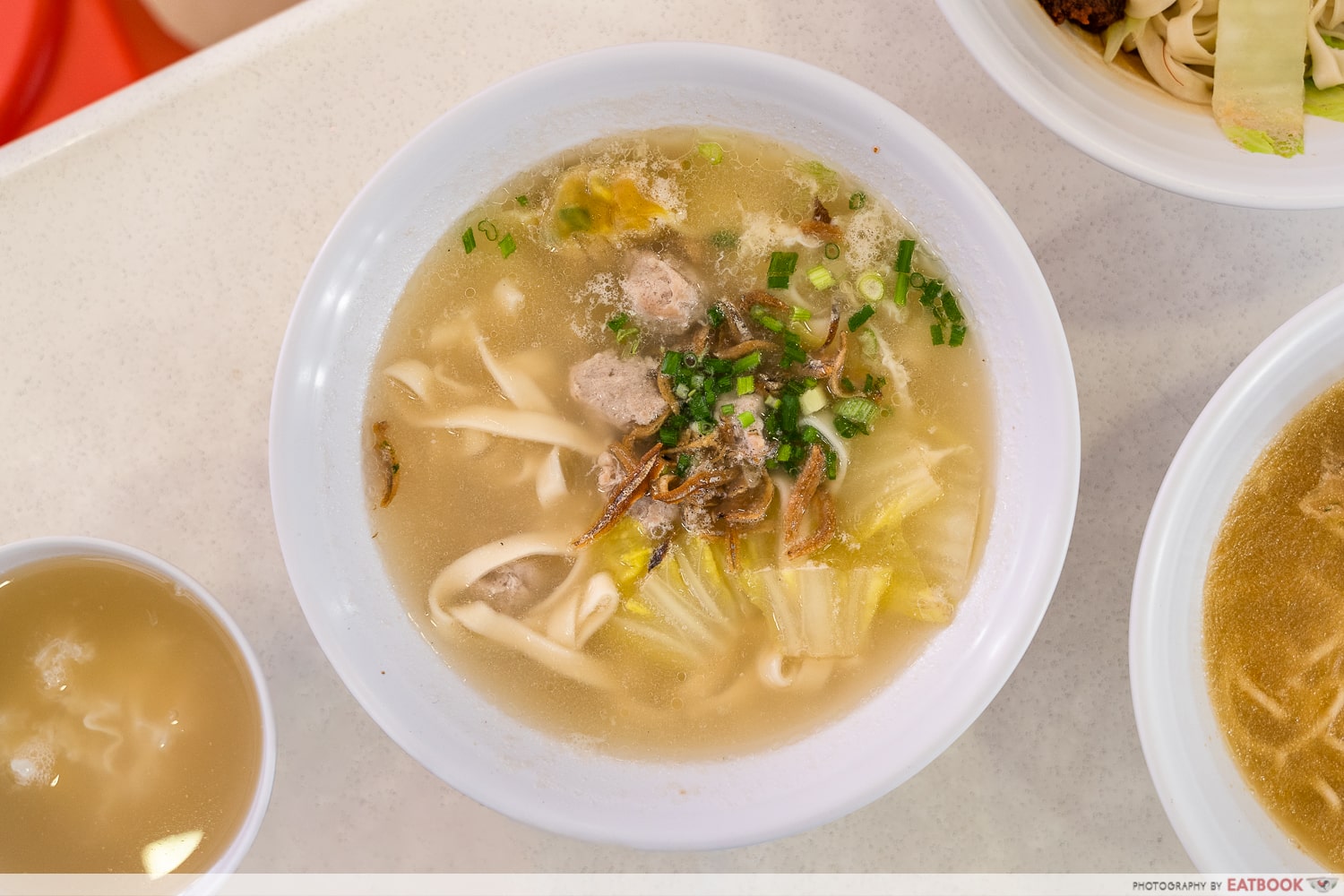 We'll get into the bak kwa and collagen broth noodles in a bit, but before that, we need to talk about the Original Ban Mian ($4). Since it's easily the most stripped-back item on the menu, evaluating it first allows us to see if the stall can get the basics right.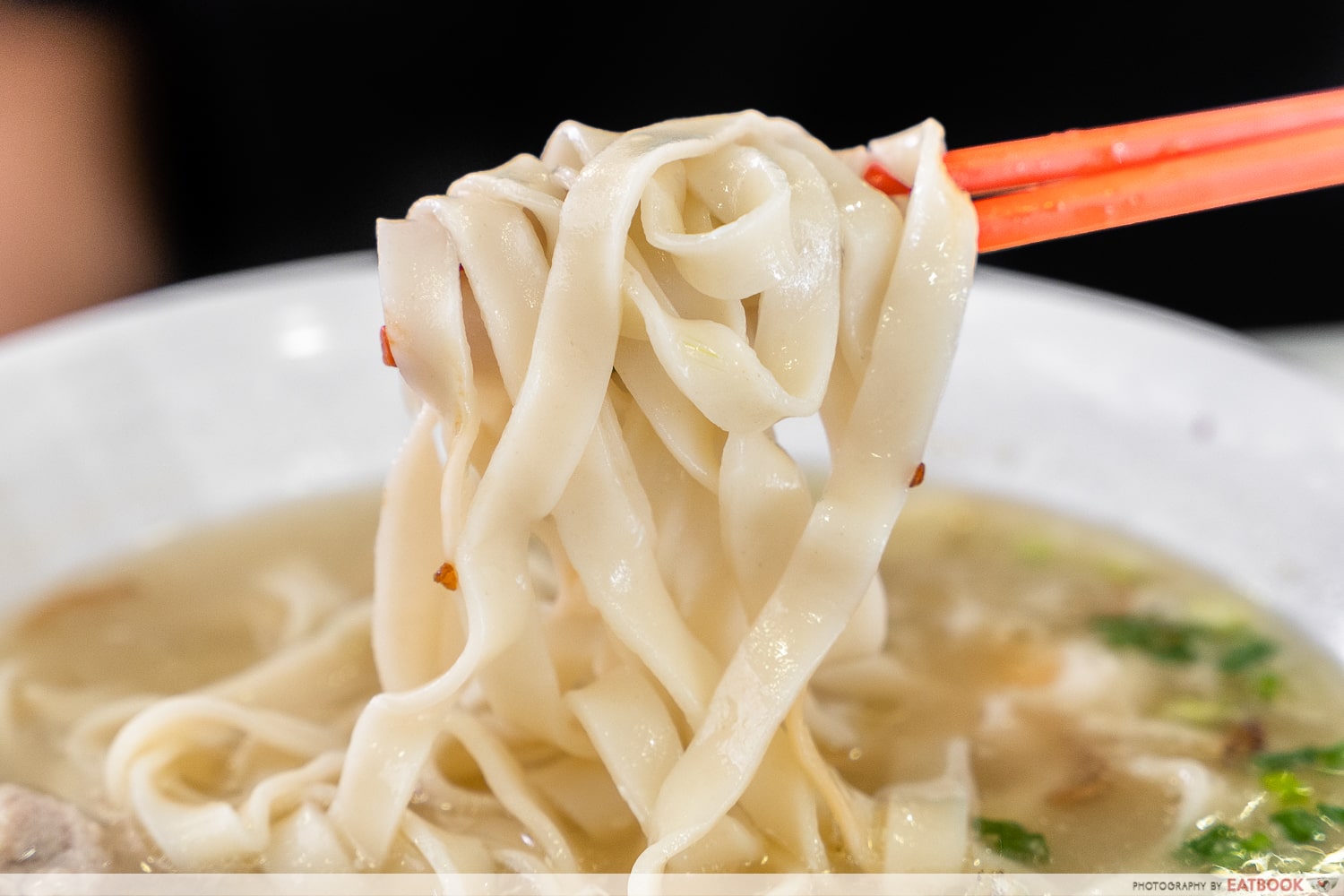 It did not get the basics right. The ban mian noodles themselves were quite starchy and unpleasant to chew on, and the light broth was too salty—each sip made me reach for some water. With the unappetising soup and noodles, the ingredients such as the meat, ikan billis, egg, and cabbage, did little to salvage this bowl.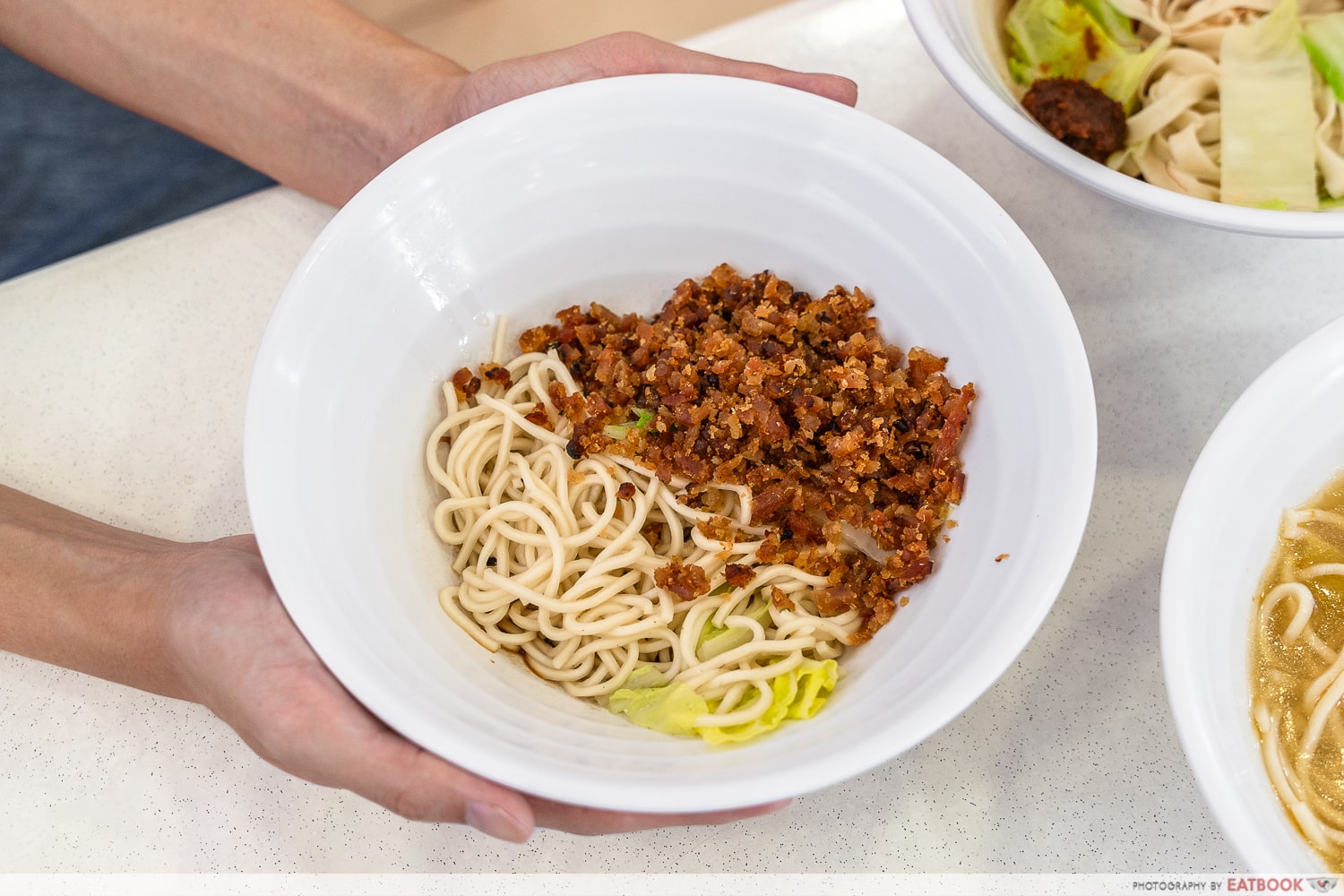 The Bak Kwa You Mian Dry ($4.50) fared much better. A combination of you mian and bak kwa is surely rare, so the novelty of the dish—coupled with the reasonably springy noodles here—made it more appealing than what came before.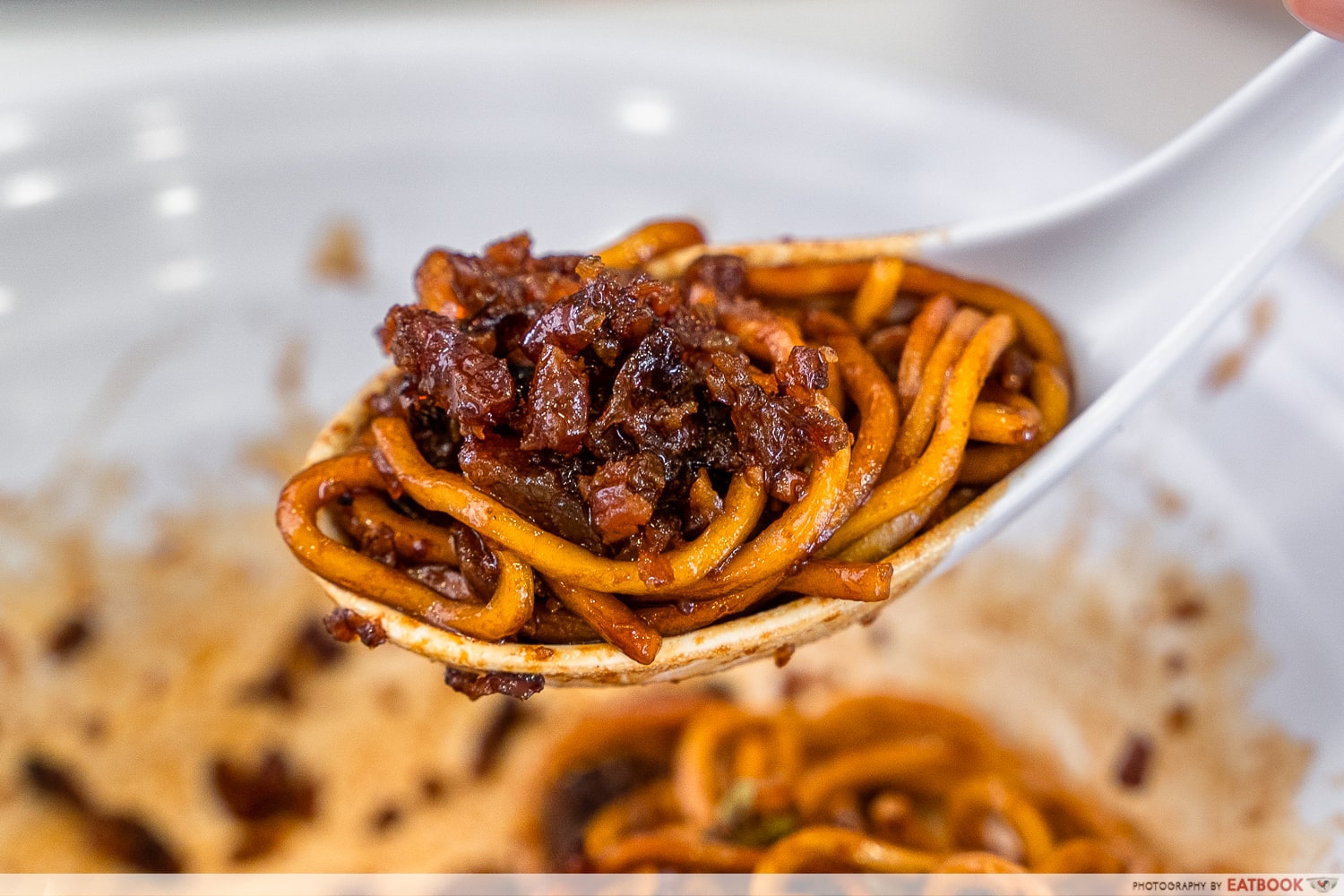 When getting into the specifics of the flavour, however, this dish was far from a complete success. The sweetness and meatiness of the bak kwa started out delicious, but became cloying quickly, and it didn't help that those qualities overwhelmed the noodle's savoury black sauce. I asked for chilli sauce to be added to the mix, but for some reason, no spicy notes were present—perhaps the staff forgot to add it in, or they misunderstood me.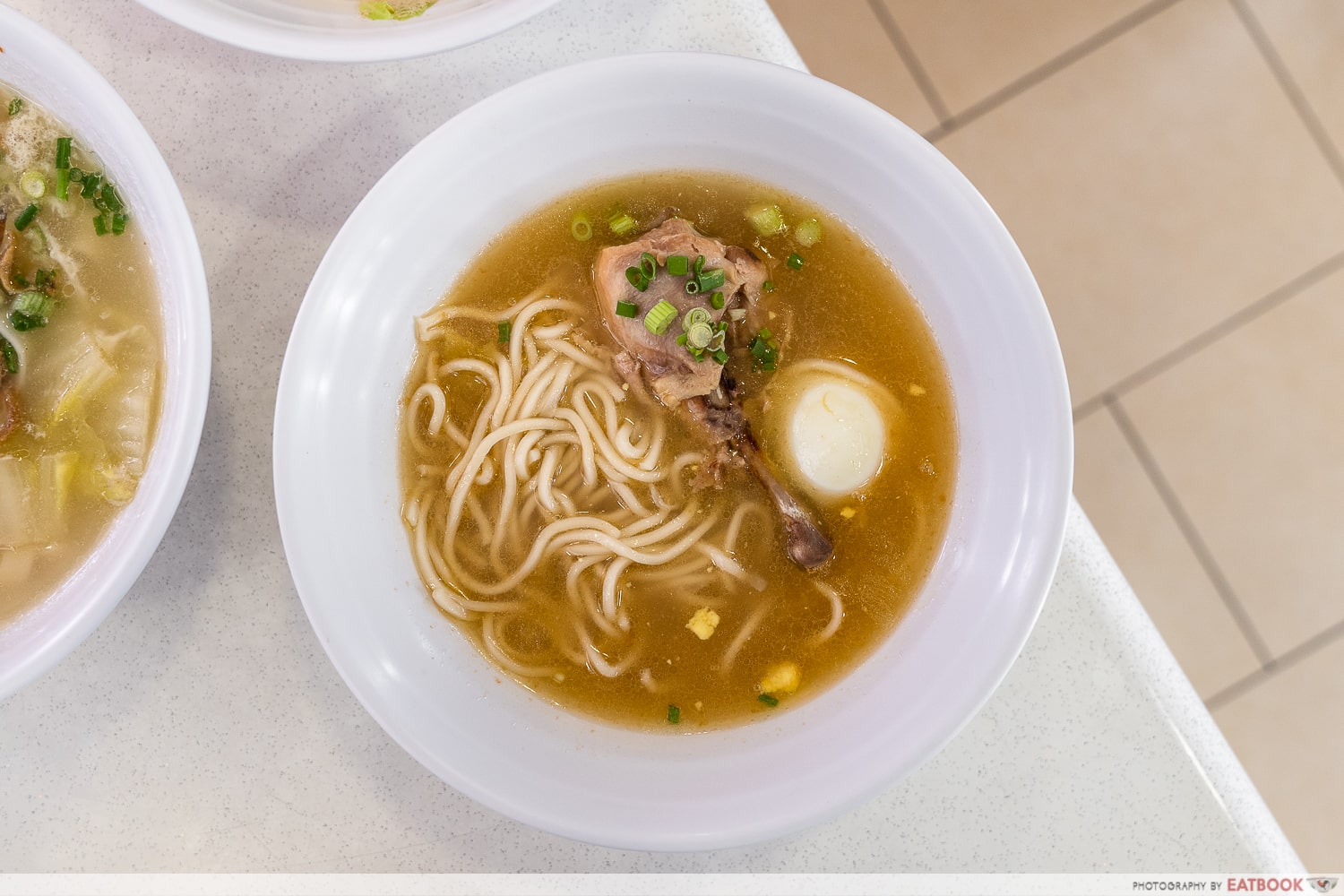 The Collagen Broth You Mian ($5.50) was also a mixed bag. One would expect the broth to have a rich goodness, but it fell short of achieving that.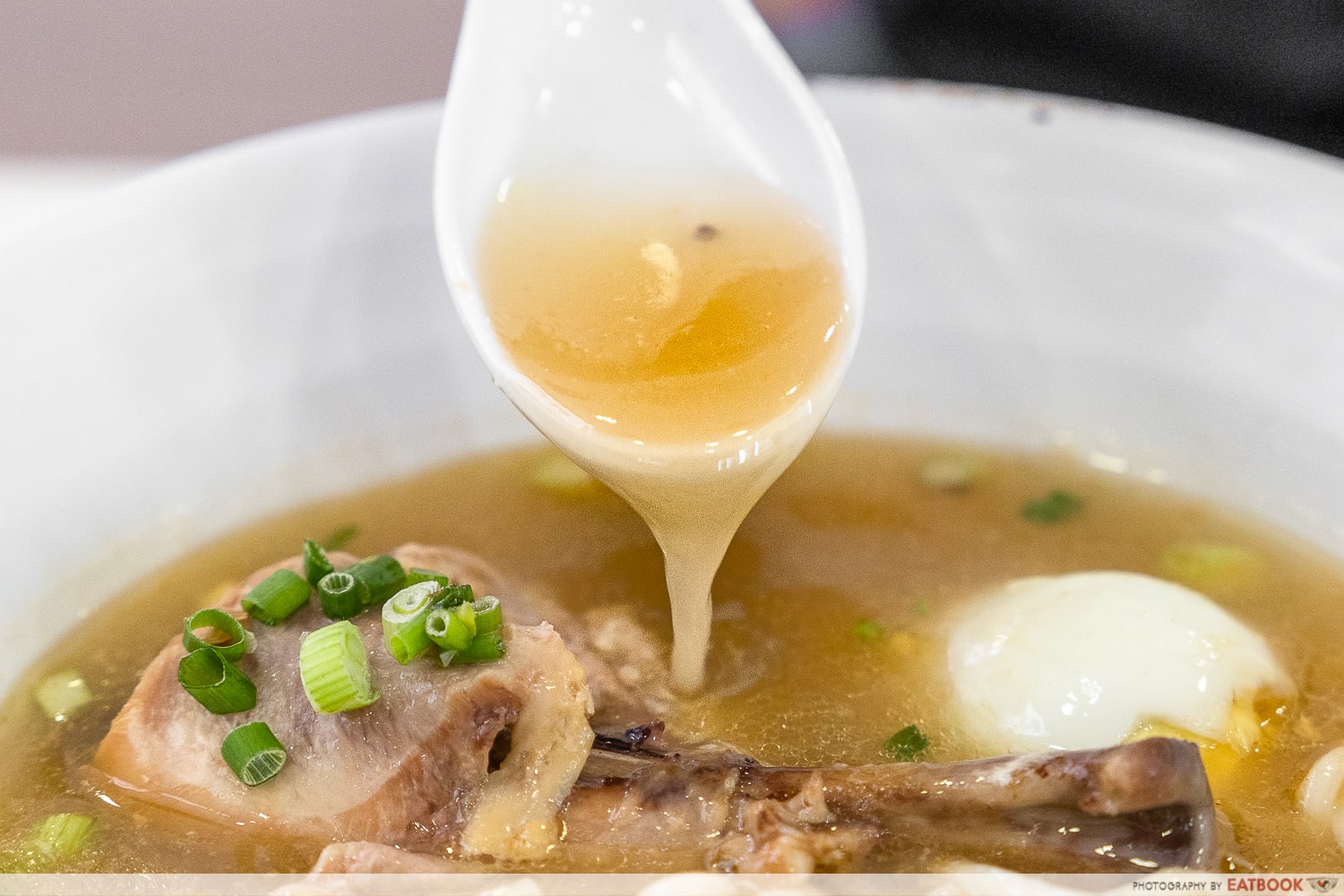 With its thin layer of collagen, the chicken broth here was too salty, while also lacking in a depth of flavour.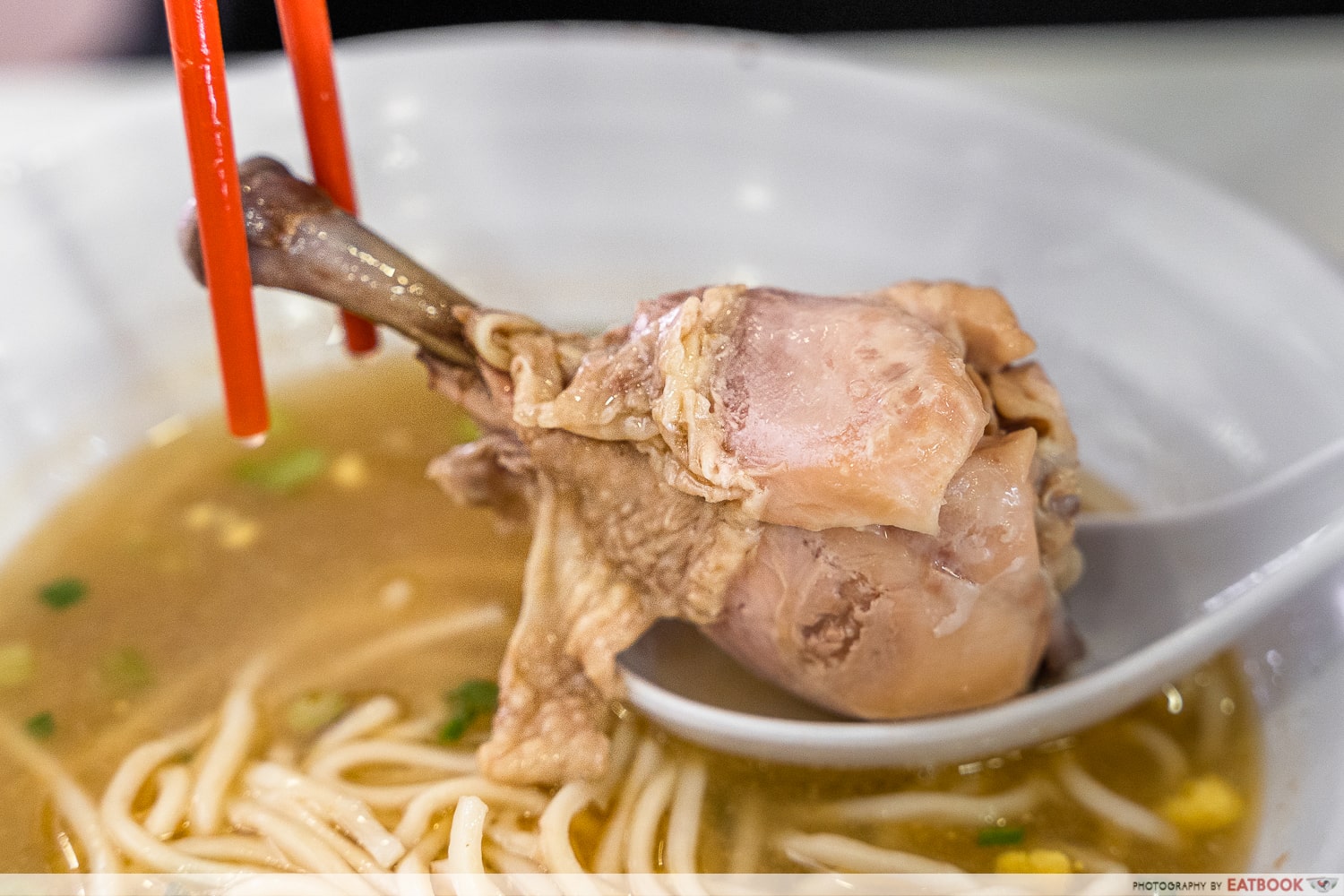 The you mian was again decent, but the chicken drumstick was so overcooked that it was awfully dry on the inside. This bowl of noodles was definitely not worth the price.
Ambience at Xin Ban Mian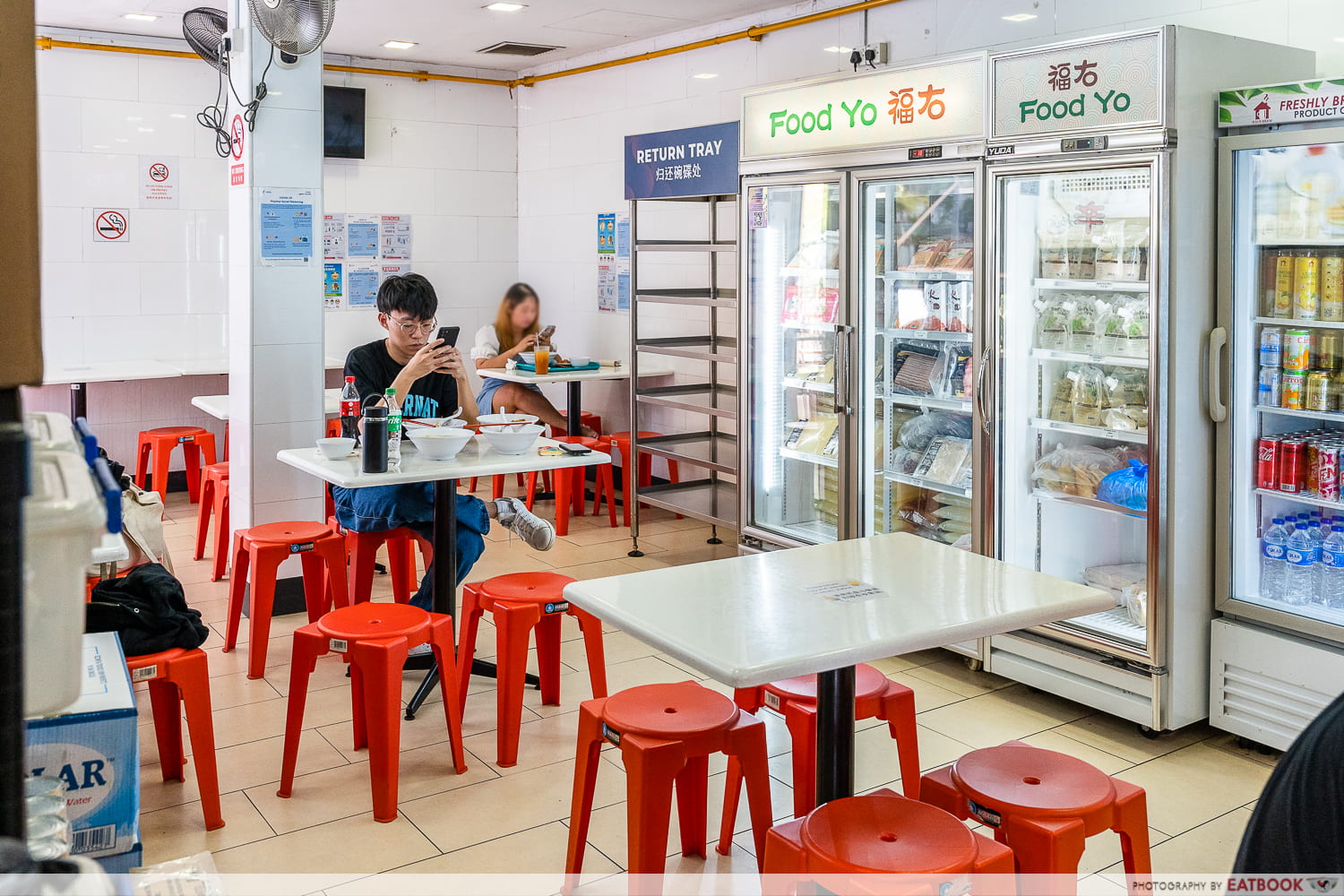 Xin Ban Mian is in a small shop along Sims Avenue, a mere four-minute walk away from Aljunied MRT Station. It's not the most comfortable place considering its size constraints, but it's clean and well-maintained, at the very least. If you're there during the day, it doesn't hurt to bring a portable fan as the place can get quite humid.
The verdict
Xin Ban Mian does have a few conceptually interesting noodle dishes, but the ones we tried were all lacking in terms of flavour and execution. We can't recommend this place unless you're looking for a quick bite in the area, or are craving ban mian in the wee hours of the morning.
For delicious claypot bak kut teh nearby, read our Ge Bi Lao Wang review. If you're a fan of duck rice, check out our Sia Kee Duck Rice review.
Address: 232 Sims Avenue, Singapore 387509
Opening hours: Daily 24 hours
Xin Ban Mian is not a halal-certified eatery.
Ge Bi Lao Wang Bak Kut Teh Review: Malaysian-Style Claypot BKT In Aljunied
Photos taken by Zi Hui Tan.
This was an independent review by Eatbook.
Xin Ban Mian Review: 24-Hour Eatery With Bak Kwa Noodles And Collagen Broth
Xin Ban Mian Review: 24-Hour Eatery With Bak Kwa Noodles And Collagen Broth -

6/10
Summary
Pros
– Diverse range of noodle dishes
– Open 24 hours
Cons
– Dishes were poorly executed
– Not worth its price in terms of quantity and quality
Opening hours: Daily 24 hours
Address: 232 Sims Avenue, Singapore 387509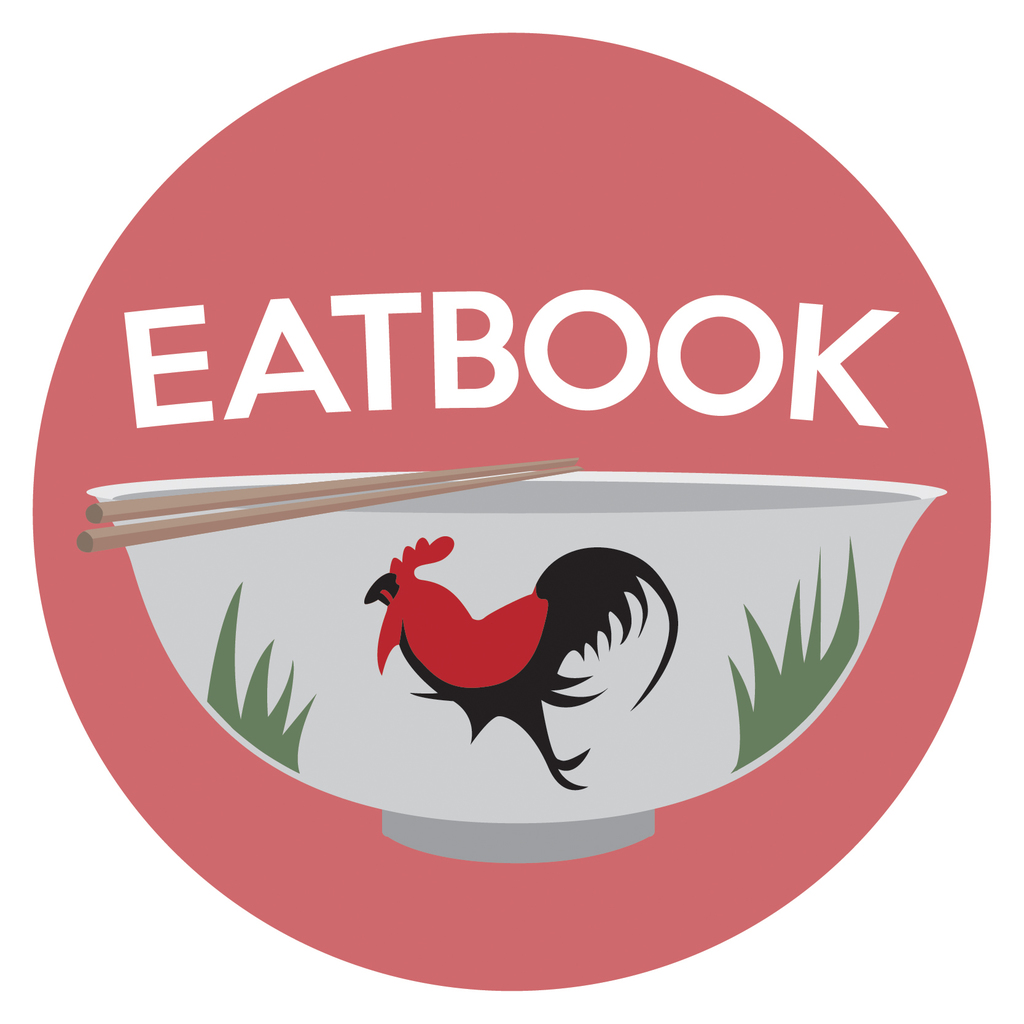 Drop us your email so you won't miss the latest news.