Sia Kee Duck Rice has famous braised duck rice since 1979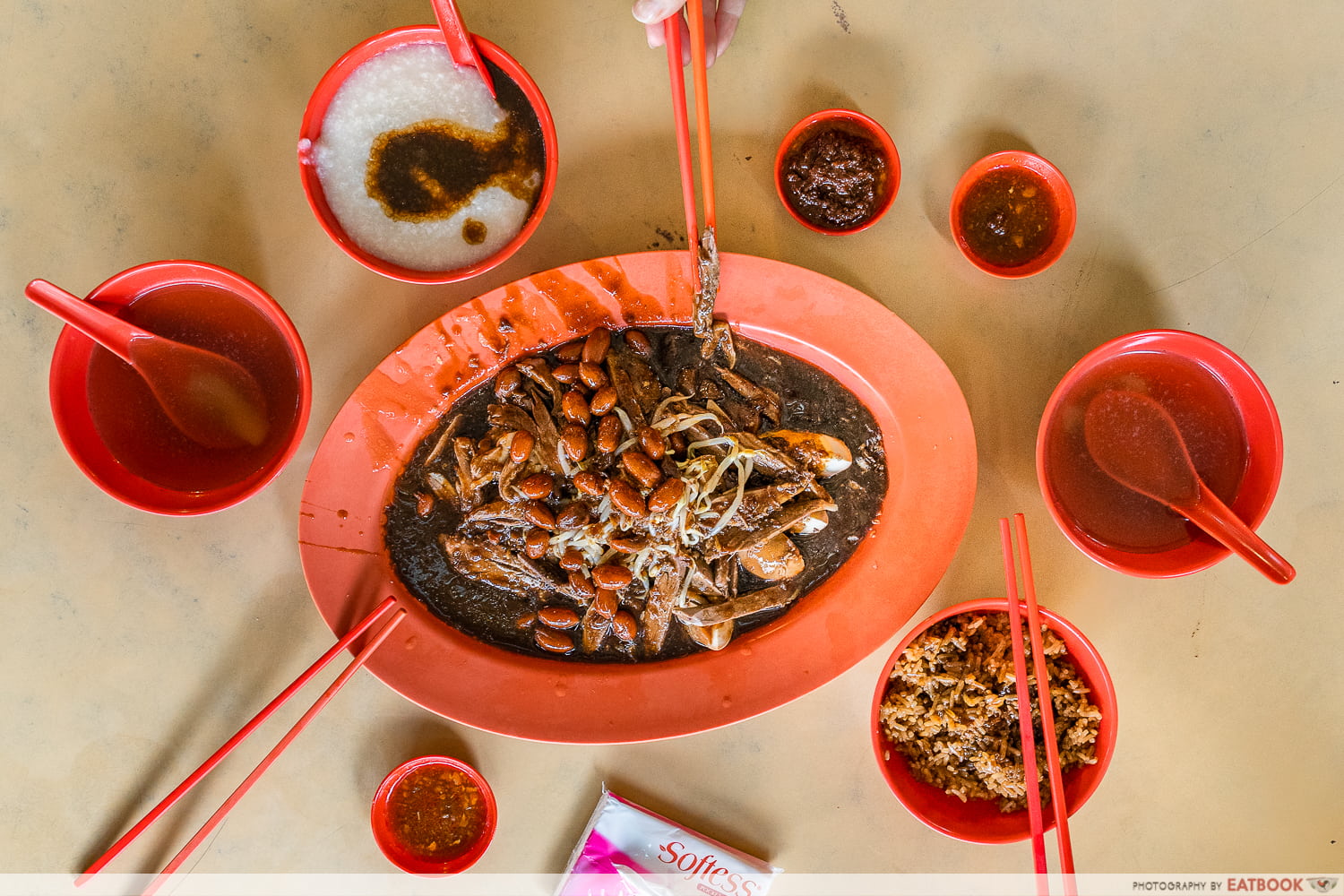 It's really unfortunate that when Geylang is in the spotlight, it's the red light district's less-than-savoury reputation that usually comes to mind. On my last trip there, I spent way too much time trying to convince my friend that taking shortcuts through the district's side streets was worth it, but to no avail. But if you like duck rice, you might agree with my risk-taking ways–after all, we eventually found Sia Kee Duck Rice, said to be one of Singapore's best duck rice stalls.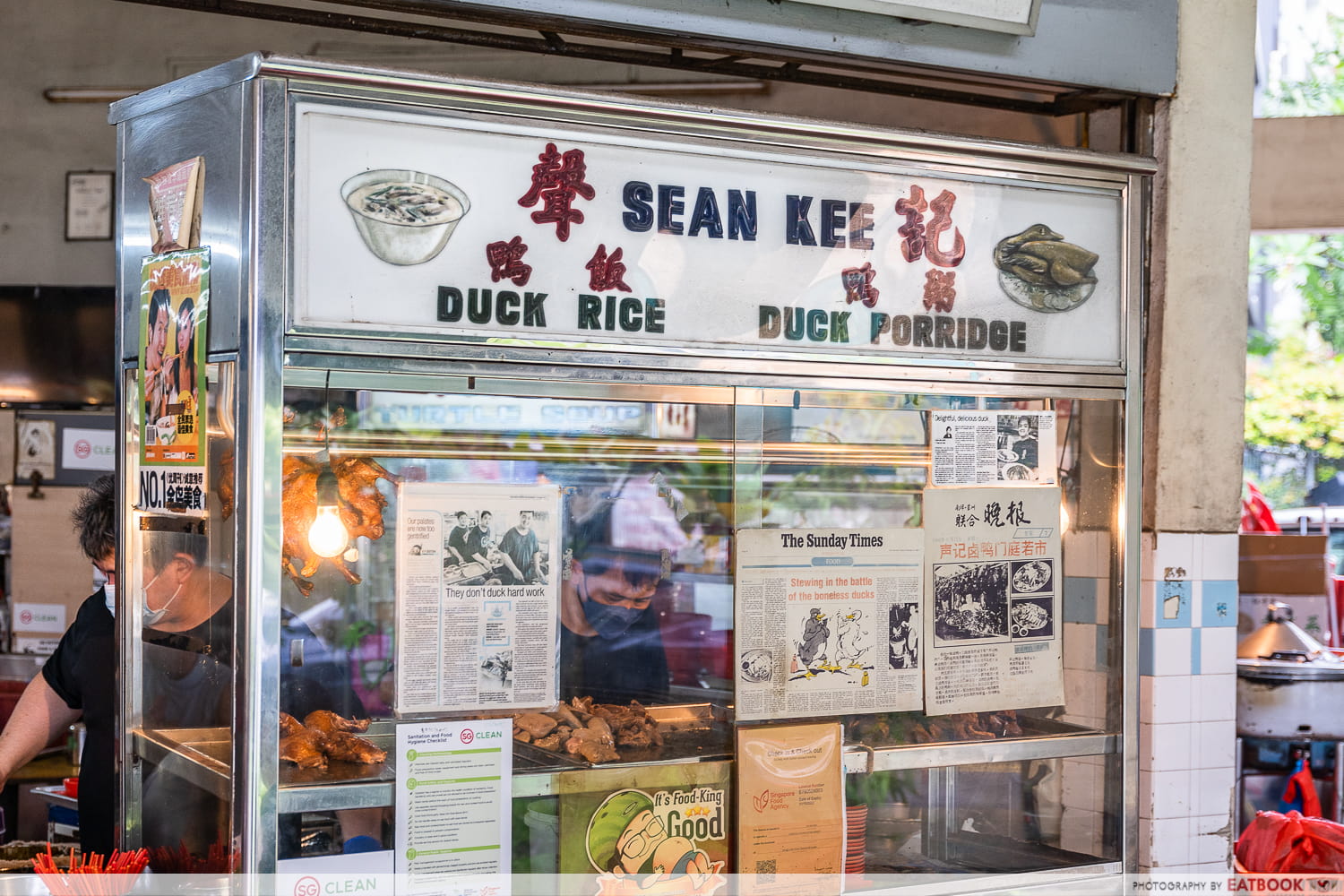 Sia Kee was founded in 1979 by Oh Kim Seng, after gathering over a decade of experience at a Teochew braised duck stall. He quickly made a name for himself, as you'll find via old newspaper articles carefully printed out and pasted on the stall's glass window, showing the retired master at work. These days, the famous stall is run by his sons Albert, Lawrence, and Ron, who themselves have their own newspaper feature on display alongside their father's. 
As a side note, you might find the stall's name being listed as Sean Kee Duck Rice online and on their storefront━the brothers joked that this was the stall's Christian name, with Sia Kee being the pronunciation of the stall's name in dialect. 
22 Geylang Food Places That Prove It Deserves Its Title As The Best Supper Spot In Singapore
Food at Sia Kee Duck Rice 
There's no menu available at Sia Kee Duck Rice. Instead, approach one of the brothers and tell him how many people are eating, what duck parts you desire, and if you'd rather have separate plates or share a platter. If you just want a simple plate of Duck Rice with only duck meat, that's $5, but a solo Duck Platter with all the bells and whistles attached will set you back $12.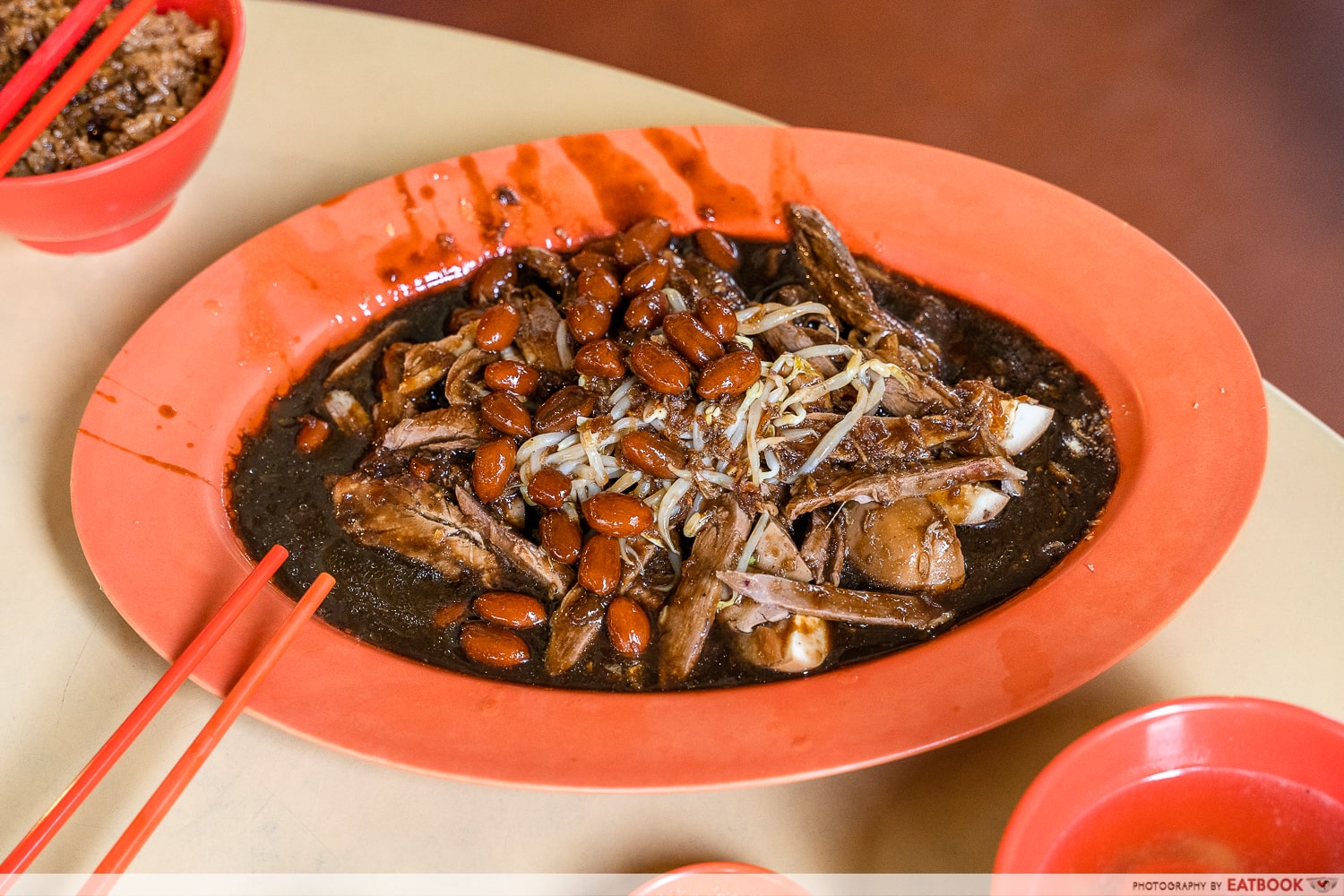 We got the sharing Platter For Two at $24, which came with braised duck, peanuts, beansprouts, a braised egg, tau kwa, fishcake, and cucumber slices. All of it was drowning in a thick, dark braising sauce that is what sets Sia Kee's duck rice apart from the rest of the flock.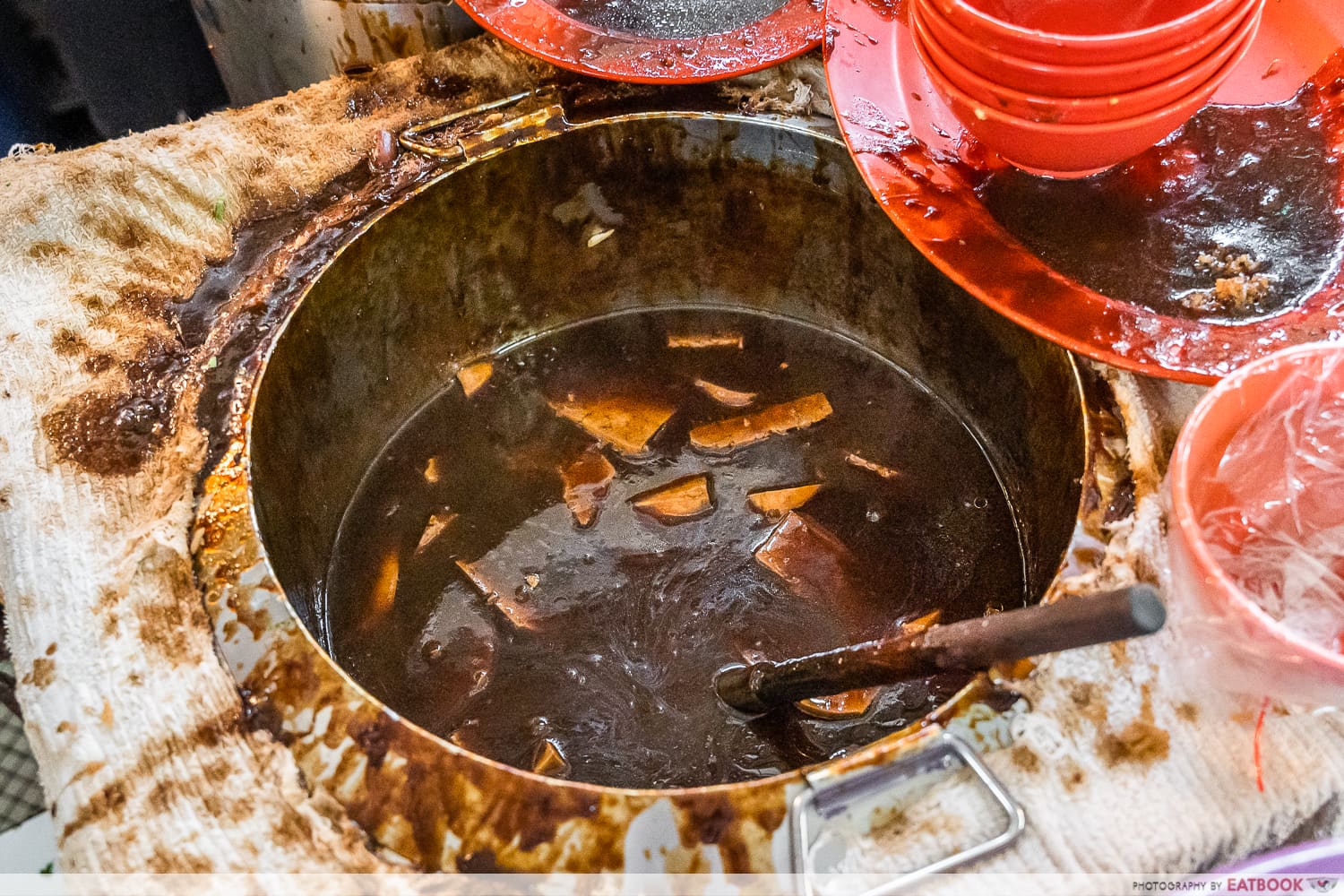 Believe it or not, the brothers say that Sia Kee's sauce dates all the way back to the stall's very beginning, when their father stewed it in a large clay urn over charcoal fire, topping up the master sauce with more herbs and water when the pot ran low. If you didn't know, the more a sauce is cooked and used, the richer it becomes. 
Sia Kee's sauce has been cooking for 44 years, which is impressive but also begs the question if there's even an iota of the original sauce left in the brother's cauldron.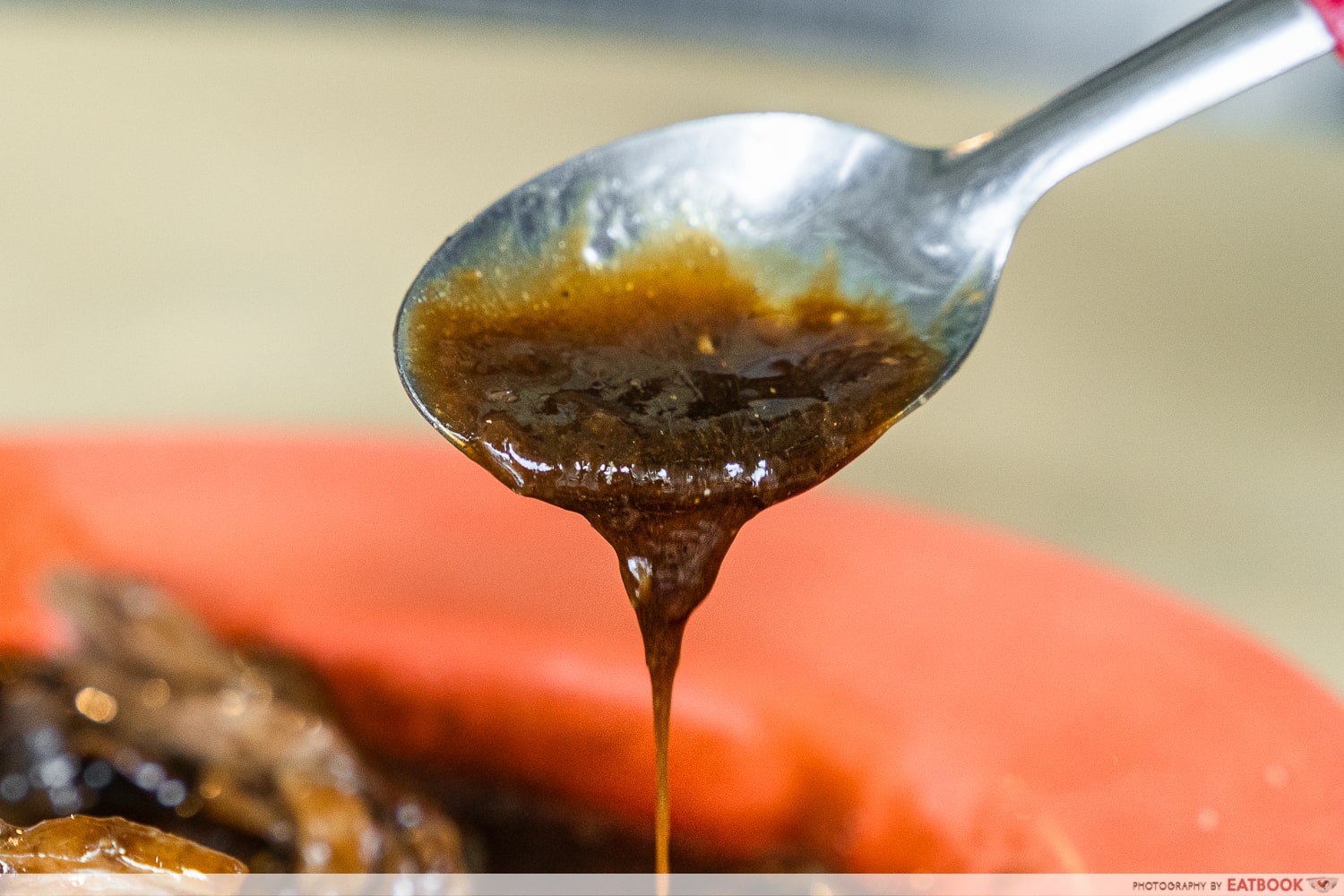 My first thought upon tasting it was that the braise would definitely make you believe you had just ingested the essence of a 44-year-old sauce. It's incredibly savoury, with a more complex and strongly herbal flavour as compared to other plates of duck rice I've had, but I also felt that the richness of the viscous sauce made it pretty jelak. 
Because the stall stewed absolutely everything in their special sauce though, finishing the platter meant for two was a struggle for both of us.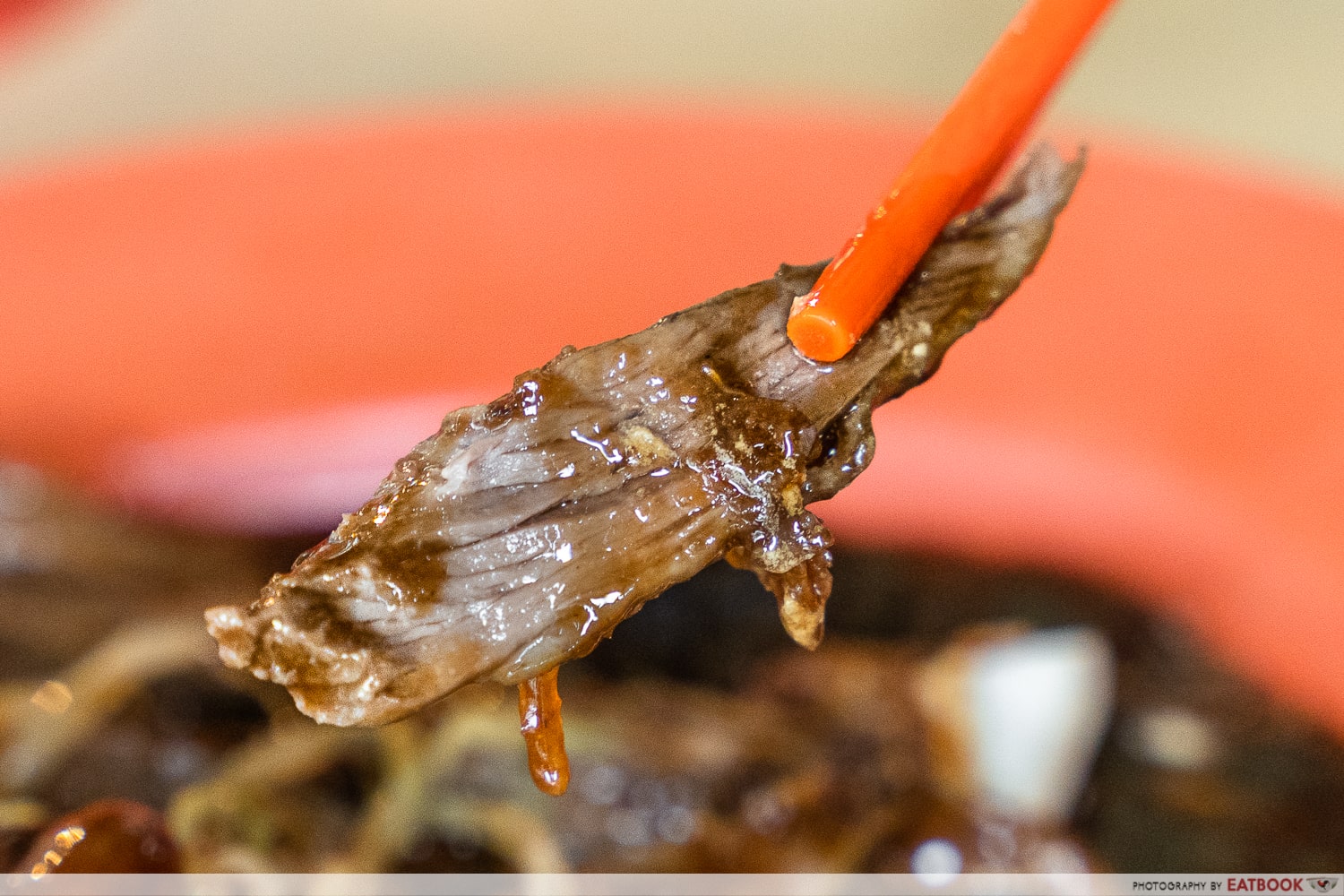 Before I get lost in the sauce, let's move on to the duck. The stall gets their duck fresh every day, and the brothers prepare the ducks each morning before the stall opens at 11am. 
Upon order, the meat is deboned and chopped up into thin slices, which I found to be quite tender and succulent, easily coated in the thick braise. Even if the only thing you ate here was a simple plate of duck rice and meat, you won't be disappointed.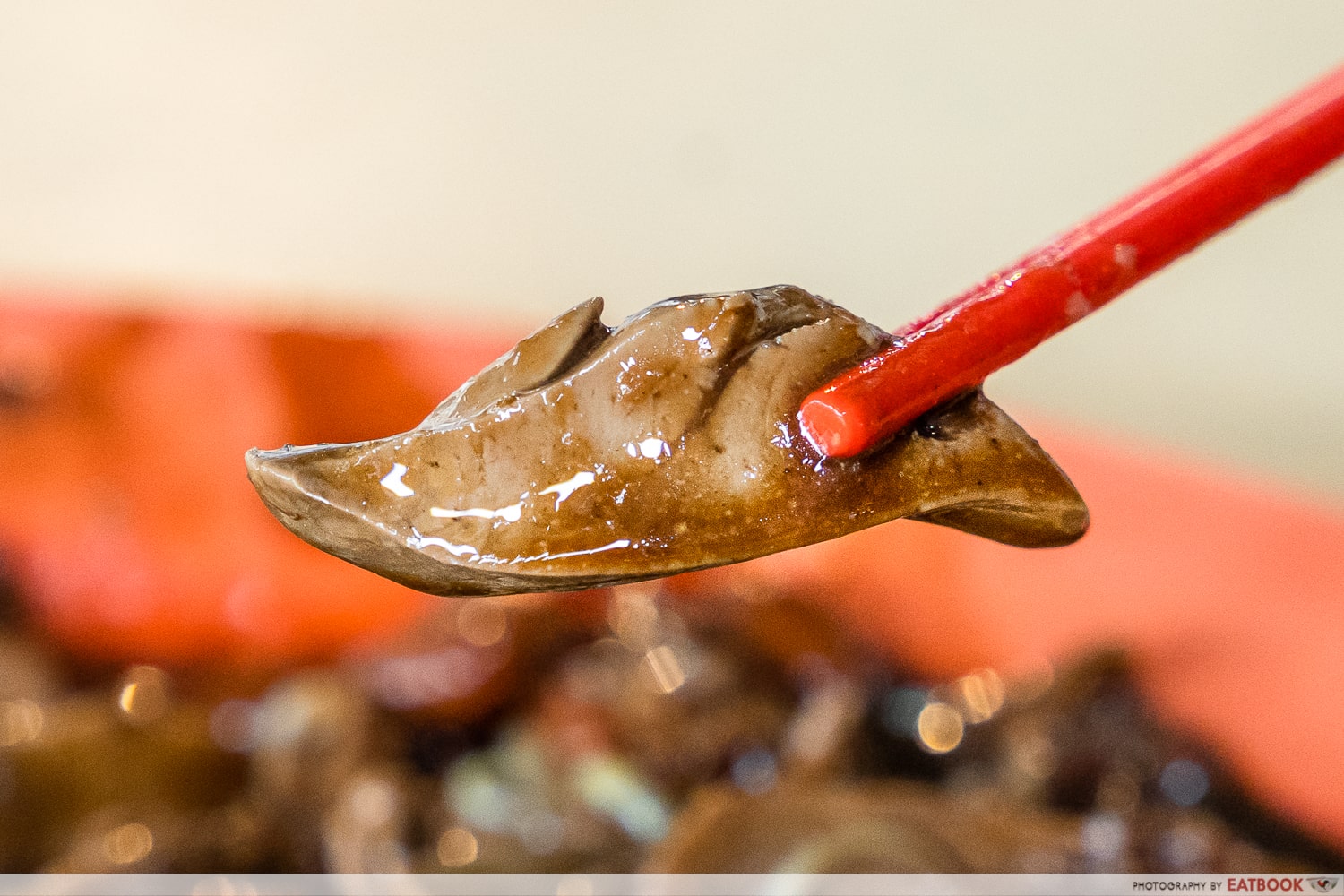 When ordering, you'll be asked if you're okay with innards. They serve two types of innards here: the liver, and the gizzard, the part of a bird's stomach that helps them grind up food. 
The liver was cut similarly to the duck meat, and with the dark coating of gravy over everything, we ended up playing a surprise game of 'meat or liver' multiple times. Slightly sandy with a creamy texture, it also had a faint gamey taste which is generally why I dislike liver, so the gravy did a wonderful job hiding most of it here.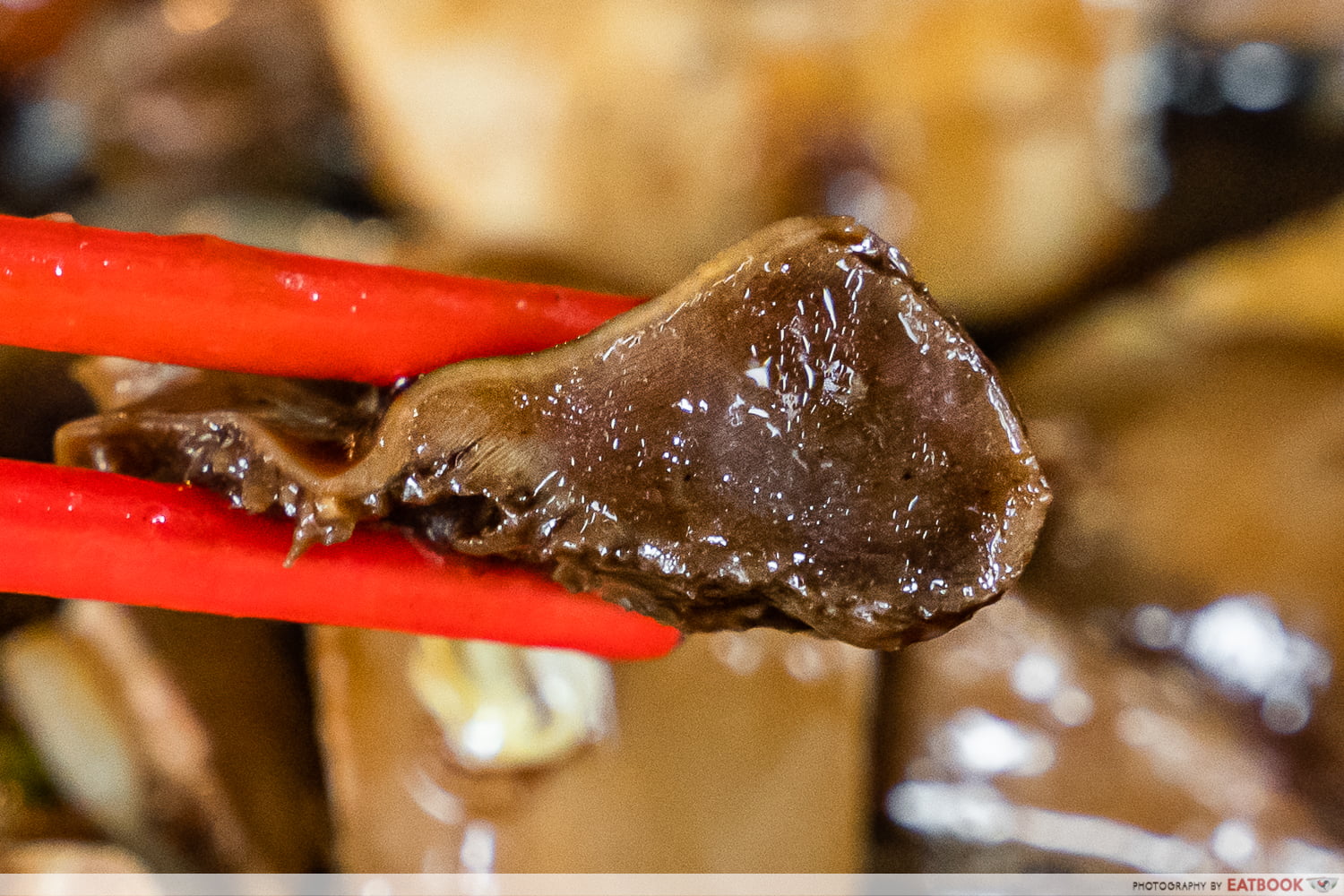 I far preferred the gizzard, as it tasted like a firmer version of the regular duck meat, with no foul taste to be found. It didn't carry as much of the sauce, due to how dense it was, but that was appreciated as I needed a break from the flavours of the braise.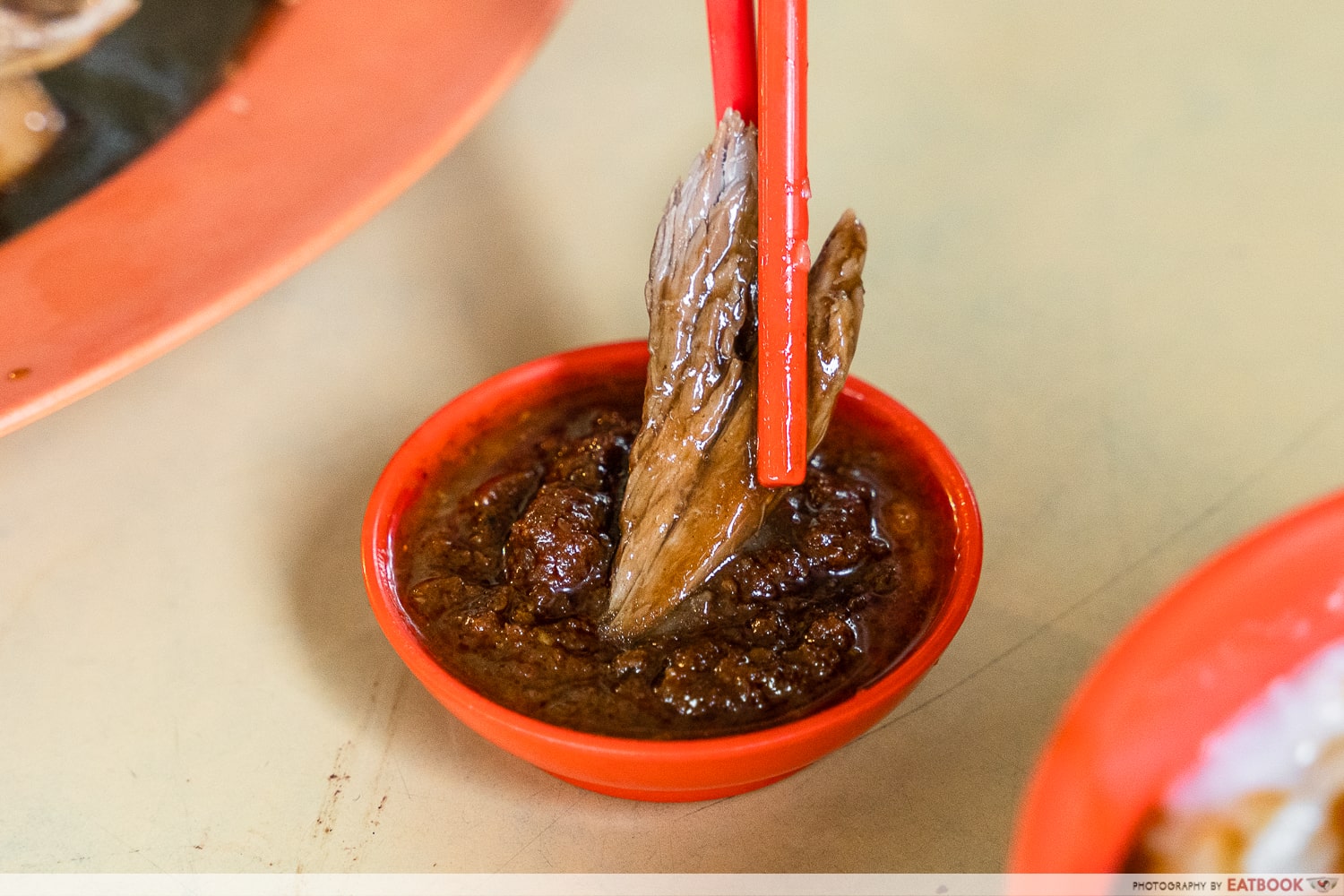 Along with your order, each person gets their own tiny dish of the house-made chilli dip in a small pool of vinegar and garlic. The sambal chilli was gritty from what I think is ground ikan bilis, and packed heat, with a spicy bite that cut through each savoury mouthful of duck rice.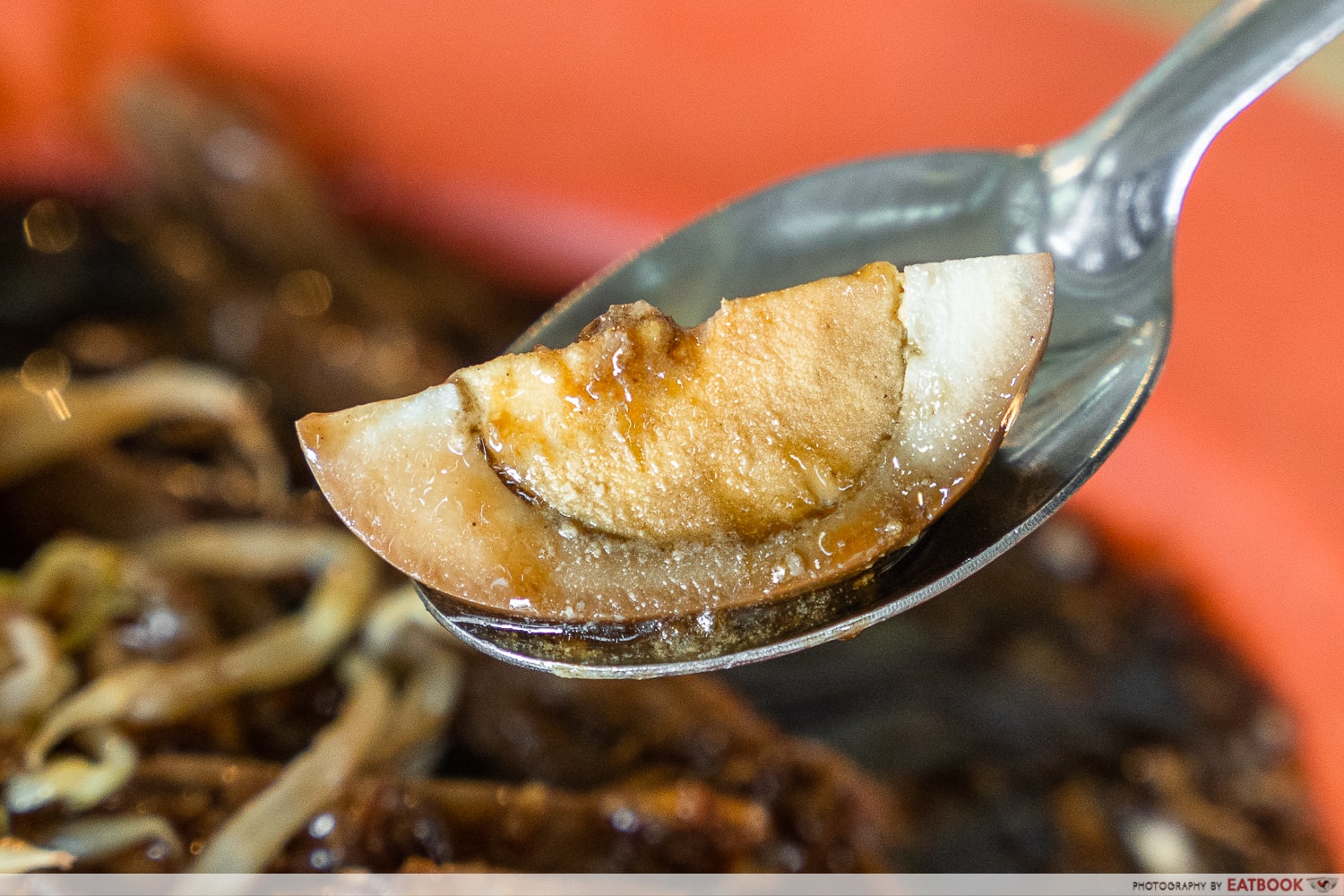 Most of the sides provided in the everything platter are the typical sides you see at other duck stalls: so not much to write home about, though I have to give special mention to how well seasoned the braised egg was, that the flavour even permeated into the yolk! 
I was also interested to learn that the slices of fishcake are actually handmade. Denser and more floury than your typical fishcake, these had an unusual, nearly chewy texture that I found odd, but not necessarily off-putting.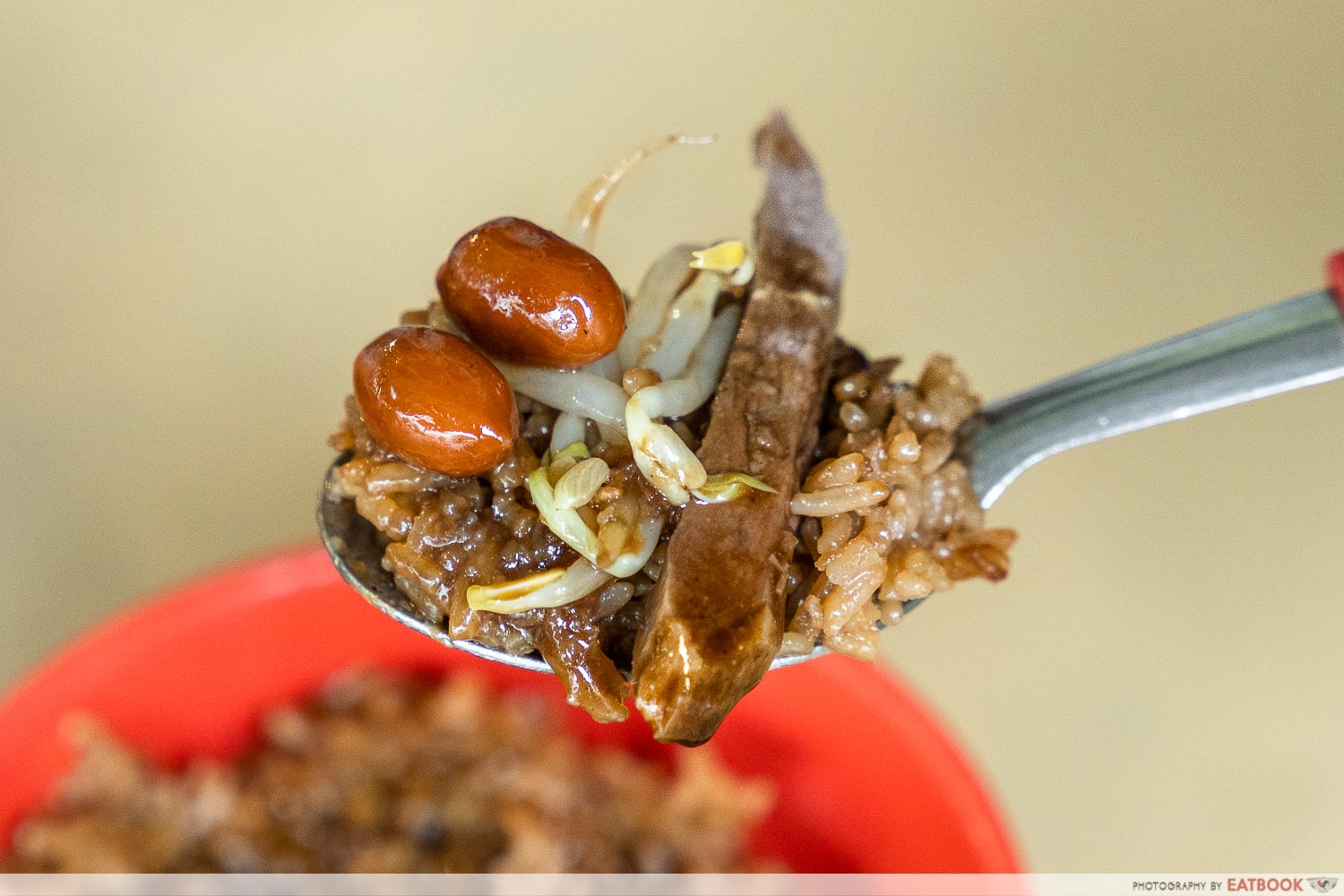 Along with your order of duck meat or platter, you get the choice between Duck Rice or Porridge. If you want more carbs, you can add on an extra bowl of either for $1. 
The bowl of duck rice is not only cooked with the braise, but also generously drizzled with more sauce on top.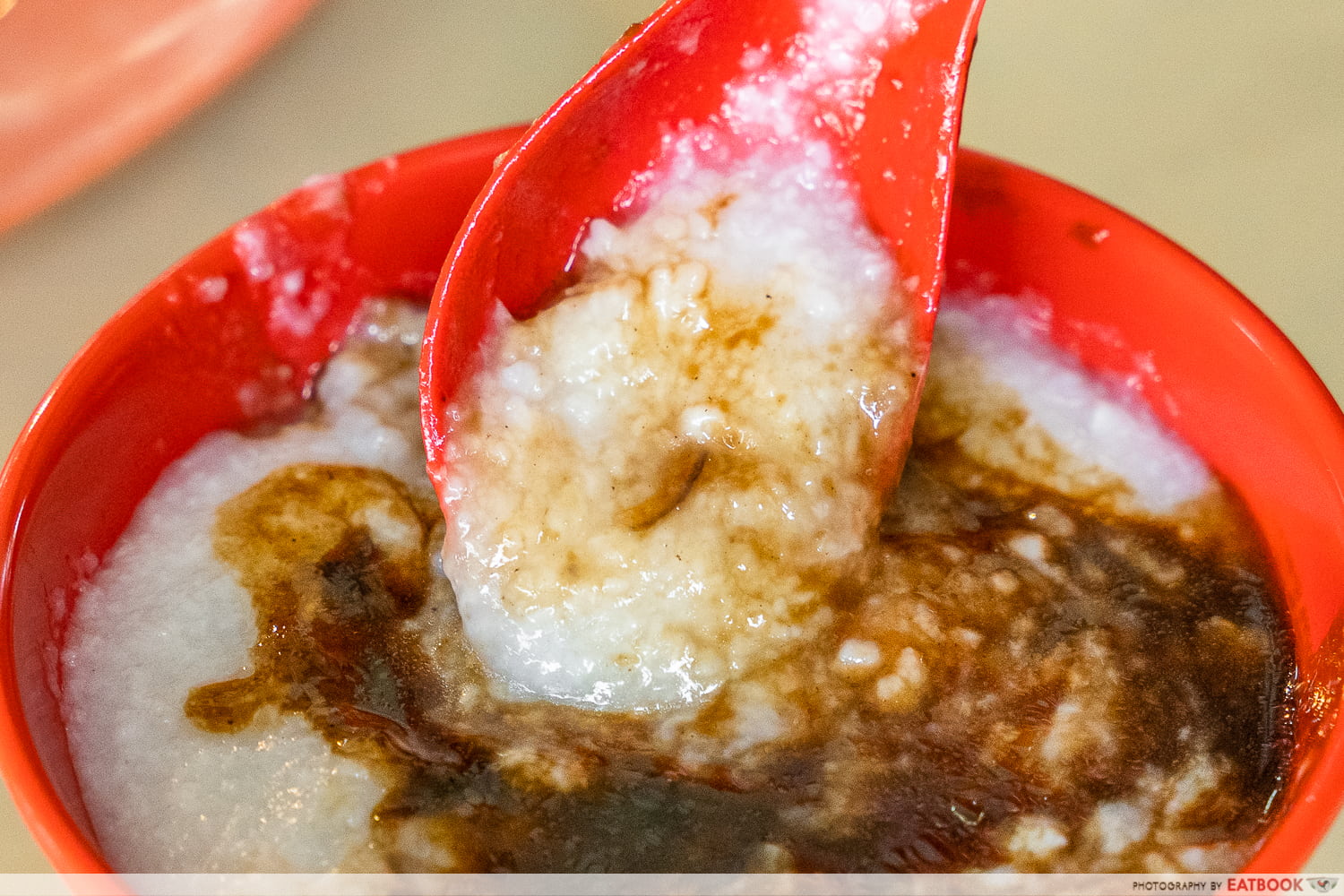 The thick porridge here is done in the Hainanese style: slightly creamy with visibly broken-up rice grains. A little braise sauce is also poured on top, but doesn't really affect the plain flavour much. 
I actually preferred the blander porridge  to the duck rice! With how jelak the braise can be, and how it's used to flavour the rice, eating the liao with porridge provided a way to dilute the intense flavours and made for a more balanced meal overall.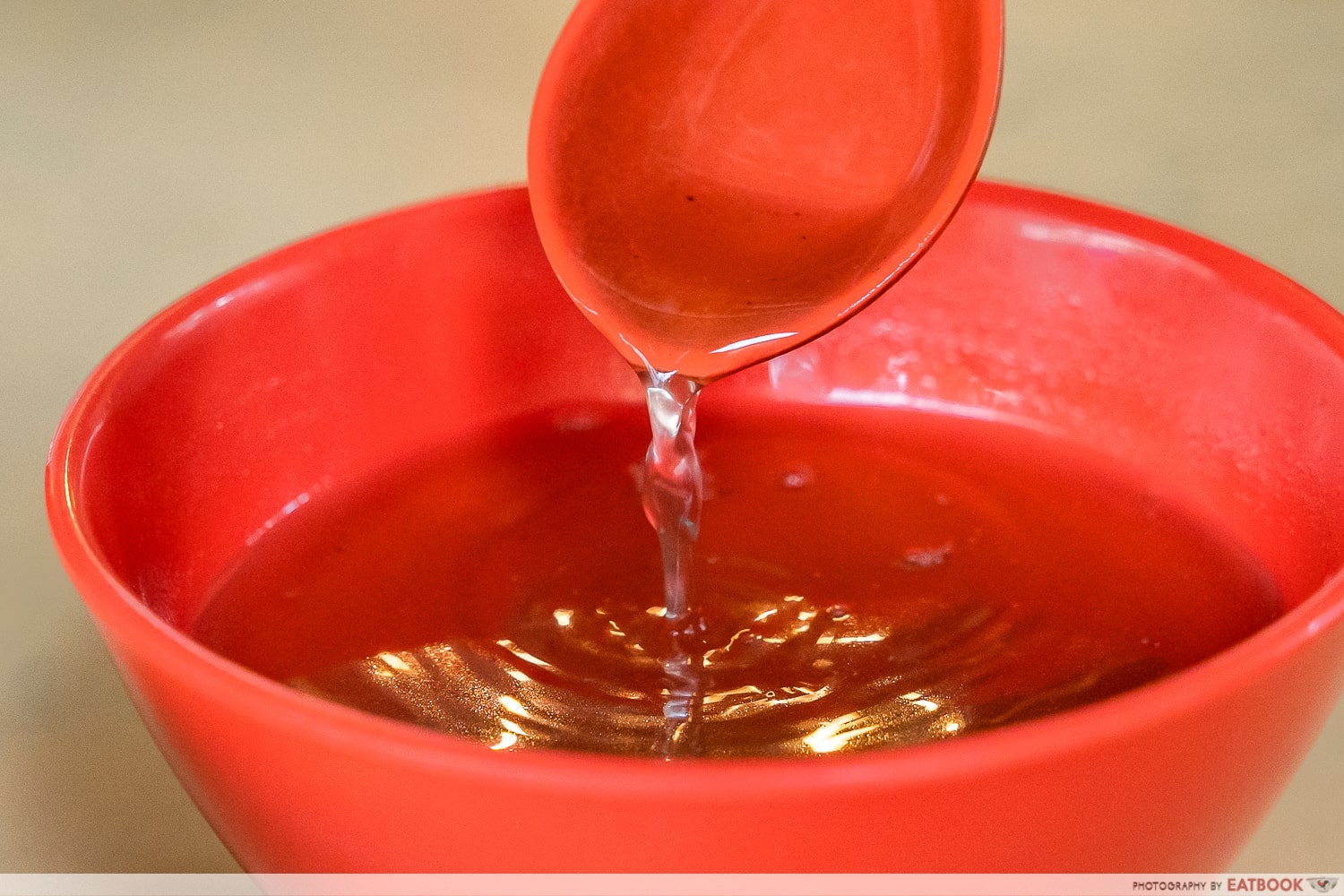 While Sia Kee is known for their duck rice, I think that if there ever was an award for the best duck soup in Singapore, they would be first in my books. 
Their rendition of duck soup is made from a robust mixture of herbs, duck parts, mushrooms, and vegetables, creating a thin, sweet, and clear broth that warmed us up in the rainy weather and was a perfect complement to the thick, salty duck braise. 
For anyone interested, I did the legwork and figured that the ideal way to enjoy a meal here is to scoop up some porridge, add some duck coated in savoury braise and spicy chilli, then wash it all down with a long sip of the sweet soup, experiencing all the flavours working in perfect harmony. 
Kin Men Seng Heng Review: Halal Braised Duck Rice At Amoy Street Food Centre
Ambience at Sia Kee Duck Rice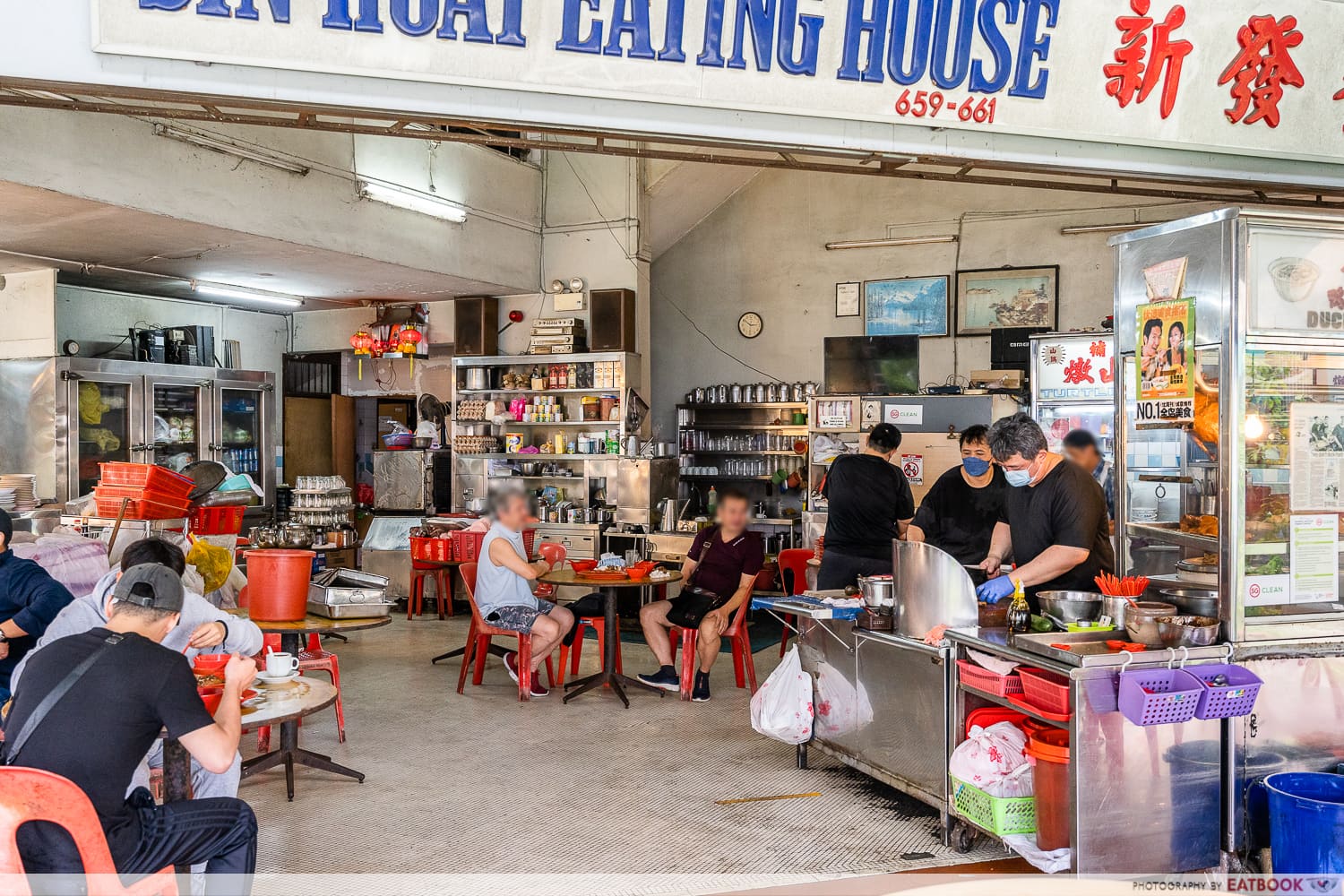 The stall is located in Sin Huat Eating House, which houses an infamous seafood zi char joint at night that was once Anthony Bourdain's favourite Singaporean restaurant. During the daytime, Sia Kee and a few other stalls occupy the old-school kopitiam which my friend said would have been right at home in Malaysia. 
The spaced-apart tables mean it didn't feel crowded despite the surprisingly full kopitiam at 3pm, but be warned that the birds here fear no man and you should keep an eye out above and around your table at all times. The auntie running the drinks stall occasionally brings out a bamboo pole to wave and yell at the birds, a futile endeavour which added to the overall ambience in its own special way. 
Sia Kee Duck Rice is a 10-minute walk from Aljunied MRT Station, or a seven-minute bus ride from the station to the nearest bus stop. They're only open for about five hours, with things winding down around the 3pm mark. 
The Verdict 
Despite being in a quiet corner of Geylang that seems to be frozen in time, and opening for only five hours a day, Sia Kee Duck Rice has been around for as long as their sauce has been simmering, for good reason. There are many stalls selling duck rice in Singapore, but Sia Kee's sauce has an incredibly unique and unforgettable taste you wouldn't find anywhere else. That sauce alone would have earned them a mention on any duck rice list worth reading, but the other components that the friendly brothers serve up, such as the duck meat and the soup, also pull their weight in maintaining this stall's legacy. 
Unfortunately, what made them stand out in my eyes also pulled them down, as it was terribly easy for all the other flavours to be lost in the sauce that almost everything was coated in, and I prefer a greater balance on my plate. But it's still pretty good, so I wouldn't mind a return trip to Geylang for another plate of Singapore's sauciest duck rice.
For a halal-friendly duck rice stall, check out our review of Kin Men Seng Heng, or read our braised duck rice guide! 
Address: 659-661 Lorong 35 Geylang, Singapore 389589
Opening hours: Sun-Fri 11am to 4pm
Tel: 9690 6606, 9690 9099, 9757 5255
Website
Sia Kee Duck Rice is not a halal-certified eatery.
13 Braised Duck Rice Stalls In Singapore That Your Teochew Or Hokkien Mother Will Love
Photos taken by Tan Zi Hui
This was an independent review by Eatbook.sg
Sia Kee Duck Rice Review: Famous Duck Rice With 44-Year-Old Braise In Geylang
Sia Kee Duck Rice Review: Famous Duck Rice With 44-Year-Old Braise In Geylang -

7.5/10
Summary
Pros:
– Good soup
– Tender meat, gizzard included
– Sauce has an incredibly unique flavour
Cons:
– All other flavours gets lost in the sauce
– The platter is kind of pricey
Recommended dishes: Mixed Duck Platter With Porridge ($24)
Opening hours: Sun-Fri 11am to 4pm
Address: 659-661 Lorong 35 Geylang, Singapore 389589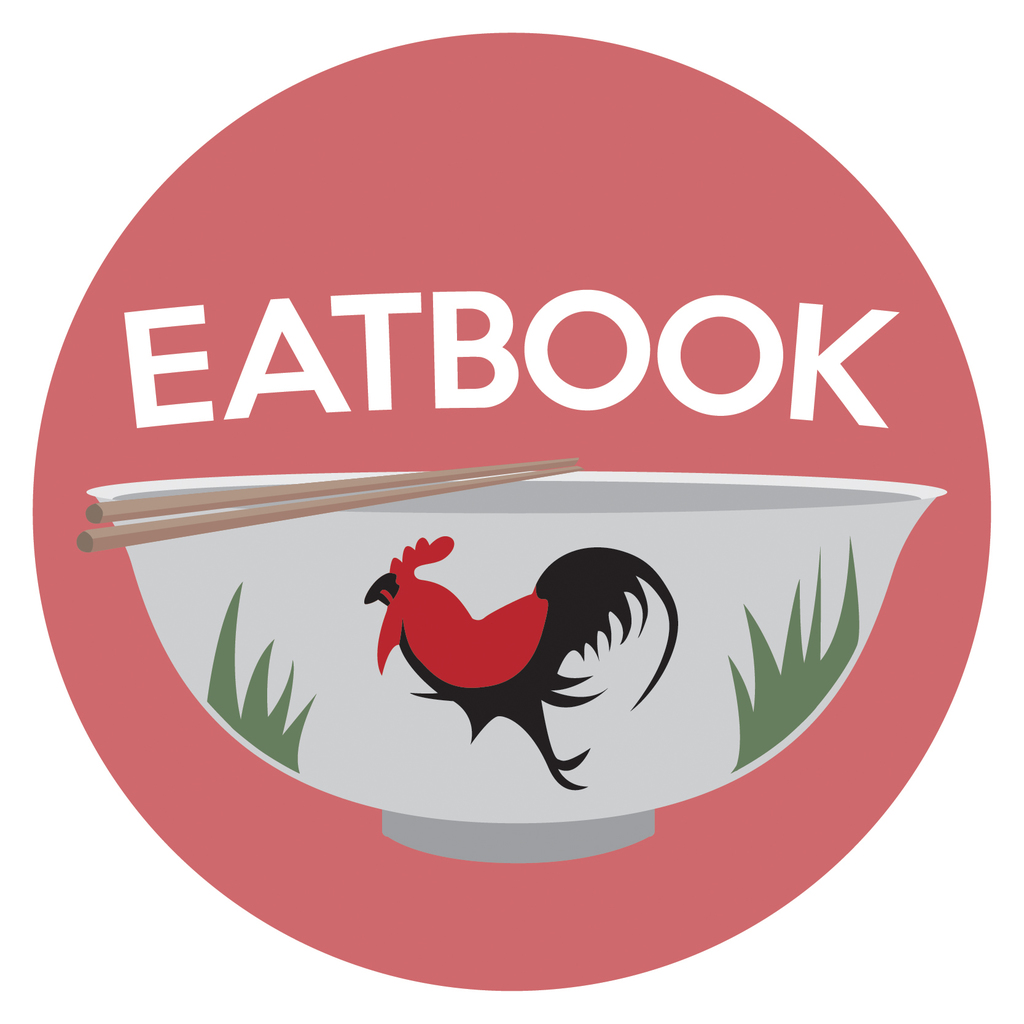 Drop us your email so you won't miss the latest news.