Kin Men Seng Heng has halal braised duck rice at Amoy Street Food Centre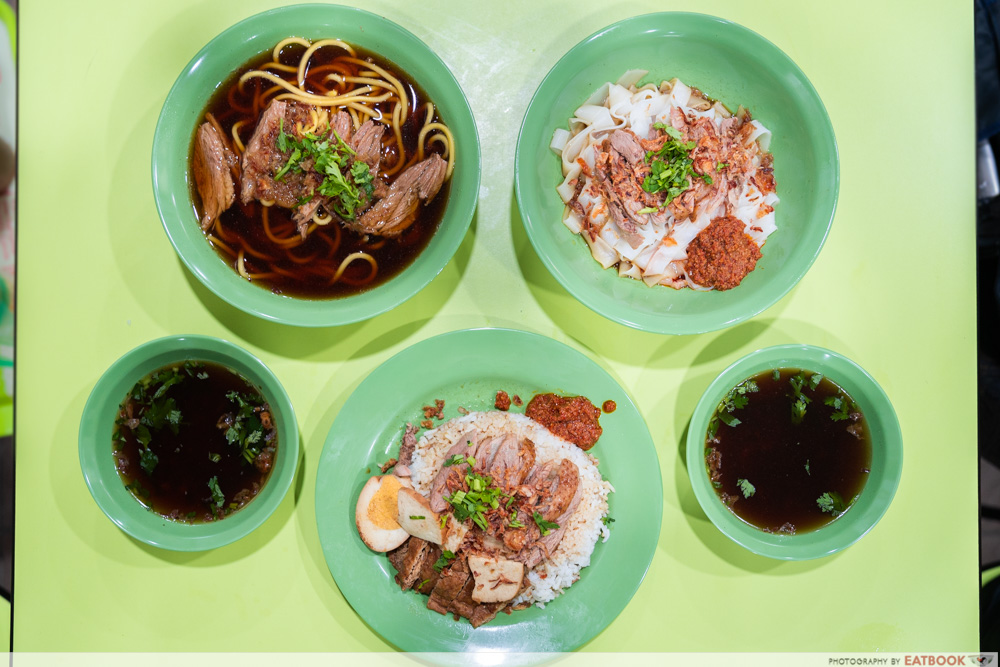 Kin Men Seng Heng, a relatively new stall located on the second floor of Amoy Street Food Centre, clearly believes in preserving tradition. After all, its signboard proudly states "Hokkien Braised Duck since 1976", and the menu features the story of one of the co-owners' grandfather, who invented the recipe that the stall's food is based on.
But that didn't stop it from getting halal-certified. The aforementioned co-owner tells us that this is because he promised his business partner, who is a Muslim, that their first venture together would be a halal stall. He held up his end, and thus, Kin Men Seng Heng was born.
Traditional yet inclusive duck rice sounded great to my ears, so I headed down to the stall to give it a shot.
18 Korean Restaurants In Tanjong Pagar And The CBD For Korean Barbecue And Army Stew
Food at Kin Men Seng Heng
There are only three mains you can order at Kin Men Seng Heng. Each of them features slices of the stall's signature duck, but with different types of carbs: there's rice, yellow noodles, and kway teow. These cost $4 on their own, but you can upgrade to the set that costs $6, which includes tau pok, tau kwa, and braised egg.
Anyway, we started with the Duck Rice Set ($6).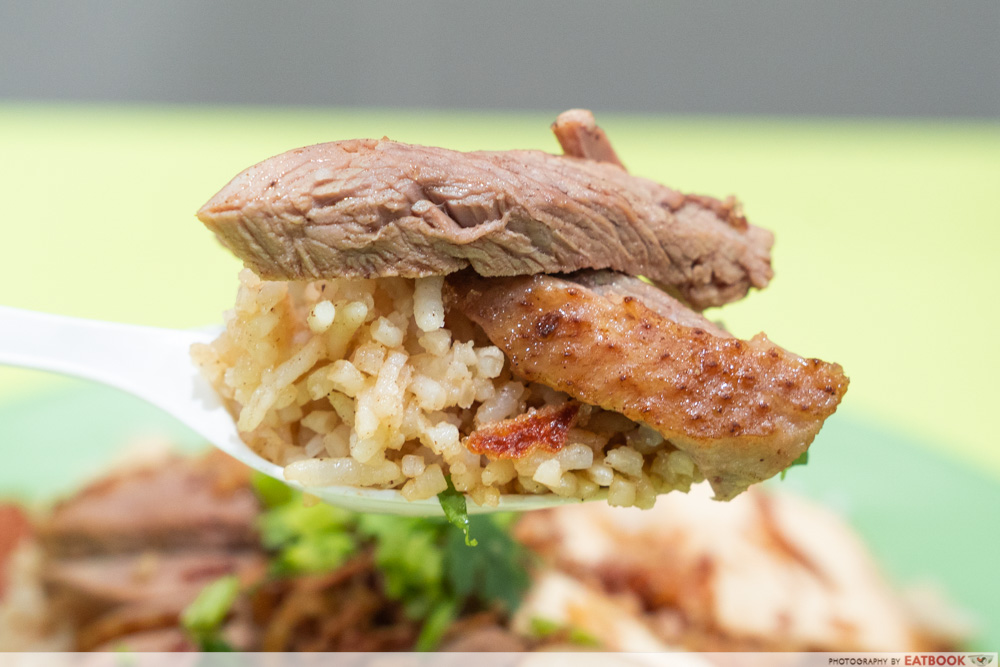 It goes without saying that the duck itself is the most important component of duck rice, but sadly, the slices we got were a mixed bag. While I really appreciated the flavourful braising, which had an aromatic, herbal scent, the meat itself was a little tough and dry.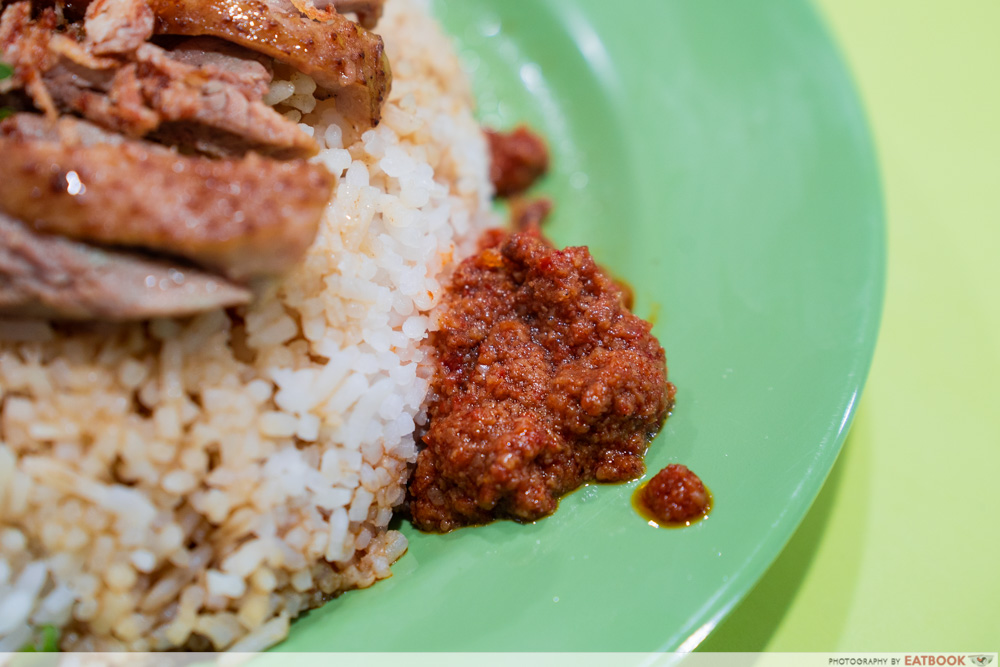 But when I added some chilli to the duck, the brilliant mixture of piquant and herbal flavours helped me forget about the meat's faults, even if momentarily. The chilli paste had this gritty, almost sand-like texture, and boasted a notable spicy kick.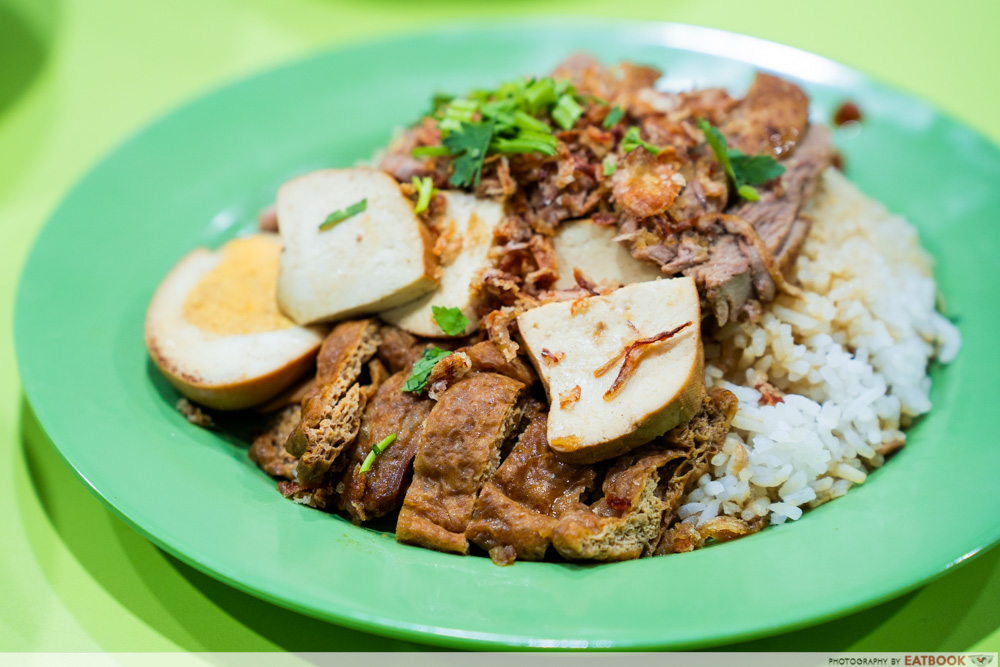 Since this plate was part of a set, it's worth talking about the other side dishes, too. The soft tau pok and tau kwa worked as a pair, absorbing the braising gravy that would just burst in your mouth when you bit into them.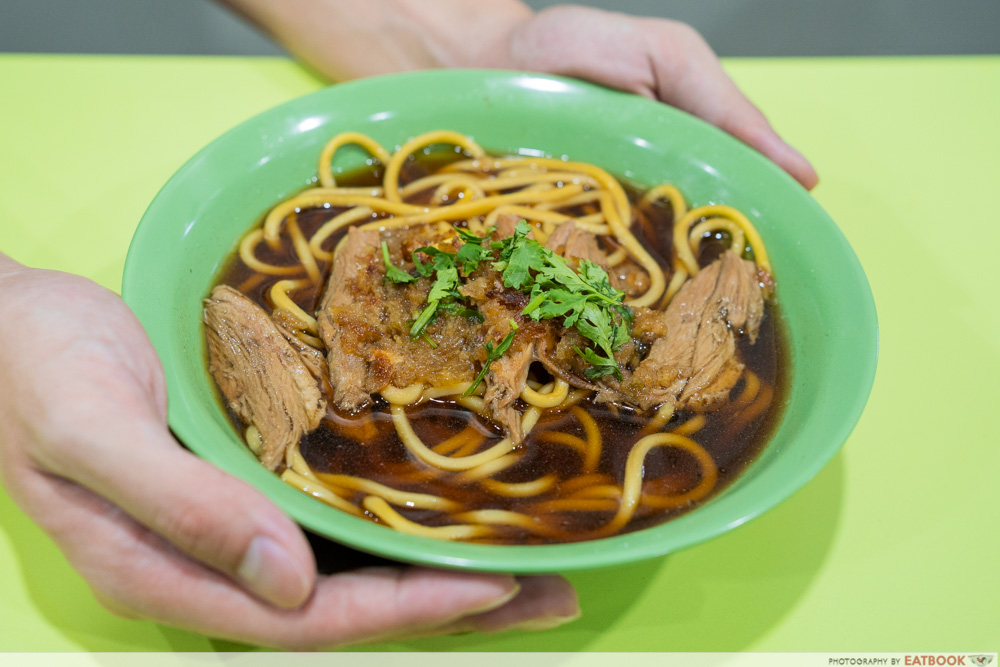 After trying Kin Men Seng Heng's braised duck with plain white rice, we wanted to see how it'd fare with Yellow Noodles and Soup ($4). The soup, which was in equal parts herby and peppery, surprised me with how delicious it was. Since its characteristics were somewhat similar to the braising sauce in the previous dish, the duck here retained a lot of what made it good before.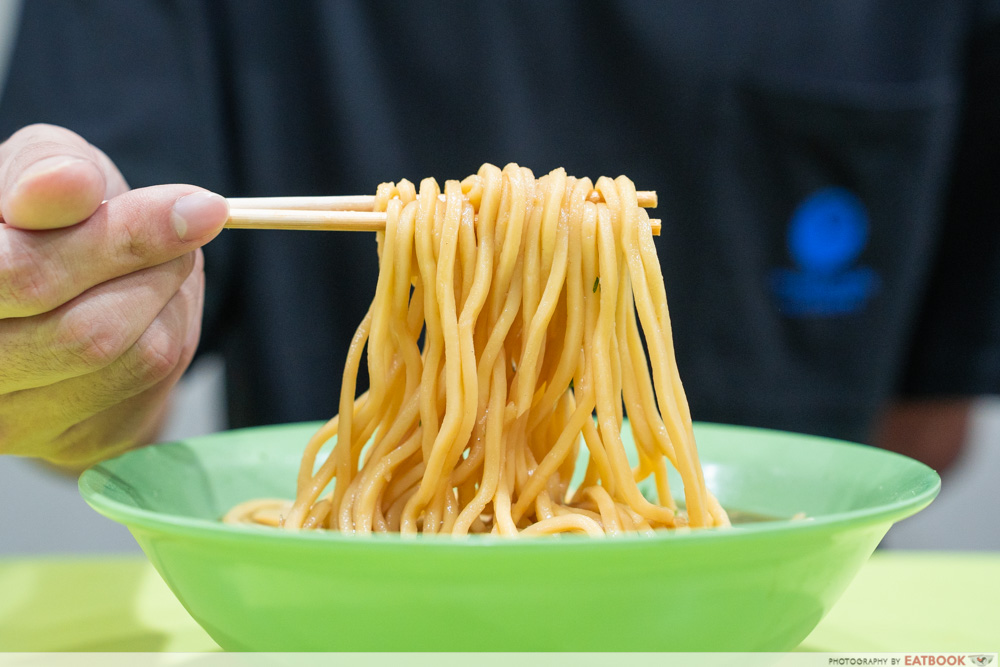 The yellow noodles, meanwhile, were just fine. They were decently springy and didn't have a strong alkaline taste.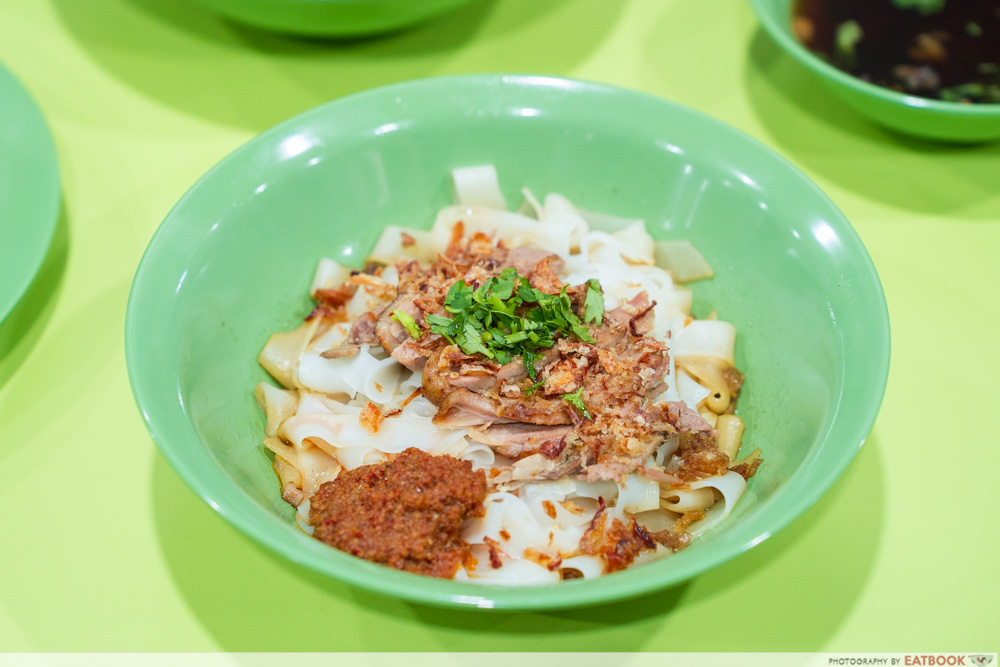 Since our previous bowl consisted of wet noodles, we decided to get the Kway Teow Dry ($4) as our last dish. The herbal soup from before was instead served separately, while chilli paste was plonked onto the pile of white, flat noodles.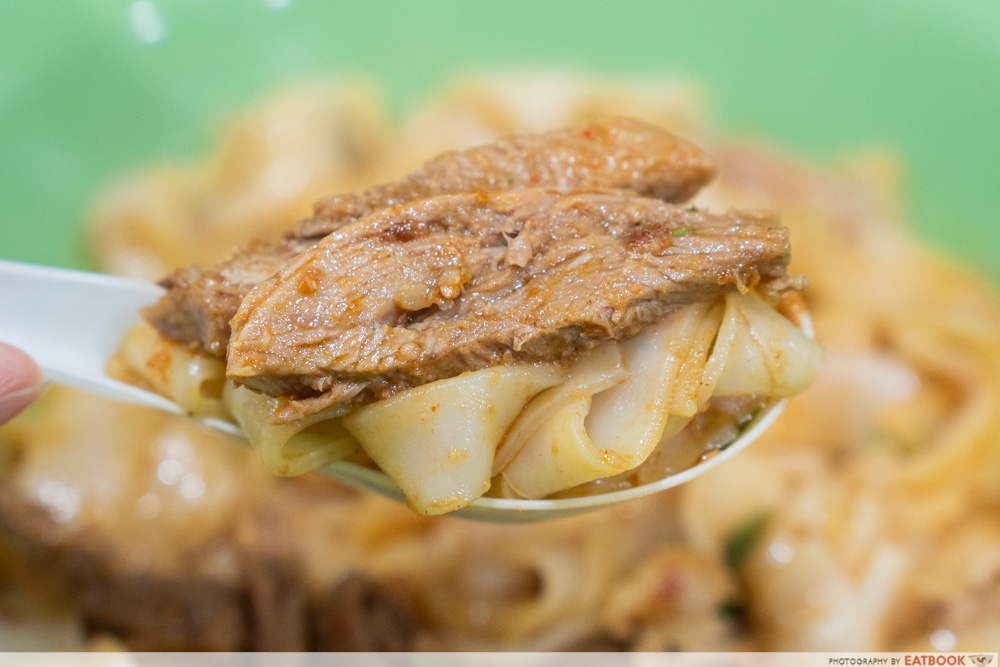 The kway teow noodles were commendably smooth, and when coated with the chilli and the duck's braising sauce, tasted good, too.
Ambience at Kin Men Seng Heng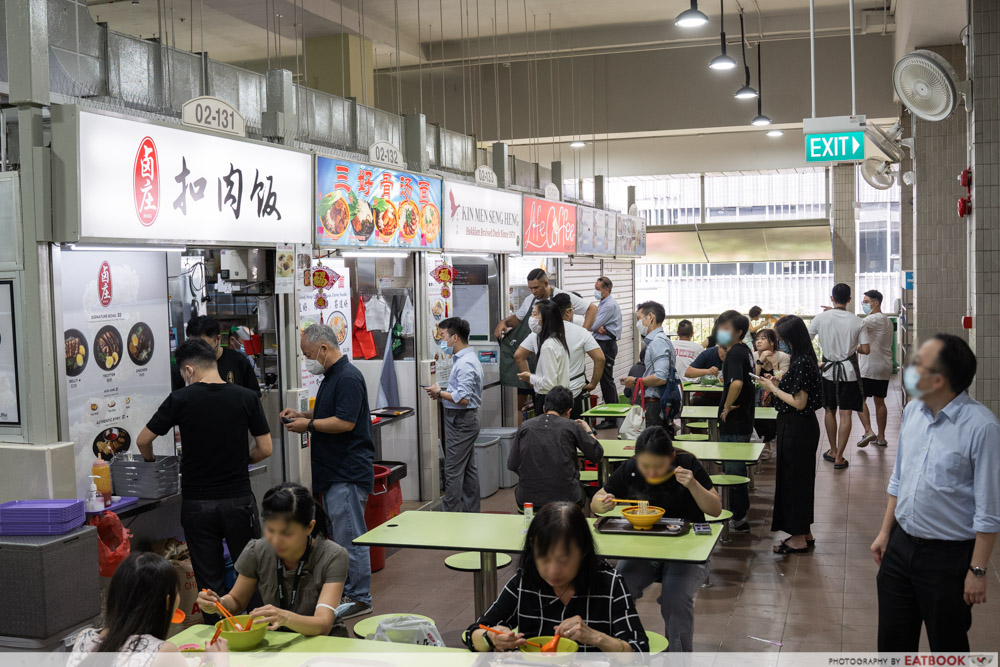 Kin Men Seng Heng is located on the second floor of the famed Amoy Street Food Centre. It's a spacious place to dine at, but lunch hours typically draw plenty of office workers and tourists. Go early if you want to secure seats easily.
Amoy Street Food Centre is a two-minute walk from Tanjong Pagar MRT Station.
The verdict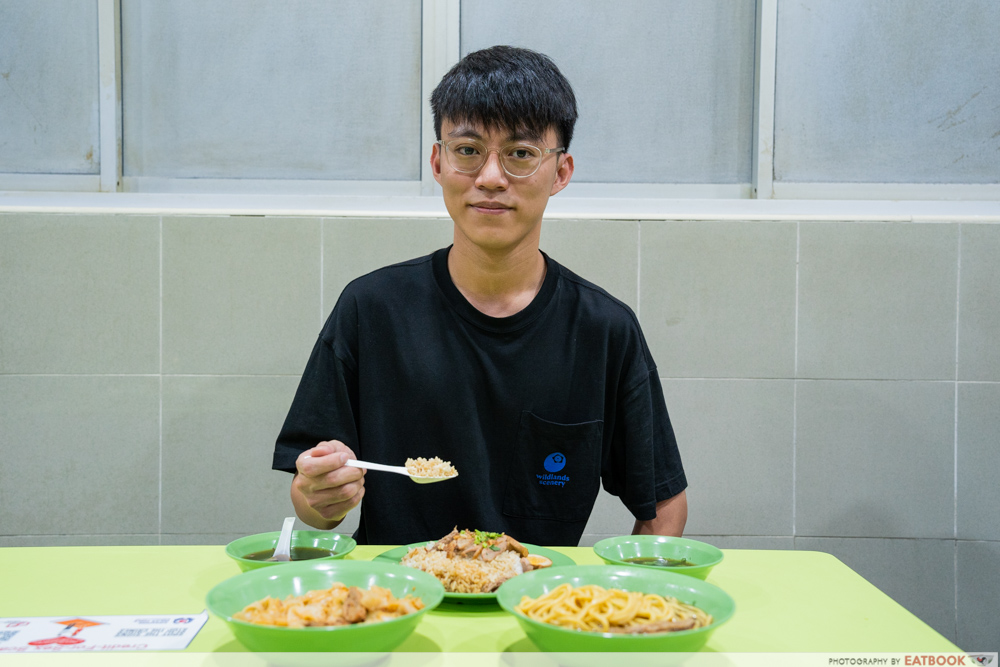 Overall, I enjoyed the flavours of Kin Men Seng Heng's dishes. I enjoyed the duck's delicious braising and the wonderful herbal soup, but was slightly let down by the somewhat tough meat. It's still worth a shot, though, especially since there aren't many such stalls that are also halal-certified.
For another good duck rice stall to try, have a read of our Ming Fa Duck Rice review. If you're a fan of Indonesian bakmi, check out our KULON review.
Address: 7 Maxwell Road, #02-133, Amoy Street Food Centre, Singapore 069111
Opening hours: Sun-Fri 9am to 2pm
Tel: 8892 7237
Website
Kin Men Seng Heng is a halal-certified eatery.
Ming Fa Duck Rice Review: Famous Hougang Duck Rice With Braised Pig Skin
Photos taken by Gan Guat.
This was an independent review by Eatbook.sg.
Kin Men Seng Heng Review: Halal Braised Duck Rice At Amoy Street Food Centre
Kin Men Seng Heng Review: Halal Braised Duck Rice At Amoy Street Food Centre -

7.5/10
Summary
Pros 
– Duck had a flavourful braising
– Herbal soup was delectable
Cons
– Duck meat was a little dry and tough
Recommended dishes: Duck Rice Set ($6), Duck with Yellow Noodles and Soup ($4)
Opening hours: Sun-Fri 9am to 2pm
Address: 7 Maxwell Road, #02-133, Amoy Street Food Centre, Singapore 069111