Yakiniku-GO x Lennardy collaboration has Wagyu fat rice and more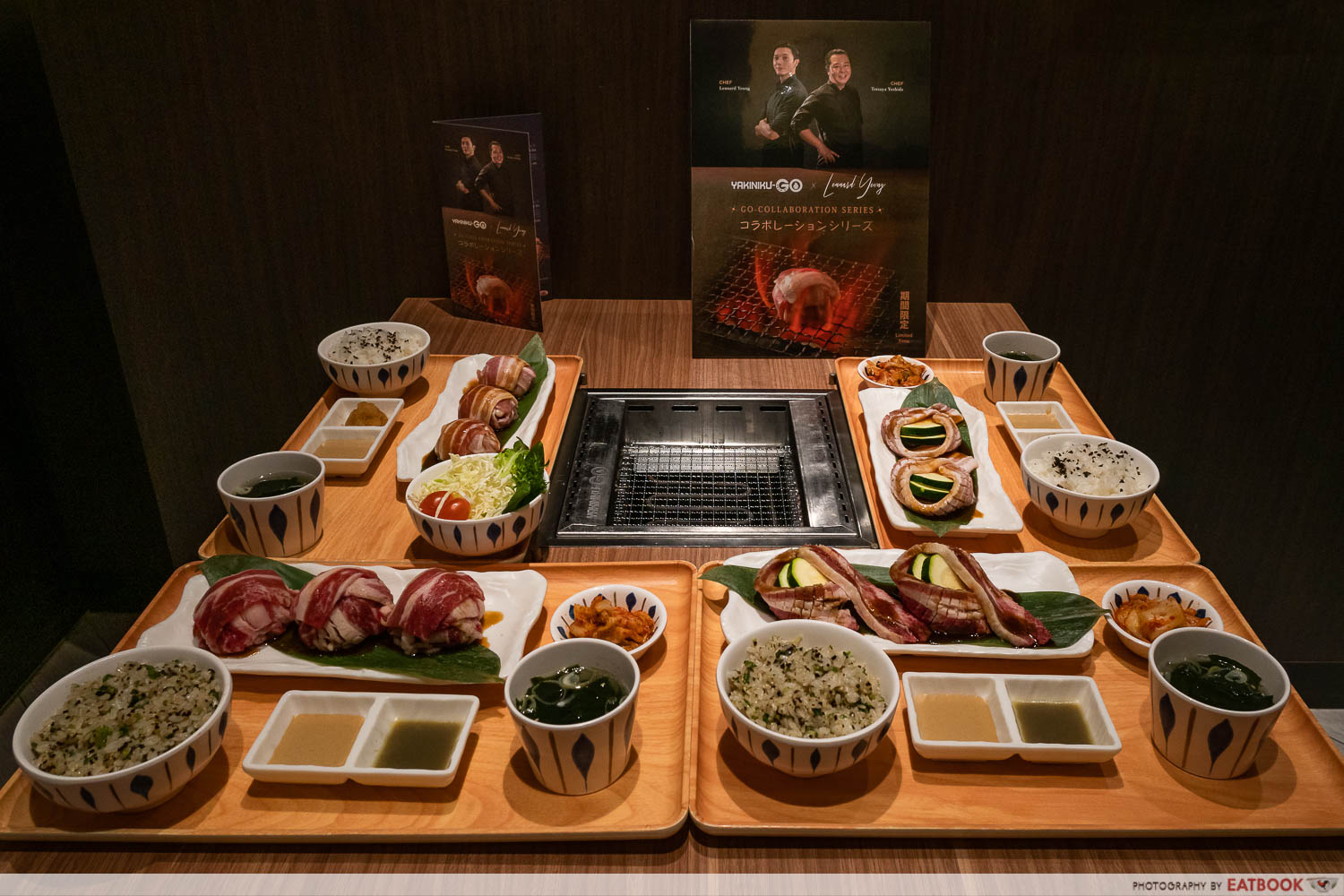 Yakiniku-GO has come a long way in the two years since they first came on the scene at Seletar Mall. With six locations across the island, including their premium Yakiniku-GO Plus concept, and having introduced new pork items on the menu, they're not resting on their laurels. Their latest hurrah is a collaboration with IG-famous chef personality Lennardy, or Lennard Yeong. This limited-time menu launches across all their outlets from tomorrow, 13 April 2023.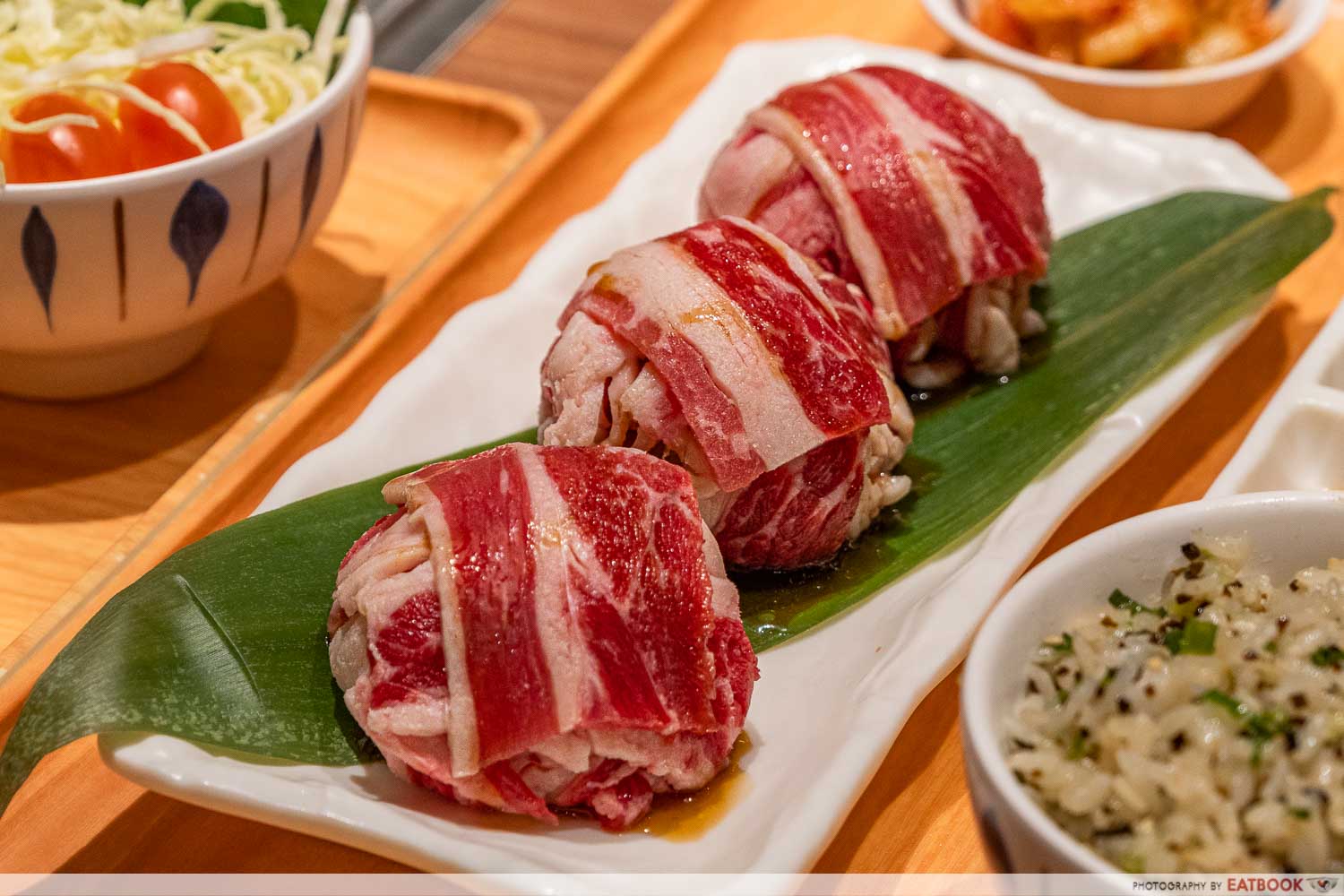 This collaboration menu will only run for a limited time, till 31 July, and features four sets of beef and pork, as well as new dipping sauces that Lennard created together with Head Chef Tetsuya Yoshida.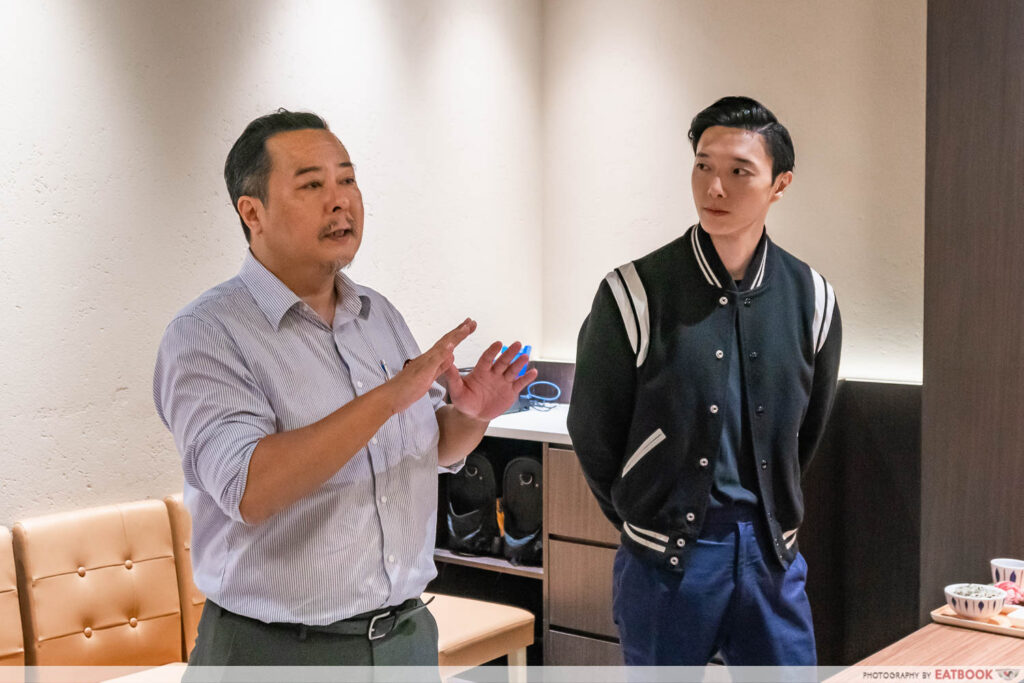 And if you have never heard of @lennardy (on the right of the photo above), consider this your introduction: the former engineer and self-taught chef has 250k followers on Instagram, more than 990k followers on TikTok, was one of the finalists on MasterChef Asia back in 2015. He loves Japanese cuisine, so this collaboration comes as no surprise at all.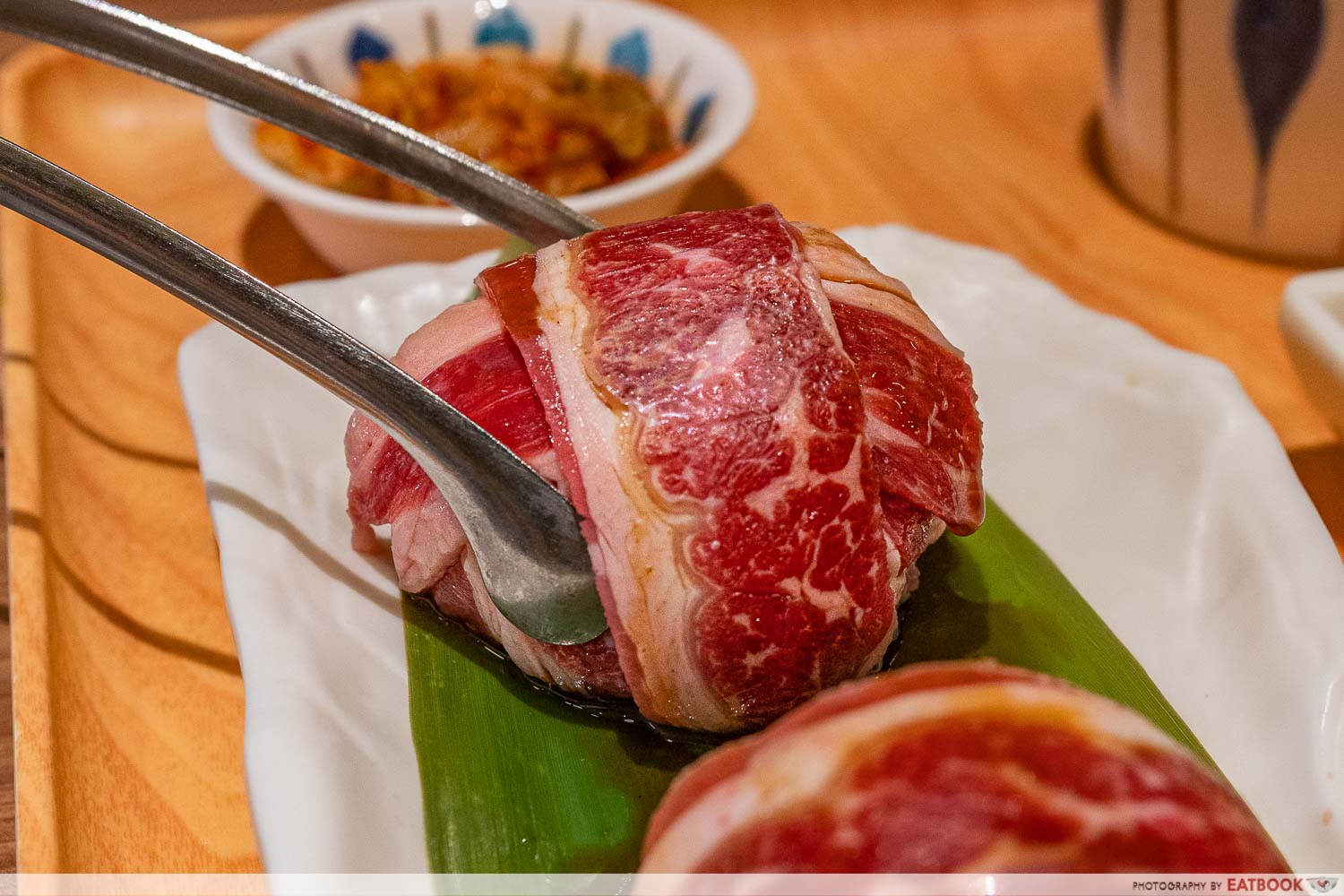 Start with the Beef Bomb Set ($22.80++), which stars Karubi beef wrapped around soya sauce-marinated garlic cloves.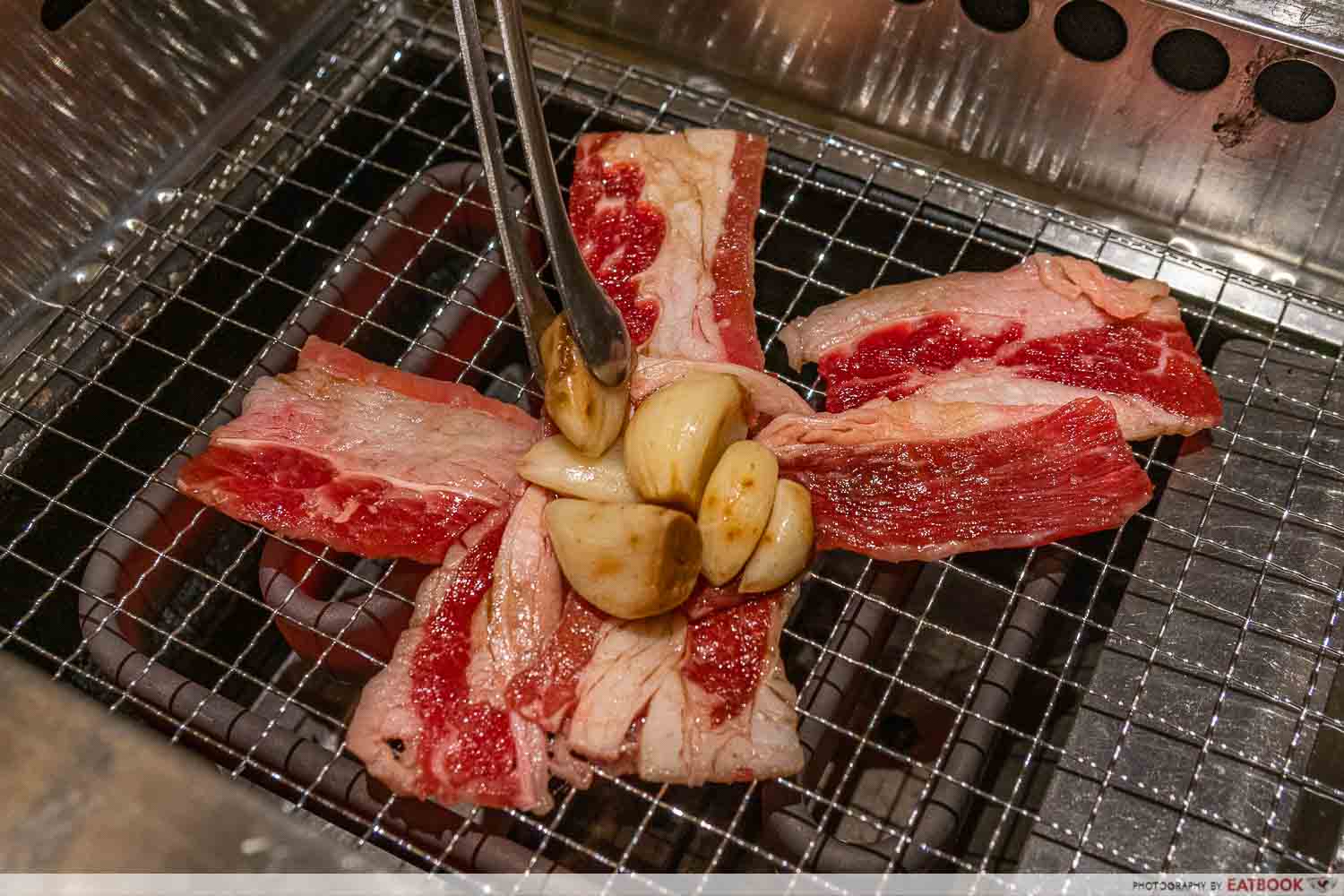 You may be tempted to grill the entire beef bomb as is, but unwrap it so every slice of beef is well-cooked.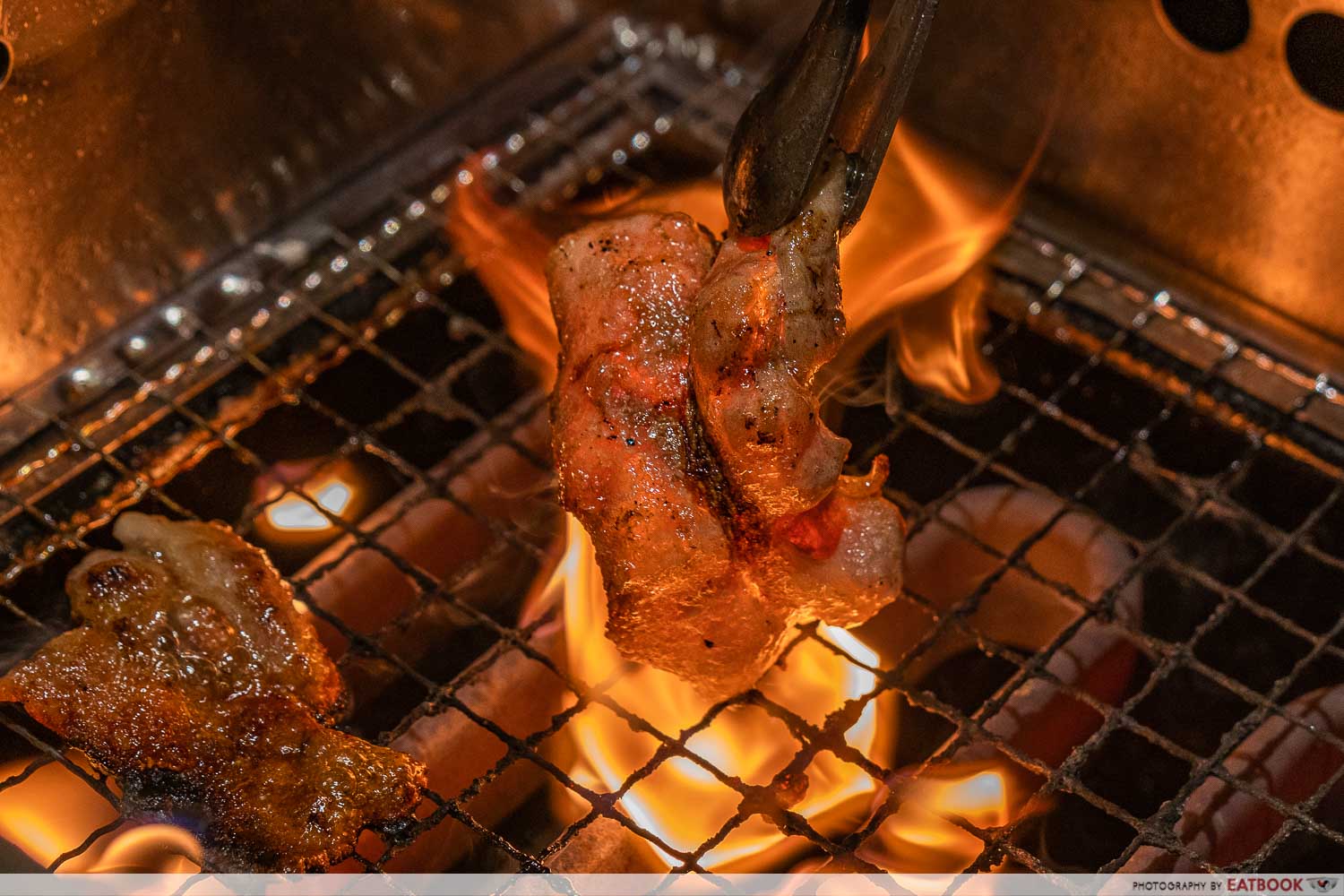 Keep an eye on the garlic—it tends to burn easily when the grill gets hot and the dripping fat starts flaming up!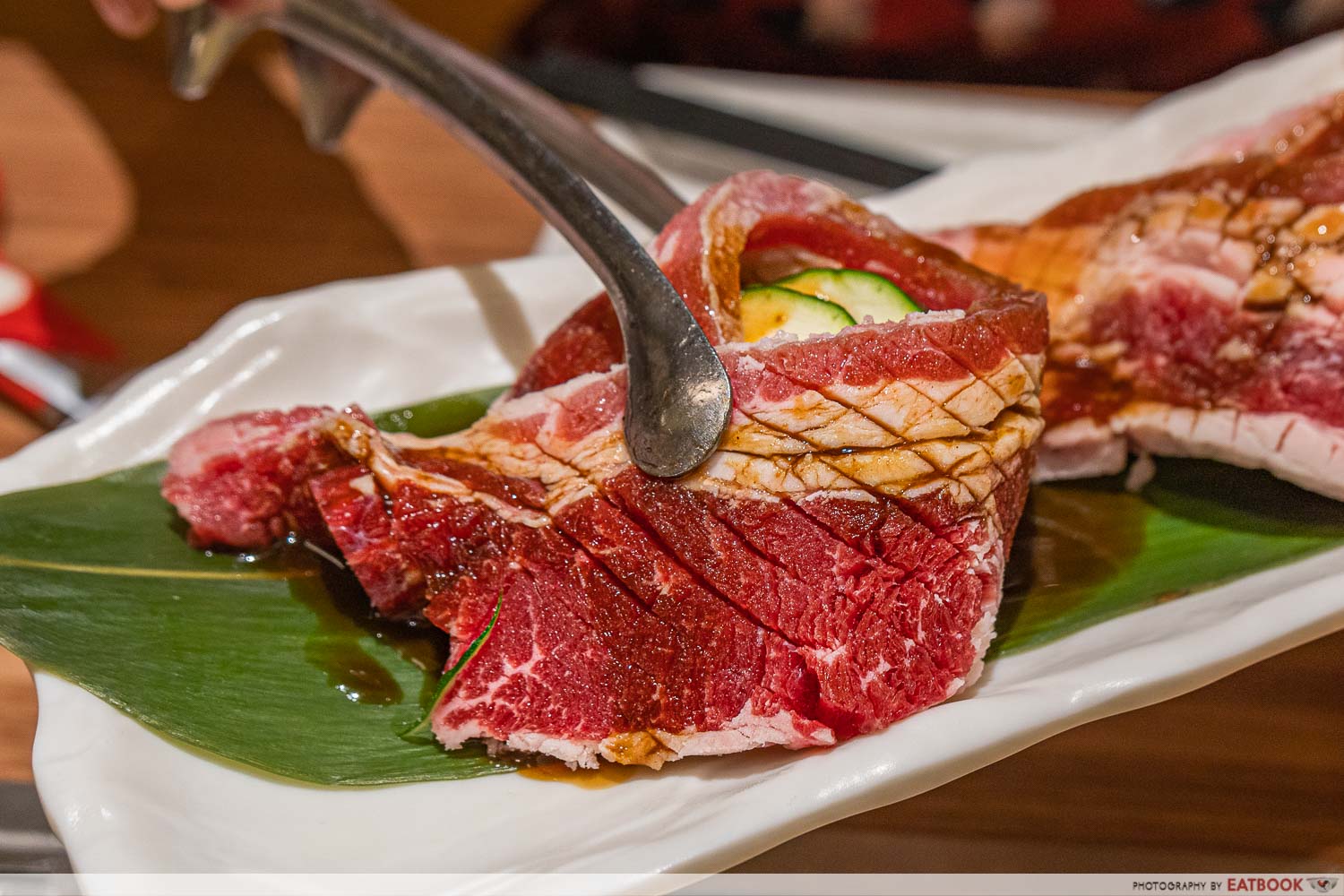 The other beef item on this Yakiniku-GO x Lennardy collaboration is the Double Dragon Beef Set ($20.80++), where much thicker, longer slices of the same beef short plate are wrapped around zucchini slices.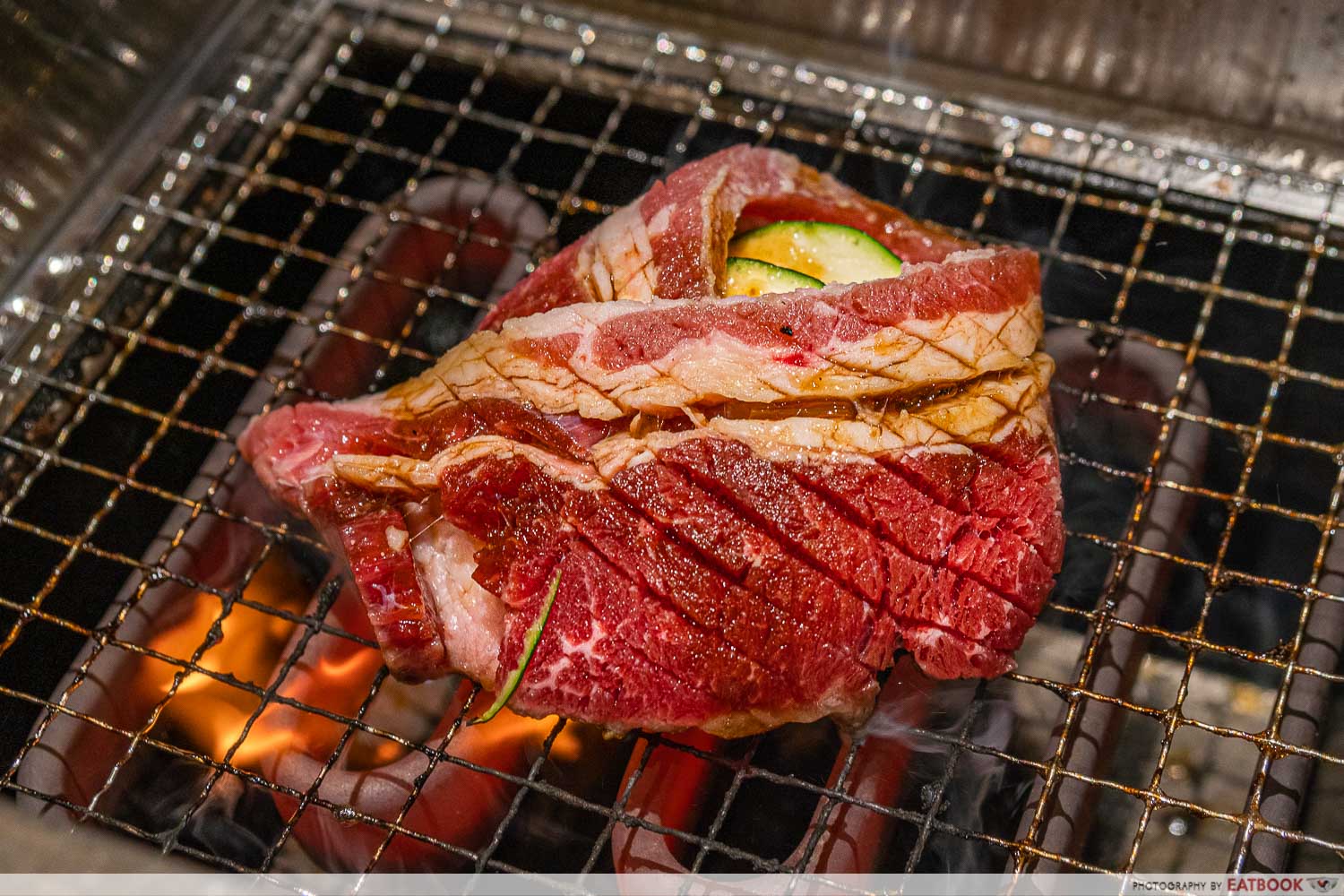 The short plate here stars diamond cut-scoring across the meat, allowing for a more even cooking process.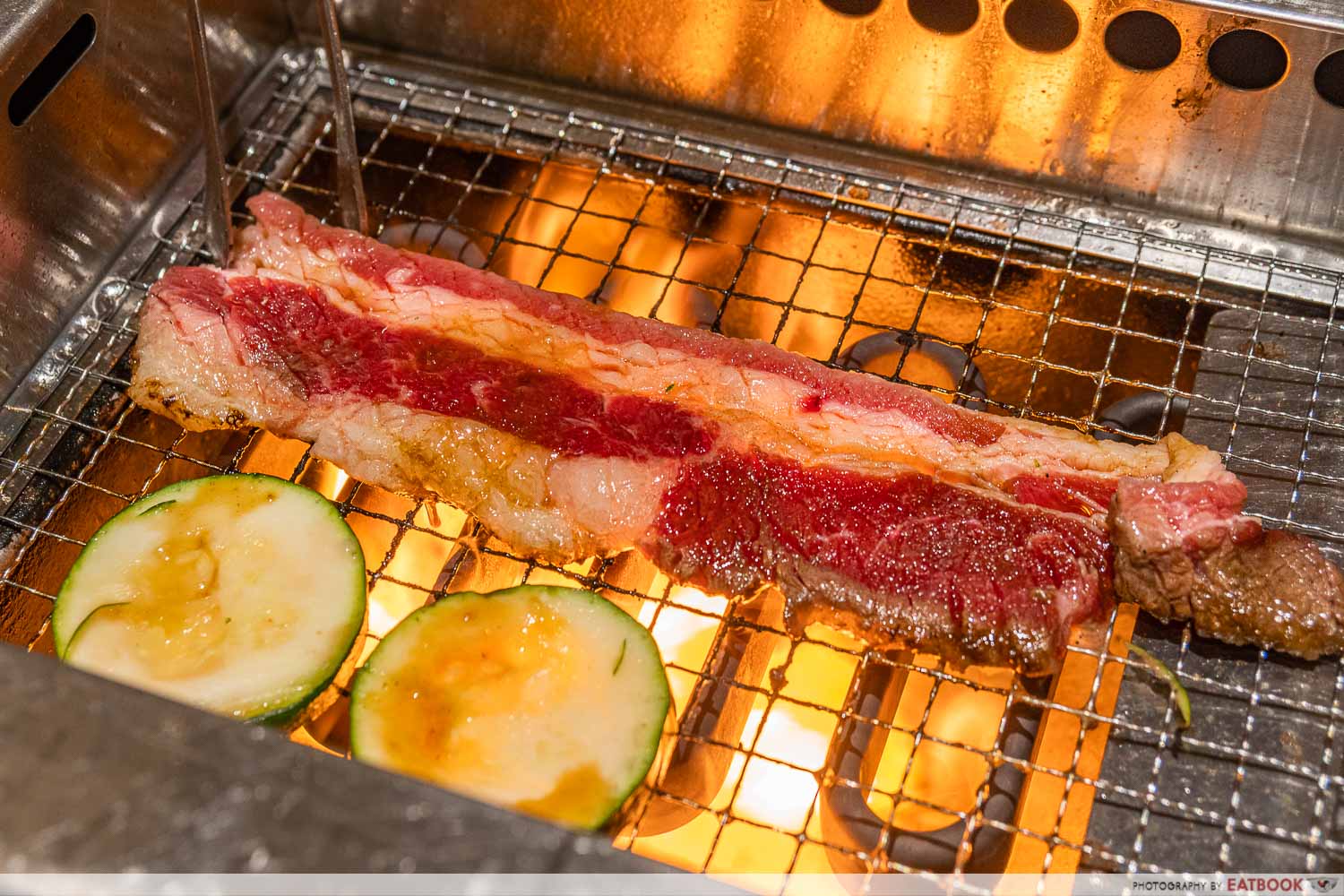 Every table is also given a pair of scissors so you can slice up the meat when it's almost done being grilled, rather like you'd do at KBBQ.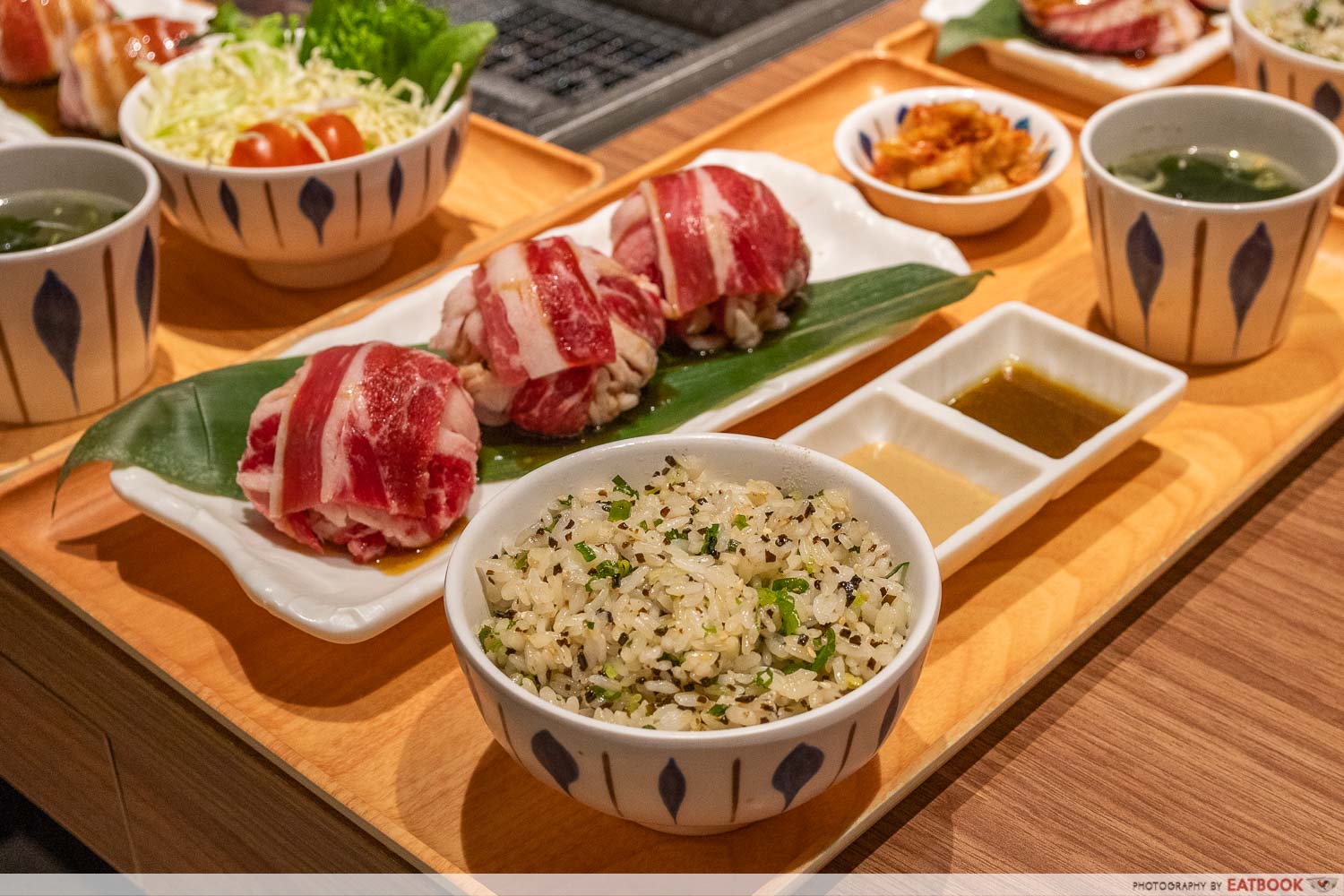 With every beef set that you order, you'll be served a bowl of Wagyu fat seasoned rice, a most indulgent creation that is speckled with chopped shio konbu, or salted kelp, as well as thinly sliced scallions.
If you're looking to up the ante on this, simply drape your meats, fresh off the grill, on the rice. All those flavourful drippings will definitely elevate this bowl even further.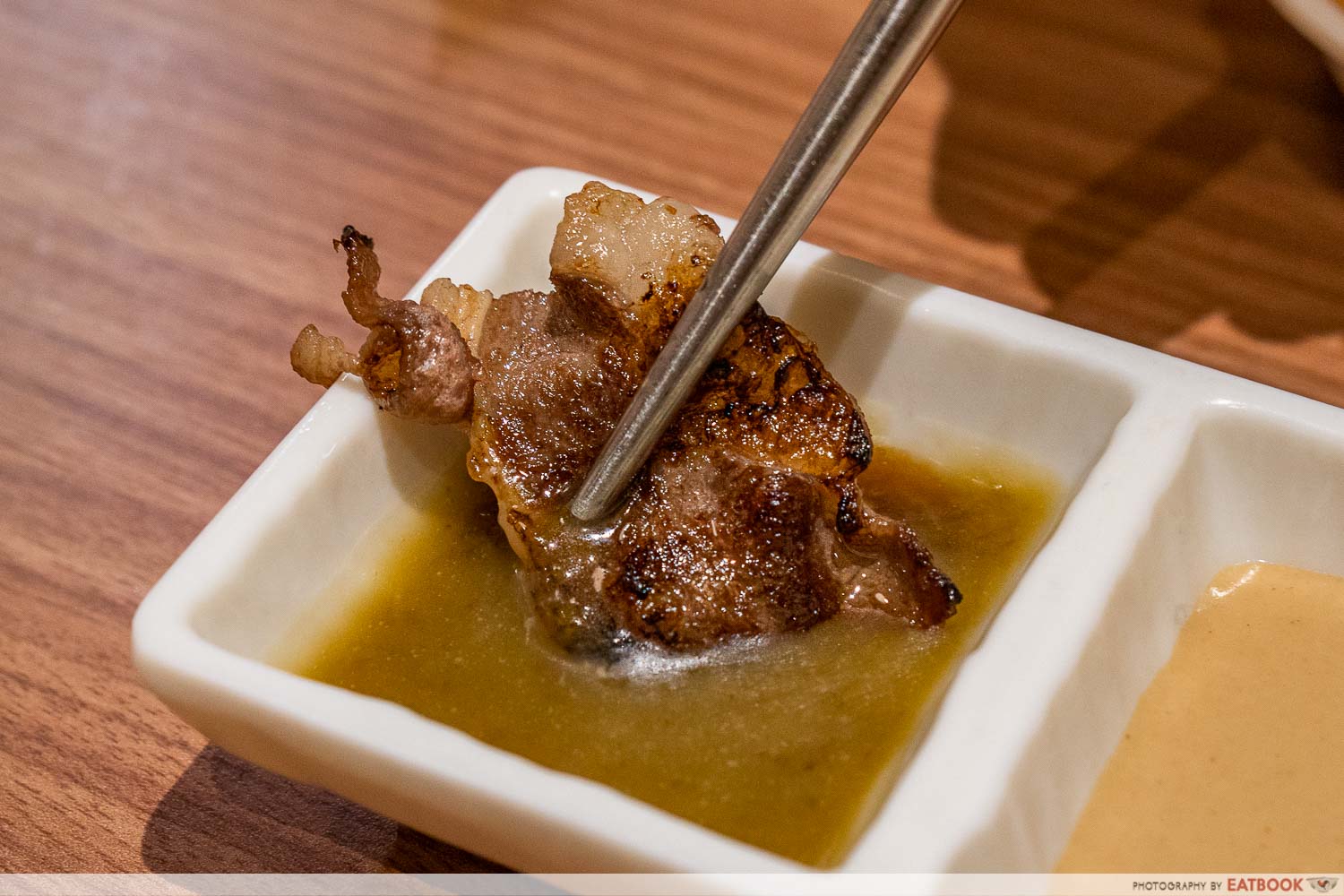 The beef sets are also accompanied by a duo of dips, once again conceptualised by Lennard and Chef Yoshida. You'll get a yuzu kosho ponzu that cuts through the fatty, smoky flavours, and a goma tare, which adds a nutty creaminess to each bite.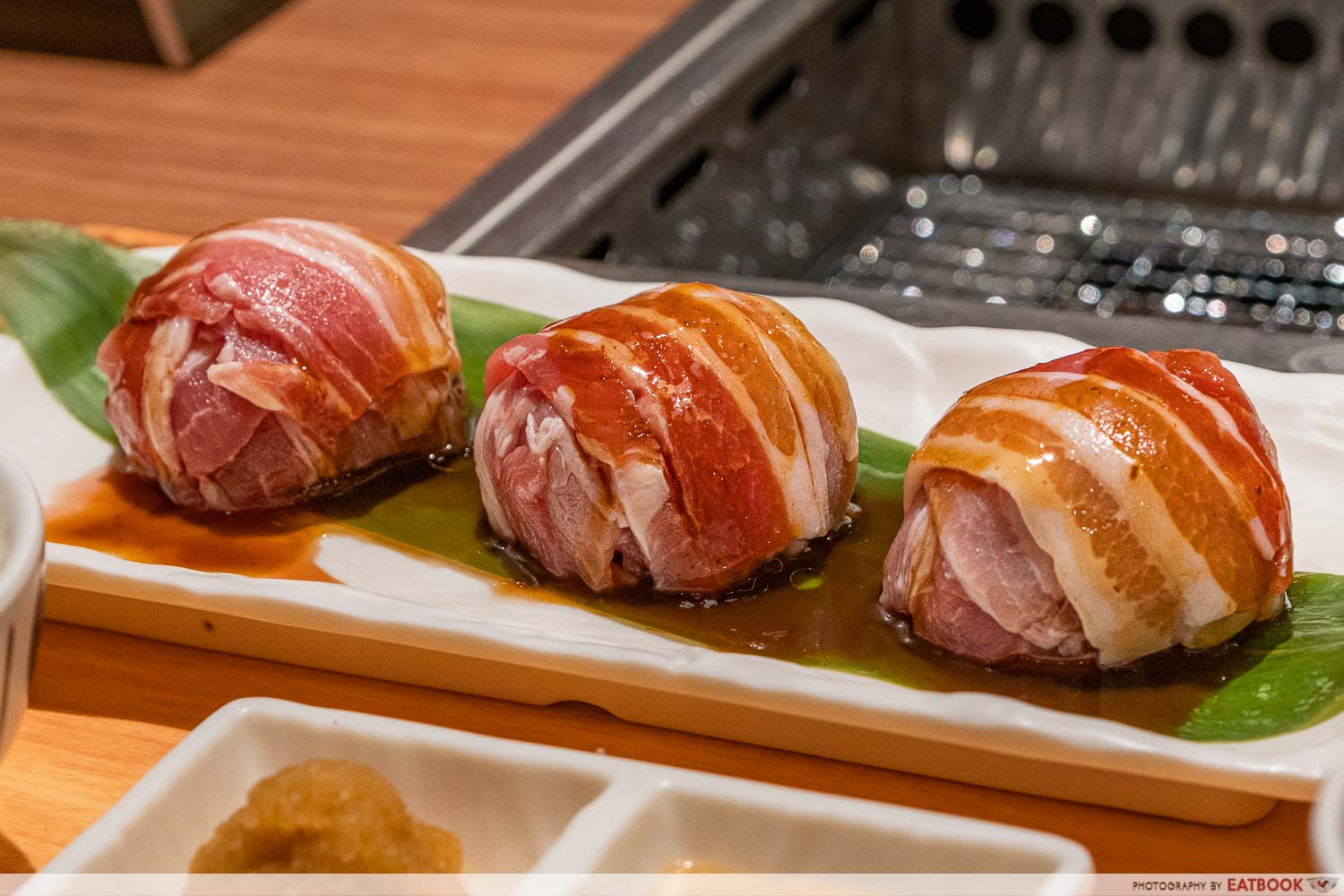 Then, there's the Pork Bomb Set ($21.80++), where premium Duroc pork belly is wrapped around the same pickled garlic.
12 Yakiniku Places In Singapore For Your Japanese BBQ Fix, From $3.50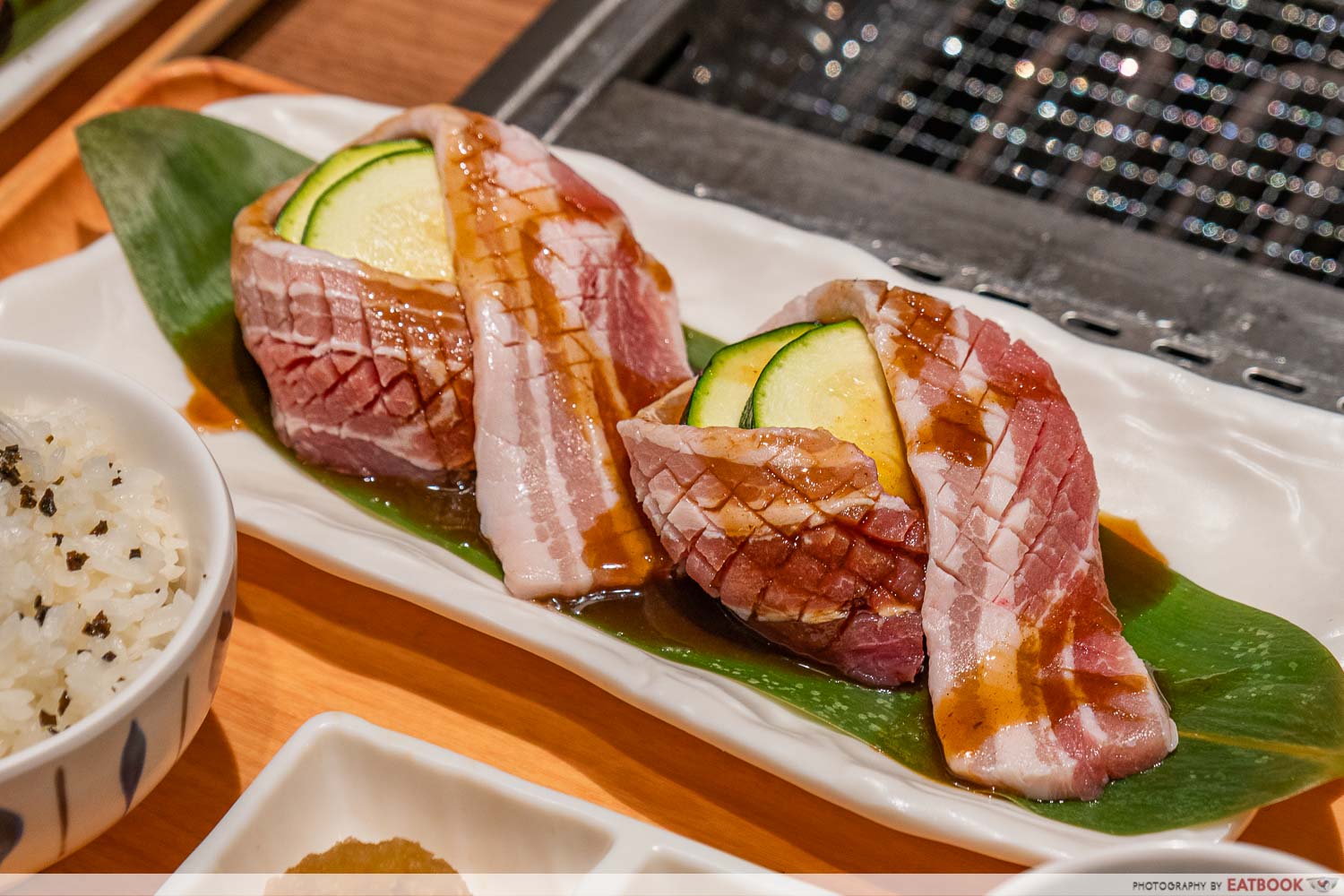 Its thick-cut alternative is Double Dragon Pork Set ($19.80++); both pork sets on this Yakiniku-GO x Lennardy collaborative menu are served with plain rice dressed with shio konbu for a lighter carb option.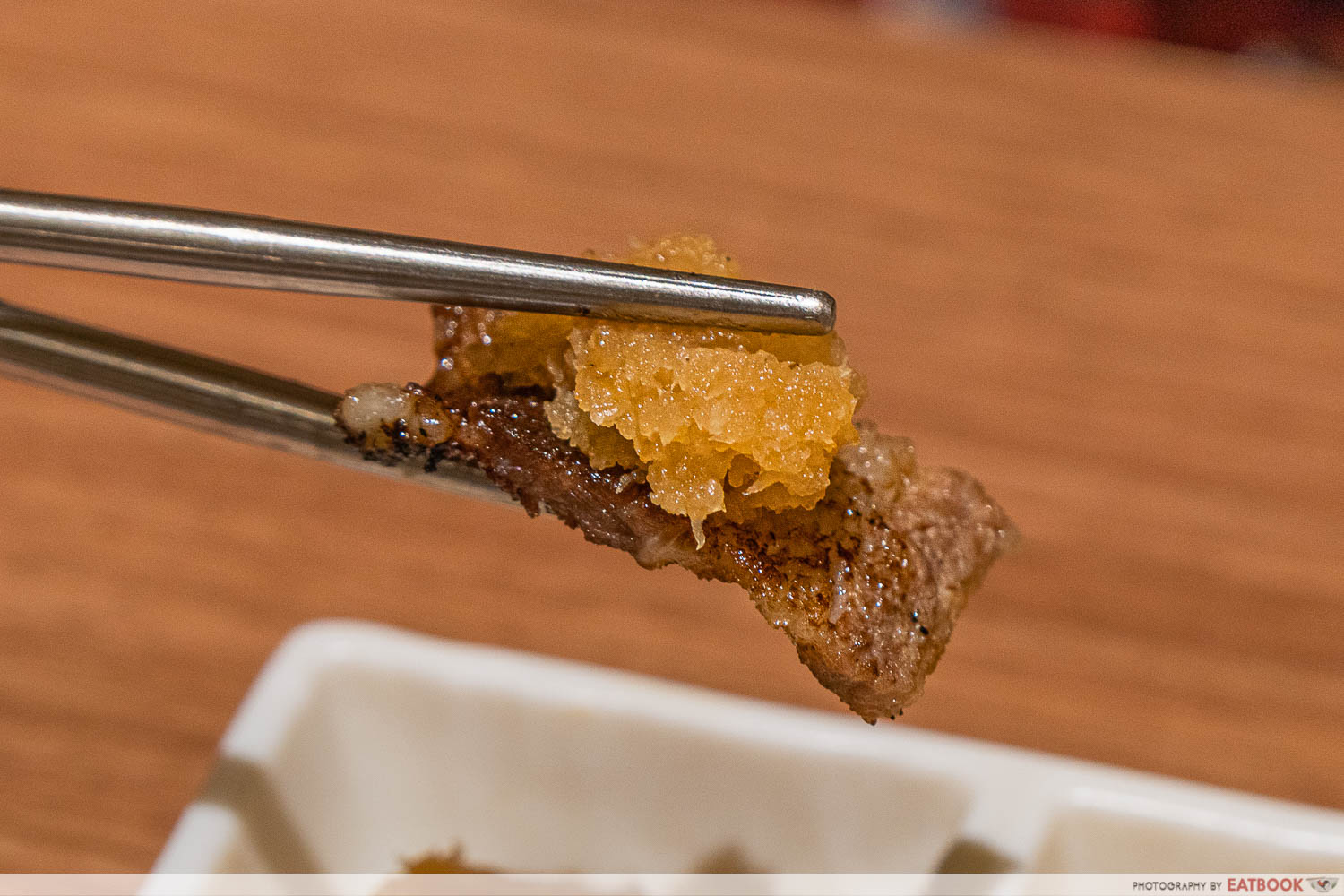 On the dip front, you'll get the same goma tare, as well as ponzu Oroshi, AKA grated radish in a citrus-based ponzu.
For more meaty recommendations, check out our guide to the best yakiniku restaurants in Singapore. For a Muslim-owned option, consider Yugo Yakiniku in Jurong!
Website | Full list of outlets
Yakiniku-GO is not a halal-certified eatery.
Get Halal-Friendly Wagyu Yakiniku And Donburi From $4 At This Hawker Stall
Photos taken by Aldrich Tan.
This was a media tasting at Yakiniku-GO.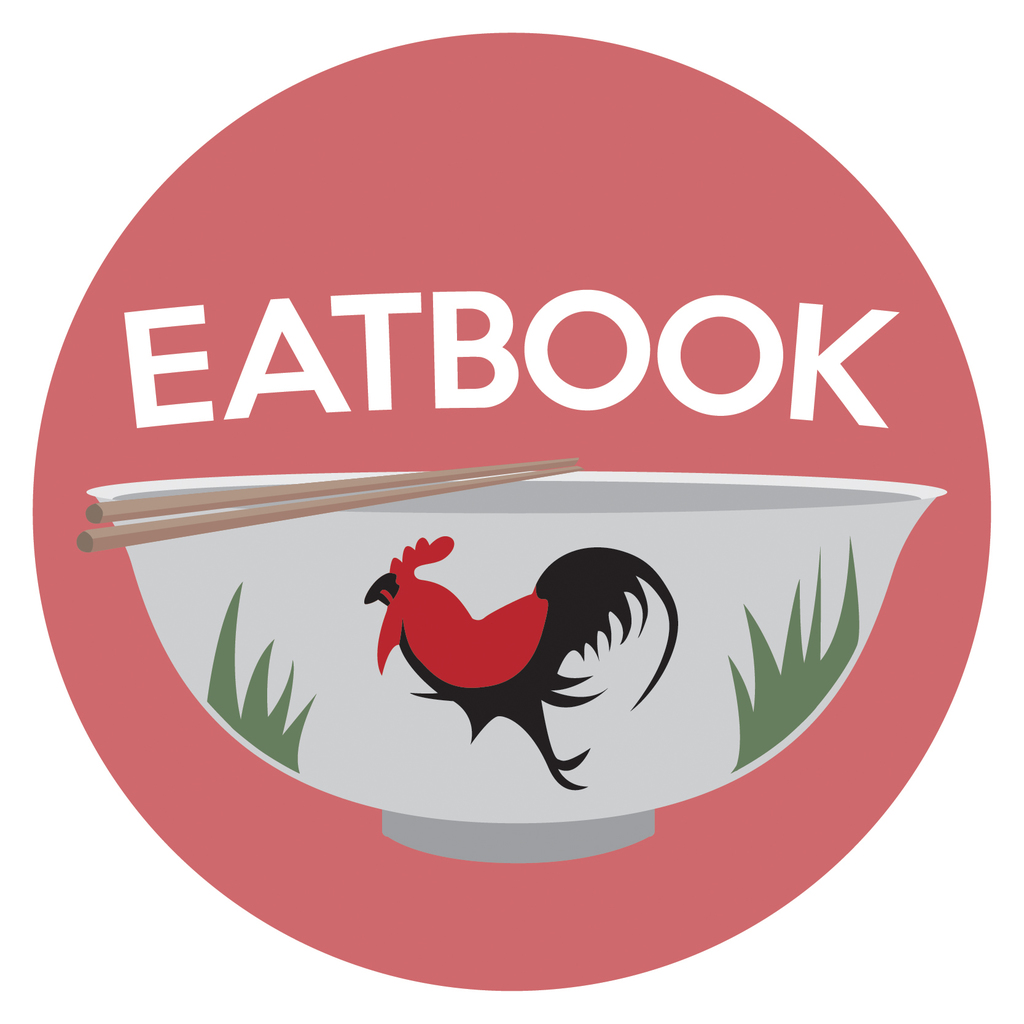 Drop us your email so you won't miss the latest news.