Yakiniku-Oh has new A4 Wagyu platters from $9.80++ at Somerset
Those familiar with Cuppage Plaza at Somerset will know that it is a treasure trove of authentic Japanese food. Recently, one of the mall's mainstays, Yakiniku-Oh, released new A4 Wagyu platters that are both delectable and value-for-money. This is all on top of its already vast catalogue of barbecue meat items.
We had the chance to try a few of these Wagyu platters, with the most affordable costing a mere $9.80++. After devouring almost every slice of meat you see in the picture above, we have to say that, for the price and quality, Yakiniku-Oh offers a great Japanese barbeque experience.
Food at Yakiniku-Oh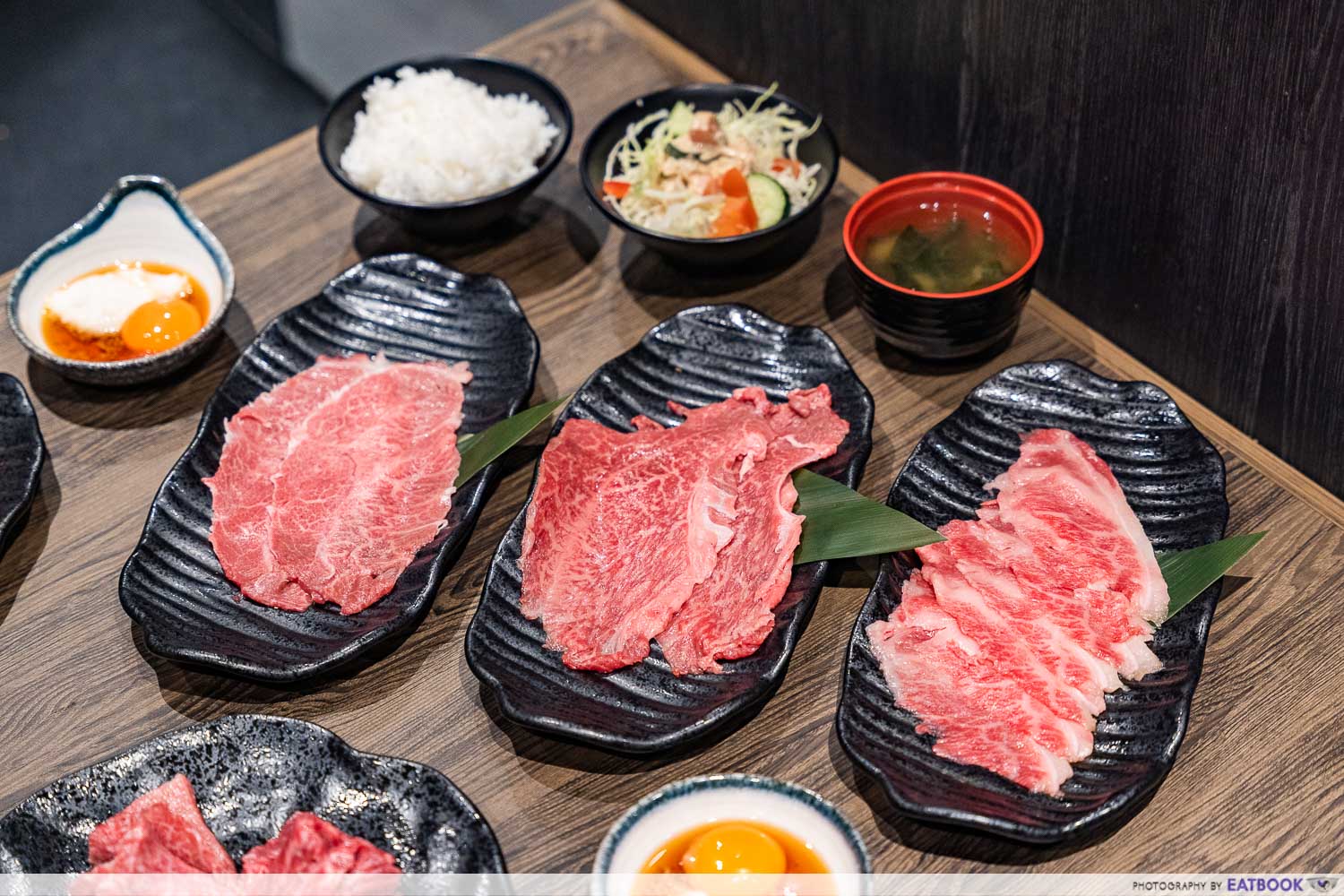 The new Suki Yakiniku Wagyu platters all feature moreish cuts of A4 Wagyu meat directly imported from farms in Japan—this is a reason why they are generally affordable. You can upgrade them to a set meal, which comes with a bowl of rice, miso soup, salad, and raw egg for dipping.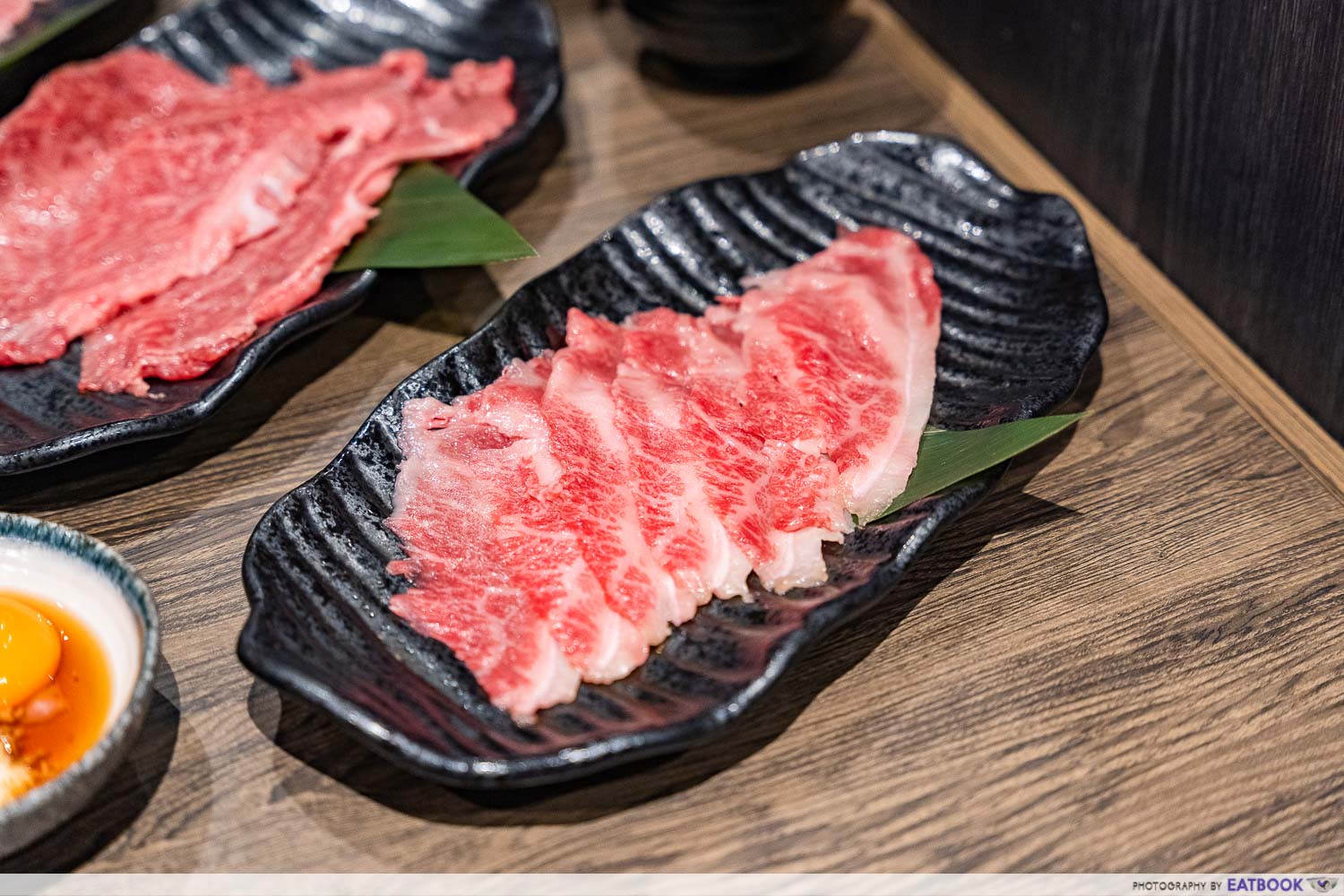 The Suki Yakiniku Wagyu Kalbi ($9.80++) is the cheapest of these platters. We cooked it together with the slightly pricier Suki Yakiniku Wagyu Loin ($12.80++) to see how the two compared.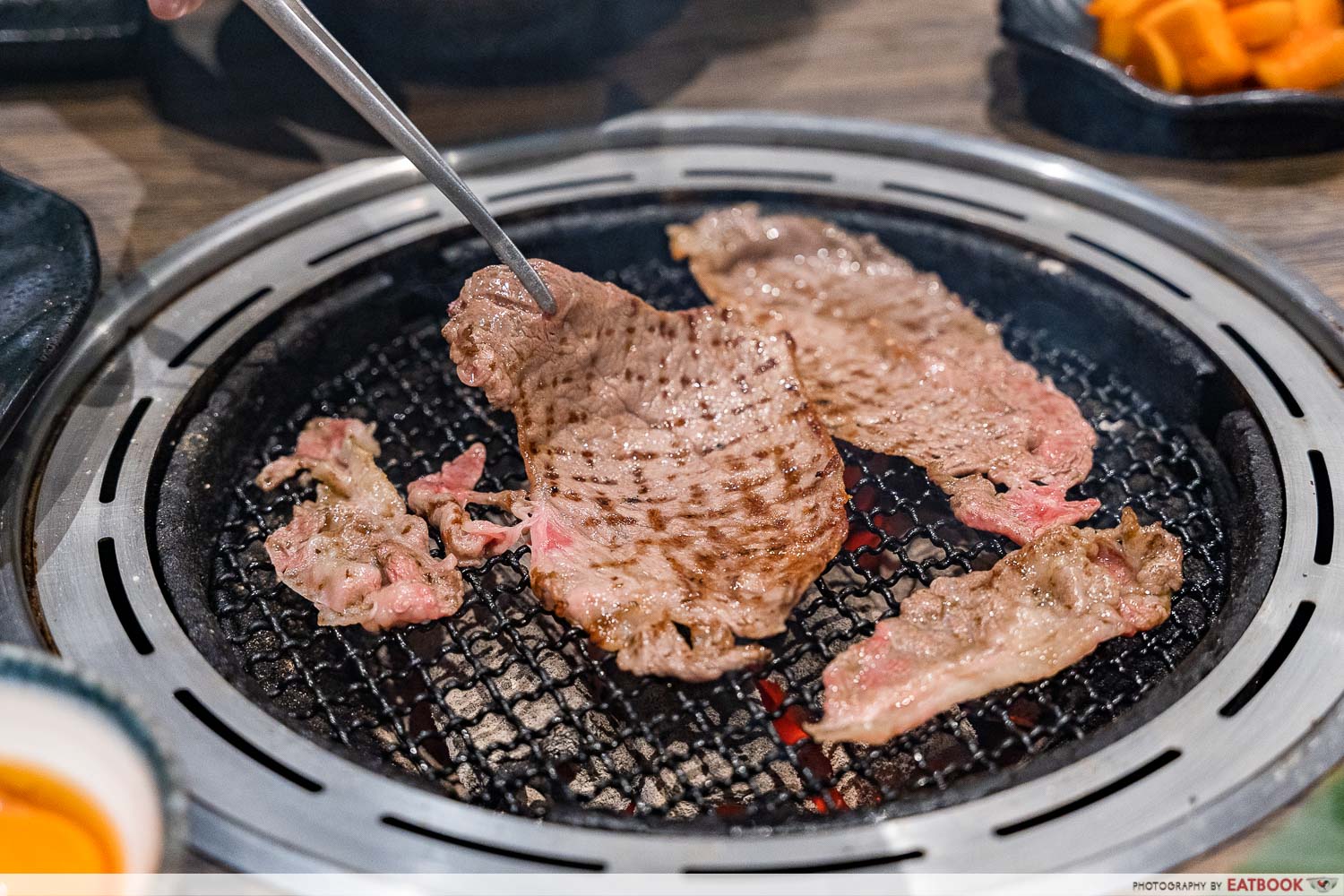 The Wagyu kalbi was considerably leaner and less succulent than the loin, but it still had a melt-in-your-mouth quality that we enjoyed. On the other hand, we had no complaints about the loin, which turned out wonderfully juicy and buttery. Both of these were definitely value-for-money, though, especially when considering that they were in fact A4 Wagyu slices.
For an even better cut of meat, there's the priciest of the new Suki Yakiniku Wagyu platters, the Suki Yakiniku Special Wagyu ($17.80++). The "special" in the name refers to harami, AKA skirt steak, which had a bolder flavour and more tender texture than the previously mentioned cuts.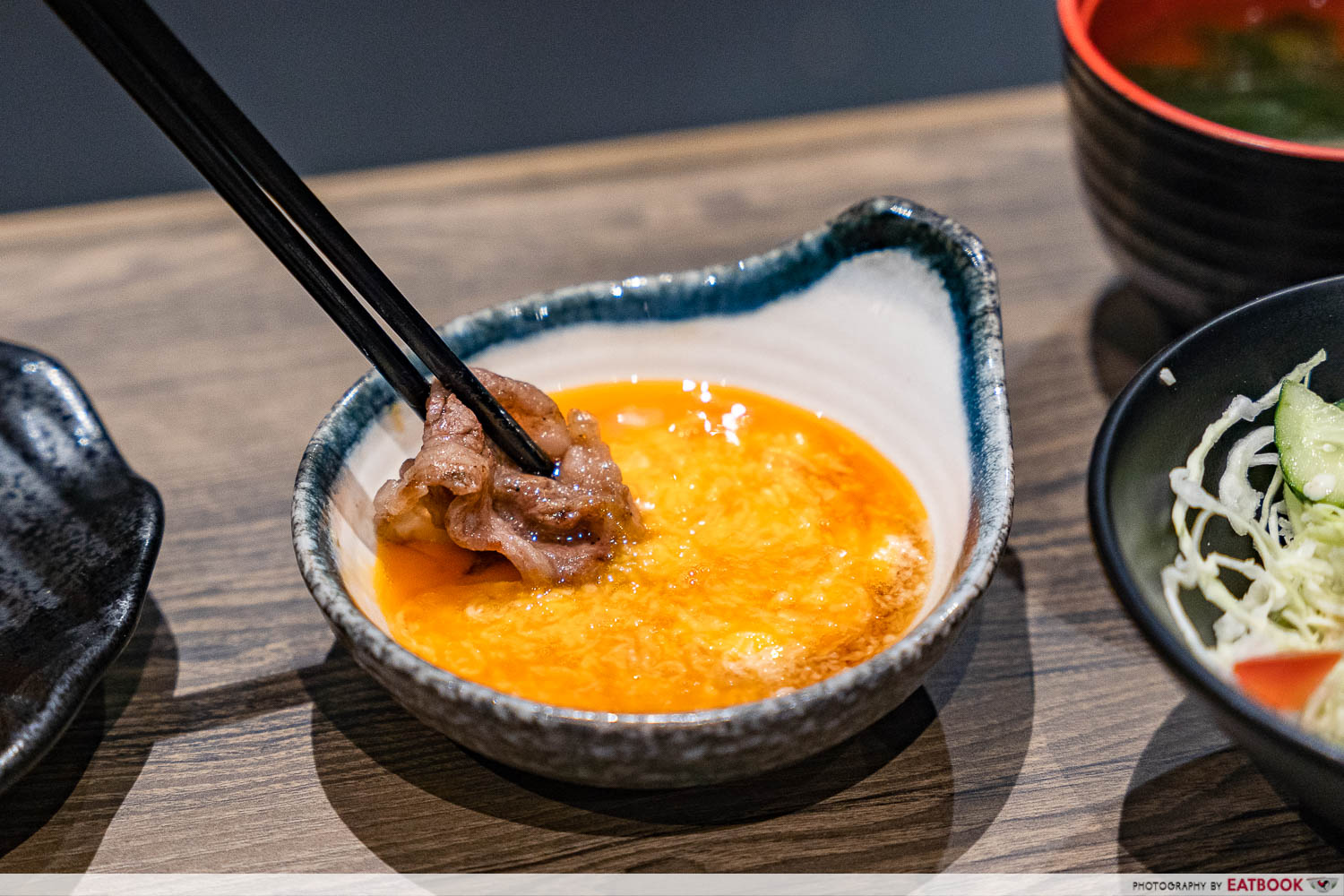 If you didn't order these platters as part of a set, we highly recommend getting the Suki Yakiniku Sauce ($3++) to dip your Wagyu into. The combination of raw egg and yakiniku sauce complements barbecued meat incredibly well, adding creaminess and extra flavour to each slice.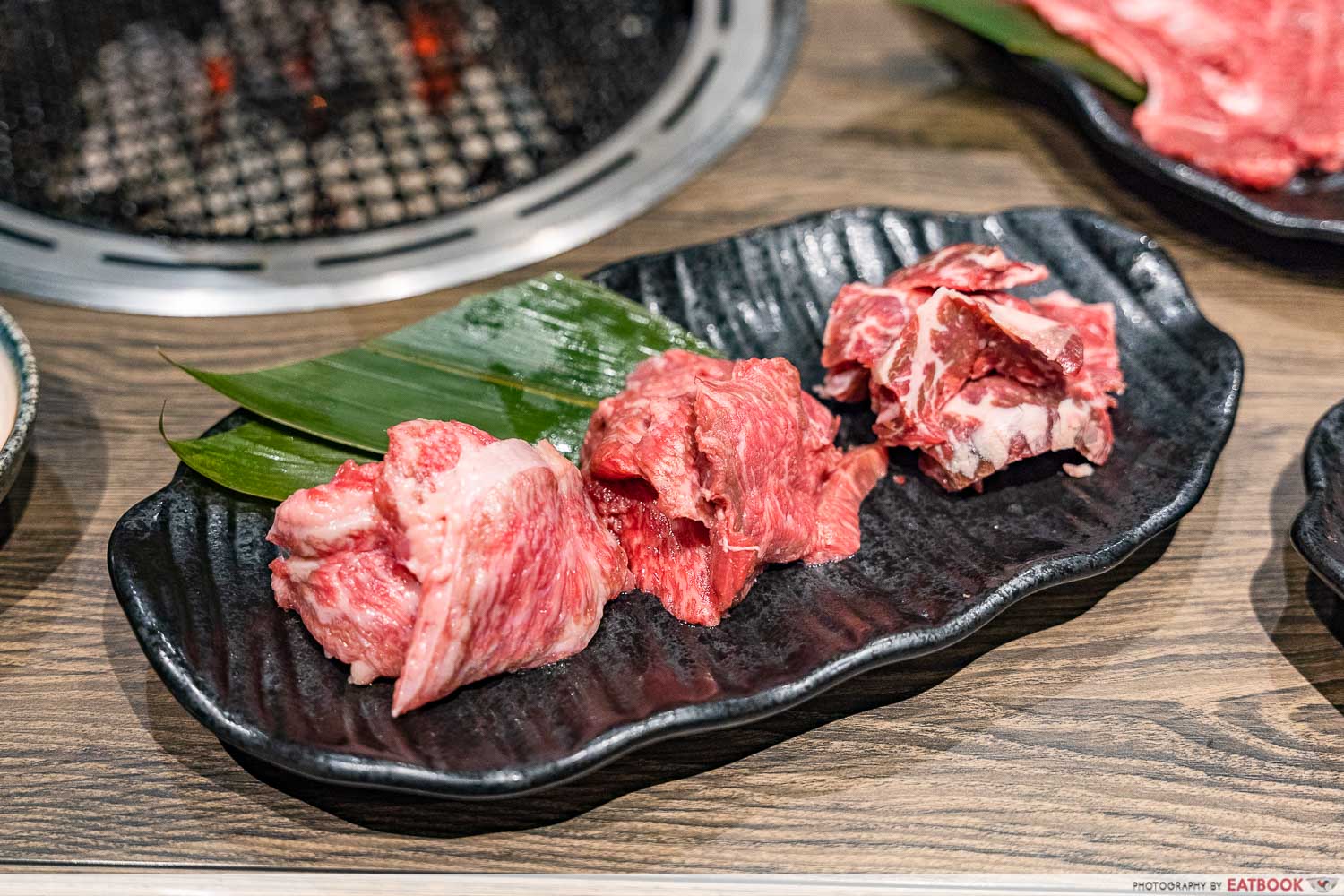 All three aforementioned cuts of meat are part of the 3 Kinds of Beef ($24.80++) platter. With decent marbling and good meat-to-fat ratio in all three cuts, we were thoroughly satisfied with this set.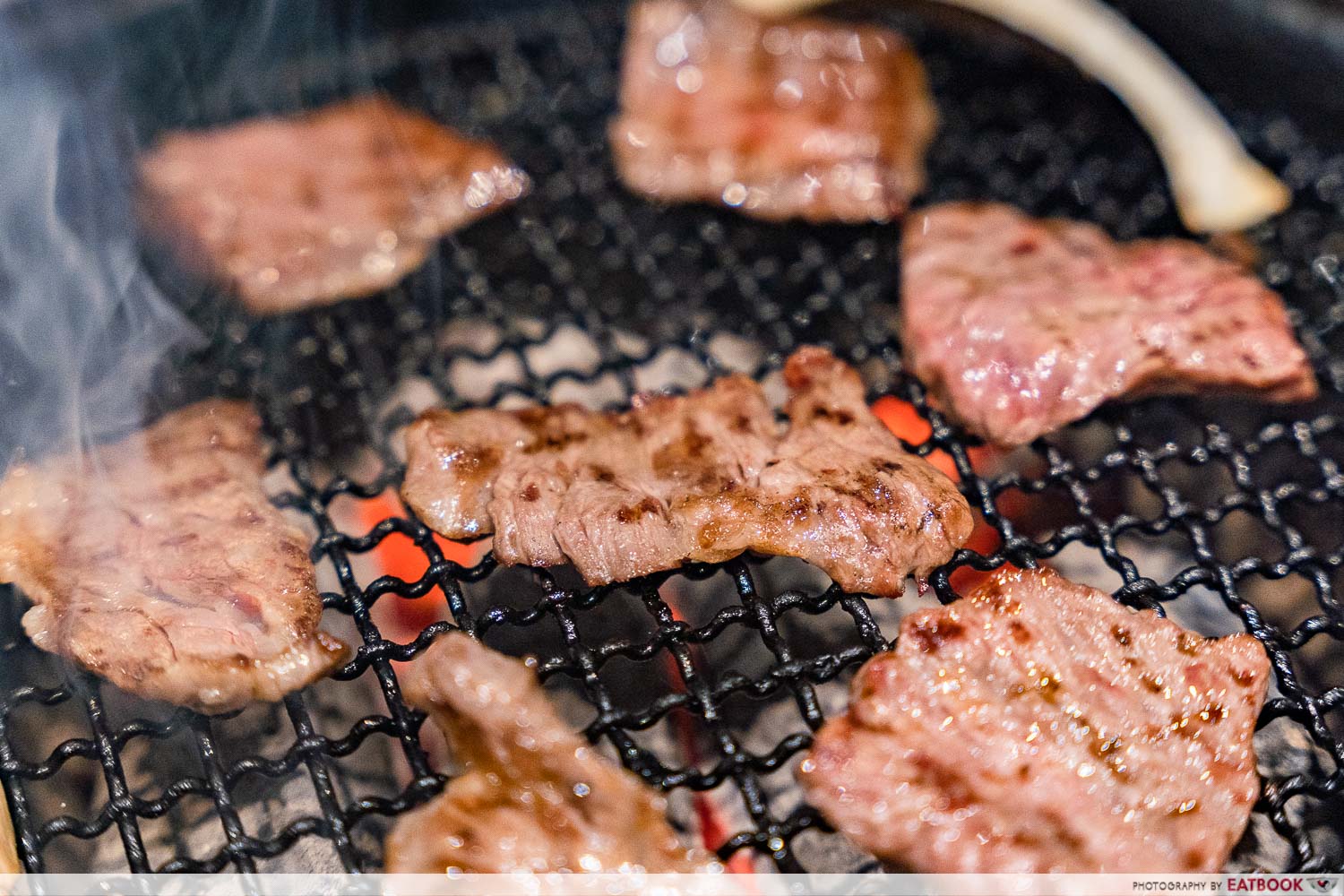 While those were the options we focused on during our meal at Yakiniku-Oh, they barely scratch the surface of what the restaurant has to offer. There are about 180 dishes on the menu, and those who don't want to choose between the different platters and sets can go for the Yakiniku-Oh Buffet instead.
If you'd just like to indulge in the food alone, the buffet—$57++ per person from Monday to Thursday or $67++ from Friday to Sunday—will allow you to do just that. But if you'd like to have a free flow of all the drinks on the menu too, including the 37 types of alcoholic beverages, then you can upgrade to the $80++ buffet option.
Those bringing their kids, fret not, for Yakiniku-Oh charges half the price of an adult for children 11 and under!
Do note that the buffet duration is 120 minutes, with the last order being 30 minutes before the end of the meal. You can make a reservation in advance or simply walk in for the buffet, but you are required to bring at least one other person. You can find a more complete list of buffet details here.
And because the restaurant wants to offer a more "complete" Japanese dining experience, they also have a sukiyaki menu. That's perfect if you prefer your meat simmered rather than grilled, or if you'd like to introduce more variety into your barbecue feast.
Ambience at Yakiniku-Oh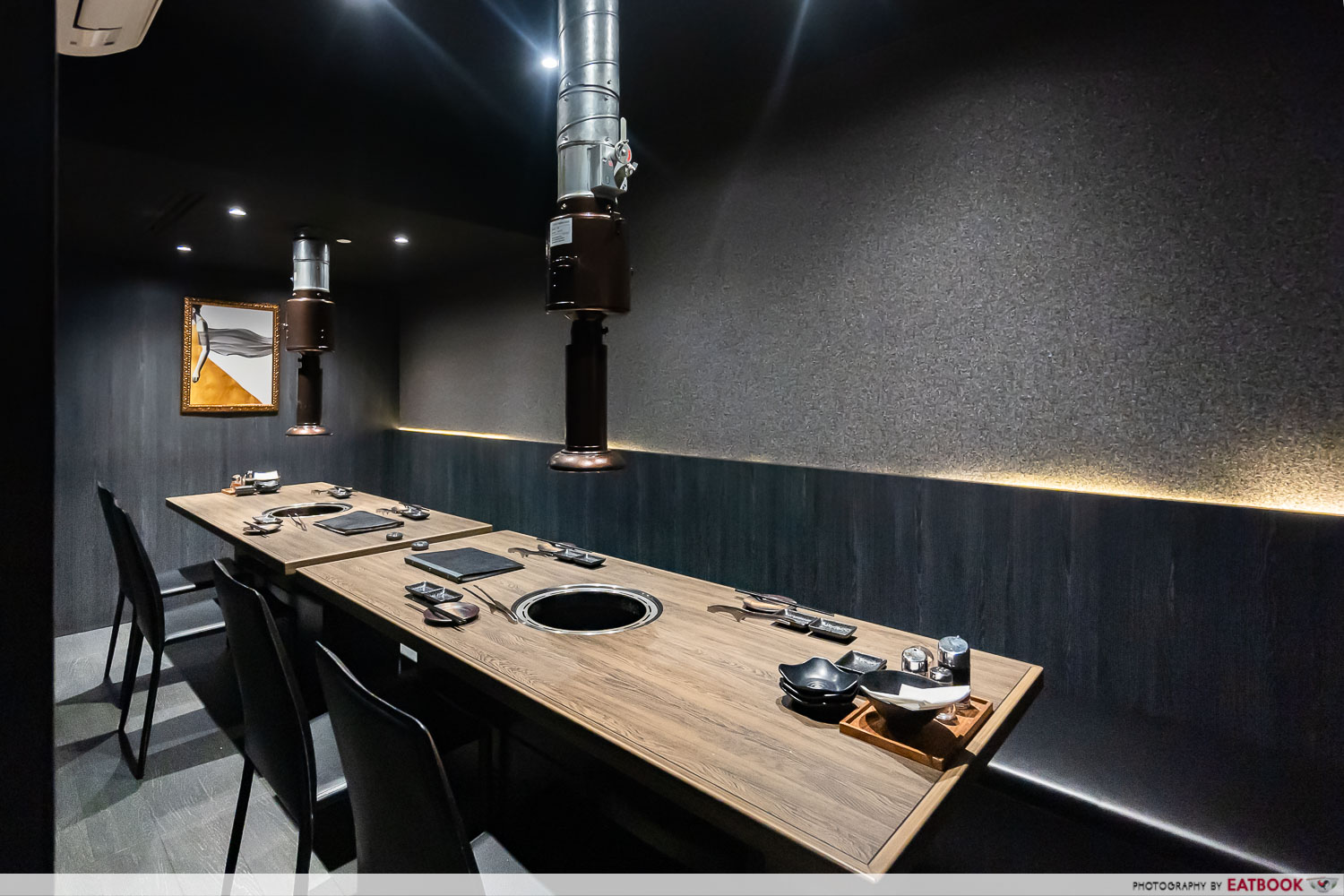 Yakiniku-Oh is relatively spacious, with a general dining area for walk-in customers and VIP rooms for larger groups or a more intimate dining format. These can be booked with no additional top-ups, but you'll have to contact the restaurant to book a room in advance.
The restaurant is a six-minute walk from Somerset MRT Station.
The verdict
Yakiniku-Oh is a good dining destination for Wagyu and Japanese barbecue in general. The affordable prices and sheer variety of options make it worth a visit if you're a fan of yakiniku.
For a deeper look at one of Yakiniku-Oh's sister branches, read our Yakiniku Ohji review.
Address: 5 Koek Road, #01-07/12,13,14, Cuppage Plaza, Singapore 228796
Opening hours: Daily 12pm to 12am
Tel: 6733 1248
Website
Yakiniku-Oh is not a halal-certified eatery.
Yakiniku Ohji Review: A4 Wagyu Buffet With Free-Flow Sirloin, Aburi Salmon Sashimi And More
Photos taken by John Lery Villanueva.
This post was brought to you by Yakiniku-Oh.
Yakiniku-Oh Review: A4 Wagyu Platters From $9.80++ At Somerset
Yakiniku-Oh Review: A4 Wagyu Platters From $9.80++ At Somerset -

8/10
Summary
Pros
– Affordable Wagyu sets
– Tasty meat
– Large and varied menu with buffet options for dining in larger groups
Cons
– The cheaper sets, though value-for-money, may not sate big eaters
Recommended dishes: Suki Yakiniku Wagyu Loin ($12.80++), Suki Yakiniku Special Wagyu ($17.80++), 3 Kinds of Beef ($24.80++)
Opening hours: Daily 12pm to 12am
Address: 5 Koek Road, #01-07/12,13,14, Cuppage Plaza, Singapore 228796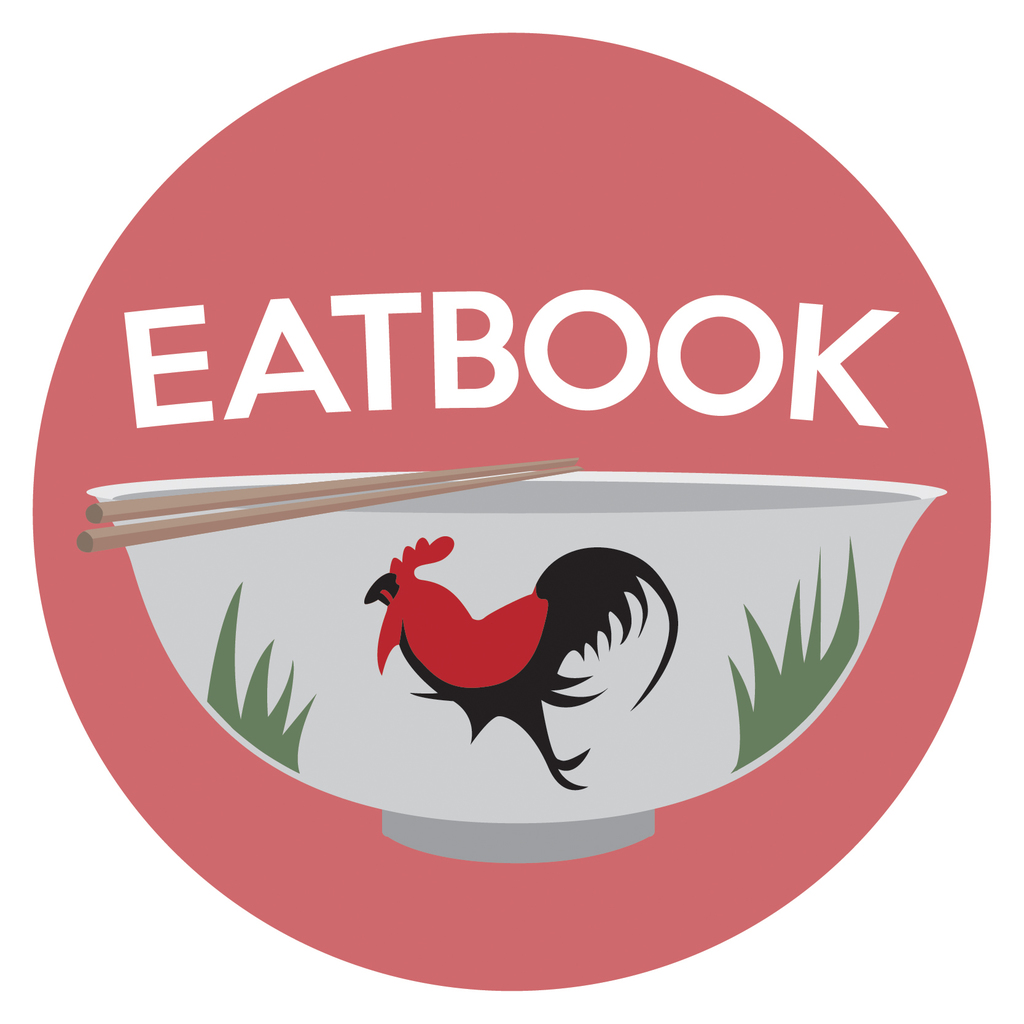 Drop us your email so you won't miss the latest news.