Yobanmian for yo' ban mian fix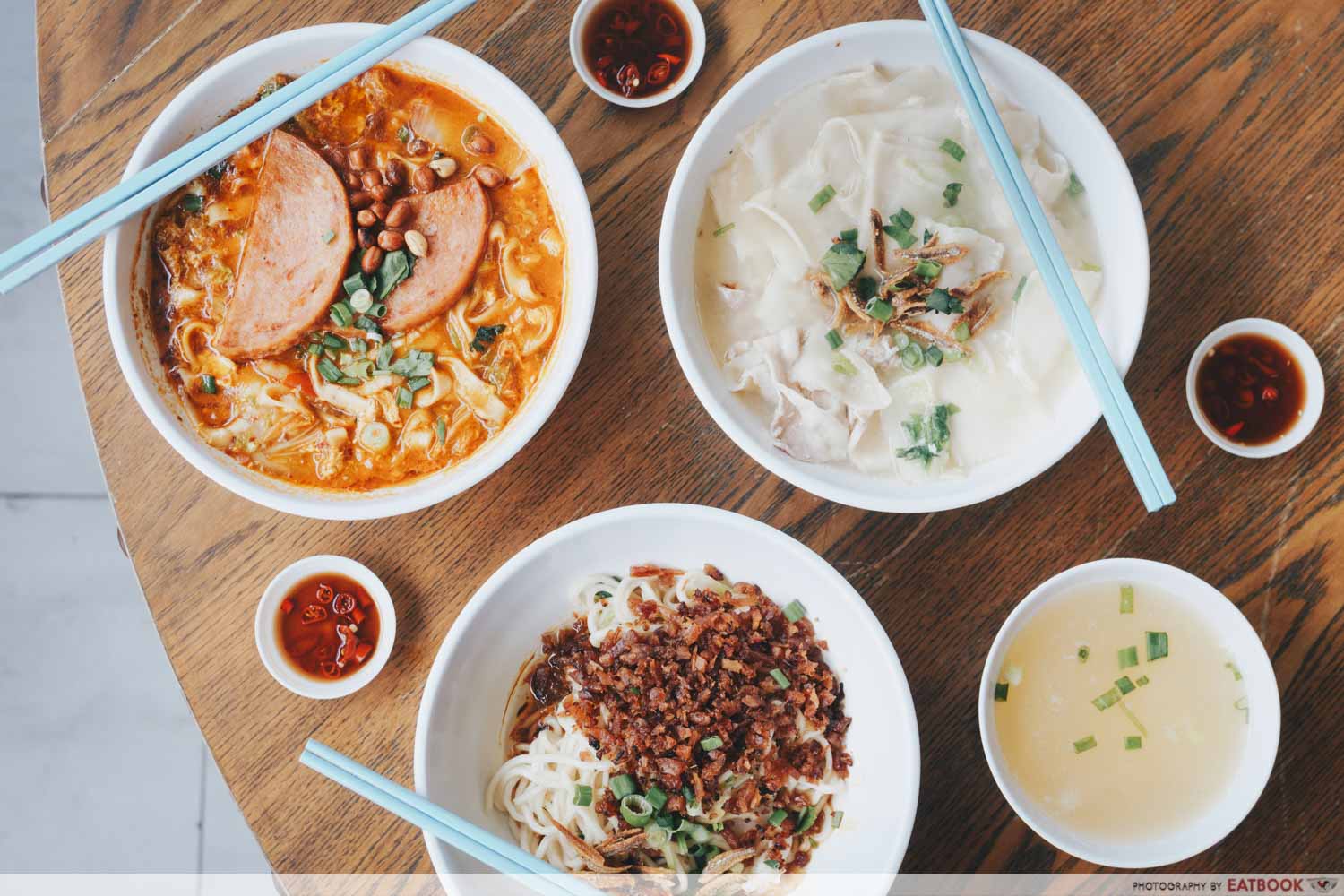 When it comes to ban mian, not many noodle joints have put an interesting spin on the classic formula. But Yobanmian bucks that trend, infusing contemporary flavours such as bak kwa and ma la into their noodle.
I'm sceptical of eateries that throw trendy ingredients and flavours into classic dishes, so I was apprehensive about having our meal here. The criteria for any good bowl of ban mian is slippery, al dente noodles as well as hearty, comforting soup. So regardless of any nouveau additions, that's what we hoped for in all our bowls here. 
Food at Yobanmian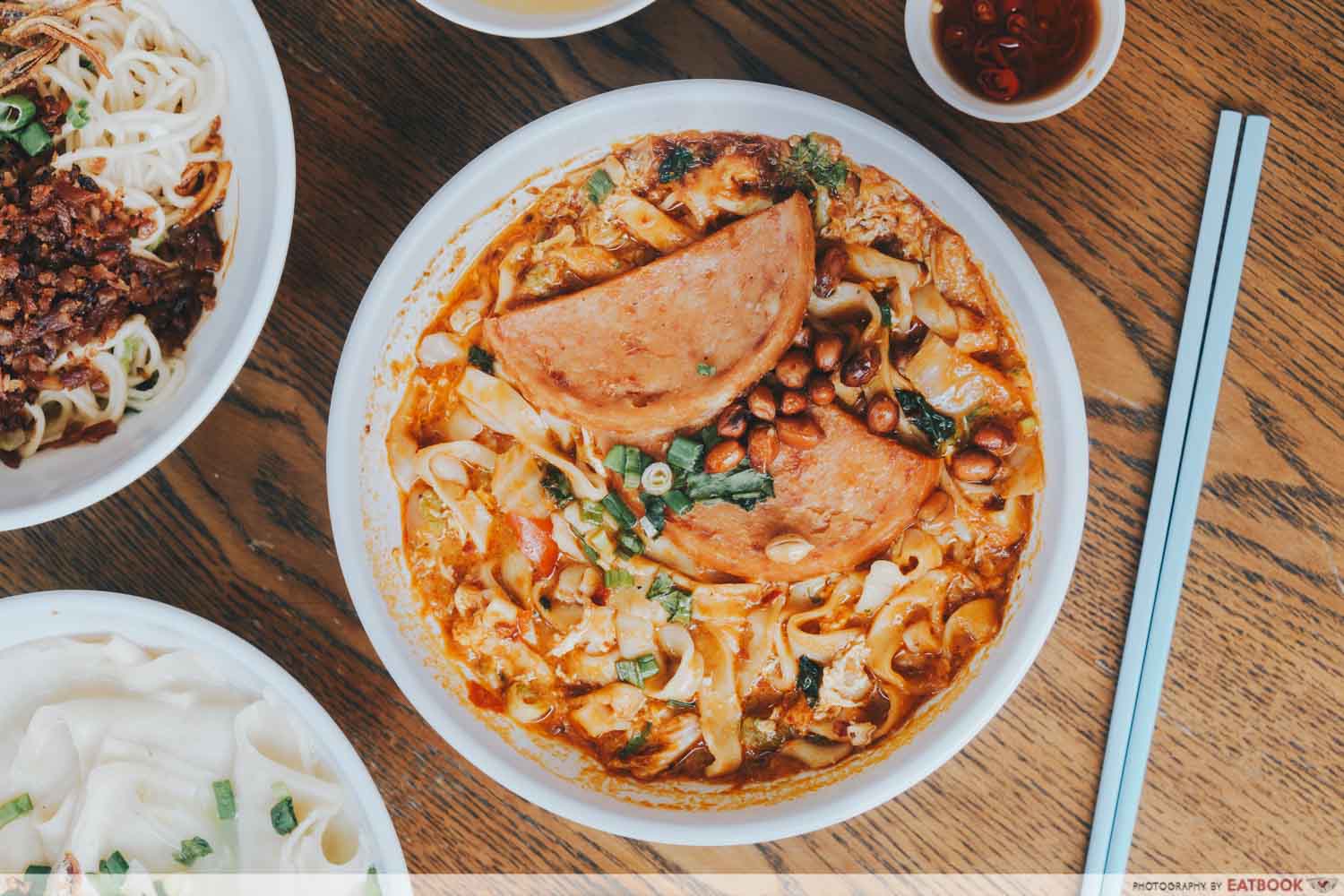 First up was the sweat-inducing Ma La Ban Mian ($5). With the soup's bright red hue and strips of cabbage floating on its surface, it looked more like kimchi noodles than a ma la dish. My ma la-loving colleagues have informed me that any good ma la xiang guo must contain peanuts, and they make an appearance here, adding ma la credibility to the bowl.
For me, there are three components to any legit ma la dish. The tongue-numbing ma, spicy la, and the distinctive spiced aroma. These noodles checked the latter two boxes, lightly burning our palates and perfuming our nostrils with its Sichuan fragrance.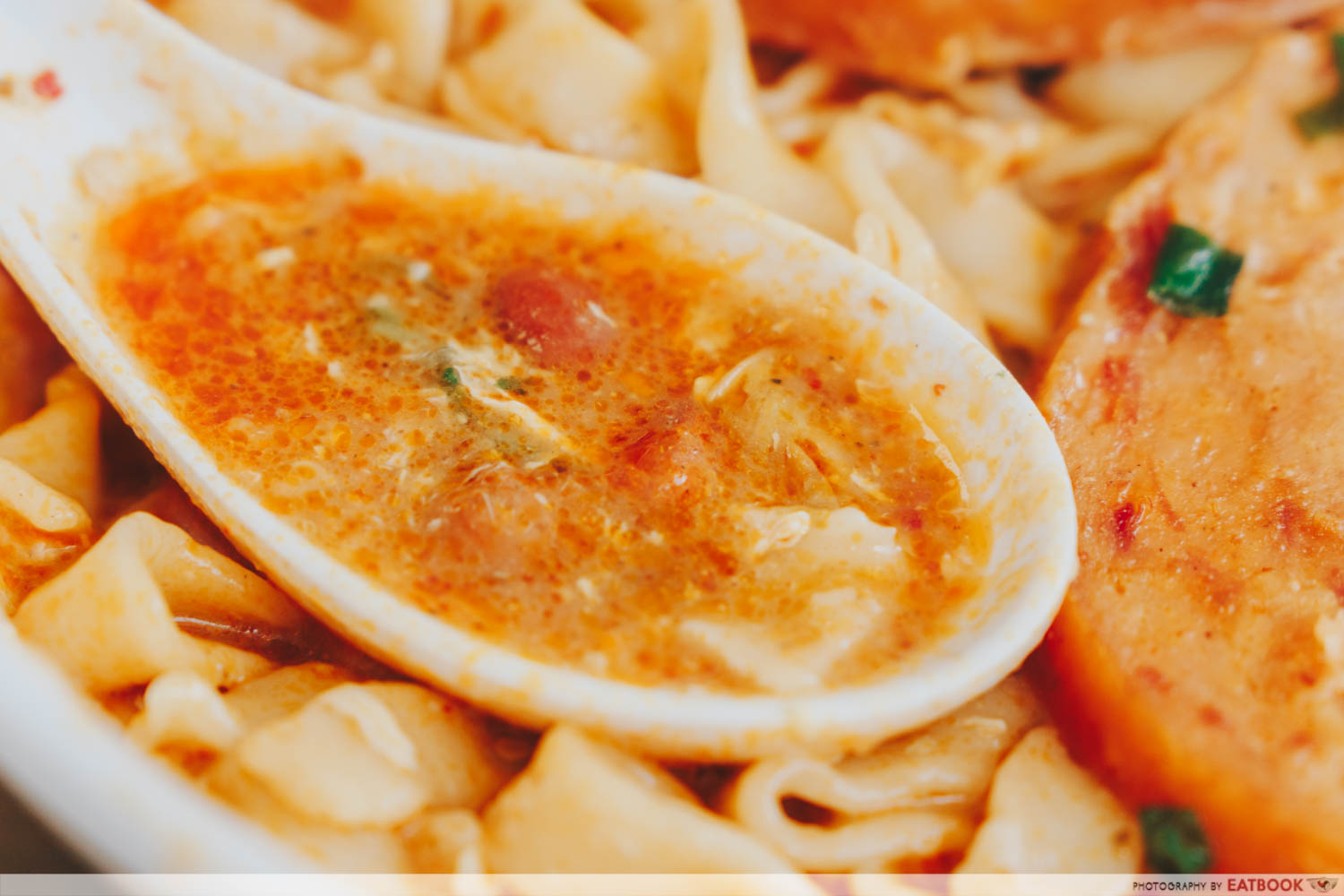 However, that trademark numbing sensation was missing, suggesting a greater emphasis on dried chillies over Sichuan peppercorns in their spice blend. Judging it in isolation though, the soup was enjoyable, fragrant and spicy.
We didn't enjoy the soup's consistency though. Instead of being served sunny-side-up egg as the menu suggested, an egg was broken into the soup, granting a creamy gravy-like consistency. This thick broth gradually coated our mouths and became unpleasant to drink as a result.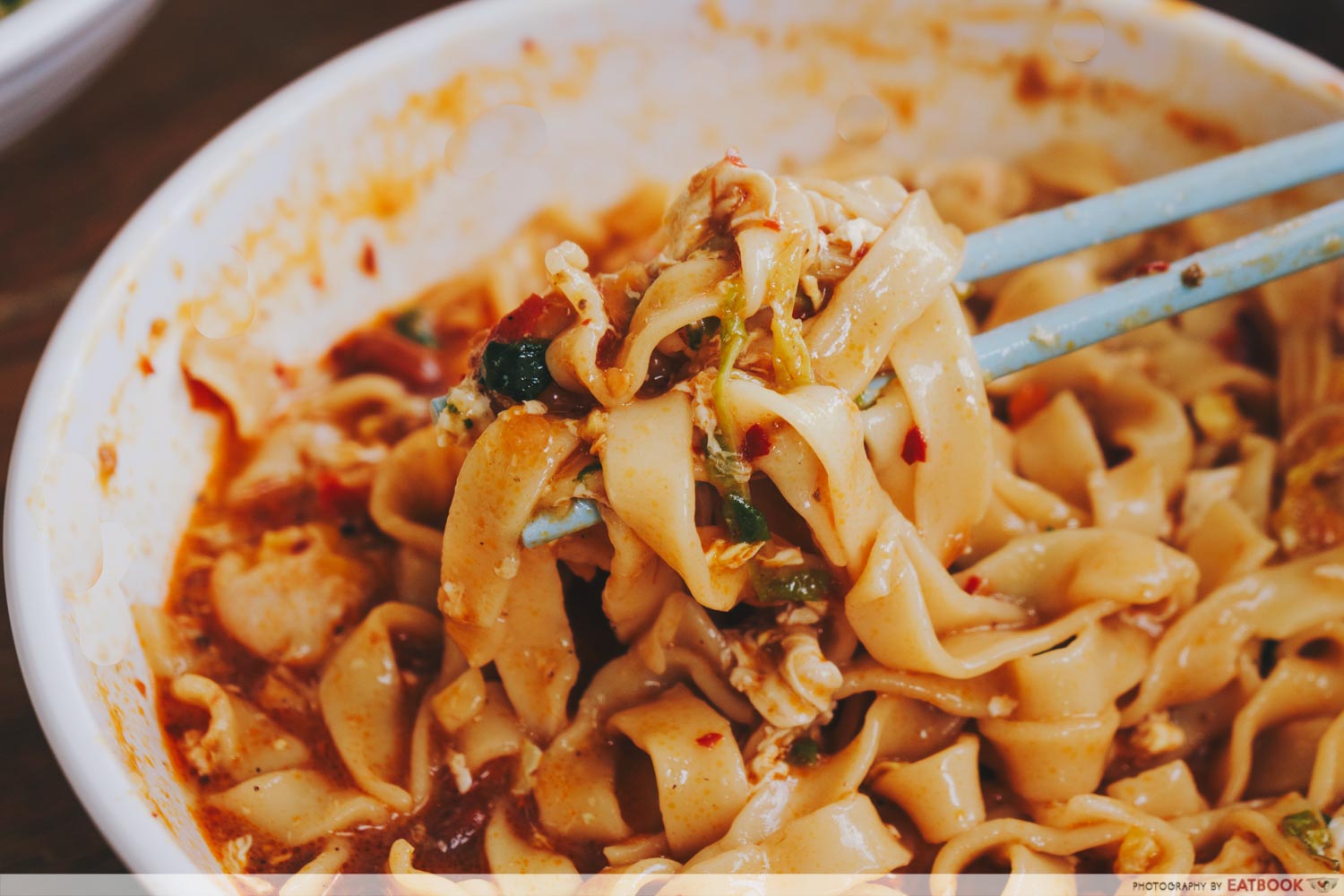 Noodle-wise, we opted for the classic ban mian. There's nothing wrong with using dried noodles over fresh hand-pulled ones, but these noodles weren't up to scratch. I like my noodles firm with a touch of bite, but these were overcooked, ending up soft and limp.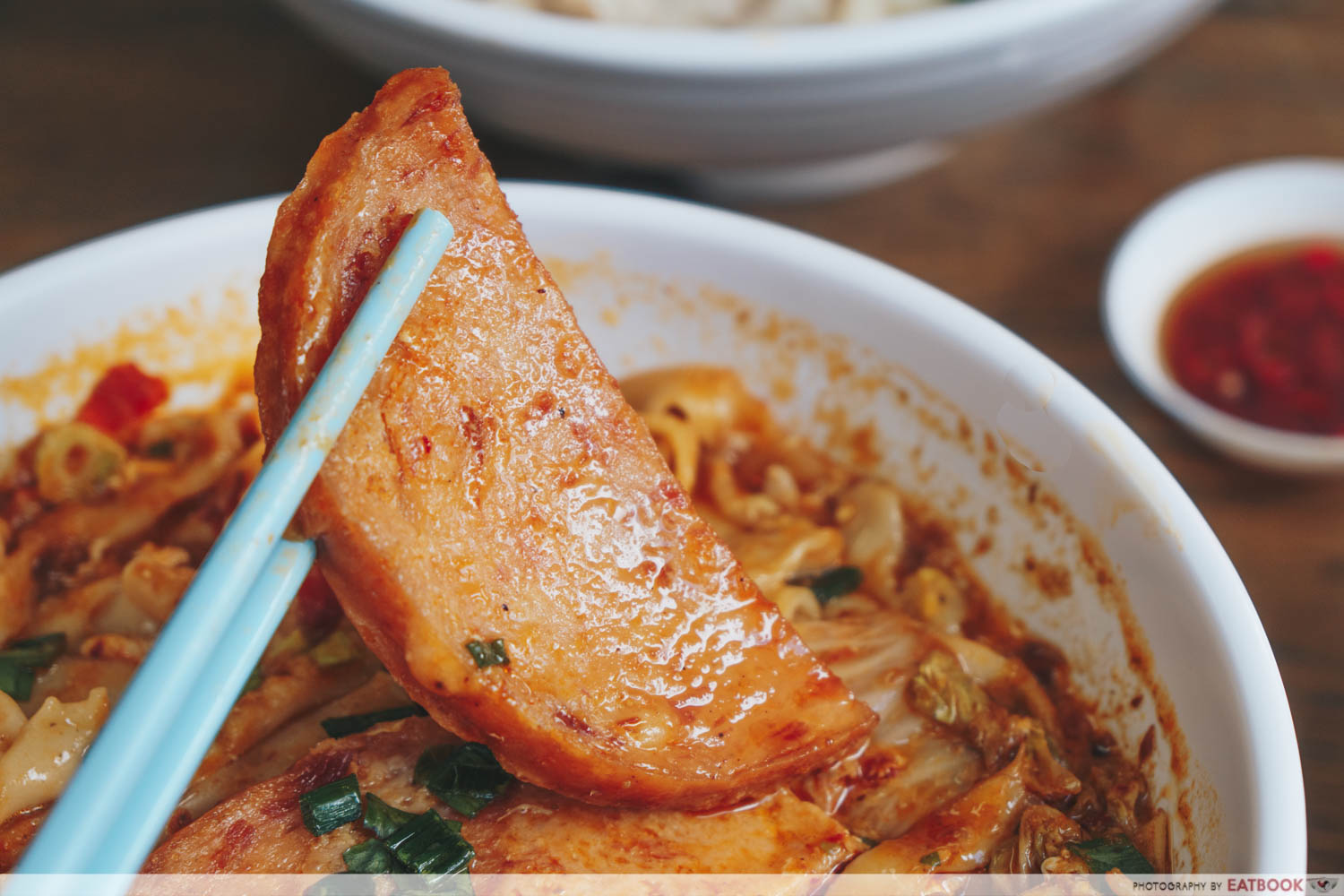 Luncheon meat is a popular ma la ingredient, and two thick slices present themselves here to inject meaty flavour into the dish. Disclaimer: I'm not a fan of luncheon meat and its processed flavour, but solely based on texture, this was too soft for the dish.
With soft noodles and meat, there simply wasn't a great enough variety of textures, with scarce peanuts and cabbage slices providing limited crunch. Perhaps strips of fatty pork belly would have worked better.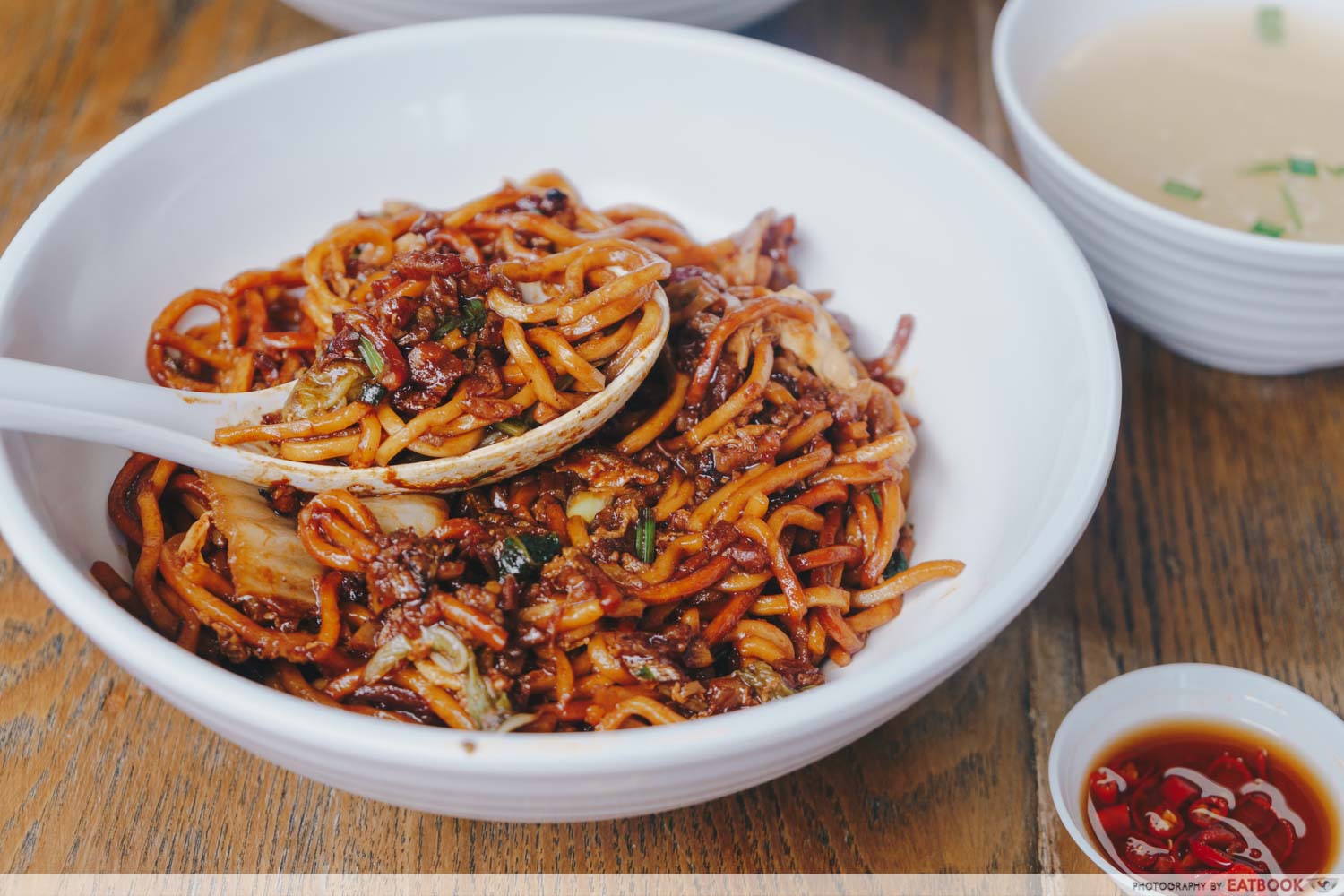 Our Bak Kwa You Mian ($3.50) exuded the smell of sweet dark soy sauce. With a generous pile of bak kwa bits crowning the bowl, we looked forward to some smoky, porky goodness.
The you mian we had with this dish were cooked well: springy with a nice chew. Unlike our previous dish, this ensured a greater variety of textures in combination with the diced bak kwa. A pet peeve of mine is when there's not enough sauce to coat my dry noodles, but these you mian were moist and well-coated after mixing.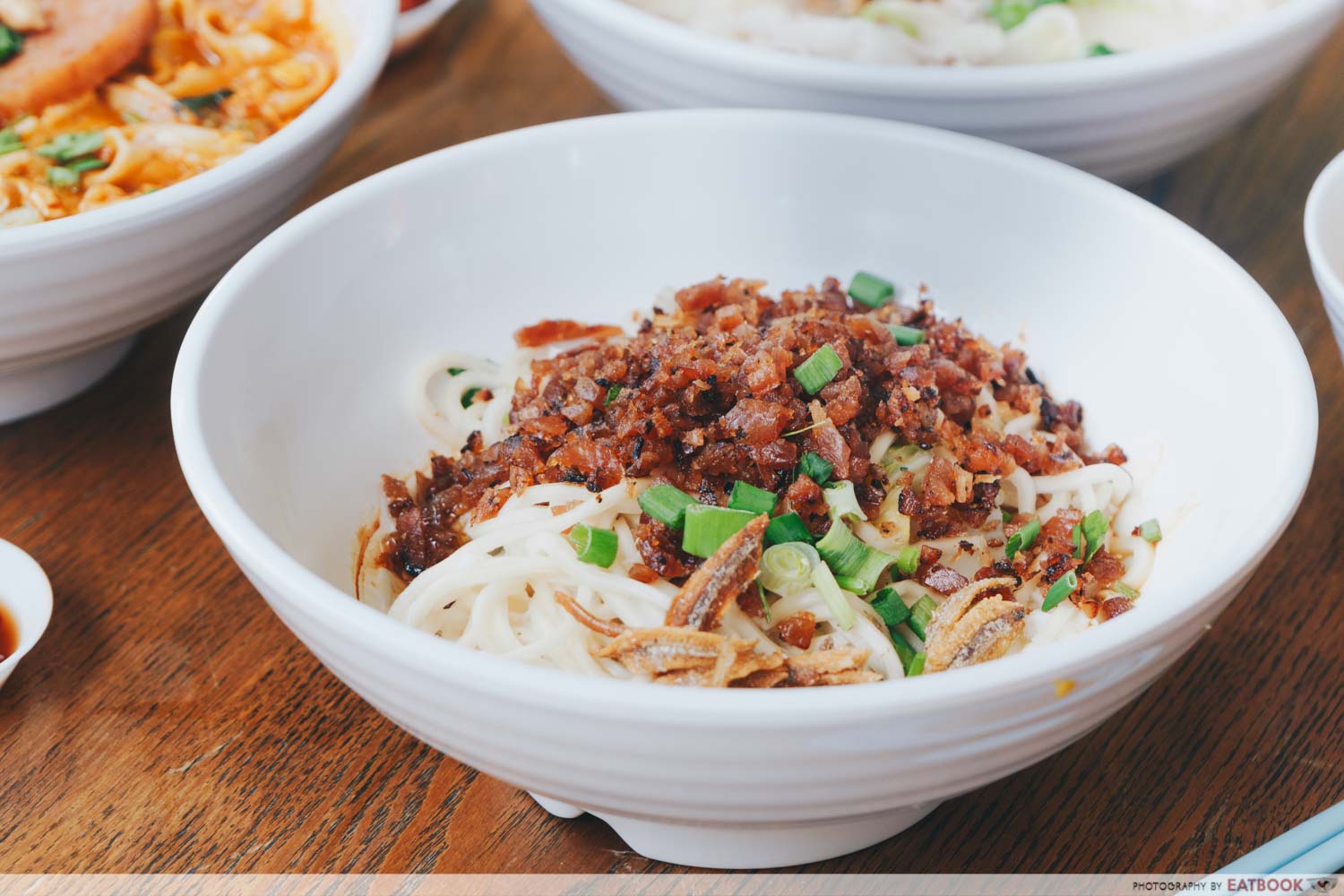 We weren't fans of the flavour combination though. It was overbearingly sweet. The intensely sweet soy sauce aroma translated into its taste, and caramelised bak kwa added even more sweetness. This results in quite a jelak bowl, as its sweetness is compounded by the sauce's viscous nature.
Fighting through the sweetness, there were several other discernible flavours. A hint of chilli came, the flavour evoking memories of dousing soon kueh in sweet sauce and chilli.
We appreciated the wisps of smokiness and meatiness imparted by the bak kwa, but wished that they could be more prevalent.
Contrasting flavour mainly came from a few shreds of vegetable floating around. Perhaps with more vegetables or a milder sauce that complemented the natural flavours of the bak kwa, this would be a more cohesive and enjoyable bowl overall.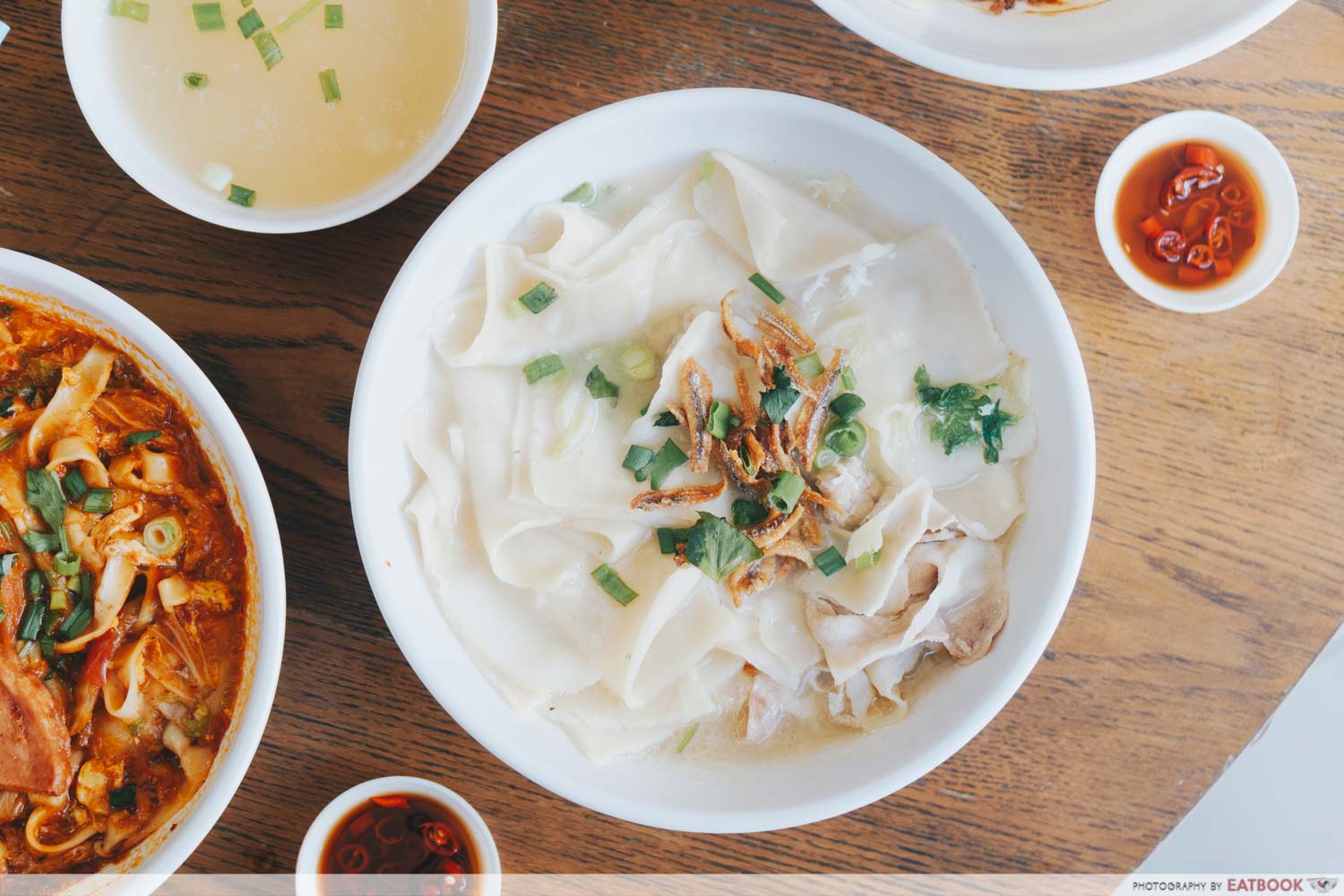 Call me a purist, but the Pork Belly Mee Hoon Kueh ($4.50) was my favourite dish, rather than the prior new-age creations. With fatty pork belly strips and a comforting broth, it's perfect rainy day food.
There was nothing revolutionary about the soup, but it was robust and supremely satisfying. When soup has a touch of sweetness, that's an indication that it has been boiled long enough to extract the natural sweetness of its base meat – just like your favourite tonkotsu ramen. This soup falls into that category, and we enjoyed the effort and quality.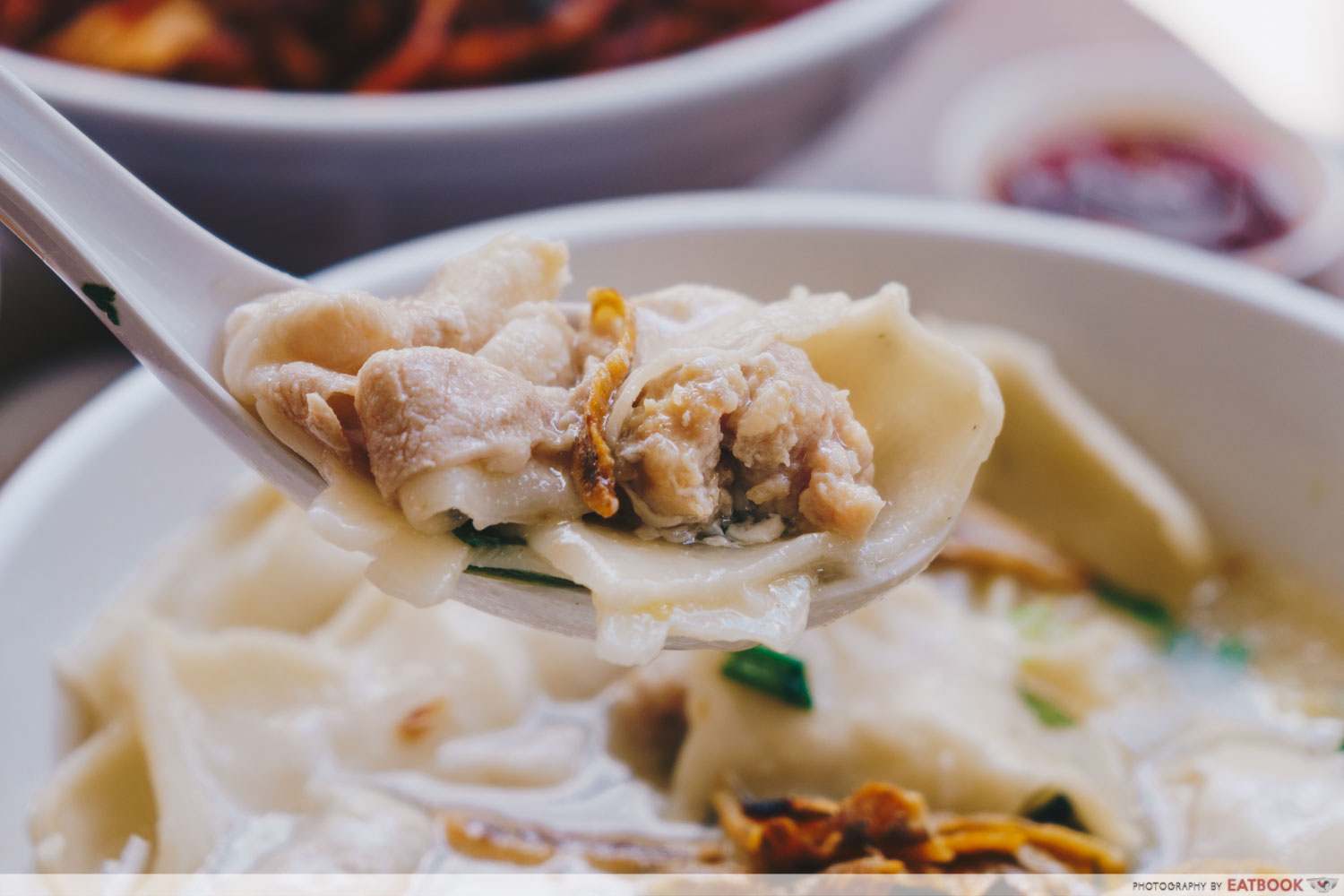 Much like the ma la ban mian, egg was also broken into this soup. Thankfully, it didn't adopt the thick consistency that had turned us off. Instead, it instilled the soup with a pleasant, mild creaminess.
Personally, I think mee hoon kueh is a noodle that has to have that rustic, hand-torn feeling. The noodles here were more similar to thicker sliced-up lasagne sheets, with a slight floury taste. We would have preferred it to be a tad thinner and more roughly hewn for that homemade vibe.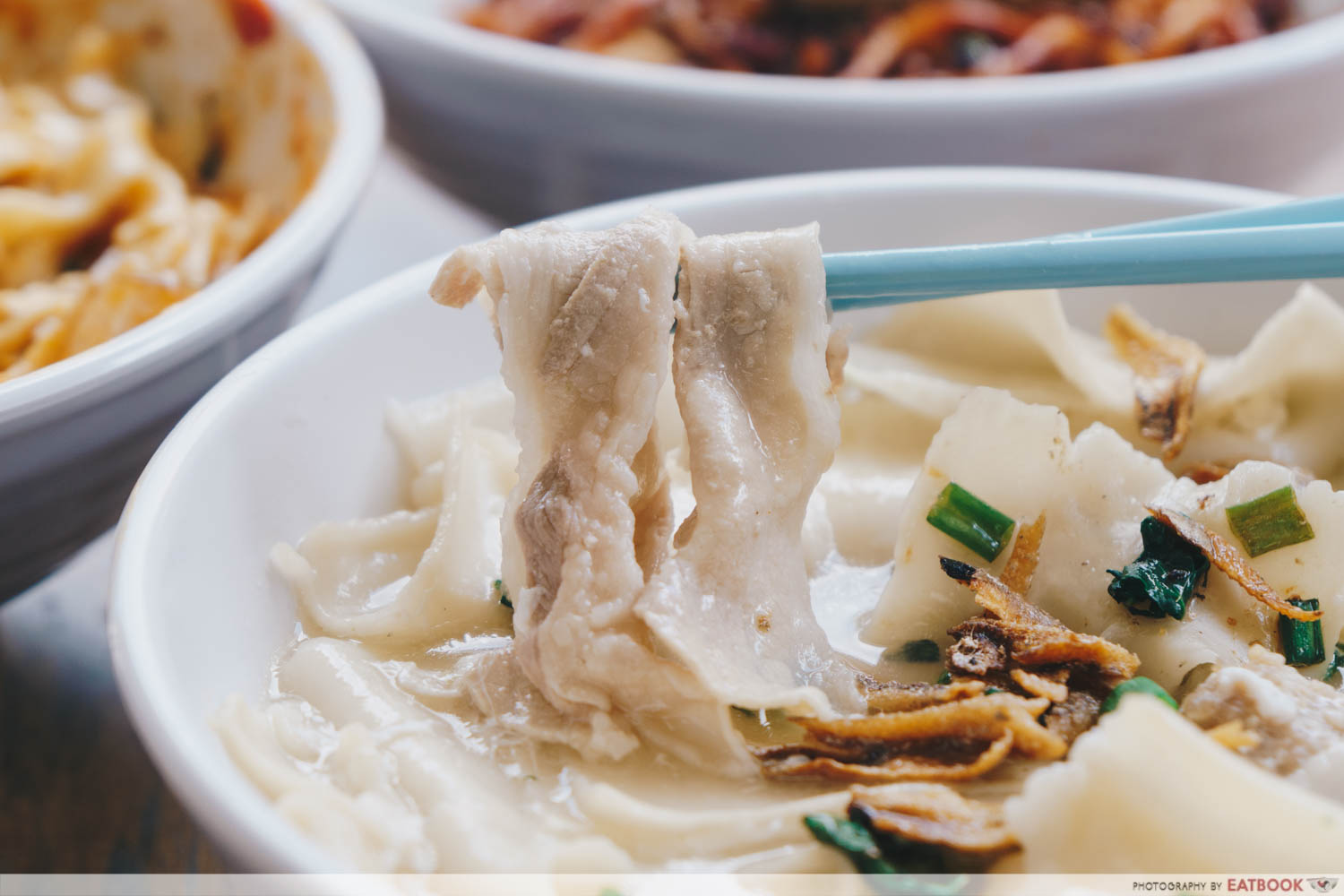 This bowl had our favourite toppings out of the three too. The coarsely-shaped meatballs were tender with an intense umami flavour, unlike those artificial bouncy balls which are ubiquitous these days. The pork belly was tender, granting meaty texture and luscious, fatty flavour to the mee hoon kueh.
The rich meatiness and robust soup were counterbalanced by vegetal touches from cabbage and parsley stems, as well as bursts of saltiness from the ikan bilis.
Ambience at Yobanmian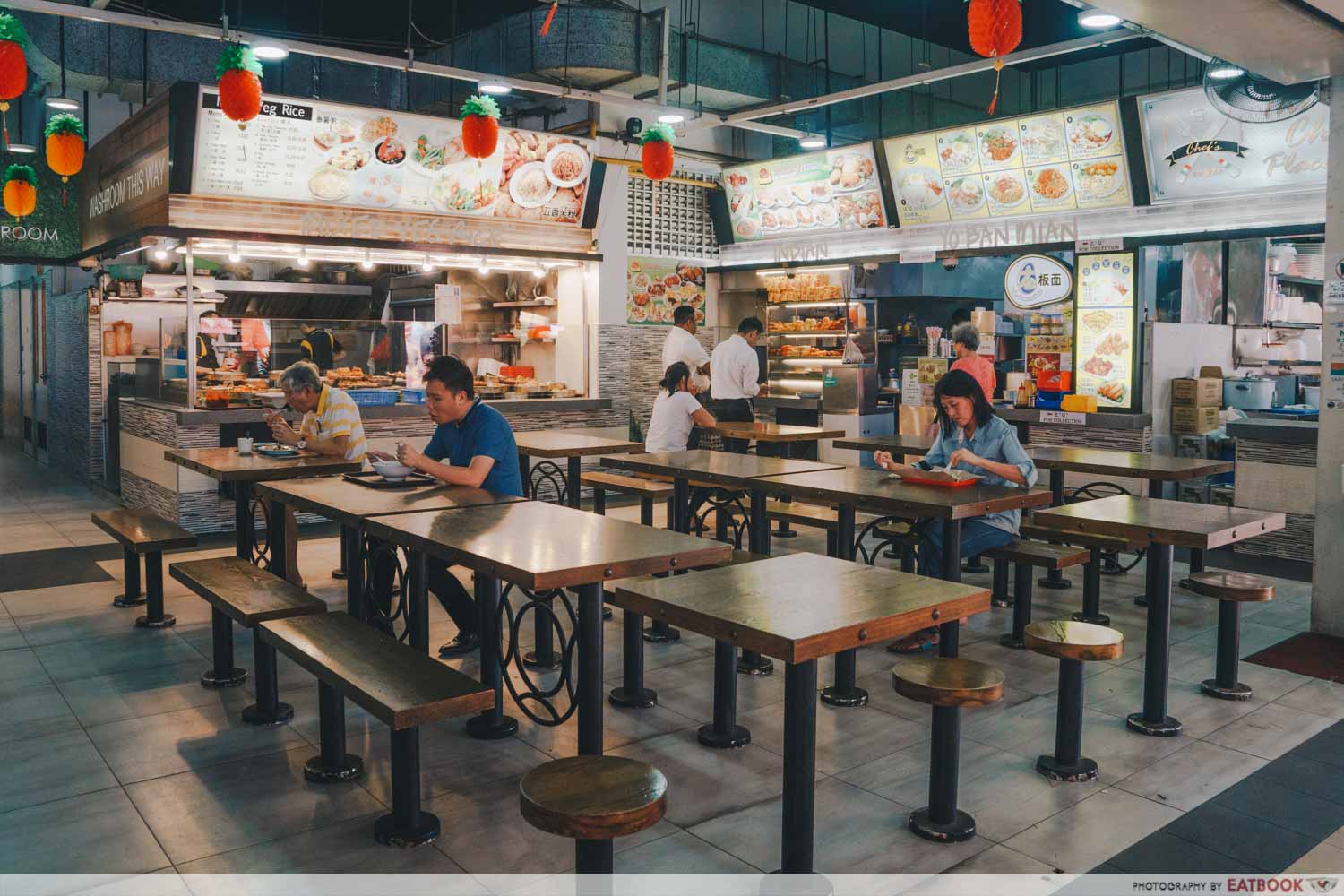 Right next to Farmway LRT station at Food Paradise, Yobanmian is a convenient spot for North-Eastern dwellers looking for a noodle fix. There's plenty of other locations to enjoy these soothing noodles though, with outlets in Bukit Panjang, Singapore Polytechnic and Yishun.
A quiet and airy coffee shop, it's a nice place for a quick and peaceful bite.
The verdict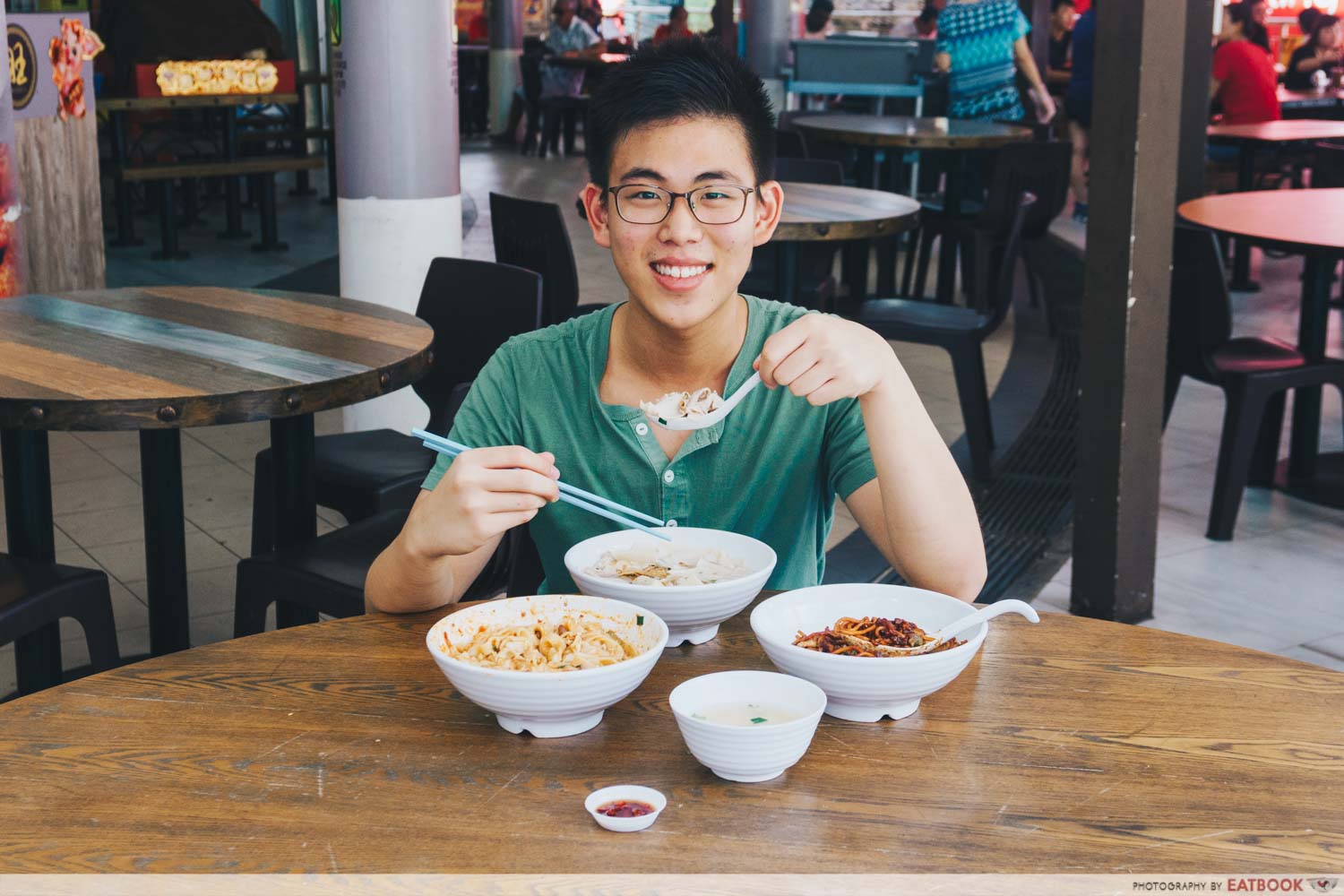 Ban mian isn't a dish commonly innovated on, so we commend Yobanmian for their clever concepts. But we can't help but feel that they are better off serving classic bowls. You don't need to reinvent the wheel to make enjoyable food.
I wouldn't make a trip down to eat here, but if you're in the area and craving a hearty bowl of ban mian, it's a great choice. I think tom yum ban mian is about as adventurous I would get for non-traditional flavours.
For more comforting bowls of ban mian that are perfect for a chilly day, check out our review of Yue Lai Xiang Delights and our list of 10 Ban Mian Hawkers.
Yue Lai Xiang Delights Review: Colourful Ban Mian And Mee Hoon Kueh At Bishan
Let us know where your favourite ban mian is in the comments below!
Address: 330 Anchorvale Street, #01-02, Singapore 540330|
Opening hours: Daily 7am to 9pm
Tel: 6759 0988
Website | Full list of outlets
Photos taken by Leong Kit Shan and Pepita Hope Wauran.
This is an independent review by Eatbook.
Summary
Pros
– Tasty and robust soups
– Creative dishes
Cons
– New dishes were slightly disappointing
Recommended dishes: Pork Belly Mee Hoon Kueh ($4.50)
Opening hours: Daily 7am to 9pm
Address: 330 Anchorvale Street, #01-02, Singapore 540330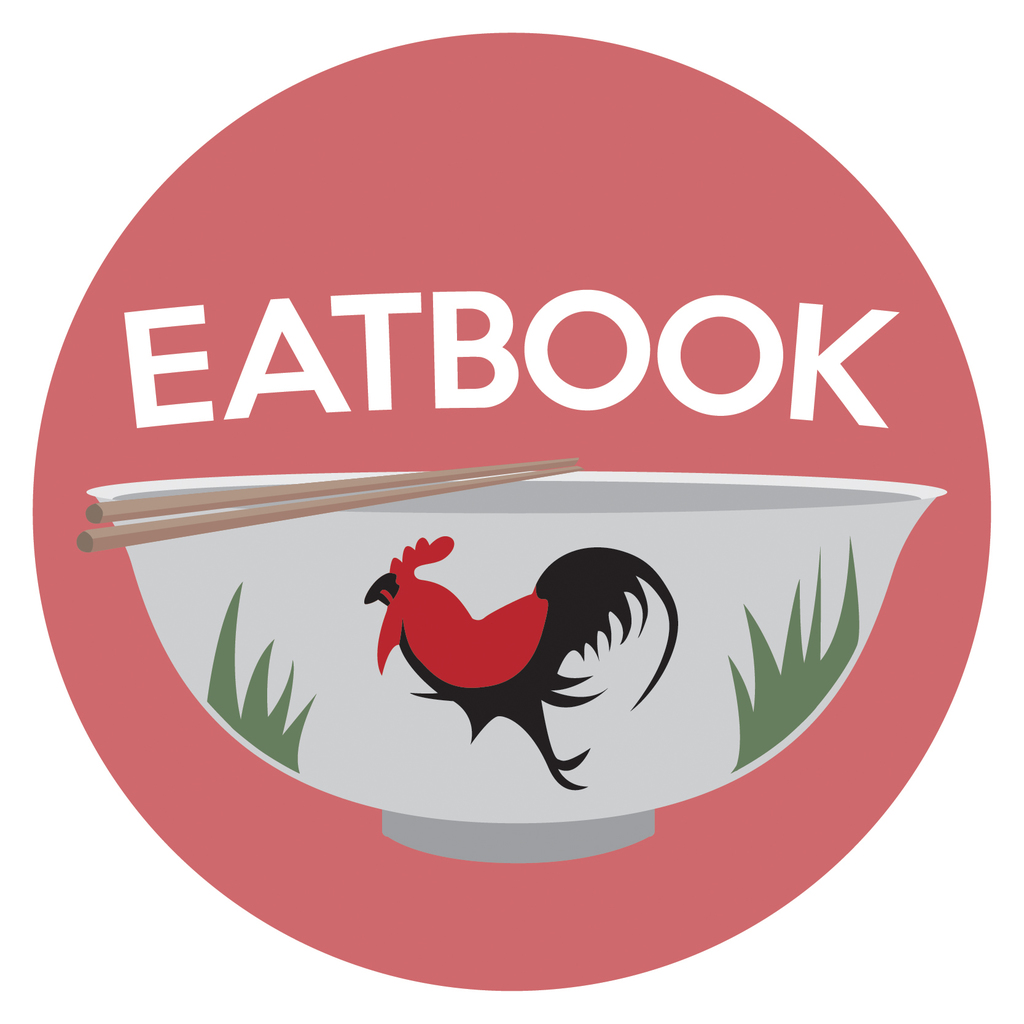 Drop us your email so you won't miss the latest news.