---
YOLO, That's Why You Have To Eat Right
---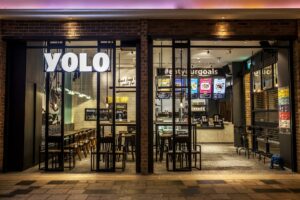 I'll be honest – health food concepts just seem so terribly dull and overrated. After all, if I wanted to eat clean, I'd pack a salad to work. That would cost me about $4, as compared to buying a salad outside that will cost me at least double the price. So yes, I went to YOLO feeling pretty skeptical, but turns out I was wrong. I ended up being impressed by the dedication of the team behind YOLO, and I'm now convinced they're different from that typical salad bar that's dime a dozen in the CBD.
YOLO has five different menus you can choose from depending on your current lifestyle or work out goals, and they are extremely transparent about your nutrient and calorie intake. Unlike many other healthy eateries, the food at YOLO is exciting, and there's tons of variety. Can't decide what to choose? We'll narrow down the choices for you!
---
Shape Up – Supporting that 365-day beach body / <300 Calories
---
Cauliflower Fried Rice – $9.90
---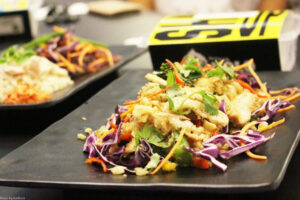 I thought this would be fried rice with cauliflower, and I ate this with much gusto because that's how much I love fried rice. I only discovered ten minutes later that the cauliflower was the rice, when everyone else was marvelling at how the texture of the chopped cauliflower was so similar to brown rice.
One would expect healthy food to be bland, especially a dish with cauliflower as the main ingredient. However, this was anything but tasteless. There was a nice char to the cauliflower rice grains, with the asian vegetables adding a natural sweetness that complemented that moist chicken slices. Truthfully, I would return for a box of this wholesome 'fried rice'.
---
Salmon Quinoa Burger with Grapefruit and Rocket Salad – $13.90
---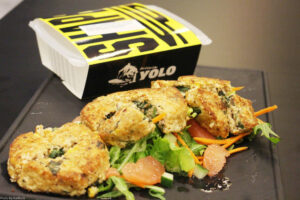 Salmon and quinoa is officially the winning health food combination of the year. These moist patties were well seasoned and nicely crisped on the outside, making this a must-try option if you're watching your calorie intake!
---
Perform – Give the energy for that extra yard / <600 Calories
---
Chicken Rice – $10.90
---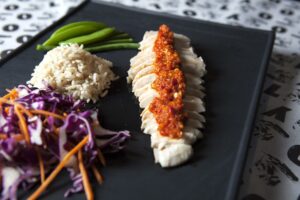 I had little expectations of YOLO's chicken rice, because is it really chicken rice if it's without all that aromatic chicken fat? Well, let's just say this is one tremendous game changer for the eat clean businesses out there. Their brown basmati rice lacked that silky smooth texture of our local chicken rice but it was equally fragrant and had a really good texture. Their steamed chicken breast was also succulent and tender, and went extremely well with the freshly chopped chili and garlic paste. I would never give up eating chicken rice, but I wouldn't mind substituting the usual fatty version with this once in awhile.
---
Coconut Chicken on Brown Rice – $11.90
---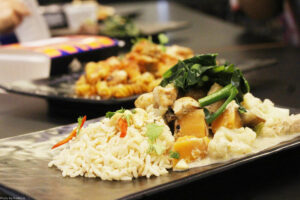 Another winner on their menu would be this addictive dish of coconut chicken on brown rice. It's reminiscent of milky Thai curries with its creamy texture and aromatic spice blend. This is one dish that's so tasty, you won't even notice you're eating clean!
---
Build – Fuel for that gym junkie who wants to bulk up / <700 Calories
---
Beef Nam Jim Steak – $13.90
---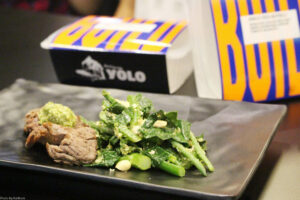 It's hard to go wrong with steak, so we weren't all that impressed with this simple dish of steak with asian kale. While the steak was tender and flavourful, there was just nothing outstanding about this as compared to the other dishes. However, the salsa verde that packs an explosion of spicy and tangy flavours won us over at first bite!
---
Arnie's Meatballs with Pasta – $13.50
---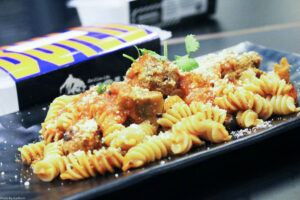 Likewise, this meatball pasta dish lacked that extra edge to push it from good to awesome. It's a nice option if you feel like eating something with carbs, but it wouldn't be our first choice given the other scrumptious options on YOLO's menu. 
---
Glow – Helping skin look younger for longer
---
Thai Fish Cake with Super Green Salad – $10.90
---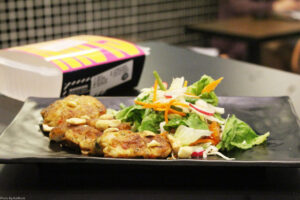 My least favourite dish of the day was probably the Thai fishcakes. Although they were bouncy, with a crisp exterior, the saltiness of the fishcakes overpowered all the other flavours of the herbs. It's a pity because this dish definitely has potential to do better.
---
Falafel Wrap with Israeli Salad – $9.90
---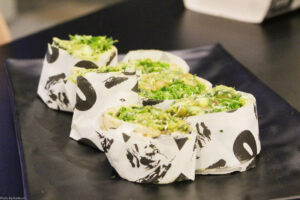 The falafel wrap on the other hand was an instant hit! The spicy seasoning takes you by surprise, and elevates the flavour profile of this green burrito. The combination of earthy chick peas, fresh greens, and juicy tomatoes is so delicious, I would consider turning vegetarian if I could eat this every day!
---
Soothe – For gluten/wheat/dairy intolerant
---
Salmon Tataki Salad – $13.90
---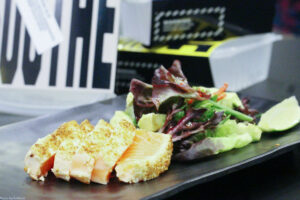 Gluten intolerant people, rejoice! This delicate salmon tataki salad is refreshing and chock full of omega 3 goodness that eating it will make you forget why you even complained about not being able to digest wheat. We love that crusted salmon tataki offers us something different from the typical poached or baked salmon. This dish is definitely testament to how YOLO is committed to providing alternatives you'll look forward to eating.
---
Chicken Quesadilla – $11.90
---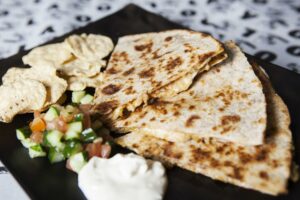 If you thought this would taste bad, think again. I literally could not tell the difference between this cheesy and gratifying quesadilla and the one I usually have at my favourite Mexican place. Moist barbecued chunks of chickens and gooey cheesy goodness are sandwiched between crisp tortillas and served alongside chips and sour cream. It's so authentic, I'm never going anywhere else for quesadillas again!
---
Time to #eatyourgoals and Head Down To YOLO
---
If there's anything this trip down to YOLO has taught me, it's definitely that eating healthy doesn't necessarily mean you have to subject yourself to bird food. You can definitely have the best of both worlds here at YOLO: delicious food that's also healthy. Or at least much healthier than the other lunch alternatives out there anyway.
This post was brought to you by YOLO.
Summary
Pros:
– Surprisingly tasty for healthy food
– Local take on food provides good variety
Cons:
-Pricey, not something you would eat every day
Recommended Dishes:
– Chicken Quesadilla – $11.90
– Coconut Chicken on Brown Rice – $11.90
– Cauliflower Fried Rice – $9.90
Opening hours:
Mon – Sat: 8am – 930pm
Sun: 11am – 3pm
Address:
#01-01 Icon Village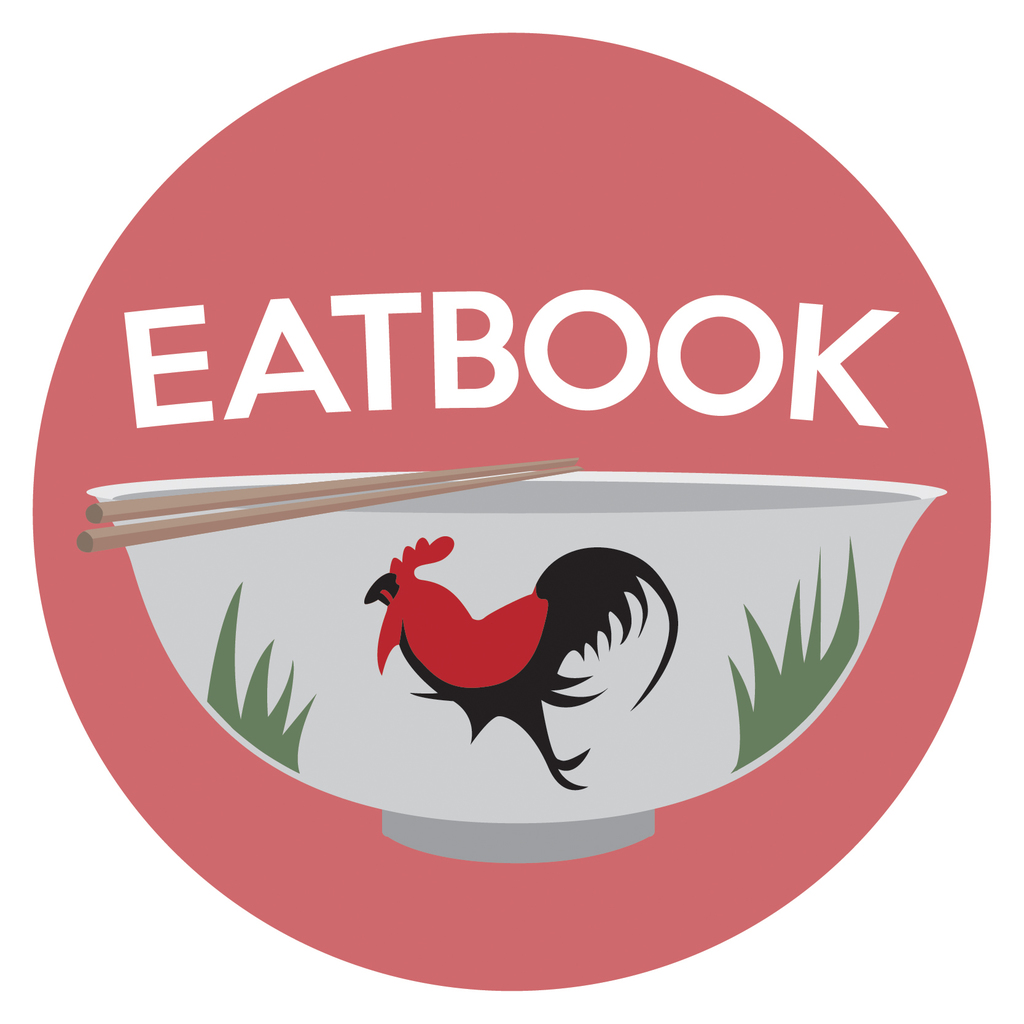 Drop us your email so you won't miss the latest news.