555 Villa Thai offers mookata by the runway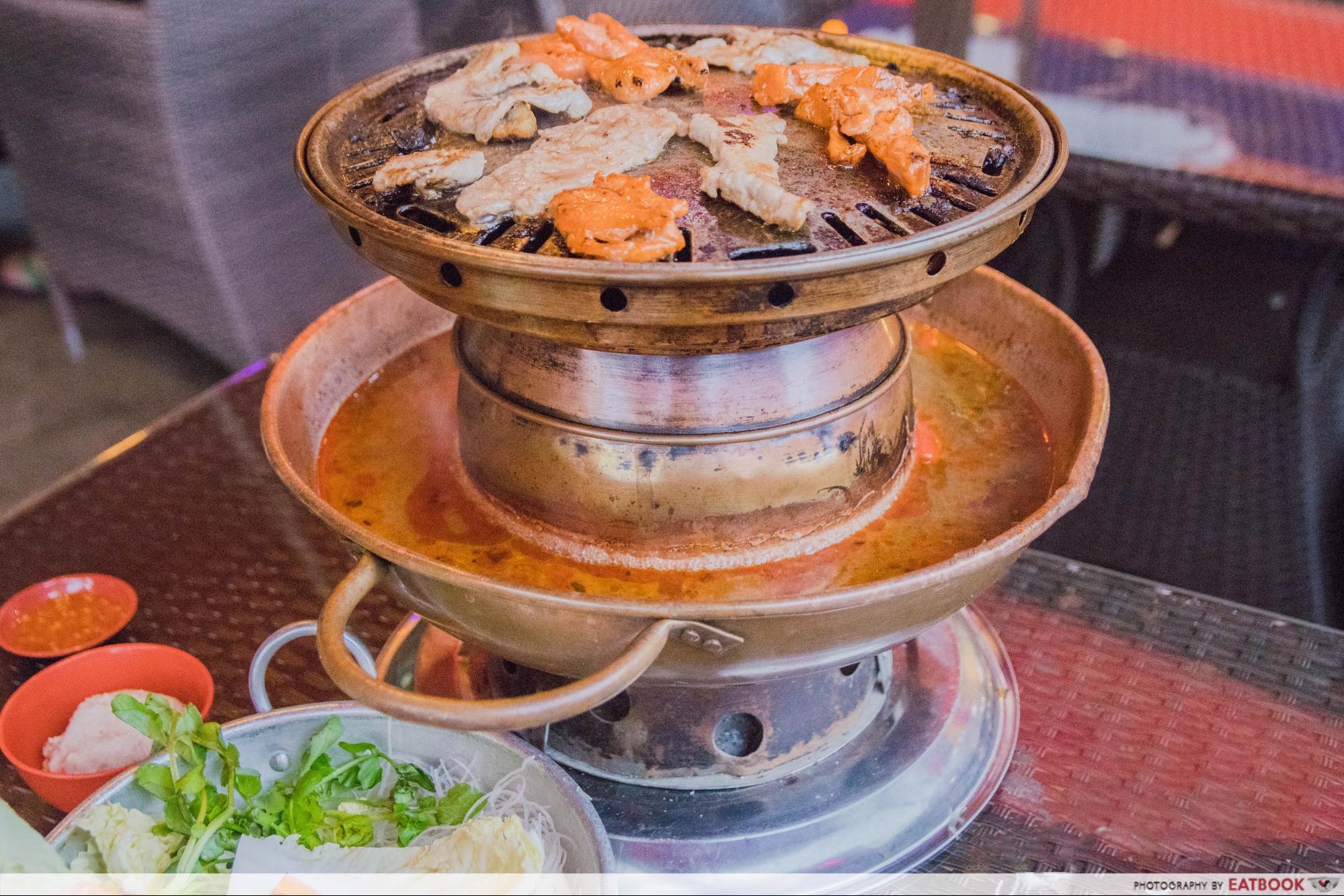 Next to Changi Airport's busy runway is 555 Villa Thai, which offers a view of the landing and taking off of roaring planes. Serving mookata and a la carte dishes, they're a tad pricey, but the ambience still attracts returning customers. Live bands perform every night, setting the mood for a relaxing dinner as groups dine under the night sky.
Food at 555 Villa Thai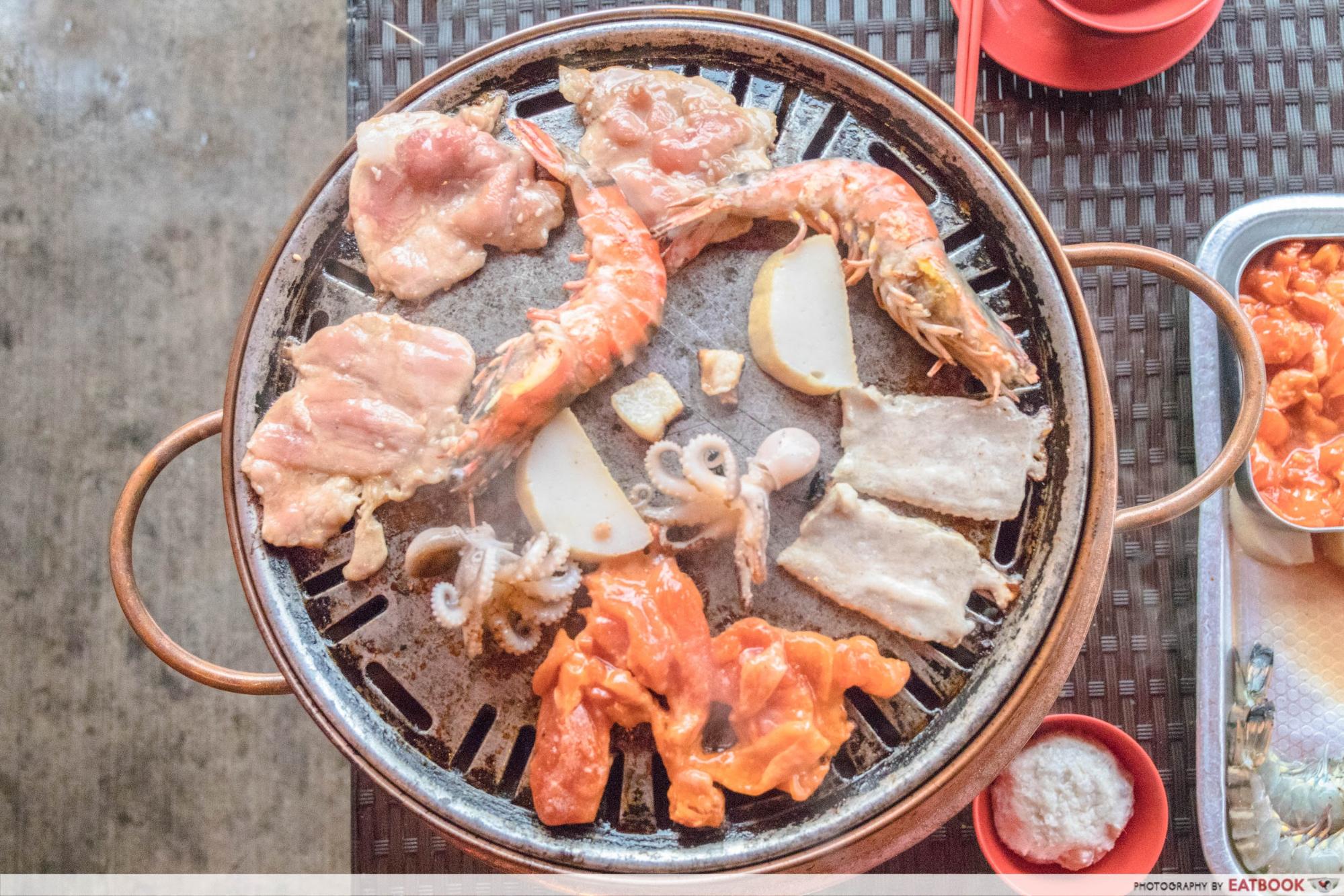 Their UFO Pot Set was the signature mookata meal we headed down for, and it includes a two-tiered pot with a grill and a ring of soup, each heated with burning charcoal. At $59++ for two people, we received a tray of fresh seafood and marinated meats, as well as a dish of noodles and greens. A set for four at $79++ comes with larger portions of meat and the addition of scallops. Between their two choices for broth, we chose tom yum instead of chicken.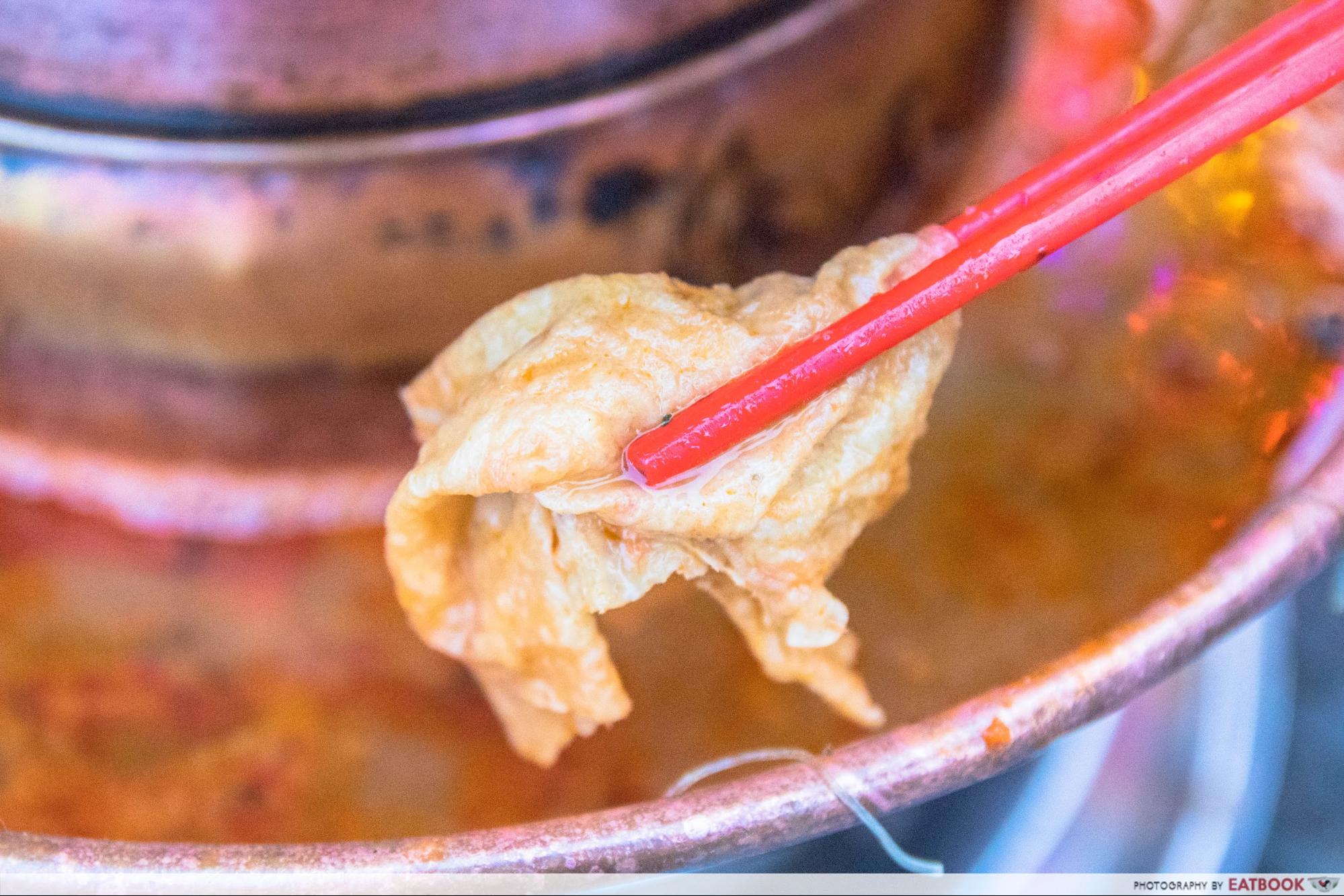 After we placed our order, a UFO pot was placed on our table and pieces of pork lard were placed on the hot grill. A kettle of thin broth was emptied into the pot's ring and a separate tray of chicken, spices, and red tom yum paste were stirred into the soup. Soon enough, sharp and stinging smoke that irritated our throats surfaced.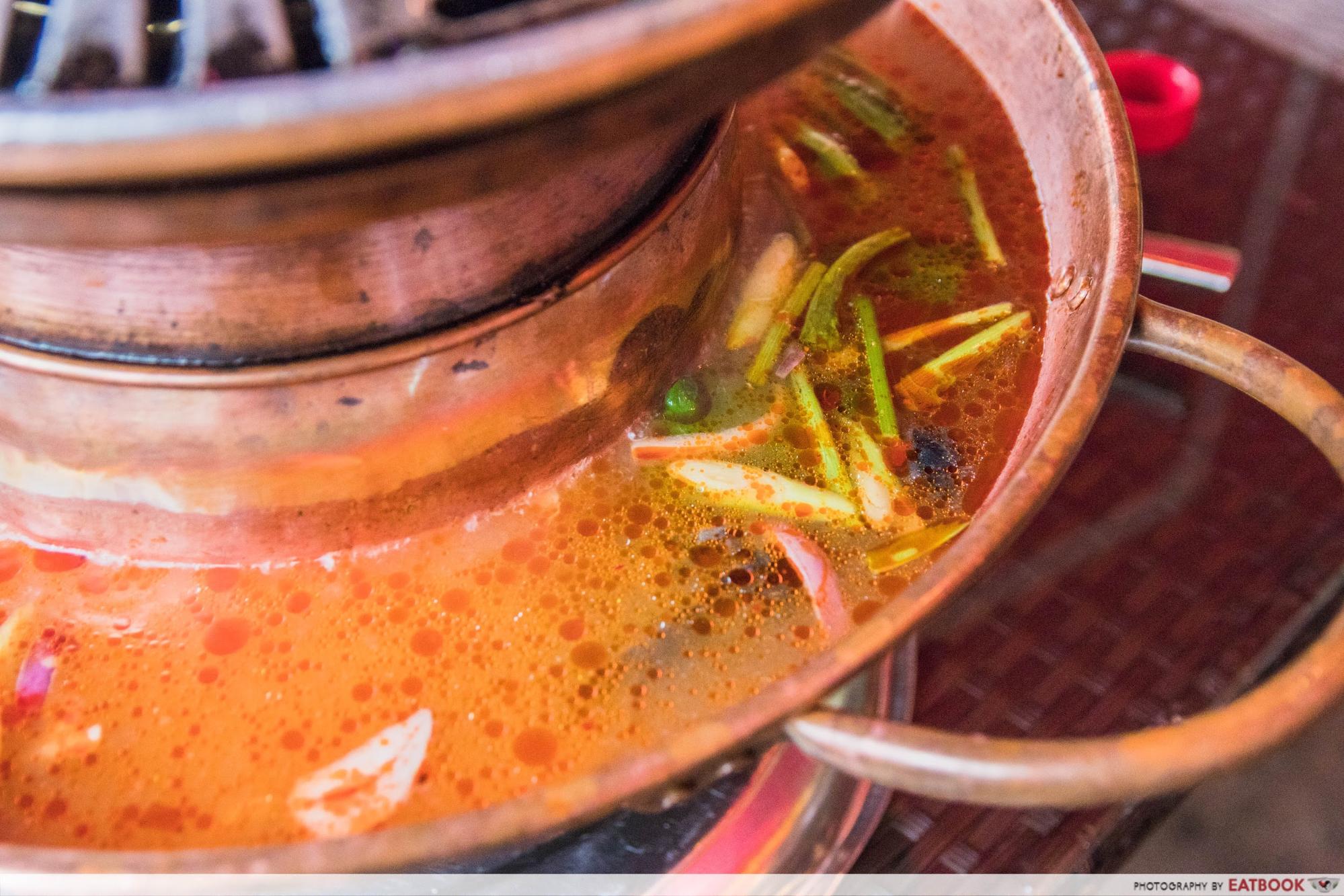 The tom yum soup was salty and had a lingering sweetness. It also created some heat at the back of my throat. If you like spicier notes though, they provide a spicy chilli sauce that bites.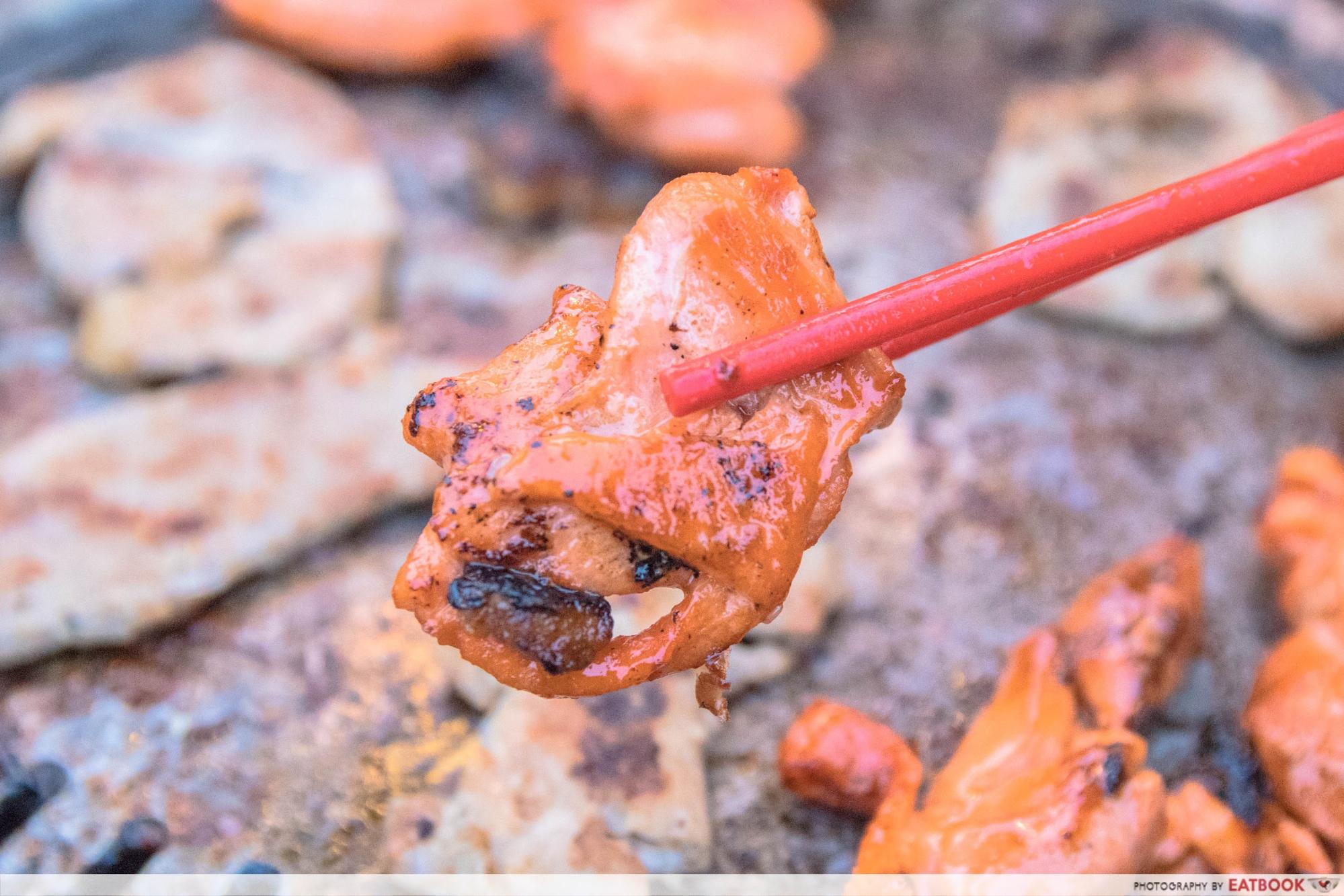 We grilled the seafood, and in small chunks of bright red were their marinated chicken. The chicken was bathed in sweetness, which was fine to me, but it might have fared better for my colleague if its taste was less flat.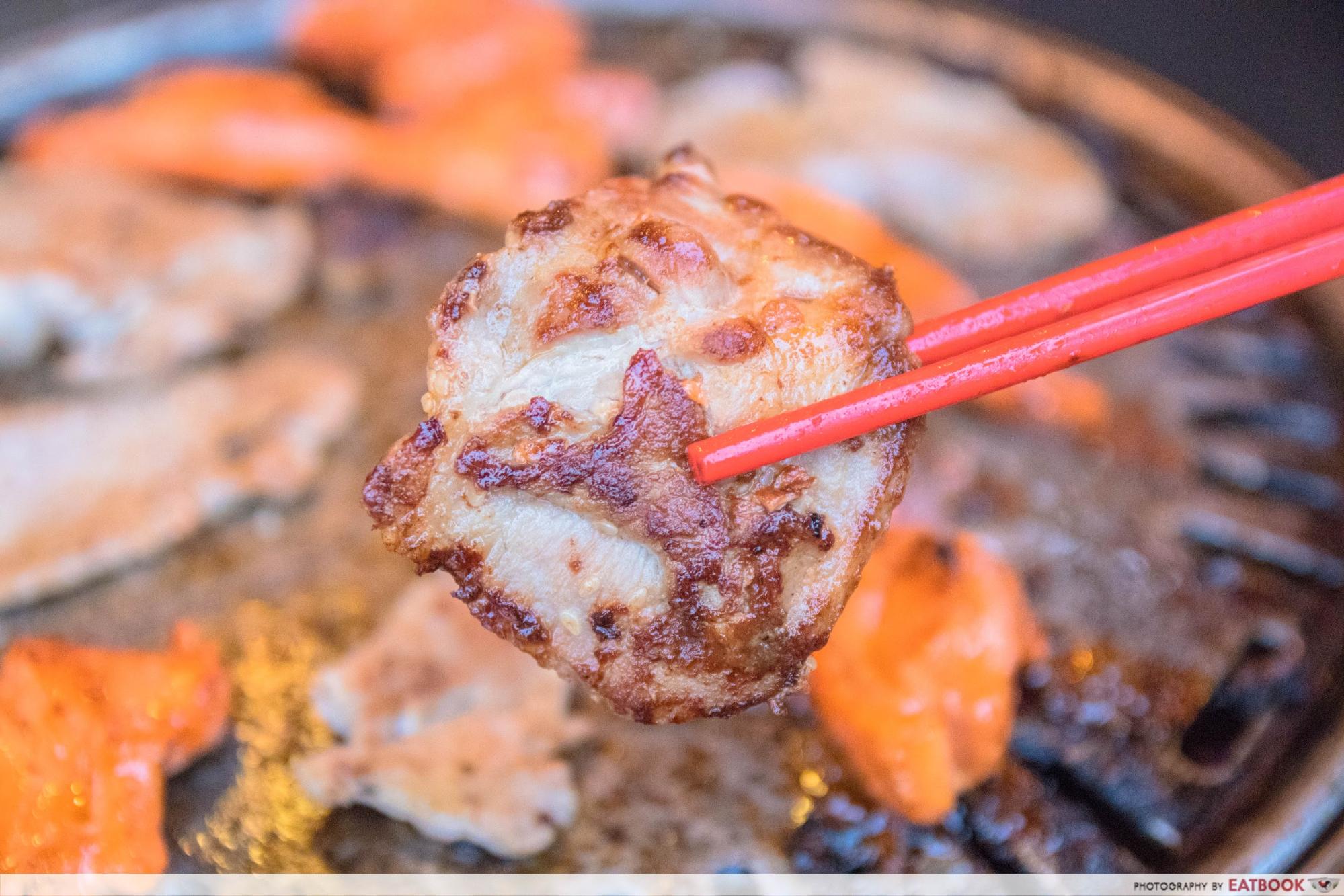 There were also large slices of lean, marinated pork, which were freckled with sesame seeds. They were milder and less sweet in taste which made them boring to me. After experimenting with their dips though, I found that that sour chilli sauce lent some depth of flavour to it, making the pork rather enjoyable.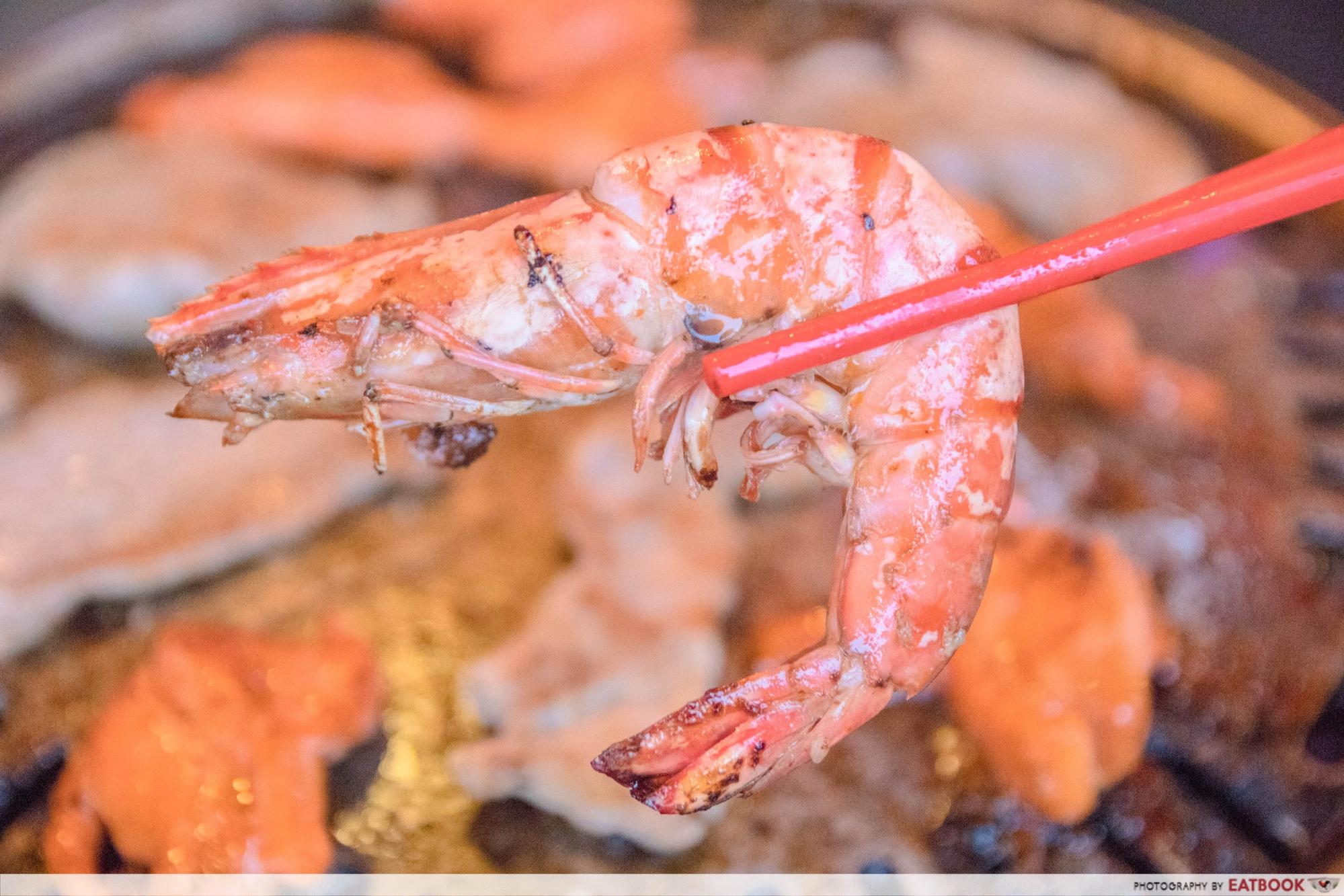 Our four tiger prawns looked fresh, and they were so large and fleshy they took the longest to cook. There were also four mini octopuses which I liked leaving longer on the grill to give their tentacles some crisp, because the flesh was rather soft. There were also five thin slices of pork belly and slices of fish cake.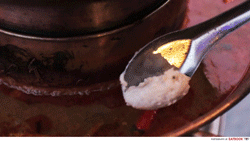 We slowly boiled wong bok (Chinese cabbage), watercress, enoki mushrooms, beancurd skin, crystal noodles, and a packet of Thai Mama noodles in the soup. There was also a small bowl of prawn paste which we carved into clumps to boil, and it was quite uniformly soft without any distinct flavour.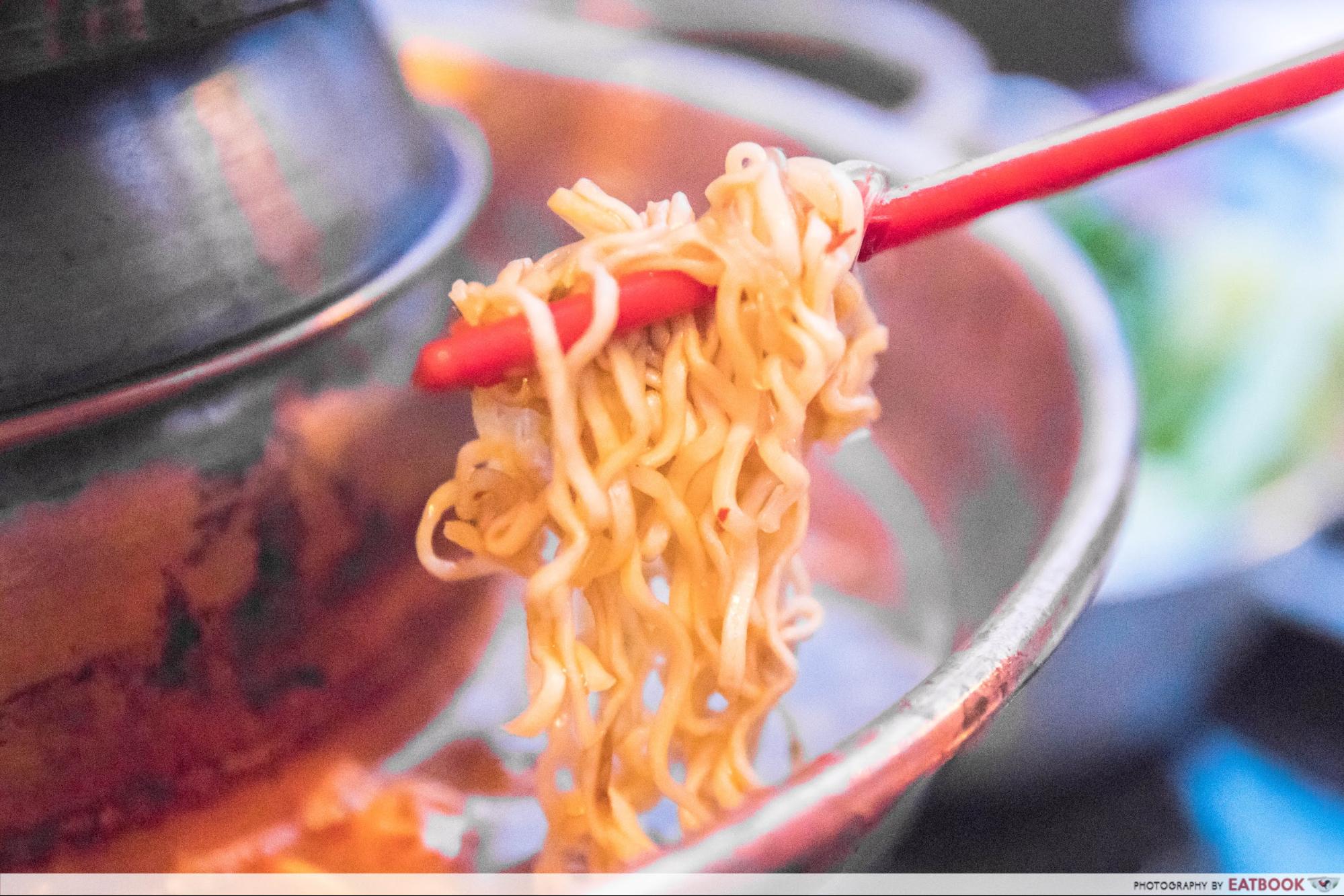 Their instant mee was easily better than the crystal noodles, which were too limp even when we tried to cook them quickly. The staff were attentive in offering refills to our soup multiple times but it had turned too salty for me to have much, and soon, I got super thirsty. We ordered a glass of Thai Milk Tea ($7++) to share, and it was larger than a typical cup, but still very pricey. I suggest skipping this because it was too sweet and the taste of tea was much too weak.
Ambience at 555 Villa Thai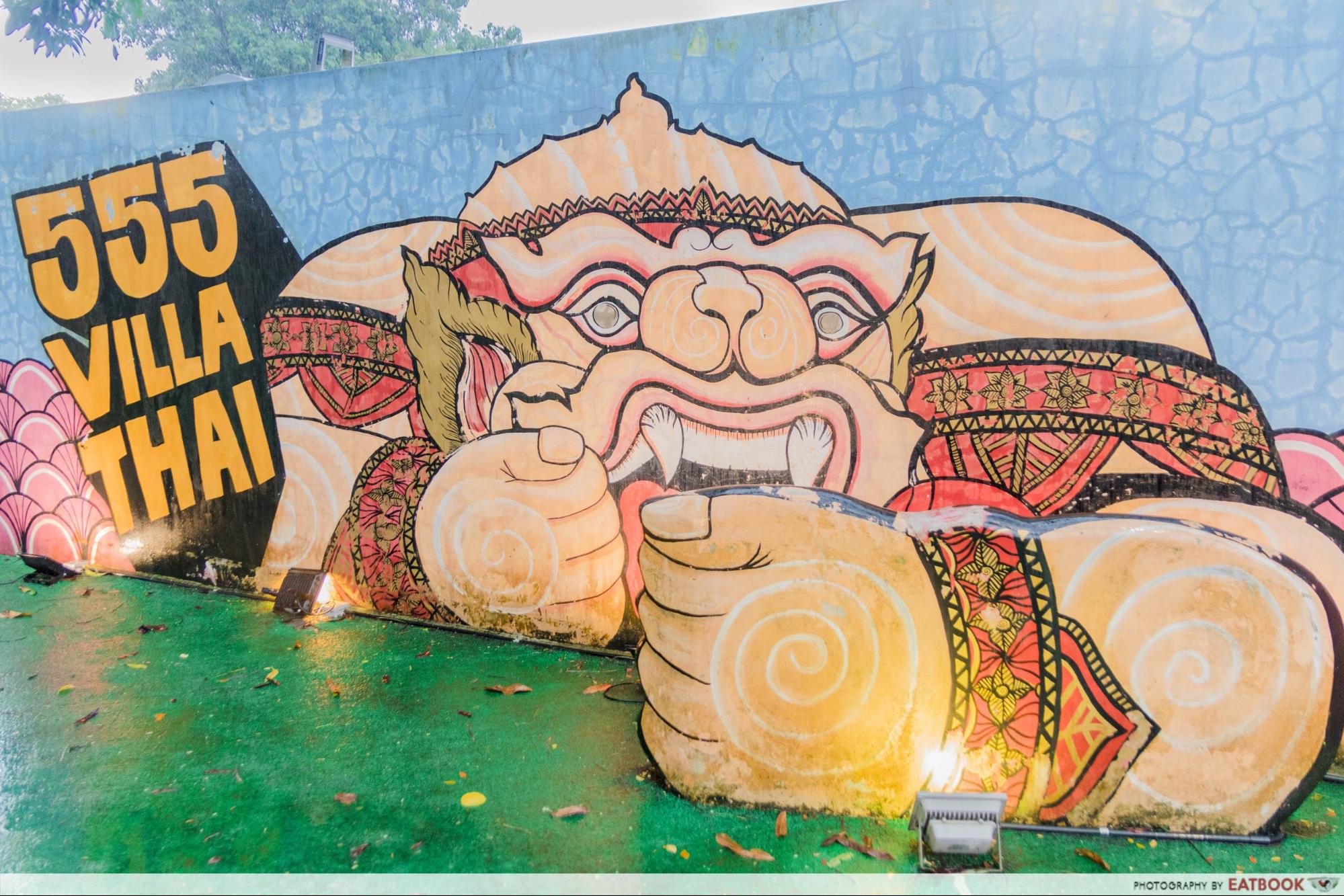 We went down by public transport, which we'd recommend only for those who don't mind a long journey. After alighting at the nearest bus stop, we took a 10-minute walk down a winding driveway past Selarang Camp. As we reached a right turn, airplanes landing on the airport runway across a field caught our gaze and that was when we saw the entrance of 555 Villa Thai.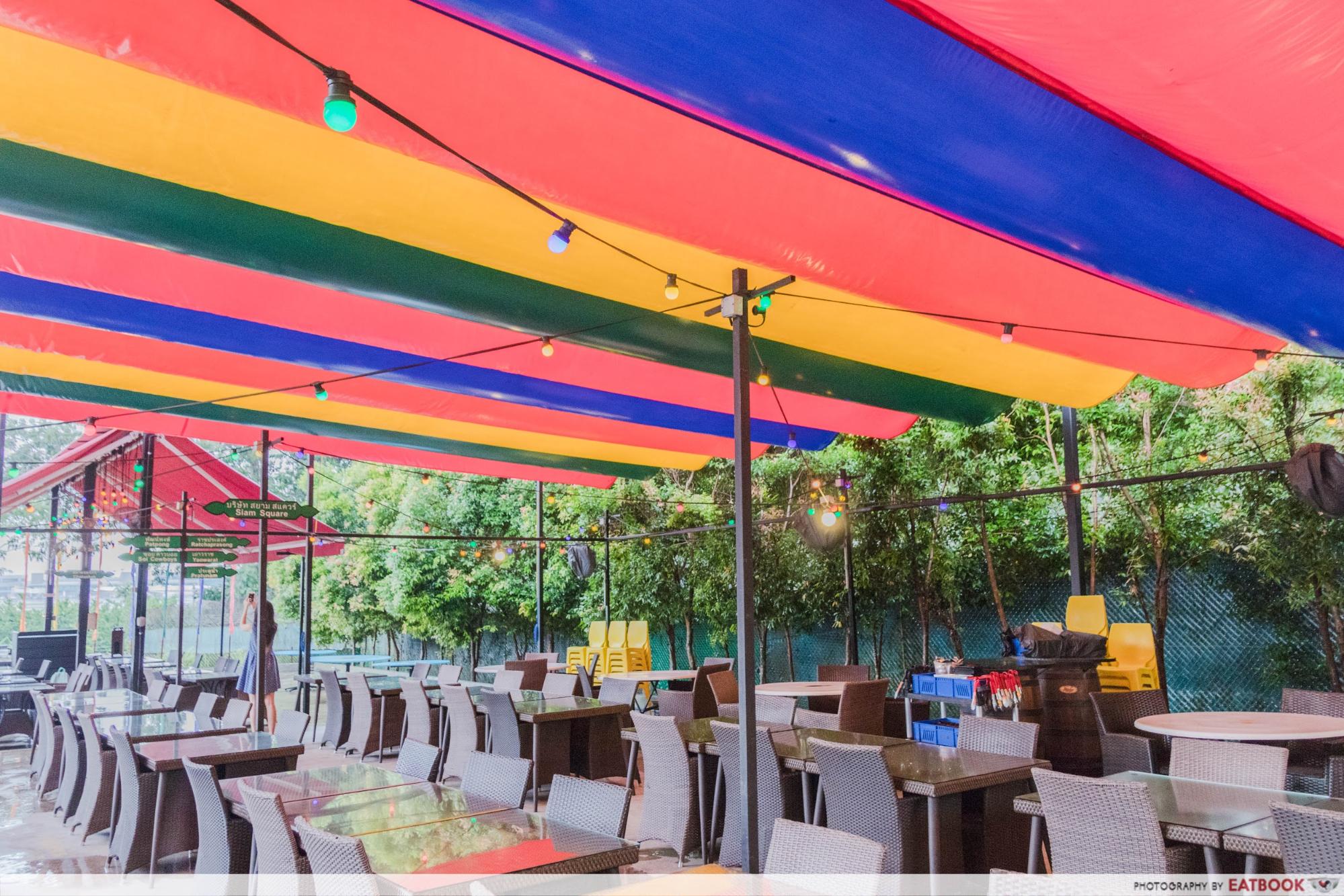 As the rain cleared and the night settled in, small groups of customers filled some of the tables. Seeing that they all drove confirmed how inconvenient the location was. The restaurant compound was spacious and well-ventilated with strong fans that kept the heat away. Even though it was raining when we first arrived at close to 6pm, we were well-sheltered by their colourful tent.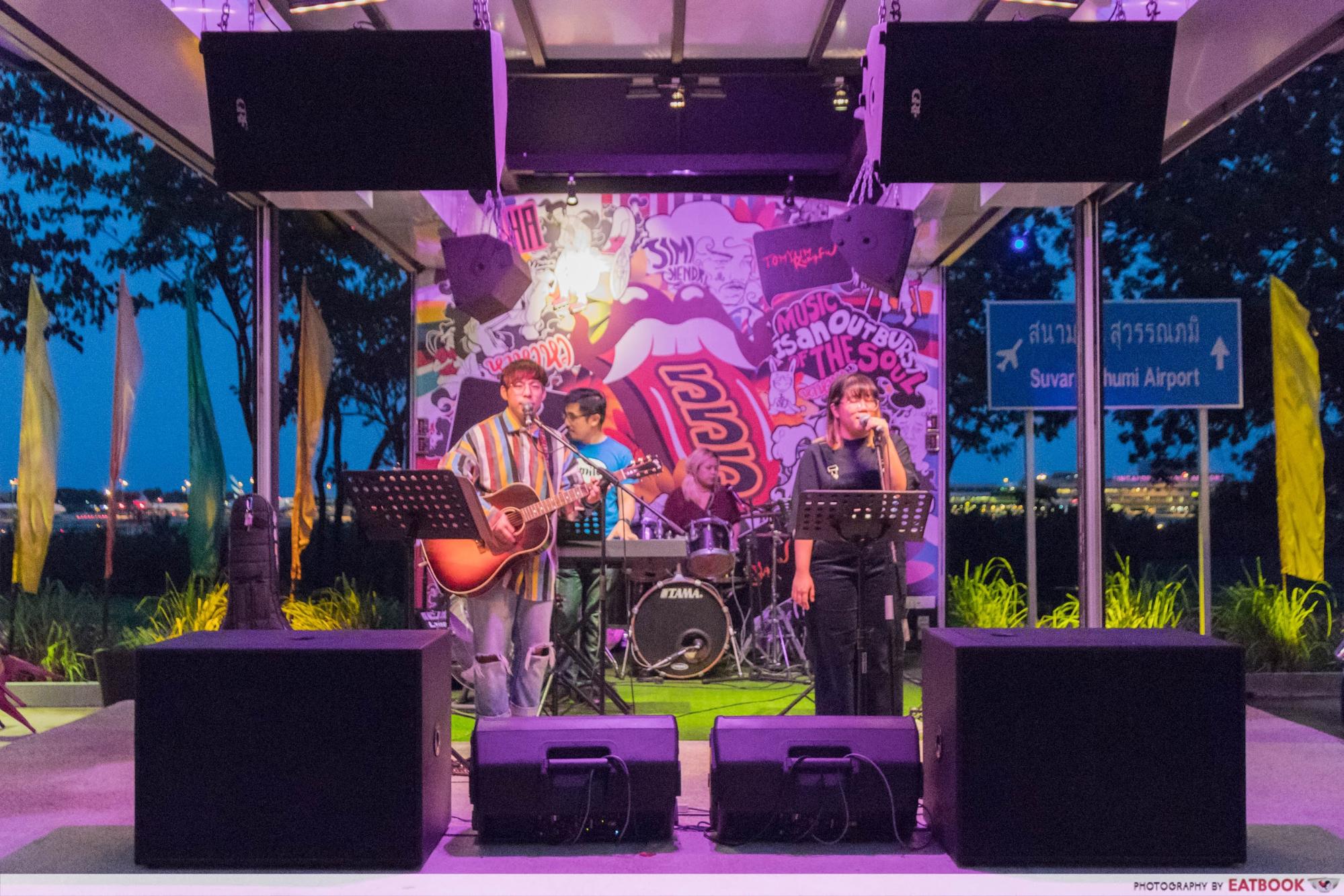 Once the skies cleared, they rolled the tent up so we were having dinner under the stars. The roaring of planes every now and then signalled a landing or take-off, and the planes looked so large from where we were seated. Past seven, a live band started playing Mandopop and English tunes by requests, and that was the key to setting the mood.
The verdict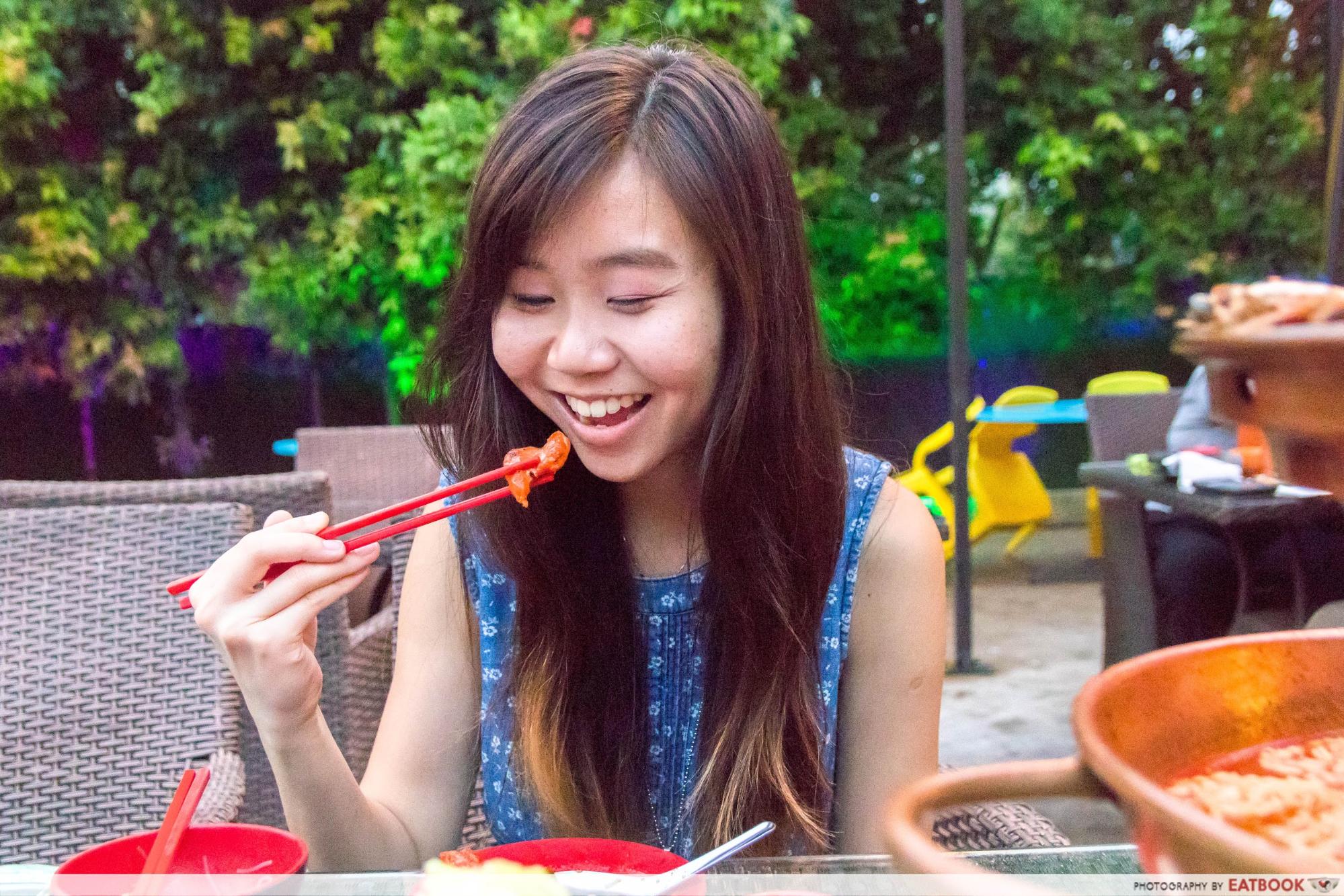 The food was fresh and tasted decent. But cheaper mookata spots that offer free-flow food, with drinks and desserts included, aren't exactly lacking in more convenient locations. I'd recommend this spot if you and the gang are willing to splurge for a good place to hang because the soft lighting, low drum of the music, and the planes taking off really set a pleasurable mellow vibe. For other times though, check out other food spots nearby at Changi Airport's Terminal 4 or slightly further at Expo MRT Station.
Address: 30 Cosford Road, Singapore 499550
Opening hours: Sun-Thur 5pm to 1am, Fri-Sat 5pm to 2am
Tel: 6747 3585
Website
This is an independent review by Eatbook.sg.
555 Villa Thai Review: Charcoal UFO Mookata With Live Music Next To Changi Airport's Runway
Summary
Pros
– Unique ambience
– Live music
Cons
– Inconvenient location
– Expensive
Operating Hours:
Sun-Thur 5pm to 1am, Fri-Sat 5pm to 2am
Address: 30 Cosford Road, Singapore 499550