Aunty Oats Pancake sells min jiang kueh in Old Airport Road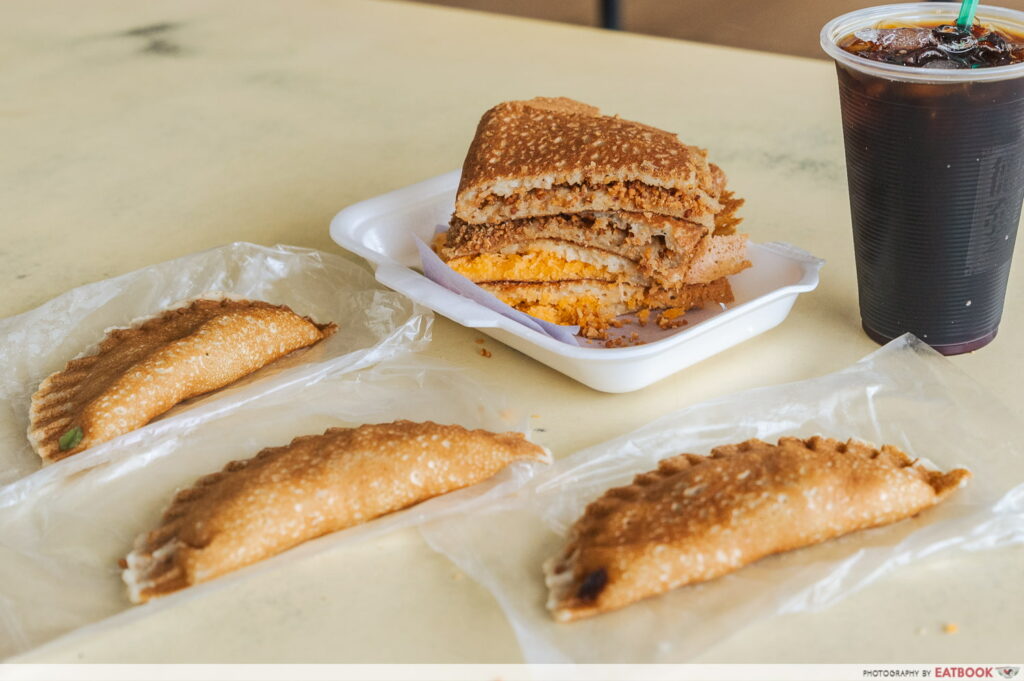 Old Airport Road Food Centre is a treasure trove of delicious and affordable food, from famous Michelin-approved kway chap to newfangled bakeries such as Ah Tas Muffins. This time, we're shining the spotlight on Aunty Oats Pancake, a humble hawker stall selling fresh min jiang kueh.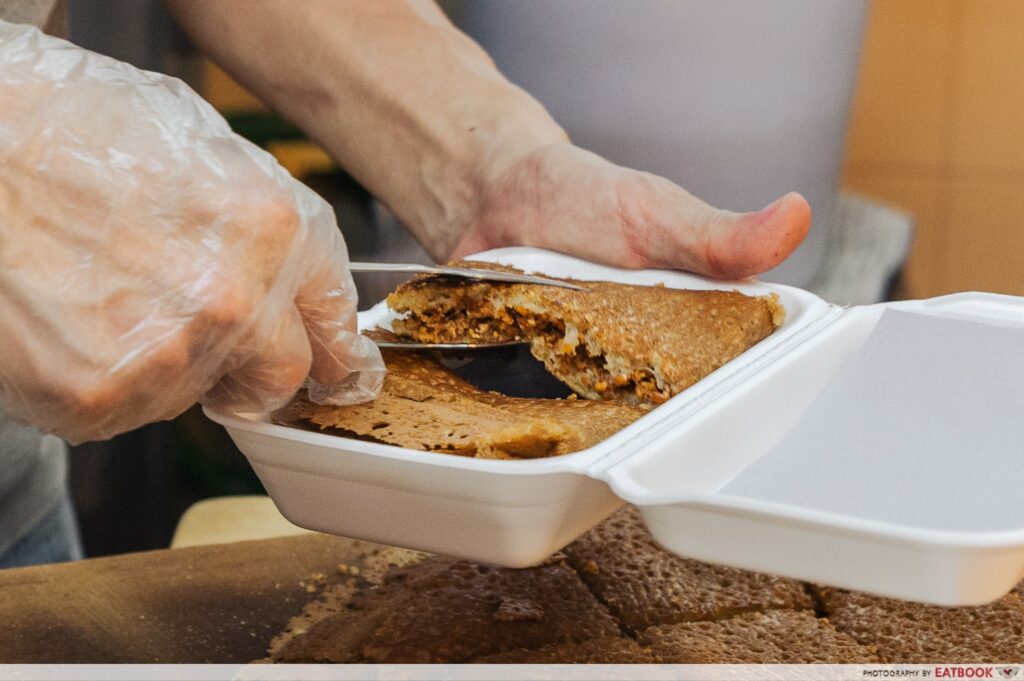 Daniel Food Diary recently reported that the stall is believed to be the first min jiang kueh business recommended by the Michelin Guide. After some digging, we found out that they're indeed the only MJK stall that's been listed on the guide as a standalone feature.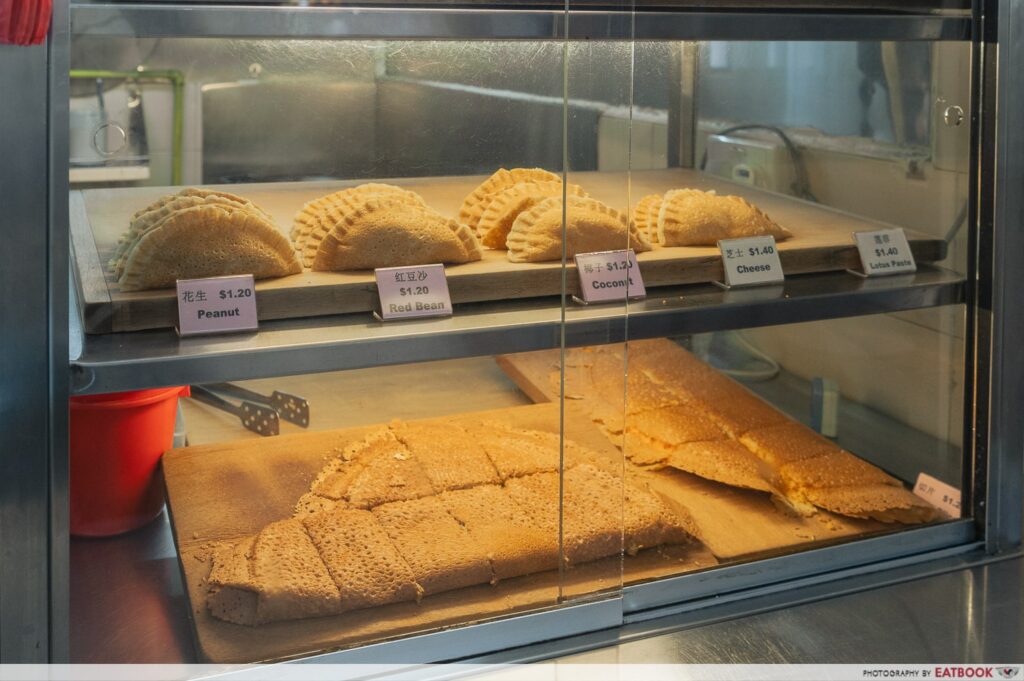 The stall only sells old-school pancakes, either in Cut Slice ($1.20) or in "folded" form. The former comes in two flavours: Peanut and Coconut.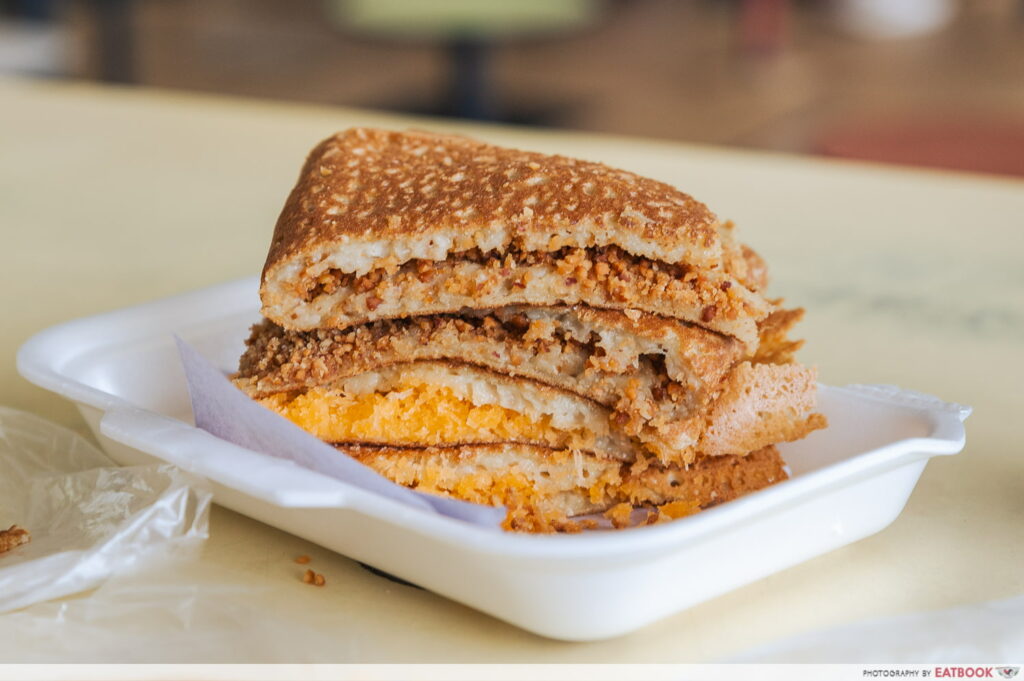 Each sliced pancake is uber soft and fluffy, thanks to the special batter that's made sans eggs. They're pretty generous with the amount of fillings, too.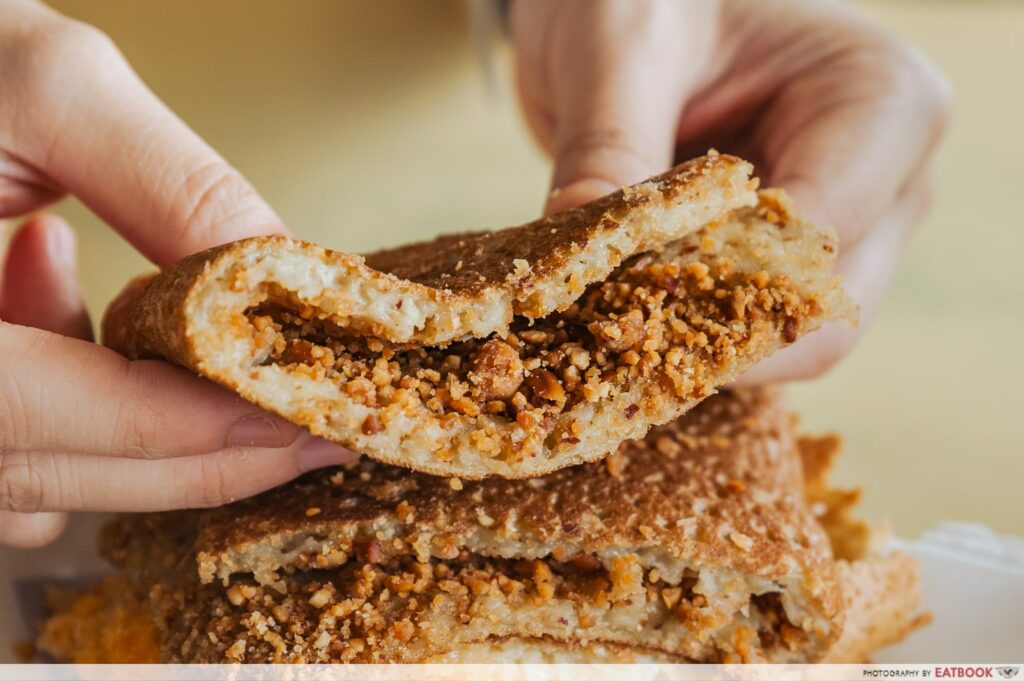 The peanut MJK was loaded with chunky peanut bits and sugar, which added sweetness and crunch to the soft pancakes.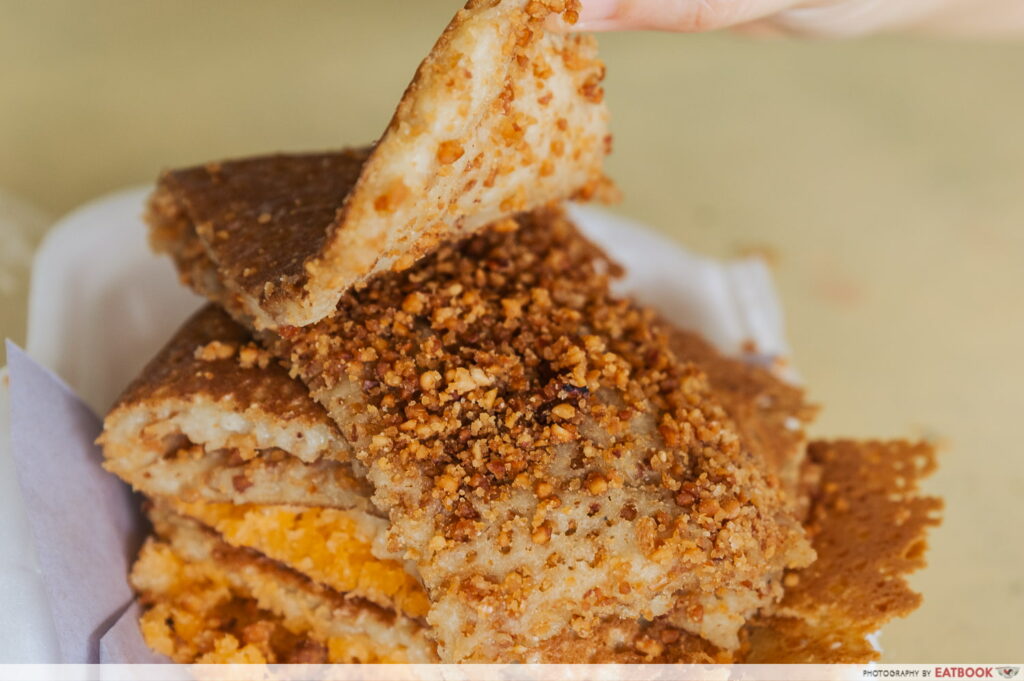 Unfortunately, we felt that the min jiang kueh was too flat and flimsy—a good portion of the filling kept falling out whenever we tried to pick up the pancake. If you prefer thick pancakes like Munchi Pancakes' rendition, you'll be disappointed with the ones here.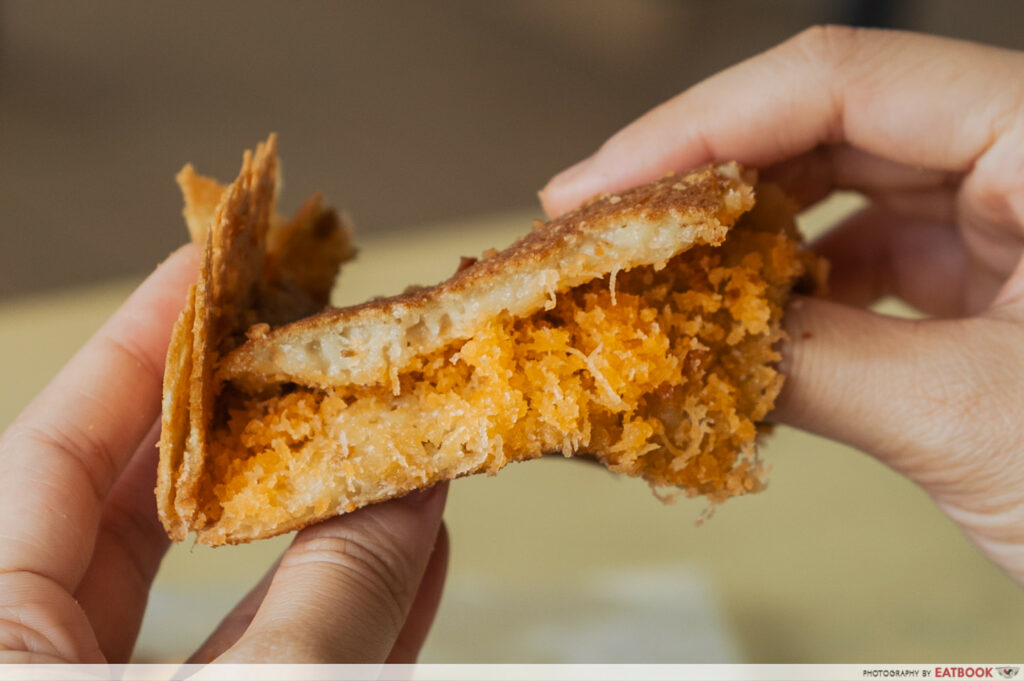 Out of both, we preferred the coconut version as the shredded coconut was fresh, moist, and not too sweet. Also, we were lucky enough to snag a corner piece, which means most of the coconut filling was held safely intact.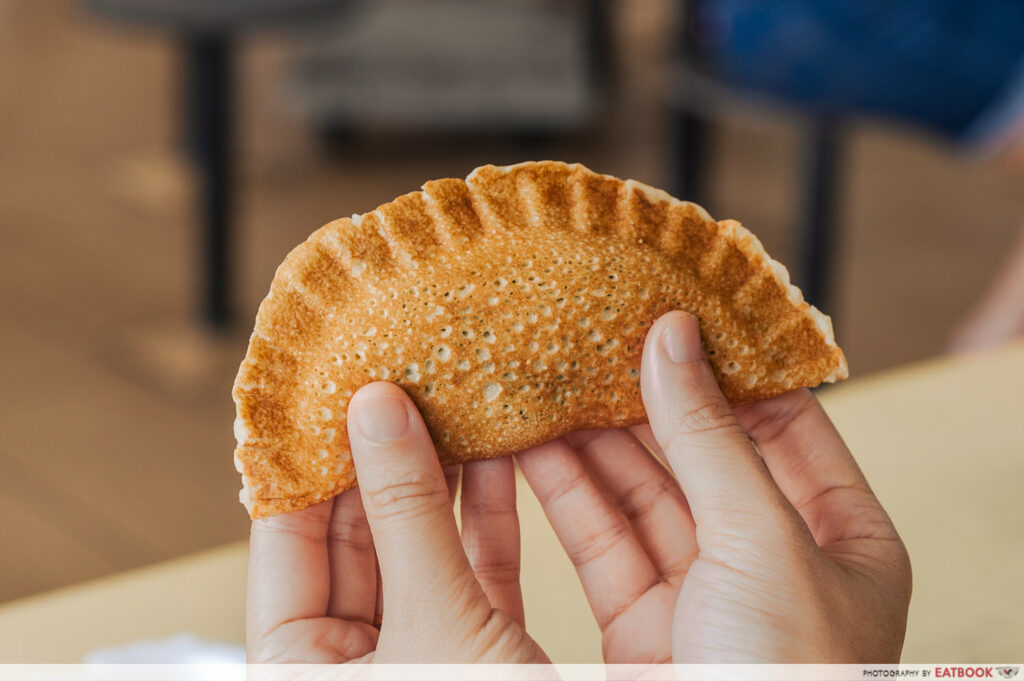 If you're getting your MJK to-go, we recommended getting the crescent-shaped pancakes instead.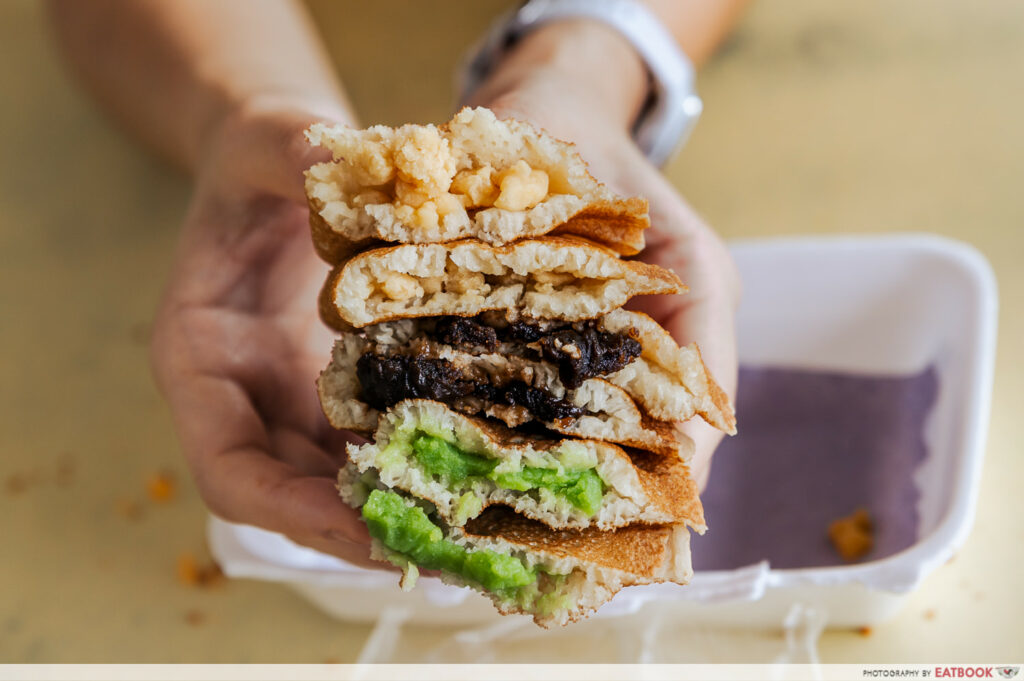 These are available in a wider assortment of fillings, including lesser-seen options such as Coffee Paste ($1.40) and Salted Bean ($1.40).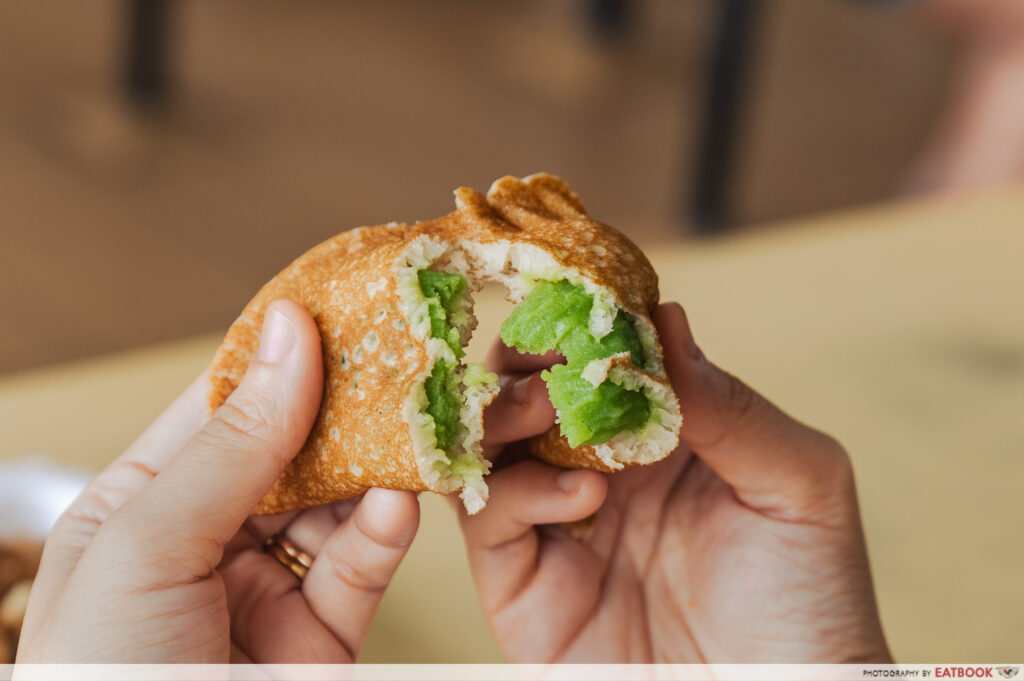 We enjoyed the Kaya ($1.40) filling as it had a pleasant pandan fragrance that complemented the light pancake batter. This min jiang kueh shape holds the fillings better, too.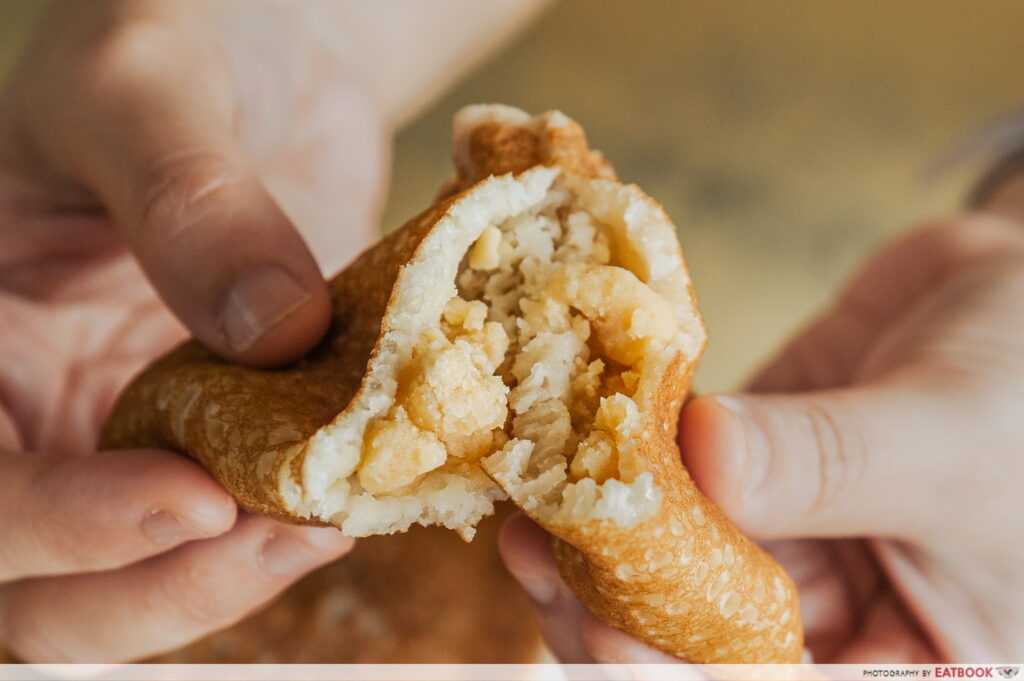 The Salted Bean was a close second; this filling sees chunky bits of salted bean paste for a well-balanced, sweet-savoury flavour that kept me going back for more.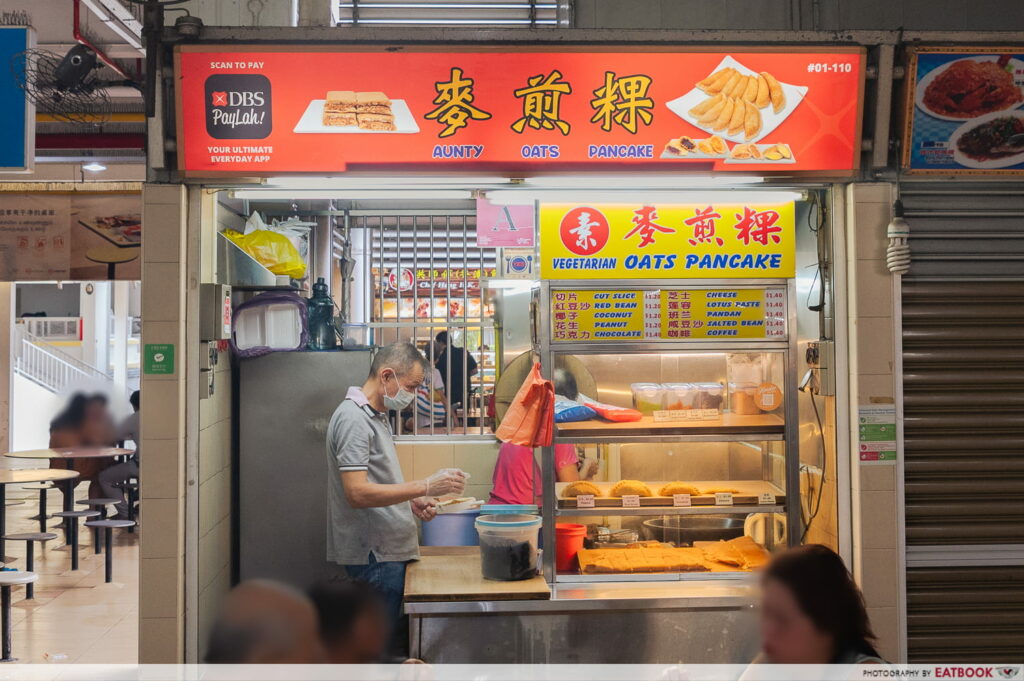 Aunty Oats Pancake serves up a decent rendition of min jiang kueh at wallet-friendly prices. Personally, I don't think it's worth a special Michelin mention as there are other stalls selling better pancakes with a wider assortment of fillings. But if you're ever in the area and craving old-school pancakes, it's worth dropping by for a snack.
10 Min Jiang Kueh Stalls To Check Out For Black Sesame MJK, Taro Pancake And More
Aunty Oats Pancake is located in the middle aisle at Old Airport Food Centre, a five-minute walk from Dakota MRT Station.
If you want something more substantial after your min jiang kueh fix, head to Shi Nian Pig Leg Rice for tasty pig trotter rice with value-for-money portions. Otherwise, check out our Wang Wang Crispy Curry Puff interview. The under-the-radar curry puff stall is also located within the same food centre.
Wang Wang Crispy Curry Puff: Ex-Hotel Chef Is One Of Singapore's Crispy Curry Puff Pioneers
Photos taken by Ke-ian J Leong.
This was an independent visit by Eatbook.sg.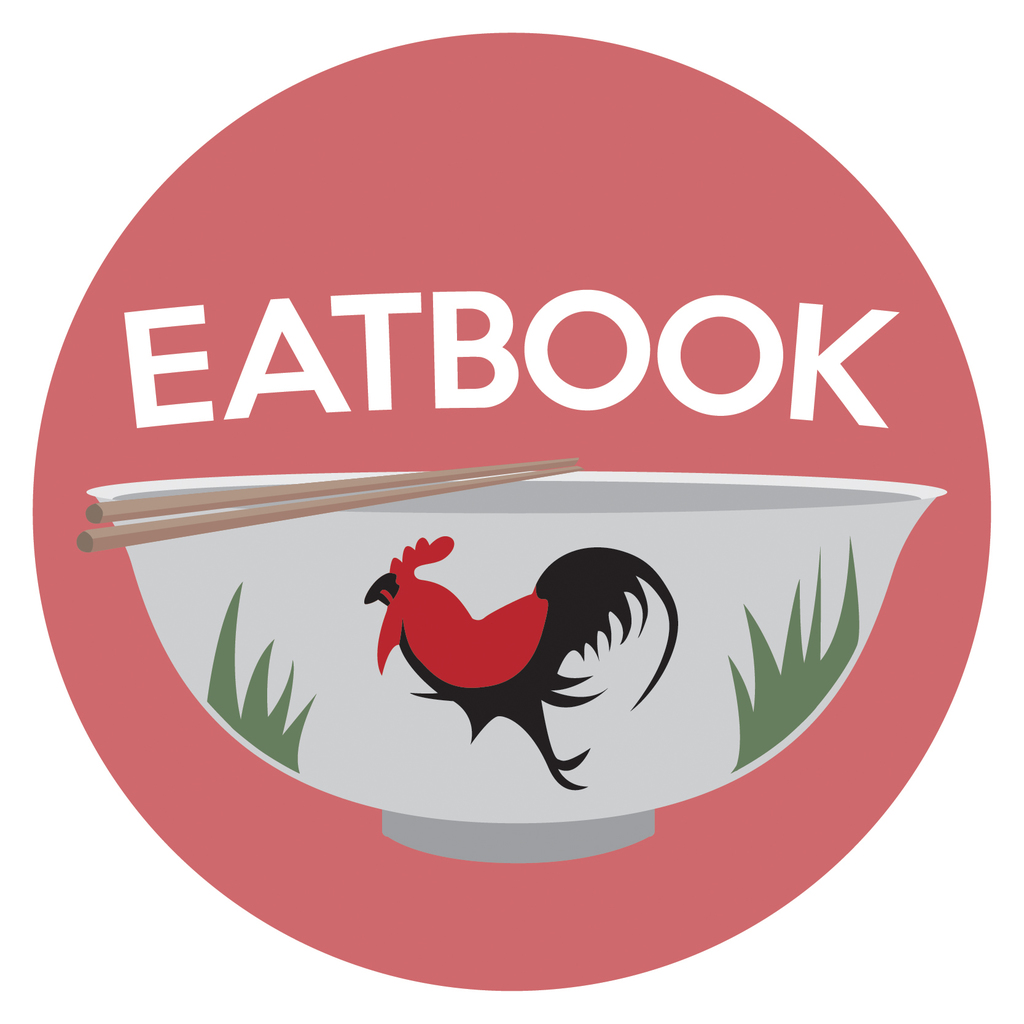 Drop us your email so you won't miss the latest news.