Wang Wang Crispy Curry Puff has flaky puffs in Old Airport Road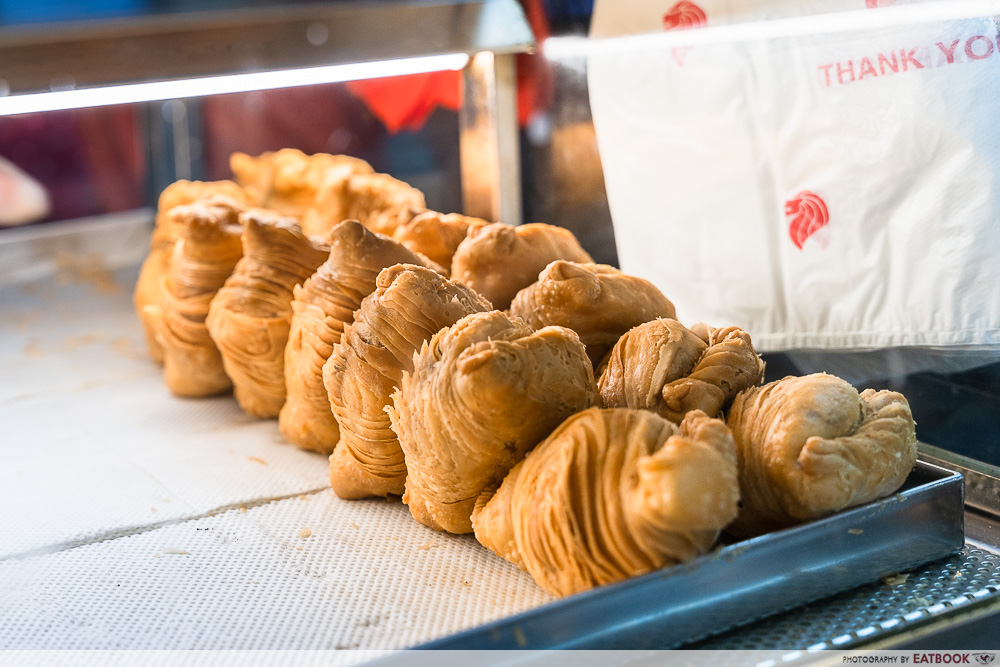 Wang Wang Crispy Curry Puff has a special place in my heart. It's not just for their legendary puffs, though—stall owner Mr. Chang Lee Wong, AKA Ah Wong, and my father are long-time friends, a relationship dating way back to the early 90s, when Ah Wong ran a zi char stall. In the early 2000s, Ah Wong switched gears to open Wang Wang in Old Airport Road Food Centre, with his wife, Mrs. Chang. Till today, my dad swears they have the best curry puffs in the whole of Singapore. A bold claim, I know, but I can't disagree.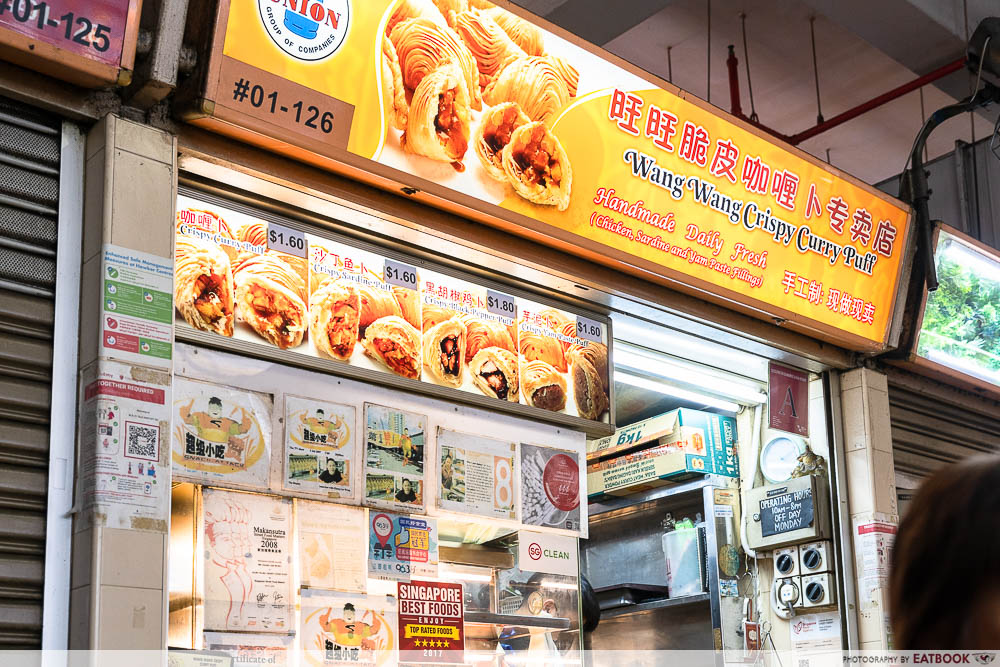 Ah Wong is one of the forerunners of crispy curry puffs in Singapore. Their signature laminated pastry shell takes cues from the Teochew-style mooncakes that Ah Wong used to make when he worked as a pastry chef at Pan Pacific Hotel. To date, the stall draws long queues during peak mealtimes for their various puffs, all handmade on-site and batch-fried to order. Ah Wong, his wife, and his son work over 12 hours each day to keep up with the demand.
From chef to curry puff specialist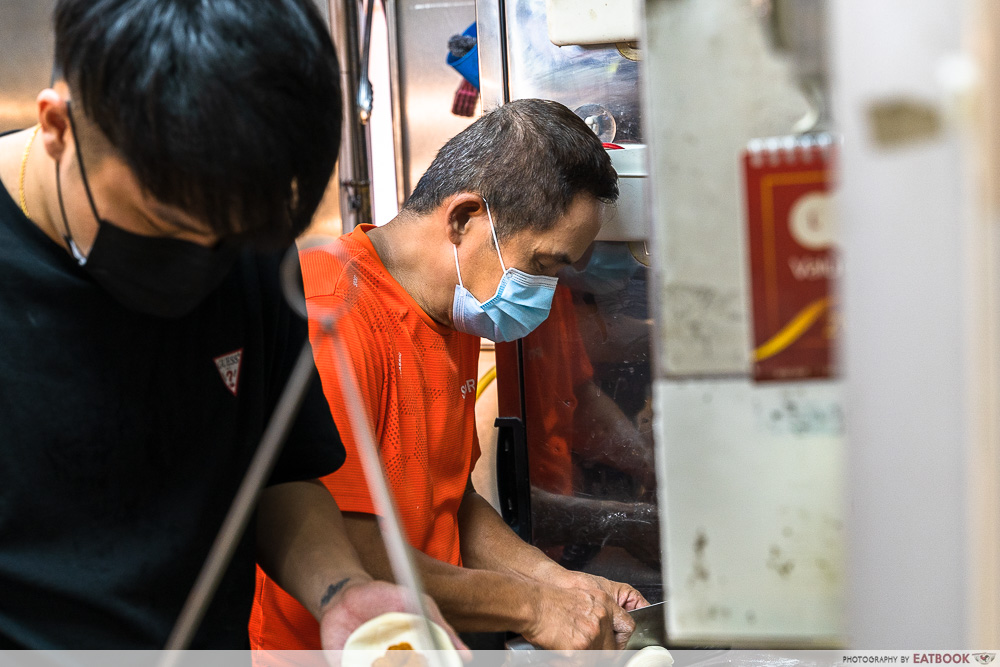 It's not easy being a hawker. The hours are long, the work is arduous, and the returns are oftentimes low—Ah Wong wholeheartedly attests to it. When asked why he started working at such a tender age of 16, he retorts with a laugh: "To earn money lor!"
Growing up, Ah Wong's family was poor and his parents had six children, so he had to start working after graduating from secondary school.
Beneath his jovial and easy-going nature is an accumulated total of 44 years of toiling in kitchens of all sorts. On top of running a zi char business for around five years, Ah Wong has also cut his teeth as a chef in multiple hotels, including York Hotel and Pan Pacific Singapore's renowned Hai Tien Lo.
His final venture, this humble curry puff stall, has been running for close to 20 years, and is his bread and butter.
All in a day's work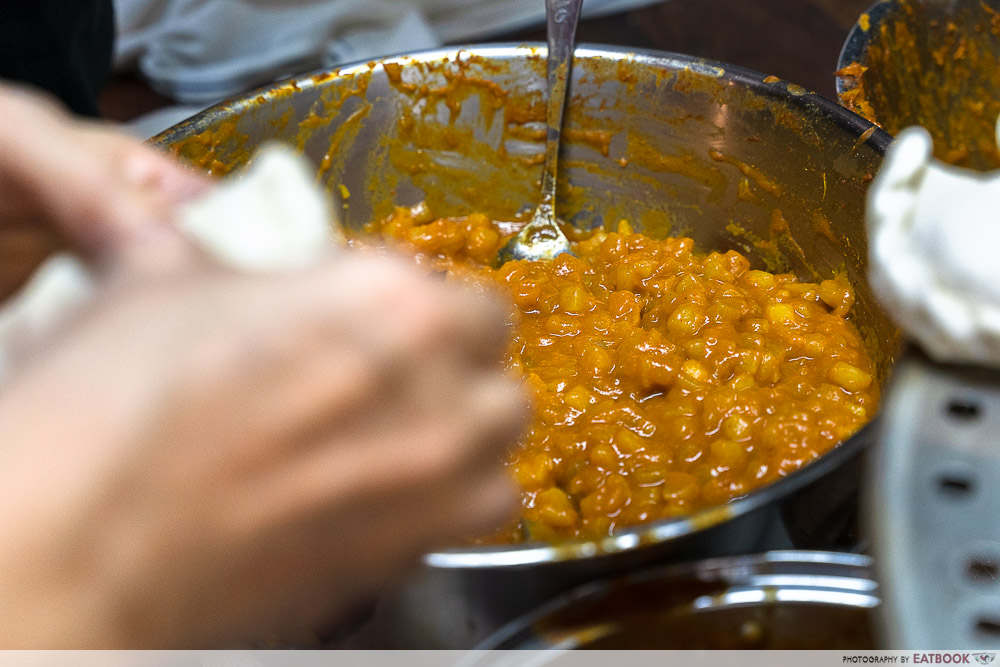 The day begins when Mrs. Chang and Ah Wong arrive at the stall at 6:30am to prep and cook the fillings. "The first order of business is to cut up the chilli, debone the sardine, and fry up the ingredients," says Mrs. Chang.
The puffs are ready for sale from around 10am—that's when the first batch is hand-shaped and fried fresh on-site.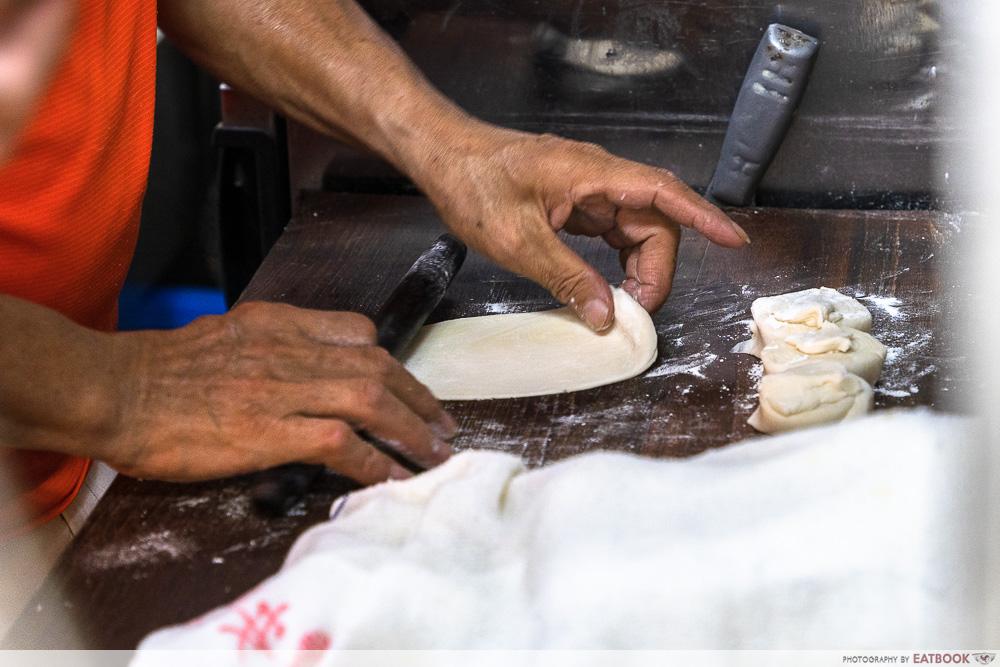 Depending on how brisk sales get, the stall closes its shutters around 5pm to 7pm. It's hard to predict an exact timing, Ah Wong explains, as it all depends on how fast the puffs "run".
Thereafter, the couple spends the next few hours or so preparing the ingredients for the next day, wrapping up at 8pm on most days. "That's the life of a hawker," says Ah Wong, his tone resigned. "It's hard to earn a decent income when you don't work for at least 12 hours."
"It's hard to earn a decent income when you don't work for at least 12 hours."
How many puffs do they sell in a day, I ask. Mrs. Chang answers, "Not that many la, around 400 plus puffs." I let out a discernible gulp, thinking about all the labour that goes into handmaking 400 puffs each day. But according to the couple, it's not a big number.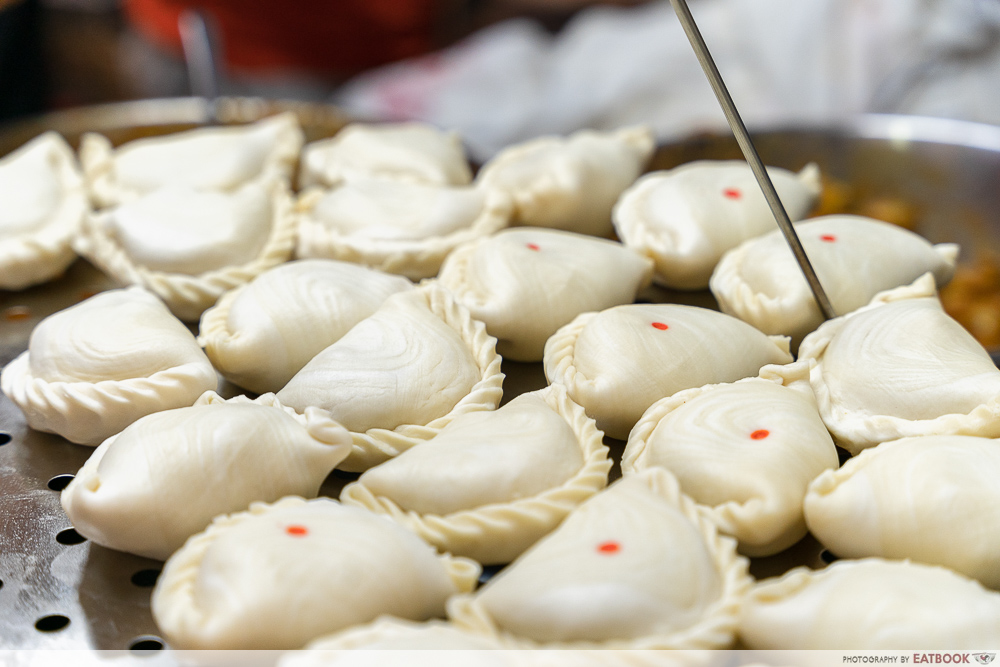 Ah Wong explains that Wang Wang has a lot of customers, but not all of them can get what they want whenever they come down. Each batch takes around 30 to 40 minutes to prepare as every puff is assembled on the spot, one by one, and fried upon order. Some customers don't have the patience to wait for that long, he adds.
The story behind the crispy curry puff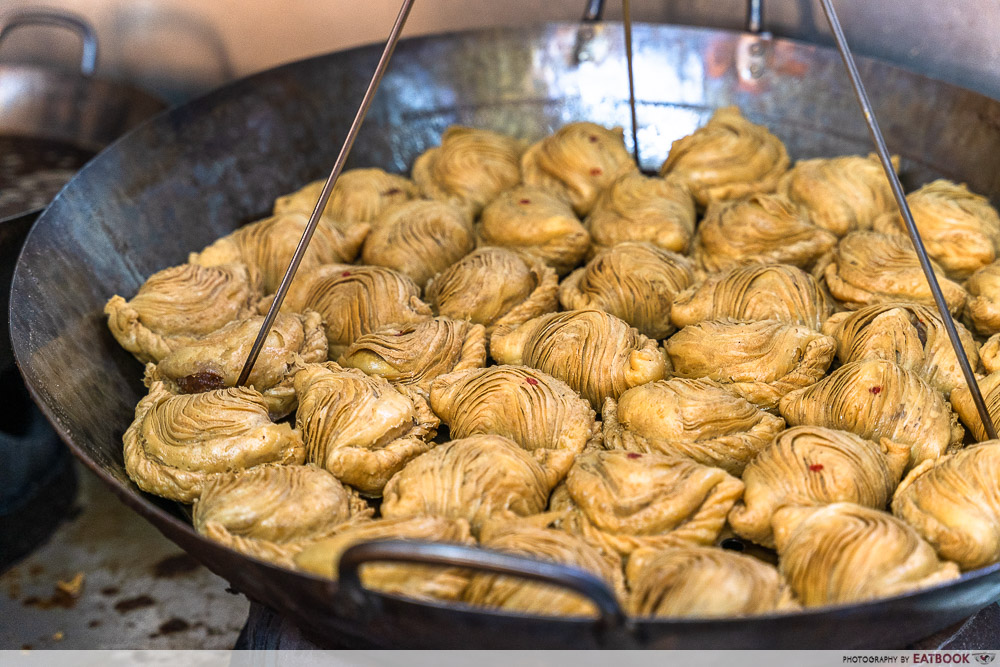 Not many know that the man himself is one of the pioneers of crispy curry puffs in Singapore. 
When Ah Wong was a pastry chef for Pan Pacific Singapore back in the 80s, he was involved in making traditional Teochew-style yam mooncakes for the annual Mid-Autumn Festival. In 1990, he left the job to run his zi char business. Over the next five years, he continued selling his very own rendition of these mooncakes during the month of the festival, right at the stall. They were a hit among his regulars, my dad being one of them.
Thereafter, Ah Wong left and joined York Hotel as a chef for around six years. It was also during that period when one of his colleagues suggested making curry puffs using the same flaky mooncake skin. They had a go at it and it turned out to be a success.
Since the launch of Wang Wang, the stall still sells the same Teochew-style yam mooncakes one month a year, only during the Mid-Autumn Festival. Growing up, these crispy golden orbs were a perennial favourite of mine; in fact, they're the only mooncakes I consume to date.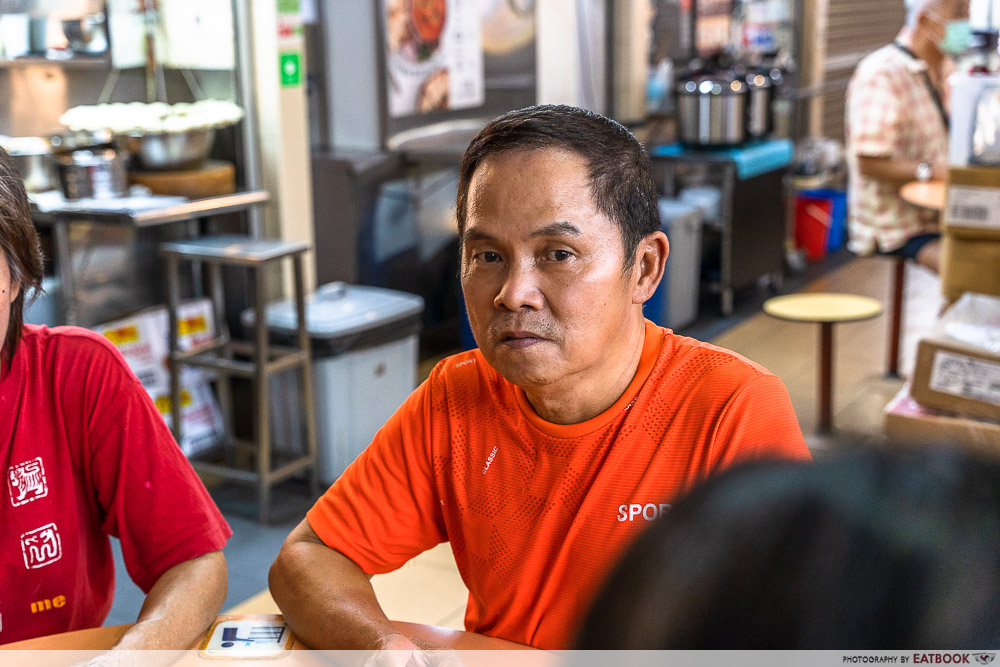 The road was never easy. At the beginning of their hawker journey, the couple struggled with getting footfall as they were fairly new in the scene. "Back then, our three children were still young and we had to support them—my eldest daughter was only nine years old," says Mrs. Chang. "Those were tough times."
"Back then, our three children were still young and we had to support them—my eldest daughter was only nine years old,"
Nonetheless, they persevered and kept their head in the game, soon establishing a steady stream of regulars who fell in love with their crispy puffs. By word-of-mouth, business picked up and the stall gained in popularity, picking up a number of foodie awards and recognitions over the years.
Ah Wong exclaims: "We've even had a customer who bought once and then returned for more—three times within the same day!"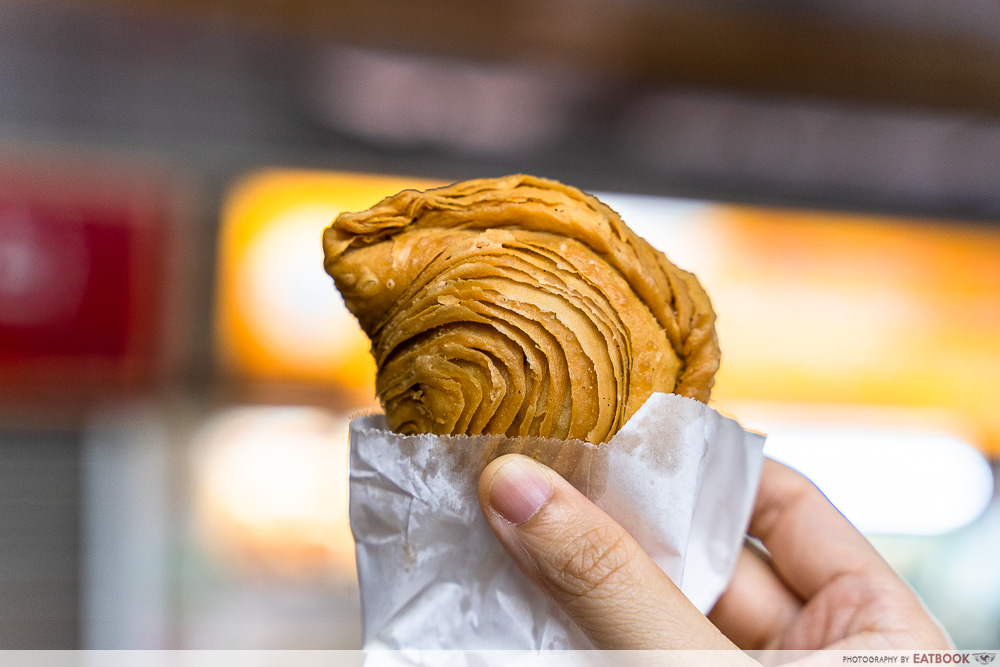 The proof is in the pudding, or rather, puff. When you take your first bite, the uber-crispy layers crumble and disintegrate in your mouth, revealing a generous amount of flavourful filling tucked within.
Interestingly enough, I found the layers well-seasoned and not too greasy despite having them fresh out of the fryer.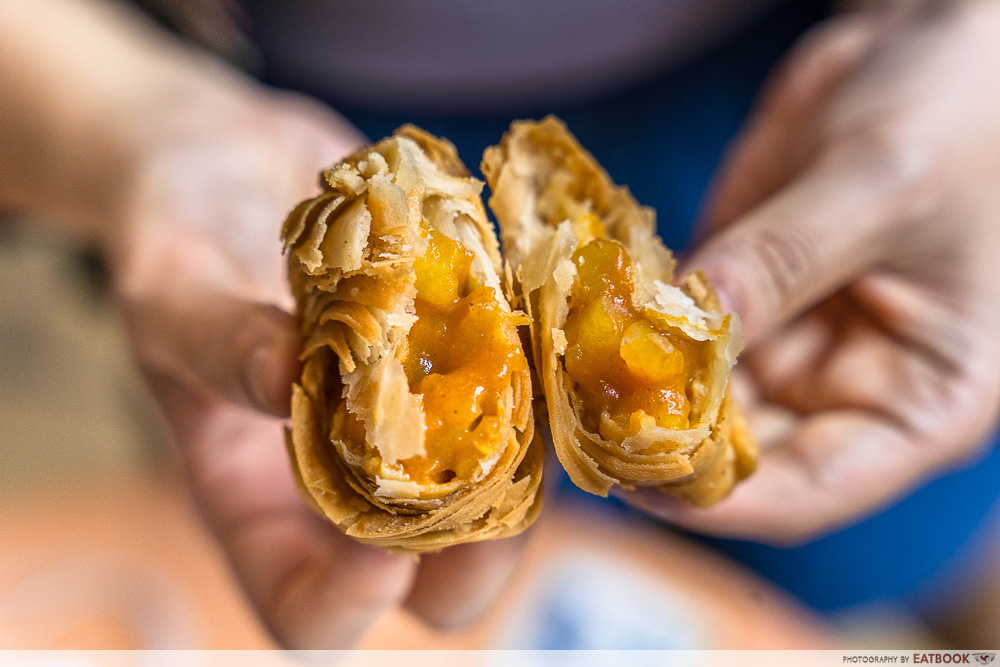 There's no doubt that the star of the show is the flaky skin. Ah Wong brings us a semi-rolled dough to show how he achieves those magic folds. The concept is similar to that of the French croissant.
He says that there are only a handful of people in Singapore who know how to make this kind of crispy puffs. "It's very different from the ones at Old Chang Kee," Ah Wong adds with a playful chuckle.
At this point, I segue into the topic of the recent spike in food prices. The couple chimes in almost immediately, lamenting that the cost of all their ingredients has gone up. "Some have even doubled in price," Ah Wong sighs.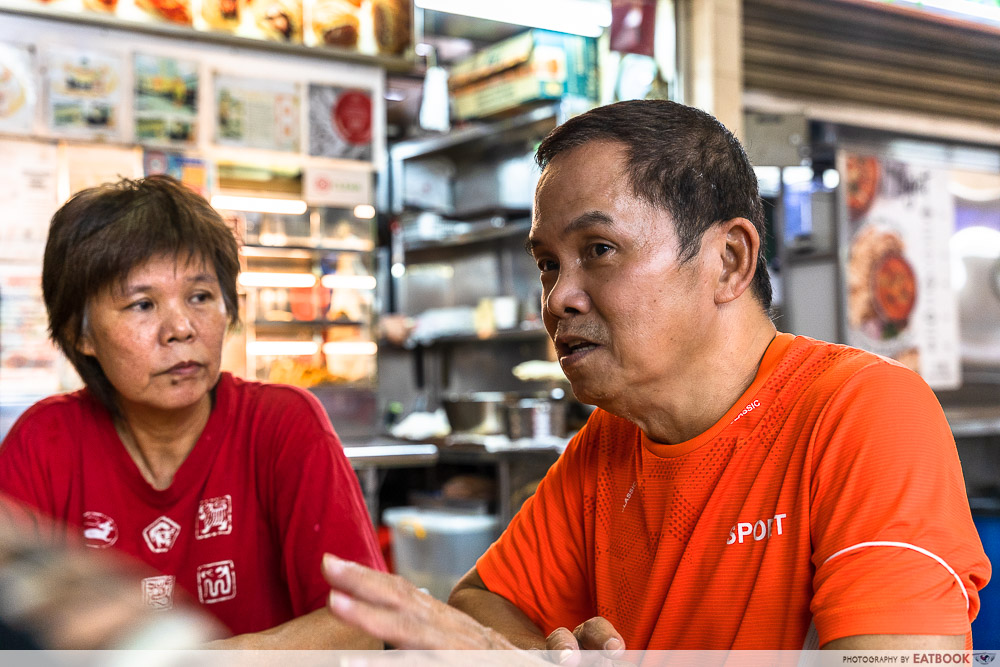 To cope with it, they've upped their puff prices by $0.10 across the board—their Curry, Yam Paste, and Sardine puffs are now $1.60 each and the Black Pepper puff is $1.80.
As the interview draws to an end, Mrs. Chang lowers her voice to an almost whisper: "You won't include those puff-making details in the story, right?" I promise her that their secret is safe with me.
The future is bright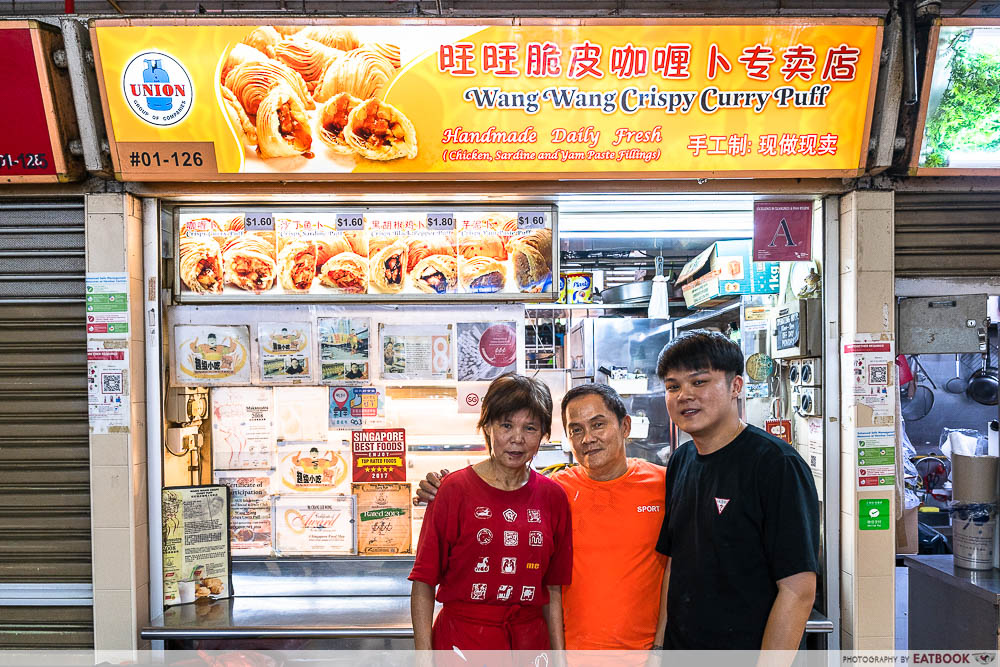 To me, Wang Wang is a testament to the notion that hard work does pay off. When you have a good product and you put your heart into making it to the best of your abilities, success eventually follows.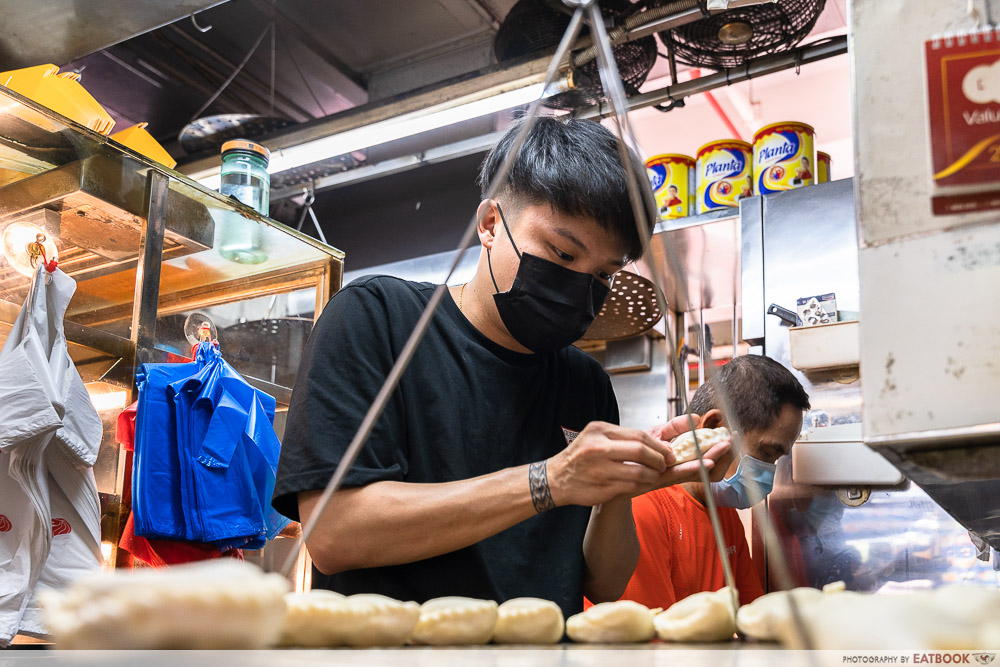 When asked about Wang Wang's future plans, the couple smiles and points to their son who's been at the stall all this while, quietly helping with the folding and shaping of the puffs.
The 29-year-old is currently training as an apprentice as he has plans to open a second stall for Wang Wang Crispy Curry Puff in time to come. I'm sure all their fans—my dad and myself included—will be happy to know that the legacy will carry on for a while longer.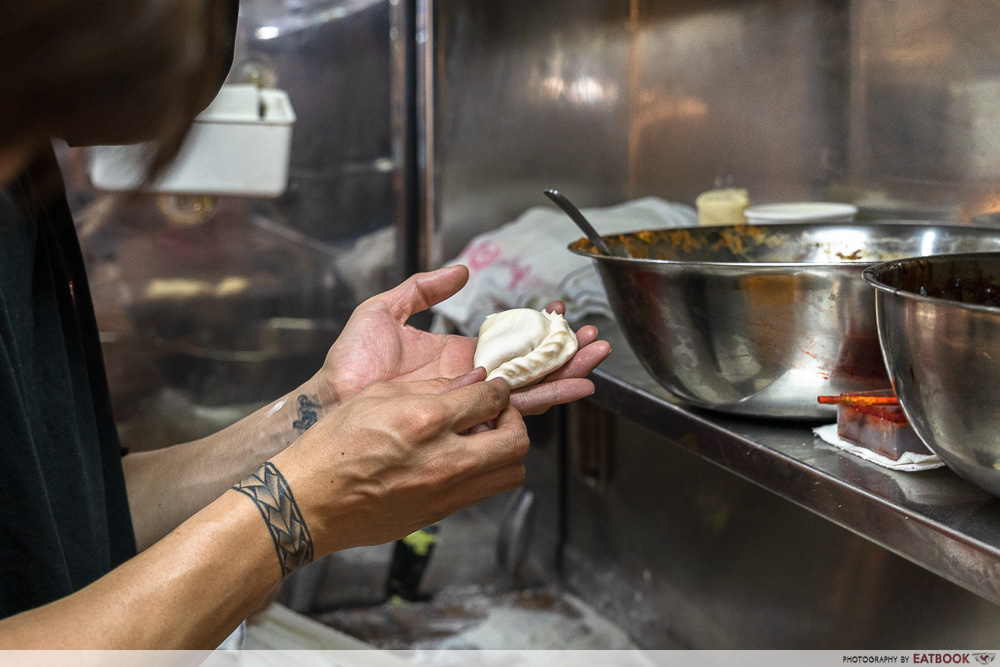 If you've enjoyed this interview, check out our feature on Big Bakery, a 30-year-old bakery selling old-school treats such as sugar doughnuts and apple crumble. Otherwise, head to Rolina Traditional Hainanese Curry Puffs if you're up for a different type of handmade puffs!
Address: 51 Old Airport Road, #01-126, Old Airport Road Food Centre, Singapore 390051
Opening hours: Tue-Sun 10am to 5pm (or until sold out)
Tel: 9090 7009
Website
Wang Wang Crispy Curry Puff is not a halal-certified eatery.
Big Bakery: Old-School Apple Crumble Made By Hand At This 30-Year-Old Bakery
Photos taken by Chew Yi En.
This was an independent visit by Eatbook.sg.