B.E.D food court in Tai Seng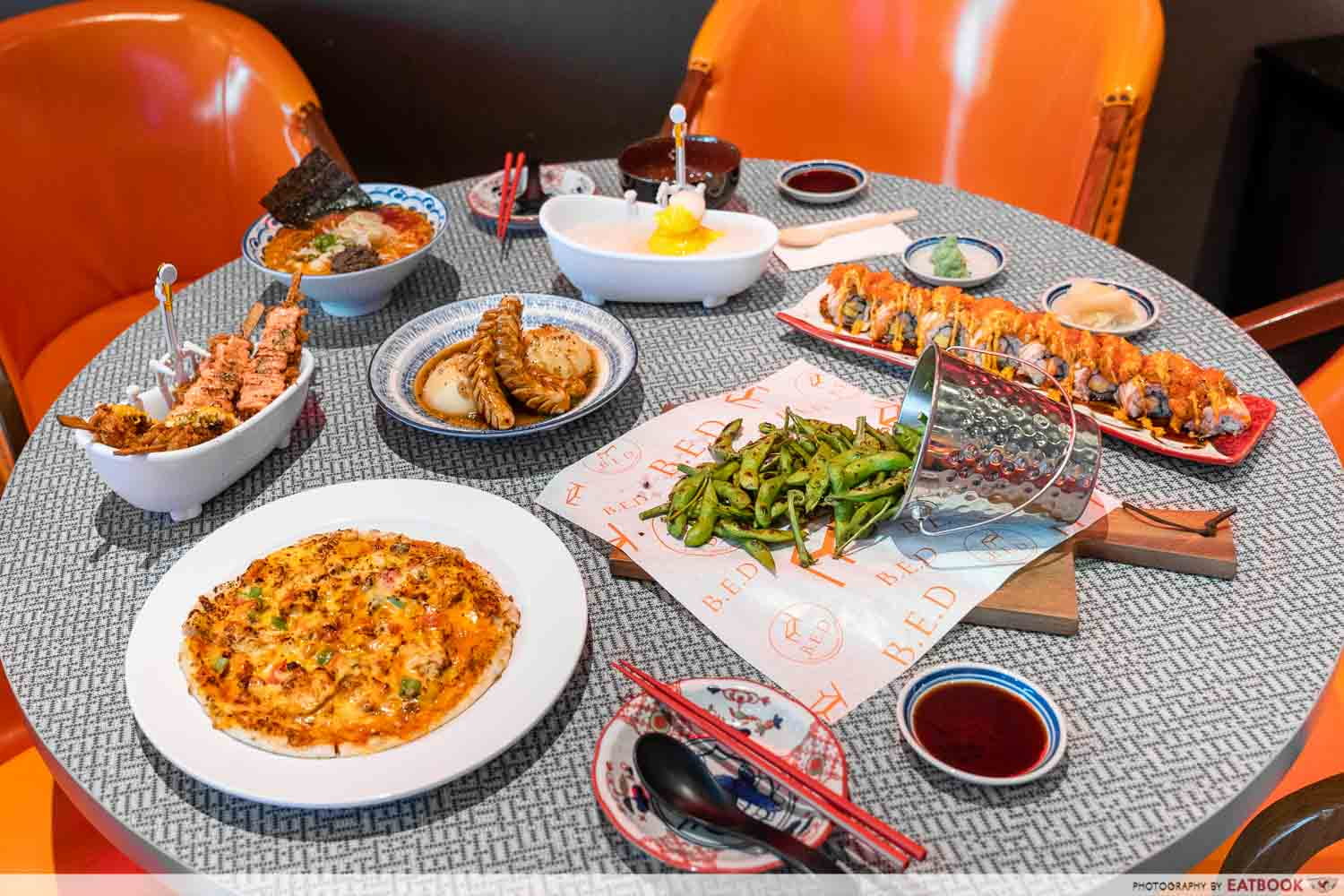 Hidden within the industrial area of Tai Seng is B.E.D which stands for 'beverage, entertainment, and dining'. This eye-catching store is decorated with bright lights and hip signboards, which definitely grab your attention when you pass by. You can also expect a wide variety of food here.
10 Tai Seng Food Places Including Acai Bowl, Halal Seafood Bucket And Chicken Pie Shops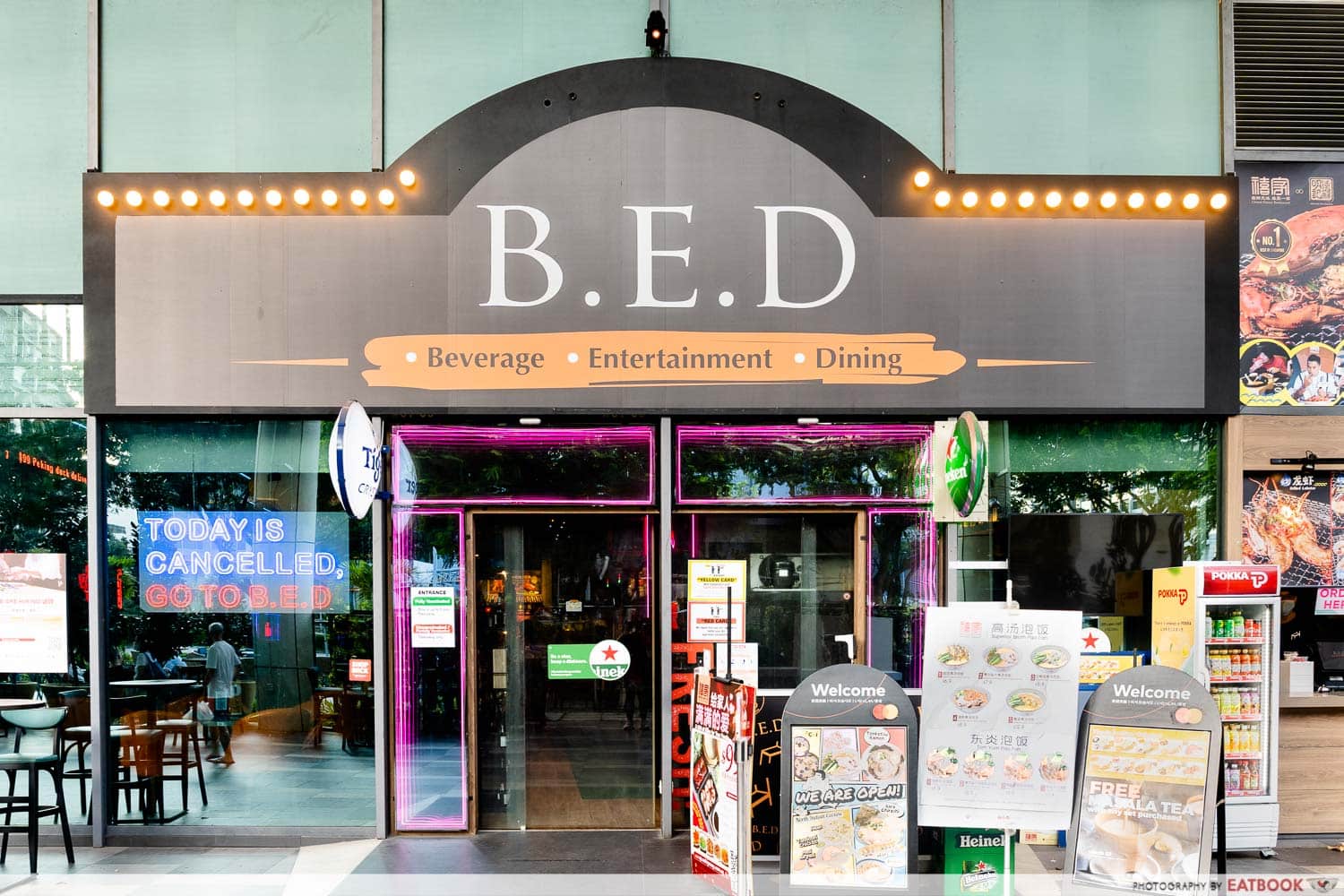 B.E.D runs like a food court-style eatery that serves an assortment of different cuisines in the day, catering to the office lunch crowd. Once the sun sets, they close the shutters of the food stores and dim the lights, creating a bar-like atmosphere for those who wish to unwind after a long day of work.
Mama Diam Review: Speakeasy Bar With Secret Entrance Behind Retro Mama Shop
Food at B.E.D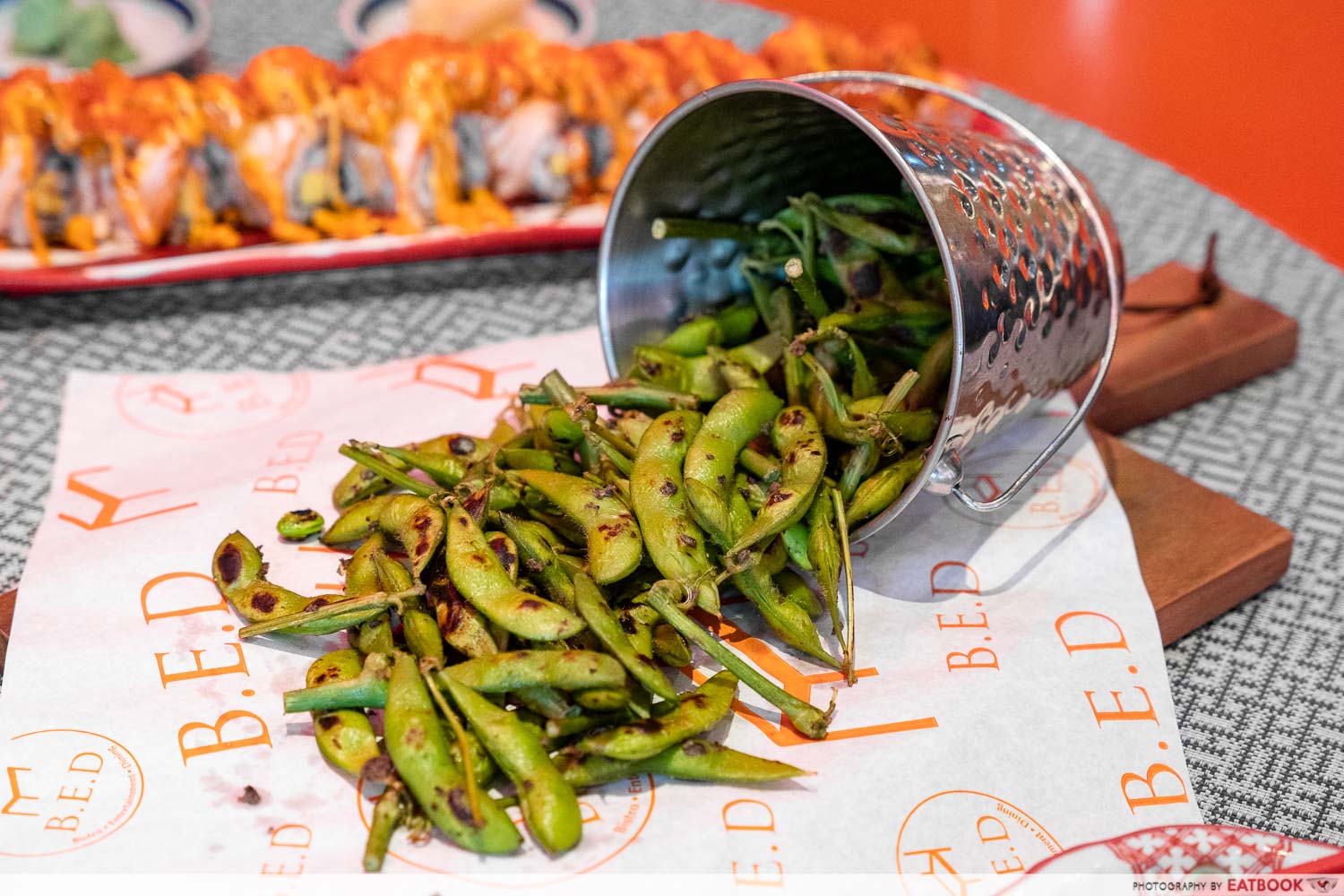 For an apt pairing with a glass of ice-cold beer, get the Char-Grilled Truffle Edamame ($8++)—a pot full of crunchy edamame perfumed with hints of aromatic truffle.
Although I rarely think of edamame as a hot dish, I enjoyed their rendition of this Japanese appetizer. The fragrant truffle aroma along with a slight bitterness from the char added layers of depth to this simple, yetra ther pricey dish.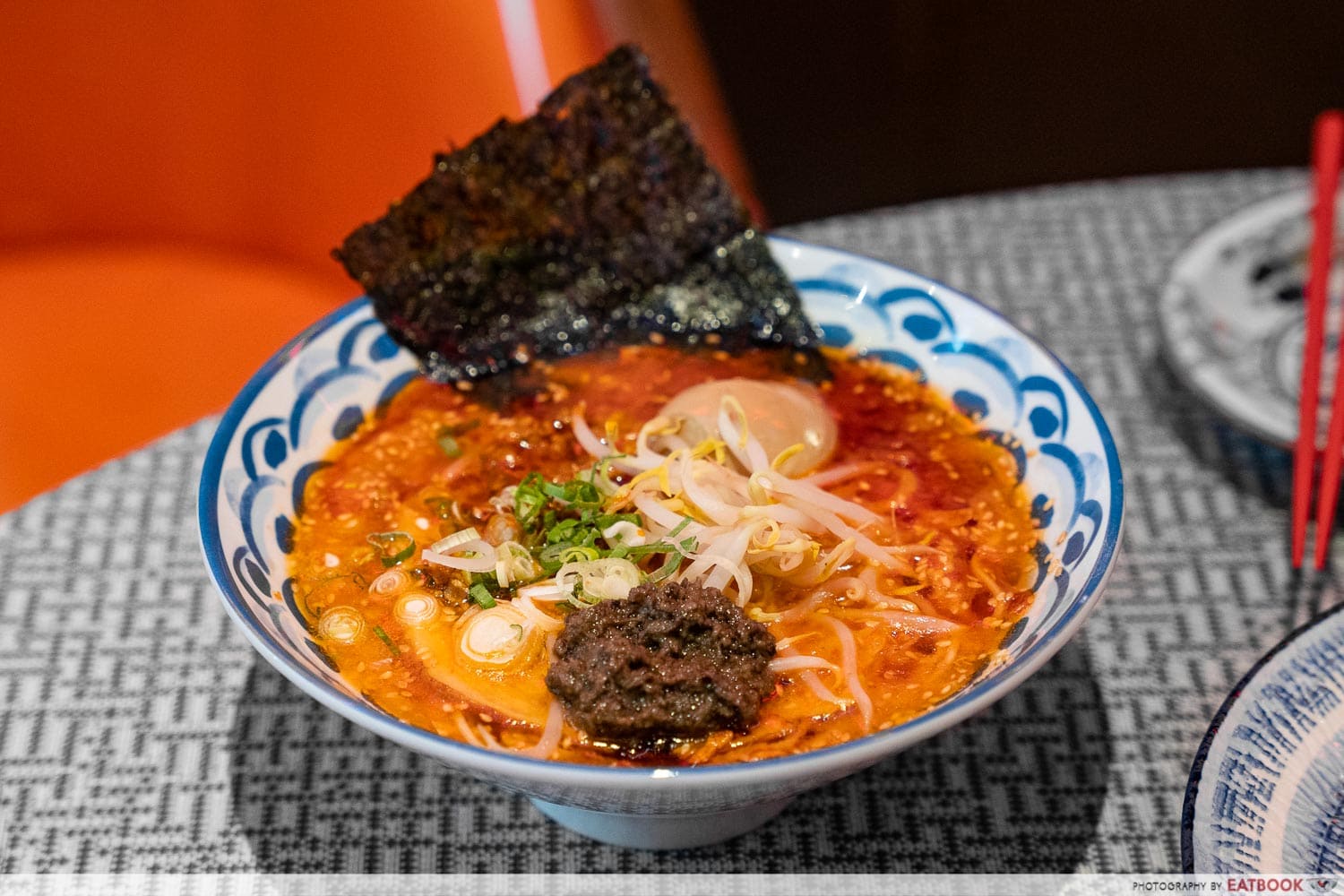 If you're looking to indulge in a heavier meal, I recommend the Sapporo Black Garlic Truffle Ramen ($18++). The ramen comes with the usual suspects of chashu, tau gay, half a ramen egg, and crispy seaweed. However, what made this ramen special was its extremely hearty broth, along with a generous dollop of flavourful truffle and black garlic mix. 
Each element was well cooked, including the tender chashu marbled with a good amount of fat, al-dente ramen noodles, and a hanjuku egg with a gooey center.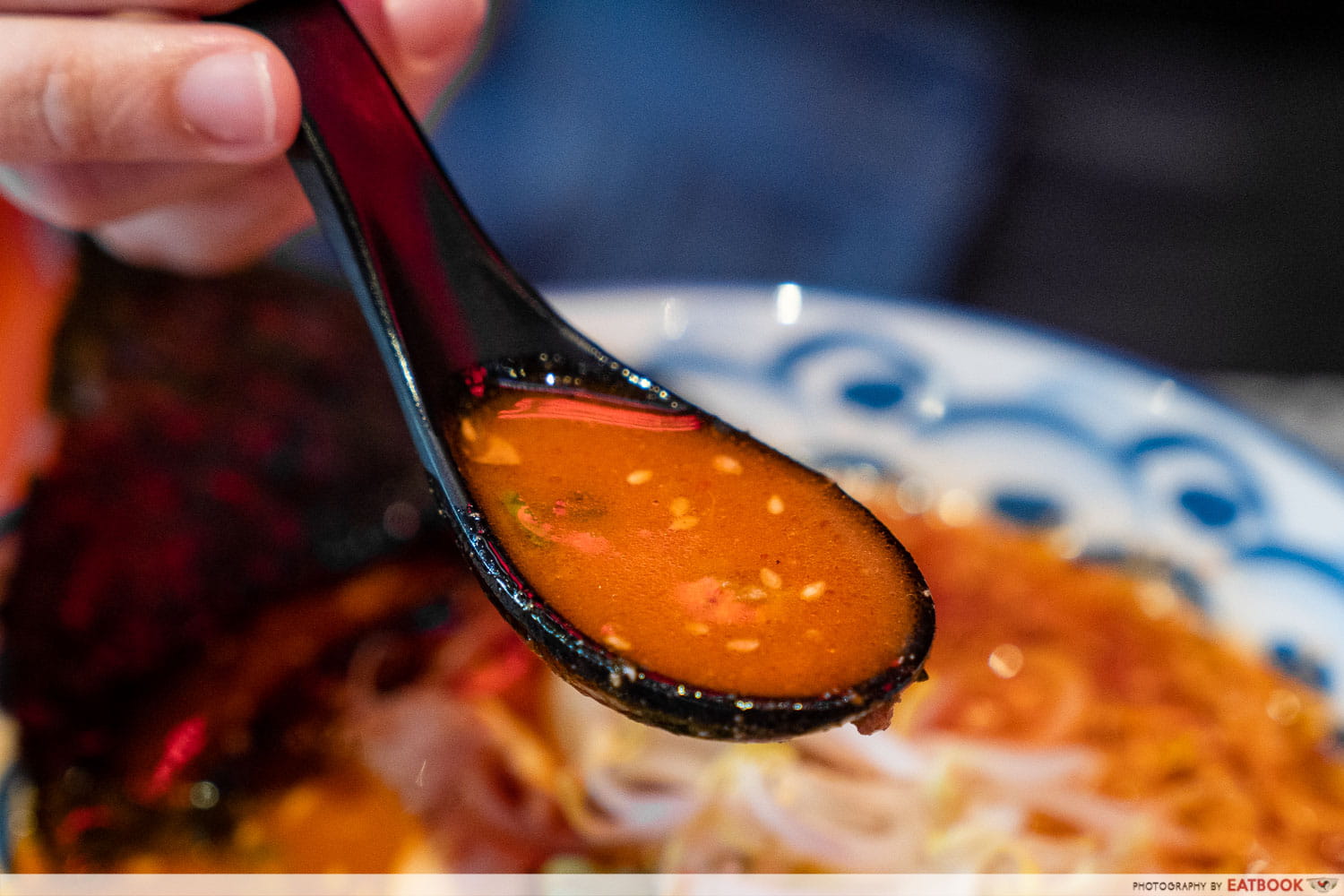 Upon mixing the ingredients, the black garlic and truffle concoction quickly infused into the spicy broth, adding an aromatic touch. This made the broth strikingly addictive, leaving me craving more of its umami-packed goodness.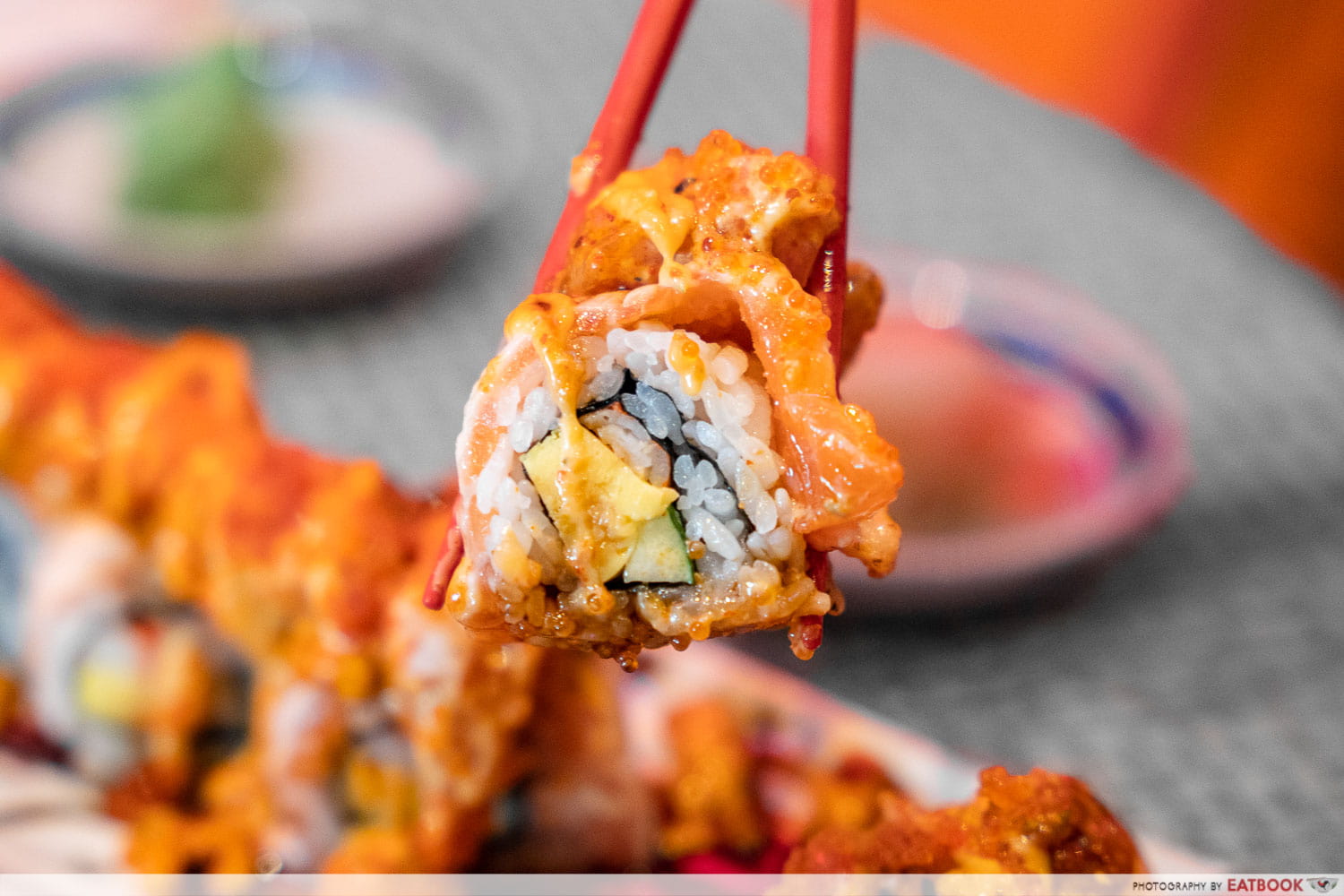 The Spicy Salmon Rollin' in B.E.D ($14++) had an unexpectedly potent and spicy kick from the generous drizzle of spiced-up mentaiko sauce. It was truly a mouthful that screamed umami. 
As a sashimi lover, I was delighted to find that not only was the sushi rice wrapped in a thick slice of salmon, it was also topped off with even more fresh salmon chunks. The tobiko added a nice crunchy texture to this maki roll and gave it a burst of savoury flavours. 
My only gripe would be that this dish was a little too rich and ordinary for my liking, although it would make for a great plate to share with friends.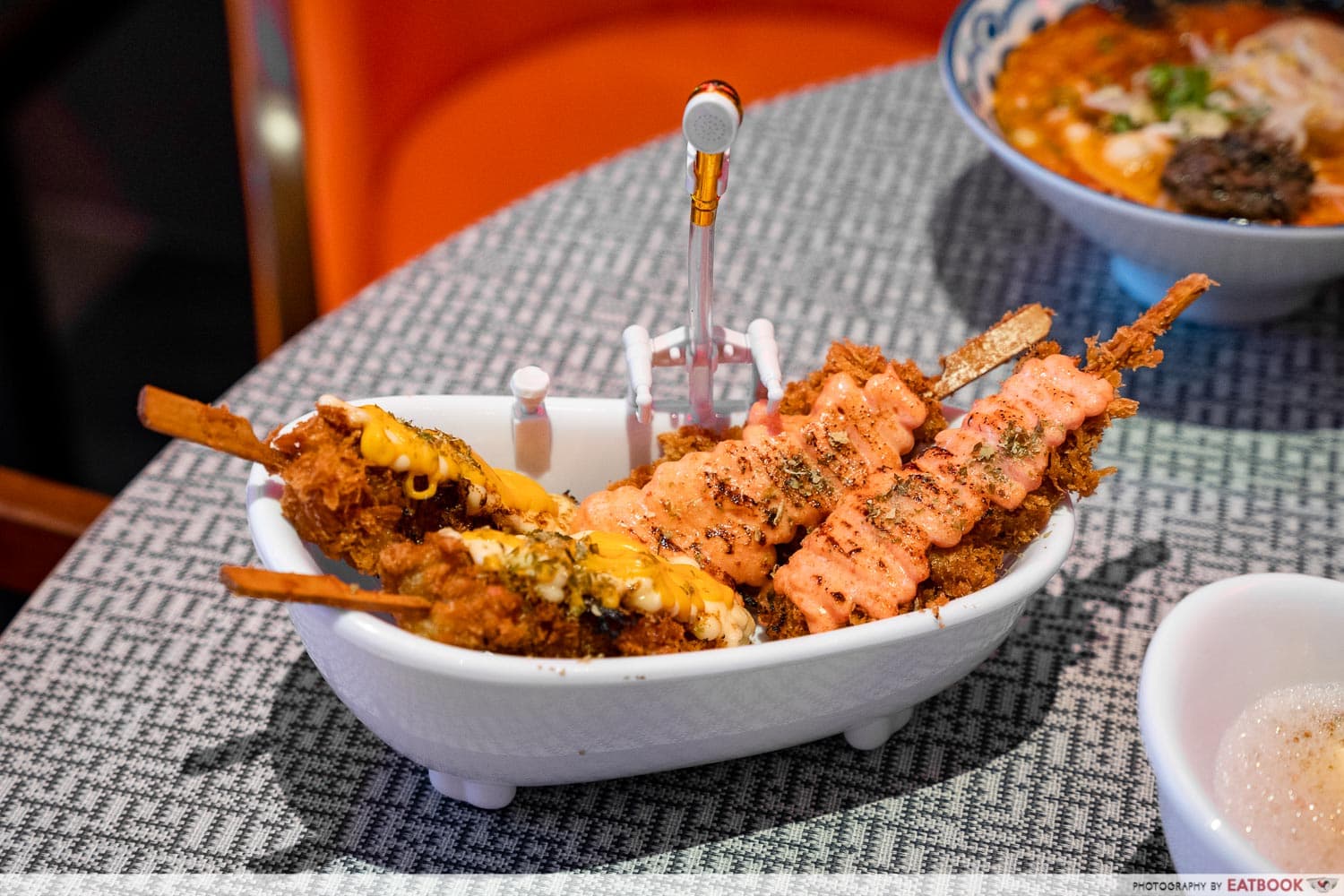 Nestled in a cute plastic bathtub bowl is their Hangover Panko Chicken Skewers ($8++). Looking just like popsicles, these crispy fried chicken skewers are topped with a savoury mentaiko sauce and tonkatsu-flavoured mayo.
Strong, salty notes permeated the mentaiko sauce, while the tonkatsu mayo was savoury and sweet. The unique plating of this dish made it extra IG-worthy and appealing to the eye.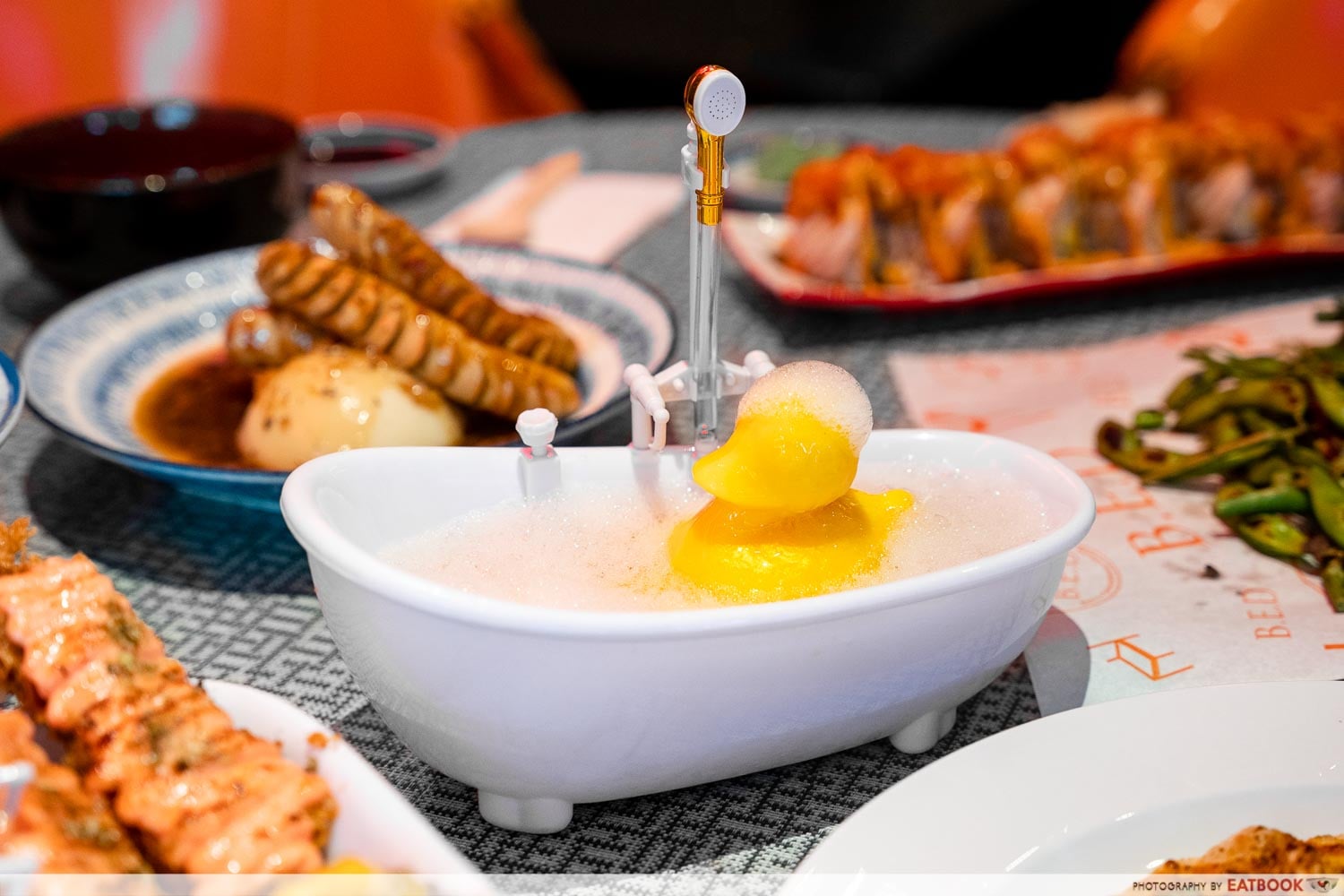 Complete your meal with the cute-looking Rubber Duckie ($13.90++). The yellow duck is actually a tangy and refreshing sorbet, which sits on a bed of milky pudding, sago, and bits of mango. Mimicking bubbles from a shower is the lemongrass foam that tasted refreshing with subtly sour notes.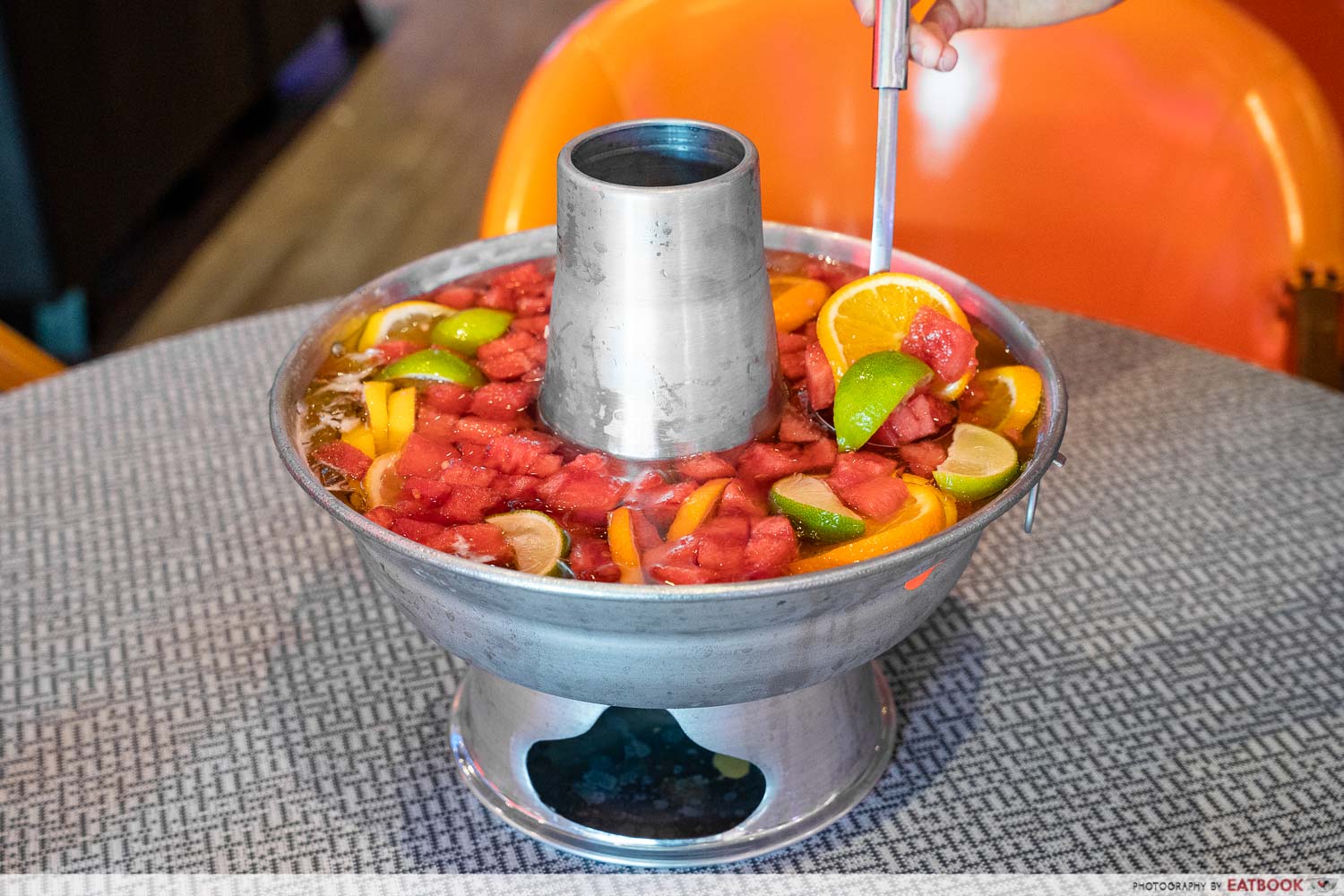 What's really unique here is the Strong B.E.D Punch ($48++) that looks just like a fish head steamboat— instead, it is filled with four bottles worth of beer and a variety of fruits including watermelon and orange. Add a bottle of soju for just $15 for an added alcohol kick to soothe a tiring day. To my surprise, I could not taste the familiar malty bitterness from the beer, as it was covered by the sweetness from the fruits. 
If you're not into alcoholic beverages, go for the Soft B.E.D Punch ($38++), which uses soda water instead! 
Ambience at B.E.D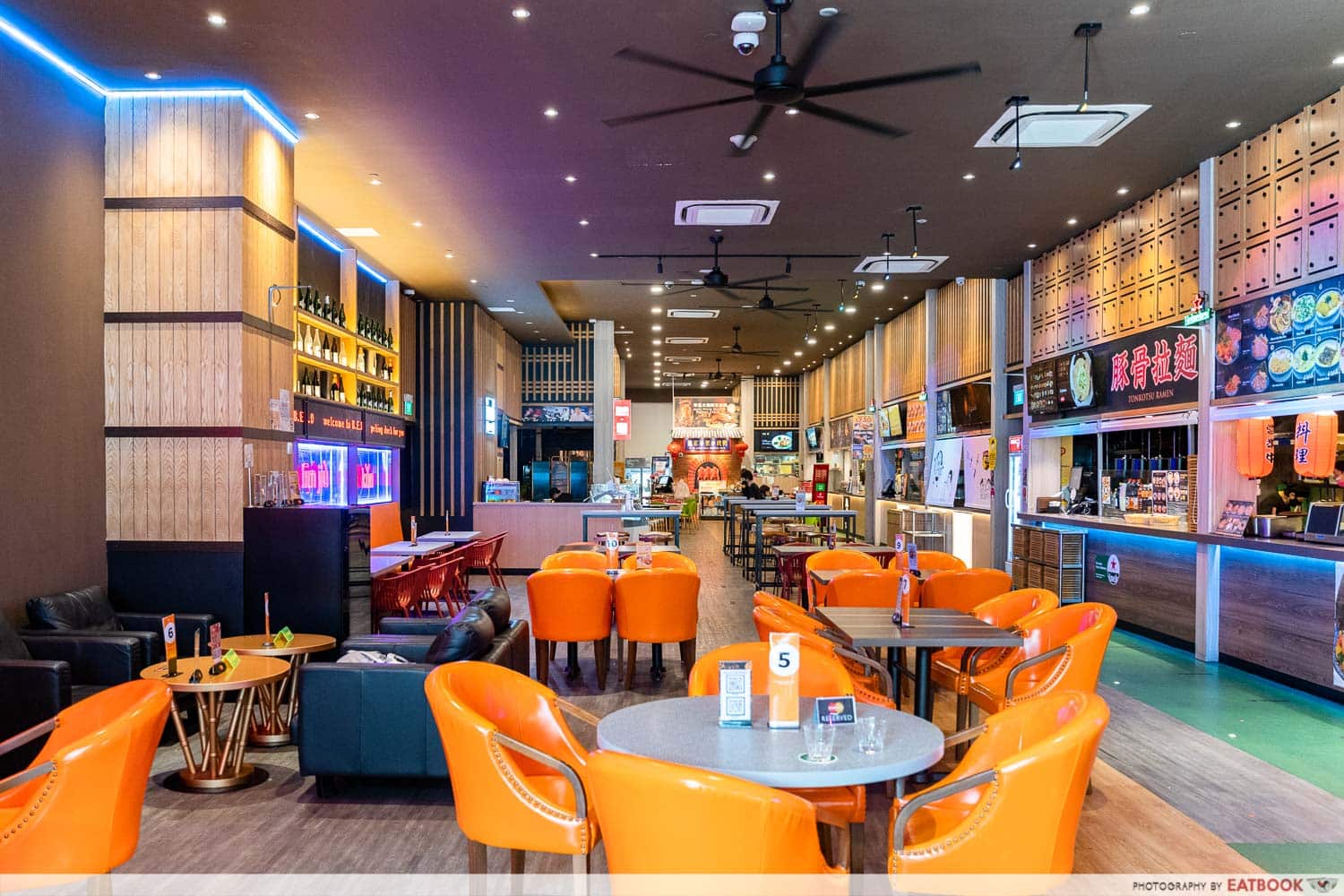 Upon entering B.E.D, you will be greeted with brightly lit stores, with an environment similar to an atas food court. Its neon theme makes the place quite picturesque and fun, enticing you to hang out here with friends and family. 
Even though we only came in the day and were unable to catch a glimpse of the night scene, I can only imagine this place coming alive when the bright lights dim and the vibrant interactive signboards light up. 
Pint And Dine Review: Korean Mukbang Buffet With Free-Flow Korean Fried Chicken, Samyang And More At Tai Seng
The verdict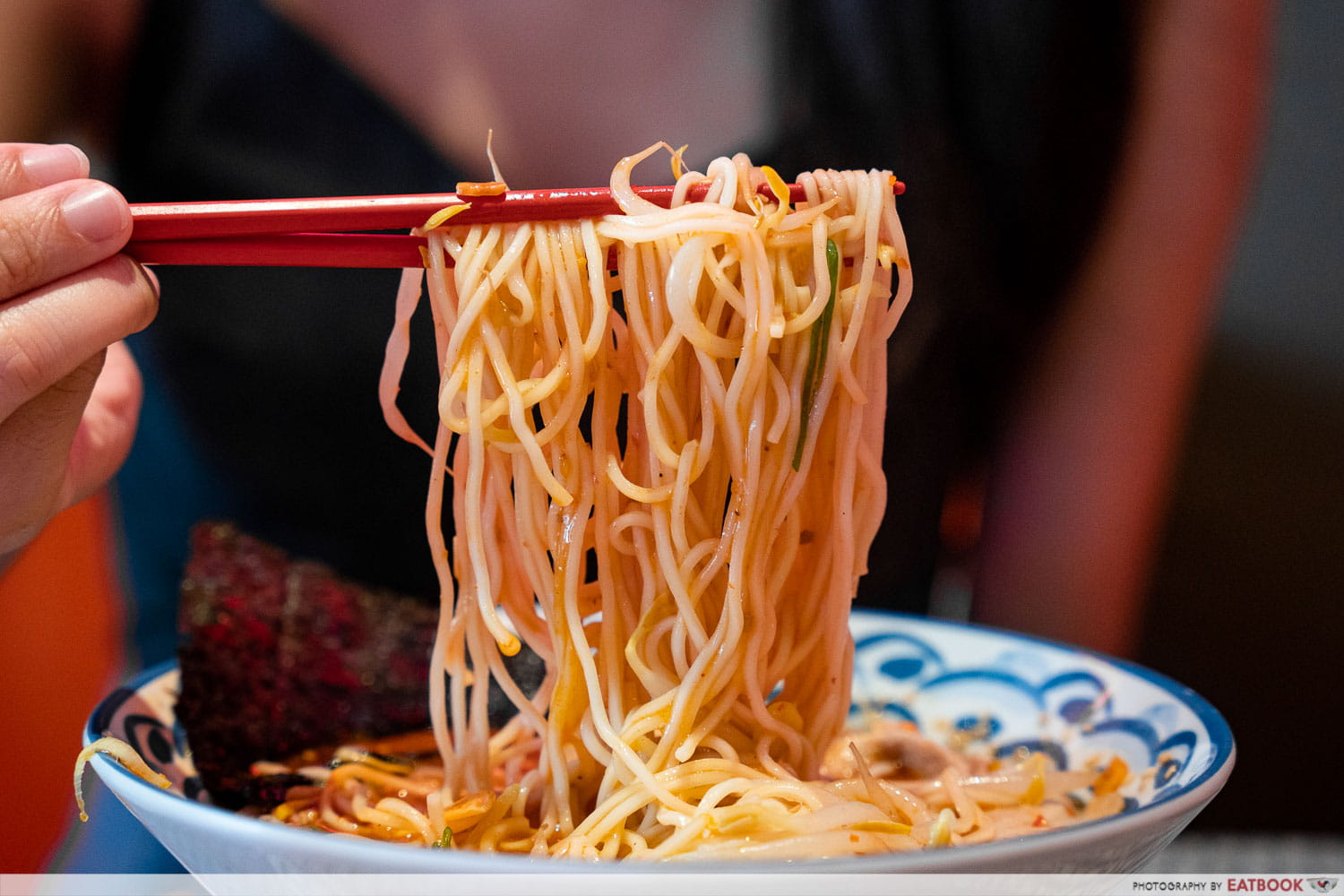 What really caught my attention here was the beer hotpot—something I'd never seen before. As the beverage is affordably priced, especially if you share it, I will definitely bring my friends and family here for a taste when dine-in restrictions ease up. You can also order their food for delivery here.
If you're looking for more food in the area, check out our Fei Zhu Lok Lok review for an assortment of skewers and their famous Shiok Mee! Otherwise, there is also our Pint and Dine review, if you're game for a Korean mukbang buffet with free-flow Korean fried chicken, Samyang noodles and more! 
Address: 26 Tai Seng Street, J'Forté Building, Singapore 534057
Opening hours: Mon-Sat 11am to 10:30pm
Tel: 6718 0509
Website
B.E.D is not a halal-certified eatery.
Fei Zhu Lok Lok Review: $1 Lok Lok And Popular "Shiok Rice" In Tai Seng
Photos taken by John Lery Villanueva. 
This was a media tasting at B.E.D.
B.E.D Review: Dual Identity Food Court With Truffle Ramen, Mentaiko Sushi Roll, And Beer Hotpot
B.E.D Review: Beer Hotpot, Truffle Ramen And Mentaiko Sushi At New Food Court To Bar Concept Eatery -

7/10
Summary
Pros
– Unique dishes 
– IG-worthy ambience
– Sapporo Black Garlic Truffle Ramen was very flavourful
– Strong B.E.D Punch was refreshing
Cons
– Most of the bar bites tasted quite ordinary 
– Slightly pricey 
Recommended dishes: Strong B.E.D Punch ($48++), Sapporo Black Garlic Truffle Ramen ($18++)
Opening hours: Mon-Sat 11am to 10:30pm
Address: 26 Tai Seng Street, J'Forté Building, Singapore 534057